*FYI - this post may contain affiliate links, which means we earn a commission at no extra cost to you if you purchase from them. Check out our Privacy Policy and Disclosure. for more info.
What can I say? Miracles do happen.
Every once in a blue moon, something truly extraordinary graces the planet with its rarity, an unexpected anomaly disrupting the fabric of existence itself. Today marks that moment… because Christina's monthly update is actually on time, and finally for a single month, rather than two.
Please be wary of the flying pigs on your way out.
I apologize for the dramatics, but I am (quite frankly) shocked that I actually published this on time, and I can't wait to share my crazy month with you… which I spent entirely on the road.
Before we begin, don't forget to follow me on Instagram for real time updates/stories, since that's my go-to platform when I'm travelling. Wait what? Was that a desperate grab at followers? Shhhh – just let this happen.
July: All about riding the train across Canada
Long story short: Canada's national rail company this year released a few thousand special edition tickets celebrating 150 years of the Canadian confederation… This meant the lucky fools who got one (me included!!) received unlimited train rides in July for the swoonworthy pricetag of $150. Ripped straight from the pages of the Willy Wonka playbook, this publicity stunt worked, and when July hit, thousands of bushy-tailed backpackers descended upon the country with blankies in hand and snack-stuffed backpacks.
Truth be told, it wasn't exactly a glamorous experience. After all, we had no access to showers or proper beds on board, making dry shampoo and baby wipes the most precious things one could own. Plus there were often delays exceeding 12 hours… but hey who was keeping track? 😉 Luckily, I stopped every few days to explore a new city, particularly ones that I never thought I'd see. This turned out to be the best decision I ever made.
Canada is one beautiful, badass country. Here are some of the places I visited by train. Let me know in the comments if any of these were new to you!
Saskatoon
If you're wondering Saska-where, I feel you. Honestly, Saskatoon, located in the Canadian prairies (read: the middle bit) is a city that I never in my life thought I would visit. I grew up being told that it was a boring place with nothing to offer. For the two days on board that it took to get from Vancouver to Saskatoon, I had countless travellers laugh at me for stopping there at all.
And so, I skipped into the city expecting a barren wasteland of tumbleweed nothingness. Instead, I discovered a colourful city with hip neighbourhoods, crazy good food and fun events going on all over the city. From open mics and DJ shows, to watching a bluegrass twist on Shakespeare, I found myself unexpectedly falling for the underdog. Saskatoon won me over, and is solid proof that "boring" cities are some of the most fun to explore and discover.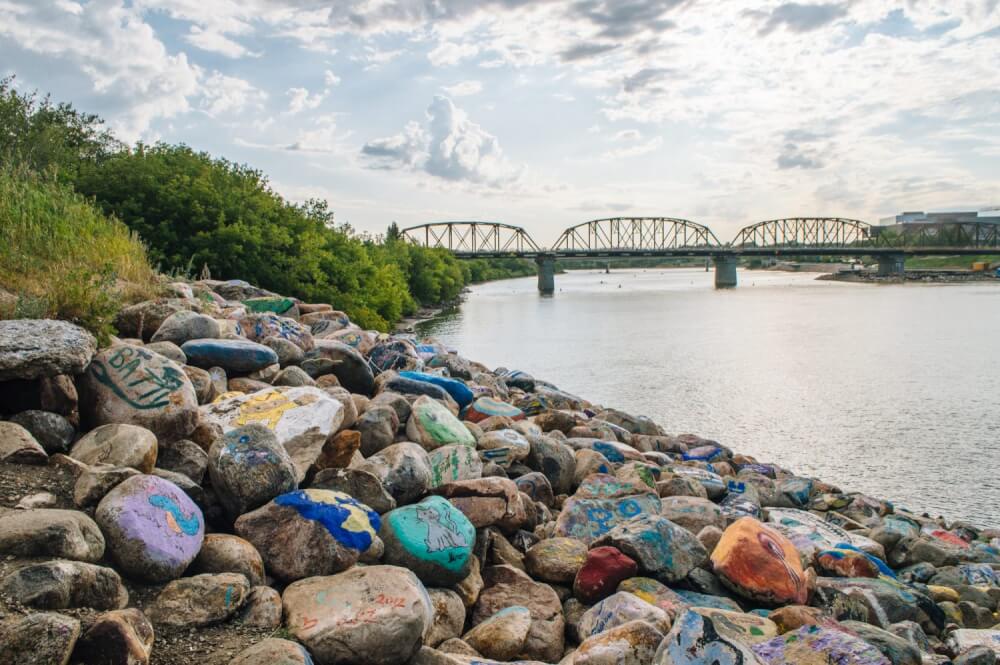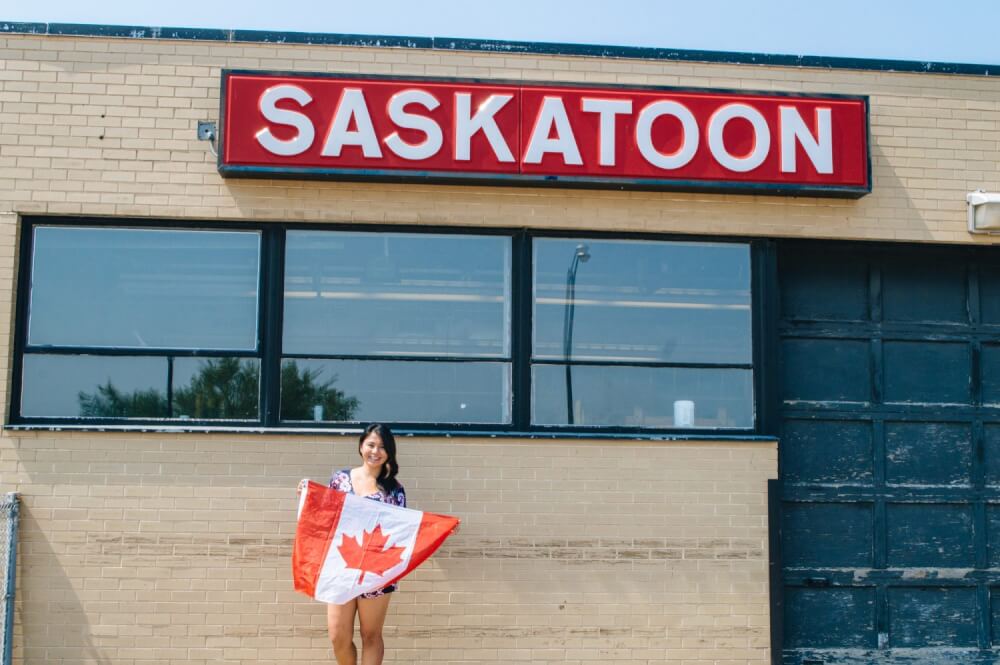 Winnipeg
Onwards from Saskatoon, I rode a day-long train to Winnipeg, found in the heart of the Canadian prairies.
Similar to Saskatoon, common west coast snobs will dismiss Winnipeg for being flat, boring and uneventful. After 48 hours there, I can confirm that these west coast snobs sit upon a throne of LIES.
I mean, in a mere two days, I saw polar bears, relaxed in a stunning Nordic spa, saw dozens of epic street art murals and visited some truly unique museums (including the world's only museum dedicated solely to human rights awareness). I was also given the opportunity to dine like an absolute queen, with a food scene just as diverse as Winnipeg's multicultural population. 2 days wasn't enough! Pouty and whiny, I forced myself to move onwards East, AKA…
Toronto
From Winnipeg, I caught the train through Ontario back to Toronto, where I was given a day to explore and frolic around (with an open heart and even more open mouth). With only 24 hours to spend, I had a wildly baller time digging into the best of Toronto's food scene. Among the casualties were a beautiful sushi donut, (more than a few) rooftop cocktails, and a shake-inducing combination of sweet coffees from gorgeous cafes around town.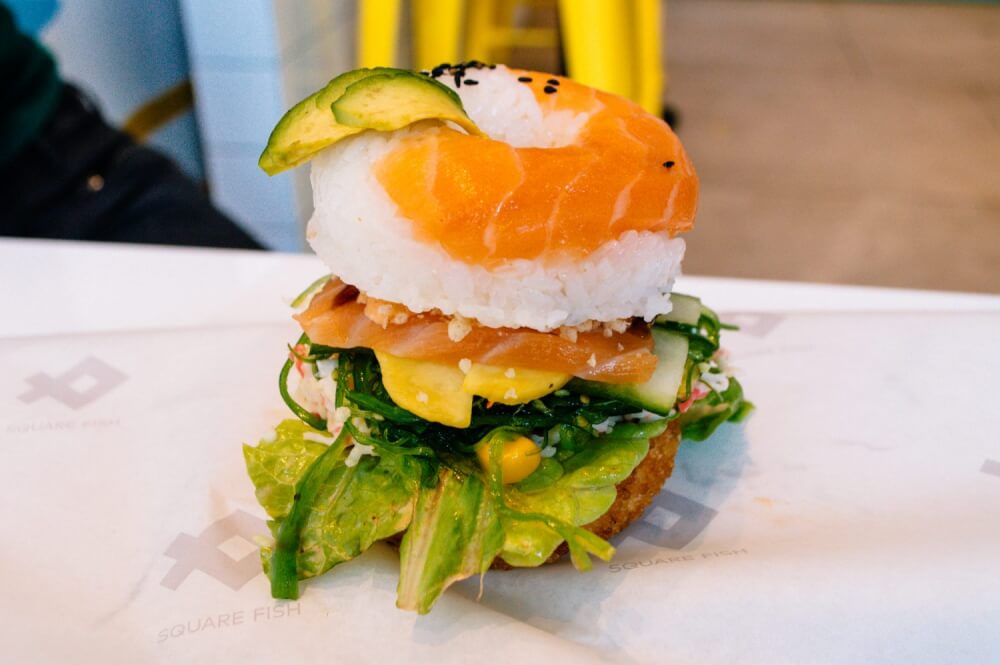 For a day, I pretty much adopted the life of a socialite, meeting up with friends as I ate my way through social gatherings and overdue catchups. It was pure caloric chaos, but nothing compared to my time in…
Montreal
I have two words for you about my time in Montreal: poutine pregnant. Those of you familiar with the glory of Canada's favourite drunk snack will understand what I mean, and those who aren't, well…. Imagine a heaping serving of crispy fries, topped with squeaky cheese curds and mounds of savoury gravy. NNNGH. On those days, I thanked the universe a million times for loose clothes.
Montreal for me has always been a city of indulgence. The last time I visited, it was at frigid winter temperatures during which the air legitimately hurt my face. This time, in the summer sun, Montreal was more alive and buzzing than any city I've ever seen. Every two blocks marked the start of a new festival and with the sunshine on my skin, I couldn't have been happier just walking for hours, seeing all the sights again in a whole new light.
[Give me a gold star] I also managed to sneak away to get some work done at the coolest concept cafe of all time – the Anticafe, which bills you by the hour rather than by your purchase. Basically, you pay for the time you spend there (at a maximum of $9 for the day) and then you get to hang out in their cozy living room-esque space, drinking up all the caffeine and inhaling all munchies your little heart desires. Yes, it is as splendid as it sounds. Be sure to go if you're ever in Montreal!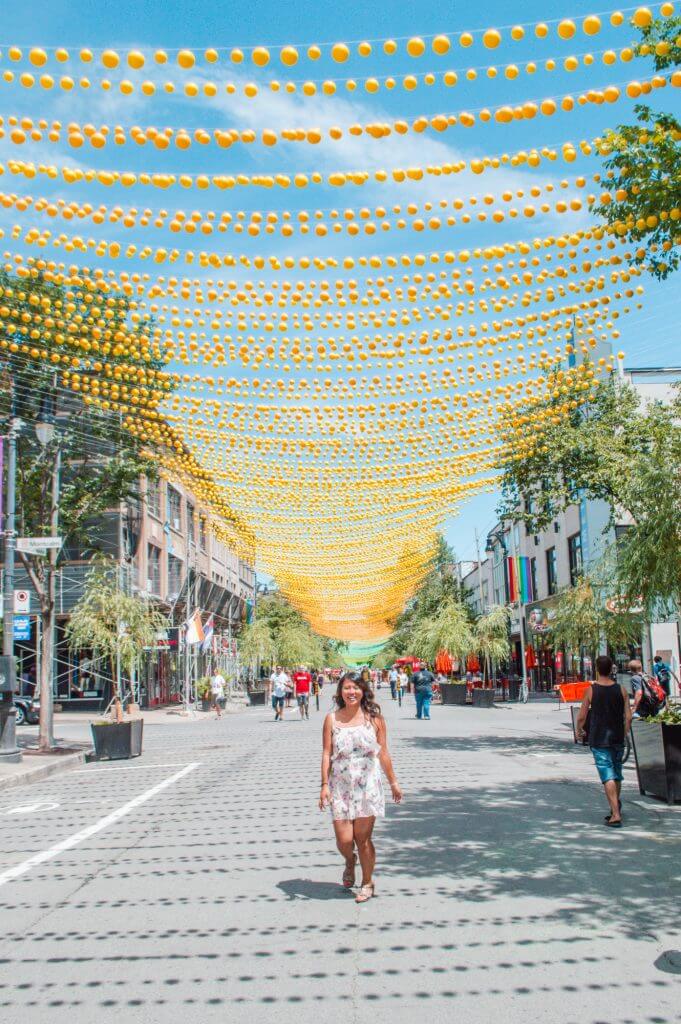 Atlantic Canada: Halifax and… PEI??
Up until this trip, Quebec was the farthest east I had ever been. This time, hopping on a train, I crossed through New Brunswick and into Nova Scotia… a region known as Atlantic Canada.
My original plan was to spend four days in Halifax, but then spontaneity got the best of me, and within 24 hours, I went from "hi what's your name" to sharing a car/bed with total strangers.
… wait, that sounds bad, but let me explain!
You see, in travel, things tend to escalate quickly… and you can go from being strangers to family in the matter of days. Essentially, I met up with some fellow travellers on my train who were keen on the idea of visiting Prince Edward Island, the smallest province Canada has to offer. Quite simply, this is a place that young travellers don't often visit, which, for the curious George in me, made it all the more appealing. Some last minute planning later, we found ourselves squished together in a little car, en route to PEI for a night.
It was a gorgeous trip that played out to the background of rolling green fields packed with hay bales and golden canola. It was here in PEI that I had a lobster roll so good, I almost cried, and also where I frolicked across red sand beaches with Grand Canyon-esque rock formations. I feel so grateful to be from a country with so many unexpected tricks up its sleeve.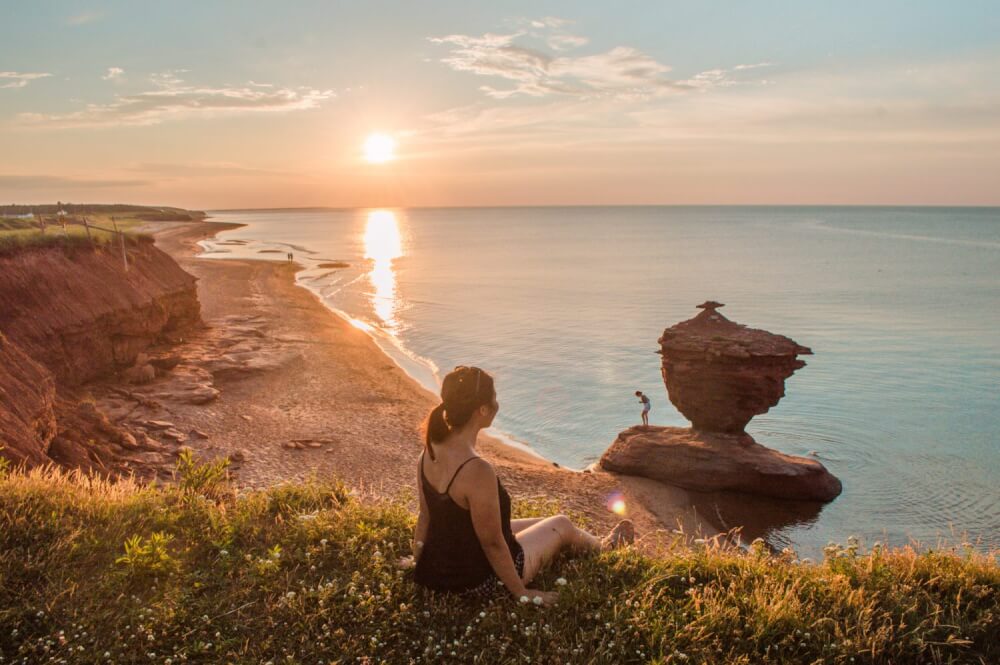 After this spontaneous jaunt, I had two days left to #DiscoverHalifax.
… and it was seriously nothing like I expected. In place of a quiet, maritime town, I found myself in a buzzing city crammed with cool museums (the Canadian Museum of Immigration and Maritime Museum were my favourites), awesome sights (like a hill-top citadel overlooking the city) and of course, fresh seafood that could make a grown woman cry. I mean, look at this lobster poutine and tell me it isn't a true work of art:
And from bright rainbow chairs scattered around town, to comfy orange hammocks dangling by the water, this city showed to me that there's way more to Halifax than its port. I'm already plotting my return… *ominous music*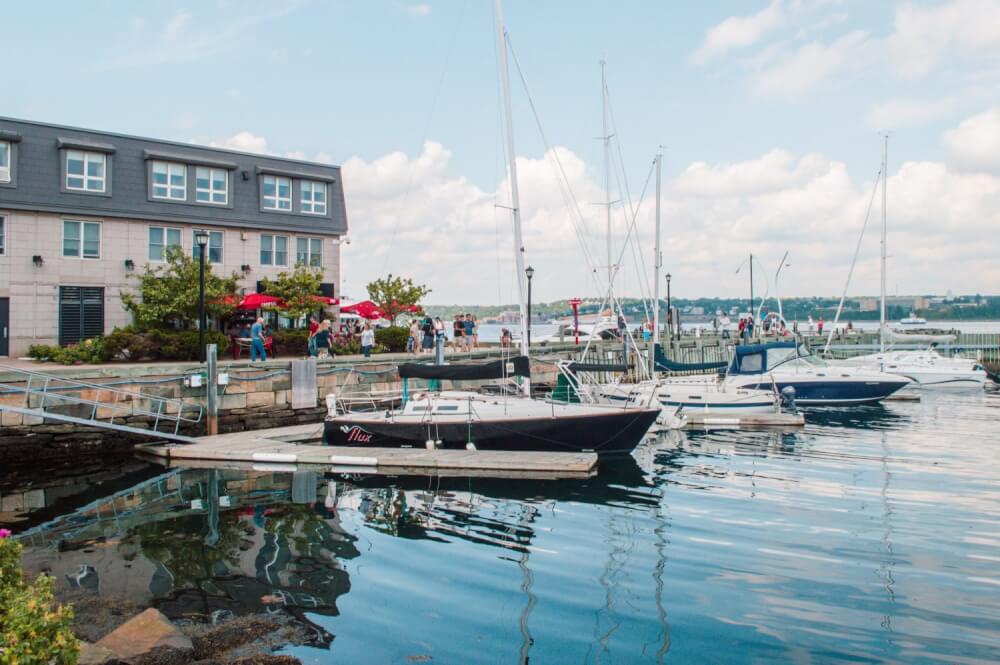 Indonesia
And now for the ultimate plot twist: from Canada to… Indonesia! I left Halifax ten pounds heavier and headed back to Montreal, where I caught a ridiculous 24 hour commute over to Jakarta.
Why am I here? Weeelll, for the next two weeks, I'll be venturing around Indonesia for #TripOfWonders alongside 9 other awesome bloggers from around the world. I'd love if you followed along on Instagram (and all the better if you turned notifications on because the time difference is killing my reach).
The focus of this trip is on cultural discovery, and I seriously can't wait to dig deeper and see what Indonesia has to offer across its 18,000 islands…. (though I'll only be visiting 4!) I keep pinching myself that this is really happening. I've always joked that I'm the only travel blogger in the universe who has never been to Bali, so I am beyond stoked for that to change.
… Just get me one of those big hats and I'll be a walking cliche 😉
[Don't judge me] and thanks for reading,
Christina
Want to travel smarter and more often?
Join over 80,000 followers who love what I have to say! Enter your email here & you'll gain instant access to my special VIP zone, featuring freebies like checklists and printables... plus exclusive content, tips and updates!