I need to make it known that I am the absolute worst road trip partner (possibly in the entire history of road trips).
Not only am I an inept driver, it seems I was also born without any inner compass, which means maps are (ironically, as a travel blogger), my kryptonite.
I had high hopes and dreams of exploring Germany's romantic road last weekend, a plan quickly dashed by my lack of navigation skills and complete inability to stay awake in moving vehicles. You know how children unfailingly doze off in cars? That's me, except far less cute.
This is how I ended up 100km off course during said road trip. The initial plan was to grab a bus up to Frankfurt, rent a car, take a detour to Eltz Castle and then onwards to Würzburg, where we'd drive along the Romantic Road down to Munich.
These were great plans, except for one fatal flaw: they counted on me being able to accomplish basic tasks… which I am not. After loading up the Google Maps route, I perked up as chief navigator and informed my boyfriend "It's only 1.5 hours away!". We got on the ever speedy Autobahn and those were the last words I remember, until I was gently nudged awake about an hour later.
"Are we almost there?" my boyfriend asked. I felt silly (but not surprised) that I fell asleep, but I assumed there weren't many turns or exits anyway. I picked up my phone and realized that… nope, we were nowhere near Eltz Castle, and were in fact, en route to Cologne, about 100km away from where we had intended to go.
SOOO, I guess we were going to Cologne!
Now, this accidental detour wasn't my first time in Cologne, but it was the first time I'd seen it so empty. I have to admit – it was really nice to step into the epic Cologne Cathedral without a huge crowd mobbing the front square. The city was setting up for Karnevale (with big festivities this weekend), but there was barely anybody on the streets. With shops not yet open, and because apparently I hate myself, I decided to climb the cathedral's tower, which was a thigh blasting 533 steps. A good morning workout to jolt me out of my zombie-like state!
We spent a little while exploring the city centre. I have to say, Cologne's Old Town is ridiculously pretty, with picture-perfect sights like this that we got to enjoy all to ourselves. Not a bad place to chow down on a pretzel, I'd say. It was a short stop (mostly for a driving break/sustenance) but a pretty happy accident all in all.
After fuelling up with some breakfast and (maybe 10) energy drinks, we made the drive to Eltz Castle, our initial 1st stop.
I have to say: Eltz Castle is a sight truly worth the detour. I mean, hey, after all, this is travel guru Rick Steves' favourite castle (sorry for that nerd fact), and for a guy who's travelled a ton and seen (I assume) his fair share of castles, that's a rather big deal. We visited knowing full well that it would be closed. After all, it's super off-season for them, but I desperately wanted to prance around, play princess, and see the prettiness for myself.
To reach the castle actually requires a 15-20min walk through the forest (which, I promise, is much less shady than I make it sound). The suspense was killing me. Every time we turned, I expected to see the castle towering above me, Disney intro style. When we finally caught our first glimpse of it, we saw the castle from the side, and I have to admit, I was a bit surprised by how normal it seemed….
It was a very quiet day to visit, with no more than 2 or 3 groups of people there at a time. All the better, since I hate crowds and had lugged a helium heart balloon with me (for a rather cheesy Romantic Road photo shoot I had planned). As I shamelessly posed #forthegram, I got the craziest surprise ever…
I was almost run over by a van!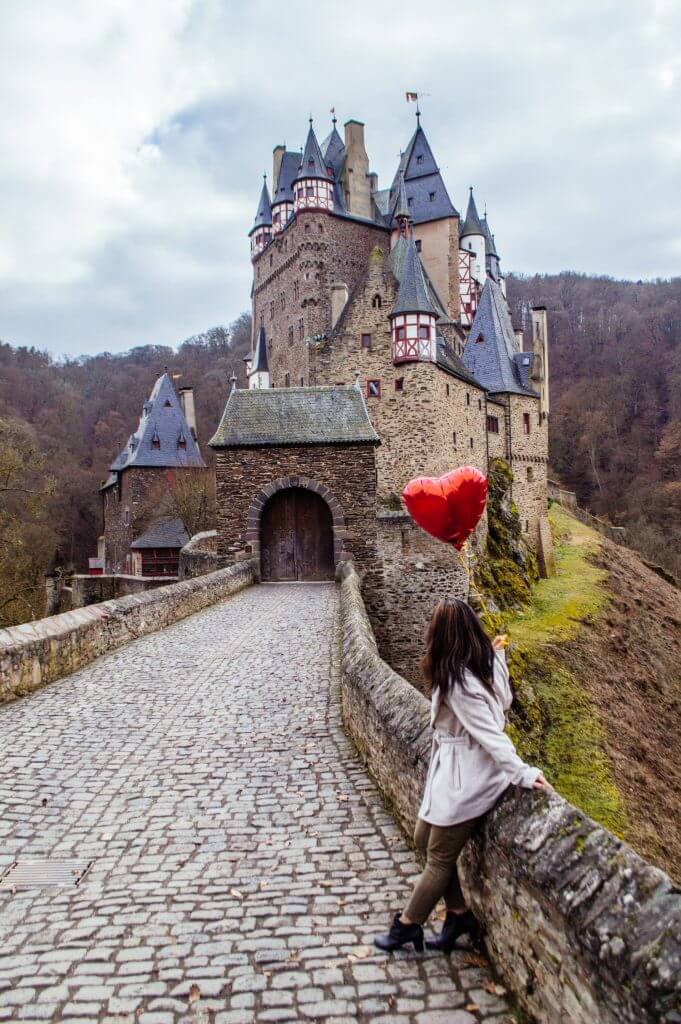 Like huh?? Where did it even come from?! It was the most bizarre sight, seeing a regular van pull up to the old wooden door of this fairytale castle. An old man climbed out of the car, opened the door and proceeded to drive in, worriedly peeking at me to ensure I wasn't going to follow them in. Yeah it's okay man, I'd be terrified of the crazy girl with the balloon too.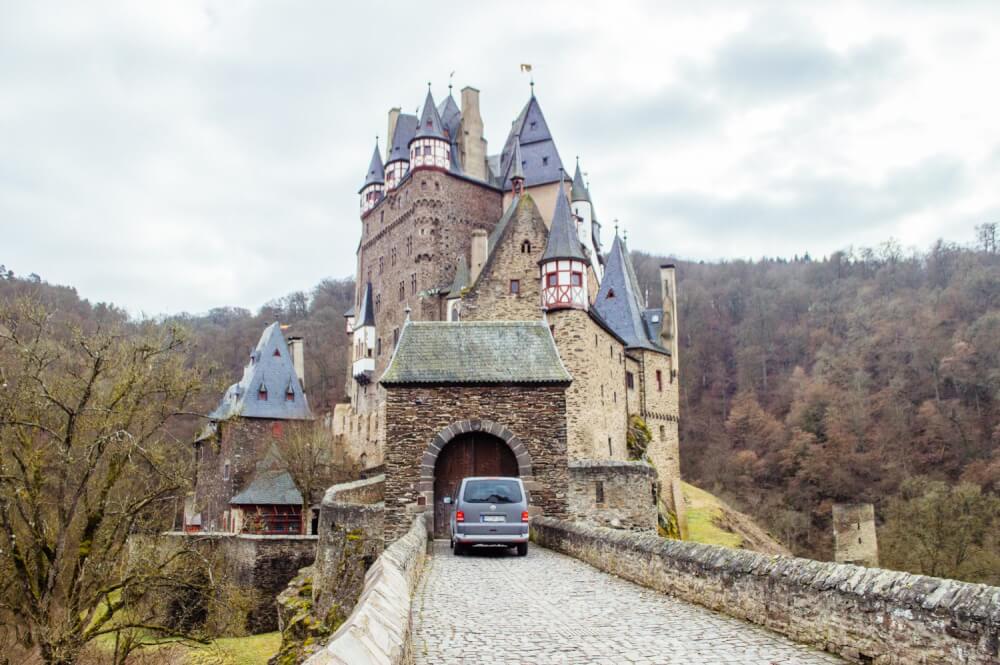 Since my boyfriend is more of an athletic explorer type, we went on a little trek around the grounds to get a new perspective on the castle. That's the thing – Instagram ever only shows you one side, so it was really cool to be able to climb up some hills and dangle my feet off some (very muddy) rocks and see the castle from a whole new perspective.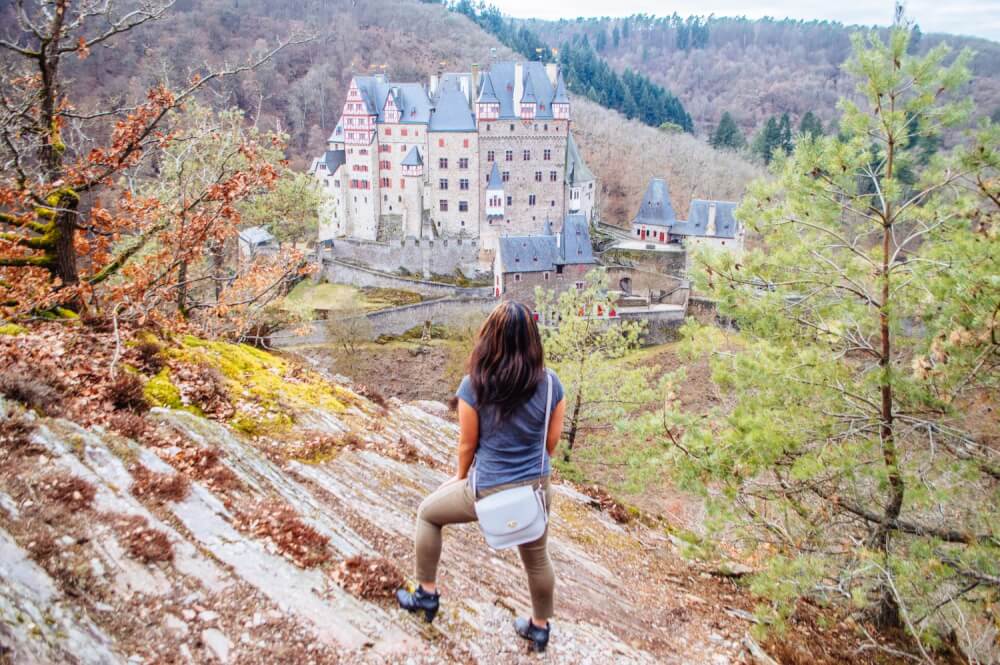 After bidding farewell to my dream home, we made a quick detour to Frankfurt to visit Chipotle (where all my burrito dreams came true) and then continued onwards (in the night) to Rothenburg ob der Tauber.
Naturally, this didn't go according to plan either. Thanks to yet another Google Maps disaster, for an hour, we drove towards another Rothenburg that wasn't actually where we meant to go. For a variety of reasons (including severe sleep deprivation), I lost it.
And I started bawling like a baby.
"I'm… just… so… bad… at… MAPS!!" I remember heaving through the lamest sobs known to man. It was at that point that my tears mixed in with my day-worn eyeliner and I started looking like I'd been dumped at prom.
Some Class A consoling later (gold star for boyfriend!), I picked up the shambles of my dignity and watched Google maps and every sign like a hawk. By some miracle, we made it to Rothenburg ob der Tauber before midnight, through its epic city walls and into the cozy bed of our guesthouse, strategically positioned above a lovely Italian restaurant.
When in the morning, it was a blue sky day in Rothenburg and I finally got to see the medieval town that we had driven into, I could have cried (out of happiness this time). I'll have full guides on Eltz Castle and Rothenburg ob der Tauber coming soon, but for now, just take a peek at these picture-perfect photos: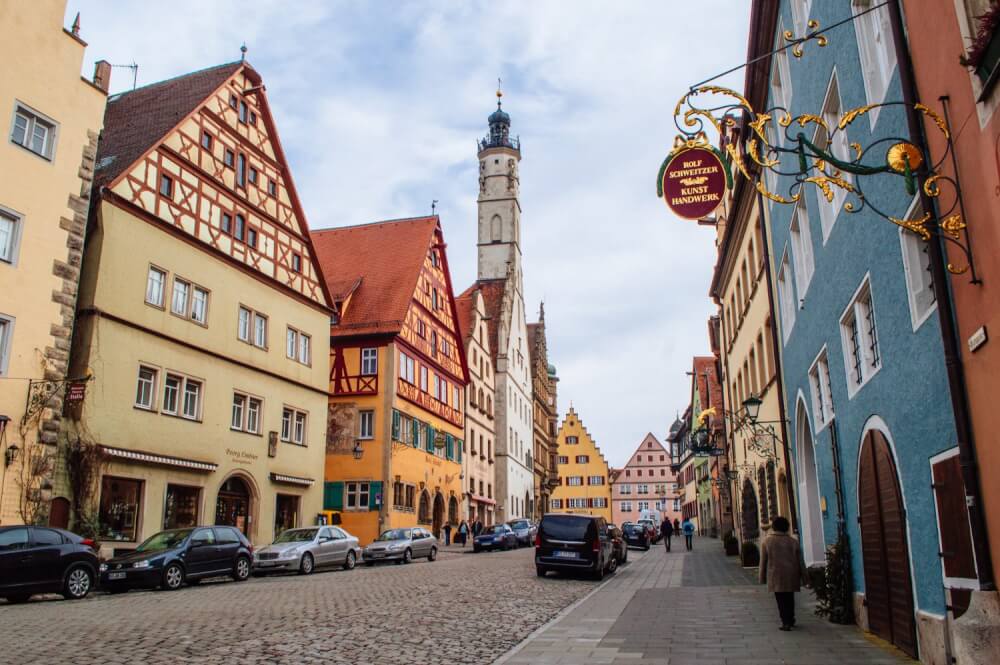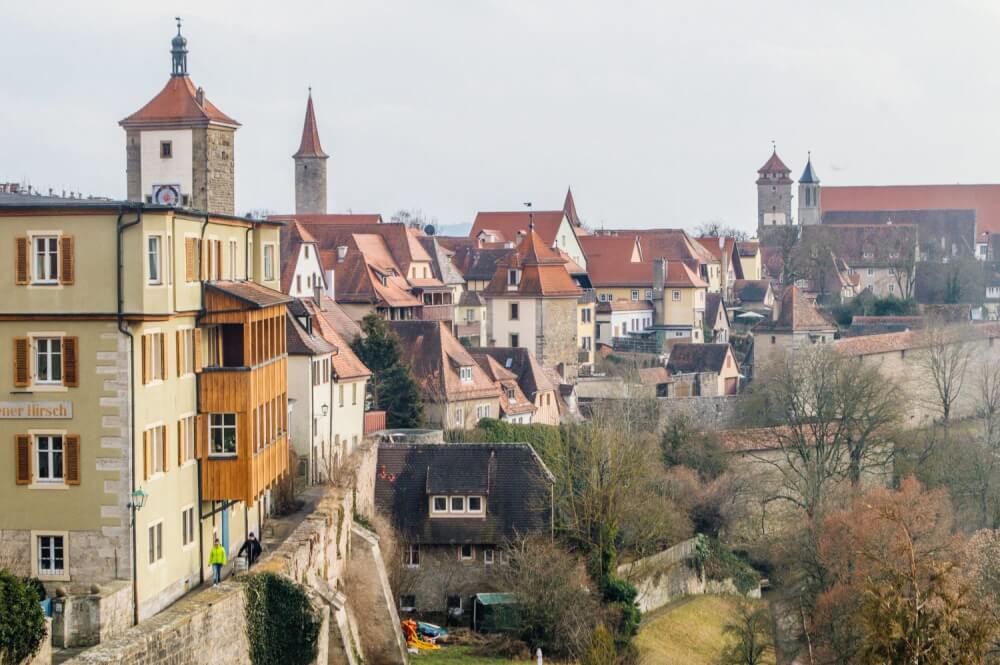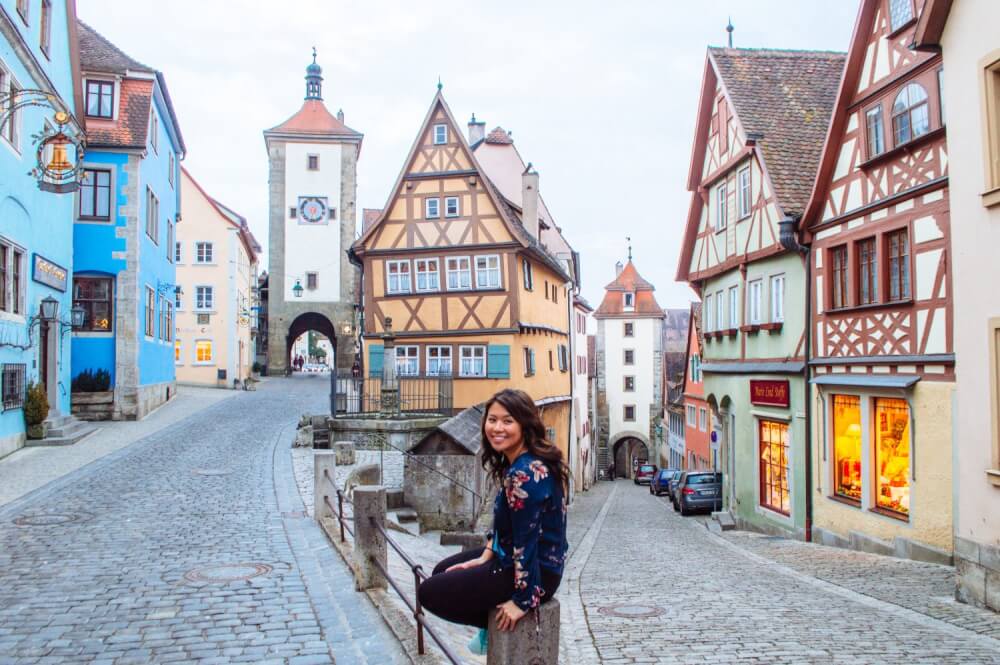 So in all, despite many wrong turns (literally) and more than a few missteps on my part, what started as a romantic weekend did end up being one… with a few unexpected stops, 100% more Chipotle and much less of the Romantic Road than expected. Still, it was one for the books. Hopefully you enjoyed that tale of misadventure, and stay tuned for more guides on the spots I visited!
So, tell me, what's the most random reason you ever ended up somewhere? Leave me a comment so I feel less dumb!