*FYI - this post may contain affiliate links, which means we earn a commission at no extra cost to you if you purchase from them. Also, as an Amazon Associate I earn from qualifying purchases. Check out our Privacy Policy and Disclosure. for more info.
The day trip from Munich to Hitler's Eagle's Nest is one of the coolest day trips you can take while visiting Munich. Curious how to make this trip for yourself? This guide will tell you everything you need to know!
The historic Eagle's Nest in Berchtesgaden National Park is by far one of the most incredible day trips you can do from Munich.
Built as an imposing symbol of absolute power during the Nazi regime, this mysterious mountain-top retreat, a well known sanctuary of Hitler's, once served as a private meeting place for members of the Nazi Party and foreign visitors alike.
But despite this dark past, the Eagle's Nest serves a very different purpose today: it's one of the most scenic beer gardens in Germany, and hosts millions of curious tourists on its grounds each year.
You can learn more about the Eagle's Nest and its history in this full Eagle's Nest guide.
But if you're simply curious about how to get from Munich to the Eagle's Nest, you're in luck!
This post will tell you everything you need to know about this popular Munich day trip, including timetables, a suggested itinerary, tour options and helpful insider tips so you can make the most of your visit.
Enjoy!
First – How Far is the Eagle's Nest (Kehlsteinhaus) from Munich?
The distance from Munich to the Eagle's Nest is about 160km.
By car, this would take about 2 hours to reach the Eagle's Nest bus stop.
By public transportation (note that there are no direct connections by train from Munich to the Eagle's Nest), it would be just over 3 hours total, including:
The train ride from Munich HBF to Berchtesgaden HBF (2.5 hours including the mandatory transfer at Freilassing)
A short bus or taxi ride from Berchtesgaden HBF to the Eagle's Nest Parking Lot (10-15 minutes)
Finally the bus ride up to the actual Eagle's Nest which is mandatory, and the only way to get up the mountain besides hiking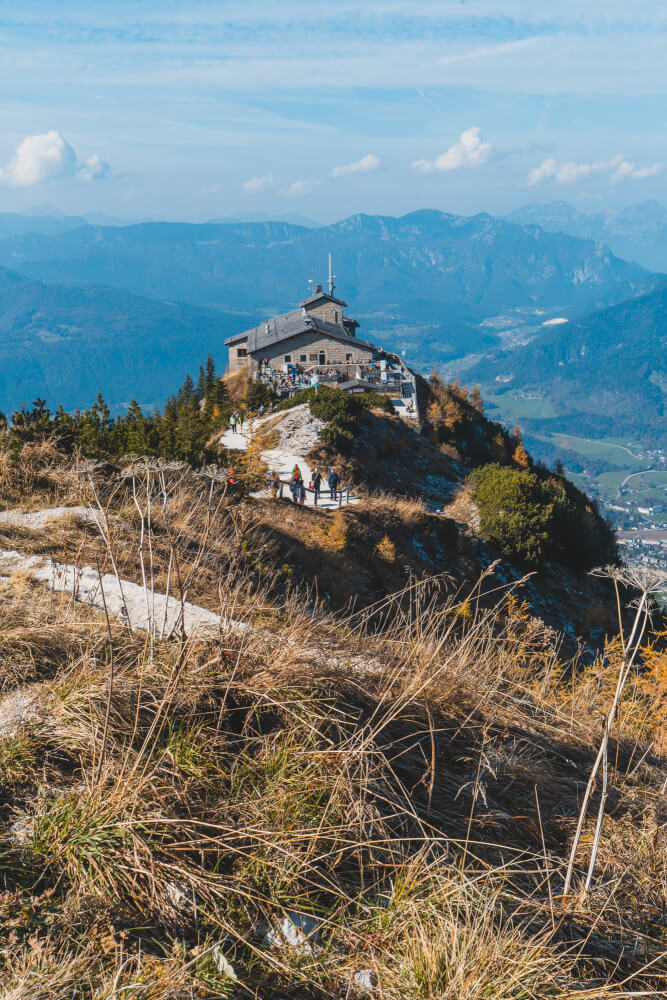 How to Get from Munich to the Eagle's Nest: Step by Step
Alright, now let's jump into the nitty gritty of your Eagle's Nest day trip logistics.
The journey from Munich to the Eagle's Nest is a relatively simple one, but it is incredibly time-consuming, so it's best that you're prepared! Here are the many options you can choose from.
OPTION A (Easiest!): Book yourself on an Eagle's Nest Tour from Munich
If you want the easiest, most convenient option for getting from Munich to the Eagle's Nest, the #1 option for you is to book a tour.
While I did the trip myself with public transportation, I would recommend booking a tour for various reasons.
REASON #1: The journey can be confusing if you're not familiar with the train system/language here. My friend and I have both been living in Munich for three years but still managed to miss a stop, which delayed us by an hour.
REASON #2: The trip from Munich to the Eagle's Nest has a lot of transfers/connections, so there's a huge margin for error. It was kind of stressful for us to make sure we made every connection, and I think it would have just been easier if we had paid for a tour instead!
So, if you decide to go to the Eagle's Nest with an organized tour, here is a table summarizing different Eagle's Nest tour options from Munich:
OPTION B (Cheapest!): Go from Munich to Eagle's Nest by Public Transport
Interested in doing Eagle's Nest without a tour? If you'd prefer to go the independent route and get from Munich to the Eagle's Nest yourself using public transportation, the good news is it's cheap!
The bad news is it requires a few transfers and can be quite confusing if you're not familiar with the wonders of the German train system.
But, let me break it down simply.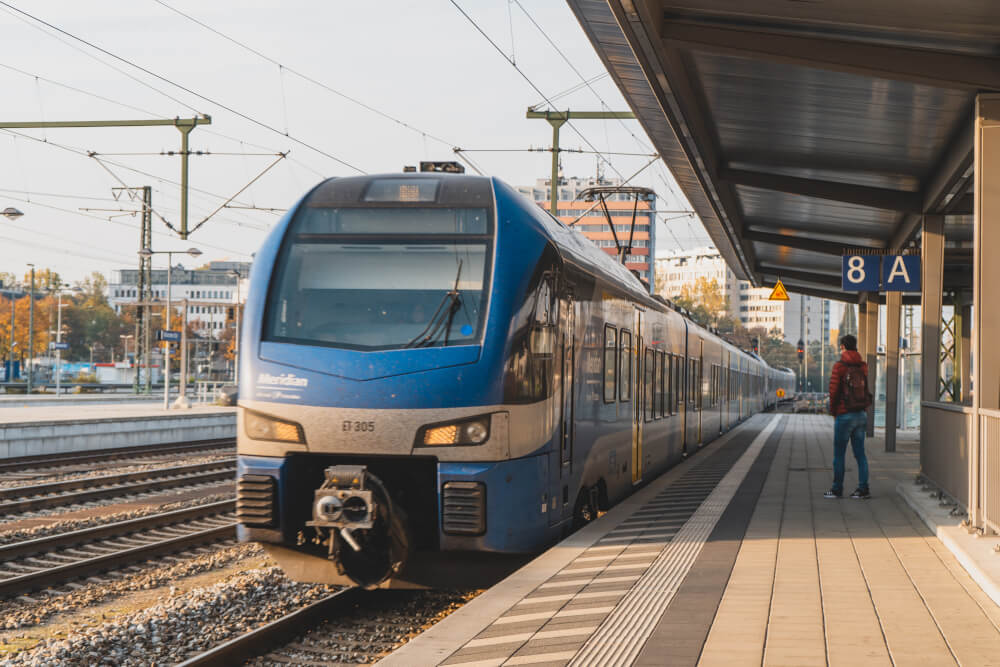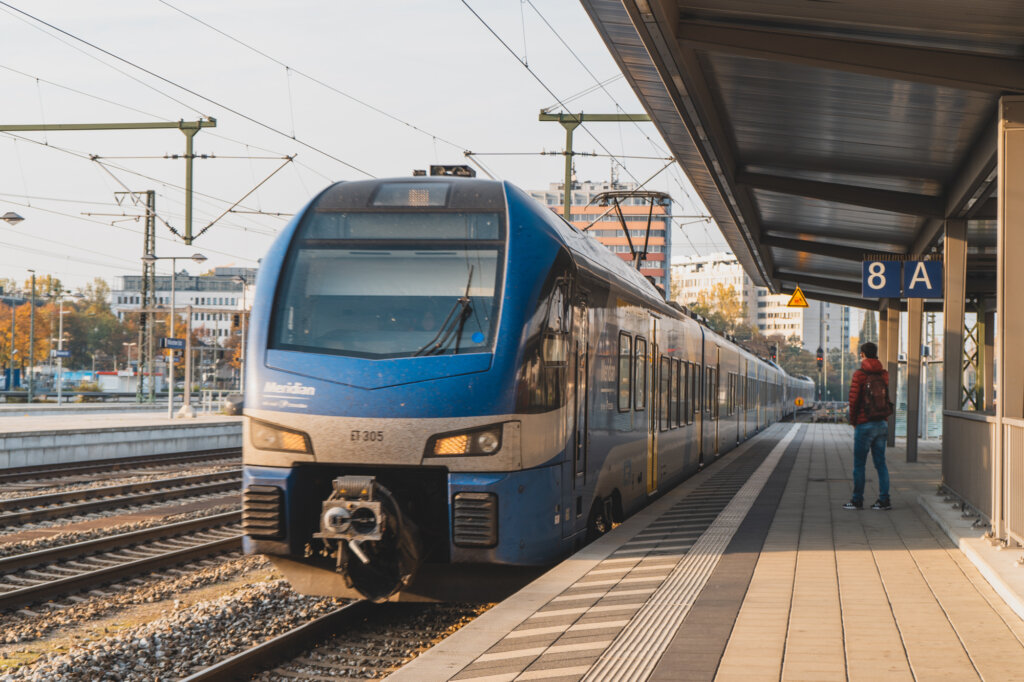 The cheapest way to go from Munich to the Eagle's Nest as a day trip would be to purchase a Bayern ticket, which covers your transportation all day on regional transport in Bavaria.
It is especially ideal for groups!
NOTE: The Bayern Ticket does not include your final bus ride up to the Eagle's Nest, which is run by a different company.
To get to the Eagle's Nest from Munich, you need to go through the following steps:
STEP ONE: Purchase a Bayern Ticket (detailed instructions here) and use it to get from Munich to Berchtesgaden HBF. No direct trains service this route, so you will need to transfer in Freilassing. This trip is offered once an hour and takes about 2.5 hours total to reach Berchtesgaden HBF.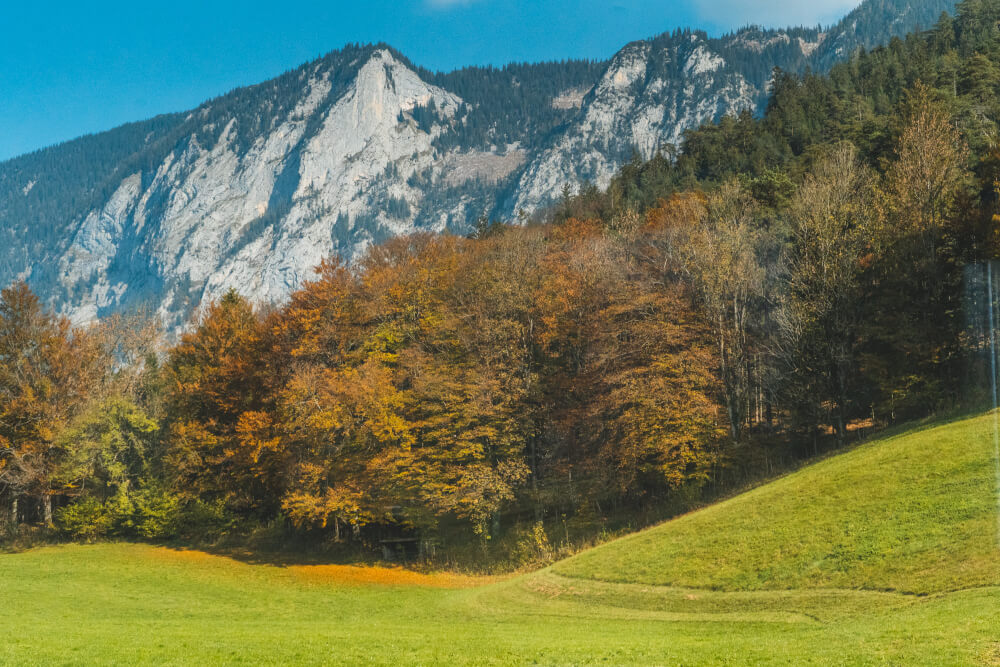 NOTE: Alternatively, you can catch a train to Salzburg and then a bus to the Eagle's Nest, but I think transferring in Freilassing is much simpler and less confusing.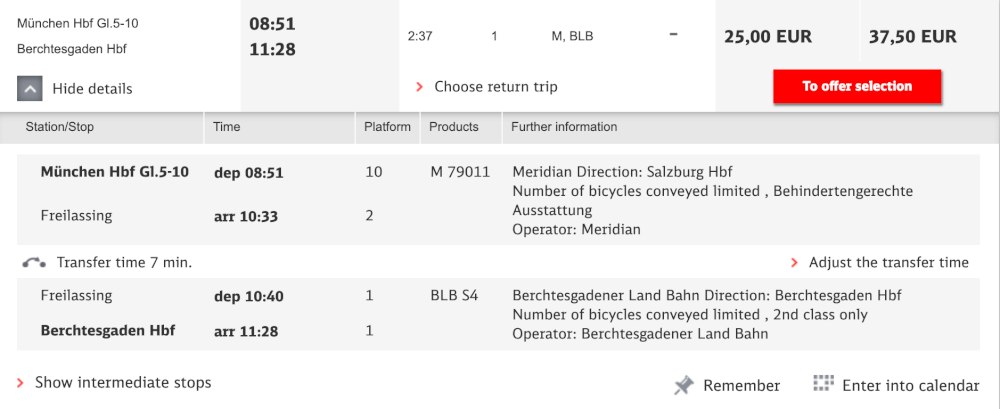 STEP TWO: Once in Berchtesgaden, you need to get from Berchtesgaden HBF to the Eagle's Nest Bus Stop (Kehlstein Busabfahrt), near the Obersalzburg Documentation Center.
To get there, you can either take the local bus 838 (search for the timetable here, leaves once an hour, journey time is 15 minutes) OR if the schedules don't match nicely, take a 7 minute taxi ride to the bus stop that will cost about 12 euros.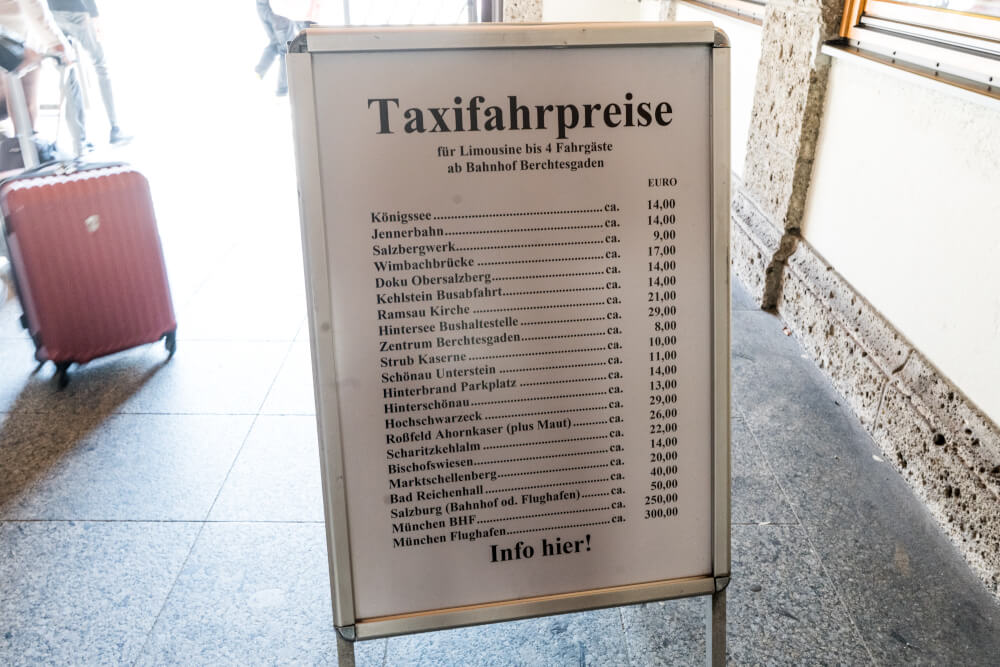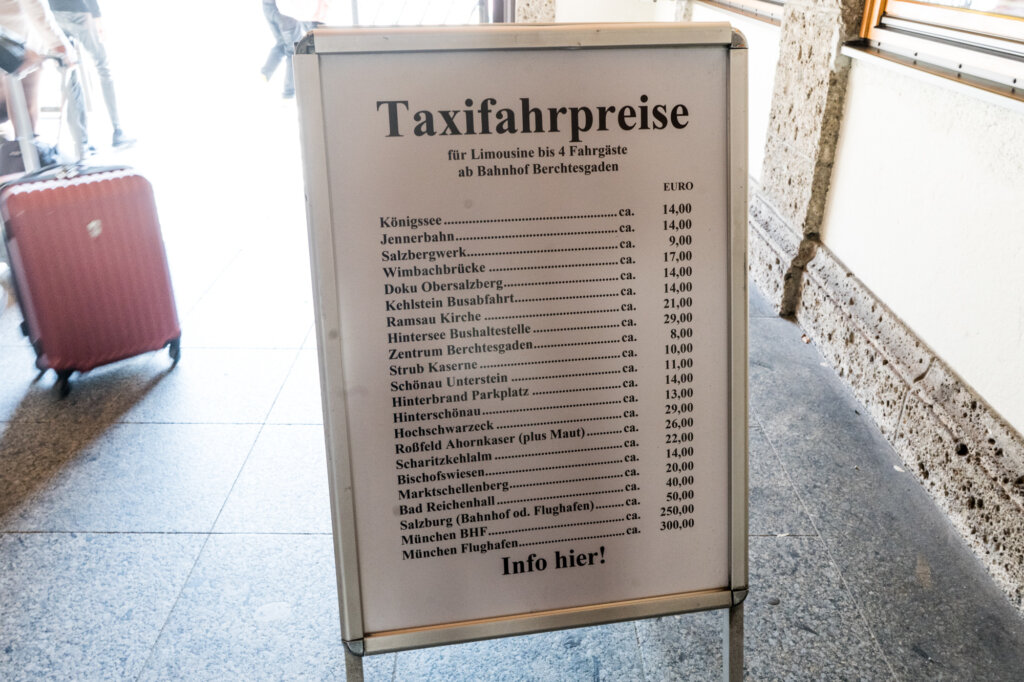 STEP THREE: Take the bus from Eagle's Nest Bus Stop (Kehlstein Busabfahrt) up to the actual Eagle's Nest (Kehlsteinhaus).
This trip is NOT covered by the Bayern Ticket.
The first bus up is at 7:40am and the last bus down is at 4:50pm. Click here for more info. Again, this is the only way to get up the mountain besides hiking.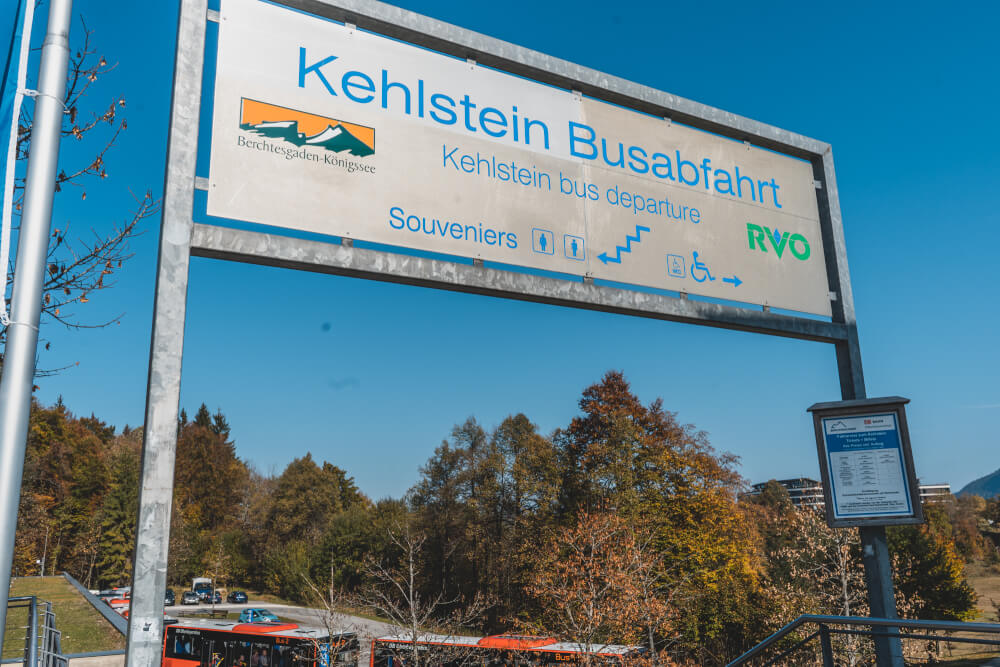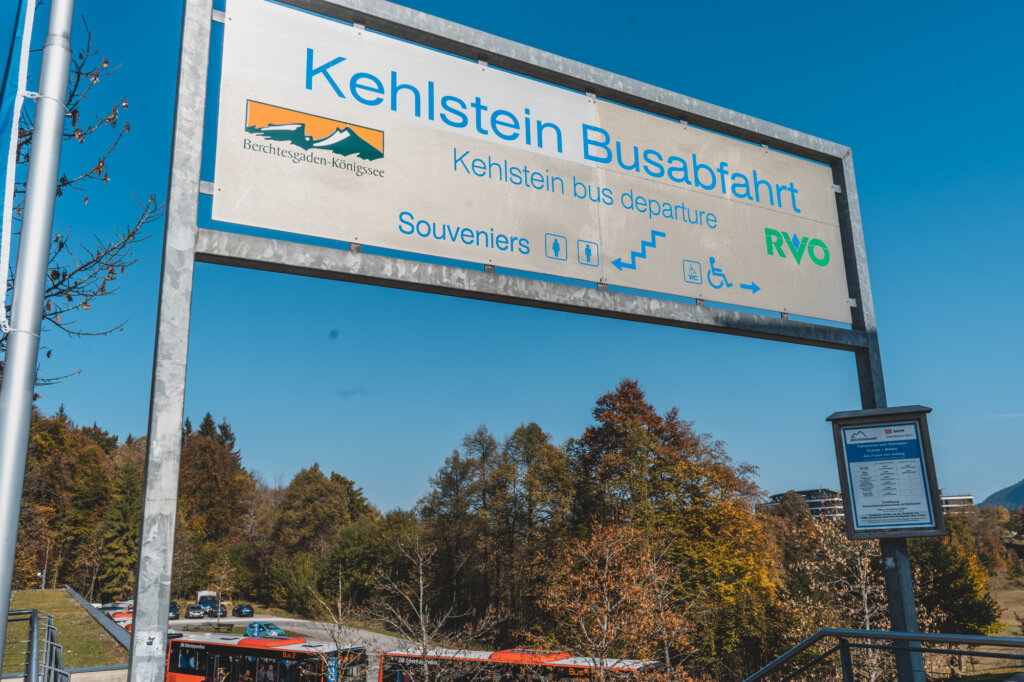 STEP FOUR: Once you arrive at the Eagle's Nest, don't forget to reserve your return time at the ticket window.
After doing that, you can head into the chilly tunnel and take the elevator up to the Eagle's Nest. Alternatively, if you feel like hiking, you can hike up to it, which takes 30 minutes.
STEP FIVE: Do a happy dance that you've made it and enjoy the views.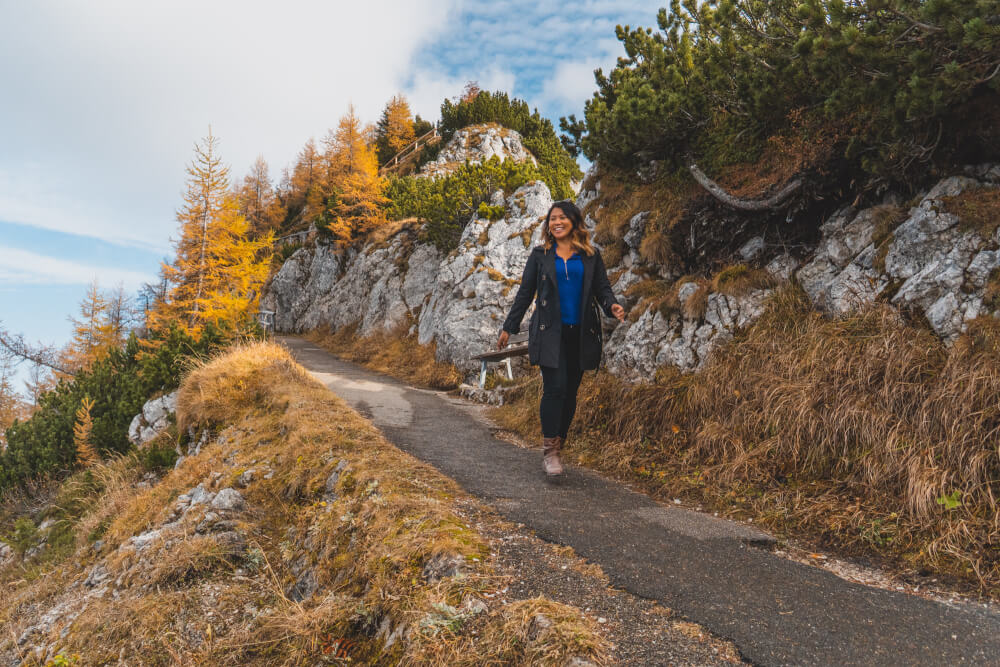 Getting Back from the Eagle's Nest to Munich
After surviving that initial commute from Munich to the Eagle's Nest, I'm sure that getting home won't be any issue! The main times to keep an eye out for are the final buses departing the Eagle's Nest, and the final trains coming back from Berchtesgaden to Munich.
So here are some deadlines to keep in mind:
According to the official timetable which you can search here, the last bus leaving the Eagle's Nest Parking Lot (Kehlsteinparkplatz), coming back down to the bus stop (Kehlstein Busabfahrt) is at 4:50pm.

The last 838 bus leaving the Eagle's Nest Bus Stop (Kehlstein Busabfahrt) going back to the Berchtesgaden HBF is 6:39pm on weekdays and 5:39pm on weekends and holidays. Click here to search up the confusing timetable!
And the final train that you can catch from Berchtesgaden HBF back to Munich HBF is at 10:10pm, although I highly recommend catching an earlier one because you would get home past 1am on this train!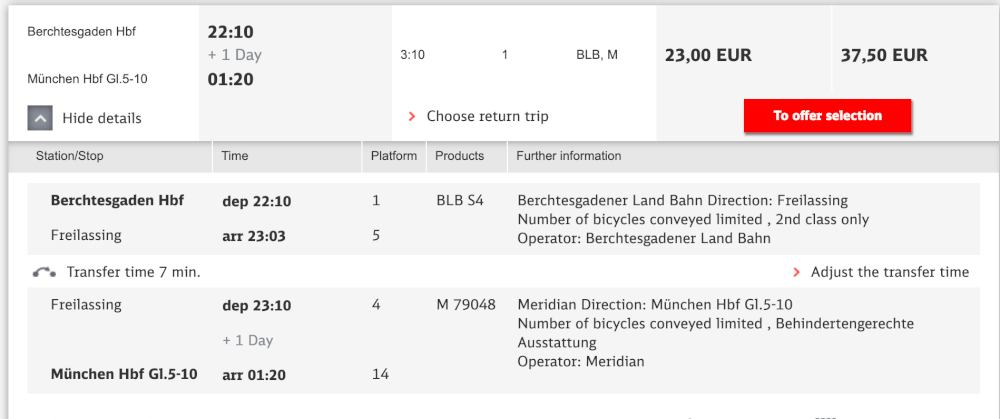 A Suggested Munich to Eagle's Nest Day Trip Itinerary
Alright, now let me suggest an itinerary for you based on my last trip to the Eagle's Nest.
Assuming you are using public transportation, then I recommend you get a Bayern ticket for the day.
My friend and I purchased one together which gave us unlimited regional transport for the both of us for only 32 euros.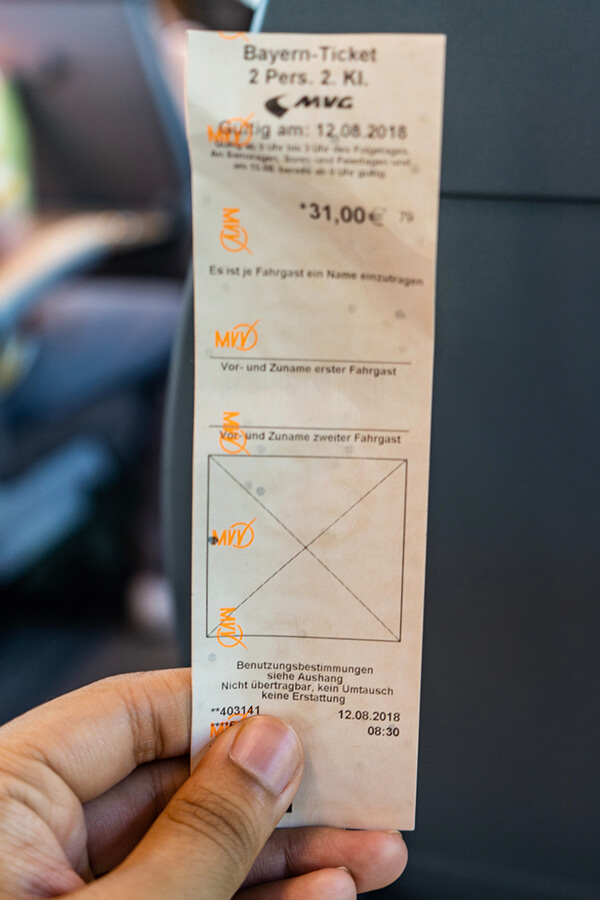 This one ticket covers all the transport you need for the day, apart from the bus ride up to the Eagle's Nest, and the taxi to the Eagle's Nest bus stop (which is also doable, but slower, by a bus, which the ticket does cover).
Your plan for the day is as follows: take the Meridian train to Freilassing (the stop before the terminus, Salzburg HBF), then transfer there to get to Berchtesgaden HBF and then take public transport from there to the Kehlsteinhaus Bus Stop, and catch the Eagle's Nest bus up to the top.
[See what I meant? Lots of transfers!]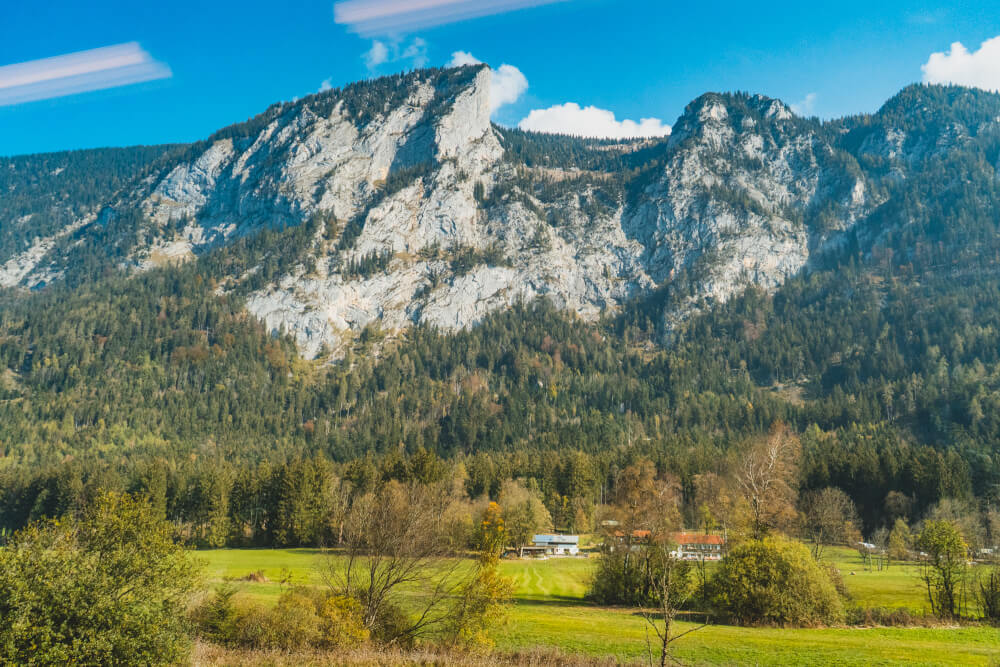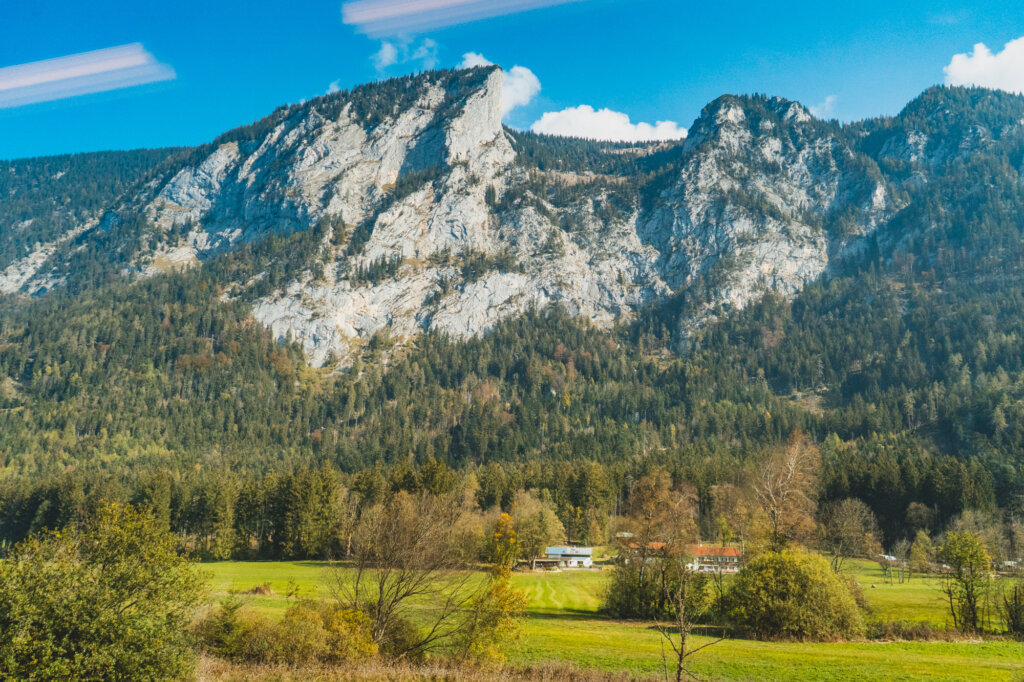 Anyways, if you are travelling on a weekend, the Bayern ticket is valid from midnight onwards, so you can take a very early train if you wish! For the purpose of this itinerary, I'm going to take the train leaving HBF at 8:56am because most people like to sleep in, but if you are an early bird, feel free to adjust as necessary.
If you are travelling on a weekday, the Bayern ticket is only valid from 9am onwards.
This is tricky because the train would leave Munich HBF at 8:56am.
That said – there's a little loophole you can use to still take this train, because this exact train actually passes through Munich OST (East) Station at 9:03am, so if you start your journey at Munich Ost, you can use your Bayern Ticket on a weekday with no problem.

Either way, for this itinerary, get on the train from Munich HBF to Freilassing that leaves at 8:56am (or hop on Munich Ost at 9:03am).
The final stop of this train route is Salzburg, which is what will be written on all the signs and boards.
Remember that Freilassing is the stop before Salzburg, and the ride there will take less than an hour, so don't get too comfortable and miss your stop (as I embarrassingly did).
You will arrive at Freilassing at 10:33am, at which point you'll have 7 minutes to transfer onto a train bound for Berchtesgaden HBF departing at 10:40am. The station is tiny and trains are timed to connect, so you will be fine.
You will arrive at Berchtesgaden HBF at 11:28am.
Exiting the Berchtesgaden HBF (main train station), you have two options: pay about 12 euros for a taxi to the Eagle's Nest Bus Stop (Kehlstein Busfahrt) or take the 838 bus (which is included in the Bayern Ticket).
For us personally, we checked the timetable at the bus bay and realized we'd have to wait about half an hour for the bus.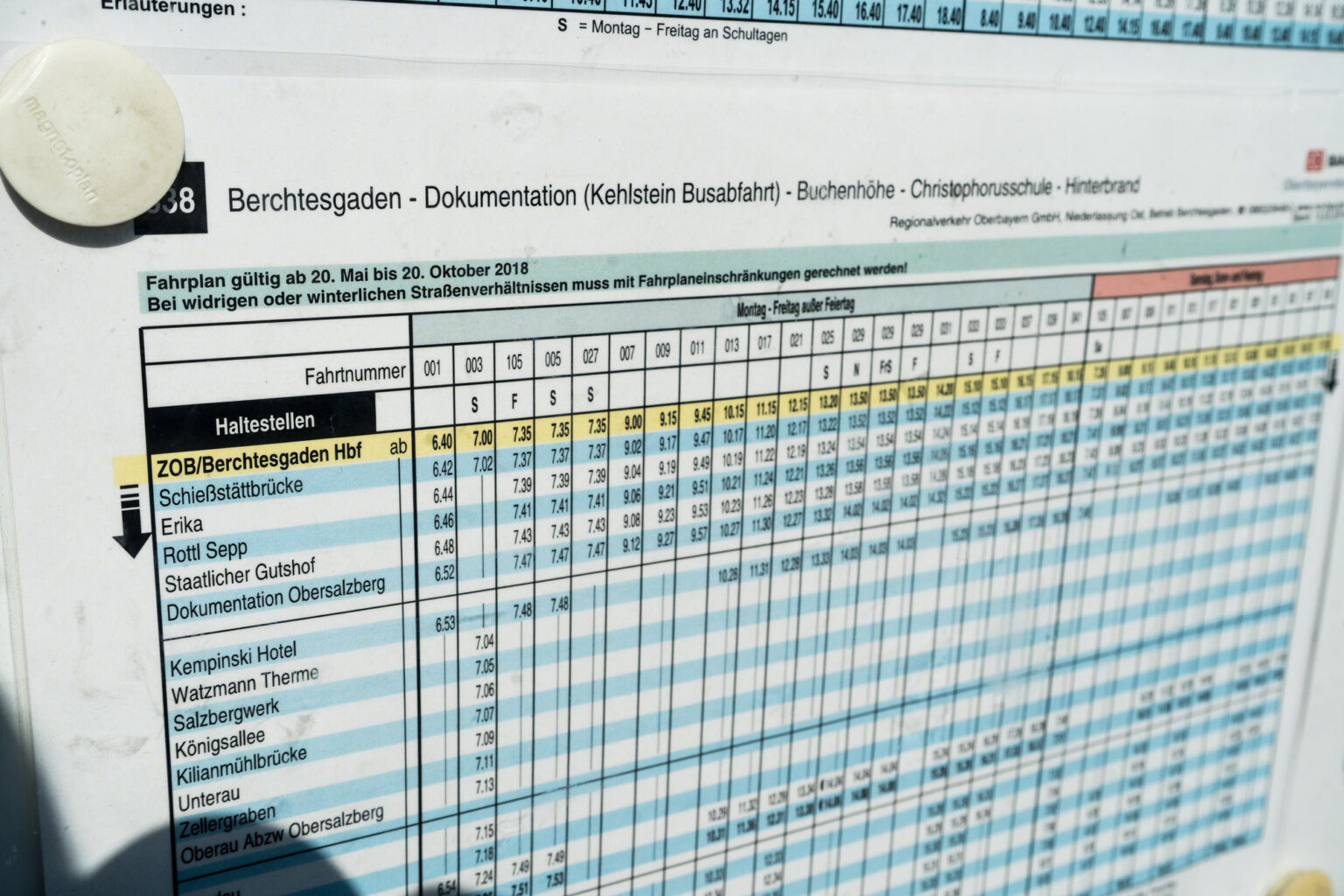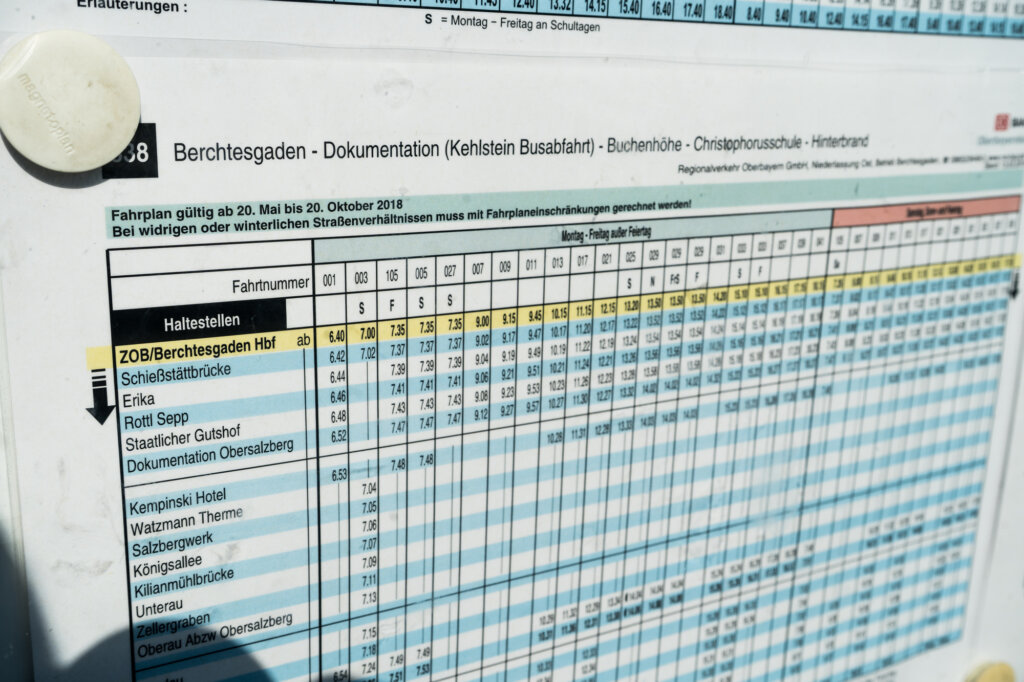 That's why we decided to splurge and get a 7 minute taxi to the Kehlsteinhaus Busbahnhof, AKA the Eagle's Nest Bus Station.
NOTE: This is where everyone (guided tours, DIYers, etc.) MUST catch a bus up to the Eagle's Nest.
We bought roundtrip tickets for 16.60 and loaded onto the next bus. They come so frequently that you don't need to worry about making a specific one. NOTE: The prices seem to have gone up significantly since our visit – the website now states a roundtrip price for adults without a guest card is 28 euros!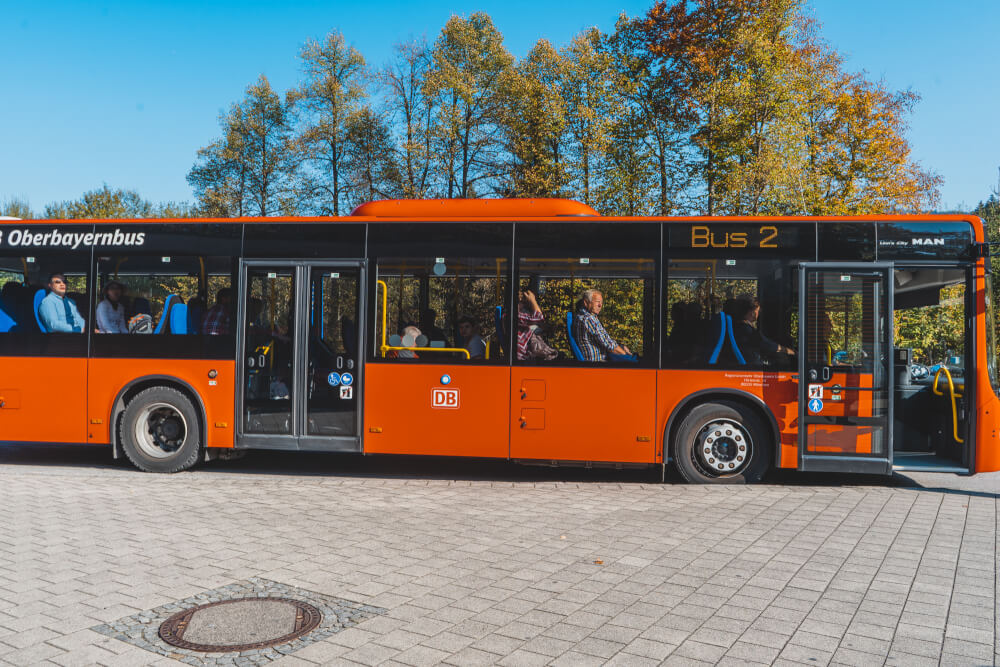 The bus ride up takes about 20 minutes and you're treated to wonderful views along the way, along with some commentary and a reminder to reserve your bus time back down.
You can do this at the ticket office immediately as you get off the bus.
There isn't a lot to do up at the Eagle's Nest besides eat, do a bit of hiking and enjoy the views, so I would comfortably budget 3-4 hours max up there.
We booked our return bus for 4pm and had plenty of time to leisurely see everything and even take the walking trail back down.
Next, time to head to the elevator! You can also hike, but I'd recommend taking the elevator up (it's a cool experience in itself), then hiking back down.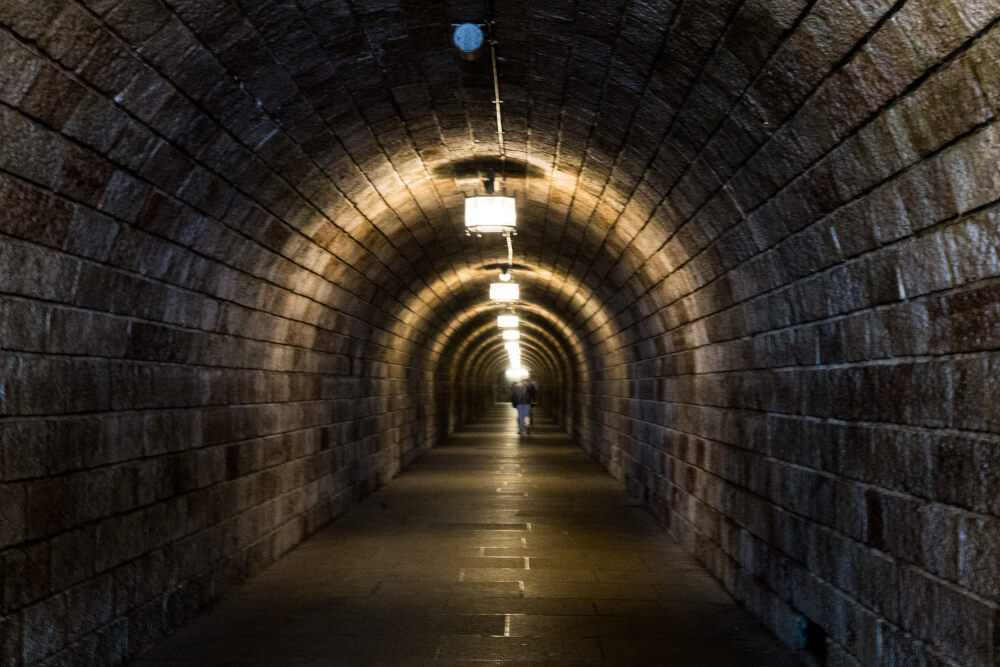 A quick zip up the elevator and you're at the top!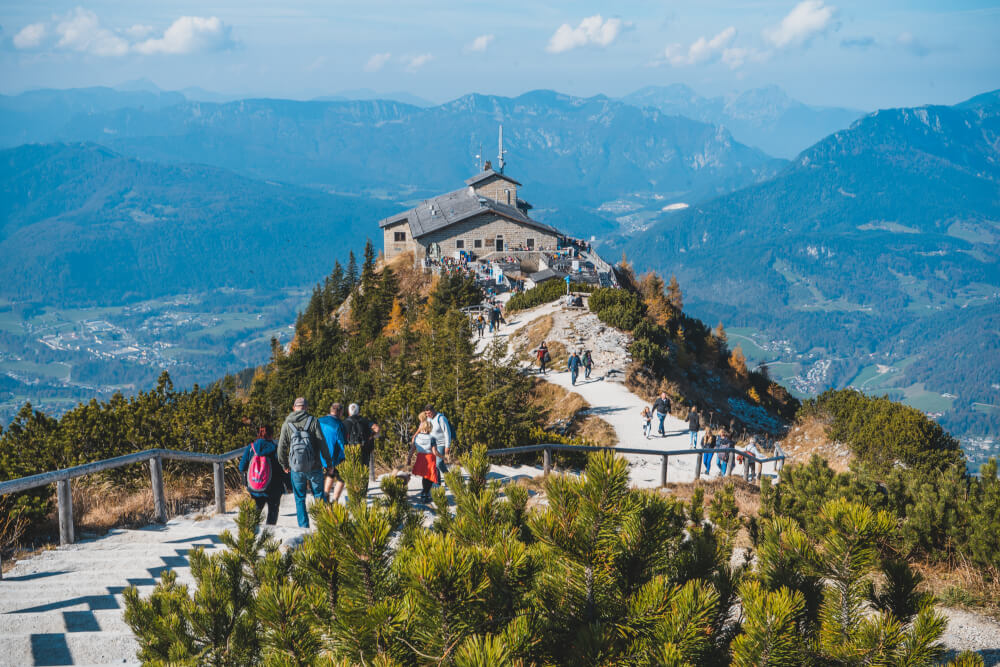 Again, there isn't a ton to do up here, but the views are incredible and the food at the beer garden is actually quite decent.
I would recommend taking a few hours to just explore the area before chilling out with some food and drink, keeping your bus departure time in mind.
It only takes about 30 minutes to explore the actual Eagle's Nest house bit, as it's very small.
Don't forget to visit the Sun Terrace, which has 14 new info boards containing historical photos and explanations of the Eagle's Nest, its use and its construction.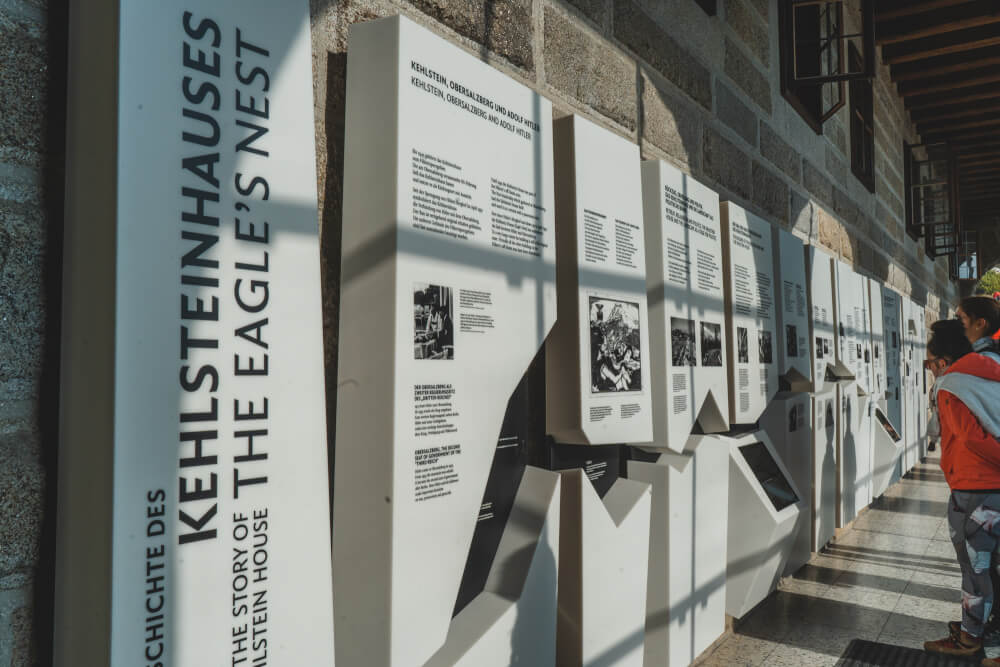 And yes, the food is pretty good, so grab a seat in the sunshine and enjoy the views while wolfing down some hearty Bavarian cuisine.
(While keeping an eye on the clock of course!)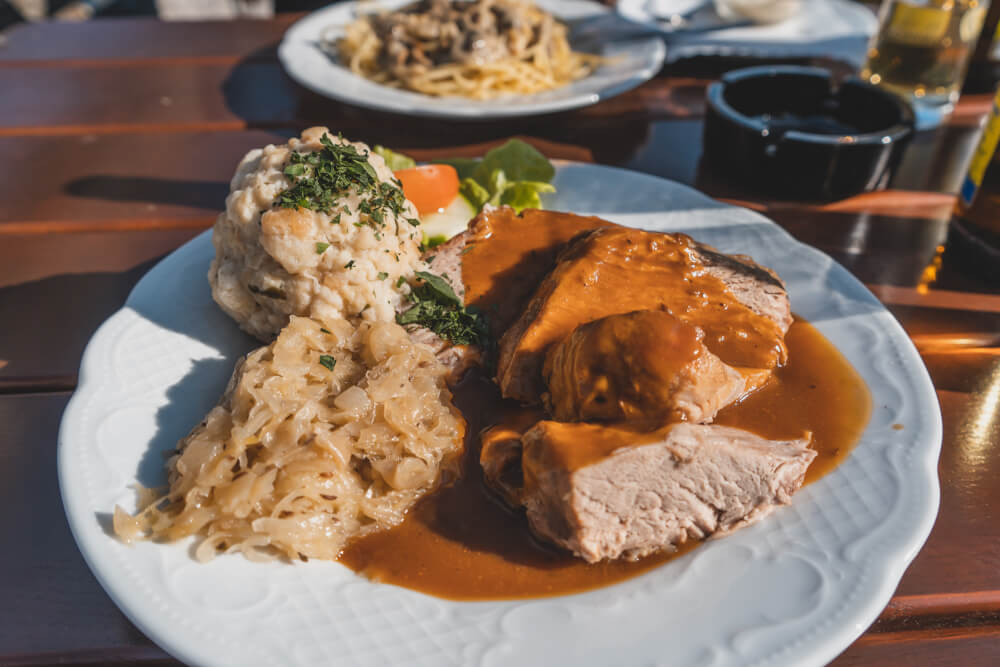 After you've stuffed yourself, and had some time to take your last photos, it's time to take a hike back down!
Or, if you prefer, the elevator works too.
I really do recommend this little hike down to the parking lot though – it's very scenic and easy, despite several switchbacks.

After you're done the walk down (about 30 minutes), you'll be back at the bus stop, and hopefully in time to catch your bus back down! If not… well, time to bust out those puppy dog eyes and try your luck with the driver!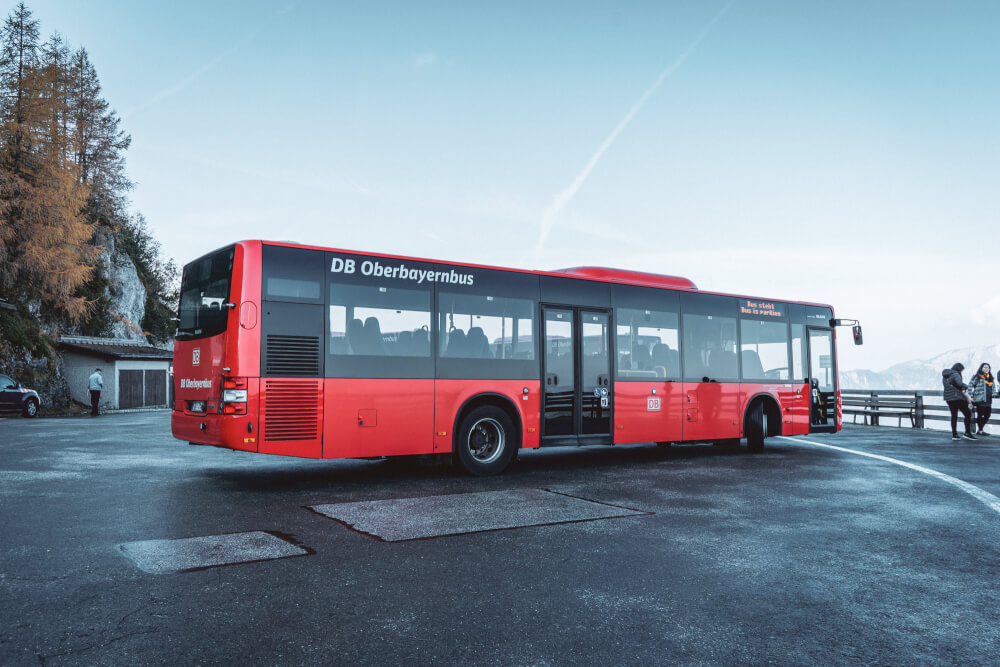 Once you're back at the Eagle's Nest bus stop, hop on the next bus back to the Berchtesgaden HBF.
Around this time, they run two buses one after the other at 4:45pm and 4:55pm so you should have no trouble catching a ride back.
At 5:29pm, there is a train that will take you back to Munich HBF! You'll be going back the way you came, so you will transfer at Freilassing at 6:24pm and be back in Munich by 8:06 pm.

Woo! Time for dinner! Need a restaurant recommendation? Here's my list.
Final Tips for Your Munich to Eagle's Nest Day Trip
Alright, before I send you off on your merry way, here are some important tips to keep in mind.
Before you leave, check that the Eagle's Nest is open
A common misconception among visitors is that the Eagle's Nest is open year-round, when in reality it is only open from mid-May to mid-October (depending on the weather).
Of course, the weather around here is a little nutso, which can impact opening hours regardless of the time of year.
To get a real-time update on whether or not the Eagle's Nest is open, visit the official website's GERMAN page here (use Google translate and scroll to the bottom) because the English site is often outdated.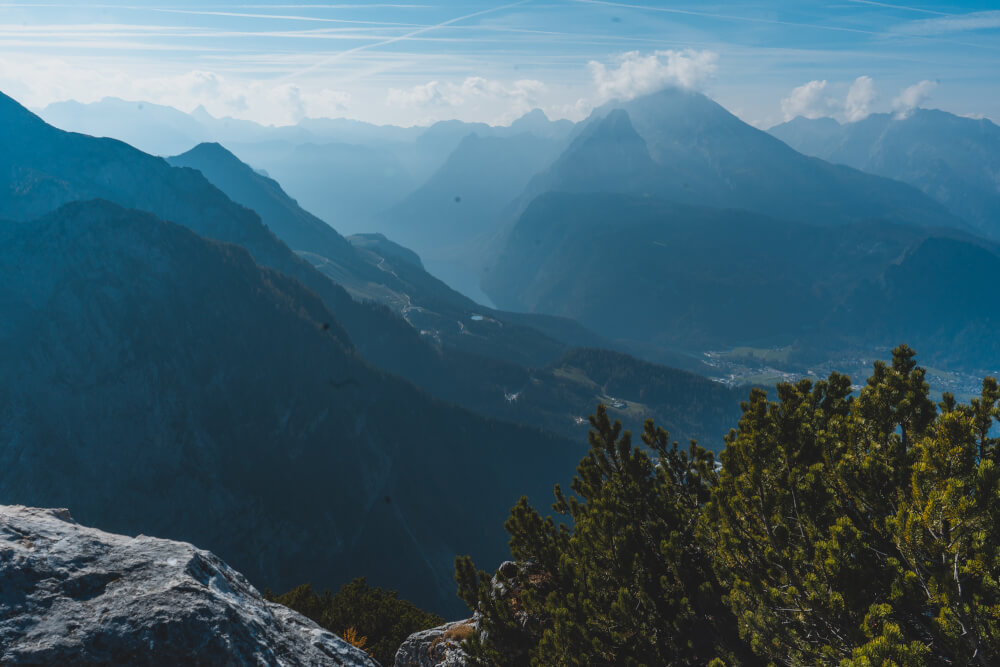 Know that the German name for the Eagle's Nest is the Kehlsteinhaus
The name "Eagle's Nest" is largely one used exclusively by tourists. The German name (and the one known locally) is Kehlsteinhaus, so be sure to look for that when looking at official signs, timetables, etc.
Kehlsteinhaus is pronounced Kelsh-tie-n-house.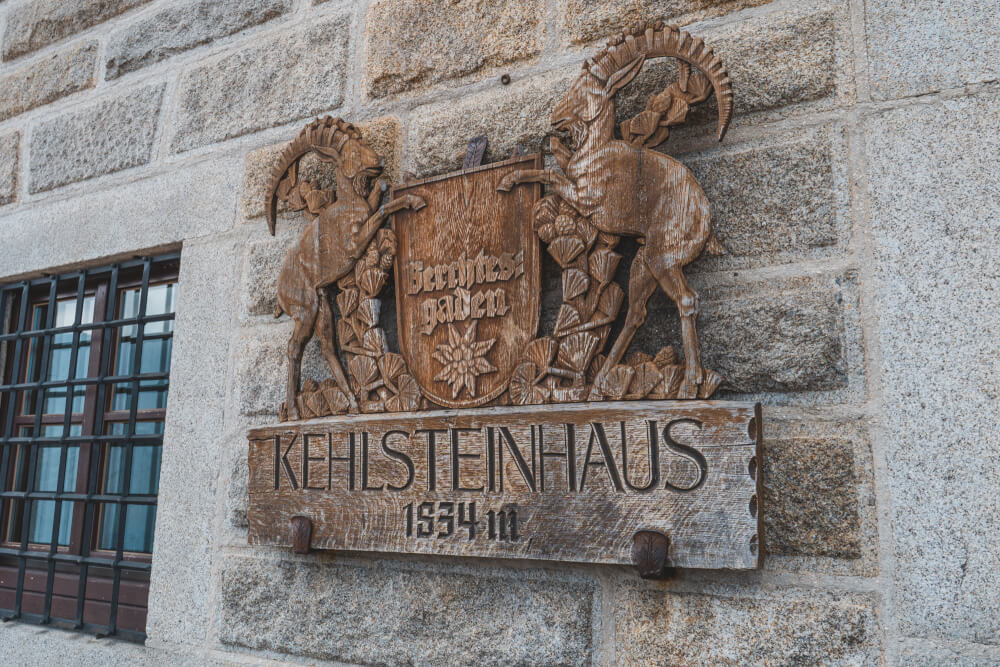 Remember that the bus up to the Kehlsteinhaus is mandatory unless you want to hike
This is important info whether you are going with an organized tour or doing the Eagle's Nest trip independently: besides a gruelling hike, the only way up to the Eagle's Nest is the Regionalverkehr Oberbayern (RVO) bus number 849, which has departures every 25 minutes from the Kehlsteinhaus Bus Stop.
This ticket will cost extra and is not included in the Bayern ticket, and usually not included in the price of private tours either. So, remember to add the cost of a roundtrip ticket to your travel costs.
NOTE: You will also need to make a reservation for your ride down once you arrive at the top. This is necessary to control the flow of people moving down the mountain. The reservation doesn't cost anything extra but don't forget to make one at the ticket office!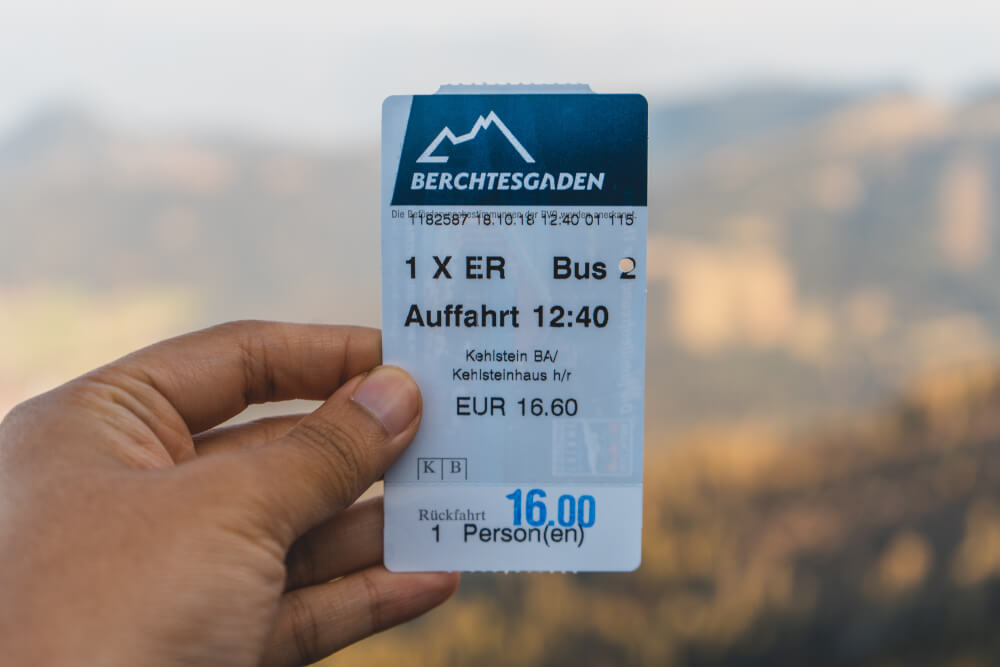 Pack light, but bring some layers
One of the most memorable things that struck me about my trip to the Eagle's Nest was just how COLD it got!
I guess it makes sense, since you are on top of a mountain after all, but it's easy to forget that when visiting in the summer, so bring some extra layers just in case.
It gets especially chilly in the tunnel to the elevator.
NOTE: I spotted small lockers at the Eagle's Nest bus stop near the ticket office that you can use for only a 1 euro deposit. They won't fit big suitcases, but are spacious enough for small backpacks, so if you want to drop some stuff off before making the ascent up to Eagle's Nest, that's an option.
There are larger lockers at the Berchtesgaden HBF as well, which cost 3 euros for a small locker, 5 euros for a big one for 24h.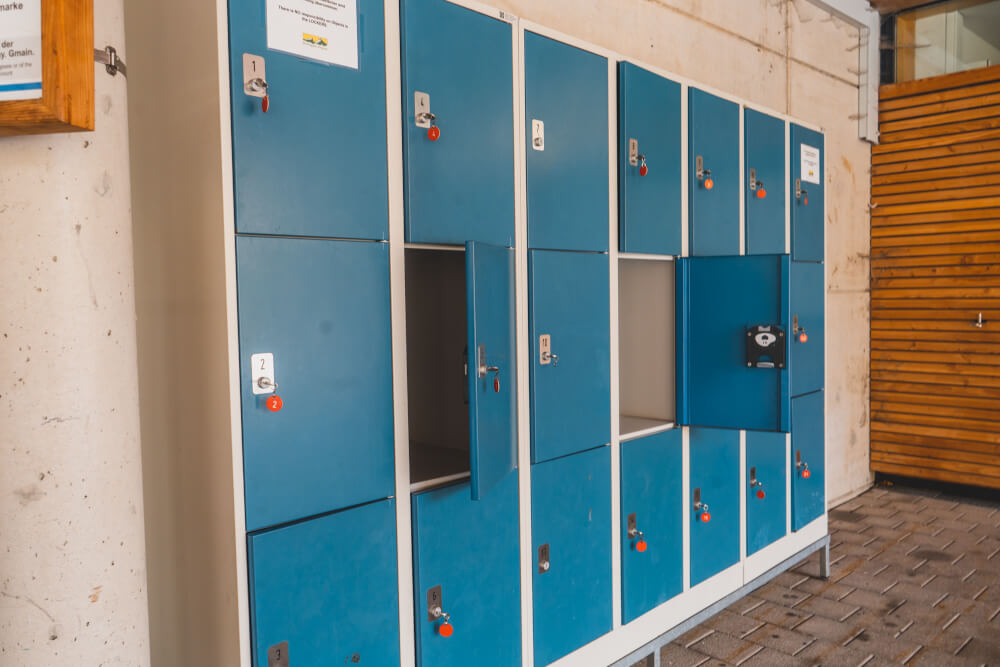 Arrive early to beat the crowds
Like any busy attraction, it pays off to arrive early.
Luckily for me, I went on a weekday in October and didn't encounter any line-ups apart from when we were waiting for our bus down.
Peak season visitors will probably not be so lucky, so plan to get there early (e.g. catching the first bus possible up).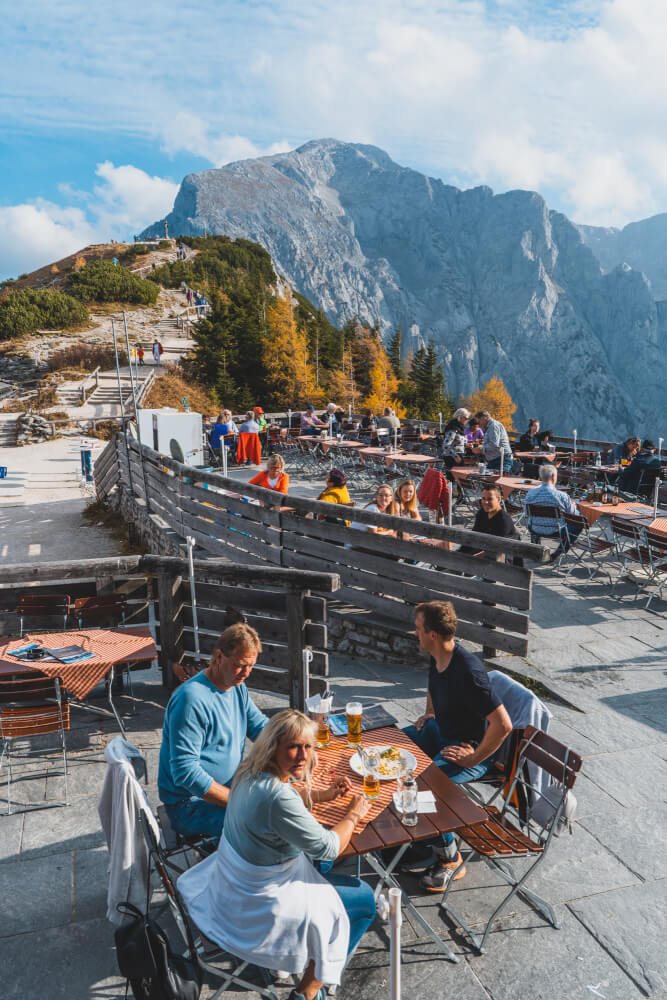 Munich to Eagle's Nest Day Trip FAQ
Here are some final frequently asked questions that I thought I would address:
Where can I learn more about the history of the Eagle's Nest?
I've actually a written a very comprehensive Eagle's Nest guide which includes the backstory and some fun facts. Definitely give it a read before you go! But here's one of my favourite tidbits: check out these photos of American soldiers smoking and drinking here post-war.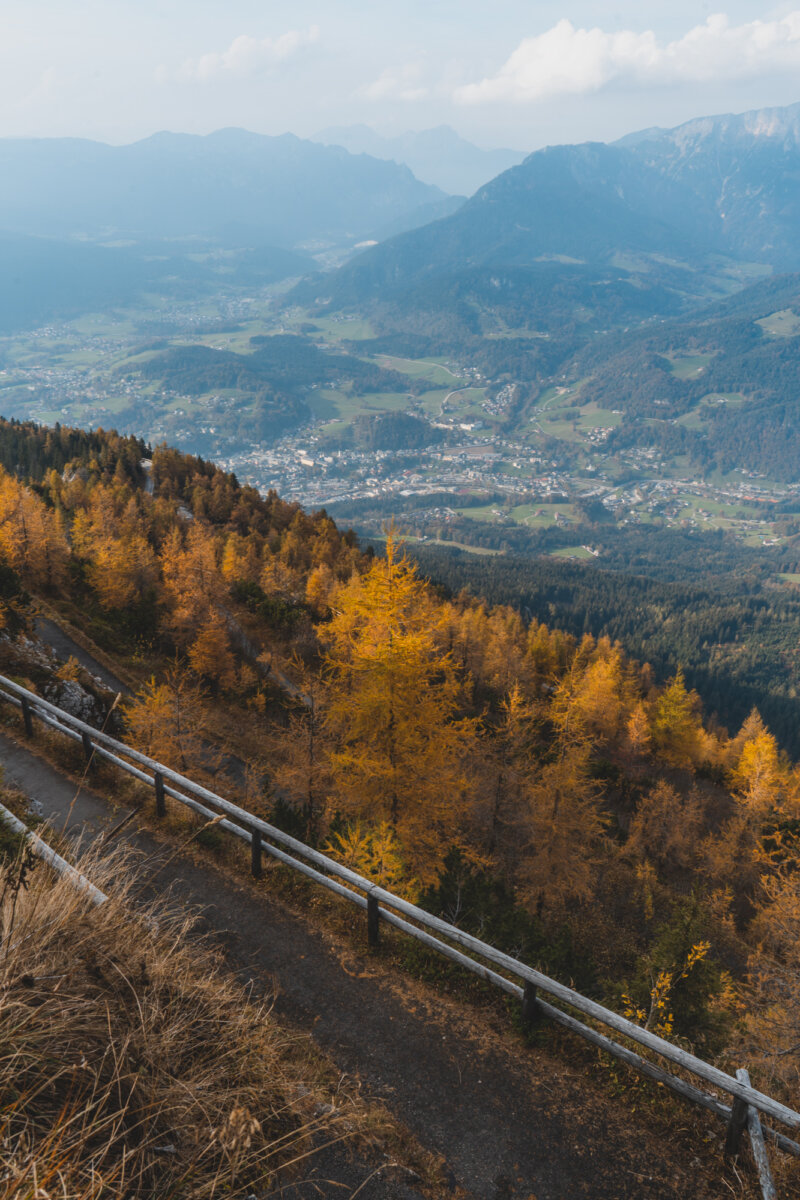 How much does food cost up at the Eagle's Nest beer garden?
I found the prices up at the Eagle's Nest to be really reasonable!
All the main dishes were under 13 euros, usually in the 10-13 euro range, which is excellent value considering the setting.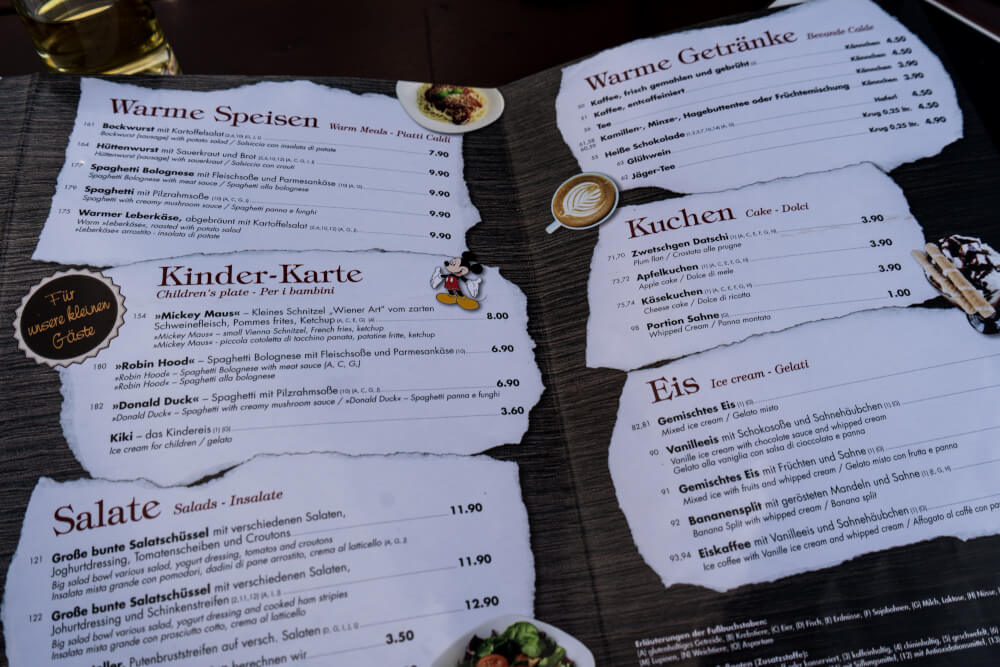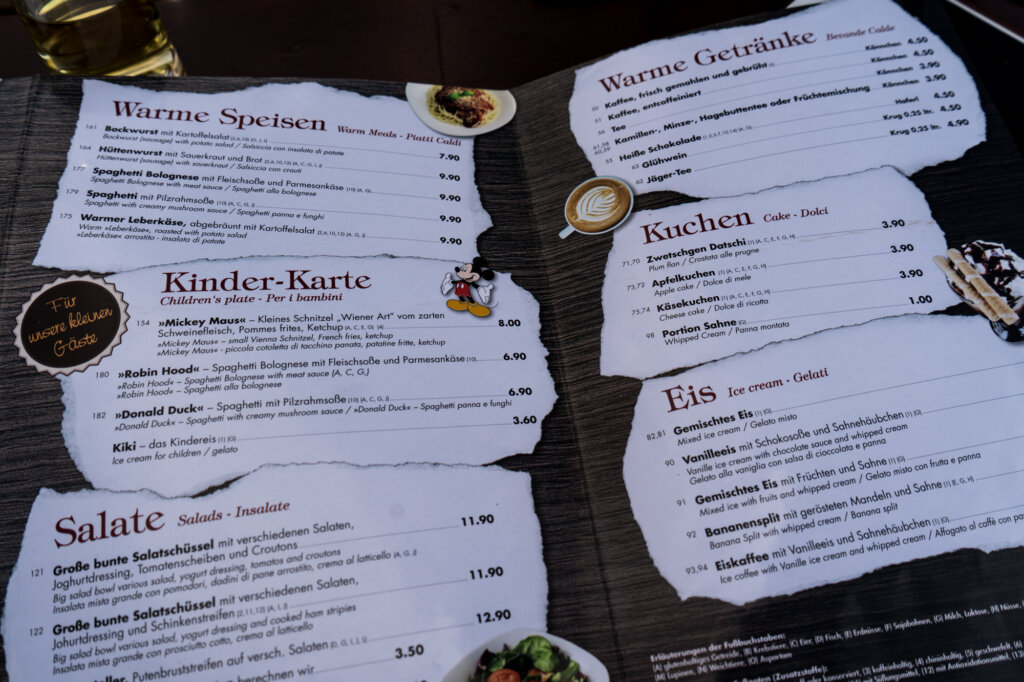 Is the Eagle's Nest dog friendly?
Yes! Dogs are allowed everywhere on site, including the buses and elevator.
What are some other day trips I can do from Munich?
Munich is the perfect base for many different day trips, like Salzburg and Neuschwanstein.
Be sure to read my full list of day trips from Munich for more.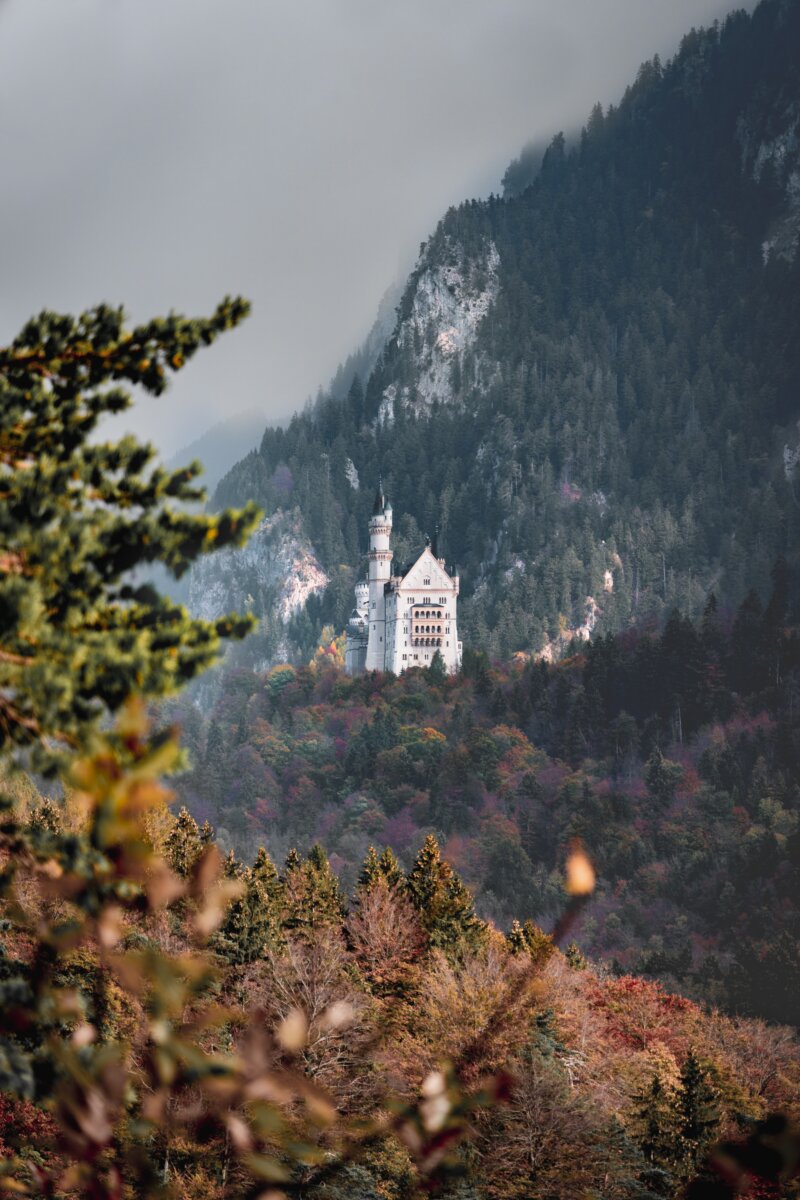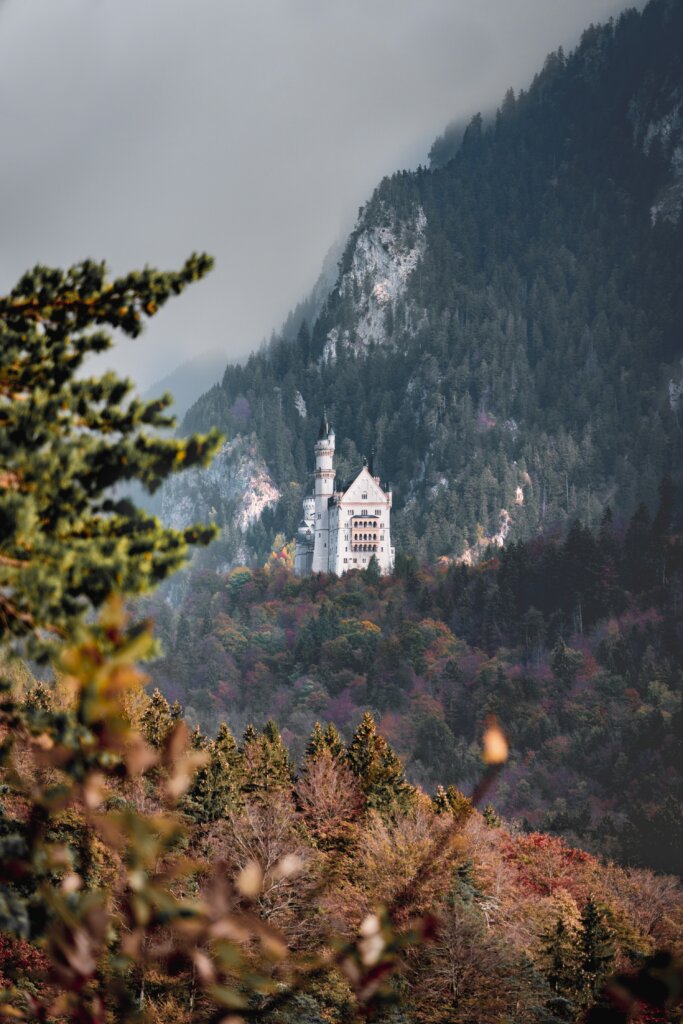 What is the best Munich to Eagle's Nest tour that I can take?
This depends on your priorities, whether that's convenience, cost, etc.
This table summarizes your main tour options, with notes on cost, duration and pick-up/drop-off points:
Any more questions about the day trip from Munich to the Eagle's Nest?
Let me know in the comments! Have an amazing time 🙂