*FYI - this post may contain affiliate links, which means we earn a commission at no extra cost to you if you purchase from them. Also, as an Amazon Associate I earn from qualifying purchases. Check out our Privacy Policy and Disclosure. for more info.
Munich's Frühlingsfest (aka Springfest or Munich Spring Festival) is an incredible beer festival you don't want to miss… And one you most certainly won't remember. Here are some insider tips for surviving it.
You know how the saying goes: April showers bring may… jor amounts of drinking.
*slurps beer*
I might have that slightly wrong, but it doesn't matter because GUYS, it's that time of year again! Time for Frühlingsfest, AKA Munich's spring time beer festival that offers alllll the perks of Oktoberfest, with significantly fewer crowds 😉
And unlike the wintertime Starkbierfest, this one really is a carbon copy mini-me of Munich's most famous event… low-key making Munich one of the best spring destinations in Europe.
So why haven't you heard of it?
Well, let's just say it's a bit of a secret reserved for the coolest kids. AKA cool kids who read this blog, and follow me on Instagram 😉 You know, the coolest. *cough*
Anywho, now that you've survived my shameless self-promo, it's time for your reward. If you are one of the lucky ones who will be in Munich for Frühlingsfest, here is a full guide on surviving the event and having the best time ever… although when beer is doled out by the litre, that's not exactly tough.
Read on for my best Frühlingsfest tips for this year, big events, what to wear, what to eat, and important must-knows… and be sure to read my full guide to Frühlingfest tents, rides, and attractions for more info.
… PS: Did I mention the beer is also cheaper at Frühlingsfest? Book those tickets now, folks.
Looking for a cheap Springfest booking? Stoke Travel has camping spots for just outside of the city center that includes tents, breakfast/dinner and hardcore parties for 60 euros a night. Check here for availability, and if you're interested in unlocking a special deal for free unlimited beer and sangria, click here for ALL the free booze!
Pssst… Looking for more Munich travel tips?
Read my full Munich travel guide featuring tips on things to do, where to go, and more local secrets that most tourists don't know about.
So… What is Frühlingsfest?
Munich's Frühlingsfest (AKA Springfest) is a cute little springtime beer festival that has been blessing residents since 1965 with yet another excuse to get schwasted.
Often known as a "mini Oktoberfest", "Oktoberfest's little sister" or "Christina's karaoke hour" (because you know I can't resist those tunes), often visitors are delighted to find this to be a less busy, less touristy alternative to Oktoberfest. If you find yourself in Munich in late April/early May, this is definitely an event to put on your bucket list!
What makes Frühlingsfest different from Oktoberfest? Honestly, not a whole lot!
It takes place on the same festival site, offers up many of the same rides and the same boozey, dancey, joyful experience… The major difference is that there are only two large beer tents as opposed to the sixteen big tents at Oktoberfest. In that sense, it's much smaller, but thankfully also not as touristically bananas as Oktoberfest can be.
In short: Frühlingsfest is a big spring time festival in Munich that combines two beer tents with a fun fair and plenty of food stalls, delighting thousands of guests in the process.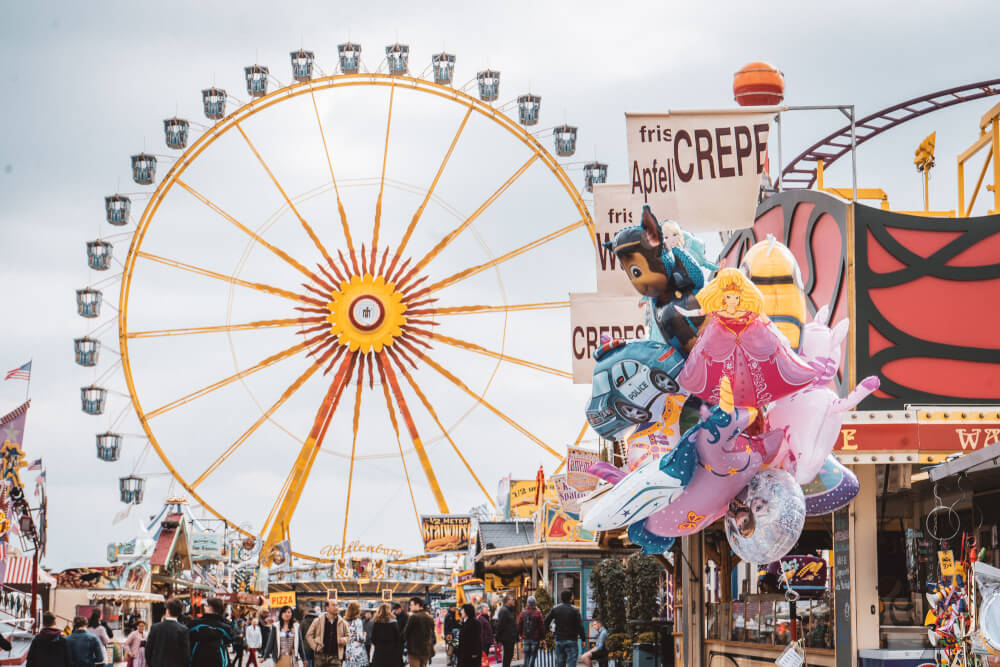 Munich Spring Festival/Frühlingsfest 2023 Dates
The official dates for Frühlingsfest 2023 are planned for April 21, 2023 – May 7, 2023.
How to Get to Munich Spring Festival
Frühlingsfest takes place every year at Theresienwiese, a large open space in the city center (and also where other big events like Oktoberfest and Tollwood are held). Luckily for visitors, Theresienwiese is easily reachable by public transit (and by foot) from the central bus/train stations.
Taking public transportation to the Munich Frühlingsfest (Springfest) location:
U-Bahn:
Take the U4 or U5 to Theresienwiese or Schwanthalerhöhe (then follow the crowds dressed in dirndls and lederhosen) OR
Take the U3 or U6 to Goetheplatz or Poccistraße
S-Bahn:
Take the S1 – S8 to Hackerbrücke and then walk (10-15 min)
Buses:
Bus 53 to Schwanthalerhöhe
Bus 58 to Georg-Hirth-Platz, Beethovenplatz or Goetheplatz
Bus 62 to Hans-Fischer-Straße, Poccistraße or Herzog-Ernst-Platz
Bus 134 to Theresienhöhe or Schwanthalerhöhe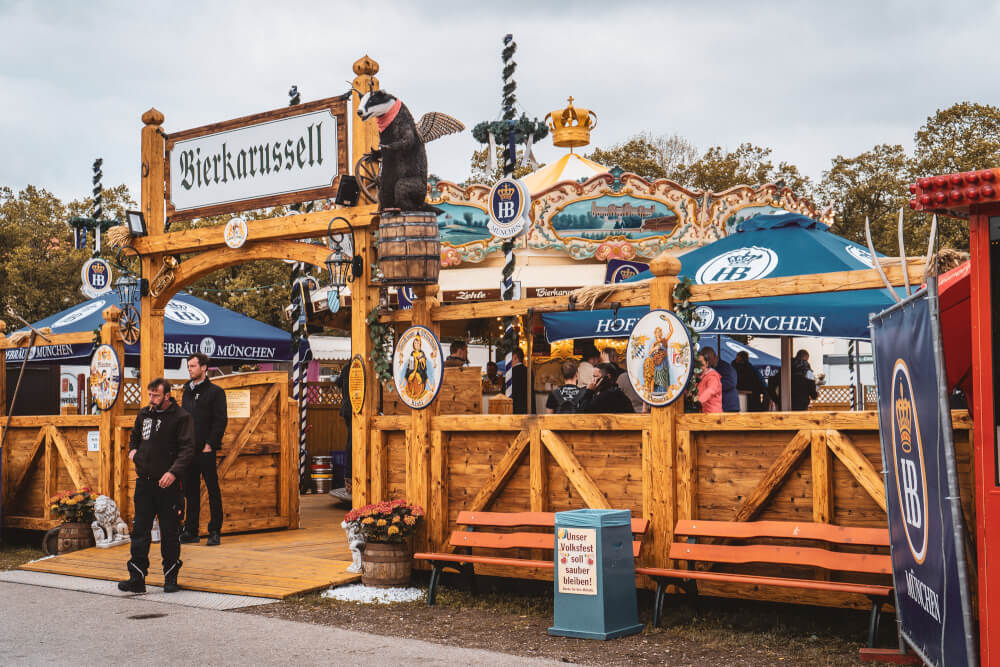 Where to Stay for Frühlingsfest 2023
If you haven't booked accommodation yet for Frühlingsfest, I highly encourage you do so ASAP because prices skyrocket around this time and definitely don't get any cheaper.
As I mentioned before, the cheapest place to stay is camping with Stoke Travel, which is only 60 euros per night, but they're booking up FAST so check here for availability.
PS: If you're interested in unlocking a special deal for free unlimited beer and sangria, click here for ALL the free booze!
Otherwise, if you want to stay as close as possible to the Theresienwiese, I've vetted all the well-rated hotels within a 20 min walk of the festival. These all have reviews of 8+ on Booking,com. Feel free to toggle with the arrows on the tables to sort by rating, distance, etc:
The Best Hotels Near Frühlingsfest
Hostels Near Frühlingsfest
How to Attend Frühlingsfest 2023
Just as it is at Oktoberfest, there's no cover charge at Frühlingsfest and zero need to buy tickets in advance.
If you're ultra keen, you CAN make reservations. Note that reservations can only be made for a full table (10 people). If you're able to secure a reservation (this is done online – more details below), then you get vouchers to redeem on the day-of for drinks and food.
You can't make a reservation for a partial table or for individuals – it's the whole table or nothing.
This is why you should only bother with reservations if you're a big group and really want to stay together. If you're a small group of up to 4, I'd say it'll be pretty easy to slide onto the end of a table and find a seat that way.
In 2019, I went twice on weekdays and found that even in peak hours after 5pm, I had no trouble finding a place to sit!
That said, if you want to be extra safe, you can make Munich Frühlingsfest reservations with the individual tents.
For Festhalle Bayernland reservations, click here to see the process on their website. It's all in German, so use Google translate.
For Hippodrom reservations, click here to see the process on their website. Luckily they have an excellent English website!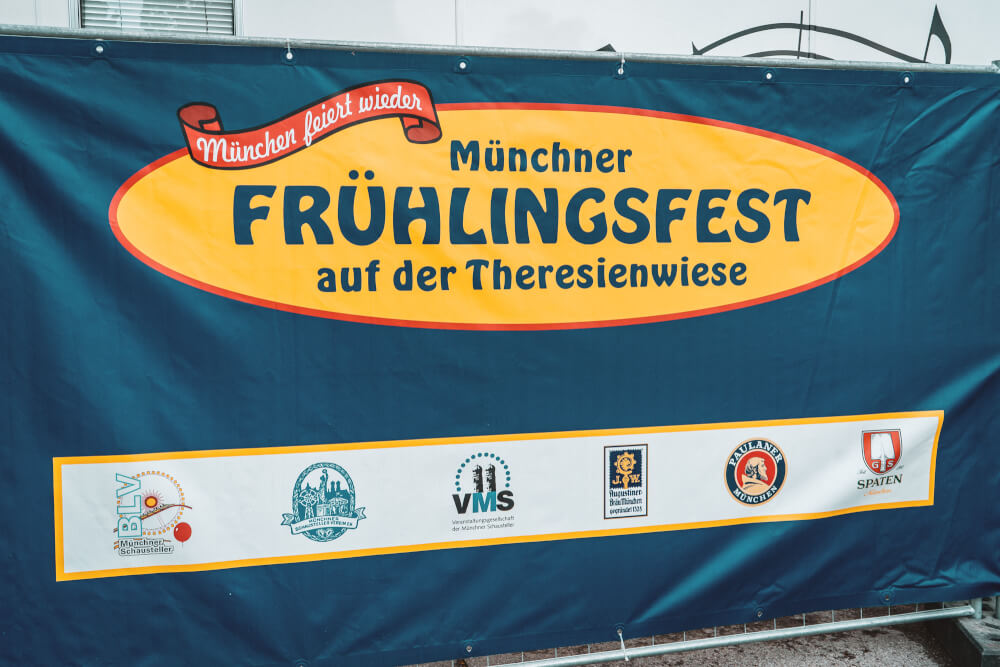 Munich Frühlingsfest 2023 Beer Tents and Gardens
So the major difference between Frühlingsfest and Oktoberfest is just the number of beer tents. In contrast to the wiiiiild 16 big ones at Oktoberfest (click here to see them all!), Frühlingsfest boasts a modest two.
You can read my full guide to all the tents, attractions and rides at Frühlingsfest for more details, but the two main beer tents are:
Festhalle Bayernland
Loads of fun in true Bavarian style. They serve Augustiner here (my personal favourite of Munich's 6 main breweries) and there are cute paintings of iconic Bavarian places hung up around the tent over the boxes.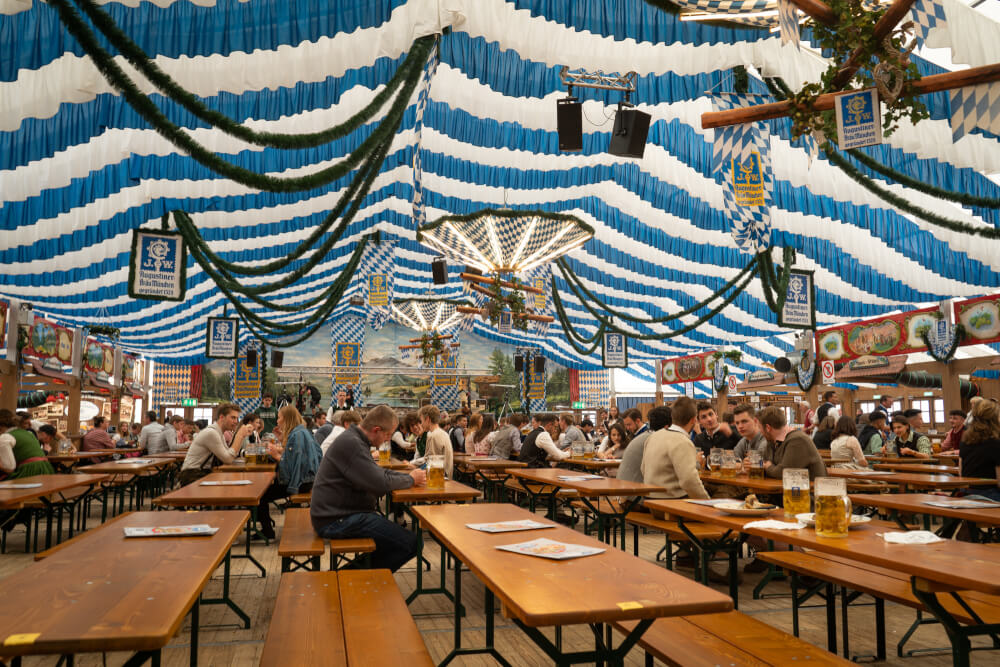 The Hippodrom
Open daily from 11am-10:30pm. No actual hippos involved. I know, I got excited too. The beer served here is Spatenbrau, and according to the official Munich website, they also have a cocktail bar! I've never seen it, but maybe I just wasn't looking 😉 Here is their full English menu from 2019.
To make up for the lack of tents though, there are several beer gardens for you to enjoy if the weather is nice, serving up different beers from Munich's main six breweries, so if you really want to diversify, that's an option too!
What to Wear to Frühlingsfest
As a tourist visiting Frühlingsfest, traditional clothes (trachten) are not mandatory, but I can't lie to you – many people will be wearing them so you might feel left out!
There will be plenty of people (locals and tourists alike) who will be happily sipping their brewskis in regular clothes, so don't worry if you'd rather save your pennies for beer and comfort food rather than a sweet get-up.
If you do want to go all out though and splurge on some traditional clothing during your Frühlingsfest visit, here's a few quick tips on what to wear.
Frühlingsfest/Springfest clothing for men
Like at Oktoberfest, men at Frühlingsfest will typically be seen wearing lederhosen (leather pants). Most lederhosen look similar, with length being a key differentiator. A good pair of authentic lederhosen should last a lifetime (so they say, unless your beer gut gets in the way as you age). It's this intended longevity that jacks up the price tag for a good pair.
Lederhosen are usually paired with cute button up shirts and nicer looking tops. Checkered shirts are common, especially among the tourist crowd, but white is more traditional and often preferred by older locals.
Good, comfortable shoes couldn't be more important, but remember that they should be a pair that you won't mind spilling beer all over.
If you're feeling especially fancy, you can join the many fancy men who jazz up their outfits with cool hats, belts or waistcoats.
Frühlingsfest/Springfest clothing for women
Like at Oktoberfest, women at Frühlingsfest will typically be rocking dirndls, which are composed of three equally awesome parts: a blouse, a bodice and an apron. You can usually buy these in a complete set in shops all over Munich.
The bodice should fit like a glove (AKA putting the girls on show, if you catch my drift), and there are all sorts of styles for blouses (lacey, off-the-shoulder, etc.). Length-wise, dirndls should be knee length or longer. The super short dirndls that they sell in cheap shops tend to look very costumey and aren't deemed to be authentic (whether you care about that or not). Remember to try your dirndl on before buying because getting the right fit is important (and if you're dishing out this kind of dough, you wanna turn some heads!). If you plan to buy a dirndl, check out this full clothing guide to see where you can get dirndls on a budget in Munich.
IMPORTANT: Comfortable, close toed shoes are non-negotiable. The stilettos can stay at home for this one, unless you enjoy falling off benches.
Accessory-wise, flower crowns are popular (it is the Spring festival after all!) and so are simple necklaces. Remember though: your dirndl should be the star of the show!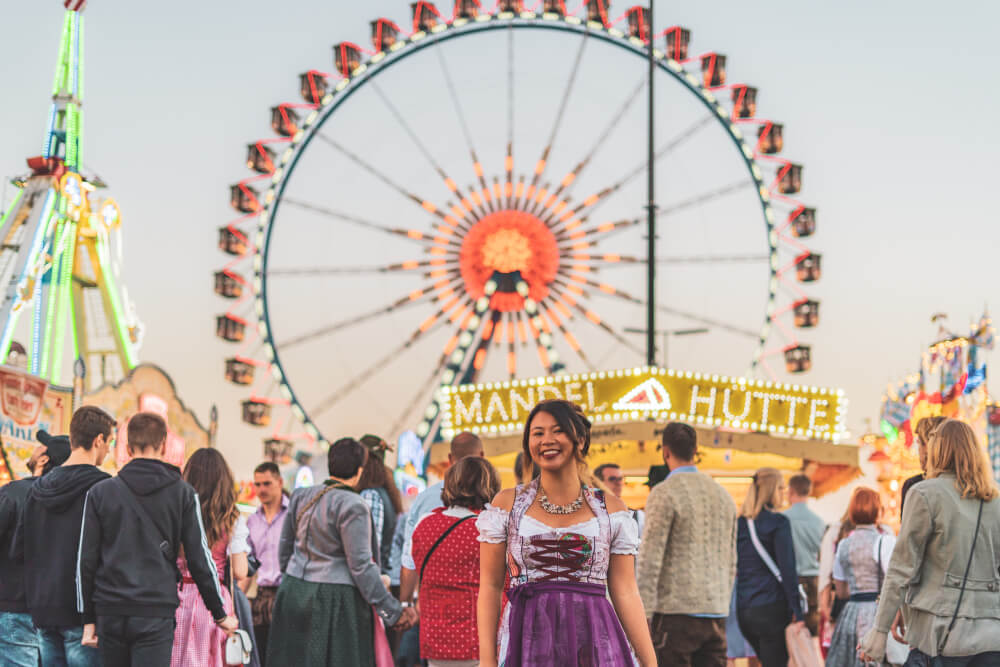 How Much Money to Bring to Frühlingsfest 2023
With beer prices at around 11 euros per litre (including a small tip), and with tons of tempting rides and food options, I would budget MINIMUM 50 euros a day for your Frühlingsfest experience. Remember that cash is king here, so don't rely on using card because you won't be able to.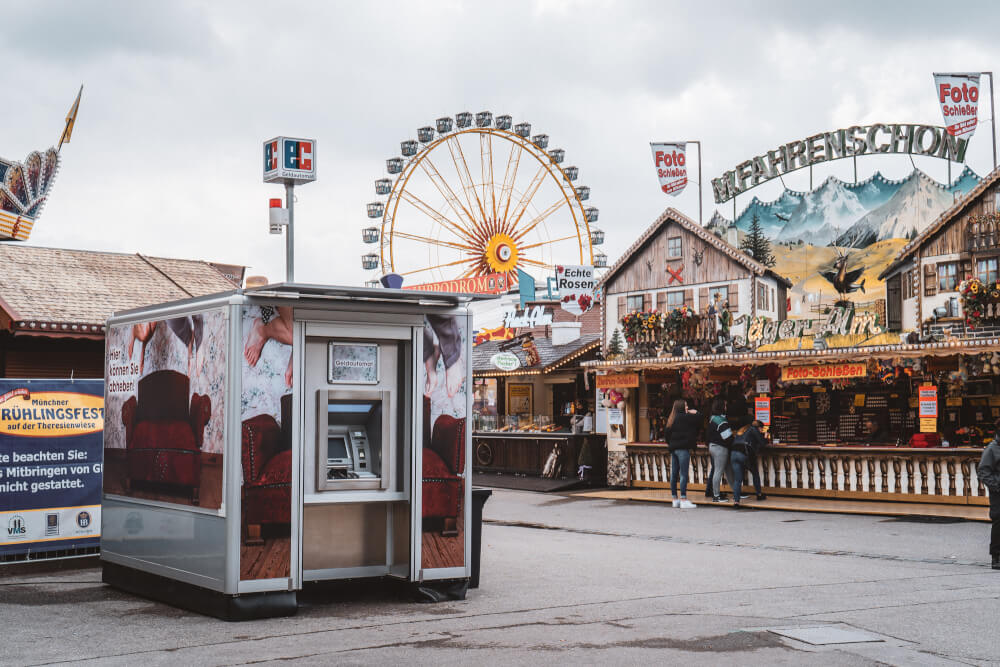 What to Eat at Springfest
Of course it's not just about beer! There will be food to feast on in the beer tents, beer gardens and in stalls all around the fun fair.
In terms of must try foods, I have a full list with explanations/photos here. If you want a quick reference though, here's a list: be sure to try roasted chicken, pork knuckle, pretzels, Weißwurst, Käsespätzle and SKIP those giant gingerbread cookies. They're pretty but taste like socks.
If you want a guide on where to eat around Munich, here are my top recommendations!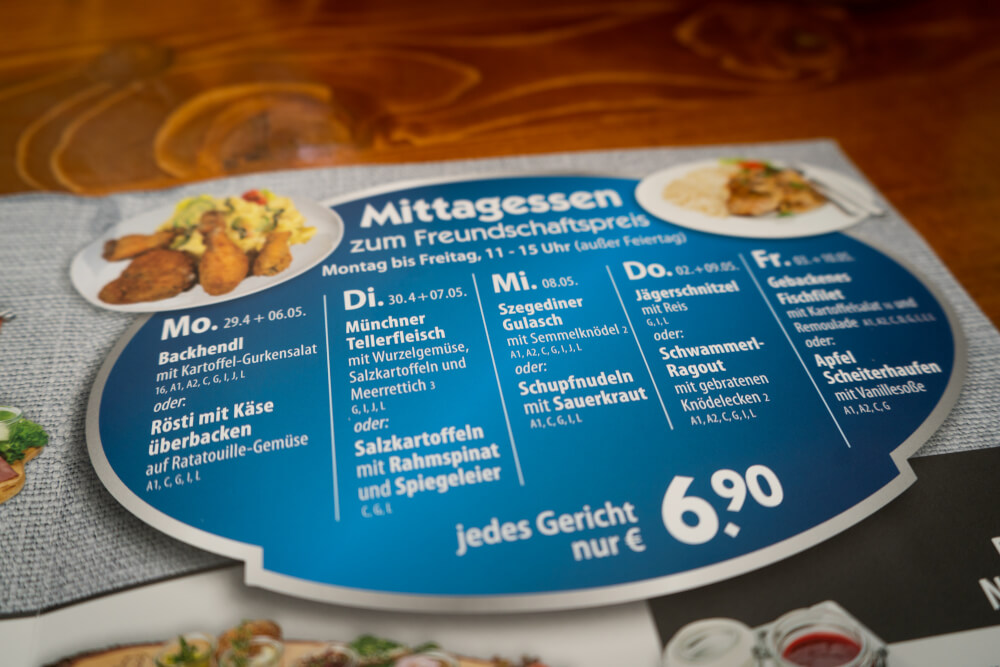 Frühlingsfest Special Events and Highlights
Looking to make the most of your Frühlingsfest experience? Don't miss these special events throughout the festival period!
Firework Fridays – Typically, the two Fridays of the festival will have firework shows on at 10pm. If you're hoping to get a good view, be sure to nab a good spot early because this will undoubtedly be a busy, busy time.
Family Day– On Tuesday afternoons from 12-7pm, families with kids can look forward to special deals and reduced prices.
The Giant Flea Market – Munich's biggest flea market is an annual event that coincides with Frühlingsfest. Yay! How big is big? Literally up to 2000 vendors and 80,000 people attend. In a single day! It's wild and you're bound to find all sorts of goodies.
Day of Customs – A rough translation, but basically this day is a celebration of various cultural traditions from Bavaria. Think folk dancing, a traditional clothing parade and more!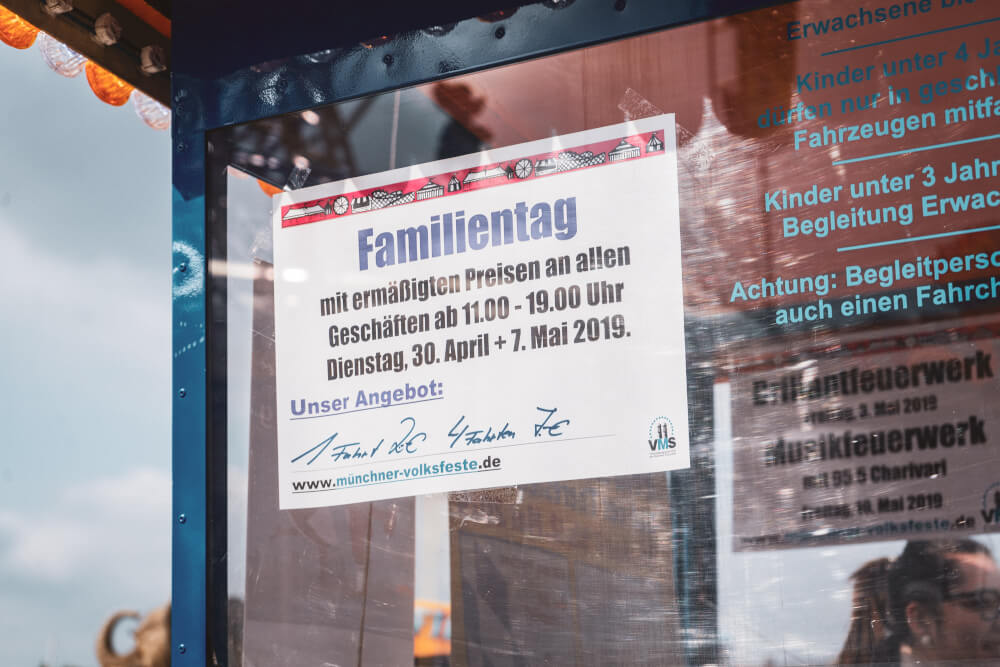 How to Properly Order at Frühlingsfest
After noticing a fair few people strugglin' at Frühlingsfest this year, I figured I would quickly give you a breakdown of the ordering process. It's pretty straightforward, but here goes:
STEP ONE: Sit down at your table – the server will come to you pretty quickly, so at least know what drinks you want to begin with. Honestly, you'll probably be wanting a beer right? So tell them "Eine Maß, bitte (eye-nuh Mass bit-uh)" which will get you a 1L Helles (light) beer by default.
STEP TWO: The server will come back swiftly with your drinks so have CASH ready. They don't take card. You will also need to pay as soon as the server gives you your beer, rather than settling up at the end.
STEP THREE: Remember to tip! It's customary to at least round up. This year, 1L cost 10.30, so I would usually pay 11 or 12 euros total. The way you tip here is you hand the server your money and tell them the total amount you want to pay, so let's say you've ordered one beer, and you want to give them 12 euros including tip, then you'd hand them your 20 euro bill and say 12 (zwölf). This way they know you intend to pay 12 total, and they will give you 8 euros change back. Of course, adjust this for whatever amount/bill you're giving.
STEP FOUR: Be nice, smile, tip well and the server will keep coming back. Ordering food will follow the same protocol. While all the servers have some grasp of English, you can never go wrong with pointing 🙂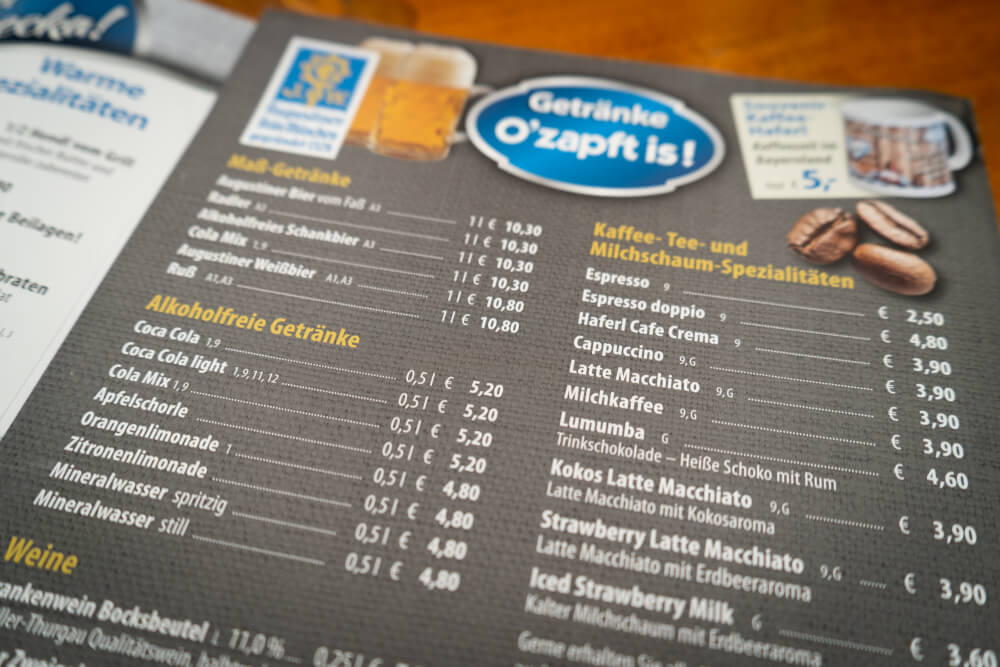 Practical (and Random) Tips for Attending Frühlingsfest 2023
Keep these tips in mind in order to make the most of your Springfest shenanigans…
1. Bring ID
While I've never been ID'd at Oktoberfest, they have been very strict on ID checking at the Frühlingsfests I've attended, so strict in fact that they wouldn't accept anything that wasn't government issued.
This might be a consequence of me having a bit of a baby face, but I would bring ID to make sure you get in with no problem. Of course, be sure to not lose it after a litre or two 😉
2. Get there early
As I mentioned ten million times throughout this post, Frühlingsfest isn't as huge as Oktoberfest. This luckily means that you don't need to get up at the crack of dawn to secure a spot in a tent.
From personal experience, weekdays don't fill up until well after work hours (around 5pm). That said, weekends are pretty crazy all day… if you're paranoid, I would go super early (just before opening time) to avoid disappointment.
3. Know that you might get booted out
No matter which Frühlingsfest tent you find yourself in, remember to check on the table for a paper that says a reservation time. Sometimes a table will be reserved for the evening only, which means you're free to frolic about and use the table until the reservation time kicks in.
At this point though, you'll get kicked out, so just be prepared for that. Don't worry though, there's plenty else to do besides visiting tents.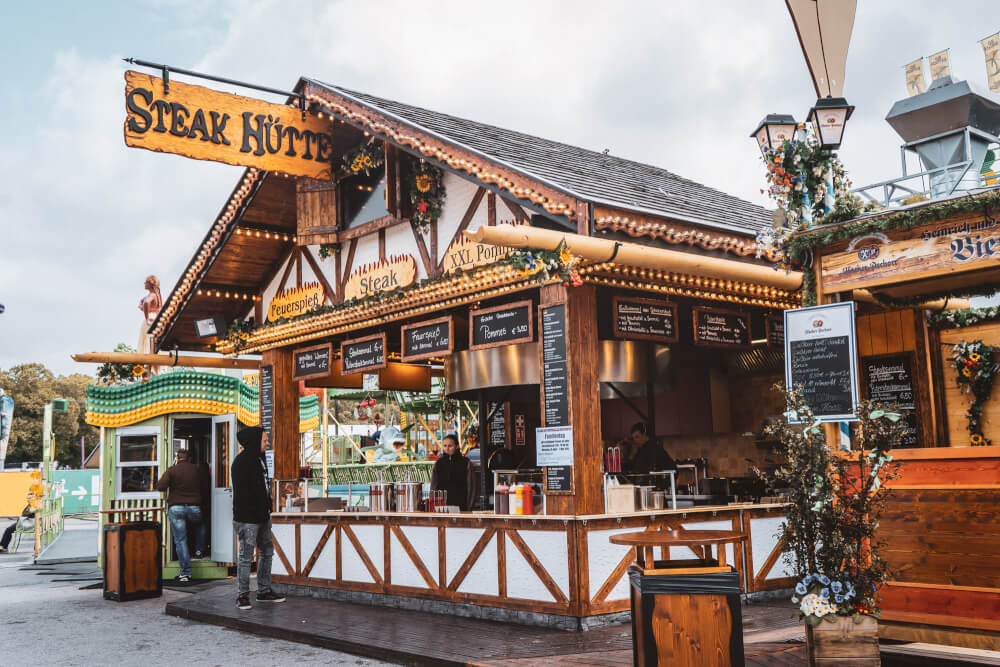 4. Pack light
There is no coat check at Frühlingsfest. Everything you bring will have to be kept under the table, so don't bring anything you aren't comfortable losing.
5. Tie your jacket around the table leg
This helps you remember where it is and prevents too much beer and grossness from spilling on it! Extra tip: if you really wanna go all-out in protecting your goods, bring a bag of some kind (like a thin gym bag or something) that can hold your stuff, put yo' goods in it and then tie THAT around the table leg.
6. Bring cash, including coins
You will need cash all over the festival and cards are pretty much a no-go.
On that note, not just any cash will do – coins are needed for tipping. You should always be tipping your server and also the bathroom attendants (so bring change to the bathroom too).
7. Have your address written down somewhere
Seriously. I know you're an adult (I… assume… anyway), but it's important that you know where you're staying and have a record of it so that drunk-you doesn't forget.
Having a paper copy of your address will help you get home when you've gotten a bit "silly" and can't remember how to get back home (not just on your phone because you'll probably lose it).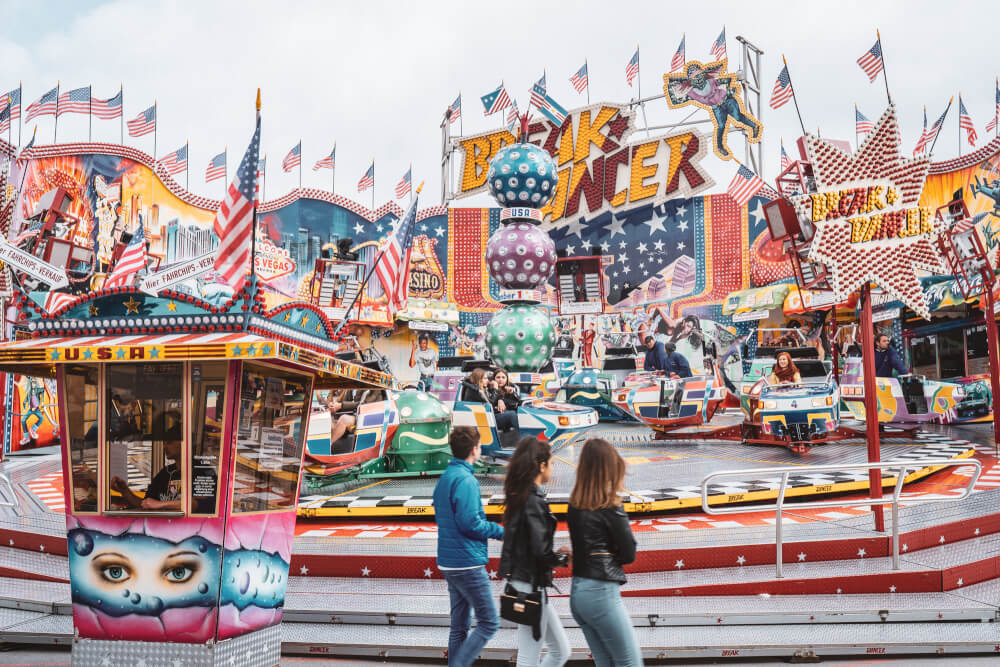 8. Pace yourself
The best tip I can give you is to approach Frühlingsfest like any beer festival – think of it as a marathon, rather than a sprint, lest you want to be in bed by 2pm.
The real party starts in the evening, so hold on there! Try drinking some radlers in between so you don't get too drunk.
9. Have a meeting spot for you and your friends
Coming as a group to Frühlingsfest? I promise you that you will lose someone. Or get separated somehow. It's just science.
That's why you should have a plan in place for when this happens, maybe a meeting spot and time.
The tents are loud so you'll have a hard time hearing any phone calls or text chimes and the signal is often terrible due to the high volume of people.
10. Don't be weirded out when people look really young
You only need to be 16 to drink beer in Germany, so some of the guests at Frühlingsfest will look like babies. Also the fun fair makes it sort of a kids thing too so you'll probably see actual children. Just go with it!
11. Realize that it'll still be touristy, just not as much so as Oktoberfest.
I know a lot of people attend Frühlingsfest thinking they've stumbled upon some kind of true locals' secret… as wonderful as that thought is, you'll soon realize this isn't the case.
English will be flying around all over the place, buzzed patrons slurring "can you believe…. we're… actually… *hic* here?" Nonetheless, it's a lot less known than Oktoberfest, so there's at least that.
Just don't expect to be completely immersed in a local celebration, because it's not quite like that.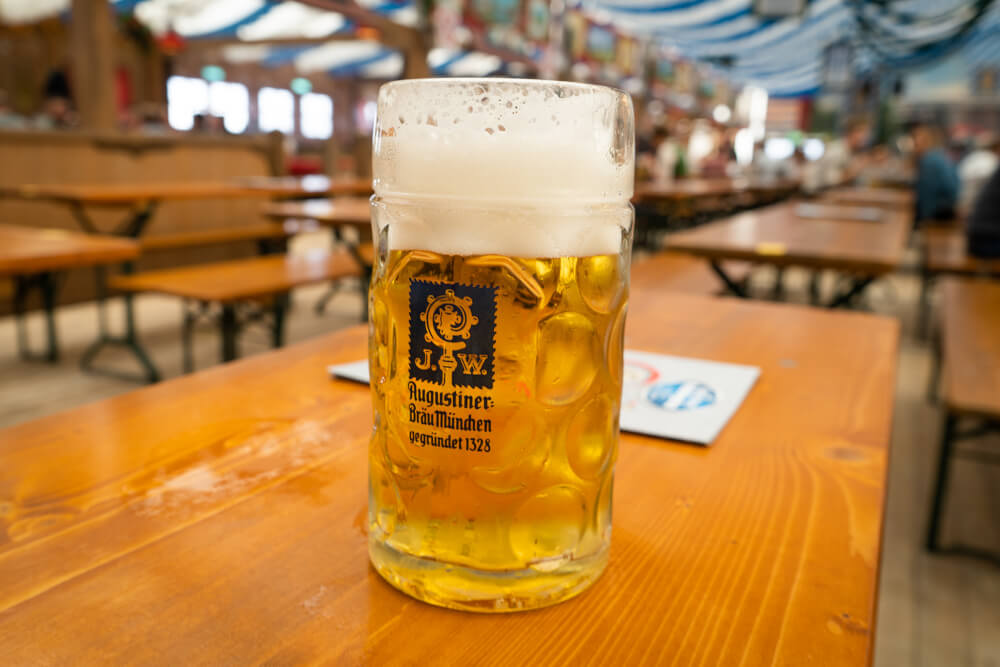 Basic German Phrases You Should Know for Frühlingsfest
While most of the servers will be able to speak English, your life will be infinitely easier if you know a few key words in German (and odds are people will be nicer to you), so keep in mind the following:
Servus (Serve-oos) – Hello! [Bavarian greeting]
Hallo (hah-lo) – Hello!
Tschüß (Choo-ssss) – Bye!
Danke (Dahn-keh) – Thanks!
Bitte (Bit-uh) – Please + you're welcome + here you go + pardon?
Entschuldigung (En-shoe-lih-gung) – Excuse me
Prost! (Pr-OH-st) – Cheers!
Ist hier noch frei? (Iss-t here knock fry) – Is this spot free?
Eine Maß, bitte (eye-nuh Mass bit-uh) – A beer, please.
Noch ein Bier, bitte (Knock eye-n beer, bit-uh) – Another beer, please.
Other Things to do in Munich besides Frühlingsfest
Hey, Munich is an amazing city and there's loads more to do than just drink the day/night away.
Click here to read my post all about 99 amazing things to do in Munich.
---
Any more questions about Frühlingsfest 2023?
I hope you enjoyed that guide to Munich's Frühlingsfest! If you have any more questions, feel free to fire away in the comments. Have an amazing time!
---
Watch my most popular YouTube video this week:
---