*FYI - this post may contain affiliate links, which means we earn a commission at no extra cost to you if you purchase from them. Also, as an Amazon Associate I earn from qualifying purchases. Check out our Privacy Policy and Disclosure. for more info.
Have two days in Munich and not sure how to spend it?
Hi – I'm Christina. I lived in Munich for over five years, and spent much of that time showing friends around with a shocking enthusiasm best described as "unhinged".
Over the years, I've managed to perfect a Munich two day itinerary that combines not just the top must-see sights, but some of the quirky, unexpected gems that make visitors fall head over heels.
… And yes, today, I'm sharing that itinerary with you!
Using a flexible format, this is a "choose your own adventure" type Munich itinerary, with sights organized by neighbourhood, and multiple options for activities, ensuring the itinerary is suited to your own weird little whims.
So, read on for a fun and efficient Munich 2 day itinerary that will help you plan your trip with confidence. For the best results, imagine me in the room shouting the recommendations at you 🙂 If that won't motivate you to make the most of your 48 hours in Munich, I'm not sure what will.
Day 1: Munich Old Town & Around
For the day one of our two day Munich itinerary, we're checking off all the classic must dos of any Munich bucket list. Get ready to see all the main sights of Munich's Altstadt (Old Town) and its most exciting nearby neighbourhoods!
Breakfast: Bavarian Breakfast
We'll start our two days in Munich off strong with a breakfast of champions – a Bavarian breakfast of champions to be exact…
Which, as you may be delighted to hear, involves some morning beer!
That's right – a traditional Bavarian breakfast is composed of the following elements:
Weißwurst (white sausage) and sweet mustard
A brezel (pretzel)
A Weißbier (wheat beer)
For the purpose of our itinerary, I'd recommend grabbing a Bavarian breakfast somewhere in Altstadt (Old Town) but if there's somewhere near your accommodation that does it, then definitely take advantage for a less touristy experience!
Most Bavarian restaurants/beer halls will offer this kind of breakfast, but if you're looking for options within Altstadt, here are a few recommendations:
Café Glockenspiel | Marienplatz 28: Meh service and higher prices but a gorgeous view and nice breakfast over Marienplatz if you can score a table by the window.
Schneider Brahaus | Tal 7: Excellent Weißbier and very central location in a bright beer hall atmosphere.
Hofbräuhaus | Platzl 9: A shamelessly touristy Munich institution, but ideal for getting a taste of Bavarian beer hall culture (check opening hours though as they usually open at 11)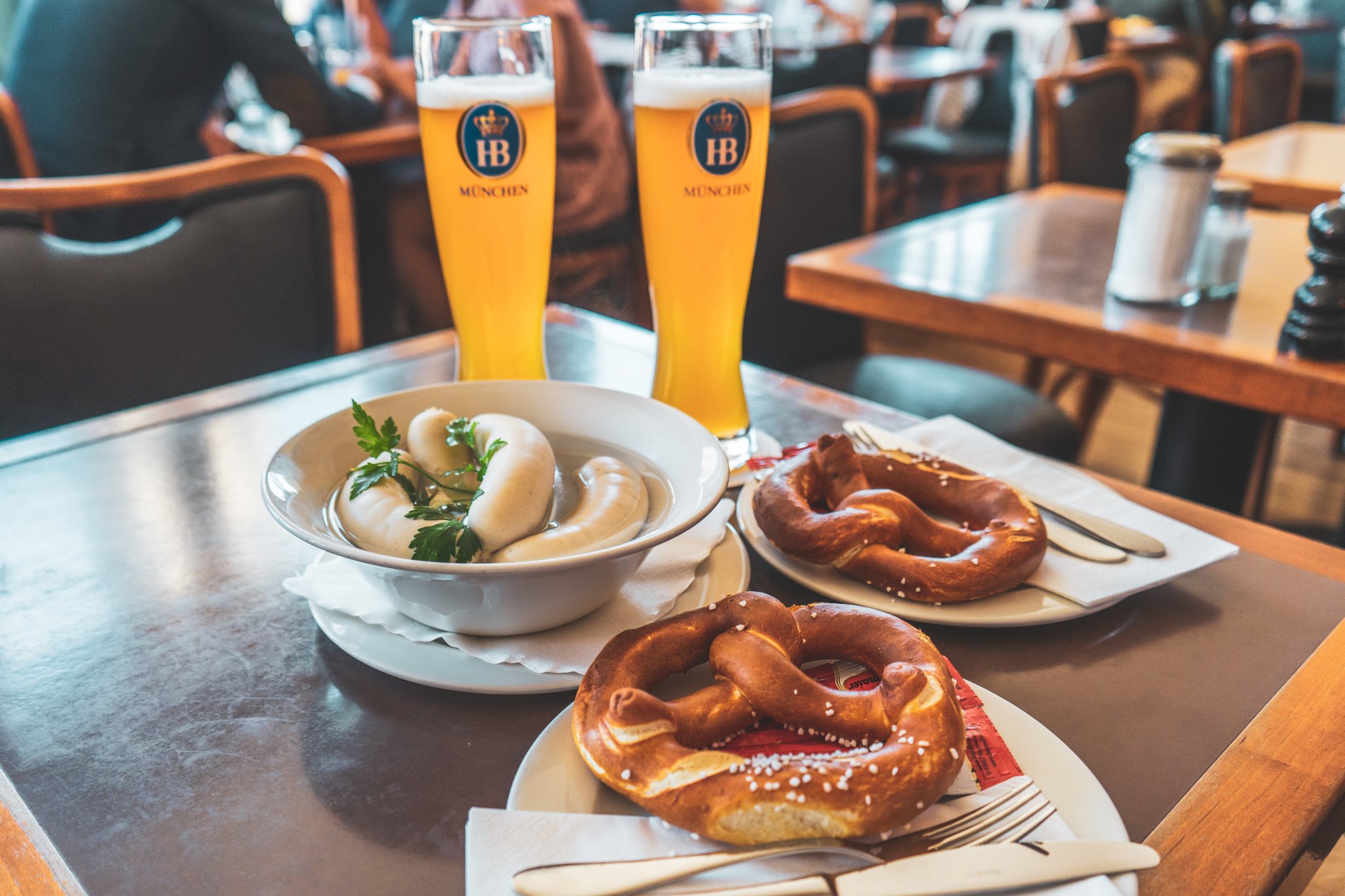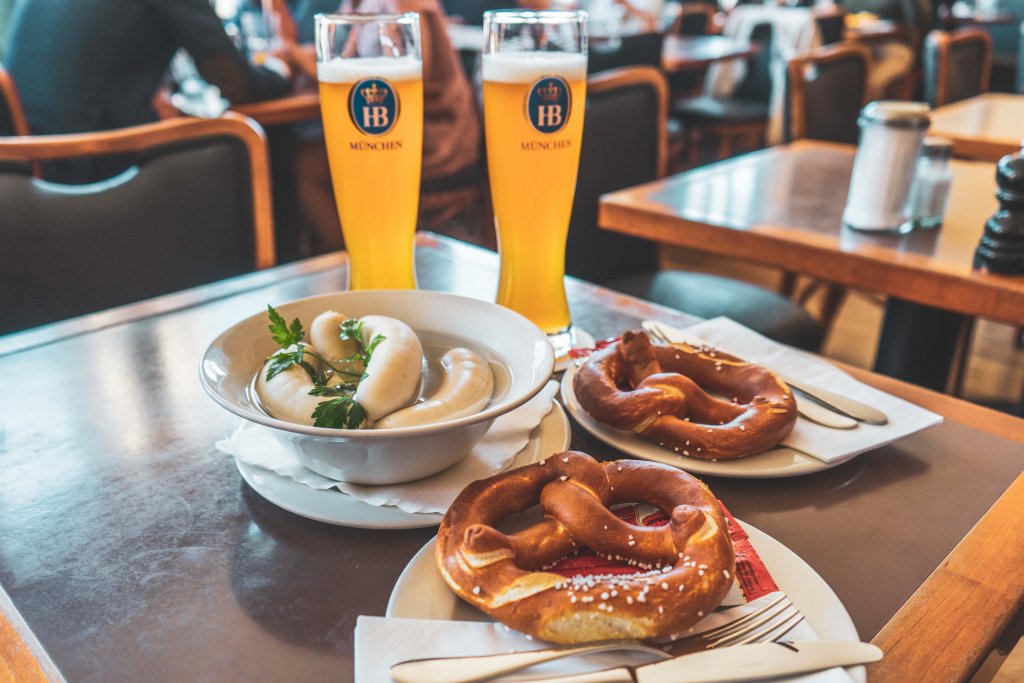 Morning: Get a view
After stuffing our faces with breakfast, it's time to get our bearings with a nice view over the city!
Within Altstadt, there are three main options for panoramic views:
Climb St Peter's Tower for a laborious but beautiful view over the city, with a highlight being Marienplatz & a view over the Neues Rathaus
Take the elevator up at the Neues Rathaus for an easy and gorgeous view with a highlight being the whimsical Altes Rathaus & views of the Frauenkirche
Do half/half & admire the view from Munich's iconic Frauenkirche South Tower, which involves climbing up 89 steps then catching an elevator up to the top
All are great options, so to make your decision, consider what kind of view you'd most like to see and how willing you'd be to sweat for it.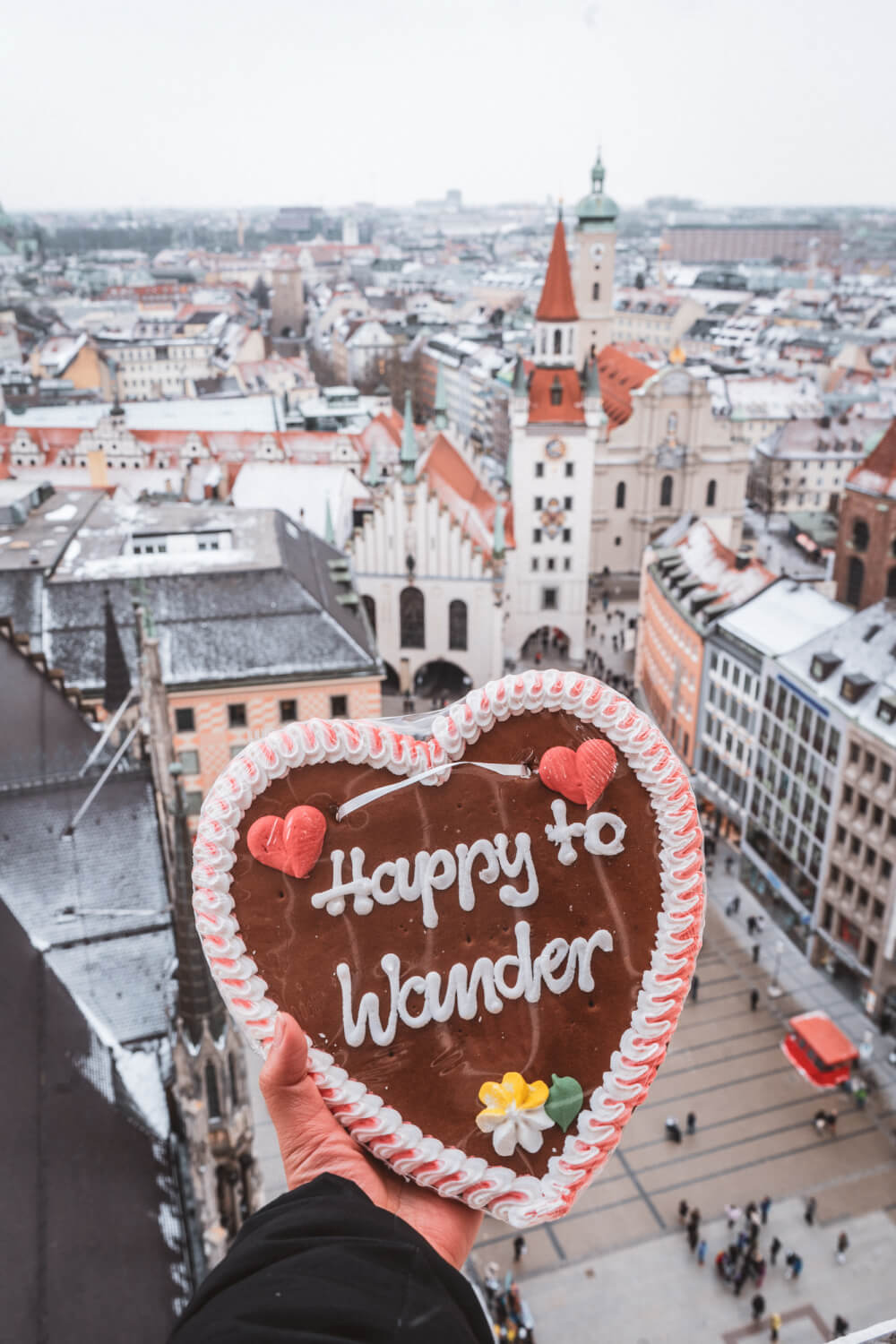 Late morning: Explore Altstadt (Old Town)
Alright, now that you've seen Altstadt (Old Town) from above, it's time to throw yourself into the action.
Altstadt (Old Town) is where you'll find the highest density of main sights in Munich.
Google 'Munich' and odds are, the photos that come up will have been captured in this scenic slice of the city, defined by the old city gates of which three remain: Isartor, Karlstor & Sendlinger Tor.
There are plenty of fun things to do in Altstadt – more than enough to fill a morning.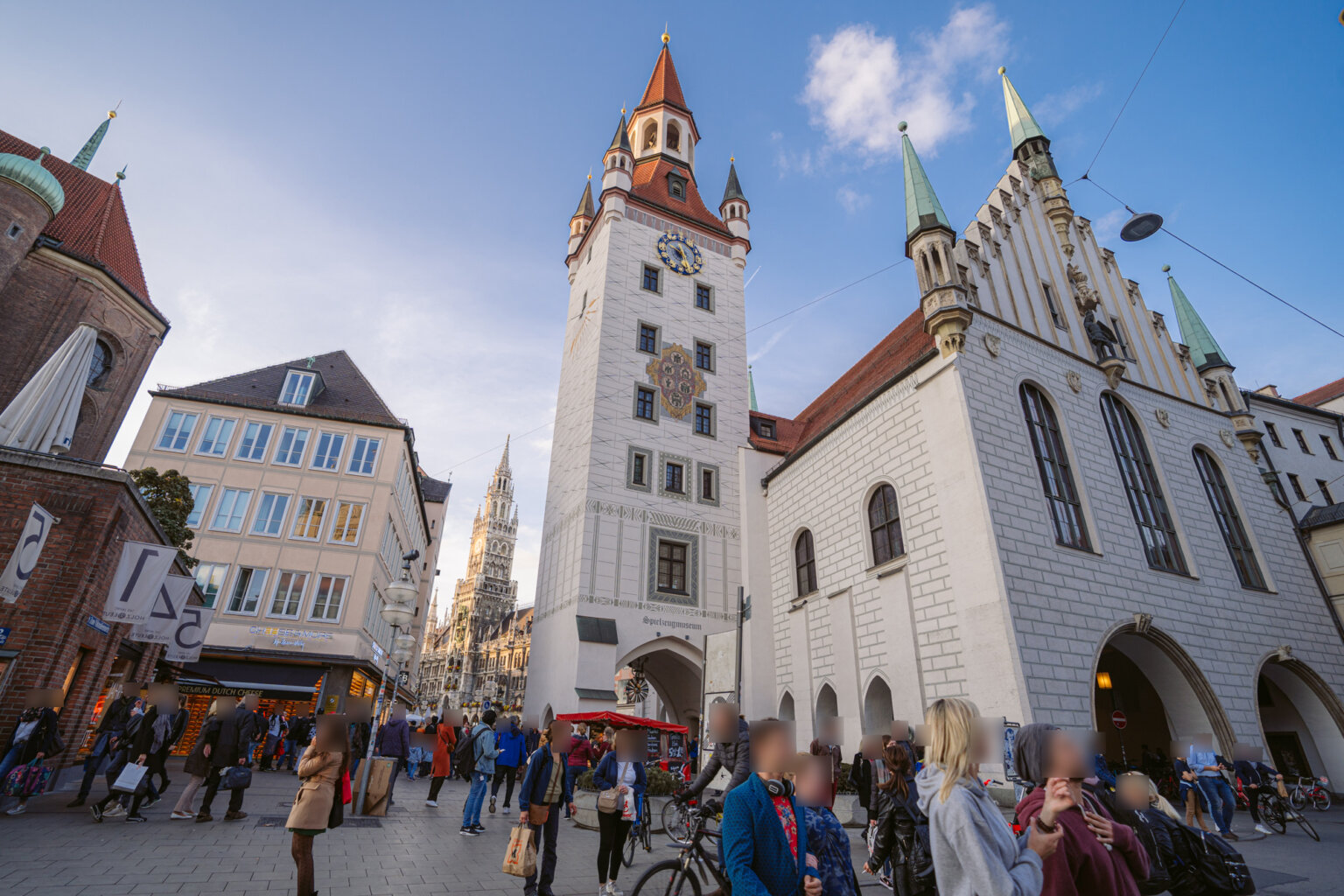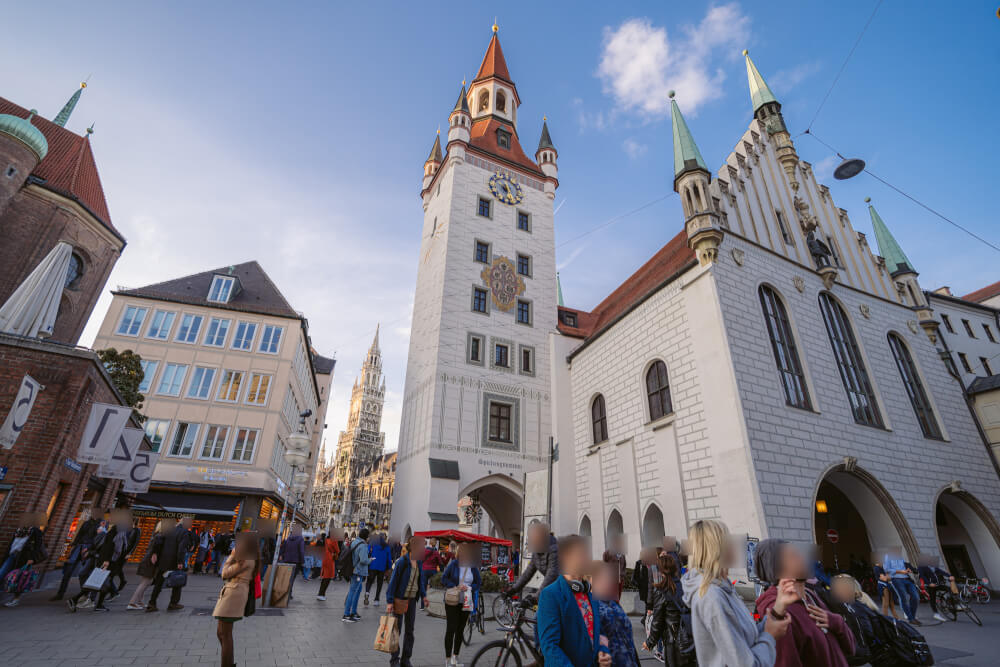 Here are a few ideas of things to do, starting from Marienplatz, the city's main central square:
Admire the beautiful architecture of Marienplatz, making sure not to miss the inner courtyard of the Neues Rathaus
Wander around the Viktualienmarkt, Munich's buzzing food market, filled with stalls selling fresh food and bites to go, with a bustling beer garden to match
Visit the Frauenkirche and its peculiar 'Devil's Footprint' in the back of the church
Go for a walk (and maybe even do some shopping) on the ultra-luxe Maximilianstrasse, home to some of the world's most luxurious brands
Go for a (much more affordable) shopping walk along Kaufingerstrasse, where there's plenty of big name shops as well as Munich's adorable LEGO Store
Admire the grandeur of Max-Joseph Platz, home to Munich's National Theatre, with its striking neoclassical façade
Step inside the hidden gem of Asamkirche, a tiny church wedged between shops near Sendlinger Tor
Check out the old city gate at Karlstor and enjoy some people watching at Karlsplatz (also known by its more popular name, Stachus)
Pop over to the Justizpalast, one of the best free hidden gems in Munich (which is free to enter!)
Step inside the Theatinerkirche, Odeonsplatz's mustard yellow church with a beautifully detailed all white interior
Marvel at the historical Odeonsplatz, which looks virtually unchanged since the 19th century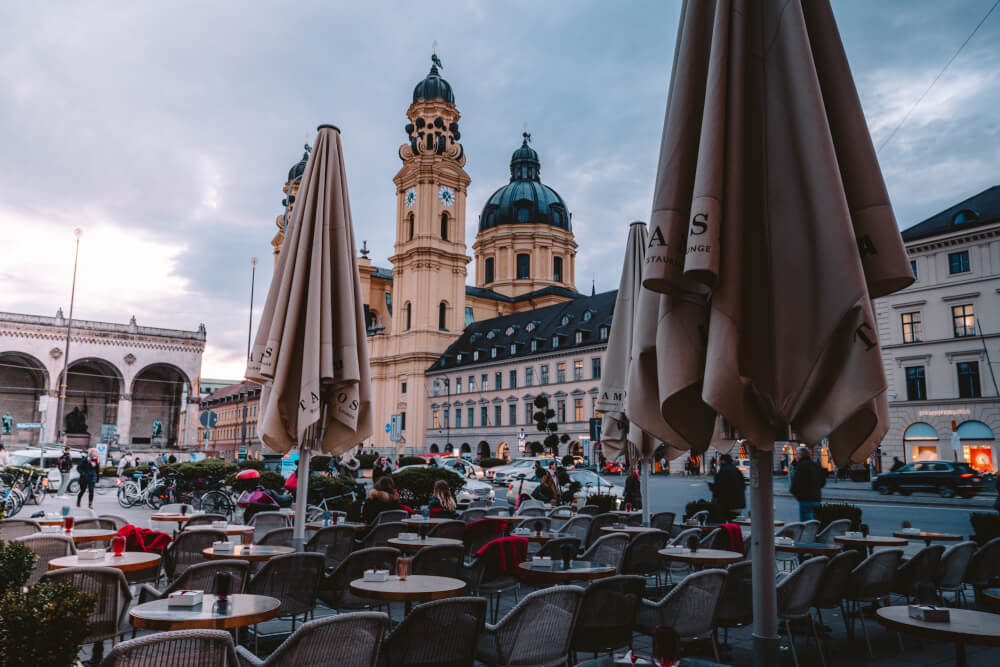 And if you're looking for paid attractions, here are a few to consider in this neighbourhood:
Pay a visit to the epic Munich Residenz, where for centuries, Bavaria's most important rulers and decisionmakers lived in opulent splendour
Visit the Münchner Stadtmuseum, which is a museum dedicated to the city's history
Visit a quirky smaller museum like the Toy Museum or the Beer & Oktoberfest Museum
Admire urban art in a unique setting at the Museum of Urban and Contemporary Art (MUCA)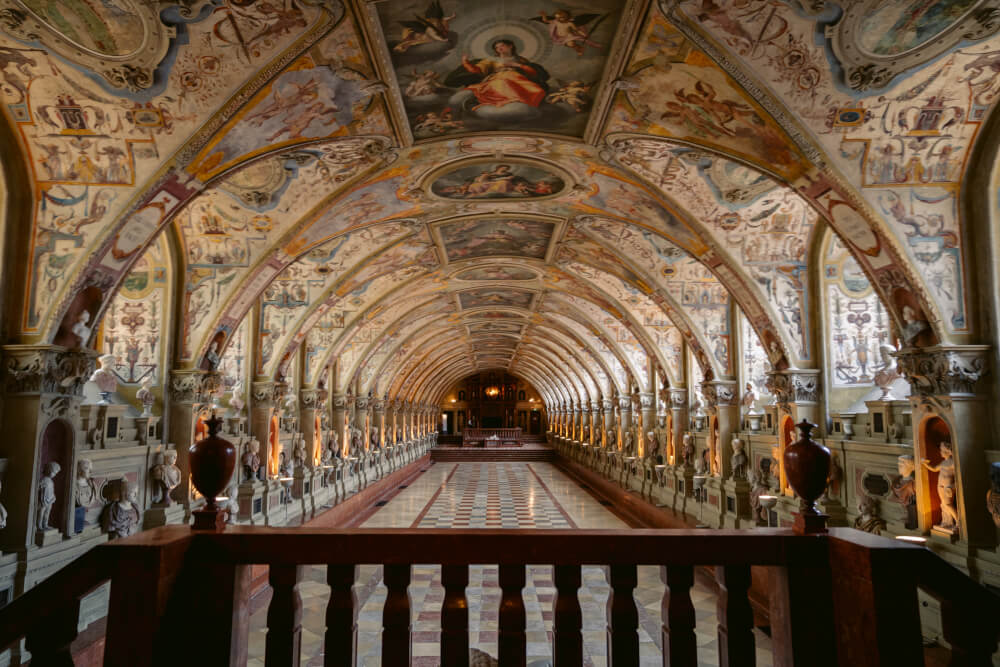 If you're following this itinerary exactly, then our next stop will be lunch at the iconic Chinesischer Turm (Chinese Tower). To get there, I'd suggest the following route:
Walk through and admire Hofgarten, making sure to see the Dianatempel, Bayerische Staatskanzlei (Bavarian State Chancellory) and the little-known Kriegerdenkmal im Hofgarten (War Memorial in Hofgarten)
Continue onwards to the Eisbachwelle to marvel at the famous Munich surfers
Enter the park and en route, marvel at the Monopteros and follow the path closest to the Oberstjägermeisterbach to see the (much lesser known) beginner's surfer wave
Continue onwards on this path until you reach the entrance of the Chinesischer Turm (Chinese Tower) – the tower and beer garden will be to the left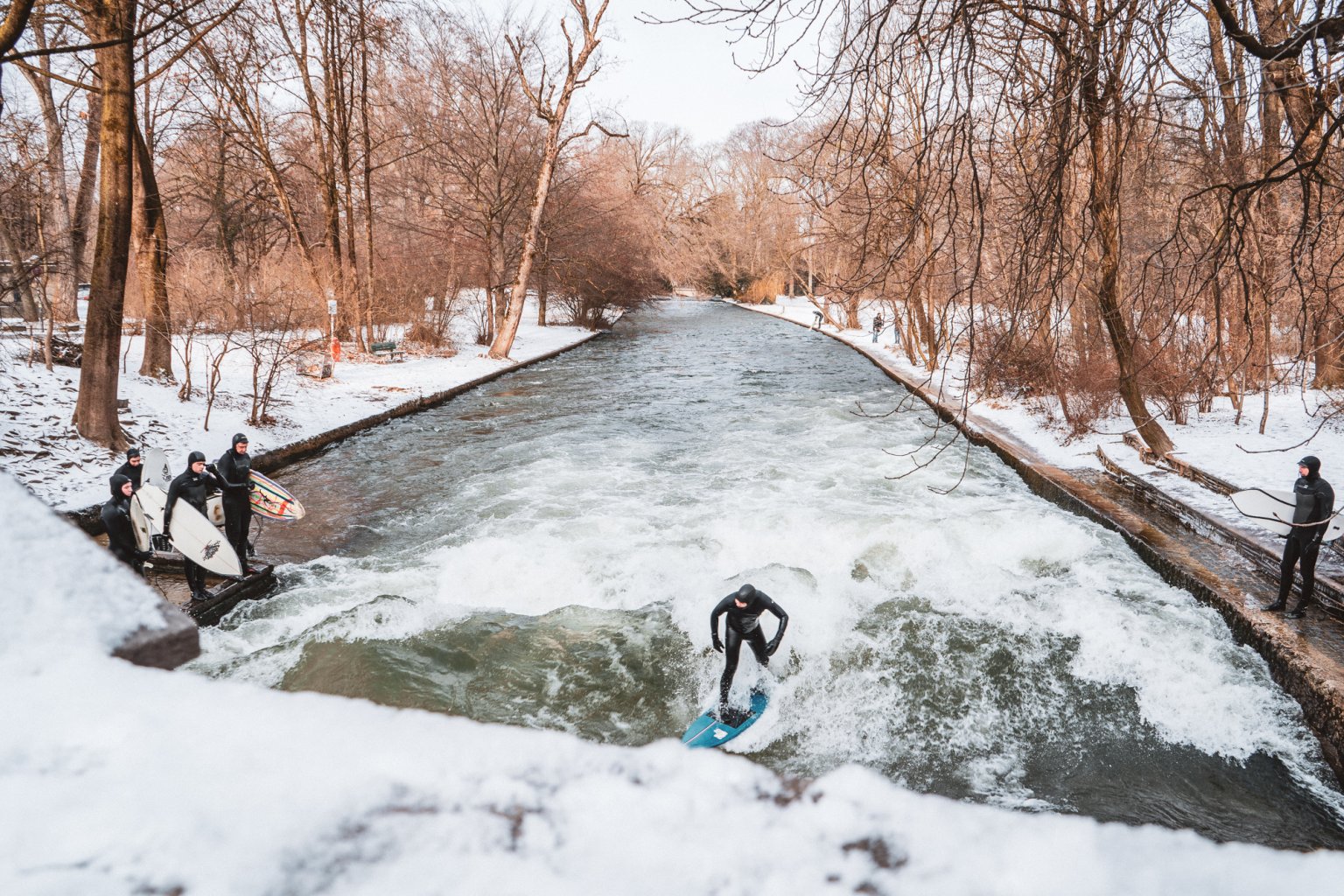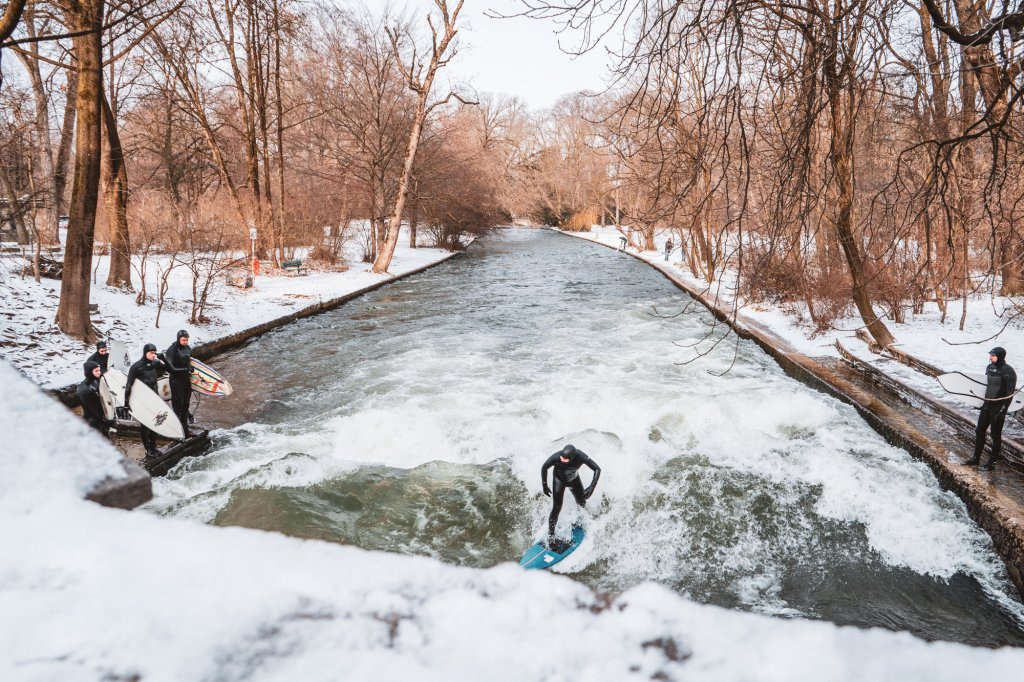 Lunch: Chinesischer Turm (Chinese Tower)
Alright, after powering through the morning, it's time to finally rest your legs and grab a bite to eat. Where better to get an intro to Bavarian beer gardens than at the iconic Chinese Tower?
The Chinesischer Turm (Chinese Tower)'s leafy beer garden is one of the best in Munich, where you'll find happy tourists and locals in equal measure.
It's far from a hidden gem, but it's spacious, beautiful, and when the weather's right, there's even a band playing live music from the tower itself.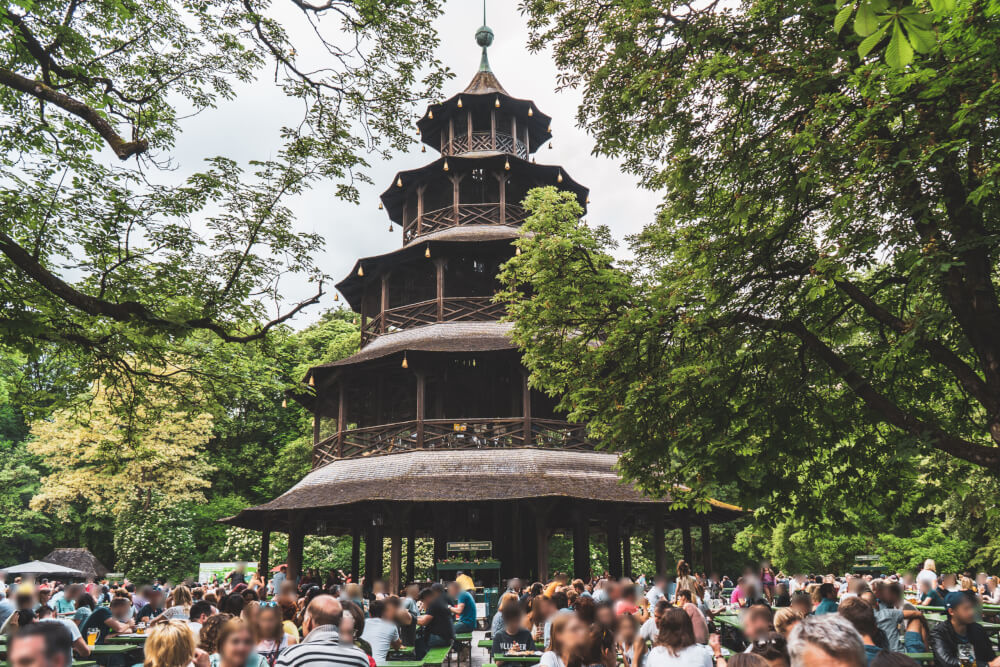 NOTE: This beer garden is self-service, so you'll want to grab a tray, then get your own giant beers & whatever food grabs your eye.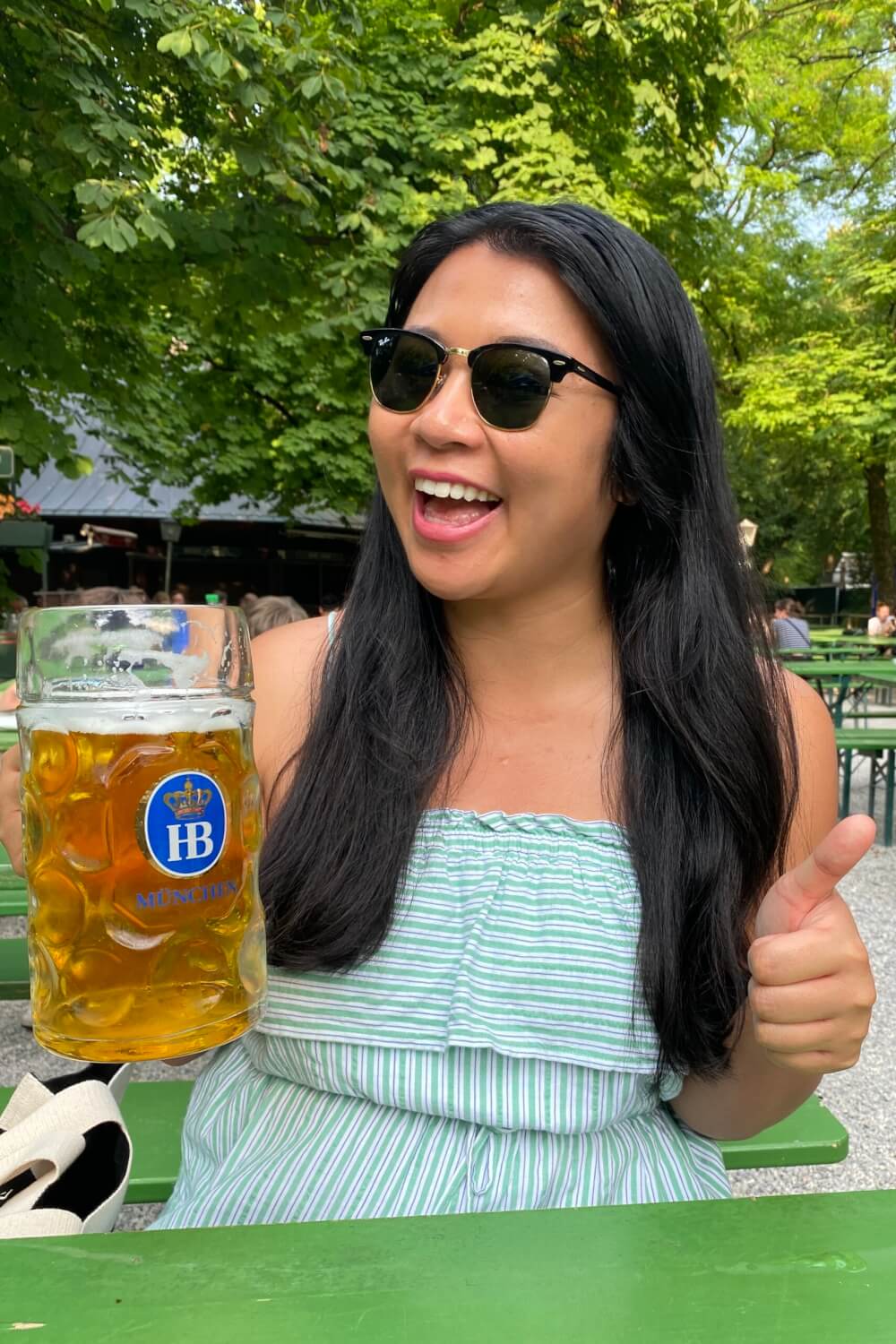 If you're not feeling for beer garden food (or if weather doesn't allow for an outdoor lunch), there are a number of delicious and affordable restaurants once you venture over to Maxvorstadt.
One super affordable spot for lunch specials is Lo Studente – they do pizza and pasta with great daily specials that are less than 10 euro! This place got me through some rough student days.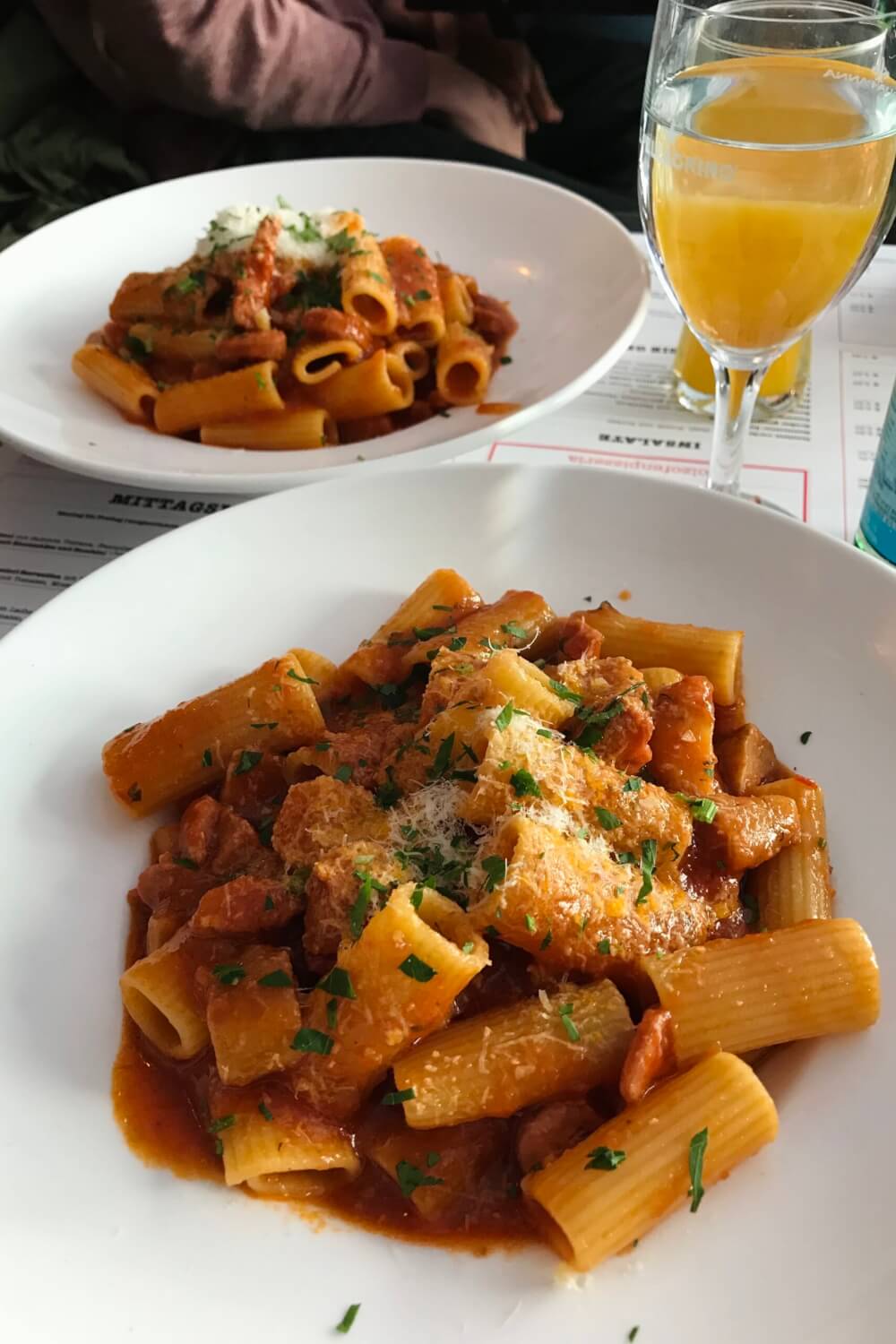 Or if you're feeling for something brunchier, there's also Café Puck which is a tasty spot for hearty/classic brunch plates: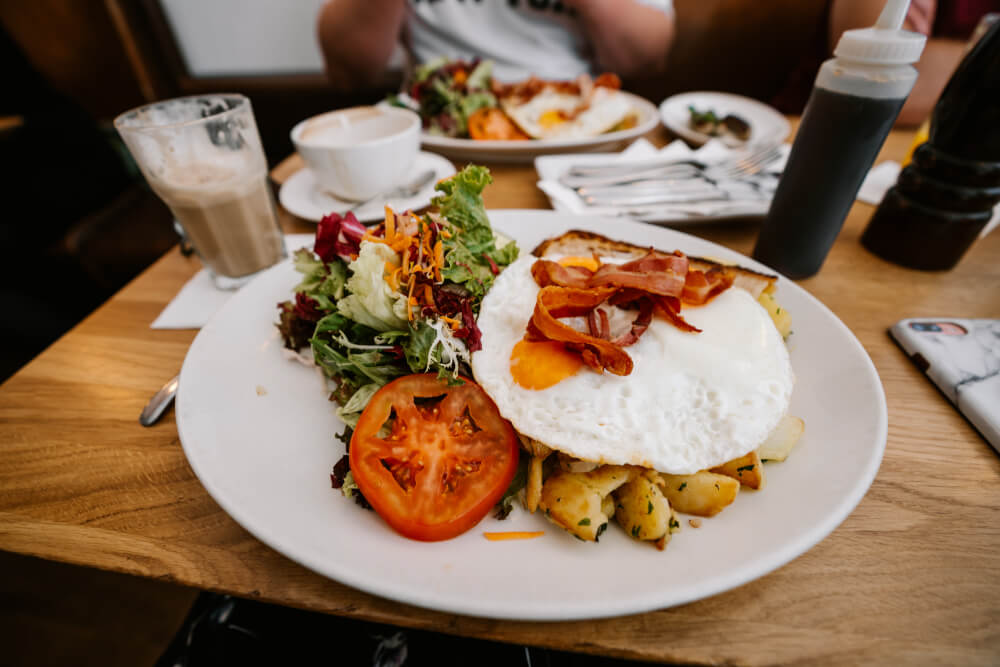 Or the very aesthetic Mary's Coffee Club which is all pink & avocado toast: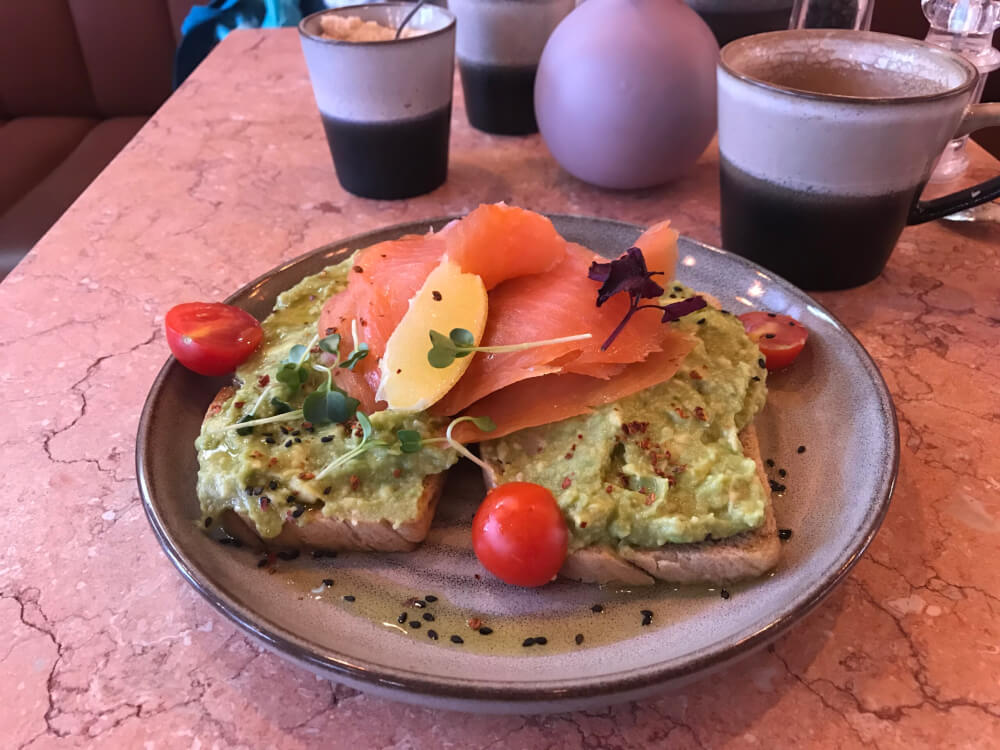 Afternoon: English Garden
As any proud local will tell you, the English Garden is one of the largest city parks in the world, larger even than Central Park in New York City!
So, needless to say, there's plenty to do, such as…
Take a walk around the picture-perfect Japanese Garden
Grab a treat at the Milchhäusl kiosk (open even in winter, with cute gondolas to sit in)
Wander further to the Kleinhesselhofer See and do a walk around the mini-lake (or rent a boat to explore it from a different angle)
Grab a beer at the beautiful lakeside Seehaus Beer Garden, which has a much more local crowd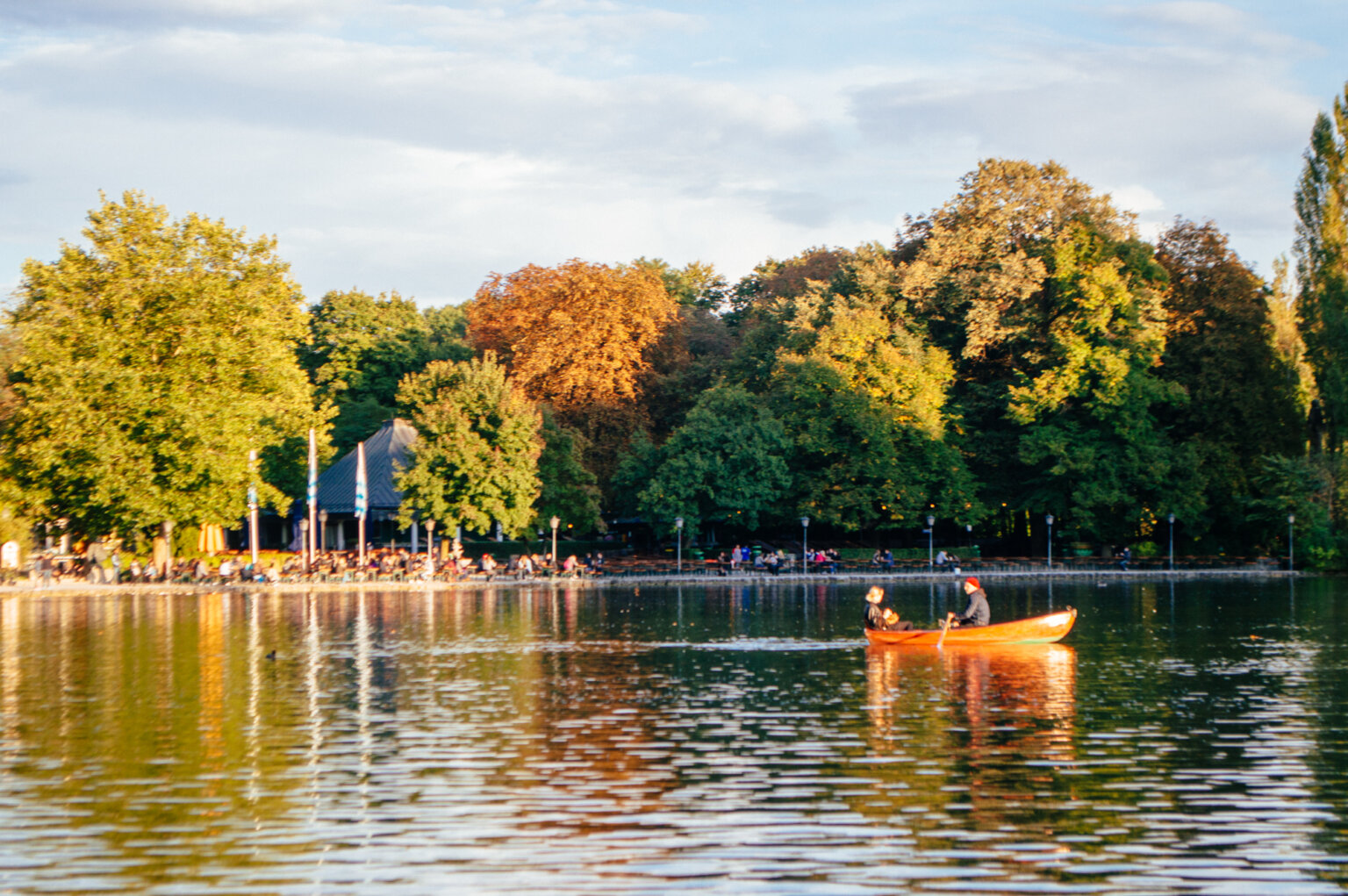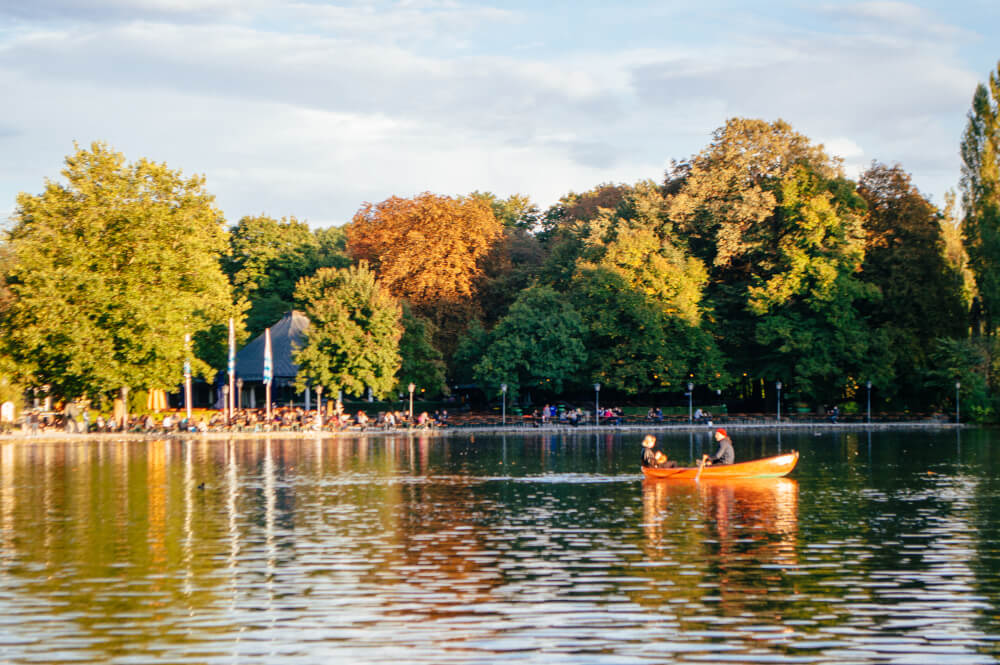 If you run out of things to do in the garden itself, you're also very close to two of Munich's main museums:
Haus der Kunst (House of Art): An eclectic collection of modern and contemporary art
Bayerisches Nationalmuseum (Bavarian National Museum): A museum dedicated to decorative arts from across Europe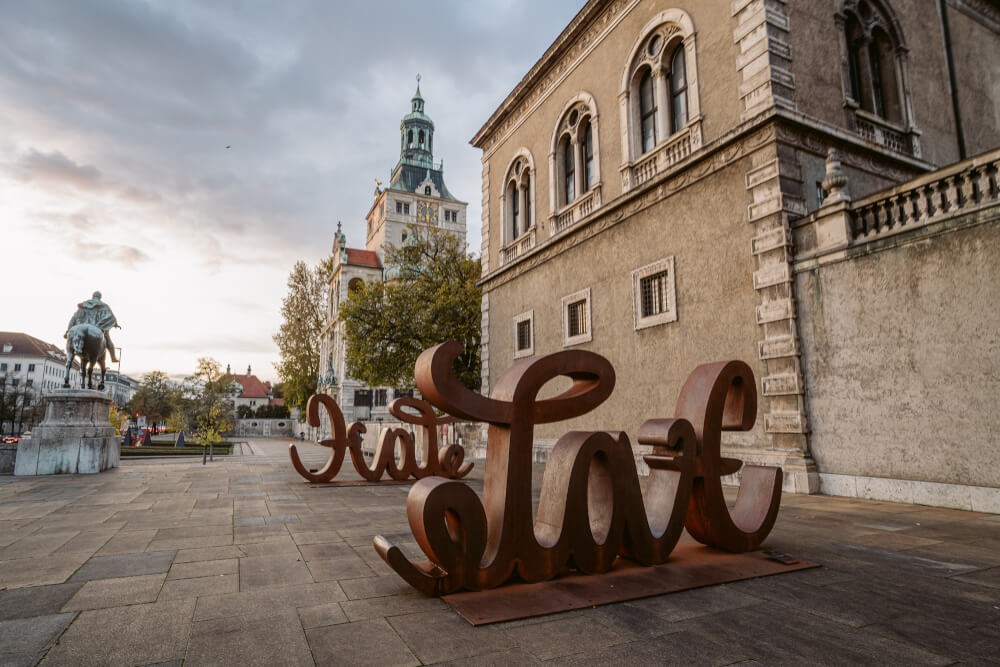 Sunset: Angel of Peace
There are few sunset spots in Munich prettier than the Friedensengel, known in English as the Angel of Peace.
Located steps away from the Isar River, this iconic monument consists of a 38m high column topped with a 6m high gilded bronze statue.
As majestic as the monument is however, the real star here (in my eyes) is the view, which extends down Prinzregentenstraße with sights like the Nationalmuseum in plain view.
When weather permits, this is one of the go-to spots among locals to have a beer & watch the sun come down. Of course, there's no bar on-site so the best course of action is doing as locals do and bringing your own bottle!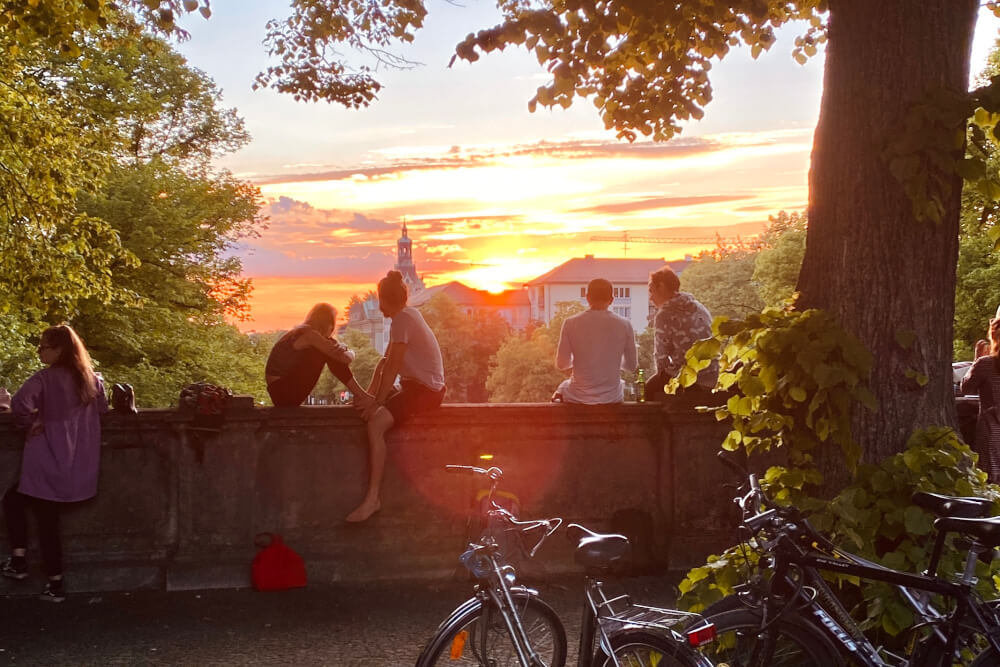 Evening: Beer Hall
Alright, after all that sightseeing, you must be thirsty… and starving!
To cap off our first day in Munich, I'd propose you head to a classic Bavarian beer hall for a bite to eat and enough local beer to drown a goldfish.
While Hofbräuhaus is no doubt Munich's most famous beer hall, there are many others in the city if you're looking for a (slightly) less touristy experience.
In fact, as I mention in my Munich travel tips article, each of Munich's main six breweries have their own beer halls, so pick your favourite and go from there. I'm quite partial to the Augustiner Stammhaus, although I do think the Hofbräuhaus is a must-visit at least once.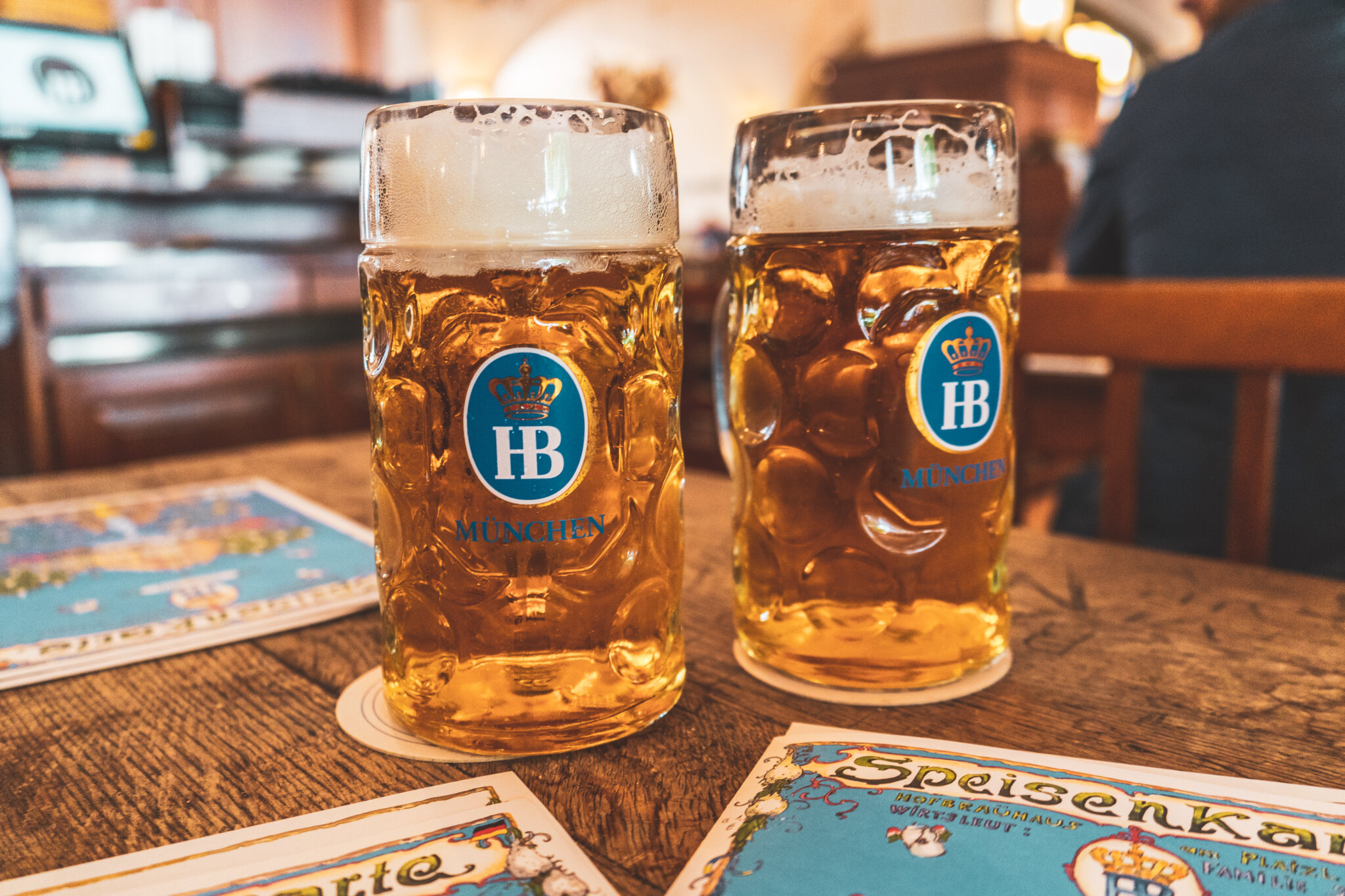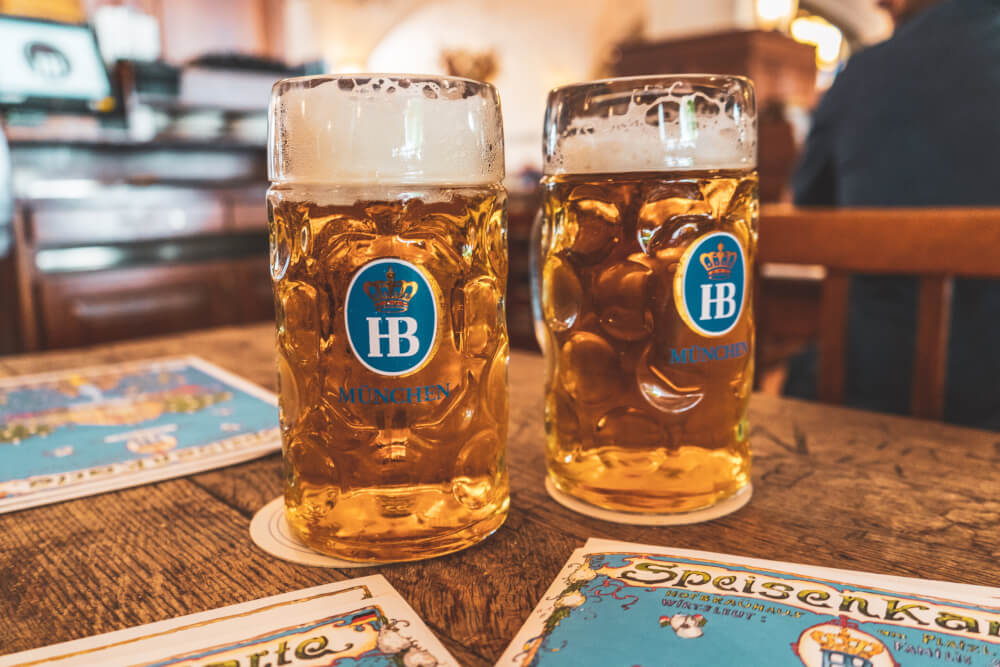 NOTE: If it's cheap you're looking for, here's a local secret: the Augustiner Braustuben has some of the cheapest beer in town, with a 1L Maß costing only €6.80. Their food is pretty solid too.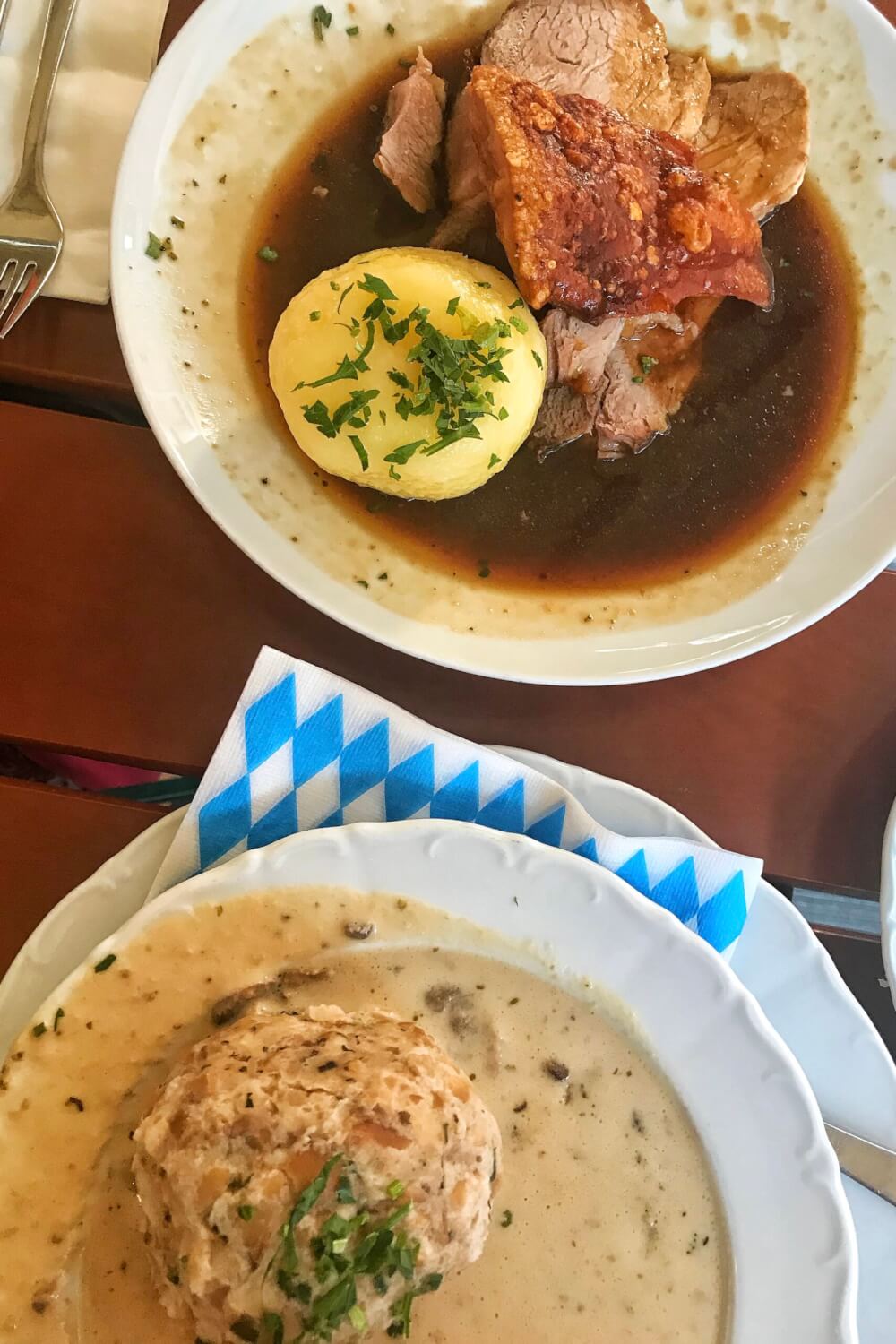 Day 2: North Munich & Beyond
After exploring central Munich in depth, the second day of our Munich Two Day Itinerary is all about heading North to see other unique sides of the city, from Nymphenburg Palace and Olympiapark to a unique neighbourhood of your choosing. But first, we must carbo-load…
Breakfast: Head to a German Bakery
For the second day of our 48h Munich itinerary, we'll be fuelling up with a stop at a cultural institution nobody should miss when in Munich: a German bakery!
If you're into baked goods, German bakeries will not disappoint. In a country famed for having over 3000 types of bread, every bakery offers an enticing array of baked goods to suit every taste. Best of all, bakeries are an affordable alternative to pricey hotel breakfasts, making them a true win win option.
As for which bakeries to visit, I'd recommend picking somewhere close to your accommodation so you can have a nice local experience. I'm sure the staff at your hotel will have their go-to recommendations.
Otherwise, some of the more popular chain bakeries in Munich include…
Rischart
Zöttl
Dompierre (more of a French-style bakery, but it's great!)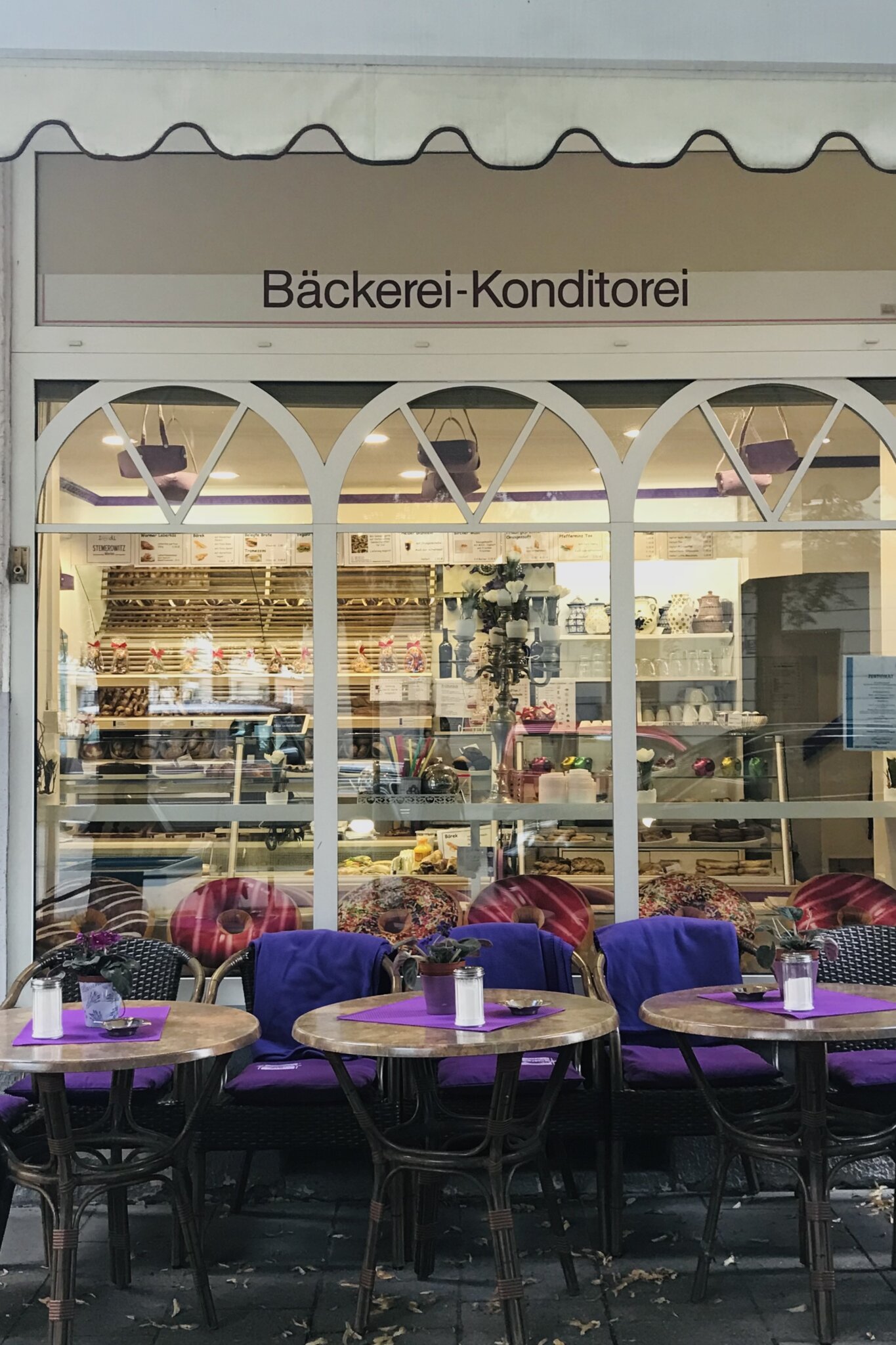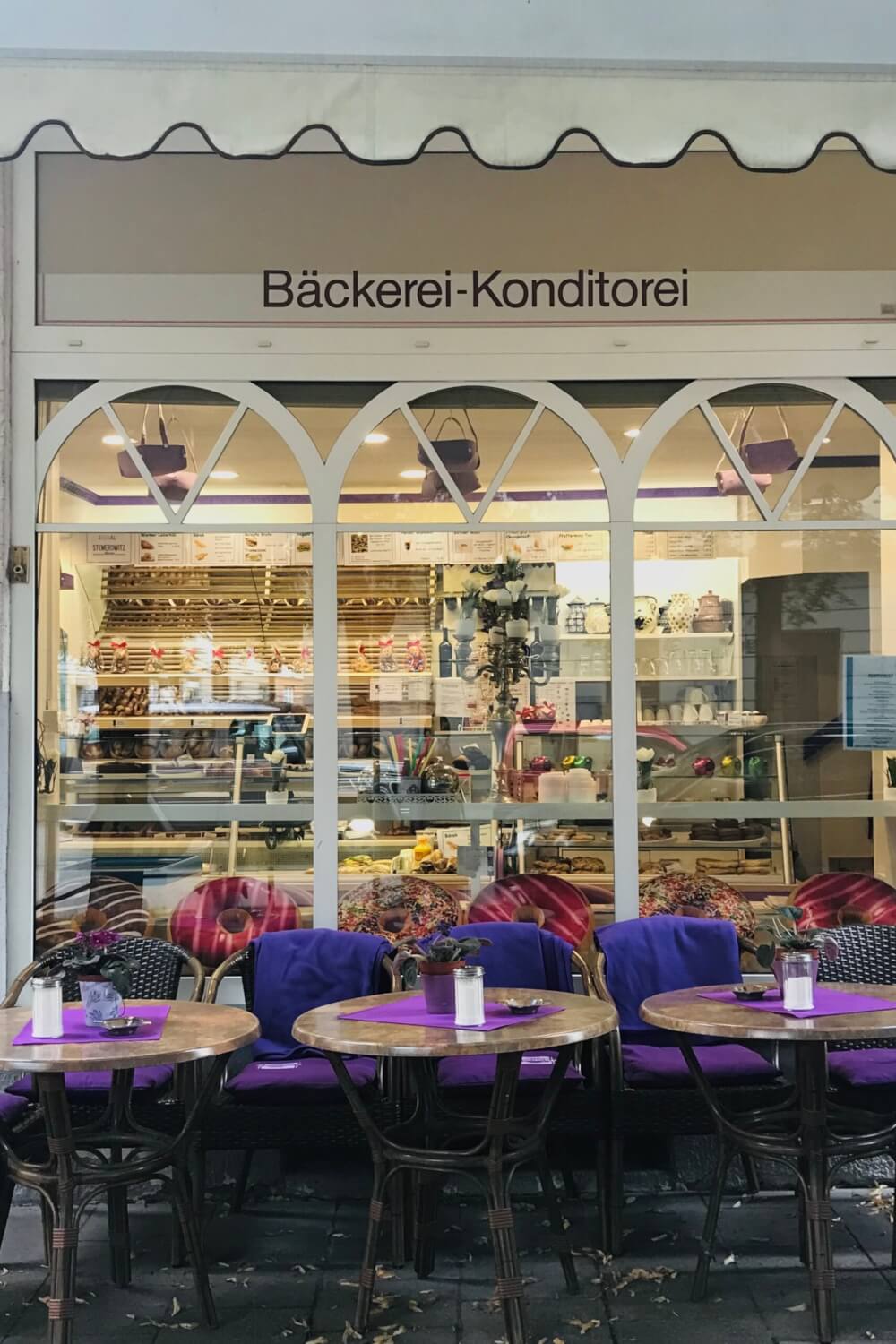 Morning: Olympiapark
After fuelling up, it's time to visit a unique corner of Munich that's unlike any other part of the city: Olympiapark.
As its name might suggest, this park was built for the Olympics, which Munich hosted in 1972.
5 decades later, the park continues to be a go-to destination for cultural and sporting events in Munich, with plenty of fun attractions to enjoy for visitors.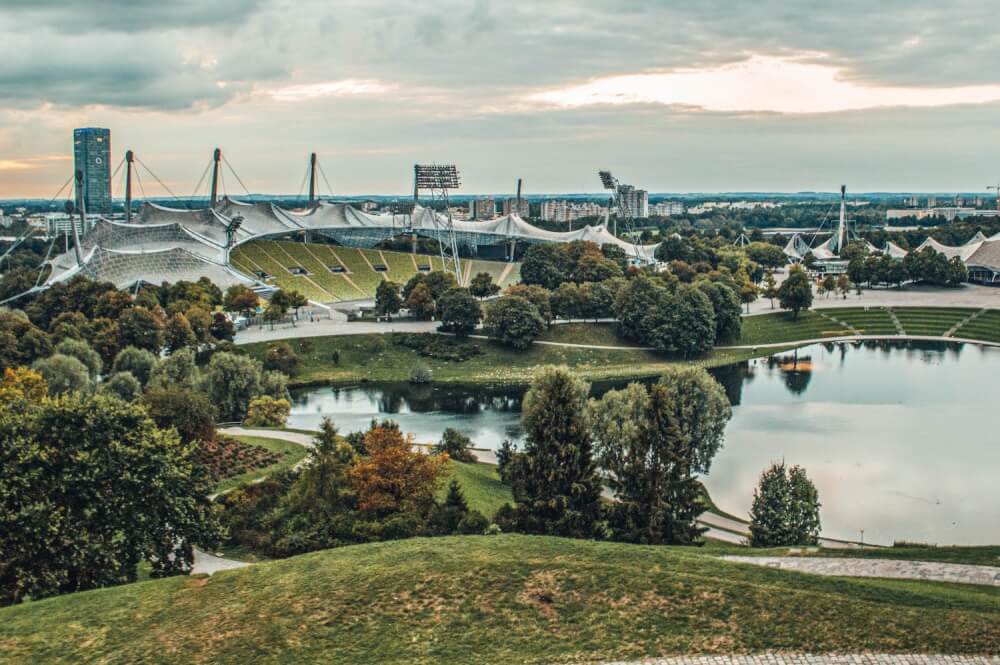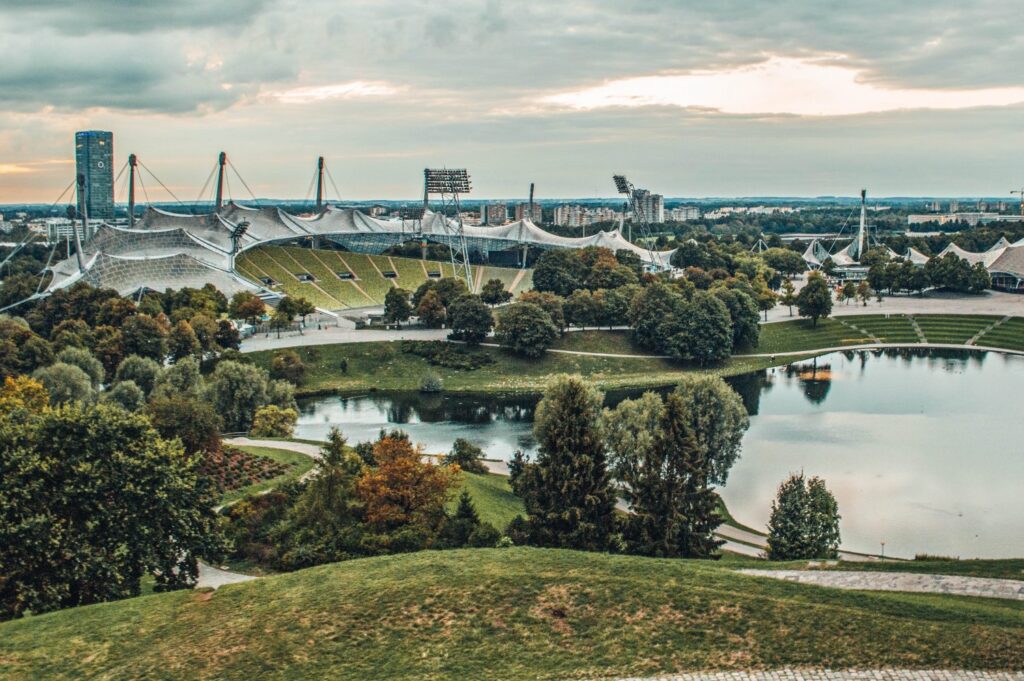 What is there to do in Olympiapark? Here are a few ideas:
Visit the free BMW World to see some cool cars and displays or visit the paid BMW Museum for a more thorough walkthrough of BMW history through vintage cars
Photograph the unique clover-shaped BMW Headquarters, modelled after the four cylinders of a car engine
Walk along Olympiasee and check out its 'Walk of Fame', with handprints and signatures embedded into the ground from famous celebrities (mostly musicians) who have visited the city
Visit SEA Life Munich
Pay a visit to the free Munich 1972 Massacre Memorial, which is an open air multimedia installation in the park that honours the victims of the massacre that occurred at the 1972 Munich Olympics.
Take a walk around Olydorf to see the uniquely painted student bungalows that form one of the most unique student residences in the world
Visit the unique hidden gem of Ost-West Friedenskirche, tucked away in the park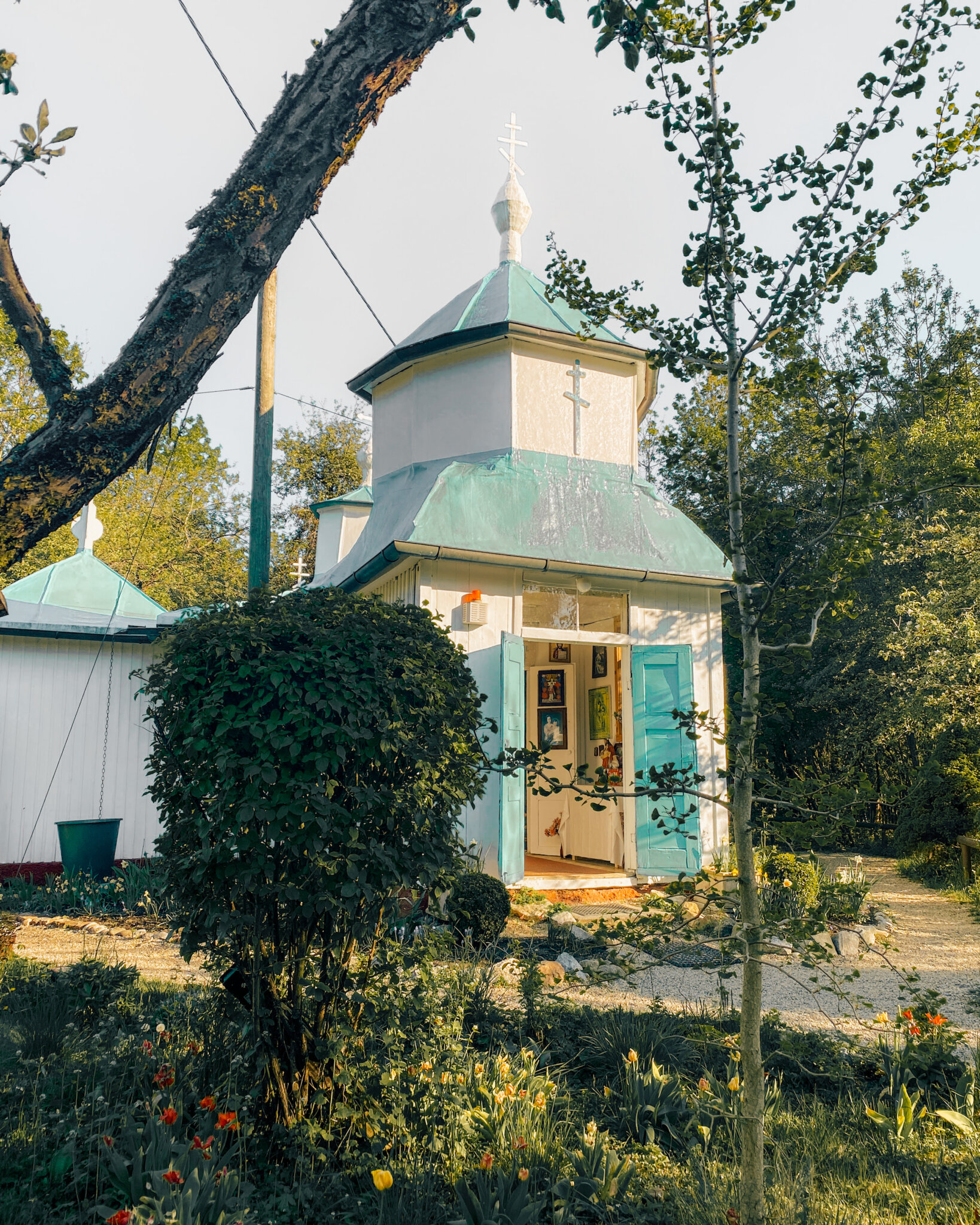 Afternoon: Pick a Neighbourhood to Explore
Most first-time visitors to Munich stay within the Altstadt (Old Town) area, which is fine if you're on a time crunch, but to get a feel for Munich beyond the tourist must-dos, you really need to spend some time in one of its many unique neighbourhoods.
The fun thing about Munich's neighbourhoods is they often have a unique character, so to help you choose which one to explore, here are some of my favourites:
Maxvorstadt
If it's culture you're after, Maxvorstadt is the Munich neighbourhood to visit. Home to Munich's famous Ludwig-Maximilans-Universität (LMU), this student-dense neighbourhood is filled with affordable eats, fun bars and over a dozen museums and galleries.
Highlights of Maxvorstadt include…
The Kunstareal, Munich's museum quarter, filled with a diverse range of unique museums to explore, from art museums like the Pinakothek Moderne, Lenbachaus and Museum Brandhorst to history-oriented sights like the NS Documentation Center and GlypothekSiegestor, Munich's Victory Arch, a monument built to honour the glory of the Bavarian army
Königsplatz, one of the most beautiful squares in Munich, filled with grand neoclassical structures and the stunning Propyläen Gate
Der Verrückte Eismacher, a whimsical ice cream shop known for its inventive rotation of ice cream flavours, which includes Bavarian treats like Augustiner beer and sometimes even sauerkraut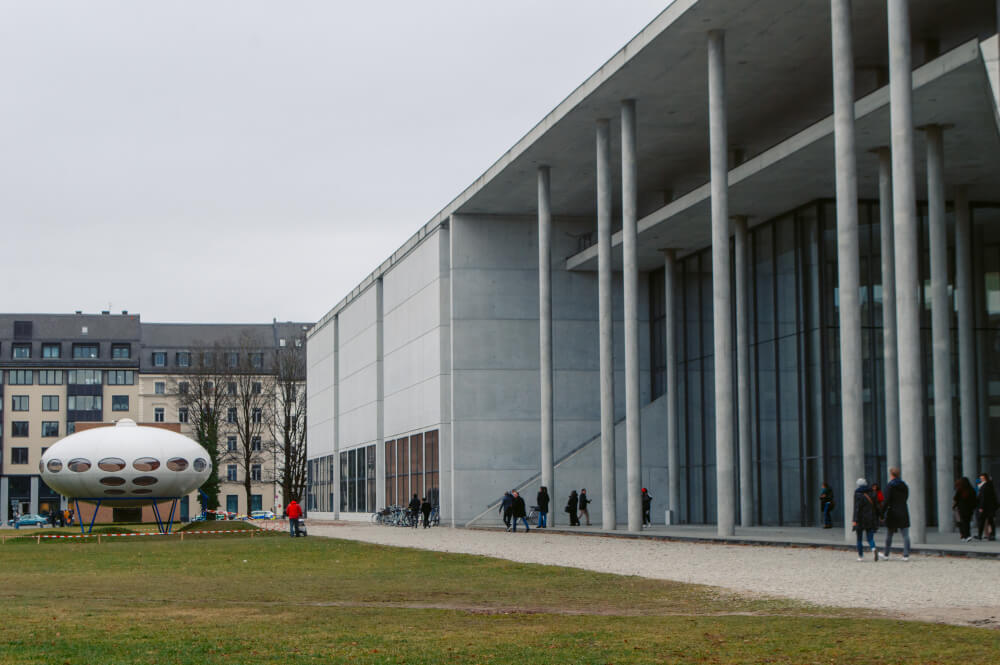 Glockenbachviertel / Gärtnerplatzviertel
Known as the epicentre of Munich's LGBTQ+ scene, as well as the go-to spot for cool bars, cafes and food spots, the combined neighbourhoods of Glockenbachviertel and Gärtnerplatzviertel are an ideal place to enjoy a chilled afternoon bar hopping or shopping.
Highlights of this area include…
Plenty of fun bars and food spots
Unique boutiques and shopping opportunities
Gärtnerplatz, a picture-perfect square and fan favourite hang out spot
Man versus Machine, one of the best coffee places in Munich
(Not too far away) Deutsches Museum, one of the largest science and technology museums in the world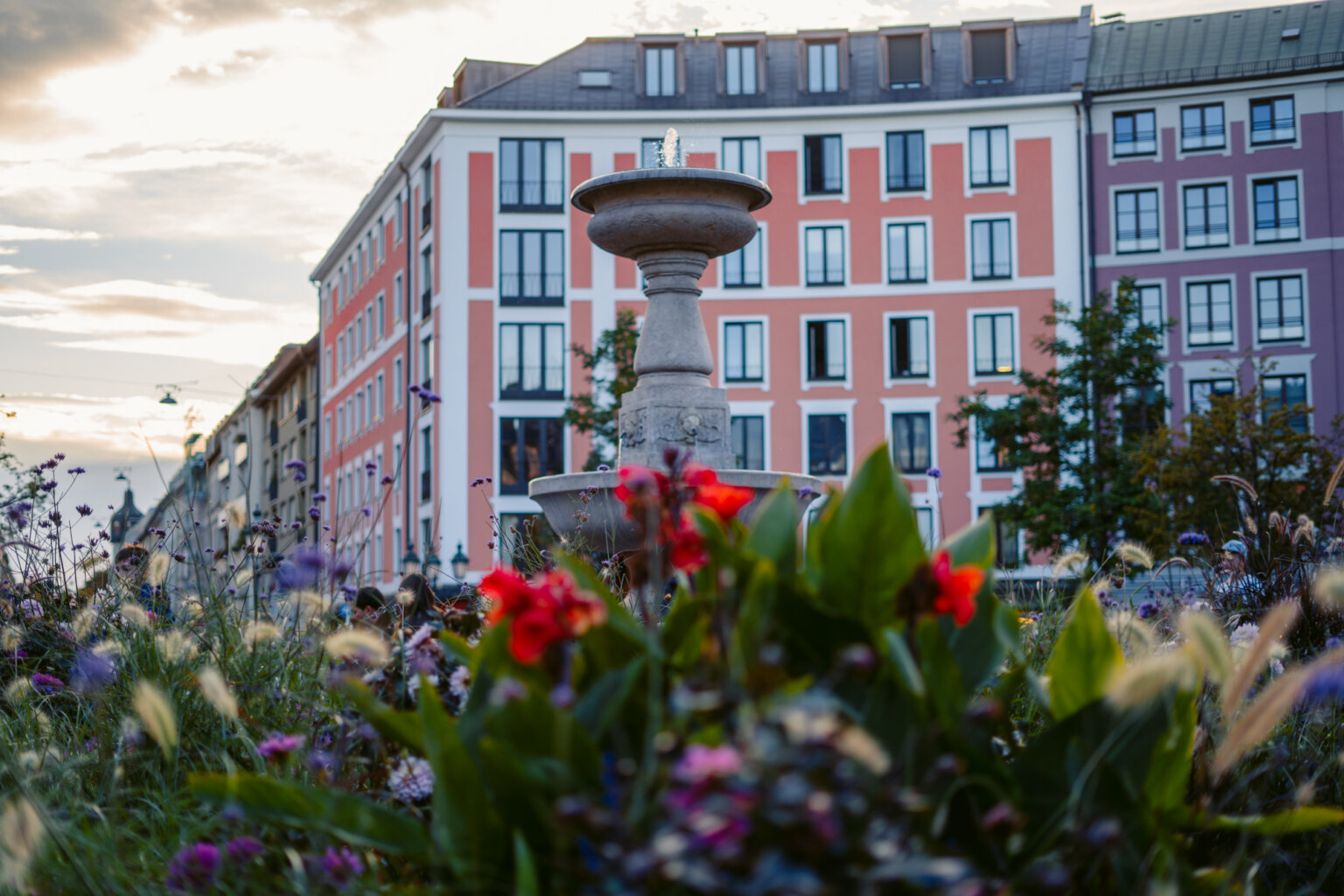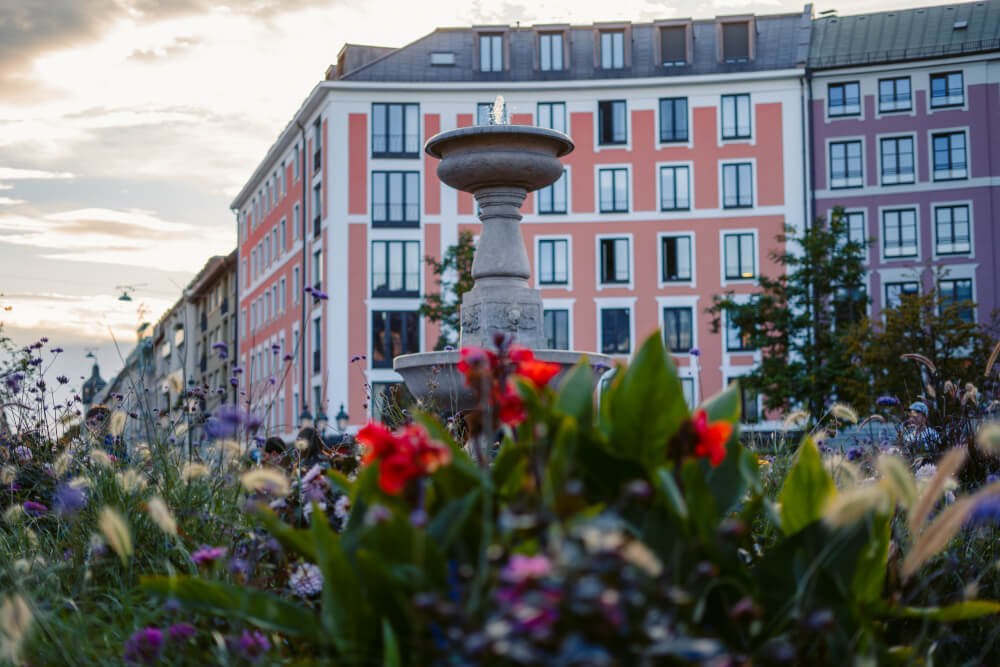 Giesing
Long known as a working class neighbourhood, Giesing is one of my favourite neighbourhoods to explore in Munich.
Highlights of Giesing include…
Unique street art & large colourful murals
A lovely rose garden
Klein Venedig (Little Venice), an idyllic little neighbourhood with charming houses on a canal
Gans Woanders, a quirky fairytale hangout space with great food and drink
Cult favourite brewery Giesinger Bräu
Being the HQ of the 1860 Munich football team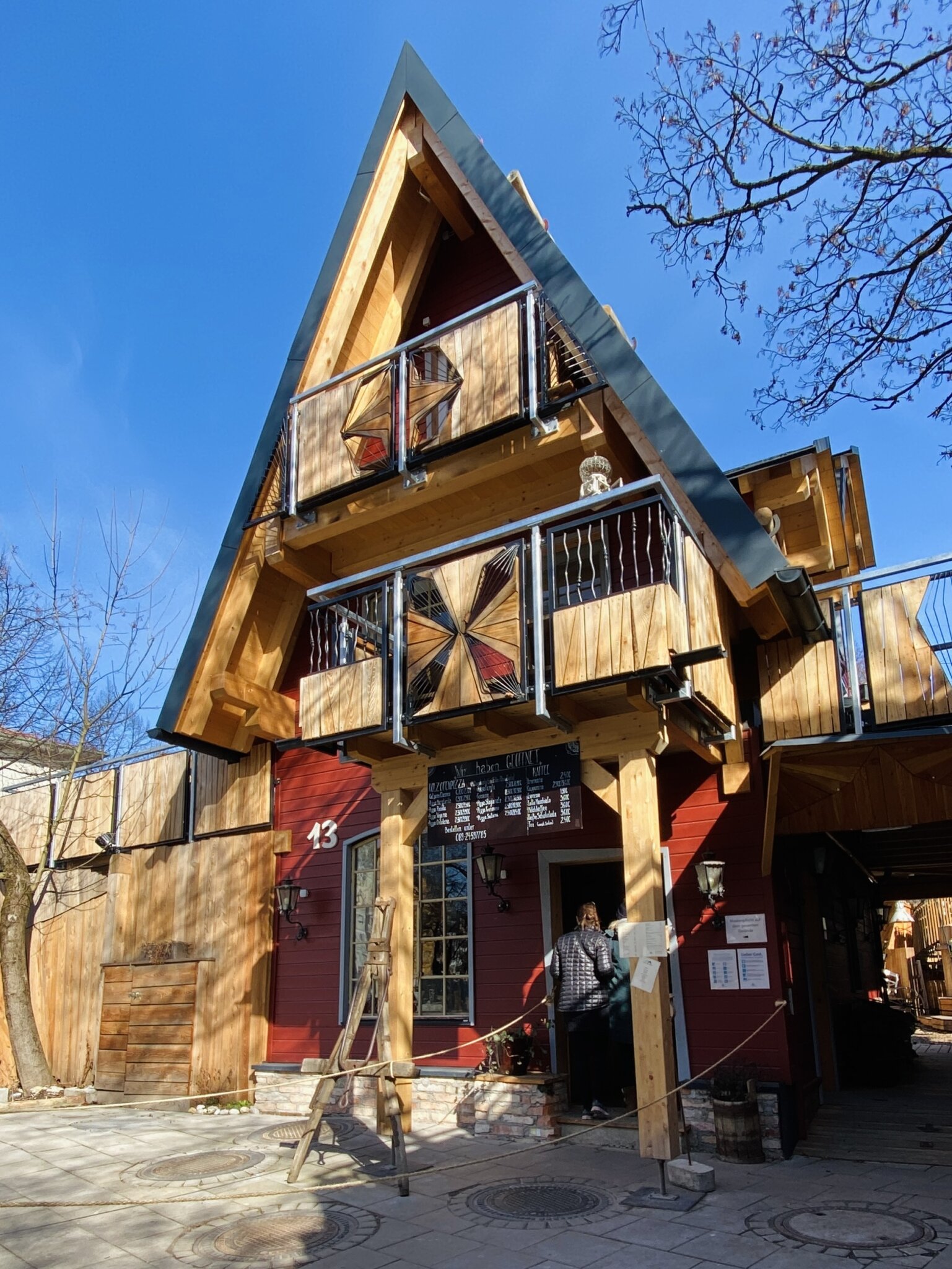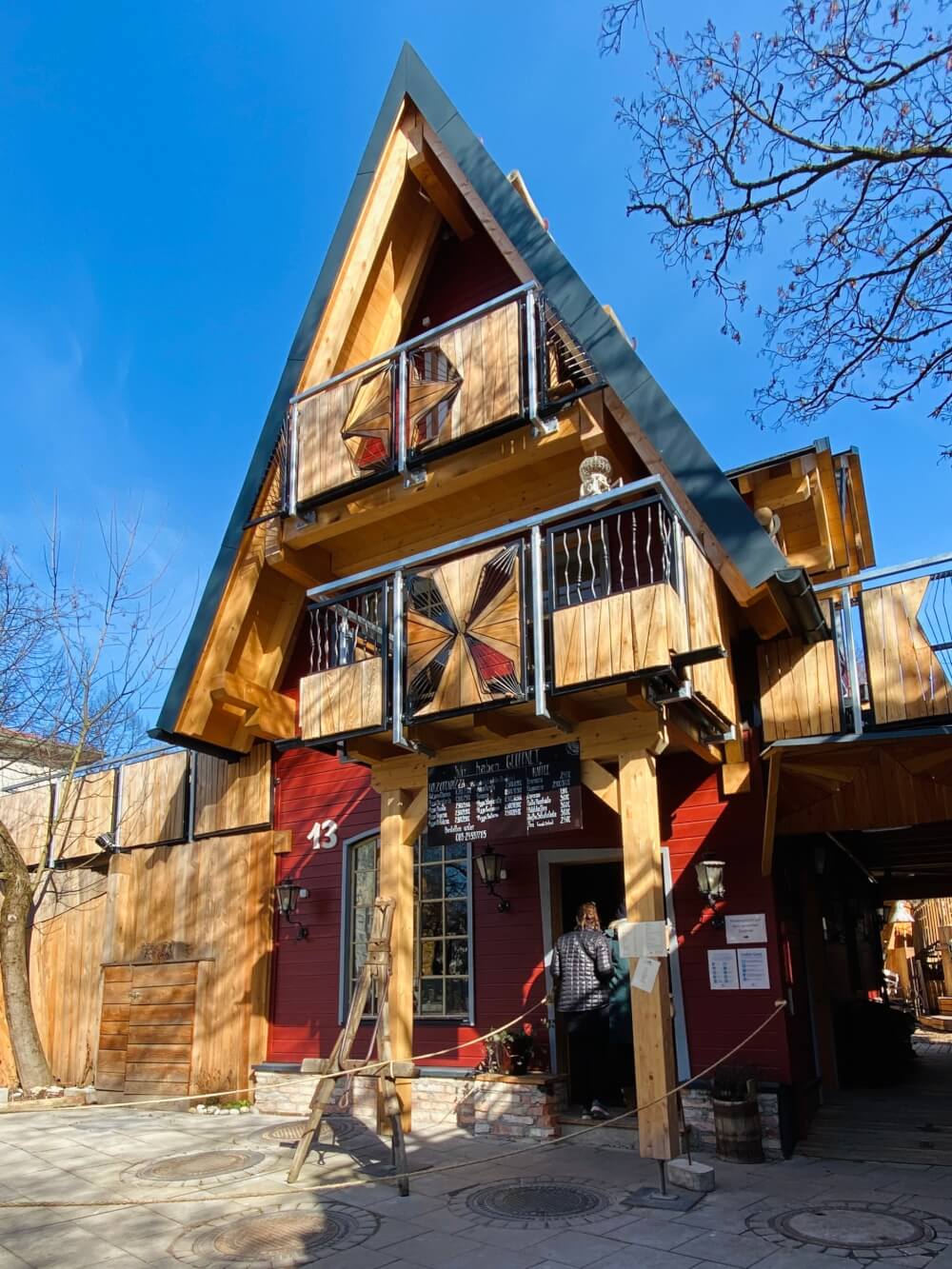 Haidhausen
This quaint & village-like part of town is an ideal place for a leisurely afternoon marvelling at pretty buildings.
Highlights of Haidhausen include..
Wiener Platz, an elegant square with market stalls
Hofbräukeller, a bustling beer hall/garden
The Maximilianeum, the epic headquarters of the Bavarian state chancellory and also the most baller/exclusive student residence in Munich. Very randomly, they do a Sunday brunch most visitors don't know about!
Plenty of delightful streets to wander down (Preysingstraße is a personal favourite)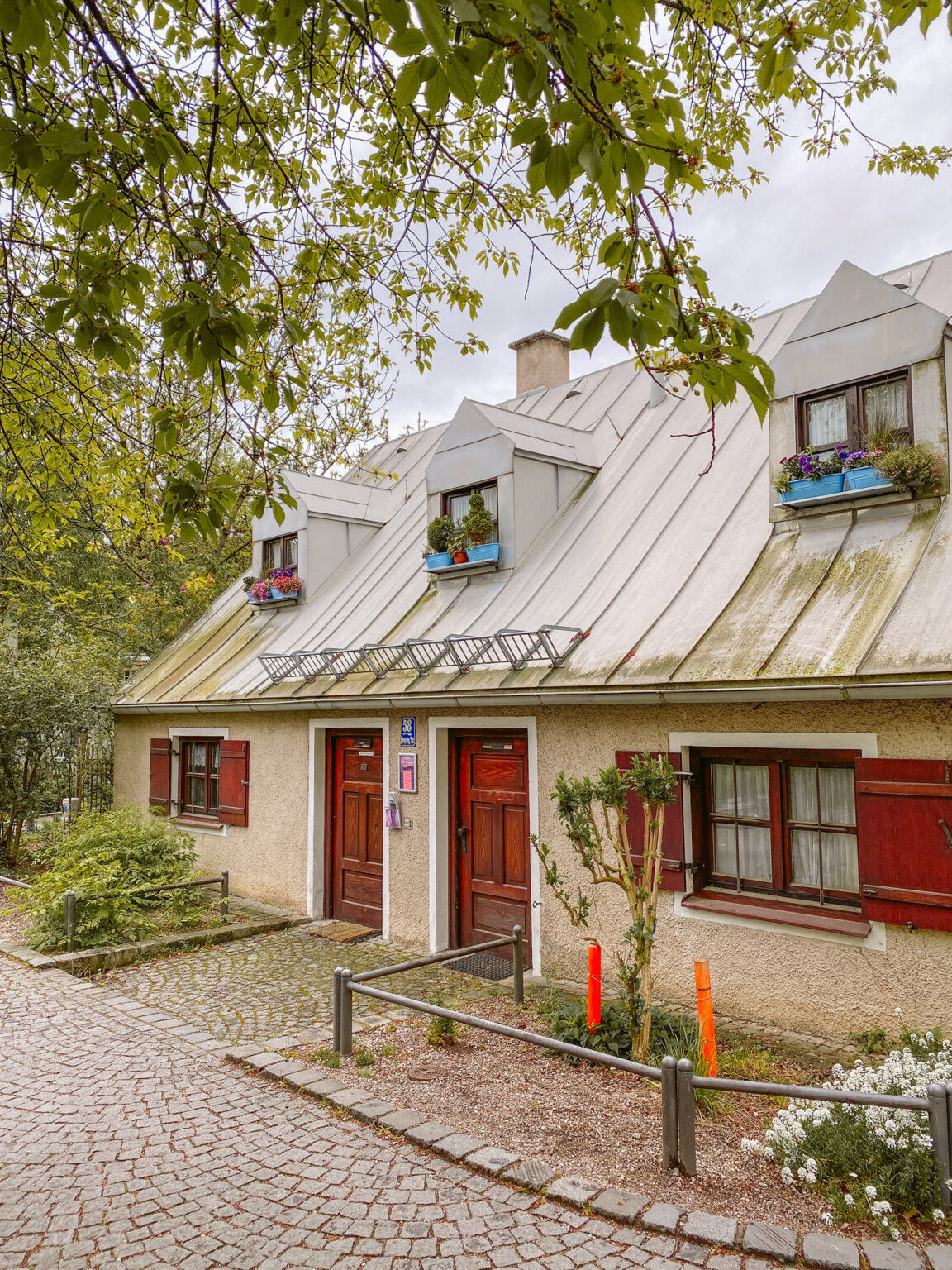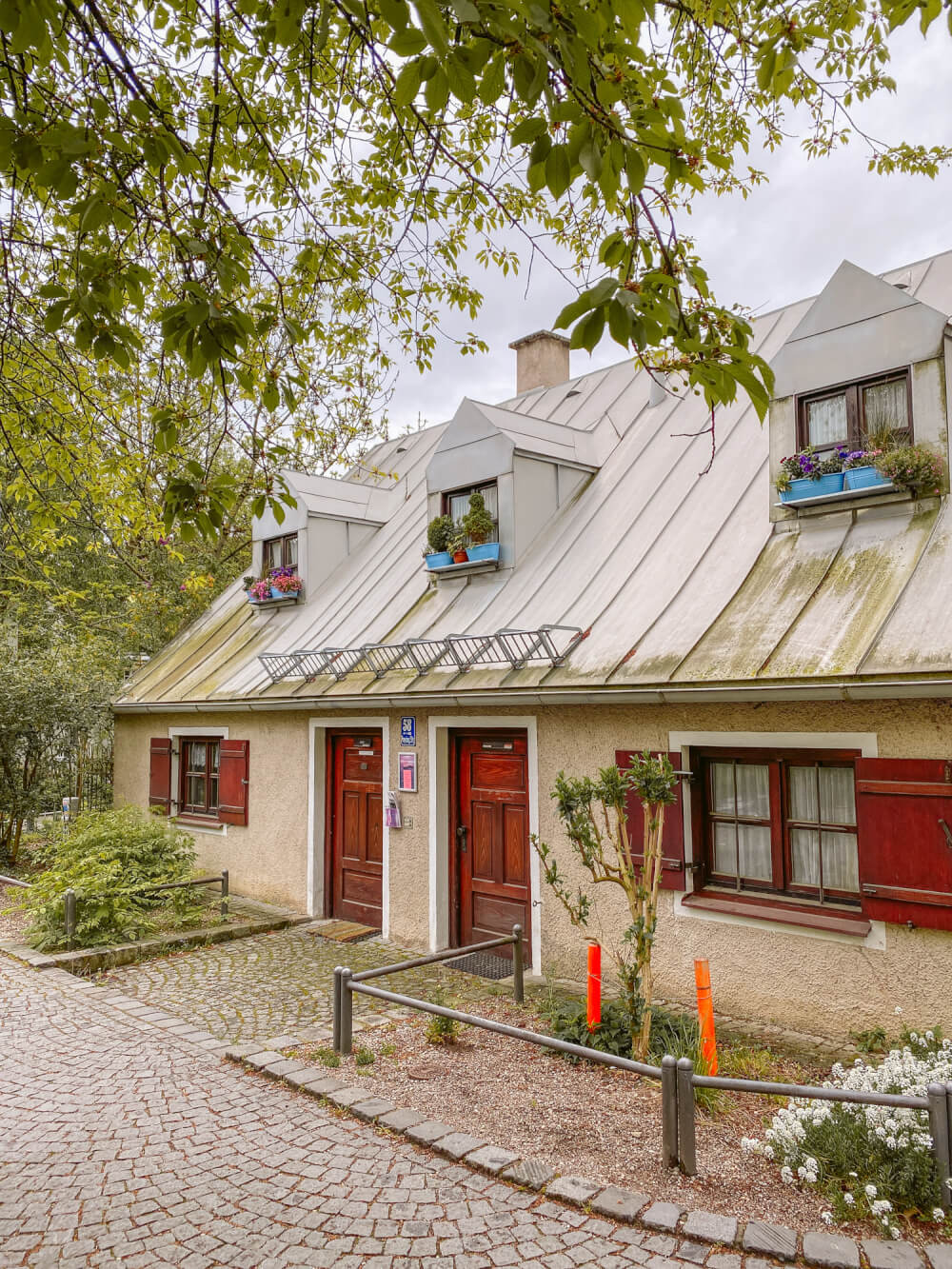 Bogenhausen
An elegant part of town with chic Art Nouveau villas & plenty of celebrity addresses. There's not a ton here by way of attractions but it's a beautiful neighborhood to wander through.
Highlights of Bogenhausen include…
Museum Villa Stuck, a lovely art museum
Prinzregentenplatz 16, Hitler's former Munich apartment, if that interests you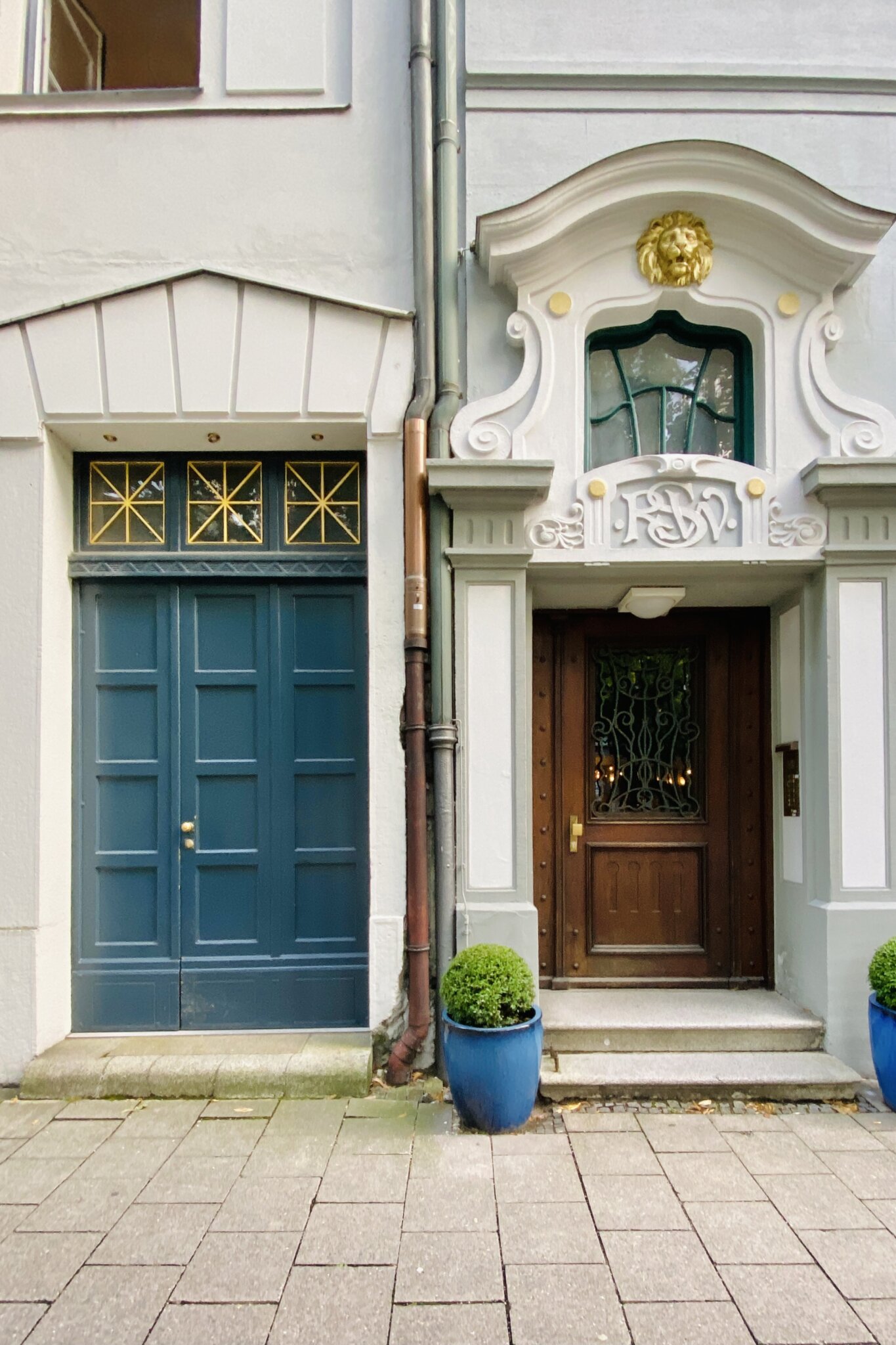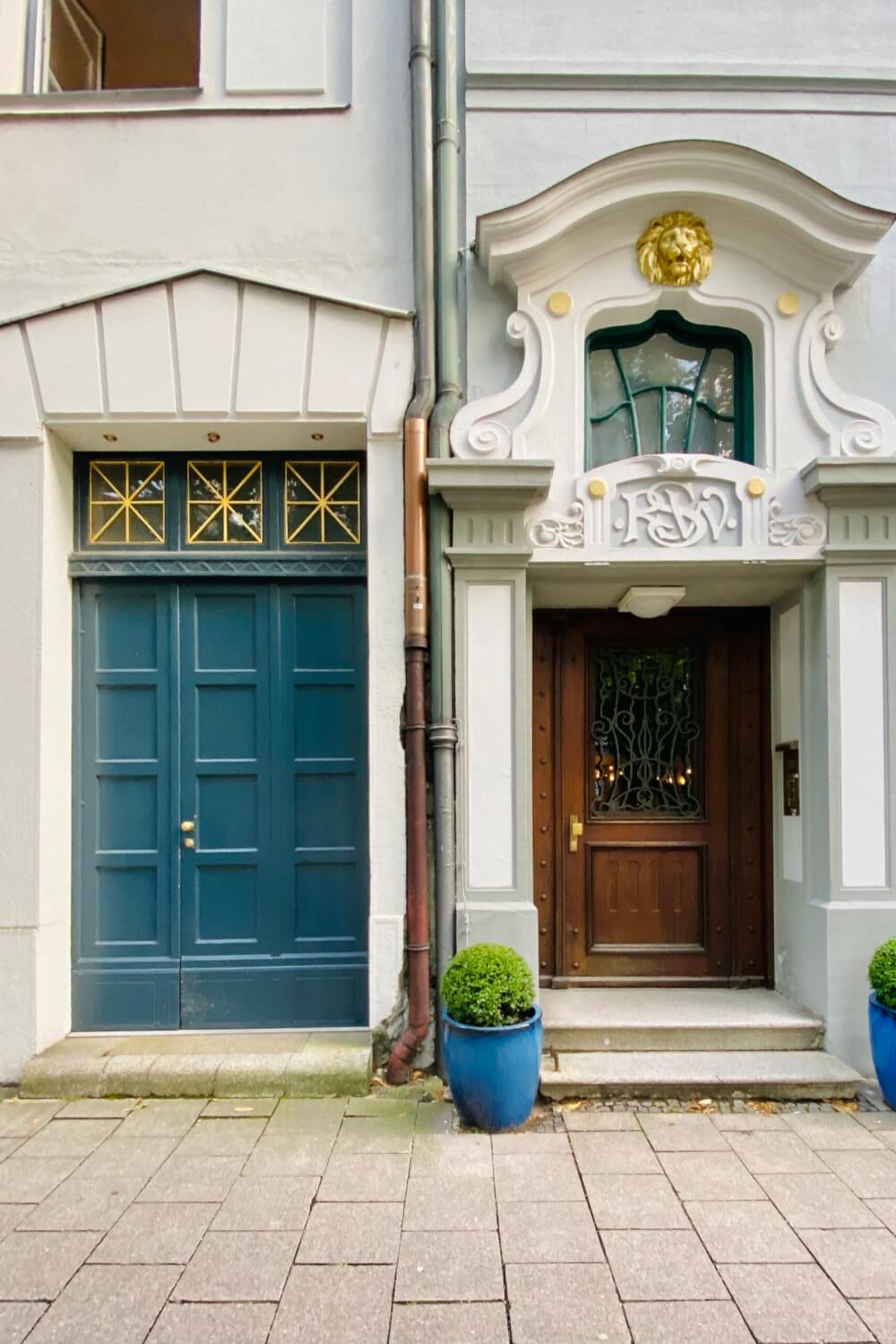 Westpark
If you want a calm, nature-oriented escape, then Westpark is a beautiful part of Munich to explore. Year-round, there's plenty to enjoy here.
Highlights of Westpark include…
Outdoor movies and a beautiful rose garden in the summer
Cafe Gans am Wasser, a quirky waterside cafe that is especially festive in the winter
Hidden gardens and monuments including a Thai temple, Japanese garden and Chinese garden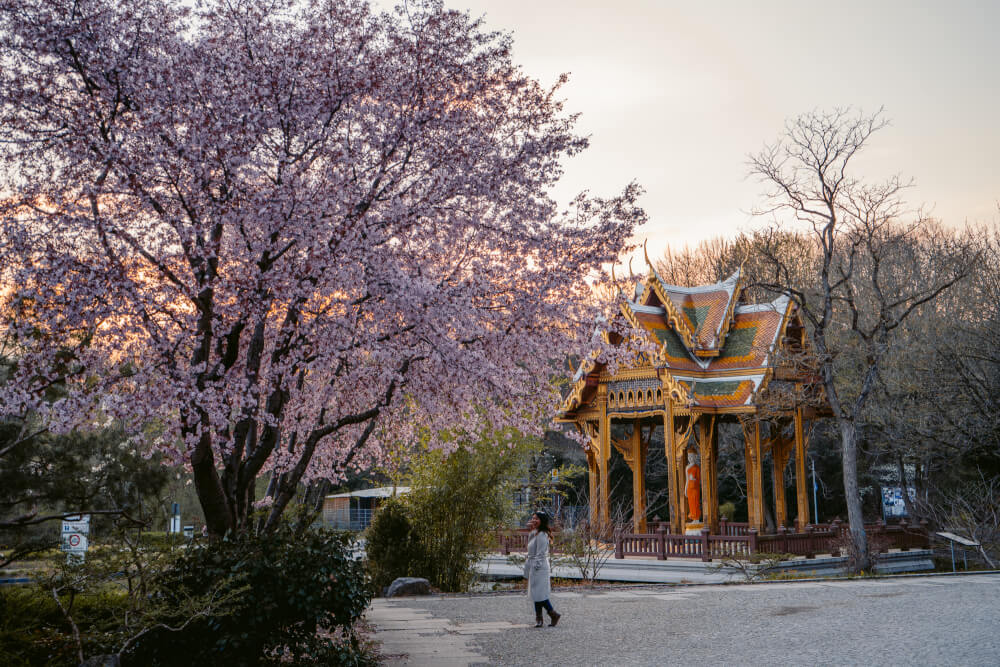 Evening: A Taste of Alternative Munich
Let's end off your two days in Munich with a glimpse at Munich's lesser known alternative side.
Yes, I know that Berlin is the German city more commonly associated with cool, quirky hang-out spots (while Munich is usually deemed its snobbier, more elegant sibling) BUT Munich has some cool places too that many visitors miss.
Here are a few to choose from:
MS Utting: Imagine grabbing drinks and pizza on an old boat perched on a bridge! That's the MS Utting in a nutshell. This is one of my favourite quirky venues in the city, especially when they host fun events like their Christmas market.
Werksviertel-Mitte: A cool area behind Ostbahnhof train station with lots of cool murals and unique small businesses housed in shipping containers.
Bahnwärter Thiel: A hip hang out spot that hosts various parties and events, with different bars scattered across a large venue decorated with repurposed shipping containers and structures.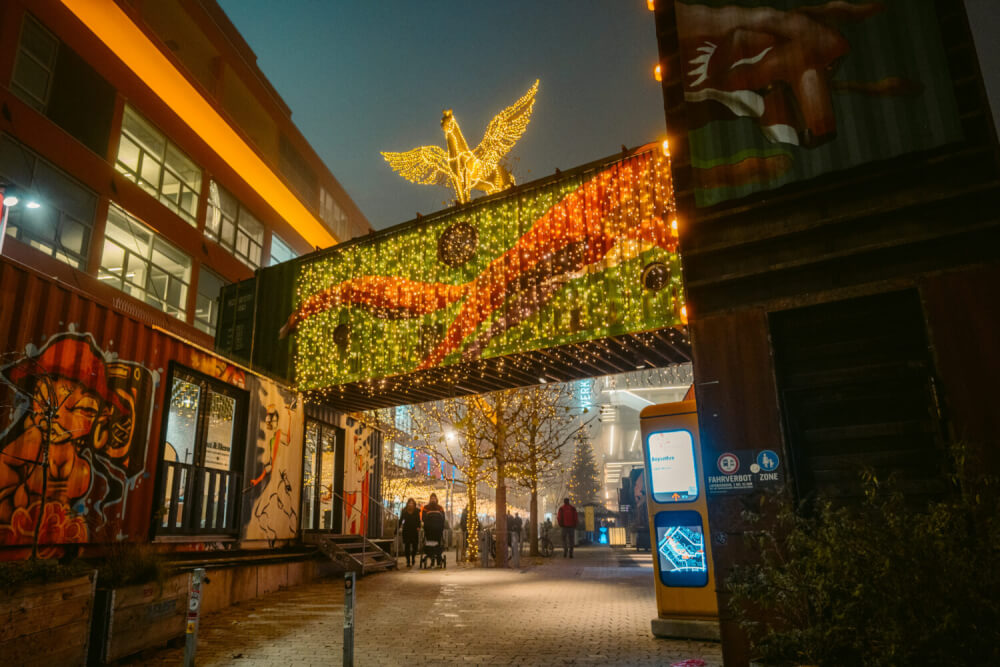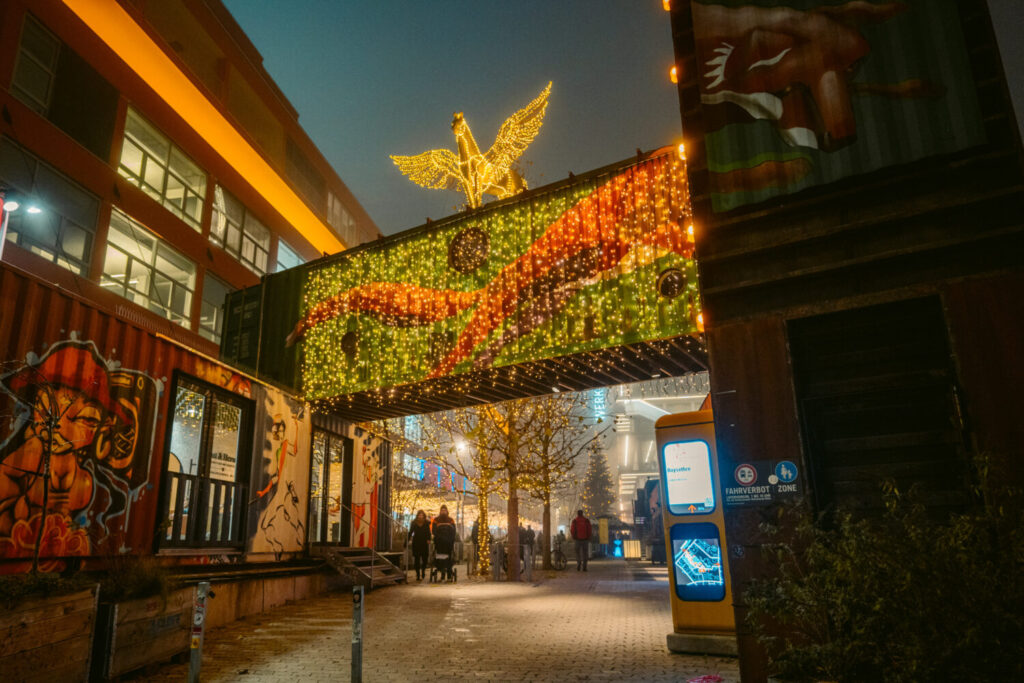 I Hope You Enjoyed This Guide on How to Spend Two Days in Munich!
If you've made it this far, thanks for bearing with my fanatical Munich rambles. Armed with this 2 Day Munich itinerary, I hope you'll be able to make the most of every second you have in this epic gem of a city. Safe travels, and happy Prosting!
---
Watch my most popular YouTube video this week:
---