It's 2pm on a Tuesday, and I'm strolling through the streets of Munich in a banana suit.
There are times when I do really question my life decisions, and no doubt, this was one of those times.
Now, before you assume I had some kind of mental banana suit breakdown, let me inform you that there was a reason for my fruitlicious garb. One of the best things about living in Europe is the many reasons to celebrate and have fun, and this past Tuesday (recognized as Fat Tuesday or Mardi Gras elsewhere in the world) was one such example of mad celebrations at their best!
I mean, with Lent about to begin, it's a common occurrence that good boys and girls get together and unleash all their madness before giving something up. In Munich it's called Fasching, elsewhere in Germany, it's Karnevale… Carnival in Brazil, etc. etc. No matter how you name it, it's a fun excuse to get out, be ridiculous and have a good time. It's serious stuff though: Bavarians even get a half-day at work for the occasion!
So, eager to get in the Fasching spirit, I zipped up my teddy bear onesie, layered on my floppy 'too long for me' banana suit, and clasped the hand of my boyfriend, dressed up as a tropical version of Frozen's Olaf.
What a pair.
Our plan was to visit Munich's main square, where we heard there were tons of stages, festivities, dancing, etc. happening. With a 15min trek to Marienplatz, we couldn't wait to get out and see everyone's vibrant costumes and onesies! My mind was dancing with images of all the awesome party photos I had seen from the year prior, and I was certain the streets would be abuzz as soon as we stepped out.
And so, the banana and snowman hit the town.
… and there was nothing.
Well, besides some judgemental German frowns, there was nothing.
It was SO weird! Besides our ridiculous outfits, everyone else was cloaked in the unofficial Munich uniform of black waterproof coats and boots. For the 15 longest minutes of my life, we walked through town to reach Marienplatz…
A number of questions ran through our heads, namely…
"… Did we get the date wrong?"
"Are snowmen and bananas offensive???"
"How quickly can we run if a hypothetical mob chose to attack us?"
Even as we crossed into Old Town, through the (usually lively) Hofgarten, we didn't see a single soul dressed up. We were 100% sure we had somehow gotten the traditions or dates mixed up, and were already thinking up an escape route that would minimize our public humiliation.
Then, we saw it.
A tiger onesie here, a crazy clown there…
We had found our people!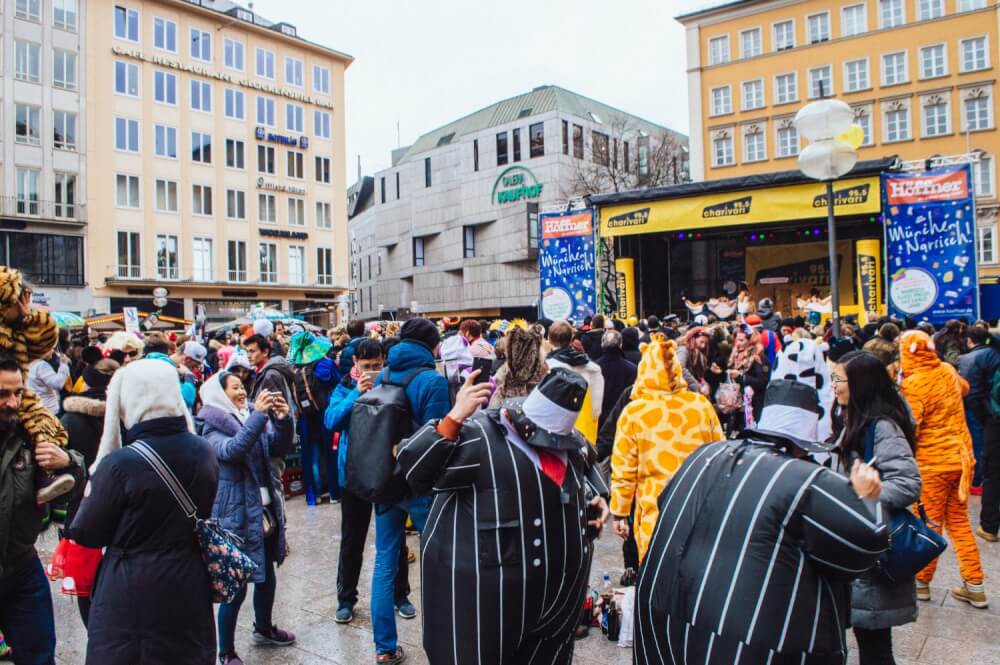 Despite a shaky (and paranoid) start, we got to Marienplatz and finally found the party. The weather might have been grey and soggy, but the next few hours were an absolute blast. Even better was the fact that there were all these traditions that we had no clue about, which made things all the more fun. From the many kids aggressively throwing confetti (AT us, by the way) to the red-faced partiers hollering German hits that I didn't know the words to… it was all in all, a pretty wonderful way to spend a Tuesday.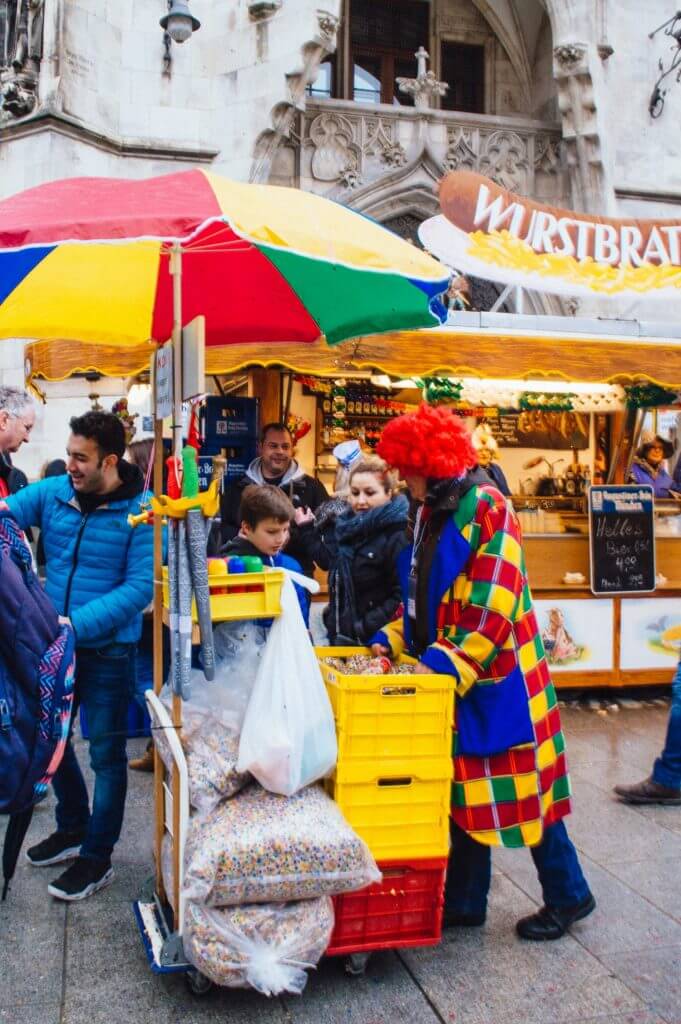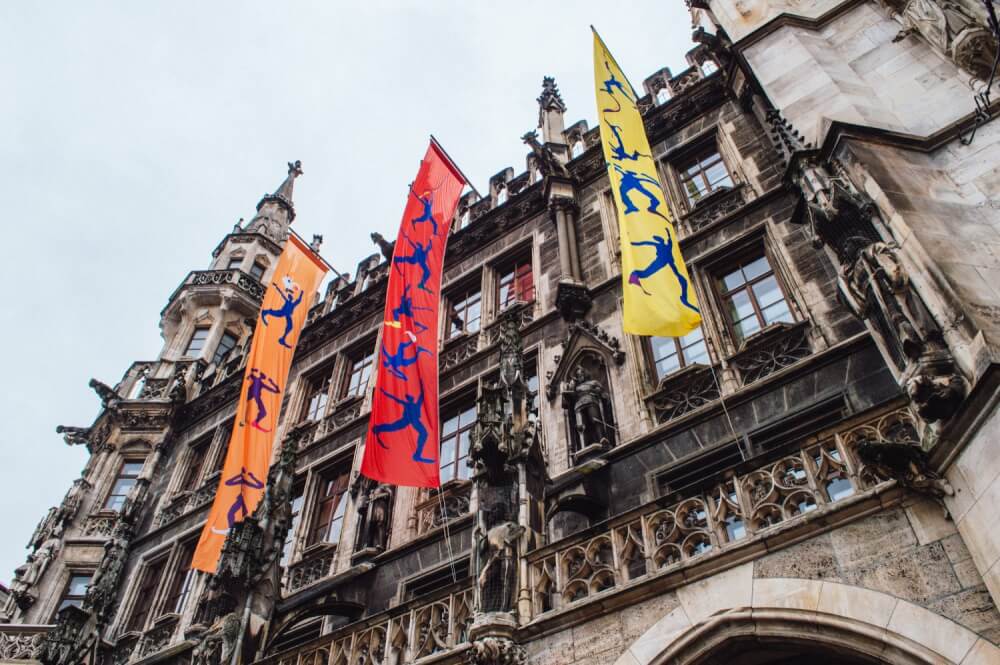 We ate crepes, chowed down on Hungarian langos, bobbed in the crowd during a bunch of musical performances and in true Bavarian fashion, drank plenty of beer. The periodic rain and dreary Munich grey didn't seem to deter anyone from being their craziest selves.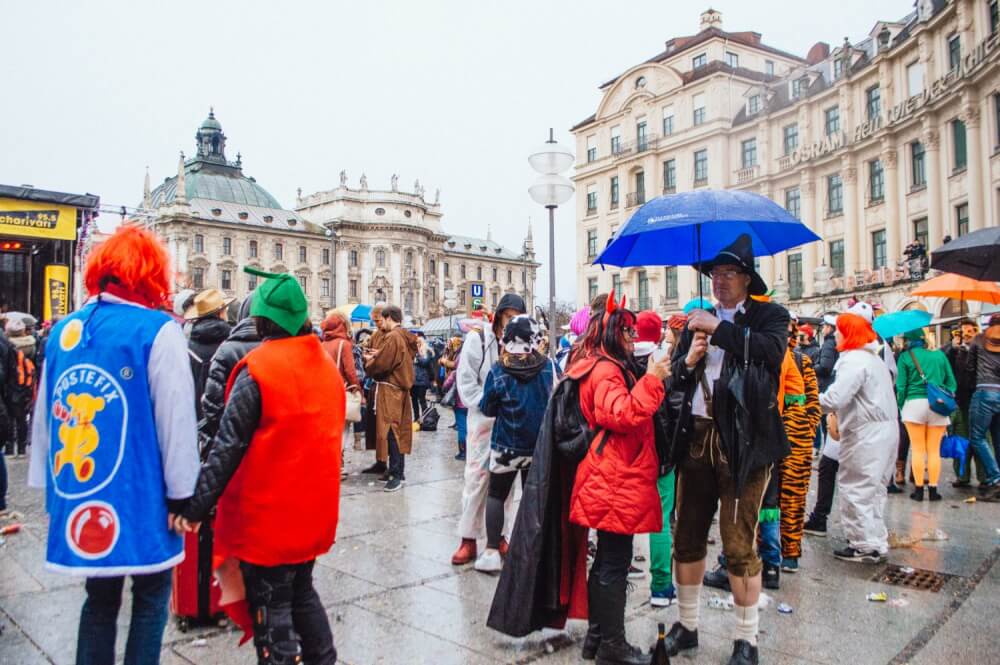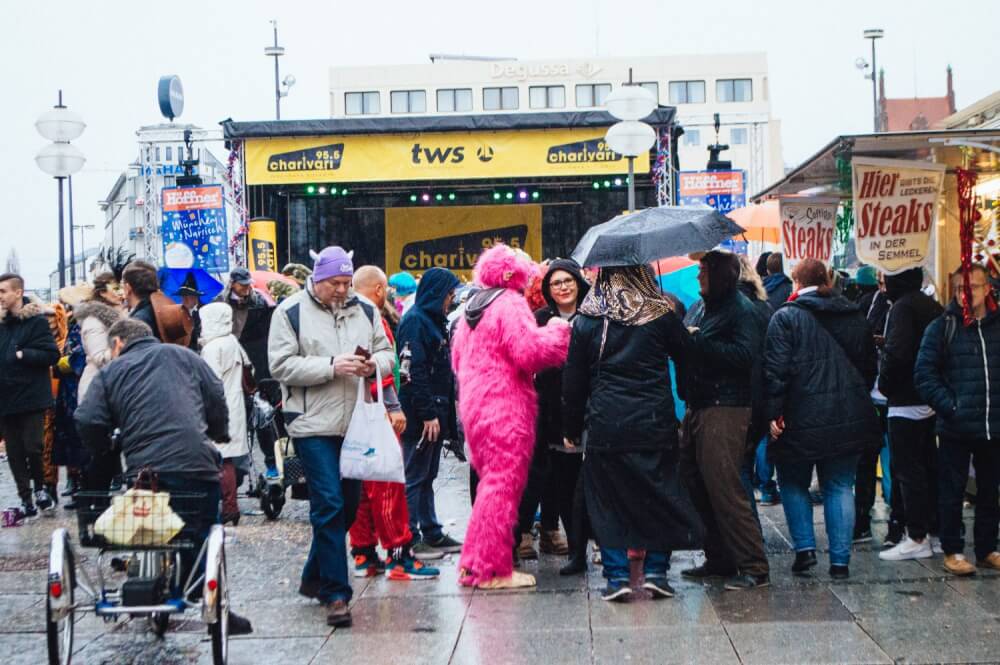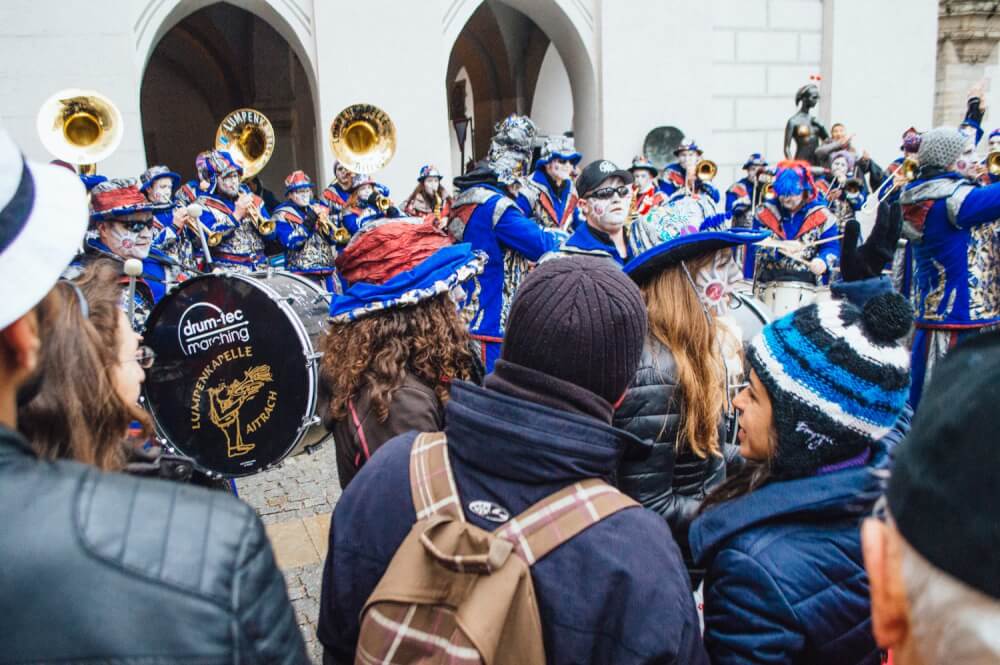 I even got stopped for a few photos, because clearly I'm one irresistible banana.
Maybe one day I'll make it to the big Karnevale celebrations in Cologne or maybe (let's dream big), even Rio! Until then though, I'm pretty happy with my first Fasching experience. In fact, I'm already brainstorming the costume ideas for next year…! Do you have any suggestions for me?
much love from Christina, the blogging banana.