*FYI - this post may contain affiliate links, which means we earn a commission at no extra cost to you if you purchase from them. Also, as an Amazon Associate I earn from qualifying purchases. Check out our Privacy Policy and Disclosure. for more info.
Looking for the world-famous Disney Castle in Germany?
Don't worry friend, I've got your back.
Now here's the honest truth: if I could live out my life as a Disney movie, I would.
Sadly, I don't get dressed by bluebirds in the morning, plus my fairy godmother has mysteriously gone AWOL. I suppose that's why Neuschwanstein Castle is the closest I'll ever get to living out my princess dreams.
Save this post on Pinterest for later: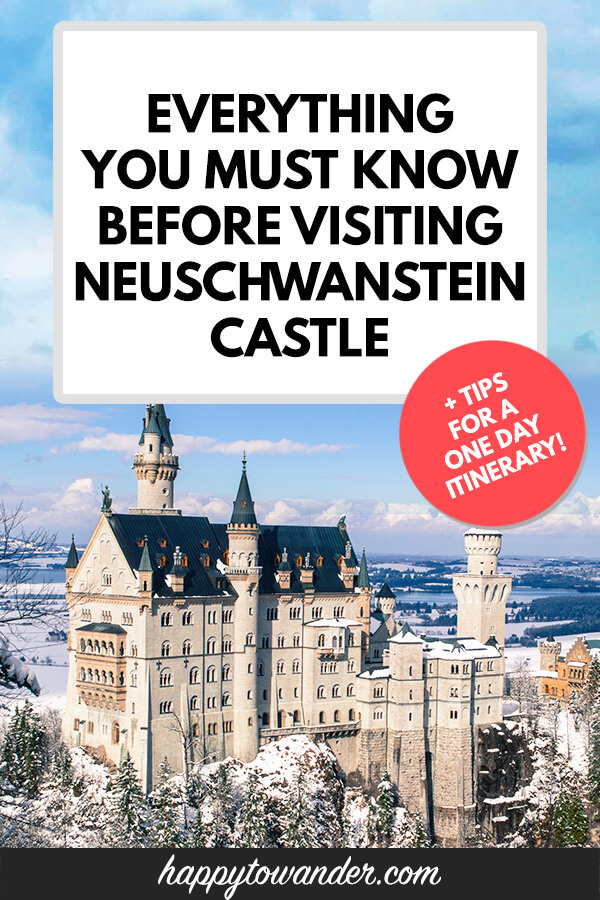 And despite being one of the world's most famous German castles, what's not at all well known is its actual name.
Most starry-eyed dreamers will refer to it as the "Sleeping Beauty Castle Germany" or "Cinderella Castle Germany"… and sure enough, it's this exact castle (with its majestic exterior, decadent decor and spectacular alpine setting) that supposedly inspired Walt's iconic creation.
But make no mistake, its official name is Schloss Neuschwanstein, or Neuschwanstein Castle.
And perched atop a rocky ledge in the Bavarian village of Hohenschwangau, Neuschwanstein's beauty has a magnetic allure that draws over a million people to its grounds every year.
If you're one of the millions visiting this year, read on for a full guide on how to make the most of your visit to Neuschwanstein, including how to get there from Munich, where to take the best photos, and more.
NOTE: If you're still planning your trip to Neuschwanstein Castle, here are a few recommendations for you. If you value convenience above all else, there are many tours that offer this trip, alongside the beautiful Linderhof Palace, which is tougher to reach by public transit. You can browse the options here. Alternatively, if you want a great website to compare/book transport options in Europe, I always use Omio to find the best deal (for free!) and HotelsCombined for accommodation.
A Brief History of Neuschanwanstein Castle
Built in the 19th century for the eccentric and mysterious 'Mad King', Ludwig II, Neuschwanstein was meant to be a place of escape and recluse.
The king was obsessed with creating the perfect castle of his dreams, and so decided on the picturesque setting of the Bavarian Alps to make his grandest fantasies come true.
Sadly, Ludwig II never got his happily ever after.
He died in 1886, before the castle could be completed. A few weeks after his death, the castle was opened to the public as a museum, and continues to welcome thousands of visitors each day, now lovingly known as the Disney castle in Germany.
It has always been my dream to see Neuschwanstein in the winter, and despite a relatively snowless few months in Bavaria, somehow the stars aligned for my recent visit. A fresh snowfall the day before my trip paved the way for a perfect Neuschwanstein Castle winter visit, a trip that I think everyone should experience at least once in their lives.
So, how do you get to this castle? What is there to do once there? Read on for the answers… Here is everything that you need to know for your own visit.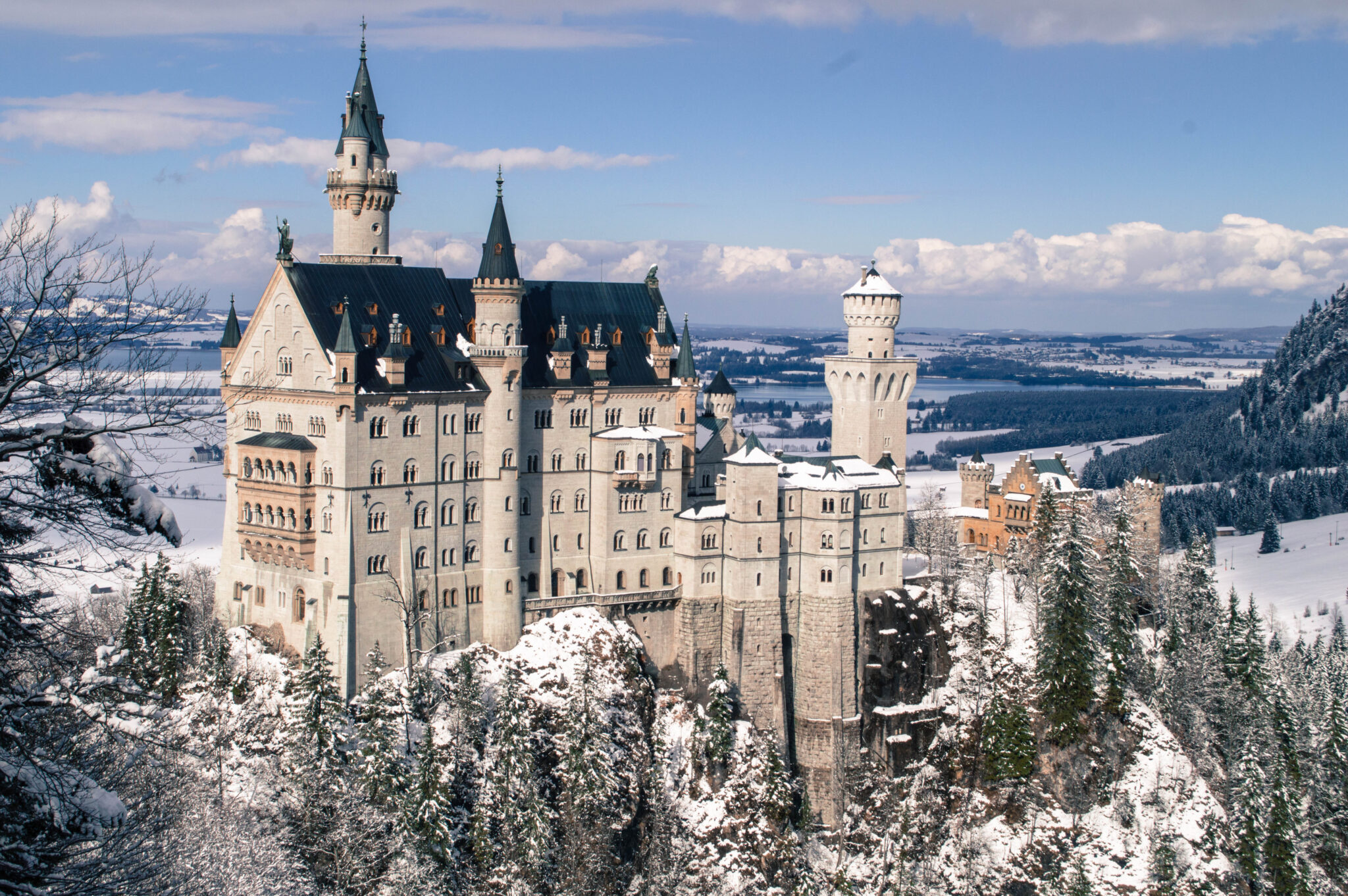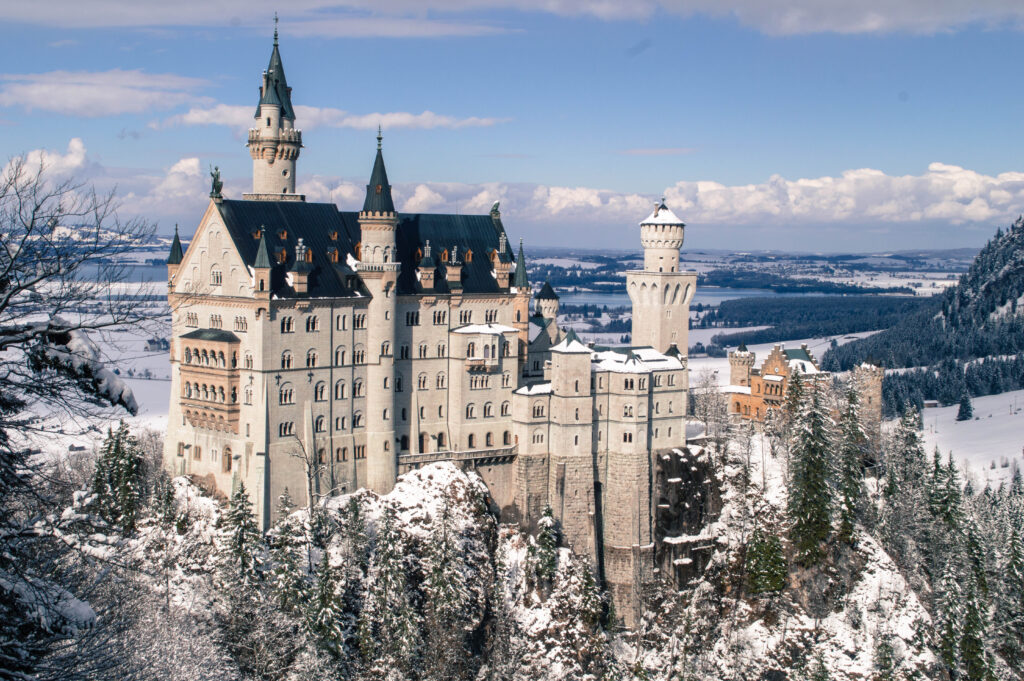 Neuschwanstein Castle: Know Before You Go
TOURING THE INSIDE: The Neuschwanstein Castle interior can only be visited with a guided tour that lasts around 35 minutes. These tours have limited spots and are booked based on a time slot. Cost-wise, it is € 12.00 for adults. TIP: To save time on the day-of and to guarantee your tour inside Neuschwanstein Castle, you can buy your Neuschwanstein tickets online until 2 days before your visit (though no later than 3:00 p.m German time).
HOW TO GET TO NEUSCHWANSTEIN CASTLE (FROM THE VILLAGE): You'll be arriving in the village of Hohenschwangau, rather than directly at the castle. Keep in mind that Neuschwanstein is located up a steep(ish) hill which takes around 40 minutes to ascend by foot. Alternatively, there are horse carriage rides and shuttle buses that can take you up there. Horse carriage rides cost € 6,00 to go uphill and € 3,00 to go downhill, whereas the shuttle buses cost € 1,80 for uphill, € 1,00 for downhill and € 2,60 roundtrip.
WHAT TO WEAR: You'll be doing quite a bit of walking, so bring comfortable shoes. It can also get pretty chilly up there during the winter, so dress in layers and anticipate quickly changing weather conditions.
HAVE ALL THE LATEST INFO: Check online for the latest news about Neuschwanstein, because at times certain roads (or even the main lookout bridge!) may be closed.
Getting to Neuschwanstein Castle
BY CAR: (Taken from the official Neuschwanstein website): "Take the A7 motorway (direction Ulm-Kempten-Füssen) until the end. From Füssen first follow the road B17 to Schwangau, then the signs to Hohenschwangau or take the A7 motorway until the exit Kempten and then the road B12 to Marktoberdorf. Follow the road B16 to Roßhaupten – OAL I to Buching – and then take the road B17 to Schwangau and Hohenschwangau."
BY PRIVATE TRANSFER: If budget allows, the most convenient option is definitely to book a private transfer. Welcome Pickups offers this service with English speaking drivers who pick you up from the hotel and allow you to control the route for the day. If you are travelling with a few people, this could be excellent value for money. Click here to check rates/availability.
BY TRAIN: Catch a train to Füssen and from there take either the 73 or 78 bus, getting off at Hohenschwangau. This is where you'll find the Neuschwanstein tickets office, and from here you can get to the castle by foot, shuttle bus or horse carriage.
WITH A TOUR: If making all these arrangements sounds daunting, then of course the easiest way to visit the castle is by booking a tour that takes care of all transportation for you. If you're booking a tour, I highly recommend GetYourGuide as they have a low price guarantee, which means they'll refund you the difference if you find a cheaper price anywhere else. It's an easy way to ensure you get the best price! See options here.
Or here's a table so you can quickly compare your options from Munich:
If you have time, I suggest you take some time to explore the quaint little town of Füssen. A lot of visitors just bypass it completely and only make use of its train station. I urge you to not make this mistake! Füssen is lovely and well worth a little wander. Just see for yourself:
Munich to Neuschwanstein Castle: Suggested Itinerary
While you can visit Neuschwanstein from a wide variety of locations in Bavaria, many visitors treat Munich as a base camp for their trip. I outline the steps you need to take below, but you can check out my Neuschwanstein as a day trip from Munich guide for more details.
From Munich, your best bet is to purchase Bayern tickets for Füssen.
These special tickets are valid from 9am-3am, and offer one day of unlimited access to regional and local transport within Bavaria.
This means that you'll not only be covered for your train tickets to/from Füssen, but also for the buses that take you to Neuschwanstein.
How to get to Neuschwanstein Castle from Munich (my suggested step by step itinerary):
Catch the 9:52am train bound for Füssen from Munich Hauptbanhof, and once there, take either the 73 bus (direction Steingaden / Garmisch-Partenkirchen) or 78 bus (direction Schwangau), getting off at Hohenschwangau.
It won't be hard to find these buses – just follow the crowds of people coming off the train. They will be very clearly marked and it'll be quite impossible to miss your stop, as everyone else will be getting off!
Once at Hohenschwangau, head to the ticket office to pick up tickets for your tour of the castle (if you decide to do one). You should allow for at least an hour before your desired tour time (more during peak season, as it can get busy!). If you take the 9:52am train, I suggest you go for the tour at 1:55pm.
After you have grab your coveted Neuschwanstein Castle tickets, make your way up to the actual castle either by foot, shuttle bus or horse carriage. You should have some spare time to explore the area and grab some gorgeous photos before your tour, which should only last about 35 minutes.
After the tour, walk further up the path and enjoy the postcard perfect view from Marienbrucke (or other viewpoints nearby). When you feel like you've had enough of the view (which is never, to be honest), head back into Füssen and spend some time exploring the town.
A few points of interest include the Altstadt (Old Town), Hohes Schloss and Lechfall. Just be mindful of the time and ensure that you don't miss the last regional train back to Munich, which leaves at 6:06pm.
NOTE: There are trains that leave later, but these are not regional trains, and your Bayern ticket will not cover them.
To find the full Munich to Fussen train schedule, visit the Deutsche Bahn website.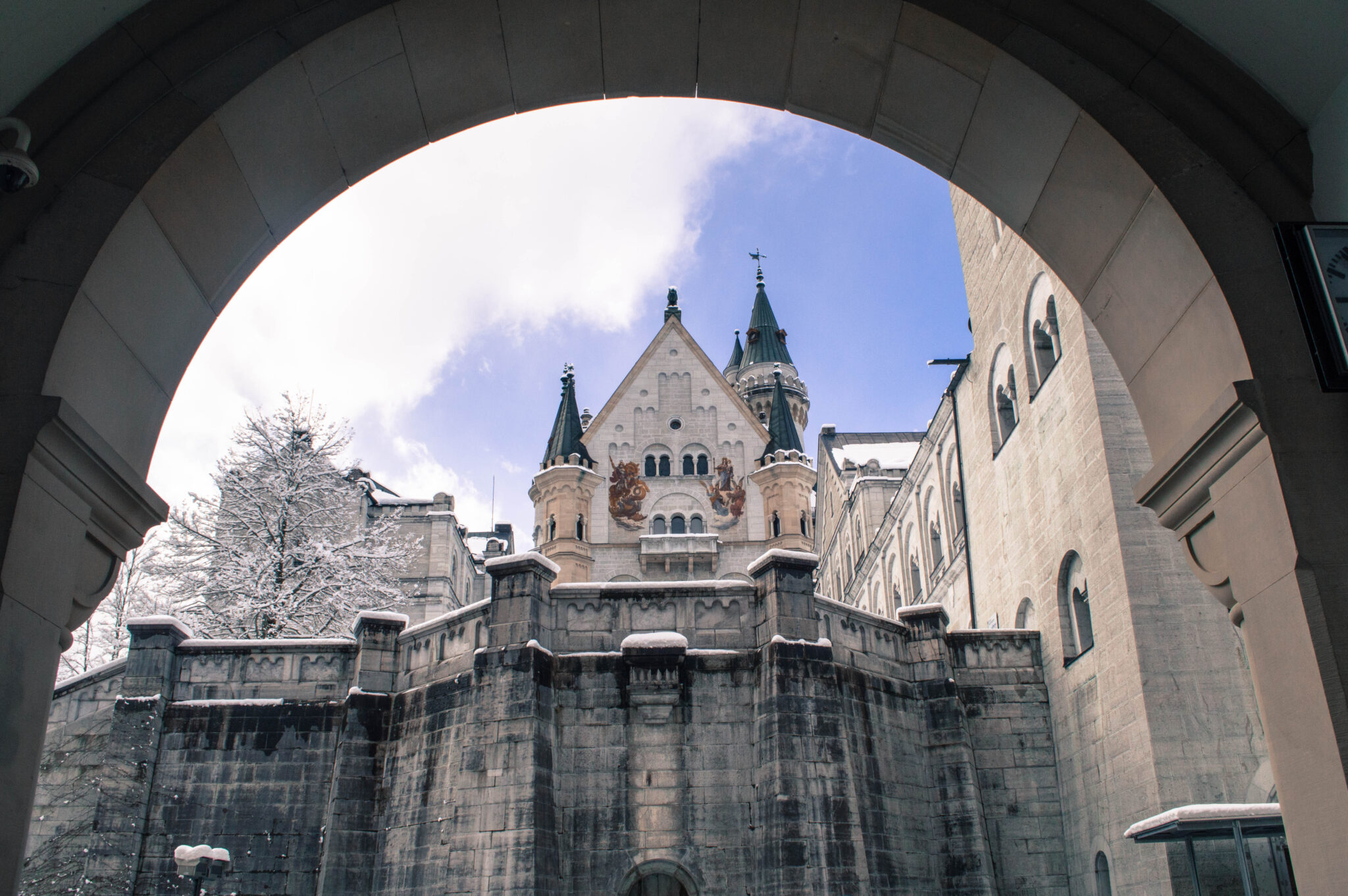 Tips for Visiting Neuschwanstein Castle (AKA the Disney Castle in Germany)
Pick a less busy day to go.
The Disney-esque beauty of Neuschwanstein has one major downside: it is a magnet for big tour groups and travellers from all around the world.
During peak season, there's often over 6000 visitors per day.
This of course means that lines get long and you'll be fighting with countless people to score that perfect photo opp. To avoid this, try to visit during weekdays or the off-season.
Check the weather before you head out.
If you have the luxury of options for your visit date, then checking the weather beforehand is a must.
While the castle is nice in any kind of weather, rainy or foggy conditions aren't exactly ideal.
I got incredibly lucky and had bright blue skies and a recent snowfall during my visit. It couldn't have been better!
Get there early.
As previously mentioned, Neuschwanstein is wildly popular, so it's best that you get there earlier to avoid crowds.
If you follow my suggested itinerary above, you'll be at Neuschwanstein around 12:30pm, which gives you a lot of time to explore (and will hopefully get you in before the big rush of people!)
Buy your Neuschwanstein Castle tickets in advance, before climbing up the big hill.
The official Neuschwanstein Castle tickets booth is located in the middle of Hohenschwangau, at the foot of the big hill where you find Neuschwanstein.
On the day-of, this will be the only place you can get your ticket.
The climb up to the castle is about 45 minutes by foot, and once again, there is no way to purchase tickets up there, so make sure that you have your ticket and tour reserved before you make the trip up.
Alternatively, if you're sure about your visit dates and times, you can make your reservation online.
Bring snacks and refreshments.
Neuschwanstein is undoubtedly a tourist attraction (after all, it's the Disney Castle), so of course refreshments will not be cheap. We brought up two cold beers, chilled them in the snow and sat back relaxing with the most amazing view:
We also picked up some quarkballs (quarkballchen) along the way.
These doughy, deep-fried donut balls are made from a quark cheese batter and then rolled in powdered sugar. In other words, they are little balls of heaven. Try them if you get the chance!
Bring a good camera.
It's hard to take a bad photo of Neuschwanstein, but you're definitely going to want your best camera on hand to capture the magic. Phone quality simply does not do this place justice.
Set some time aside to explore Alpsee and Hohenschwangau Castle.
If you've come all the way to Hohenschwangau, you might as well take in some of the other beautiful sights in the area.
Luckily, right by Neuschwanstein are Alpsee and Hohenschwangau Castle. Both are very accessible and worthwhile to visit. While I haven't personally done it, you can take a tour of Hohenschwangau Castle as well (either on its own or through a combo ticket with Neuschwanstein).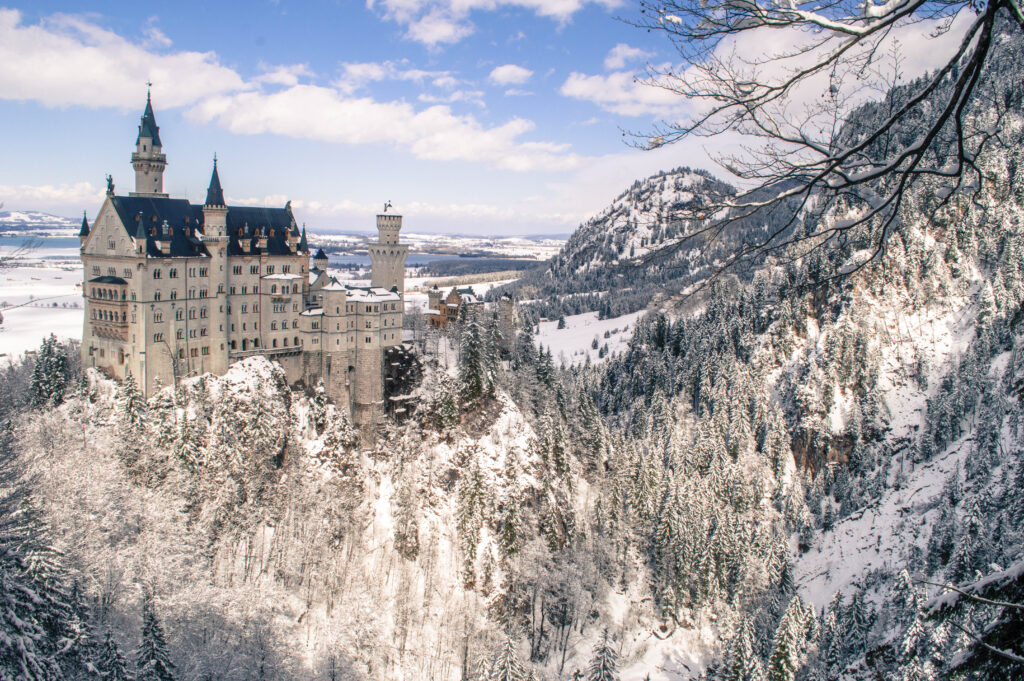 Any more questions about Neuschwanstein Castle?
All in all, it may be one of the most touristy attractions in Bavaria, but that doesn't take away from the fact that it's a gorgeous castle, ripped straight from the pages of a storybook. Come prepared and I promise that you will have an amazing time.
Good luck, enjoy, and don't forget to snap plenty of photos!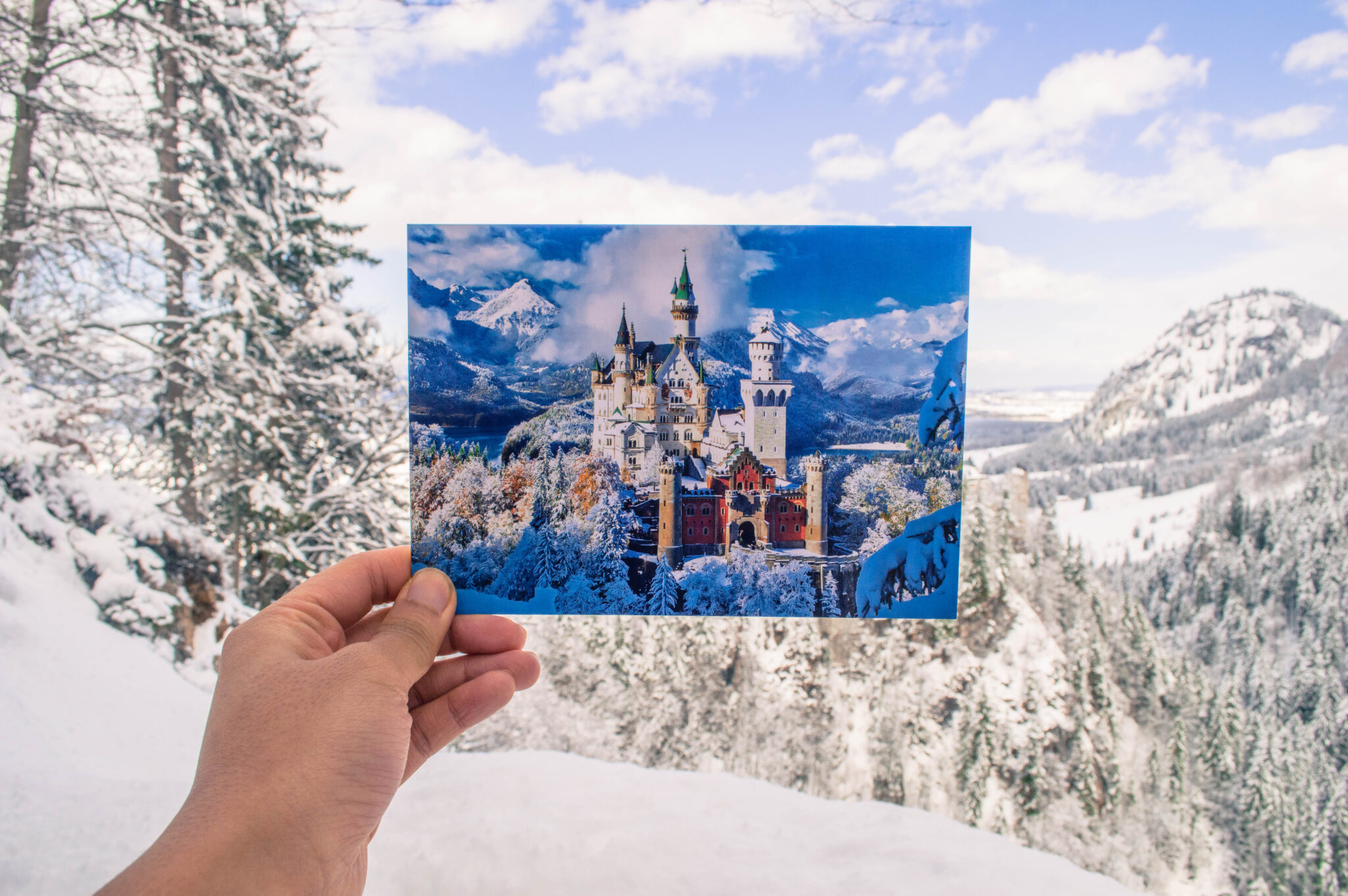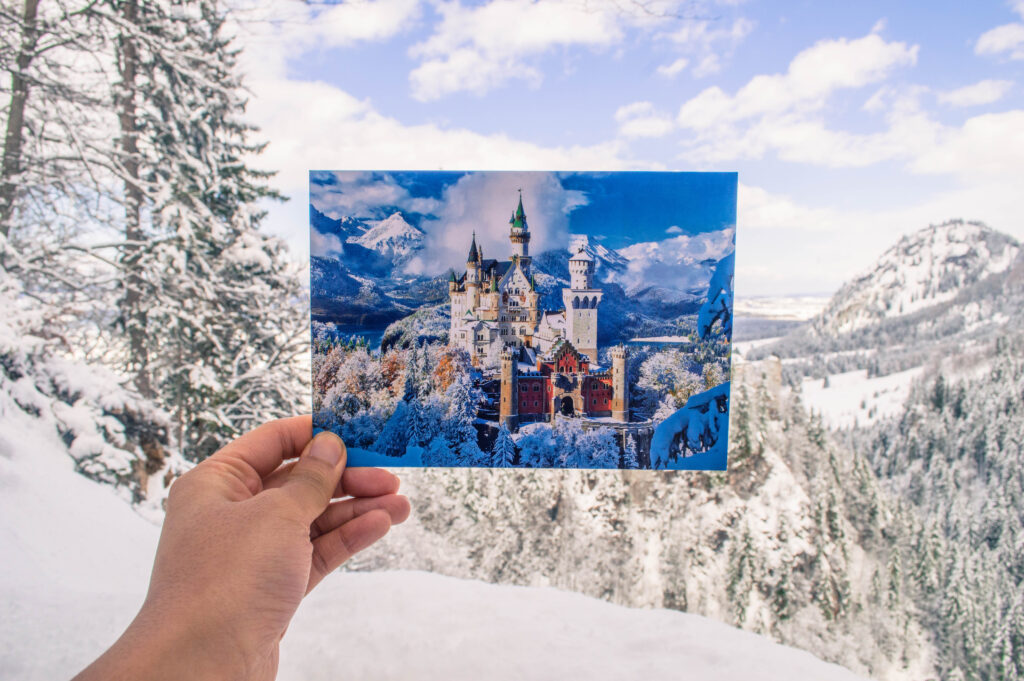 ---
Watch my most popular YouTube video this week:
---