*FYI - this post may contain affiliate links, which means we earn a commission at no extra cost to you if you purchase from them. Also, as an Amazon Associate I earn from qualifying purchases. Check out our Privacy Policy and Disclosure. for more info.
If you're wondering the best way to spend three days in Munich, Germany, I have excellent news.
As a former local who pines over the city daily, I've already done all the leg work to create this action-packed three day itinerary for Munich that shows you the best of the city's sights, and more.
This labour of love (based on over five years living in Bavaria's gorgeous capital) uses a flexible format with sights organized by neighbourhood, and multiple options for activities, ensuring you have time to do what you actually like.
So, read on for a comprehensive Munich 3 day itinerary that will help you plan your trip with ease. I apologize in advance for my unhinged Munich enthusiasm.
Day 1: Munich Old Town & Around
The first day of our Munich three day itinerary is all about getting our bearings & hitting some of those main sights you've no doubt been dreaming of. Get ready to sightsee your face off and dive headfirst into the best of Munich!
Breakfast: Bavarian Breakfast
We shall begin our epic 3 days in Munich with a typical Bavarian breakfast.
Known around here as a Weißwurst Frühstück (White sausage breakfast), a Bavarian breakfast consists of three truly excellent staples:
A doughy pretzel
A pair of white sausages with sweet mustard
And naturally, a cold glass of wheat beer to wash it all down
… Or as I like to call it, an edible Bavarian stereotype!
Always eaten before noon, here are some potential places to get a goold old Bavarian breakfast near our morning activities:
Café Glockenspiel | Marienplatz 28: Meh service and slightly high prices but an AMAZING view over Marienplatz if you can score a table by the window.
Schneider Brahaus | Tal 7: Nice ambiance combined with excellent Weißbier in a very central location.
Hofbräuhaus | Platzl 9: A shamelessly touristy yet quintessentially Munich must-visit. If you don't plan on coming here later, it's a great place to grab a later breakfast (it usually opens at 11).
Alternatively, if you don't feel like demolishing sausage, pretzels and beer as a morning activity, another classic place for breakfast near Marienplatz is Café Frischhut, known for its schmalznudel – a Bavarian pastry that's essentially a slab of deep fried dough.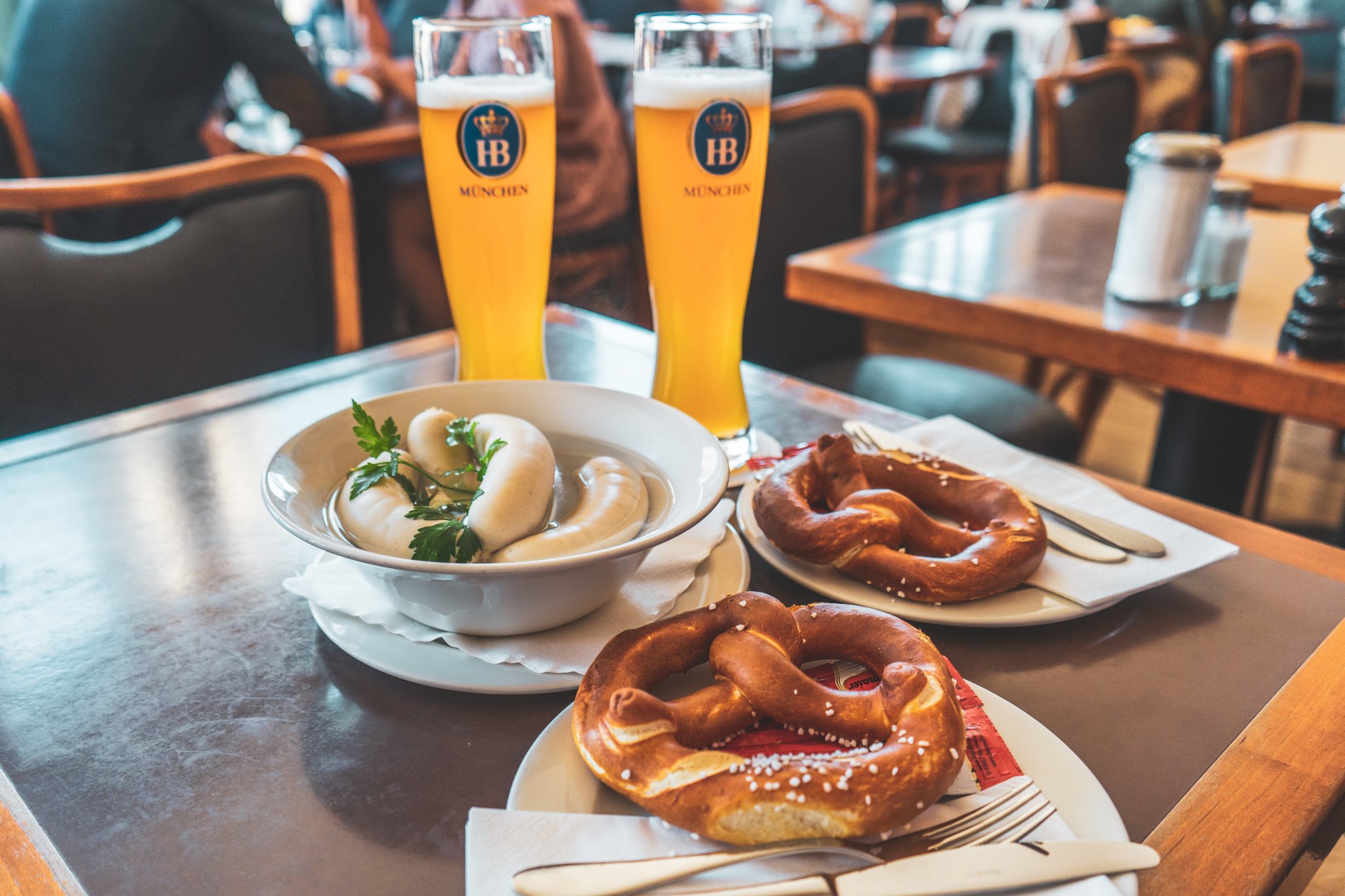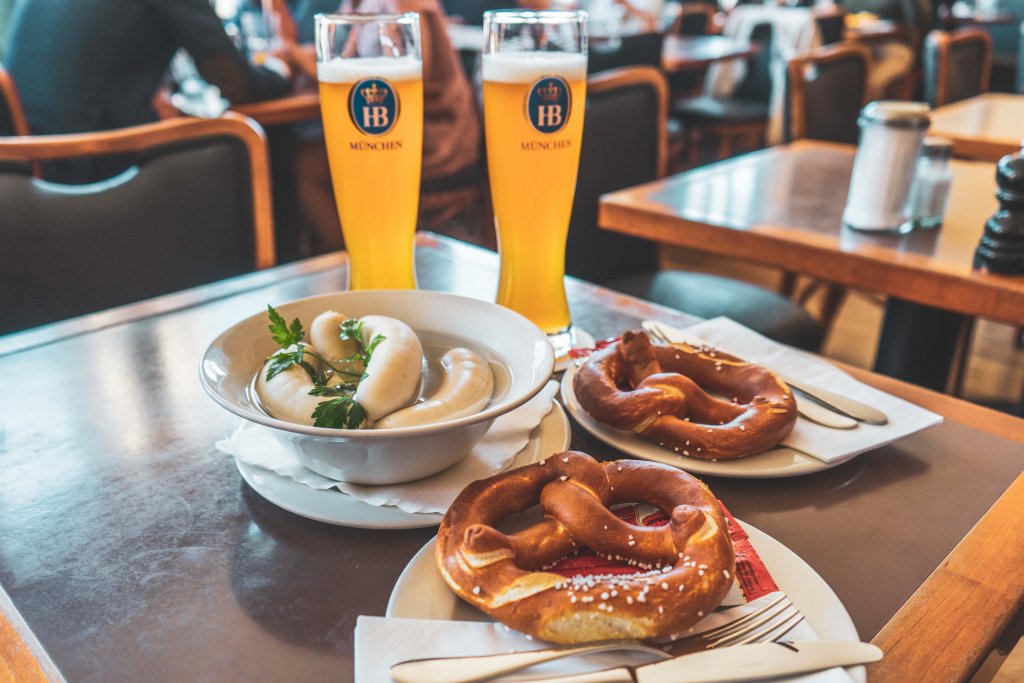 Morning: Explore Old Town (Altstadt)
Alright, now let's move onto our morning activity: gawking around open-mouthed at the beauty of Munich's Altstadt (Old Town).
This is by far the most scenic part of Munich, and where I'd recommend focusing your attention for your first day.
Munich's Altstadt today is pretty much the area enclosed within the old city walls, marked by gates like the Karlstor (at Karlsplatz), Isartor and Sendlinger Tor, and the non-gate, Odeonsplatz.
Wandering within this area for a few hours is a must, and while I'd love to provide a mega-efficient route for seeing everything, the truth is some backtracking is bound to be involved, but that's all part of the journey 😉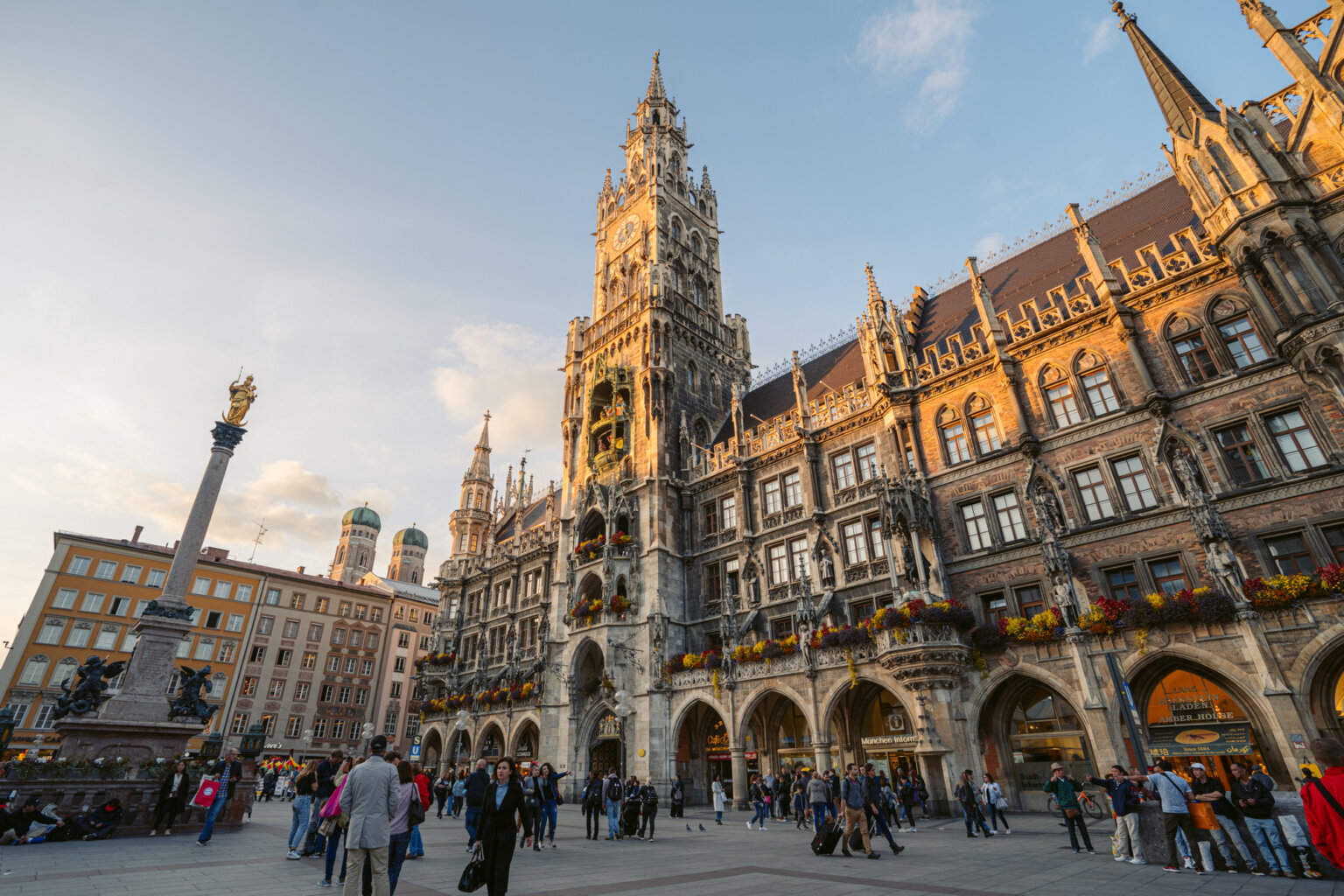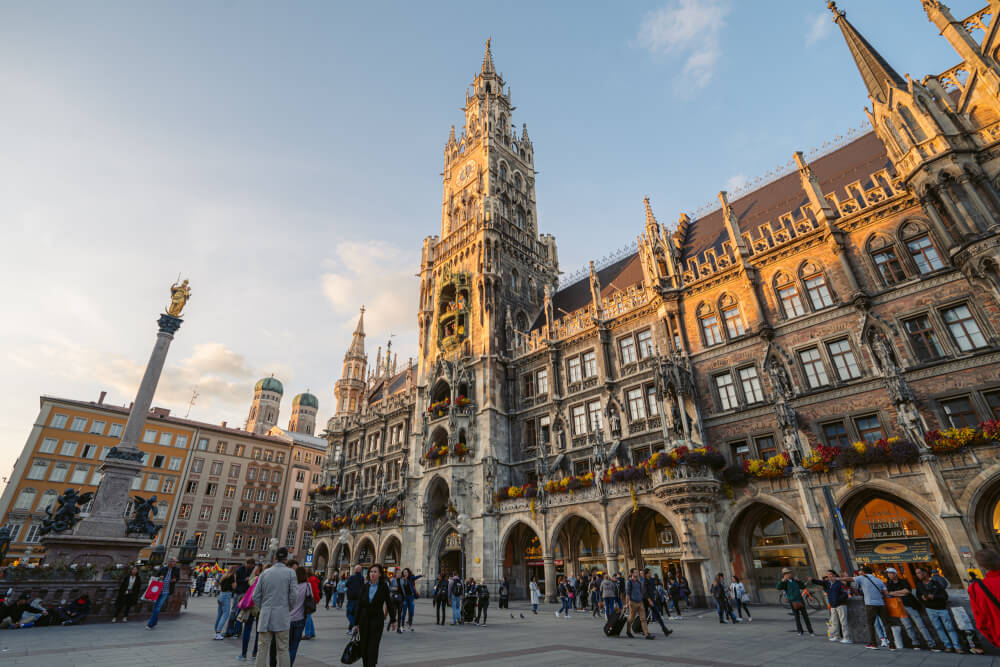 Here are some ideas for places to see & morning activities in Munich's Altstadt, bearing in mind we'll be visiting Viktualienmarkt, Odeonsplatz & Max-Joseph Platz a little later in the day:
DIY your own walking tour to cover some of the main squares in Altstadt (Old Town), including Marienplatz, Platzl & Karlsplatz
Visit the Frauenkirche and its peculiar 'Devil's Footprint' in the back of the church
Do some shopping on the ultra-luxe Maximilianstrasse, or on the much more affordable Kaufingerstrasse
Step inside some beautiful churches like Asamkirche & Theatinerkirche
Pay a visit to the epic Munich Residenz, where for centuries, Bavaria's most important rulers and decisionmakers lived in opulent splendour
Visit one of the Altstadt's many museums – I quite enjoyed the Münchner Stadtmuseum & Museum of Urban and Contemporary Art (MUCA), but there are quirkier picks too like the Toy Museum or the Beer & Oktoberfest Museum
Venture a little beyond Karlsplatz and you can go see the Justizpalast, one of the best free hidden gems in Munich.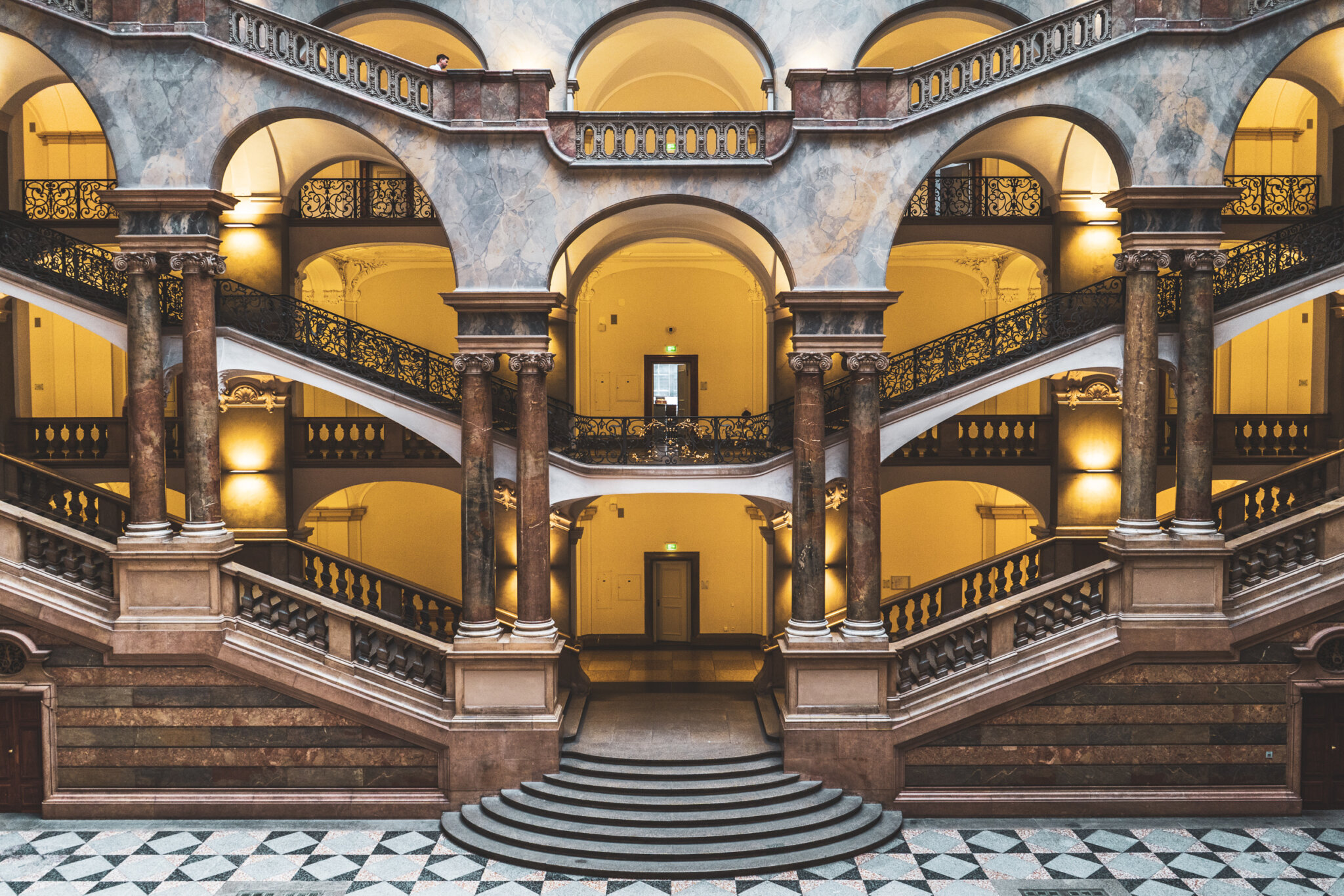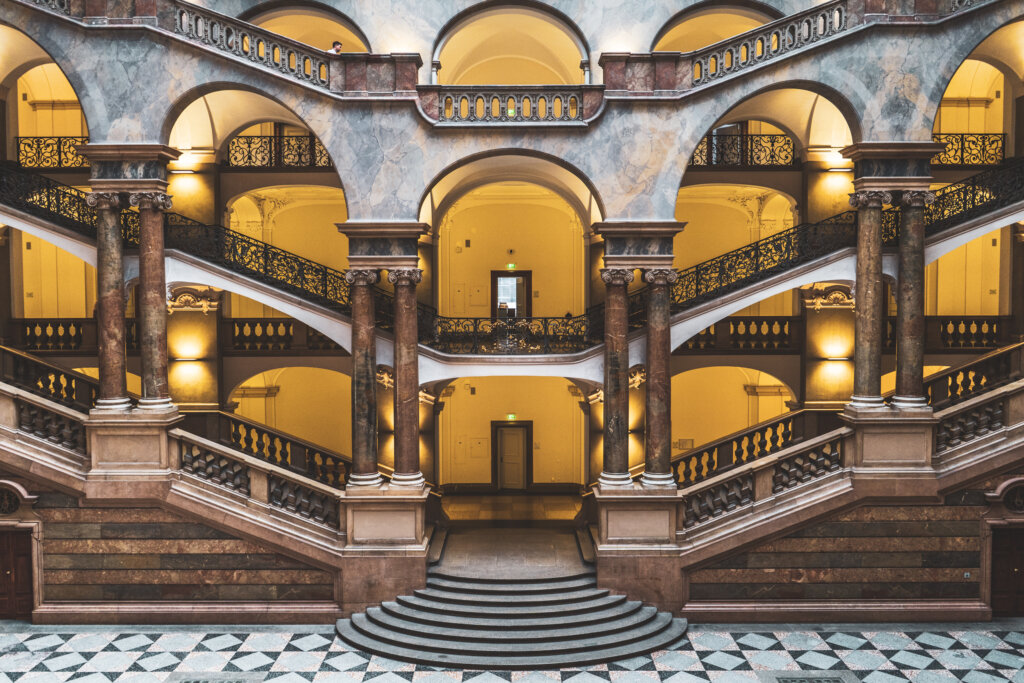 Lunch: Viktualienmarkt
After tiring yourself out with some relentless sightseeing, it's time for a tasty lunch stop.
Steps away from Marienplatz, you'll find Viktualienmarkt, Munich's vibrant food market, featuring stalls crammed with colourful produce, fresh bites to go, a bustling beer garden, and plenty of wonderful local products to bring home.
Keep an eye out for the market's large maypole, identifiable by its blue and white pattern and figures representing the different trades that can be found in and around the area.
This is a great place to stop for lunch if you're hungry. I'm a big fan of the Münchner Suppenküche, which has a tasty assortment of soups, but there are so many food options here you'll be able to find something for every craving.
For instance, if you're craving Italian, the massive Eataly nearby is a must-visit for lovers of Italian food, with plenty of delicious sit down and to-go options to choose from.
Afternoon: English Garden & Maxvorstadt
After lunch, it's time to walk off the food coma by meandering over to one of the largest city parks in the world: the English Garden!
From Viktualienmarkt, I'd recommend walking through Altstadt via Max-Joseph Platz, Odeonsplatz, through Hofgarten, past the surfers, then entering the park after you've had your fill of watching brave surfers wipe out.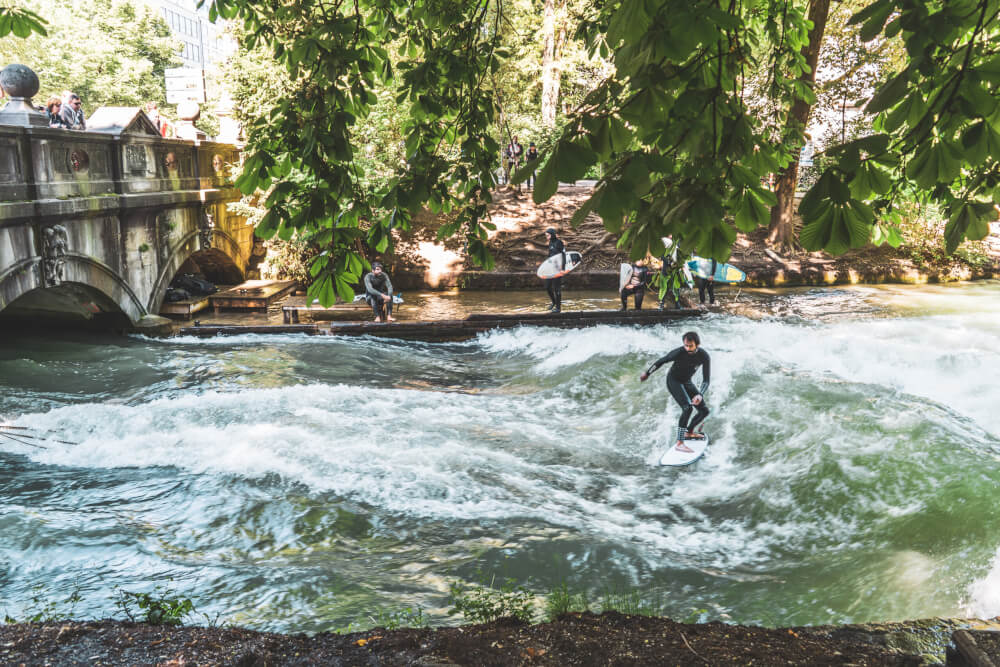 Here are some activities you can enjoy in the English Garden:
Marvel at the Monopteros
Visit the Japanese Garden
Grab a treat at the Milchhäusl kiosk (open even in winter, with cute gondolas to sit in)
Grab a beer at the Chinese Tower Beer Garden, one of the most famous beer gardens in Munich
Wander further to the beautiful lakeside Seehaus Beer Garden, which has a much more local crowd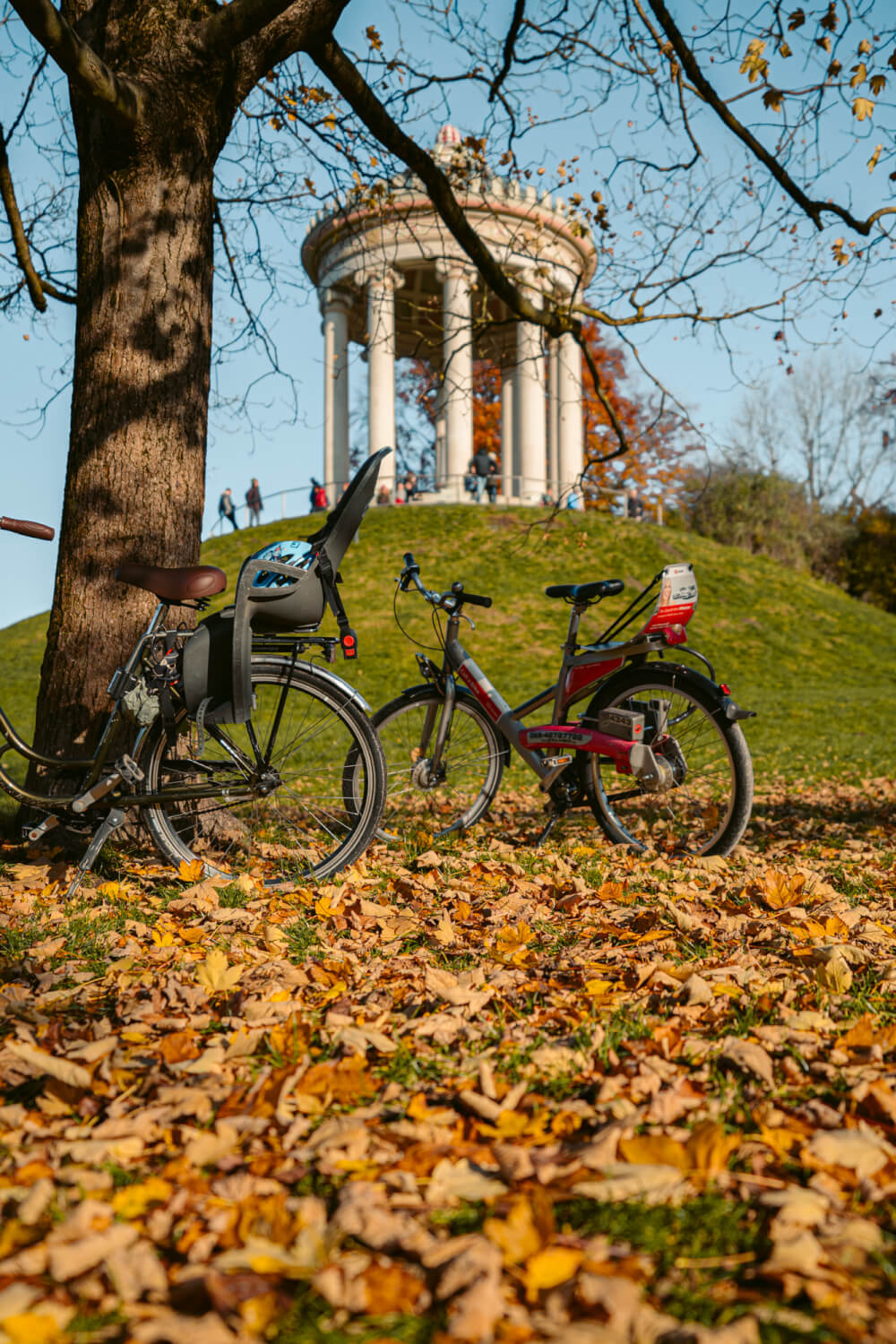 If you'd prefer to do a bit more sightseeing, you can plan your walk to exit via the western side of the park (by the Milchäusl kiosk) so you can explore the beautiful neighbourhood of Maxvorstadt, known for its dynamic energy (thanks to a dense student population)… as well as an abundance of cultural institutions and museums.
What is there to do in Maxvorstadt? Here are some highlights:
Admire Siegestor, Munich's Victory Arch, a monument built to honour the glory of the Bavarian army
Take a moment at the Geschwister-Scholl-Platz (Scholl Siblings Square) to see the memorial dedicated to the "White Rose Resistance Group", an anti-Nazi resistance group run by LMU students. In their memory, you will now see bronze replicas of their leaflets embedded in the square's cobblestones
Grab unique ice cream at Der Verruckte Eismacher, known for the Alice in Wonderland aesthetic and inventive rotation of ice cream flavours, which includes Bavarian treats like Augustiner beer and sometimes even sauerkraut
Visit one of the many museums in Maxvorstadt's museum quarter (Kunstareal), including the Pinakothek Moderne, NS Documentation Center, Glypothek, Lenbachaus, Museum Brandhorst and more
Admire the views at Königsplatz, where the stunning Propyläen Gate makes a lovely centerpiece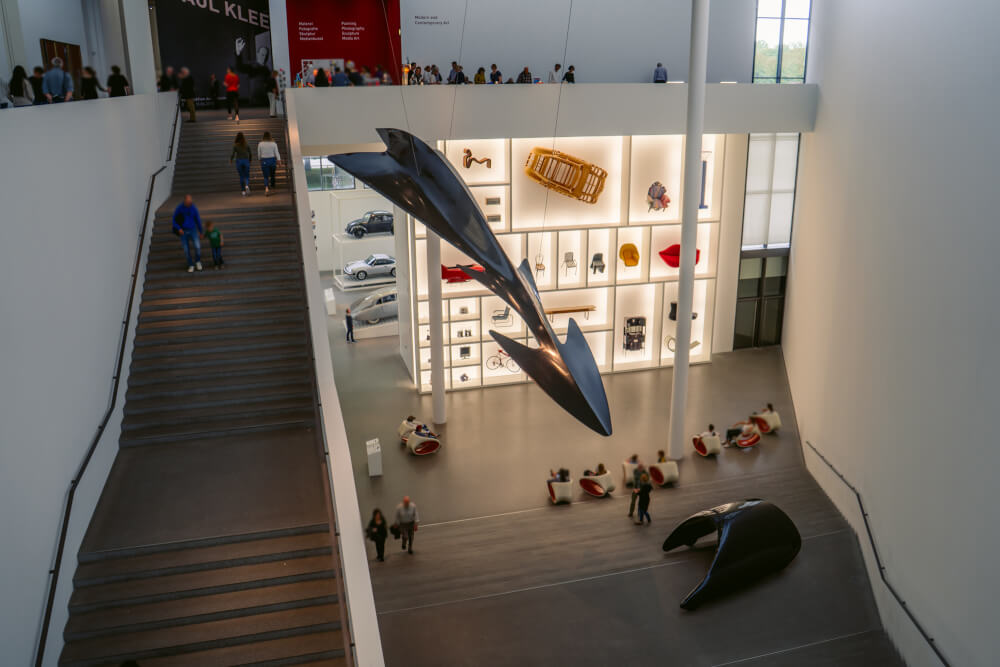 Dinner in Altstadt
From Maxvorstadt or the English Garden, you're still close enough to the Altstadt (Old Town) to return for dinner, which is what I'd recommend you do to cap off your first day in Munich!
For dinner, there are a few places in the city center that I recommend. You can also click here to check out my full list of recommended Munich restaurants.
Augustiner Klosterwirt | Augustinerstraße 1: My favourite place to enjoy traditional Bavarian food, and where I take every visitor who comes to town
Haxnbauer | Sparkassenstraße 6: A very famous place for pork knuckle, which is served with some truly awe-inspiring potato dumplings
L'Osteria | Lenbachplatz 8: MASSIVE pizzas for a great price – perfect if you want something other than Bavarian and they also have multiple locations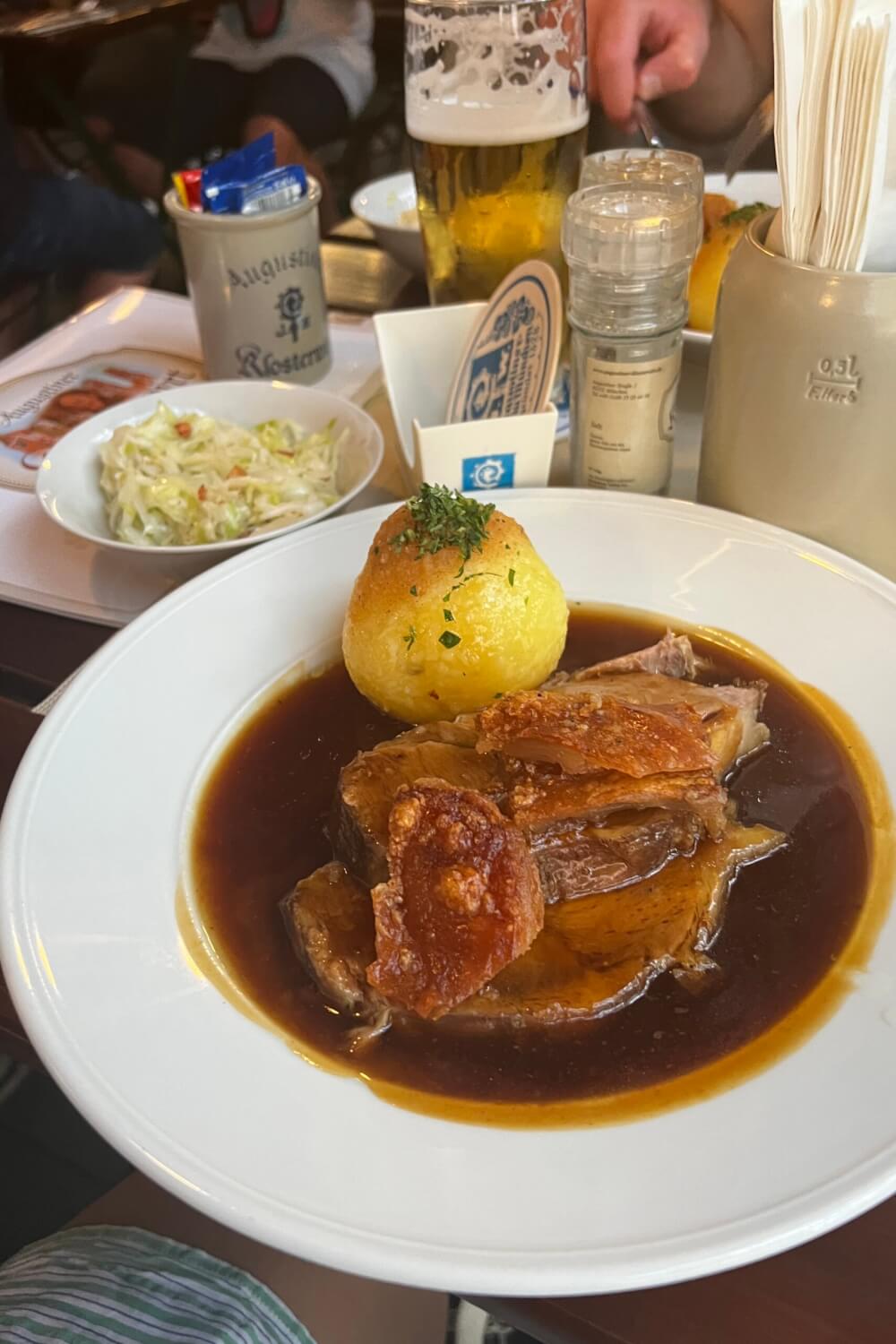 Evening: Wander around Altstadt (Old Town)
I know you've spent much of your day here so are probably sick of it already, but Munich's Altstadt (Old Town) becomes all the more magical at night, so take the evening to have a little bumble around to admire how all those famous monuments look at night… with a fraction of their day time crowds!
You might also take this time to enjoy some Munich nightlife! I'll admit, Munich isn't as well known for this as it is for say…. leather pants and giant pretzels, BUT there are still plenty of places to enjoy an evening out.
Sadly, I'm an 80 year old grandma in disguise, so I'll defer you to my much cooler friend Sooz who has written an extensive Munich nightlife guide here.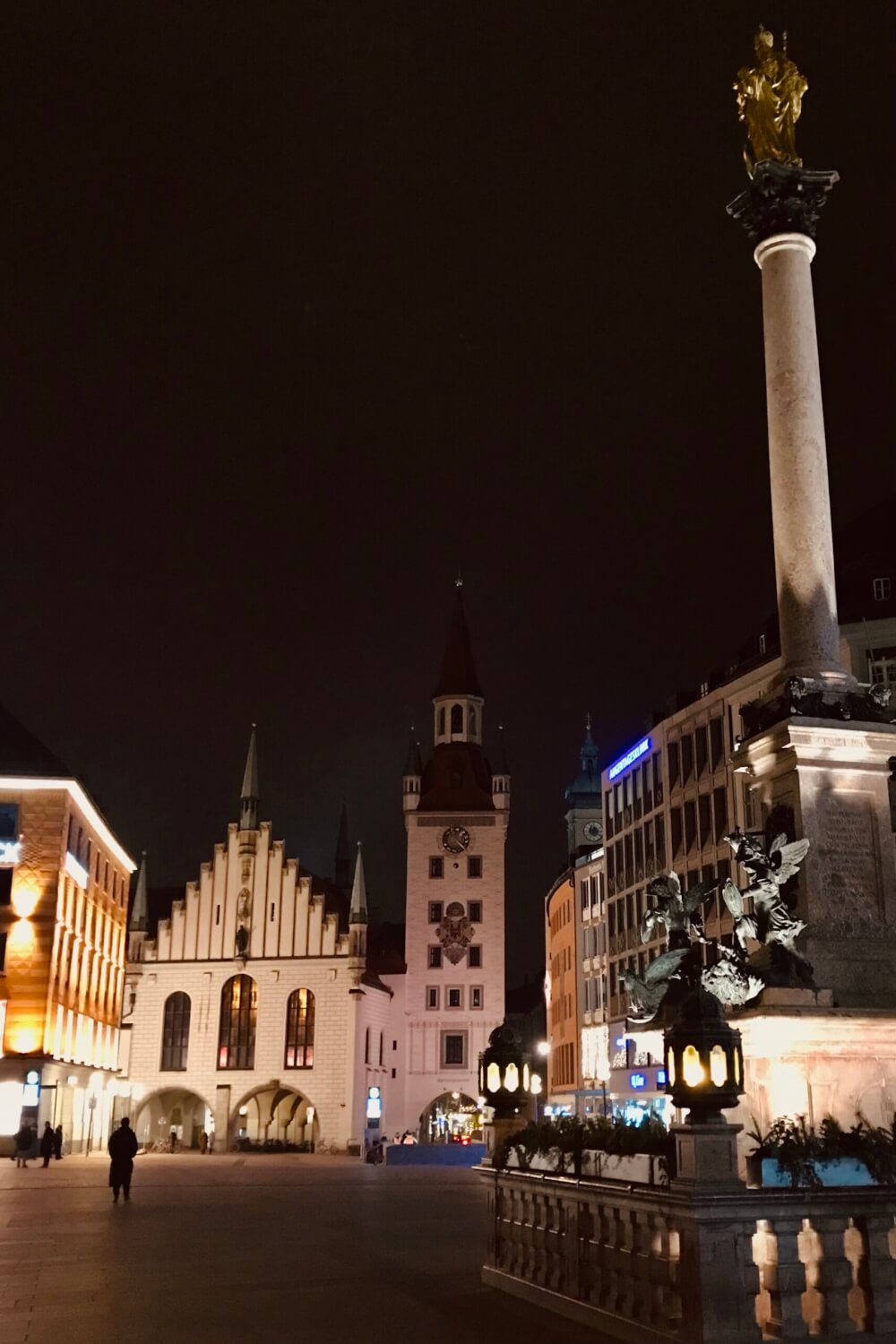 Day 2: North Munich
The second day of our Munich three day itinerary is all about spreading our wings and heading North to see a different side to the city. Get ready for palaces, parks & parts of Munich you didn't realize existed!
Breakfast: Goodies from a German Bakery
We'll be covering a lot of ground on our second day, so fuelling up quickly is a must!
And since you already had a taste of Bavaria's go-to morning fuel of sausage, pretzel & beer yesterday, we'll opt for something a bit sweeter for day two – a visit to a delicious German bakery!
German bakeries are next-level havens of baked goodness, with tantalizing options for sweet and savoury people alike.
So, to start your day off right, I'd suggest Googling your closest local bakery with good reviews, and popping in for a treat or two, as well as a coffee. Do note that German bakeries often pride themselves on efficiency though, so don't take too long trying to decide what you want!
If you're stuck on where to go, some popular and reliable chain bakeries in Munich include…
Rischart
Zöttl
Dompierre (more of a French-style bakery, but it's great!)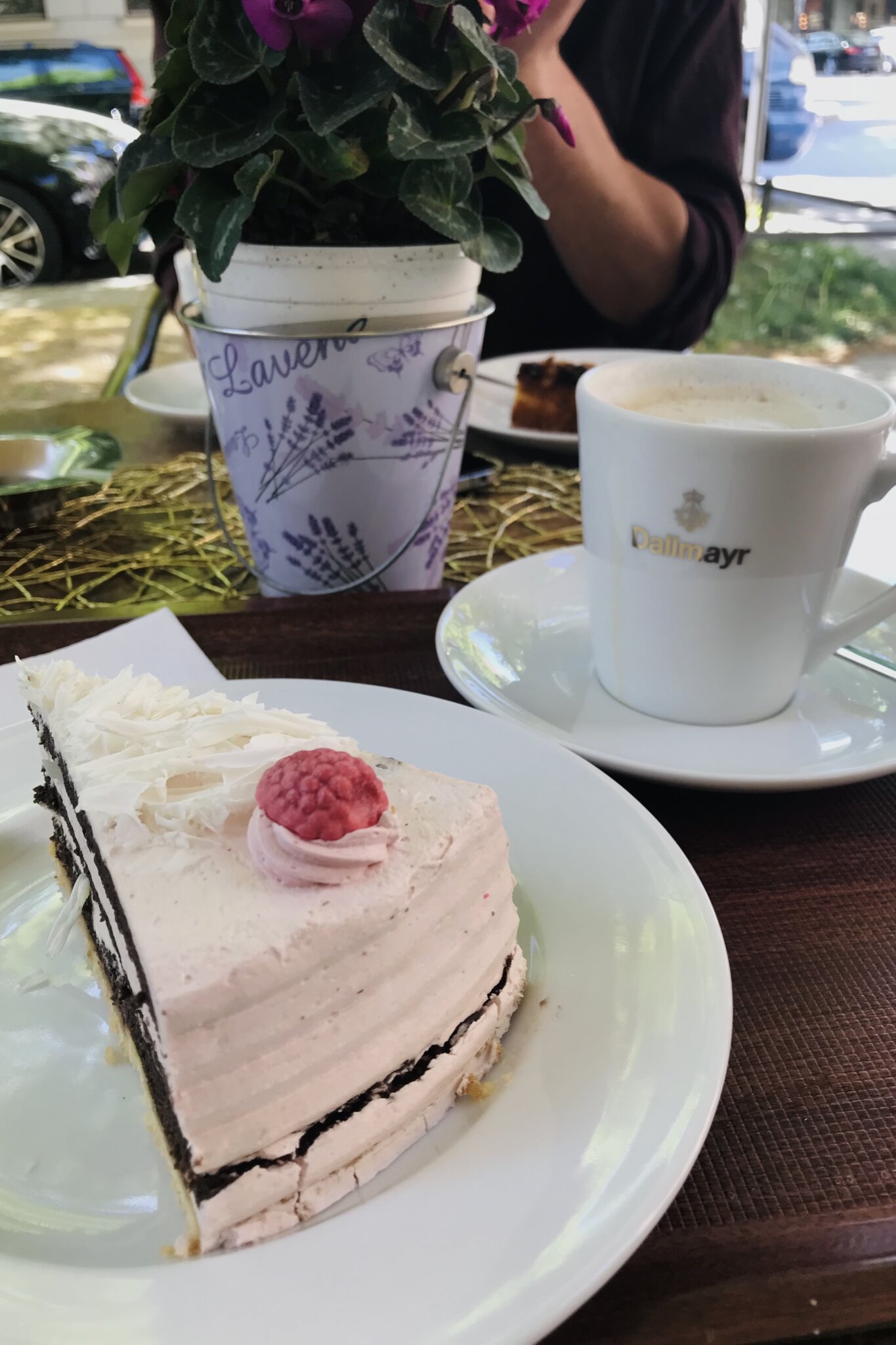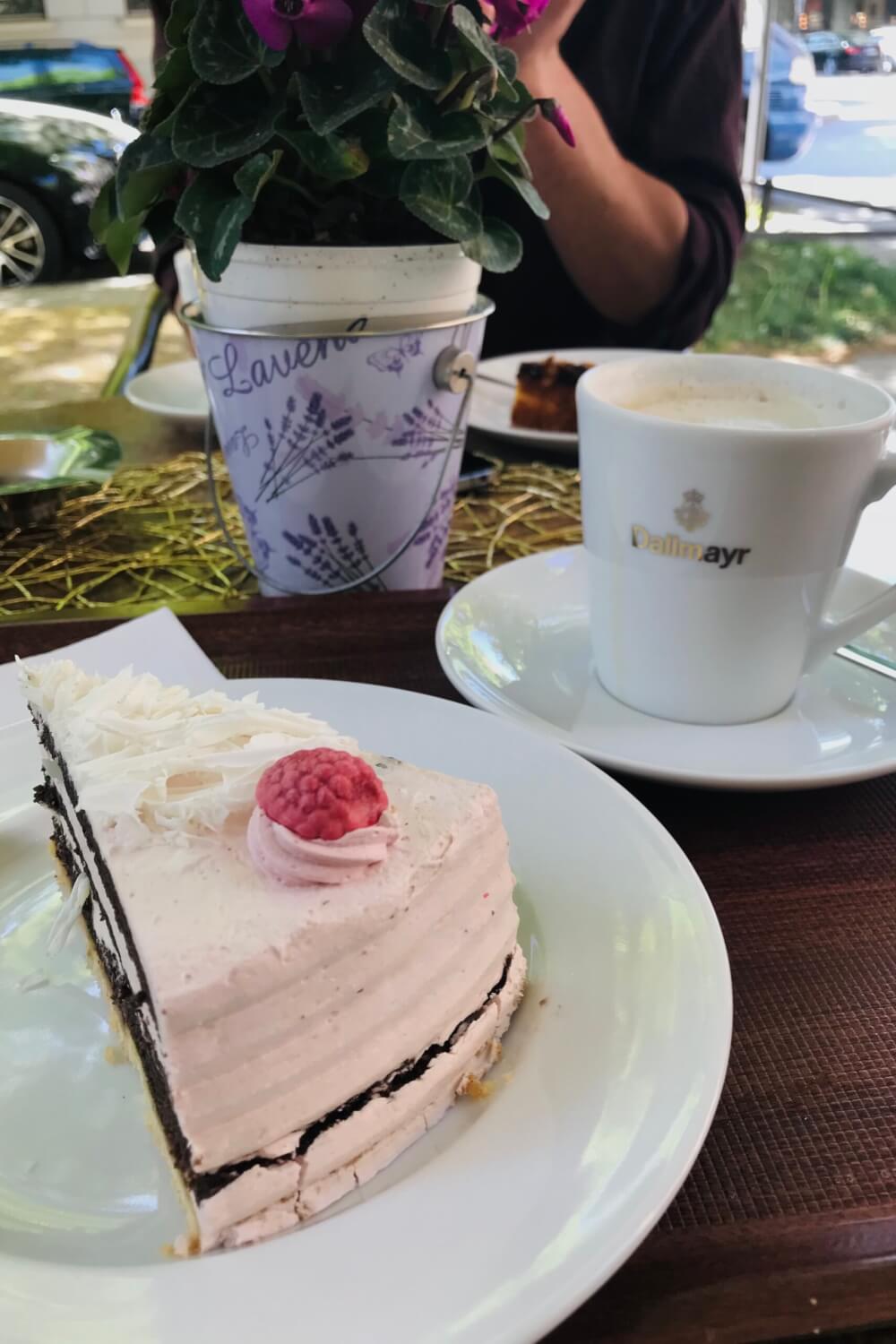 Morning: Nymphenburg Park & Palace
After breakfast, we're going to continue our second day in Munich with a visit to a regal and quiet part of town that is (to me) one of the most beautiful spots that Munich has to offer.
Once upon a time, Nymphenburg Palace was the go-to summer residence of the Bavarian royal family. Originally commissioned in the 17th century, incoming royals kept adding, building, and spending, turning the palace and park into the sprawling estate it is today.
Besides marvelling at the gorgeous palace (whose width exceeds even that of Versailles), visitors can…
Buy a ticket to explore the gorgeous inner rooms of the palace
Go for a walk on the extensive palace park grounds
Visit the many on-site museums, including the Marstallmuseum (Carriage Museum), Porzellanmuseum München (Nymphenburg porcelain museum), Museum of Man and Nature & Erwin von Kreibig-Museum
Go on a pricey but romantic Venetian gondola ride
Visit the Munich Botanical Garden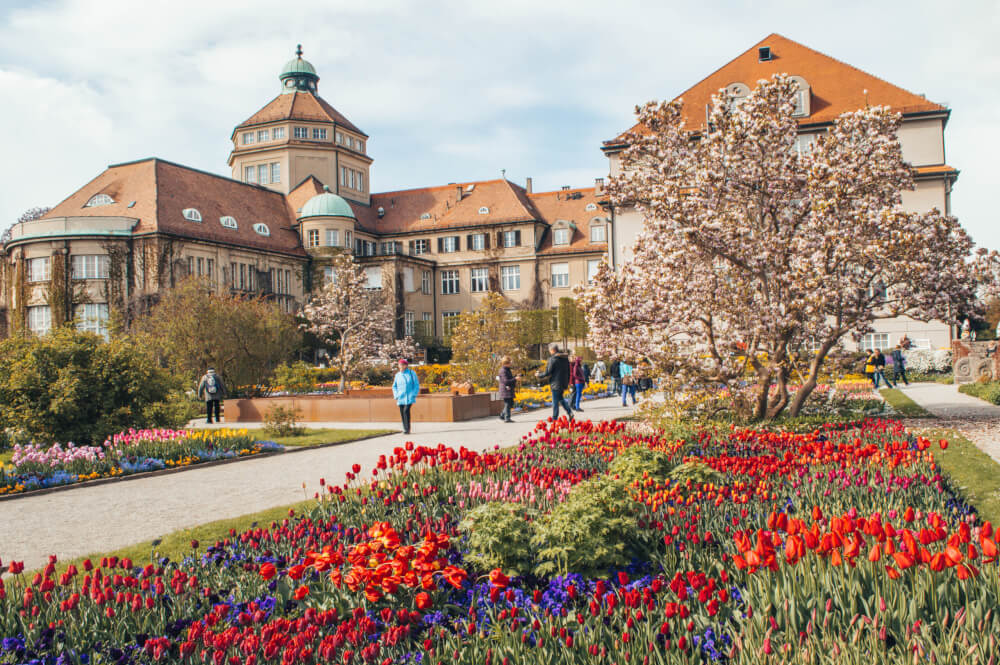 Oh and believe it or not, the palace is still home to "Franz von Bayern", the Duke of Bavaria whose great grandfather was the kingdom's last ruling monarch.
Swanky digs aside however, he doesn't have much actual political power, though (fun fact) if he had broader ambitions, he'd actually have a claim to the British throne too, as a direct descendant of the Stuart dynasty. You can fall into that random rabbit hole here.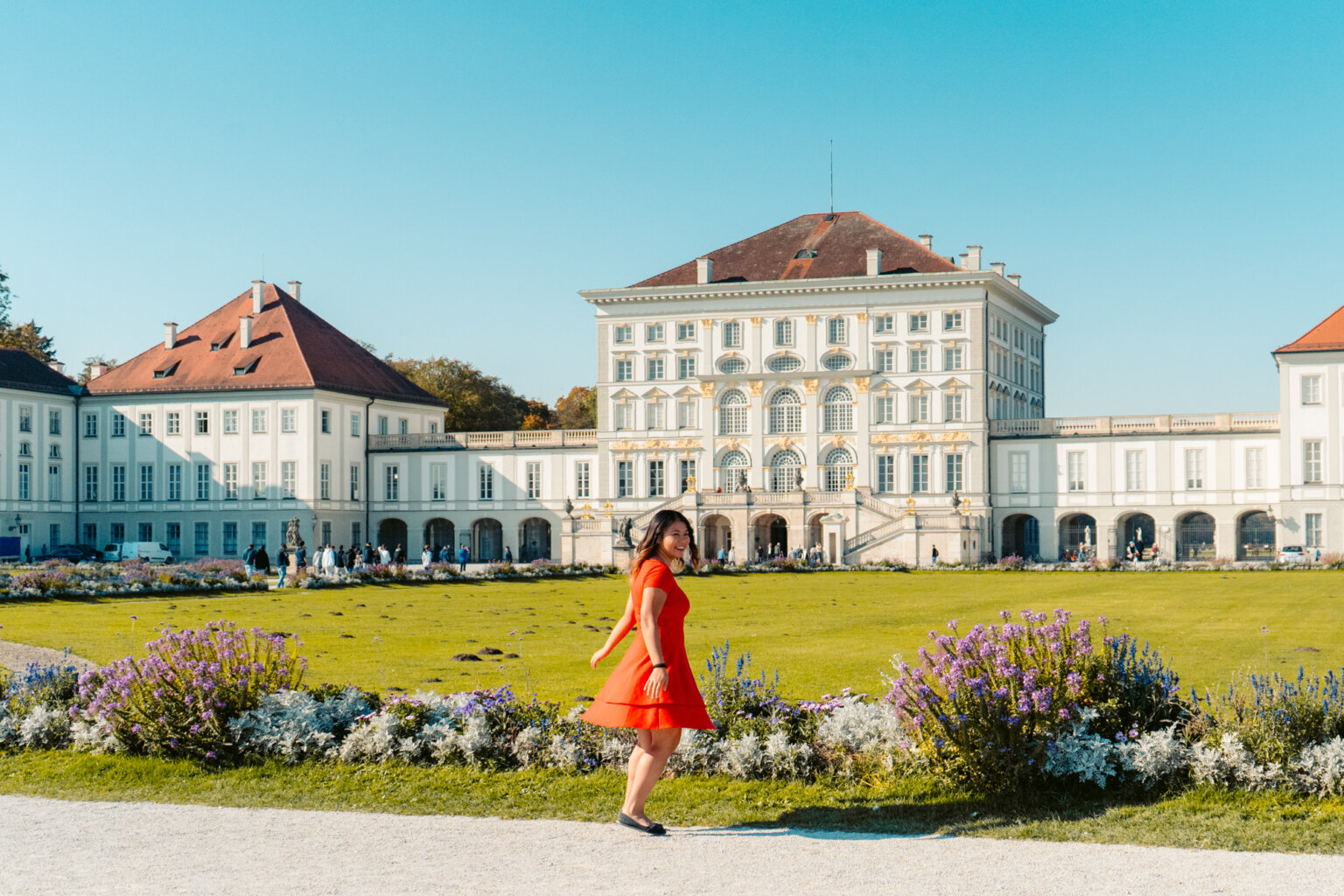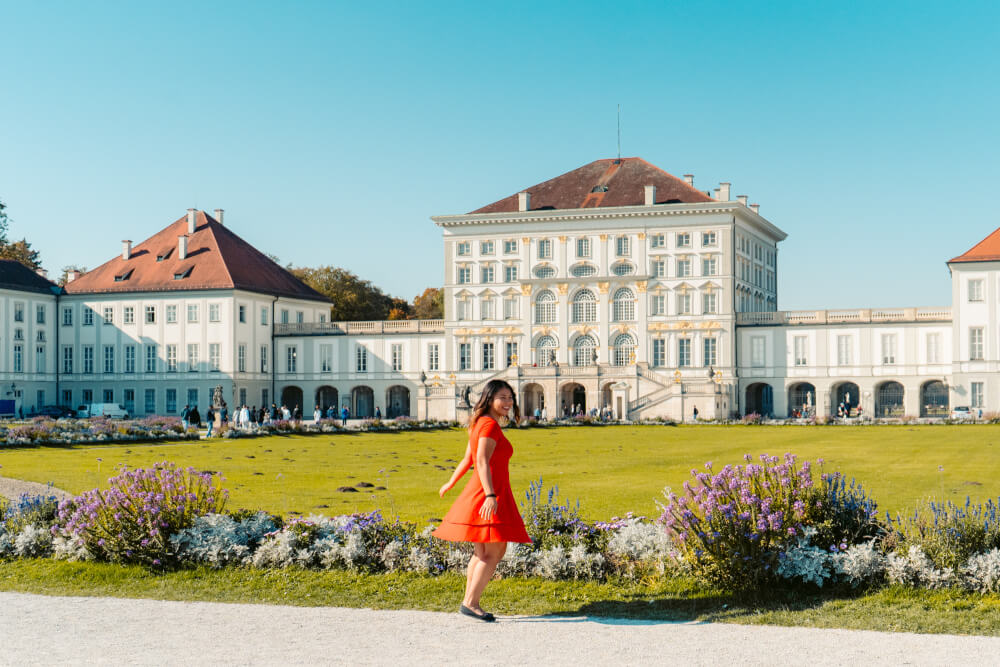 Lunch: Hirschgarten
After scouring the palace grounds in search of eligible dukes, for lunch, we'll be enjoying a classic Bavarian experience – a beer garden, or biergarten of course, as it's known locally.
And where better to enjoy a biergarten experience than the largest one in all of Bavaria? With over 8000 seats (!!!), Hirschgarten is the epic beer garden that lays claim to this accolade, although I'd argue its more exciting feature is its actual deer!
Yup just as its name (which translates to 'Deer Garden') implies, this beer garden is famous for its friendly set of deer, who graze and frolic just steps away from where you can enjoy a delicious lunch of classic Bavarian eats & drinks.
Be careful though – it's easy to lose an entire afternoon here!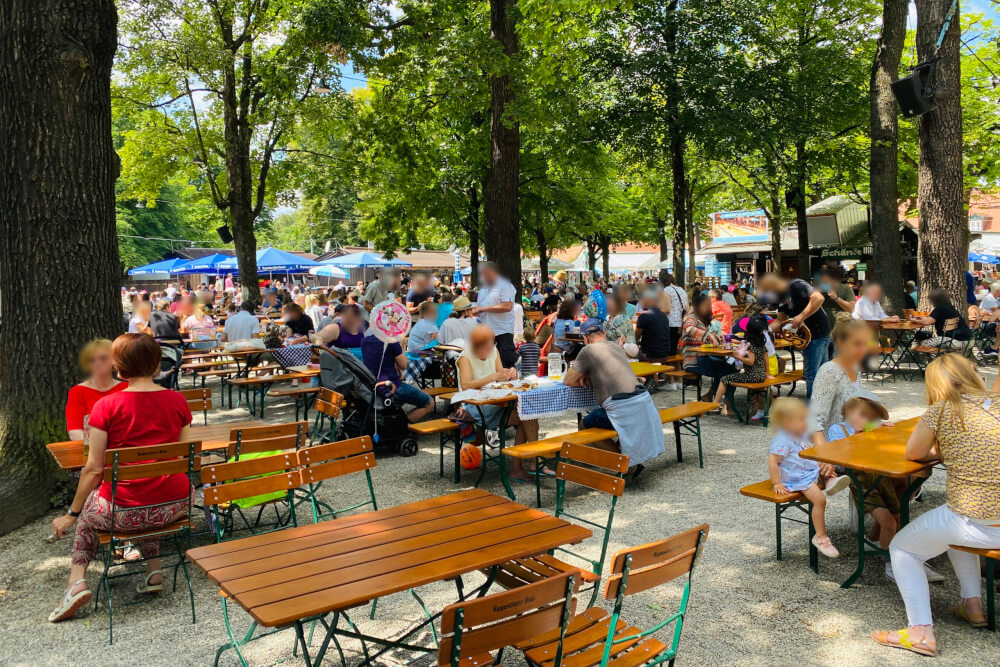 Afternoon: Olympiapark
From Hirschgarten, you're not too far by public transport to our next stop: Olympiapark, one of the more unique parts of the city.
While it may look futuristic, this impressive park was all built back in 1972 for the Summer Olympics, and even decades later, it continues to be a popular venue for sporting and cultural events.
In fact, pretty much all the big concerts in town happen right here, in either the Olympiahalle or Olympiastadion.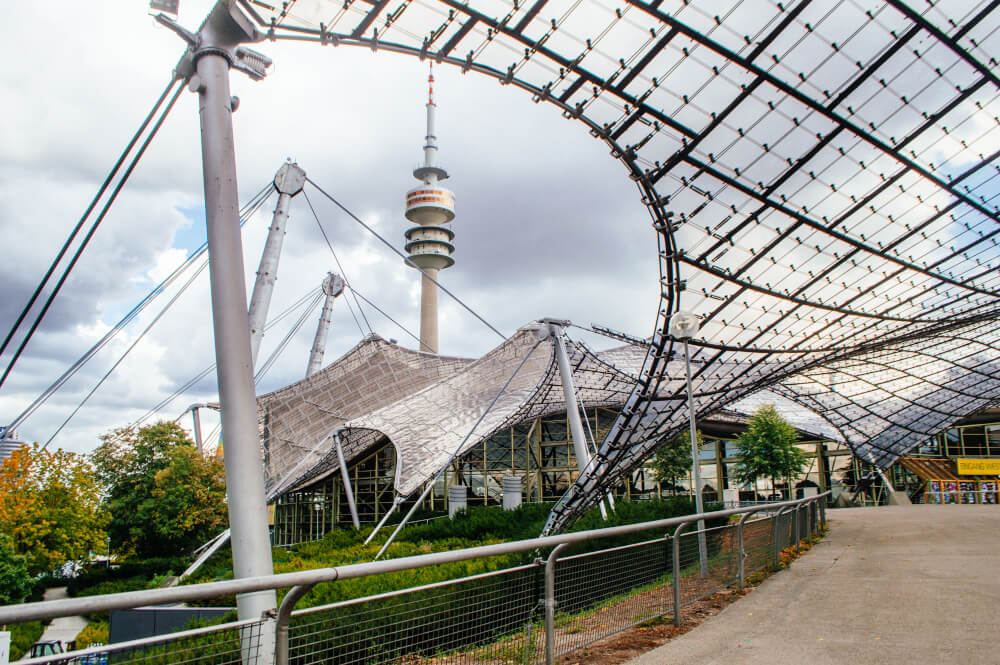 Upon arrival, take some time to explore the park at your own pace. There's loads to see! Here are some ideas:
Visit the free BMW World to see some cool cars and displays or visit the paid BMW Museum for a more thorough walkthrough of BMW history through vintage cars
Photograph the unique clover-shaped BMW Headquarters, modelled after the four cylinders of a car engine
Walk along Olympiasee and check out its 'Walk of Fame', with handprints and signatures embedded into the ground from famous celebrities (mostly musicians) who have visited the city
Visit SEA Life Munich
Pay a visit to the free Munich 1972 Massacre Memorial, which is an open air multimedia installation in the park that honours the victims of the massacre that occurred at the 1972 Munich Olympics.
Take a walk around Olydorf to see the uniquely painted student bungalows that form one of the most unique student residences in the world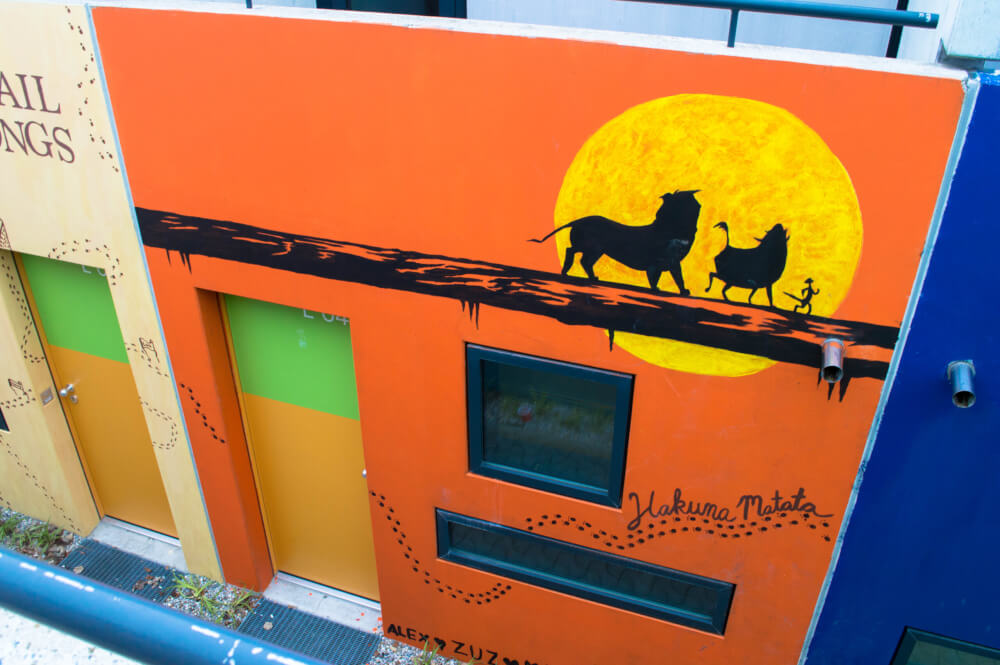 Sunset: Olympiaberg or Olympia Tower
Alright, if we've timed things right, you should still be lurking around Olympiapark around sunset, which is perfect.
This park is by far one of my favourite places in Munich to catch sunset. You have two options here, depending on your budget and desired romance level.
For a free place to watch sunset, climb Olyberg, a big hill that overlooks the park. You get a truly incredible vantage point over the city from here, and you can even see the alps on a clear day!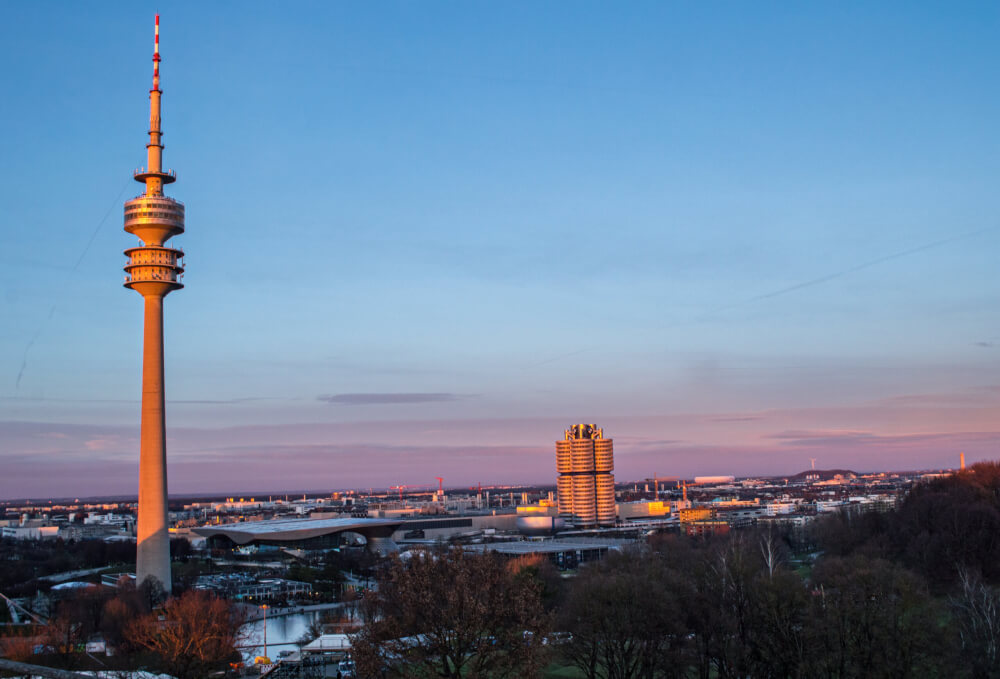 Or if you don't mind paying, the Olympic Tower is a truly incredible place to watch sunset as well. With the view being so much higher than Olyberg, you see way more and it's breathtaking, but both are amazing in their own way.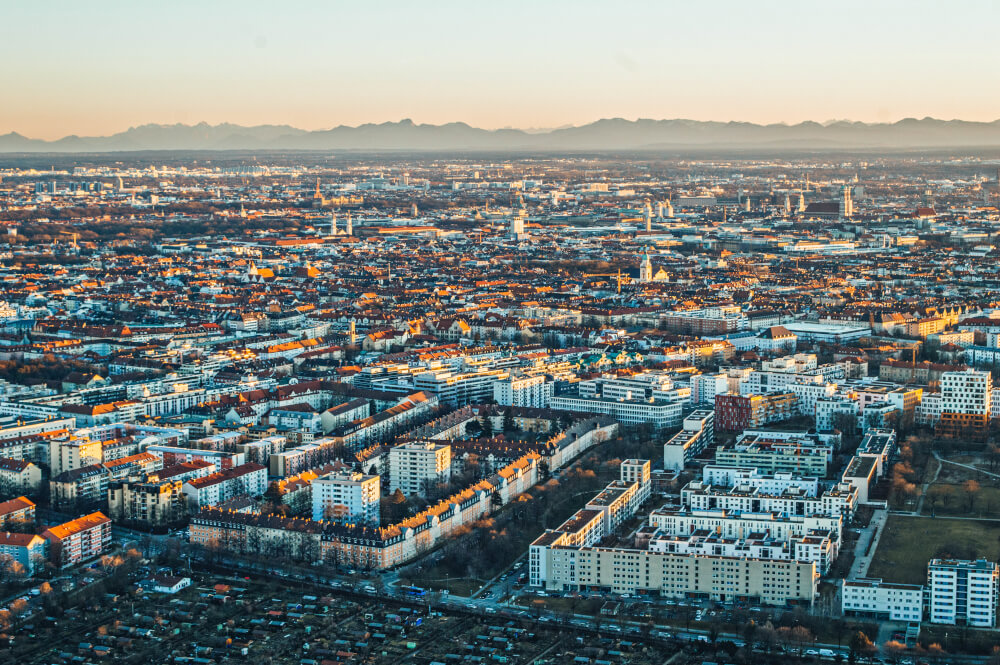 Evening: Fun, Unique Nightlife
If you've followed this Munich 3 day itinerary closely, then you'll have already enjoyed a taste of Munich's nightlife last night.
Well, to cap off our second day, I'm going to give you a list of Munich's quirkier and more unique nightlife spots to choose from.
Of course, if you just want to relax and continue (conventional) bar hopping, that's fine too… but picking something from this list will give you some insight into the theme of our final day: Munich's lesser visited gems!
So, here are some ideas for unique evening activities in Munich:
Werksviertel-Mitte: A cool area behind Ostbahnhof train station with lots of cool murals and unique small businesses housed in shipping containers.
Bahnwärter Thiel: A hip hang out spot that hosts various parties and events, with different bars scattered across a large venue decorated with repurposed shipping containers and structures.
MS Utting: Literally an old boat perched on a bridge that is now a hangout spot where you can get food and drink, plus they host fun events like a Christmas market every year.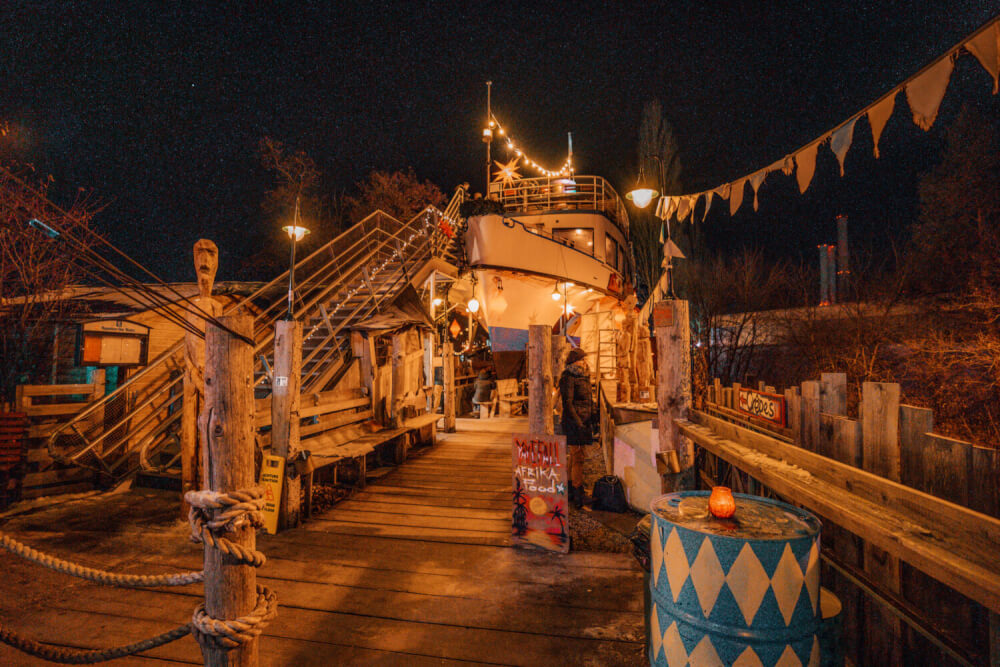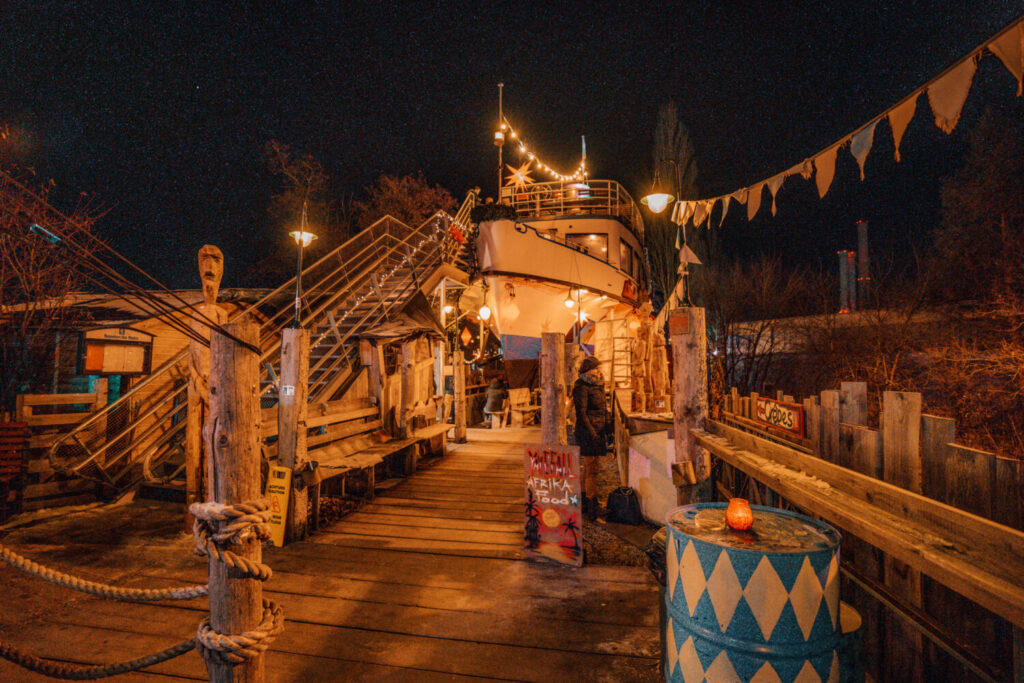 Day 3: Offbeat Munich
For the third day of our three day Munich itinerary, I'm showing you how to explore more of Munich a bit more off the beaten path, BUT if you're looking to maximize your time, I might recommend taking the third day to enjoy one of the many amazing day trips from Munich.
If you're happy to stay in the city though, here's our Day 3 Itinerary for you to follow!
Morning: Walk Along the Isar
The Isar is the heart and soul of Munich.
This majestic river winds for almost 300km through Austria and Germany, from the Alps to the Danube. The scenic section through Munich is of course one of the most densely packed with sights, and a walk along here is a great way to appreciate the unique urban greenery of the city.
Come summer, the banks of the Isar are packed with picnickers, swimmers and sun revellers keen to make the most of the city's warm days. Year-round, you'll also spot fishermen and runners.
Truly, there's no better place to appreciate the unique lifestyle of Munich.
I'd suggest walking from the Friedensengel (Angel of Peace) to the Deutsches Museum, a walk that takes approximately 30 minutes, although it'll be much longer with photo/curiosity stops.
I've intentionally left this morning fairly breezy so you can explore at your own pace, so feel free to take some detours if something catches your eye.
So long as you end up near the Deutches Museum by lunch time, we'll be on track!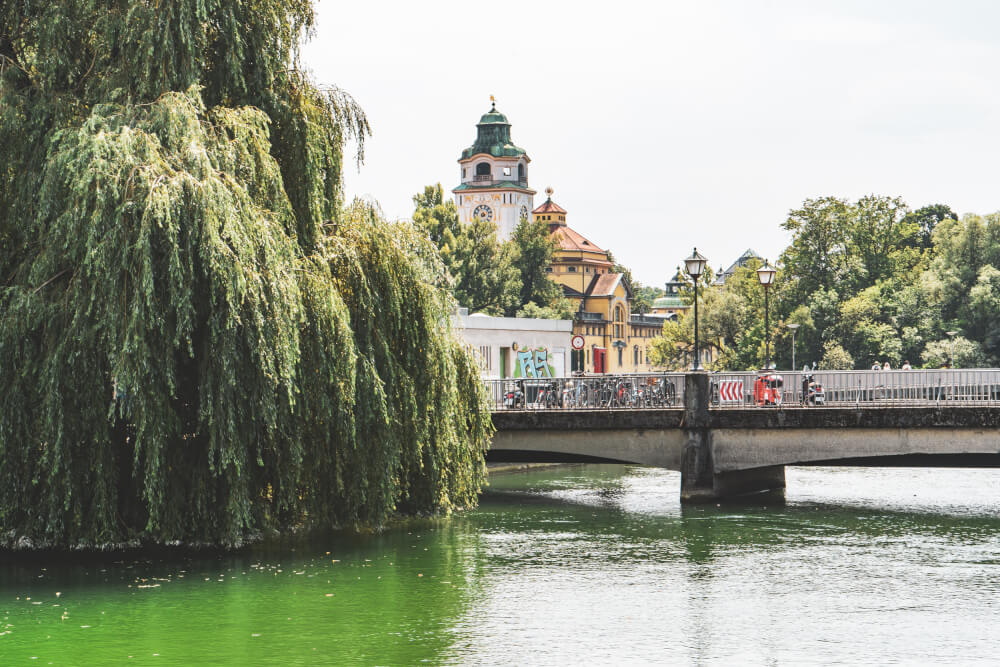 Some sights to keep an eye out for during your Isar walk include…
The Friedensengel (Angel of Peace) itself, as well as the view from its terrace
The colourful murals in the tunnel below the Friedensengel (Angel of Peace)
The Maximilianeum, a grand building that's home to the Bavarian State Parliament. If you want a scenic detour, the entirety of Maximilianstrasse is gorgeous and lined with some of Munich's most luxurious shops.
The iconic St Lukas Church, one of the most prominent parts of the Munich skyline
Müller'sches Volksbad, a beautiful Art Nouveau public bathing pool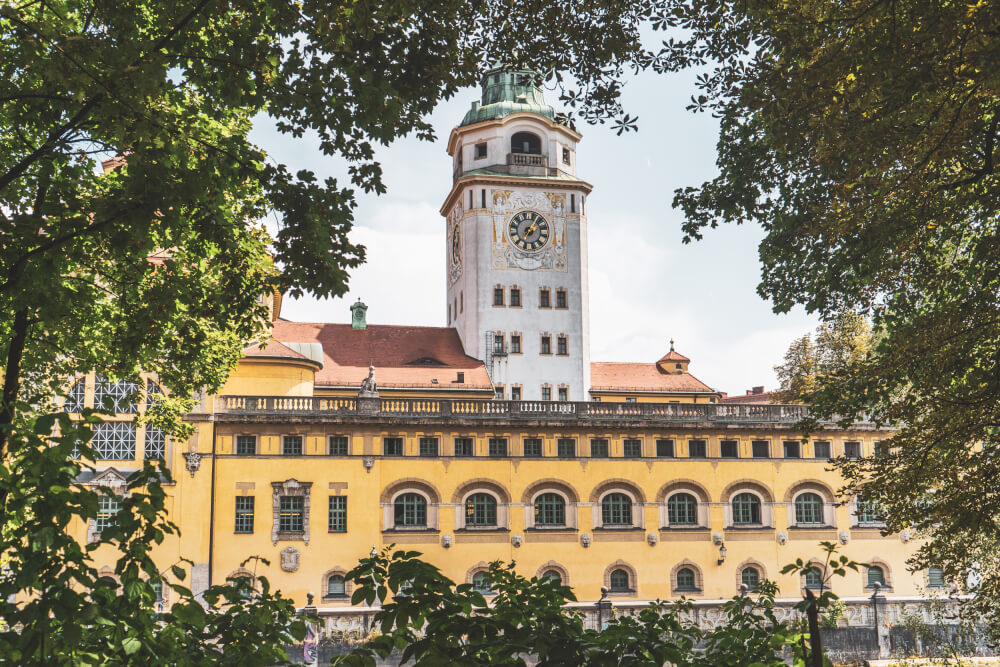 If you have the time/want to make it a priority, the Deutsches Museum is one of the largest science and technology museums in the world. It's a very cool stop for science geeks (and curious kids), although it does take some time to get through, so I wouldn't necessarily prioritize it unless you're really into science.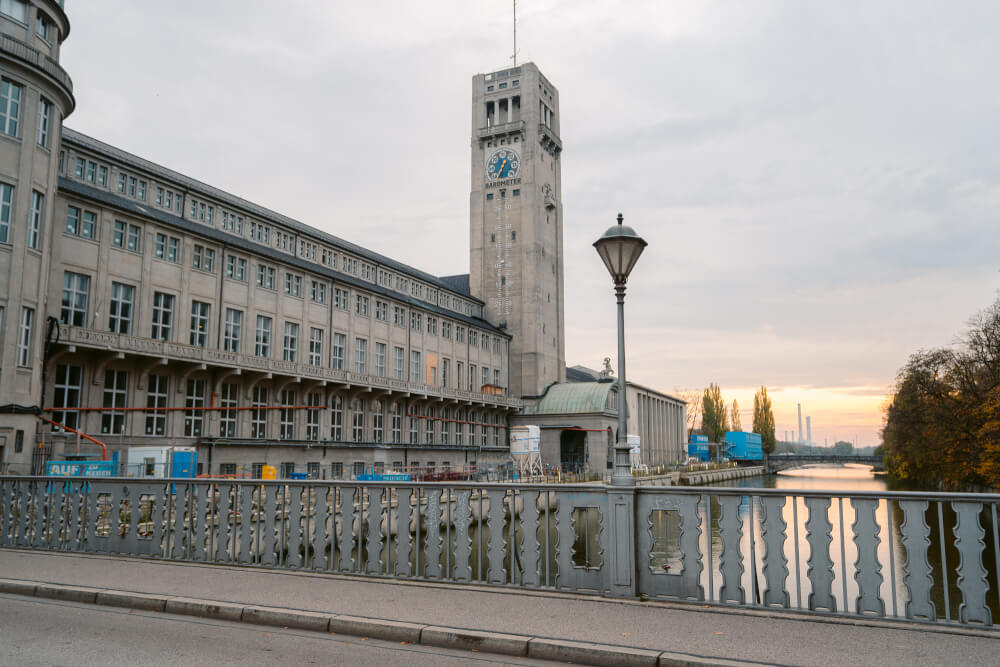 Lunch: Glockenbachviertel
Alright, after that walk, you must be starving!
Luckily, from the Deutches Museum, you're in close proximity to one of the most vibrant districts in Munich, the Glockenbachviertel. Known as the epicentre of Munich's LGBTQ+ scene, as well as the go-to spot for cool bars, cafes and food spots, this is an ideal place to grab lunch or a coffee.
I'd recommend going based on what you're craving, because there are restaurants of all cuisines here, but if you're feeling for Bavarian, the Paulaner Brauhaus am Kapuzinerplatz is great. I can also recommend Man versus Machine for a post-meal caffeine boost – their cold brew will change your life.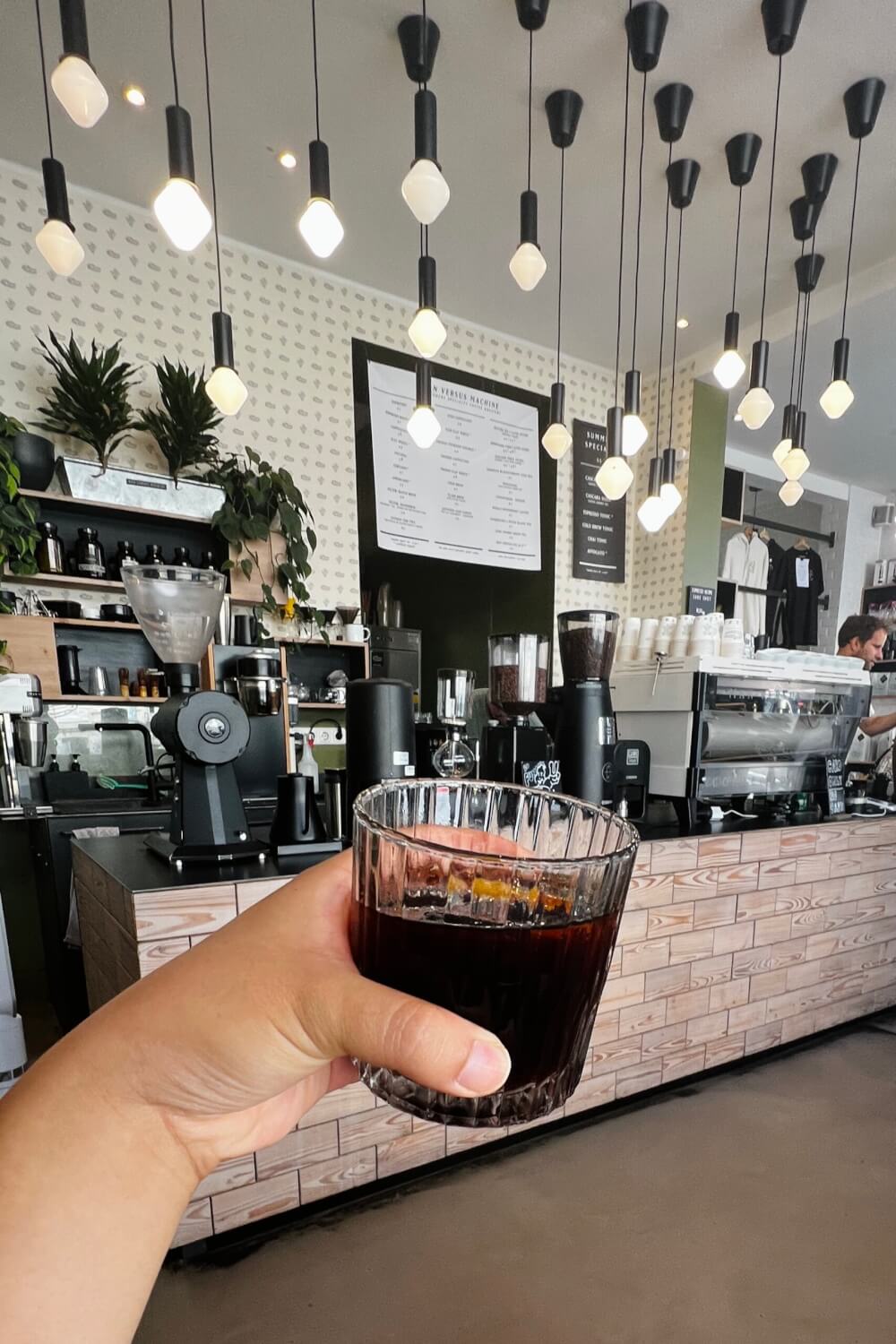 Or, lastly, if you want absolutely life-threatening portions of schnitzel, venture a little farther to Andy's Krablergarten, where schnitzel's the game and the prize is a certain coma.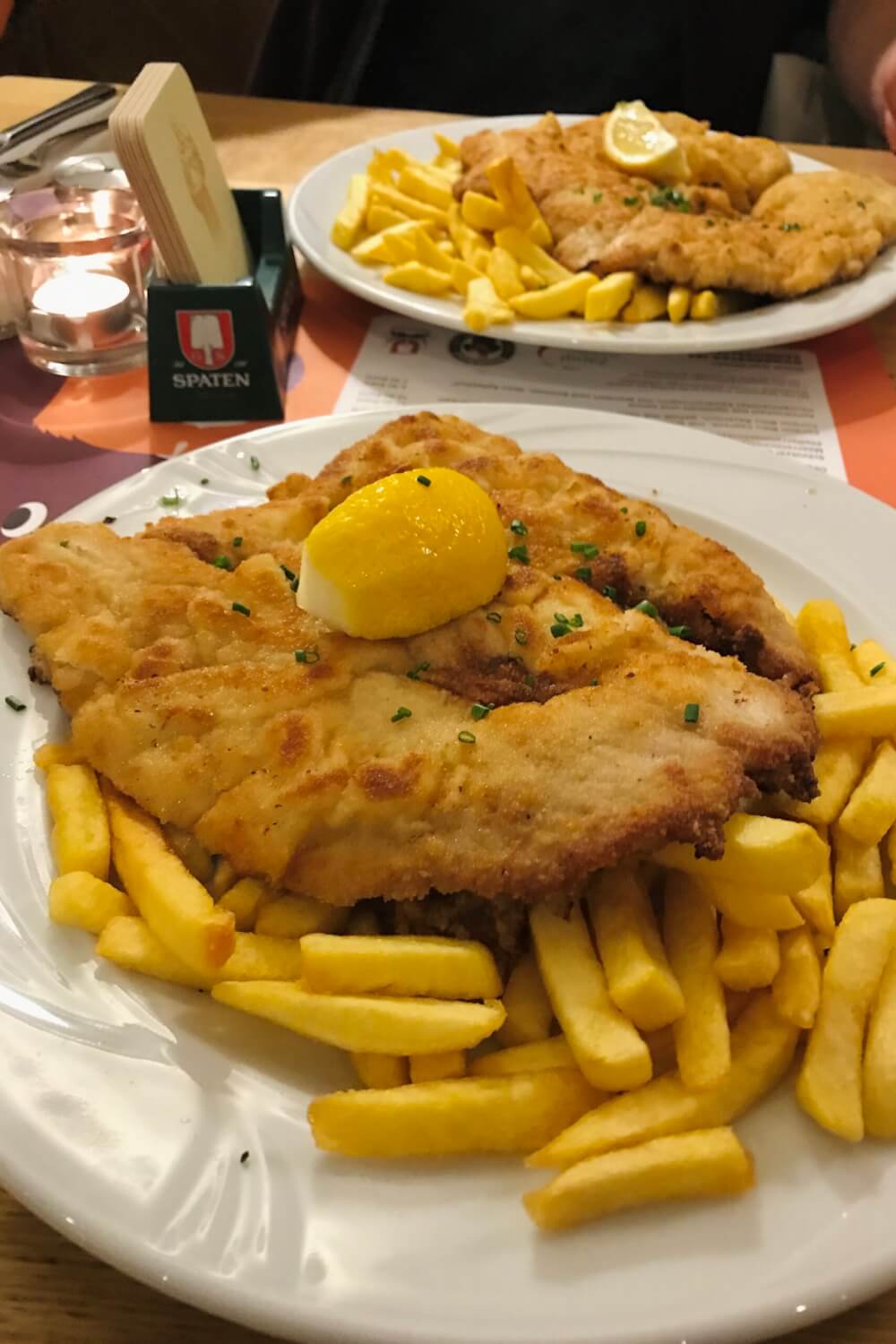 NOTE: If you're having an extraordinarily late lunch or plan to return to this neighbourhood for dinner, do NOT miss the epic vegan pizzas from Doctor Drooly. They annoyingly only open at 5pm and there's no sit-down space apart from two benches outside, but it's the best Isar picnic food and truly one of the best pizzas I've ever had.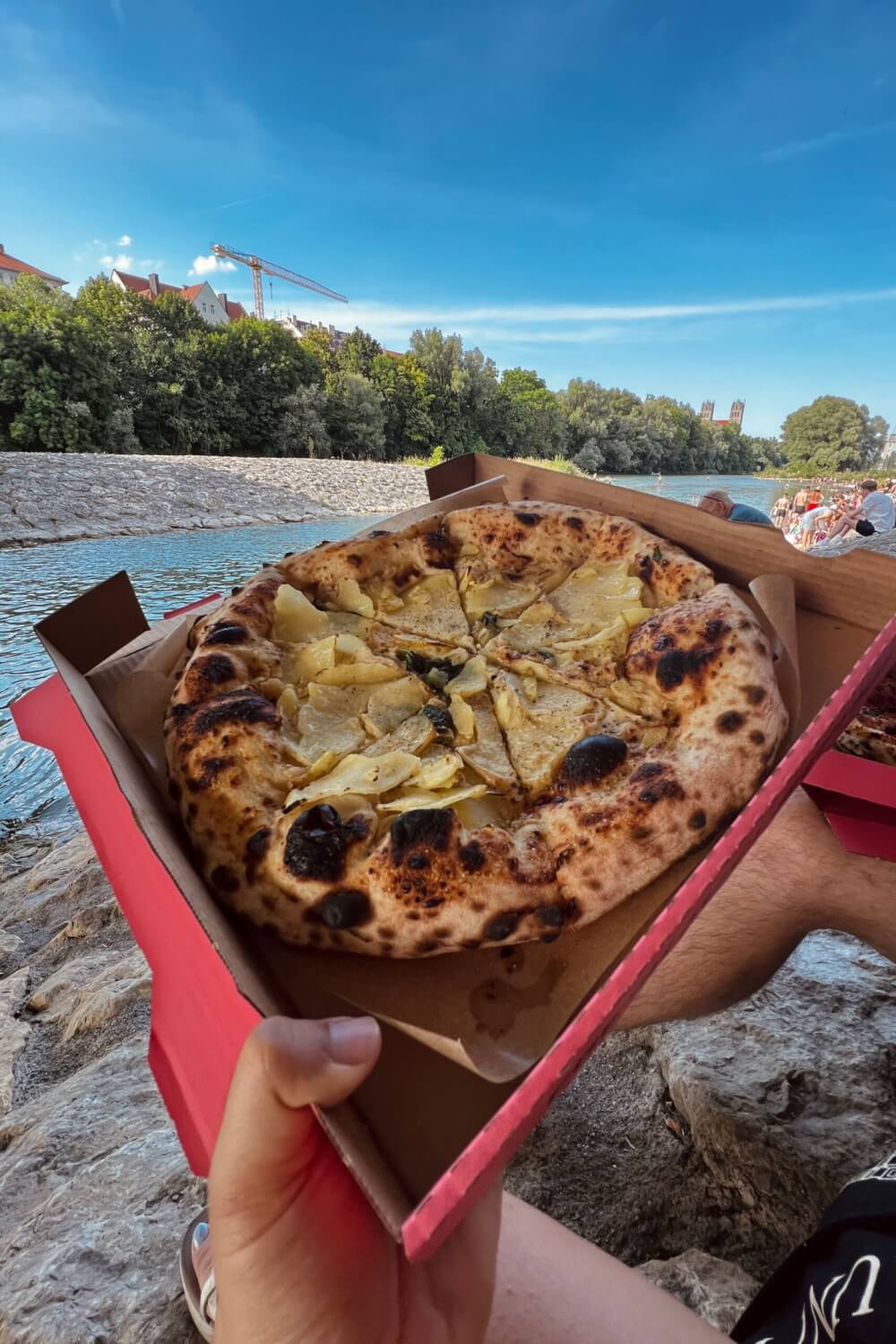 Afternoon: Pick a Neighbourhood to Explore
Alright, for our final afternoon, we're going to get a taste of Munich beyond the main sights!
As for which neighbourhoods to explore, I'd say the choice depends on what you're after.
The Glockenbachviertel is well-connected to other parts of the city, with easy access via tram, U-Bahn or even on foot if you don't mind a bit of walking, so there are plenty of options close to your lunch spot to consider.
Here are some potential options and what they have to offer:
Haidhausen: A quaint & village-like part of town with highlights including an elegant square (Wiener Platz), a bustling beer hall/garden (Hofbräukeller), an epic parliament building (the Maximilianeum) and plenty of delightful streets to wander down (Preysingstraße is a personal favourite).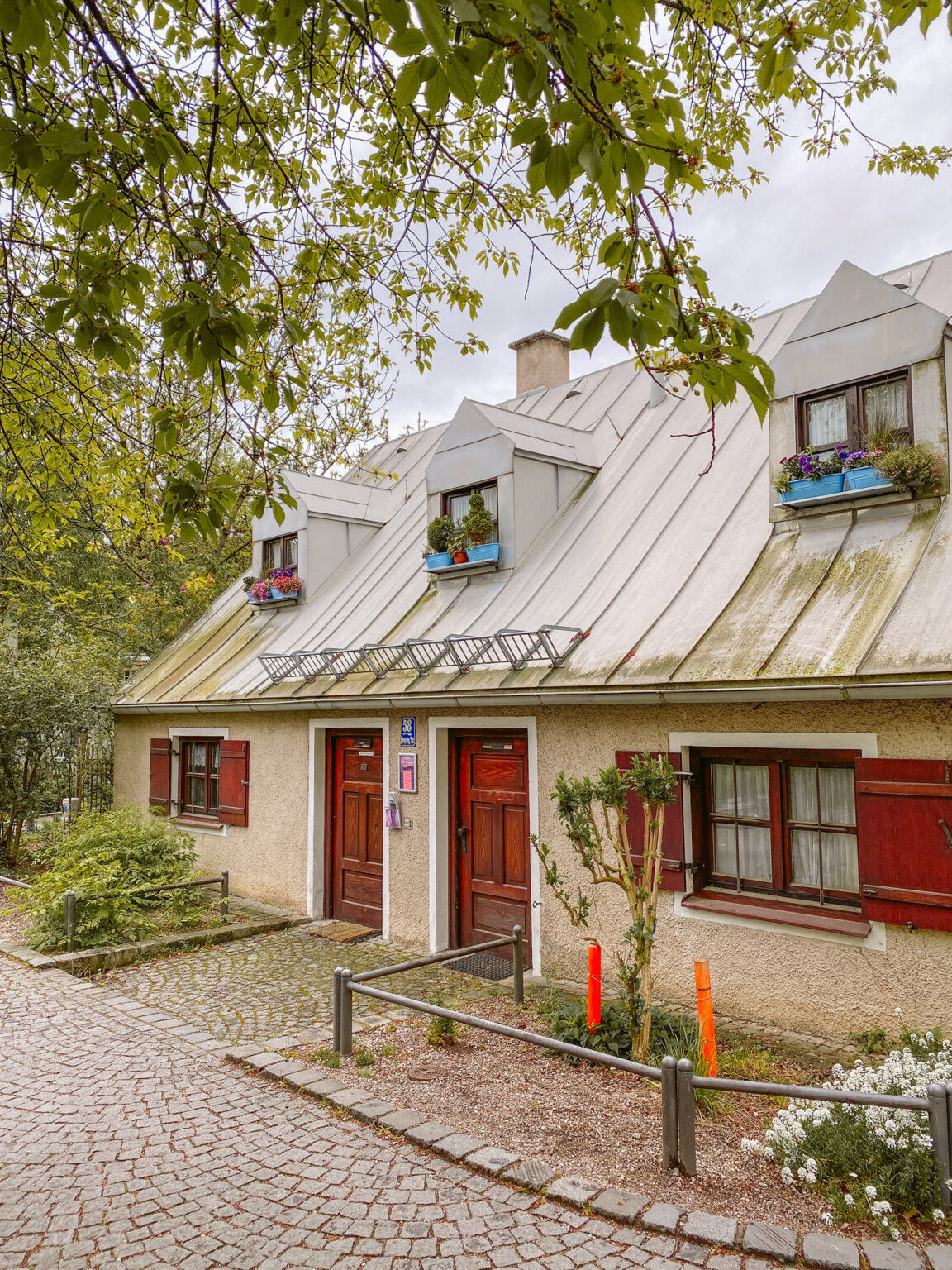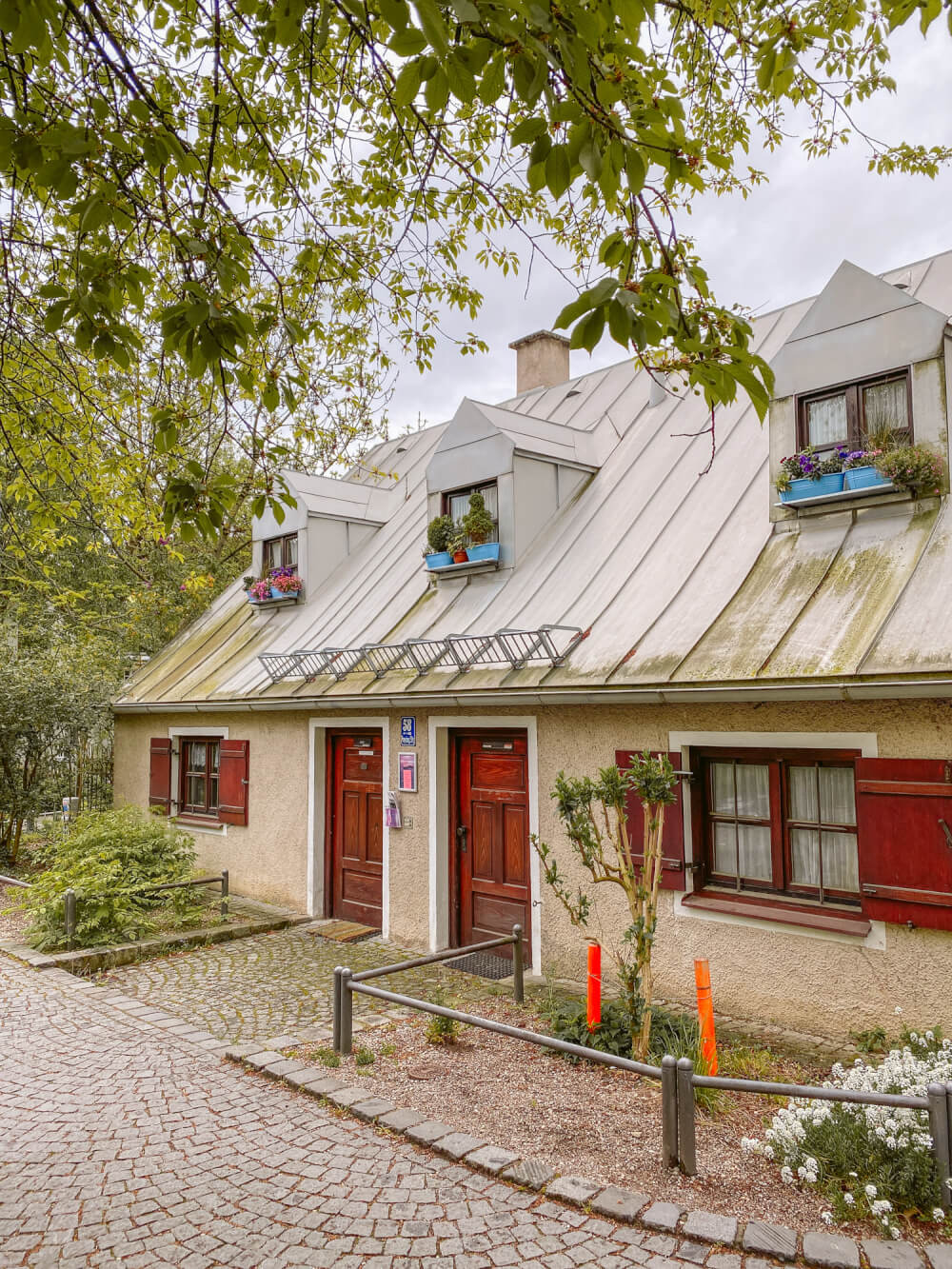 Bogenhausen: An elegant part of town with chic Art Nouveau villas & plenty of celebrity addresses. There's not a ton here by way of attractions but it's a beautiful neighborhood to wander through, with a lovely art museum (Museum Villa Stuck) and a unique relic of history – Hitler's former Munich apartment, if that interests you (Prinzregentenplatz 16).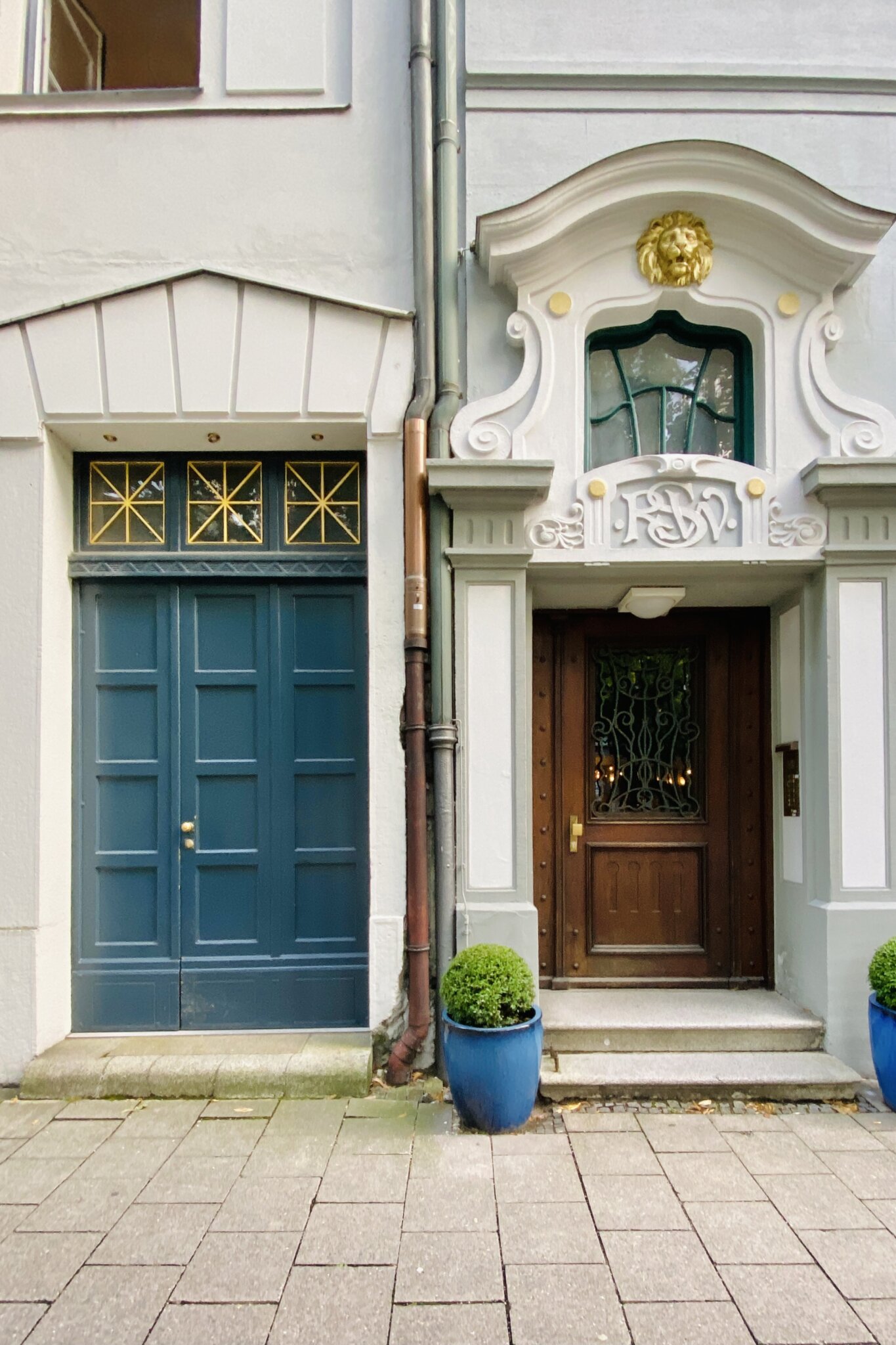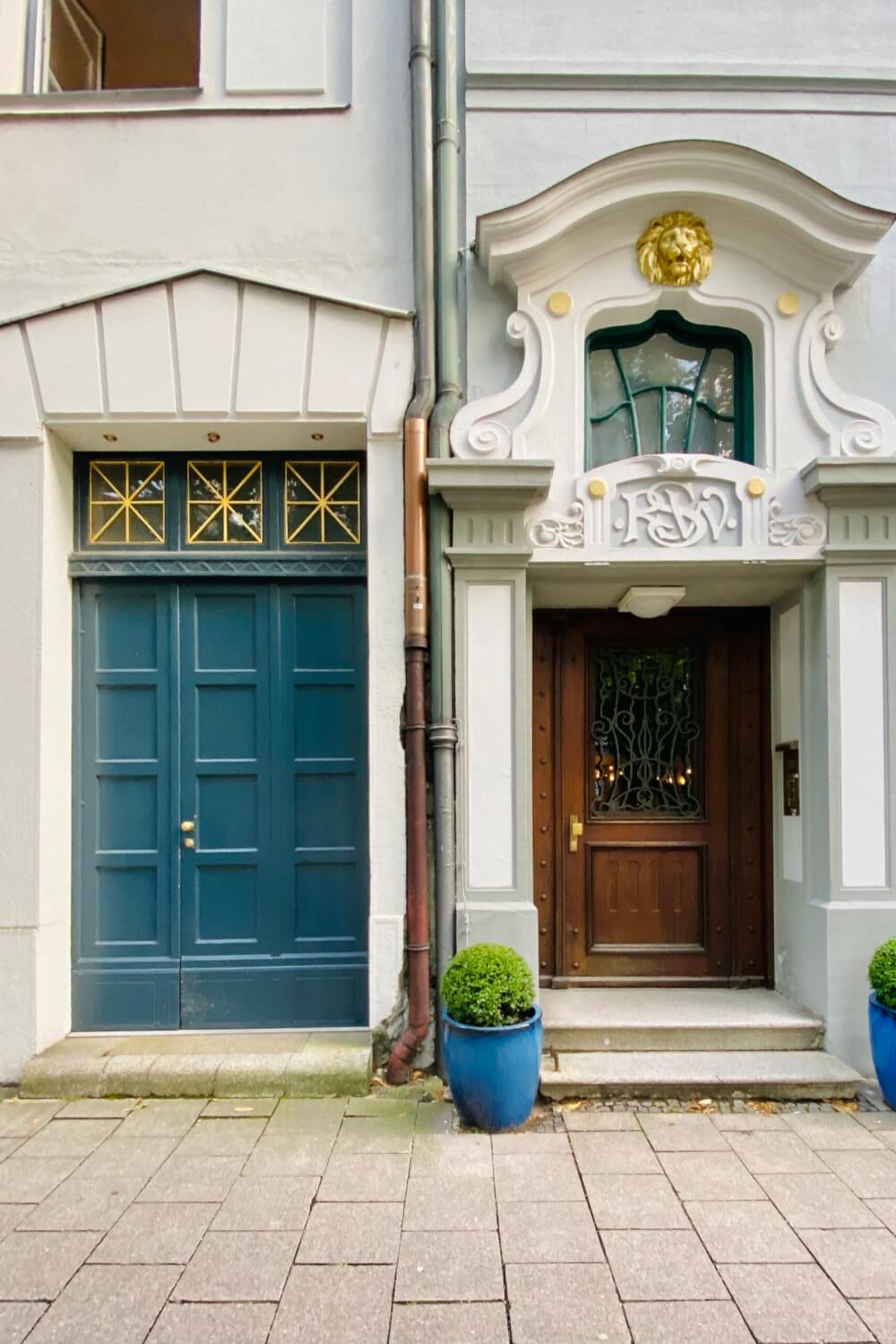 Giesing: Long known as a working class neighbourhood, Giesing is one of my favourite neighbourhoods to explore in Munich. Highlights include unique pieces of street art, a lovely rose garden, the idyllic neighbourhood of Klein Venedig (Little Venice), the quirky fairytale hangout space known as Gans Woanders, and the locals' cult favourite brewery Giesinger Bräu. Oh! And the 1860 Munich football team is based here too.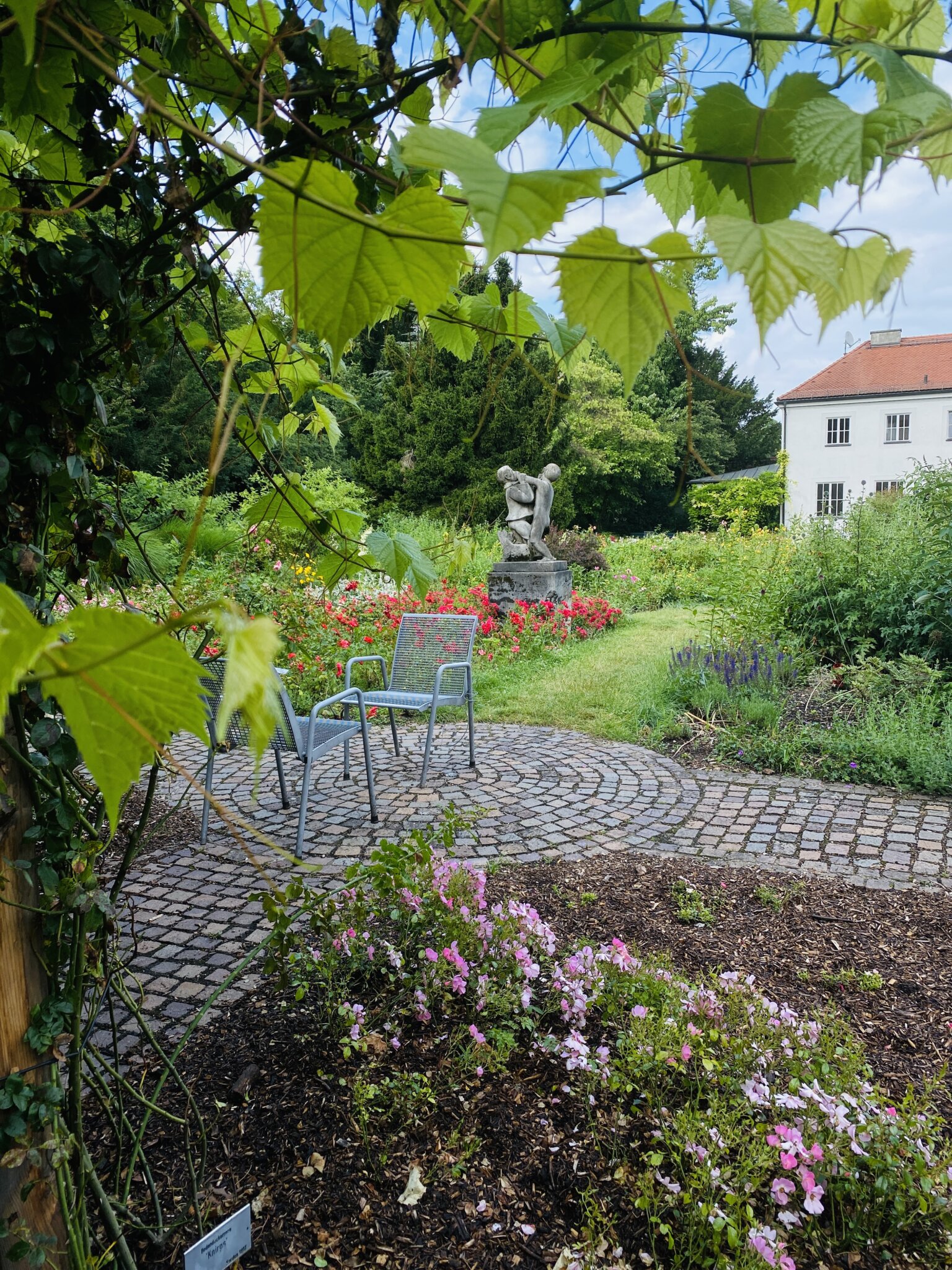 Westpark: If you want a calm, nature-oriented escape, then Westpark is a beautiful part of Munich to explore. Year-round, there's plenty to enjoy here, from outdoor movies and a beautiful rose garden in the summer to quirky Cafe Gans am Wasser, which is especially festive in the winter.
During Fall and Spring, beautiful blooms and foliage make the park and its hidden gardens a true delight. Make sure you don't miss the Thai temple, Japanese garden and Chinese garden – they're truly some of the prettiest spots in the city!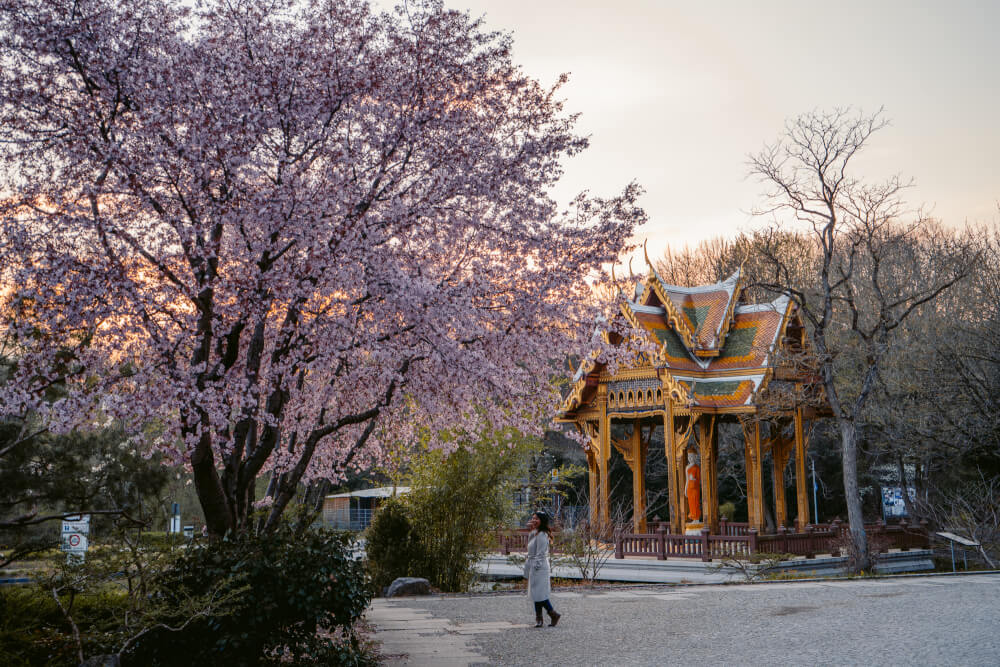 Evening: Special Munich Experience
Alright, to cap off these beautiful three days in Munich, I'd suggest ending on a high note and partaking in a unique and memorable experience for your final evening.
Some options (if money is no object) include…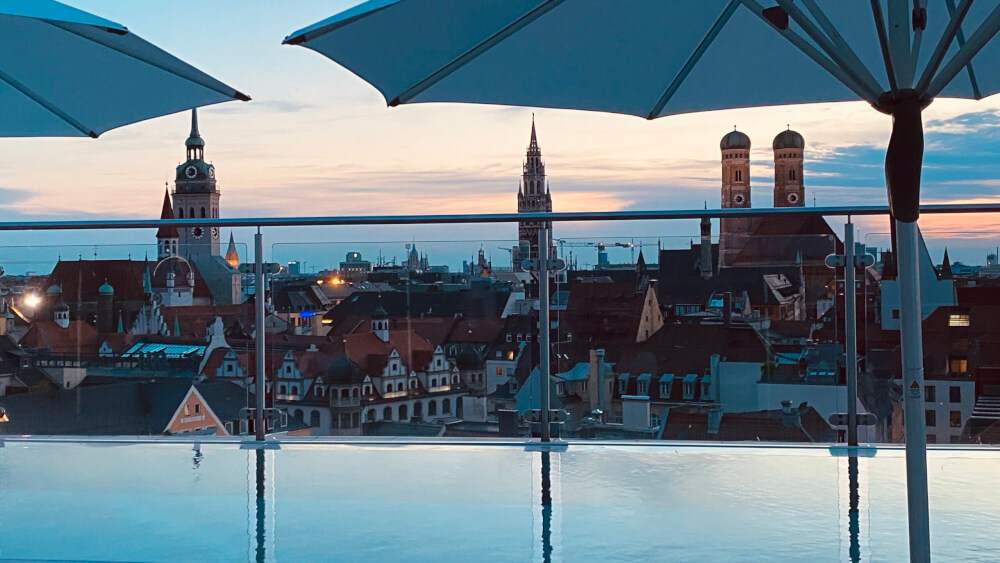 Some more cost-effective but still memorable options include…
Asunset picnic somewhere along the Isar
A quirky movie experience (Gloria Palast is gorgeous and special, whereas Museum Lichtspiele is a small unusual cinema known for showing the Rocky Horror Picture Show at least weekly for the past FOURTY YEARS. There's also outdoor cinemas in the summer in Westpark and Olympiapark)
A spin on the Umadum, a large ferris wheel (like the London Eye) behind Munich Ostbahnhof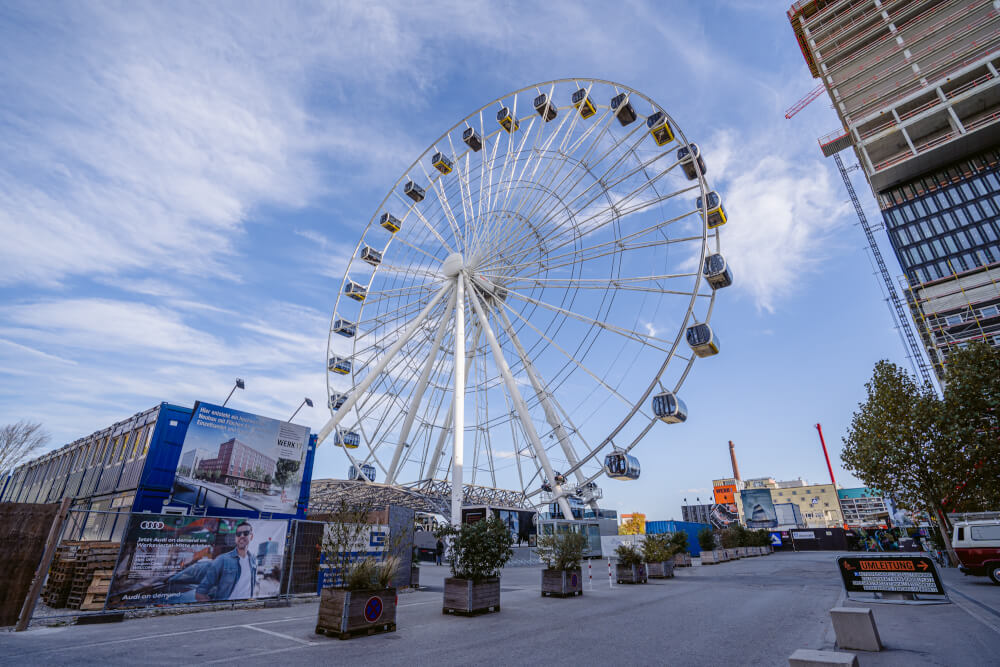 Adding More Days Into This 3 Days in Munich Itinerary
If you're lucky enough to be spending more than three days in Munich, then fret not, you can still use this itinerary for your first three days, then add on a day trip or further neighbourhood explorations to round out your trip.
There are tons of day trips that are easily doable with public transportation (Neuschwanstein or Salzburg would be my go-to picks) but if you want convenience and efficiency, there are many private tours departing from Munich that help you see more in a short amount of time, like…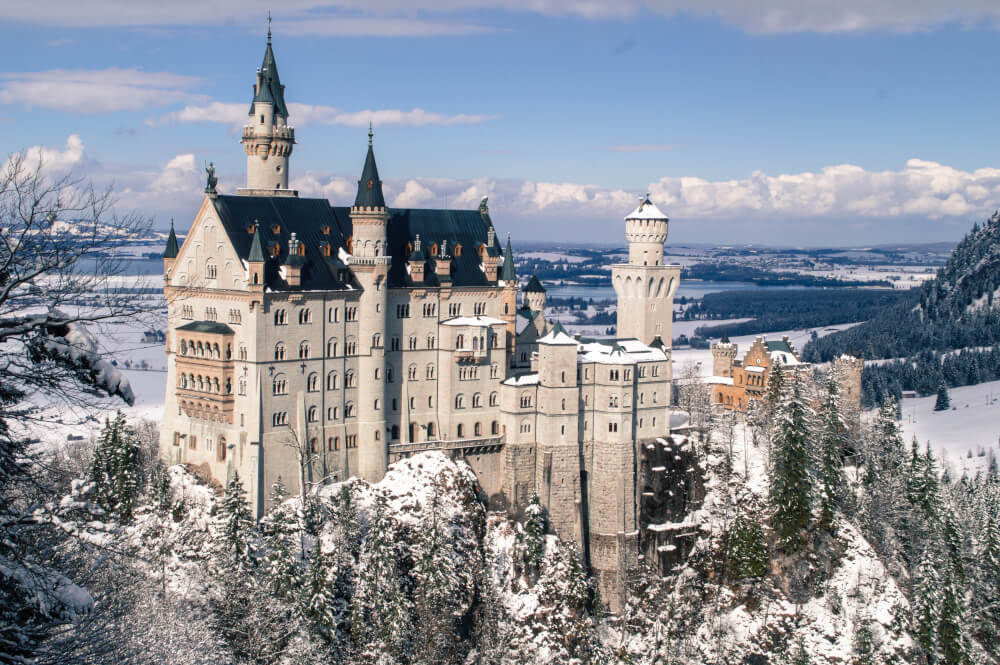 I Hope You Enjoyed This Guide on How to Spend Three Days in Munich!
If you've made it this far, thanks for bearing with my fanatical Munich rambles. Armed with this 3 Day Munich itinerary, I hope you'll be able to make the most of every second you have in this epic gem of a city. Safe travels, and happy Prosting!
---
Watch my most popular YouTube video this week:
---