*FYI - this post may contain affiliate links, which means we earn a commission at no extra cost to you if you purchase from them. Also, as an Amazon Associate I earn from qualifying purchases. Check out our Privacy Policy and Disclosure. for more info.
Ever since I was a tiny potato of a human, my mind would always find itself drifting to the most important questions in life…
Questions like what tea to serve my teddy bears and, once I'd learned how to read, "where is Hogwarts located/ when can I enrol?"
Growing up with Swiffers instead of broomsticks, and sippy cups instead of goblets, I guess you can say the wizarding life has always eluded my sad little soul.
But hey, just because my owl never arrived doesn't mean I can't devote a terrifying amount of time to seeking out Hogwarts in real life (or perhaps by shifting there?)! I mean, maybe they do bribes now?
ANYWAY, I figured, if sad little me was so fascinated with finding Hogwarts in real life, there were probably countless others interested in the same. So, hello fellow sad nerd, you've found the right place. *hands you cookie*
This guide will walk you through a comprehensive list of all the fantastic Hogwarts locations in Harry Potter, and how to find them! Many places in England and Scotland have subbed in fo Hogwarts over the years, and today we'e discussing them all!
PS: If you want to see a more comprehensive list of ALL the Harry Potter filming locations you can visit in real life, you can read that here.
But anyways, let's get to it…
First: Is Hogwarts Castle Real?
Honestly, it's taking me all the willpower in the world to not just screech "YES OF COURSE IT'S REAL" while hurling myself at a brick wall between train platforms…
But instead, I must tell you the truth: Hogwarts Castle is not, in its entirety, a real place.
(Accio therapy, amirite?)
But while Hogwarts Castle isn't real, the Hogwarts that we have grown to love through inhaling the films IS a place that we desperate fan-people can visit… in one way or another.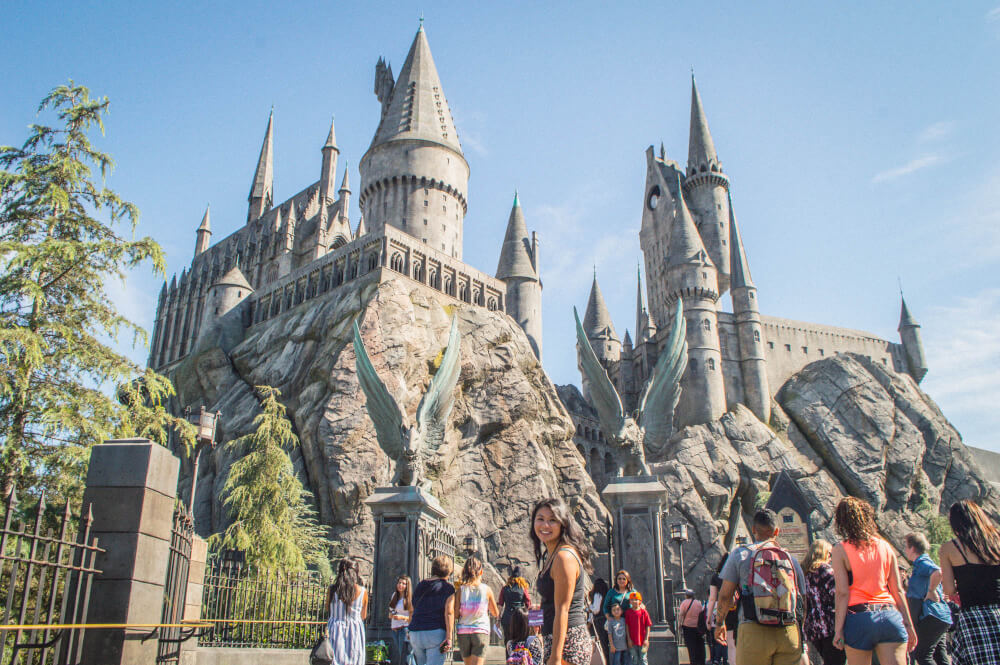 So… Where is Hogwarts Located?
In the magical world of Harry Potter, Hogwarts is located in the highlands of Scotland.
In real life however, as I mentioned, the Hogwarts Castle that we have come to know through the many films is in fact a mish mash of CGI, models and real life locations all around the UK, including different castles, cathedrals, and schools.
SO, where is Hogwarts in real life?
Taking on my duty as head dork, I decided to conduct comprehensive research on all the places that stood in as Hogwarts over the years, from studios and sets to real life locations that you can actually see for yourself.
Here they are…!
PS: If you're as interested in this topic as I am, I highly recommend the gorgeous book Harry Potter: Magical Places from the Films. It's filled with awesome fun facts, production photos, sketches and more… and it's also where I gleamed a lot of the research for this post!
🎟️ Book Activities & Tours:
1. How to Admire the Outside of Hogwarts Castle in Real Life
Let's be real: the outside, the grand facade of Hogwarts, is one of the defining features of this incredible castle. So, how do you find Hogwarts Castle in real life? Here are a few places to go.
OPTION A: The Warner Bros Studios in Leavesden
The #1 Hogwarts location you must visit is the Warner Bros Studios in Leavesden.
This is where they filmed over 10 years worth of Harry Potter films, and of course where you'll be able to discover many of the sets and props that they used for production.
Near the end of the exhibition/tour is where you'll see this stunning model of Hogwarts, which was brought to life throughout the decade with the help of CGI. It's magical and incredible and I maybe cried.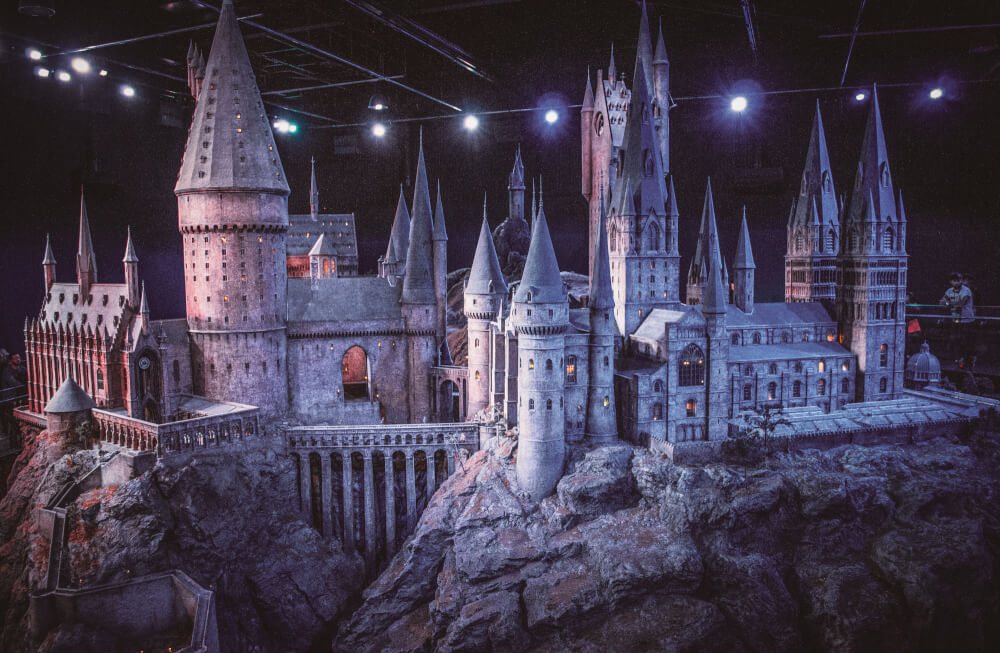 OPTION B: Alnwick Castle
Of course, those seeking the real Harry Potter castle in England have more options than just the Studio Tour! Why not visit Alnwick Castle, a filming spot used heavily in Harry Potter and the Philosopher's Stone and Chamber of Secrets?
Most notably, you see this castle during Madam Hooch's first flying lesson, Harry's Quidditch lesson with Oliver Wood, Harry and Ron's Ford Anglia crash into the Whomping Willow, and also during miscellaneous snippets when the exterior of Hogwarts is shown (e.g. Hagrid bringing in the Christmas tree).
Real talk: this castle is SO into the Harry Potter theme that they conduct actual broomstick training and magical "on location" tours. It's a bit tucked away on the Northeastern tip of England in Northumberland, but don't worry – it's a doable and affordable day trip from Edinburgh.
NOTE: This is pretty much the only actual castle where Harry Potter was filmed – other on-location shoots made use of mostly churches. university buildings, and natural landscapes around the UK, not actual castles!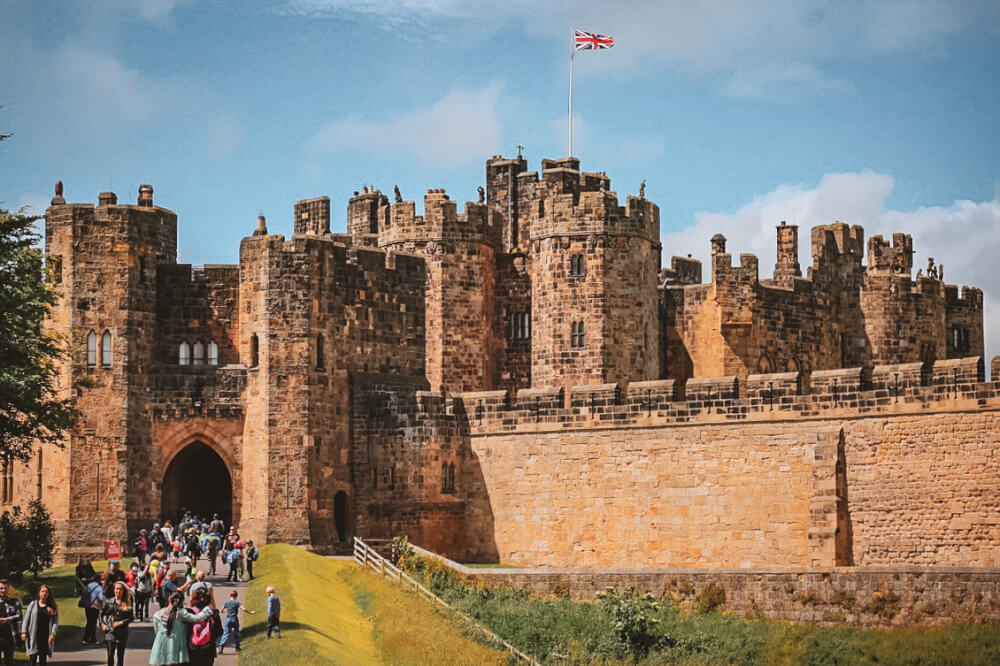 OPTION C: The Wizarding World of Harry Potter at Universal Studios
This one is kind of cheating, but still, if you want a chance to see Hogwarts' glorious facade in real life, a final option for you is the Wizarding World of Harry Potter at either the Universal Studios in Florida or the Universal Studios in Hollywood.
Sure they're theme parks, but (having pretty much sobbed my way through the entire thing in Hollywood), I can confirm there's nothing tacky or disappointing about these parks at all, apart maybe the price 😉
I'd say it's all still worth it though!
Not only do the Hogwarts Castles at these parks house an awesome ride within (truly, one of the best I've ever experienced!), the waiting area is built to look like the interior of iconic Hogwarts sets.
Plus, the parks are also packed with other wonderful Harry Potter bucket list items like trying butterbeer, having lunch at the Three Broomsticks, emptying your savings at Honeyduke's and more.
This is one nerdtastic adventure you need to check out if you're keen on seeing Hogwarts in real life…. trust me!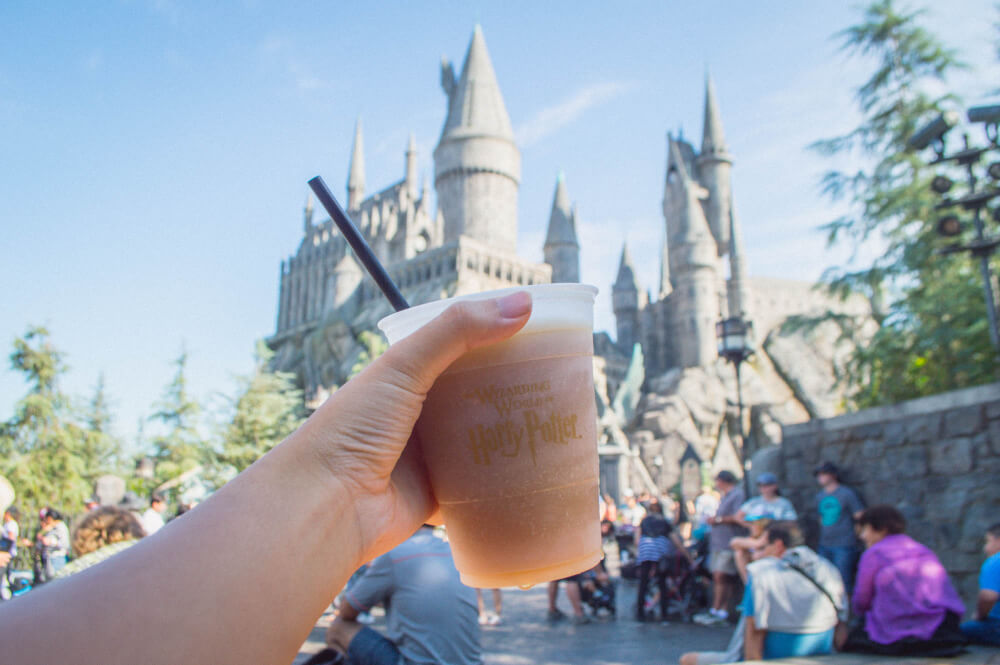 2. Visiting the Harry Potter Great Hall
One of the most enchanting creations in the Harry Potter universe for me was simply the Great Hall: long wooden tables dressed to the nines with glittering goblets and and tableware, thousands of floating candles hovering in the air…. and of course, decadent feasts filled with scrumptious English treats I never understood, like treacle tart and… spotted dick pudding. Heh.
It was a childhood dream of mine to one day see the Great Hall for myself and if you shared that dream too, I'm happy to report that you can! Here is how you can see the Great Hall (or elements of it) in real life.
🎟️ Book Activities & Tours:
OPTION A: Christchurch College, Oxford
In the first two Harry Potter films, Christchurch College in Oxford was used as the Hogwarts set for a few scenes.
Specifically, the stairs leading to the Christchurch Great Hall is recognizable as the area students pass in Philosopher's Stone when they enter the Hogwarts Great Hall for the first time.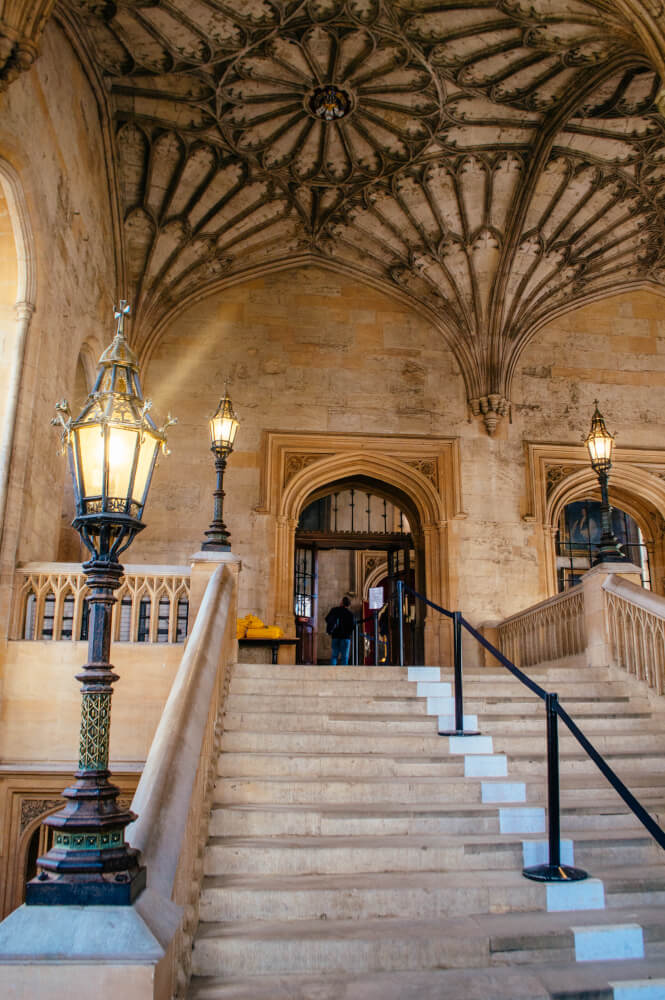 It's also spotted a few times in Chamber of Secrets when Ron and Harry run into Filch after crashing the Ford Anglia and in the flashback scene with Tom Riddle.
And while no filming was done in the actual Great Hall of Christchurch itself, it's still achingly apparent that the Great Hall set in Leavesden took great inspiration from it, keeping even the dimensions of the halls the same.
You can learn more about the connection (and of course, skip the lengthy line) by booking an insider's Christchurch Harry Potter tour.
I visited the Christchurch Great Hall on my Oxford trip a few years back and my jaw just about hit the floor.
Sure, it's not exactly the same as the Great Hall, but it's pretty close, and it's incredible to think that this is a real hall used by actual muggle students. No fluorescent cafeteria lighting in here, that's for sure.
Lesson learned: study hard, and perhaps you too can stuff your gall in this pseudo-Hogwarts dining hall someday. Or just book a Harry Potter themed Oxford tour, because yes, of course that exists!
PS: The cloisters of Christchurch College also make a brief appearance in Philosopher's Stone when Hermione is showing Harry his dad's Quidditch trophy.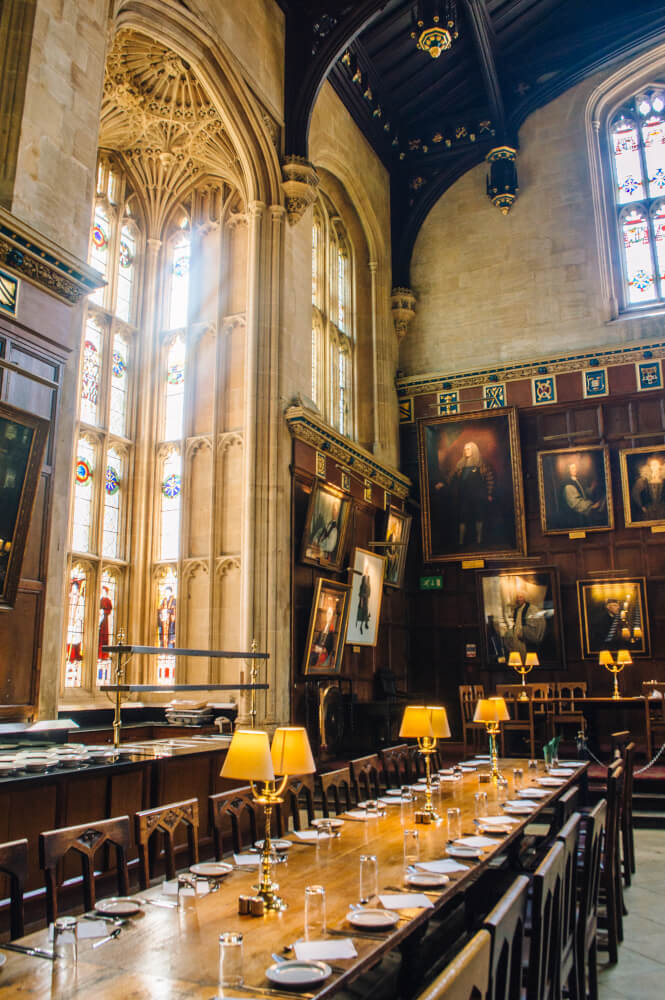 OPTION B: Hogwarts Great Hall at The Warner Bros Studios in Leavesden
If you want to see the real Great Hall, as in, where they did all the filming, you need to once again hop on the Warner Bros Studio Tour in Leavesden.
As I mentioned, this set was modelled heavily after the Great Hall in Christchurch, however the design is a composite of various inspirations from iconic UK buildings like the Houses of Parliaments' Westminster Hall, which supposedly inspired the unique Great Hall ceiling.
NOTE: Keep your eyes peeled on the official Warner Bros Studio Tour website. Sometimes they have special events they host in the Great Hall like special breakfasts, etc. so you can spend more time on the set rather than just walking by for photos!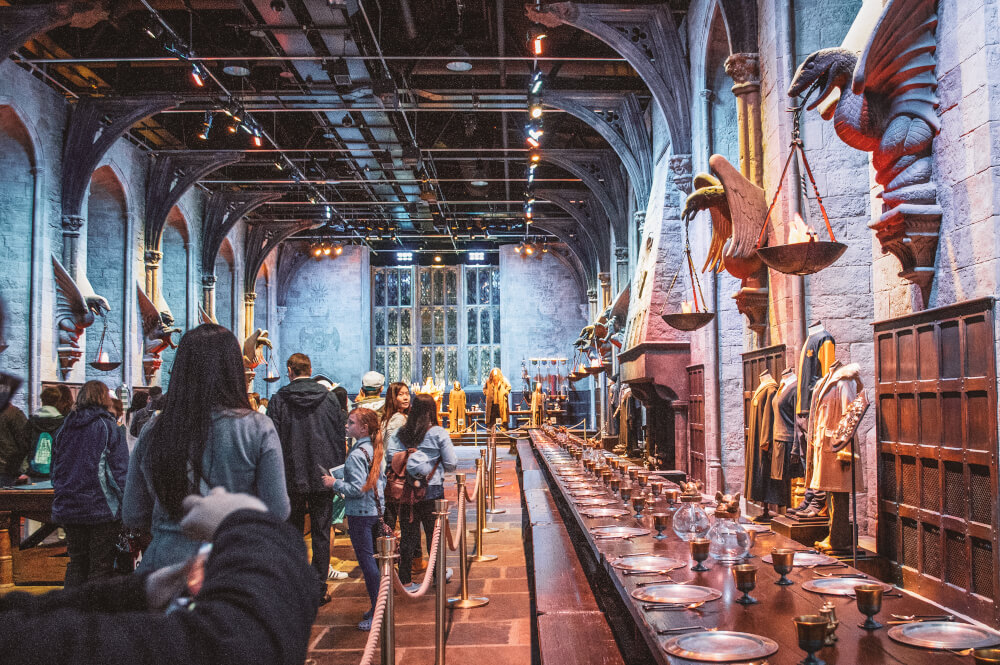 3. Finding the Harry Potter Train Station by Hogwarts
Ah, who didn't dream of pulling into the Hogwarts train station as a kid?
The beautiful Hogwarts Express steam train, Hagrid joyfully waving you off at the end of the school year… Like, how am I drowning in nostalgia over events that didn't even happen?
… Anyyyyyway…
The real Hogwarts Express is a train that operates in Scotland called the Jacobite Express (you can easily book it here!), BUT the station that they filmed at is actually Goathland Train Station, which you can visit for yourself fairly easily!
There's not much here besides the opportunity to fangirl over the station, which looks very similar to what it looks like in the films (except minus the CGI Hogwarts in the background), but hey, it's a must for die-hard fans.
If your goal is to see the real Hogwarts station for yourself, then head over to Goathland Train Station, which also served as the stop for Hogsmeade.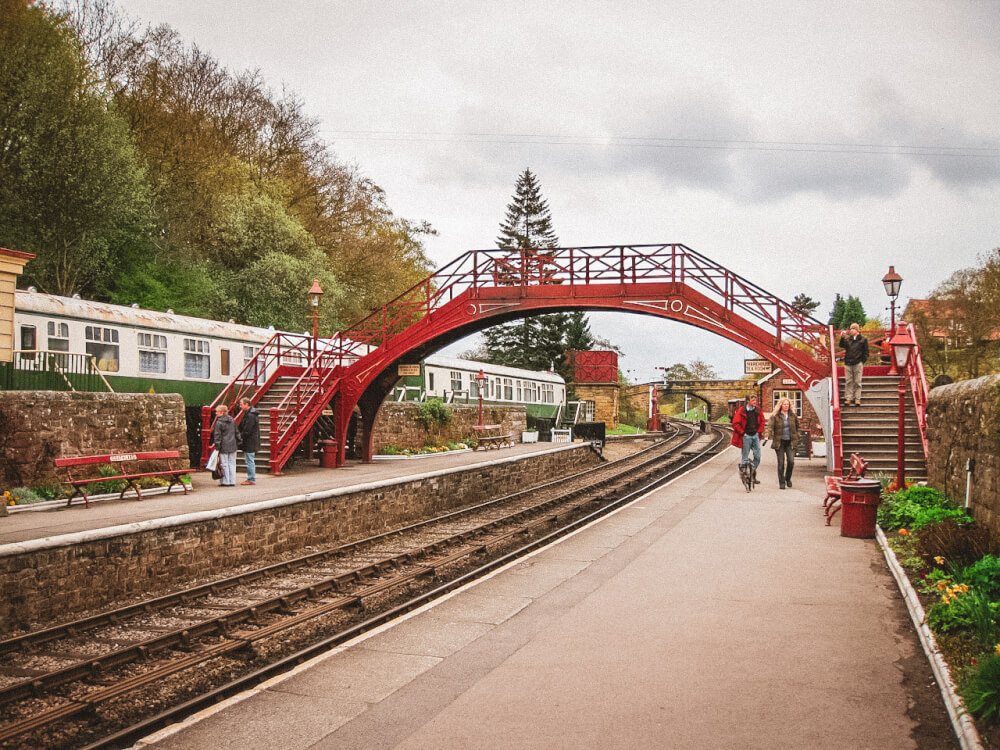 4. Visiting the Hogwarts Dorms
If it's the Hogwarts dorms you're interested in visiting, then you'll also find them at the Warner Bros Studio Tour in Leavesden.
Some fun facts about the dorms: The Gryffindor Common Room used scarlet tapestries that were reproduced based on tapestries from the Cluny museum in Paris. The work featured is a 15th century work piece called the Lady and the Unicorn, and one of the set designers loved it so much that they asked the museum for permission to reproduce it, which they received!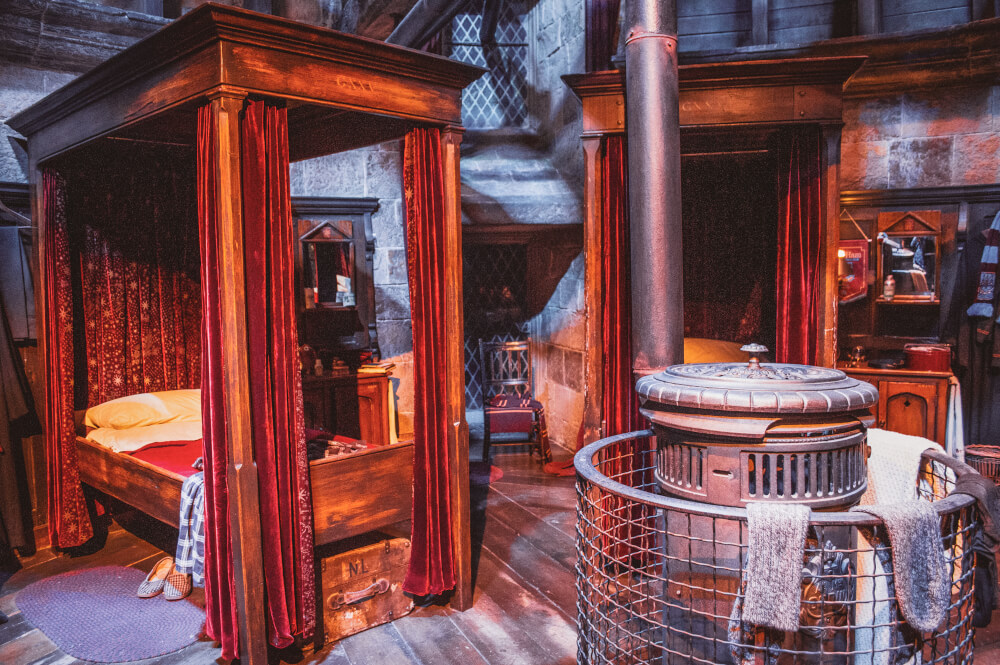 More exciting than the common room though (for me) was getting to see the the actual room that Harry and Ron shared with their friends.
It's pretty mindblowing to see how tiny everything looked. In fact, the beds never changed size throughout the ten years of filming, even after the actors hit puberty and virtually doubled in size.
Clever camera angles were instead used to disguise the size difference. Oh, the magic of cinema…
5. Visiting Hogwarts Library
If you're anything like me, any beautiful old library will make you immediately exclaim "IT'S LIKE HOGWARTS!"
But where is the actual, real life Hogwarts library?
The answer is Oxford, and the good news is you can easily visit it! For Harry Potter and the Philosopher's Stone, they shot on location in Duke Humfrey's Library in the Oxford Bodleian Libraries.
It's the oldest reading room at Oxford and dates back to the 15th century. You can easily tour it through booking here.
NOTE: The set was later created in the studios for subsequent films.
6. Visiting the Hogwarts Hospital Wing
While in Oxford, you can also pop into the Hogwarts infirmary, which filmed on location at the Oxford Divinity School with its exquisite fan vaulting.
Scenes at the Infirmary for the first two films were shot on location (like after Harry has dealt with Quirrell and wakes up to that badass treat basket, or when Harry needs to literally regrow bones because of Gilderoy Lockheart's incompetence).
It also makes a small cameo appearance in Goblet of Fire, in the scene where McGonagall has to teach the students how to dance leading up to the Yule Ball.
The infirmary was subsequently recreated at Leavesden Studios for its later appearances from the Prisoner of Azkaban onwards.
I got to sneak a peek at this while I was in Oxford and while it looks very different than in the film (much emptier of course), it was still a gorgeous stop.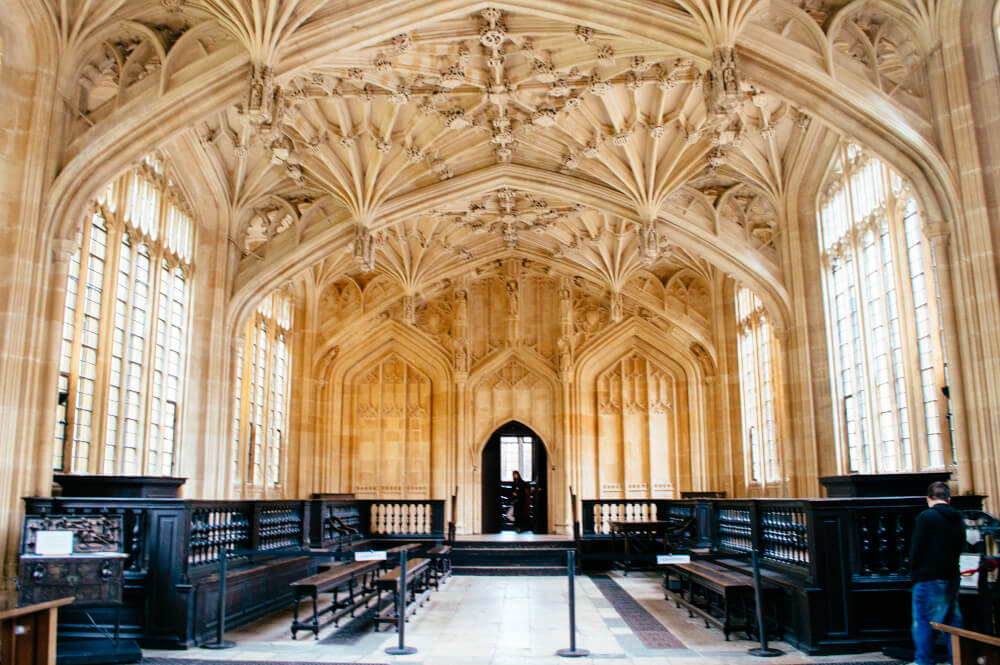 7. How to Find the Setting for Different Classes & Offices at Hogwarts
While I'm still awaiting my Hogwarts acceptance letter, I can still say that I've stopped by a few different Hogwarts classes over the past few years!
Over time, many Hogwarts offices/classes moved to film at the Warner Bros Studios in Leavesden, in the initial films many classrooms were shot on location for authenticity.
Here are some Hogwarts classroom locations you can visit in real life.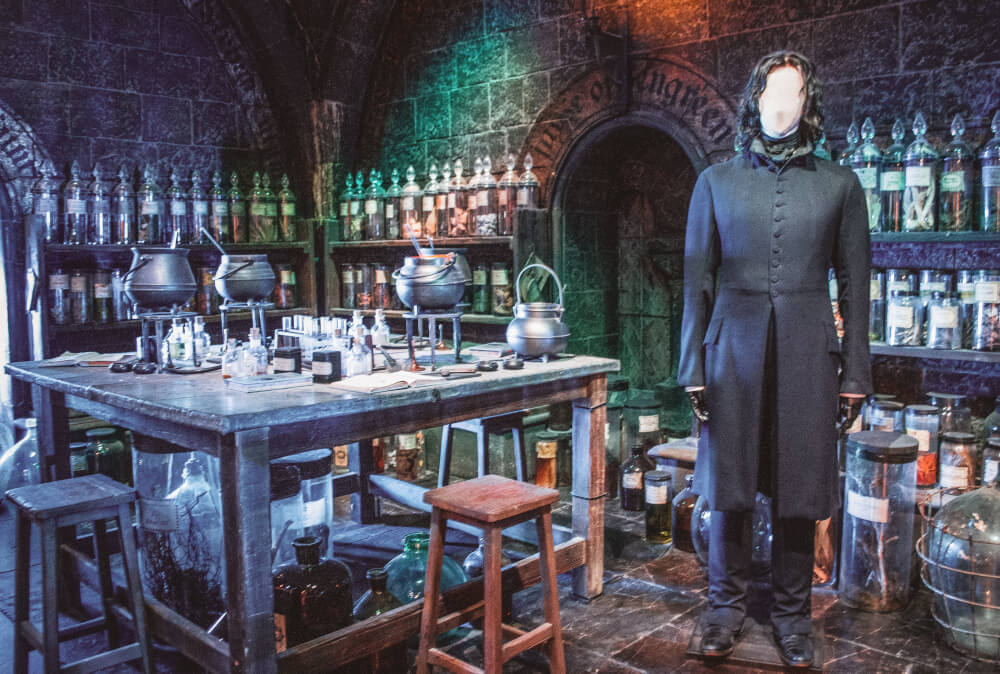 OPTION A: Professor Quirrell's Defense Against the Dark Arts Classroom
Remember Professor Quirrell's classroom in Harry Potter and the Philosopher's Stone?
Well, that's a Hogwarts set location that you can easily visit in real life! This classroom filmed in the Warming Room in Lacock Abbey, whose cloisters and other rooms also featured in the film.
NOTE: The Defense Against the Dark Arts classroom used in later films was rebuilt as a set at Leavesden Studios. Interestingly, they adapted the set dressing to the personality of each of the different professors, which is why it always looks different in each film! Quirrell's was the only one to be shot on location.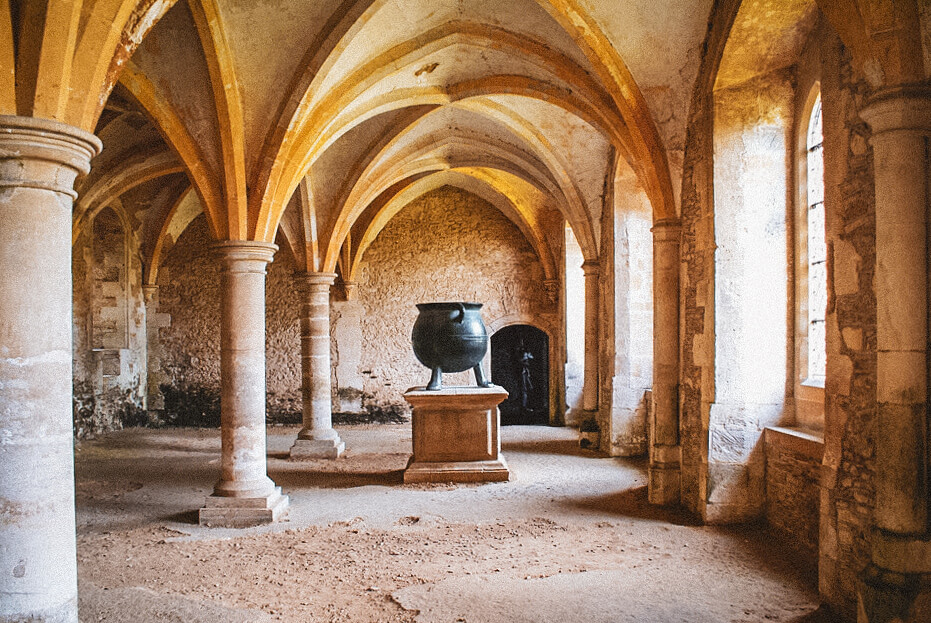 OPTION B: Snape's Potions Classroom
In Harry Potter and the Philosopher's Stone, the Sacristy at Lacock Abbey was chosen as the filming location for Snape's Potions classroom at Hogwarts.
The set was then reconstructed at the Leavesden Studios for subsequent films.
I've visited both and to be honest, the set at the studio is much more interesting because you can see the details and it actually looks like what you see in the films, whereas the Sacristy was changed and dressed up quite a bit for the film so seeing it in real life is a bit underwhelming.
Here's a photo in case you're curious: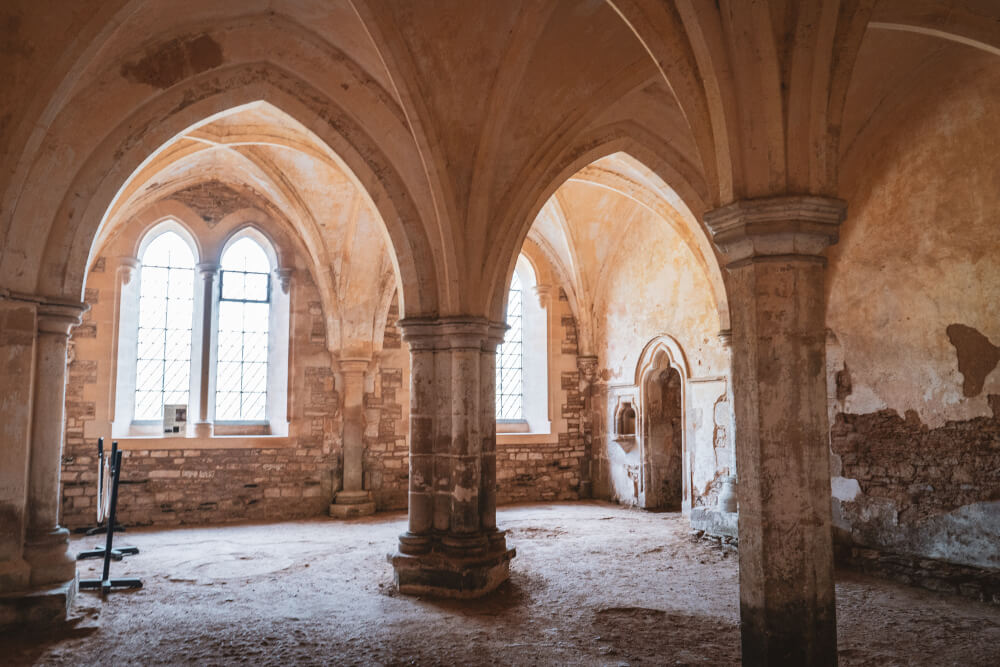 OPTION C: Professor McGonagall's Transfiguration Classroom
The filming location for Professor McGonagall's Transfiguration Classroom is, in real life, the Chapter House at Durham Cathedral.
You might remember it in Harry Potter and the Philosopher's Stone, when Ron and Harry arrive late for class and McGonagall spooks them by transforming in front of them, or in Chamber of Secrets when Hermione starts grilling McGonagall about the Chamber of Secrets in front of everyone, while they're trying to learn how to turn animals into goblets.
NOTE: The Chapter House isn't usually open to the public so visiting this gorgeous Hogwarts set location isn't as simple as just visiting the Cathedral. Visiting seems to be restricted to group tours and come at an additional cost. Click here for more information.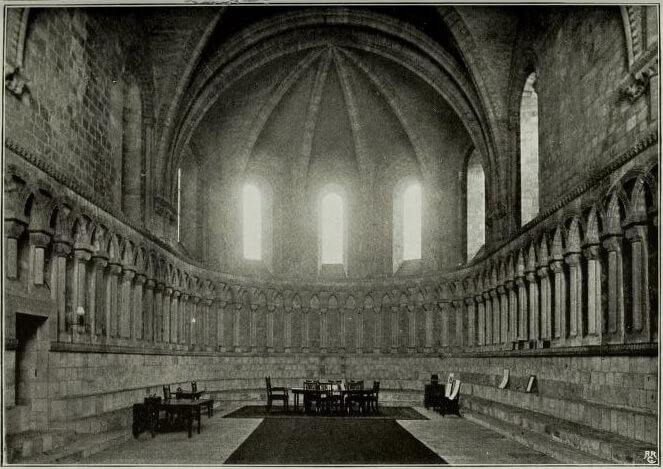 OPTION D: Professor Flitwick's Charms Classroom
Ah, the setting for Hermione's famous "it's leviOsa, not levioSAAAA" line.
Well, if you want to witness the real life location of this iconic sass, Professor Flitwicks' Charms classroom at Hogwarts is actually a real life school – the Fourth Form Room at the Harrow Old School in Middlesex! Yes, you can even tour it! Click here for details.
PS: the oak walls of this classroom have signatures lovingly carved in from former students….. including some you may know, like Winston Churchill.
OPTION E: The Stairway Leading to the Divination Tower
If you're looking for the beautiful staircase leading up to Professor Trelawney's Divination classroom at Hogwarts, guess what? It's in London!
This grand, cantilevered staircase can be found in the south-west tower of St Paul's Cathedral… yes, one of the most famous cathedrals in the city.
You might recognize it from the scenes in Prisoner of Azkaban when the students are leaving Divination Class (shortly after Trelawney sasses the heck out of Hermione) and also when Harry heads back up and Trelawney has her scary prophecy thing about Voldemort's servant breaking free.
OPTION F: Other Hogwarts Offices and Classrooms
And last but not least, pretty much all the other notable classrooms and offices not mentioned above were filmed on set at Leavesden Studios.
Luckily, they're easy to visit for yourself!
During your visit, you get to see famous sets like Dumbledore's Office, Umbridge's Office, and more, along with mannequins dressed with authentic costumes and props. It's definitely a fun experience that I highly recommend!

8. Visiting Parts of the Hogwarts Grounds in Real Life
Of course, Hogwarts isn't just about the facades or interiors. Here are some of the ways that you can explore parts of the Hogwarts grounds in real life:
OPTION A: The Landscapes Surrounding Hogwarts
Many of the dramatic backdrops in the Harry Potter films were inspired, shot and made from composites of unique landscapes in the Scottish Highlands.
According to Harry Potter: Magical Places from the Films, Production Designer Stuart Craig was greatly inspired by Glencoe, and sent the team up there many times to get photography for background shots and inspiration.
While the end of product was more of a dramatic, idealized version of reality (they supposedly forced the most stunning elements together just for funsies), they DID film on location for a few weeks in Glencoe for Prisoner of Azkaban, the most extensive on location shoot they did in Scotland for the entire franchise.
So, if you want to visit the landscapes surrounding Hogwarts in real life, Glencoe is your place!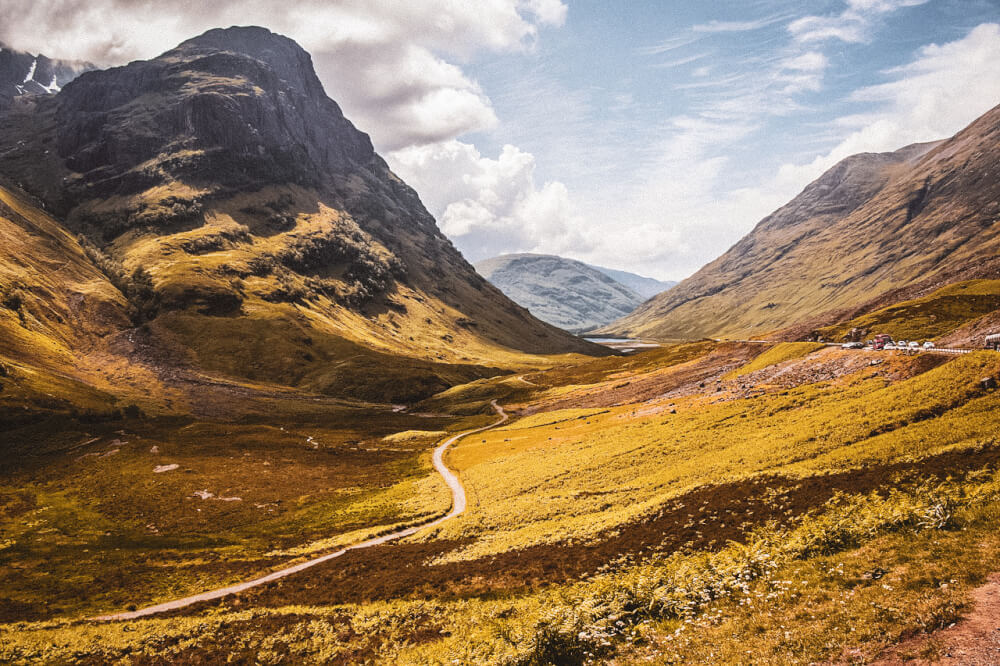 OPTION B: The Forbidden Forest
Remember: The Forbidden Forest is out of bounds for all students…
But not the real life locations! So yes, if you want to visit them, you're totally free to do so.
A variety of forests around the UK were used for filming Forbidden Forest scenes, although pretty much all the magical, otherworldly additions were either accomplished on a set or with CGI, so visiting these spots will look very different from the sets in the films.
Nonetheless, if you dig forests or are simply curious, here are some real life Forbidden Forests that you can visit.
Black Park, Buckinghamshire: Used throughout the franchise for a few small scenes, including Hagrid's Hut in the first two films, the detention scene from Philosopher's Stone where they head into the Forbidden Forest for the first time, and a few wider shots in Chamber of Secrets like when the Ford Anglia is driving away from Aragog. It was also used in Order of the Phoenix, as Hogsmeade Station, when they constructed a special track and station set for the students to step off and transfer from the train to the Thestral-pulled carriages.
Frithaden Beeches Wood in the Chiltern Hills of England: This is actually where the real life model for the Whomping Willow once stood, but sadly the famous Queen Beech as it was known split in half and collapsed back in 2014. This is also the forest they walk through on their way to the portkey to the Quidditch Cup in Harry Potter and the Goblet of Fire.
Burnham Beeches: The Burnham Beeches National Nature Reserve in Buckinghamshire is a wonderland of ancient trees, some of which are over 400 years old. This reserve features several times in the later films, notably as where Luna introduces Harry to the thestrals, and in some campsite scenes in Deadly Hallows Part 1.
Swinley Forest: Parts of Swinley Forest in Bracknell were used for miscellaneous scenes in Deathly Hallows Part 1, but most of them used green screens to add more dramatic landscapes, so I wouldn't go out of my way to see this place,. That said, I found this hilarious news article about how the crew kept denying that they were filming Harry Potter there, until a 10 year old boy literally just found a callsheet in the bushes that had ALL THE ACTORS' ON-SET TIMES, where they would be, and a map of the locations! Luckily, he only found this after the filming wrapped up, otherwise it would have made fangirl stalking a little too easy.
🎟️ Book Activities & Tours:
OPTION C: Hagrid's Hut
As I mentioned above, for the first two Harry Potter films, Hagrid's Hut was constructed and filmed on location at Black Park in Buckinghamshire.
Wanting a more dramatic landscape for Prisoner of Azkaban though, they relocated to Clachaig Gully in Glencoe, Scotland, which is why the area around Hagrid's Hut looks so dramatically different in the third film.
If you want to see the set from Hagrid's Hut though, you can easily do so in Leavesden, where it's one of the many set pieces on display in the Warner Bros Studio Tour.
FUN FACT: The interior of Hagrid's Hut was actually composed of two sets: one that was huge, where the kids' had their bits filmed, then one that was smaller where everything seemed like a normal size relative to Hagrid himself. They then composited the shots together to give the illusion that Hagrid was much larger than the kids. So genius, right?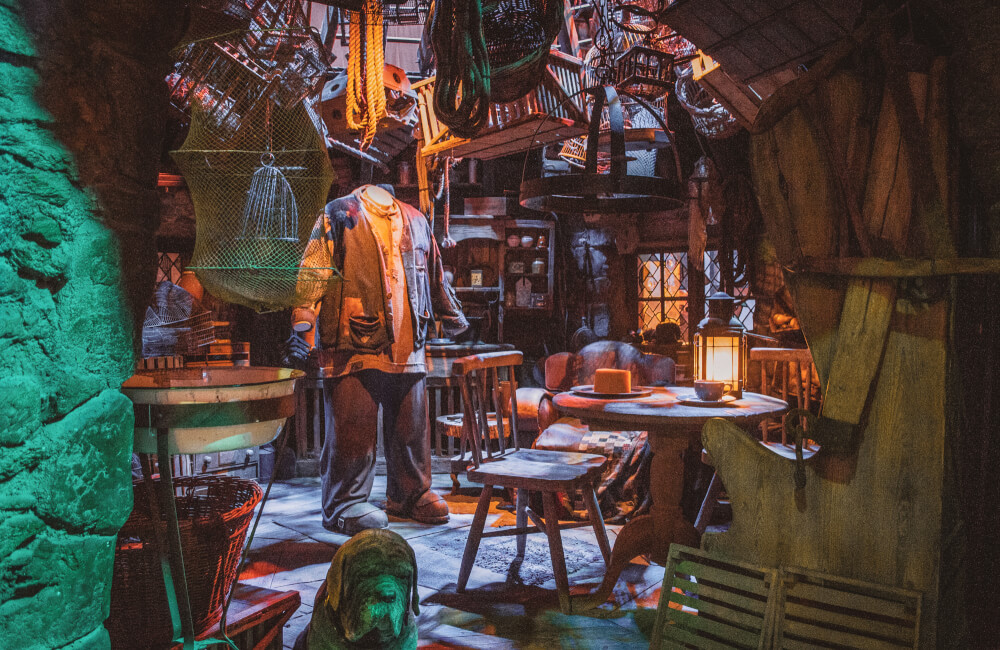 OPTION D: Hogwarts Bridge (AKA the Wooden Bridge)
Of all the awesome locations scattered around the Hogwarts grounds, this rickety wooden bridge may be my favourite. We see it for the first time in Prisoner of Azkaban, and (as the photo below will confirm), it's a set that you can still visit in real life at the Warner Bros Studio in Leavesden!
While visiting this bridge now will give you the rather unglamorous backdrop of the studio backlot, the bridge in the film was actually shot (partially) on location in Scotland.
At the insistence of the director Alfonso Cuarón, they constructed a 50ft section of the bridge in London and then took on the arduous task of transporting it to Scotland where they propped it up against the scenic backdrop of Clachaig Gully in Glencoe, Scotland. So. magical!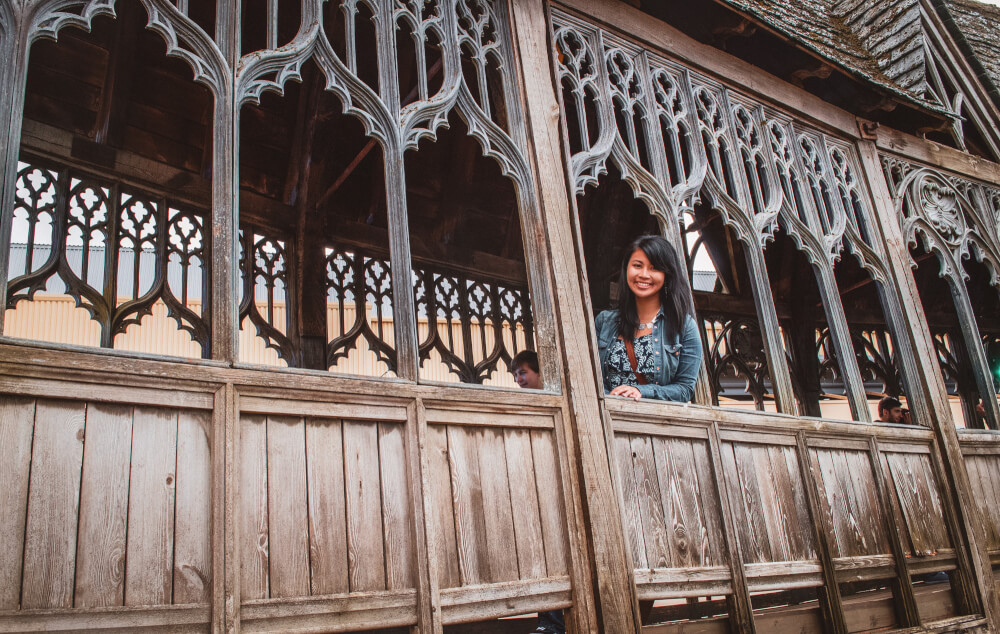 OPTION E: The Great Lake
Over the years, production managers have used a variety of locations for Hogwarts' Great Lake.
Tracking down a place that properly looks like the lake though might be a challenge, given that they'd often used a clever mix of Virginia Lake in Surrey, England (which is where they'd film the actors), mixed in with composite background shots from famous Scottish lakes.
So, really, the Great Lake is a bunch of lakes kinda mushed together.
Nonetheless, the Virginia Water Lake in Surrey, England is easily recognizable as where, in Prisoner of Azkaban, Harry flies with Buckbeak and later fights off dementors by the lake.
It's also seen prominently in some of the scenes in Goblet of Fire, like during the second Triwizard Cup challenge, and for a few other scenes like Neville fishing/Harry reading when Hermione comes and has to pass messages between Harry and Ron.
But yes, the majority of the super dramatic landscapes you see in the films, especially lake-related ones, make use of background shots from Scotland, including Loch Shiel, Loch Eilt, and Loch Arkaig… all beautiful places to visit, whether you're backpacking Scotland, enjoying a luxe getaway, or simply on a nerdy rampage to find all the real life Hogwarts locations you can.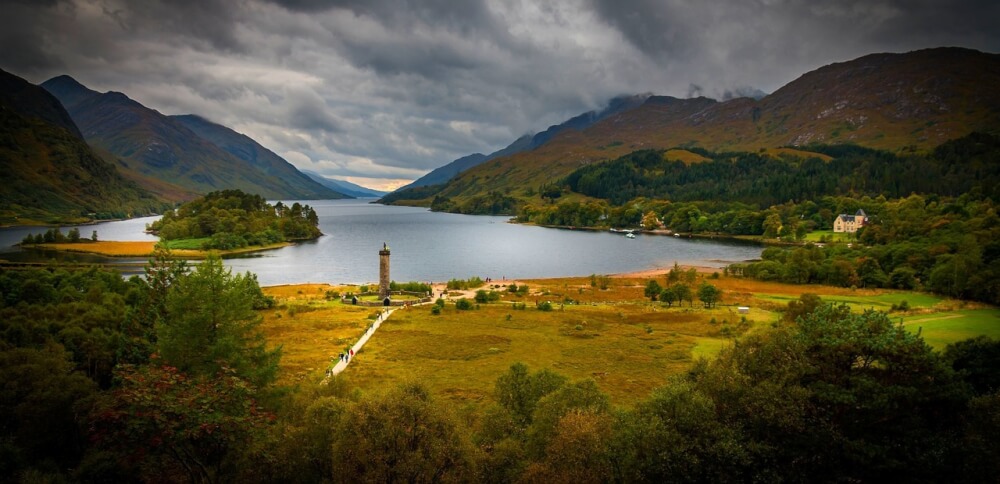 9. Hogwarts Corridors and Miscellaneous Interiors
This Hogwarts Castle location guide would definitely not be complete without mentioning the many places used to film Hogwarts' stunning interiors.
The following were all different locations used to film different interior scenes at Hogwarts, particularly for the first few films.
As the franchise picked up steam and (I assume) budgets got substantially swishier, they moved increasingly to custom-built sets at their studio in Leavesden.
Nonetheless, the first two films especially saw plenty of real life places masquerading as Hogwarts, and as you can see, they are SUPER similar-looking. Here are a few places where the Harry Potter crew filmed on location:
OPTION A: Gloucester Cathedral
This is one Hogwarts filming location you'll recognize right away because many interior shots for Hogwarts were filmed at Gloucester Cathedral for the first two Harry Potter films.
You can read my full guide to the Gloucester Cathedral/Harry Potter connection here, but most notably, you see this gorgeous cathedral in Philosopher's Stone during the troll scenes when Percy's freaking out and leading the mini-Gryffindors back to their common room, when Harry and Ron break off to look for Hermione, and in Chamber of Secrets when the bloody words first appear and they find Filch's petrified cat.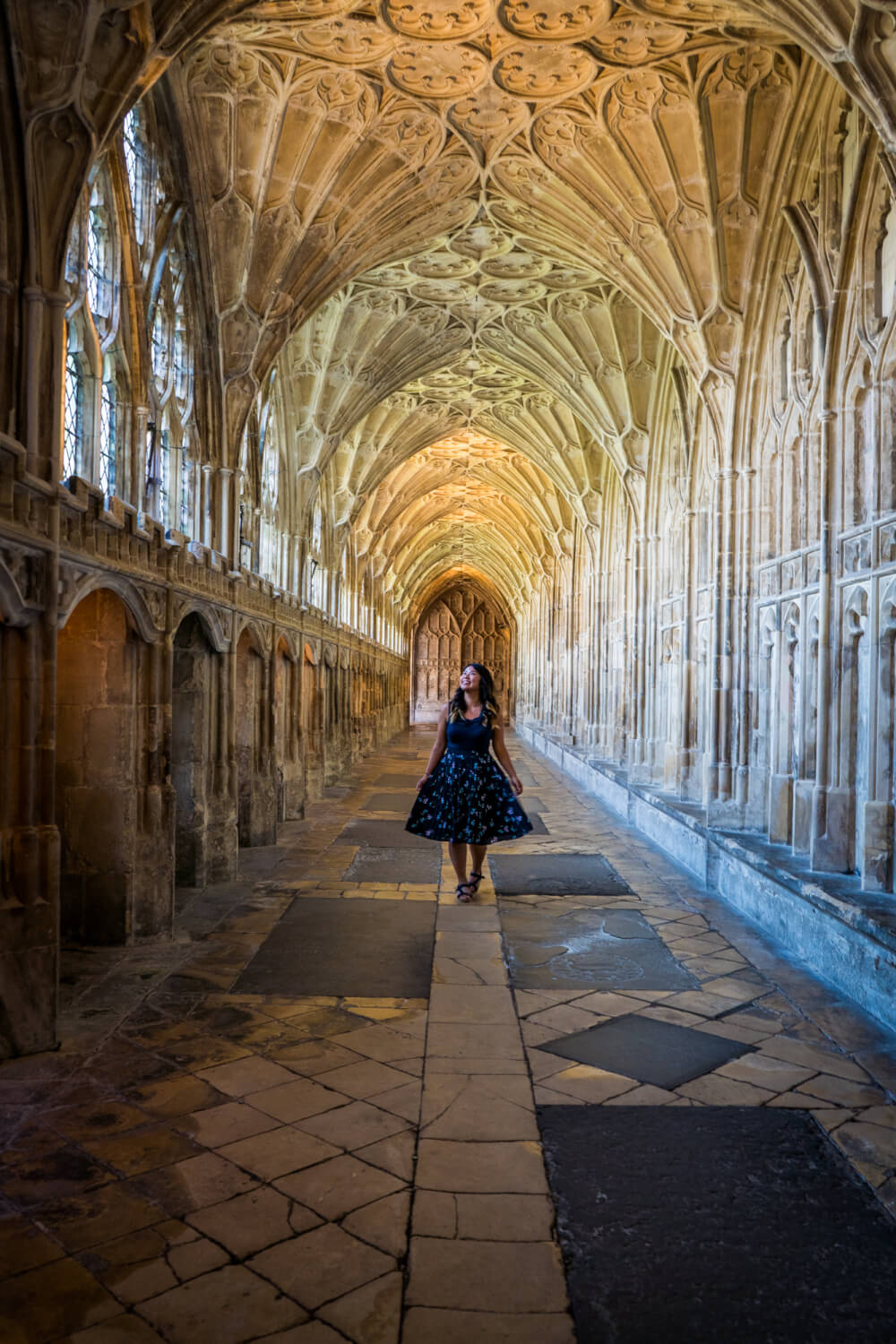 You also get a very clear view of it when Moaning Myrtle has flooded the bathroom and they pan to all the water on the ground (nerdy sidenote: the architecture looks especially gorgeous in this shot!)
The Cathedral makes an additional appearance in Half-Blood Prince, during the scene where Harry overhears Malfoy and Snape bickering about how Snape had sworn to protect Malfoy, but Malfoy he didn't need protection, unbreakable vow, yada yada yada…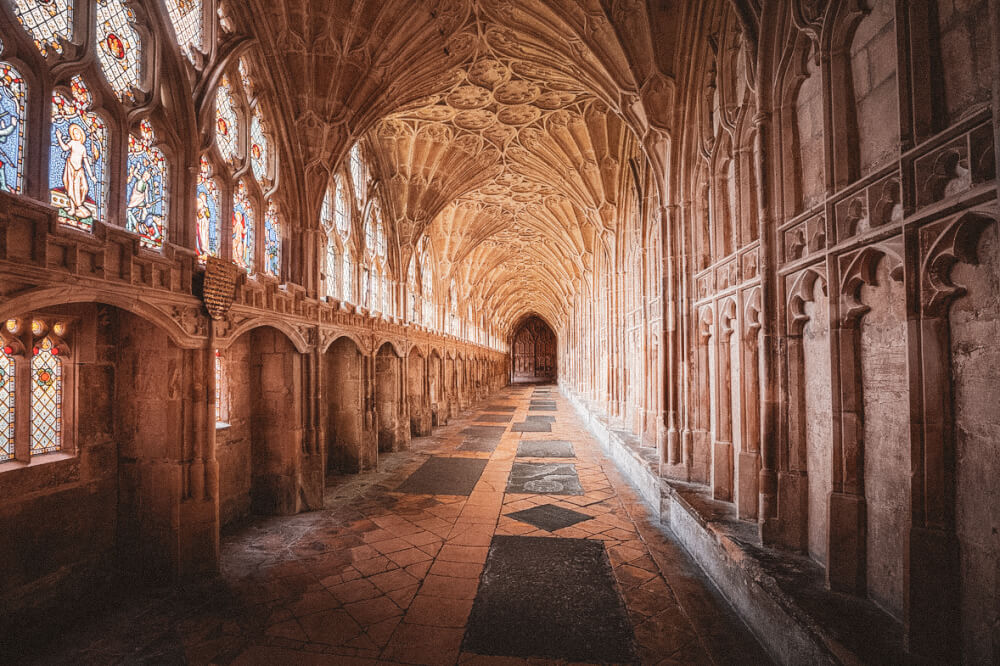 OPTION B: Lacock Abbey
Siutated in the scenic Cotswolds, one of the most well-known Harry Potter filming locations is the quaint Wiltshire village of Lacock, which featured in a few films as Harry's parents house, Slughorn's house, and of course, Hogwarts! So, where was Hogwarts filmed in Lacock?
Well, Lacock Abbey is where you'll find a bunch of classrooms (as mentioned above, Snape's Potions classroom, Professor Quirrell's classroom), some notable corridors (like when McGonagall drags Harry over to meet Oliver Wood cuz she's so impressed with his broom skillz), the room housing the Mirror of Erised, and even the Hogwarts Study Hall, which was the Chapter House in Lacock Abbey.
I had the pleasure of visiting Lacock Abbey last Fall, when the peak season crowds had dwindled and all that remained was undisturbed magic 😉 Truly, strolling through this cloister felt a bit like my own personal visit to Hogwart's Castle, and I would recommend visiting just before closing time to see it this empty.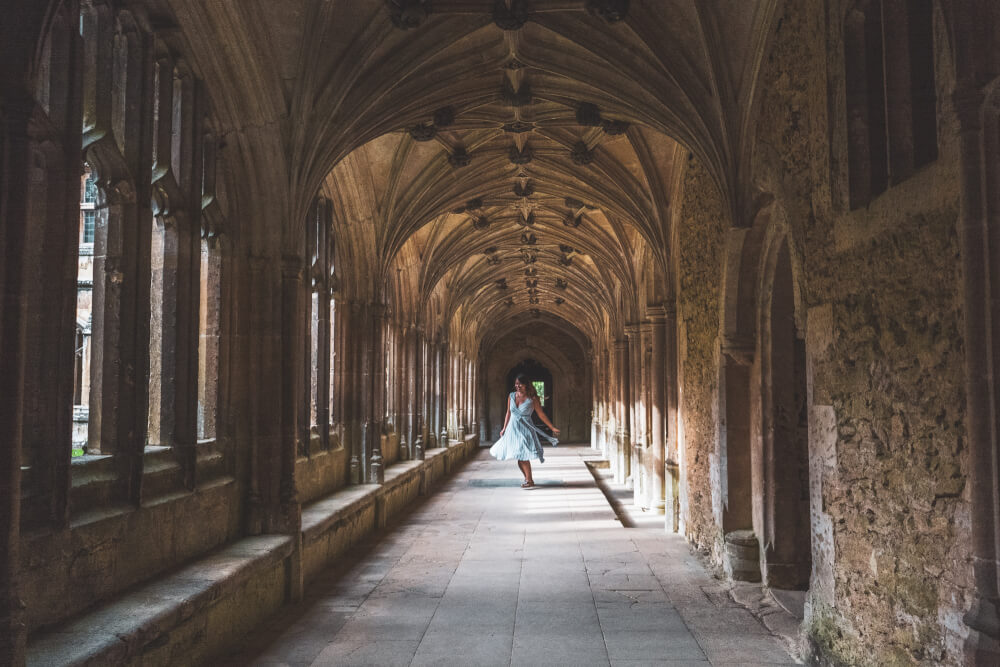 OPTION C: Durham Cathedral
Another prominent Hogwarts filming location is Durham Cathedral in North East England.
Specifically, this is where you'll find Professor McGonagall's Transfiguration classroom (as mentioned above) and also the Hogwarts "quad", the outdoor hallways that students are often seen walking through.
You might recognize it from that snowy little scene in Harry Potter and the Philosopher's Stone when Harry lets Hedwig fly out for a pretty transition scene, and also multiple scenes in Chamber of Secrets, like the awkward Quidditch team showdown where we find out Malfoy is seeker now, and where Ron's slug spell goes hysterically wrong.
You can read my full guide to Harry Potter and Durham Cathedral in this post.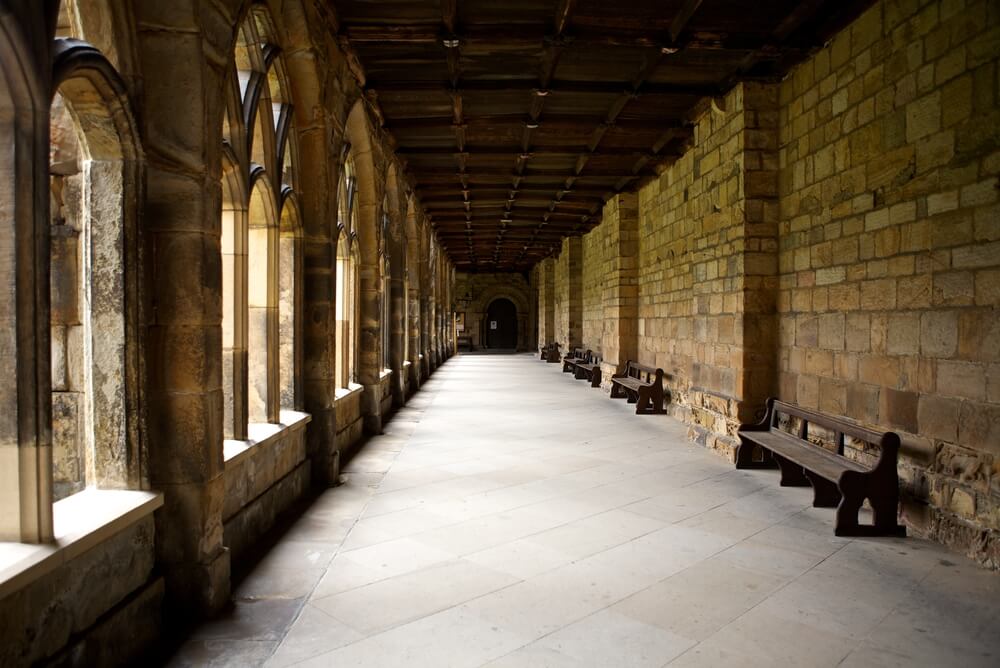 OPTION D: New College, Oxford
Last but not least, we have The New College in Oxford, which makes a special appearance in Goblet of Fire, most notably when everyone is taunting Harry with their Potter Stinks badges (even the Hufflepuffs! Which, like, come on, is so out of character).
We then see the courtyard especially well when Malfoy is being a jerk to Harry while straddling a giant oak tree for some reason, and Mad Eye Moody comes out and turns him into a ferret. Good stuff.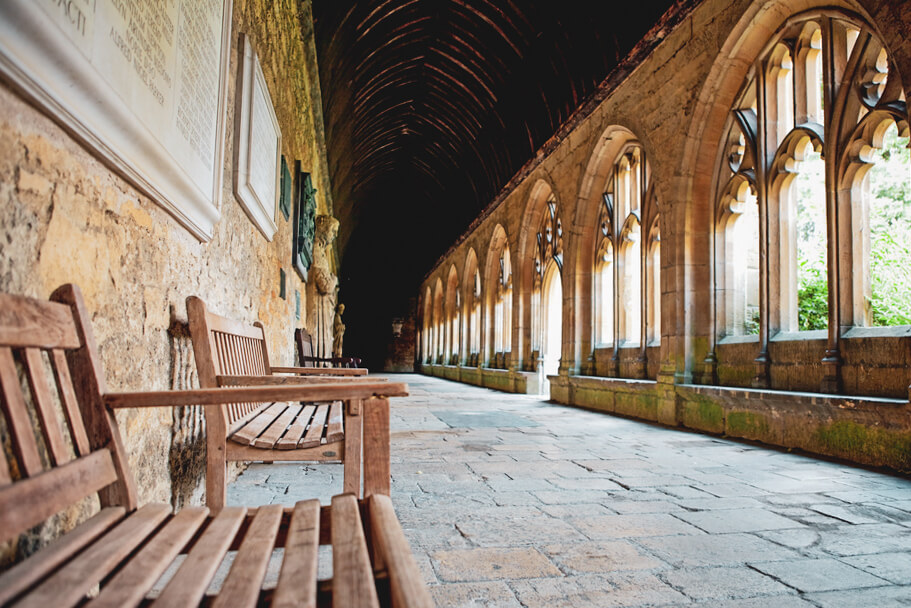 Other Prominent Hogwarts Locations that Were Shot at the Warner Bros Studio in Leavesden
If you've reached the end of this list and are wondering where some of your other favourite Hogwarts spaces are, odds are they were not shot on location, but instead on specially built sets in Leavesden. Nonetheless, I have some fun facts about a few of my favourite spots, so I'll outline them below:
The Clock Tower Courtyard
This set really blew me away the first time I saw it in Prisoner of Azkaban, when (as you might remember) Harry couldn't go on the Hogsmeade field trip because he didn't have his guardians' permission or later when Hermione and Harry help Sirius escape.
This gorgeous courtyard, dotted with odes to the film's "time" motif, also features a fountain with eagles and serpents like in the Mexican coat of arms, a nod to director Alfonso Cuarón's roots. This was all a set, but a gorgeous one!
The Chamber of Secrets
I always loved the Chamber of Secrets design for some reason and was pretty sad to discover it was completely created on set and not a real visitable place.
That said, production designer Stuart Craig has said that they got inspiration from London's sewers (even taking some trips down there for research purposes) and also took molds from the dramatic rock faces of Scotland to help decorate the set, so if you see me wading around Scotland smelling like sewage, I'm sure you can deduce what happened.
The Hogwarts Owlery
Last but not least, ah yes, we have the Hogwarts Owlery, outside of which Harry awkwardly gets rejected by Cho Chang for the Yule Ball.
Anyways, while the entire Owlery was shot on a set in Leavesden, I wanted to include it because I learned SO many fun facts about it from Harry Potter: Magical Places from the Films.
Basically, for the Owlery, they used a mix of fake and real (mostly rescue) owls but apparently, in the scenes with tons of owls (the peak was about 60), they had to film groups of owls separately according to size, then composited them together in post-production to avoid owls eating each other.
Yes, apparently owls are cannibalistic. You're welcome for that info… and I apologize if you can never look at Hedwig the same way ever again.
Any other questions about finding Hogwarts in real life?
I hope you enjoyed this ridiculously comprehensive Hogwarts filming location guide! Did I miss any of your favourite Hogwarts sets? Let me know in the comments!
My Go-To Travel Favourites: