*FYI - this post may contain affiliate links, which means we earn a commission at no extra cost to you if you purchase from them. Also, as an Amazon Associate I earn from qualifying purchases. Check out our Privacy Policy and Disclosure. for more info.
I'll be honest: as much as I adore visiting Christmas markets around Europe, the truth is many of them can start to look the same after a while.
If you're feeling a similar sense of adorable Xmas market fatigue (which is, admittedly, a most joyous 1st world problem), then here's a bit of an offbeat recommendation for you: the Lausanne Christmas Market, known locally as the Bô Noël.
Lausanne is a Swiss city located along Lake Geneva known for being the headquarters of the International Olympic Commission, and also for its lively student population.
When I visited the Lausanne Christmas Market a few years back, I was expecting the 'same old same old' wooden chalets and twinkly string lights, but instead I found a mega-hip twist on Christmas, with contemporary light installations, unique venues, and modern festivities sprinkled around town.
Save this post on Pinterest for later: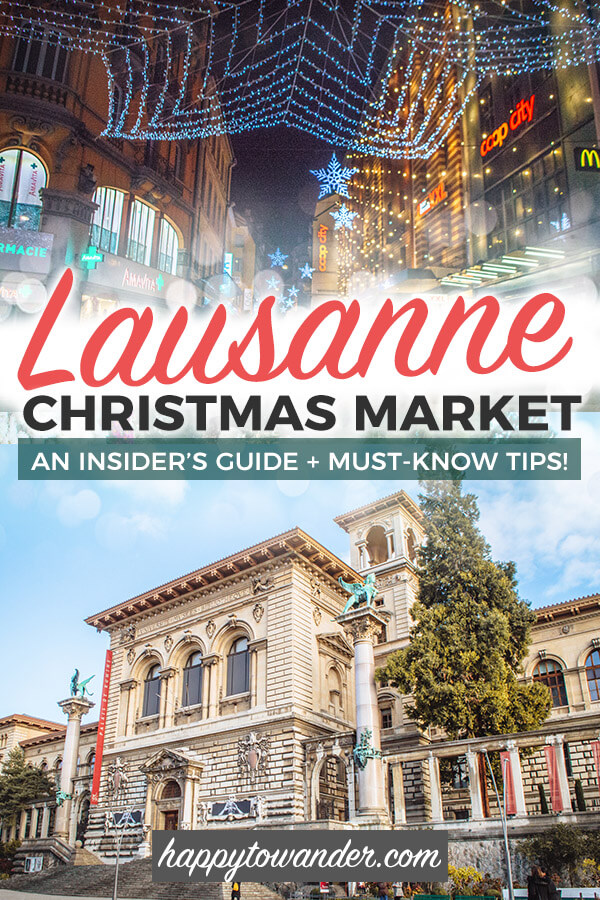 The Lausanne Christmas Market is far from your traditional cozy markets you might find in Germany or elsewhere in Switzerland, but I'd still recommend it, especially if you're looking for something cooler and different from the prototypical "glühwein + wooden toys" markets that are so popular in Europe.
So, if you want to check out the beautiful modern Lausanne Christmas Market for yourself, here is a detailed guide on everything you need to know, including important dates, locations, what to eat and what to buy!
NOTE: I visited Lausanne Christmas Market back in 2017, but update this post annually with the right dates and info.
Lausanne Christmas Market (Bô Noël): Important Must-Knows
Before you go ahead and start planning your epic Lausanne Christmas Market adventure, here are some basic facts to get you started.
Where is Lausanne?
Lausanne is a city in southwestern Switzerland that sits prettily along the Swiss Riviera.
You can actually find it at the northern-most tip of Lake Geneva, which means gorgeous lake views are abundant in this city, with an ideal location close to mountains and the UNESCO World Heritage Lavaux region, famed for its delicious wine.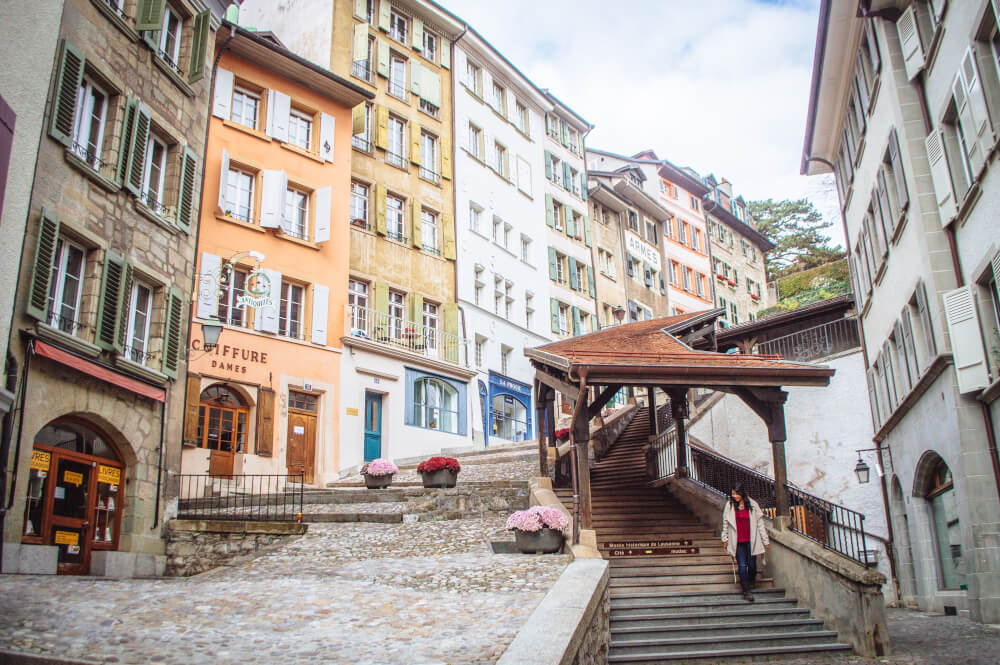 How to Get to Lausanne
Getting to Lausanne is easiest by train. The closest airport is the Geneva Cointrin Airport, which is a 45 minute train ride away from the city center of Lausanne.
Otherwise, Lausanne is easily reachable by train and bus from Switzerland's main transport hubs, with a variety of international high-speed trains that service its main station.
TIP: If coming to Lausanne from within Europe, I would recommend using the free service Omio to compare/book transport options. It'll quickly show you the different ways to get from Point A to Point B and lets you sort based on price, times and convenience.
One last scenic method to arrive in Lausanne is by boat! many ferries arrive daily from nearby cities like Montreux, which also has its own stunning Christmas market. Click here to learn more!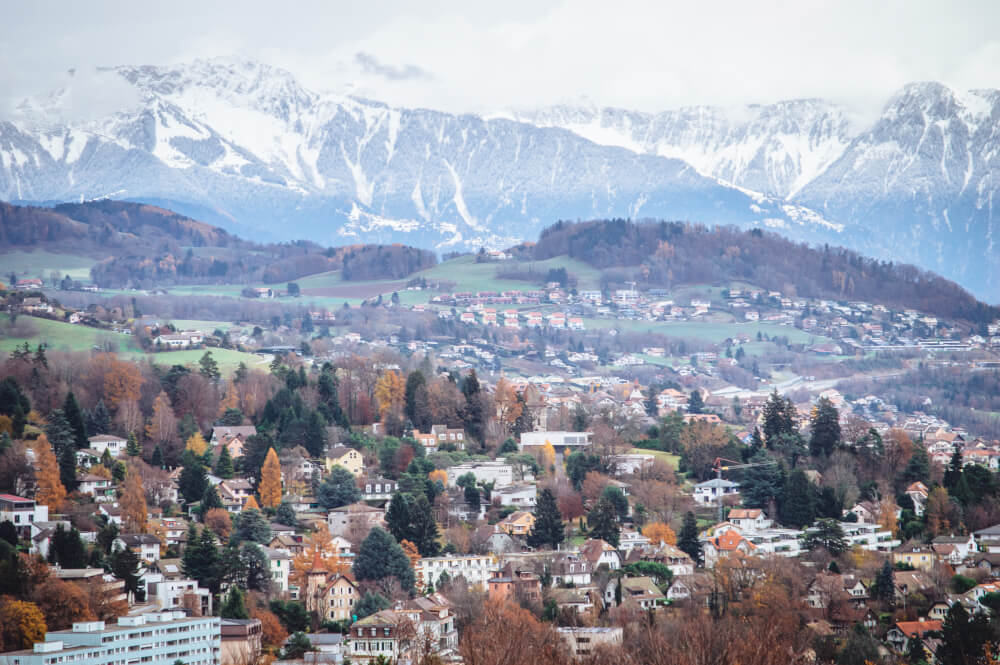 Lausanne Christmas Market (Bô Noël) Dates
The official dates for the Bô Noël/Lausanne Christmas Market in 2022 are from Nov 23, 2022 – Dec 31, 2022.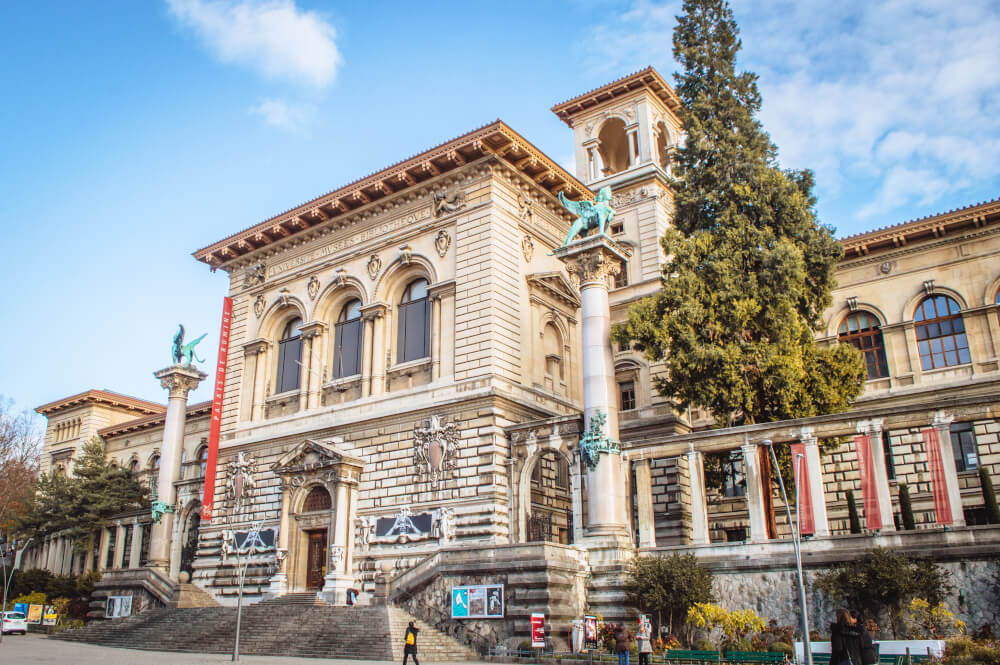 Lausanne Christmas Market (Bô Noël) Hours
According to the official Bô Noël website, the opening hours for Lausanne Christmas Market are:
Regular Hours
Monday and Tuesday: 11:30am – 9:30pm
Wednesday to Saturday: 11:30am – 10:30pm
Sunday: 12pm – 8pm
NOTE: Market stalls close at 8pm
*** CLOSED ON DECEMBER 25***
Hotels near Lausanne Christmas Market
If you're still looking for a home base while you gallivant your way around Lausanne's Christmas markets, here are some options to look into:
Budget Option: Hotel du Raisin is a boutique property in central Lausanne with affordable rooms and positive ratings across the board. Located just down the road from the Lausanne City Hall and a 3 minute walk to Place Pépinet, this is a great hotel to pick if you want a central location for a low price. Click here to check reviews and availability.
Mid-Range Option: If you're looking for a nice hotel in Lausanne that's central but not too pricey, then consider the newly renovated Hôtel des Voyageurs Boutique, which has sky high reviews, breakfast included, all in central Lausanne a short walk from all the different Christmas markets. Click here to check reviews and availability.
Luxury Option: For a truly magical experience while in Lausanne, I would highly recommend the Lausanne Palace Hotel, which has magical decor during Christmas time and within walking distance to many of the city's Christmas markets. I stayed here during my visit and loved it. The views from this hotel truly can't be beat! Click here to check reviews and availability.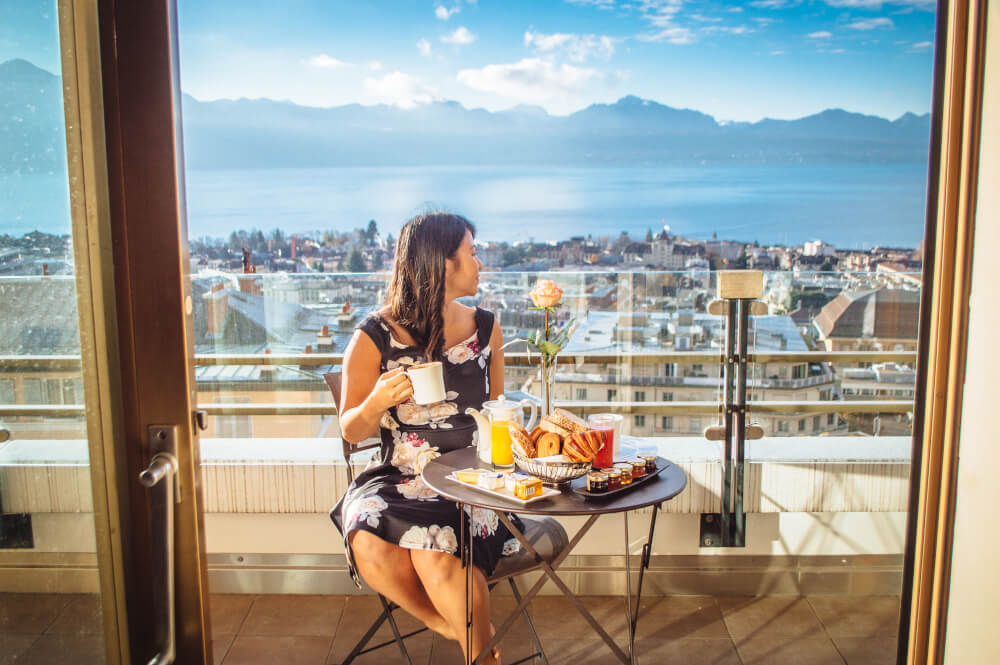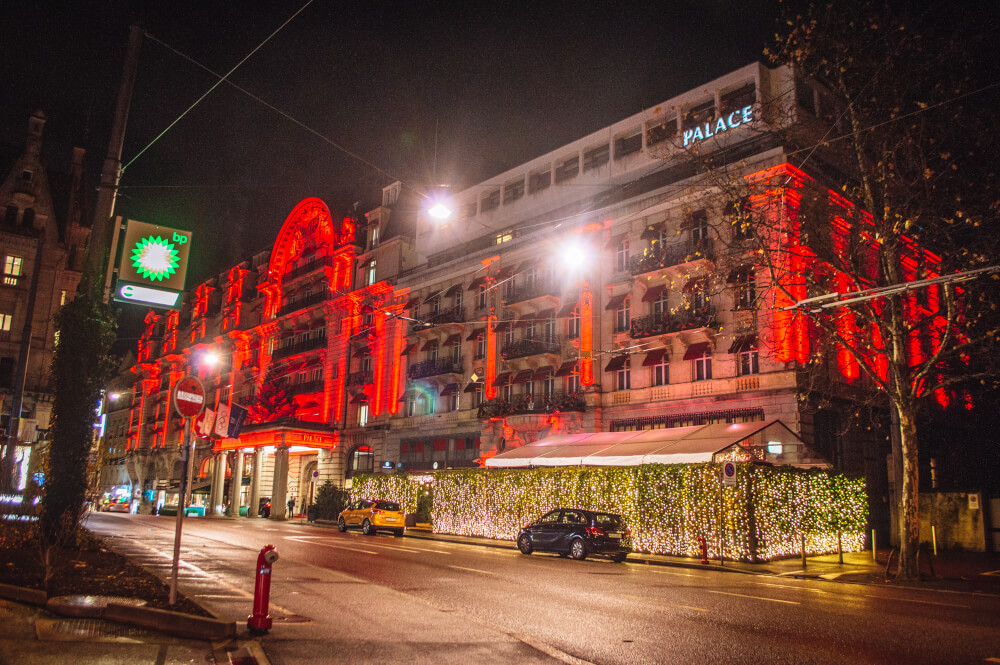 Lausanne Christmas Market (Bô Noël) Locations Overview
The great thing about exploring the Lausanne Christmas Market is it's all very compact.
There are multiple different sites scattered around the city but within walking distance of each other, so it's easy to enjoy a wide variety of markets/venues without a huge commute.
So, whether you have kids in tow or not, whether you prefer designer goods or local food products, you're bound to find something. Here's a little overview of the different Lausanne Christmas Markets/venues you can visit during Bô Noël.
Place Saint-François Covered Christmas Market
Location: Place Saint-François
We'll start with the covered Christmas Market at Place Saint-François, which has dozens of food and shopping stalls underneath a glass canopy decked out in glittery snowflakes and funky lights.
Thanks to its protection from the elements, this is of course one of the best Christmas markets to visit in Lausanne when the weather is iffy.
During my visit though, it was also the busiest, so be sure to arrive early if you want to nab one of the coveted perching spots for food/drinks.
Place Pépinet Christmas Market AKA the Creators' Market
Location: Place Pépinet
If it's a cooler Christmas market in Lausanne you're after, be sure to visit the Place Pépinet Christmas Market, which has design-oriented stalls dedicated to local fashion and jewellery.
This would definitely be the Christmas market to visit if you want to buy unique gifts from local designers, who you get to chat with face to face in this awesome and intimate market.
PS: Le Labô is a cozy wooden hut located inside this Lausanne Christmas market, selling lots of delicious food and drinks in a very atmospheric wooden chalet.
I spent a little while hanging out here and loved it, although I was pretty sad the mulled wine came in a paper cup…!
I've heard that they introduced reusable mugs in 2018 though so hopefully that's a trend that will continue.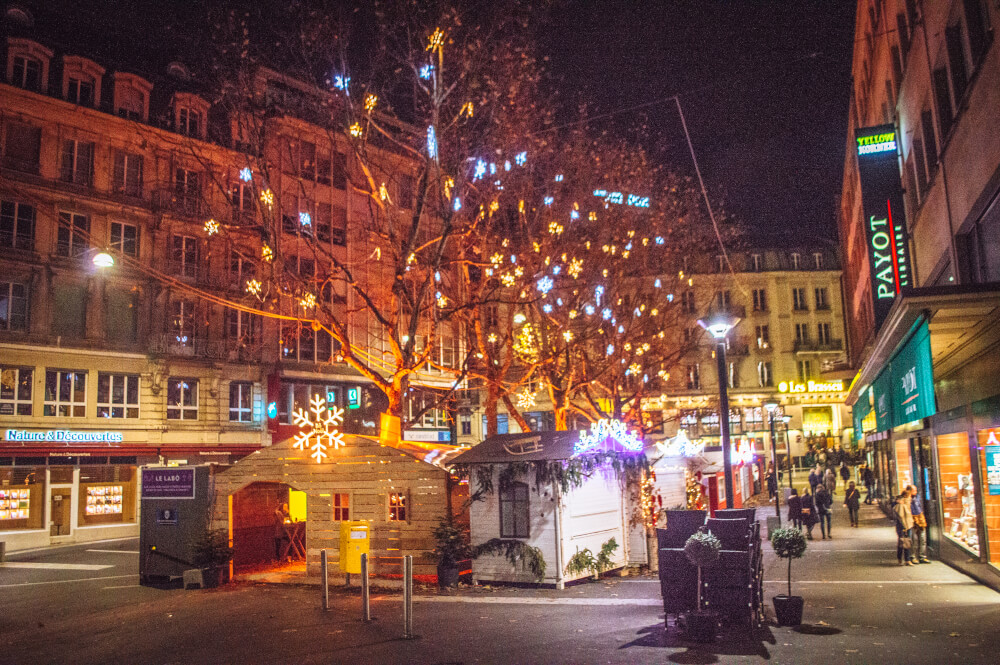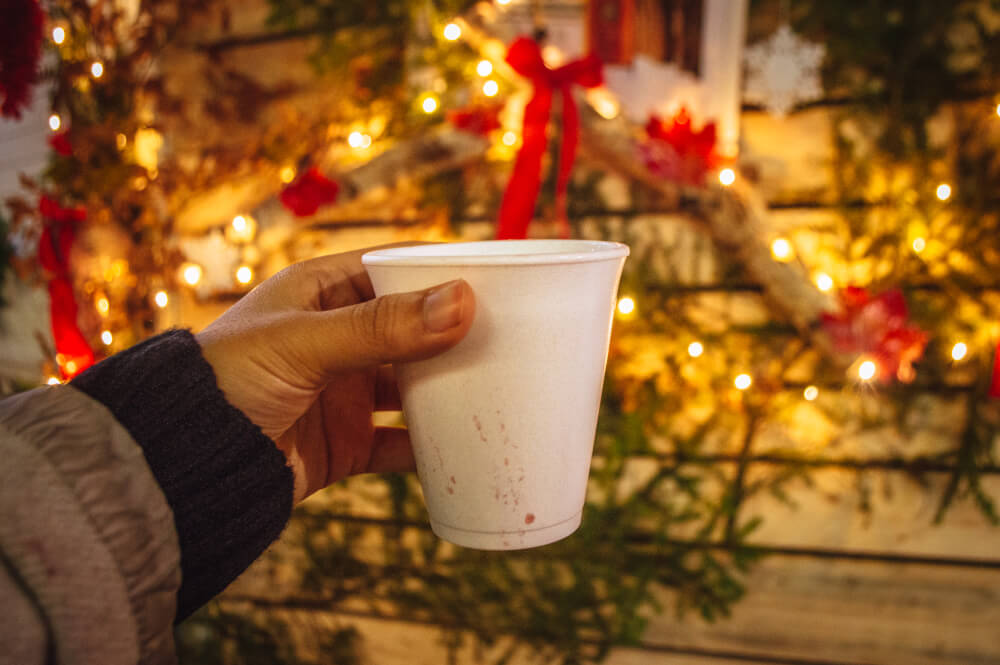 The Place d'Europe Christmas Market AKA the Marché du Terroir
Location: Place d'Europe
For foodies, the Marché du Terroir at Place d'Europe provides a cozy place to shop for delicious local products from regional producers, including local Lavaux wine, jams, and more in the comfort of an igloo. Yup, an actual igloo. Check it out: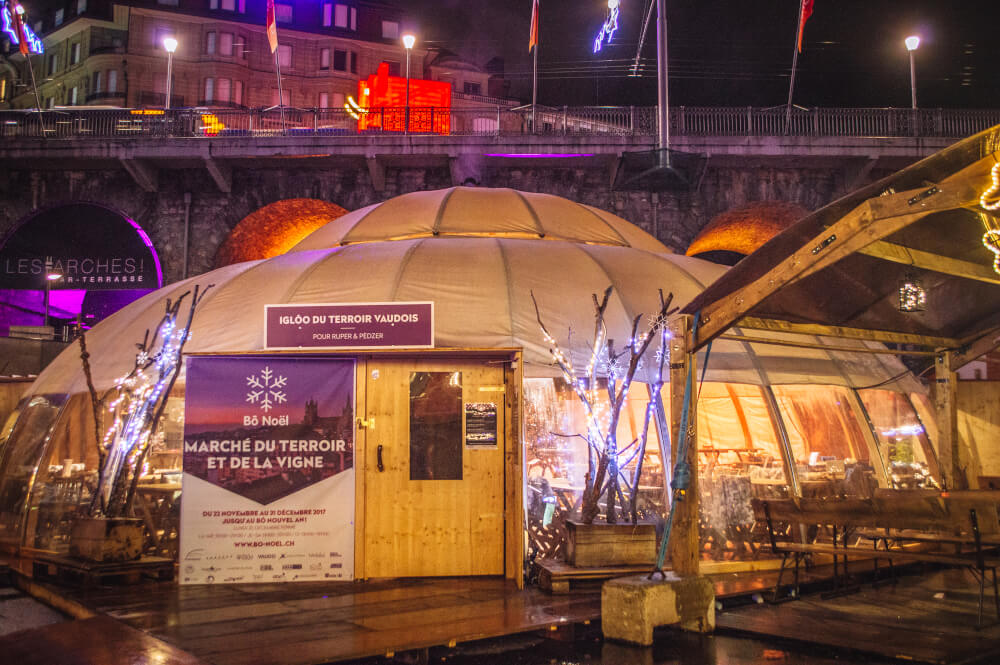 The Children's Village
Location: The Lausanne Cathedral Esplanade
Dates and hours: Every Wednesday, Saturday and Sunday from 1pm – 6pm
If you need something to do while you spend your life savings around Lausanne's Christmas markets, then check out the Children's Village which takes place Wednesdays, Saturdays and Sundays during Bô Noël!
This area is filled with different kids activities including treasure hunts, story time and even visits with Santa himself.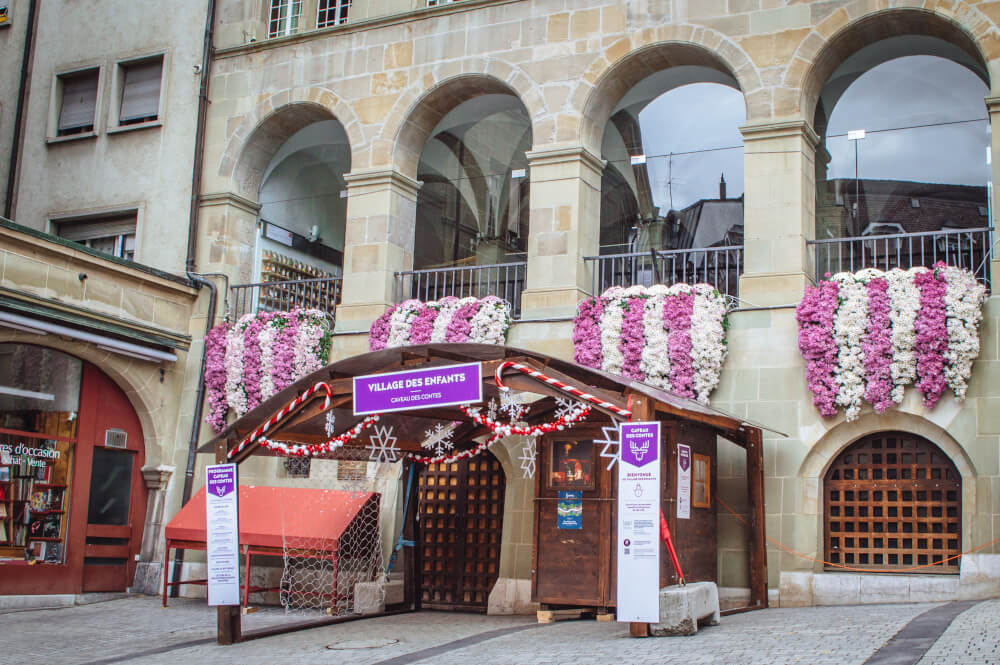 Terrace of Bel Air
Another fun thing to do at Lausanne Christmas Market is check out the Terrace of Bel Air.
While there's no fresh princes lurking around, this terrace offers a heated transparent tent with munchies organized by Lausanne 2020, AKA the Youth Winter Olympics which will take place in Lausanne next year!
I don't think this was around when I visited the markets, but it sounds like a really fun spot, with food and drink on offer, curling and even a bobsleigh photo opp to take advantage of.
The Flon Skating Rink
Another must-visit in Lausanne during Christmas time is the Flon District, which is transformed in the winter time with really cool light installations and a free skating rink!
NOTE: You can rent skates too if you don't have your own for only 5CHF.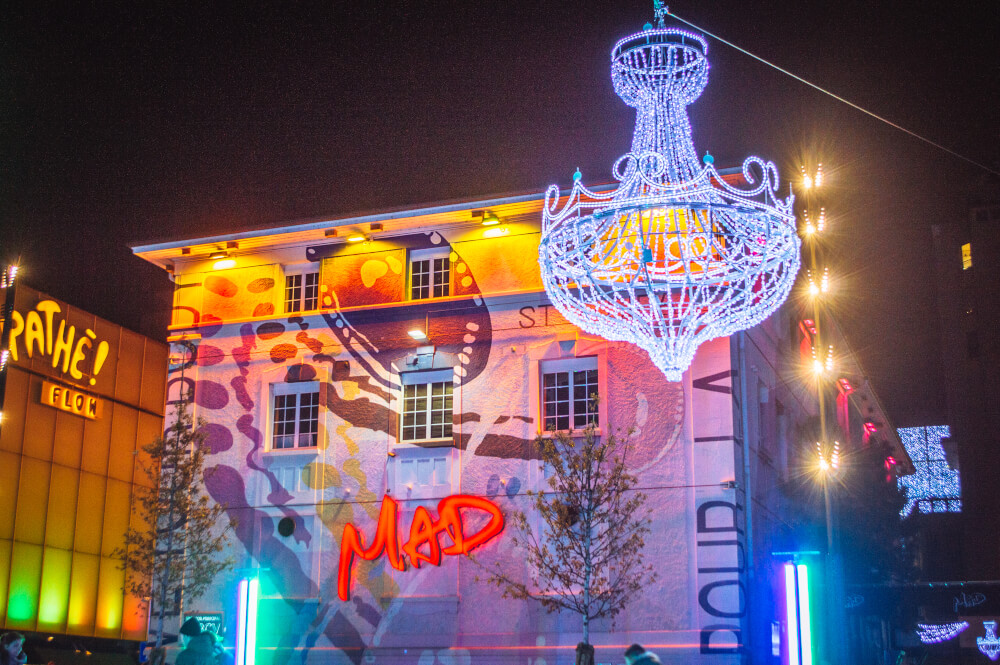 Lausanne Festival of Lights
Last but not least, while it's not a Christmas Market, one of my favourite Christmassy things to do in Lausanne was definitely looking at all the installations from their Festival of Lights, known in French as Lausanne Lumières.
From November-December, the city is illuminated with contemporary art installations from 15 different artists, with works that are both pretty and at times, statement-laden and thought-provoking.
Definitely don't miss these while skipping your way from market to market, because this is one of the city's best Christmas highlights.
PS: Best of all, it's free!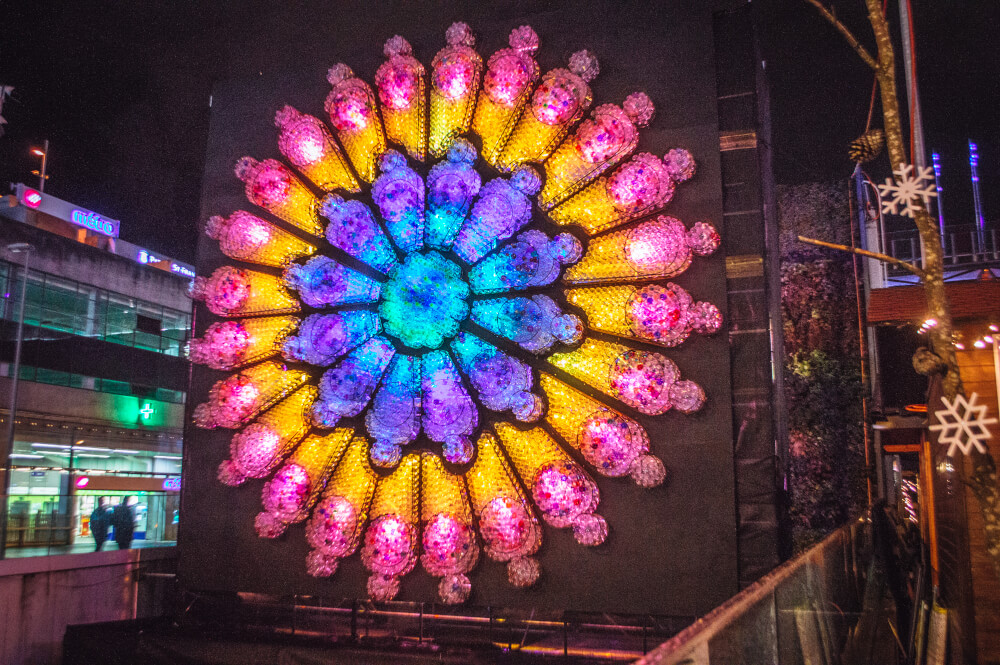 What to Eat and Drink at Lausanne Christmas Market: 10 Must-Haves
Naturally, you can't leave Lausanne without sampling some delicious Christmas market goodies.
I have a full list of typical Christmas market foods to try here, but here are some unique foods to Lausanne that you should keep on your radar.
1. Glühmost
While of course, mulled wine (AKA vin chaud or glühwein) is a must-try at any Christmas market, one of the more unique drinks you can sample at the Lausanne Christmas Market is Glühmost, a mulled apple must, AKA freshly pressed juice that includes the skin and seeds.
The Vaud region of Switzerland is famous for its apples, so this is definitely one to try! The Le Labô at Place Pépinet is well known for this drink, and you can even get it spiked with some rum or vodka if you wish.
2. Sausages at Le Labô
And speaking of Le Labô, they also have an extensive menu of sausages for you to try with unique sauce/flavour combinations including one that's even stuffed with raclette cheese 😉
On top of offering lots of good eats, Le Labô also has a really nice cozy chalet atmosphere so I would definitely recommend checking it out when you're in Lausanne!
3. Local Vaudois Wine and Charcuterie
It may not be the most festive pick, but in a city so close to one of Switzerland's main wine regions, you can expect to find loads of tasty local wines too during your Lausanne visit.
Many of the spots around Bô Noël will include wine on their menu, usually along with different meats and cheeses to order as accompaniment.
If you want something small to nibble on while tasting the best that regional producers have to offer, then be sure to indulge in some local wines/charcuterie while you're in town.
4. Malakoffs
The best way to describe malakoffs is to say they're giant happy cheese nuggets. That's it.
These tasty snacks are a popular appetizer around this part of Switzerland and are quite simply deep fried balls of cheese – simple, unpretentious and quintessentially Swiss.
Often they're served with mustard, pickles and onions.
Mmm mm mm. Le Labô serves these as well, but you can find them on menus all across the city.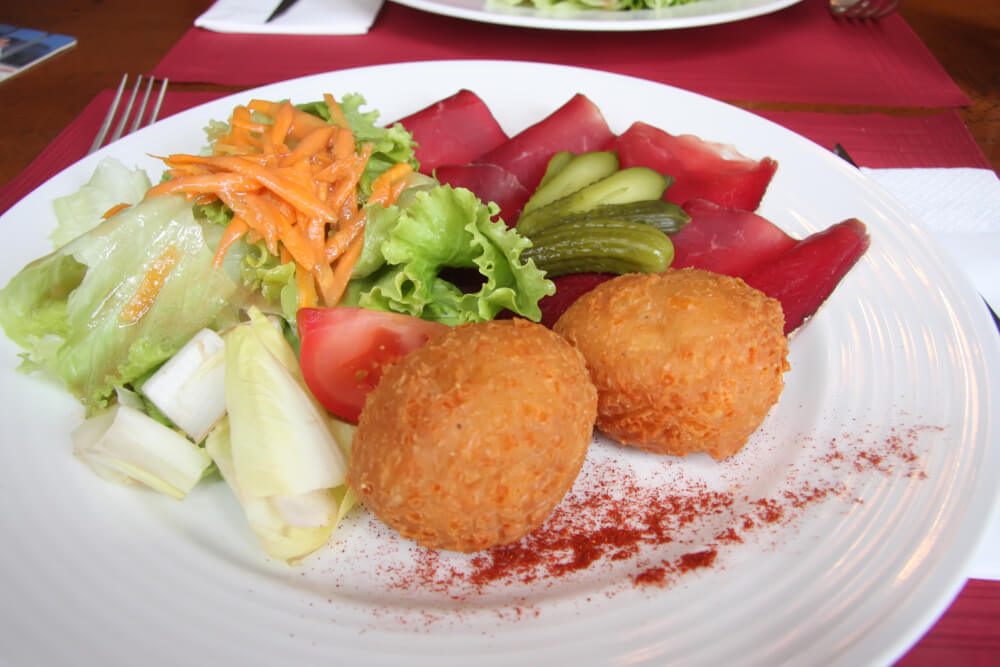 5. Raclette
Raclette is one of Switzerland's most beautiful creations, and essentially consists of a dreamy layer of melted cheese draped over top potatoes, vegetables, etc.
It sounds simple, but it's truly amazing.
You'll find it pretty much everywhere around Lausanne's many Christmas markets – just follow your nose.
6. Racl'Burger
And speaking of raclette, one Lausanne Christmas Market treat that has amassed quite the cult following is the Racl'Burger, a burger filled with a warm injection of raclette cheese.
Yes, I agree, it's needlessly indulgent, but isn't that what the holidays should be all about? You can find the Racl'Burger stand at Place de l'Europe.
7. Fondue
And of course, I can't exclude fondue, which is probably one of the most famous Swiss dishes you can try.
In Lausanne, I had a great fondue at Cafe Roland, which really hit the spot and made me feel pregnant with cheese for about a week after, although recent reviews haven't been too kind about the service.
Still a delicious must-try though, whether here or at one of the many other Swiss restaurants in the city.

8. Oysters
Oysters at a Christmas market? Yup, in Lausanne, anything is possible!
You can find fresh oysters from around Europe at the Bô Pêcheur stall, along with an extensive menu of other fresh seafoods.
9. Craft Beer
Again, not the most typical choice, but the Vaud Region has been booming with microbreweries over the past few years, now with over 50 craft brewers concentrated in this small piece of Switzerland.
Naturally then, you should take advantage of all the local brewers and try a glass or two. Some brewers even roll out Christmas flavours during this time of year!
10. International Street Foods
Last but not least, while the full Lausanne Christmas Market vendors list hasn't yet been released, last year brought on a huge variety of international street foods including polenta fries from Italy, empanadas from Peru, takoyaki from Japan, and waffle sticks from Canada.
I love seeing Christmas markets take on an international flair and Lausanne definitely has one of the more diverse line-ups I've come across.
What to Buy at Lausanne Christmas Market
In my opinion, one of the best things about the Lausanne Christmas Market is its variety of local, handmade products.
It's an unfortunate truth that at some of the most popular Christmas markets around Germany and Europe, many stalls are increasingly selling mass-produced goods to tourists who don't know the difference.
In Lausanne I felt like it was a different story, with even an entire market (the Market of Creators in Place Pépinet) putting the spotlight on local creators.
With that in mind, here are some ideas for souvenirs to take home from Lausanne.
Handmade jewelry
One of the highlights of the Creator's Market is definitely the abundance of unique jewelry pieces you can buy!
While the vendors list for this year haven't been released yet, I have every confidence that there will be dozens of adorable stalls from local jewelry makers for you to splurge on.
Local art
From greeting cards to framable prints, I saw a lot of wonderful stalls with beautiful and adorable art from local artists.
These would make great lightweight souvenirs to bring home from the Lausanne Christmas Market, especially when suitcase space is tight (which it always is!)
Regional food products
I think you've heard me yap enough about the abundance of amazing food products available here in the Vaud region, but I'll say it one last time and emphasize that these food products also make excellent gifts!
I love supporting local producers so I always try to buy some jams, spirits, wines, etc. at Christmas markets. A happy bonus of course is that whoever you gift it to will usually share with you after!
Other Christmas Market Classics like Handmade Ornaments
Last but not least, there are of course plenty of opportunities to buy classic Christmas market goodies like ornaments, wooden toys and more. For some inspiration on classic Christmas market things to buy, click here.
The list is for German Christmas markets but you'll usually find a lot of overlap with Swiss ones!
Any more questions about the Lausanne Christmas Market?
I hope you enjoyed this Lausanne Christmas Market review! This city really does put a very fun and modern twist on Christmas, and if you're looking to supplement your Christmas market adventure with something a little different, I highly recommend it. I hope you have a magical trip!
---
Watch my most popular YouTube video this week:
---