*FYI - this post may contain affiliate links, which means we earn a commission at no extra cost to you if you purchase from them. Also, as an Amazon Associate I earn from qualifying purchases. Check out our Privacy Policy and Disclosure. for more info.
Looking for things to do in Chur, Switzerland? From stunning views and alien bars to a hidden underground church, there's plenty to keep you busy. Here's a roundup of all the best Chur activities to check out during your visit.
Never heard of Chur, Switzerland?
Me neither, until a rapid little binge of Switzerland's best scenic train rides dropped me off there in a sweaty, over-excited puddle.
Truth be told, stepping out of the train station, I had been simmering in some very low expectations.
A few local friends of mine had told me that Chur (pronounced Core) wasn't the most exciting city in Switzerland, better suited for a quick stop in transit than a proper stay.
I guess you could say, an over-arching sentiment from my "informants" was that… really, Chur is a bore.
… And while I initially agreed with this assessment, over the next two days, I quickly discovered that there's plenty more to this city than meets the eye.
Located only 1.5 hours from Zurich, Chur is known as the oldest city in Switzerland. and a common starting point for one of the most scenic train rides in the world: the Bernina Express.
But between alien-themed bars, stunning viewpoints and unique fountains/sculptures, there's plenty more to do in Chur than just hop on a train and run.
So, here are my top tips for cool things to do in Chur, along with some tips to help you make the most of your stay.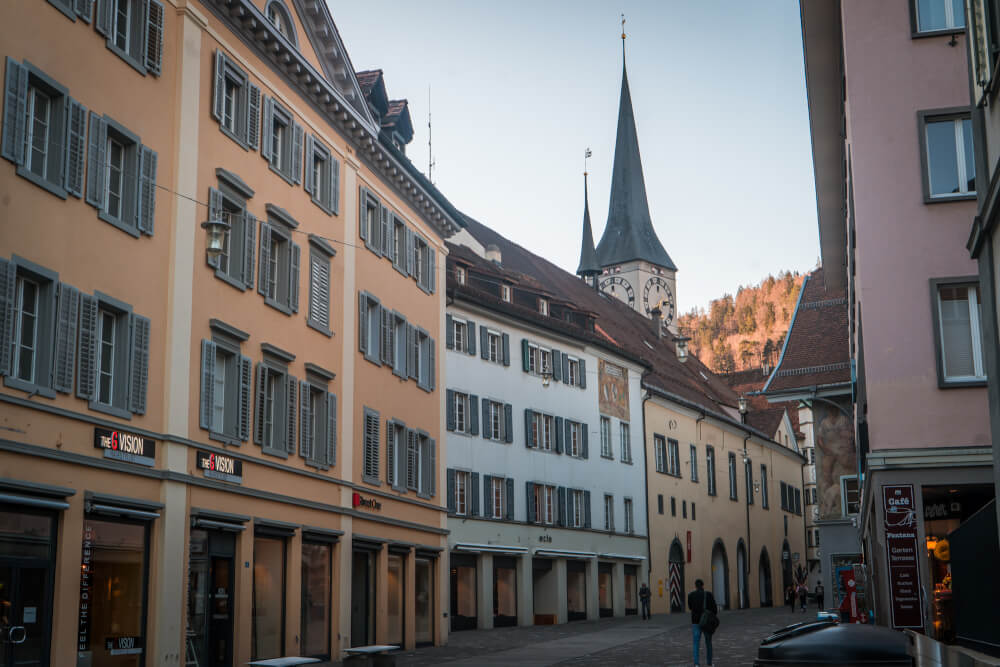 Things to Know Before Visiting Chur, Switzerland
There were a few things that confused and frustrated me about Chur, so let's start by setting the right expectations and getting a few quick facts straight.
Before you head to Chur for yourself, be sure to keep in mind the following…
1. Chur is pronounced "Core"
I mentioned this in the introduction, but really, remember that the correct pronunciation of Chur is "Core" and not "Chore", like wow, what a chore it is to clean up my tears of embarrassment after making this consistent mispronunciation.
I honestly can't tell you how many times I said "Chore" to train staff, train station staff, and just random Swiss people who asked me about my trip.
Do you know how many corrected me? None! They were far too polite, but in hindsight, I could see the pain flicker through their eyes at my butchering of their language.
Nonetheless, I've heard of a few stories where staff members could not register "Chore" at all as Chur which caused some very confusing encounters and travel blunders, so remember: Core. Like Roar…. or Thor. : D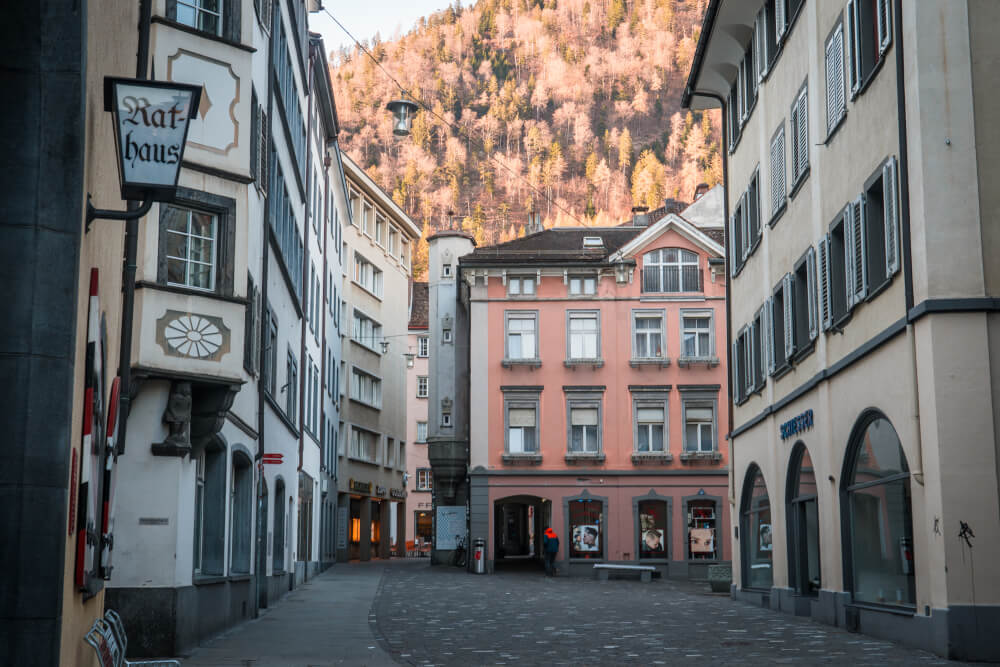 2. Chur is known as Coire in French
Switzerland is a magical land of excellent cheese, mountains and polygots.
People here will often switch between French, German and English depending on where you are…
This means that signs and timetables frequently make use of these multiple languages as well.
So, remember, if you see the name Coire anywhere, while in transit or looking at timetables, know that this is simply the French name for Chur, and yes, that is where you want to go.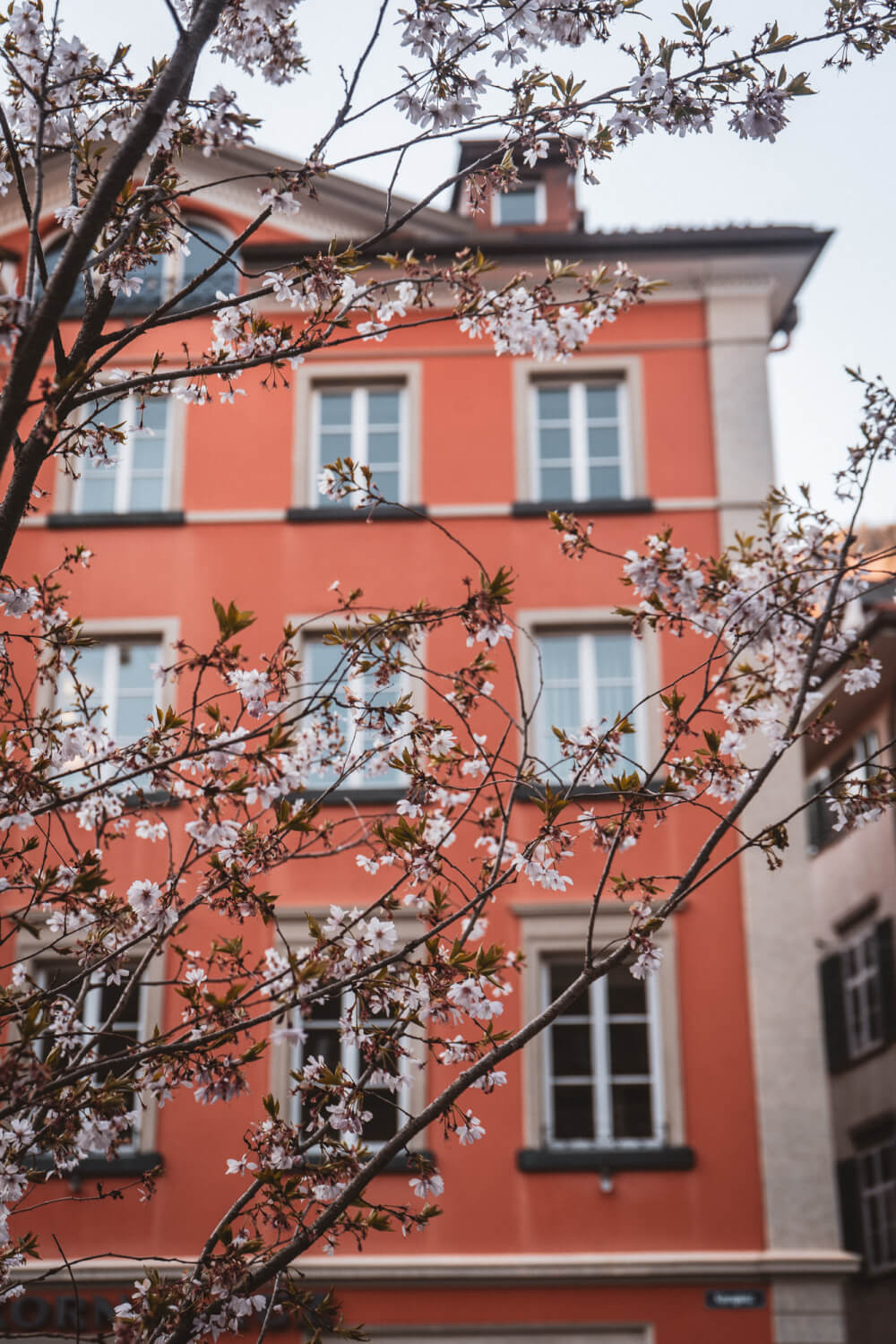 3. Chur bills its Old Town as car-free, but that's not quite true
As I flipped through various marketing materials for Chur on my train ride towards it, I had this fairytale picture in my mind of a stunningly romantic car-free town, where I could prance and frolic and be obnoxious without getting run over.
Unfortunately, the frequent brag that Chur's Old Town is car-free is not as romantic as it sounds.
While parts of the Old Town certainly have no vehicles bumbling about, it's pretty unclear where the "New" Town ends and Old Town begins, so there are quite a few more cars and buses driving around than you'd anticipate.
In the mornings as well, as I went for a sunrise photo walk, there were a LOT of cars rushing through the Old Town to make deliveries and everything to different shops.
Of course, this isn't a dealbreaker by any means, but just something to be aware of in case you were expecting Chur to be completely car-free like I did.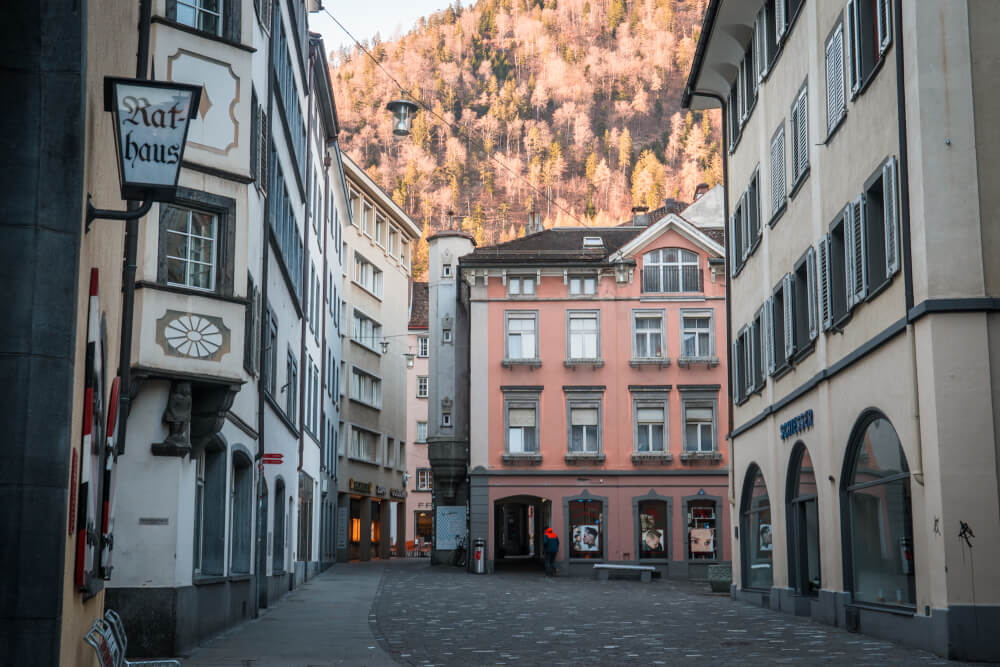 4, The shadows in Chur are really rough in the late afternoon for photography
Last but not least, a fair warning for any of my fellow keen photographers, Chur is a really beautiful and photogenic city…….
…… And one that is painfully difficult to photograph!
When I first arrived at around 3pm, the lighting was so harsh that I couldn't get a single good photo.
This (for a photo-obsessed travel blogger) was a bit of a distressing first impression, so I figured I would warn you too.
Don't worry though, it was much easier to capture Chur in the morning just after sunrise, before the sun rose enough to create all those harsh shadows. Just FYI, something to be mindful of.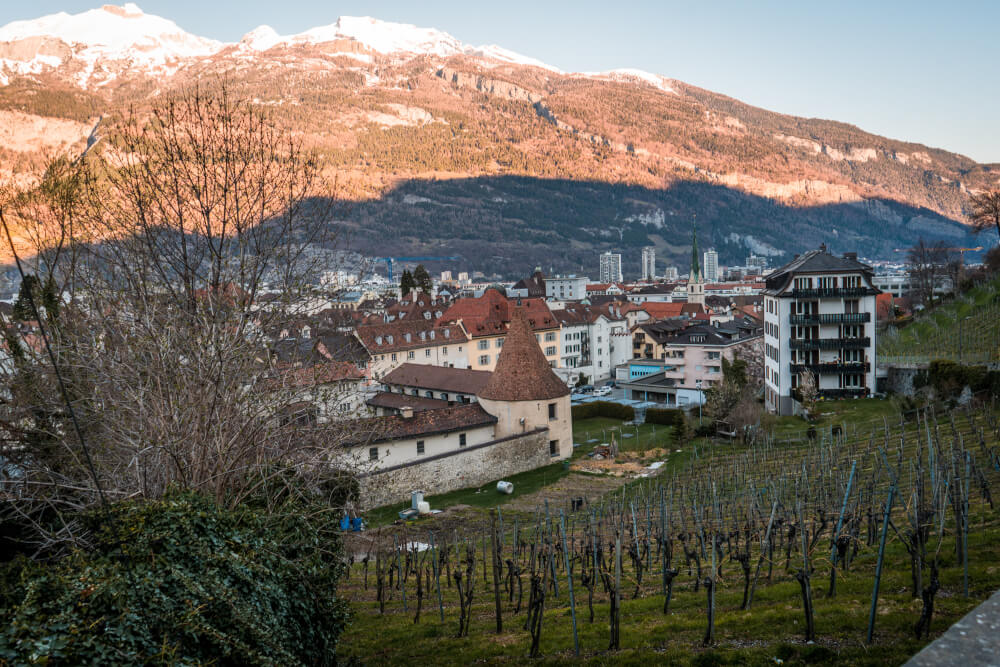 The Top 14 Things to do in Chur, Switzerland
Alright – now let's get to the good stuff! Wondering what there is to do in Chur? Here are a few ideas for you, based on my recent trip!
1. Get the best view in Chur at Haldenhüttli
To get a distinctive, postcard view of Chur, the best view in town is from the Haldenhüttli, or partway up it anyway 😉
If you walk up from the Old Town to Arosastrasse, you'll be treated to stunning views of the Chur skyline, with a lush green foreground of vineyards.
This is THE photo of Chur that dominates every tourist brochure and Google image search, so I would say it's definitely a must-see, and one of the best things you can do in Chur.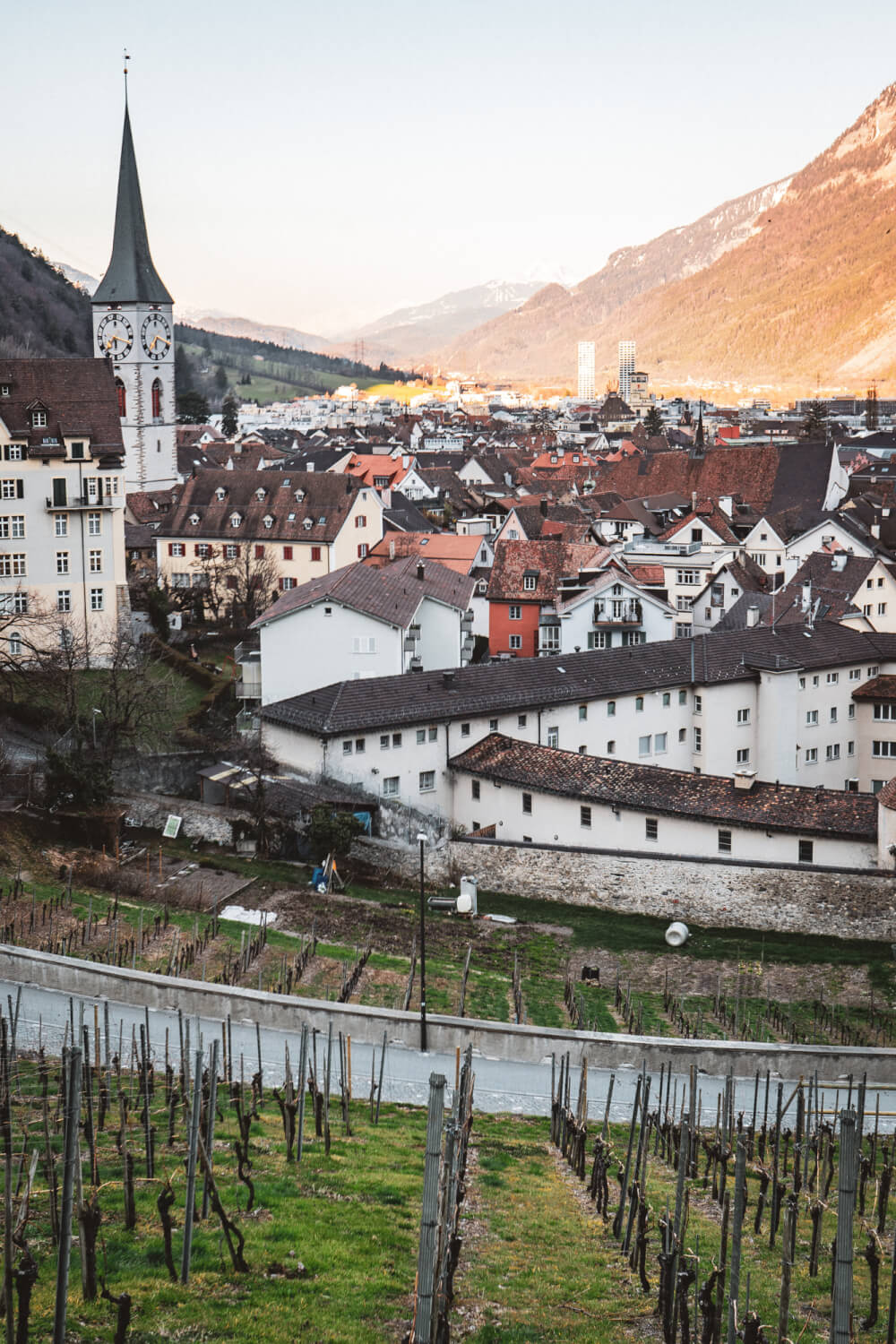 2. Visit an Alien-themed bar
Address: Comercialstrasse 23
From postcard views to alien bars, let's hop over to one of the more unique things you can do in Chur: grab a drink at an Alien-themed bar.
Wha? Why tho?
Well, the explanation for this oddity is simple: one of the most famous people born in Chur was H.R. Giger, an artist whose incredible work you've surely seen in the sci-fi classic "Alien".
In fact, Giger even won an Oscar for his design work on this project. Unsurprisingly then, there's a themed bar dedicated to his work in Chur, which is suitably alien-themed and a pretty unique place to grab a drink.
3. Hop on a stunning train ride
I mentioned in the intro that Chur is often known as the starting point for one the most scenic train rides in Switzerland (and even one of the best train rides in Europe), so why not enjoy it?
The Bernina Express runs from Chur to Tirano, and is an amazing day trip to enjoy from Chur, with epic landscapes rolling across your window every minute of the way.
If this full day trip doesn't sound doable,  here's a little secret: you can also just take the train to Filisur (1 hour) and enjoy the ride over the famous Landwasser Viaduct for a short taste of the Bernina Express magic, for a fraction of the time and cost.
Local trains even have a special photography car at the very end of the train where there are electronic windows you can roll up and down for photos!
Looking for something a little longer-distance?
You can also use Chur as a jumping point for the Glacier Express, and ride onwards to Zermatt. Click here for my full guide on riding the Glacier Express!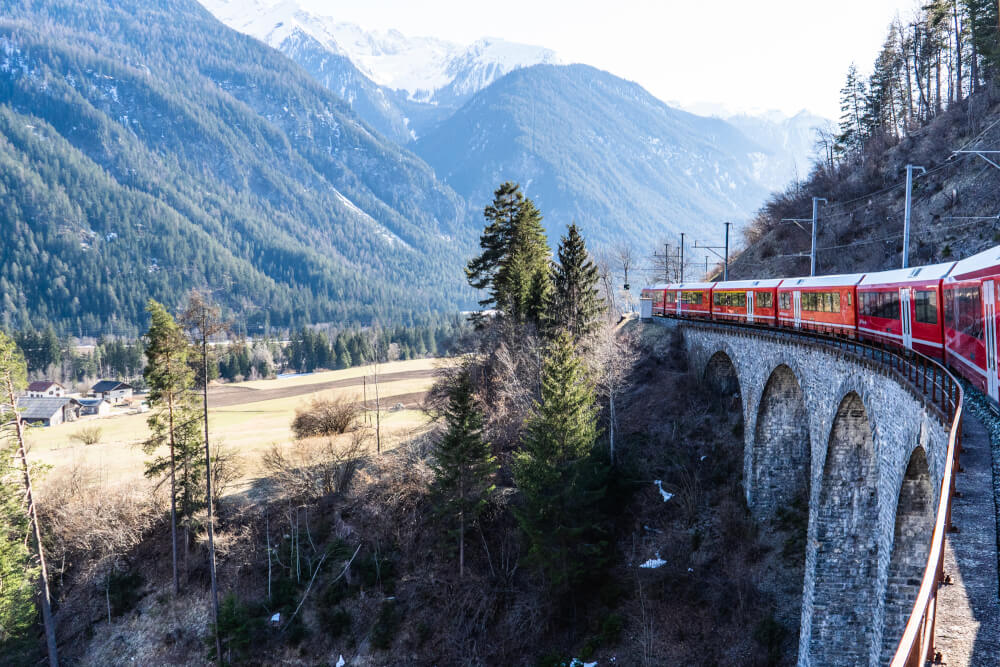 4. Learn about Chur's history through red plaques
Chur is a city steeped in history, all 5000 years of it, so it's probably not surprising that all over town, there are historical buildings that you can learn about through different red plaques.
So, if you want to dig deep into the history of Switzerland's oldest city, keep your eyes open for these red plaques, and enjoy your own little DIY history scavenger hunt.
NOTE: Sadly, these plaques are only written in German, so don't forget to download Google Translate on your phone to take full advantage of their content!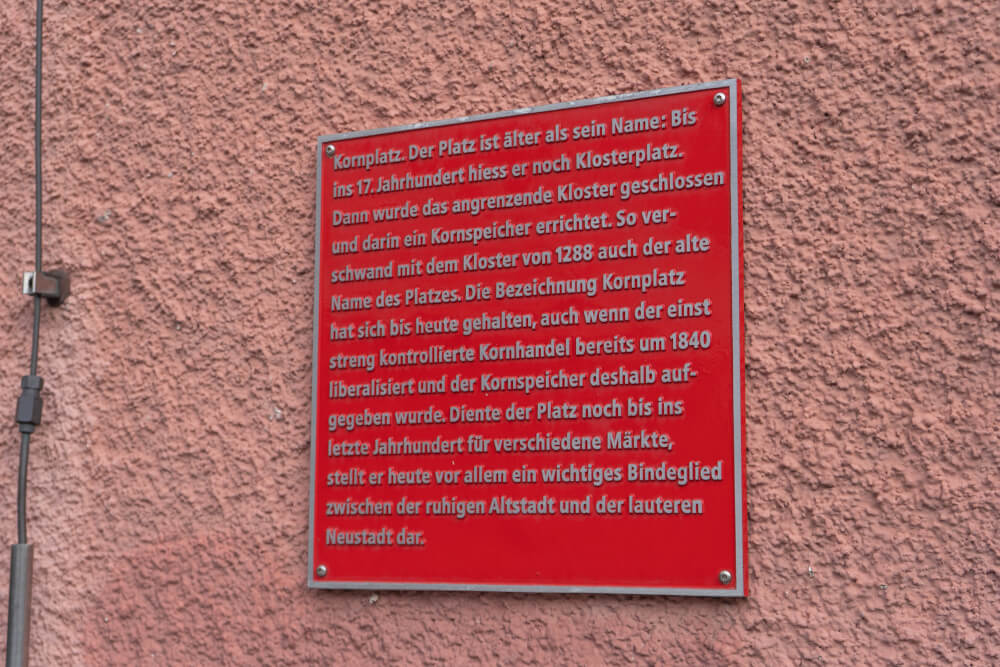 5. Keep an eye out for unique fountains
Once upon a time, fountains played a unique role as a heart in Chur's social life. People would gather at the fountains to fetch water, do laundry and (I like to assume) talk trash about their neighbours.
And while sadly, you won't spot anybody washing their undies in the fountains these days (at least I hope not), there are still about 20 fountains scattered around town, all with their own unique designs and history. Definitely keep an eye out for them while you're exploring!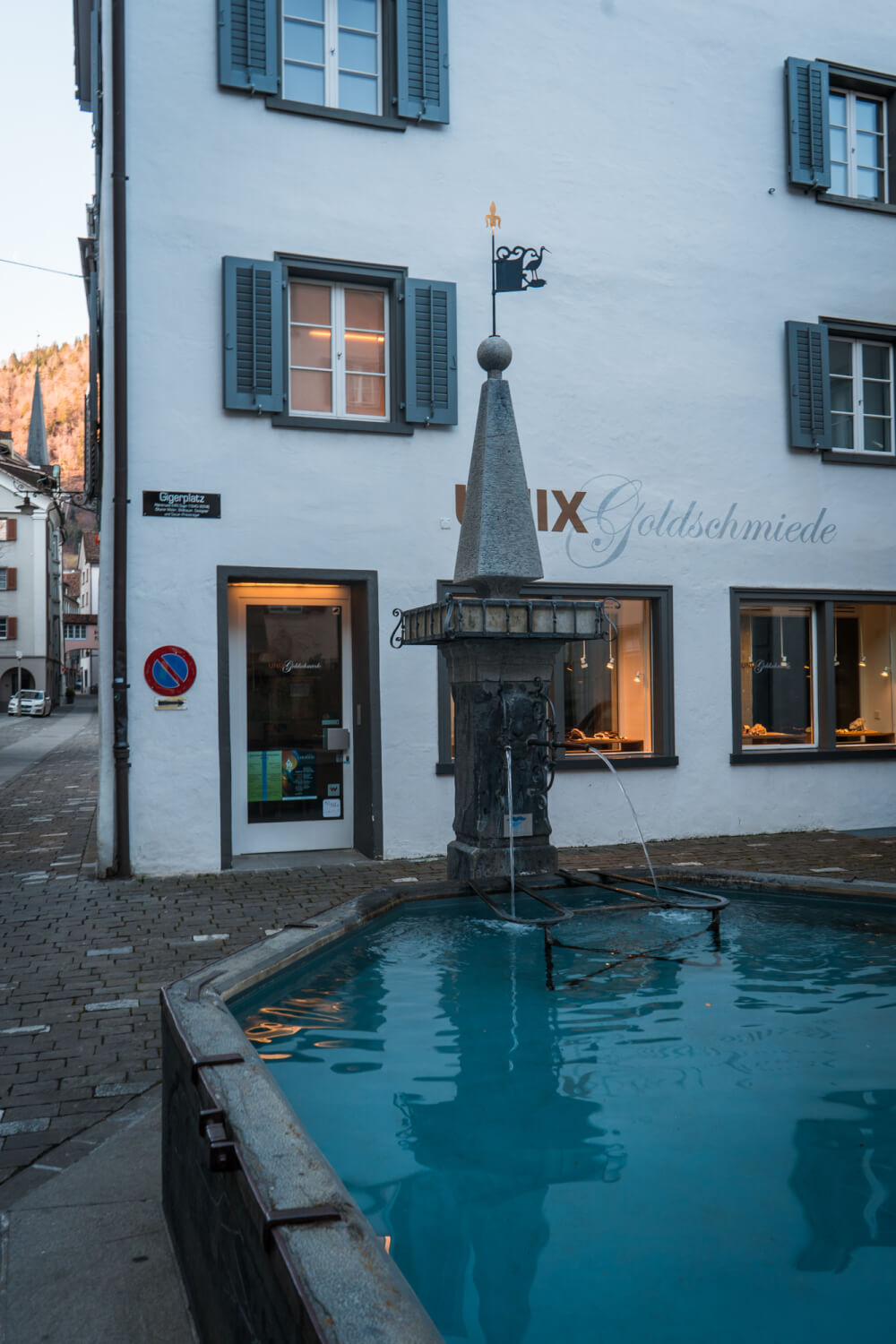 6. Shop til you drop (or til your wallet cries out for help)
Chur bills itself as the largest shopping mecca between Zurich and Milan, with over 500 shops to offer visitors, so maybe it's time to loosen those purse strings and enjoy a bit of shopping while you're in town?
All around Chur, I saw representation from the huge brands you commonly see around Europe (think Zara, Mango and the like), but my interest was more in the unique boutiques scattered around town, which are everywhere and so much fun to explore.
I especially loved the cute window displays on Rathausgasse leading into Kornplatz. Adorbz.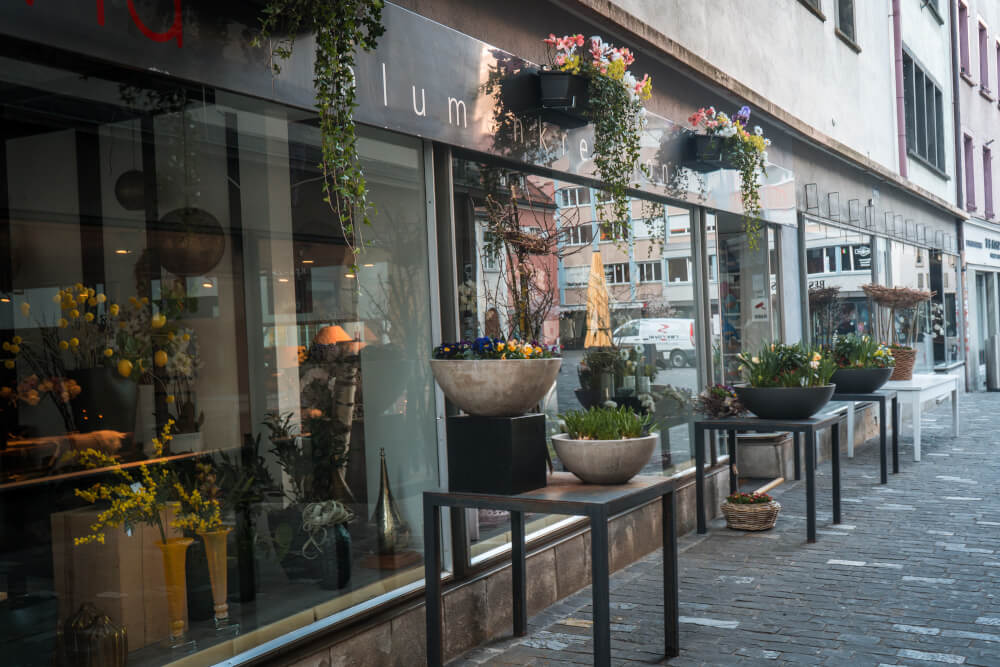 7. Explore the Würth Sculpture Park
If you're looking to soak in some art and culture while you're in Chur, get this: the art collection of German businessman/billionaire Reinhold Würth (known as one of the most important and extensive private art collections in all of Europe) can be found in Chur!
In fact, the Forum Würth Chur often presents exhibitions with items from his 18,000+ strong collection, while some sculptures are permanently displayed to the public for free in the Würth Sculpture Park.
Curious to visit? Click here for more info.
8. Trace the medieval fortifications of Chur
One of the most interesting things about Chur is its lengthy history, part of which you can (physically) trace of course through the old city walls and fortifications!
Gates and towers like the Obertor, together with the Malteserturm and the Sennhofturm are some highlights and spots to mark down on your list.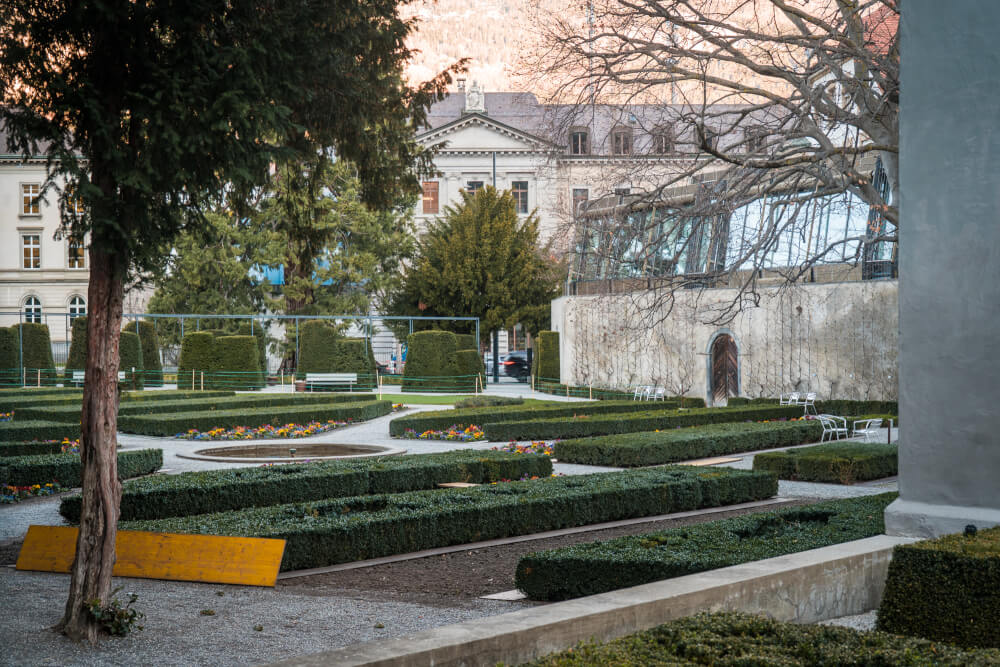 9. Explore an underground church
If you are looking for something a little more underground (literally), lurking below a school playground in Chur, you'll find the remnants of what was once St Stephen's Church, one of the most important religious monuments in the region.
Originally built in the 5th century, they only rediscovered it in the mid-19th century when they began constructing a school o the grounds!
It has since been converted into a museum and is open to the public by arrangement. Click here for more info.
10. Admire the beautiful stained glass at St Martin's Church
As a base for the Reformation in Chur from 1523 onwards, St Martin's Church has always been one of the town's most historically significant monuments.
Its main draw today however are three stained glass windows installed in 1919, so, if you find yourself peeping up at the pretty tower of St Martin's Church (which is honestly inevitable because Chur is tiny), then don't forget to also take a quick peek inside.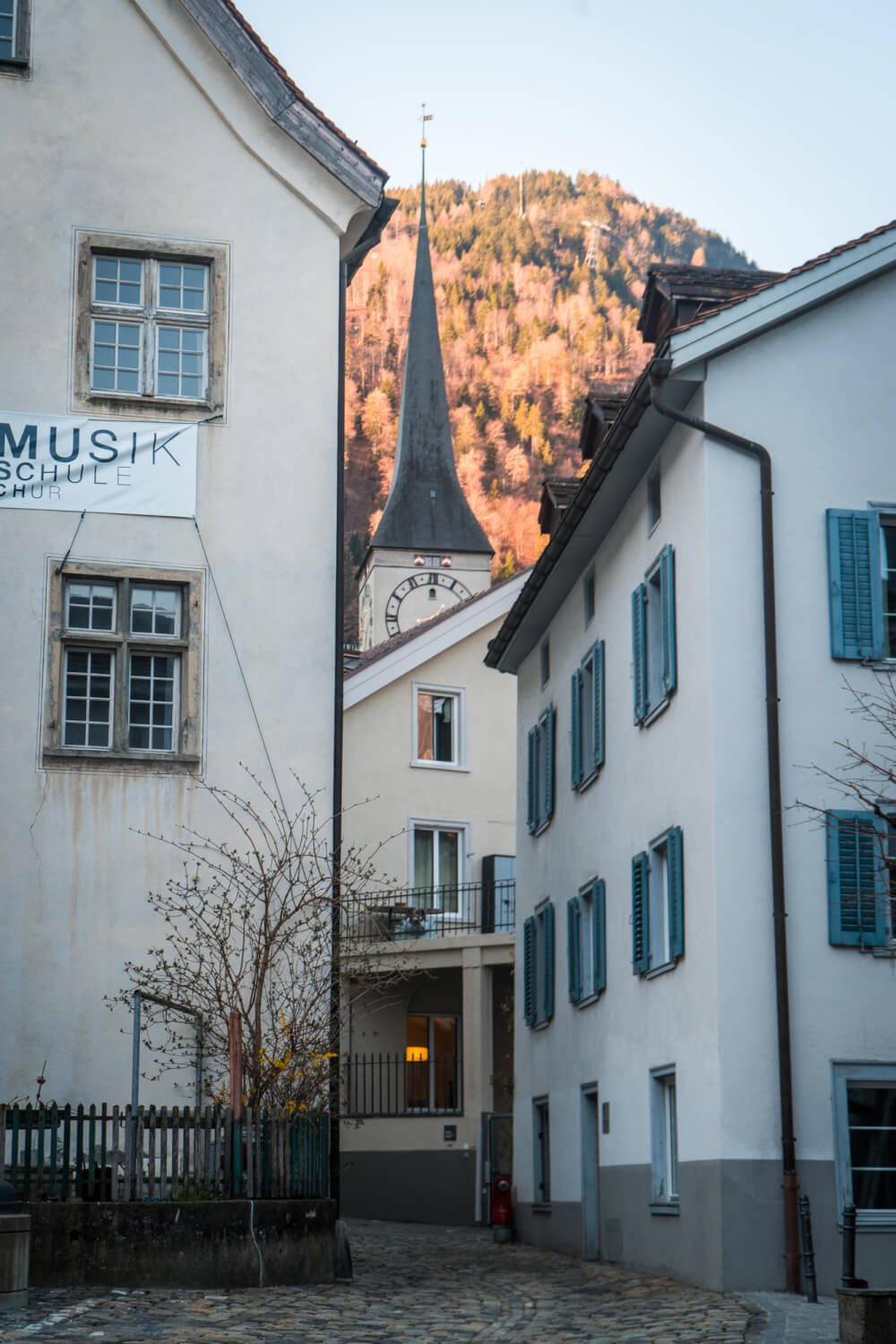 11. Scope out some Roman excavations
As I've mentioned to death, Chur's settlement history spans thousands of years, so it's unsurprising that there was a Roman chapter to the city's history.
But what's a little more surprising is you can literally just GET keys to explore some of these excavations for yourself!
I'm not joking: if you're curious to see some relics from this Roman era in Chur's history, you can do so at a now-protected excavation site by asking the Tourist Office for keys, all for the low price of 3CHF (with a 50CHF deposit). Click here for more info.
12. Step into the very crooked Chur Rathaus
While it's far from the grandest Rathaus in Europe, the Chur Rathaus (town hall) is an adorable fixture of the Old Town that is well worth a peek when you're passing by.
With colourful striped shutters and a crooked design that doesn't quite seem right, this is one of my favourite buildings in the Chur Old Town… and one that you should definitely keep an eye out for!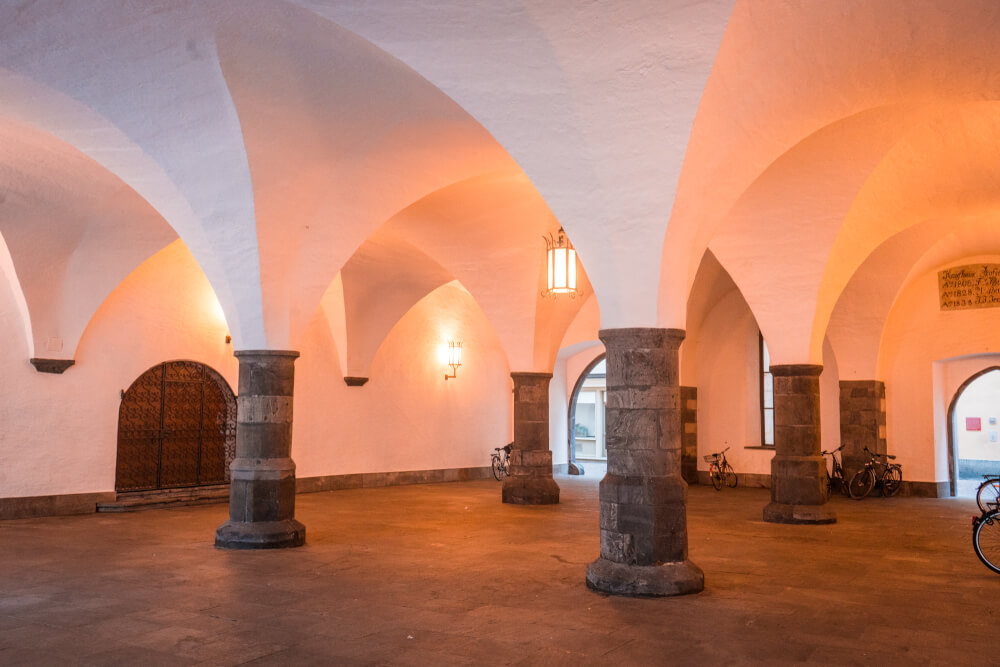 13. Explore the droolworthy nature surrounding Chur
Nature lovers, take note.
Besides being a jumping point for beautiful train rides, Chur is also closely located to a dazzling variety of  natural sights as well.
If you have some extra time, definitely make sure you explore some of the nearby lakes, mountains, and more. The Rhine Gorge (AKA the Swiss Grand Canyon) is especially spectacular.
Click here to check out more landscapes around Chur.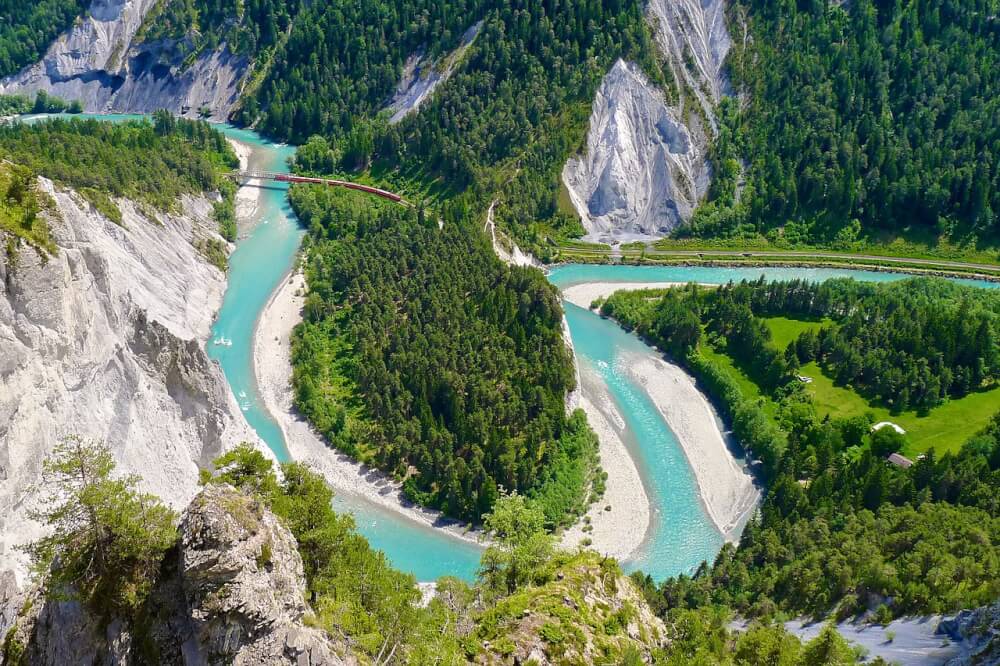 14. Go hunting for castle ruins
If you want to harness your inner Indiana Jones, Chur is surrounded by plenty of castles and ruins that will set your heart aflutter.
So, if you've ever had castle hunting on your bucket list, Chur makes a great base for doing just that. Click here to learn more about how to reach the most popular castles and fortresses around Chur.
PS: If you don't want to hike or commute to these castles, you can see many of them while riding the train from Chur to Filisur, or even better: while riding the full Bernina Express!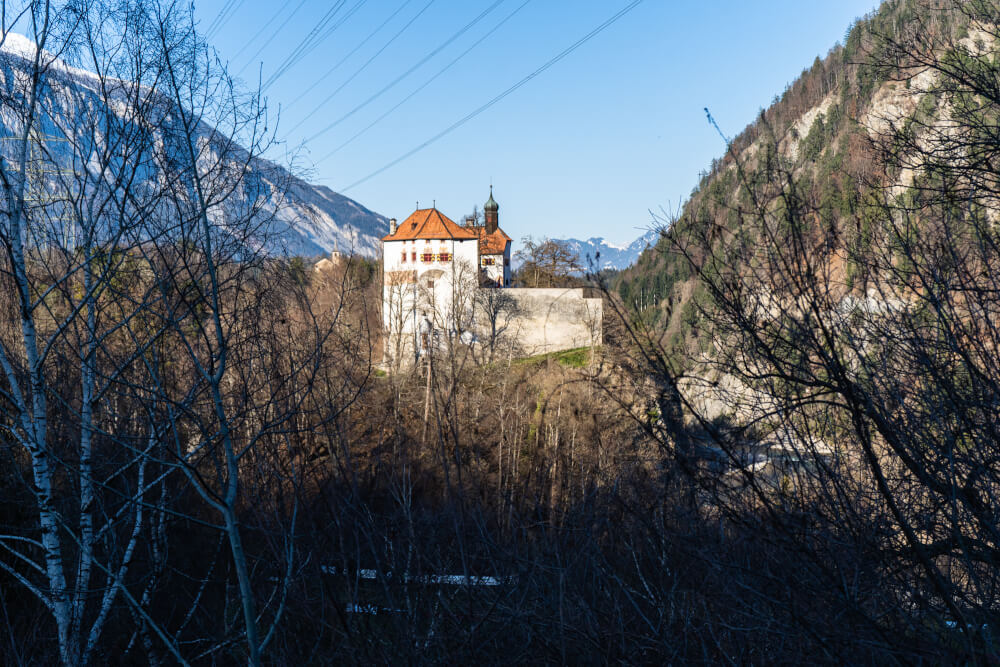 Any other ideas for things to do in Chur?
I was only in the city for a short time, so I'm sure there are plenty of wonderful Chur activities I've missed in this list. Let me know if I missed any of your favourites below!
---
Watch my most popular YouTube video this week:
---