*FYI - this post may contain affiliate links, which means we earn a commission at no extra cost to you if you purchase from them. Also, as an Amazon Associate I earn from qualifying purchases. Check out our Privacy Policy and Disclosure. for more info.
Having just returned from a short stay in the stunning Swiss town of Lauterbrunnen, I'm a bit of a drooly, overwhelmed mess.
After all, with a head full of dreams carefully planted from years of pining over Lauterbrunnen on Instagram and Pinterest, my expectations were so high I could practically vomit from excitement.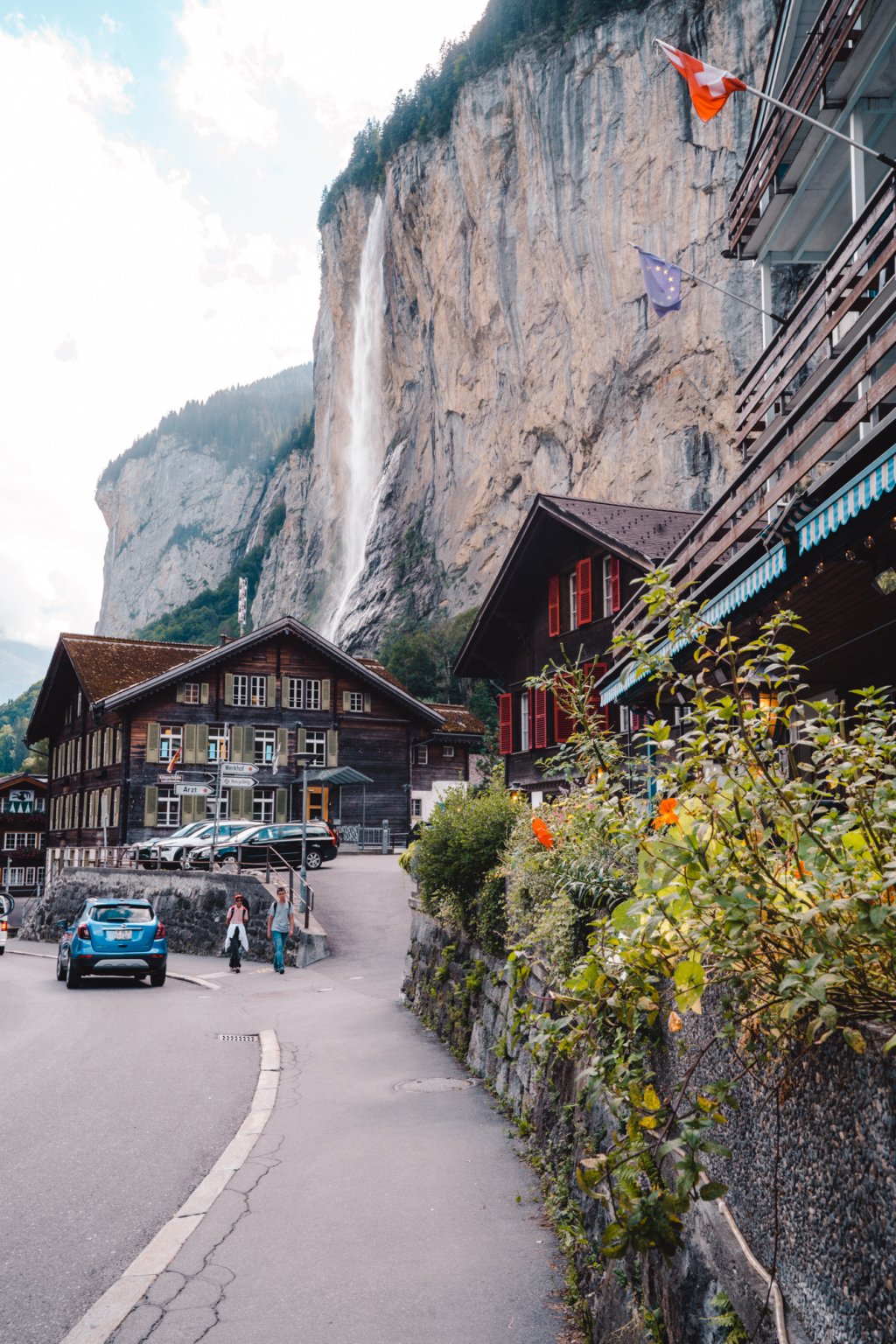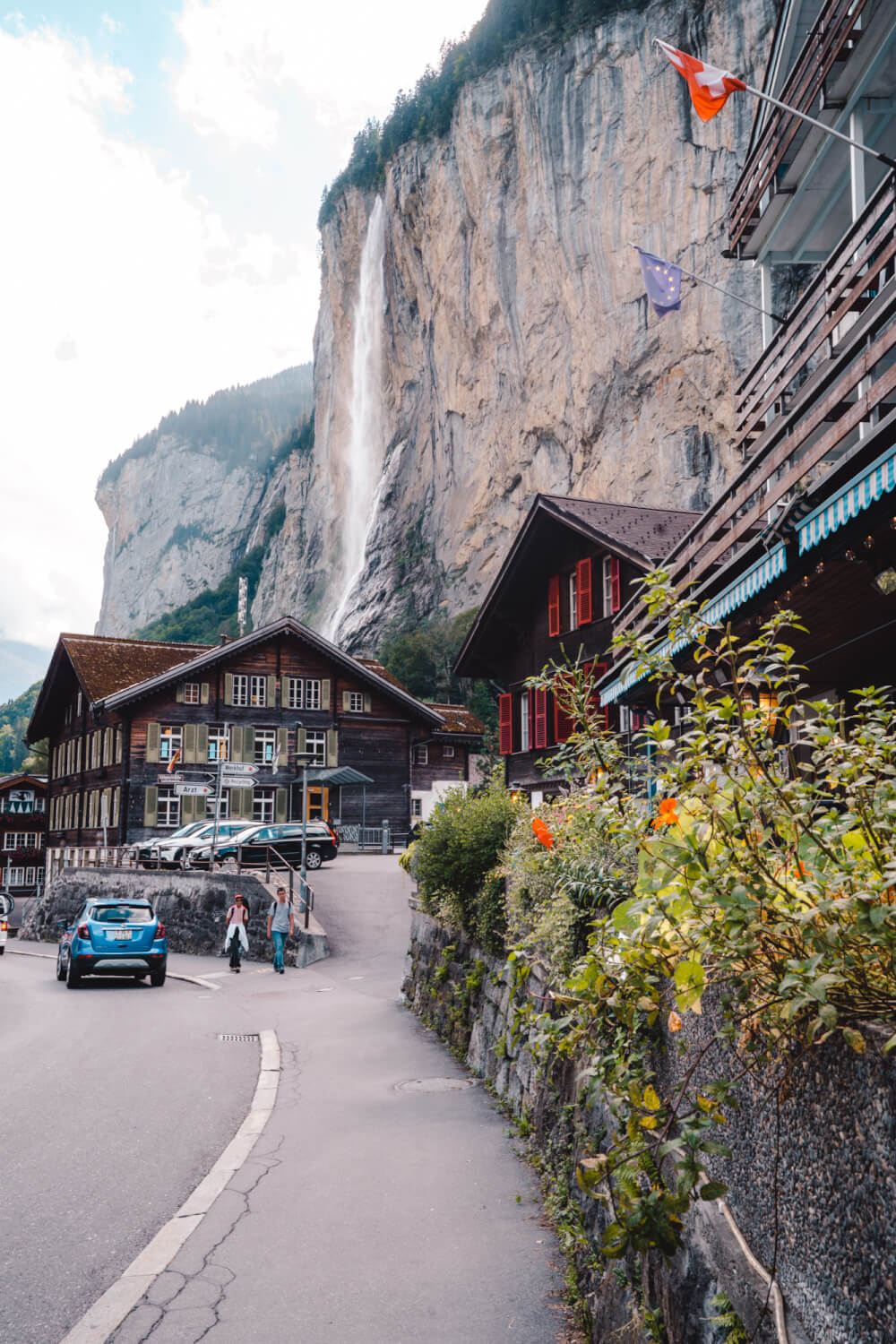 The issue? Many of the photos circulating online are actually snapped from drones, which means they're not real views you can access without spontaneously sprouting wings.
So, if you're like me and have failed at sprouting said wings, I've done some groundwork for you!
Here are some of my favourite viewpoints and Lauterbrunnen photo spots that I discovered, along with instructions on how to reach them. Best of all? Most of them are very easy to reach, with minimal hiking required (unless you're craving the workout, in which case I have some options for you).
I apologize that these viewpoints don't have official names, and that street names don't really help in this tiny town, but hopefully my painfully detailed directions won't lead you astray!
Save this post on Pinterest for later: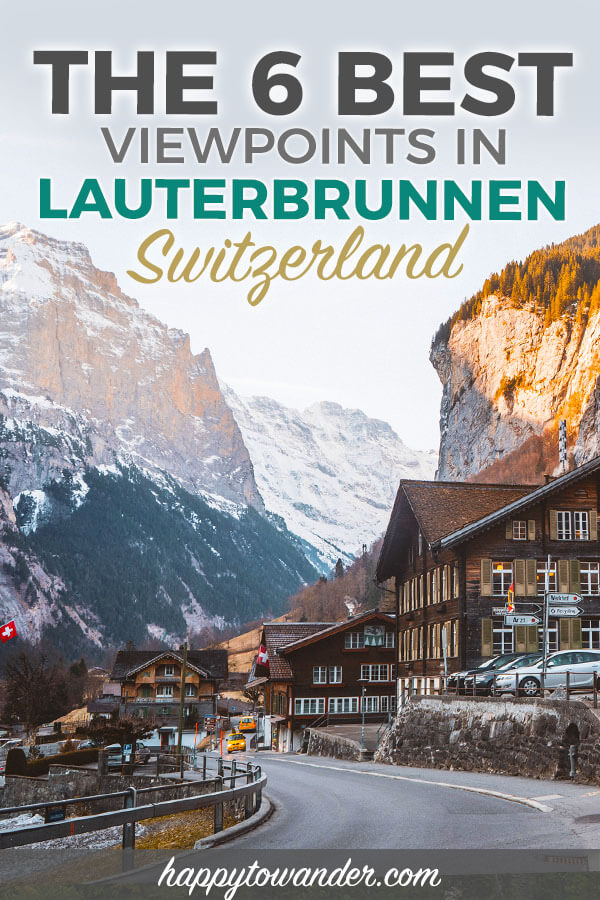 NOTE: This post reflects my experiences from March 2019 when I did a whirlwind trip exploring Switzerland's top train rides like the Bernina Express and Glacier Express.

I returned again on a revisit in August 2020.

I apologize in advance if the names of certain businesses change, but if you have any trouble finding these viewpoints, just pop into the Tourist Information Center with my photos and they'll be able to help you out!
Where to Find the Best Views of Lauterbrunnen
Whether you want to walk a lot or just a little, here are my top picks for amazing (mostly free!) viewpoints in Lauterbrunnen, Switzerland. Ready those cameras too – these are hands down some of the best photo spots in Lauterbrunnen.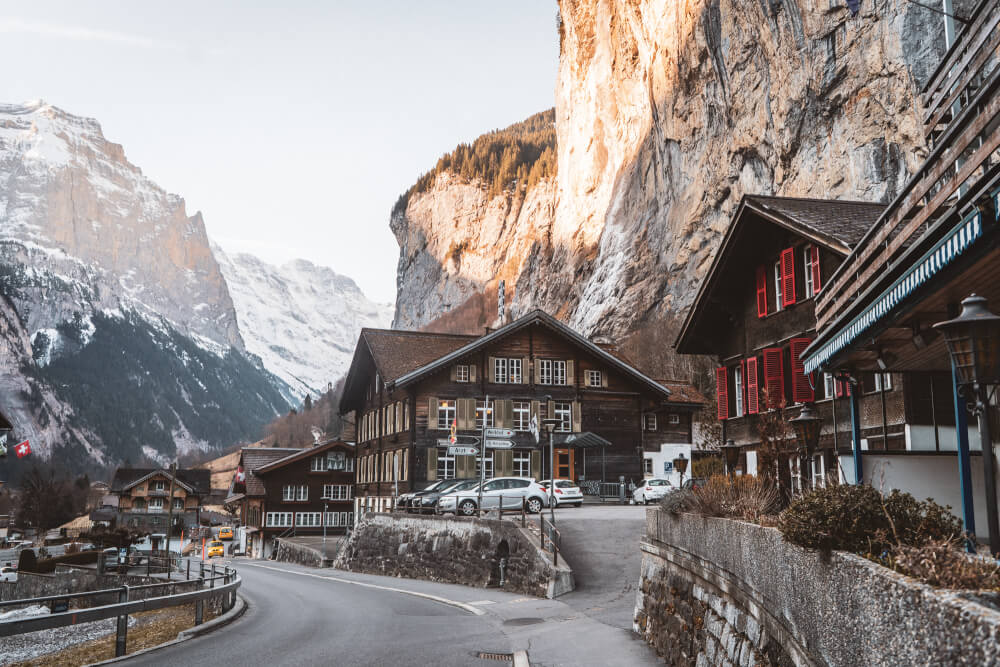 1. This iconic Lauterbrunnen view (in front of Chalet Pironnet)
Seeing a photo of this spot many years ago was one of the reasons I decided to visit Lauterbrunnen in the first place.
I mean, the magical spray of Staubbach Falls to the right, the iconic local church to the left… I knew that seeing this picturesque spot for myself was priority #1 when I arrived in Lauterbrunnen, so when (after hours of searching), I still hadn't found it, I was ready to rage-eat some potatoes.
… BUT after a quick inquiry at the local tourist office (a wonderful resource by the way!) I discovered this Lauterbrunnen photography viewpoint is the easiest little walk ever… because it's actually downhill from the main street. If you're looking for THE #1 Lauterbrunnen Instagram spot, this is it.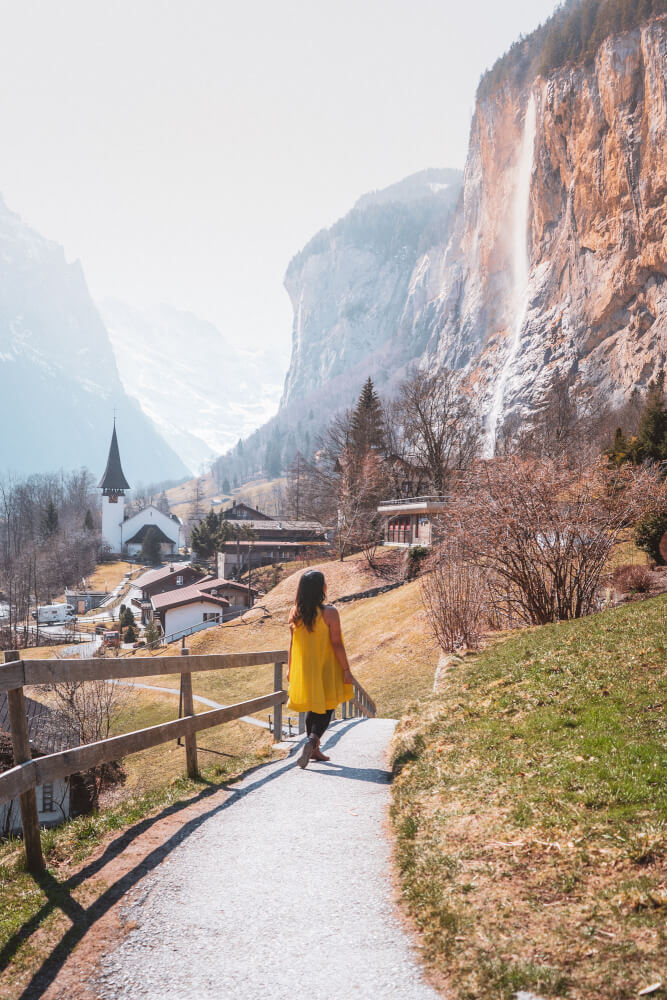 How to reach this Lauterbrunnen viewpoint:
Starting from the Lauterbrunnen Tourist Info Center (Stutzli 460), walk in the direction of the Staubbach Falls (away from the Train Station) for about 150m until you reach the Airtime Internetcafe.
Directly across from the Airtime Internetcafe, you'll see an Electric Shop (EWL Genossenschaft) which has two funny stone spheres made up of tiny stones in front of it.
There will be a little path that goes left from here which will bring you downhill to Lauterbrunnen Chalet Pironnet. Directly in front of Lauterbrunnen Chalet Pironnet is this viewpoint!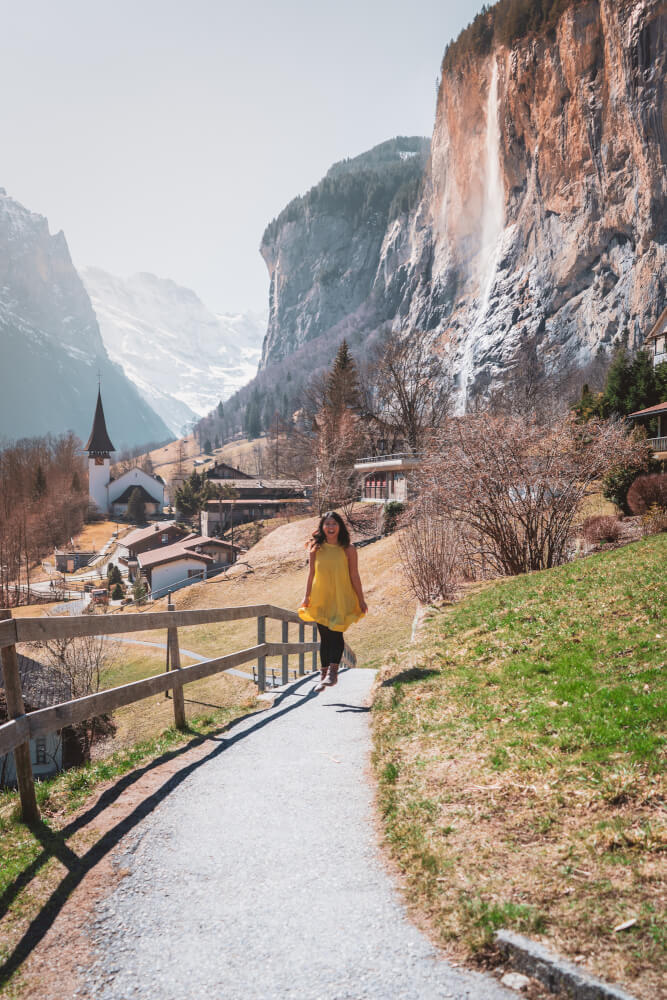 2. The view from the Lauterbrunnen – Mürren Hiking Trail
While most people don't usually hike from Lauterbrunnen up to Mürren (the recommended route is actually to take the cable car up and then hike down since it's so steep!), I let my curiosity get the best of me on my first visit, and I hiked the first portion of this trail to get a good view over the valley.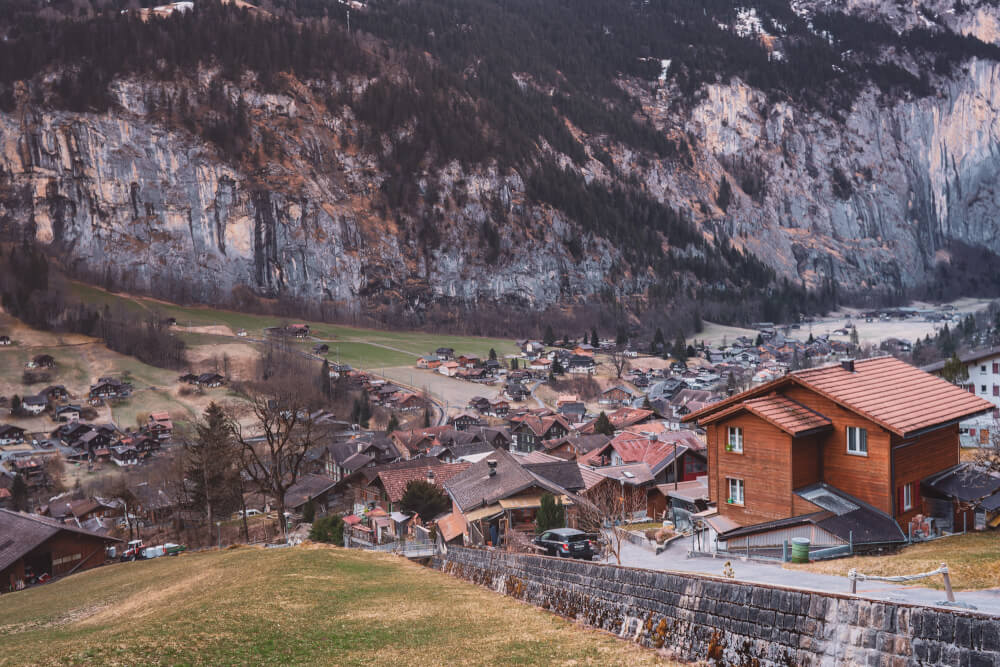 … I also did the entire trail from Lauterbrunnen to Mürren on my 2nd visit, because my partner loves a good physical challenge. * eye twitch *
This hike is indeed quite steep, but even with less than 20 minutes of hiking, you are treated to some of THE most amazing views ever over the Lauterbrunnen Valley, like these: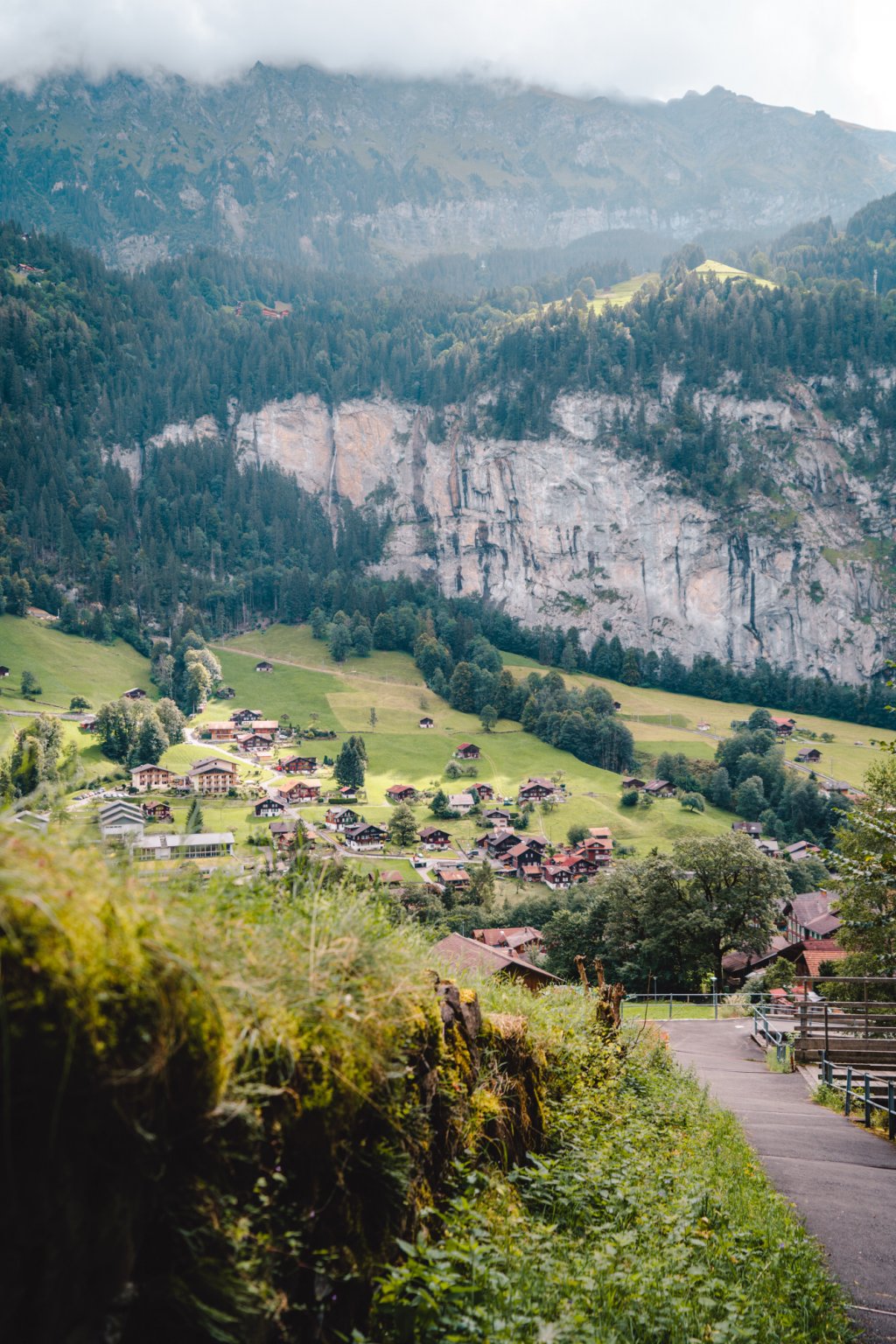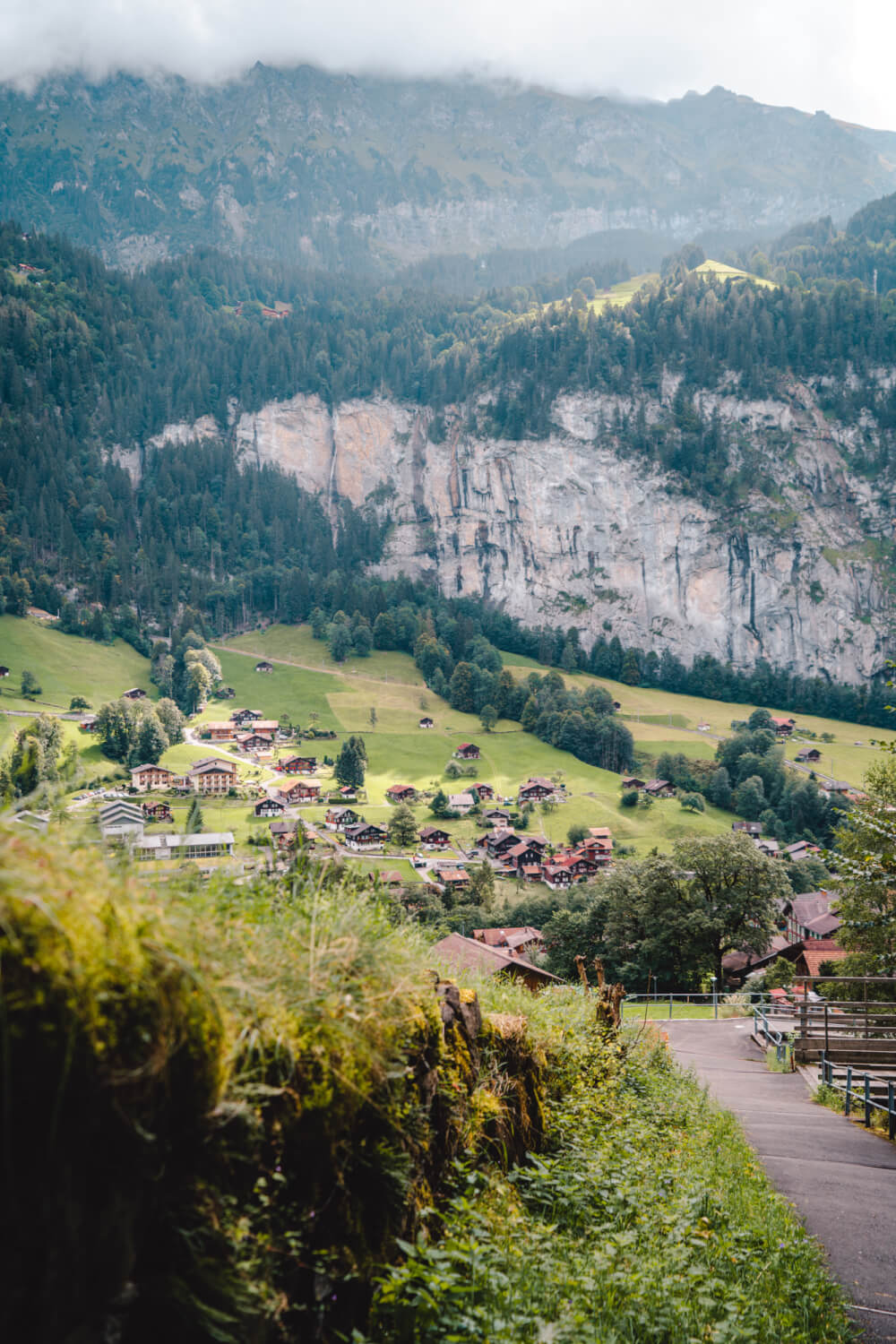 And the views only get prettier as you get up higher towards Mürren, so if you don't mind a little huffing and puffing, I highly recommend doing this hike for an amazing perspective over Lauterbrunnen Valley!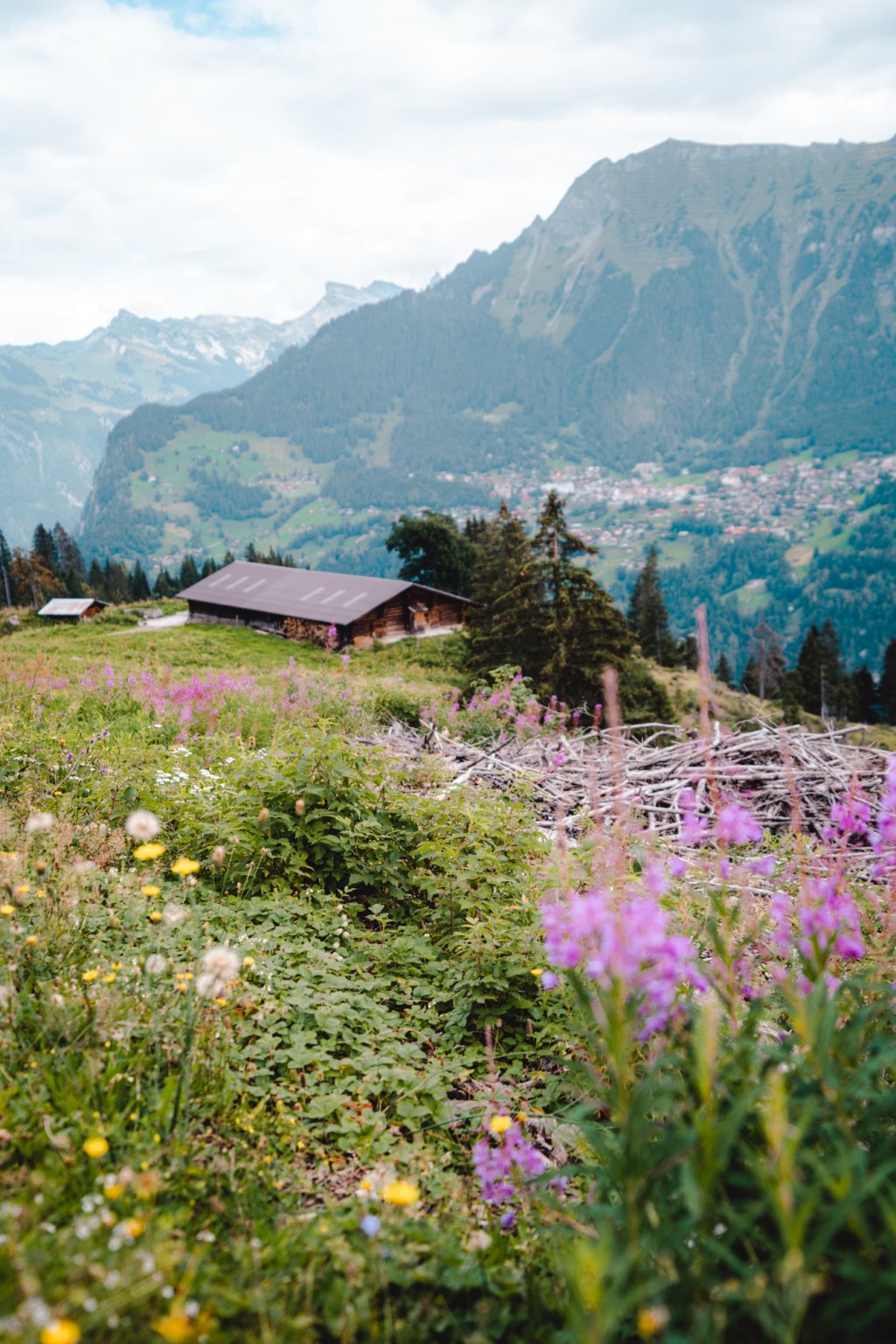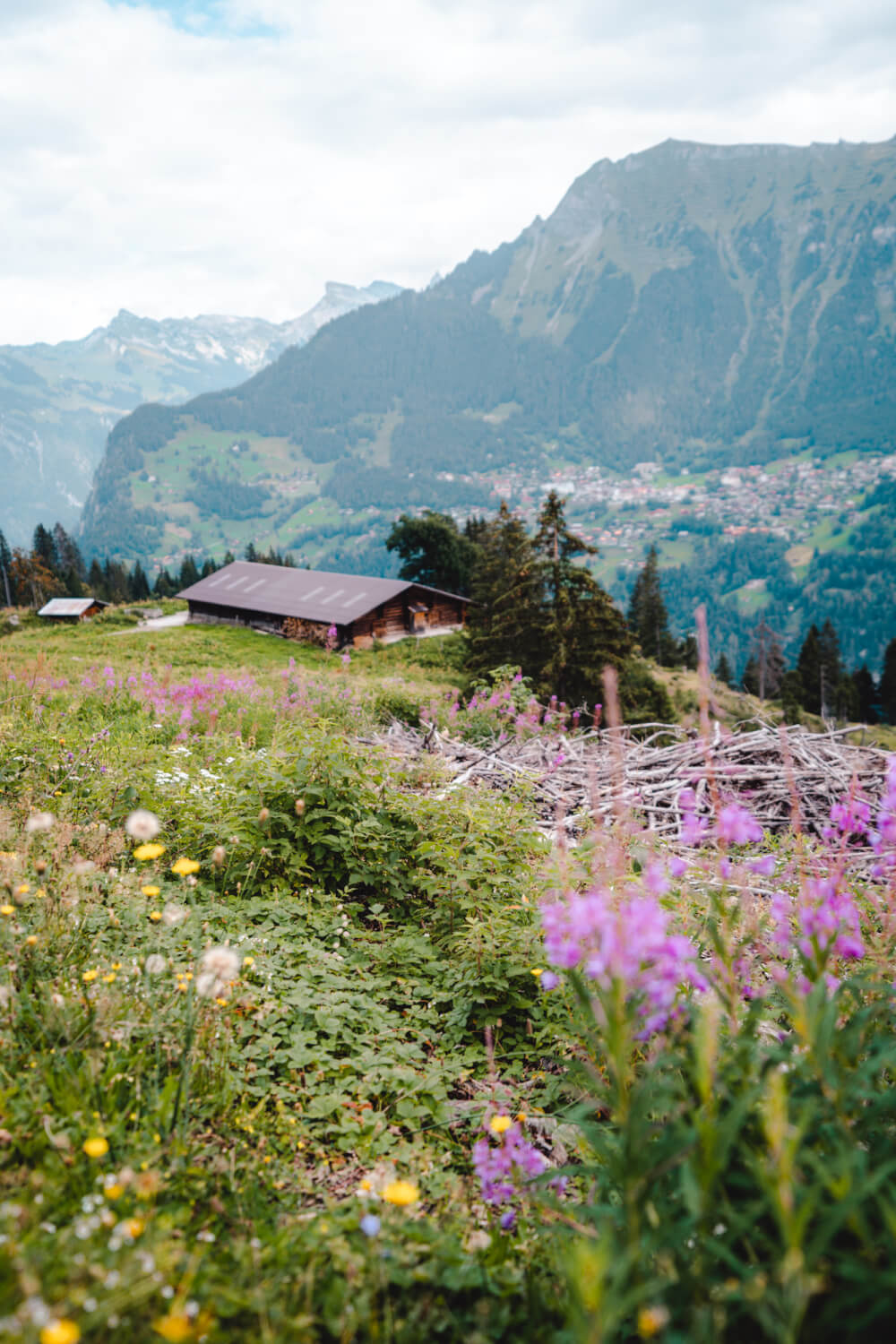 And FYI, this is what things look like from the main Mürren viewpoint over Lauterbrunnen: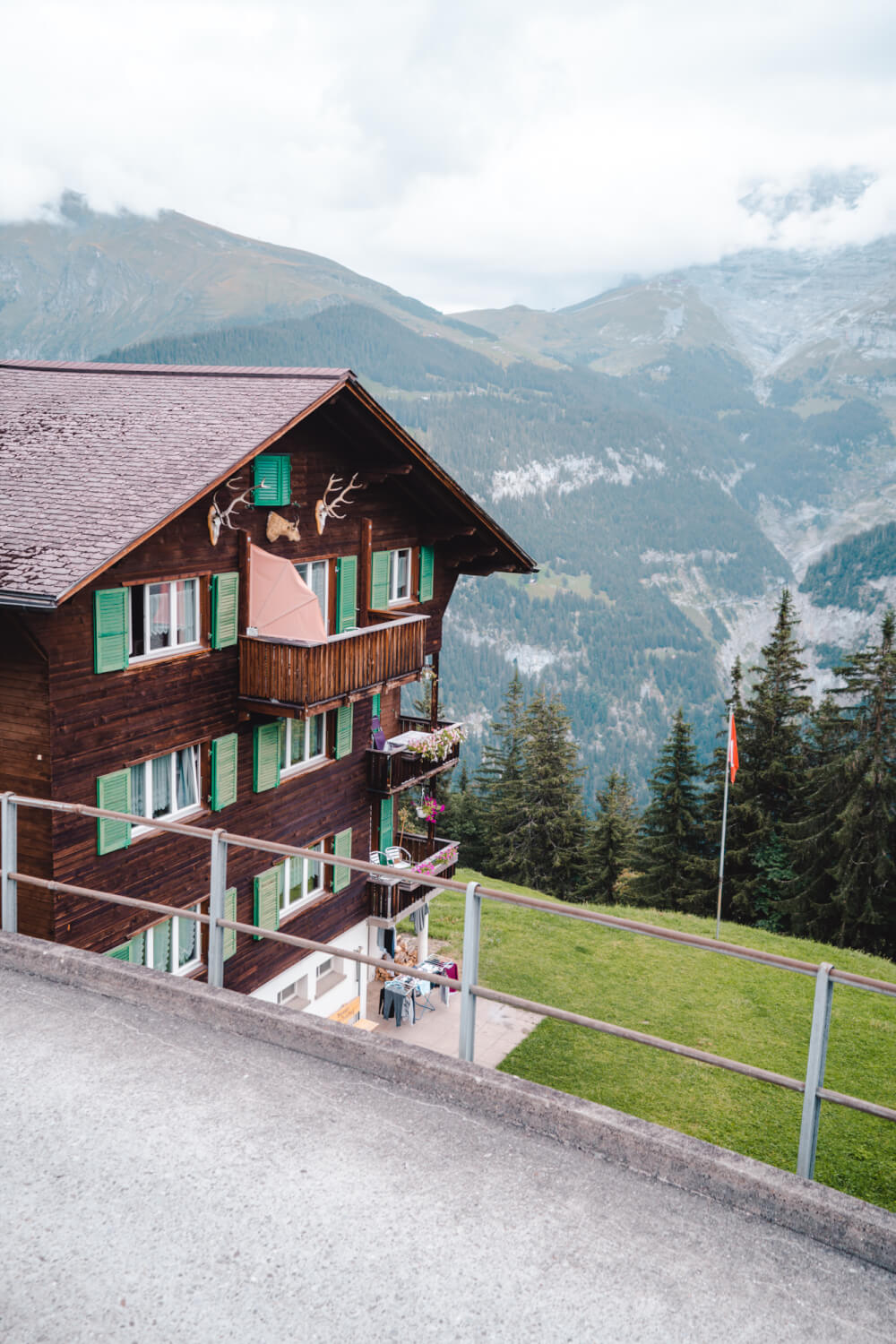 How to reach this Lauterbrunnen viewpoint:
There are a lot of bright yellow signs in Lauterbrunnen that point you towards a variety of hikes.
To get to this viewpoint, simply find a yellow arrow sign that says "Mürren" and follow it uphill. I turned uphill from the main street somewhere around Hotel Oberland.
Again, this is a very steep mini-hike but you'll be rewarded in less than 20 minutes with a stunning view over town, and beautiful views over the valley if you press on.
Alternatively, you can catch the cable car up to Grütschalp and proceed to Mürren via cogwheel train. We did this on the way down and the views are just as pretty: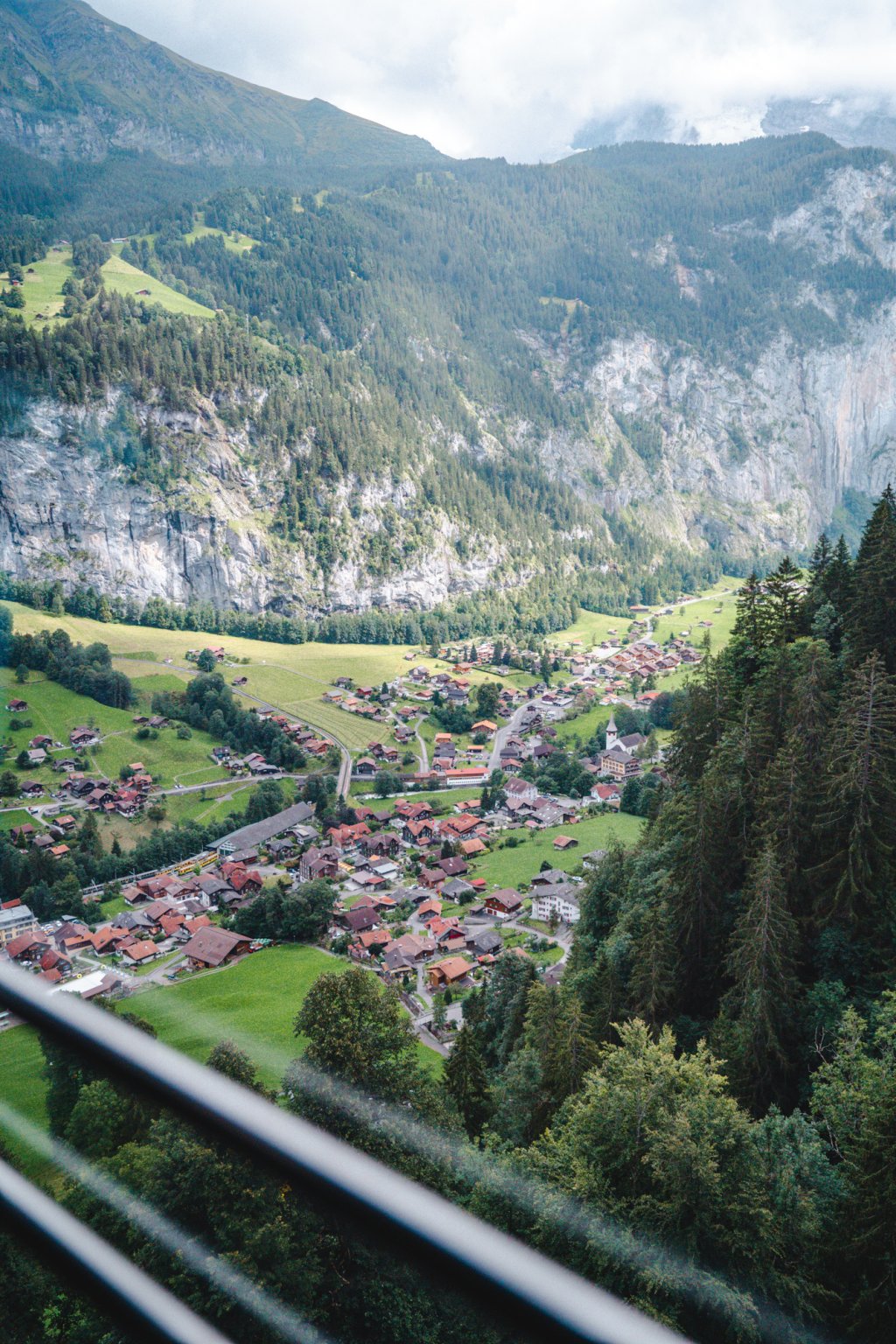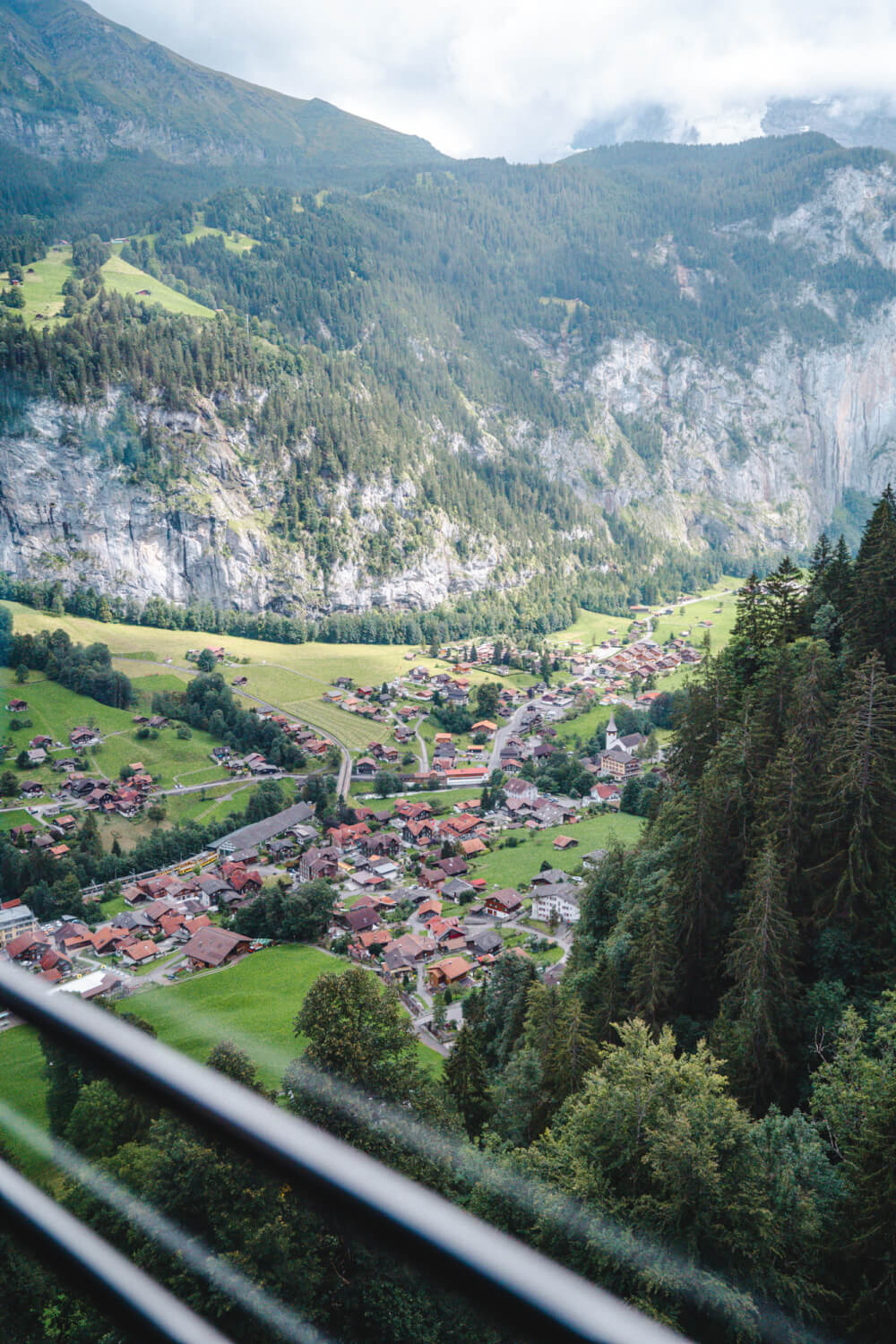 3. This View from Lauterbrunnen Friedhof (Lauterbrunnen Cemetery)
If you take the relatively flat and easy hike from Lauterbrunnen to Stechelberg, you'll be entertained with beautiful views all throughout your trek.
If you don't have time to do a full hike though, the short walk down Lauterbrunnen's main street over to the Lauterbrunnen Friedhof (Cemetery) offers a stunning vantage point of the valley and the city too.
How to reach this Lauterbrunnen viewpoint:
Starting from the Lauterbrunnen Tourist Info Center (Stutzli 460), walk in the direction of Staubbach Falls (away from the Train Station) and follow the path straight until you hit the Friedhof Lauterbrunnen.
You'll start to see the gravestones on your left. If you reach the Camping Jungfrau Holiday Park, you've gone too far, but just turn around and enjoy the view!
4. This View from the Other Side of the River
Most visitors to Lauterbrunnen stay on the right side of the river (where the Staubbach Falls are) but some great perspectives can be enjoyed from the other side too!
One of my favourite viewpoints in Lauterbrunnen was this simple one of the church and river in front of it. You'll find it close to the town's high school.
How to reach this Lauterbrunnen viewpoint:
Starting from the Lauterbrunnen Train Station, do NOT follow the signs that point you to the "City". Instead, turn around and head towards the exit where the big multi-story parking lot is.
Exiting the train station, turn right and follow this path until you see a foothpath/bridge to your left that leads you over the river.
Once across the bridge, turn right and follow the path town. You'll pass by the Lauterbrunnen Sekundarschule (high school). Keep walking down this path and you'll eventually reach this beautiful viewpoint!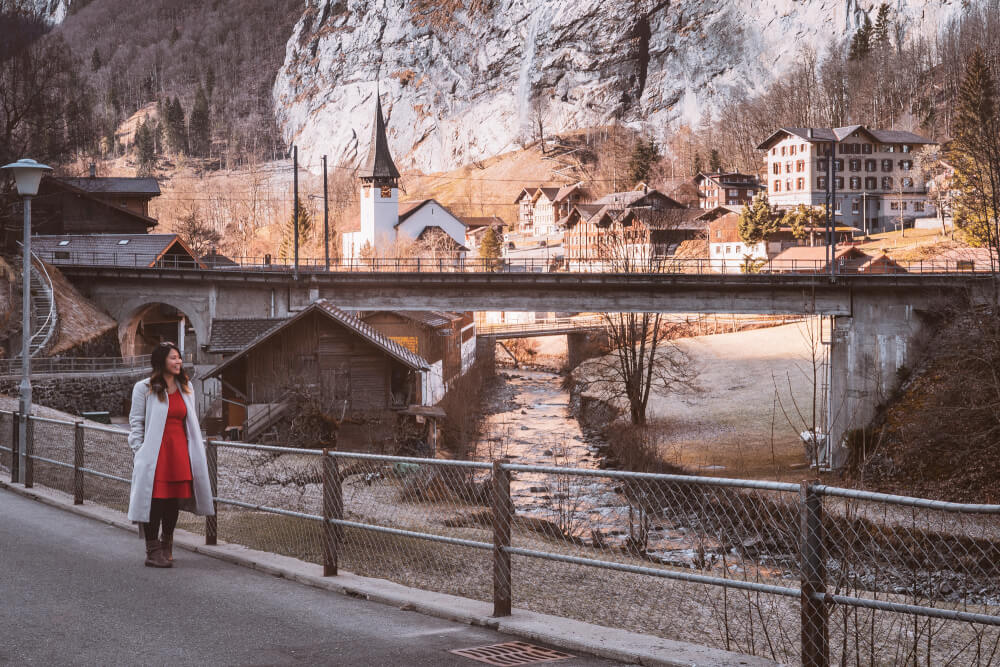 5. This view from Saint Bernard's Church in Wengen
Wengen is a pretty town perched above Lauterbrunnen, which means inevitably it has some excellent views of the Lauterbrunnen Valley to offer.
My personal favourite is the view from the Evangelisch Reformierte Kirche Wengen. On a clear day, it offers impossibly stunning views of Lauterbrunnen below and even the Staubbach Falls!
How to reach this Lauterbrunnen viewpoint:
Take the train from Lauterbrunnen to Wengen. Leaving the Wengen train station, take a left and walk down this main street (Dorfstrasse).
You'll pass the Tourist Information Center to your right, and then several restaurants, bars and hotels as you continue down Dorfstrasse.
Keep your eyes to the left side because in about five minutes, you'll see a church to your left. Follow the path and climb up to get right next to the church.
Directly in front of it you'll find a nice viewing point with some benches where you can sit down. It's beautifully peaceful!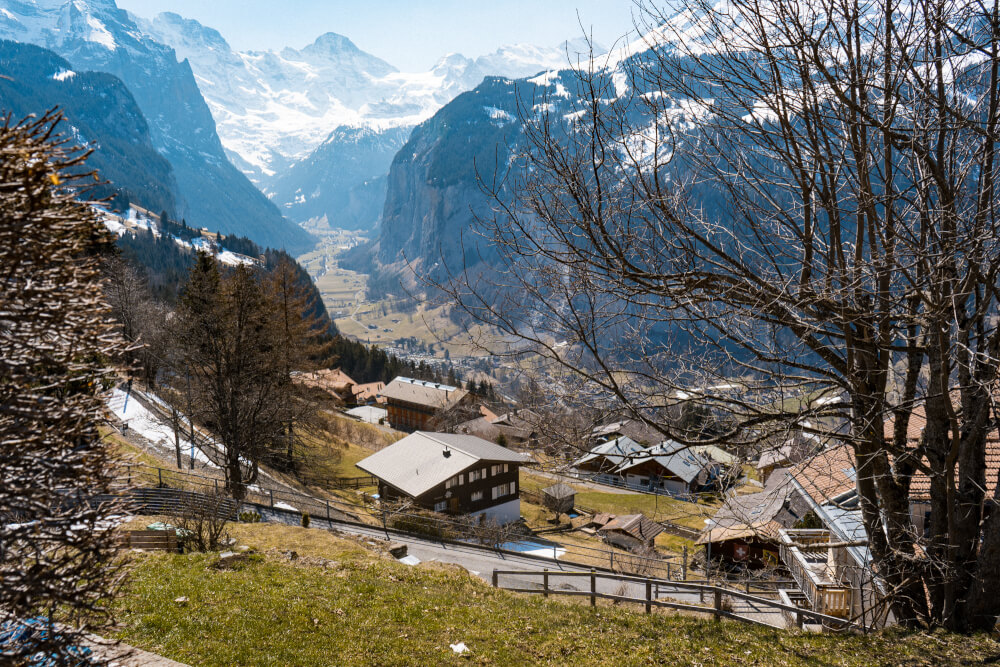 BONUS TIP: The entire train ride from Lauterbrunnen up to Wengen (or vice versa) offers great views as well. In fact, I'd consider it one of the most scenic (short) train rides in Switzerland. If you are coming from Lauterbrunnen, make sure you sit on the right side to make the most of the views. If you are coming from Wengen down to Lauterbrunnen, then sit on the left. Do note however that this ride will not be covered by a Eurail pass, which I found out the hard way!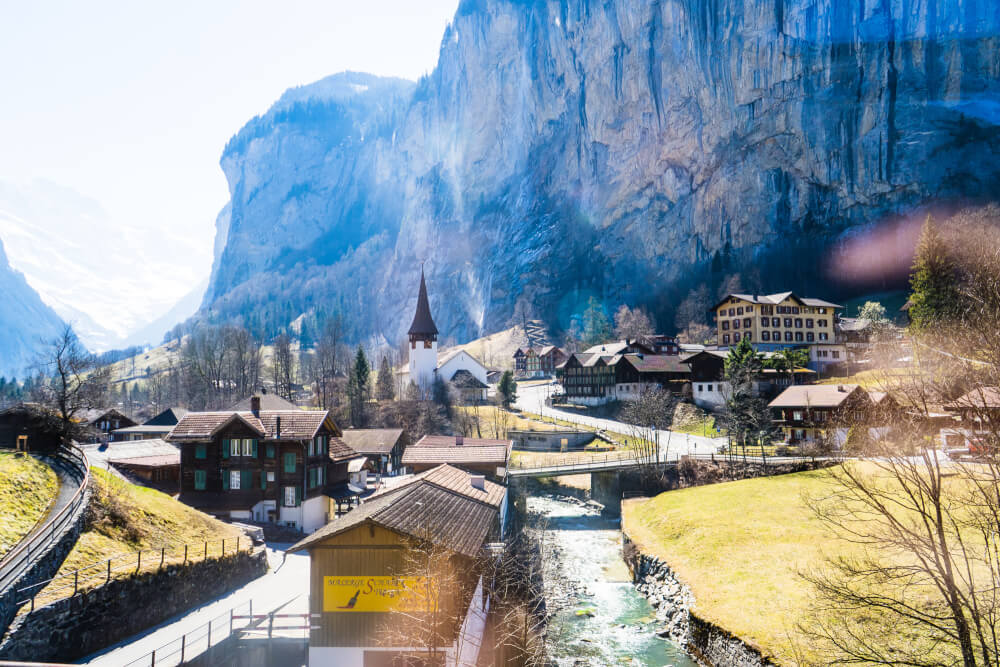 6. The View from Stabbauch Falls
While I unfortunately didn't get to visit this viewpoint on my first visit to Lauterbrunnen, I made it a priority on my 2nd visit and I am SO glad I did. The views were incredible!
Hands down, one of the most unique experiences you can have in Lauterbrunnen view-wise is hiking up to the Stabbauch Falls from town and enjoying the viewing platform that's behind the waterfall. While short, this hike is surprisingly steep so good shoes are a must. Don't be one of the sad hikers I spotted in flip flops.
On your way up, you are treated to incredible views like this: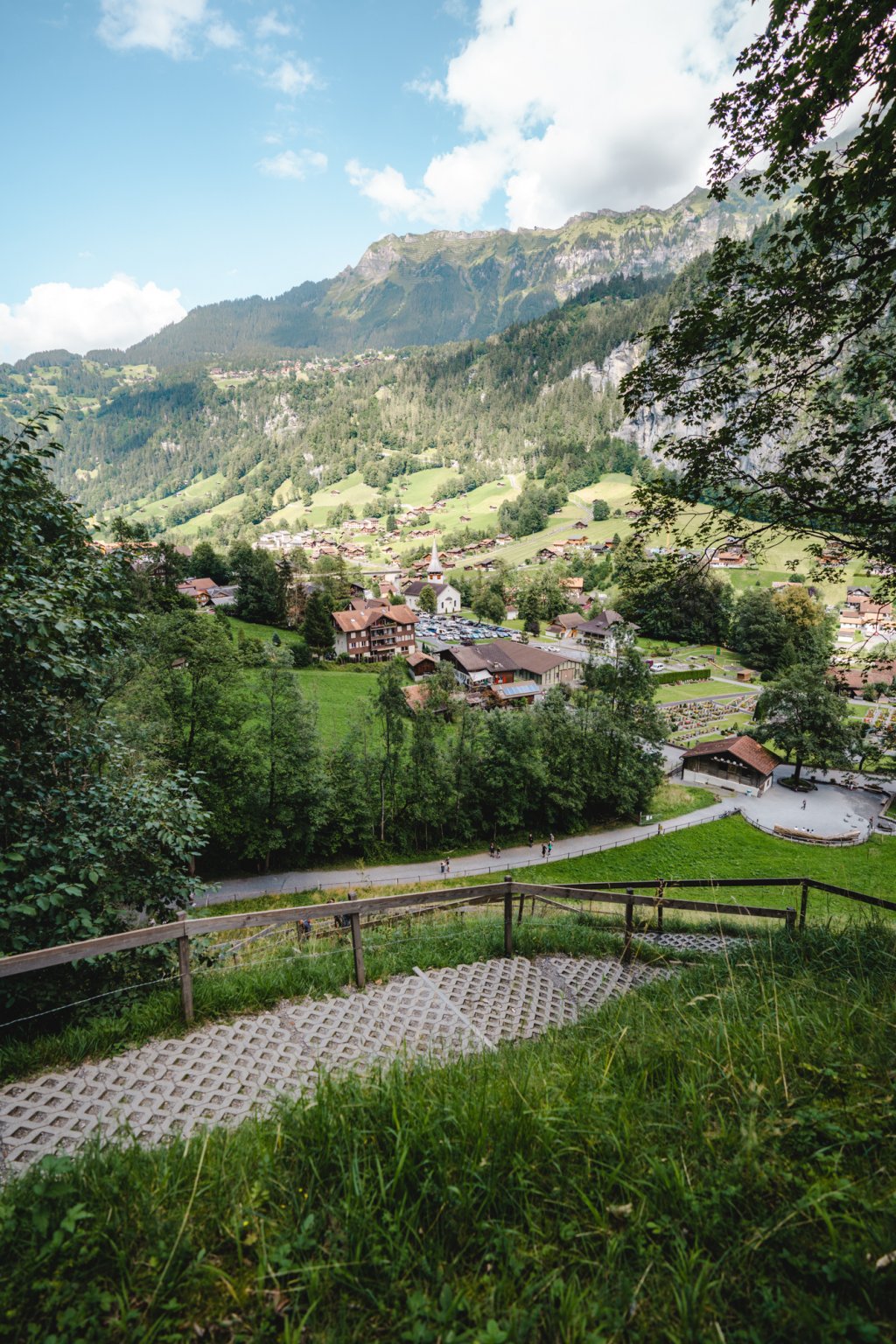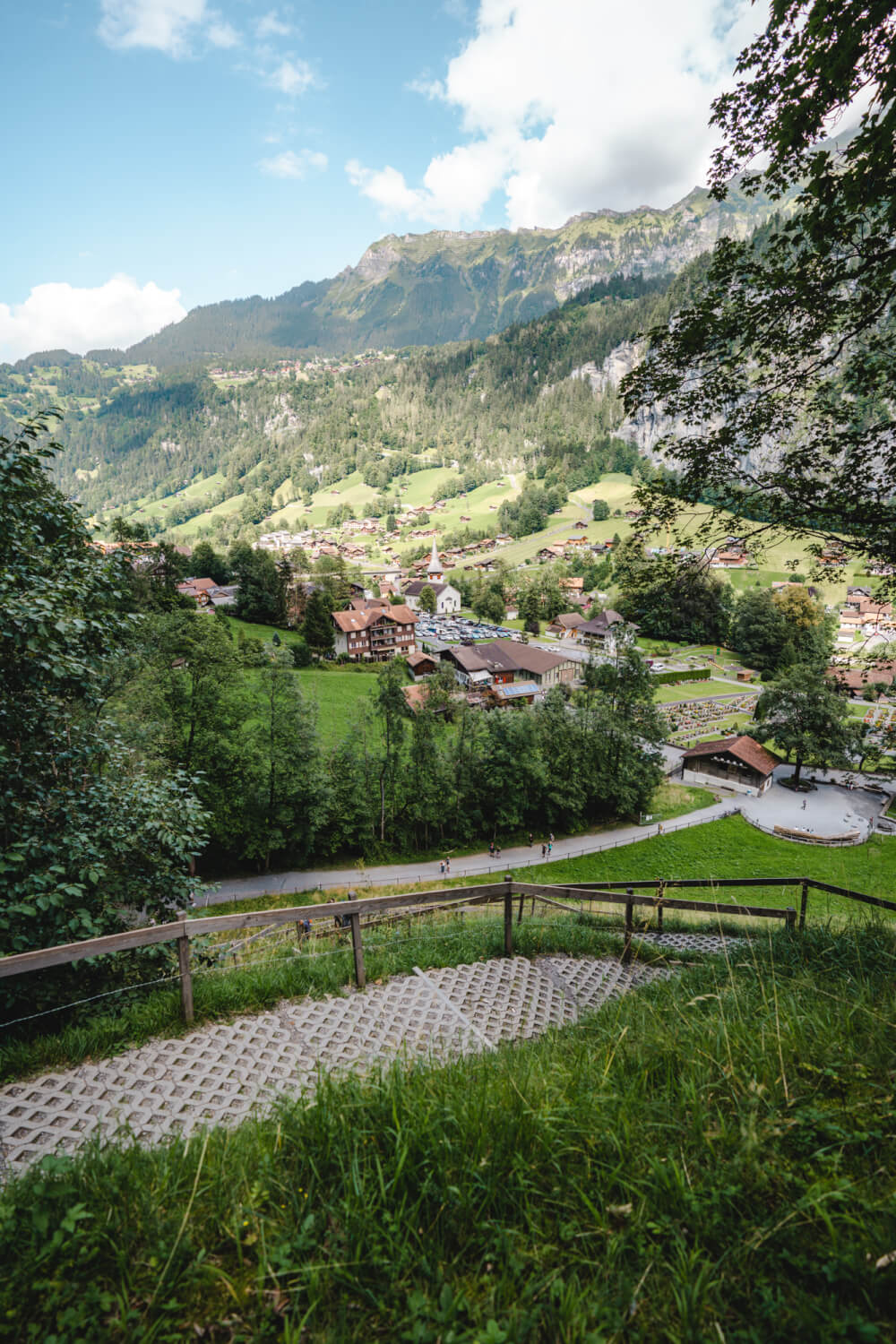 And when you get up to the top, you get this unique perspective of Lauterbrunnen with a side of waterfall. Pretty cool: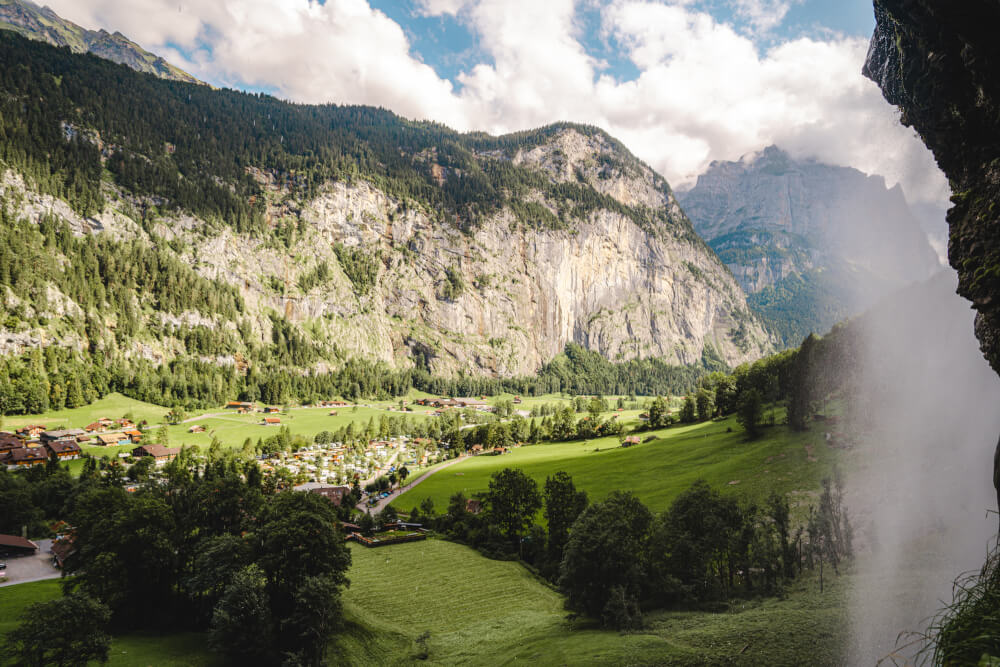 How to reach this Lauterbrunnen viewpoint:
Starting from the Lauterbrunnen Tourist Info Center (Stutzli 460), walk in the direction of Staubbach Falls (away from the Train Station). You can't miss it since it's the focal point of the city 😉
Continuing on the main path, you'll eventually reach a barn-like structure (pictured below) that says "Stabbauchfall".
There will be signs here pointing you towards the trail.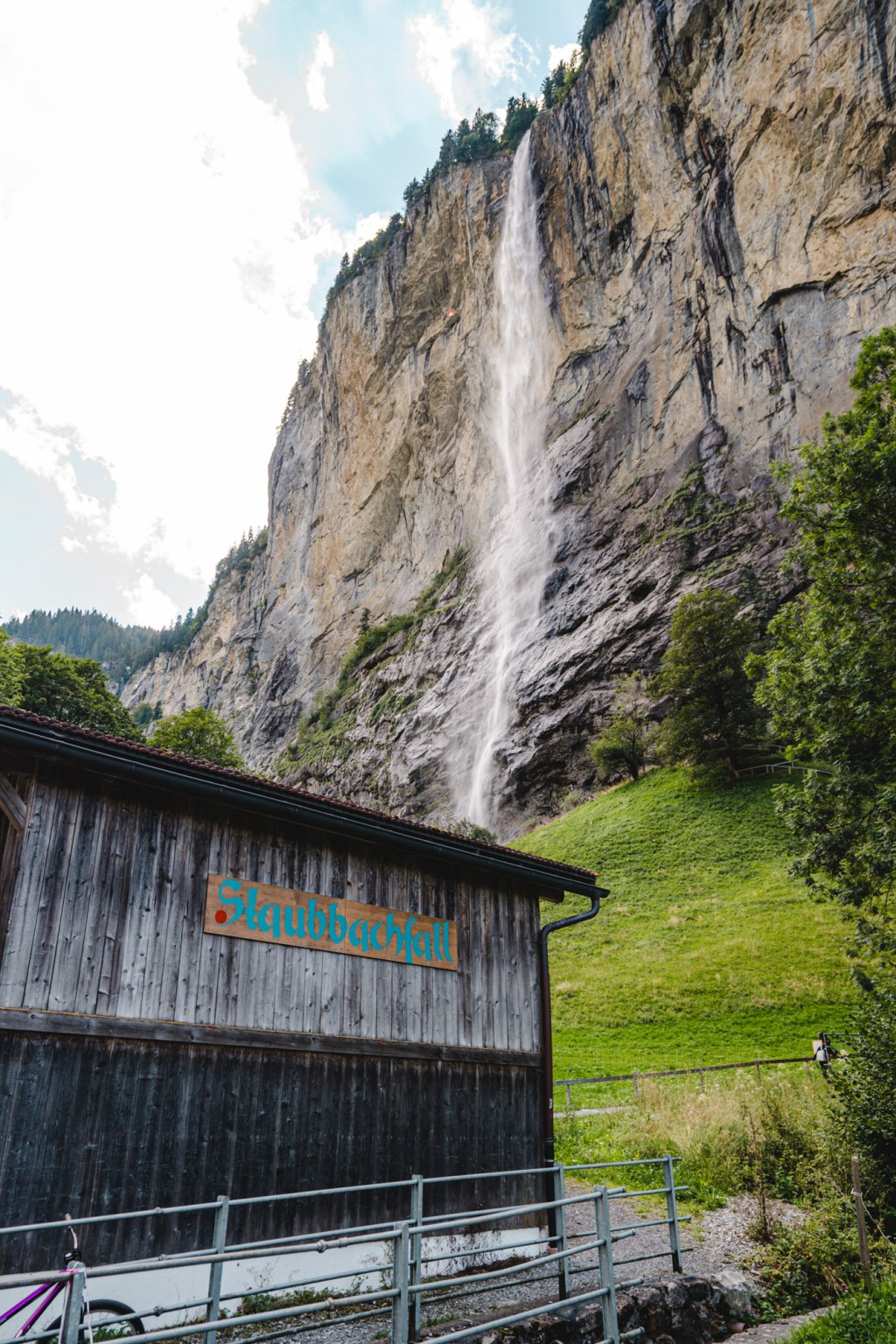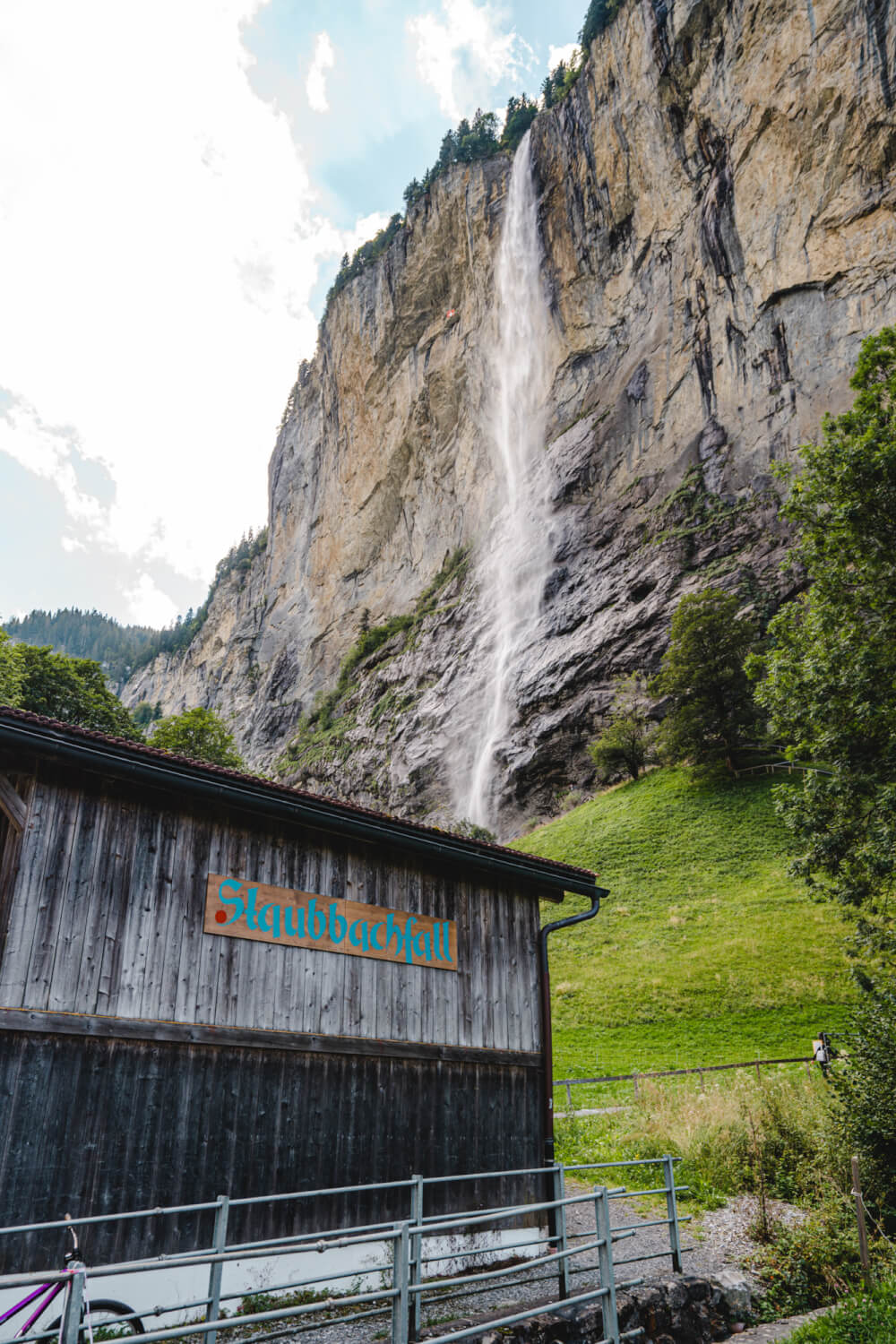 Last but not least: just walk up!
Excuse the vagueness, but honestly, some of the best views in Lauterbrunnen will be the ones that you magically stumble upon yourself.
In a valley as picturesque is this, you're never more than a few minutes of walking away from a unique and beautiful view.
I've provided some of my favourite discoveries above, but trust me, you won't find a bad place to take a photo here 😉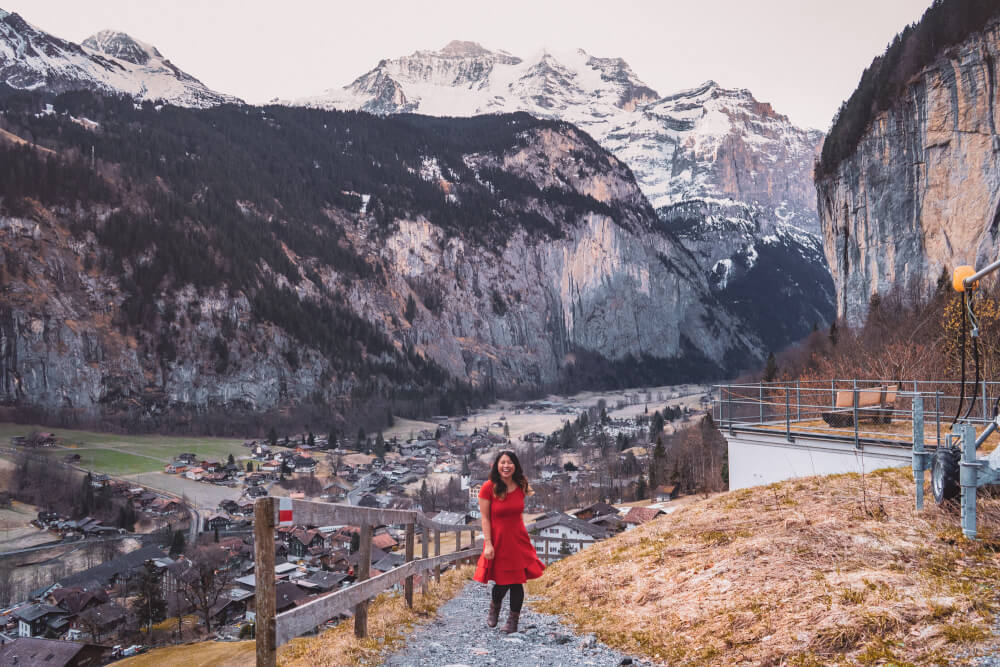 Did I miss any of your favourite Lauterbrunnen viewpoints?
I didn't spend nearly as much time as I would have liked in the Lauterbrunnen Valley! I know there are plenty of stunning views I probably missed, so let me know in the comments if you know of any that I should add!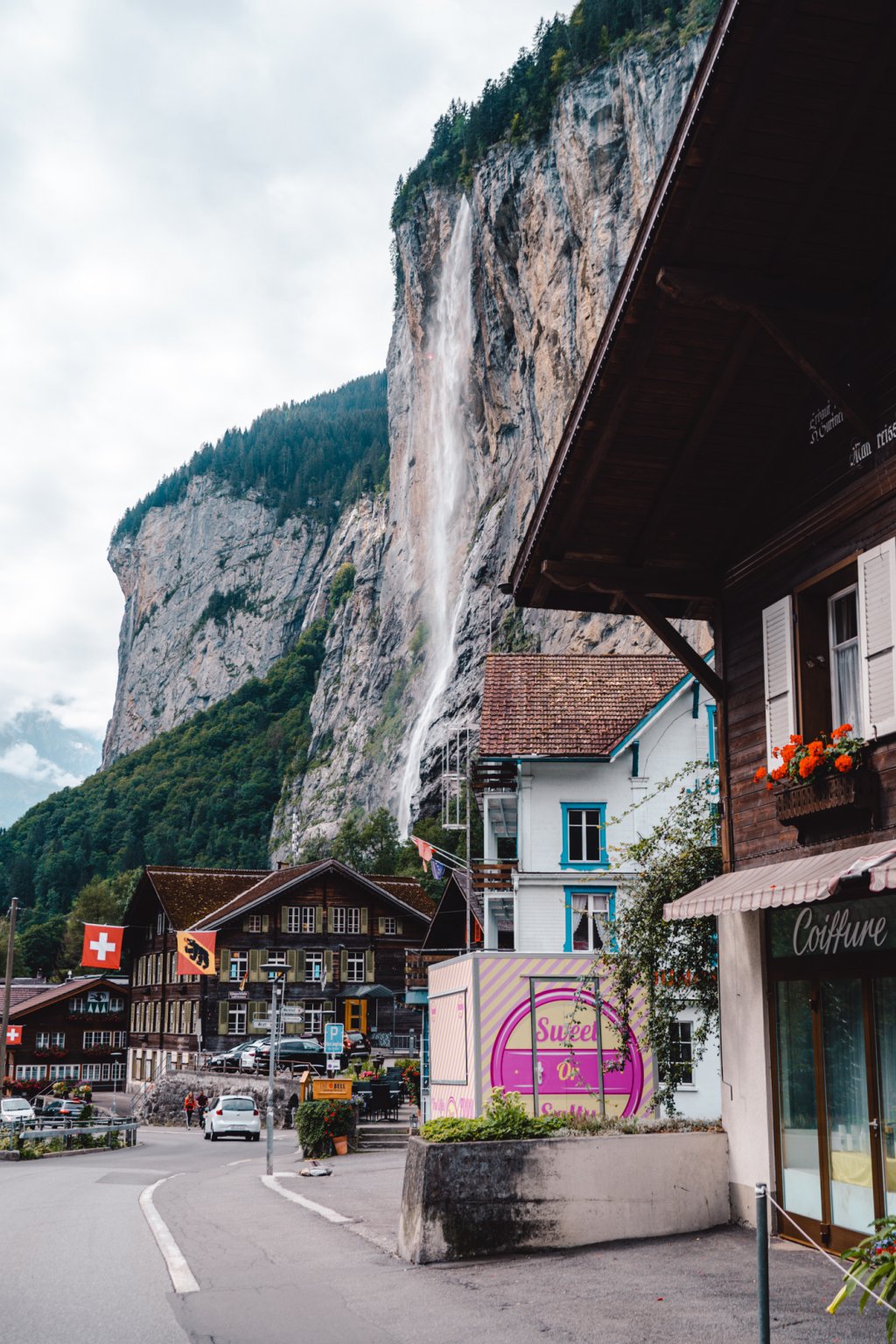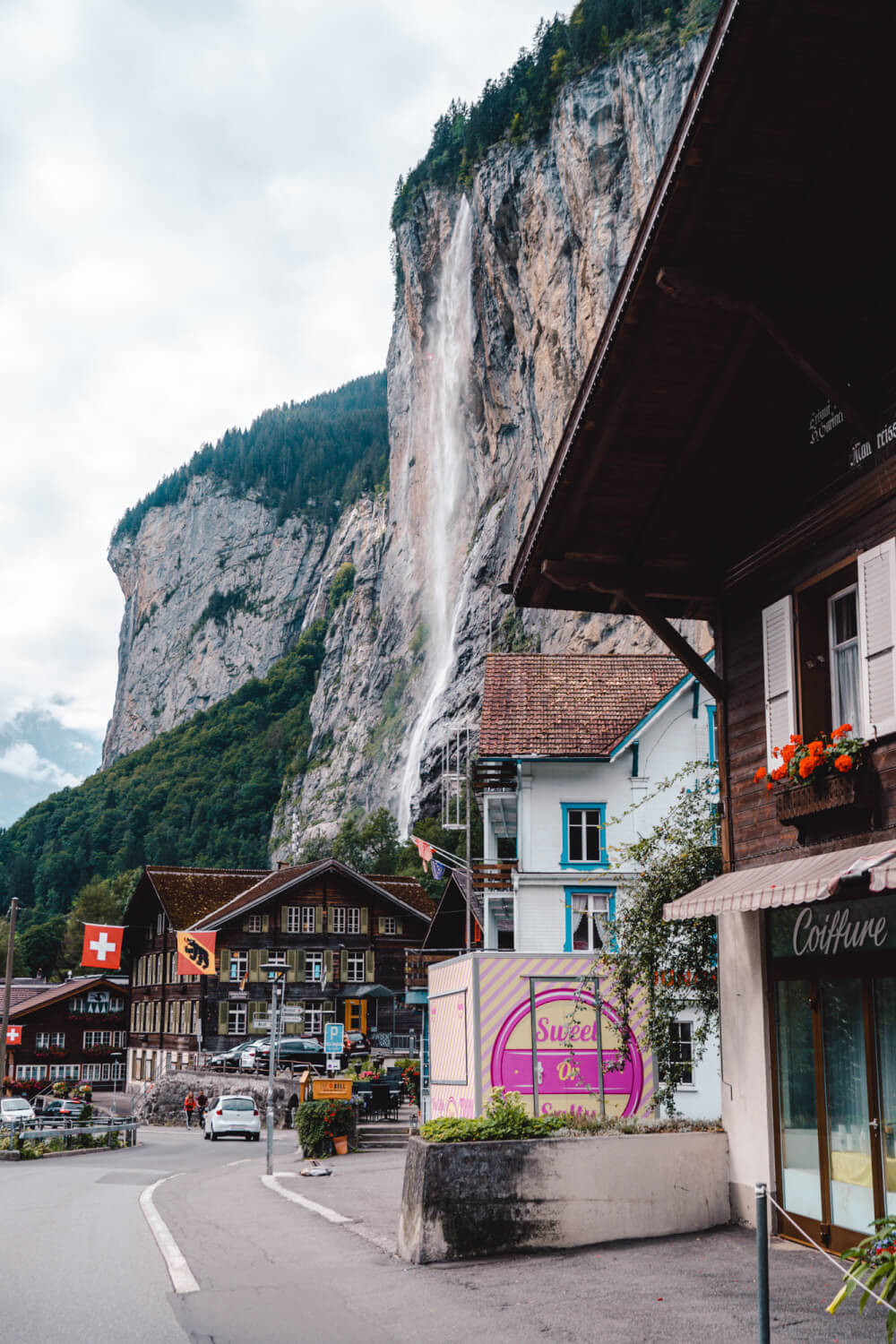 ---
Watch my most popular YouTube video this week:
---