*FYI - this post may contain affiliate links, which means we earn a commission at no extra cost to you if you purchase from them. Also, as an Amazon Associate I earn from qualifying purchases. Check out our Privacy Policy and Disclosure. for more info.
When it comes to things to do in Burano, I assure you there's plenty more to enjoy than simply foaming at the mouth while cooing over its vibrant rainbow houses.
I've been to Burano twice now – both times as a day trip from Venice. And let me tell you – I'd go again tomorrow if I could.
Like the incredible Cinque Terre, this tiny island may not be the most action-packed of places, but it makes up for it in charm, vibrance, and limitless beauty.
Looking for inspiration on what do in Burano? Don't worry – there's plenty to keep you occupied.
Here are some delightful things to do in Burano in one day.
Staying Overnight in Burano?
While Burano is most popular as a day trip from Venice, spending the night here gives you a chance to explore the island independent of crowds, which is a priceless experience in itself.
There's not a ton of accommodation options on the island, but here are two that have near-perfect ratings:
Now, let's move onto things to do in Burano!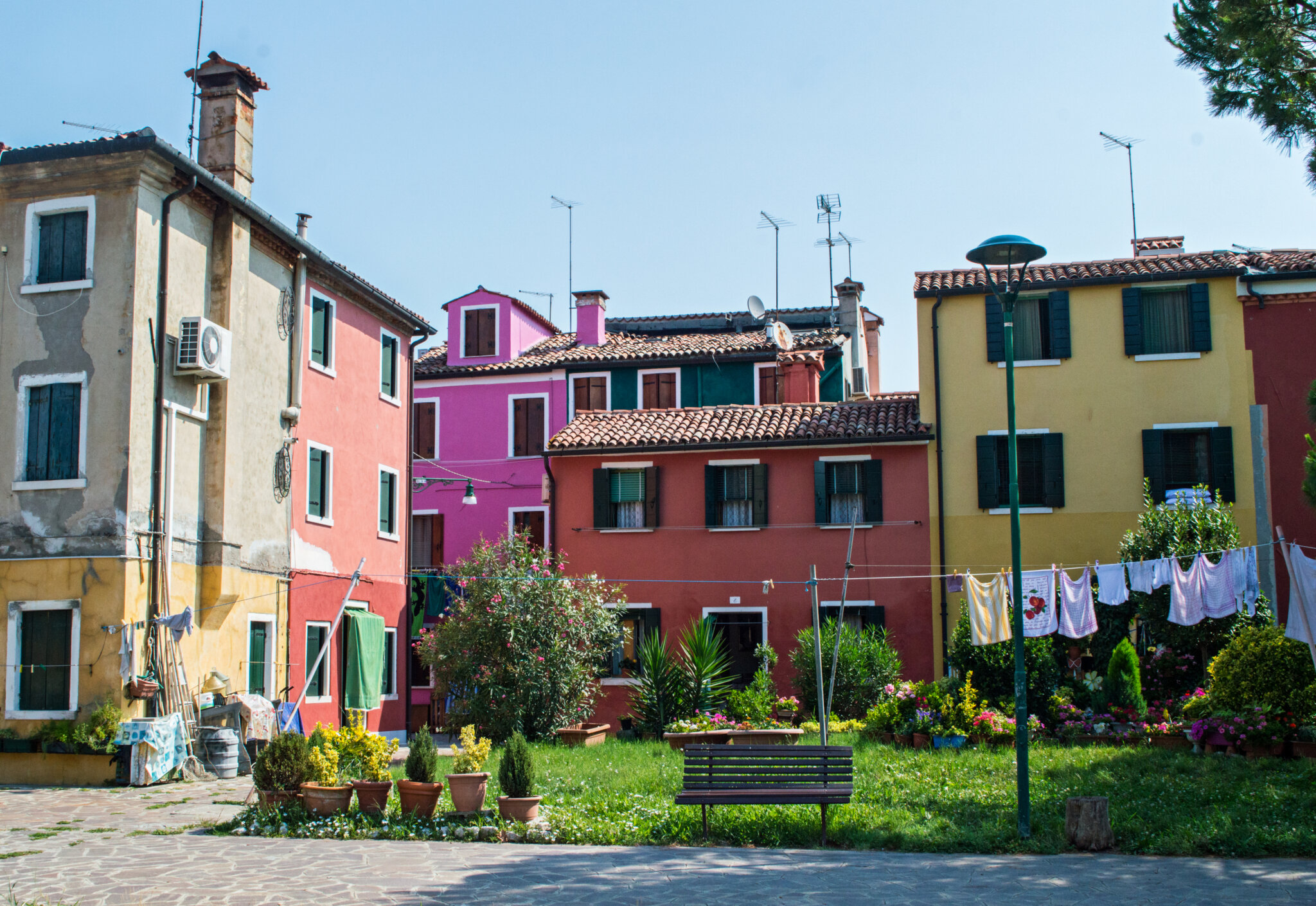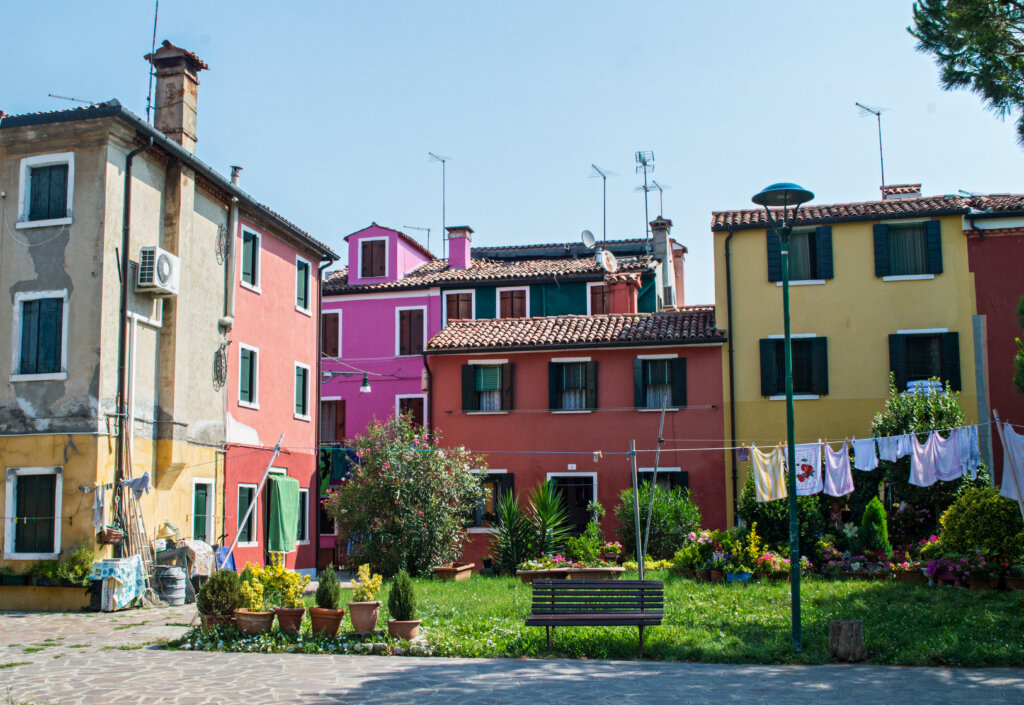 1. Meet a Burano local for a walking tour
One of my #1 travel tips is to get a local's perspective whenever possible, all the more so in touristy places like Burano.
If that's something you're interested in, this 1hr walking tour has glowing reviews and is hosted by a guide who was born and raised on Burano.
With this tour, you can get insight into what daily life is actually like on the island, plus insider tips on quieter places to go where and where to enjoy the best food on the island.
Click here to check availability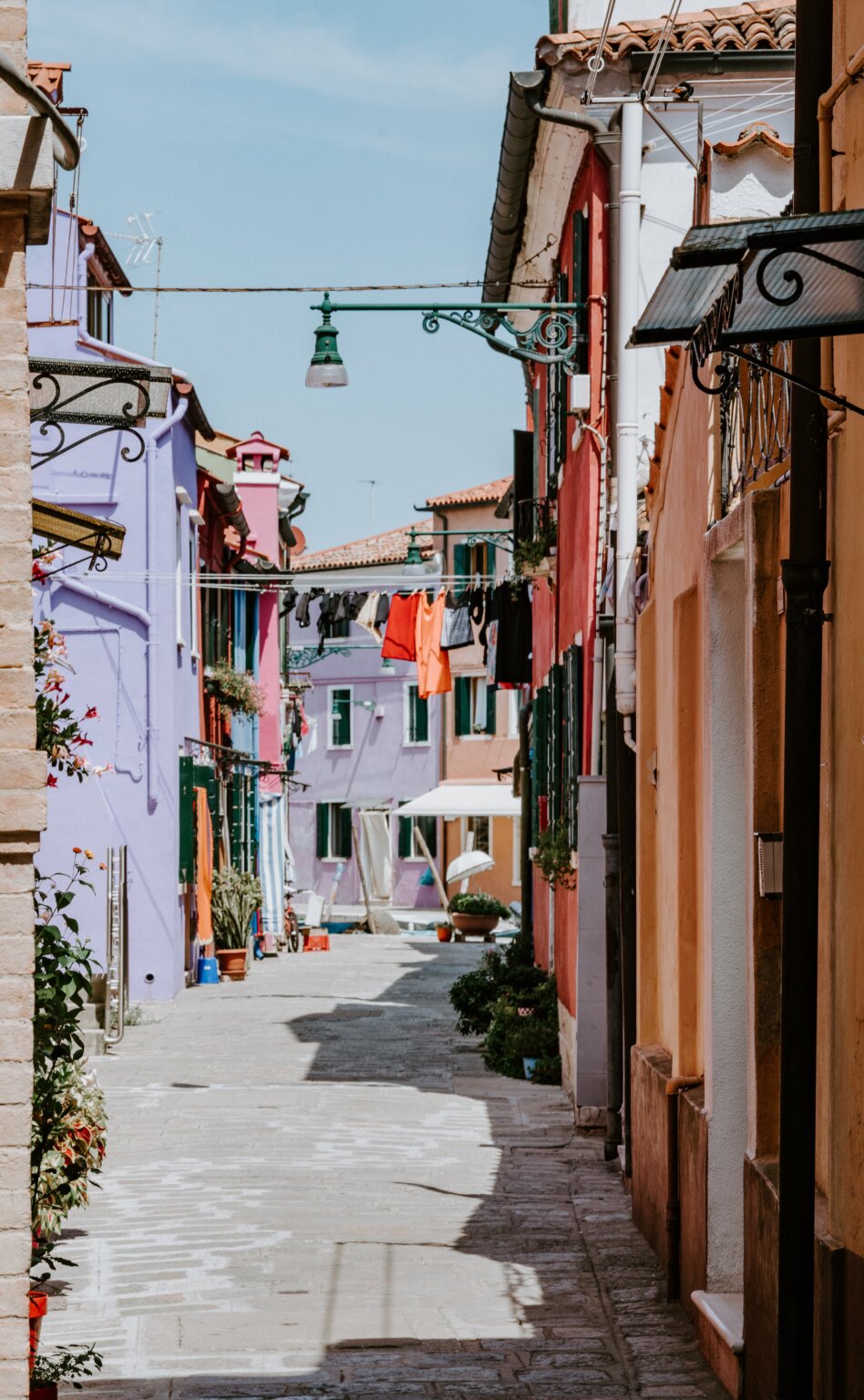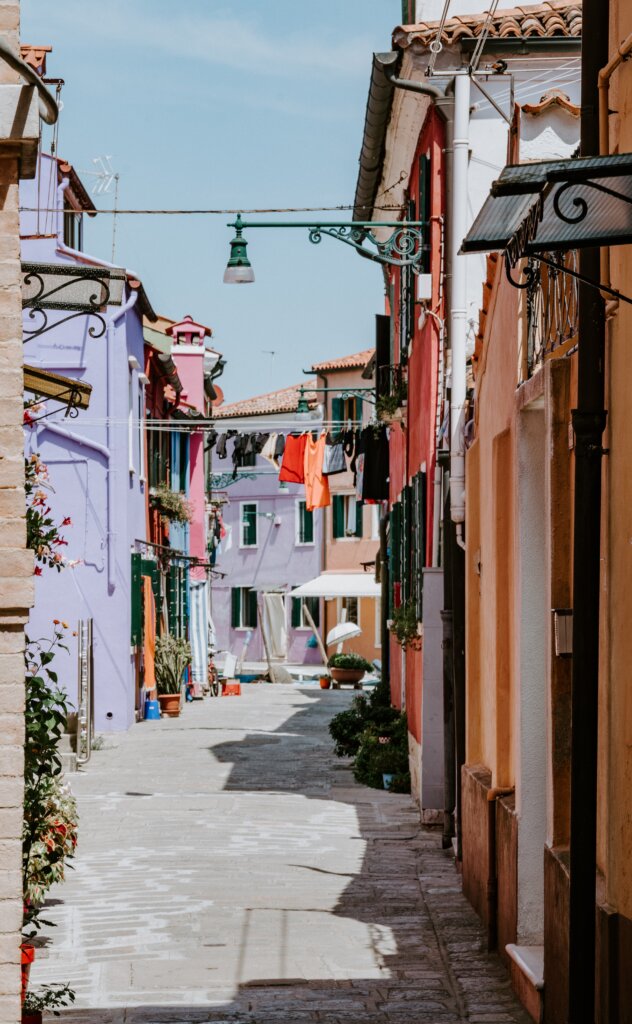 2. Get lost on your own personal Rainbow Road
Of course, if guided tours aren't your thing and you'd prefer to explore Burano independently, doing so is quite easy.
The tiny size of the island means you can easily get lost and found over and over, with deliciously colourful surprises awaiting on every corner.
For me, one of the best things to do in Burano is to simply walk around and soak in the unique atmosphere. There's no place in the world like this, so take the time to explore without an agenda and just take all the sights in.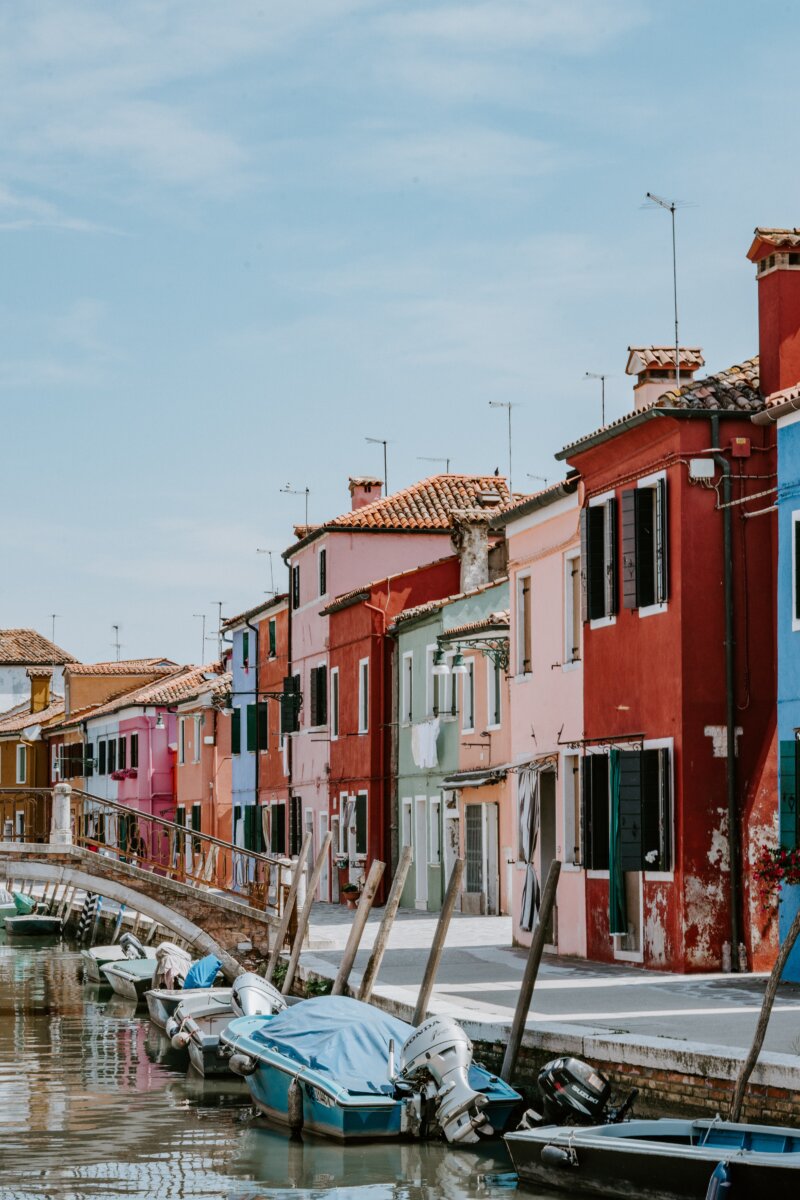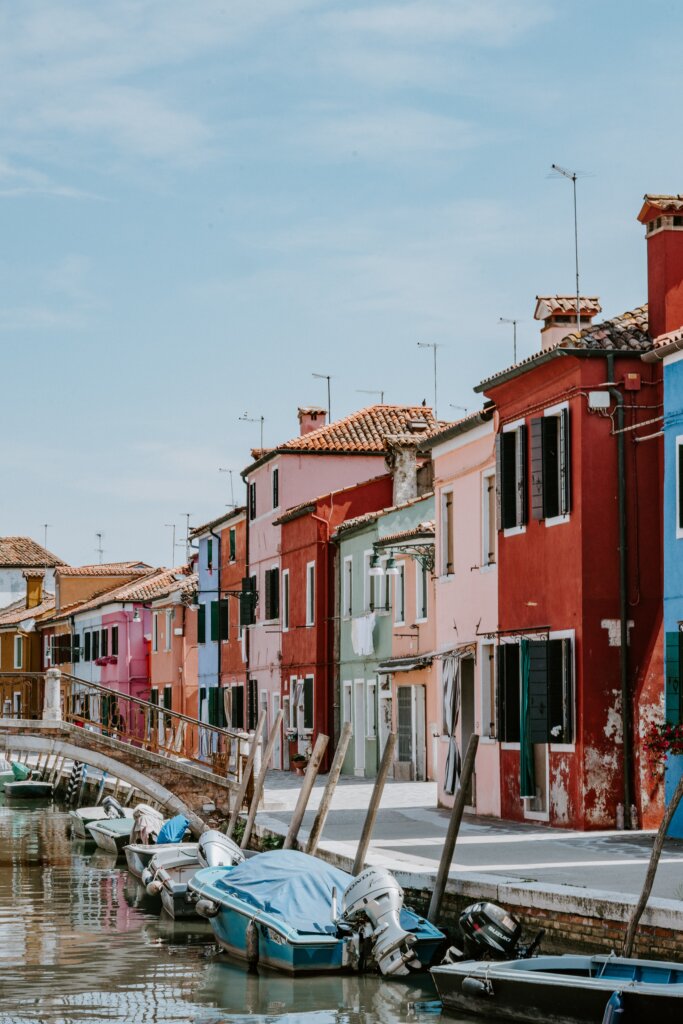 3. Photograph the famous Colourful Houses
Of course, one of the main reasons that visitors flock to Burano is simple: they want to photograph those colourful houses that have taunted them from Pinterest and Instagam since the dawn of time.
Photography is one of the best Burano activities for a reason – much like other photogenic Italian places like Bologna and Trentino, it's impossible to take a bad photo here.
Literally, you could probably hurl your phone on the ground and it would capture something gorgeously vibrant on its way to the pavement. So, charge those phones/cameras and make sure your SD cards have space, because this is one island where every GB counts.
It's no coincidence of course that Burano is regularly listed as one of the most Instagrammable places in the world.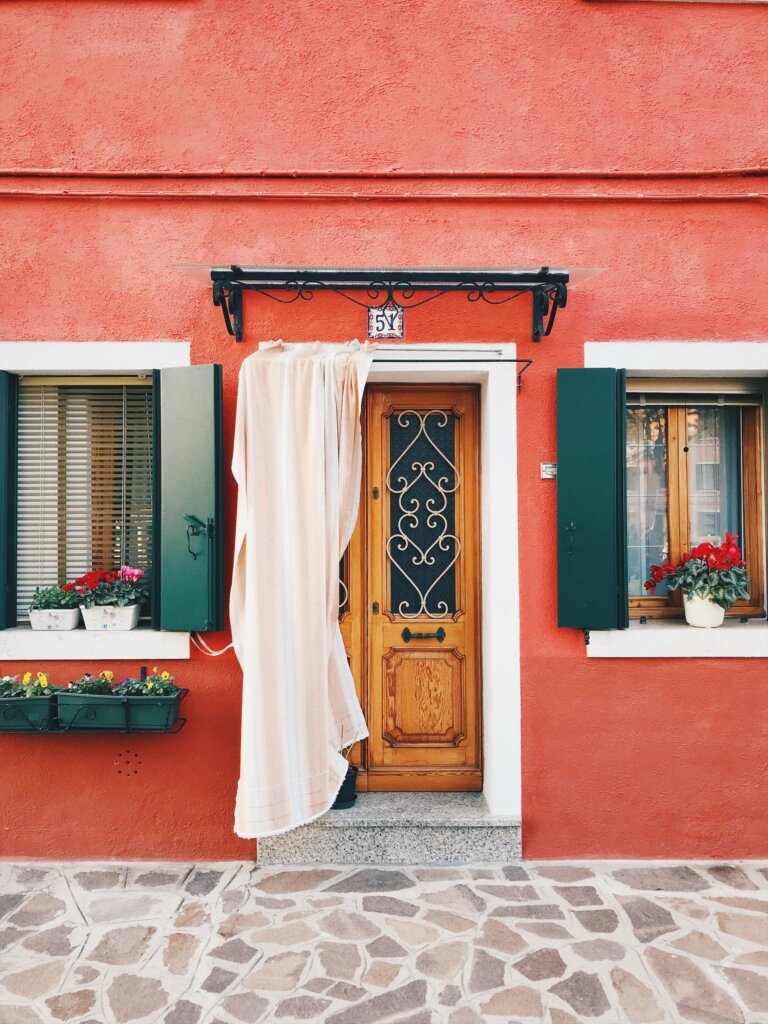 4. Admire the Leaning Tower of Burano
Sure, it's no Leaning Tower of Pisa, but last I checked, the Leaning Tower of Pisa wasn't surrounded by a rainbow wonderland of happy vibes…
So in some respects, the Leaning Tower of Burano wins!
This 53m slanted tower belongs to the Church of San Martino Vescovo, and makes the perfect unique focal point for any of your Burano photos.
Fun fact: Once upon a time, an angel topped this tower, but after a storm destroyed the angel, an iron cross took its place instead.
5. Stop by Casa di Bepi Suà
In a genuine rainbow wonderland like Burano, it seems silly to name any particular house as most colourful, but if we had to pick favourites, it would definitely be the Casa di Bepi Suà.
This iconic home in Burano is painted with bold geometric shapes, extending even to the house's door and shutters.
Its story is pretty incredible too – once upon a time, a local man by the name of Giuseppe Toselli (AKA Bepi) lived here. He was a janitor/maintenance man at the local cinema before it closed, and went on to sell candies in the island's main square after its closure… earning him the nickname "Bepi Suà" or "Bepi of Candies" in English.
It is said that in the 80s, Bepi used to hang a white sheet over the facade of his house to create a makeshift DIY outdoor cinema for local children. In fact, it was Bepi himself who painted all those shapes you see on the house, which remain today as a legacy of his impact on Burano.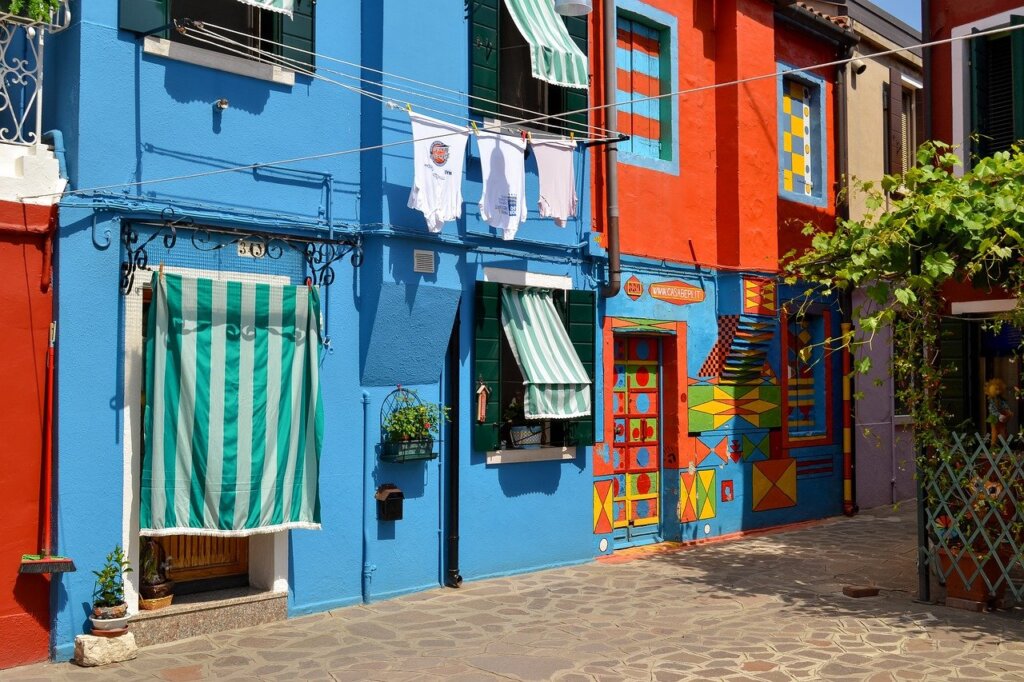 6. Visit Piazza Galuppi
While Burano is best known for its colourful, narrow streets, its main square (Piazza Galuppi) is a worthwhile place to visit while you're on the island.
A few noteworthy sights in this square include:
A stone Istrian well dating back to the 6th century
A statue of Baldassarre Galuppi, a famous composer from Burano
The Burano Museum of Lace
7. Attend a Lace demonstration
Burano is to lace as Murano is to glass, as Christina is to weak metaphors and confusing sentence structure.
Really, no list of things to do in Burano is complete without a shoutout to its famous lace industry.
Legend has it the lace craze on Burano began when once upon a time, a local fisherman resisted a siren's call on the count of his fiancée back home. Impressed with his faithfulness, the Siren's Queen swished her tail in the water to create a gorgeous foam that then became a stunning white wedding veil.
When the fisherman gave this gift to his fiancée upon returning home, the women of the island became enthralled with the design, and so sought to recreate its beauty through needlework.
And so, lace has been made dutifully on this island since the 16the century, and catching a lace demonstration is one of the top attractions for tourists in Burano.
8. Purchase some Burano lace as a souvenir
Given the prominence of lace on the island, it's little surprise then that one of the best things to do in Burano is… well, buy lace.
Lace items would make especially good souvenirs given their lightweight portability, and plus they have a built-in conversation starter! Gift all your loved ones with some Burano lace and regale them with tales of how the tradition started thanks to a siren, some foam, and a fisherman literally doing the bare minimum.
You're welcome.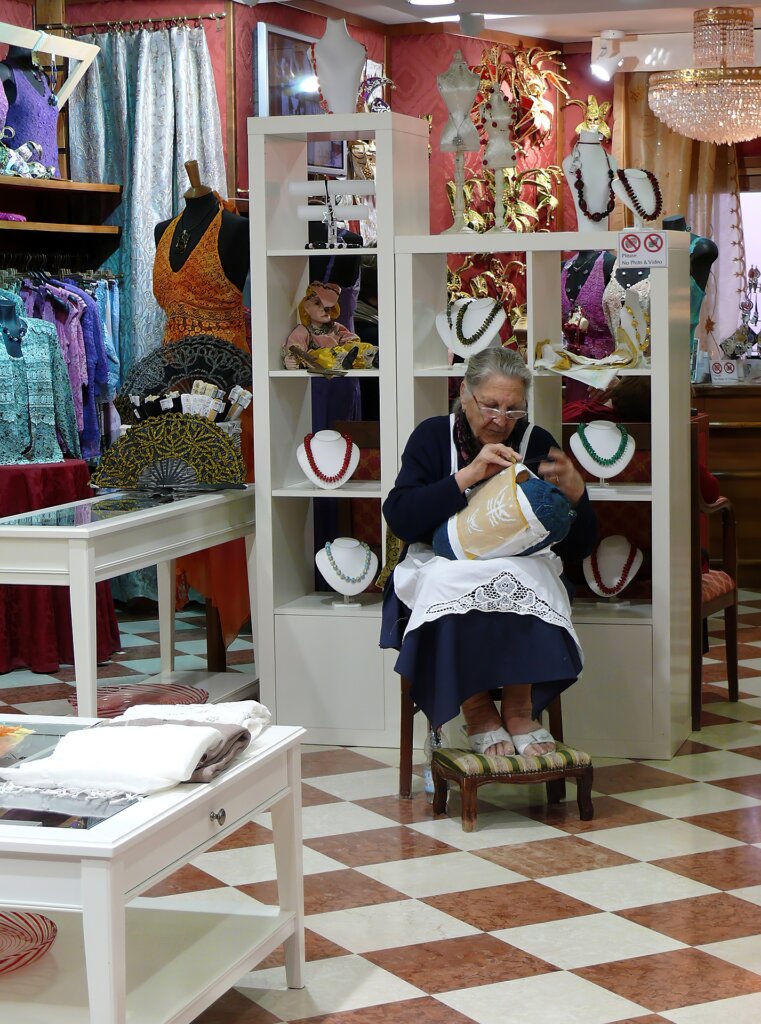 9. Stop by the Burano Lace Museum
While Burano has little by way of conventional tourist attractions (especially compared to nearby Venice), one unique attraction they do have is the Burano Lace Museum.
This museum can be found in the same historic square where the Burano Lace School operated for almost a century. Today, the museum is filled with lace pieces that provide an overview of the industry's history in the Venetian lagoon, all of course in a suitably picturesque setting.
10. Go shopping for other Burano souvenirs
Of course, it's not all about lace!
As a tourist-heavy destination, you can expect plenty of adorable souvenir shops lining the main streets of Burano, all selling specialties of the Venetian Lagoon including yes, lace of course, but also Murano glass and Venetian masks.
In fact, my boyfriend chose Burano to purchase a handmade Venetian mask as a souvenir, which still sits in our apartment (and once our travel themed Christmas tree) to this very day.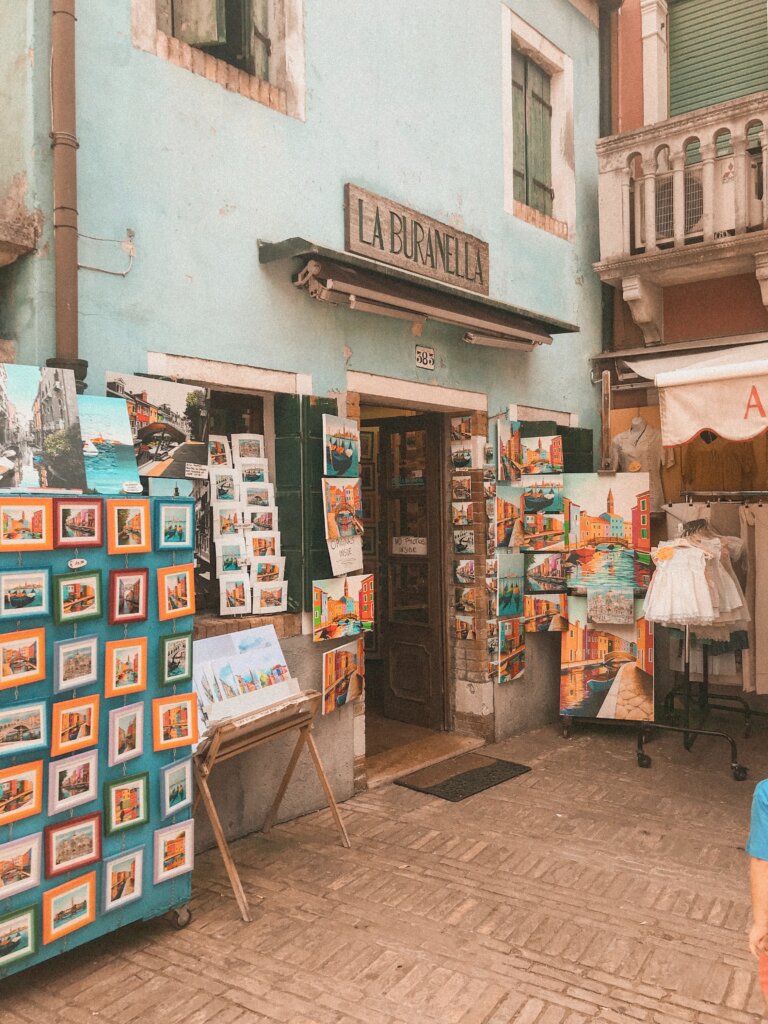 11. Admire Burano's Churches
While often eclipsed by the rainbow houses that surround them, Burano does have some pretty churches worth taking a look at, including the San Martino Vescovo's Church and the Chapel of Santa Barbara.
12. Attend a Murano Glass Demonstration
I know what you're thinking – Murano glass in Burano? Nah.
But hear me out – if you don't have the time to make it to Murano for a glass demonstration, then you can still enjoy the experience from the colourful comfort of Burano.
New Arte Fuga is a small shop selling Murano glass goodies made in-house, and you can watch a glass demo right in the shop as well. Perfect for those looking to enjoy a quintessential Venetian Lagoon experience even if you can't make it to Murano to enjoy it!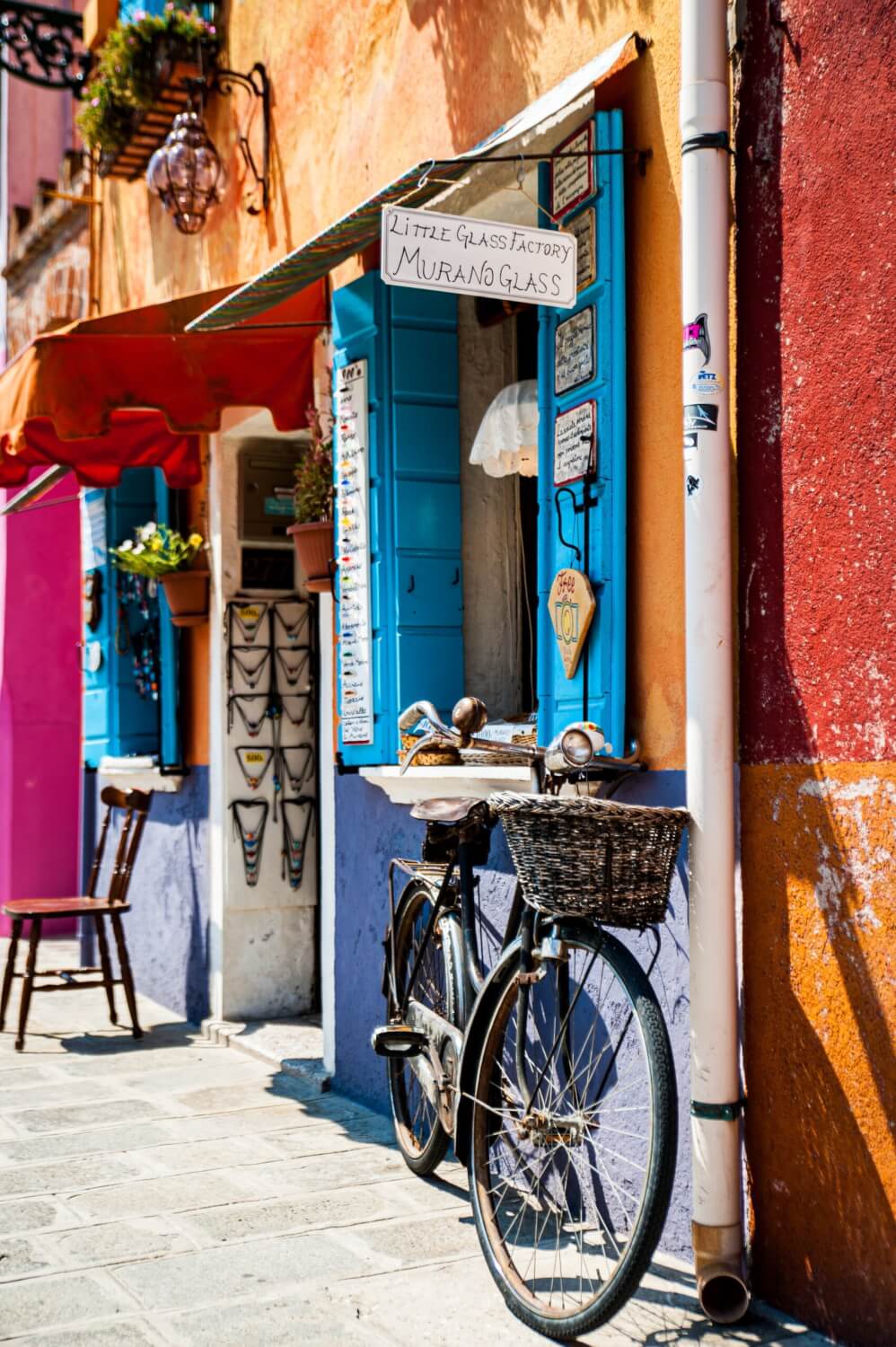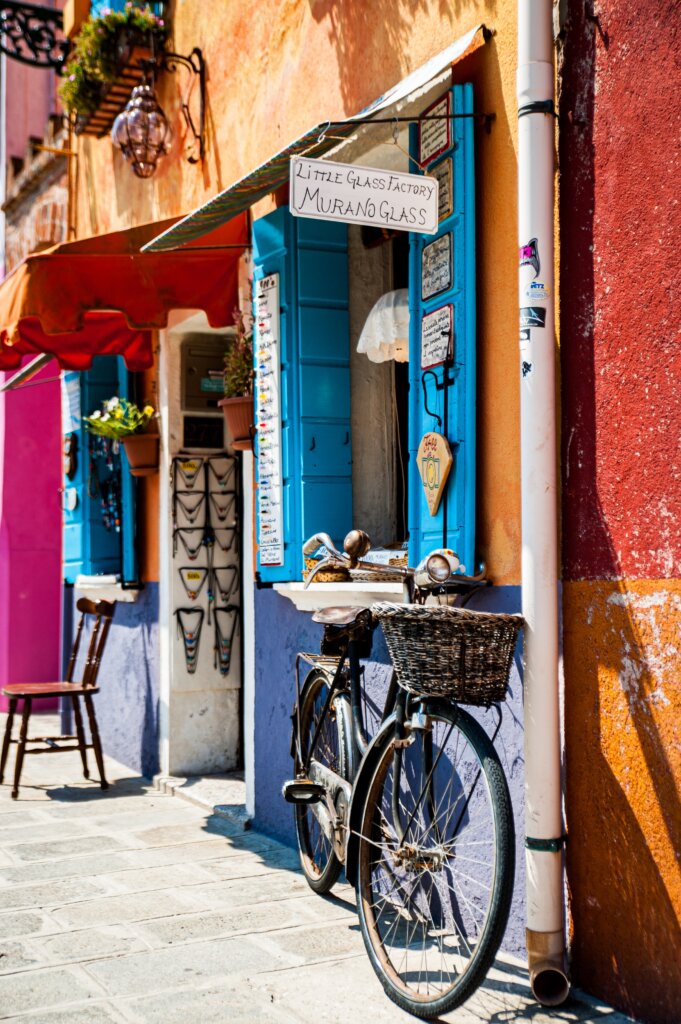 13. Walk across the Tre Ponti
Much like Venice, Burano has quite a few lovely bridges to admire, but the Tre Ponti might take the cake in terms of perfect placement and photogenic viewpoints.
Located at the crossroads of Burano's picturesque canals, this wooden bridge is perfectly placed for views of Burano's most photogenic vantage points. Photographers definitely can't miss this one.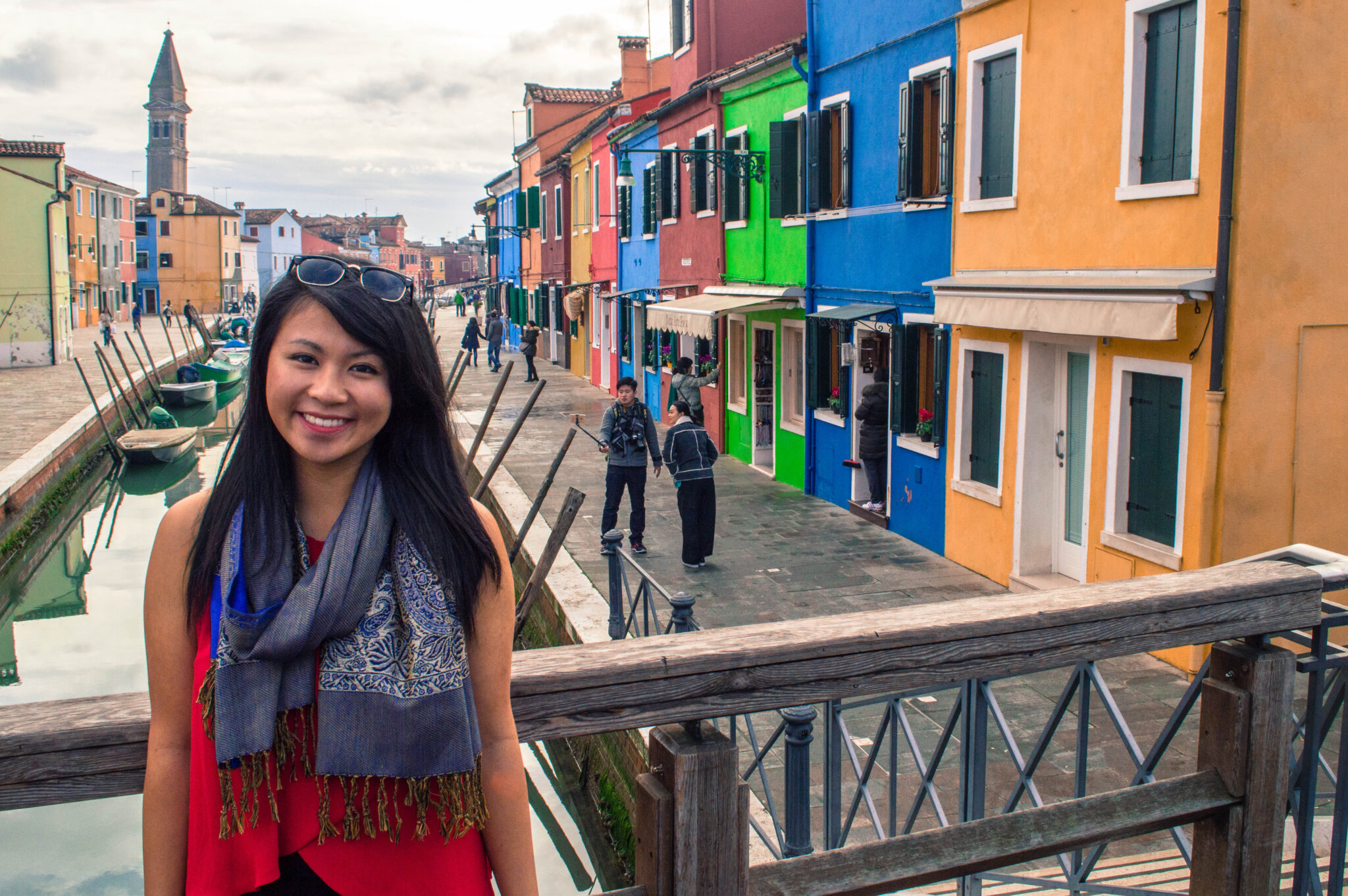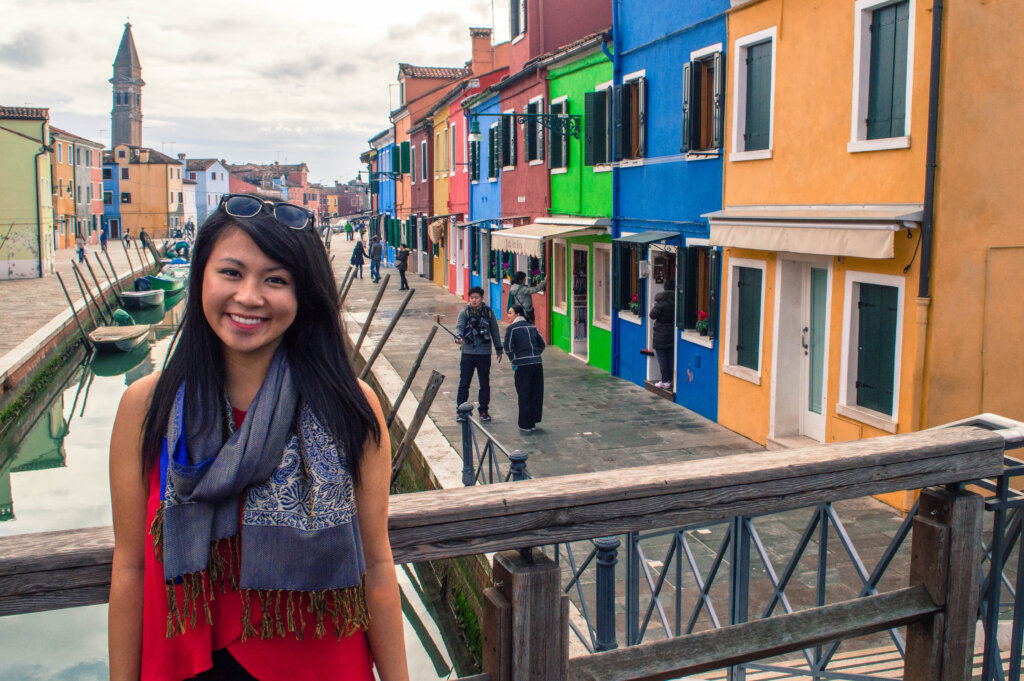 14. Catch sunset at the old fish market
The old fish market (Pescaria Vecia) of Burano may no longer be the bustling hub of freshly caught finds it once was, but there's still one very special thing to be caught here: a dreamy sunset over the Venetian Lagoon!
Most Burano day trippers won't stay late enough for this, so it's a wonderful way to enjoy a peaceful and (relatively) less crowded experience of the island.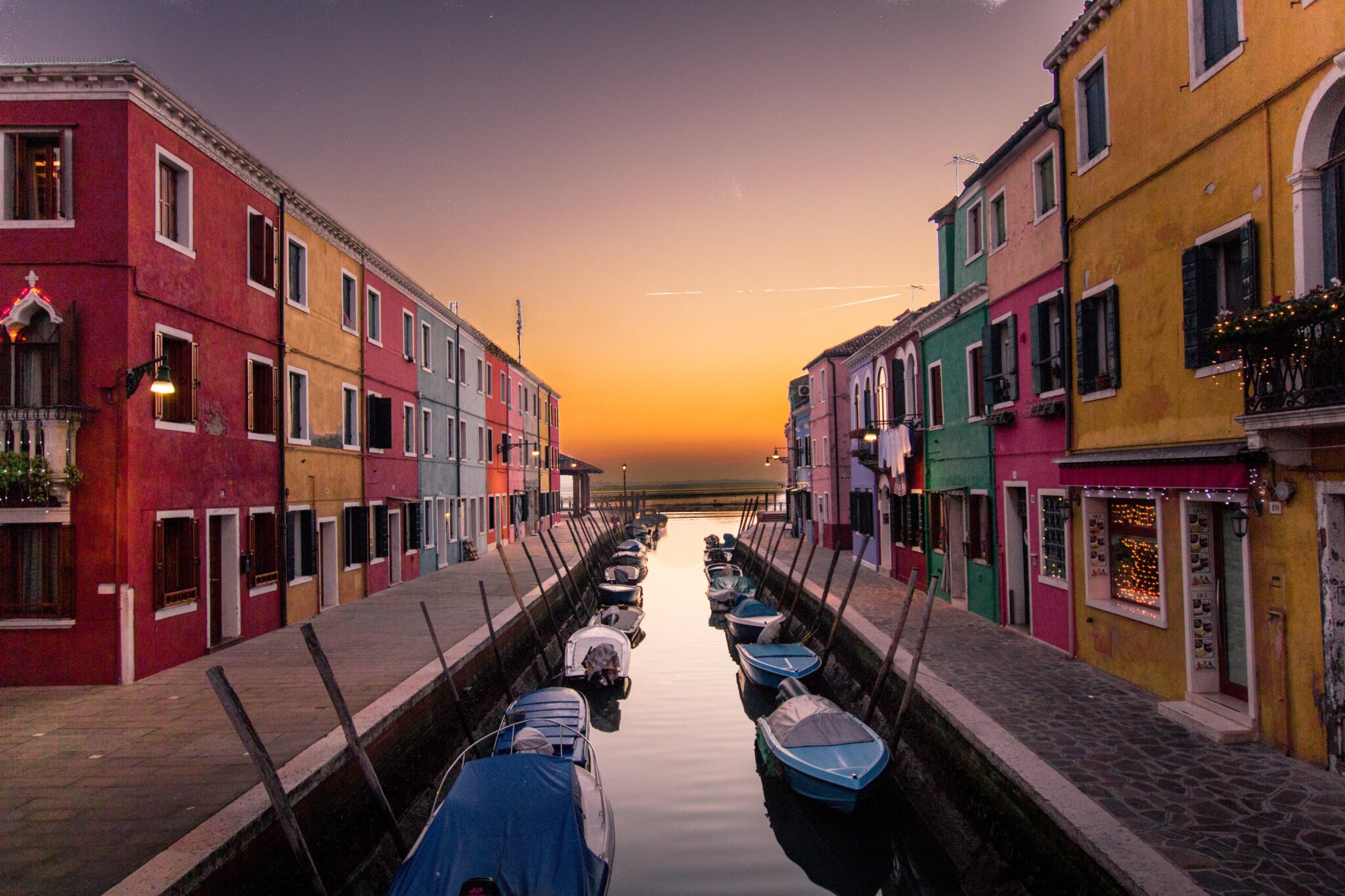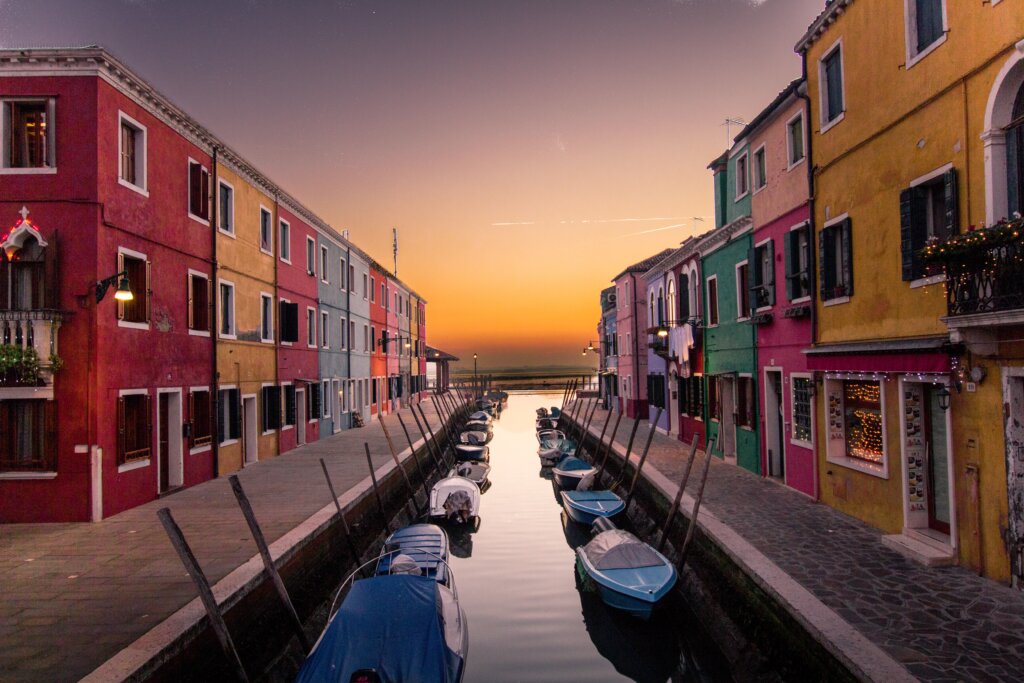 15. Enjoy some fresh Burano seafood
Some of the best seafood I've had in my life has been in Italian coastal towns (shoutout to Manarola and the Amalfi Coast!) so if I ever hear the words seafood and Italy together, I practically hurl myself on the next flight.
And with Burano's status as a working fishing village, you can expect excellent quality seafood for reasonable prices (more reasonable than the tourist prices found in Venice, anyway).
If you can, try to nab a table outdoors so you can soak in these views while you munch away.
16. Munch on Burano's Signature Treat
Looking for something sweeter?
Bussolà (AKA Buranelli) are dense cookies from Burano that originated as a treat made by fishermen's wives when their honeys would be out at sea for prolonged periods of time.
Made with a blend of eggs, flour, sugar and butter, it was thought that these cookies would provide fishermen with precious nutrients in case they needed a boost.
So, if you too are in need of a boost after a long day sightseeing around Burano, be sure to try one of these treats for yourself!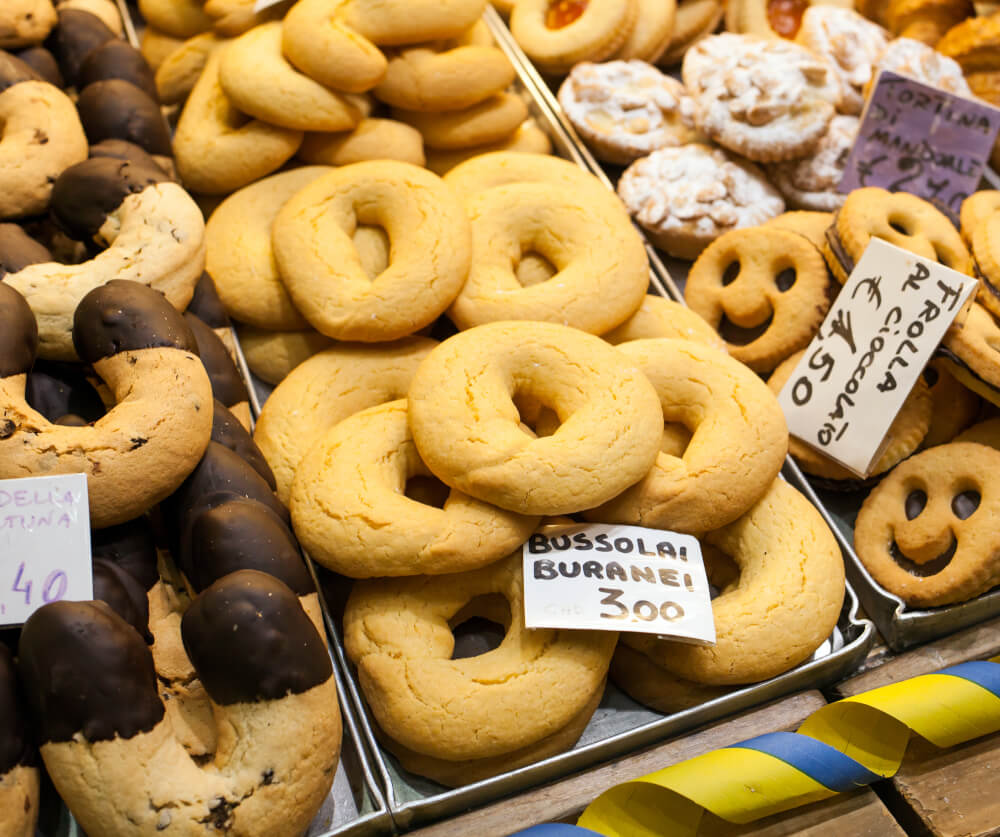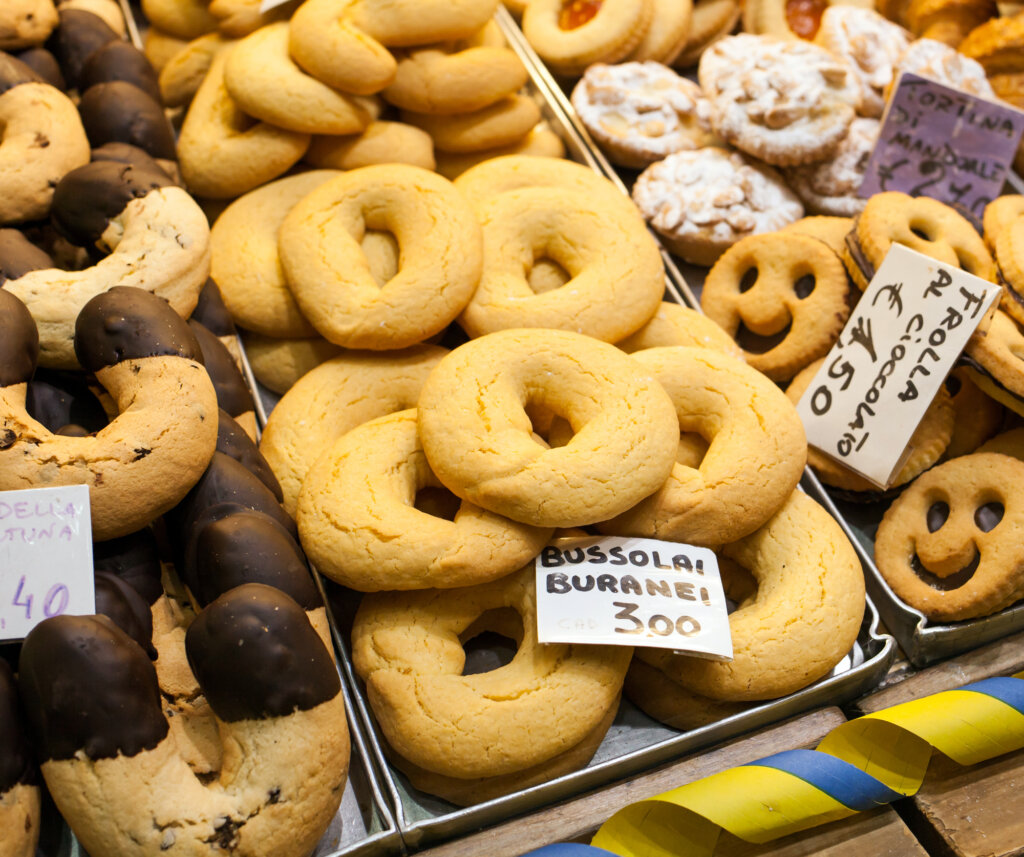 17. Try the local specialty: risotto de gò
Just like in Milan and many other places in Italy, a local risotto is one of the top dishes to try when in Burano.
Risotto de gò is a creamy creation made with the lagoon-dwelling goby fish, and is touted as one of the must-tries when you're in the Venetian Lagoon. I haven't gotten to try it yet, but if you have, please tell me if it's as good as it sounds!
I hope this list of things to do in Burano was helpful!
Let me know in the comments if I've missed any of your favourites. Have a wonderful trip!
---
Watch my most popular YouTube video this week:
---