*FYI - this post may contain affiliate links, which means we earn a commission at no extra cost to you if you purchase from them. Also, as an Amazon Associate I earn from qualifying purchases. Check out our Privacy Policy and Disclosure. for more info.
Bristol is a bustling city in Southwest England, famed for Banksy, Clifton Suspension Bridge and its absurdly beautiful hot air balloon festival, but trust me when I say there's a lot more to it than just photo opps and whimsically precarious modes of transport.
Did you know for instance that Bristol was the site of the world's first known bungee jump? Or that it has links to some of the most notorious pirates in history, like Blackbeard?
I've been to Bristol three times now, and each time I'm shocked at how annoyingly cool it is. Not only is its history full of surprises, the city is too – with tons of interesting attractions to enjoy, and an aggressive liveability padded by its vibrant food scene and fun nightlife.
I know – Bristol has it all, and I am indeed low-key annoyed I don't live there.
But if you're wondering what to do in Bristol, I've got you. From its dreamy suspension bridge and street art to droolworthy architecture at every turn, here are the top fun things to do in Bristol, England.
1. Marvel at Bristol Cathedral
Let's start with one of the prettiest buildings in Bristol – Bristol Cathedral.
Bristol's Cathedral is a grand and beautiful structure, with sections dating from as far back as the 12th century. Countless additions and modifications have taken place in the centuries since, resulting in a number of different architectural styles to gawk at.
As it was originally founded as an abbey, it later became the Cathedral Church of the Holy and Undivided Trinity after the dissolution of the monasteries (which is, as you'll recall, when Henry VIII chucked a massive tantrum with the pope and decided to make his own new religion).
Today, the cathedral is well worth a visit, even just to admire the grandeur of it all. The stained-glass windows here are beautiful, as is the historic organ inside, especially when the light filters in around sunset: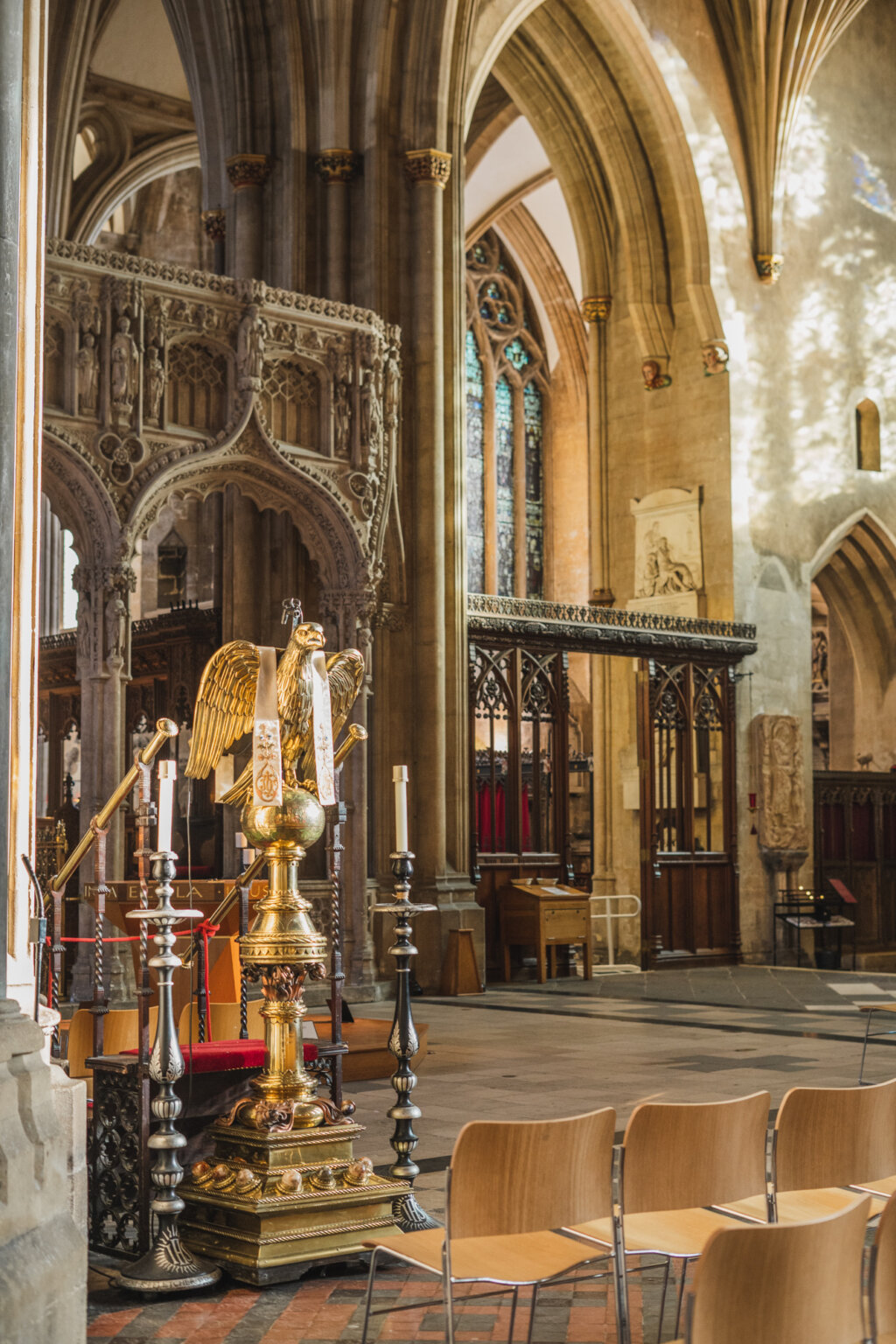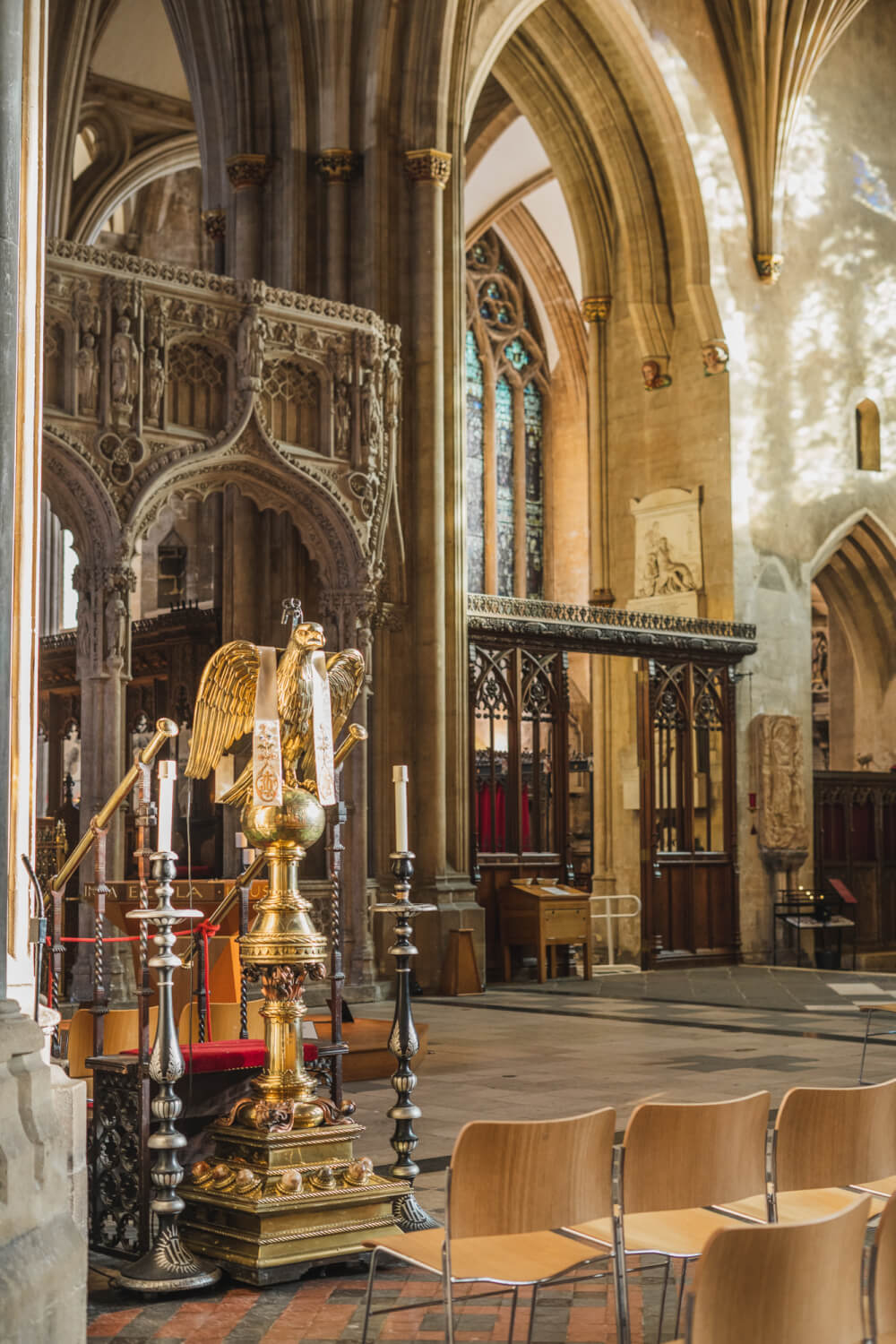 2. Explore Clifton Village
If you're like me and love a bit of bumbling around doing nothing, then one of the best things to do in Bristol is to have a wander through the neighbourhood known as Clifton Village.
This neighbourhood is right next door to the Clifton Suspension Bridge (so you can easily combine a visit to both) and it's filled with fun shops, cafés restaurants, and pubs. As you can see in the photo below, much of it is very colourful as well, so your Camera Roll will remain satisfied.
If you're craving seafood, I had an amazing meal at Fishers here, and can highly recommend it as a relaxed lunch spot!
Buuuut, besides places to eat and drink, the Bristol Zoo Gardens are also located in Clifton Village, plus there are lots of lovely parks if you want to go walking to burn off all those calories.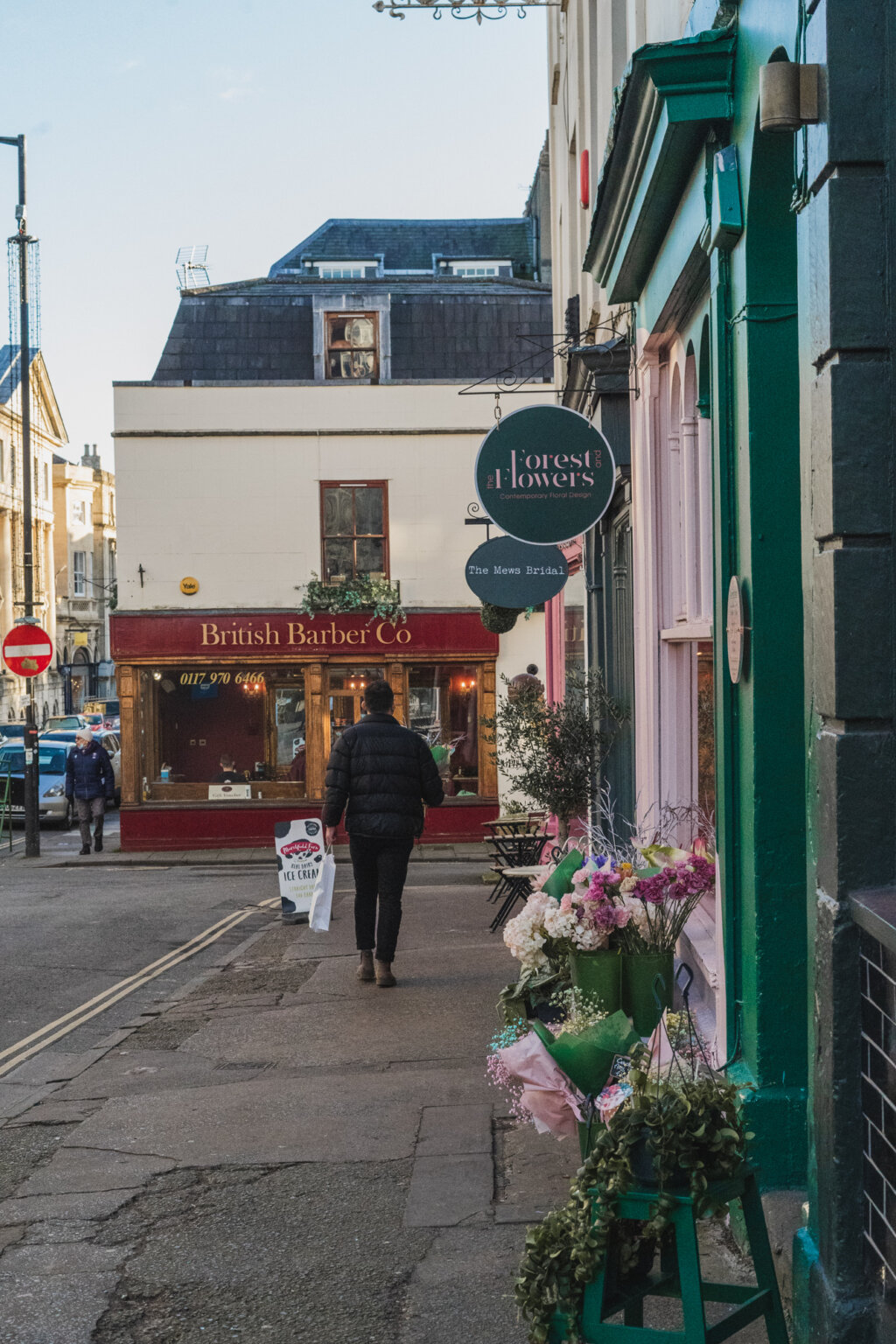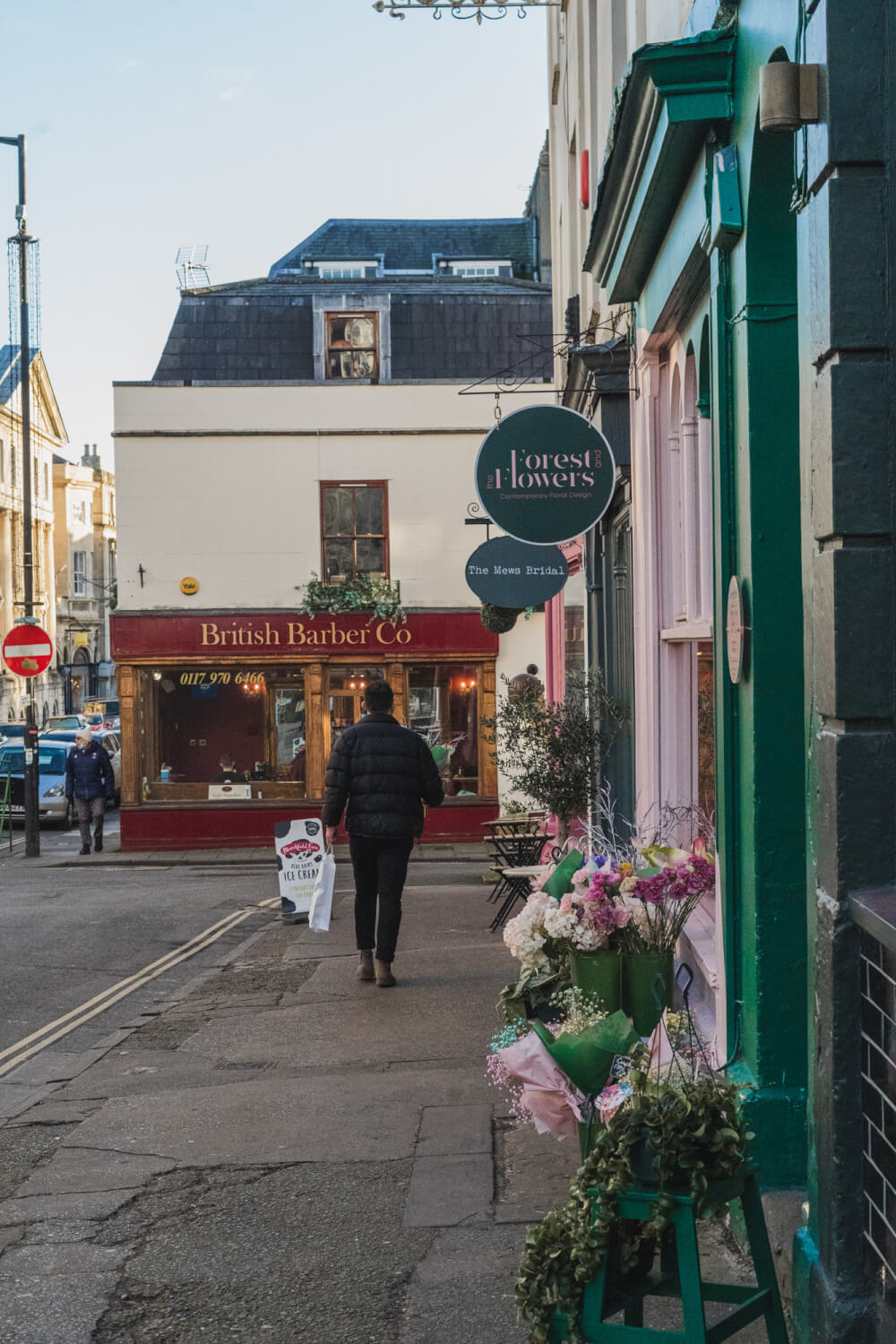 3. Walk Across Clifton Suspension Bridge
And if you're looking for simply iconic, unmissable, postcard-perfect things to do in Bristol, then a visit to the famous Clifton Suspension Bridge is non-negotiable.
Not only is this one of the most important Bristol attractions and THE symbol of Bristol, it's also where (on 1 April, 1979) members of the Oxford University Dangerous Sports Club jumped off in full suits, champagne in hand, as part of the world's first recorded bungee jump.
This bridge first opened in 1864 and connects Bristol to Leigh Woods by crossing the Avon River and Gorge. For a more low-key activity than jumping off, walking over it is a must while you're in Bristol to see the stunning views down over the gorge, river and city.
My tip? Make sure you go at sunset if you can, and also walk up to the Clifton Observatory to get photos of the bridge, like the one below! (Side note: there's also a natural limestone cave to explore here known as The Giant's Cave).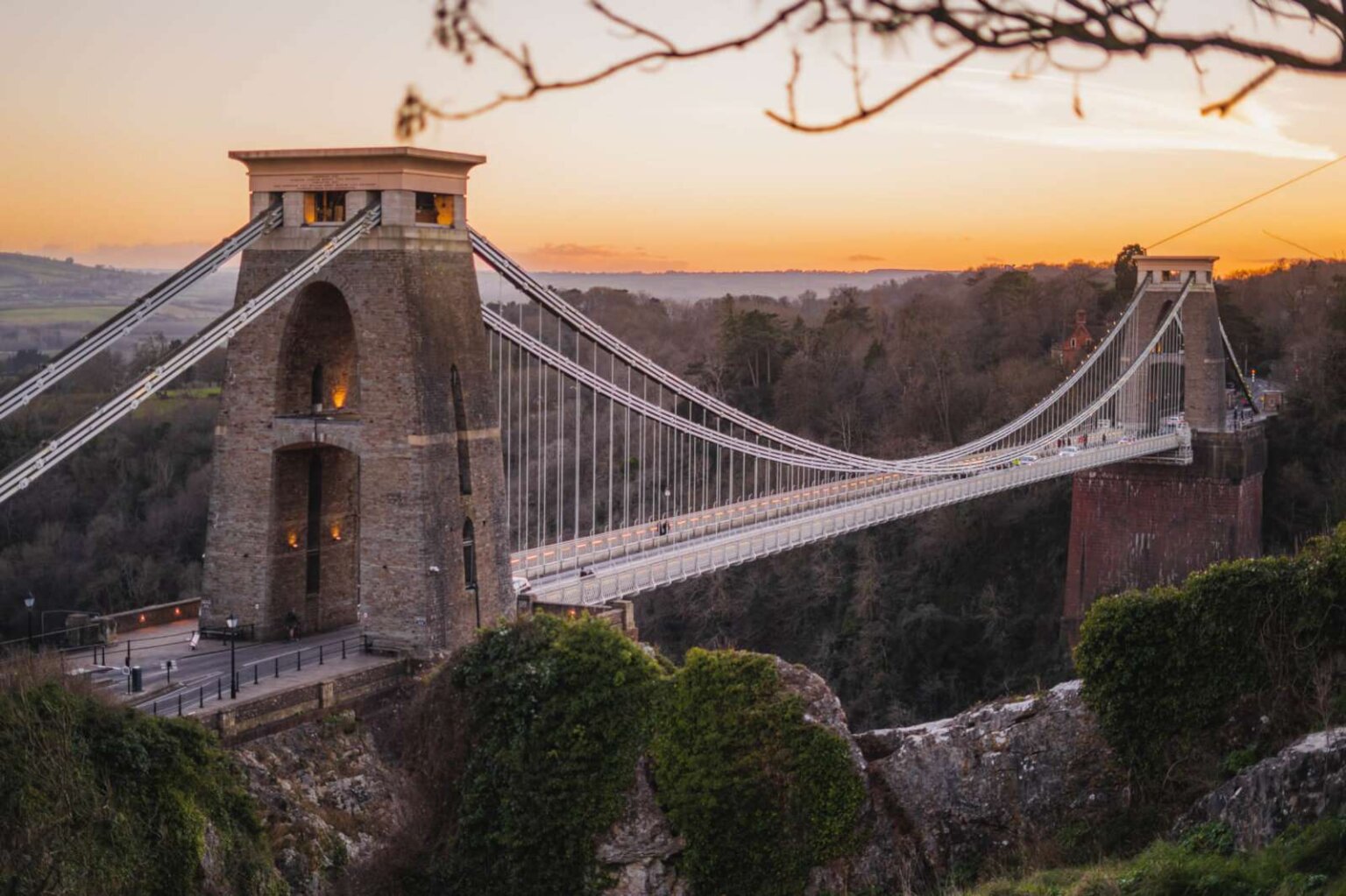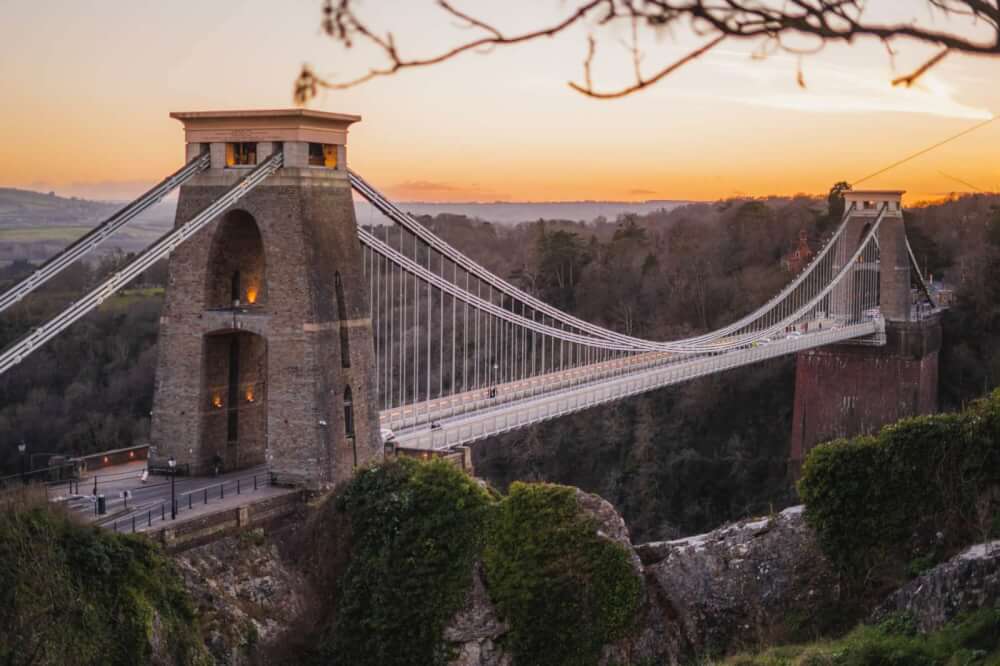 4. Enjoy the Bristol Harbourside
While Bristol's harbour used to simply be the location for sailors and merchants to trade or get ready to sail, it's now one of the most fun and popular parts of the city, with plenty of unique Bristol attractions well worth visiting.
The wharf sheds here have been transformed into a variety of art centres, restaurants, bars, shops, and hotels so it's always buzzing with people.
While doing some shopping or having a meal overlooking the water is nice, it's also possible to take part in exciting water activities like yachting, paddle boarding and rowing.
Or, for those who are less athletically inclined like me, you can also take your pick at some of the city's most visited attractions, like the M Shed, SS Great Britain and The Matthew of Bristol… but more on these Bristol things to do below!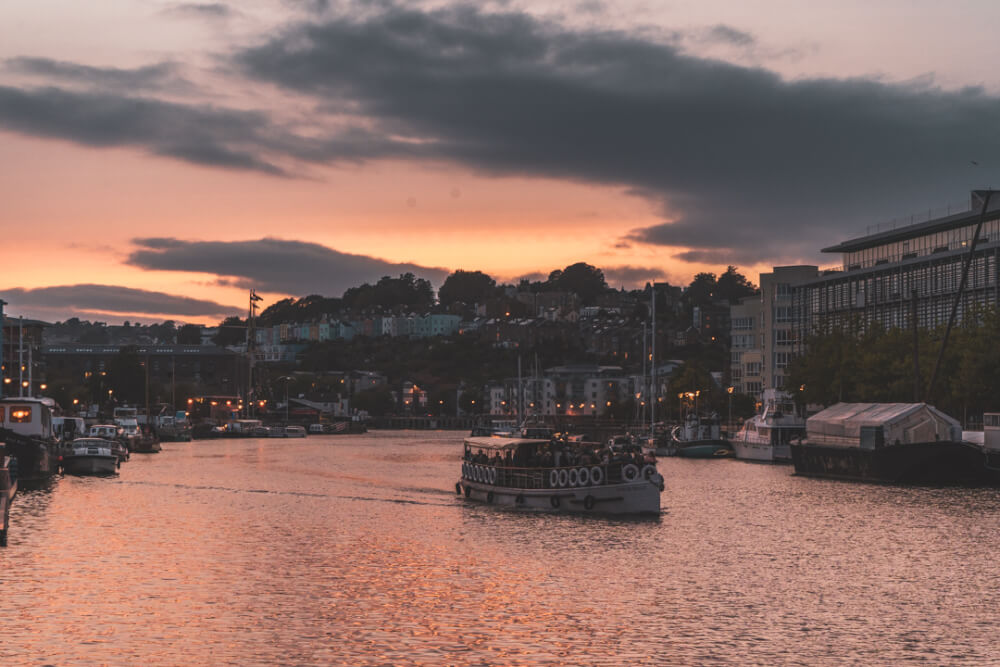 5. Visit the M Shed
The M Shed is a museum all about Bristol's history located in a former dockside transit shed from the 1950s and is a great way to learn more about the city.
This is hands down one of the best things to do in Bristol for history lovers, so don't miss it!
You'll learn about the area from as far back as prehistoric times up to the 21st century with stories, objects and exhibits. Since Bristol is so linked with maritime history there are also historic boats, steam trains and cranes as part of the museum, which you can also explore.
My favourite parts were the artworks by Bristol locals, including some Wallace & Gromit models (if you haven't seen Wallace & Gromit go look it up now!) a portrait by Banksy and spray-painted record decks by the band Massive Attack!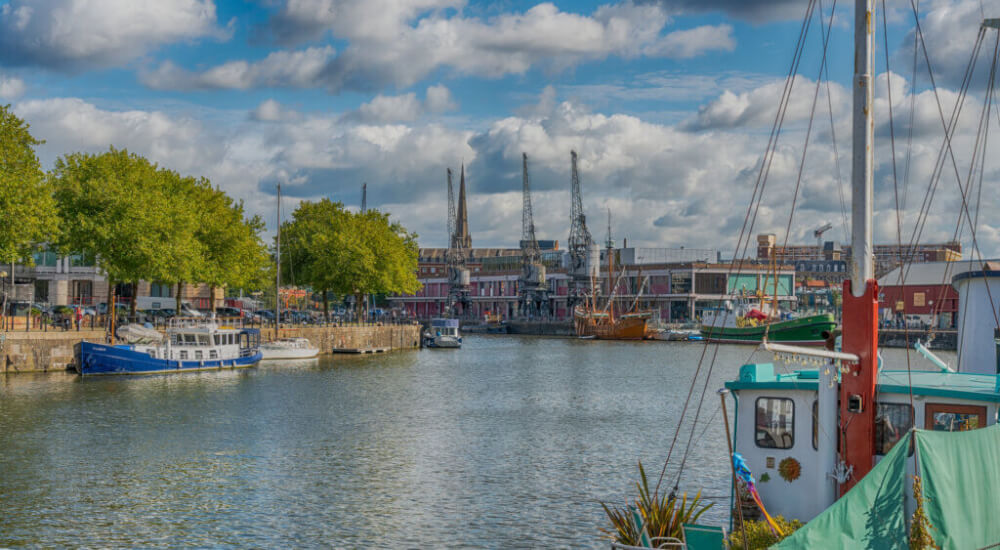 6. Get Onboard the SS Great Britain
If you're looking for fun things to do in Bristol then climbing onboard a historic ship should definitely be on your list!
The SS Great Britain is one of the ship museums that are part of the M Shed, so you can actually go onboard to explore this former passenger steamship and imagine yourself as one of the many passengers she used to haul back in the day.
Not only is the SS Great Britain a pretty face to look at – she was actually the largest passenger ship in the world between 1845 and 1854 as well as the first iron steamer to cross the Atlantic Ocean in 1845.
More than 200,000 people visit the SS Great Britain each year, partly because she has been so lovingly restored. You can see the galley, cabins, dining room, and doctor's surgery all made up as they would have been in her heyday.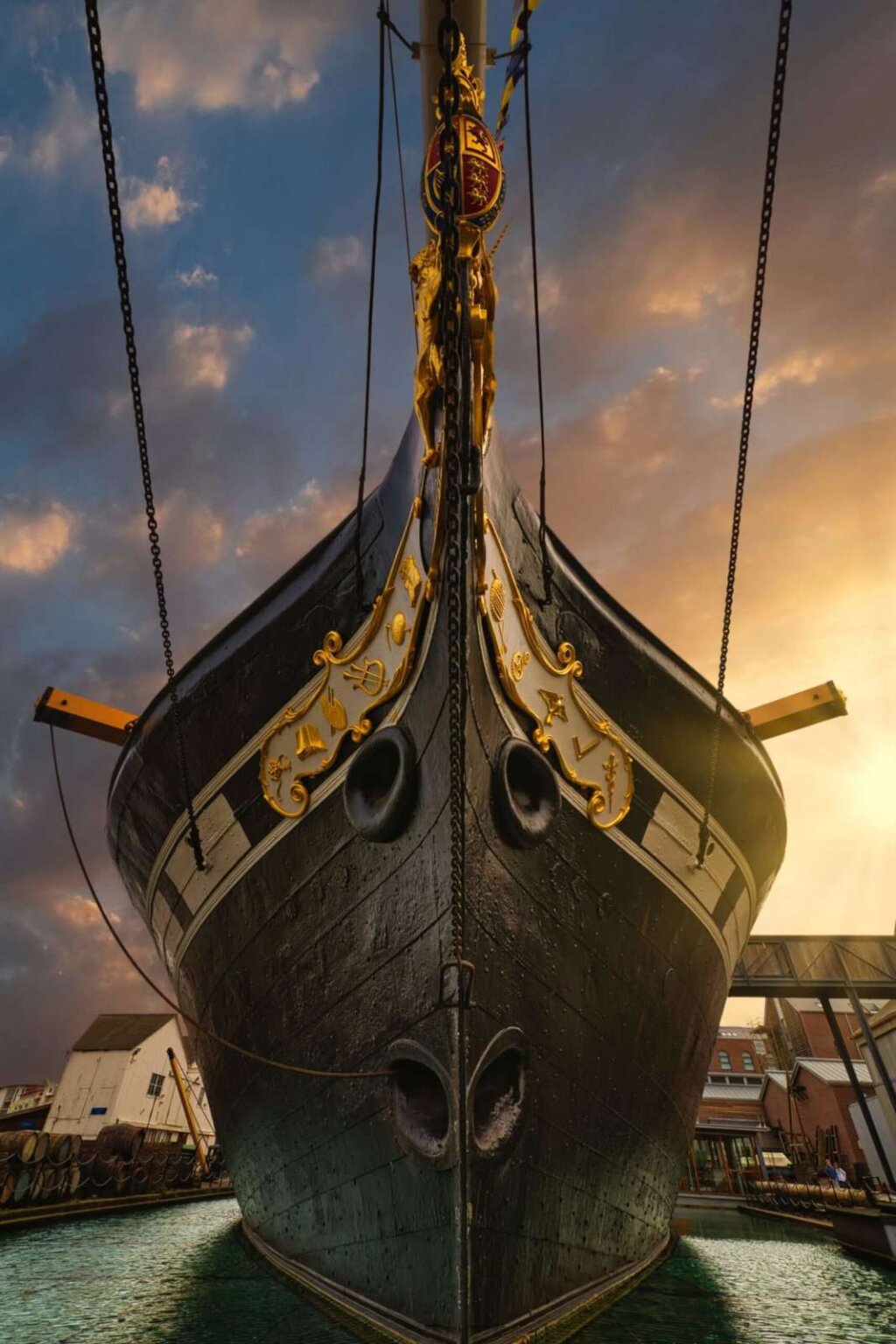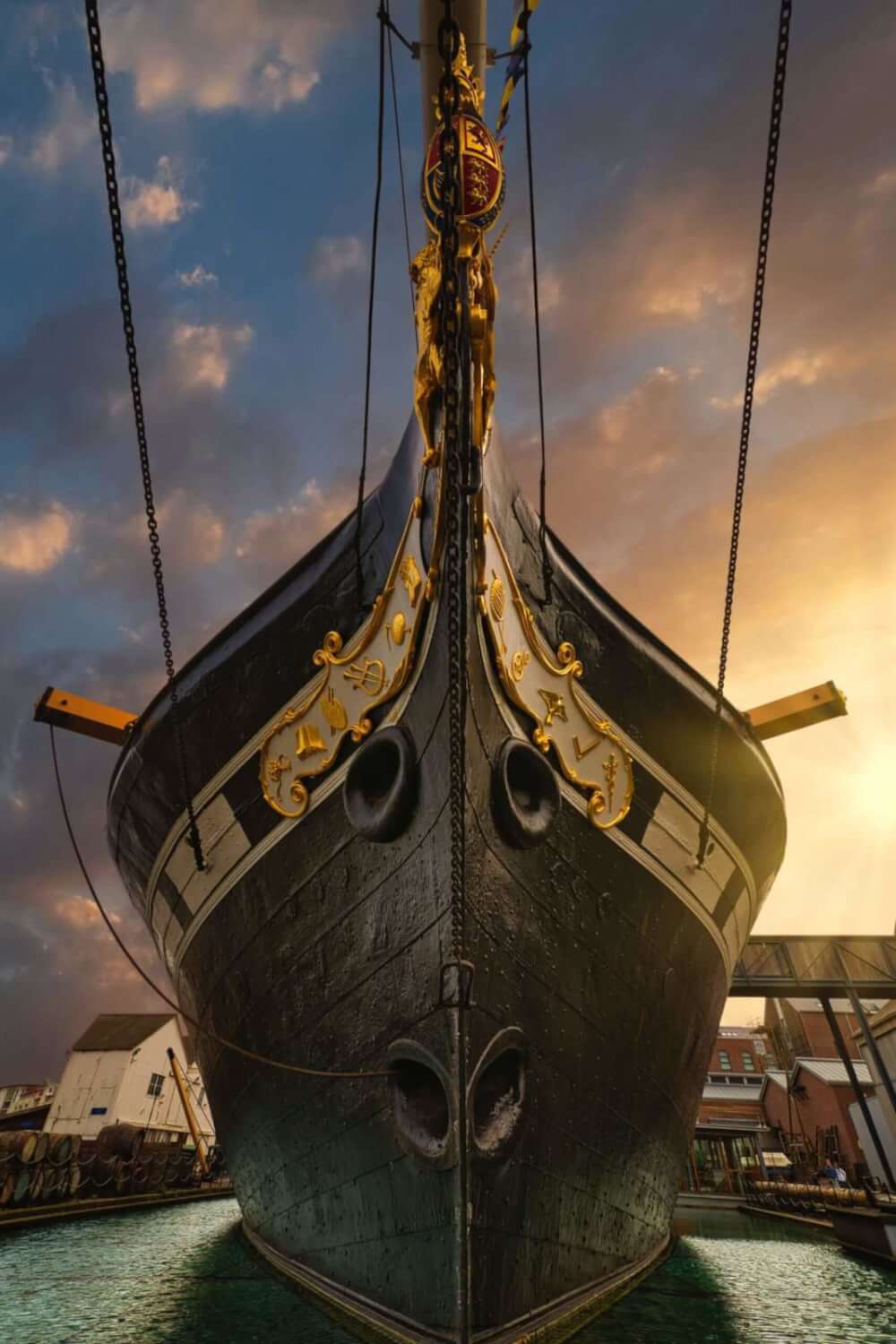 7. Tour the Matthew of Bristol
Another of the more unique things to do in Bristol is to explore the Matthew of Bristol, a famous historic ship which you'll also find along the Bristol Harbourside. The best part of this one though is it's free to hop on board.
The Matthew is the name of the ship that John Cabot sailed on to North America from Bristol in 1497. This particular ship is a replica of the original and there's also one in Newfoundland, which is where he eventually ended up.
Usually, the Matthew is moored outside the M Shed but it also sometimes sails around the harbour and up the River Avon. If it looks familiar to you, odds are because it took part in Queen Elizabeth II's Diamond Jubilee pageant on the River Thames in London in 2012.
8. Have Coffee at Café Revival
If you want to caffeinate in style, another Bristol must-do is stopping for a drink at Café Revival, the oldest coffeehouse in Bristol.
While the building has occasionally been used for other types of businesses through the years, it was most often a coffee shop, first opening over three hundred years ago… in 1718!
The café is spread out over three floors, so make sure you go all the way up to the 'snug' on the top floor, which is really cosy with comfy couches, so you can demolish your coffee and cake in peace, and without judgement.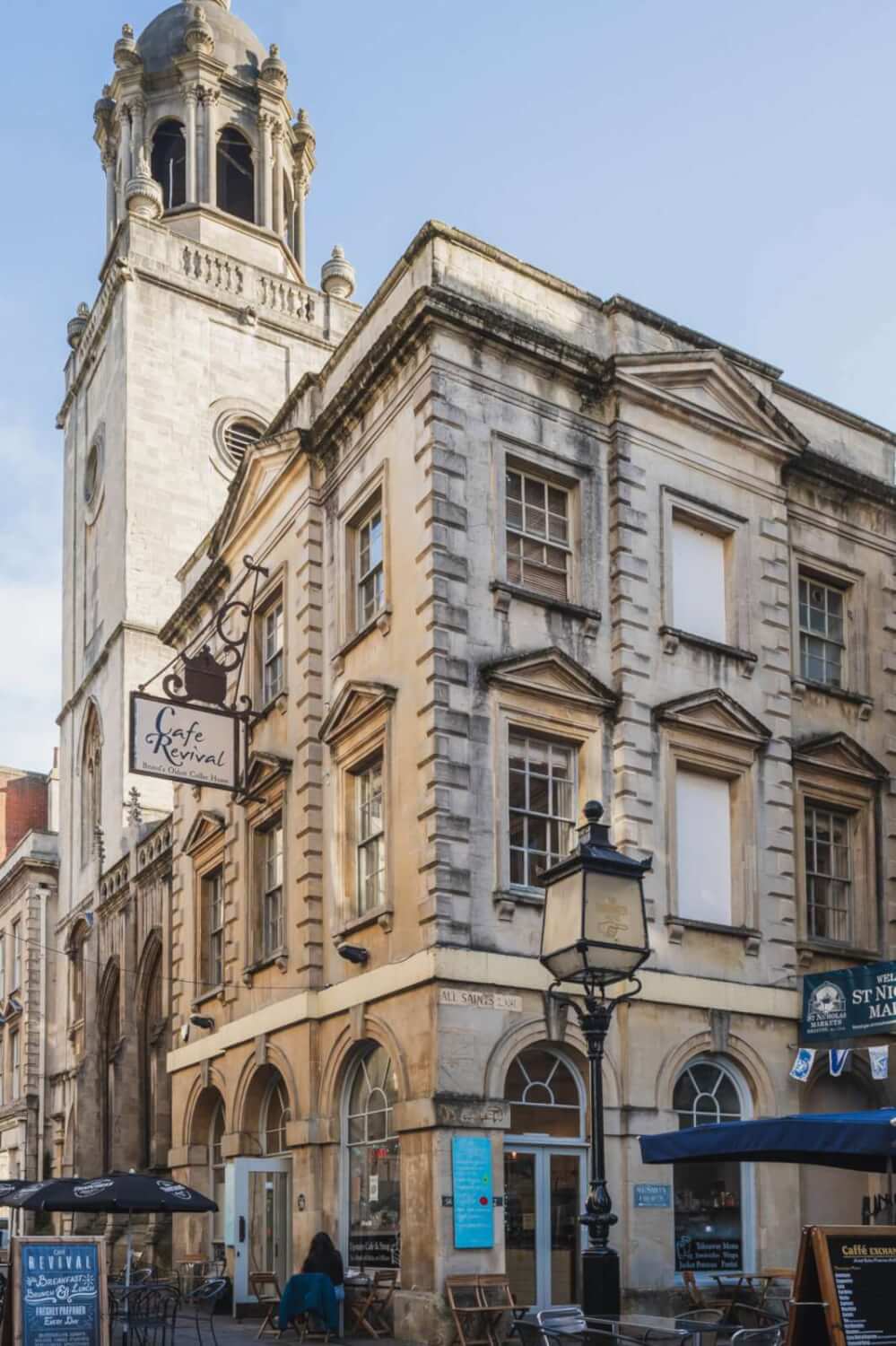 9. Visit the Corn Exchange Building
Next door to Café Revival, you'll find another beautiful Bristol must-visit – the Corn Exchange Building.
As you probably guessed from its name, this Grade-I listed building was originally a corn and trade exchange building but it is now mostly home to offices and part of Saint Nicholas Market.
It's a beautiful grand building, which was built by John Wood the Elder between 1741 and 1743. Pop in to see the lion's head knockers on the main doorway, as well as the corinthian columns and four bronze tables outside.
These tables were historically used by merchants doing their deals and each has slightly different designs as they were constructed in different periods. The oldest is thought to date from the Elizabethan era!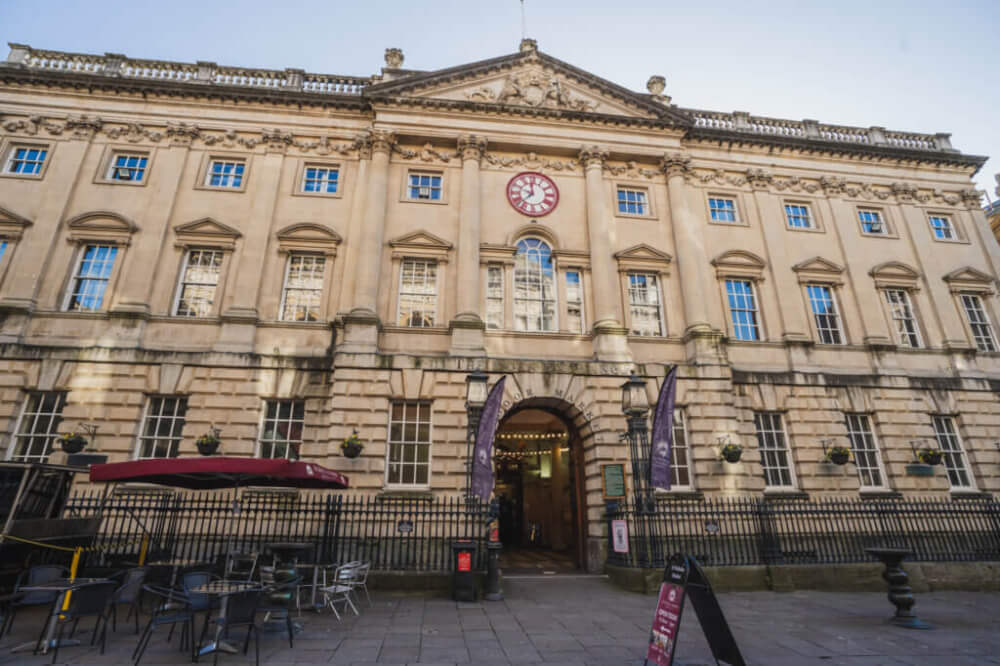 10. Go Shopping at Saint Nicholas Market
Shopping is an excellent choice when it comes to fun activities in Bristol and next door to the Corn Exchange Building is one of the best spots for it!
Saint Nicholas Market (usually just called St Nick's Market by locals) is divided into three different sections, a Georgian covered arcade, The Glass Market and the section inside the Exchange. There are a variety of stalls and shops within the market, selling cuisine from around the world, jewellery, clothing, gifts, and more.
Along with the permanent shops and stalls, a variety of outdoor markets are also held in the area around Saint Nicholas Market, my favourite is definitely the street food market on Tuesdays and Fridays!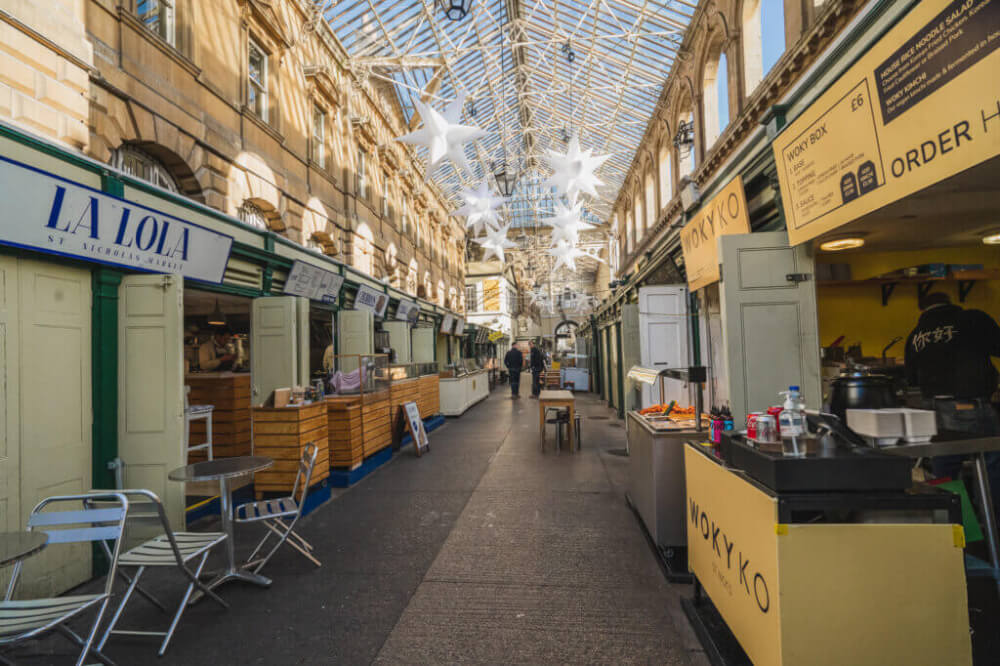 11. See Foster's Almshouses
Foster's Almshouses are private residences in what were once almshouses (accommodation for poor people) dating from 1492.
These particular almshouses were built by a wealthy Bristol merchant called John Foster, who was also High Sheriff and Mayor of Bristol. Today these former almshouses are private homes, so you can't go inside, but the architecture is quite beautiful to admire if you're in the area.
I visited to take a photo from the outside of the fairytale-like spires, staircases and manicured gardens. Next door is the Chapel of the Three Kings of Cologne, another famous Bristol site, that was originally the private chapel for the almshouse residents.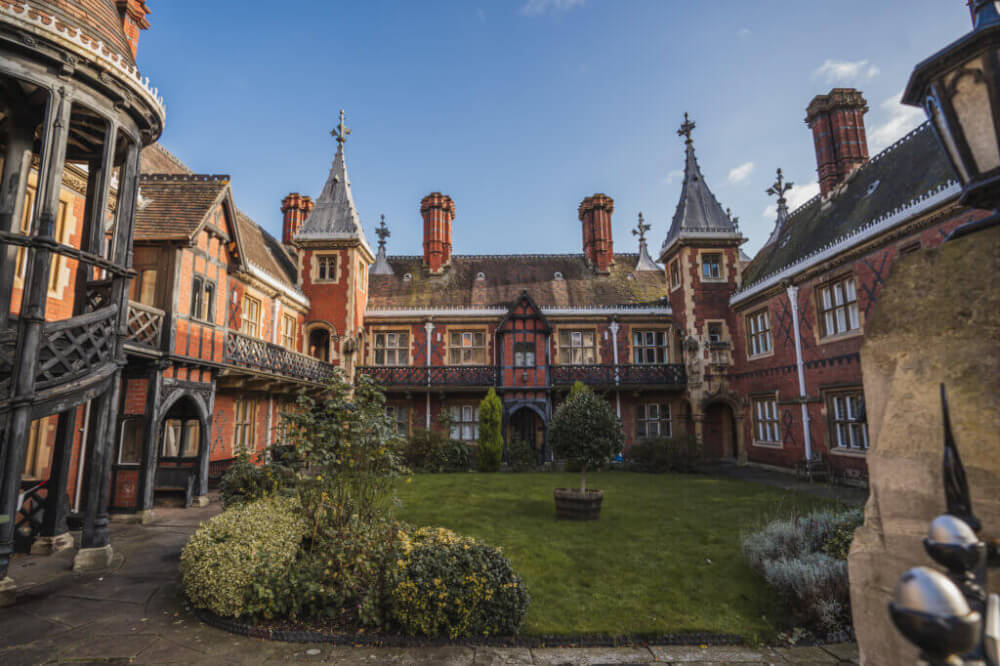 12. Walk Through Christmas Steps
Wandering through cute laneways is one of the best free things to do in Bristol, and Christmas Steps is the best street to do it in.
The Chapel of the Three Kings of Cologne is located at the top of this historic street, which features a steep incline and steps winding all the way down between historic buildings. It's often called Bristol's answer to the Shambles in York and it does have a very Diagon Alley feel to it!
This almost hidden laneway looks particularly magical at night when it's lit up by oil lanterns and fairy lights but a visit during the day is also fun to peruse the antique shops and cafés. My recommendation? Stop off at AhhToots for a sweet treat or have a meal in the Christmas Steps Pub at the bottom of the street.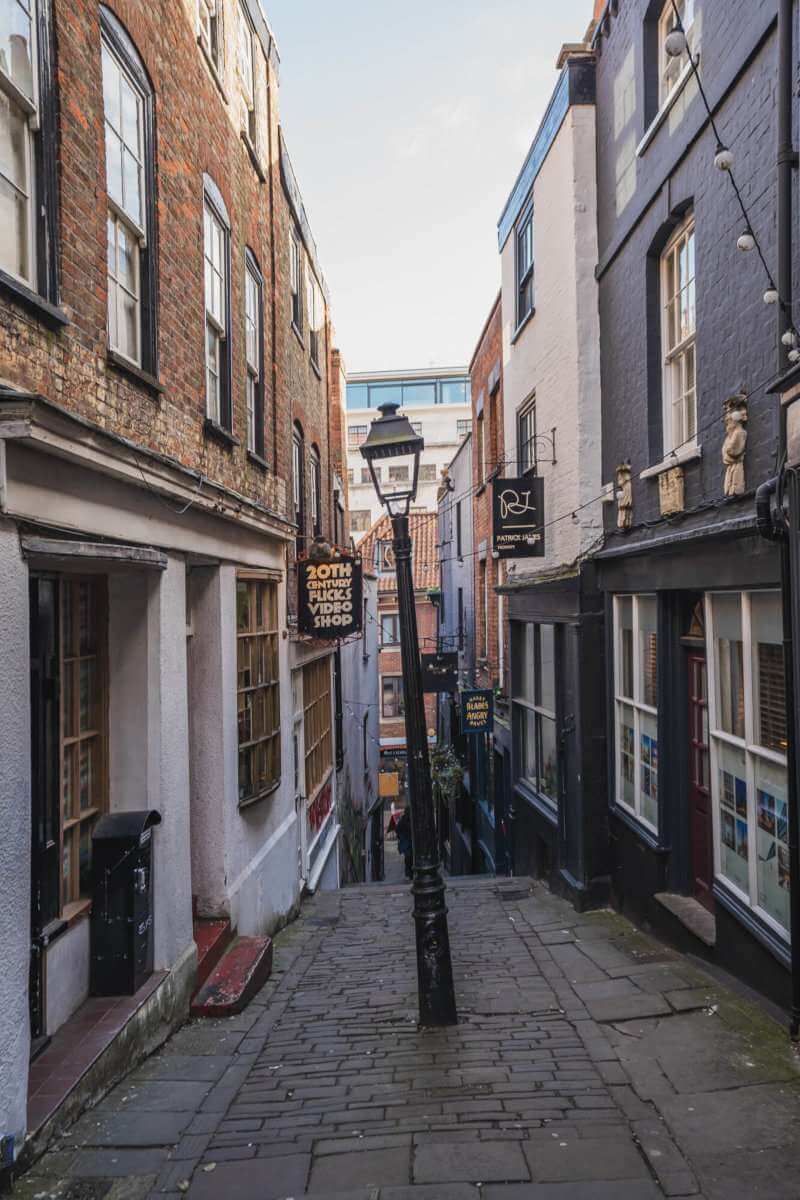 13. Frolic in the University of Bristol Botanic Gardens
Just a bit north of the main part of Bristol is the neighbourhood of Stoke Bishop (next to Clifton Village) which is where the University of Bristol's Botanic Gardens are located.
These gardens are a gorgeous spot if you're looking for something different to do in Bristol, with 4,500 species of plants in a variety of sections, including 640 square metres of greenhouses with tropical plants inside!
You probably know I'm a sucker for frolicking amongst pretty flowers and these botanic gardens provide ample opportunities for gorgeous photos. This is also an excellent way to get warm if you're visiting Bristol in winter.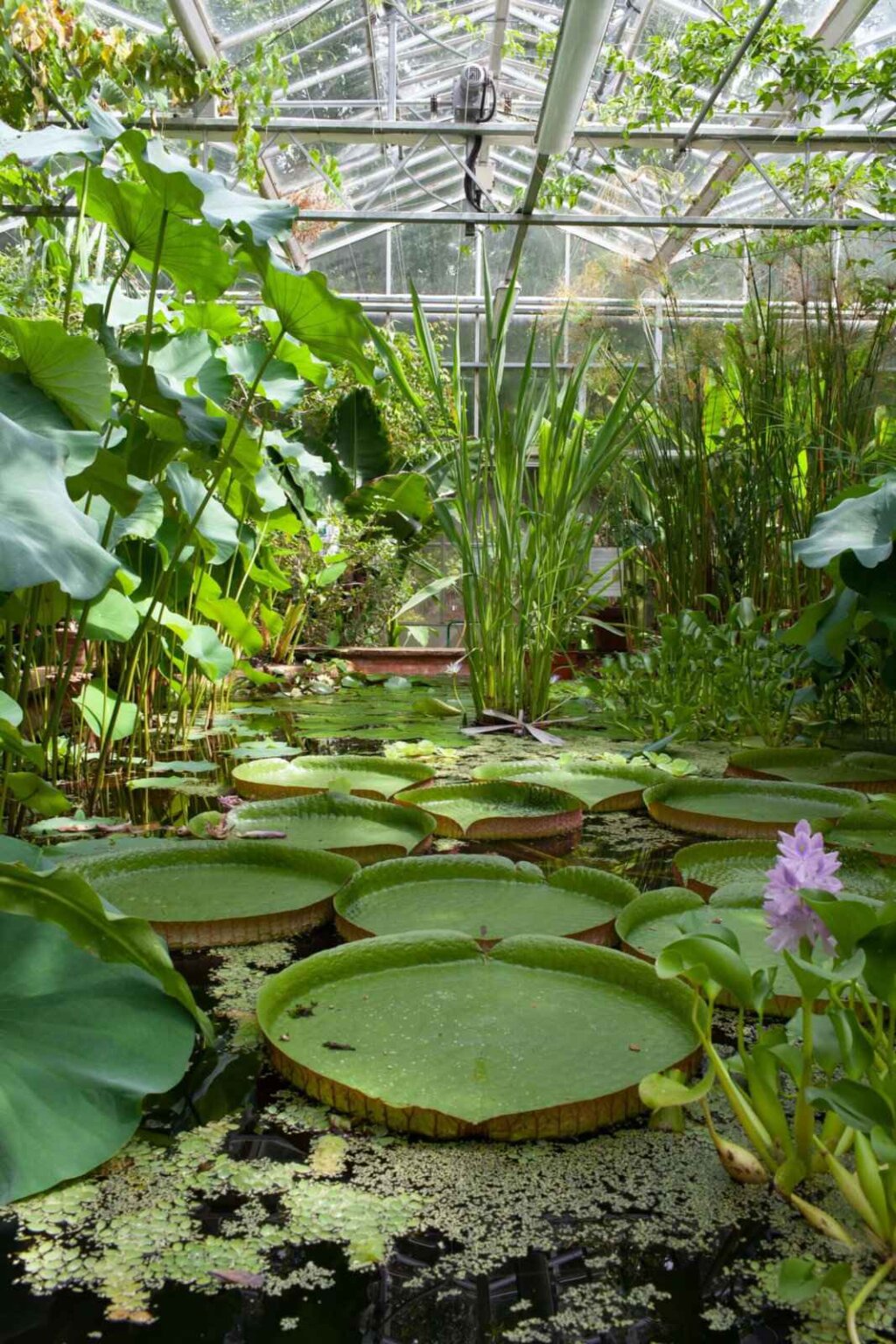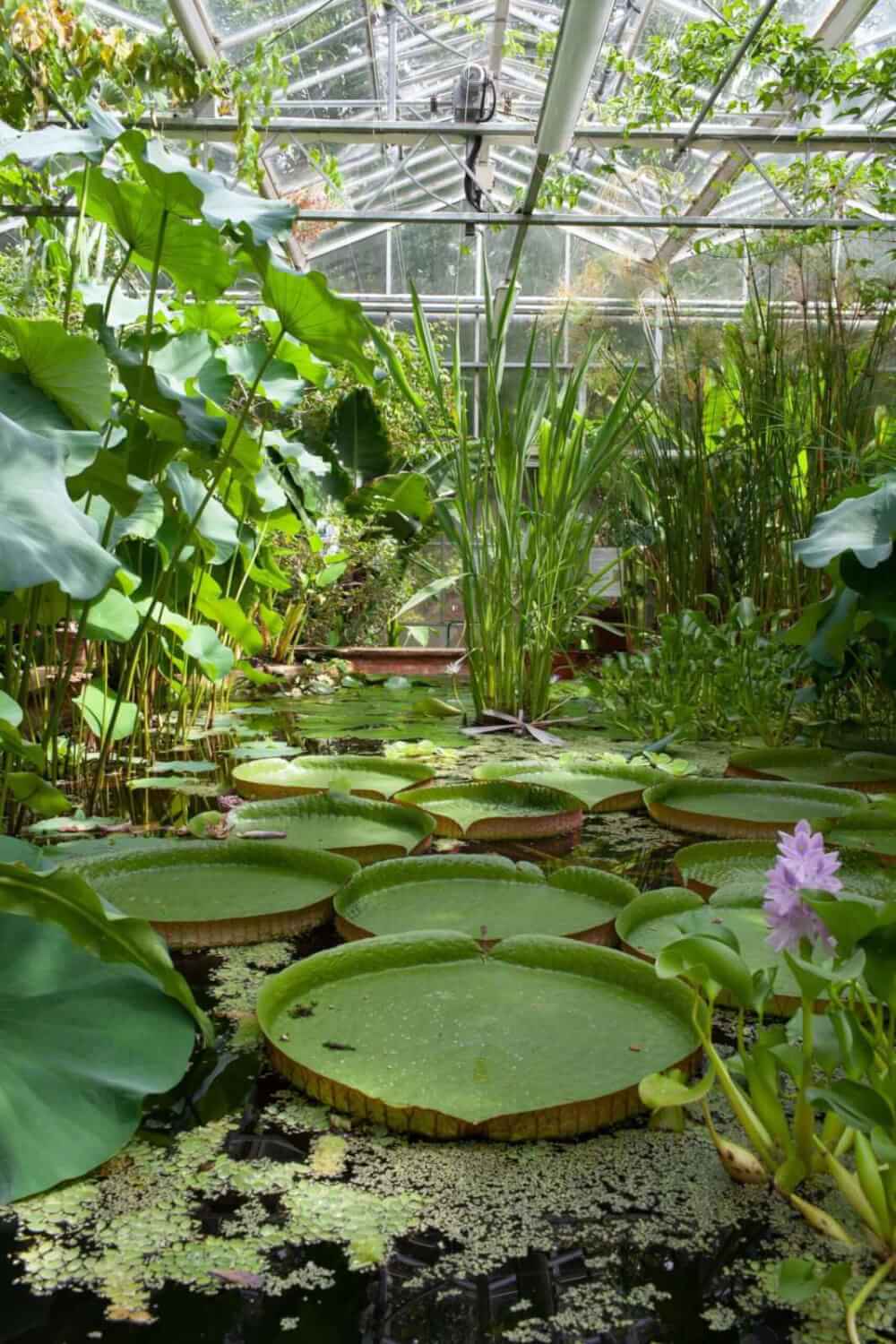 14. Try and Climb Up Vale Street
No list of cool things to see in Bristol is complete without at least a mention of Vale Street. What's so exciting about this street, you may ask. Well, it's the steepest residential street in England!
There's about a 22-degree gradient incline on this street, meaning it's very hard to walk up and pretty easy to go tumbling down. Apparently, residents have to tie their cars to poles when it's icy so they don't slide away!
If you happen to be visiting Bristol over Easter, you may even get to witness the annual Easter egg race down the hill.
15. Explore St. Peter's Church
Along with the Cathedral, Bristol is home to a couple of beautiful church ruins, such as those of St Peter's Church.
St Peter's Church dates from the 11th century when it was first built as an abbey, with a tower added in the 12th century and the rest of the building from the 15th century. This beautiful and historic church was actually bombed during WWII and the ruins have been maintained as a memorial.
Directly next to the church are the ruins of Bristol Castle, and Castle Park encloses both sets of ruins along with pretty gardens to enjoy. It's a gorgeous spot to relax and get some photos!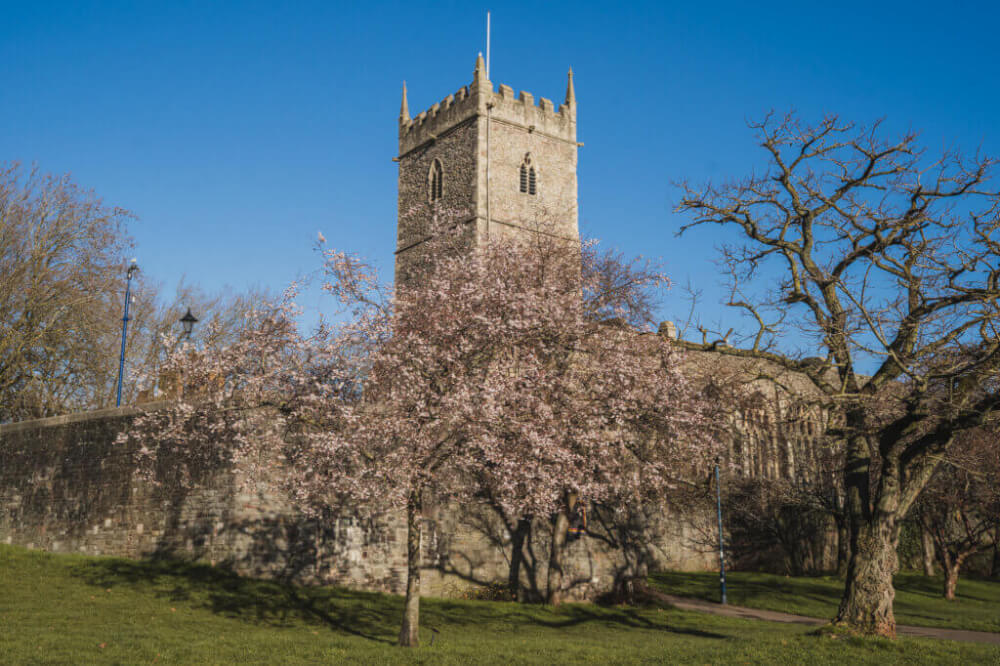 16. Get a Photo of Temple Church
Temple Church is another ruined church in Bristol, although the ruins are of a later church than the original, which was a round temple of the Knights Templar.
While the original Knights Templar temple was constructed around the 12th century, the remains that can be seen today date from the 14th century, when a rectangular church was built on the temple ruins. This newer church was then also partly destroyed during the Blitz in WWII.
Like St Peter's Church, the ruins of Temple Church are now looked after and it's a Grade II listed site, which attracts many tourists. Not only is the site famous for a legendary exorcism, but the bell tower leans almost as far over as the Leaning Tower of Pisa!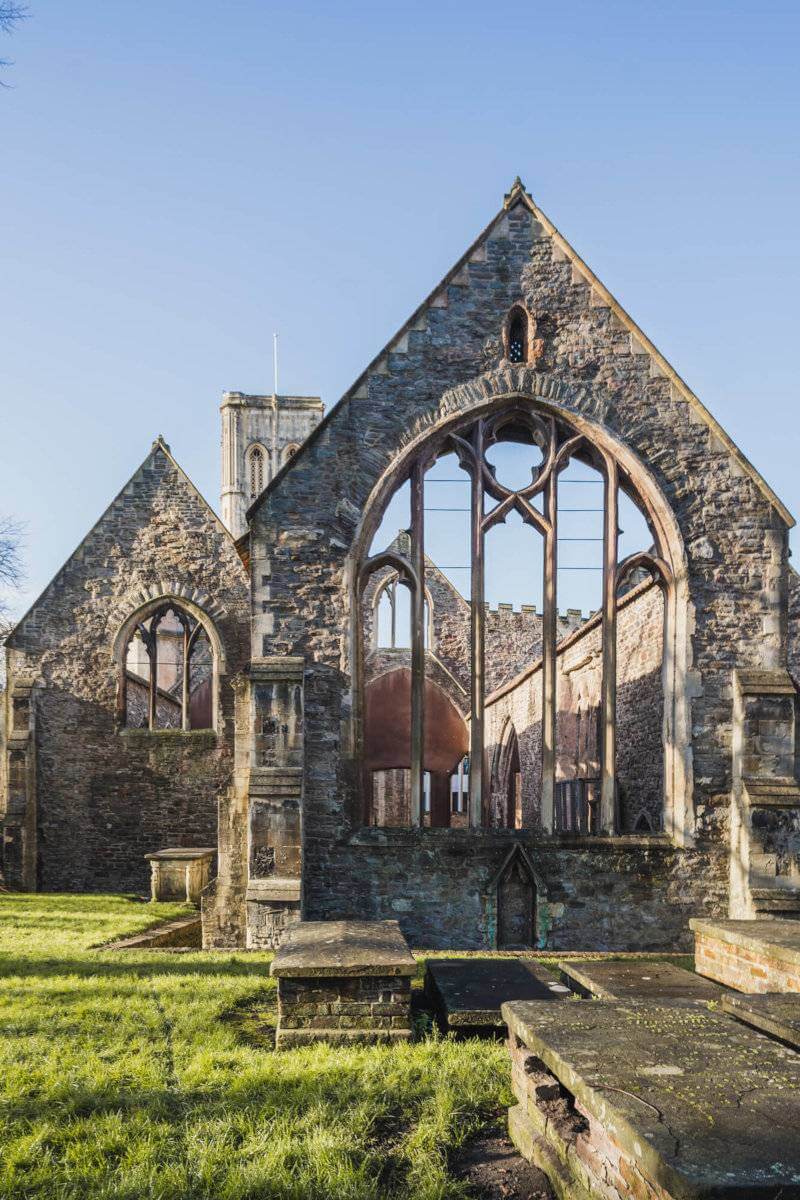 17. Peek at the Houses on Royal York Crescent
Just marvelling at the beautiful houses on Royal York Crescent is one of my top things to do in Bristol, especially if you're low-key delusional like me and like imagining yourself living in all the places you visit.
This majestic terrace is made up of 46 Georgian townhouses, some of which are Grade II listed. This is the longest terrace in Europe, and was originally built for the rich residents of Bristol who didn't want to be living too close to the harbour.
The architecture is really cool here, as all the houses have their main entrances onto a footpath, below which are garages and basements which open onto the main road. This is also still one of the most expensive streets in Bristol, so it's interesting to have a look how the posh people live!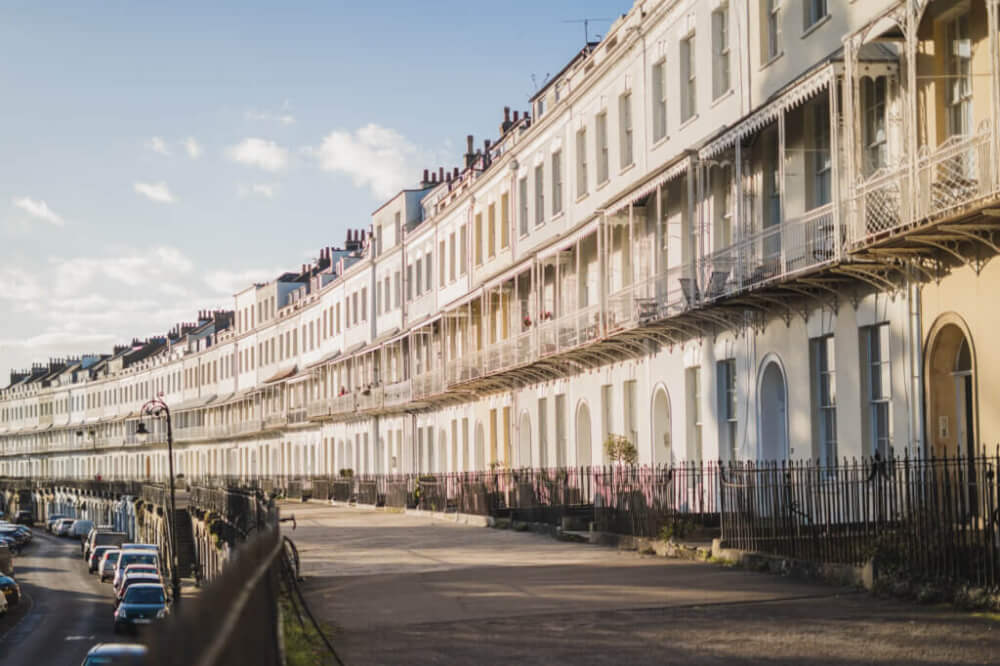 18. Get Some Culture at the Bristol Museum and Art Gallery
Another one of the best free things to do in Bristol is to visit the Bristol Museum and Art Gallery.
This is especially good if it's cold or wet as there are a lot of fascinating collections on display, including geology, zoology, archaeology, Egyptology, Eastern Art, Modern Art, and the history of Bristol! No matter what you're interested in there'll be something fascinating to see.
My favourite items were the paintings of Bristol and Banksy's work – since, in case you didn't know, the elusive artist is also a Bristol native.
Even the museum building is stunning, as it's a Grade II Listed Edwardian Baroque structure. Make sure you check out the website to see what's on, as regular events and special exhibitions are often held here.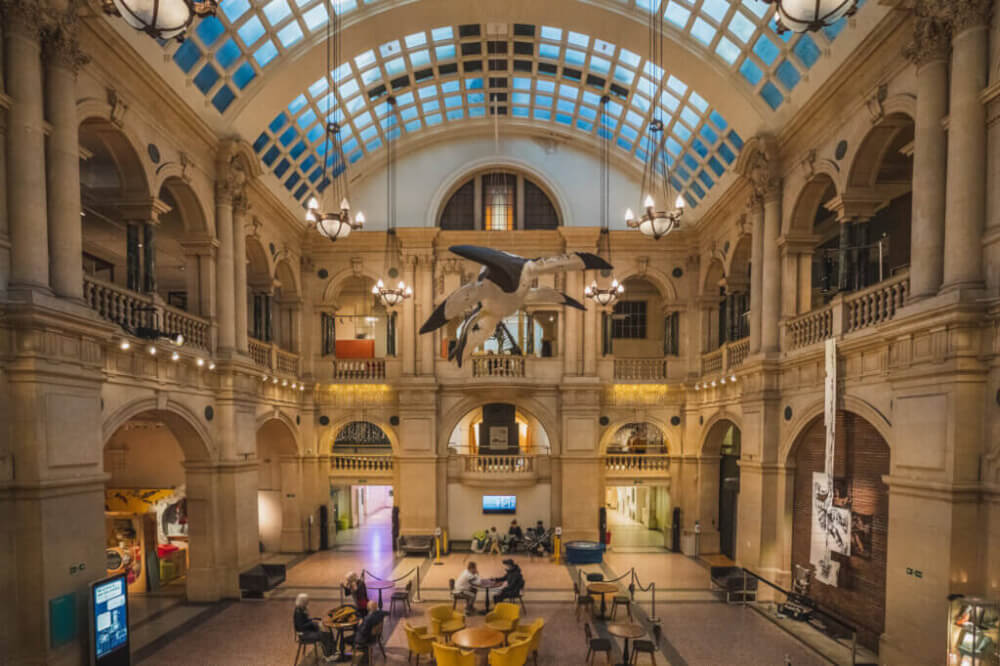 19. Walk Under St. John's Gate
St John's Gate is a fascinating structure since it's actually a tiny church built into the medieval city walls!
Officially named the Church of St John the Baptist, this is the only surviving example of Bristol's fortified gateways from when the city was surrounded by a defensive wall. The narrow St John's church was built around the 14th century and is very narrow.
Going inside the church is a must-do but make sure you also walk underneath to see the portcullis channels within the arch from where the gate could be closed to defend the city!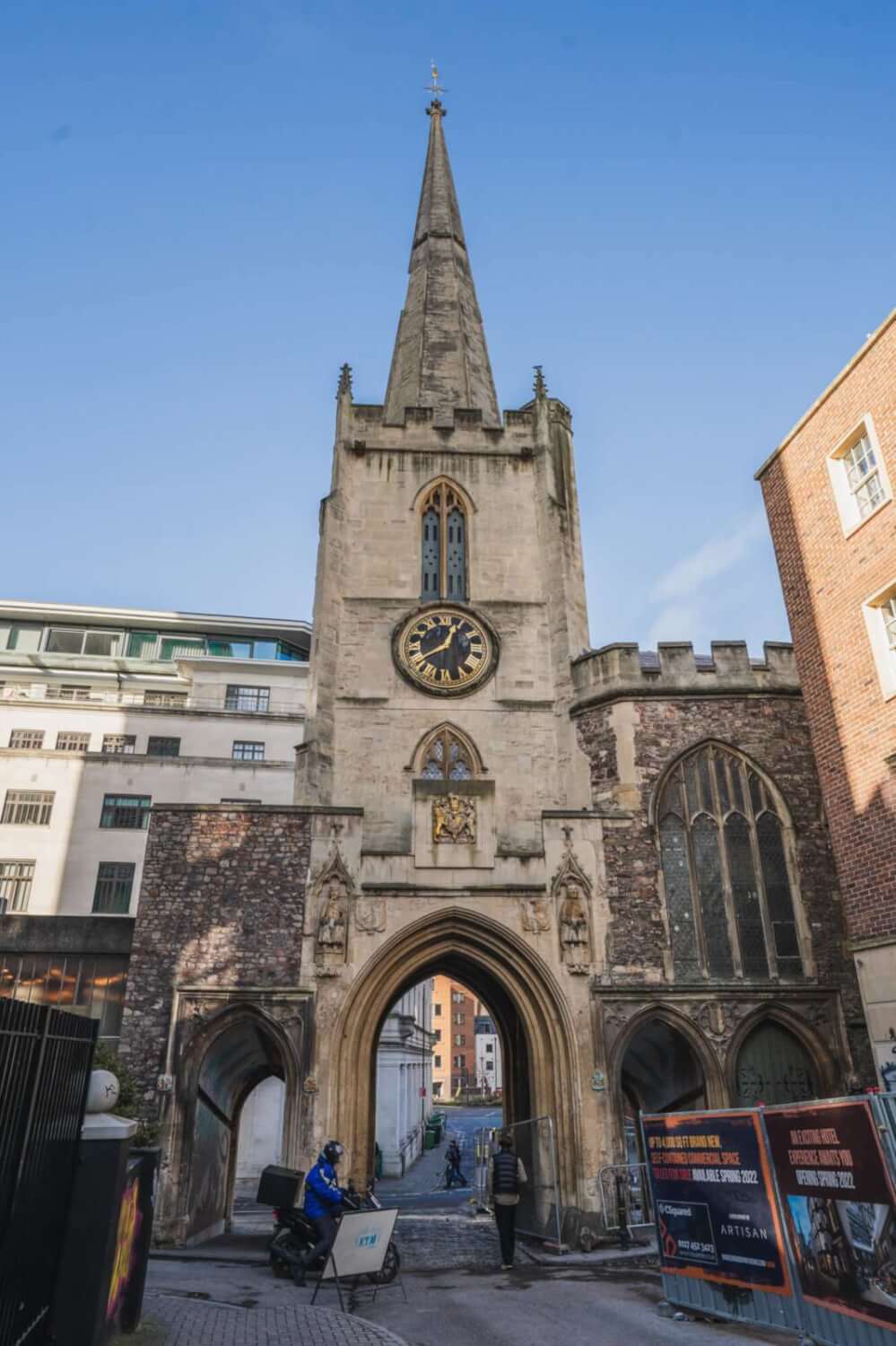 20. Enjoy the Views from Cabot Tower
Since John Cabot sailed from Bristol on his famous journey to North America, it's not surprising that there are a number of places in the city named after him.
One of these that's definitely worth visiting is Cabot Tower, a monument built in 1897 to commemorate that journey. Climbing to the top provides excellent views over the city and you may even be inspired by seeing more stuff to do in Bristol while you're up there!
Cabot Tower is located inside the parkland of Brandon Hill, which is the oldest park in Bristol and also a lovely area to relax in and explore.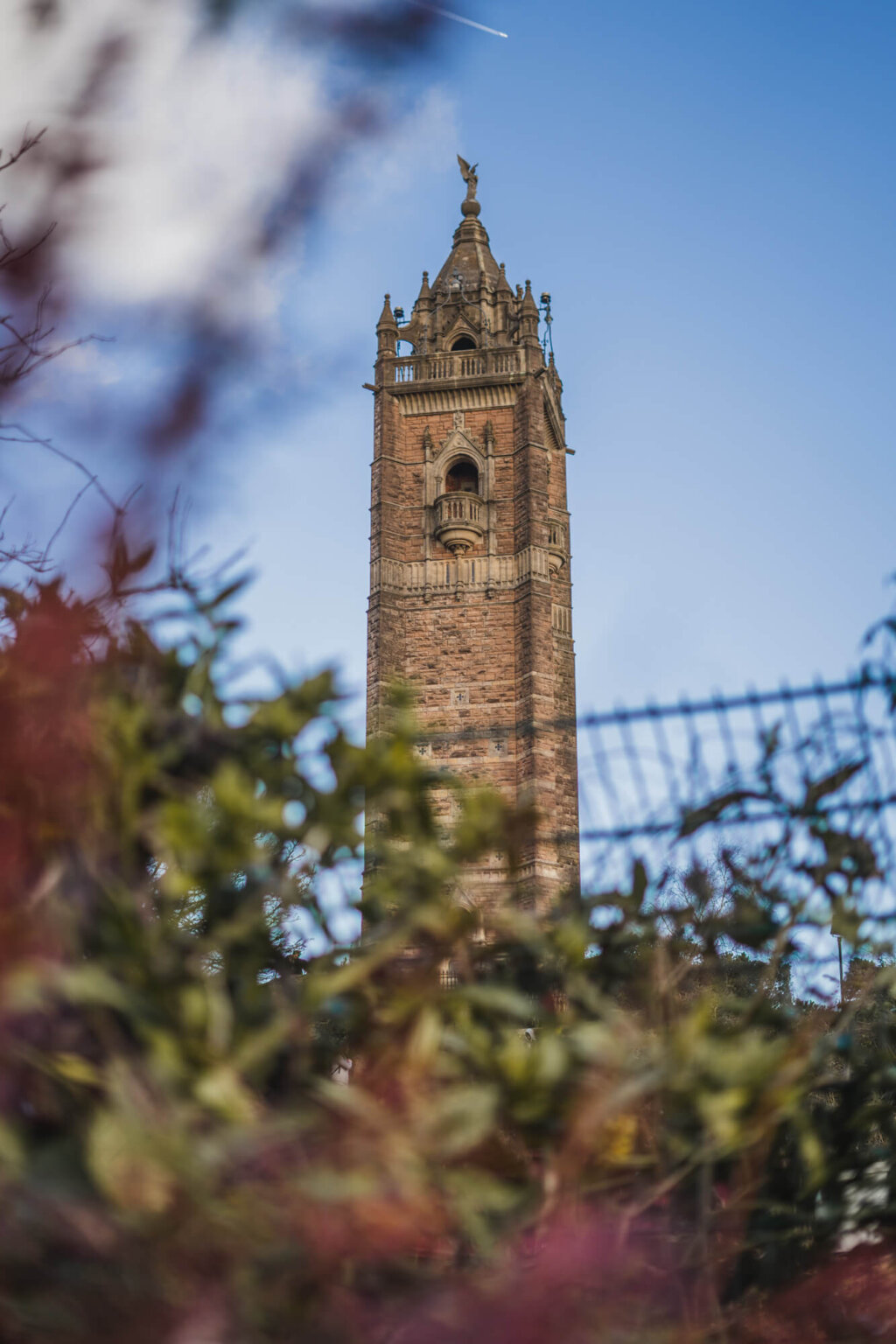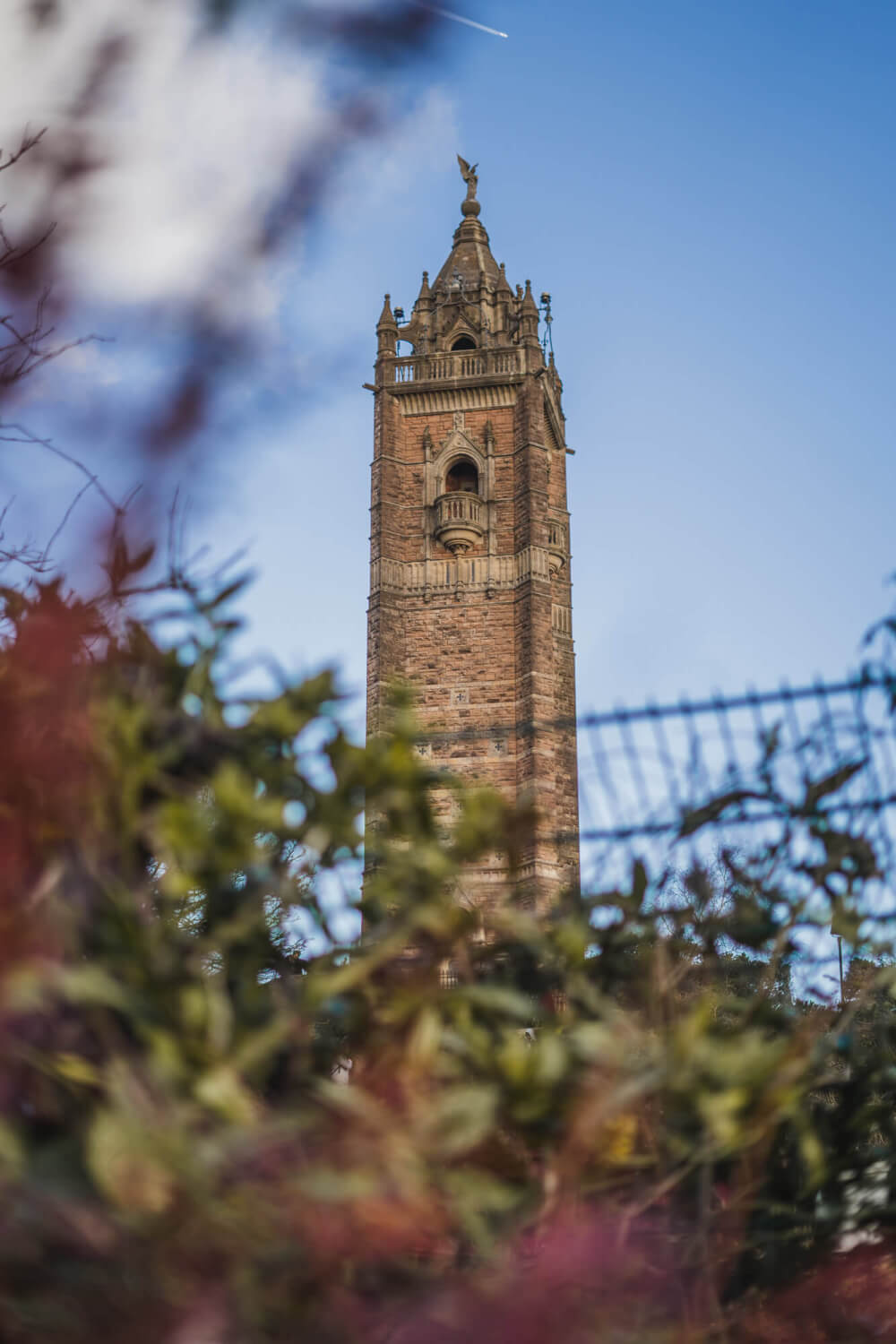 21. Admire the amazing street art
From iconic Banksy works to full-building murals, Bristol is a glorious haven of street art to admire, making every step feel like an exciting mini-adventure (if you're lame like me, anyway).
While it's pretty tough to miss Bristol's street art while you're just walking around and exploring, you can check out the official resources from their tourism board here, so you can better plan your explorations.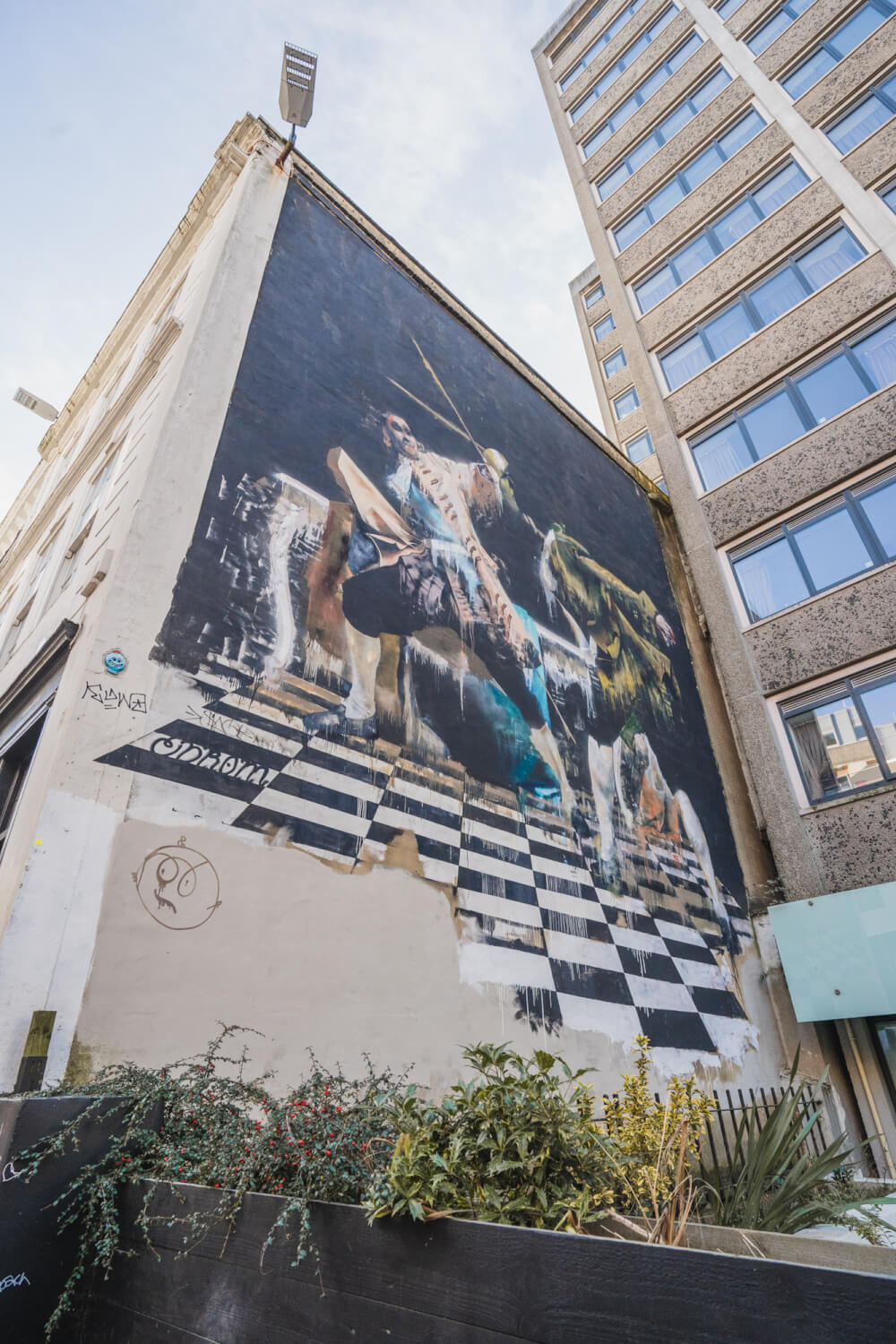 Did I miss any of your favourite things to do in Bristol?
Let me know in the comments so I can add more recommendations to my list!
---
Watch my most popular YouTube video this week:
---