*FYI - this post may contain affiliate links, which means we earn a commission at no extra cost to you if you purchase from them. Also, as an Amazon Associate I earn from qualifying purchases. Check out our Privacy Policy and Disclosure. for more info.
Winchester is a city in Southwest England famed for its epic cathedral (home to the longest medieval nave in Europe), and its links to Jane Austen, who spent her last days here over two centuries ago.
… But there's a lot more to the city than just morbid literary connections and impressively lengthy naves.
Did you know for instance that Winchester is home to a 700 year old replica of King Arthur's Round Table? Or that there's a 1000 year old bar that claims (like many) to be the oldest bar in the country? Or that there's an entire complex dedicated to niche military museums, and a pub where you can see stuffed chipmunks play pool?!
Winchester is wild, you guys. And I'm here to tell you all about it. After spending the coziest few days holed up in a thatched-roof cottage in the nearby countryside, I really do think Winchester is one of the prettiest and most interesting little cities that England has to offer.
So if you're wondering what to do in Winchester, let me shriek some suggestions at you, because in case the crazed tone of this article didn't give it away, I'm a big fan.
From legendary historical monuments to eclectic pubs aplenty, here are the top fun things to do in Winchester, England.
1. See King Arthur's Round Table (sort of)
One of the most unique and popular Winchester attractions is the round table of King Arthur. Well, actually, it's more of a replica based on what they assume the table looked like, but it's really cool, I promise.
The Round Table hangs on the wall of the Great Hall – the only surviving part of Winchester Castle. This was one of the first Norman Castles built by William the Conquerer although the sections that remain were actually added on by Henry VIII.
While people thought (for centuries) that the Round Table on display here was the real Round Table of King Arthur, it has actually been dated to the 13th century, meaning it's not, you know, the 'real' table from the legends.
It's still very impressive though, weighing in at over 1,200 kilos and spanning 18 feet in diameter, with a painting of King Arthur looking very similar to Henry VIII on it…
PRACTICAL INFORMATION FOR VISITING: It costs £4 to visit The Great Hall as well as the 13th-century Queen Eleanor's Garden and the Long Gallery. The Great Hall is usually open every day between 10am-5pm but check the website as it is occasionally closed for private or civic functions.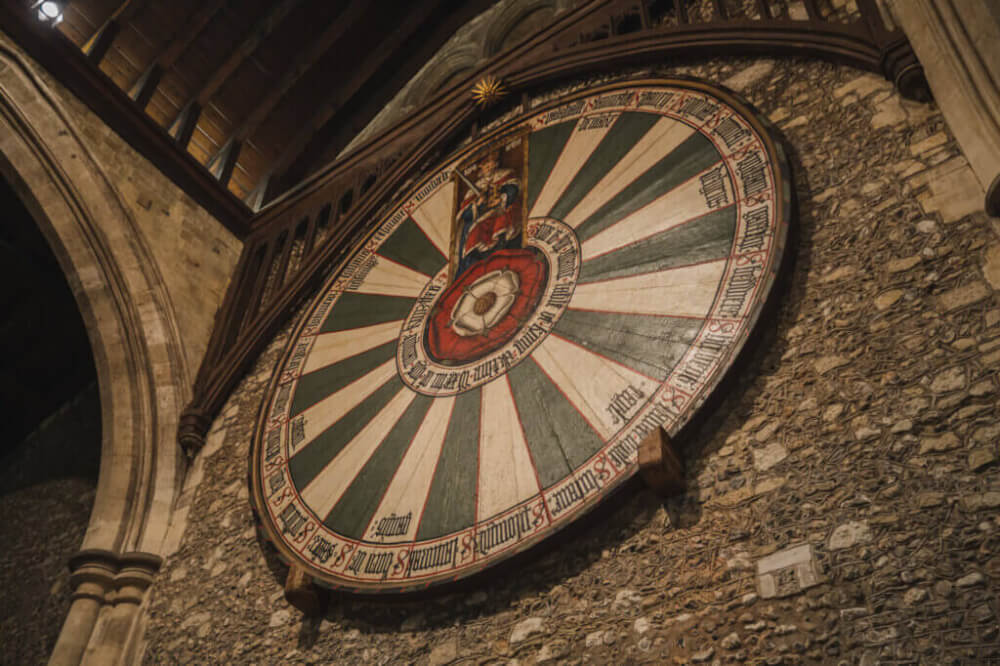 2. Gaze in Awe at Winchester Cathedral
A visit to Winchester Cathedral is one of the most popular activities in Winchester if only to gaze in wonder at the stunning Gothic architecture.
Winchester Cathedral is the longest medieval cathedral in the world and the sixth-largest cathedral in the United Kingdom. Its official name is also a bit of a mouthful – the Cathedral Church of the Holy Trinity, Saint Peter, Saint Paul and Saint Swithun, so it's a surprise to no one that it's more often shortened to just Winchester Cathedral!
This cathedral was originally constructed between 1079 and 1532, plus it's been the site of some very significant historical events, such as the wedding between Queen Mary Tudor and Prince Philip II of Spain in 1554.
Novelist Jane Austen is buried here as well, and in recent years the Cathedral has been used as a filming location for productions like The Crown and The Da Vinci Code.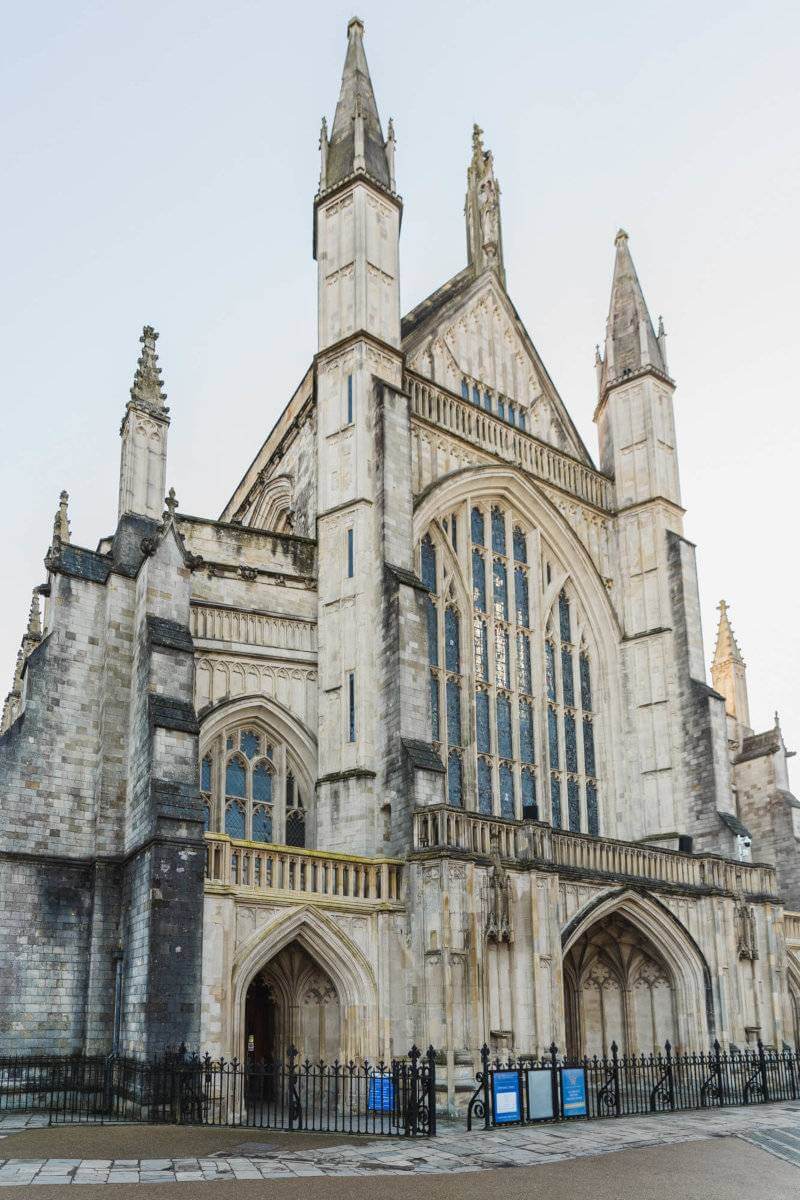 3. Learn About British Military History
Visiting the Winchester Military Quarter is one of the top things to do in Winchester, as it's made up of six different (and fascinating) military museums.
This area is right next to Winchester Castle and contains three museums which are free to visit, while three have a small entrance fee. You can save money by getting a combined pass for the paid ones though!
These are the museums in the military quarter: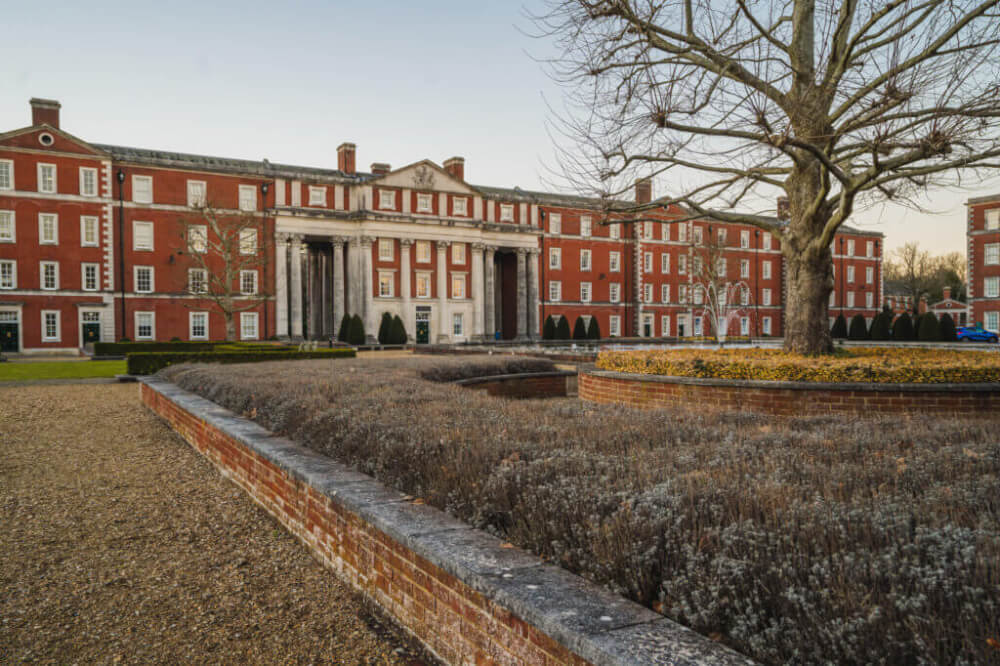 4. Have a Peek at Winchester College
Winchester College is one of the oldest and most prestigious secondary schools in the world, established in 1382 as a 'feeder school' for Oxford University.
It was founded by William of Wykeham, who also founded New College in Oxford in 1379.
While it is a working school you can get a glimpse of the beautiful formal gardens, listed buildings and Treasury Museum on a paid guided tour, or visit during one of the Winchester Heritage Open Days in September.
If you only have a little time, just walk by and peek in at this amazingly posh school, which is located right next door to our next sight…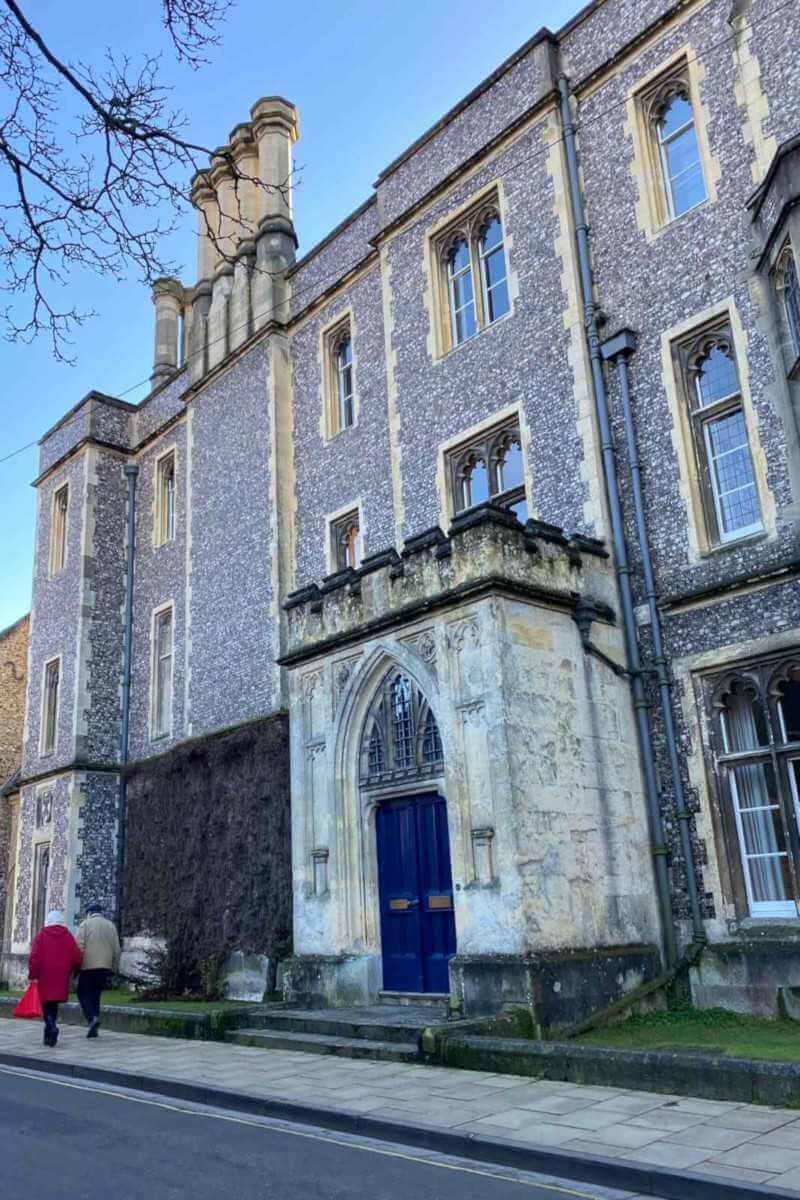 5. Visit Jane Austen's Last Home
Jane Austen is one of the most famous British novelists ever. She penned multiple classics that have spawned many film and tv adaptations, such as Pride & Prejudice, Sense & Sensibility, Emma, Persuasion and more. Of course, if you grew up on the 2005 Pride & Prejudice movie like I did, none of this information is new to you.
But while she spent most of her life living in places like Bath and Southampton, Jane Austen's final months were actually spent at 8 College Street in Winchester, directly next door to the Headmaster's House of Winchester College. She had moved to Winchester to be closer to the doctor who had been treating her since she fell ill in 1816, but she sadly died in 1817 at the age of 41.
You can't go into the house where she spent her last months, but there is a plaque on the wall outside for hardcore Jane Austen fans to see.
Of course, she is also buried at Winchester Cathedral, so head there to see her grave and the memorial gravestone inside the cathedral that bears the epitaph written by her brother.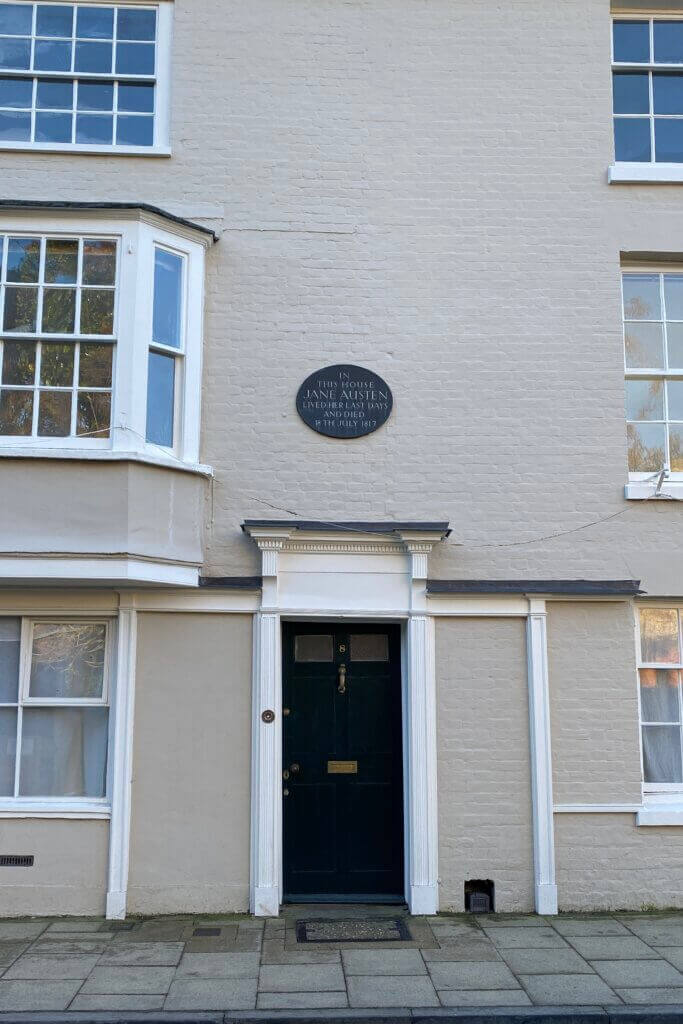 6. Enjoy the Views from St Giles Hill
One of the best free things to do in Winchester is to walk to the top of St Giles Hill and enjoy the views over the city.
This hill is named for a medieval chapel which once stood on the hill and was also the location of the largest and most famous medieval fair in Europe – the St Giles Fair. This huge fair took place for sixteen days during September every year from 1096 until the 13th century.
Today there aren't any fairs here, but there's plenty of green space to have a picnic and walk around.
At the main lookout point, there's also a picture showing how the city looked during the medieval period, which is fun to compare to the panorama below.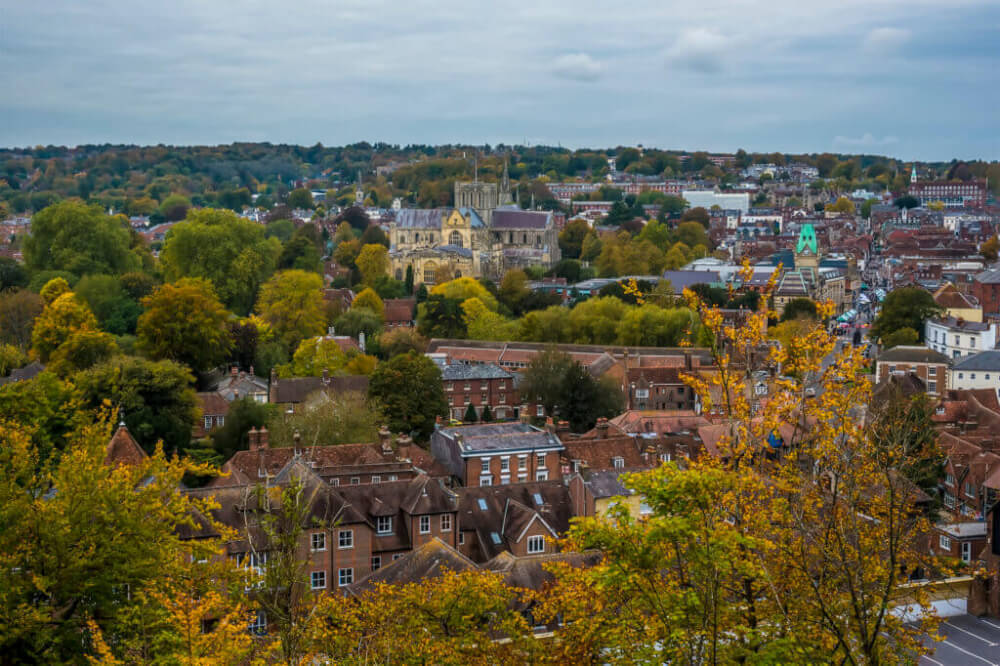 7. Eat the Biggest Stack of Pancakes at Josie's
There are plenty of great places for food and drink in Winchester (particularly the pubs) but Josie's Café is one of the coolest things we stumbled upon on our last visit!
Josie's Cafés are well known throughout Hampshire, and while everything on the menu is superb it's the massive pancake stacks that grabbed our attention.
I went for the huge pancake stack that comes with fried chicken, a fried egg and maple syrup (see the photo below) but there are other mouth-watering varieties available too, like Banoffee, Biscoff or Oreo pancakes.
The smoothies and milkshakes are also delicious and I am already drooling while thinking about how I can get back for another meal!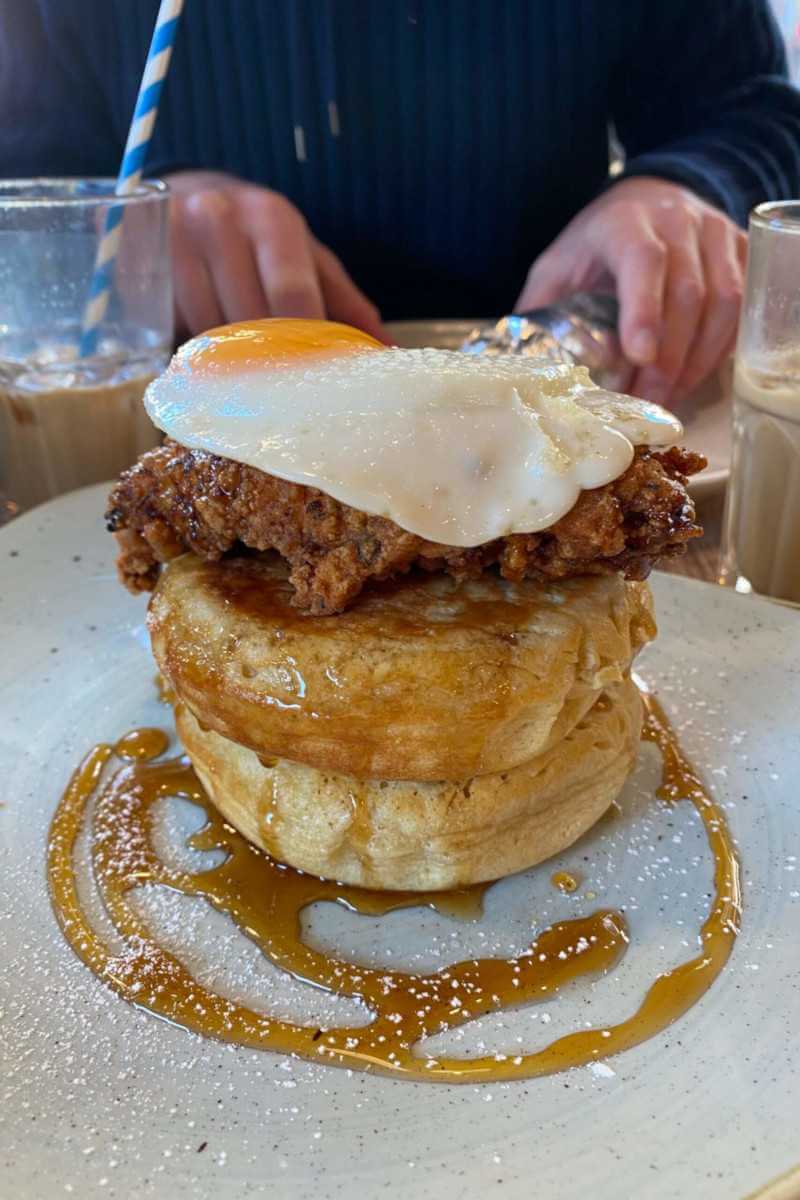 8. Explore the Winchester City Museum
If you want to learn more about the history of this fascinating city, head to the Winchester City Museum.
This fun museum features lots of interactive activities as you learn all about life in Winchester from the Iron Age to the Roman period to the Victorian era and beyond.
One of the highlights is the large-scale model of historic Winchester, and children (or the "young at heart" visitors like me!) will enjoy being able to dress up in the different costumes!
If you're interested in the Norman period and King Alfred the Great's reign (fans of The Last Kingdom TV series, for example) then you will definitely enjoy this one.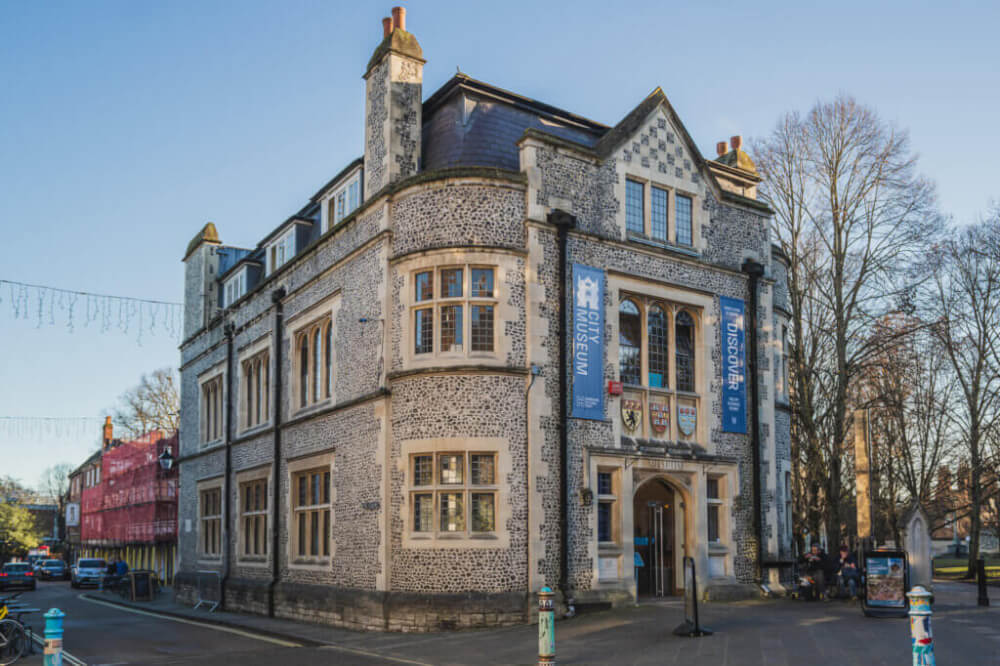 9. Visit the Oldest Bar in England (maybe)
Other cool things to see in Winchester include a number of interesting and historic pubs, including The Royal Oak which is thought to be the oldest bar in England.
This is a pretty hotly contested claim among a number of bars in England, but there's evidence that the Royal Oak is definitely one of the oldest English pubs.
If it's claims are to be trusted, a bar is said to have existed at this spot for over 1000 years.
Today, the pub is part of the Greene King chain of pubs, so it's quite modern in terms of menu and experience. You can even order gluten-free, vegetarian or vegan meal options on their app, so it's not exactly like a Time Machine. Still, it's a neat little spot for a drink, if even just for silly little bragging rights.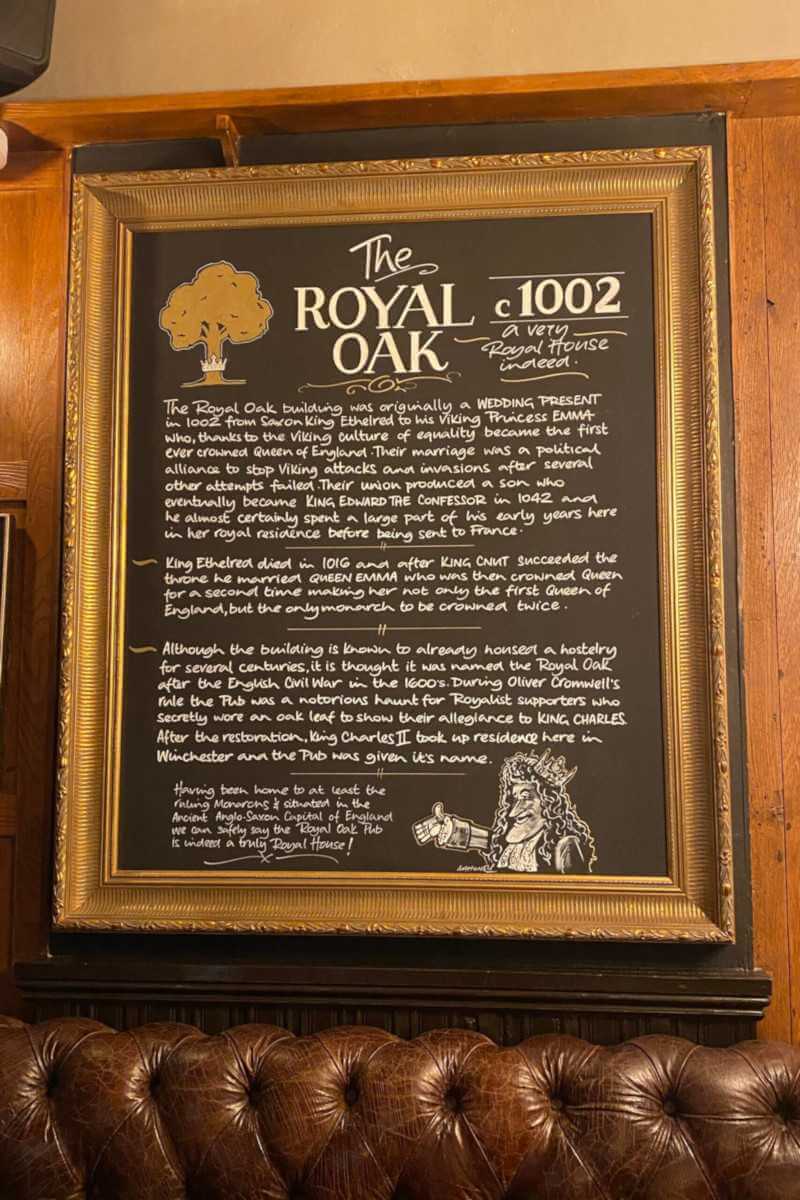 10. Stroll by The Weirs
If you're looking for some more active stuff to do in Winchester then head down to the Weirs for a brisk walk.
The Weirs are a number of small dams located in the section of the River Itchen between the City Mill and the Wharf Mill. While the river often runs very fast in other sections it flows slower here and there's a walking path right next to the water. As you stroll along you can see people's backyards on the opposite side of the water and some rather nice garden areas as well.
You can walk between Wolvesey Castle and the City Mill along the Weirs and it's a much more pleasant route than going through the busier main streets – I can highly recommend it if the weather cooperates. It makes you feel like you're living in a little movie!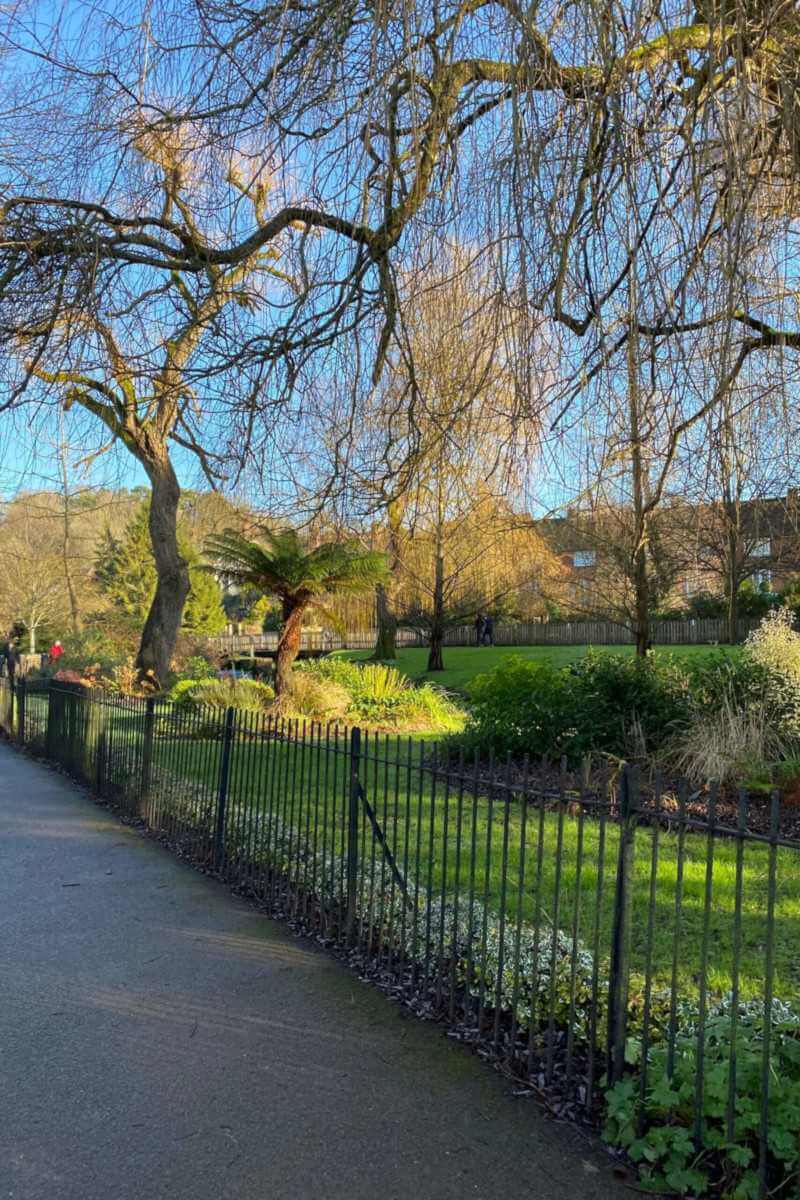 11. Take Part in a Unique Event at the Winchester City Mill
Since the River Itchen flows fast, there were once many water mills on the banks in Winchester. The Winchester City Mill is one of the oldest mills in the country, with records showing a mill on the spot where it's located since at least Saxon times.
The mill as it currently appears was mostly reconstructed in the 1740s, but today it's a beautiful Grade II listed building which attracts more than 50,000 visitors each year. It's managed by the National Trust and still used as a working flour mill, with free entry, a café and a gift shop.
If you're looking for some more off-beat things to do in Winchester then try to time your visit for one of the regular events held here; with baking, ceramics-making or even weaving workshops often organised on the premises.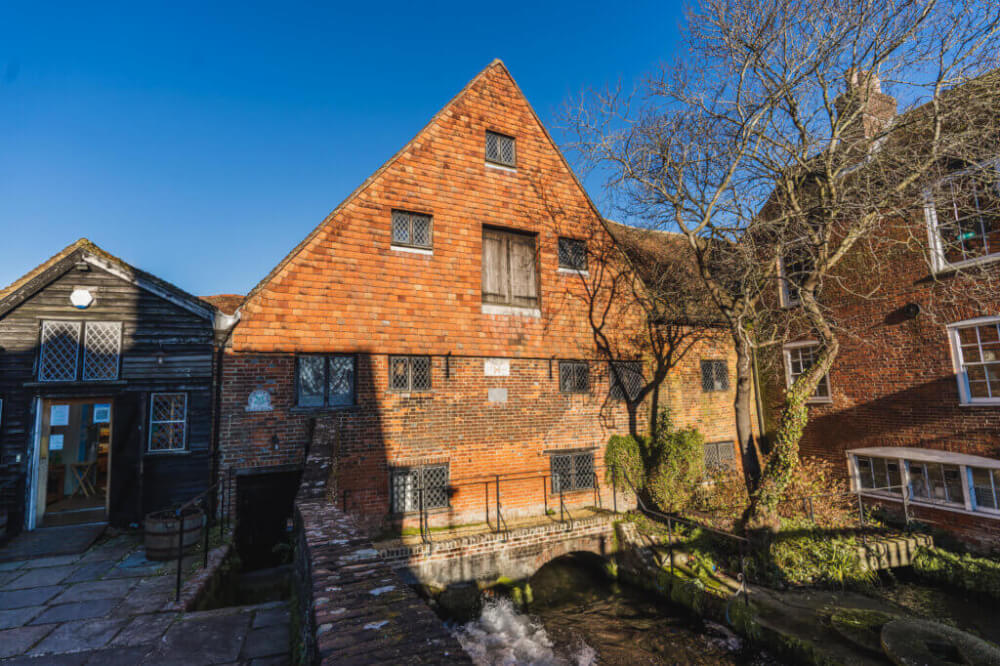 12. Explore Wolvesey Castle
At the opposite end of the Weirs from the Winchester City Mill are the remains of Wolvesey Castle, which was the main residence for the Bishops of Winchester back in the Middle Ages.
Wolvesey Castle was first constructed between 963 and 984 AD by the Bishop of Winchester at the time as his personal palace. Sometimes it's also called the "Old Bishop's Palace" as it's located next to the current bishop's palace.
While most of the palace was destroyed during the English Civil War in 1646, today the ruins are maintained as a heritage site where you can see most of the curtain wall, an arch and a Norman window. It's also free to wander around, although it's usually closed on weekdays in winter.
13. Stop by Kingsgate
Not far from Wolvesey Castle is Kingsgate, one of only two surviving medieval gates in Winchester – the other being Westgate which is not far from Josie's if you want to see both!
Kingsgate is one of the prettiest little historic pockets in the city though, with a tiny 13th-century church built above the gate (St. Swithun-upon-Kingsgate) and a charming bookshop next door called Kingsgate Books & Prints.
Make sure you stop in for a browse if you're heading to Kingsgate for some photos! They sell some beautiful antique maps and watercolour prints of Winchester along with books.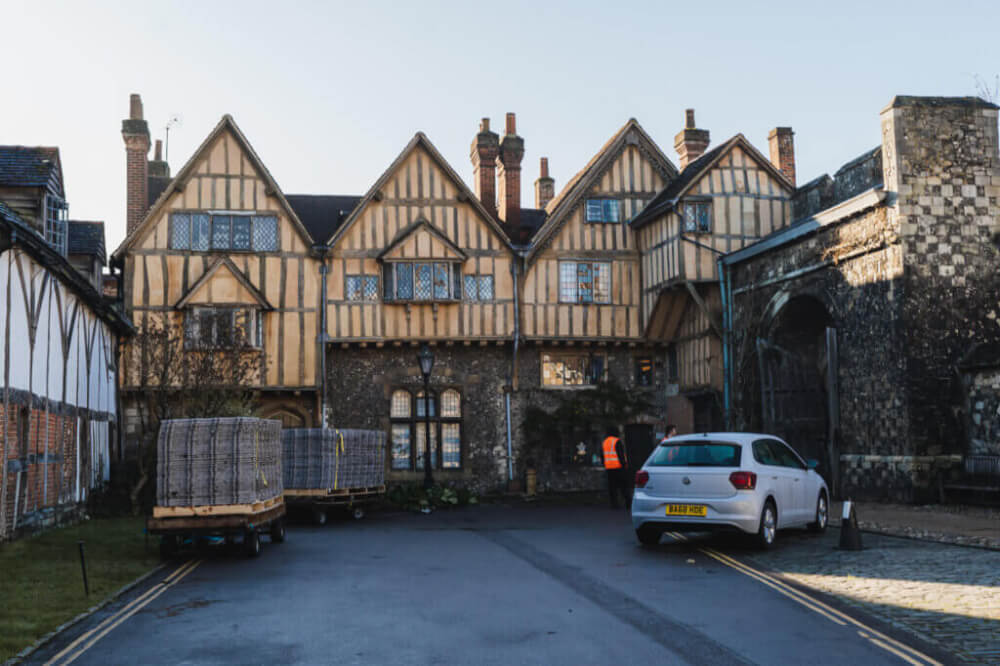 14. Have a Pint at the Black Boy Pub
Since there are a variety of interesting and historic pubs in the city, having a pint inside one (or all) of them is one of the best things to do in Winchester!
The Black Boy Pub is easily the most quirky of Winchester's pubs, as it's packed with all manner of weird memorabilia, antiques, stuffed animals, books, movie posters, and even old fire buckets. In summer it's lovely to sit outside in the garden while in winter there's a roaring fire inside and heaters outside.
This pub prides itself on being "a proper back-street boozer", with plenty of local ales on tap. It's also located in a residential area, so it's quieter than other parts of the city, making it a nice offbeat addition to any Winchester itinerary.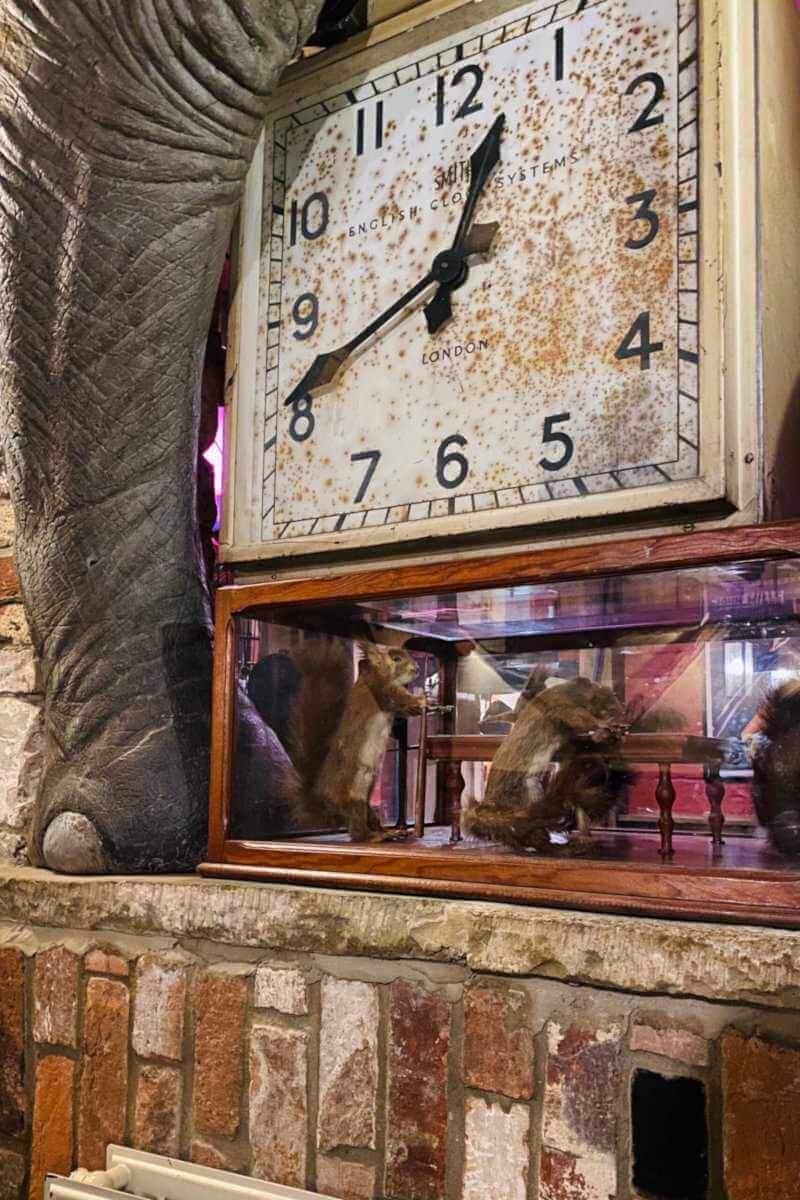 15. Go Shopping on Winchester High Street
Shopaholics will definitely find a shopping spree to be one of the most fun things to do in Winchester, especially if heading to the High Street.
Winchester is known for being an excellent shopping destination with the perfect mix of boutique stores, local markets and big-name stores as well. Shops in the High Street are mostly housed inside beautiful half-timbered old buildings that make it almost feel like you're shopping in Elizabethan times (except for all the crop tops, of course).
There's nearly a mile of excellent shops lining this street, which stretches from the Guildhall to the West Gate Museum.
Make sure you stop to have a look at the Buttercross Monument (below left) which is roughly in the middle. This 15th-century monument shows carved figures of the Virgin Mary along with the Saints Bartholomew, John, Lawrence, Maurice, Peter, Swithun, and Thomas.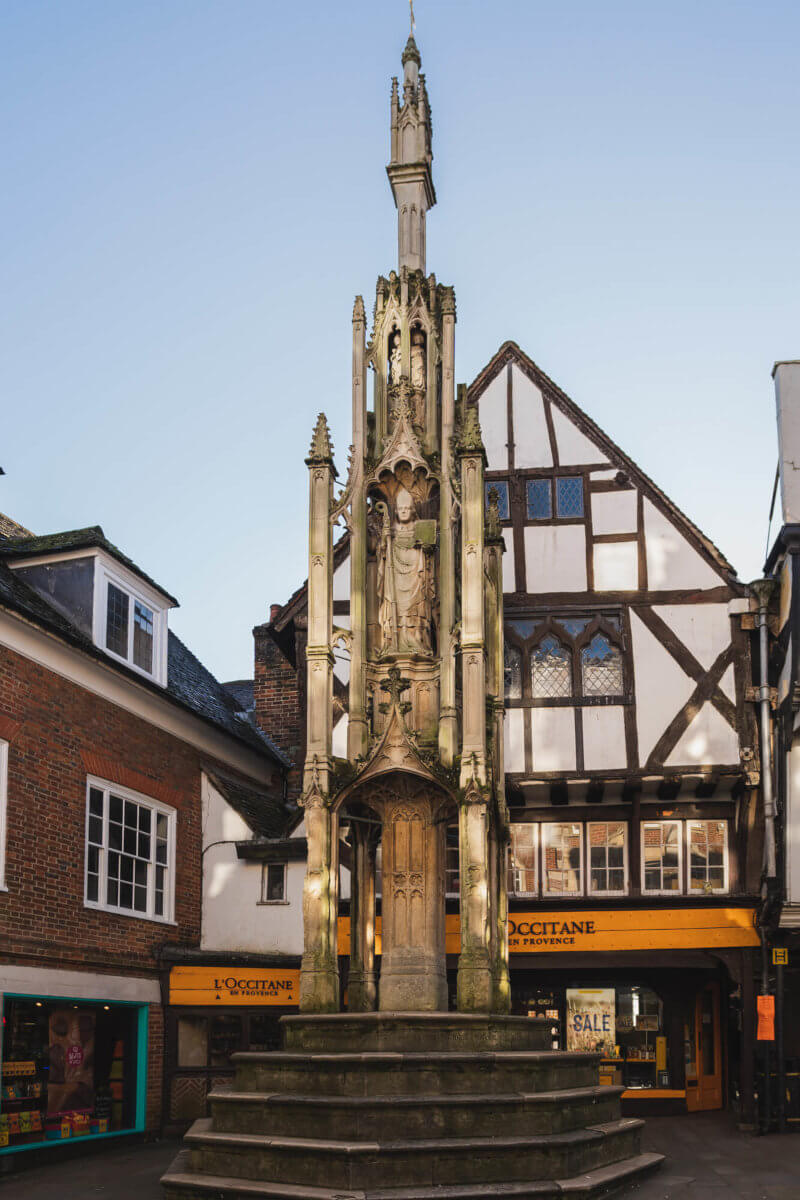 16. See the Winchester Guildhall
Before or after your shopping spree, stop by the Guildhall to admire this impressive Gothic Revival building.
The Guildhall actually started out as a nunnery, which was founded by King Alfred the Great's wife Aelswith and she retired to it after he died in 899 AD.
The nunnery later became St Mary's Abbey and was actually one of the largest nunneries in the country until Henry VIII's temper tantrum which led to the Dissolution of the Monasteries.
After this, the abbey was demolished and the Guildhall which stands there today was constructed in the 1870s, with extensions and renovations added on since then. Head inside to get information about the city at the Winchester Visitor Information Centre and take a look around at this beautiful, historic building.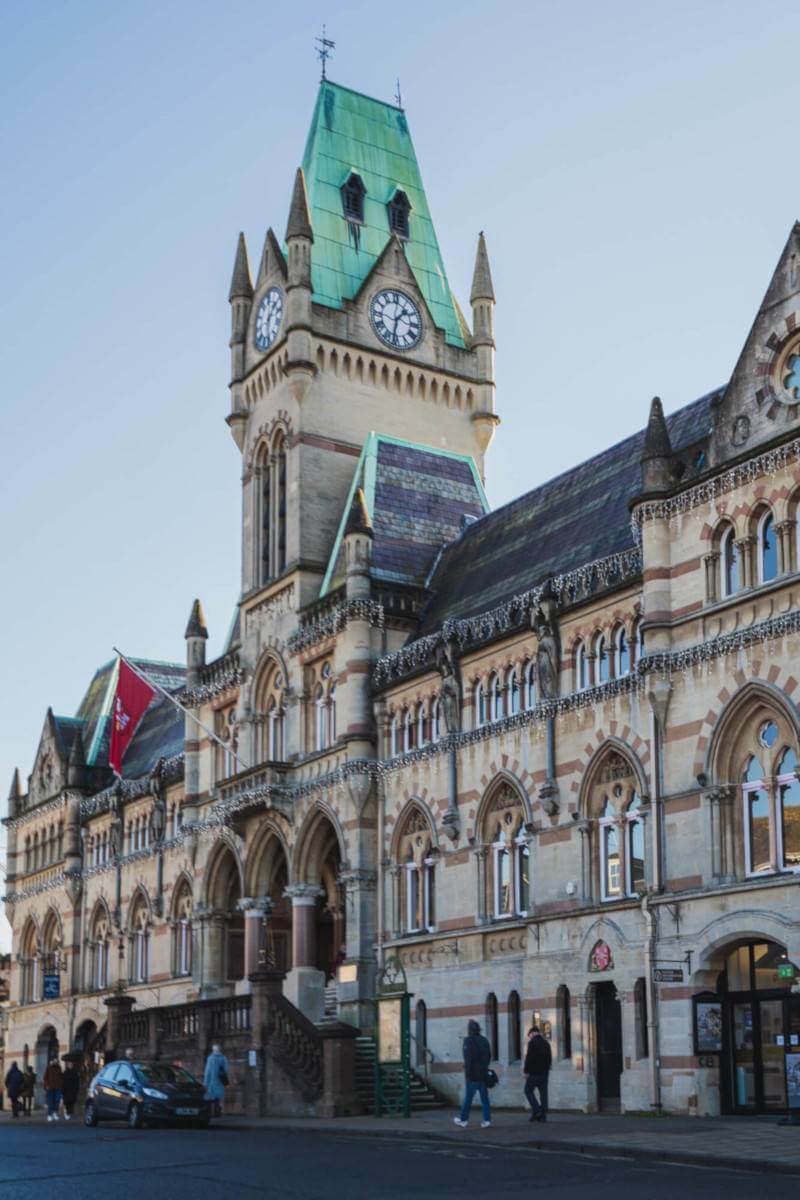 17. Visit the Wykeham Arms
Yes, it's another pub but it's also another historic and quirky pub that makes a great stop for dinner or drinks!
The building which houses the Wykeham Arms has been either a pub or coaching inn since at least 1775 and has even hosted distinguished guests such as Lord Nelson on his way to Portsmouth. You can even stay here today if you want, and the rooms look very luxurious…
The pub itself is cosy and eclectic, with historic decorations including Steins hanging from hooks, old photographs and a framed programme from Winston Churchill's funeral. The food and drinks are excellent, plus there are little gold plaques on the walls showing where regulars used to sit.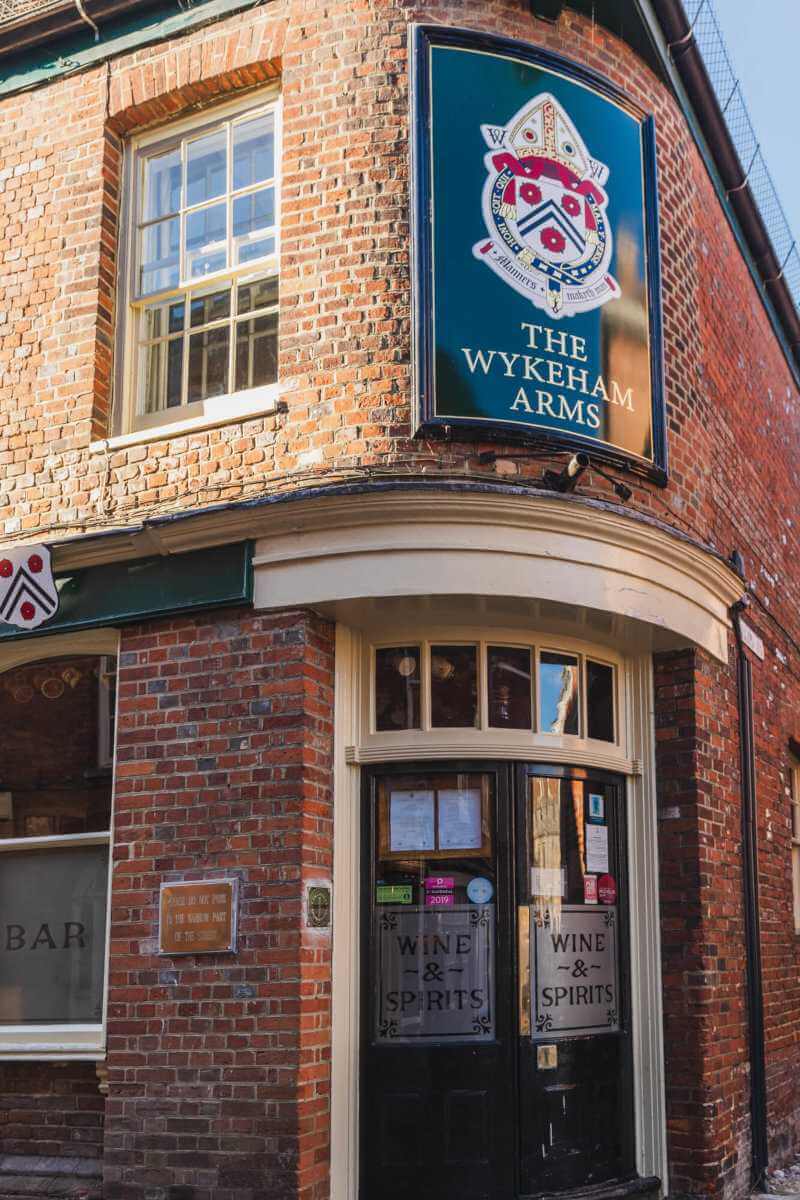 BONUS! As you visit the Wykeham Arms be sure to also keep your eyes peeled for the rare mounted Victorian postbox which is located just across the road.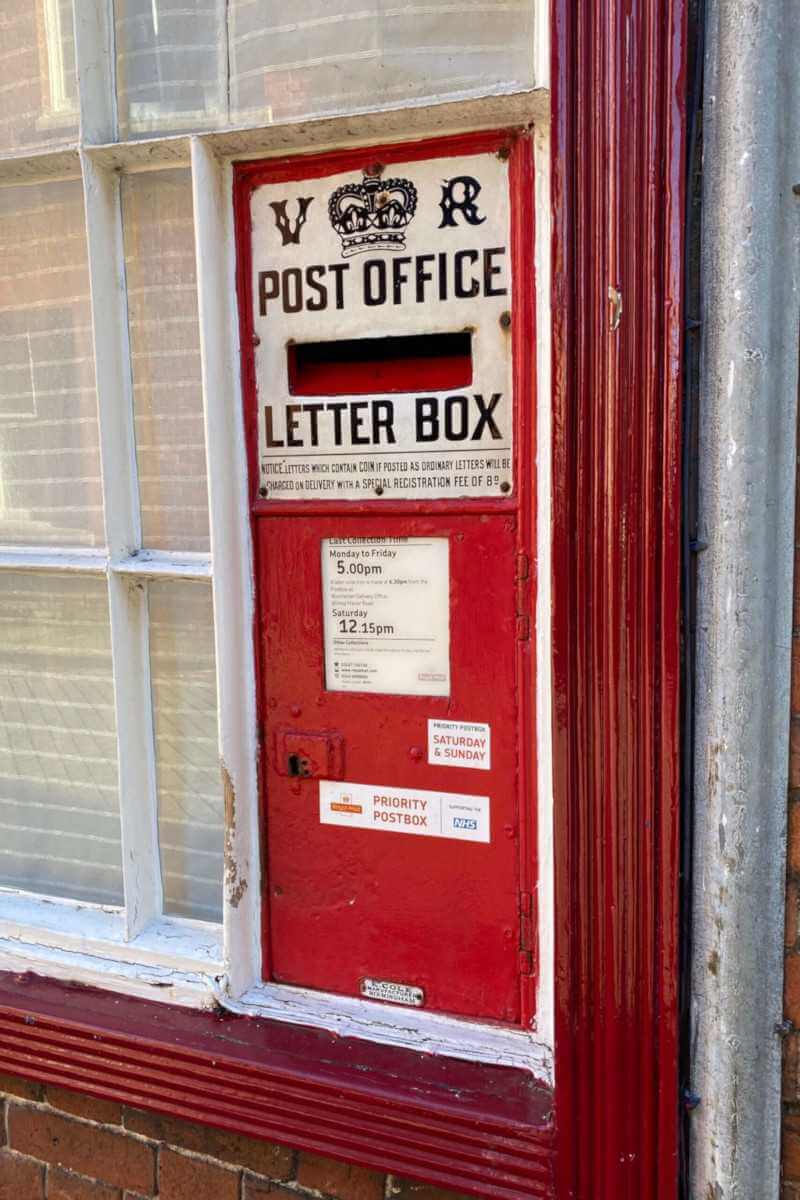 Did I miss any of your favourite things to do in Winchester?
Let me know in the comments so I can add more recommendations to my list!
My Go-To Travel Favourites: