*FYI - this post may contain affiliate links, which means we earn a commission at no extra cost to you if you purchase from them. Also, as an Amazon Associate I earn from qualifying purchases. Check out our Privacy Policy and Disclosure. for more info.
If your life is anything like mine, odds are your social interactions these days consist mainly of a) mumbling to yourself while slurping spaghetti and b) video chats where you gaze longingly at pixellated, potatoey versions of people you love.
And while there's nothing I enjoy more than watching tiny versions of friends/family struggling with technology, I have to say I have gotten weirdly obsessed with one aspect of these chats in particular…… finding the perfect background!
Save this post on Pinterest for later: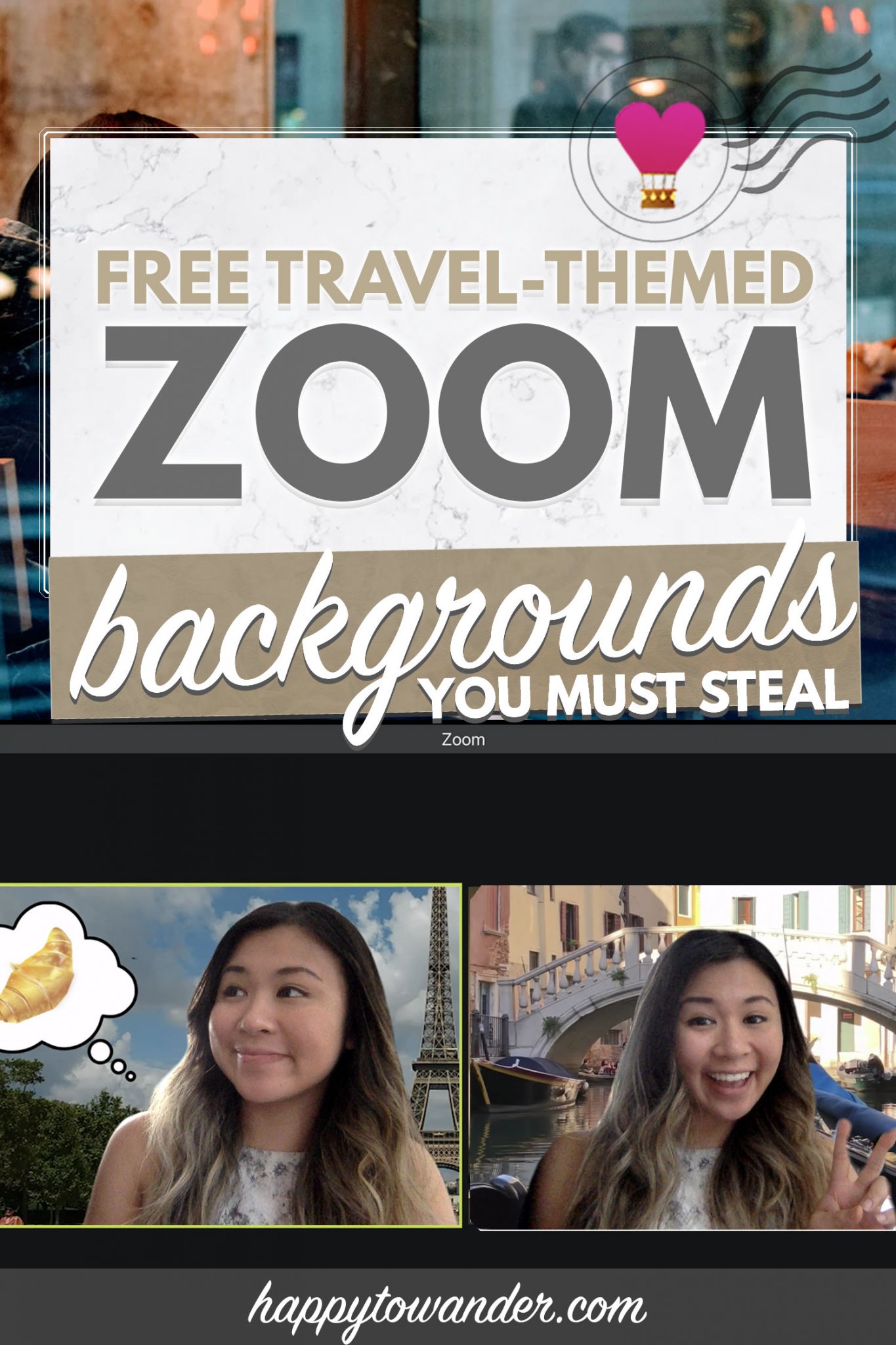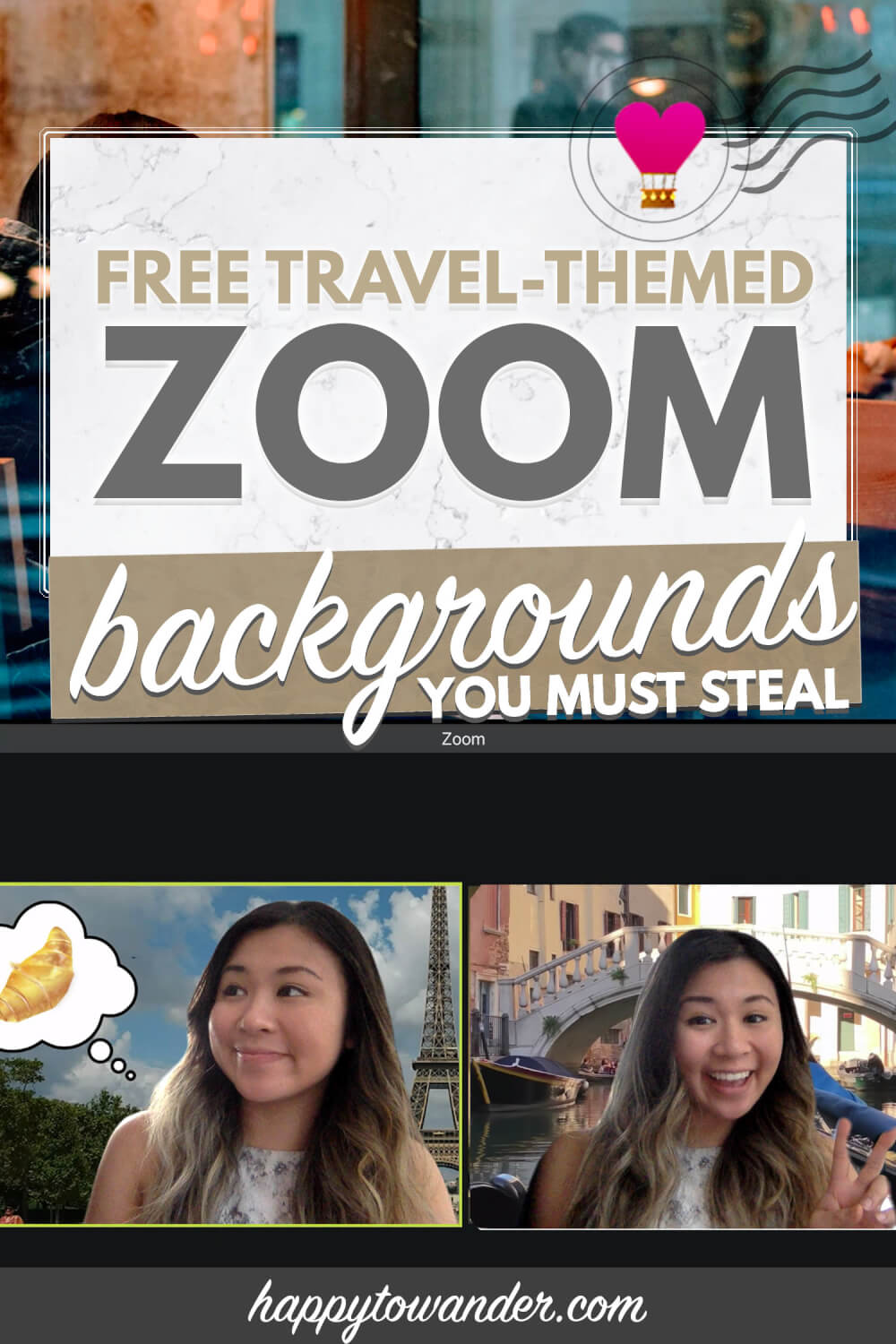 I mean, maybe I'm an out-of-touch grandma, but did you know that video chat programs like Zoom allows you to choose customized backgrounds these days? As in, you can pick any photo or video as your backdrop, and they automatically detect your face and put you in front of it? It's like a green screen without needing an actual green screen…. Pretty wild stuff.
So I did what I do best: I took things a few notches too far and devoted a truly silly amount of time creating travel-themed backgrounds out of stock videos, photos, and my own archives that you can steal.
So, if you want some funny, unique, and creative ways to impress friends/family in your next video chat, here are some that I've just put together. I hope they'll give you a conversation starter that rescues you from the dreaded question: "what's new"……. because the answer these days is genuinely NOTHING, mom.
How to Use These Free Backgrounds oN DESKTOP
As I mentioned before, I use Zoom for video chats and they allow you to easily add a virtual background. NOTE: These definitely work best on desktop:
Scroll down this article (again, on a desktop) and download the backgrounds you want to use by right clicking and pressing "Save Link As". Save them somewhere you can remember on your computer…. maybe in a folder called "Christina is awesome"
Download Zoom here (it's free)
Open up the app, and click Settings in the upper right hand corner below your profile icon
When the new window appears, head down to the tab that says "Virtual Background" and click the plus sign next to "Choose Virtual Background"
Click either "Add Image" or "Add Video" and select the background you want to use. Tada! You're done. Don't worry if your background looks mirrored – it will look right for people you're chatting with… if that bothers you though, you can always uncheck the box that says "Mirror my video"
NOTE: I don't know if other video chat programs have this functionality, but I'm sure if they did, the process would more or less be the same. I'll share the links below where you can download each file to your computer and use them as you please!
9 Travel-Themed Zoom Backgrounds That You Are Free to Steal
Alright, now let's get to the backgrounds. I'm not going to lie to you, these are absolutely ridiculous.
In fact, most of them are videos that contain fun surprises like animated pop-ups! You do NOT want to know how long I spent thinking these up while cackling like a maniac to myself. Anyways, I would suggest these backgrounds for a quick gag because I think they would get irritating REAL quick, but if you enjoy annoying loved ones as much as I do, these will do the job wonderfully. Enjoy!
1. The Middle Seat of An Airplane Background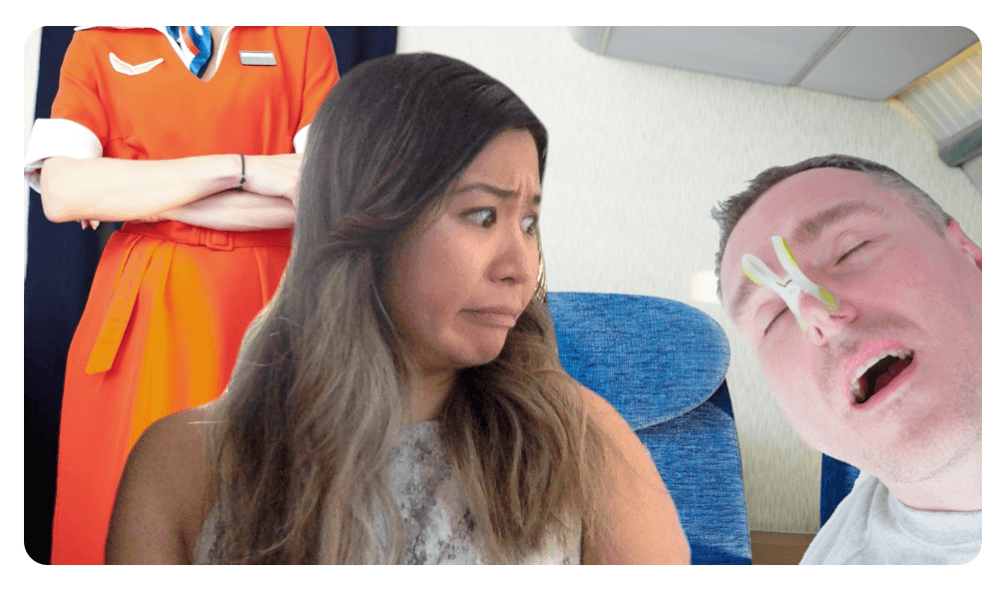 Miss flying? Well, this Zoom background puts you in the best seat of the house… at the very back of the plane, with a creepy flight attendant looming behind you and a snoring neighbour who falls asleep on your shoulder every 4ish minutes. NOTE: This little guest star might terrify your friends, but isn't that kind of the point?
Right click and press "Save Link As" to download, or click here to preview
Related reads:
2. Partying it Up at Oktoberfest Background

If you wish you could be drinking away at a beer festival instead of video chatting at home, grab yourself a beer and put up this special Oktoberfest Zoom background, which places you inside one of my personal favourite tents of the festival. To keep things interesting, there's even a friendly stranger who will pop in for a quick "Cheers" (or Prost, as we say here in Germany) every 3ish minutes…. this might also be a great way to ensure our group keeps drinking!
Right click and press "Save Link As" to download, or click here to preview
Related reads:
3. Hanging Out with Tulips (and Instagrammers) Background

It's currently one of the most beautiful times of the year in the Netherlands, where tulip fields are in full bloom and filling the country's landscapes with bright pops of colour. Bring your friends with you on a virtual trip to these tulips, where a rogue Instagrammer (complete with a hat) will pop in and ruin the mood at 3 minute intervals, along with a (most likely unlicensed) "drone pilot" popping in every 3 minutes too to ensure you get the real Dutch tulip field experience.
Right click and press "Save Link As" to download, or click here to preview
Related reads:
4. Dreaming of Croissants in Paris Background

If you want your fellow video chatters to know where you'd rather be (and what you'd rather be eating), then this Paris-themed Zoom background is perfect. It shows the Eiffel Tower behind you along with a looping video of tourists walking around, plus a thought bubble declaring the obvious truth: you are always, ALWAYS thinking about croissants.
Right click and press "Save Link As" to download, or click here to preview
Related reads:
5. Cloudy with a Chance of TP at Disneyland Paris Background

Of all the Disney parks in the world, Disneyland Paris is one that's especially infamous for its moody weather. Still, your Zoom-mates have probably never seen a storm quite like this. This Disney/travel-themed Zoom background puts you in the heart of Disneyland Paris on Main Street USA, but beware: every 5 minutes, an epic toilet paper storm rolls through the screen. Hold onto your ears – this might be a big one!
Right click and press "Save Link As" to download, or click here to preview
Related reads:
6. Chilling 1st Class on Board the Glacier Express Background

The Glacier Express is known as one of the most scenic train rides in the entire world, and this Zoom background puts you in 1st class for free! I made this background out of an actual photo I took/video clips from my own Glacier Express experience, so I can assure you it's close…….ish to the real deal. This one contains no funny surprise, but I do think it's pretty cool!
Right click and press "Save Link As" to download, or click here to preview
Related reads:
7. A Romantic Gondola Ride in Venice…. with Annoying Co-Passengers Background

You may not be able to visit Venice right now, but let me save you 100 euros by putting you on a virtual gondola ride through this travel-themed Zoom background! I must warn you though, even virtual Venice comes with its fair share of tourists, so you'll be encountering a few annoying selfie-obsessed passengers on board with you… Try your best not to throw them overboard.
Right click and press "Save Link As" to download, or click here to preview
8. Harry Potter and the Lost, Confused Breakdancers Background

This Zoom background puts you right where I'm sure most Potterheads would rather be: right on Platform 9 3/4, ready to embark on your magical journey to Hogwarts (preferred destination of reality shifters around the globe).
Beware though, the platform is crawling with confused dancers who occasionally pop through the wall with unsolicited moves.
Bonus points if you use this background and act like you have no idea what people are talking about when they start commenting on the dancers behind you.
Right click and press "Save Link As" to download, or click here to preview
Related reads:
9. You as the Cover Star of Your Own Travel Magazine
Wait – you're telling me you don't subscribe to Quarantine Travel Magazine? Weird…… since you're on the cover of it! This little travel-themed Zoom background may not be a video, but it contains enthralling articles such as "10 reasons to visit the fridge" and has you as the star of the show, so really that's all that matters.
Click here to download (or right click and press "Save Link As")