*FYI - this post may contain affiliate links, which means we earn a commission at no extra cost to you if you purchase from them. Also, as an Amazon Associate I earn from qualifying purchases. Check out our Privacy Policy and Disclosure. for more info.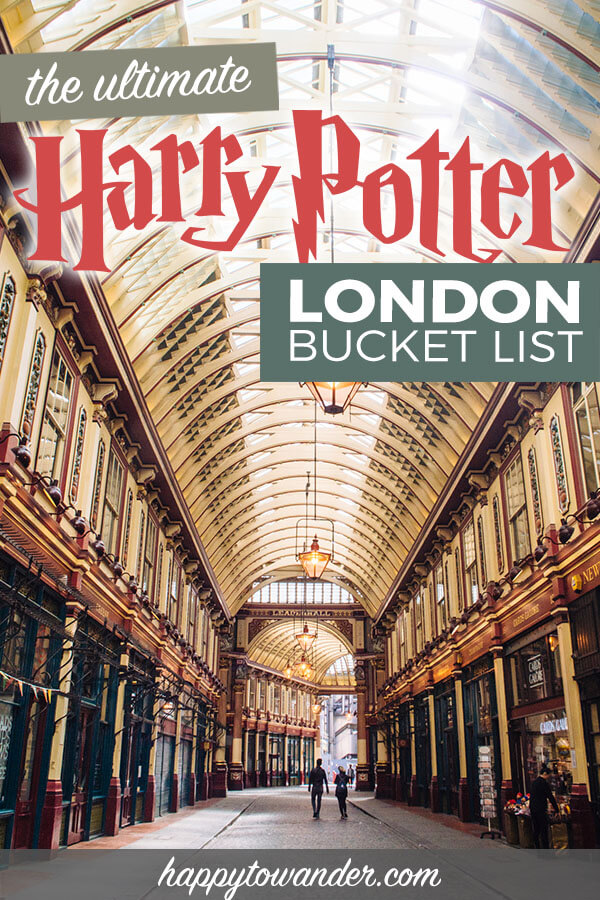 It has been a few years in the making my friends, but today I unveil to you one of my nerdiest pieces of magic yet: a Harry Potter London bucket list that (I hope) will make every superfan pee their pants a little.
You see, 5 years ago when I visited London for the first time, crossing off ALL the Harry Potter things to do was priority #1. With that in mind, I galloped to Platform 9 3/4, drank real life butterbeer, and essentially sobbed my way through the Warner Bros Studio Tour.
And since that humble visit five years ago, the grand city of London has only cranked up its HP-fandom madness, churning out a variety of attractions and activities catering to even the most rabid of Harry Potter fans. You guys, it is a MADHOUSE of magic in that city and I am here for it……
So, after a dutiful few years of running around Harry Potter places in London, I've finally compiled this list of enchanting experiences for you. In this post, you'll find THE ultimate guide to London for Harry Potter fans, filled with amazingly magical attractions, locations and more! Cloaks and wands are optional, but of course, strongly encouraged.
First: Here Are All the Harry Potter Filming Locations in London
The main focus of this article is on the most magical Harry Potter attractions and activities in London, not just filming locations. That's because to be honest, I don't think the HP filming locations in London are anything special – they're mostly normal parts of the city that happened to be featured in the movies, whereas all the really pretty spots that represented Hogwarts and other "magical" destinations are in Oxford and scattered around the UK.
But, if you ARE looking for a full list of Harry Potter filming locations in London, feel free to disregard what I just said, and click here for a fittingly thorough list.
Otherwise, let's get to it – here are some of the most magical Harry Potter activities in London you need to add to your itinerary. Accio tissues.
The Most Magical Harry Potter Things to do in London
London is seriously a paradise for Harry Potter fans. Here are some of the best HP-themed attractions and experiences that you can find in the city!
1. Happy-cry through the actual Harry Potter film set at the Warner Bros Studio
No Harry Potter trip to London would be complete without visiting the Warner Bros Studio just outside of London, which houses a treasure trove of Harry Potter film sets, props, costumes and more at the actual location where they filmed the movies for over 10 years.
This is one of the few attractions in the world where I'll happily confess that I CRIED! It's that good, guys. Imagine walking through the Great Hall, stepping on Hogwarts Bridge, flouncing through Diagon Alley, all the while nursing a sugar high from a real-life frosty butterbeer. If it's only one Harry Potter activity if you have time for while in London, make it this one.
NOTE: Tickets sell out way in advance so I highly, highly, highly recommend you book your tickets as soon as you know you'll be going. Seeing as how the studios are actually just outside of London, the most convenient way to visit is to book a tour that includes transport. You can browse options here or grab tickets online from the studio itself here.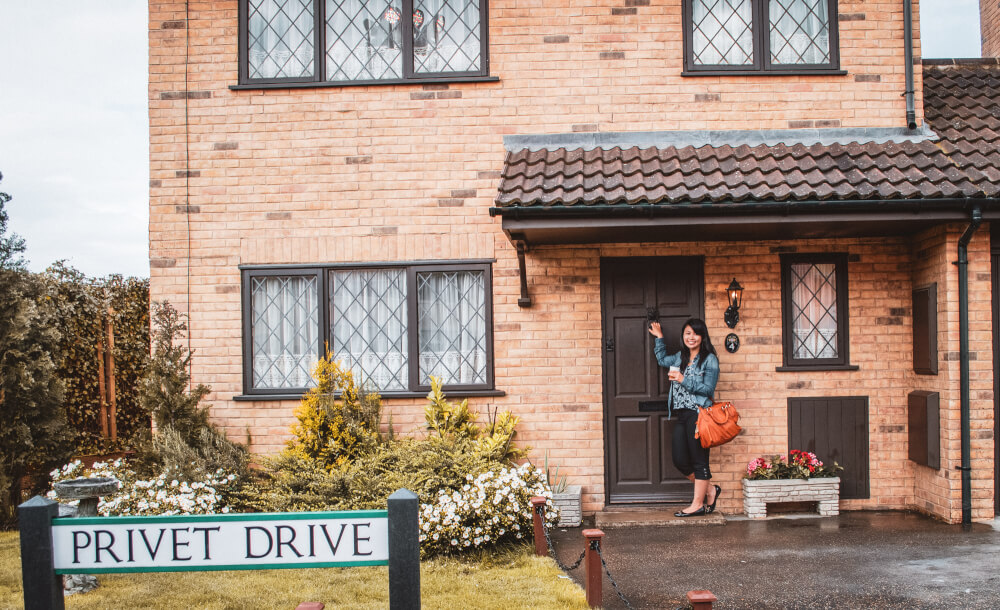 2. Have the sleepover of your dreams in a Harry Potter themed hotel room
If you want to have the most magical Harry Potter experience possible in London, then you might want to ensure your sleeping quarters are equally magical.
Well, unsurprisingly, there is an actual Harry Potter themed hotel you can book in London! No, I'm not joking.
You see, concealed behind a bookcase door in the regular muggle hotel known as The Georgian House Hotel, you'll find a series of enchanted rooms and wizard chambers designed with every detail to feel like you're sleeping in Hogwarts itself! From stone walls and archways, to actual four-poster beds draped with velvety curtains, it's like sleeping in the Gryffindor dorm that you see all the boys share, except you know, luxurious.
Complete the experience with a variety of magical knick knacks like tapestries and cauldrons, and you've got yourself a magical stay! While this experience does NOT come cheap, it's a worthy splurge for any die-hard Potterhead. Click here to check reviews and availability.
View this post on Instagram
3. Nerd out on a Harry Potter walking tour in London
As I'm sure you can guess, there are a lot of Harry Potter places to visit in London, so if you want to take the stress out of visiting them all on your own, you can easily book yourself a Harry Potter themed walking tour.  Most of these tours take you to filming locations and important spots in London at the same time, so think of it as killing two birds with one very magical and nerdy stone.
In terms of Harry Potter tours in London, you're very much spoiled for choice. A lot of companies offer this experience now, but this one is by far the highest rated (and cheap too!). On my recent trip, I was actually JUST about to book this one thanks to all the excellent five star reviews but cancelled because I got last minute tickets to see Cursed Child.
Funnily enough, I ran into them twice while I was in town: once while walking around Leadenhall Market, where I shamelessly eavesdropped on some fun facts that even I (maniacal Googler) did not know. And again as I went to the theatre to see Cursed Child, when everyone was getting sorted into their houses and I felt some serious FOMO. The next time in town, I'd definitely make time for this tour. Click here for reviews and availability.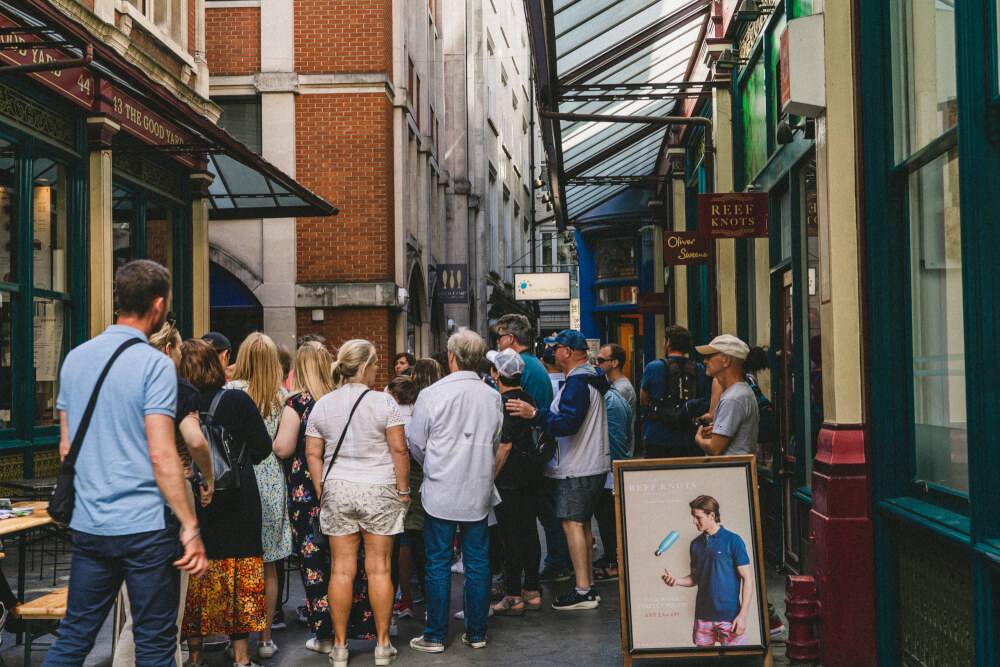 4. Stop by the House of MinaLima for THE ultimate London Harry Potter museum
Address: 26 Greek Street
The House of MinaLima is a Potterhead's dream, and I am (quite frankly) shocked that it isn't better known.
This free museum can be found in Soho, so close to the Harry Potter and the Cursed Child theatre that you can even see it from the back of the play's line-up!
Long story short, the House of MinaLima a FREE showcase arranged on four separate floors of amazing graphic art from MinaLima, the design geniuses who created all the graphic art from the Harry Potter and Fantastic Beasts films. This means they're the ones who designed all the Hogwarts textbooks, Daily Prophets, Quibblers, posters, magical advertisements, and more…. and you can explore a museum FILLED with them, artfully displayed, for free!
I am a big fan of stationary, books and design, so this place was basically heaven for me. Sweetening the pot was a little showcase of actual props from the film, and a badass gift shop that had gorgeous limited edition prints, postcards, notebooks, and more. This place is a must for any Harry Potter fan visiting London. Trust me!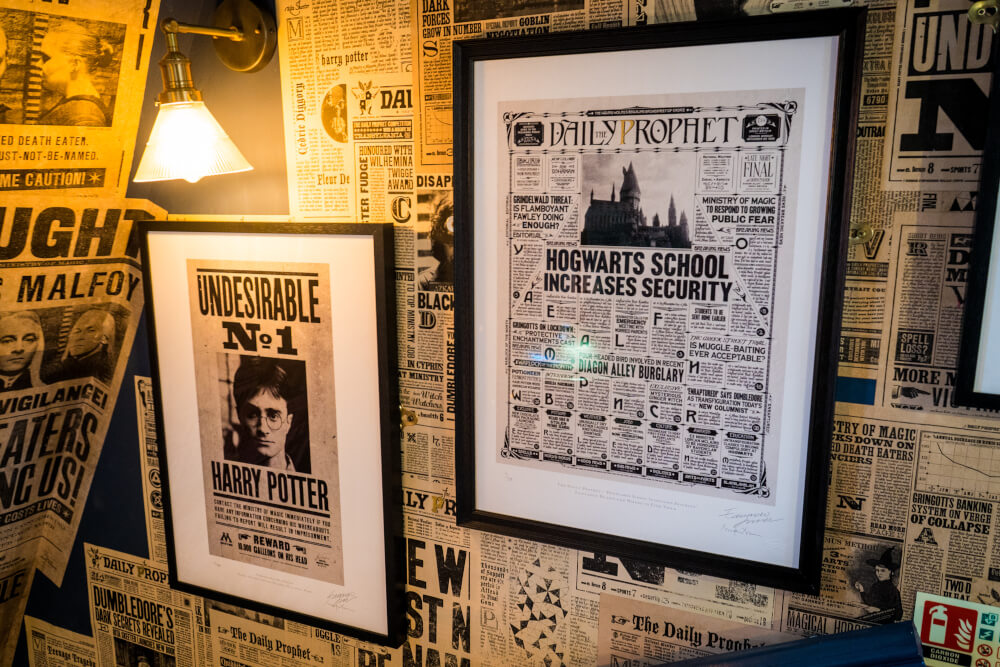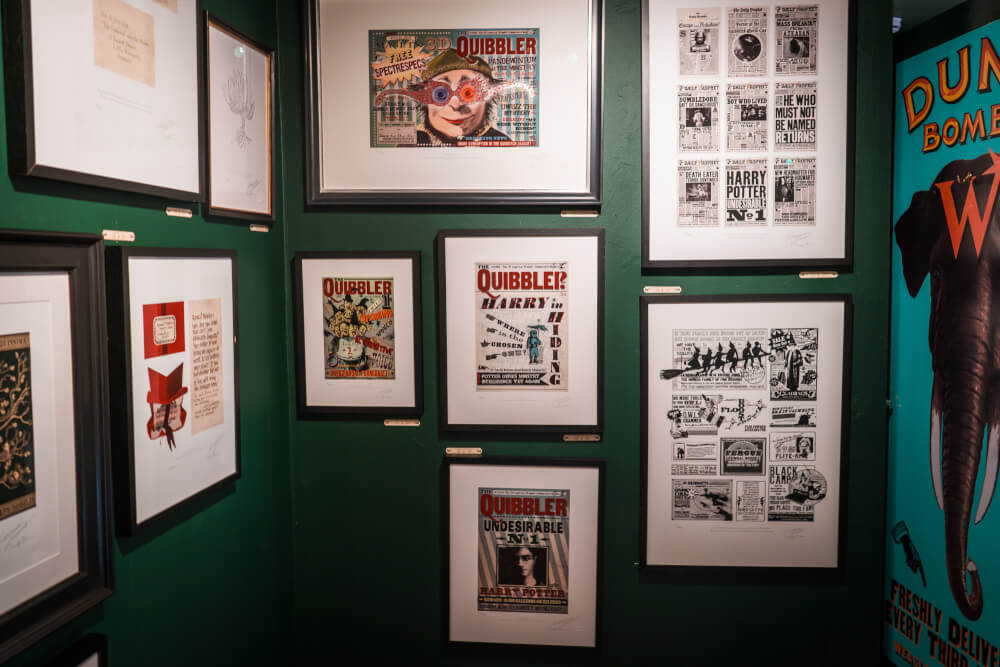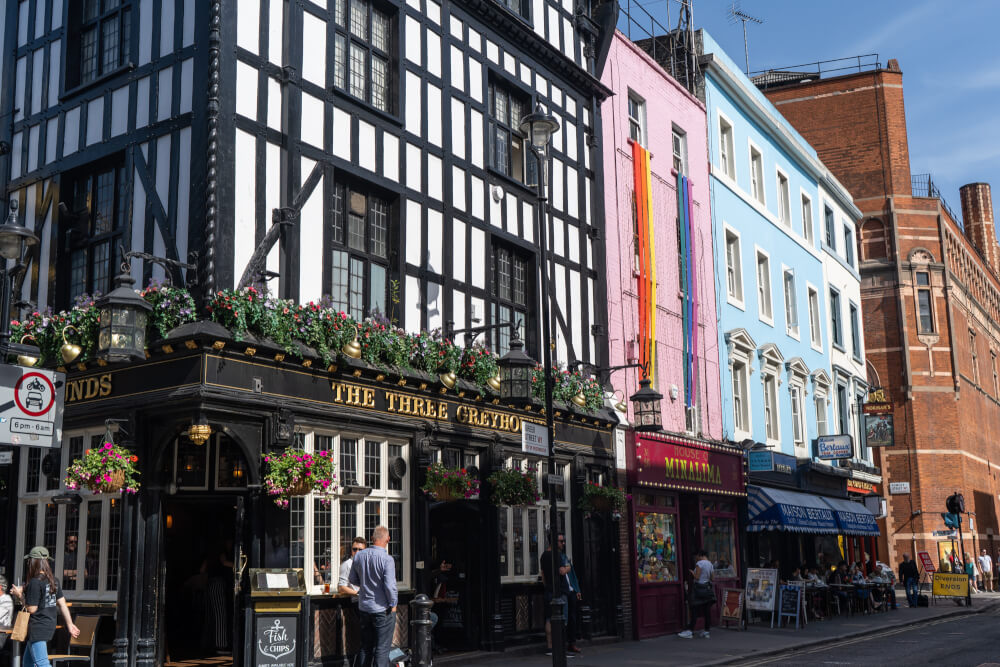 5. Watch Harry Potter and the Cursed Child
Of all the Harry Potter things to do in London, seeing Harry Potter and the Cursed Child on the West End always felt the most out of reach. Between sky-high ticket prices and incessant demand, I didn't think I'd get to see it for a very, very long time.
But with some luck and patience, I was able to score tickets on my last visit! They were literally the worst possible seats in the house (back row, corner, some heads were cut off from time to time), but still, I saw it, I held back tears through it, and it was incredible.
I mean, what can I say? I don't want to ruin the magic for you (I went in blind, not even knowing the plot, and it was the best decision I made!), but I'll tell you this: if you can manage to get tickets to this play, which is split into two 2.5 hour segments, then DO IT. Next to the Studio Tour, I think this is one of the best Harry Potter activities you can enjoy in London, and a must for any superfan. After all, there is real magic involved…….. but again, no spoilers ; )
So how can you secure tickets to Harry Potter and the Cursed Child in London? It's complicated because tickets sell out really far in advance, and often the only last-minute tickets left are the mega-expensive packages that cost upwards of 300 pounds! Here are a few tips for securing tickets though:
OPTION A: Buy them online in advance. This is the smartest and most sensible way. If you already know the dates you'll be in London, then head over to the official ticket website here and check to see if they have tickets for your dates! Typically tickets are released in batches about 6 months in advance, so keep checking back. You can also sign up for an email alert for when they release new tickets.
OPTION B: Enter the Friday Forty lottery. Eager bargain hunters, listen to this secret: Harry Potter and the Cursed Child reserves 40 tickets per performance that are released the week before and sold for only £40 (that's only £20 per part!) through something called the Friday Forty. It's basically a randomized lottery that happens the week before a performance, which gives winners a chance to buy tickets for only £40 total. This is by far the cheapest way to get tickets to see Harry Potter and the Cursed Child, but it's very random and competitive! I've tried entering several times with no luck, but it takes two seconds to do so I highly suggest you give it a shot!
OPTION C: Check the website or box office in person on the day before, or day-of. This is how I managed to get my last minute £115 tickets. The day before the performance, I checked the official website and magically, there was a ticket for the next day's performance for 1/3 of the cost of the other remaining tickets. I sweated the entire time I entered my credit card details, but I got them! The reason you should always check online or the box office is because there are always cancellations, and when this happens, tickets are given back to the box office to sell. So, try your luck – you might just score tickets like I did!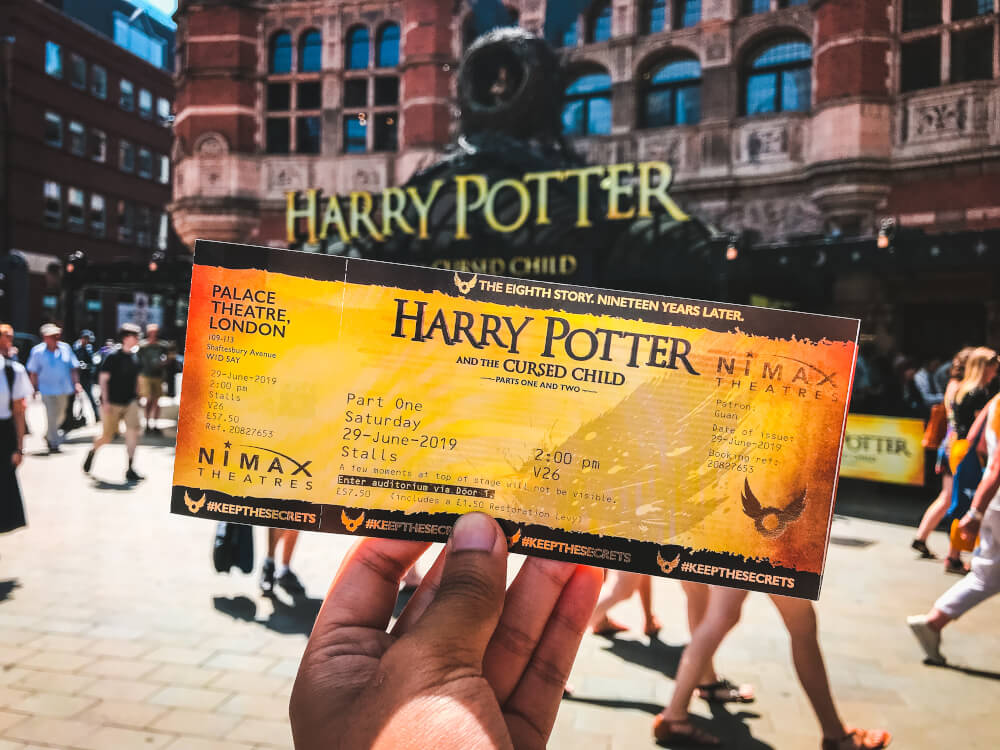 6. Snap a shameless photo at Platform 9 3/4
Address: The New Western Departures Concourse at King's Cross Station
So, ever since a giant renovation at King's Cross Station several years back, the ACTUAL area between platforms 9 and 10 are now located behind a fare gate, inaccessible to most tourists….
BUT what has emerged instead is a lovely Platform 9 3/4 photo opp set up for fans to live out their wildest dreams, complete with staff photographers, a little cart stuck in the wall, and free props for you to use, like scarves from every house. The line-up is often long, but trust me when I say it's worth it: there is literally a staff member there who swishes your scarf for you so it looks like it's floating in your photo. It's so extra, I can't even handle it. If you're dying to get a photo of yourself heading to Hogwarts, this little Harry Potter attraction is a must-do.
PS: A few metres away from the Platform 9 3/4 photo opp, you'll find an official Harry Potter shop with merchandise that you can browse through. It's not the cheapest place to get HP merch (I'll tell you about another place below) but it's still fun to take a peek inside!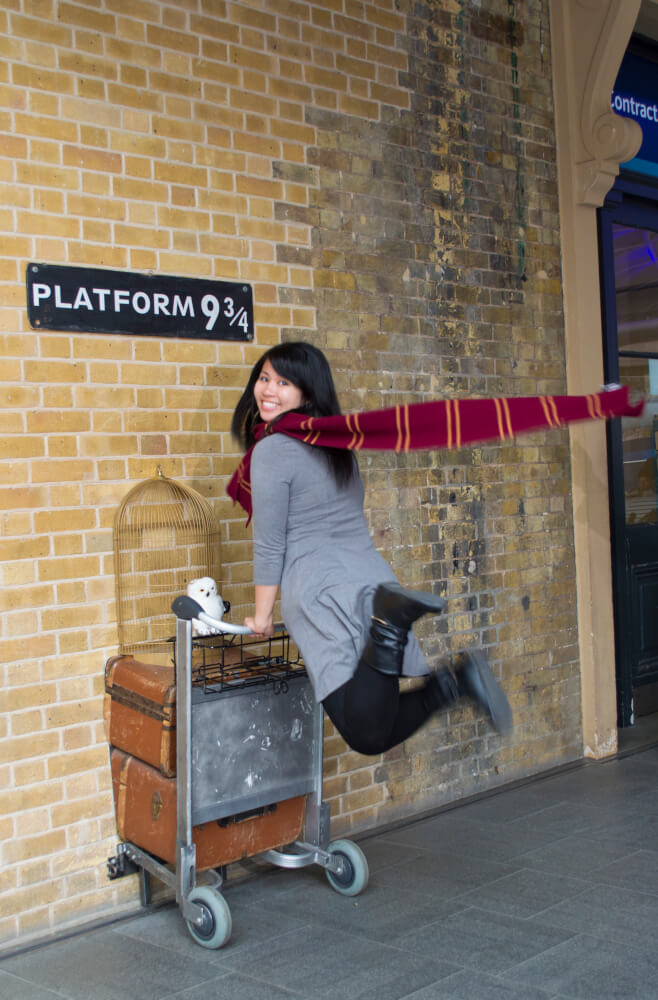 7. Nibble away at a magical afternoon tea
If it's a magical HP-themed afternoon tea experience you're after, look no further than the Potion Room at Soho's Cutter & Squidge. This immersive two hour experience takes the conventional afternoon tea experience and sets it in a Potions classroom, with real life Potions professors and of course, wearable cloaks as you brew up magical edible concoctions and of course, sip some flavourful tea as you go. Learn more about the experience here.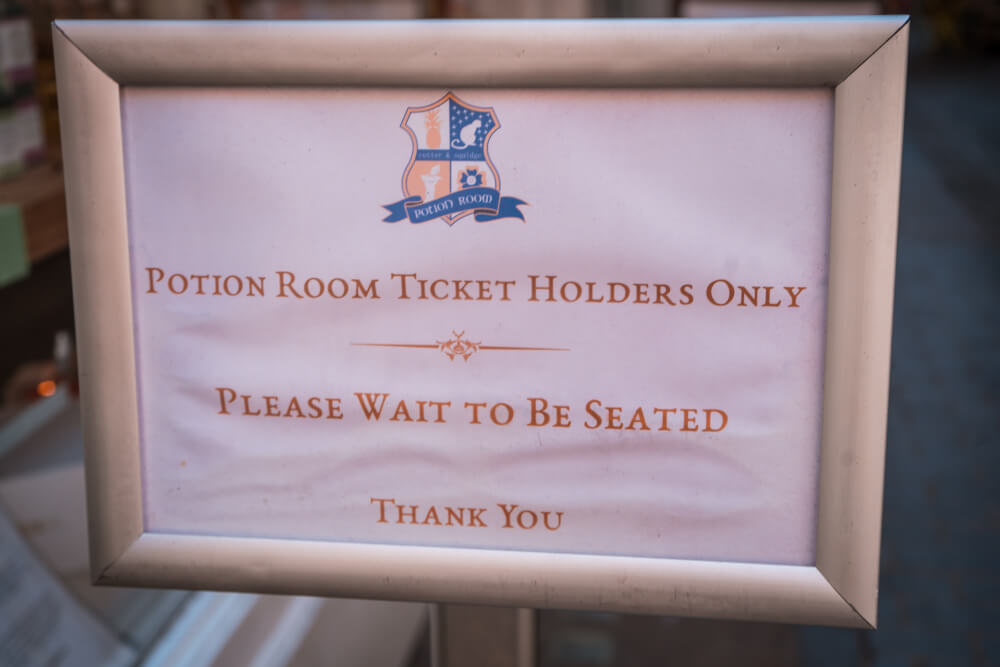 8. Hoard Harry Potter merch at rock bottom prices
No Harry Potter London trip is complete without going home with a suitcase full of HP swag.
… Like seriously, leave some empty space in your suitcase because you'll need it.
And while you'll find official Harry Potter shops in places like Platform 9 3/4 and the Studio Tour, one of my favourite places to load up on Harry Potter stuff in London is actually Primark, a UK fashion chain with rock-bottom prices, often a fraction of official HP gift shops!
Here, you can stock up on officially licensed Harry Potter socks, pyjama sets, fun notebooks, and way more for ridiculous prices (usually less than £10). No doubt, this Harry Potter activity takes a great deal of self control, but it's worth it for all the wonderfully magic crap you go home with. Go wild, my friend.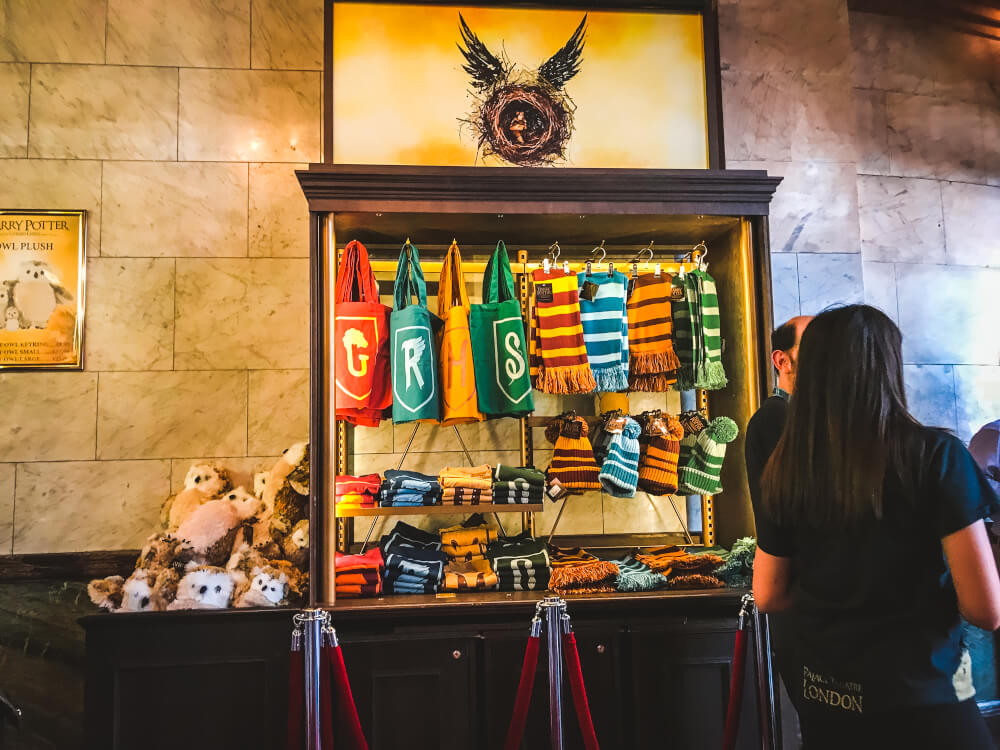 9. Enjoy a wizard-inspired cocktail class
How does mixing Harry Potter and booze sound?
Well, if you're craving the magic of Hogwarts in London (with a side of adult beverages), then quickly enrol yourself in a magical wizard-inspired cocktail class at the Cauldron.
And before you imagine yourself faceplanting into a cauldron full of mojito, know that this is a slightly classier affair, with an immersive experience that combines magic and liquor in the best possible way. The Cauldron Magical Cocktail Experience is a special little mixology class in which you use the magic of mixology (and actual… wands, apparently) to create delicious, edible elixirs that will give you the special kind of buzz that only true magic (and alcohol) can create. Click here for more details.
View this post on Instagram
10. Try your luck at a Harry Potter inspired escape room
If being trapped in a dark room with an uncertain chance of escape sounds like your thing, then I'm happy to report that's yet another Harry Potter thing you can enjoy in London. I told you they have everything.
While not officially a Harry Potter activity, one quick glance at the plot for the "School of Magic' escape room over at London Escaped and you'll see it is, in all likeliness, an ode to the magic of the HP universe.
With references to things like "the Order of the Serpent', 'the Alchemist Stone" and the not so subtle "Dark Lord", I'd say this is one Harry Potter experience in London you should put on your list if you're looking for a bit of a thrill ; ) Click here for more info.
View this post on Instagram
11. Look for locations that inspired Harry Potter sets
Beyond just filming locations, there are plenty of Harry Potter sights in London to explore if you consider the spots that inspired different sets later built in-studio! Here are a few places in London that are widely recognized as having inspired Harry Potter sets.
Goodwin's Court – Tucked away in Central London are countless nostalgic side streets, and Goodwin's Court is one of them, located steps away from Leicester Square Tube Station. What makes this little street special? One quick look and you'll see: this quiet street is a doppleganger for Diagon Alley. Speaking of, there's another street nearby widely recognized as an inspiration for Diagon Alley, and that is…
Cecil Court – Lined with beautiful Victorian shopfronts that have remained unchanged for over a century, Cecil Court is a lovely little street (again) near Leicester Square Tube Station that is well known for its wide selection of bookstores.  A quick jaunt down this street and it's easy to see why many Harry Potter fans consider "Cecil's Court" to be the real life Diagon Alley. Fun fact: a young Mozart once lived here!
London Sewers – Okay, I'm definitely not suggesting you go lurking around the sewer system in London, but I wanted to take a quick moment to divulge a Harry Potter nerd fact! According to Harry Potter: Magical Places from the Films, HP production designer Stuart Craig and his crew once took a trip down to the sewers of London to examine the architecture so they could use it while creating the Chamber of Secrets. Weird, right?
Kew Gardens Temperate House – Last but not least, we have the largest Victorian glass greenhouse, located at London's iconic Kew Gardens. It's well known that this greenhouse was initially used as inspiration for the Herbology classroom. Do you see the similarity?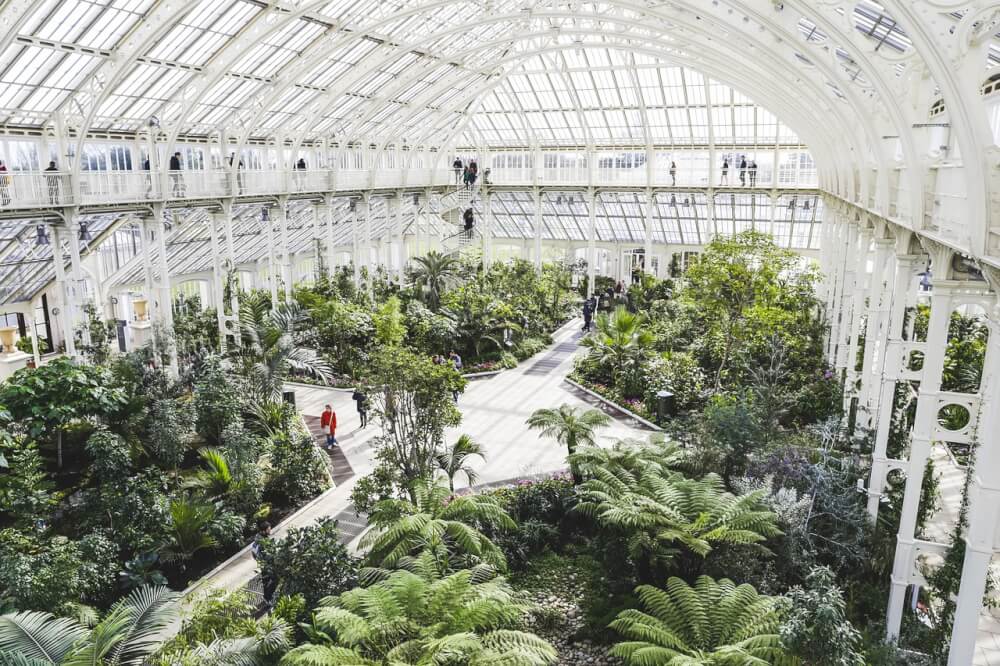 12. Stock up on Harry Potter sweets in a magical candy shop
Hardy's Original Sweet Shop is a well-known chain of candy stores that you'll find all around the UK, but their London locations offer something extra special for Potterheads: they're well-stocked with assorted Harry Potter candy!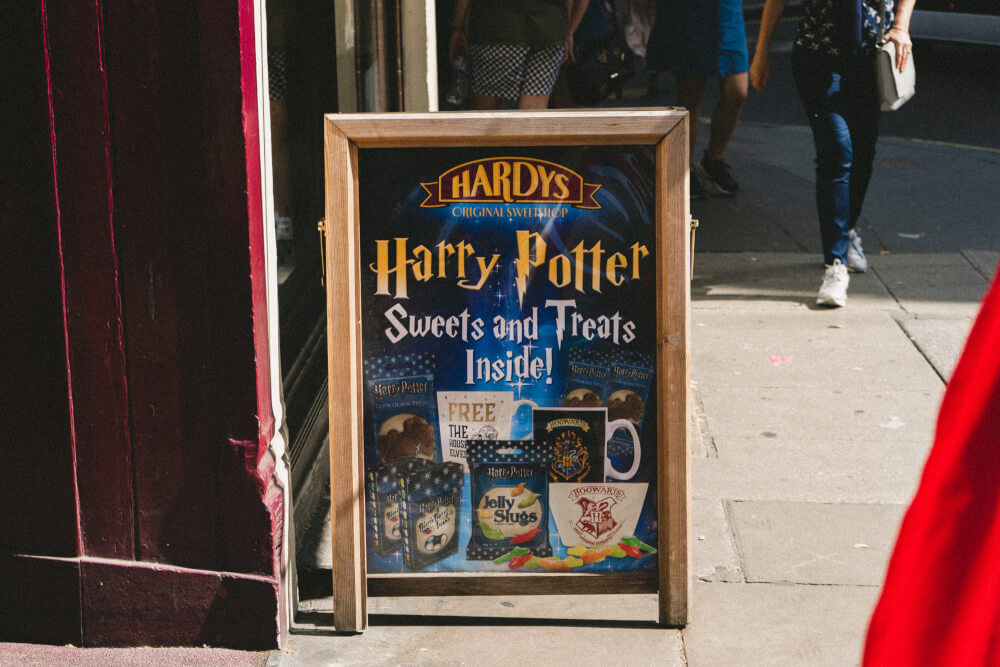 So, if you've ever wanted to dive into a magical little sweet shop and get your fill of every flavour beans and chocolate frogs, you can do so here. It may not be Honeyduke's, but they do have a huge selection of fun Harry Potter sweets and merch, even selling special Wizarding gift bags! You'll find plenty of Hardy's around town, but there are some locations in Soho near the Cursed Child Theatre, so be sure to pop in for a treat.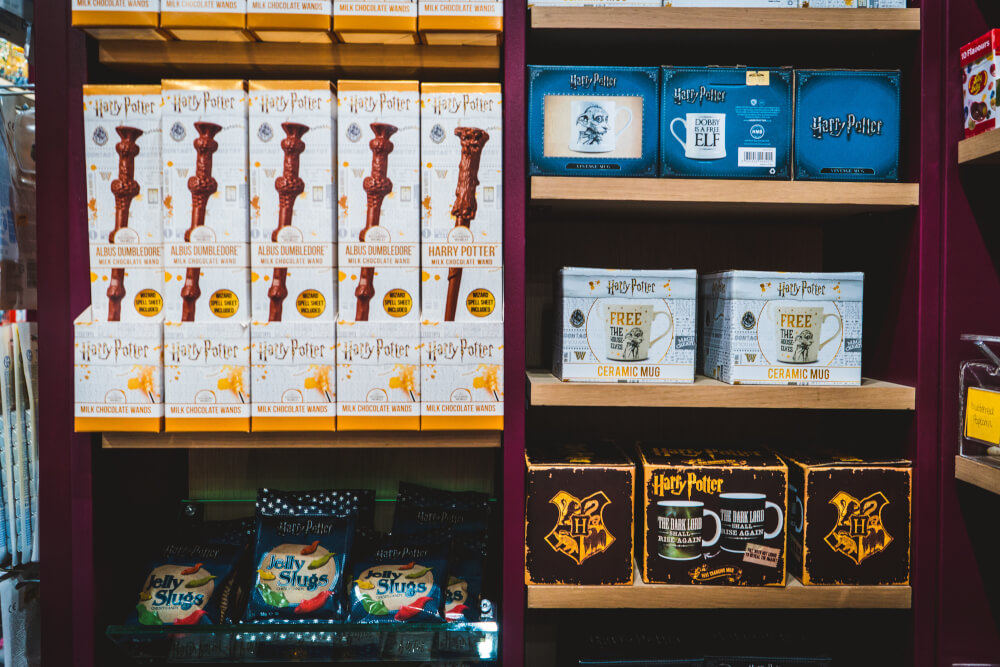 13. Flaunt your knowledge at a Harry Potter London pub quiz
If you're anything like me and enjoy getting unnecessarily aggressive about things that don't actually matter, then why not sign up for a Harry Potter themed pub quiz while you're in London?
Channel your inner Hermione know-it-all attitude and get into shouting matches, debate the hard facts, and triumph over your enemies! If this sounds like your idea of a good time, the folks over at Spectacular Pub Quizzes are the mad geniuses behind this event, which takes place across the UK a few times a year. Click here for upcoming dates and info.
14. Go shopping at a full-on Harry Potter department in a toy store
For the largest selection of Harry Potter goodies in London (apart from the Studio Tour of course), head to the iconic London toy store Hamley's, who have recently introduced a full-on Harry Potter department in their basement floor.
Complete with massive Harry Potter LEGO sculptures, staff dressed in Hogwarts cloaks, movie prop showcases, and giant photo opps, this is THE place to rummage for Harry Potter merch you never knew you needed… things like actual flying Golden Snitches and an app-powered invisibility cloak! Yes these are real items you can buy here. What a time to be alive.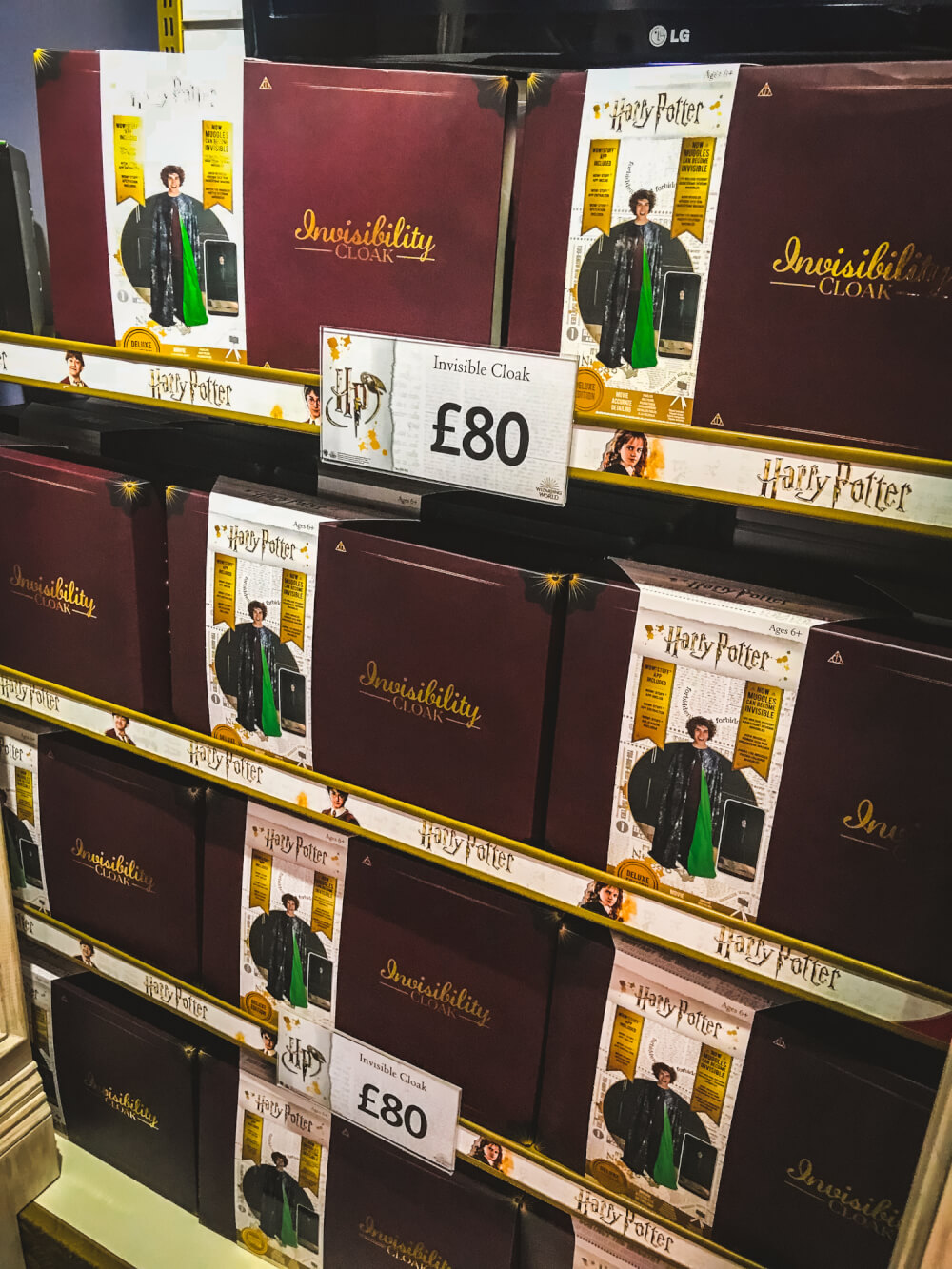 I can't lie to you, Hamley's gets EXTREMELY busy, but the chaos is kind of fun. In fact, the madness of Hamley's in peak season even made me feel like I had just stepped into Diagon Alley for the first time. A dancing man with a bubble gun greeted me at the front door, staff members were shouting on platforms above the store doing product demos, and there were hordes of excited children filling every corner of the shop. A bit crazy, but fun nonetheless.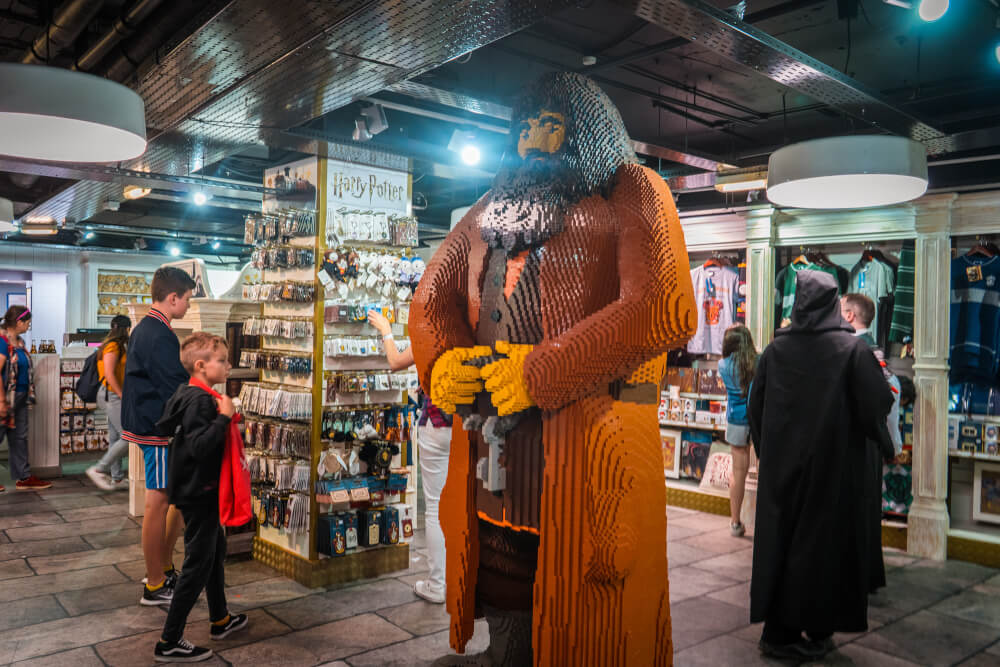 15. Lastly, go hunting for Harry Potter filming locations in London
As I mentioned in the introduction, chasing Harry Potter filming locations in London isn't really as magical as it sounds.
Of all the Harry Potter things to do in London, I really do think this is the least interesting. That's because many of the areas used to film Harry Potter in London are either just regular parts of the city (e.g. Tube stations, office buildings, government buildings, etc.) or are otherwise just big tourist attractions you will likely see during your visit (e.g. Picadilly Circus and Leicester Square). The more magical places in the Harry Potter movies (like the spots used to portray Hogwarts, for instance) are located elsewhere in England. You can click here for a full list of locations.
But hey, there's no harm in adding a filming location or two to your itinerary! if you'd really like to visit different Harry Potter filming locations in London, you can click here to see my full list!
Harry Potter locations in London I definitely wouldn't miss are Leadenhall Market (super magical looking place!), Borough Market (it has delicious eats) and Millennium Bridge (one of the most iconic views in London).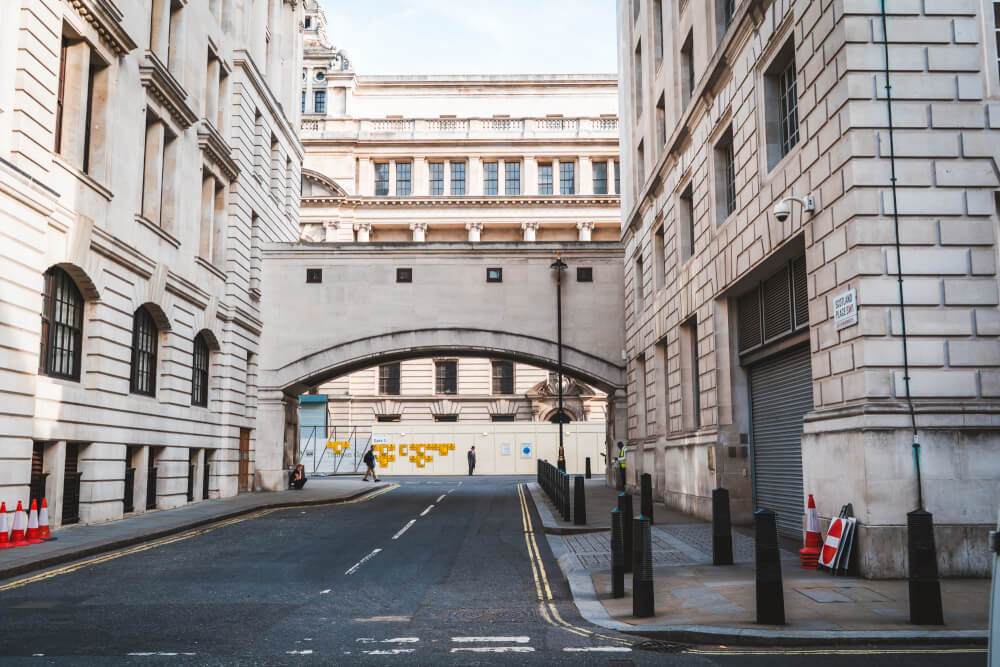 A Map of Harry Potter Places in London
I know this was a long list, so I've starred all the different locations on this map below, along with all the London HP filming locations. I hope you find it useful!
Any more questions about Harry Potter places in London?
I hope you enjoyed this long list of Harry Potter things to see in London, and that it helped you out with planning your own magical trip! Be sure to let me know in the comments if you have any additional questions!
---
Watch my most popular YouTube video this week:
---