*FYI - this post may contain affiliate links, which means we earn a commission at no extra cost to you if you purchase from them. Also, as an Amazon Associate I earn from qualifying purchases. Check out our Privacy Policy and Disclosure. for more info.
With its steep, picturesque cliffs, sparkling Mediterranean views and lemons the size of baseballs, Sorrento is one of Italy's best known destinations.
Thanks to its easily accessible train station, a quick chug away from Naples or Rome, Sorrento also happens to be one of the busiest hotspots of the Sorrentine Peninsula.
And, while not part of the Amalfi Coast proper, it makes a wonderful base for exploring Positano or Amalfi too.
When I barrelled my way through Italy during my first European backpacking trip, I picked Sorrento as a home base for exploring the coast, and soon learned exactly why this place is so special.
My expectations were sky high after visiting Cinque Terre and somehow, Sorrento and the Amalfi Coast still managed to blow me away.
If you're lucky enough to be visiting for yourself, here are some wonderful things to do in Sorrento that you absolutely cannot miss.
Enjoy all the most incredible views
I was obsessed with Sorrento long before my trip there, mostly thanks to the oversaturated offerings of Pinterest. To my complete surprise, Sorrento is just as beautiful in real life as in photos!
Unsurprisingly then, one of the top things to do in Sorrento, Italy is to simply soak up all the best views and vantage points.
When it comes to free viewpoints that aren't blocked by hotels (more on this later), there's actually not that many to choose from in Sorrento. Here are some to put on your list:
Villa Communale Park
The view over Via Luigi de Maio from near Piazza Tasso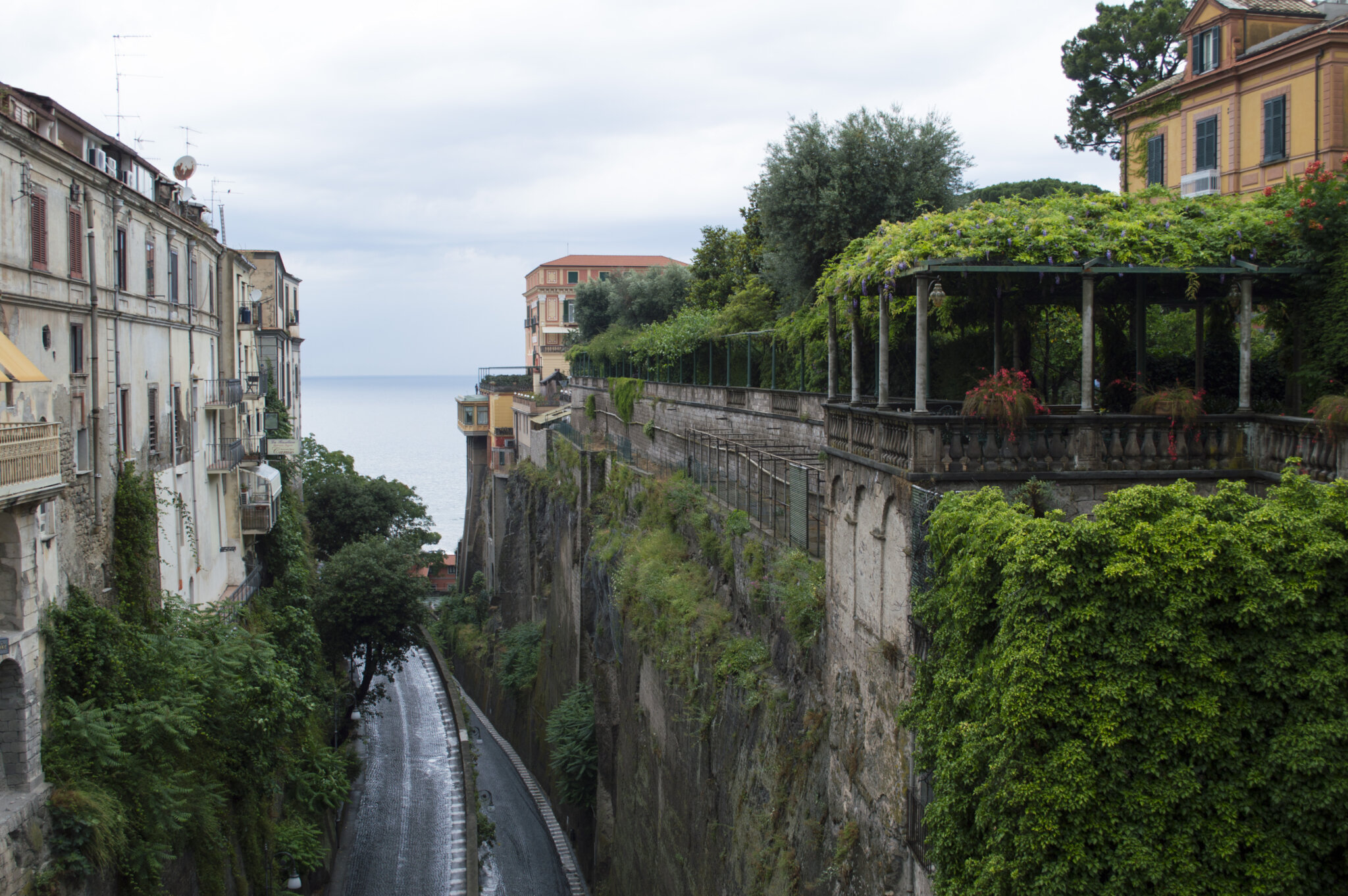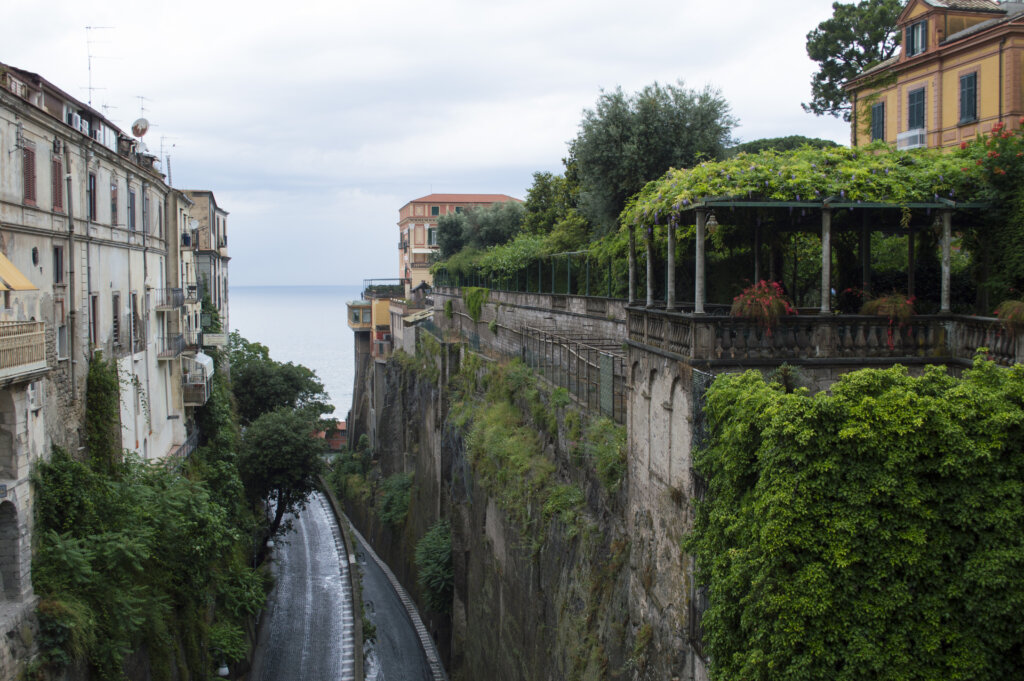 Stroll through Sorrento Old Town
Sorrento is a wonderfully compact destination that is a delight to explore on foot, particularly the Old Town which is filled with winding pastel streets and steps crammed with restaurants, gelato shops, and limoncello spots.
Of course, based on that description, you can expect to find tourists and souvenir shops in equal measure. Because Sorrento's Old Town is by far the busiest spot in all of Sorrento, I recommend you explore here early in the morning before day trippers and groups arrive en masse.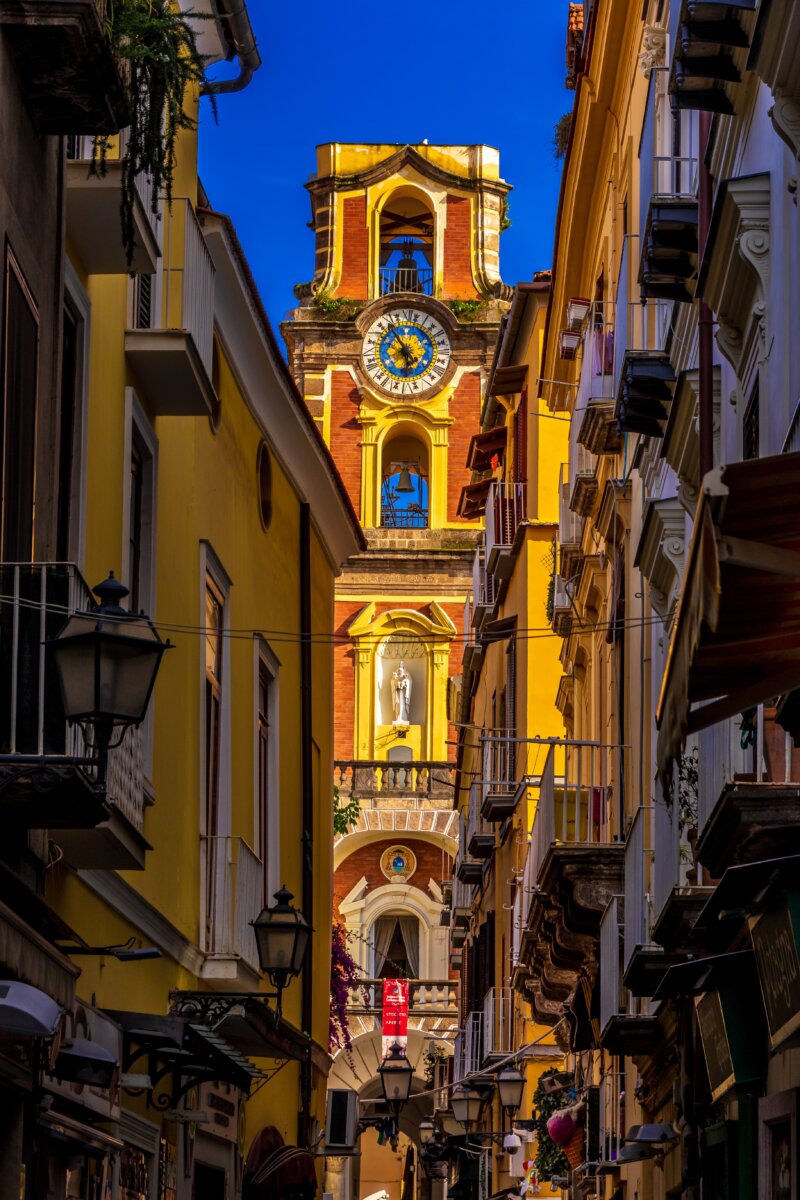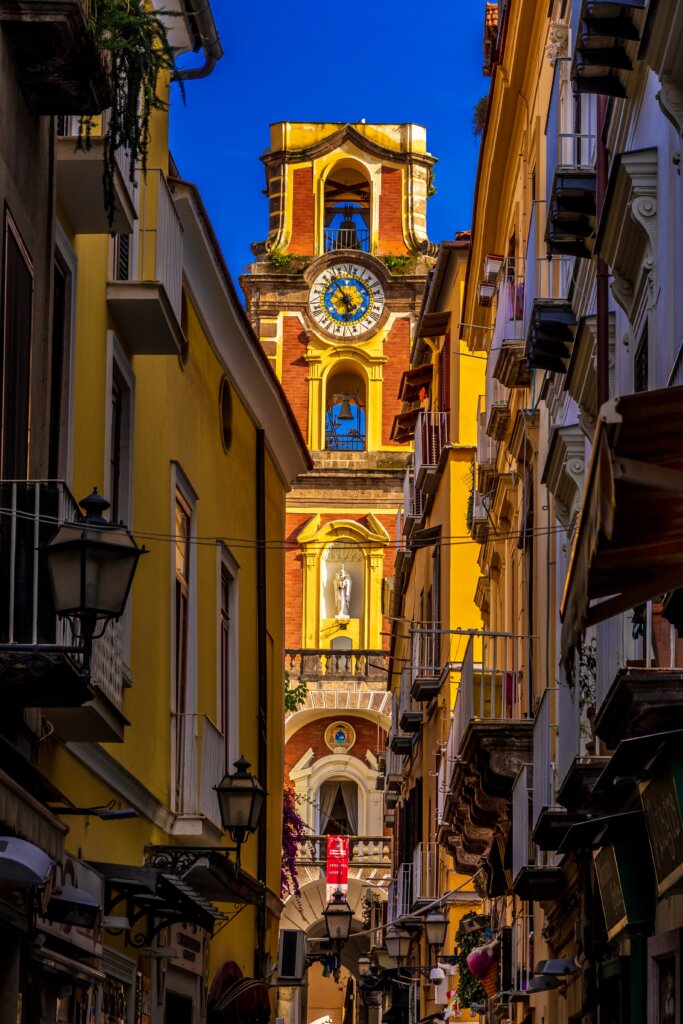 The best thing to do in Sorrento's Old Town, really, is to just walk around and let your nosiness take over. The streets are mighty photogenic, so snap away!
That said, this is the touristic heart of Sorrento, and prices/food quality are meh as a result. I list out some of my food recommendations below, but I recommend venturing off the main streets of Old Town before grabbing food or refreshments.
NOTE: If you prefer to explore Old Town Sorrento with a guide (always better if you want to learn about Sorrento from a local perspective), here are some really cool options: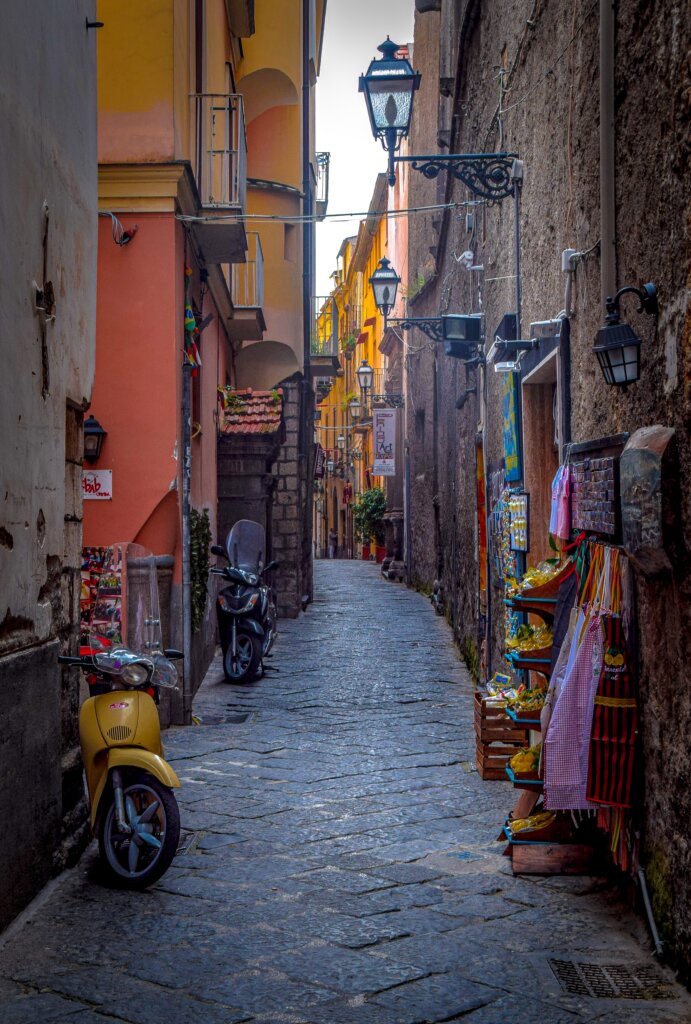 Take a day trip to Positano, Amalfi, Capri or Ravello
Sorrento is a great place to visit, but I'd argue you aren't benefitting from the full coastal experience until you head to some towns along the Amalfi Coast proper.
While in Sorrento, we made day trips out to see Positano and Amalfi. These two towns are easily reachable by public transit, but schedules tend to be a little erratic and buses get full quickly.
If you want a more stress-free option, booking a tour instead might be a good idea.
The public buses were VERY crowded and inconsistent, plus the winding roads actually made my friend throw up. Not quite a glamorous travel story but it was cute how all our bus people rallied by her as she puked her tomato pasta out.
Here are some unique day tour ideas from Sorrento: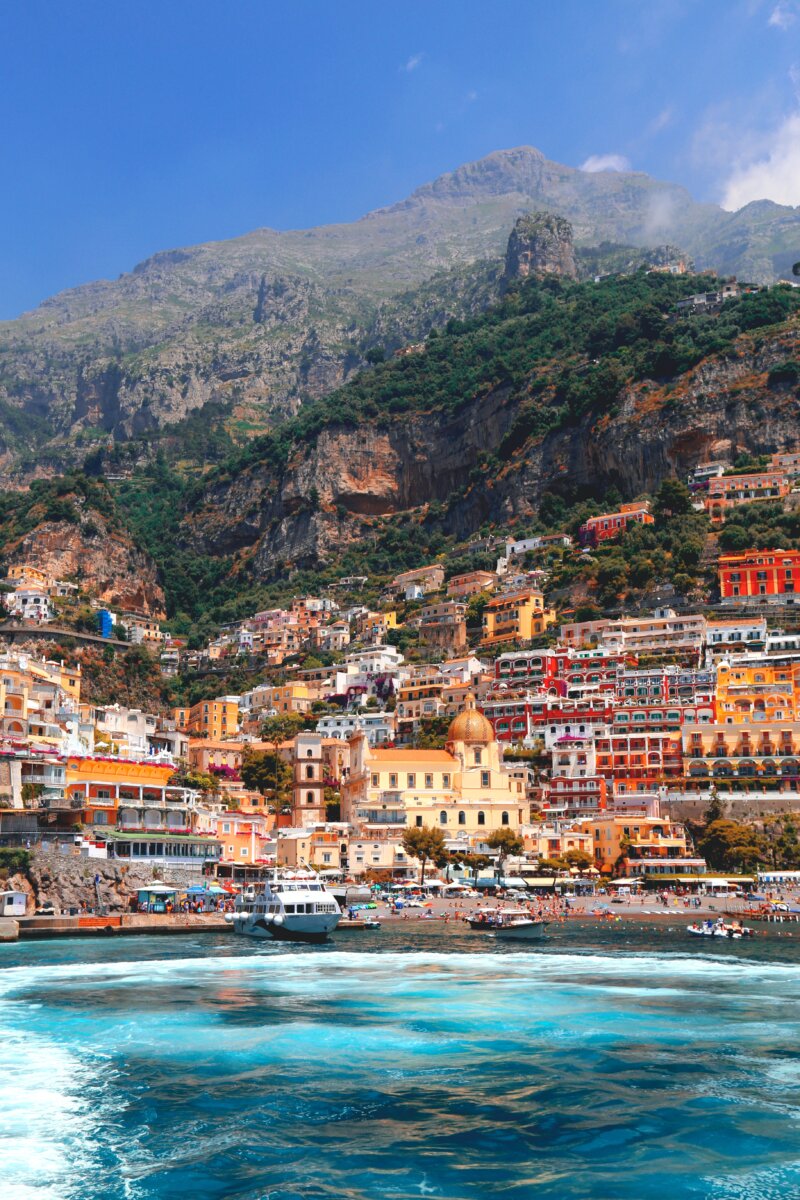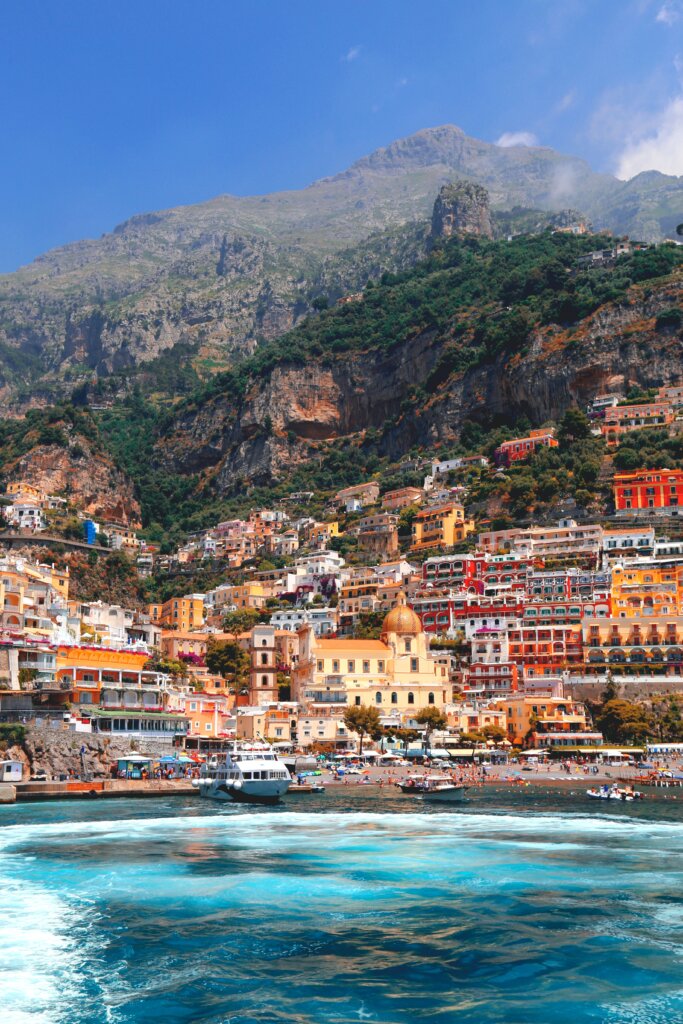 Soak up luxury with seaside views
As a backpacker on a shoestring budget, one of my biggest gripes with Sorrento was the fact that most of the most scenic slices of real estate in town were occupied by private luxury hotels.
Now, older, wiser, and richer, I cannot WAIT to go back to Sorrento to take advantage of these luxurious properties someday.
In contrast to the busy culture-dense cities of Italy like Milan, Florence or Rome, one of the best things to do in Sorrento is to simply relax, rather than sightseeing non-stop.
And while it's achingly unfair, the best way to do this in Sorrento is to book a hotel with views – otherwise, you'll be mainly parading past giant hotel gates with limited views of the sea.
Sorrento isn't particularly famed for its beaches, so booking a great hotel with sea views is imperative if "gazingly longingly at the water" is part of your Sorrento itinerary.
Here are some of the best hotels in Sorrento with seaside views and private terraces to enjoy: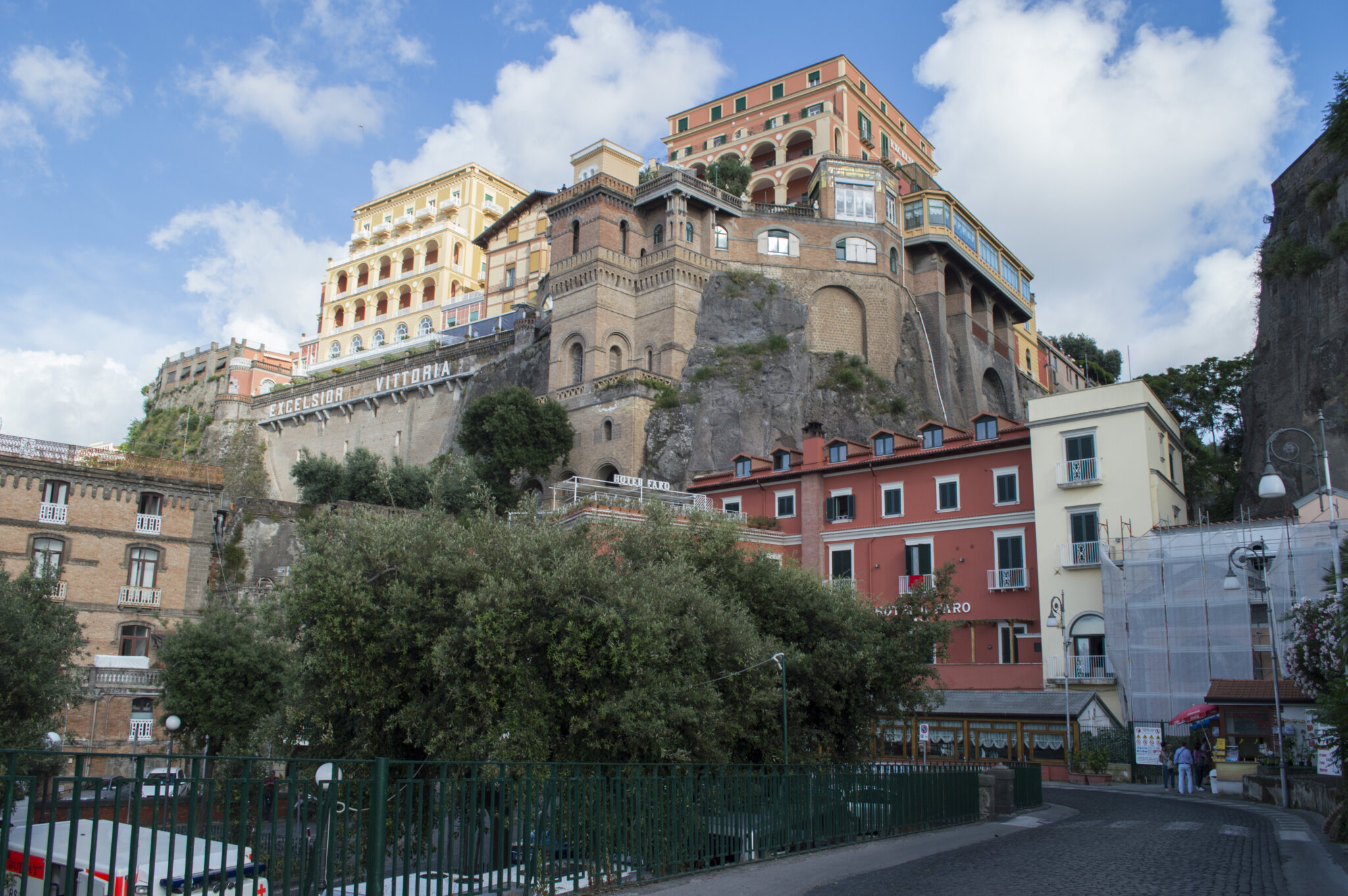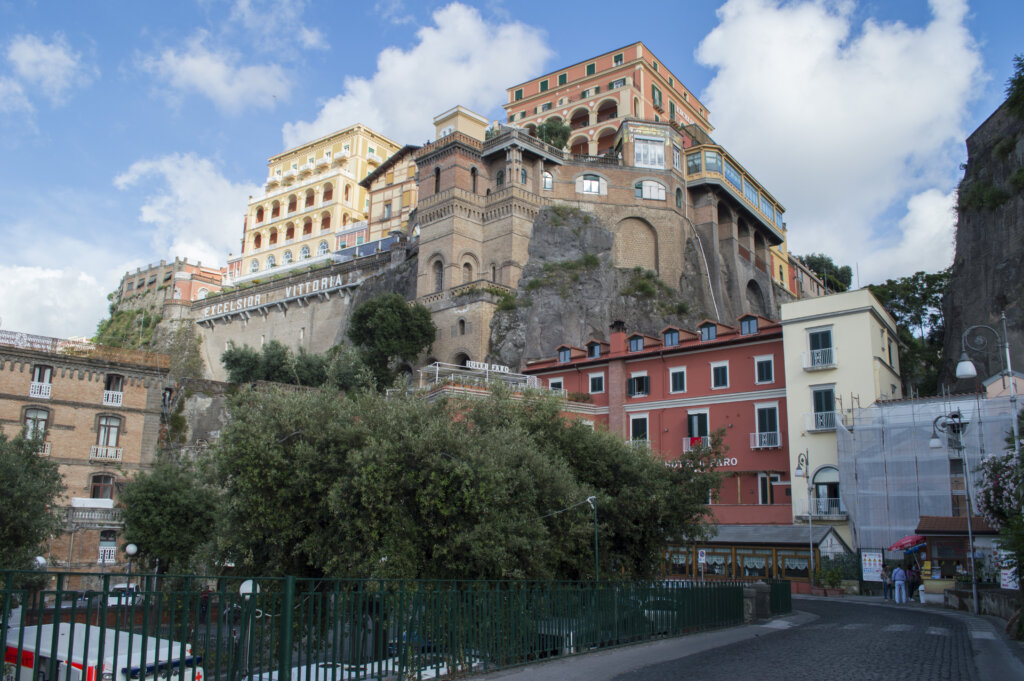 Hit the beach (club)
Again, among the top things to do in Sorrento, going to the beach isn't often considered one of them because Sorrento doesn't have a ton of wide open beaches like you might expect from a coastal destination.
Nonetheless, if you want to soak up the sun and enjoy a beach day, there are indeed some beaches and beach clubs where you can enjoy this experience.
Most beaches in Sorrento can be found at the Marina Piccola.
In Sorrento, public beaches are free, but can get crowded quickly. For a bit of extra cash, consider booking a chair at a beach club where you can enjoy your beach day comfortably. Here is a list of the ones in Sorrento.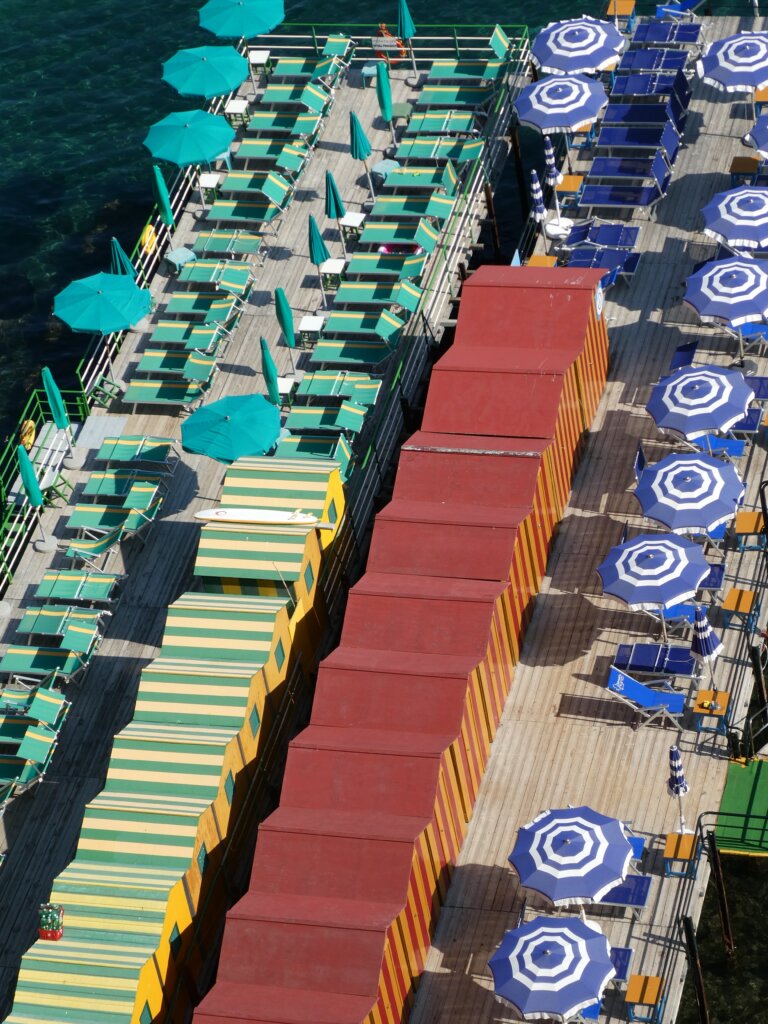 Slurp up fresh seafood at Marina Grande
While Marina Piccola is known for its beaches, Marina Grande is known for its phenomenal seafood.
For an unforgettable meal, I highly recommend checking out Soul & Fish, located at the far end of the Marina Grande. The view there is sublime, the service is fantastic and they provide you with a free glass of prosecco while you look at the menu.
I got the tuna filet encrusted with sesame seeds and it was… can I say breathtaking? Can tuna be breathtaking? I'm gonna run with it. It was perfect.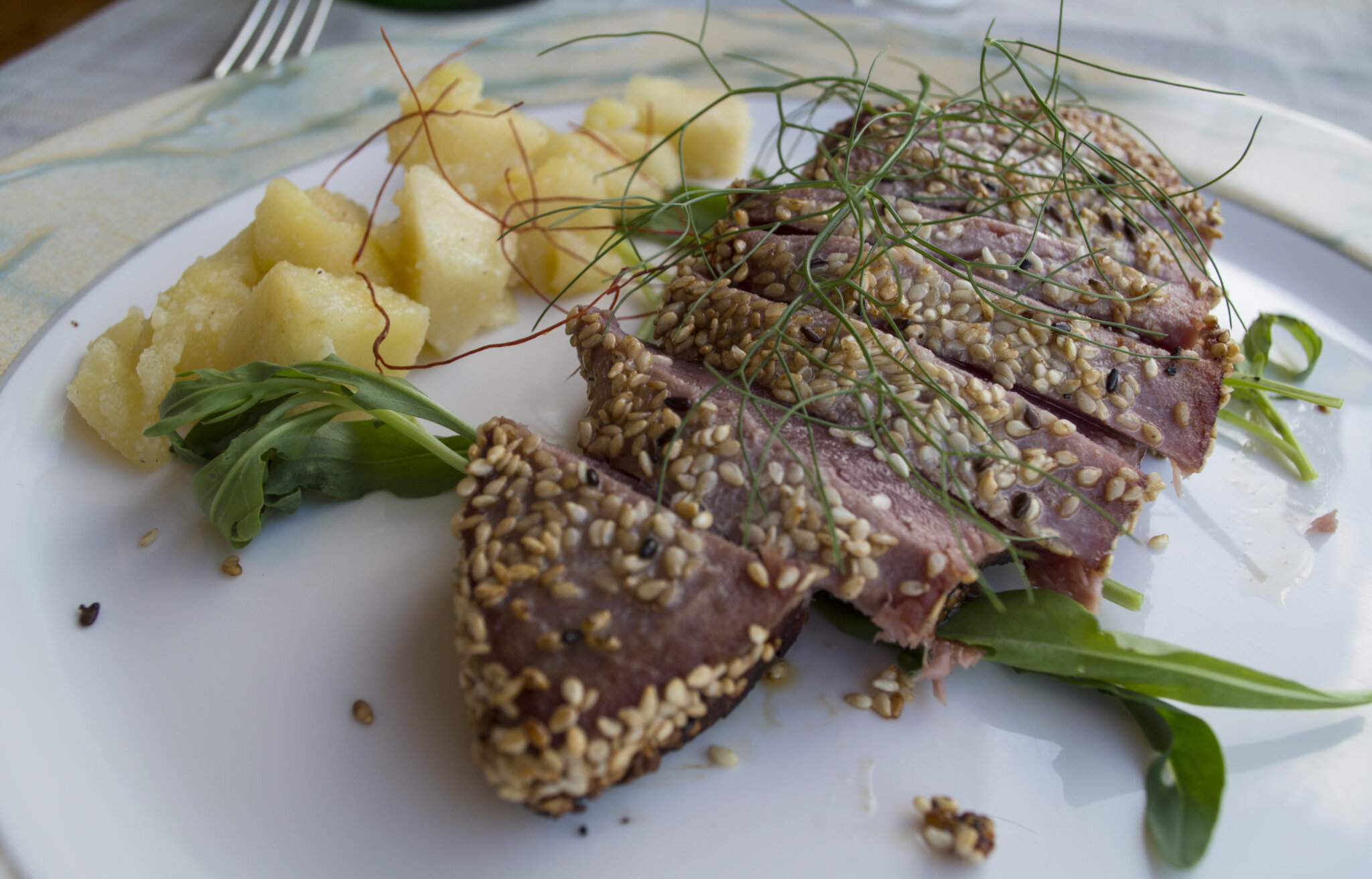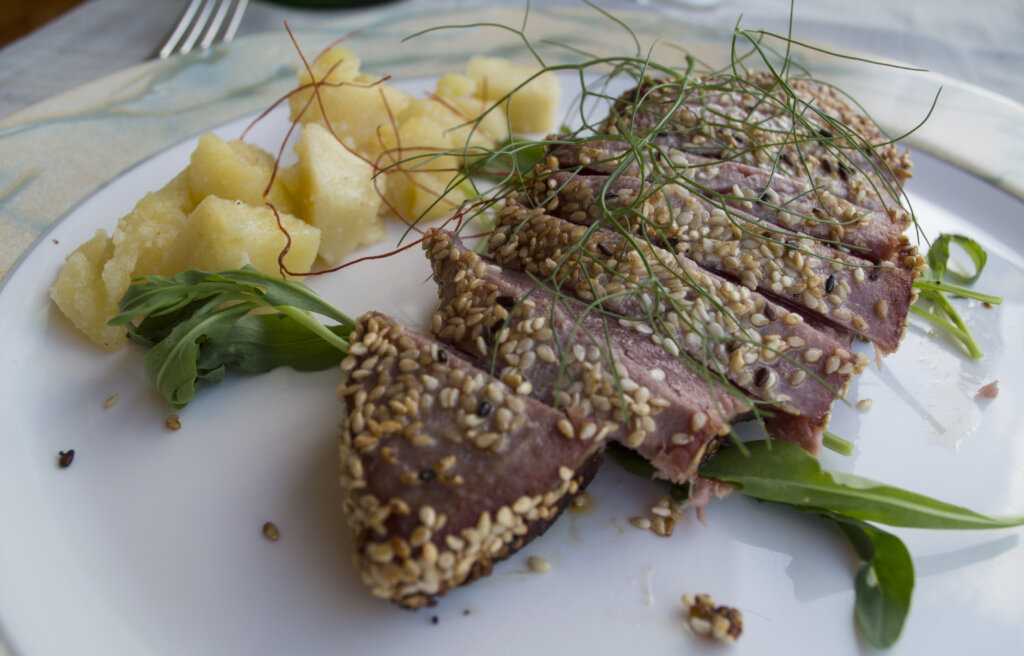 To end off the meal, they even gave us limoncello on the house!
My friend and I often joke around about how this was the most romantic place we've ever been to (and we spent it without our boyfriends!)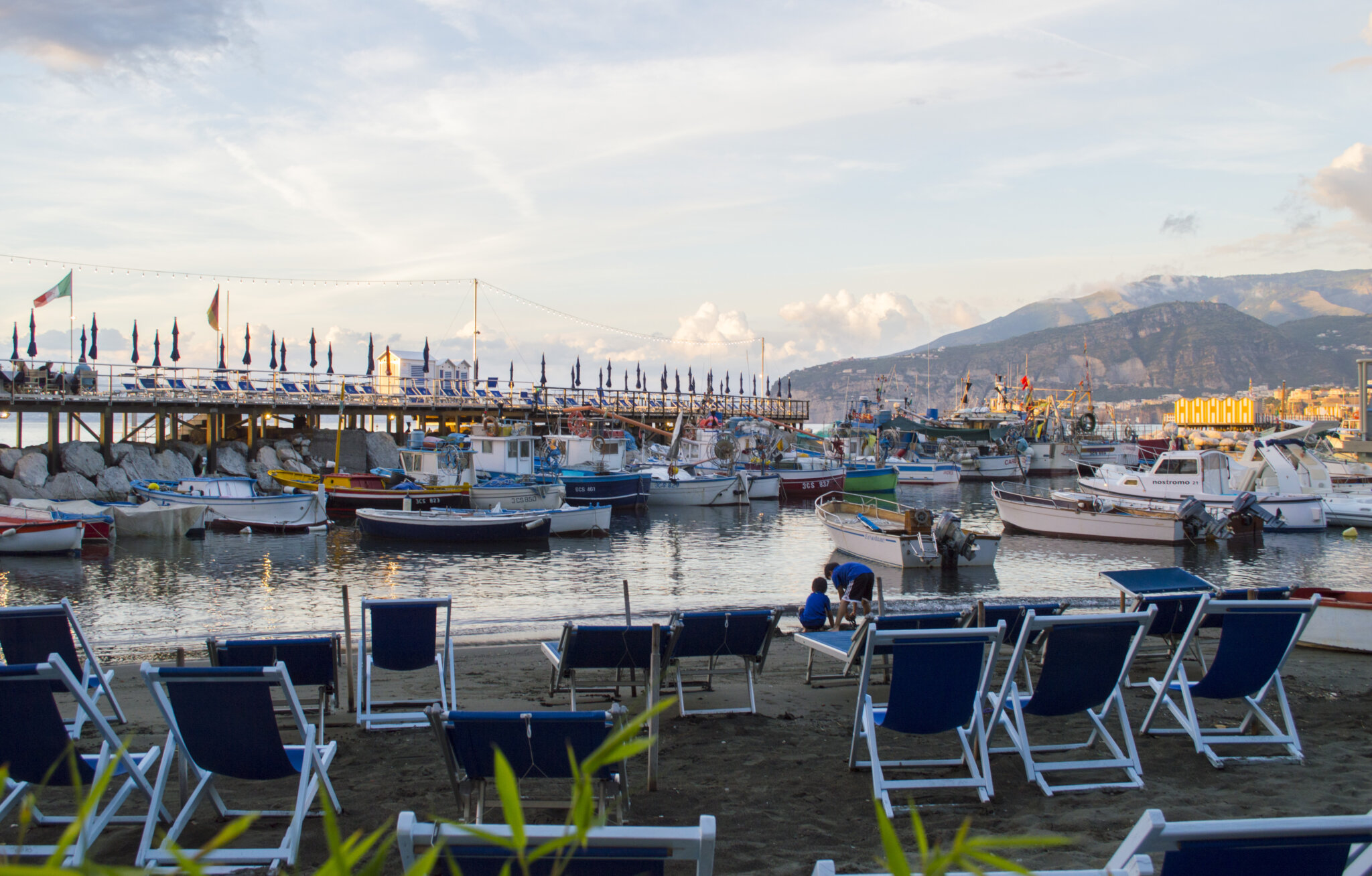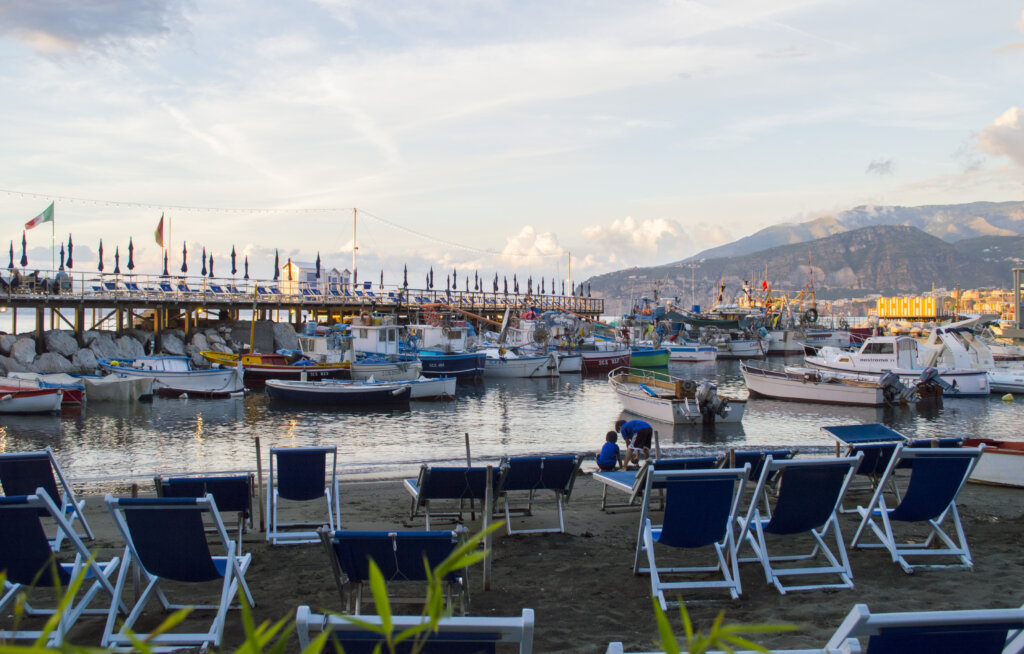 Stop by the Vallone dei Mullini (Valley of the Mills)
One of the most beautiful ruins in the world can be found in Sorrento, but if you're not careful, you can easily miss it!
Laying at the bottom of a deep crevasse in Sorrento's center, you'll find one of the more peculiar sights in the region – a centuries-old stone mill, long overtaken by lush green vegetation.
This eerie sight is straight out of a fantasy novel, and one of the most prized photo opportunities in Sorrento.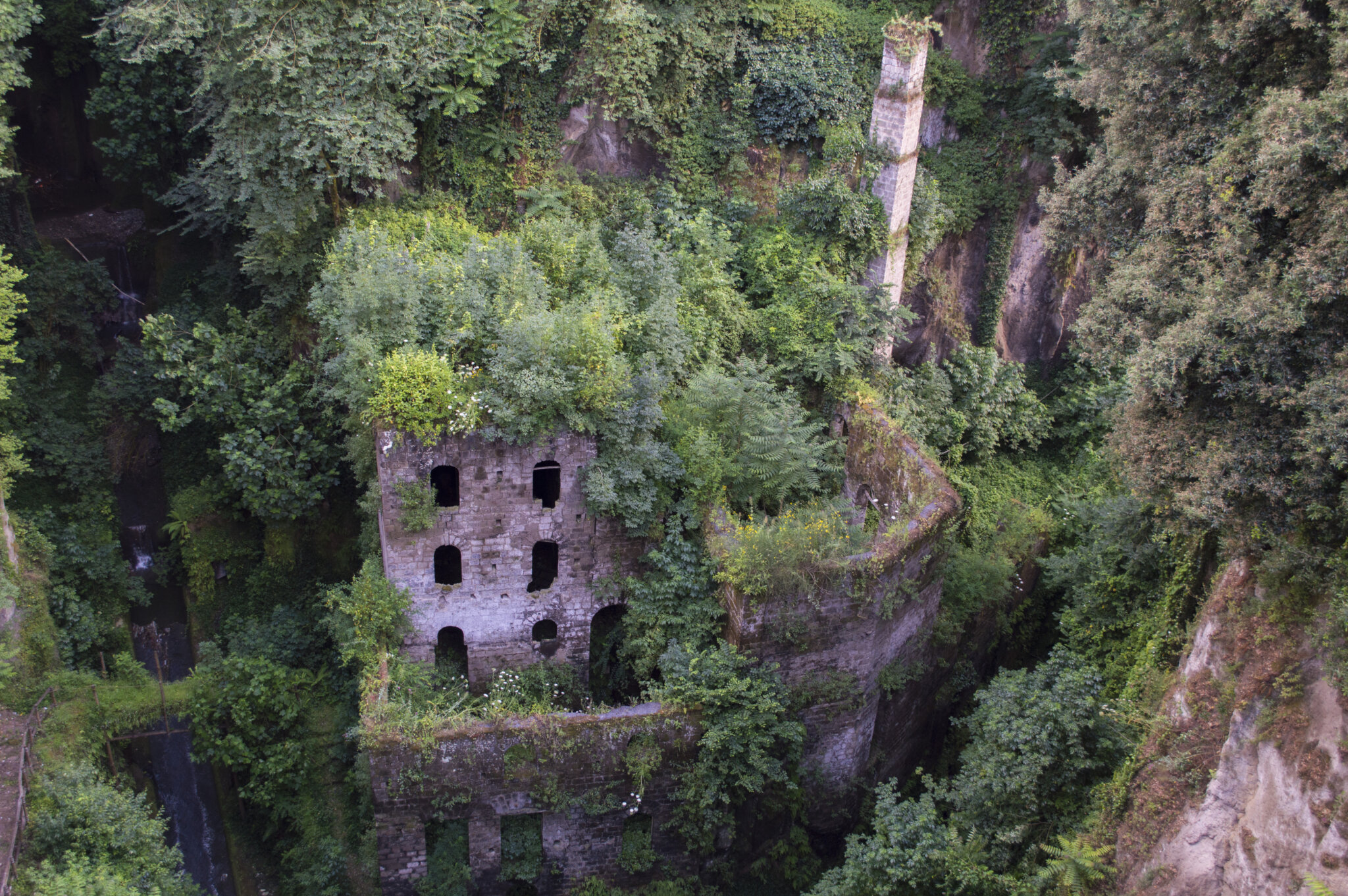 Unfortunately, a controversial restoration project that began in 2019 has now changed the look of the Vallone dei Mullini substantially. It's of course still worth a look when you visit Sorrento, but just be prepared that it will look very different from photos.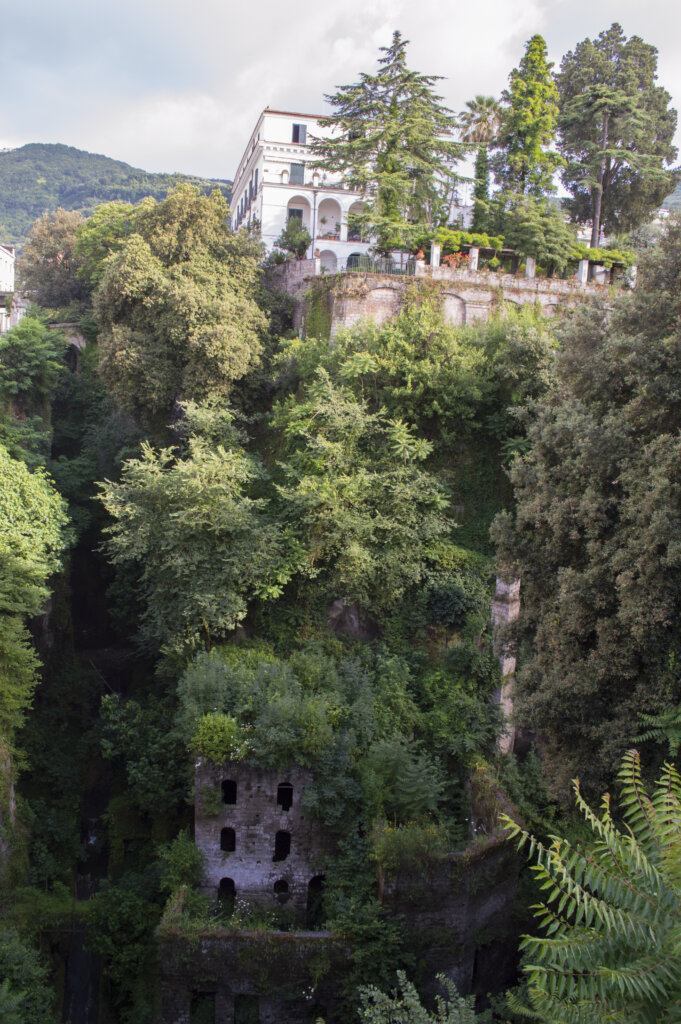 Admire the frescoes at the Sedile Dominova Building
Once upon a time, this grand building was the setting of heated debates among noblemen, who came here to discuss important local affairs and politics.
Today, you'll be more likely to take a selfie stick to the eye, but it's all worth it for this gem and its gorgeous colourful frescoes, tucked away among the busy souvenir shops of Sorrento.
Enjoy some peace and quiet at the Church and Cloisters of San Francesco
Hands down, this is one of the most peaceful and beautiful places to visit in Sorrento, and has been for centuries.
While a monastery in this spot dates back to the 7th century, the cloisters and Baroque Church came 7 centuries later. Crammed with flowers, trees, and dreamy ornamental arches, this spot is a must-see in Sorrento for any first-time visitor.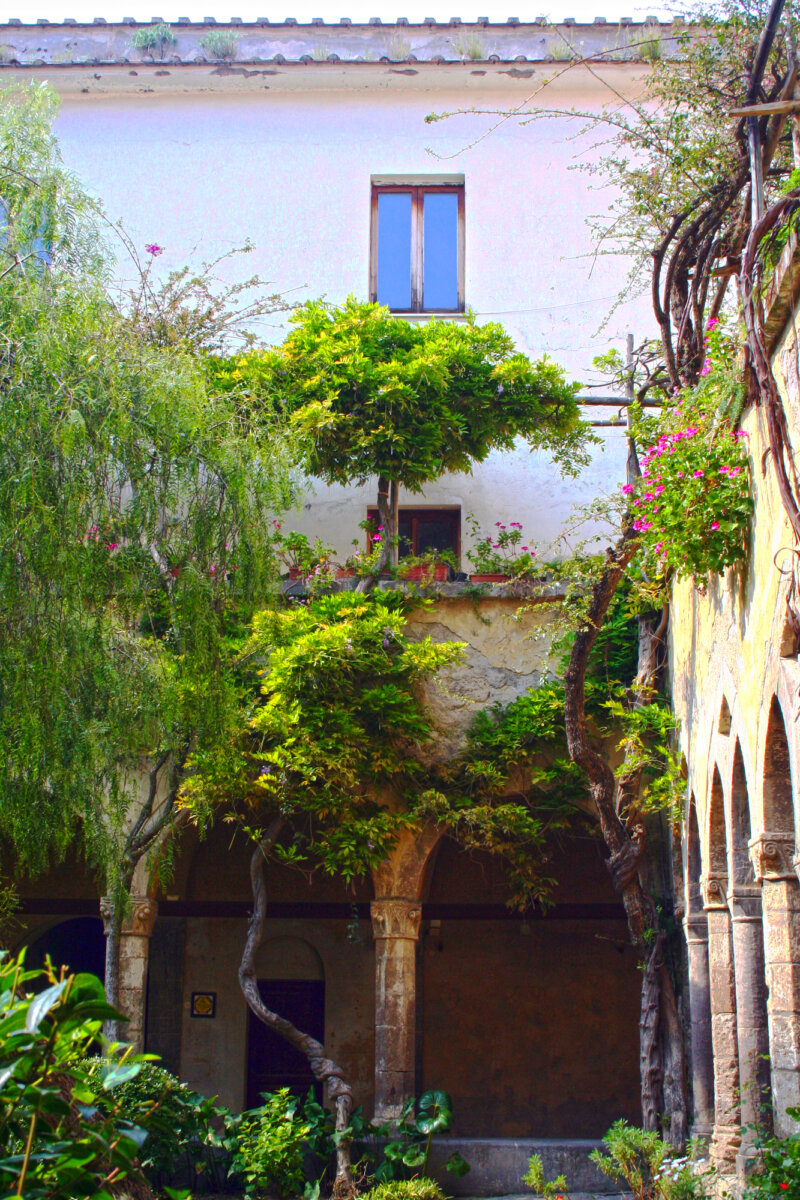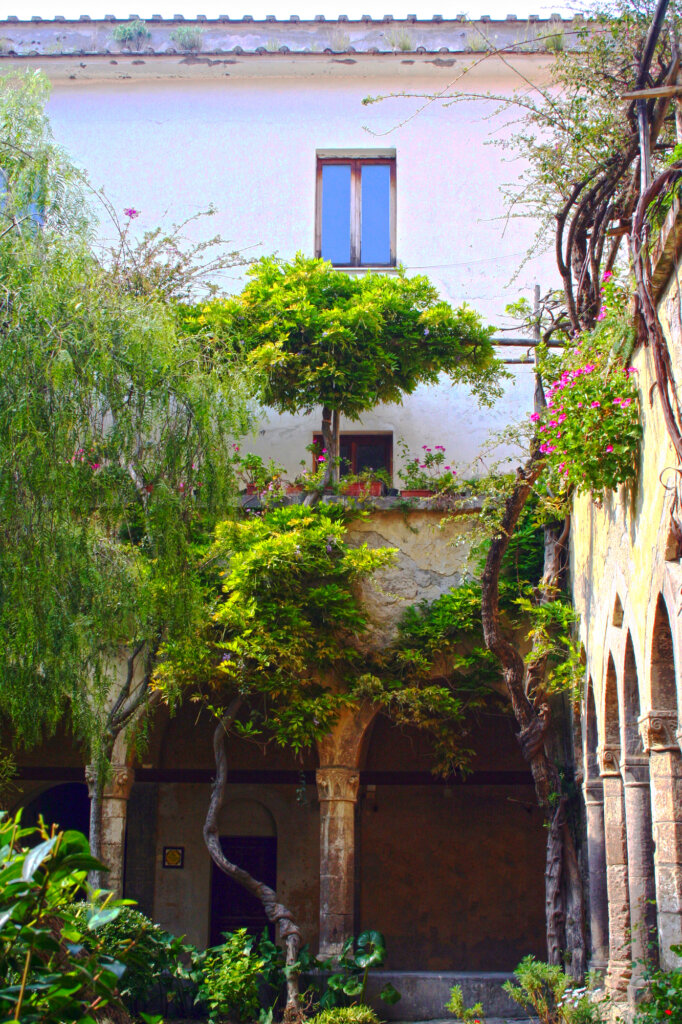 Enjoy a peaceful view from the Villa Comunale Park
In busy destinations like Sorrento, one of the best ways to catch your breath and relax is to visit some green space! While parks aren't exactly abundant in Sorrento, one famous one you should visit is the Villa Comunale Park, close to the Church and Cloisters of San Francesco.
This park offers manicured gardens and an excellent view over the Gulf of Naples. See if you can spot Mount Vesuvius!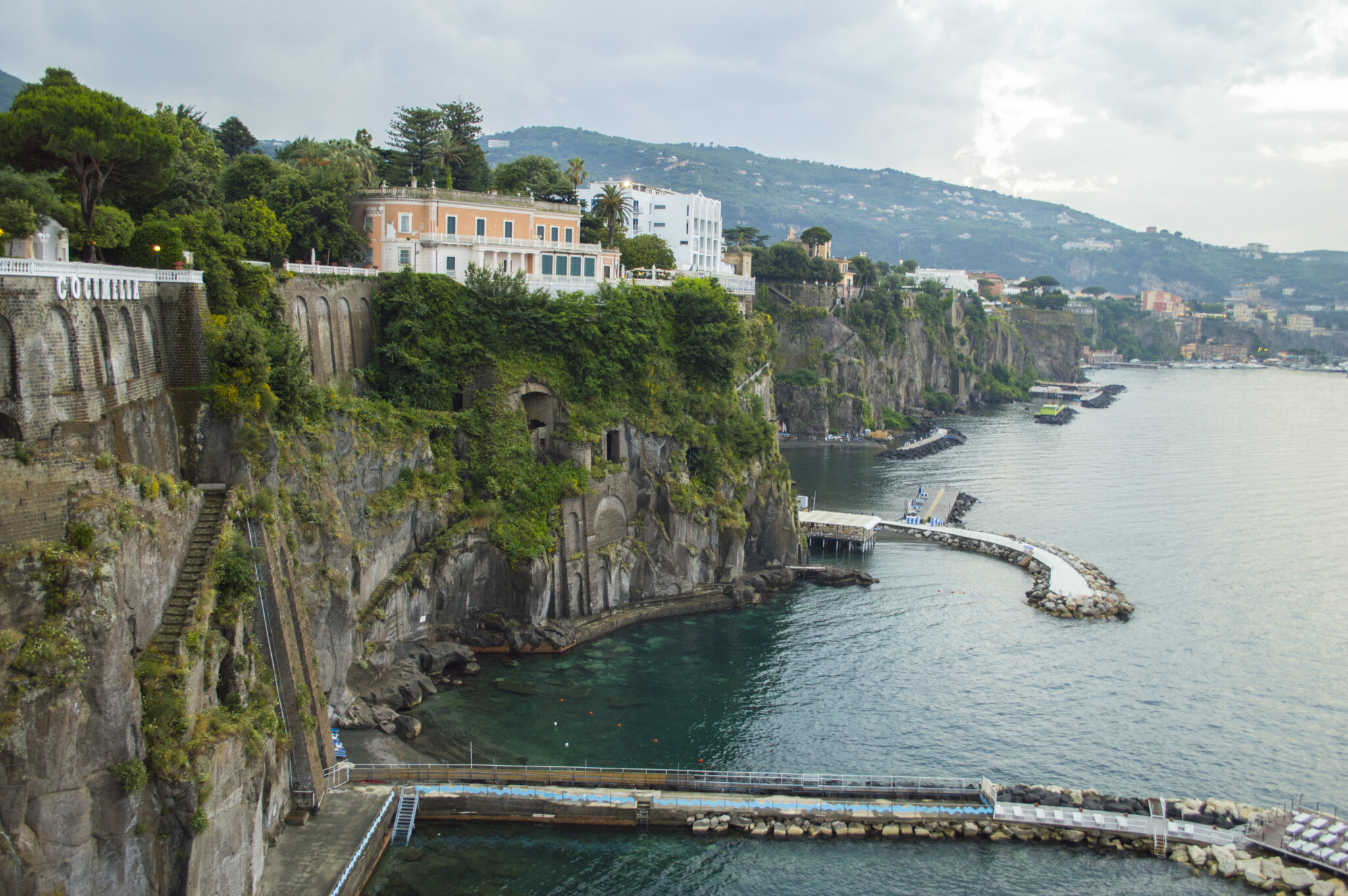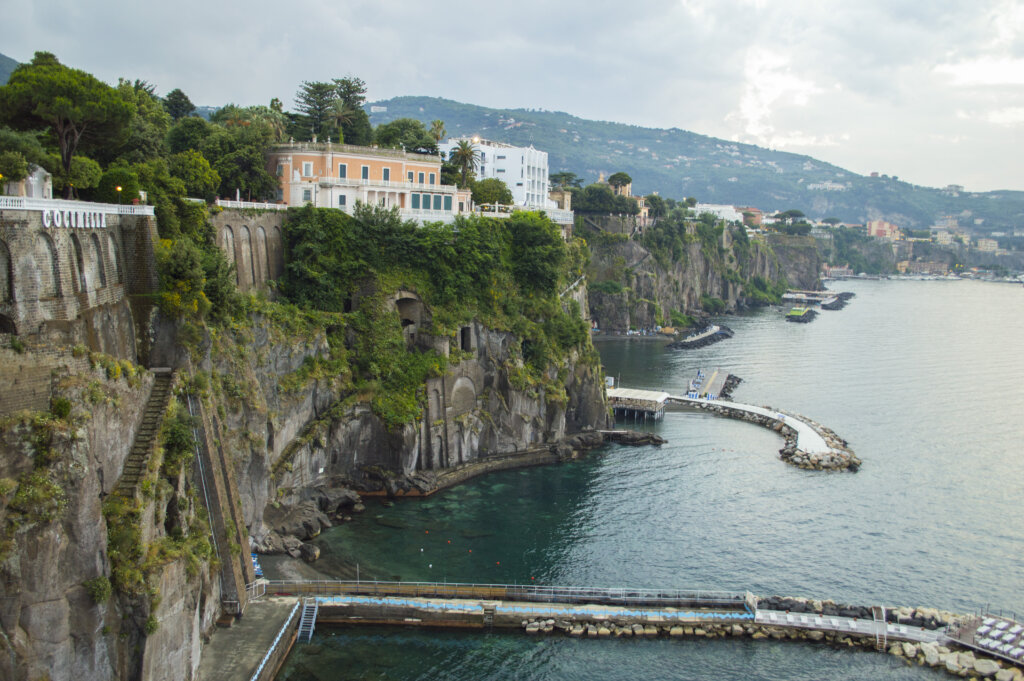 Head to a museum
If you're looking for things to do in Sorrento when it rains, consider checking out one of the two museums in town.
Here are your options:
Museo Bottega della Tarsia Lignea – a museum in a gorgeous palazzo displaying 19th century art with a focus on elaborate marquetry furniture
The Correale di Terranova Museum – displaying arts and crafts from the 15th and 19th centuries.
Stuff yourself with gelato
If you ever find yourself at a loss for what to do in Sorrento, face-planting into a cool pool of gelato is likely a good idea.
Of course, since you're in Sorrento, not just any gelato will do! Be sure to try a lemon one at least once.
Here are some great places for gelato in Sorrento:
Raki: artisinal gelato with very unique flavours
Fresco: tasty and fresh gelato with a "modern" twist, plus lots of slushies and other desserts
Antica Gelateria Sorrentina 1860: Family business with lots of flavours and pastries too
NOTE: If you love gelato as much as I do, make sure Bologna is on your bucket list. The gelato here is truly in describable.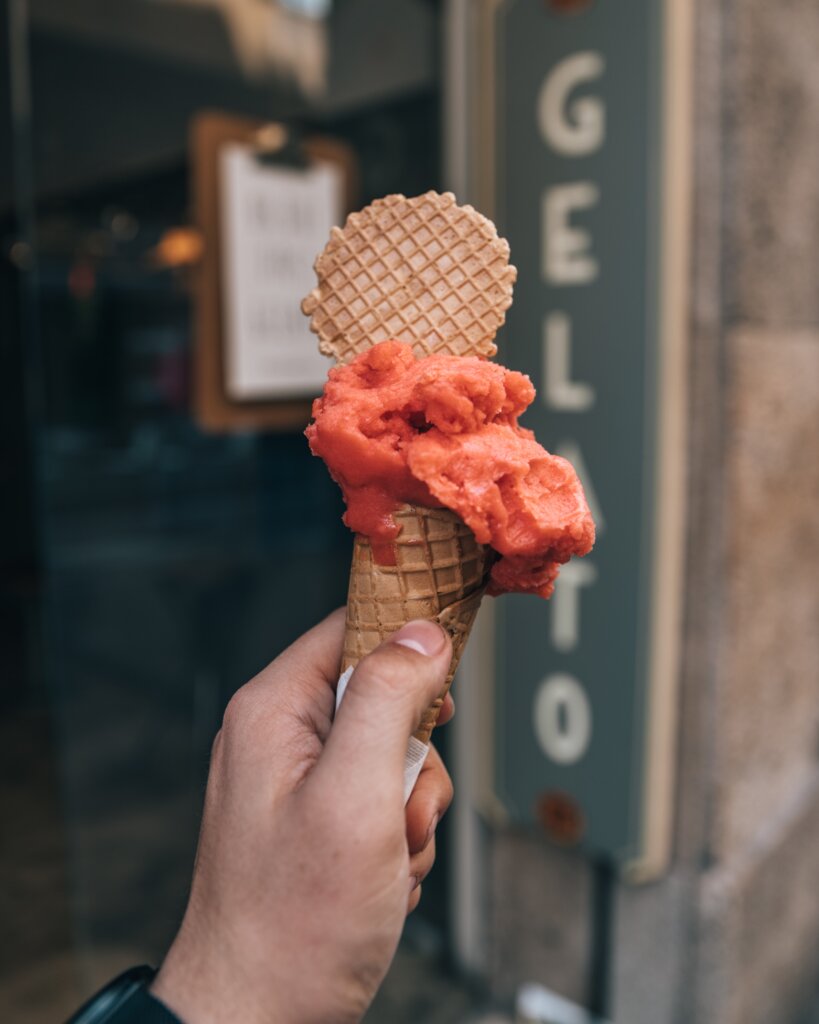 Gape at the comically enormous lemons
The gigantic baseball-sized lemons of Sorrento are a natural anomaly found only along this particular stretch of Italian coastline.
The reason? A unique microclimate that protects the lemons from harsh winds but also drowns them in sizzling sunshine for much of the year. This has created lemons that are so big, so plump, and so sweet, you can (apparently) eat them as you do oranges.
And while the thought of that makes me instinctively pucker up, there are plenty of ways to enjoy the lemons of Sorrento… without ripping into one like a hungry hungry hippo, such as lemon-flavoured desserts, lemon gelato, and of course, the region's most prized export: limoncello.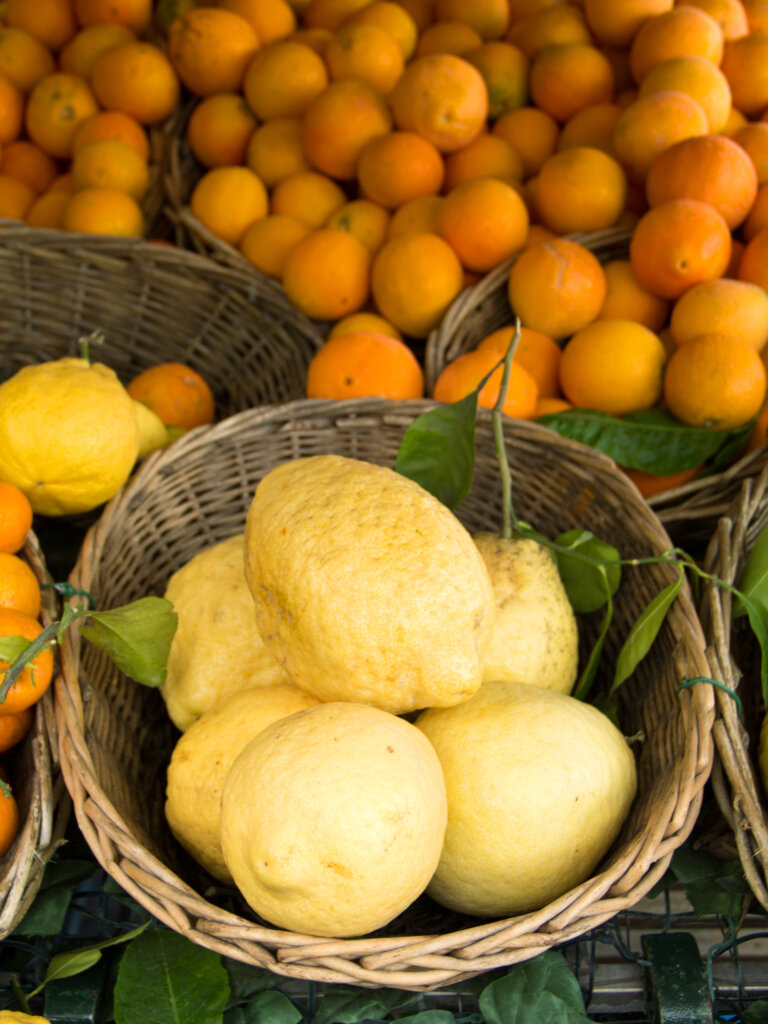 Go on a DIY limoncello crawl
I can't say I often get drunk while souvenir shopping, but such did happen while I traipsed from shop to shop in Sorrento, indulging in every limoncello (and limoncello-filled candy) sample that was thrown my way.
If you want to drunkenly purchase fridge magnets in bulk, limoncello shop hopping is one of the best things to do in Sorrento!
But seriously, make sure you try plenty of limoncello (and limoncello flavoured) goodies while you're in Sorrento. It's the region's most popular export for a reason.
PACKING TIP: Make sure you leave some space in your suitcase when you pack so you can lug home some limoncello and souvenirs. Better yet, pack an additional bag and invest in some protective sleeves like these to ensure your souvenirs survive the trip.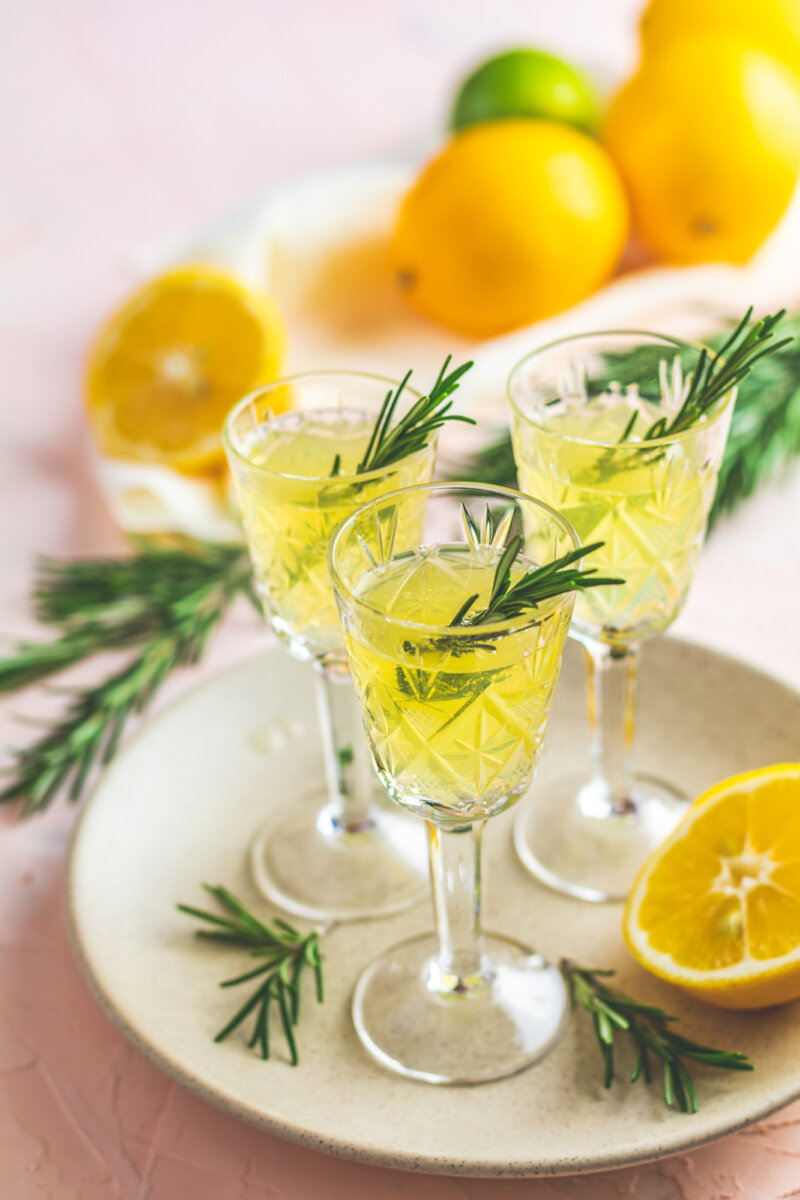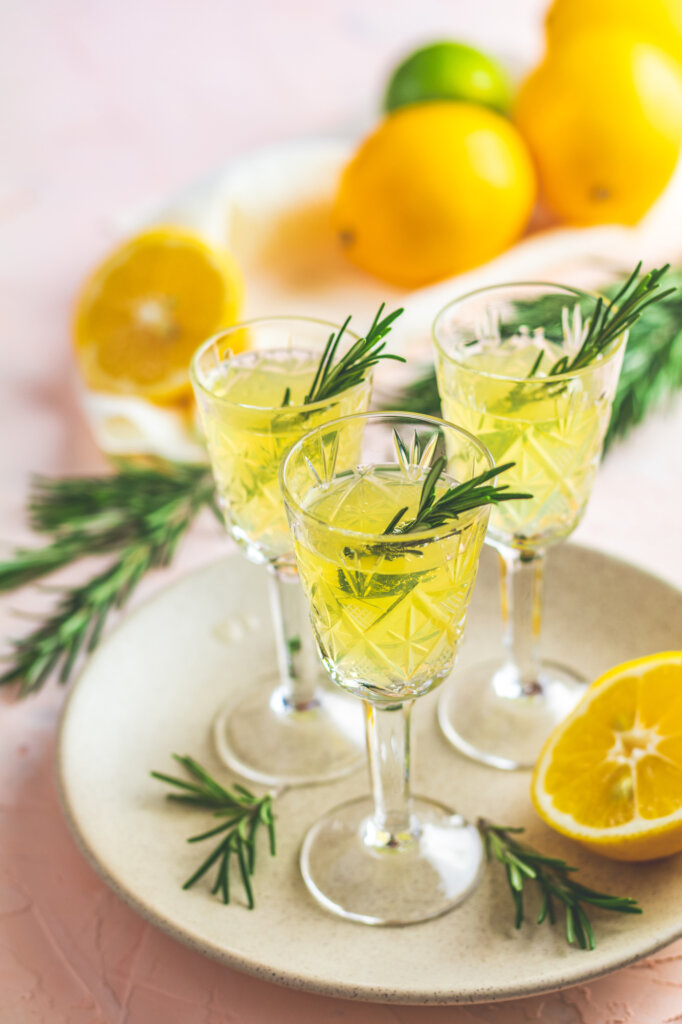 Enjoy some people watching at one of the many cafes in Sorrento
Sorrento is a busy destination, especially if you visit in the thick of peak season as I did. So, here's one of my best travel hacks for you: schedule in some time to sit, relax, and people watch!
Luckily, terraces and cafes in Sorrento are abundant.
Coffee in Italy tends to be a quick "slurp and go" affair whilst standing at the bar, but be sure to have a lazy people watching refreshment at some point during your stay, whether you choose a coffee or a Spritz as your tipple of choice.
If you need a spot for people watching, Fauno Bar in Sorrento's main square has a lovely terrace and an extensive food menu.
Enjoy a glamorous photo shoot
Many people visit Sorrento for their honeymoon, or at the very least as a romantic getaway.
If that's you, then you might want to look into booking a private photoshoot, like this one with a vintage Fiat 500!
It's a lot more affordable than you think, and a wonderful way to walk out with gorgeous souvenirs and photos from your time in the area.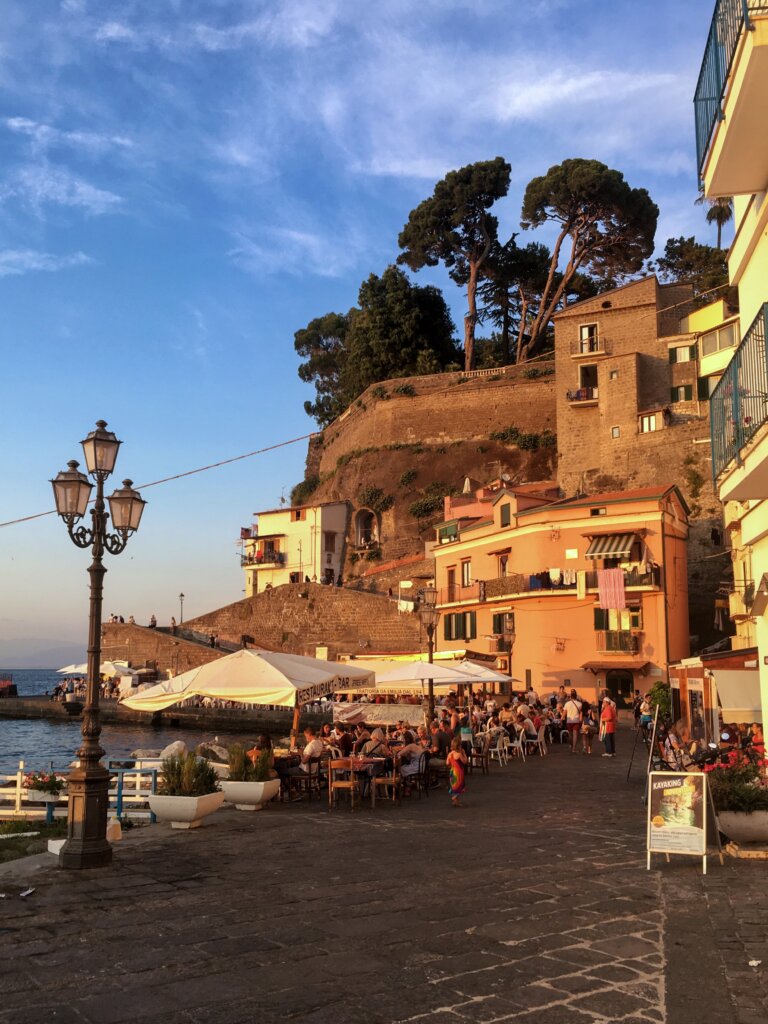 Take a cooking class
As they say, give a man some pasta, and he'll food coma for a day, teach a man to to make pasta, and he'll food coma for life.
… Or something like that.
One of the most unique things to do in Sorrento if you're looking for an unforgettable experience is definitely taking a cooking class!
This one walks you through traditional Neopolitan cuisine and includes lunch (cooked by yourself of course!) on the sunny terrace of a Sorrentine villa.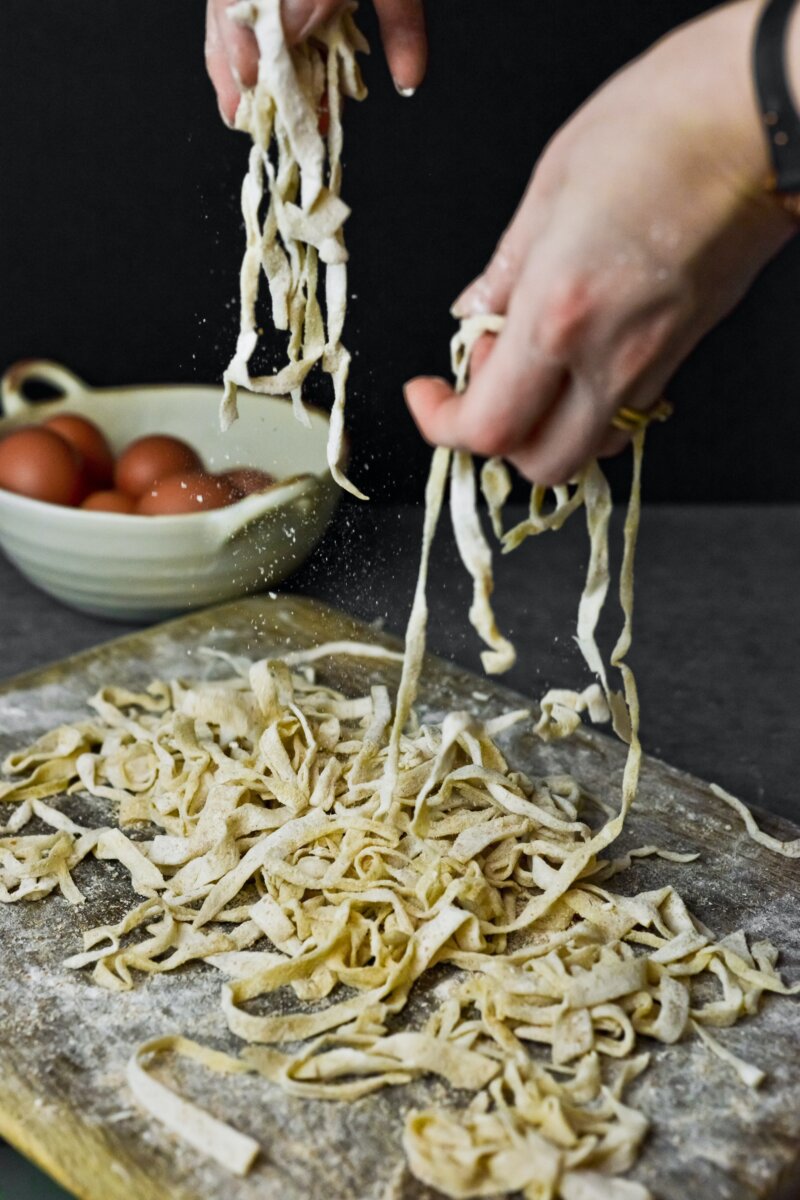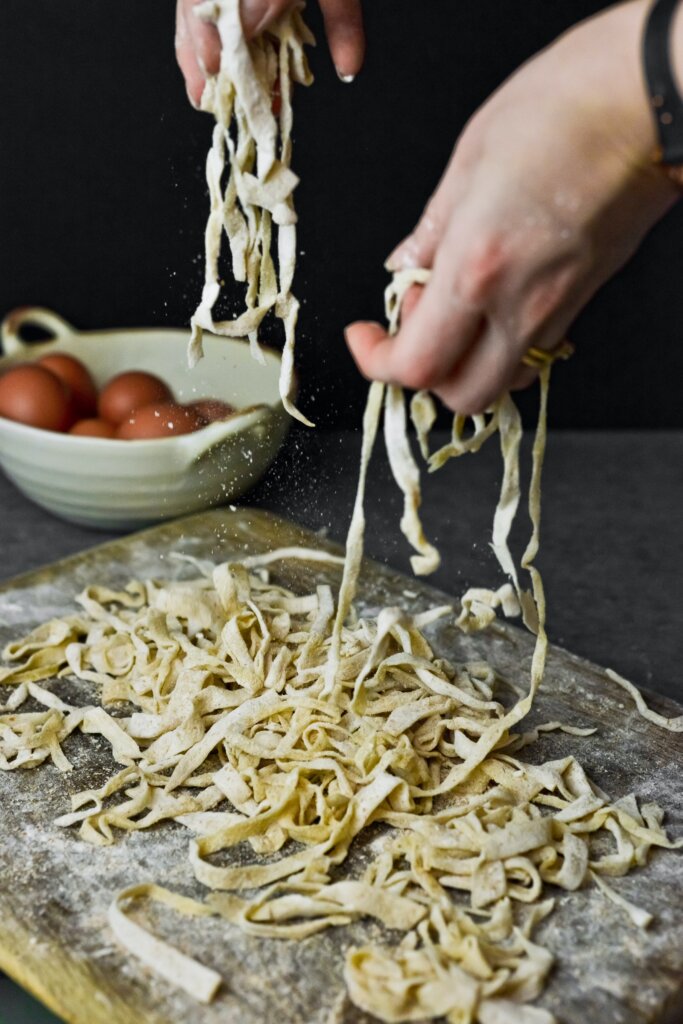 Admire sunset from the water
Sorrento sunsets are truly next level, and while you'll be able to enjoy some truly breathtaking views from the mainland, those looking for a bucket list experience (perhaps for a honeymoon or big family trip) should look into renting a boat to watch sunset from the water.
This sunset cruise for example includes drinks, refreshments and snorkelling equipment, and is surprisingly affordable when you split it among friends.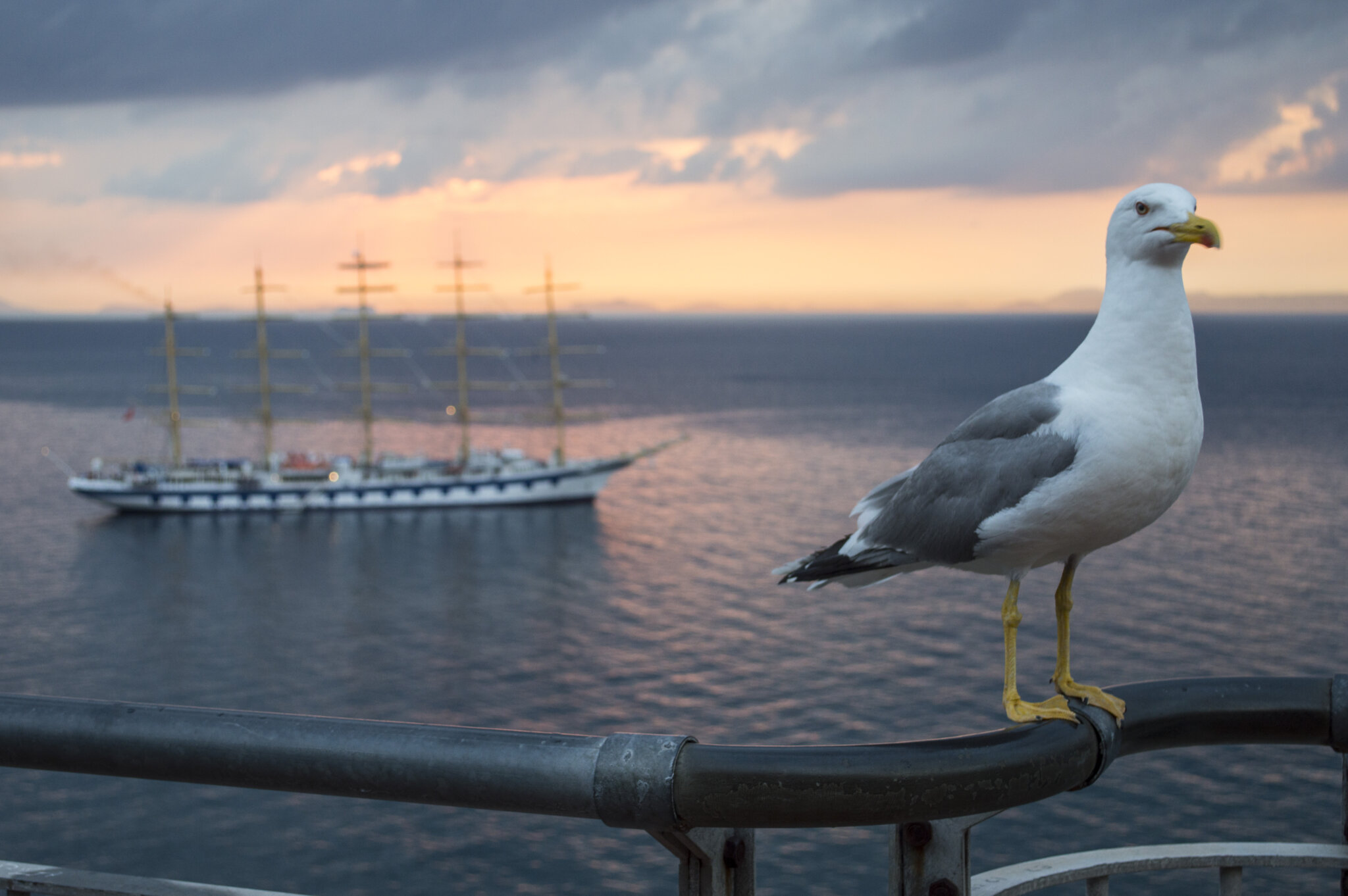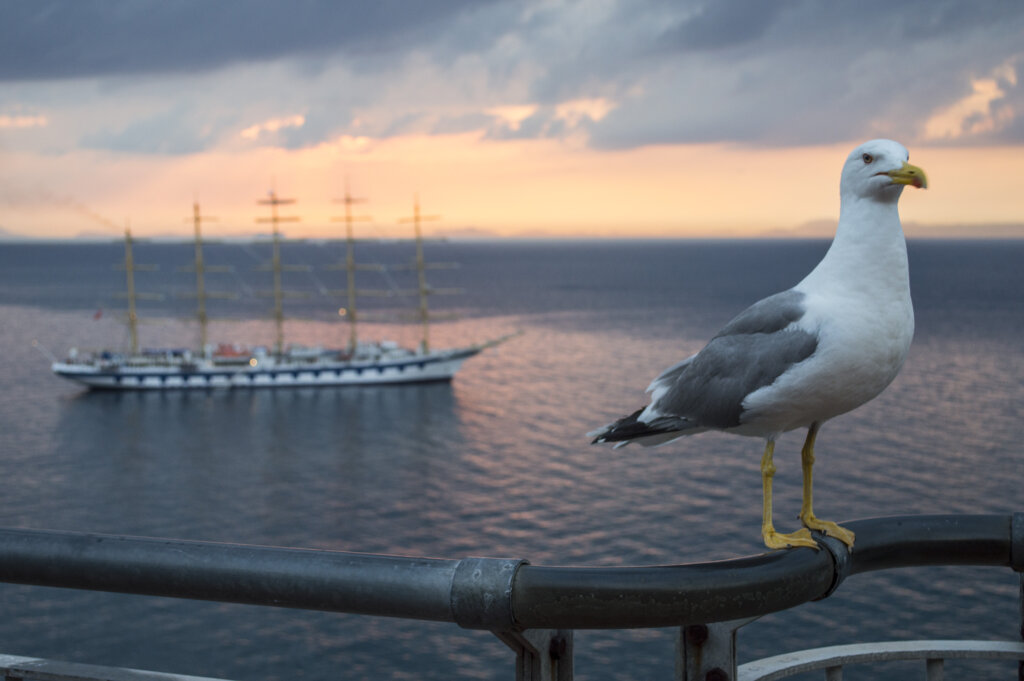 Enjoy some steak at Meating Steakhouse Sorrento
A bit of a bizarre recommendation for a coastal destination like Sorrento, but I need to sing this restuarant's praises!
When my friend and I decided explore central Sorrento and were caught umbrella-less in a sudden downpour, we happened upon one of the most delicious meals of our trip, and I wholeheartedly recommend it to you if you're hankering for steak in Sorrento.
With wet boots and hangry souls, we scoured the streets for an open restaurant (an impossibility at 4pm in Italy). In our rain-soaked delirium, we came across Meating Steakhouse.
Putting on our best puppy dog eyes, we desperately asked the owner prepping the restaurant if they were open. Considering the odd time frame, we were fully expecting a no.
… and with a big smile on his face, he exclaimed "you never say no to your first customers!".
He let us in to dry off, was patient with our orders, took time to explain the menu and even brought us free appetizers as we waited. This kindness made us fall in love with Sorrento immediately. We found out the next day that they weren't supposed to open until 7pm! Talk about stellar service.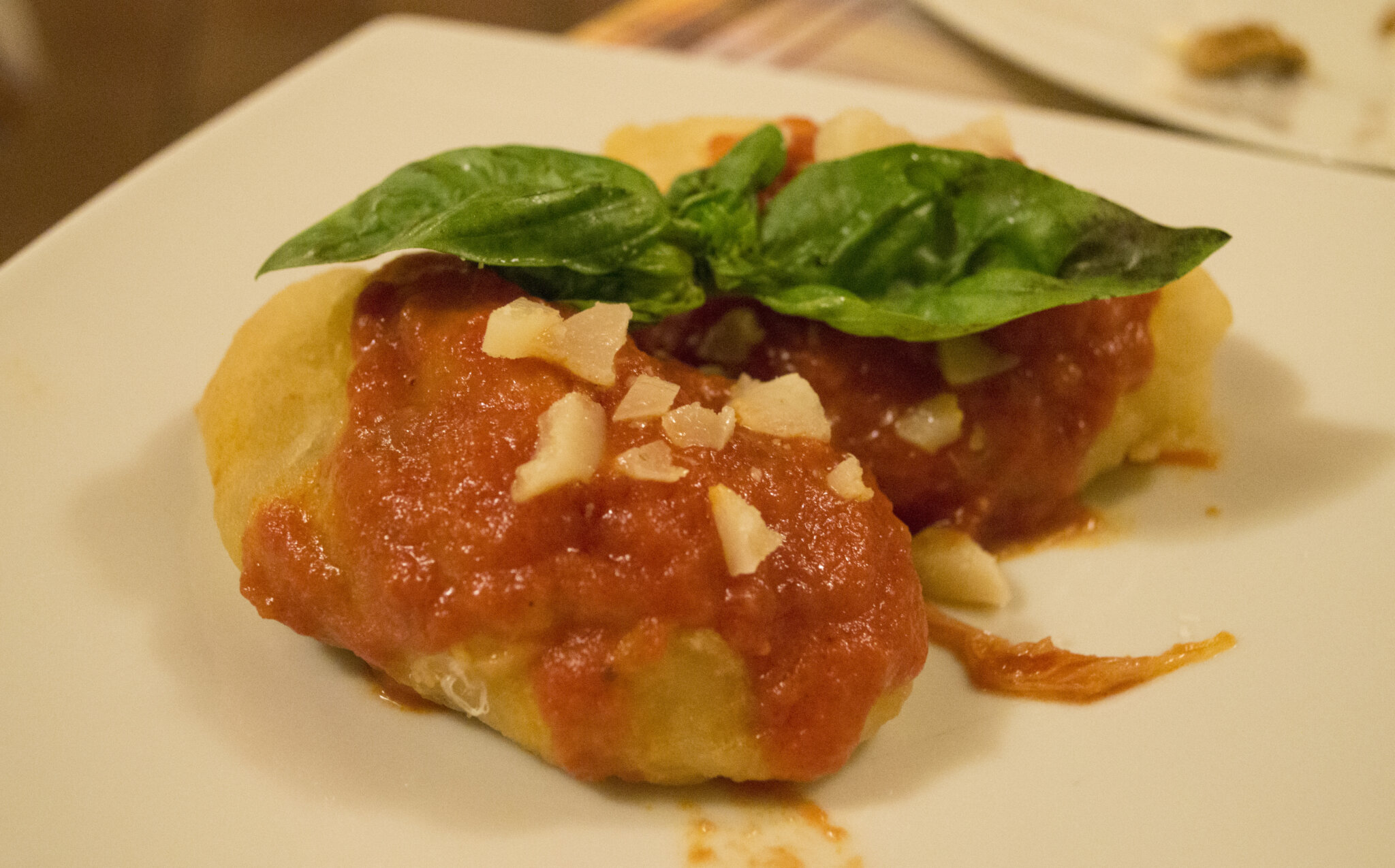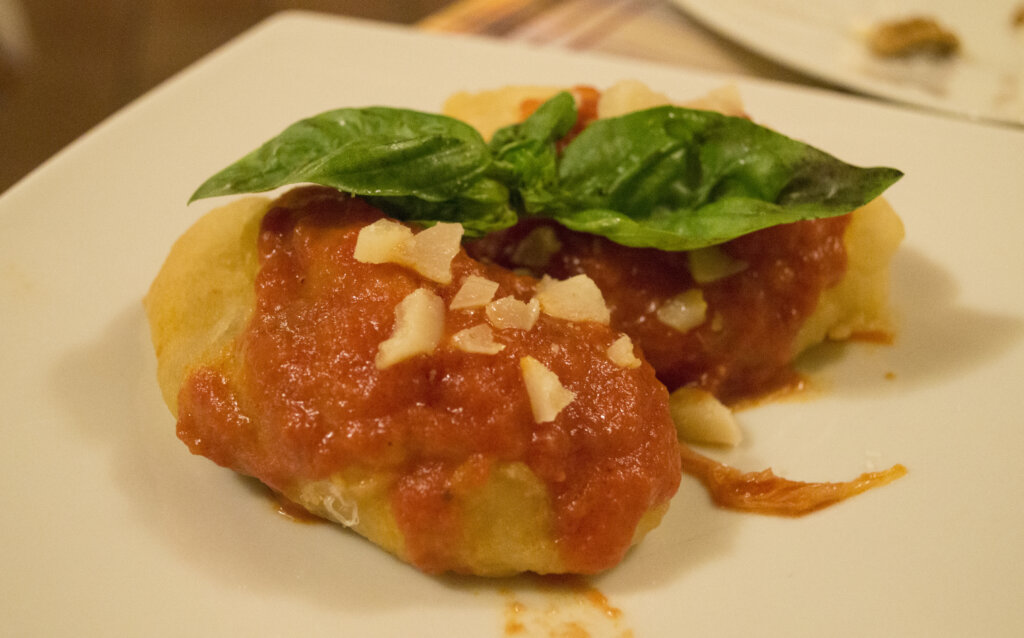 Do a regional food tasting at a local farm
For a true foodie experience with glowing reviews, consider trying this 5 hour food tasting where you get to learn how limoncello is made while sampling local mozzarella and provolone and of course, make your own pizza too.
This experience takes place at a farm removed from the bustle of central Sorrento, so would make a great activity if you're looking to escape the tourist crowds for a bit.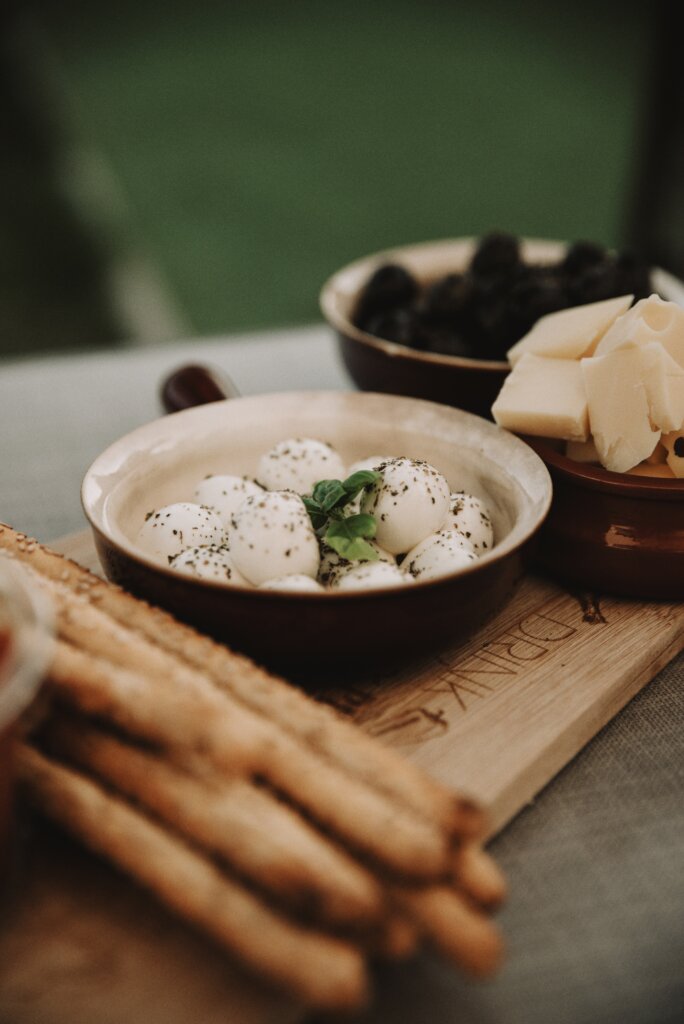 Take a day trip to Pompeii and Mount Vesuvius
If you have some extra time in Sorrento, one of the best day trips you can take is to Pompeii – a real must-see if you're a history buff.
Pompeii is one of the most incredible archaeological sites in the world – a once thriving Roman city completely buried by a volcanic eruption, today open for tourists like you and me!
We did this day trip on our way back to Naples from Sorrento and honestly a day trip would have been far less stressful.
I'd recommend going with a tour because the crowds at Pompeii can be crazy and you need a guide to properly enjoy the sights (otherwise, you're just staring at context-less ruins).
For an adventure-packed option from Sorrento, this Sorrento to Pompeii tour includes a skip the line ticket and a 1hr hike at Mount Vesuvius.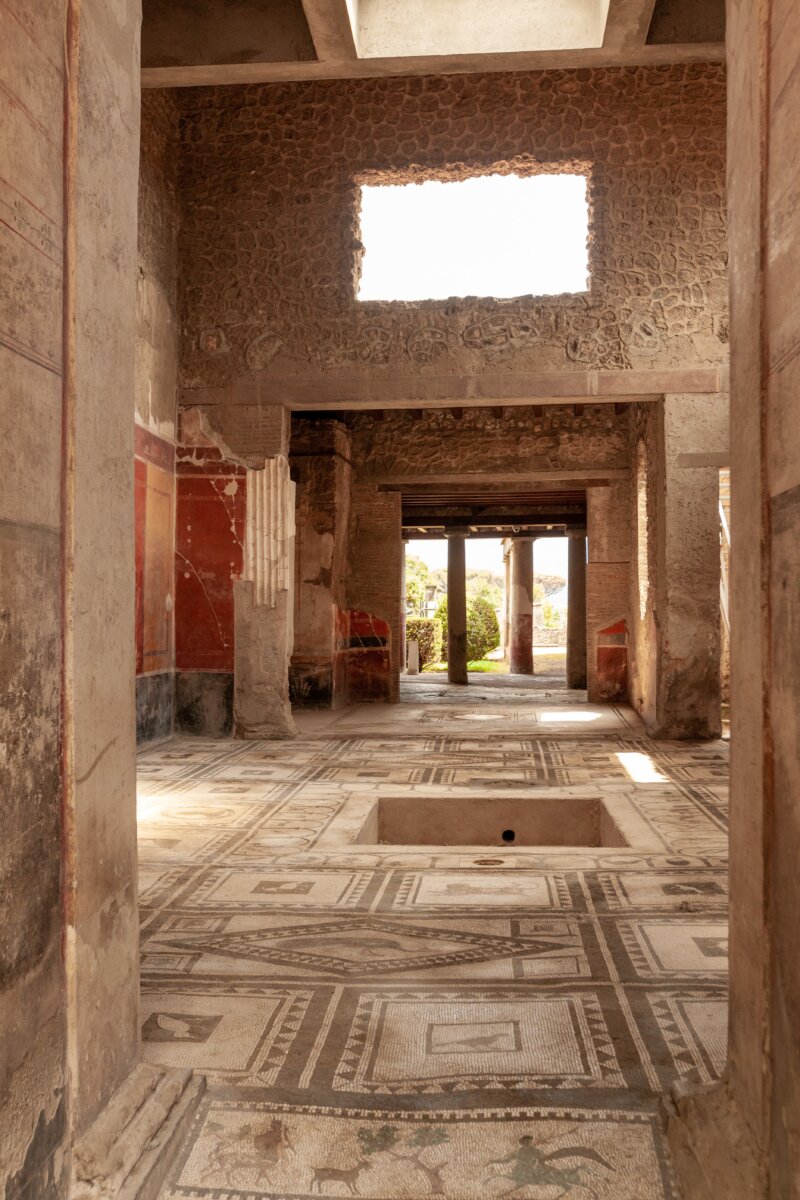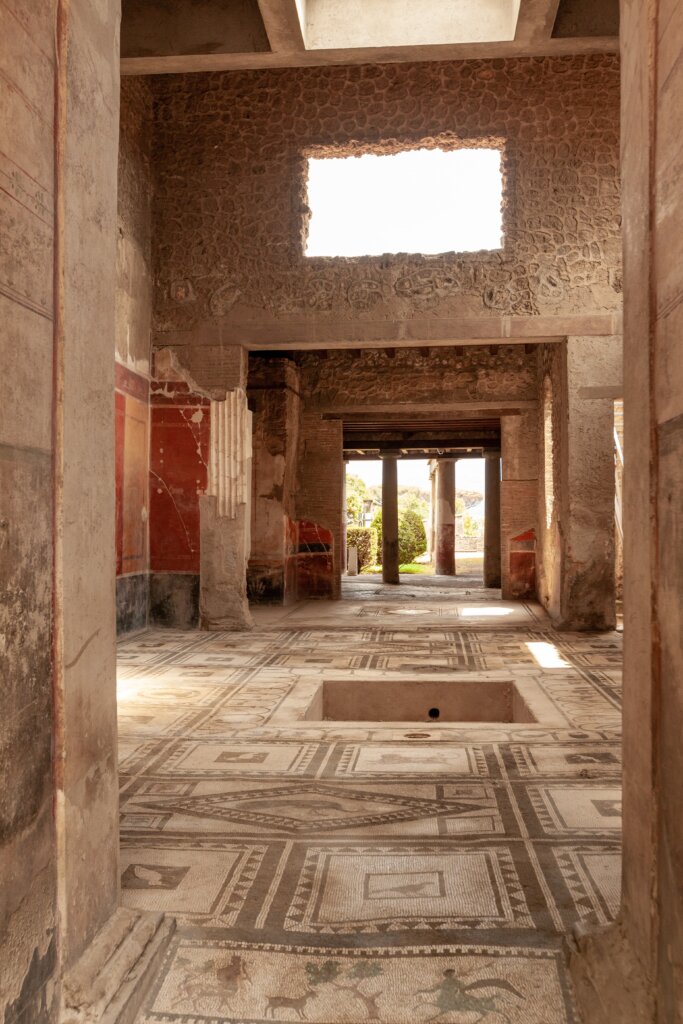 Take a day trip to Herculaneum
While Pompeii is no doubt more famous, nearby Herculaneum is another Roman City lost to the same eruption from Mount Vesuivus… and some say it's an even more worthwhile visit than Pompeii, thanks to the fact that Herculaneum is much better preserved, with even vibrant frescos and mosaics still in tact for visitors to see.
I personally haven't been to Herculaneum, but it looks incredible, and is definitely a worthwhile day trip to consider from Sorrento as well.
Here is a day trip tour you can book from Sorrento.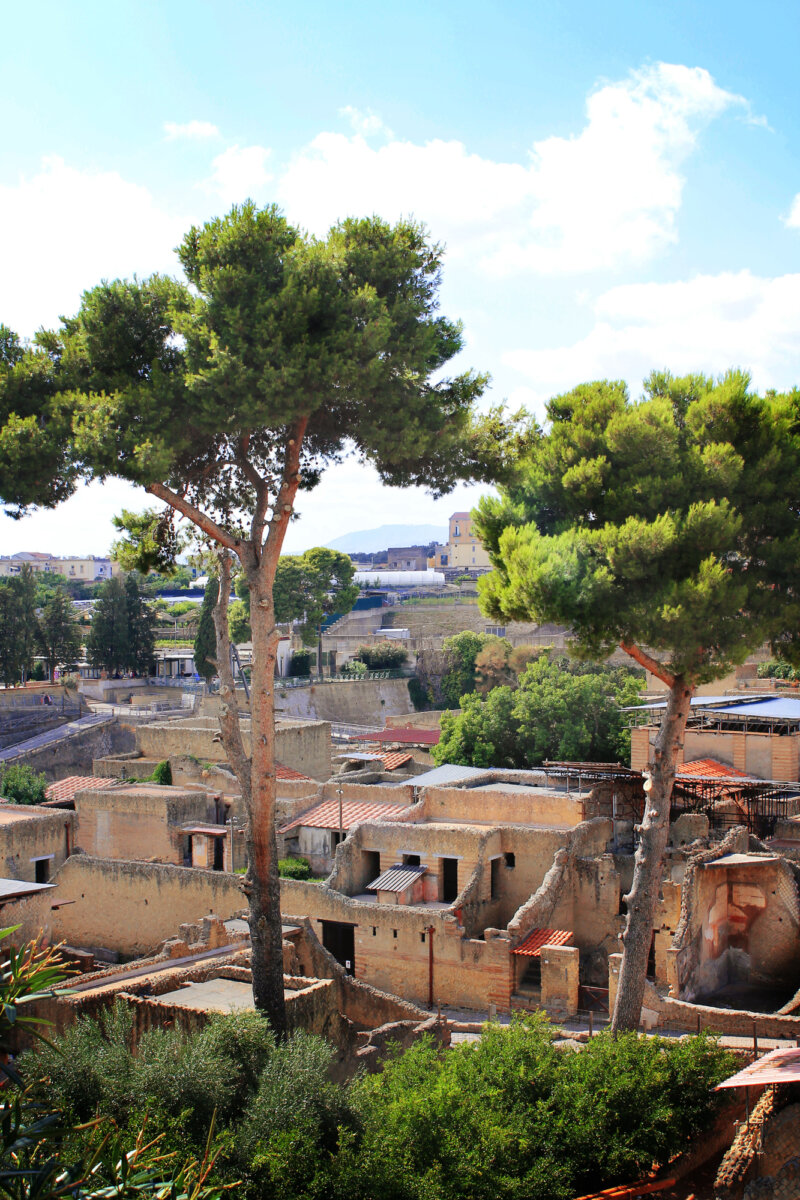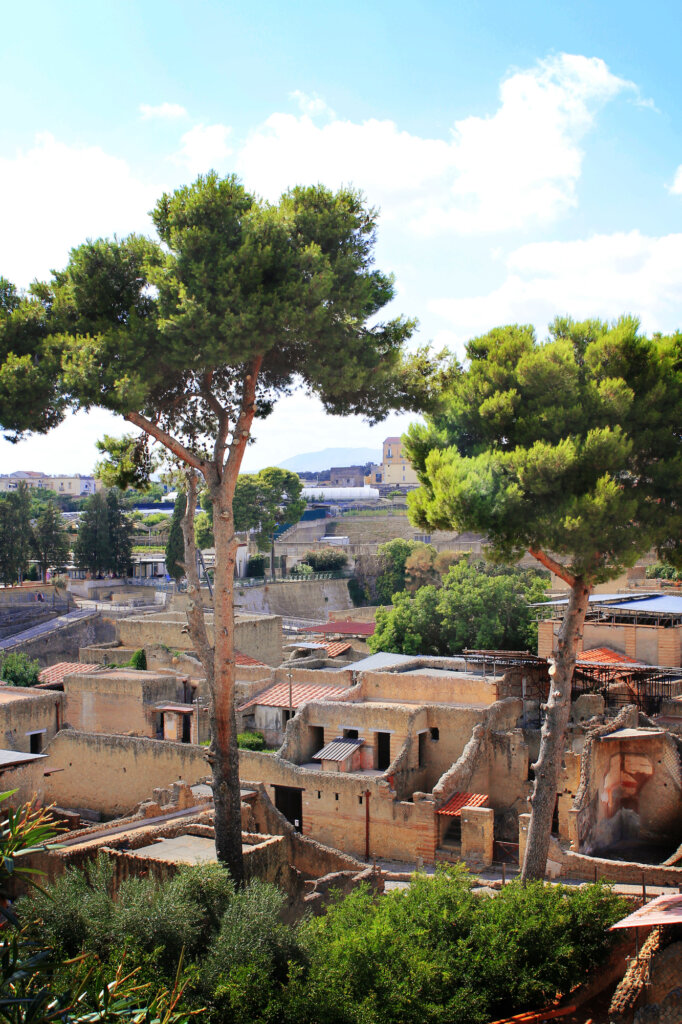 Did I miss any of your favourite things to do in Sorrento?
Let me know in the comments, and I hope you have a wonderful trip!
---
Watch my most popular YouTube video this week:
---