*FYI - this post may contain affiliate links, which means we earn a commission at no extra cost to you if you purchase from them. Also, as an Amazon Associate I earn from qualifying purchases. Check out our Privacy Policy and Disclosure. for more info.
Wondering if the I amsterdam Card is worth the high price tag? This review will tell you everything you need to know!
As I'm sure you all know, I loves me a good deal.
When left alone in big, touristy cities like Amsterdam, it's quite inevitable that I morph into a pathological deal hoarder, dodging tourist traps left and right while going to truly absurd lengths to get my money's worth.
And this is precisely how I found myself armed with a 24h I amsterdam card on a recent visit, eager to milk as much value from it as possible. I guess you can say it worked out, because I eventually saved me over 180 euros in a twenty four hour period.
Yup, that's right, I visited Amsterdam's top must-dos – 10 museums including heavyweights like the Rijksmuseum and Van Gogh Museum, plus a sweet sunset canal cruise, all for only 60 euros.
Intrigued? At the risk of sounding like a midnight infomercial, you can do it too, all with the help of an I amsterdam card. *dreamy harp music*
Save this post on Pinterest for later: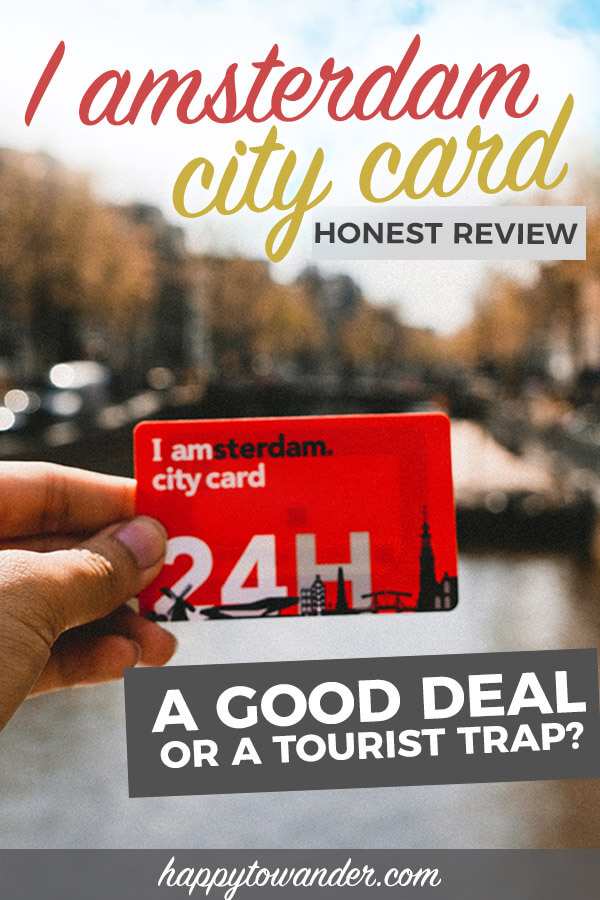 If you've never heard of it, the I amsterdam card is a city card that grants you access to the city's top attractions for one bundle price, and having used it twice now, I know all the tricks to making the most of it.
SO, if you're wondering whether the I amsterdam card is a good choice for you, keep reading. This honest review will tell you everything you need to know, along with must-know tips to ensure you make the most of this (admittedly very pricey) city pass.
NOTE: While I amsterdam gifted me a city card during a visit I had back in 2016, this review is based solely on my recent 2019 experience, which I paid for completely myself for the purpose of an unbiased review. Enjoy!
---
---
I amsterdam Card: A Quick Overview
First off, let me get it out of the way that I HATE the way this card's name is spelled. iAmsterdam would look way better, or even I Amsterdam, but the capital I and lowercase a? I'm triggered.
But anyways, back to the card.
The I amsterdam card is an all-in-one city pass for Amsterdam that gives you access to dozens of major museums/attractions, public transportation, and a canal cruise, all for a set time period (ranging from 24 hours to 120 hours).
The appeal here is simple: you buy one card, you pay once, and then you can save a lot of money on attractions as you explore the city.
NOTE: Over 70 of Amsterdam's biggest attractions like the Van Gogh Museum, Rembrandt Museum, Rijksmuseum and a canal cruise are included with this card, but the one major exception that is NOT included is the Anne Frank House, so keep that in mind.
In my opinion, the I amsterdam card offers unbeatable value if you're an avid sightseeer, or if you are someone who values flexibility, ease of mind and spontaneity over budget. Click here to check prices and reviews.
There is a catch of course. The I amsterdam card, while a good value if used properly, is one of the priciest city cards out there.
The cheapest one for 24h is already 60 euros, with the most expensive one being 125 euros for 120 hours. It's certainly no drop in the bucket, since you're probably spending hundreds on accommodation and other expenses already…. So I understand your hesitation.
Honestly, if you want to limit yourself to a few select attractions while in Amsterdam, the I amsterdam card is probably not a good value.
If you are a fast paced sightseer though and want to see as much of Amsterdam's museums/attractions as possible, this card is really worth considering.
Below I'll break down the costs of the card and also tell you all about how I used it, and tips on making the most of it.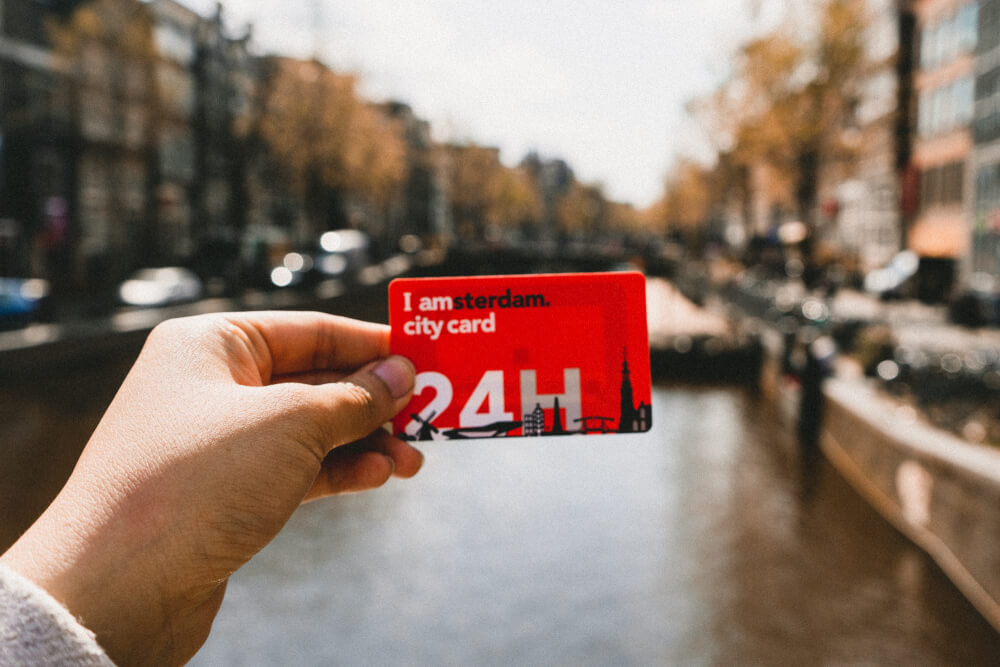 ---
---
I amsterdam Card Cost Breakdown
How much will buying an I amsterdam card set you back?
This depends on how many days you purchase it for. The cheapest card is the 24h one at 60 euros, which allows you to soak up all the card benefits for a 24 hour period.
The most expensive card grants you access for 120h (125 euros), with the cost per day of course going down as you purchase longer passes.
I admit this city card is expensive, but I promise you can 100% get the value of the card back (and then some) if you use it strategically, which I'll teach you to do below!
Here is a table summarizing the prices for I amsterdam cards in 2023:
---
---
What is Included in the I amsterdam Card?
When it comes to city passes in Amsterdam, the I amsterdam card is pretty tough to beat in terms of perks and value. Here is what the pass gets you:
Free access (and some discounts) to 70+ museums and attractions in Amsterdam: The main perk of getting an I amsterdam card is that it includes access to dozens of popular Amsterdam attractions and museums, including big ones like the Rijksmuseum and Van Gogh Museum (which does need a reservation, but it's included with your card)
Access to all public transportation networks in Amsterdam: As long as your I amsterdam card is valid, you can use it to ride public transportation in Amsterdam, from buses and trams to the Metro. All you need to do is tap your card, making the process a breeze.
A free Amsterdam canal cruise: One of the most iconic (and must-do) activities in Amsterdam is a little whirl on its canals, and a free canal cruise with various companies is included in the I amsterdam card.
Free I amsterdam guidebook: A lesser advertised perk, but I loved getting a little red pocket-sized travel book with my I amsterdam city pass that lists out the many attractions around Amsterdam included in the card. This was a really nice souvenir and was super helpful in planning my trip.
Other freebies around the city: While I don't feel that these are high value perks, I should still mention that the I amsterdam card gives you access to certain freebies around town like little taster samples of genever at De Drie Fleschjes, a free coffee at the Dutch Fortress Museum Naarden-Vesting, and more.
Discounts on bike/boat rentals, performances and other attractions: Last but not least, you can also think of the I amsterdam card as a giant red coupon, because you get a lot of different discounts on it for bike and boat rentals, musical performances and even other big attractions around the city like the Heineken Experience and Bodyworlds. While I don't think these are the best things to do in Amsterdam, they still make it to a lot of visitors' bucket lists, so that's another perk to consider if you're on the fence.
Ease of mind: Beyond the physical perks of this city pass, I think it's also important to mention many of the benefits that are equally as important, but not necessarily tangible, one of them being ease of mind. While for sure, purchasing individual tickets might end up being cheaper, the ease of mind that a pass like the I amsterdam card really is invaluable. With it, you can enter pretty much any museum, attraction or tram, scan your pass and go. If your goal is to have a stress-free trip where you need to make as few decisions as possible, then having this card will really help in that regard. It is also very helpful with…
Spontaneity and flexibility: When I have a packed itinerary, I'm usually very plan-oriented. What I found though was having this I amsterdam card really made me more spontaneous! If I happened upon a museum or attraction while exploring, I would check if my I amsterdam card would get me in. 90% of the time, it did, and I would pop in for a look. This is how I explored less common spots in Amsterdam like the Portuguese Synagogue.
---
---
How I Used my 24h I amsterdam Card
On my most recent Amsterdam trip, I decided to buy myself a 24h I amsterdam card in an attempt to see and do as much as possible.
Of course, the following itinerary is jam-packed, and definitely not something I would recommend for a first-time visitor.
This was a very tiring itinerary but I did it to a) test out the various attractions in Amsterdam and report back on what I think is worth it and b) to test the limits of this card and see how much you can reasonably do with it!
Below I list out all the spots I was able to hit up in 24 hours, along with how much a regular ticket would have been.
As you'll soon see, you can EASILY get your value back with this card if you hustle.
Here's a breakdown of what I did (although this is purely for your reference! I wouldn't recommend replicating it unless you drink ten cans of Red Bull):
Stop #1: Van Gogh Museum
Regular ticket price: €19
I started my I amsterdam city pass journey at the Van Gogh Museum, one of the most famous museums in Amsterdam.
NOTE: This was actually, believe it or not, an accident.
Here's what happened: I actually didn't think I'd get to visit the Van Gogh museum because with the I amsterdam card, time slots must be booked in advance, and I had been told they were all gone for the day.
BUT as I sipped a beer and stuffed my face with bitterballen in a cute pub, I found a last minute ticket slot for the next day and booked it. A few minutes later, I glanced down at my email confirmation and realized in my munchin' stupor, I booked it for THAT DAY and not the next.
Realizing I only had 30 minutes to make the reservation, I literally stuffed four bitterballen in my mouth and ran across town, making it just in time for my 2pm reservation.
SO, with my I amsterdam 24h card, this meant that I would have until 2pm the next day to make use of my pass… The Van Gogh museum was great – I really enjoyed it and consider it a must for anyone familiar with his work (AKA everyone on planet Earth).
It was fascinating getting to learn more about him as an artist, and put all his most famous works into context with his life story.
However, it quickly got too stuffy and crowded for me, so it was onwards to the next…!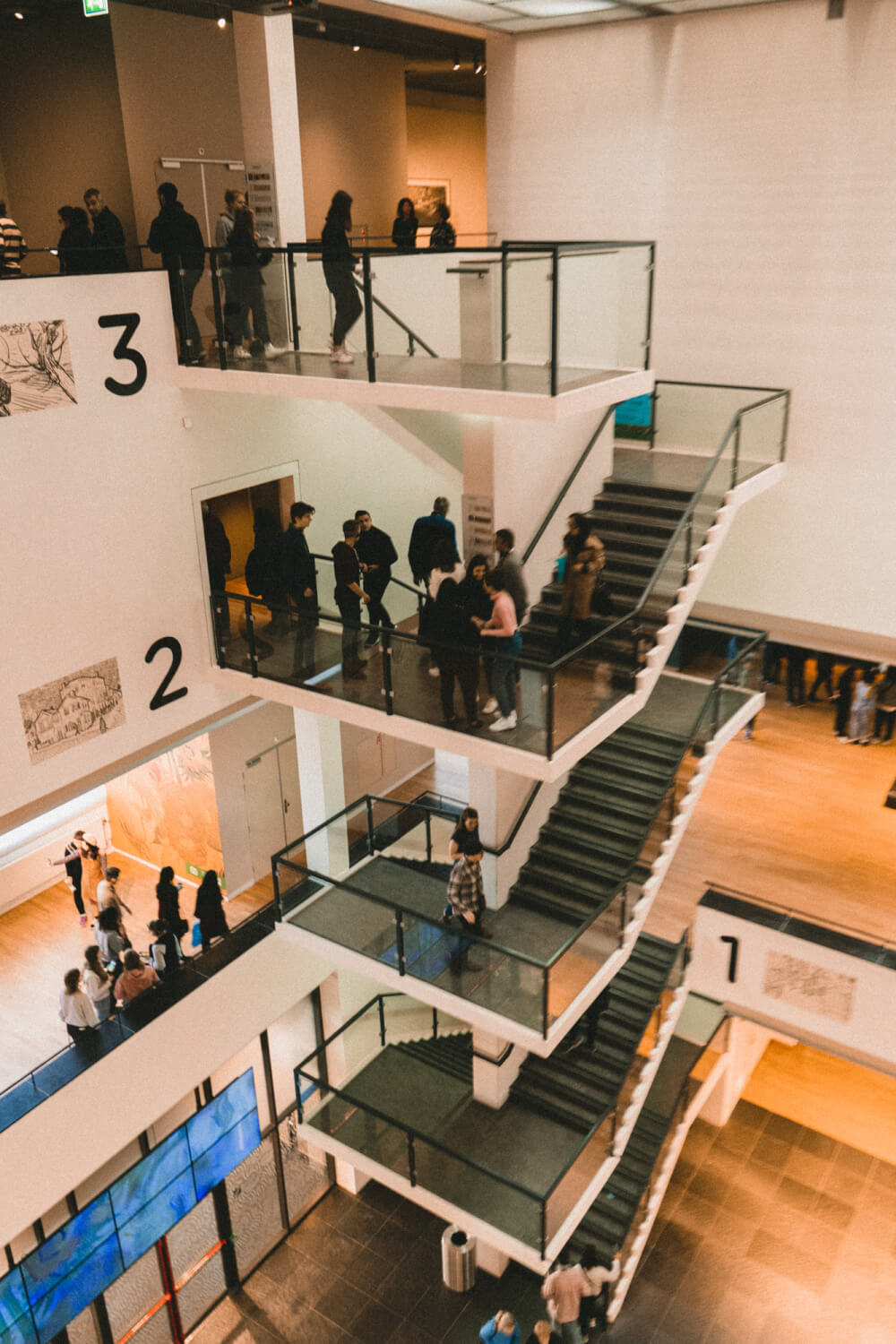 Stop #2: The Stedelijk Museum
Regular ticket price: € 18,50
One good thing about visiting the Van Gogh museum first is that you are then in Museumplein, and within close walking distance to many of Amsterdam's other most famous museums (which are pretty much all included in the I amsterdam card!)
After visiting the Van Gogh musuem, I headed over to the Stedelijk Museum dedicated to modern art and design. I enjoyed it a lot – the space was beautiful and a lot of the displays were bold and interesting.
Modern art lovers definitely need to stop by here, if even to look at this thoroughly pessimistic wall: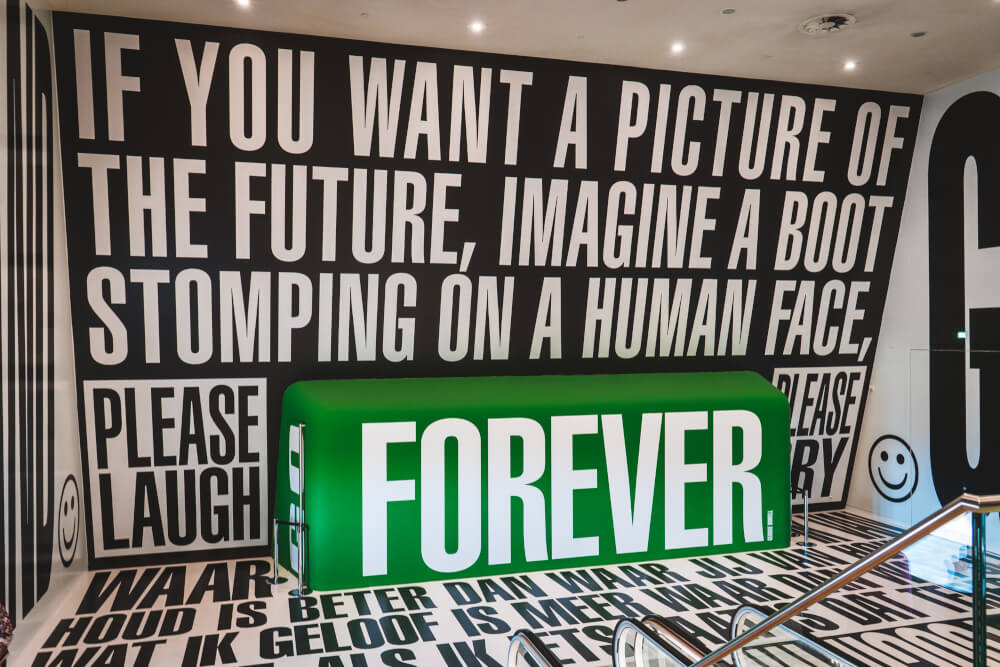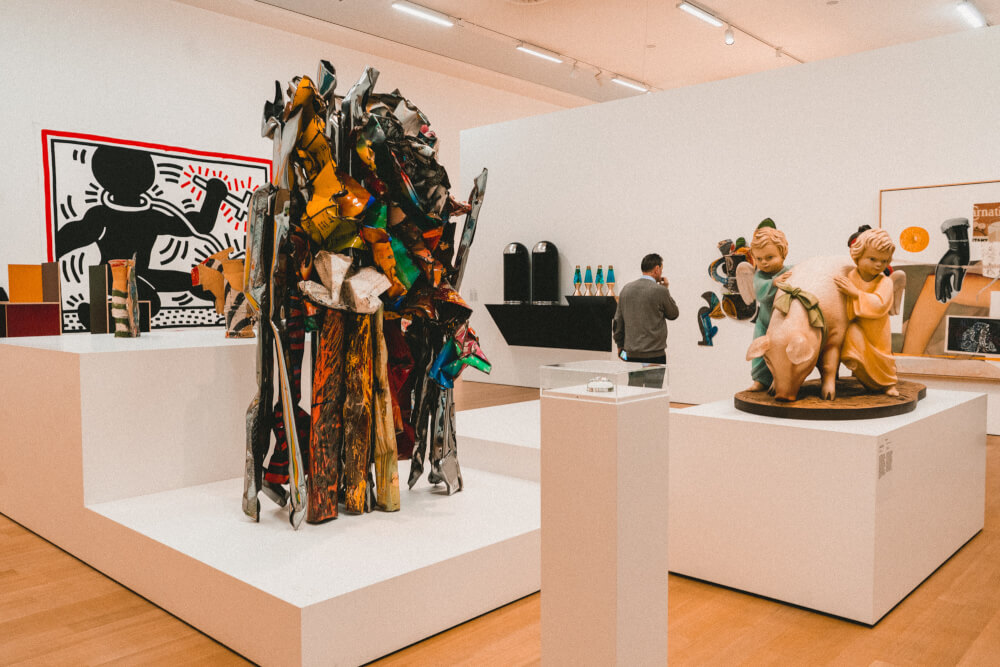 Stop #3: Rijksmuseum
Regular ticket price: €20
Of all the museums in Amsterdam, this one is probably the most famous. The Rijksmuseum is to Amsterdam as the Louvre is to Paris.
Funnily enough, it took me my fourth visit to actually come here, and I'd say it was definitely worth it.
The hidden library (which is hilariously difficult to find) is a gorgeous highlight, but the entire museum itself is just SO massive and beautiful – well worth a stop, especially when it's free and included in the card.
Note: it gets very crowded here. I intentionally timed my visit for near closing time, so the crowds were significantly less than during peak hours, but it was still very busy.
You'll find that crowds near the entrance are the worst, and quickly thin out as you get deeper into the museum, so my best tip is to go in, walk as far as possible, then work your way backwards to the exit.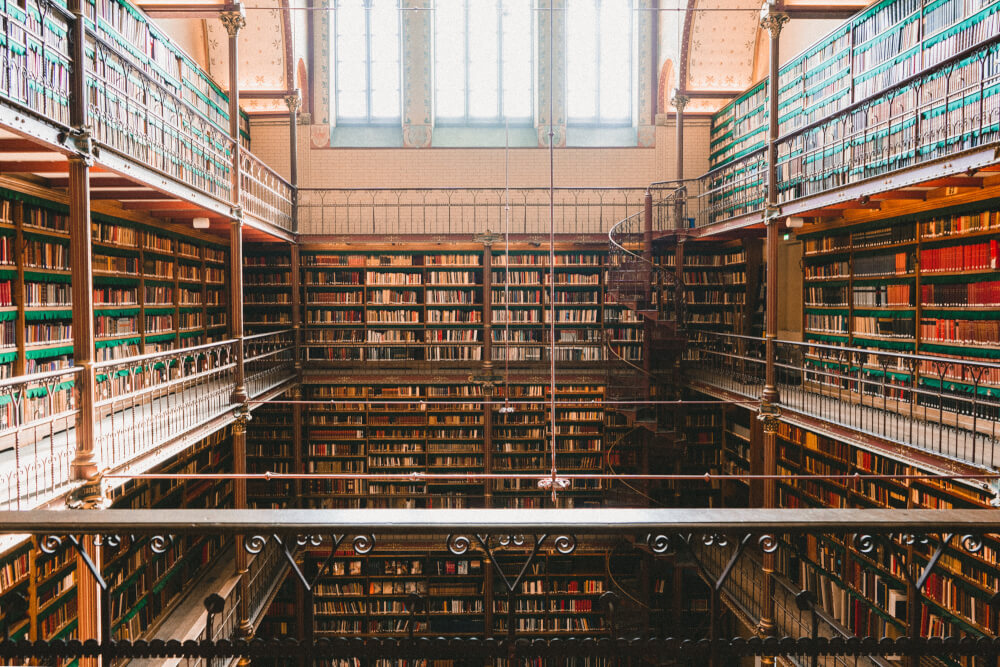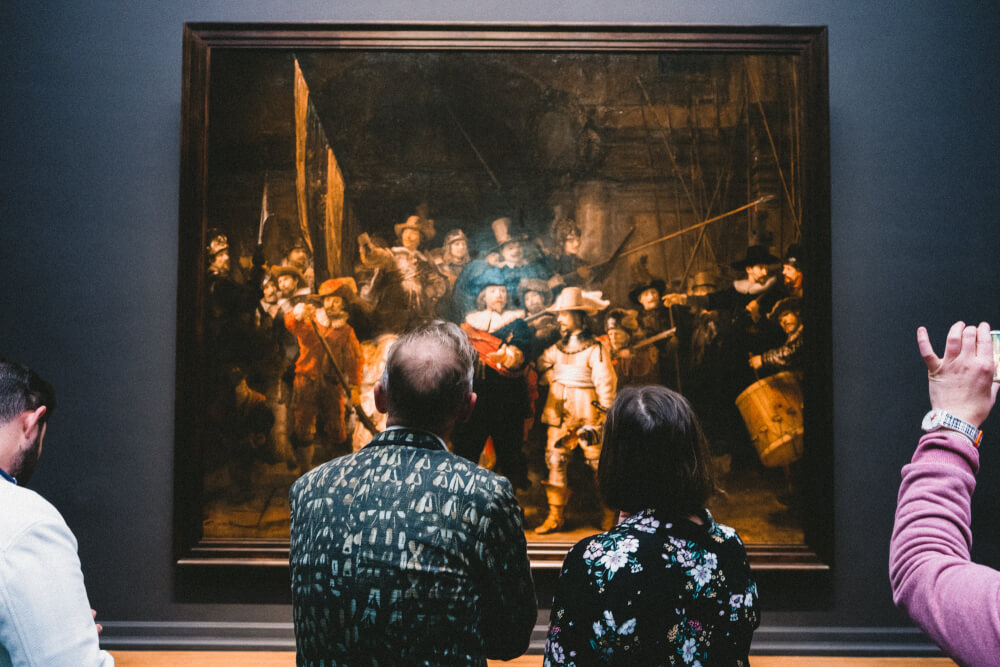 Stop #4: Amsterdam Pipe Museum
Regular ticket price: €10
This was one of my favourite museums I visited in Amsterdam, mainly because it was so quirky and different.
Tucked away in a little pipe shop, you'll find one of the world's largest collections of elaborate pipes, staffed by enthusiastic pipe experts who volunteer at the museum for fun.
It's a tiny museum located in a little canal house, so won't eat too much time out of your schedule, and is just so darn quirky and cute.
PS: At this point, you might notice that I have already made up the entire 60 euro value of the 24h pass, and I still have the next day to go! Combining all four of these stops I made, the admissions would have totalled to 67.50, meaning I've already saved myself 7.50 at this point. Pretty wild right?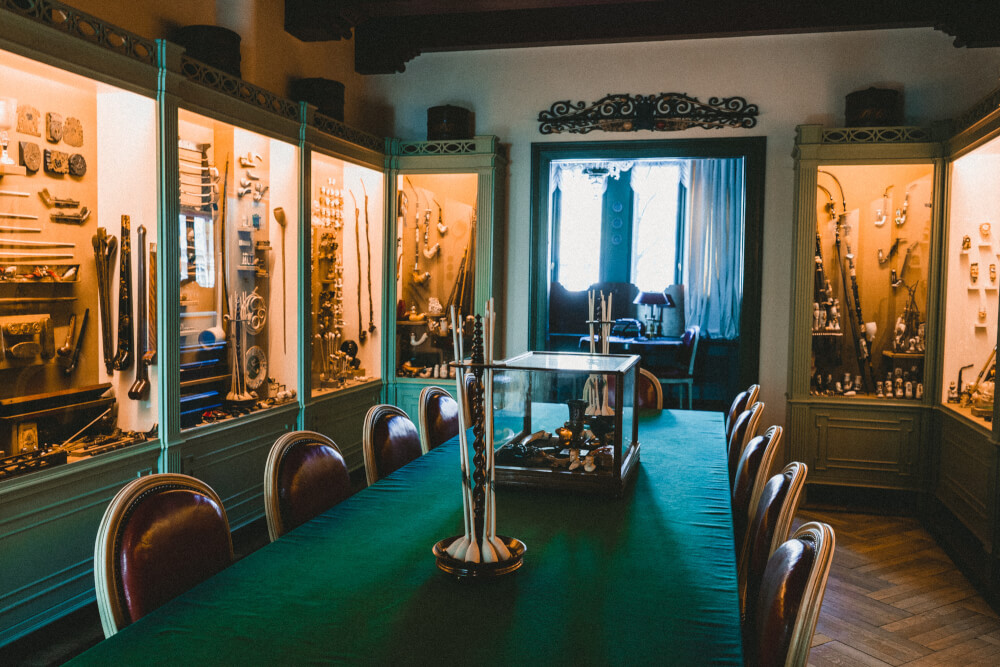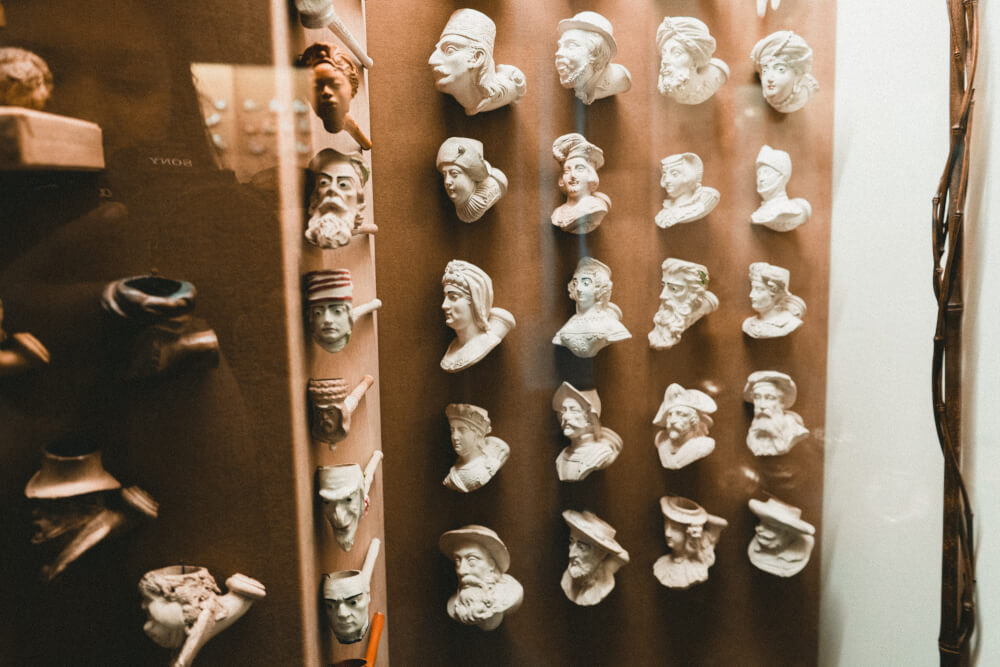 Stop #5: Huis Marseille – Museum for Photography
Regular ticket price: €9
Amsterdam has a few different museums dedicated to photography, but I chose the Huis Marseille because of its proximity to other I amsterdam city card sights and its picture perfect garden, which I got to visit during Secret Garden Days a few years ago.
While the displays rotate, it's quite cool to visit this museum because it's spread across two canal houses, so you get to admire beautiful thought-provoking displays while snooping around the interiors of the house. Really fun, and of course, included in the I amsterdam card, so how could you go wrong?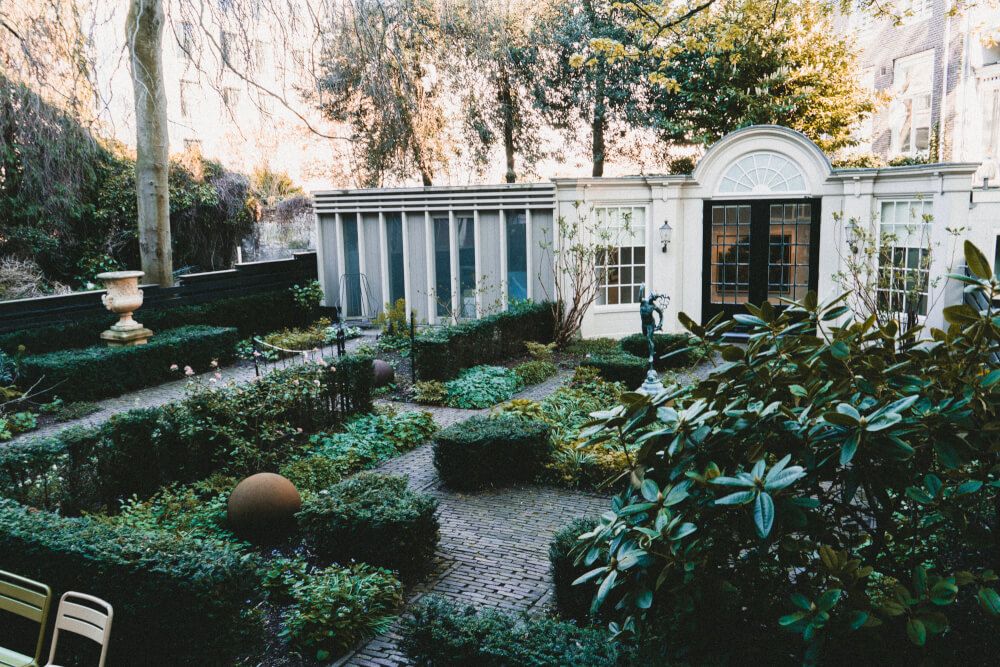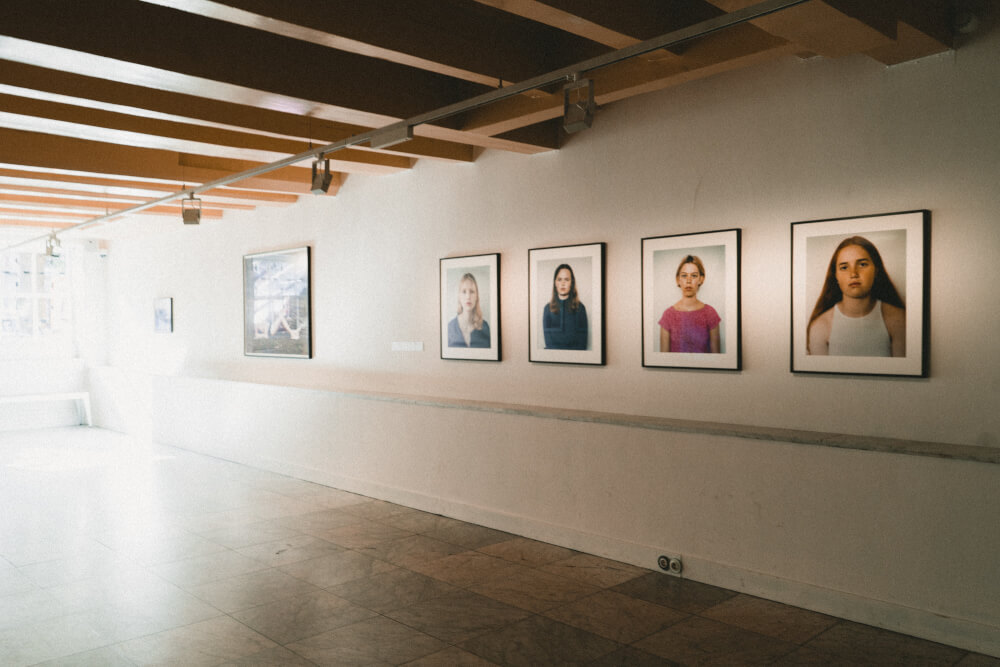 Stop #6: LOVERS Canal Cruise
Regular ticket price: €18
If I could pick one activity as a must-do in Amsterdam, this would be it.
Sure it's painfully cliched, but a canal cruise in Amsterdam really is one of the best ways to see the city.
Enjoying one at sunset is the best idea too with an I amsterdam card because a) the city is especially droolworthy when it starts to light up and b) a canal cruise is pretty much the only activity you an do on the card after 6pm, so if you want to make the most of your card's validity time, save your cruise for after all the other attractions have closed.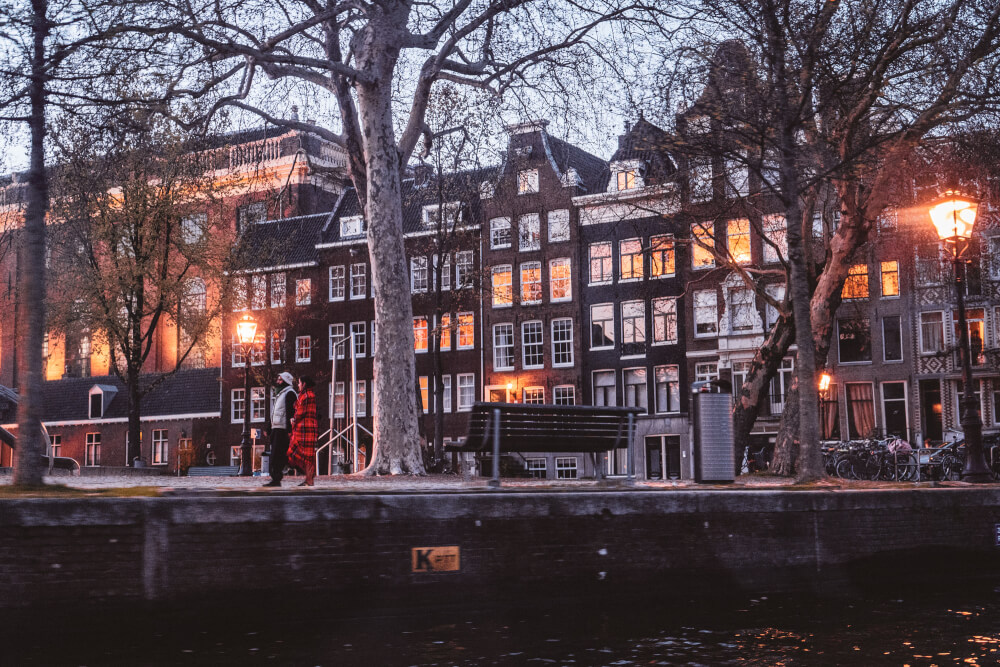 Stop #7: NEMO Science Museum
Regular ticket price: € 17.50
The next day, I woke up bright and early to visit some more museums with my I amsterdam card. Remember, I scanned my pass for the first time at the Van Gogh museum at 2pm, which meant I had until 2pm the next day to frolic around and visit more attractions.
I was staying very close to the NEMO Science Museum, so I was the eager beaver who was there as soon as the doors opened.
To be honest, as I entered, I quickly realized that this was not my kind of museum. It's one of those interactive science museums more meant for kids (I have been to loads in my day), so I took a quick look around and enjoyed the view from the roof.
The rooftop view was honestly my #1 motivation for coming to this museum, but I found out later there's a set of stairs you can follow just outside that give you access WITHOUT paying for the museum.
So, if you aren't terribly interested in kiddie science stuff, I would skip using the I amsterdam card here and instead just come for the free view another time.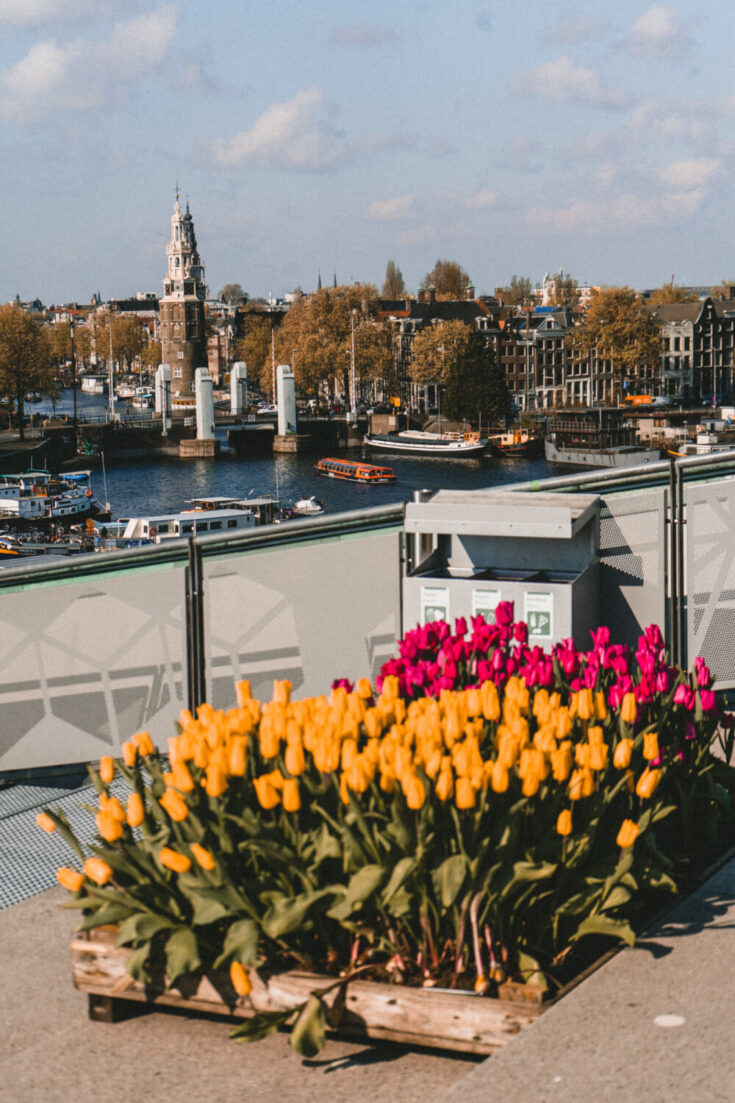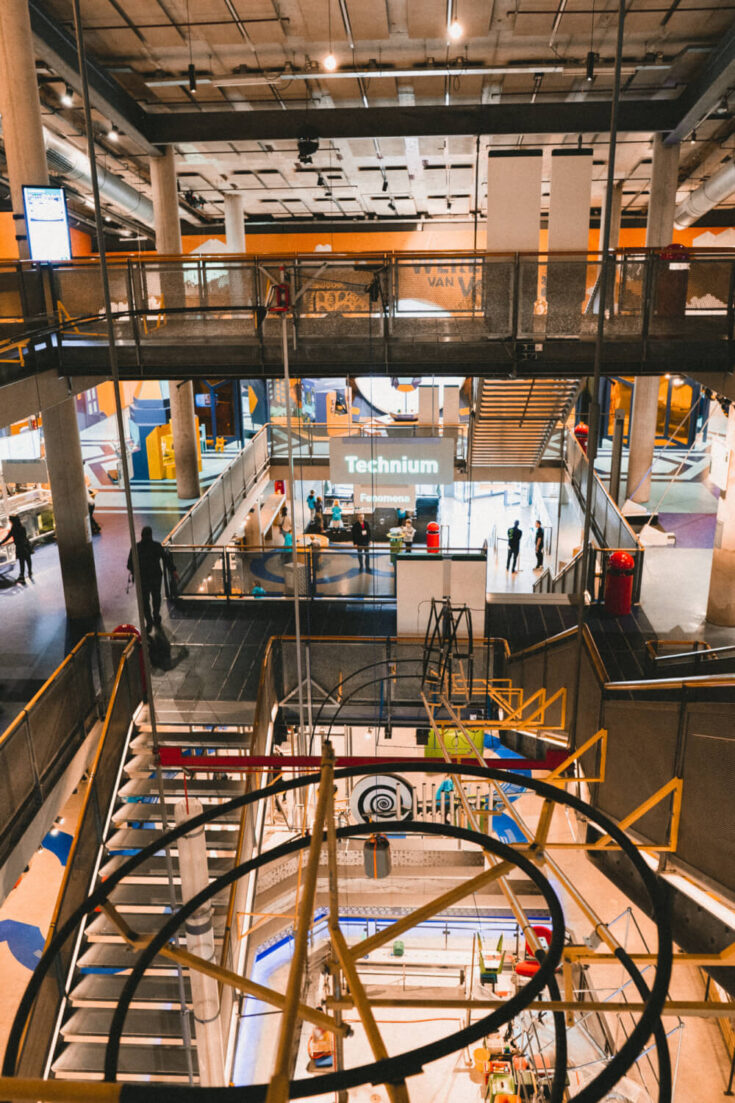 Stop #7: The National Maritime Museum
Regular ticket price: € 16.50
A short walk away from the NEMO Science Museum is the National Maritime Museum, which I found surprisingly interesting and cool.
This is another museum that's popular with kids and school trips (especially in the model replica of the boat) but if you venture further into the different corridors of the museum (it's huge!), you'll find a lot of cool little treasures and educational displays about the maritime history of the Netherlands, with the happy bonus of much, much fewer crowds.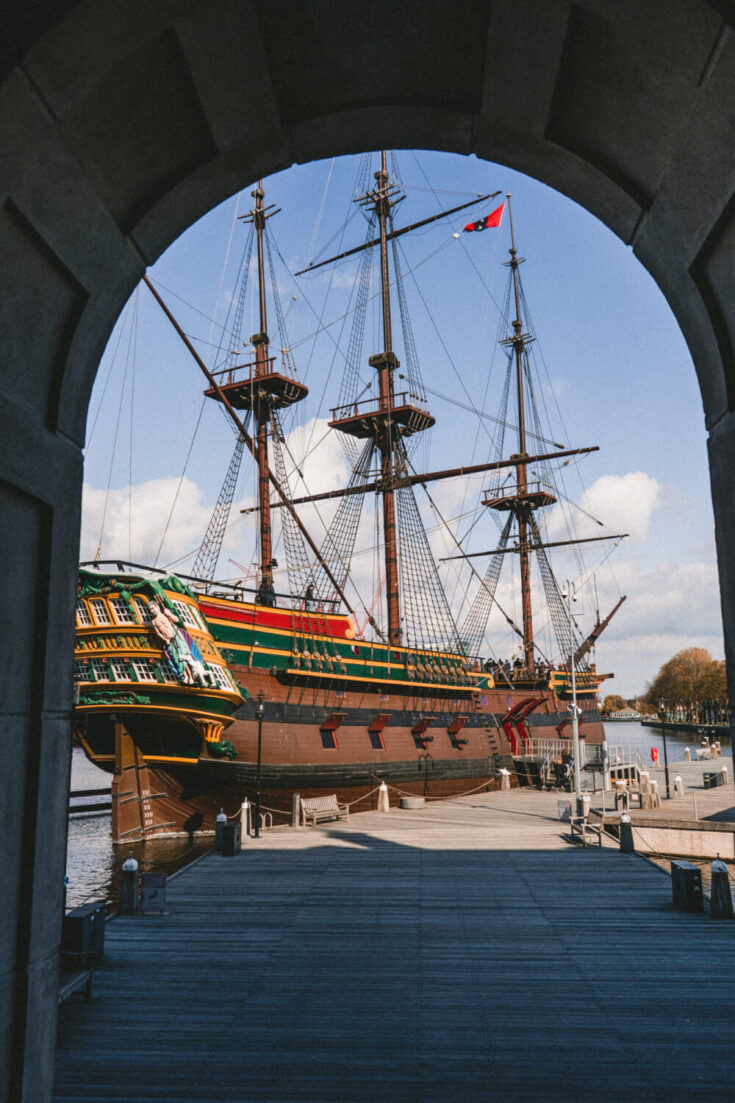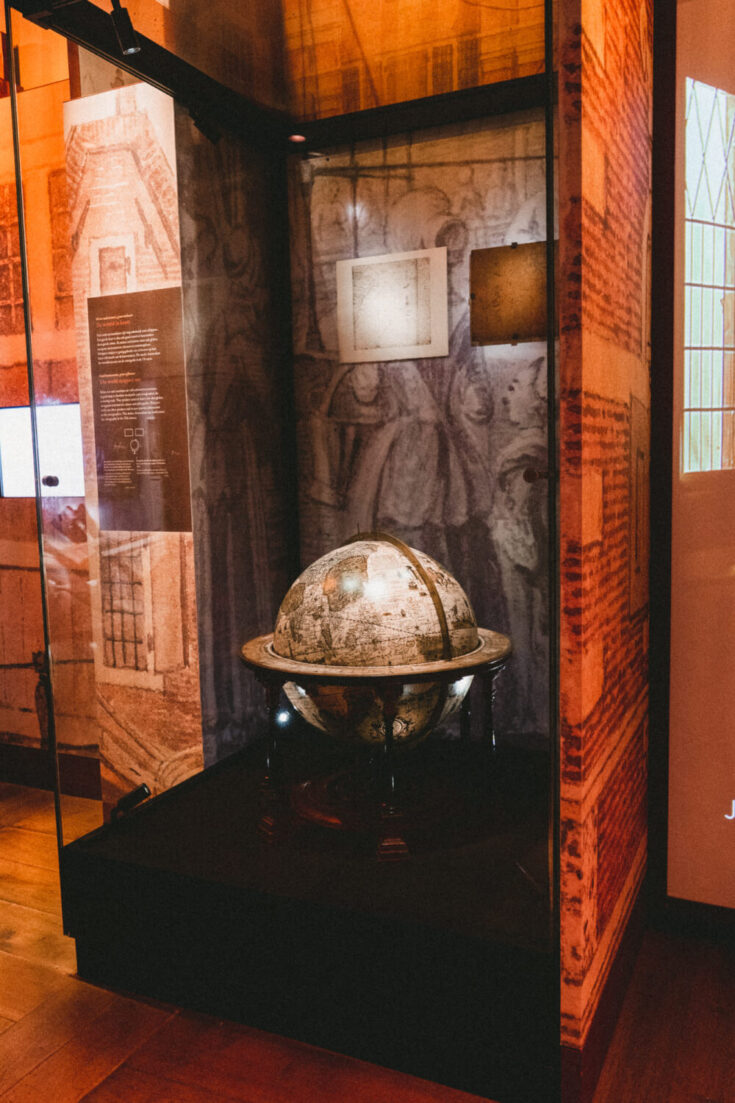 Stop #8: The Tropenmuseum
Regular ticket price: €15
Truthfully, if I were to pick my least favourite museum I visited with my I amsterdam card, it would be the Tropenmuseum.
While in theory, I would love to stand behind a museum dedicated to ethnology, the majority of the displays left me feeling a little bit uncomfortable.
Many of the items on display were acquired as a result of colonial theft (something they are actively trying to rectify), and many parts of the museum still reflected to me the origins of this museum as a Museum of Colonisation (which was its original intent when it opened in 1864).
Back in this day, the museum's goal was to showcase artifacts and "treasures" from its overseas colonies, as well as demonstrate life in these colonies.
As I'm sure you can imagine, such displays would often perpetuate tropes of "the other" and sustain stereotypes about other cultures from around the world.
For this reason, I really did not enjoy my time at the museum, although it seems that they are making an active effort to decolonize the museum and improve the way they communicate about other cultures, which is at least a step in the right direction.
All that said, with such a rich diversity of museums to visit in Amsterdam, I wouldn't choose this to be the place to learn about global cultures because many of the exhibitions to me felt sanitized of any colonial wrongdoing…. probably to tone content down for kids.
ANYWAYS, getting off my soapbox, I wouldn't recommend this museum, plus it's quite far from other main attractions so I don't personally feel it's worth going out of your way to visit, although the building that houses it is truly gorgeous.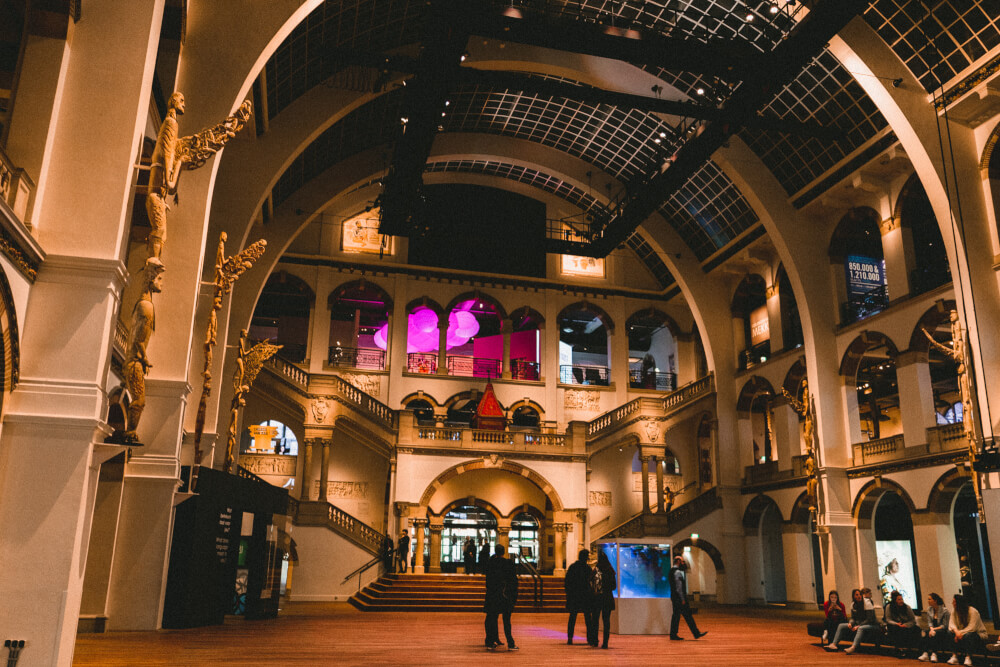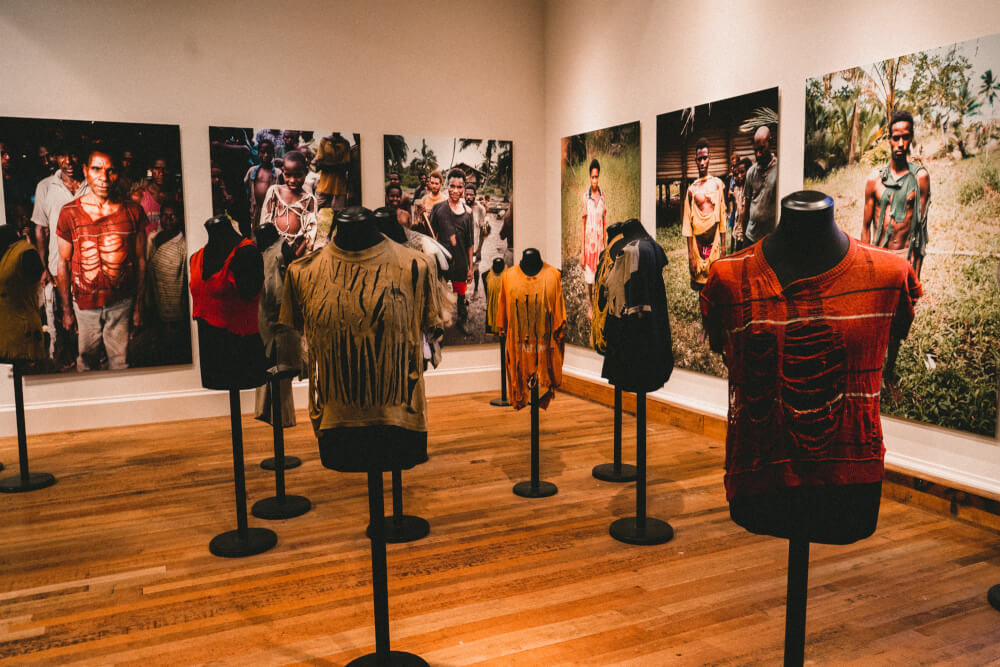 Stop #9: The Portuguese Synagogue
Regular ticket price: €6.50
I really wish I had spent more time exploring Amsterdam's Jewish Quarter, but I only had time to visit one of its museums, so I chose the beautiful Portuguese Synagogue.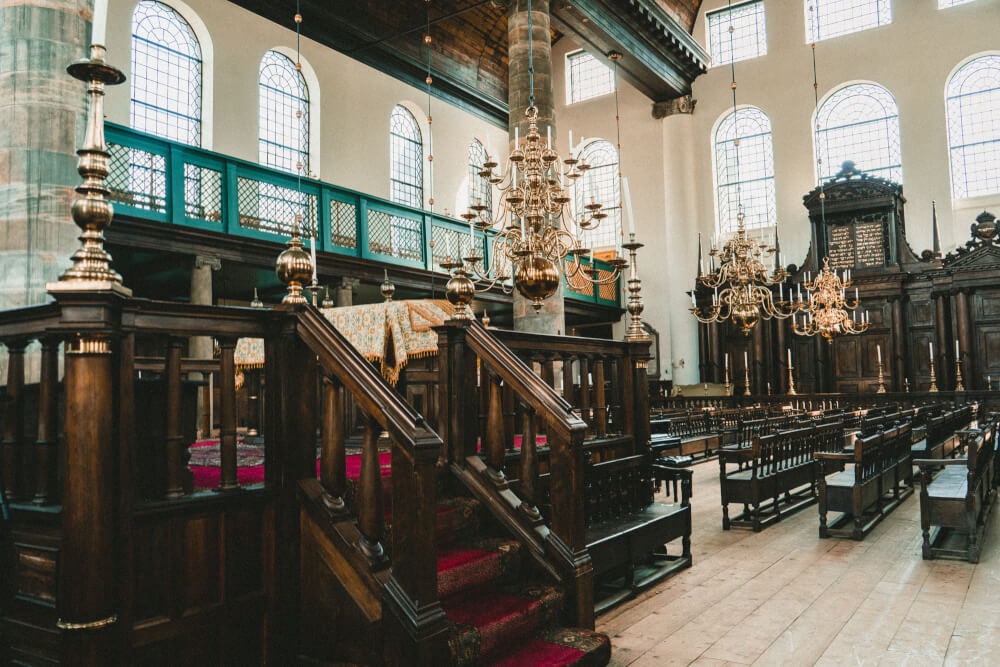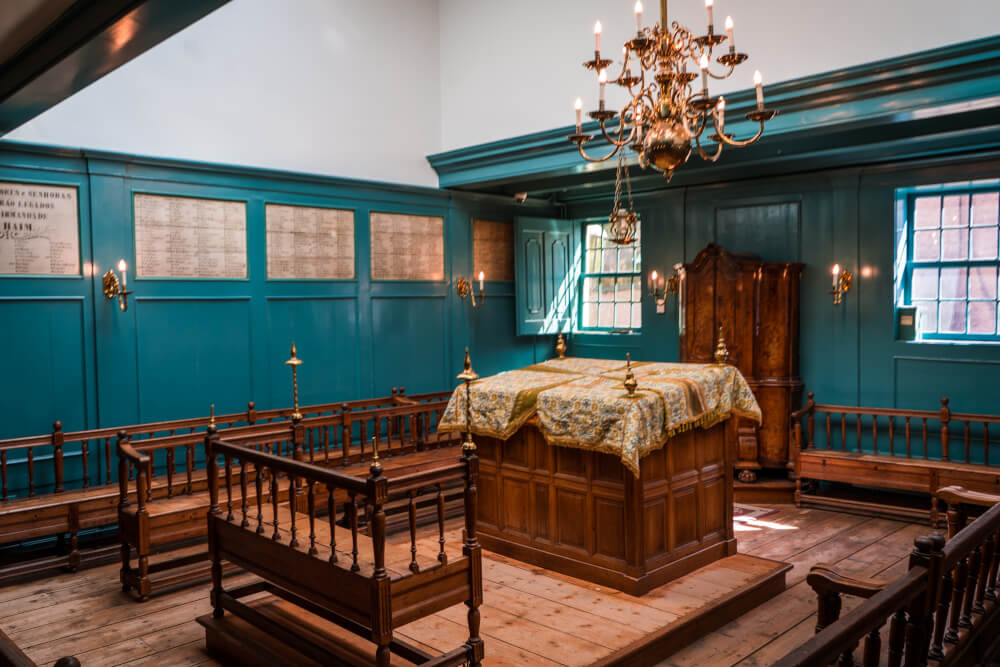 This synagogue can be visited quite quickly and is a beautiful place to escape the bustle of the city and learn a bit more about the city's Jewish heritage.
NOTE: Don't come in here expecting to visit the gorgeous Ets Haim Jewish library, the oldest functional Jewish library in the world. It's sadly not open to the public during these visits.
Stop #10: Museum Willet-Holthuysen
Regular ticket price: €12.50
There are a handful of house museums that you can visit in Amsterdam which aim to show you what life was historically like in those beautiful canal houses people love to photograph so much.
The most popular of these house museums include Museum van Loon and Museum Willet-Holthuysen, both of which are included in the I amsterdam card. I chose to visit Willet-Holthuysen and loved it!
The garden here is gorgeous and the house itself is wonderfully opulent. It can get a little crowded if there are a lot of visitors, but I visited in the early afternoon and it was fine.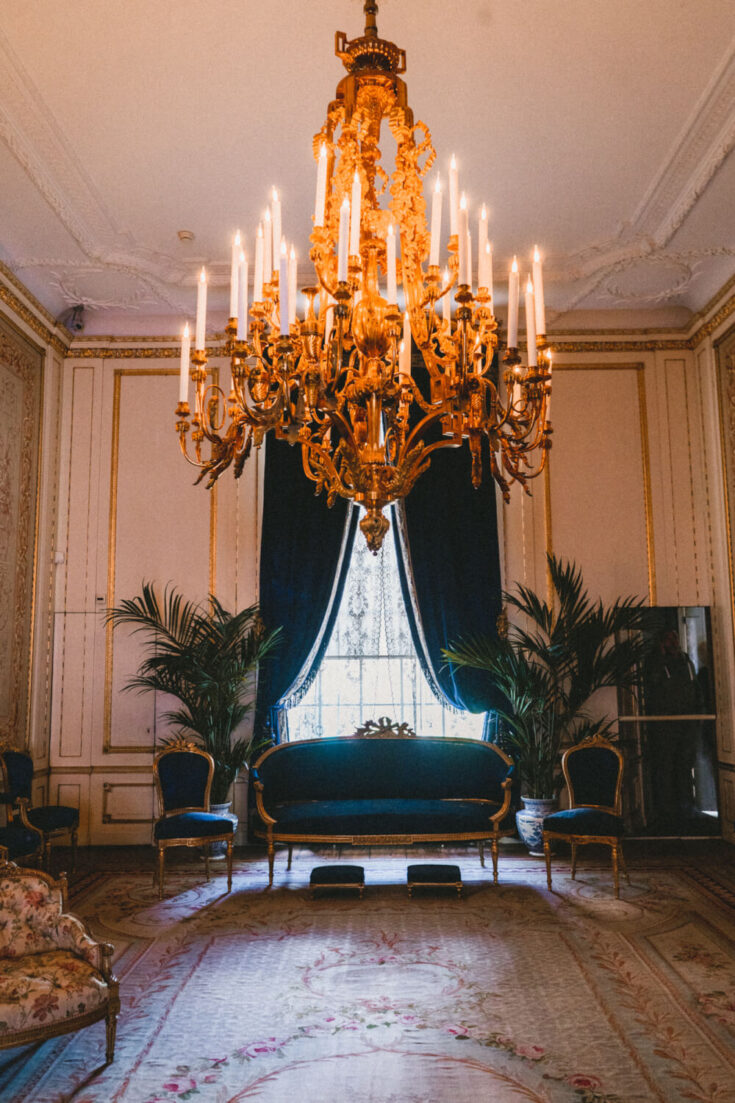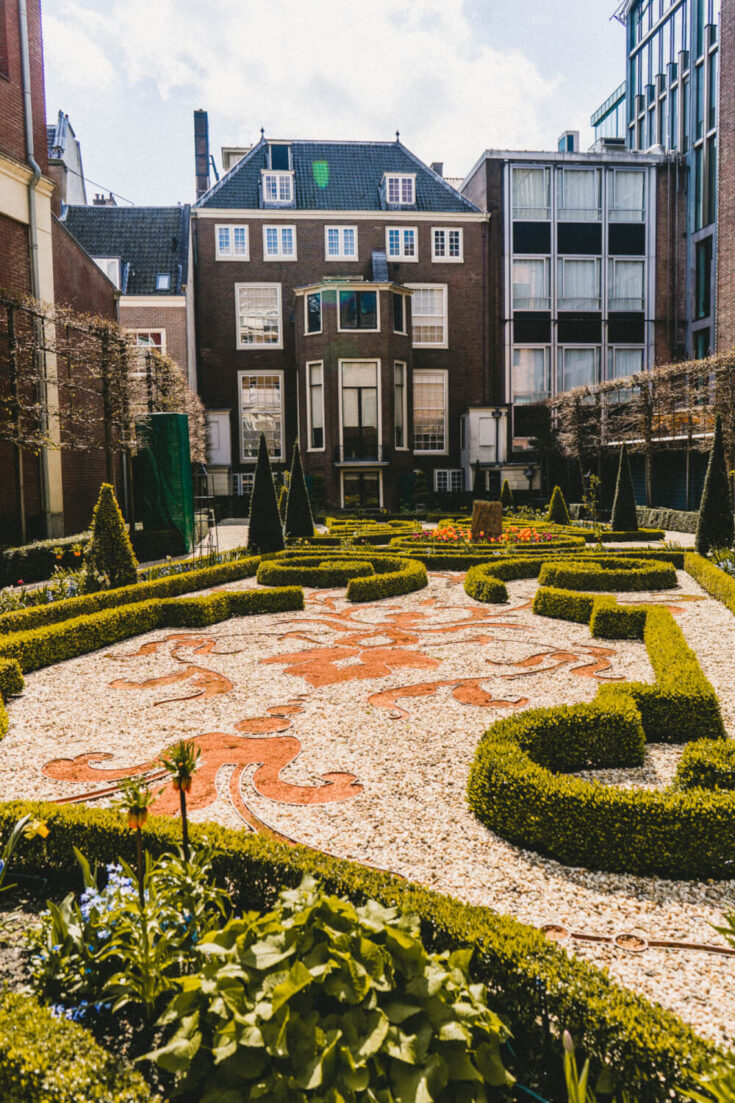 Stop #11: The Museum of Bags and Purses
Regular ticket price: €13
NOTE: Unfortunately this museum officially closed during the pandemic and was never able to re-open. I've left the info below just for your reference.
Another one of Amsterdam's quirkier offerings is the Museum of Bags and Purses.
I really enjoyed my time here – the staircase is an unexpectedly beautiful hidden gem, and the contents of the museum (literally different bags and purses) was really interesting. Many don't realize how the development of fashion ties so deeply into the evolution of women's rights, but the two go hand in hand and it's all very fascinating to see… plus, it's one of the largest bag collections in the world, so why not?
The best part is this museum is relatively unknown to most first time visitors, so you an expect very few crowds here compared to the main museums in Amsterdam.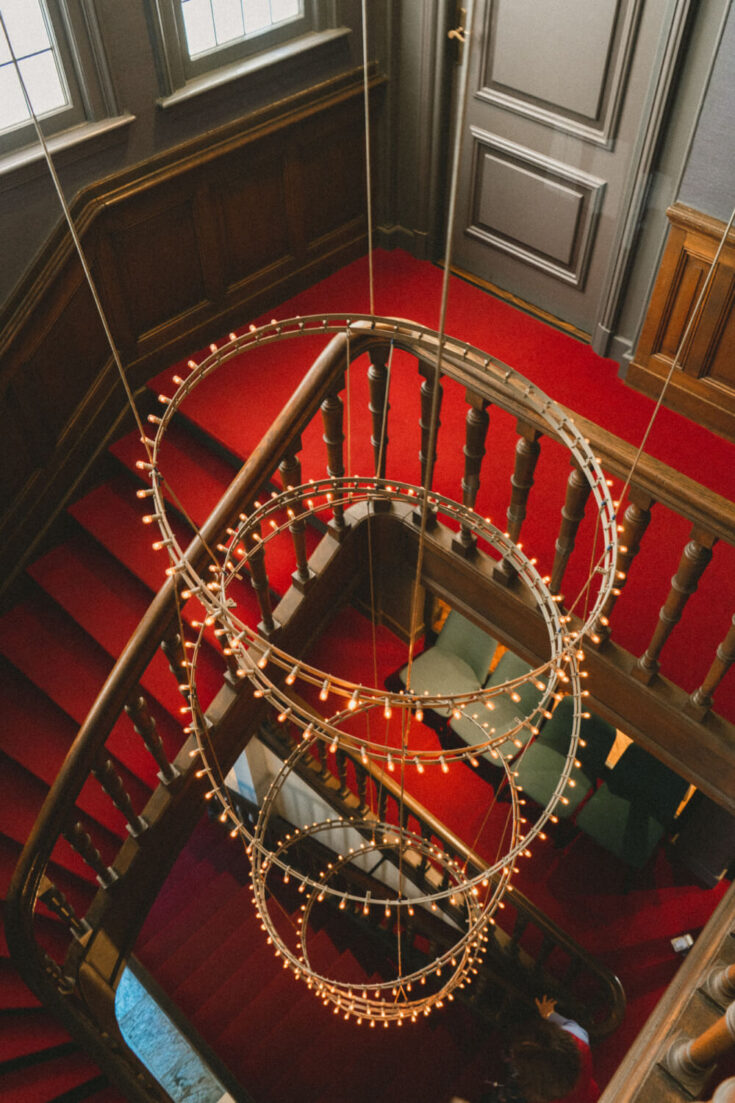 Stop #12: Museum Ons' Lieve Heer op Solder
Regular ticket price: €12.50
Last but not least, just before 2pm (the expiry of my city card), I slid into the Museum Ons' Lieve Heer op Solder, one of my favourite stops on my I amsterdam card crawl!
This 17th century canal house is home to a fascinating secret church, one of many "clandestine churches" that popped up in the 1600s when Catholics weren't able to worship in public anymore due to the rise of the Dutch Reformed Church.
Built into the top floors of a canal house, this secret attic church is one of the most interesting secrets of Amsterdam, and the audio guide tour which leads you through the many floors offers fascinating insight on the history of the house and what life was like back in the day.
Really, this is one of the few museums where I listened to every number on the audio guide! It's that good. I highly recommend it.
……. And so, by the end of this 24 hours, I visited the equivalent of 188 euros worth of museums and attractions for only 60 euros! That's over 120 euros of savings. Pretty wild right?
NOTE: This also doesn't include the many tram rides I took (at least 4, but I lost count).
So, as you can see, getting your money's worth with this card is a piece of cake, even if you don't rush from attraction to attraction like I did.
---
---
Final Tips for Making the Most of Your I amsterdam card
So, if you are planning to buy an I amsterdam card, I'll leave you with a few final tips so that you're able to maximize the value of it. Trust me, follow these tips and there's no way you won't get your money's worth.
1. Book the Van Gogh museum in advance, but also try checking the day-of or day before
Most of the museums and attractions included with the I amsterdam card allow you to just walk up to the front desk and exchange your I amsterdam card for entry. The one notable exception is the Van Gogh museum, which requires booking a time slot (for free) online in advance.
When I purchased my pass, the sweet staff member at the cash desk told me that unfortunately Van Gogh tickets were all booked up for the week. I was a little disappointed, but figured there were plenty of other museums to see.
Out of curiosity, I decided to check the timeslots while sitting in a pub for lunch, and lo and behold – there were a small handful of time slots for that day and the day after, presumably due to cancellations.
SO, don't lose hope – there may be tickets released last minute for the Van Gogh museum, just check it out.
2. Make note of the museums that open/close early and plan around them
The operating hours at Amsterdam's many museums and attractions can vary a great deal, so I highly recommend you make note of the ones that you want to see and then write down which ones open/close the earliest. Planning is crucial!
You should know for instance that while most museums open at 10am, two notable exceptions are the National Maritime Museum and Van Gogh Museum, which both open at 9am.
Similarly, while most museums close at 5, a few are open later than that. Museums that close at 6pm include the Huis Marseille, the Foam Fotografiemuseum Amsterdam (actually open until 9pm Thursday/Friday), the Stedelijk Museum, and the Museum Ons' Lieve Heer op Solder. The Botanical Garden is also open late until 7pm during the summer.
By planning your schedule around these museums/attractions, you're able to maximize the duration of your I amsterdam pass validity.
3. Star your desired attractions on Google Maps to see what's close together
A big mistake one could easily make with the I amsterdam card is jumping from attraction to attraction without lumping the close ones together.
I always star my 'to do list' on Google Maps so that I have a visual representation of all the different spots I want to visit.
This way, I know I'm not wasting time darting across town (or doing day trips) when I could easily clump many spots together.
4. Save a time-consuming museum or attraction for last
An important thing to note is that so long as you arrive at the museum and scan your ticket before your I amsterdam card expires, you're free to enter.
This means that if your card expires at 4pm, so long as you redeem your ticket by 3:59pm, you can stay at the museum as long as you need to, even until closing time.
This is SUCH a key piece of info to keep in mind if you want to make the most of your I amsterdam card because now you know to save one of the most time-consuming activities for last!!
For me personally, I knew I wanted to spend a good deal of time in the Museum Ons' Lieve Heer op Solder, which closes later than most museums too at 6pm, so I saved that one for last and entered right before my card expired at 2pm.
5. Do the most popular museums as soon as they open or close
There are some museums in Amsterdam that are busy no matter what, like the Rijksmuseum.
If you want to enjoy the most peaceful experience possible at big names like this, then head to them as soon as they open/close.
An exception to this would be the Van Gogh museum, which enjoys a relatively controlled crowd amount given its mandatory reservation/timeslot policy.
That said, the time slot system doesn't prevent people from staying for a really long time, so the morning would still be the best time to book a visit slot if you want to avoid crowds.
6. Activate your pass in the afternoon, not the morning
This tip is most relevant for 24h I amsterdam card holders, but keep in mind that these cards are valid for x number of hours after you validate them, (e.g. 24 hours post activation, 48 hours post activation, etc).
For me personally, I found it best to activate mine in the afternoon (at 2pm) because this gave me two days essentially to use the pass, and I got to take a break and rest in the evening.
On the other hand, if you were to activate your pass at 9am, then you would have to get through all your sights on that first day, which is a lot more tiring than splitting it up into two like I did.
7. If you are buying a short-term I amsterdam card, don't fill your day with non I amsterdam card activities
Last but not least, I should note that if you are working with a 24h or 48h I amsterdam card, you really need to plan your days properly to ensure you get the most value out of your passes.
I would strongly recommend that you group all your I amsterdam card activities together and save additional activities for after your card expires.
In other words, don't activate your I amsterdam card in the morning at the Rijksmuseum, then hop over to the Anne Frank House (not included) before doing something else! Instead, save any non-I amsterdam card activities for days when your card isn't valid.
---
---
So, is the I amsterdam Card Worth It? The Final Word
If you plan to visit a lot of museums and attractions in Amsterdam, I do really think the I amsterdam card is great value.
To figure out whether or not it's right for you, simply write down all the attractions you want to see when you're in Amsterdam, find out their full price tickets and total them up. If they total more than 60 euros, odds are good that the I amsterdam card would be worth it.
If however, you're more of a relaxed traveler and you don't really want to hop around from attraction to attraction throughout your trip, then you're better off paying for 1-2 attractions you want to see instead of getting the card.
That said, don't forget that a huge part of the card's value is in the ease of mind and convenience it brings – especially when it comes to public transportation, so if you like being able to relax without thinking too much about cost, then this pass really is a great purchase.
Due to time constraints, I was only able to demonstrate the use of a 24h I amsterdam card, but as you can see in the price breakdown below, the cost per day decreases significantly as you purchase longer passes, which means you'll easily get your money's worth if you decide to stay in Amsterdam for a longer time.
My overall conclusion is yes, the I amsterdam card is worth it if you know how to strategically make use of it, and with the tips I mentioned above, I'm sure you'll be able to do just that!
For your reference again, here are the different passes you can buy and their costs:
---
---
Any more questions about the I amsterdam card?
Let me know in the comments below! Have a great trip 🙂
---
---
---
Watch my most popular YouTube video this week:
---