*FYI - this post may contain affiliate links, which means we earn a commission at no extra cost to you if you purchase from them. Also, as an Amazon Associate I earn from qualifying purchases. Check out our Privacy Policy and Disclosure. for more info.
Munich's Frühlingsfest (Springfest) may best be known for its seemingly endless flow of beer, but a woefully underrated part of this festival is the amount of great food you can inhale while partaking in the drunken revelry.
I mean, sausages longer than your torso, sugary crack-like almonds, and all the meat and cheese you can handle?
Sign. me. up.
So, are you curious about the different food options you can enjoy while attending Frühlingsfest this year? Here are some photos and notes I took of the main food options around the festival!
Food Options Inside the Frühlingsfest Tents
One of the most obvious options for grabbing food at Frühlingsfest is simply dining inside the tents.
Both of the main beer tents have extensive menus dishing out a variety of hot/cold Bavarian classics.
If you're completely new to Munich, then some must tries are: roasted chicken, pork knuckle or roast pork, pretzels, Obatzda, and Käsespätzle.
These will all be available in abundance at either tent. I'll explain some of the more unique offerings of each tent below!
Looking for more Frühlingsfest tips? Click here for a full rundown of the different tents, rides and attractions at Frühlingsfest!
OPTION A: Festhalle Bayern
If you want to try delicious Bavarian food for CHEAP, come to the Festhalle Bayernland for lunch.
They offer a lunch special on weekdays from 11am-3pm with a meat/veggie option each day that is only 6.90. Click here to see their full menu.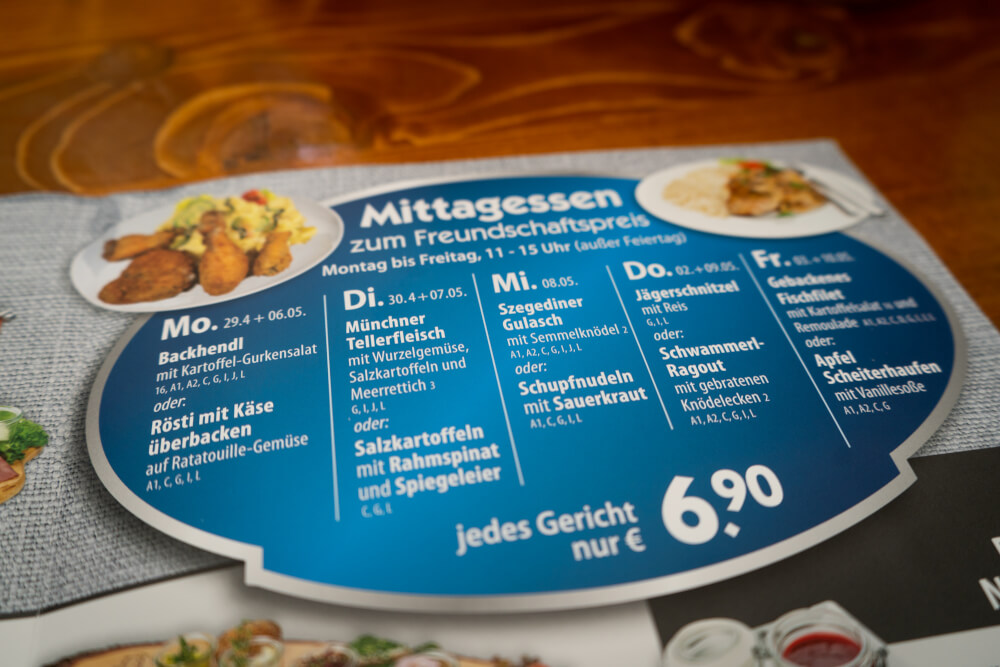 They also serve a wide variety of Bavarian classics including my favourite: Schweinsbraten! Here's a peek at their menu and pricing: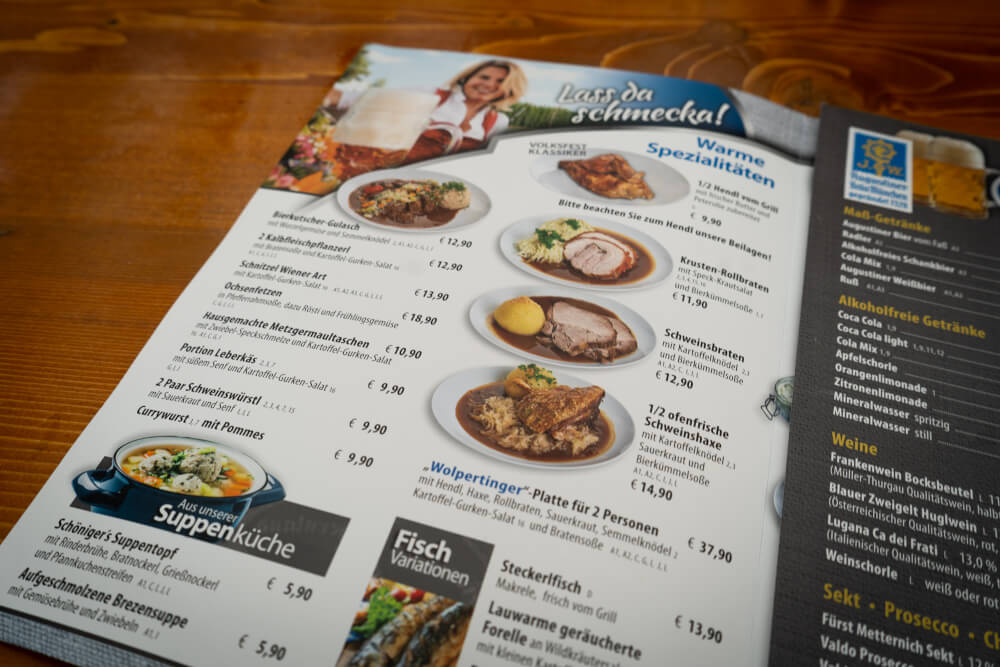 Another super typical Bavarian thing to have is "Brotzeit" (literally translated to bread time).
This usually refers to a platter full of different cold cuts, cheeses, and dips to enjoy with bread. The Festhalle Bayern has a huge selection of Brotzeit to choose from, so if you're looking for an easy dish to share, this might be a good idea.
If you can, I would make sure to try some Obatzda while you're here. It's this amazing Bavarian cheese dip that is heavenly when paired with pretzels!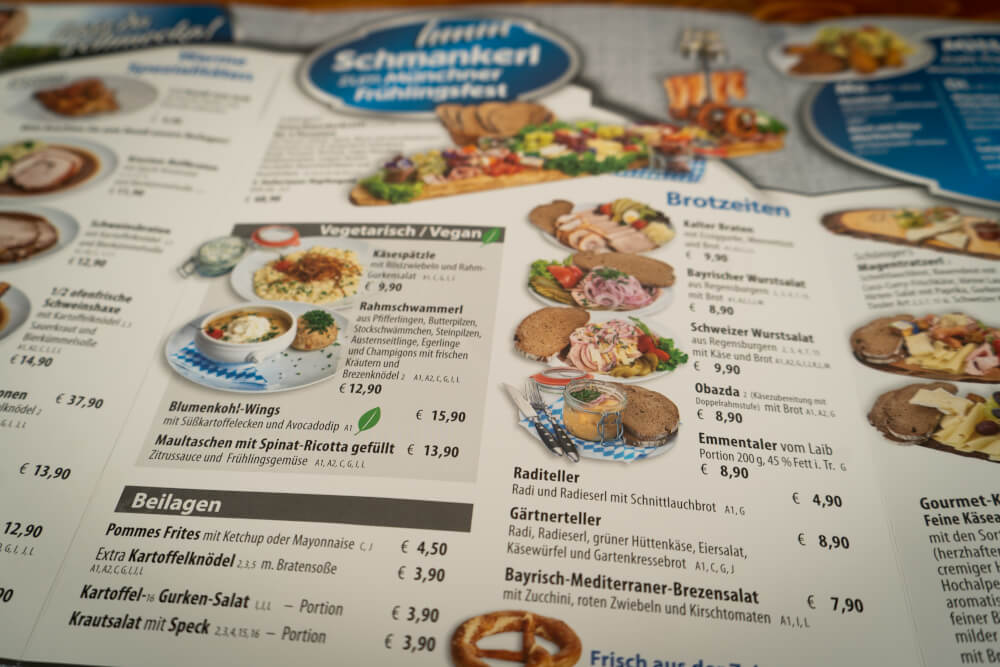 PS: The Festhalle Bayern has some great vegetarian and vegan options, including cauliflower wings:
Last but not least, non-beer drinkers can rest easy knowing that there are loads of soft drinks, wines, and even coffee/milk-based drinks available at this tent as well:
OPTION B: The Hippodrom Tent
The culinary offers at the Hippodrom tent are pretty fancy schmancy.
Literally, they have a section of the menu dedicated to Wagyu beef, so you could say this tent is a bit more gourmet than the Festhalle Bayern.
Another highlight is that they focus on locally sourced ingredients.
I won't bombard you with photos because you can click here for their full English menu, but pretty much all the classic dishes I recommended above are available here, some with a creative twist!
The Käsespatzl for instance here is served with pear chutney.
BUT, the star of the menu that isn't available at the Festhalle Bayern is my favourite dessert: Kaiserschmarrn, delicious shredded pancakes served with powdered sugar and usually served with apple sauce or ice cream. IT'S SO GOOD! Be sure to try it out while you're here.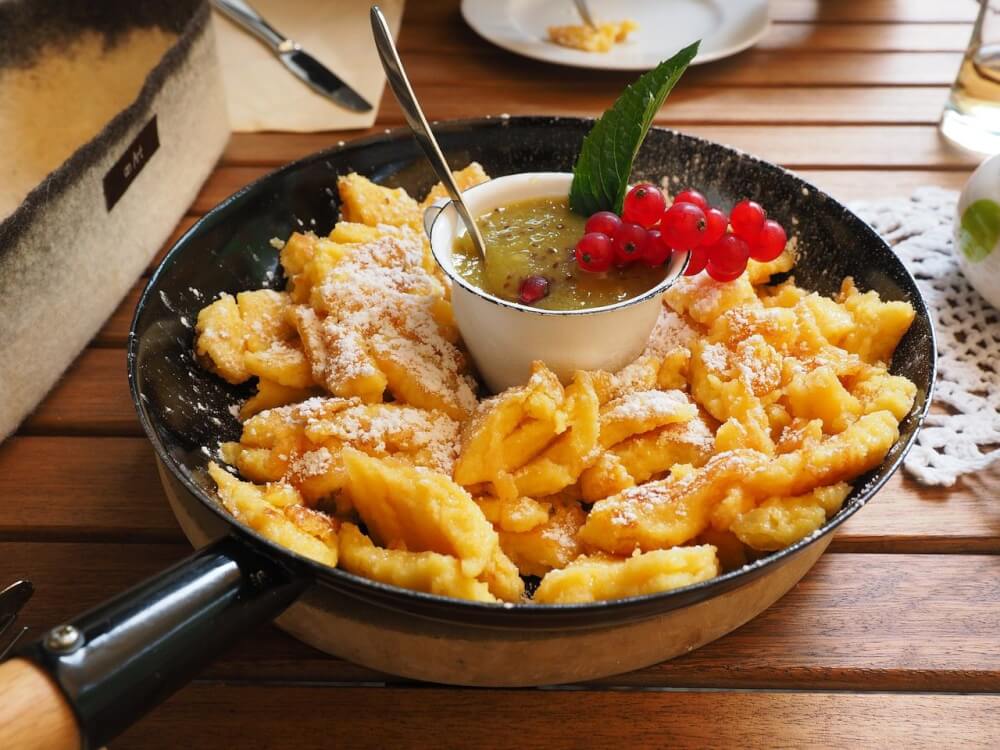 Traditional Bavarian and German Foods to Try Outside the Frühlingsfest Tents
Not keen to dine inside the tents? Spring in Europe can bring plenty of lovely weather, so you might as well enjoy the outdoors a bit.
Good news – there are SO many food stalls around the festival grounds, you'll be spoiled for choice. If you're craving something quintessentially German/Bavarian, here are some options.
1/2 metre Bratwurst
It's a snack as ridiculous-looking as it is satisfying – imagine a long 1/2 metre bratwurst poking out of a comically undersized bun.
You can get one of these at many different stalls around Frühlingsfest, but nowhere is the signage more aggressive than the Schmankerl-Alm.
The cost for one of these is approximately 5.50-6 euros depending on where you get it.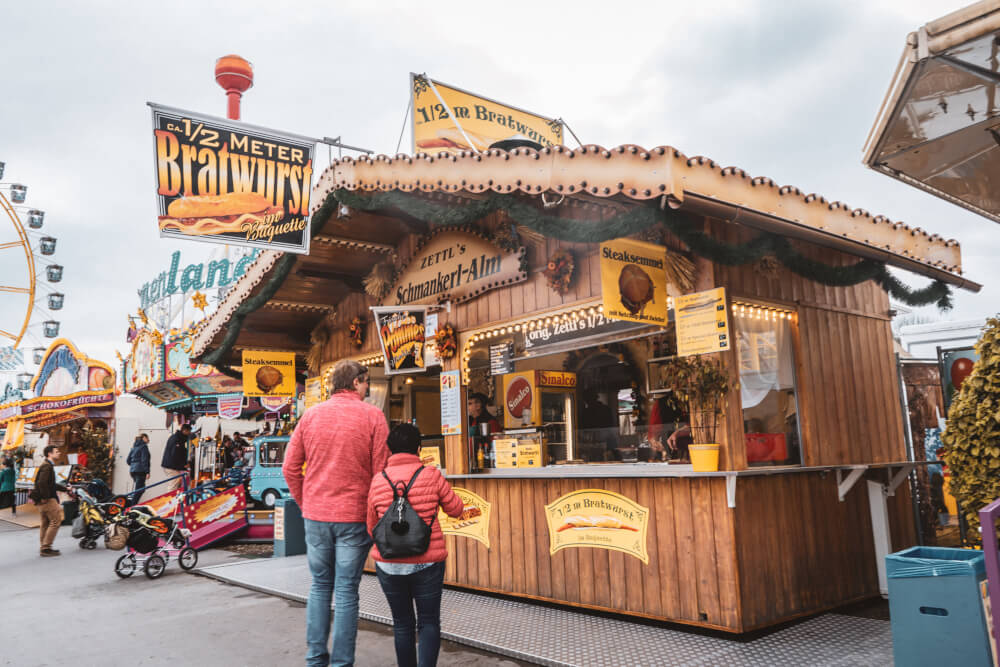 Or just all kinds of sausages
You really can't visit Germany without munching down on a sausage or two.
Luckily, there are plenty of stalls around Frühlingsfest that will happily sell you a grilled wurst of every shape and size 😉
If you want a real treat, it's not very Bavarian, but I can wholeheartedly recommend a currywurst with fries (usually around 5 euros)! It's a simple sausage doused in curry ketchup and it's lifechanging.
Alternatively, I find that steak sandwiches around these beer festivals are aaaalways excellent.
A great place to scope out all your options is the Steak Hütte, although you'll find these at a lot of different stalls all around.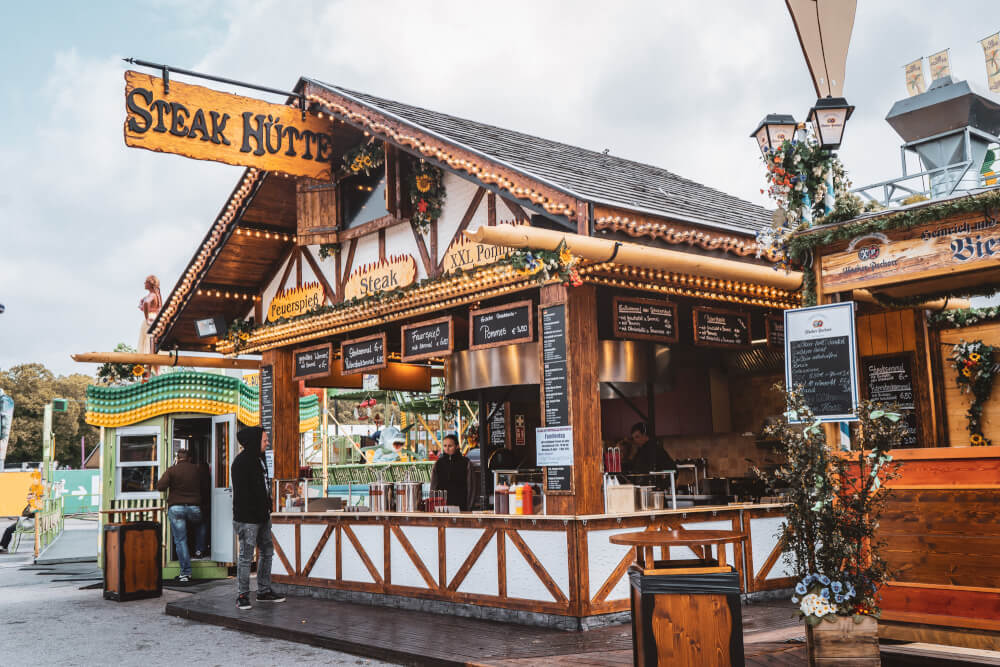 Roasted Almonds (Gebrannte Mandeln)
Trust me when I say you haven't lived until you've tried the candied nuts they cook up here in Bavaria.
Like, they are truly incredible and I take every excuse I can get (from Oktoberfest to Christmas markets) to inhale them.
You'll find a lot of different stalls selling them at Frühlingsfest – just look for any sweet stall with gingerbread cookies hanging out front.
They'll usually also be flaunting a big sign that says "MANDELN", and that's your cue to go and stuff your face.
NOTE: They're not the cheapest snack, but they're amazing! They usually go for about 4 euros per 100g.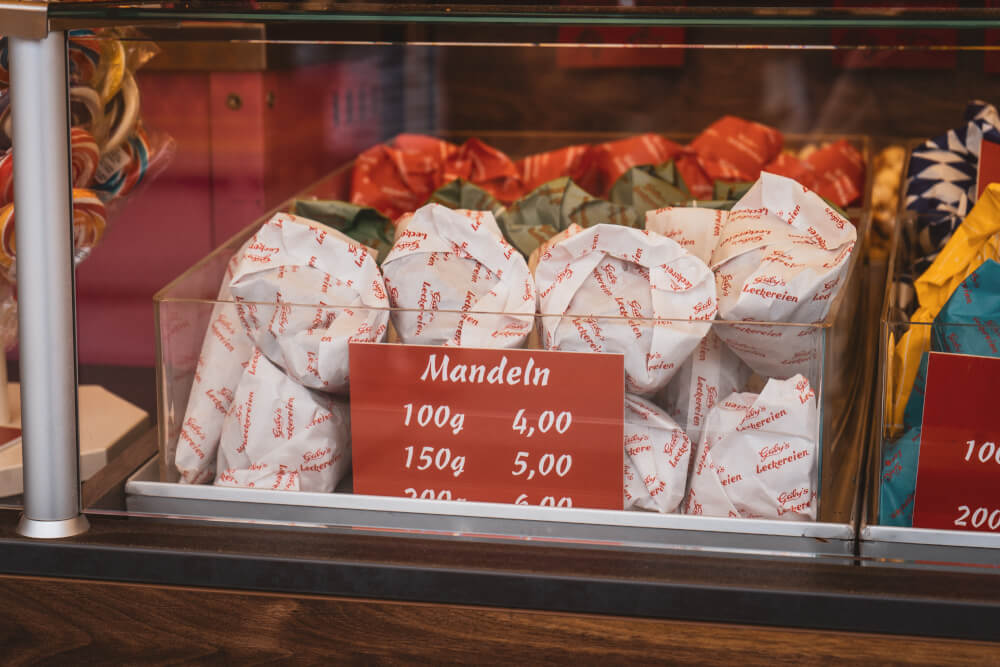 Dampfnudel
If it's a local dessert you're after, be sure to try some Dampfnudel! I spotted it for sale at Cafe Treff and also at the Kleine Backlstube.
It's basically this big pillowy loaf of sweet bread that's served in a sweet vanilla sauce. It's soooo good.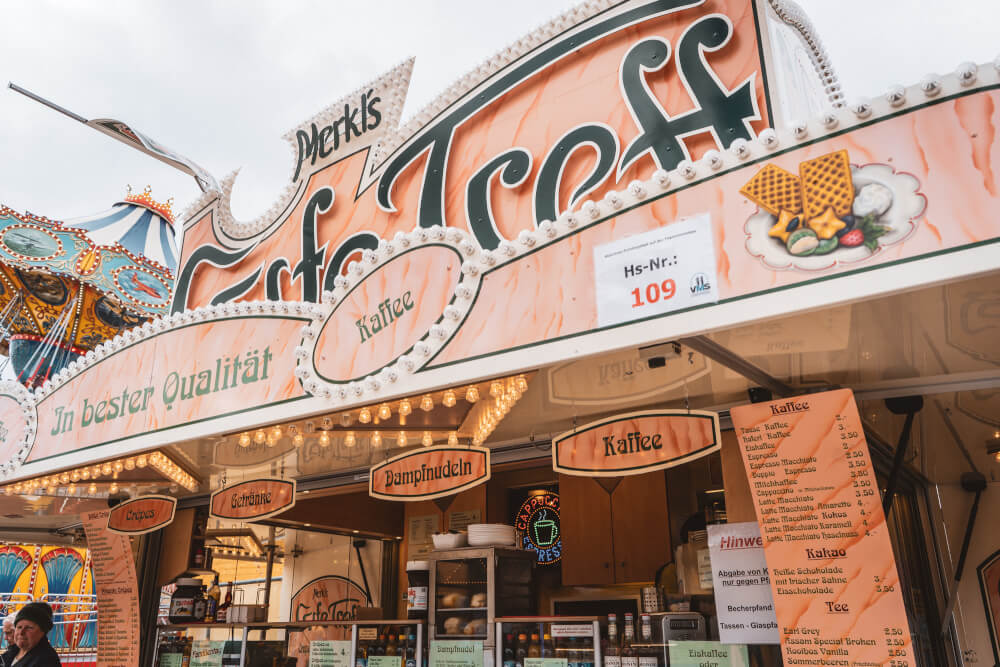 Steckerlfisch
Steckerlfisch, AKA fish grilled on a stick, is an extremely popular beer garden/beer festival food here in Munich, and you can actually try it for yourself at Fischer-Vroni, who has their own tent at Oktoberfest!
This stall can be found near the exit, but if you have a keen sense of smell, you can most likely just follow your nose.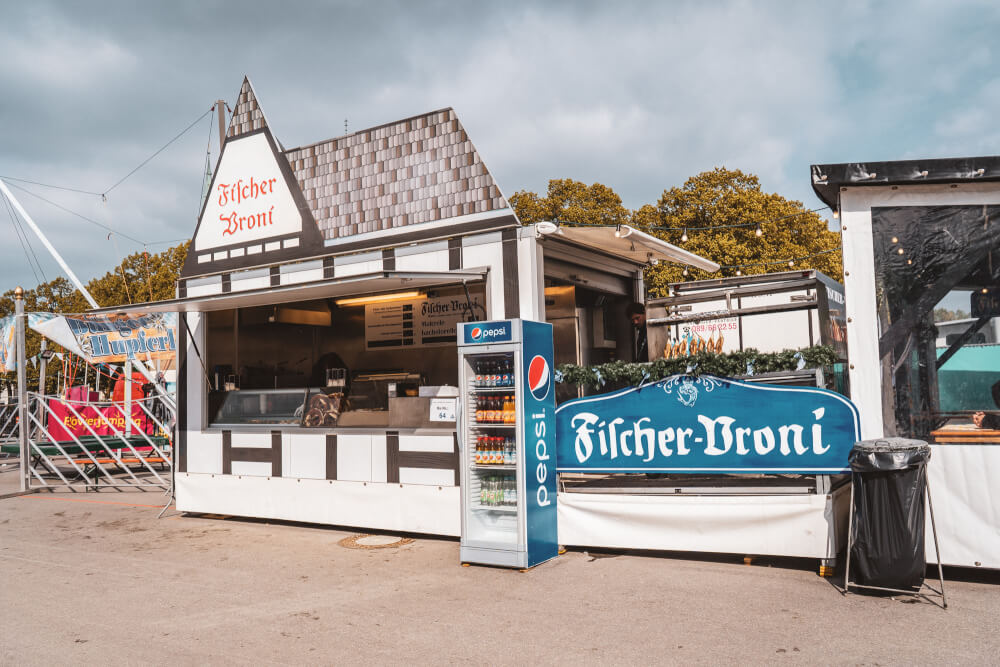 Rahmfleckerl
A tasty Bavarian snack which involves essentially a piece of dough/flat bread type thing slathered in a creamy sauce and topped with delicious things like bacon bits. A must try! So satisfying.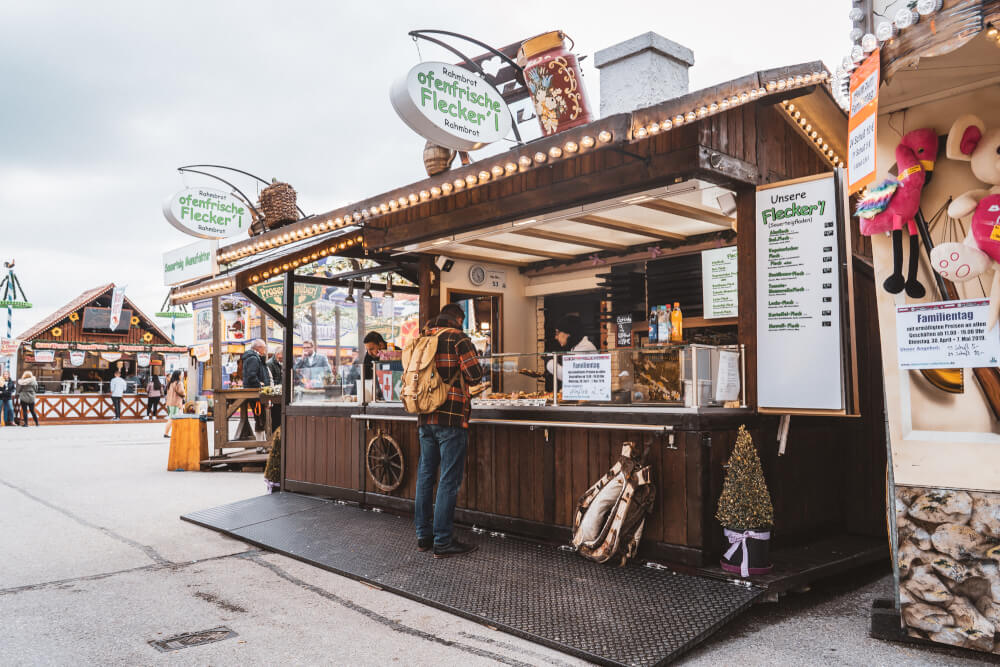 A note on those gingerbread heart cookies
A final very "typically Bavarian" thing you'll see around Frühlingsfest is the ubiquitous gingerbread heart.
While I think these are adorable and do make excellent souvenirs, I wouldn't buy them for the purpose of consumption because they're honestly not as yummy as they look!
You've been warned.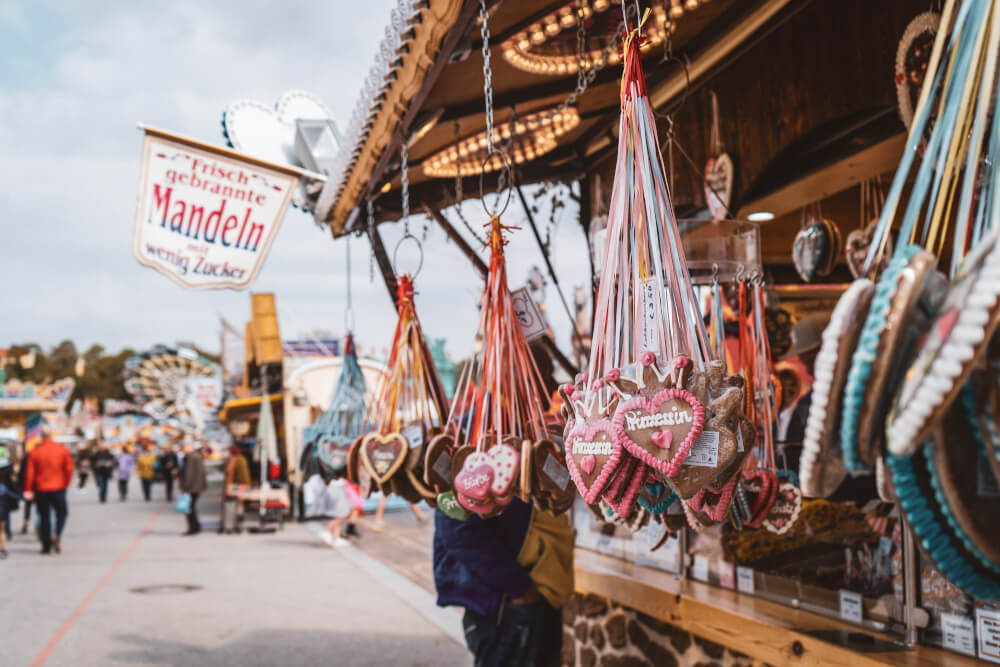 Non-Bavarian Foods You Can Get at Frühlingsfest
Of course, it's not just about the German and Bavarian goodies! Frühlingsfest has food stalls representing multiple corners of the globe, so here are some additional options for you.
Langos
Langos is a Hungarian street food that I adore – it's basically a slab of fried dough slathered in an assortment of different toppings.
Very delicious and veeeeery satisfying.
You can usually get one for about 3.50-5 euros depending on what toppings you choose.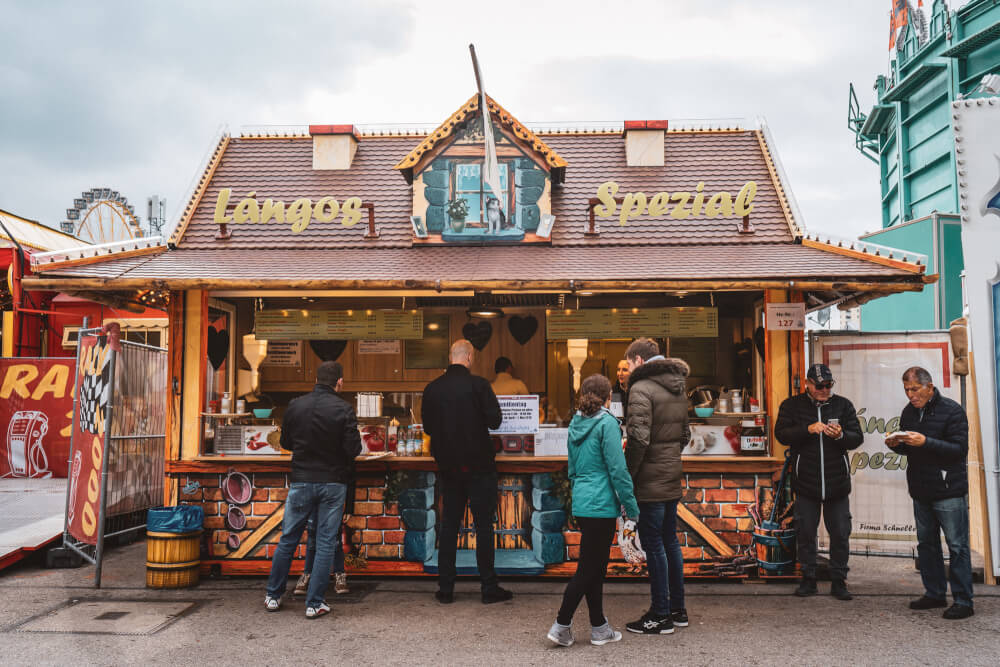 Churros
New to Frühlingsfest for 2019 were churros!
Sure it's not a typical Bavarian treat, but it's still delicious, and a fairground classic.
If you haven't yet had them, churros are a wonderful Spanish treat that involves frying strips of dough and dunking them in cinnamon and sugar.
If you're extra lucky, you might even get some chocolate sauce to dip it in!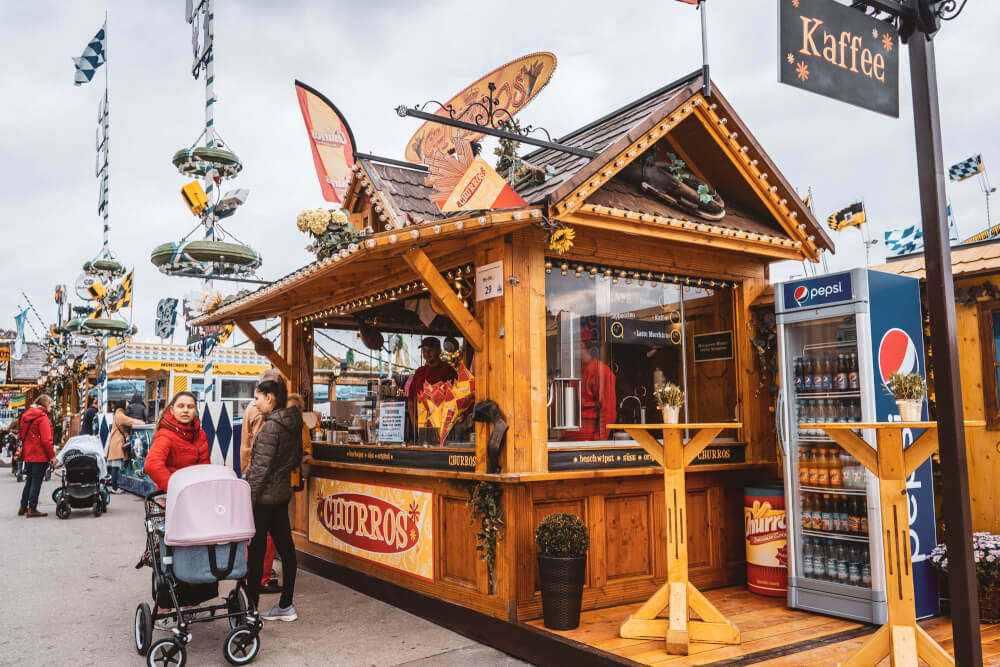 Frozen Yogurt
Another new addition to the Frühlingsfest foodscape that I haven't noticed before is frozen yogurt!
I mean, it took a few years but it seems Germany has finally hopped on board the late 2000s trend of sweet, sweet FROYO!
Definitely not a Bavarian dessert by any means, but it's a pretty tasty way to beat the heat.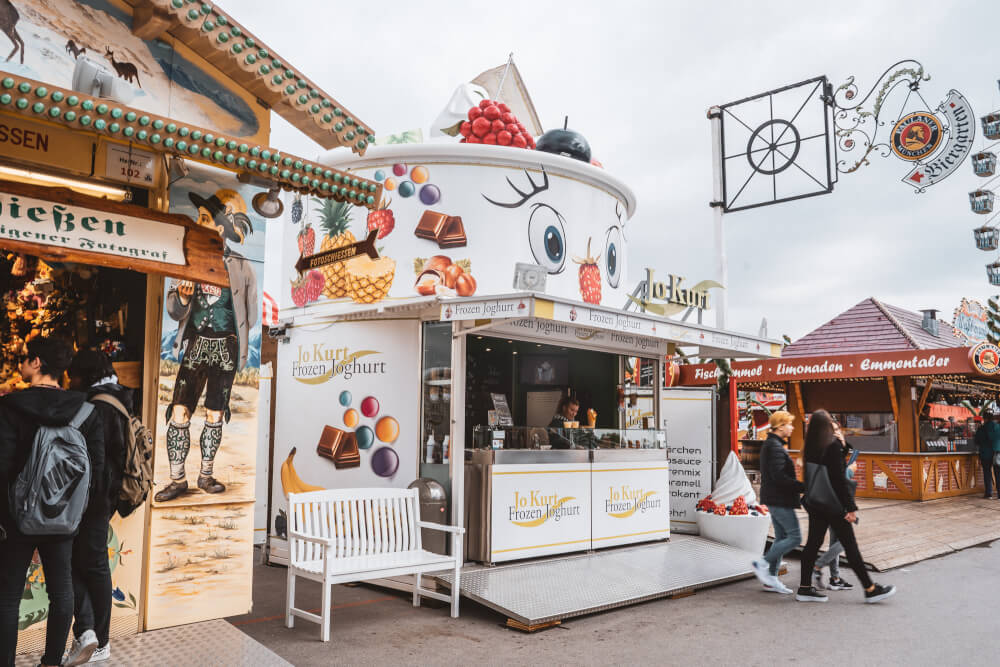 Pizza
I'm sure I don't need to explain the wonders of pizza to you, but yes, if you are hit by sudden 'za cravings while drinking yourself to oblivion, you can find a pizza place near the Frühlingsfest ferris wheel!
Slices were going for about 3.50-4 euros when I looked.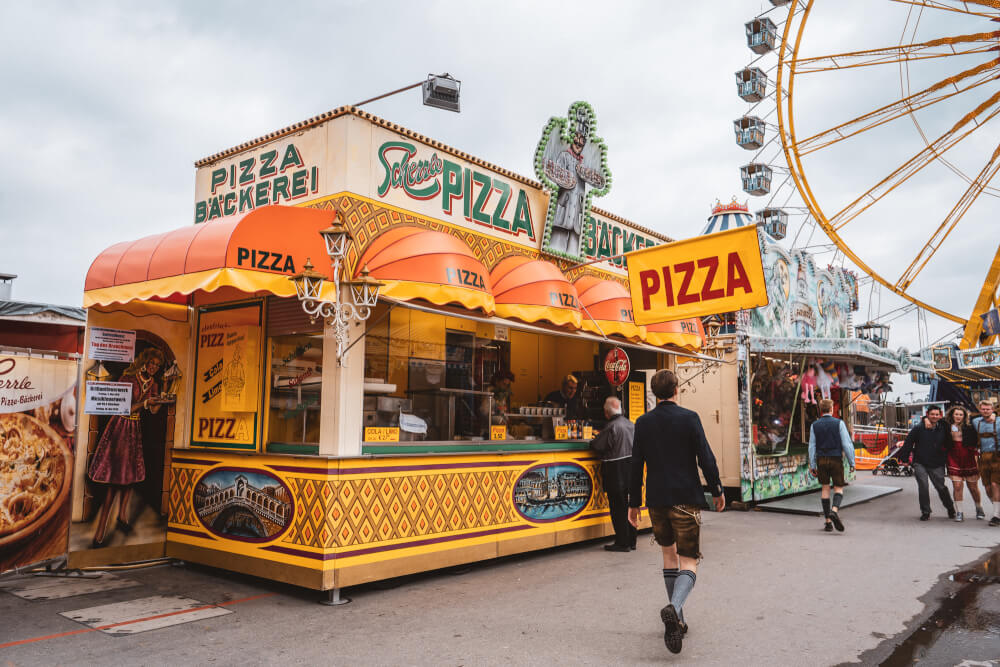 Burgers
Burger lovers will be excited to know that Frühlingsfest 2019 has an entire hut dedicated to burgers, where you can score a hamburger for 6 euros.
Just look for the Burger Hütt'n…. it's topped with a gigantic burger, so it's not the most subtle stall out there ; ) Super easy to find!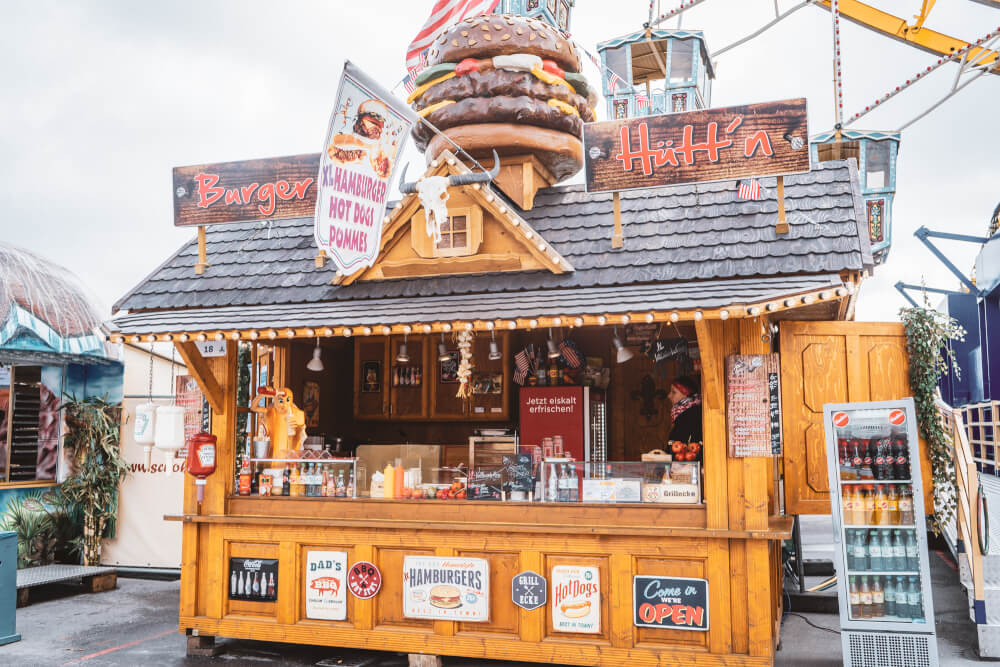 Chocolate-covered fruit
Germans are biiiig into chocolate covered fruit skewers, and you'll find a bunch of sweet stalls scattered around the festival selling plenty of delicious choco-fruits, like bananas, strawberries, combos of the two, etc.
One of these will usually set you back 3-5 euros.

Waffles/Crepes
The smell of fresh waffles and crepes will haunt you all around Frühlingsfest, so if you're looking to indulge your inner sweet tooth, then treat yourself to one or a dozen!
There's a few different stalls selling waffles and crepes, but keep an eye out for the cafe with these bright yellow umbrellas because then you'll have a place to perch and eat!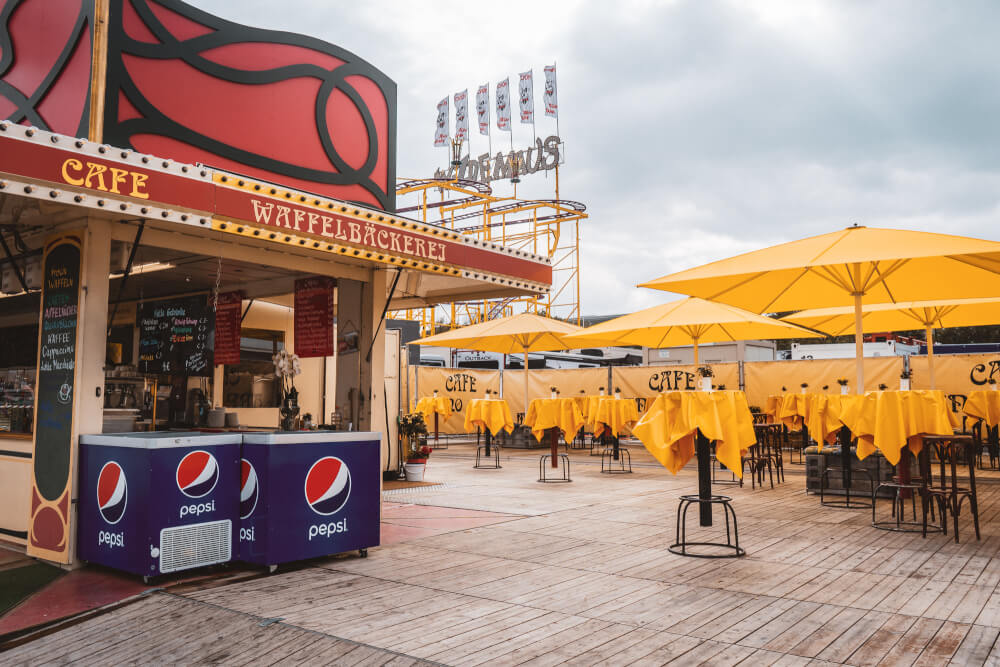 Slushies
Last but not least, if you're looking for a cold sugary fix after downing all those beers, there's a slushie stand located near the entrance (if you turn right).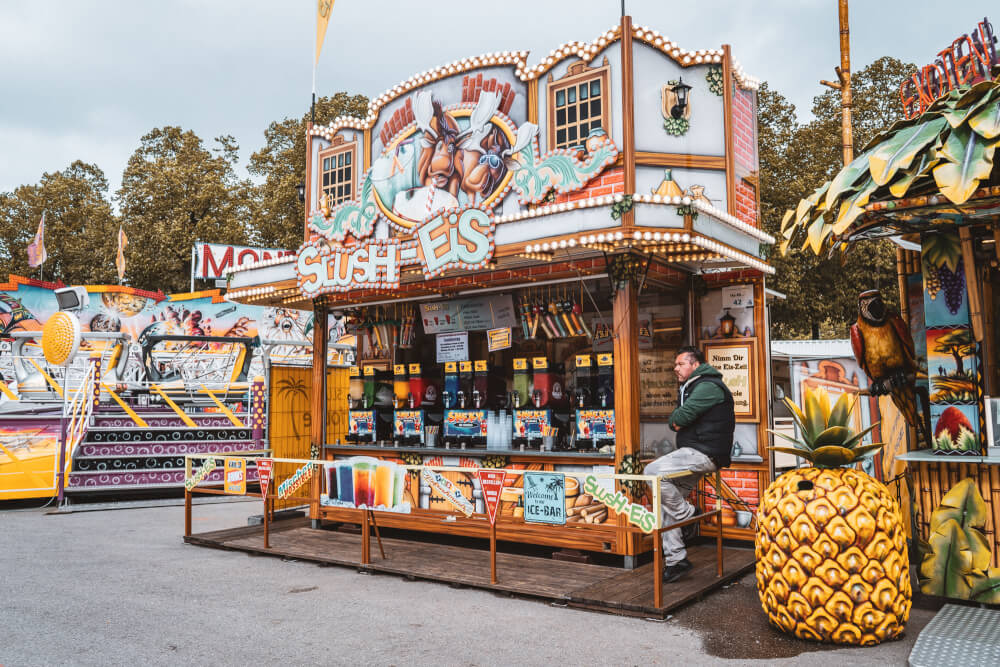 Have fun eating your way through Frühlingsfest!
Now tell me, which of these treats seems most tempting?!
---
Watch my most popular YouTube video this week:
---