*FYI - this post may contain affiliate links, which means we earn a commission at no extra cost to you if you purchase from them. Also, as an Amazon Associate I earn from qualifying purchases. Check out our Privacy Policy and Disclosure. for more info.
If you're one of the lucky people that gets to frolic around Europe this Spring, one activity you 100% cannot miss in Germany is the springtime baby Oktoberfest known of course as Frühlingsfest, or Springfest in English.
It may be small, but one thing that I love about Frühlingsfest is that it's wonderfully compact, with tons of great food, fun activities and cool attractions lurking around every corner.
So, to help you make the most of your time at Munich's Frühlingsfest, here's a quick guide to the different tents, rides and attractions that you should check out! And if you're looking for more general info and tips on attending the festival, you can read my full guide here.
---
The Two Main Beer Tents at Munich Frühlingsfest
While the number of tents at Springfest is adorably tiny in comparison to Oktoberfest's staggering 16 large tents, one of the starring attractions of this festival is nonetheless enjoying the fun atmosphere inside its two main beer tents, which are…
1. Festhalle Bayernland
Beer served: Augustiner-Bräu
If it's some classic Bavarian kitsch you'er looking for, you'll love Festhalle Bayernland, an ode to all things Bavarian with a blue and white colour scheme and cute little paintings depicting iconic Bavarian places on the walls above the side-boxes.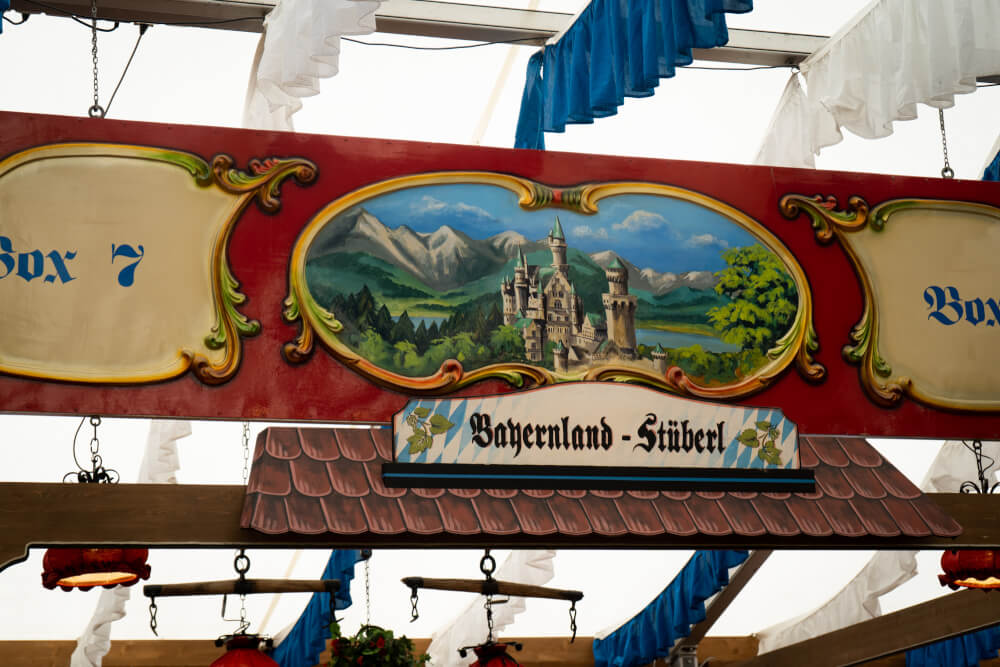 The beer they serve here is my favourite of Munich's 6 main breweries, and they do a wicked lunch special on weekdays, where you can sample a traditional dish for only 6.90!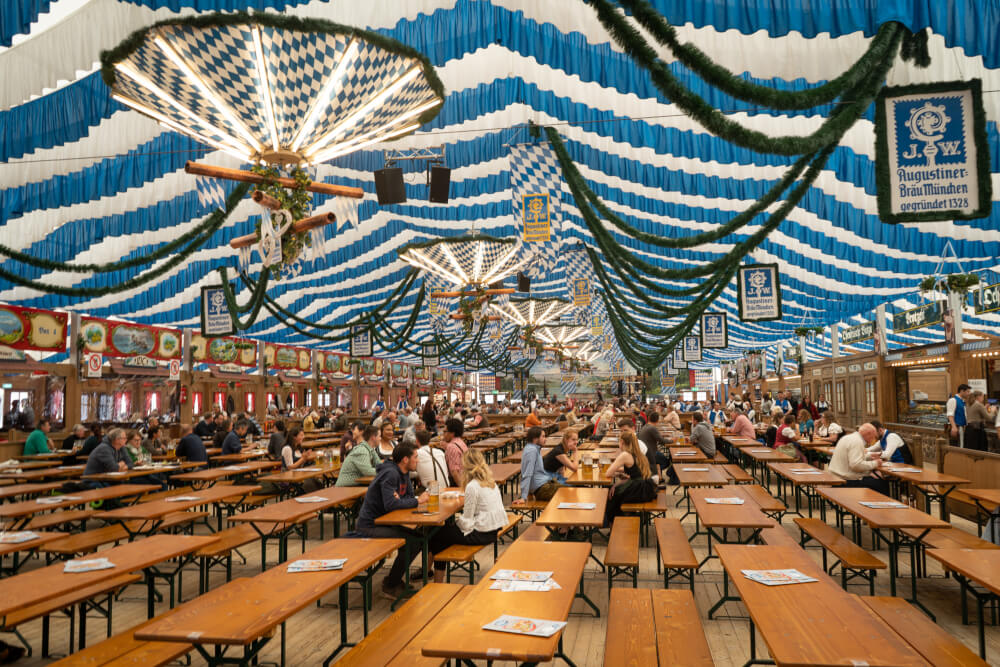 The vibe here during the day can be a bit quiet, but they have a stage at the front and the party really starts up in the evening, with classic hits being blasted non-stop (think Backstreet Boys, Angels, Country Roads, etc.) until closing time.
For Festhalle Bayernland reservations, click here. NOTE: It's all in German, so use Google translate.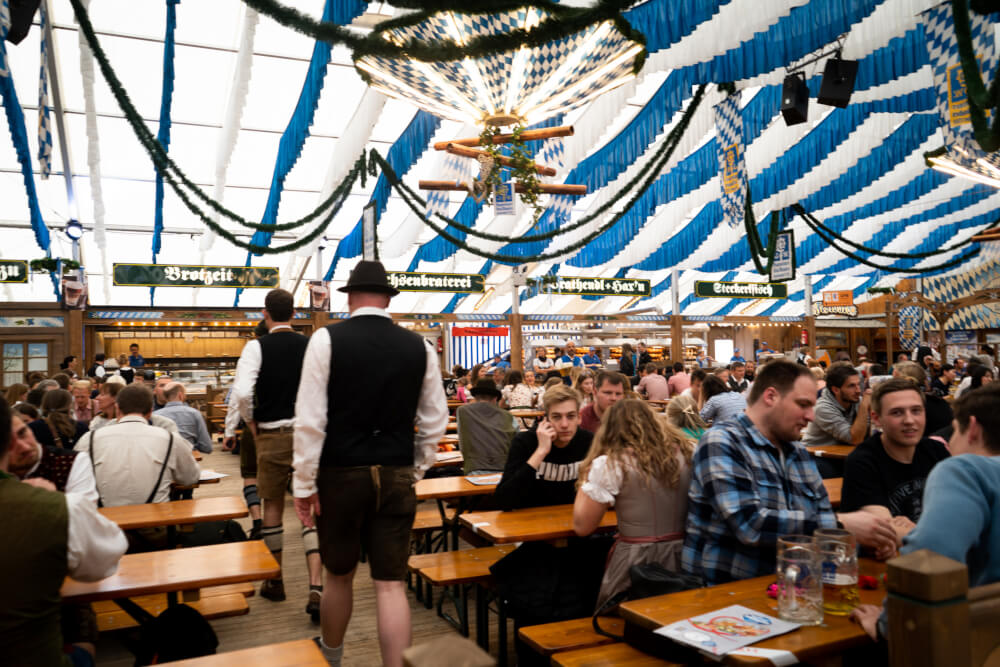 2. The Hippodrom
Beer served: Spaten-Bräu
While sadly no actual hippos are involved, the Hippodrom is a fun, impossible-to-miss tent that's decked out in red and yellow, with a fun party atmosphere thanks to their in-house bar.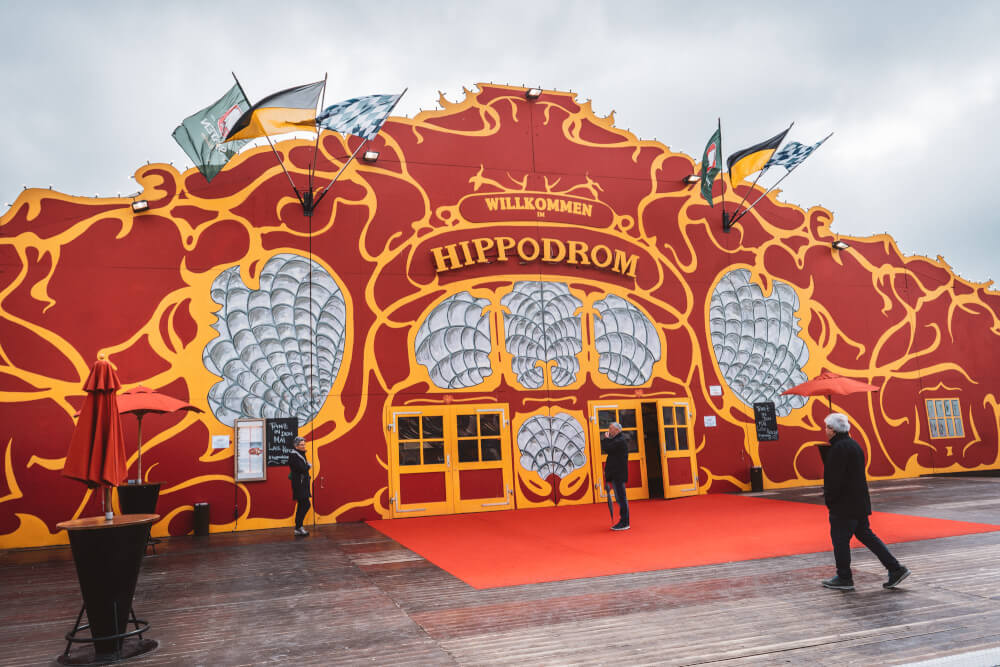 The menu here is also suitably gourmet, with an emphasis on local regional cuisine. Click here for their full English menu.
For Hippodrom reservations, click here.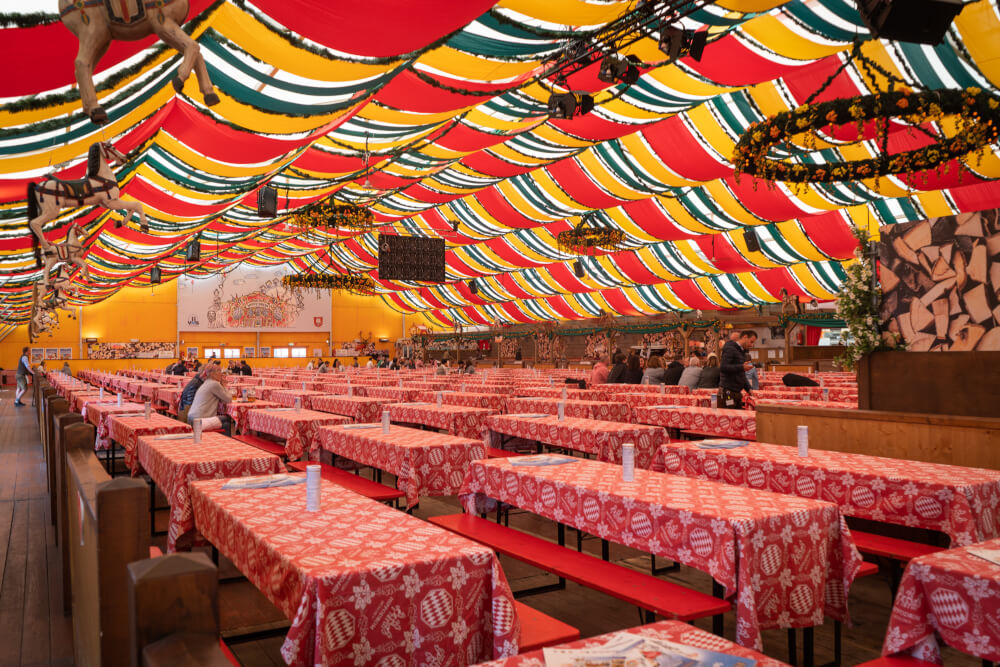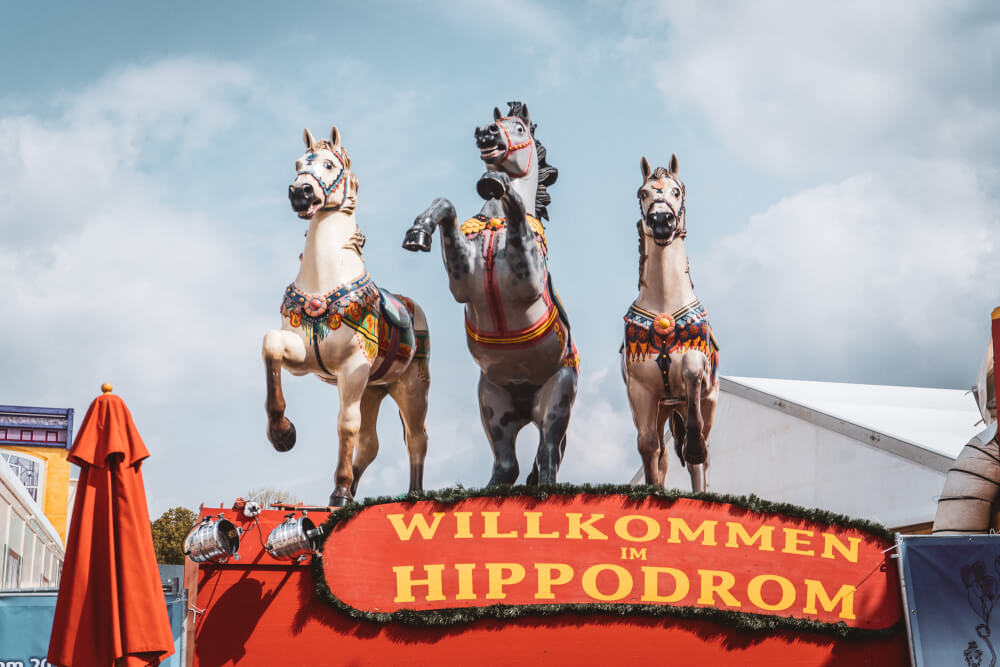 Other Drinking Areas and Beer Gardens at Munich Frühlingsfest
Of course, Springfest is about more than JUST the beer tents. If you find that the tents are full, or you'd prefer to sit outdoors, there are a handful of fun little beer gardens and other drinking areas on site that are well worth checking out. Here are the most notable ones:
The Proseccostüberl
If you're looking for a bit of bubbly before the beer-fuelled shenanigans begin, you can't miss the Proseccostüberl, which is located very close to the main entrance – just walk straight then turn right and it's there on the corner.
This cozy little spot has standing room around barrels, and gets quite busy in the post-work hours with plenty of revellers sipping up fizz and popular cocktails like Aperol Spritz all in the 5-6 euro range.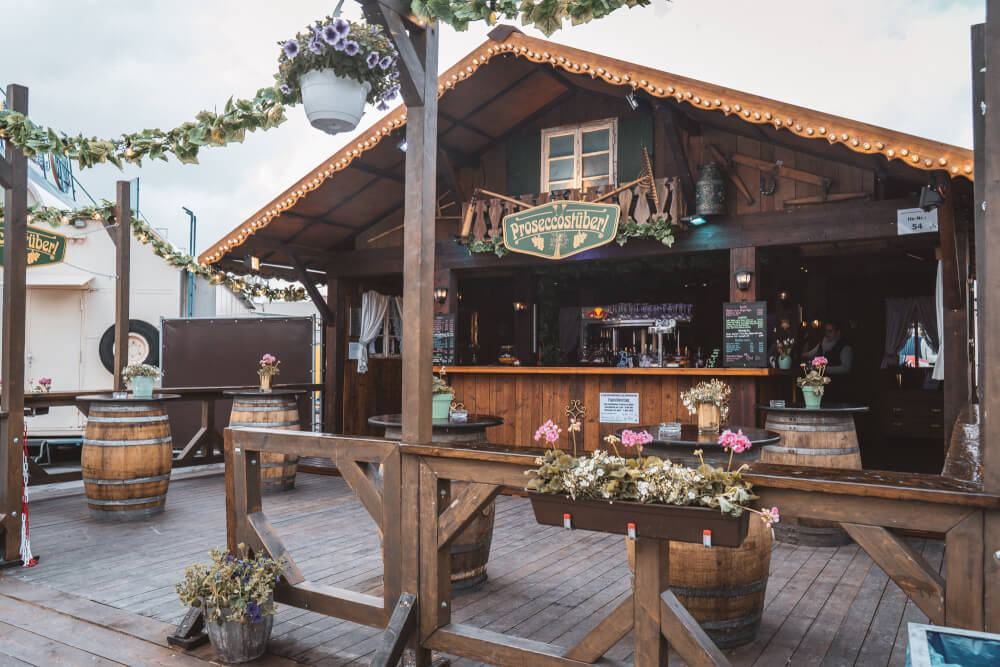 The Weißbiergarten
While the two big beer tents at Frühlingsfest lack the large sprawling beer gardens that the Oktoberfest tents have, you can still enjoy the typical Bavarian biergarten experience at the Paulaner Weißbiergarten, which has a bunch of outdoor wooden benches, covered box areas on the side and even its own little moving carousel in the middle.
As you can likely tell by the name, Weißbier (wheat beer) is the specialty here, but you'll find other drinks available too.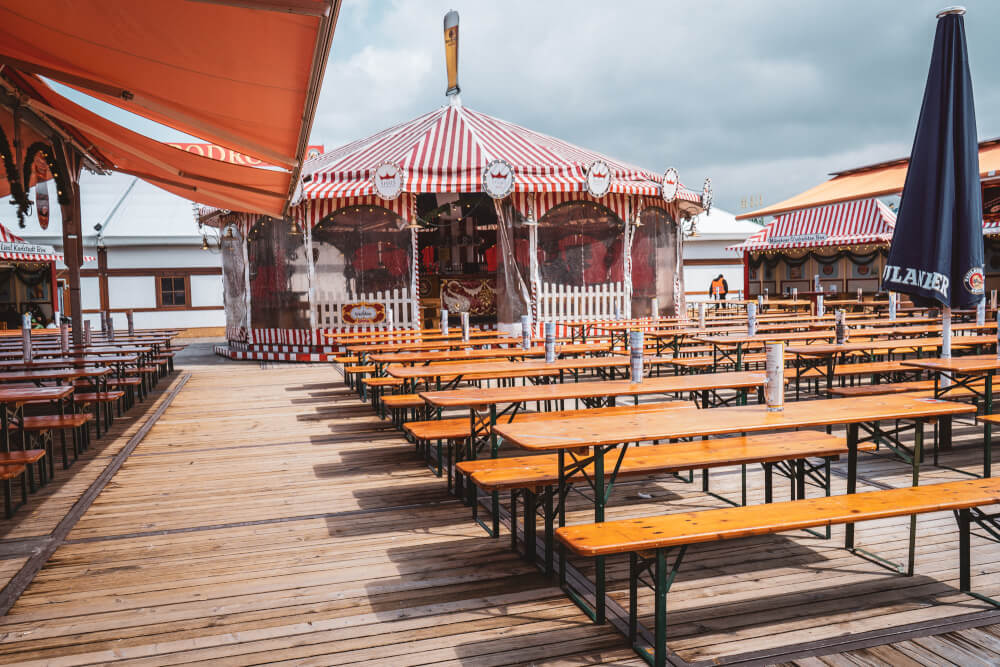 The Weißbier Alm
Another haven for Weißbier lovers at Frühlingsfest is the Weißbier Alm, where beer from the Hacker-Pschorr Brewery is served with love under standing room tables with large umbrella covers (perfect for those maybe-raining, maybe not) kind of days.
The decor and atmosphere of this little spot is very cozy, so it's a perfect place to escape the bench-top dancing and loud music of the tents.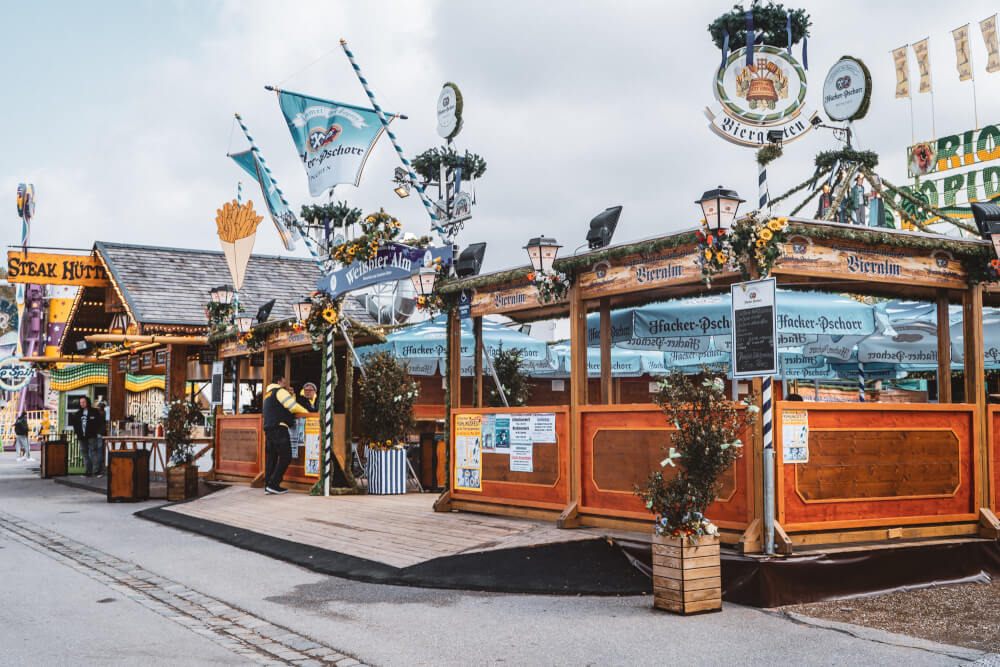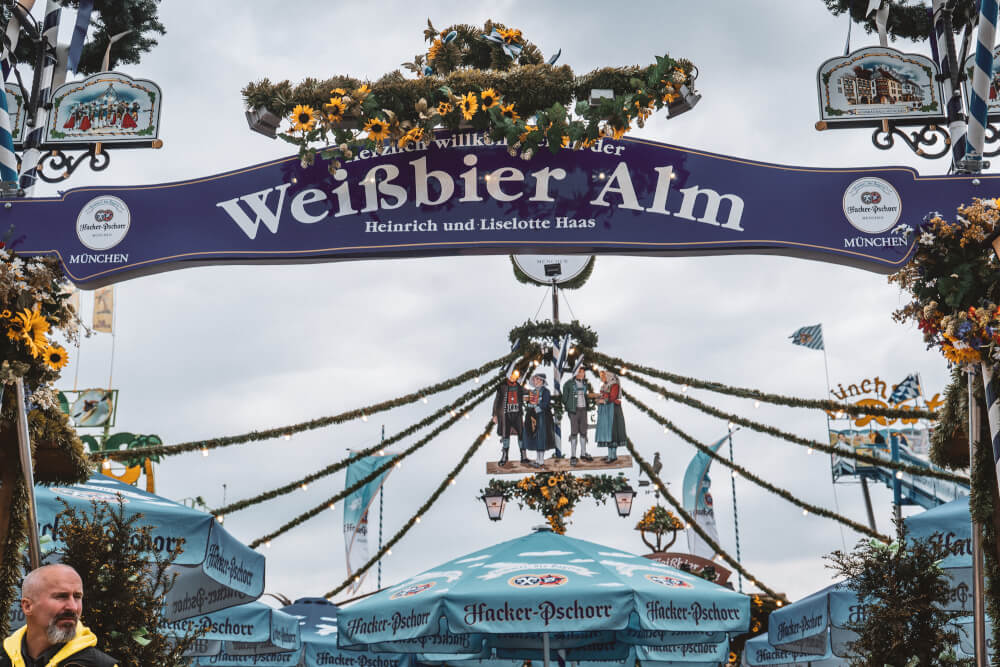 The Bierkarussell
A bar set on a carousel that's actually still moving? What could possibly go wrong?
This fun little section of the Springfest will have you spinning (for multiple fun reasons), but don't worry – there are stationary standing room slots for those who get dizzy easily… plus the carousel truly does move at a snail's pace.
The Bierkarussell serves up world-famous Hofbrau, so if you're looking to get your fix, here's your place.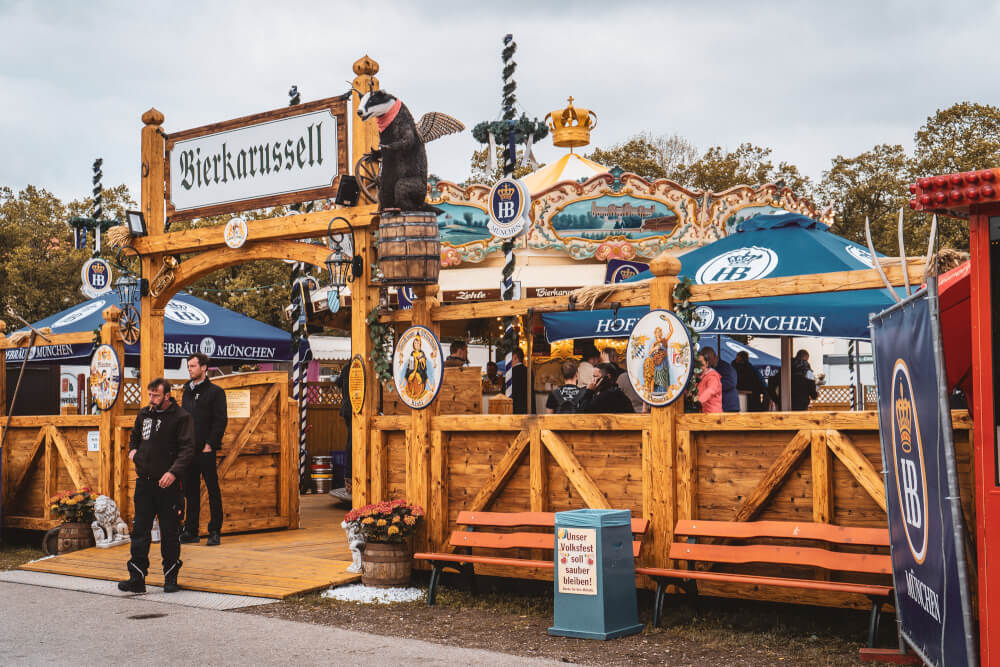 Frühlingsfest Food Stalls
Feeling hungry? Click here for a comprehensive roundup of the different food options available at Frühlingsfest!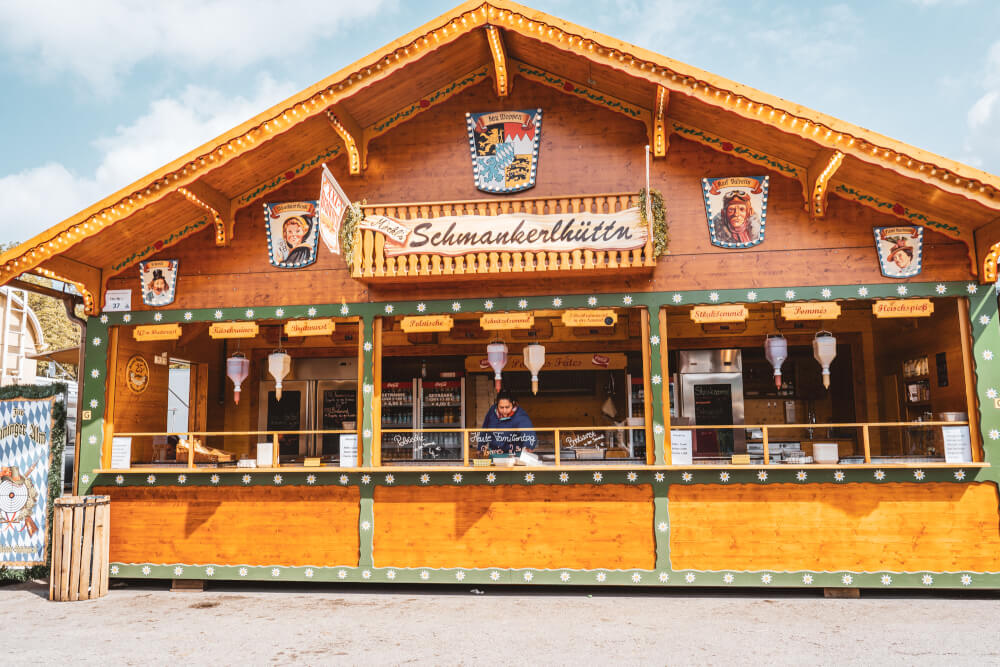 Springfest Rides and Attractions
I mean, if you didn't get plastered and throw yourself on a random ride, did you even GO to a beer festival? Here are some of the main rides you'll see around the Frühlingsfest grounds.
The Ferris Wheel
The iconic ferris wheel at Frühlingsfest is like the centerpiece of the entire festival. One ride per adult will set you back 4 euros, but it's worth it for a sweet bird's eye view 55 metres over the festival and Munich itself!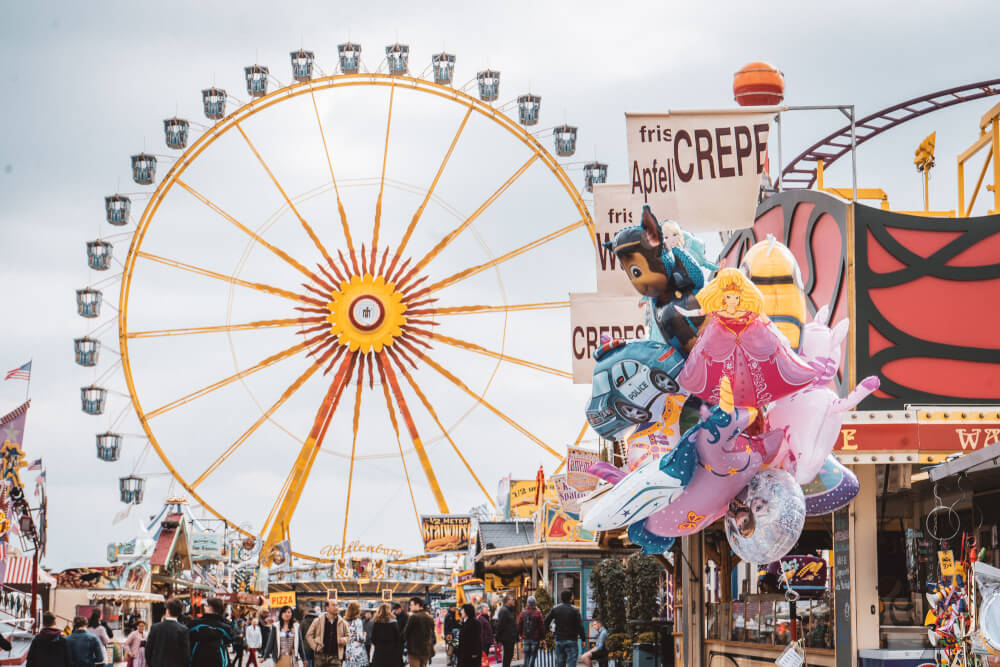 The Top Spin Fresh
If you don't mind getting a little wet, the Top Spin Fresh is one of the more 'thrilling' options available at Frühlingsfest.
Based on the amount of horrified screaming I hear consistently coming from its general direction, I would conclude it's probably a good time.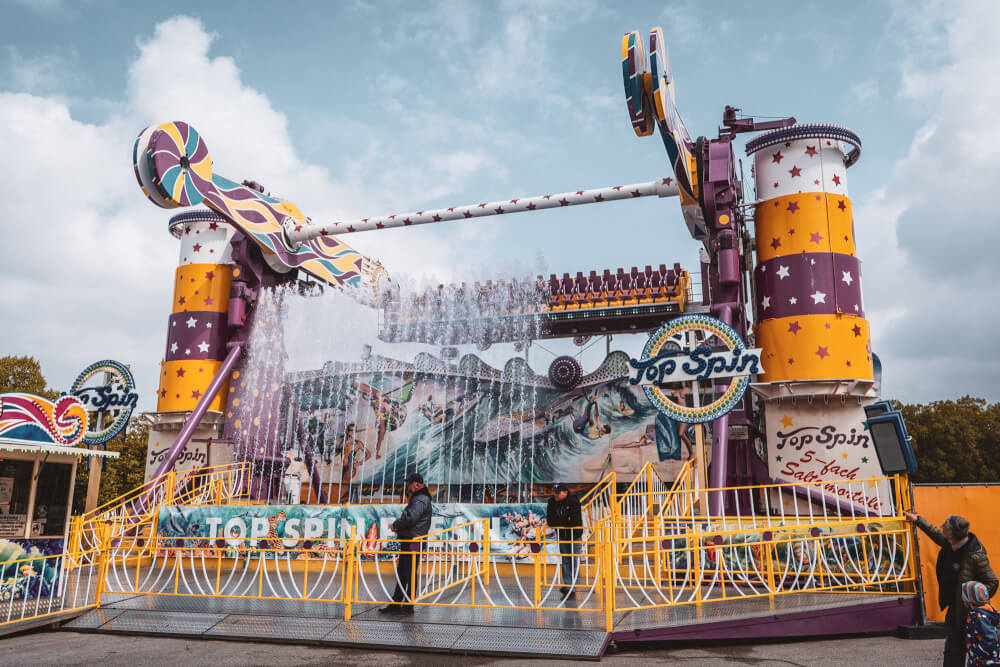 The Techno Power
Located across from the Top Spin Fresh is the Techno Power, a ride that seriously goes on forever and is a metric crapton more terrifying than it looks.
This is the only ride I was coerced into riding this year, and even after 3L of beer, I was screaming my head off and did not open my eyes once.
Proceed with caution.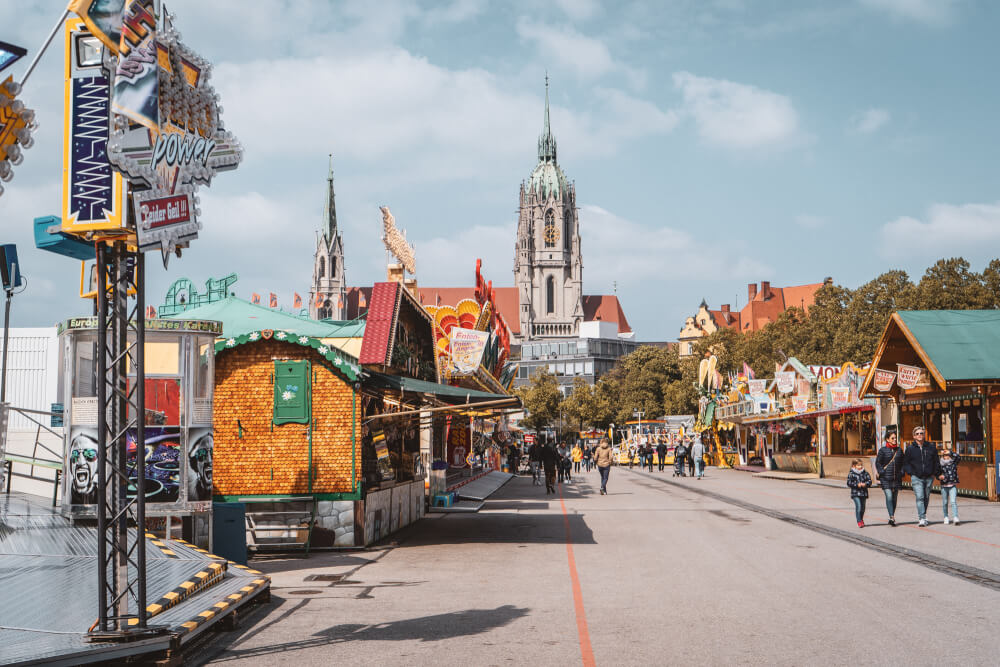 The Swing Ride
While it doesn't go up very high, Frühlingsfest does have a classic swing ride that's kid-friendly and good fun if you're not into hardcore things like getting throttled around a death machine and puking after.
A good alternative for the scaredy cats among us!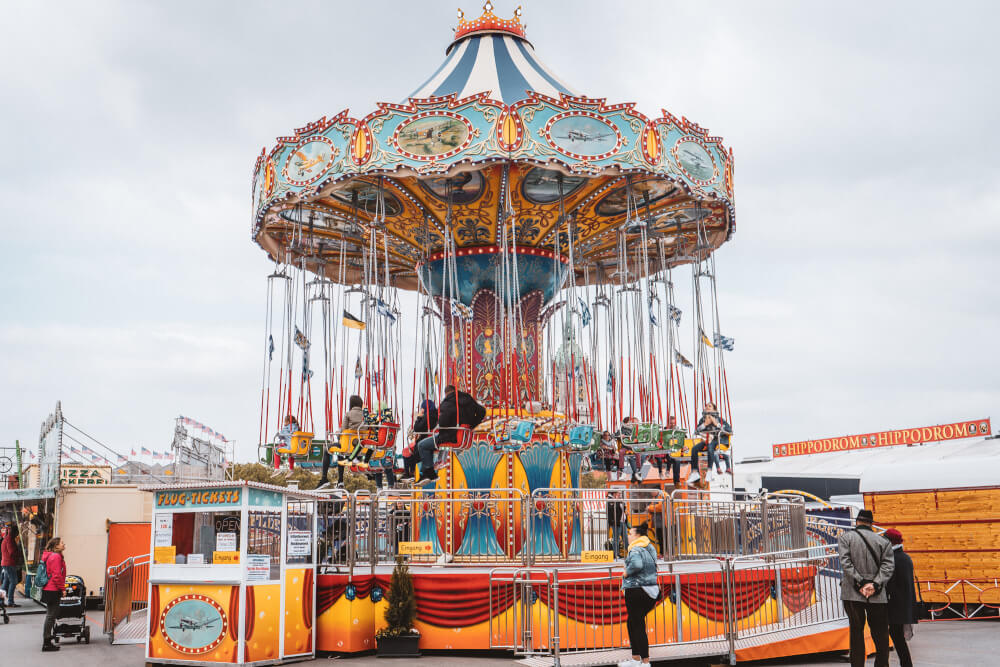 The Mondlift
I'll try my best to explain this one, but basically you sit inside these caged carts in a ferris wheel type thing, then the wheel moves and spins and whips around in all directions.
Definitely one that's more for the thrillseekers!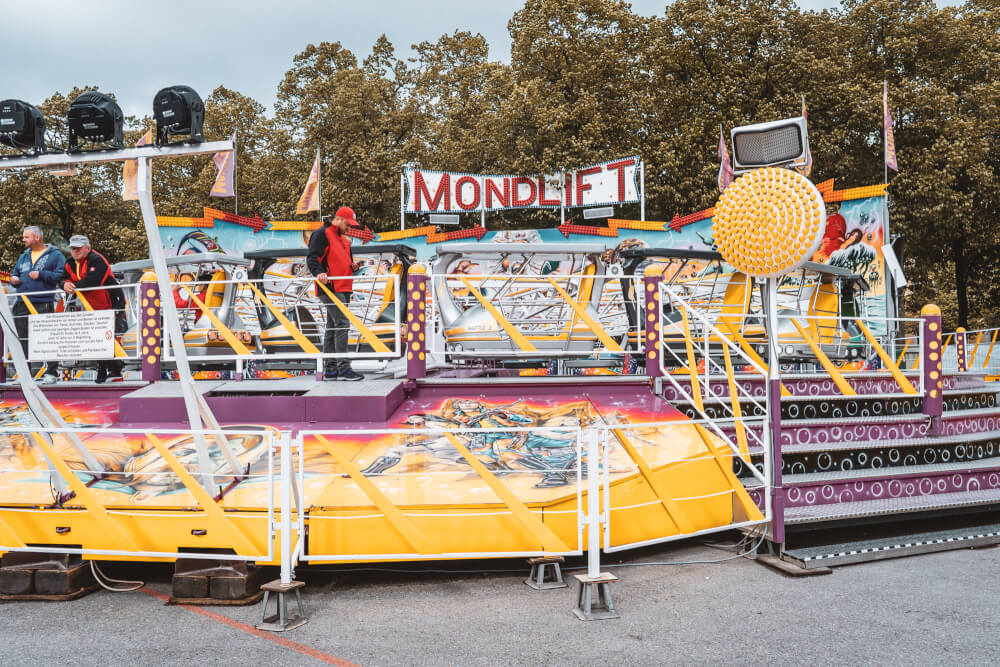 Bumper Cars, AKA the RALLY2000
A Munich beer festival classic… you haven't truly attended a festival here until you've drunkenly piled into a bumper car and mindlessly rammed into a million strangers.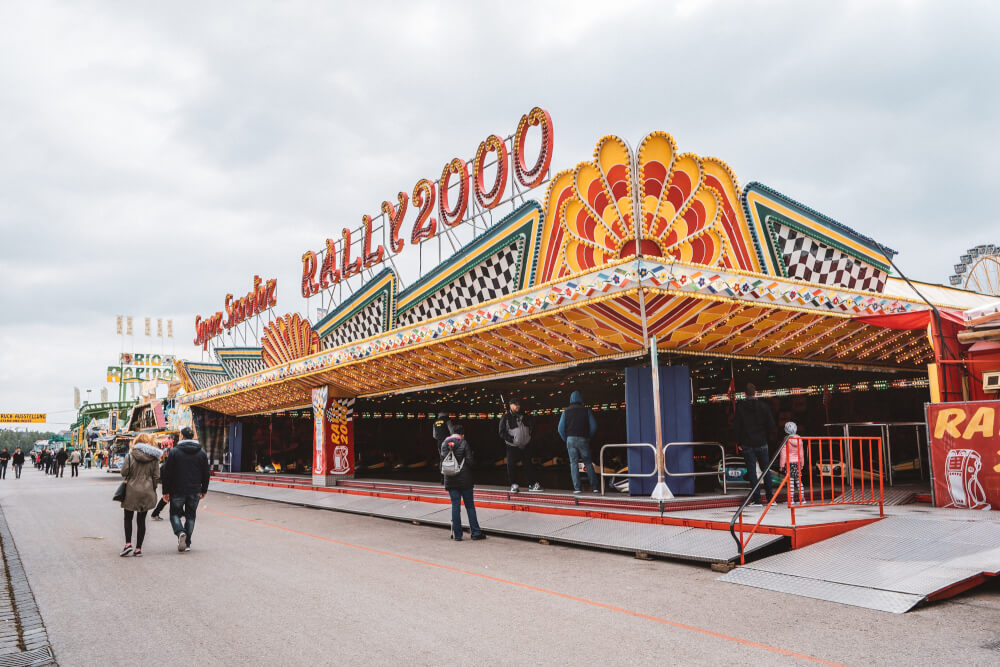 The Munich Slides
I'm really sad I didn't have time to do this one because it looks like a lot of fun!
Basically you go up to the top of these 55m long slides on a conveyer belt/escalator type thing and then you get to slide down. Simple, but fun.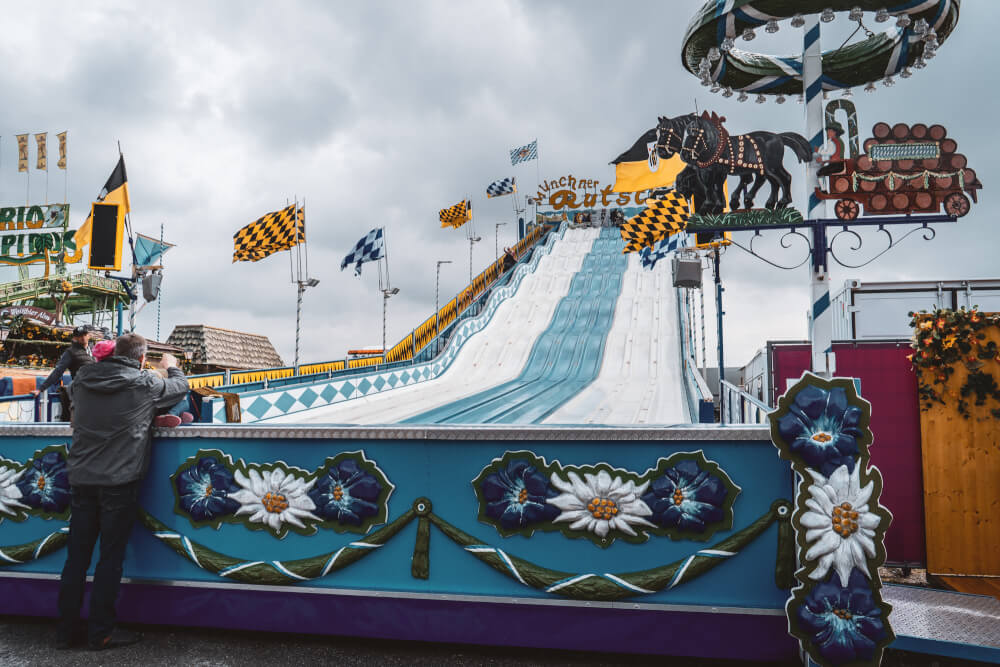 Rio Rapidos
If you're looking for a fun water-based ride, Rio Rapidos brings you in a boat through a twisty, turny course full of rapids!
It's easy to spot – just look for the big hairy chimpanzee!
The Breakdancer
You'll be able to hear this one from ten miles away because it's always aggressively blasting loud music.
I remember doing this one at Oktoberfest a few years back and it was fast and fun, but not too much for my wimpy self.
Definitely a mid-level ride thrill-wise that I wouldn't mind doing again!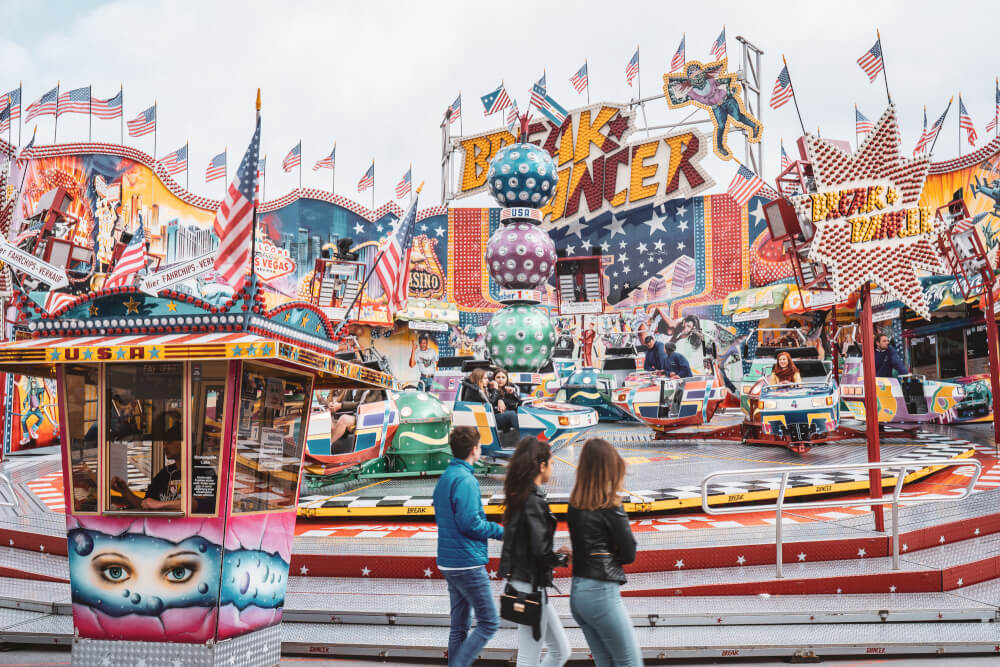 The High Energy
Last but not least, we have the High Energy, known as probably the most intense ride at Frühlingsfest.
This is a ride I would never do, not even after 10 beers.
To see why, you can check out this POV video from the ride at Oktoberfest!
Kid-Friendly Activities at Frühlingsfest
Last but not least, I wanted to include some kid-friendly activities because Frühlingsfest has a LOT of them. I would say this festival is much more family-friendly than Oktoberfest.
They even have special Family Day discounts on Tuesdays! So, if you're travelling with kids or just looking for some less…. traumatizing forms of fun, here are some options.
Classic Carnival Games
If you want to try your luck at winning an oversized flamingo, alpaca or teddy bear, there are tons of fun little stalls with classic carnival games scattered around Frühlingsfest, mostly based around shooting things or throwing things, but all in good fun.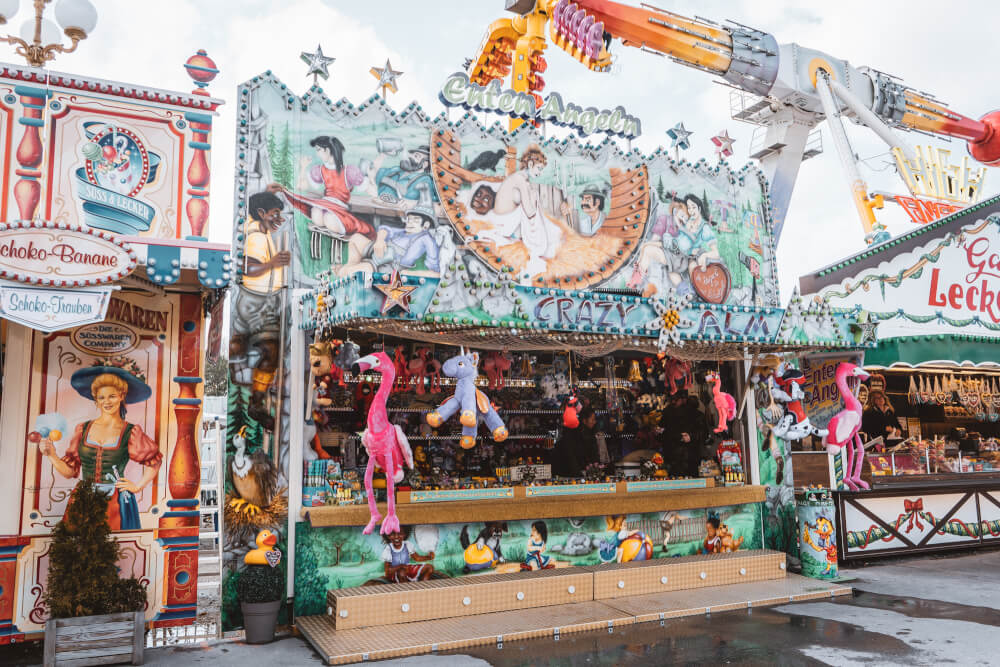 Dark Rides
Dark rides are basically those indoor rides where you sit in a little car and get pulled along a track to see different scenes along with sounds, lights, etc.
I saw two at Frühlingsfest, one that was meant to be a scary "haunted house" sort of ride and a second that had a dragon/knights theme.
I've done similar ones at Oktoberfest and honestly, they're so outdated that any attempts at actual horror are more humorous than anything else, BUT they might be a fun ride for kids (or after many many drinks).
Pony Riding
Located near the exit, this fun little attraction is one I really wish I wasn't too old for!
To find it, just follow the smell of manure. 🙂 Cute, right?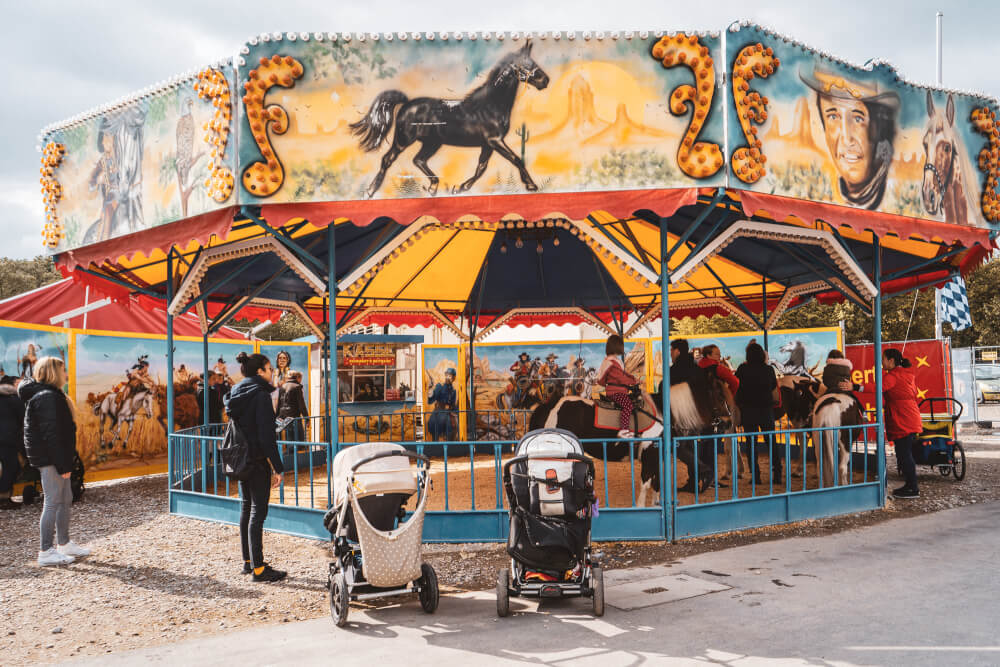 The Beach Party
Located also near the exit (pretty much across from the pony rides) is a fun little beach party stall where there appeared to be a lot of kids running around in bubbles, AKA zorbing. Super fun!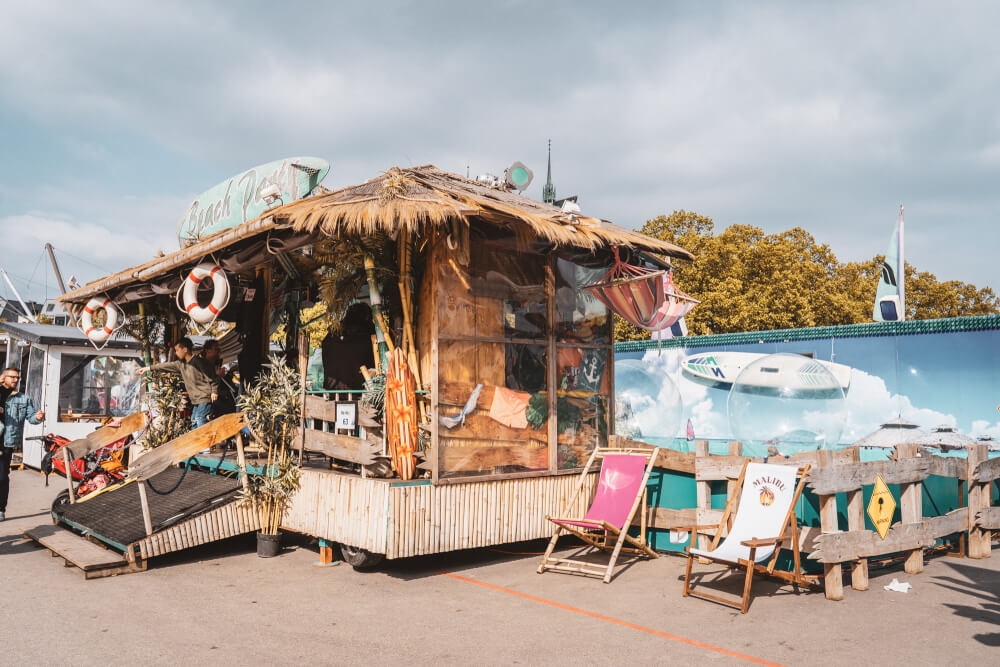 Other Frühlingsfest Events
Last but not least, here are a few special events and activities that you should keep in mind during your visit!
The Largest Flea Market in Bavaria
On the first Saturday of Frühlingsfest, it's a long-held tradition to host a giant flea market with thousands of vendors at Theresienwiese, so if you're interested in doing some treasure hunting, this is your chance! Come early though to ensure you nab the best bargains.
Family Day
On the two Tuesdays of Frühlingsfest, they celebrate Family Day, which is when a lot of the stalls will have special discounts and reduced prices for families. For instance, the Froyo place was doing 2 euro froyos! Definitely something to keep in mind if you're coming with kiddos.
The Day of Customs
This day is a fun celebration of various Bavarian cultural traditions, hence the name. It's also known as the Day of Traditions, so imagine folk dancing, a traditional clothing parade and more!
Fireworks
At 10pm on both Fridays, you can enjoy a big fireworks show on the site of the Theresienwiese! Just make sure you're not cooped up inside the tent and miss the whole thing 😉
Have a great time exploring all of Frühlingsfest's attractions and activities!
And let me know in the comments if you have any more questions. Enjoy!
---
Watch my most popular YouTube video this week:
---