*FYI - this post may contain affiliate links, which means we earn a commission at no extra cost to you if you purchase from them. Also, as an Amazon Associate I earn from qualifying purchases. Check out our Privacy Policy and Disclosure. for more info.
Wondering what to do in Zagreb, Croatia? Read on for a list of all the best unique & fun things to do in Zagreb for the perfect Croatia city break.
There are some places in the world that beg the question "where have you been all my life?"
For me, that would be Zagreb.
Zagreb, Croatia – the capital of a country inextricably linked to sunny beaches, party islands and (more recently), Game of Thrones fanboys.
Ironically though, Zagreb has none of these things.
And while most people flock to the country's sun-soaked coast and turquoise waters for sailing trips and the like, it's here in the capital that Croatia dances to the beat of a slightly hipper drum.
A lot of travellers find themselves on-the-fence about whether or not to add Zagreb to their Croatia itinerary, and here's what I think: if you're looking for a swoonworthy city break in Croatia that oozes with cool, Zagreb's where you need to be, whether you're backpacking Europe or just looking for a weekend getaway.
Here are some fun things to do in Zagreb to show you exactly what I mean!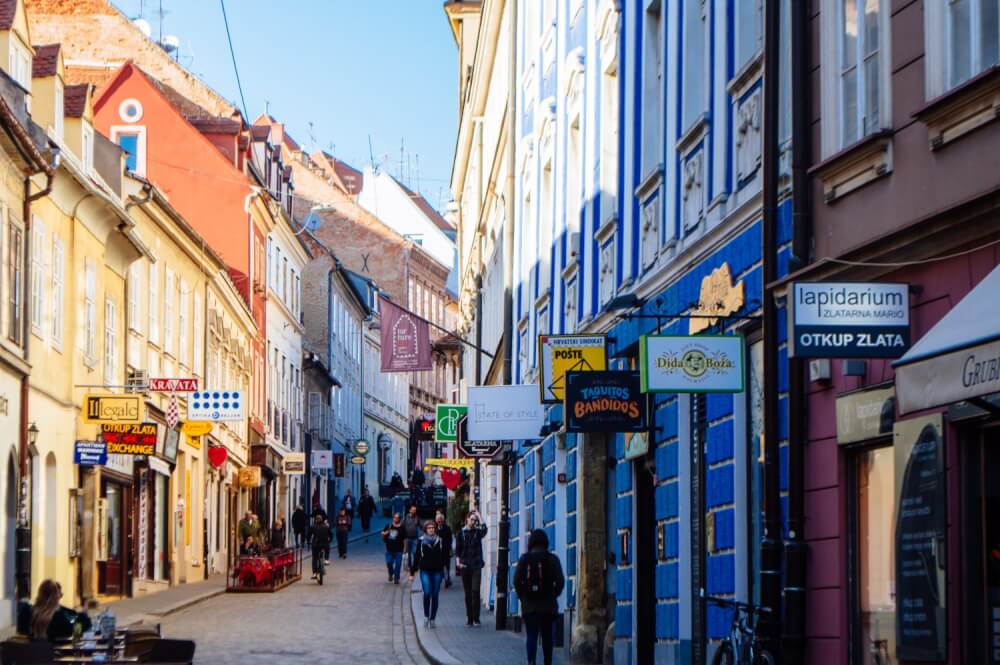 Why Visit Zagreb?
I've long considered Zagreb one of the best 'hidden gem' city breaks in Europe, although it's getting increasingly popular… and for good reason.
The truth is, when hitting up the more touristy capitals in Europe (like Paris, Brussels, Lisbon, or Prague), it's easy to feel like there's a clear dichotomy of tourists vs. locals, with locals often tired of our camera-wielding, photo opp seeking ways.
This isn't the case in Zagreb.
In my experience, everyone here is so laid back that you don't ever feel out of place.
It's mostly for this reason that Zagreb, to me, is a refreshing gulp of fresh air.
It's not an overly touristy European capital, and for that reason, some travellers have dismissed it as "boring" due to its lack of iconic attractions of must-dos.
But Zagreb is fun! And different! It may not be your typical haven of sightseeing and culture, but just like how I feel about underrated capitals like Vilnius and Riga – give Zagreb a try, and I promise it'll rock your world.
Wondering what to do and where to go in Zagreb? Below you'll find a sample of the top fun things to do in Zagreb for a first-timer. I hope it'll convince you to give this city a try!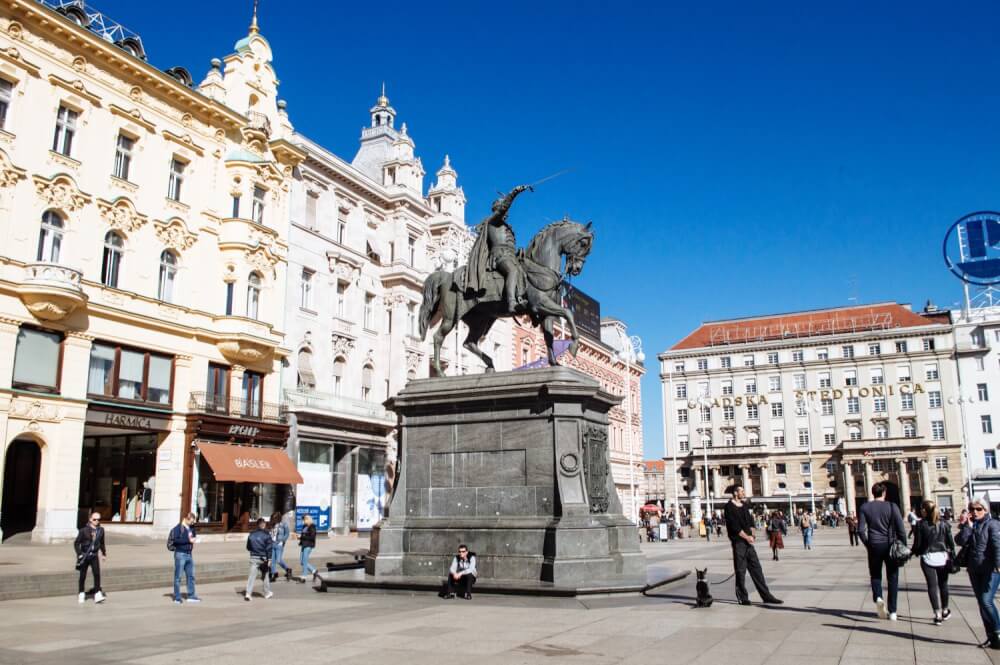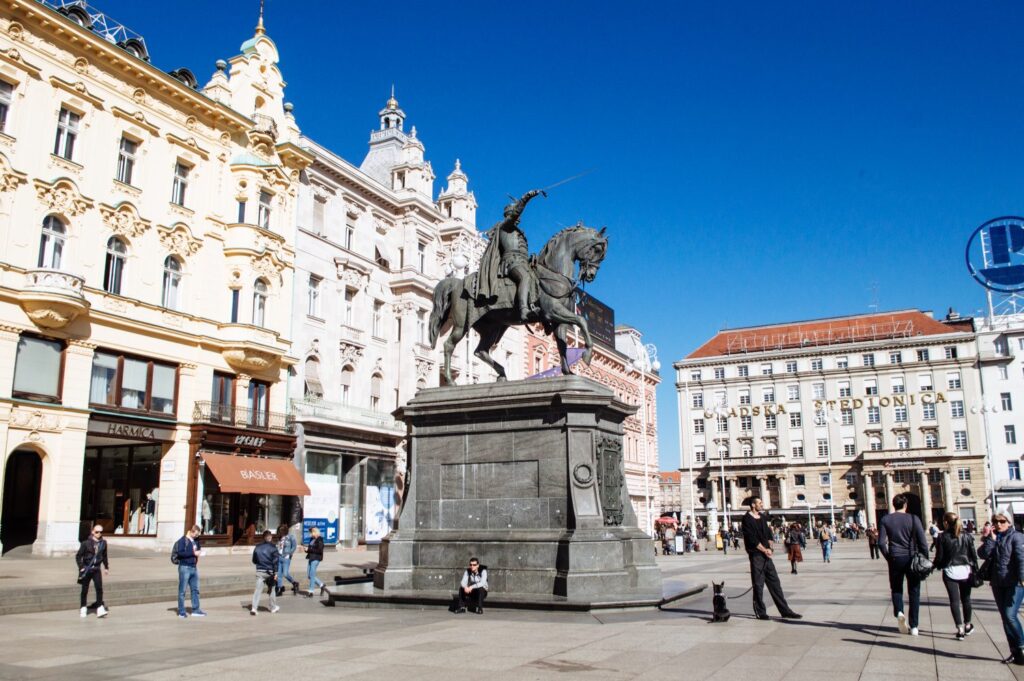 Admire St Mark's Church
While Zagreb isn't crawling with famous attractions, there are plenty of noteworthy sights that lend ample photogenic flair to any trip.
St Mark's Church, with its colourful tiled rooftop, is perhaps one of Zagreb's most recognizable spots, and one of the top things to see in Zagreb.
Not only is it one of the city's oldest buildings, it's known as one of the prettiest churches in Croatia thanks to its unique tiled roof (which shows the medieval Coat of Arms of Croatia, Dalmatia and Slavonia, and the Zagreb city emblem), as well as its rich gothic portal and beautiful ceiling frescos.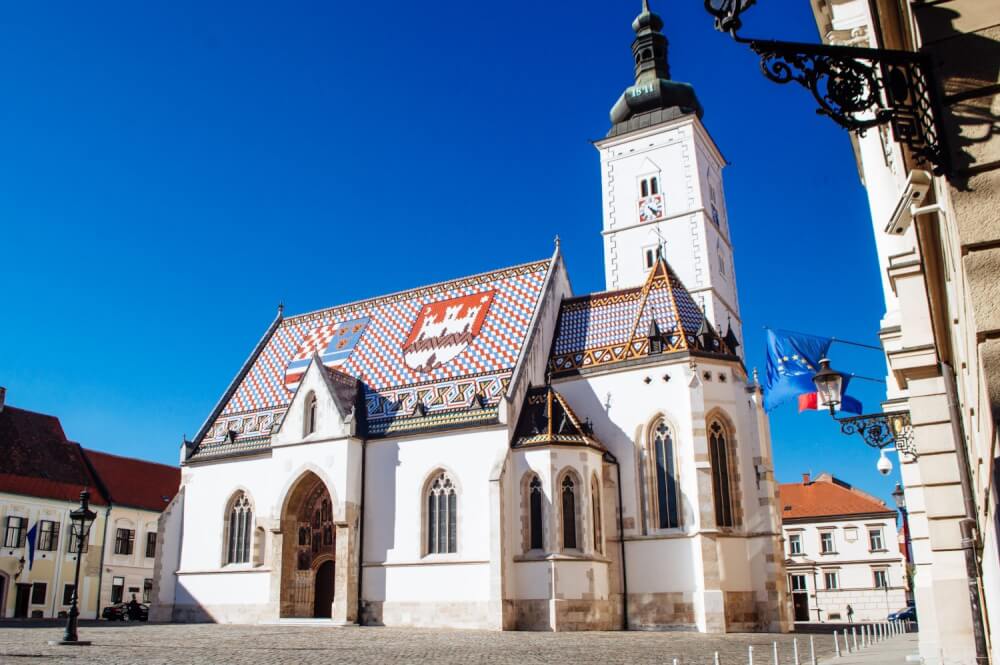 Enjoy the view from Lotrščak Tower‬
Another one of the best things to do in Zagreb is to get a good view over the city.
One place you can't resist doing this is Lotrščak Tower‬, where you get to admire the city's red rooftops from above.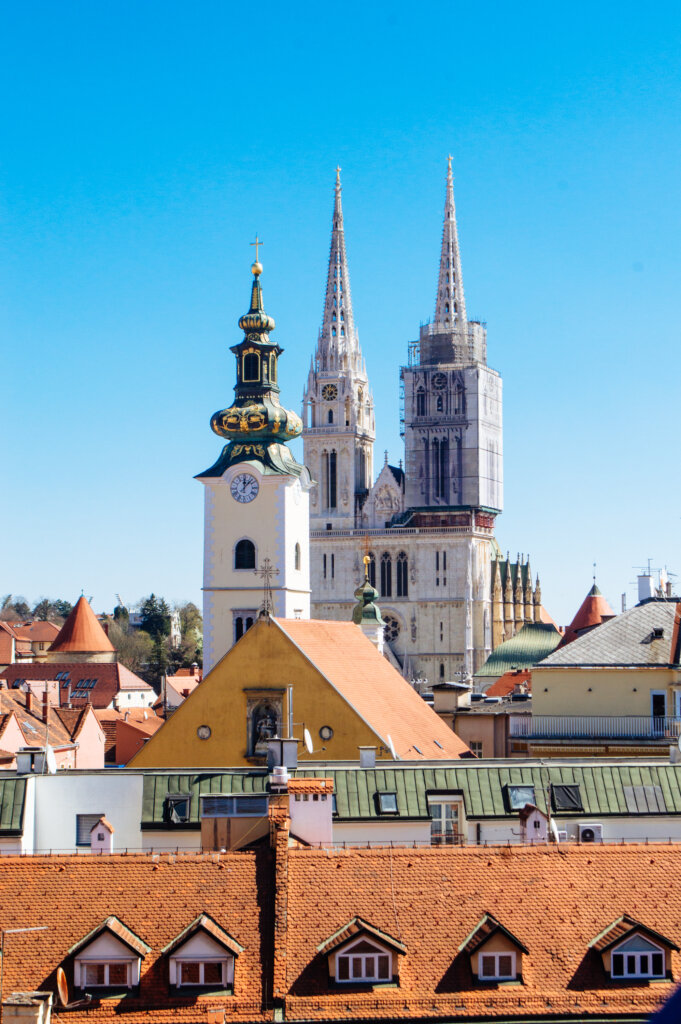 This fort dates back to the 18th century, and was once the city's most important.
Today, it's mainly a scenic viewpoints for eager camera slingers like you and me, but try to time your visit for noon, which is when you'll hear the daily cannon blast that has been ongoing for the past 100 years.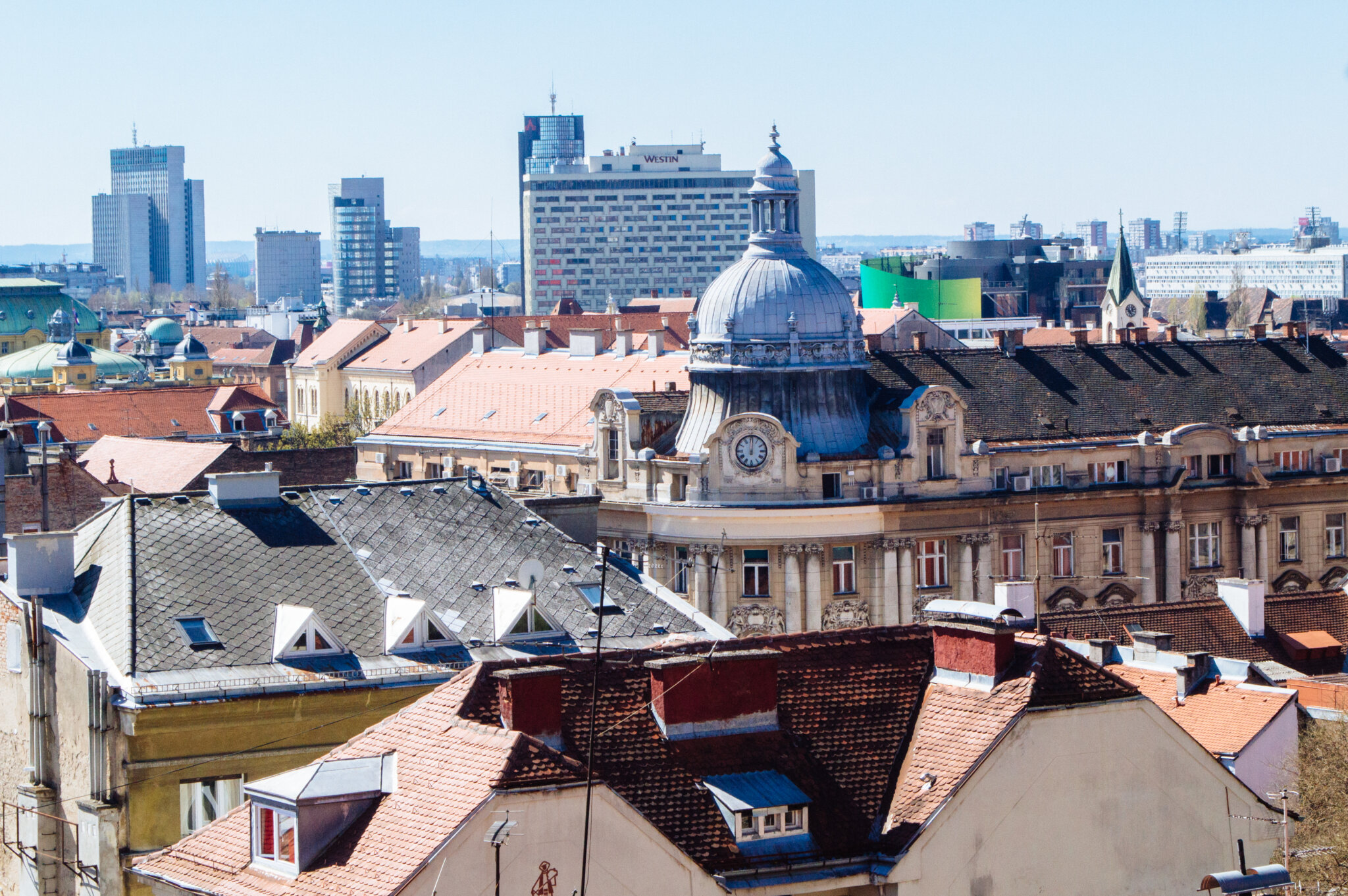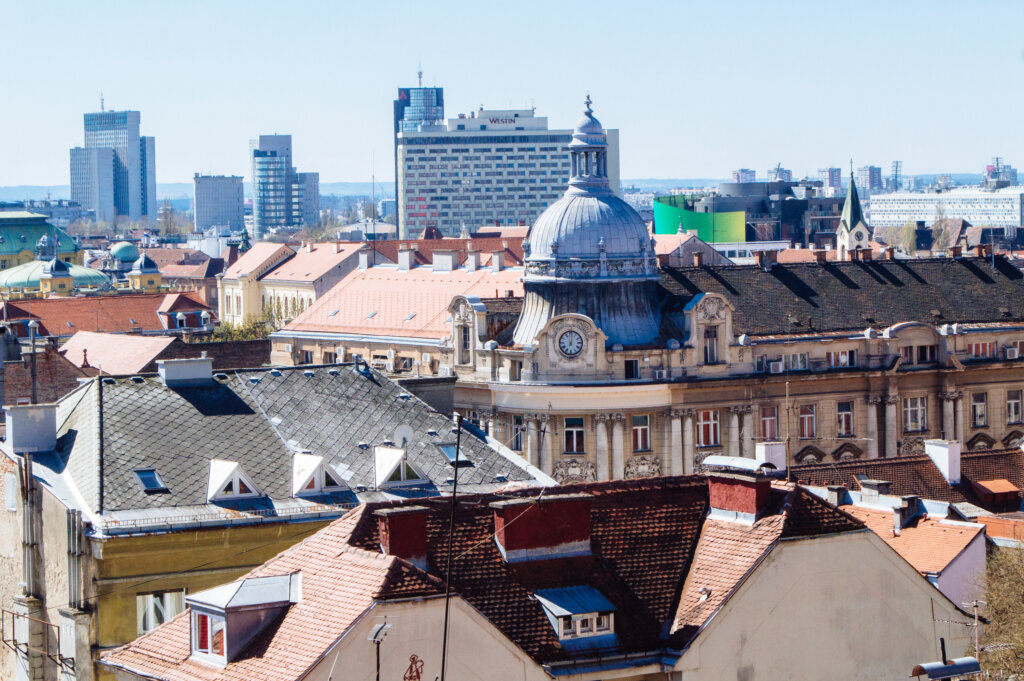 Stop by the local market
For a nice peek at local life (and plenty of fresh, tasty food), one of the best things to do in Zagreb is visiting the city's open air market, Dolac.
This market has been a prominent Zagreb institution since the 30s, and is made up of two parts: the open air farmer's market above, and the covered market below where you'll find local fishmongers and butchers selling plenty of fresh goods.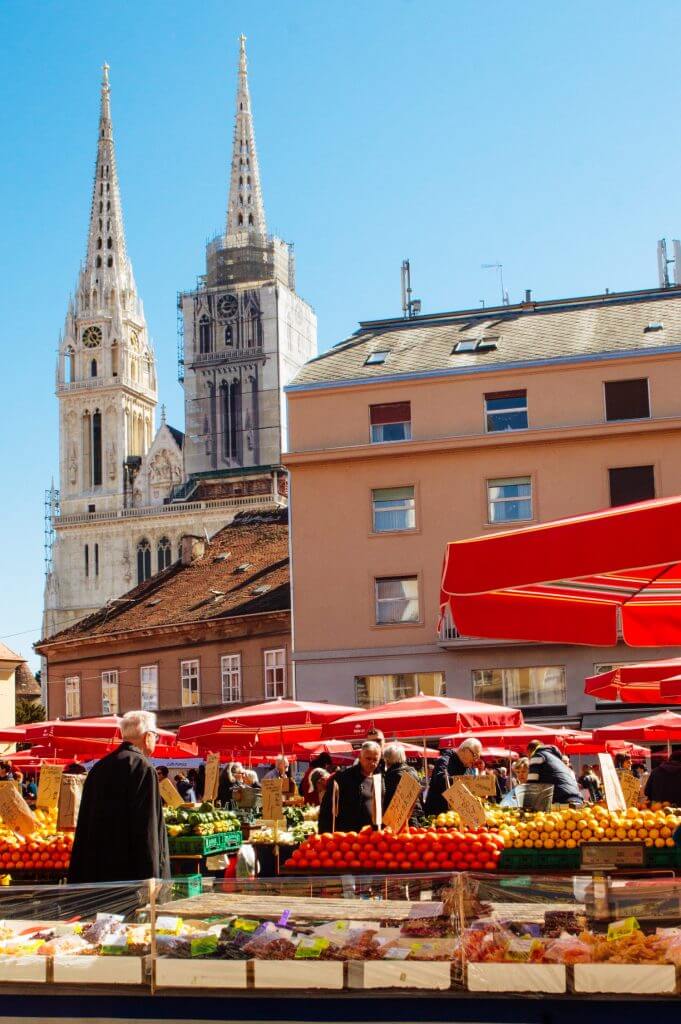 Visit the Museum of Broken Relationships
If you only have time to visit one museum while in Zagreb, my #1 recommendation to you is the museum of Broken Relationships, a showcase of submitted relics/mementos from relationships that have been lost for one reason or another.
This is possibly one of my favourite museums in the entire world (and I'm not alone!). It's also the only museum where I've stopped to read every single display.
Some stories are funny, others are heartbreaking, but combined, they make for the ultimate unique Zagreb must-do. Click here to get a skip the line ticket.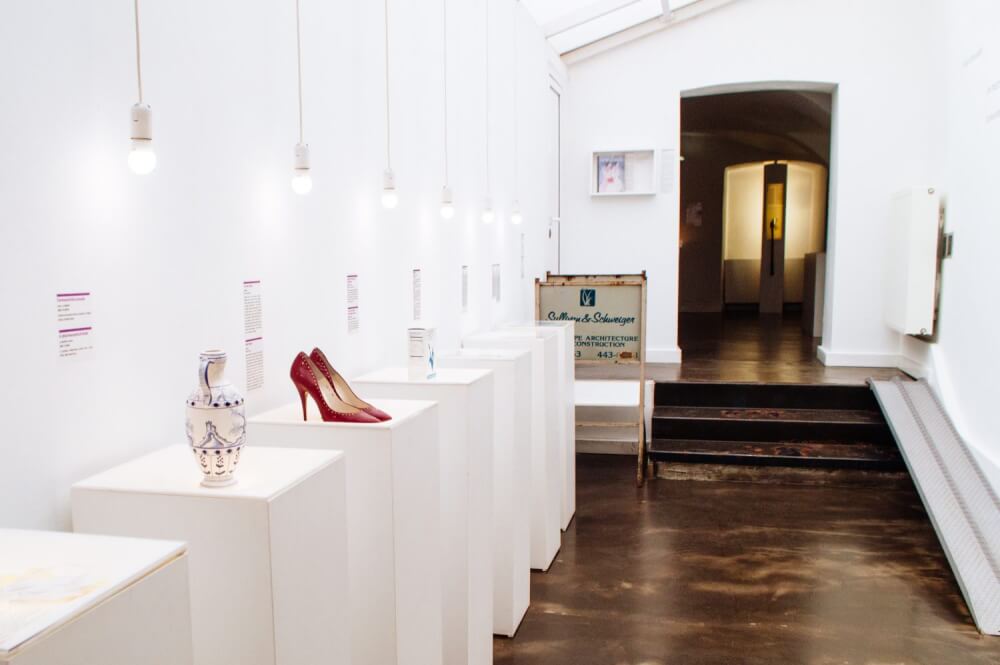 Enjoy Zagreb's incredible cafe culture
While many travellers dream about sipping espressos in Milan or cafe dwelling in Paris, it's a lesser known fact that Croatians are also masters of an excellent brew.
In Zagreb especially, the café culture manifests in not just tasty coffee, but a wide range of beautiful cafes decked in droolworthy décor.
If you want to transport into a trendy Instagram, go café hopping in Zagreb and you'll feel like the coolest kid alive.
Don't miss…
If you're keen to just find a place yourself, be sure to visit the Tkalciceva strip, which is lined with all sorts of cool restaurants and places to grab a drink. You'll be spoiled for choice.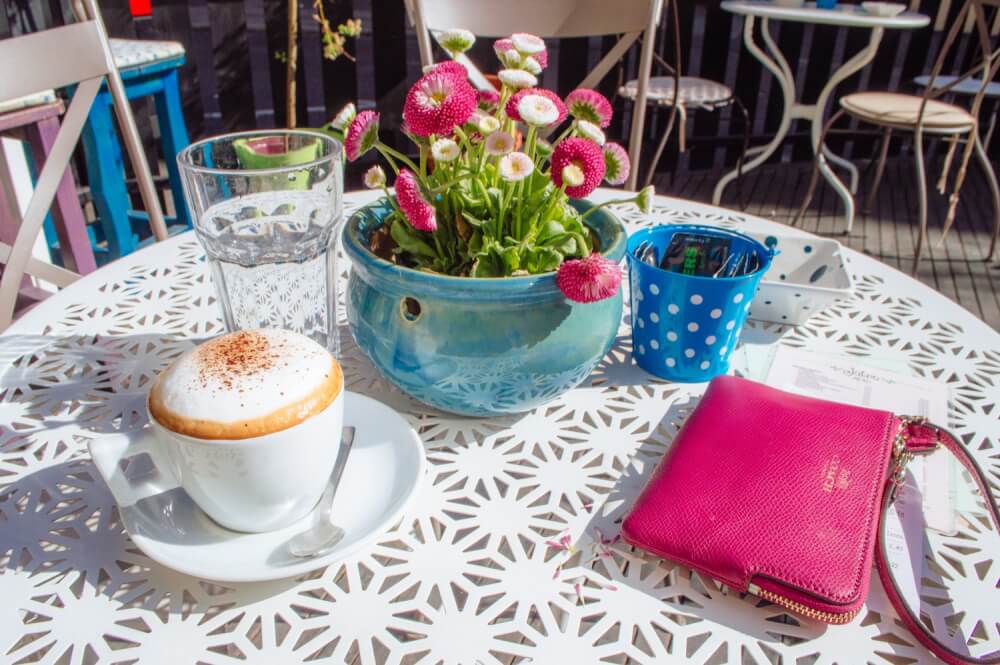 Enjoy Zagreb's green spaces
If laying out in the sun walrus-style is more your thing, you could easily make a day sunbathing at one of Zagreb's many green spaces. I sure did.
In the city centre, you'll find a series of parks and city squares spread across a "U shape" called "Lenuci's Horseshoe" or "the Green Horseshoe".
Fix yourself a picnic and starfish at one of these parks. The lush greenery and people watching opportunities are too good to pass up.
My personal favourite is the King Tomislav Square (Trg Kralja Tomislava), which you'll find directly in front of the central train station. Especially in Spring… *swoon*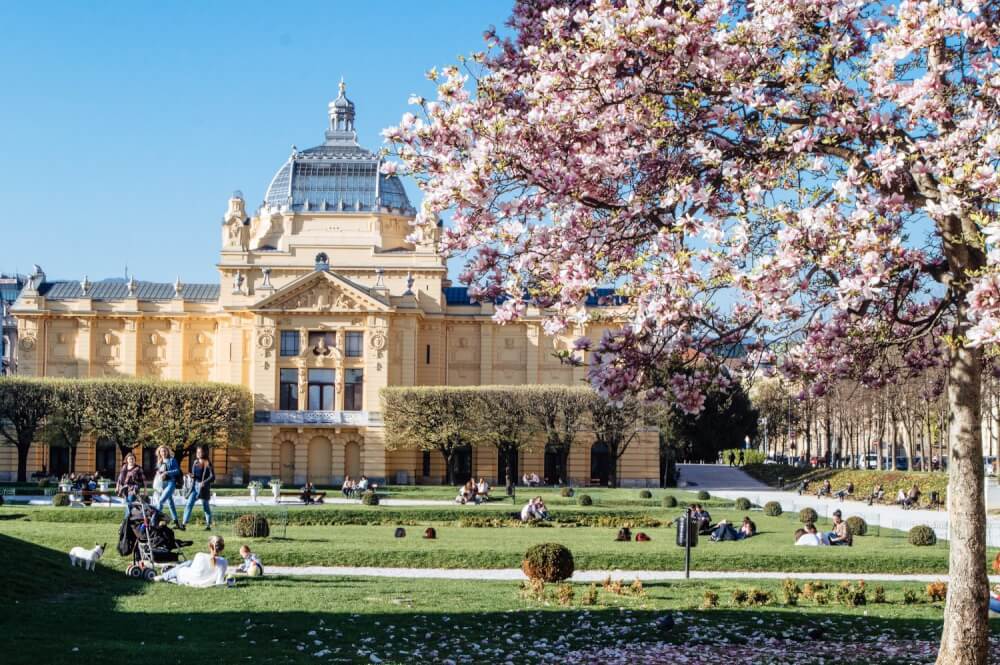 Go on a Walking Tour or Head Out Exploring
Zagreb is full of flat streets, pleasant surprises and cool opportunities for exploration. You can be walking towards the train station and then out of nowhere, heyyy random panels of street art!
Or maybe you'll spot a giant whale painted on a building, only steps away from Zagreb's best view. Regardless, this is a city you won't get bored of exploring.
Short on time? I highly recommend doing the Zagreb Free Spirit Walking Tour, offered daily at 11am. They have lots of great food recommendations and will take you to most points of interest!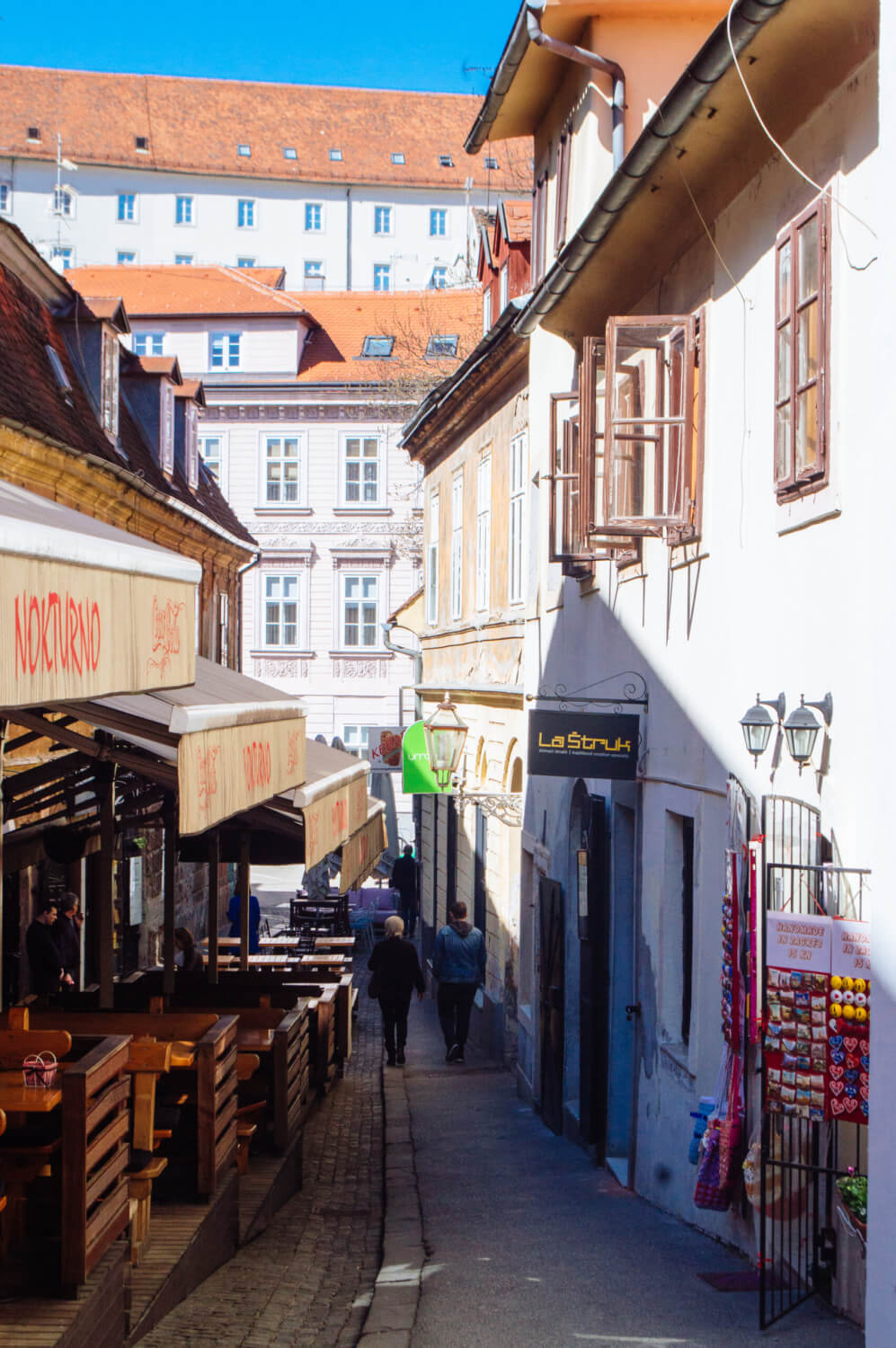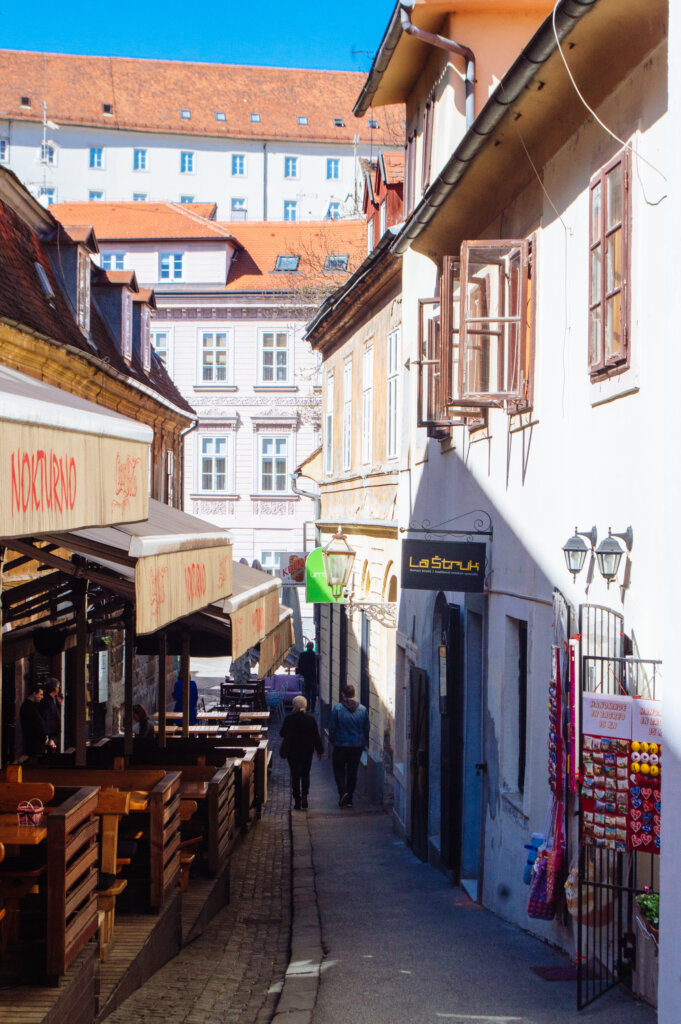 Try Štrukli, a local specialty
While cuisine along coastal Croatia is known for its Mediterranean flair and fresh seafood, Zagreb's offerings are a bit different. The food scene here is as vibrant as it is diverse, and you'll be swimming in possibilities.
In terms of typical 'Za-grub' though (heh), grab yourself a Štrukli from La Štruk and your life will be changed.
This Croatian specialty is lip smackingly good. Served baked or boiled, with savoury or sweet varieties, Štrukli combines layers of dough with delicious cottage cheese and sour cream.
Some have compared it to a warm, gooey hug, but I'd like to think of it as a comfort food on steroids.
Those looking into the culinary side of Zagreb should definitely check out Zagreb Bites! I wish I had time to do one of their tours, but I've heard great things about them.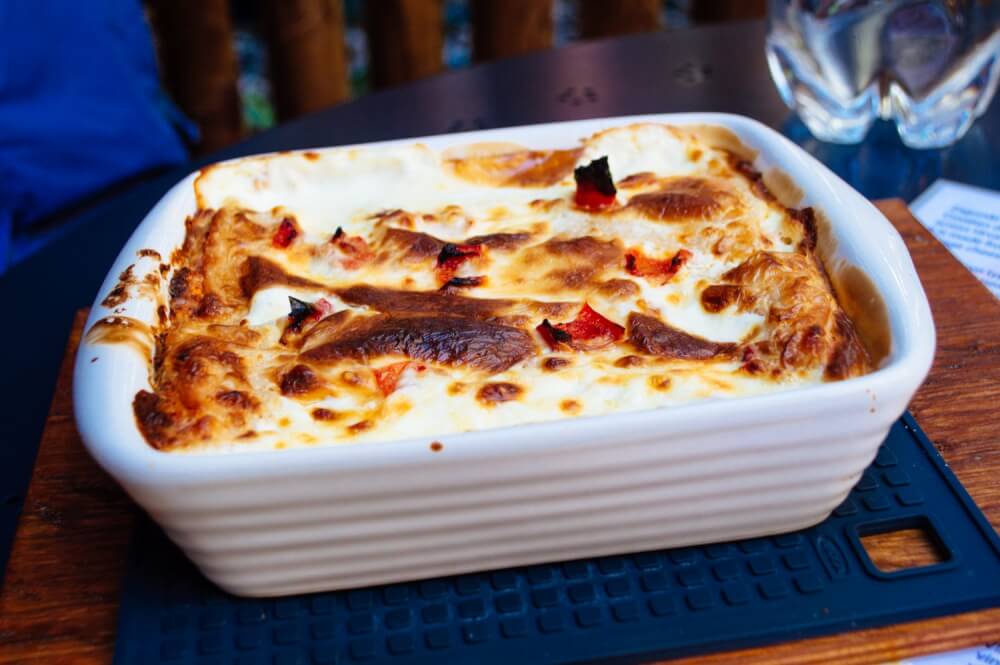 Stop by One of Zagreb's Many Other Excellent Museums
I've already mentioned how much I adore the Museum of Broken Relationships in Zagreb, but from torture to mushrooms, Zagreb's museum scene covers plenty of interesting ground.
A few recommendations:
The Croatian Museum of Naive Art is a small but cool museum that showcases work by artists without professional training.
The Museum of Illusions is SO much fun, especially for those who constantly run from adulthood (like me). With several floors of cool optical illusions, you'll be mindblown every step of the way. Click here to get a skip the line ticket.
Last but not least, The Mushroom Museum has hundreds of mushroom species on display… because why not?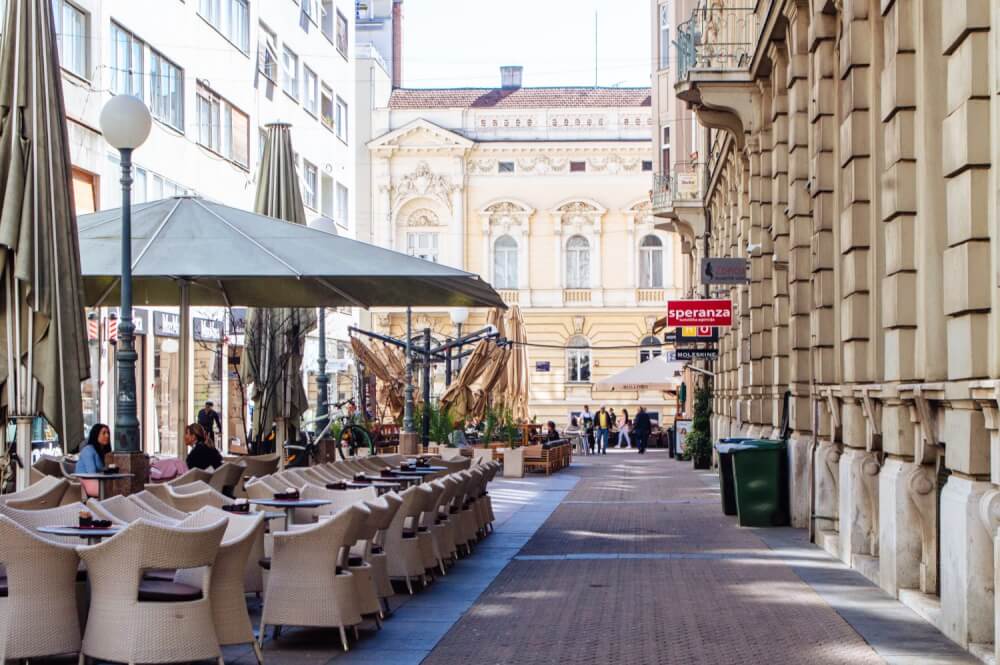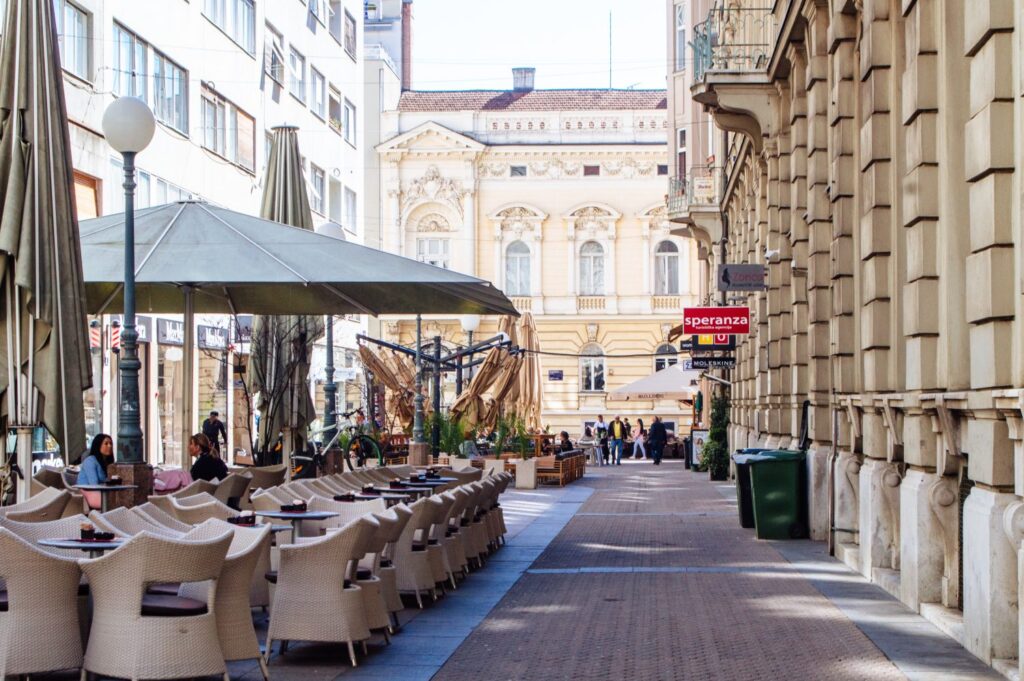 Hop on one of the shortest funiculars in the world
With a track length of only 66m, the Zagreb Funicular is commonly known as one of the world's shortest funicular rides… but it's also one of the prettiest!
This is the oldest form of transport in the city, and costs only 5 kn, so it's a worthwhile thing to do in Zagreb when your legs get a bit weary from all the walking.
PS: For a truly jawdropping funicular ride, check out my post all about the Gelmerbahn in Switzerland, a ride that has gone viral lately on Pinterest for its epic views.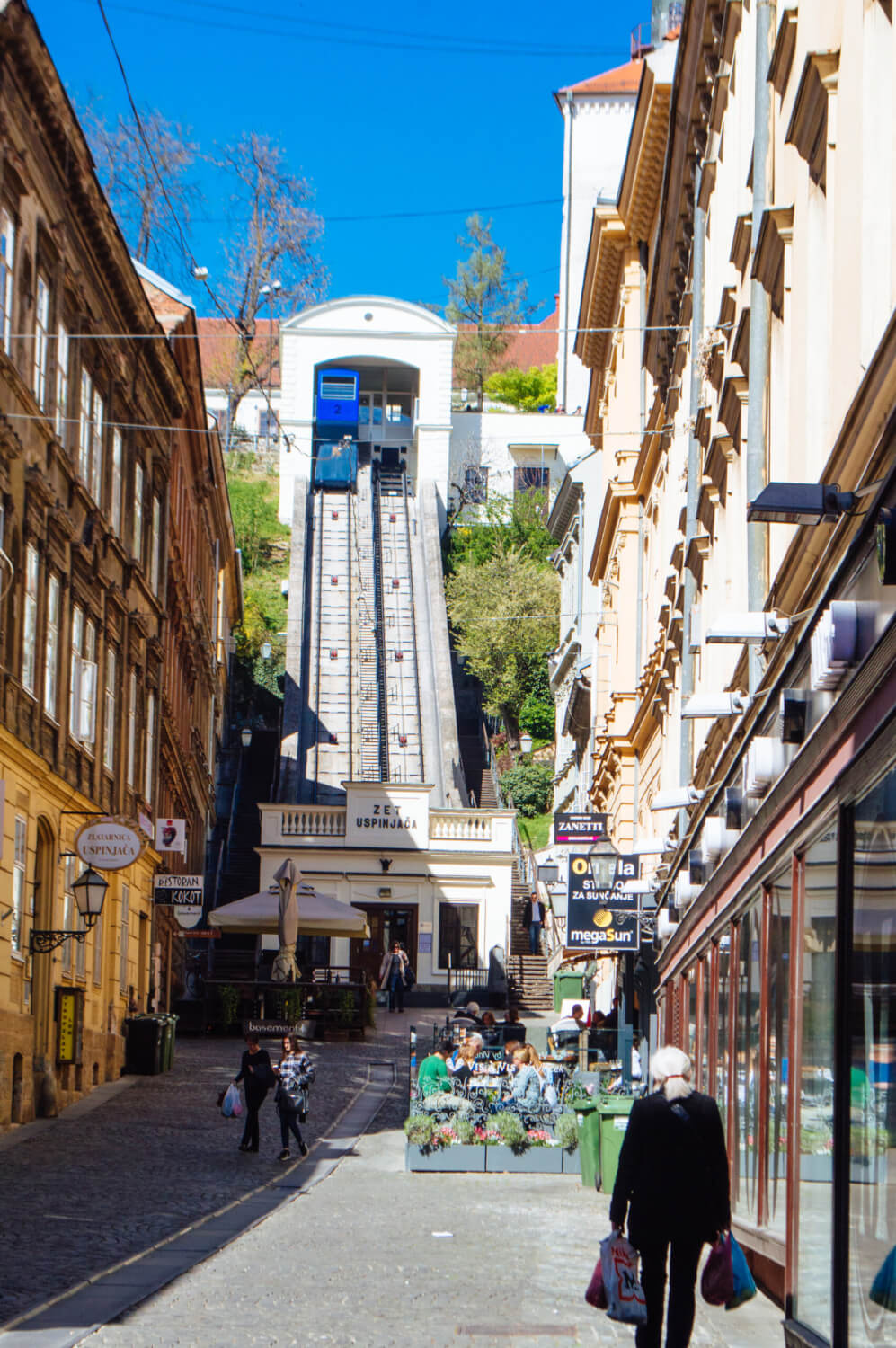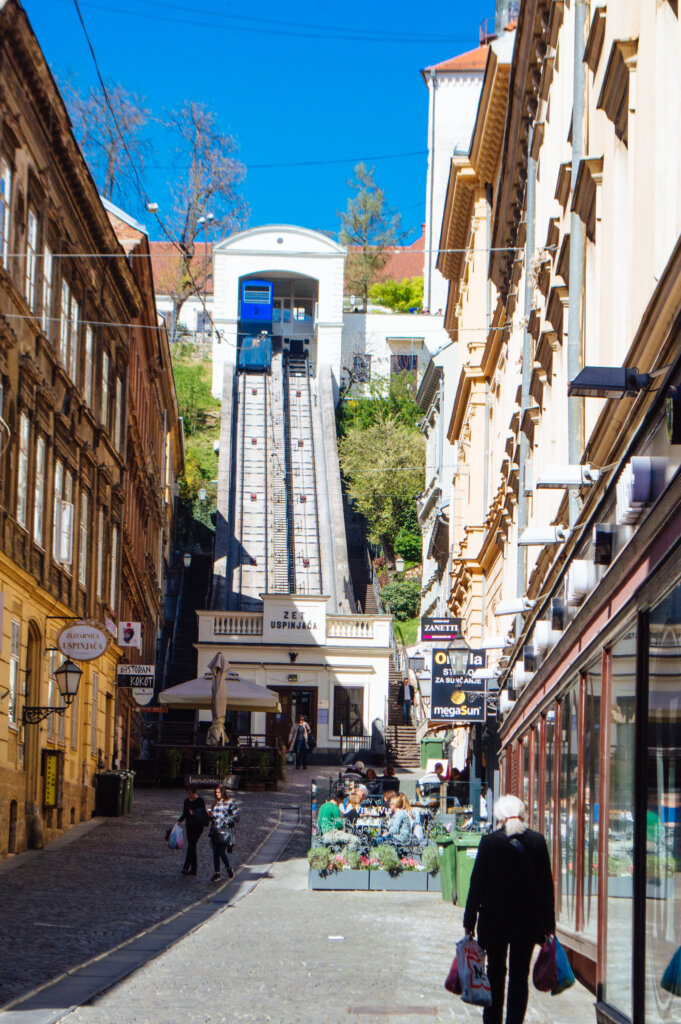 I hope you enjoyed this list of things to do in Zagreb!
Tell me, have you ever been to Zagreb? Or what other cities have been a pleasant surprise for you? Let me know in the comments!
---
Watch my most popular YouTube video this week:
---