*FYI - this post may contain affiliate links, which means we earn a commission at no extra cost to you if you purchase from them. Also, as an Amazon Associate I earn from qualifying purchases. Check out our Privacy Policy and Disclosure. for more info.
This Milan city guide was created in collaboration with InLombardia. I hope you enjoy this roundup of ALL the best things to do in Milan!
Like its beloved breakfast brioche, Milan is a city boasting endless layers.
In fact, let me channel my residual Negroni buzz and boldly declare that this eclectic capital of Lombardy, known predominantly for its fashion scene, is one of the most unique cities in all of Italy.
Milan is where you'll find glassy vertical towers fighting majestic monuments for a share of the sprawling skyline, where a bumpin' cocktail scene is supplemented with a flourishing love for craft beer, and where you'll find doppelgängers for both Venice and Manhattan in a day.
The best part though?
Milan is in constant evolution, and the city I saw on my first visit four years ago looks a lot different to the one I saw most recently with InLombardia, who showed me new sides to Milan I never knew existed.
I've now been to Milan three times, and if there's one thing I've learned about this city, it's that it's a true "choose your own adventure", where there's possibilities for every interest type, whether you're a foodie, culture hawk, sport lover or fashion fiend.
And so, if you're wondering what to do in Milan, allow me to help with this specially curated Milan travel guide.
Whether your interests are food, culture, history, sports or general quirkiness, Here are some of the best things to do in Milan!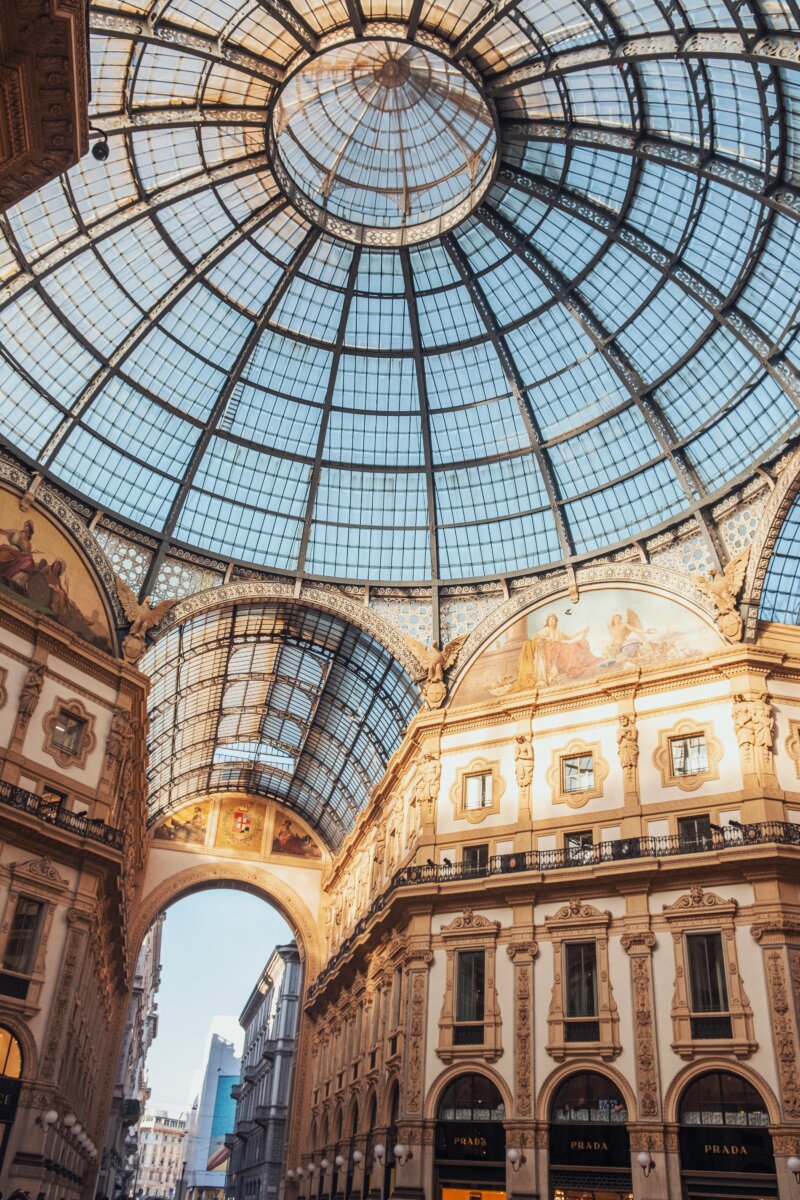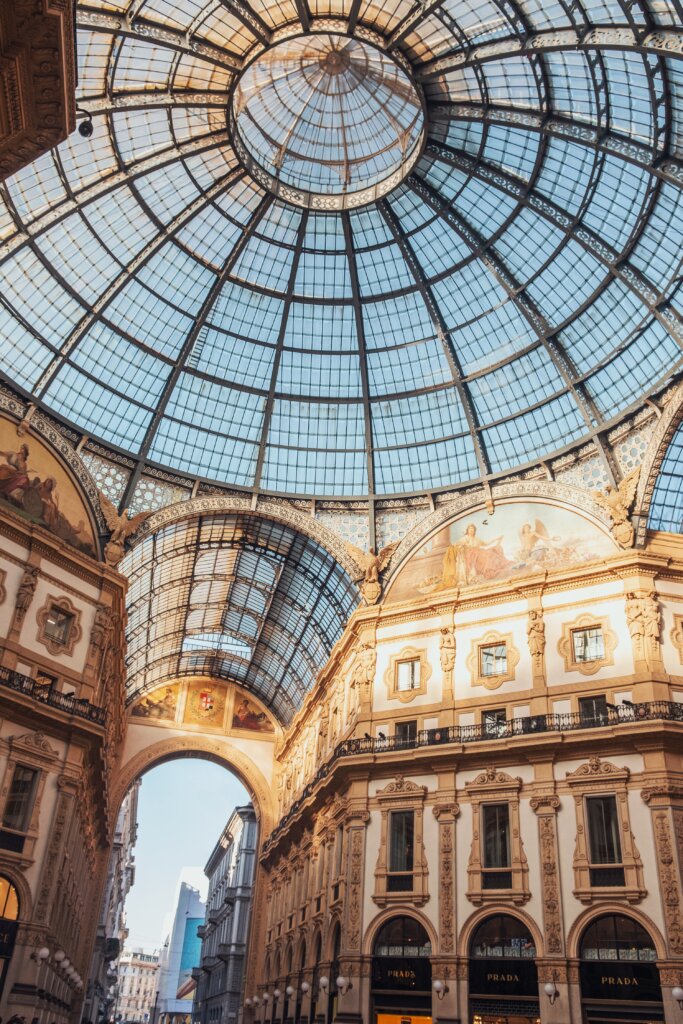 The Main Milan Attractions You Can't Miss
Let's start with the basics. A visit to Milan would be woefully incomplete without a stop at its most iconic landmarks. So, before we dive into the endless list of things to do in Milan, here are some must-sees.
1. The Duomo
Address: Piazza del Duomo
There's no sight more synonymous with Milan than its stunning Duomo, the largest church in Italy which took six centuries to complete.
Naturally then, one of the first things you should do in Milan is stop by here and admire its stunning details up close.
Morning is THE time to come, before the masses arrive and the pigeons get antsy. A climb (or elevator ride) to the top is an absolute must for the best panoramic 360 degree views over the city.
Click here to get your ticket online in advance to avoid long line-ups.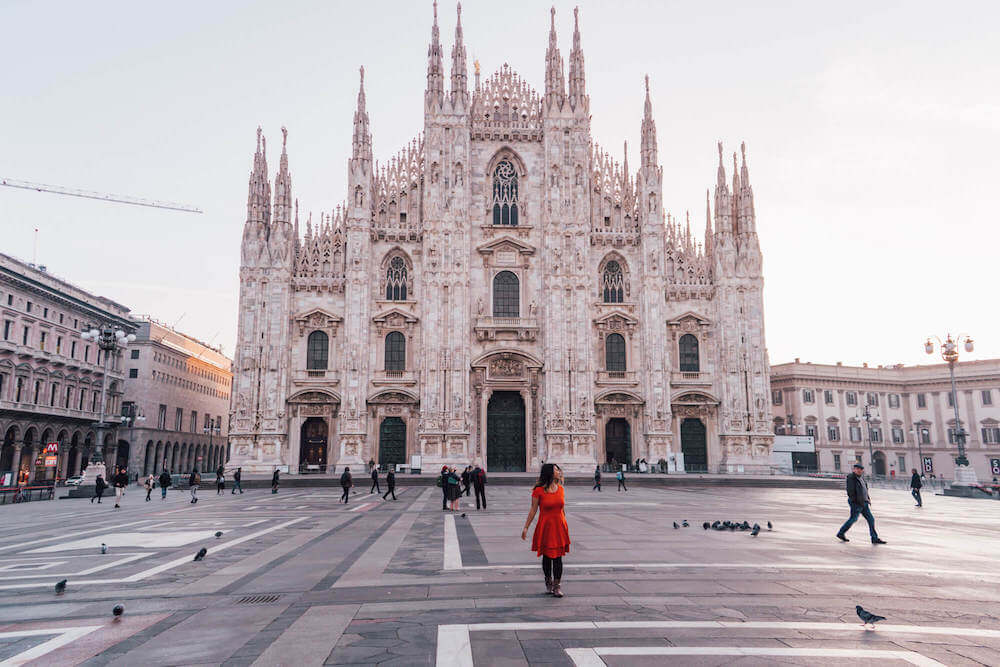 2. Galleria Vittorio Emmanuele II
Address: Piazza del Duomo
Another one of the best-known Milan landmarks can be found just to the side of the Duomo: the Galleria Vittorio Emmanuele II, one of the most handsome shopping malls in the entire world.
Built in the late 19th century, its elegant double arcades connect the Duomo to La Scala, another one of Milan's starring attractions.
With its sleek vaulted roof and palatial grandeur, it's no wonder this Galleria is one of the most popular sights in Milan. Not only is it an architectural showstopper, it happens to be the oldest active shopping mall in the country as well.
And if a casual shopping spree sounds out of reach, the good news is snapping photos while oohing and ahhing is totally free.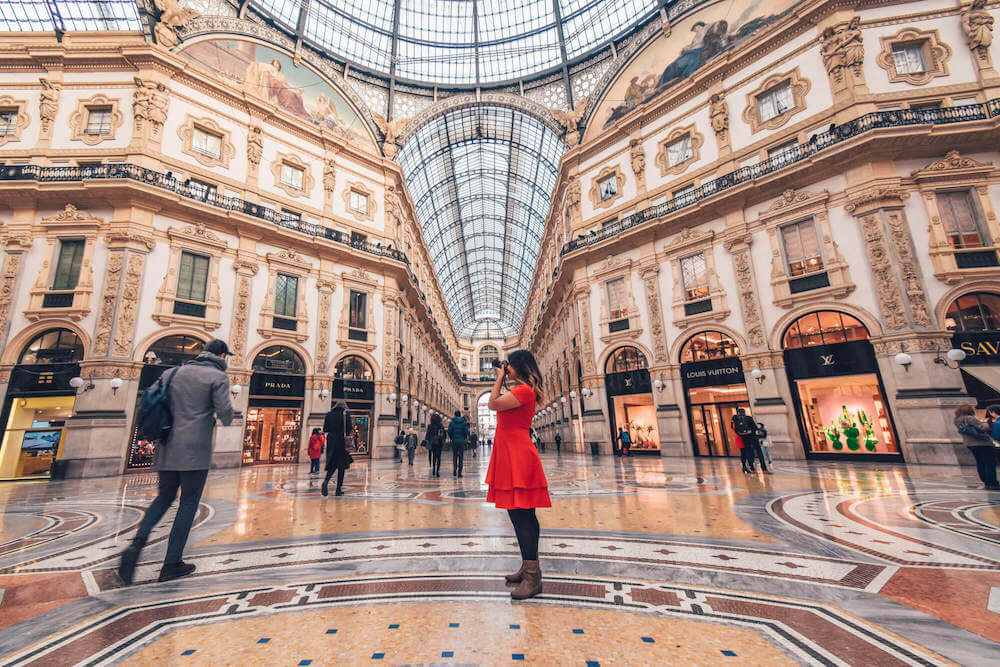 3. Navigli District
No Milan sightseeing tour is complete without a stop in the gorgeous Navigli District, where photo opps, alcohol and nibbles are all available in delightful abundance.
(It's not hard to see why this is my favourite spot in Milan)
This district is famed for its picturesque canals and buzzing nightlife, with countless bars and restaurants that spill out into the streets when the weather's right.
This area is also a favourite for aperitivo, a Milanese twist on Happy Hour where cocktails and (complimentary) small bites are consumed to whet one's appetite.
And while I've visited both during the day and night, I'd say the area is especially atmospheric in the evening, when the buildings light up and the glittering reflections are perfectly still.
Click here to look at options for a walking tour around the Navigli District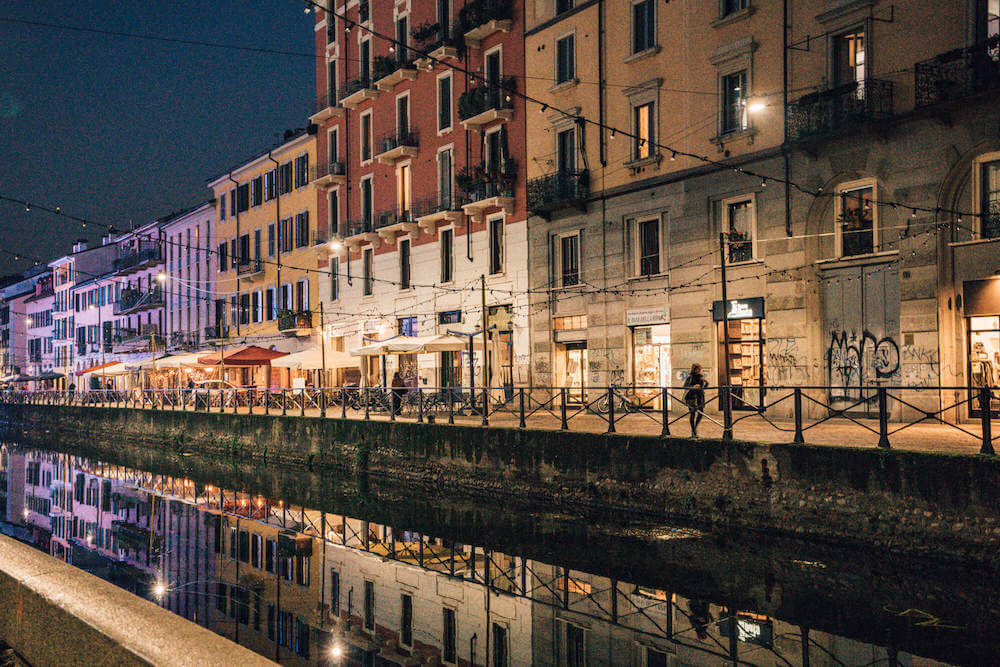 4. The Bosco Verticale, Porta Nuova & "New Milan"
Last but not least, if you're looking for a taste of modern Milan, look no further than the city's new Porta Nuova District, where you'll find glassy skyscrapers, unique architecture and Milan with an urban flair.
Especially noteworthy is the Bosco Verticale, a pair of residential towers studded with over 900 trees, the most iconic sight in the district.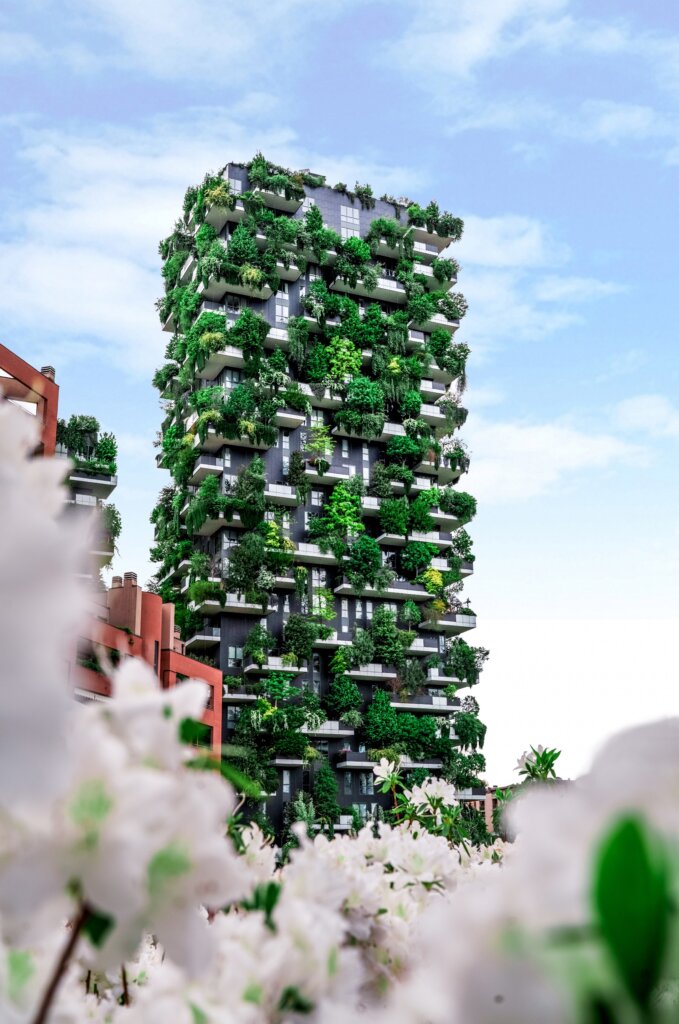 During our visit, we even got to walk through the newly opened Biblioteca degli Alberi, the "Library of Trees" public park at the foot of the Bosco Verticale.
This green space is one of the most anticipated additions to Milan's cityscape, with over 135,000 plants crammed into the area.
If you're looking for a unique departure from Milan's typical tourist trek, this is where you should head. You can even book a bike tour to take you around – check reviews/prices here.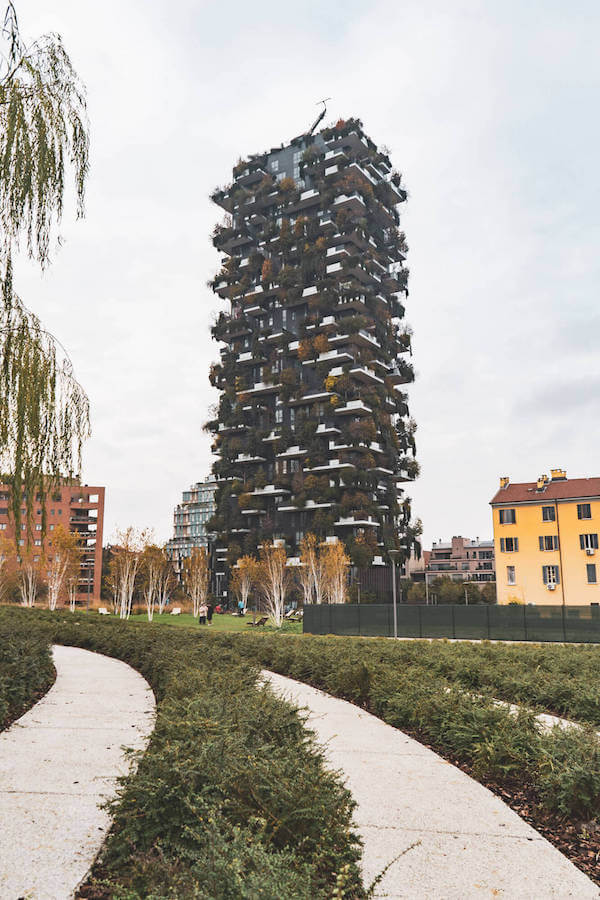 Fun Things to do in Milan for Foodies and Coffee Lovers
Alright, with all the main must-sees out of the way, let's move onto specific Milan activities for every interest. First up (because we're in Italy), let's tackle a bucket list for foodies.
Here's what to do in Milan if your priority is stuffing your face with goodies.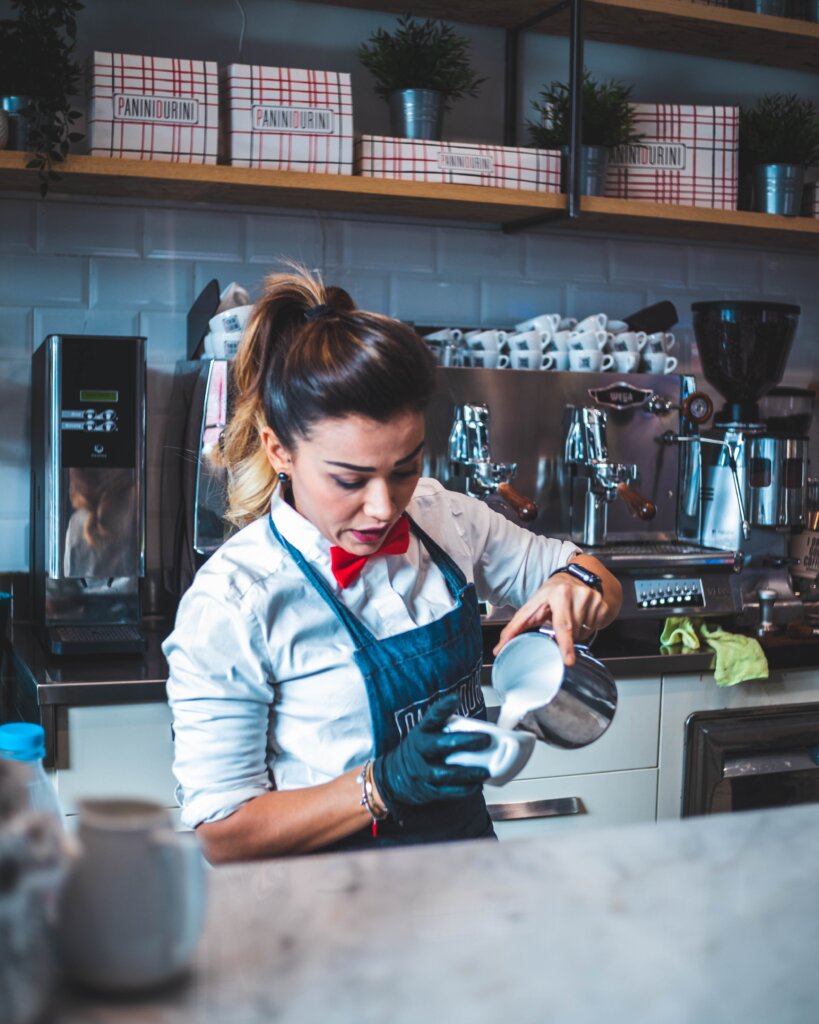 5. Enjoy an aperitivo
As far as Italian rituals go, there are few that beat the indulgence of aperitivo, the typical pre-dinner "Happy Hour" where you stoke your appetite with a cocktail and small bites served on the house.
In practice, aperitivo works like this: you order your drink (often a face-melting Negroni or Aperol Spritz) then the floodgates open to free food at no additional cost.
Sometimes, this just means your server brings you some chips and bruschetta to munch on, other times this means you get a full-on buffet spread with meats, cheeses, pizzas, pastas and more.
And well, since aperitivo is practically an Olympic sport in Milan, you must surely partake, if even just in the name of "culture".
If you're looking for ideas on where to enjoy aperitivo, you can even book an aperitivo tour here.
6. Sip on a scenic Spritz (or your tipple of choice)
To me, there's no better way to appreciate Milan than with a view and boozey drink in hand.
The bright orange Aperol Spritz is of course a recurring classic, although spritzes of any kind, Negronis and increasingly, craft beer are also popular.
If you're looking for the most scenic places to go in Milan to sip and chug, here are a few spots to indulge your inner Gossip Girl.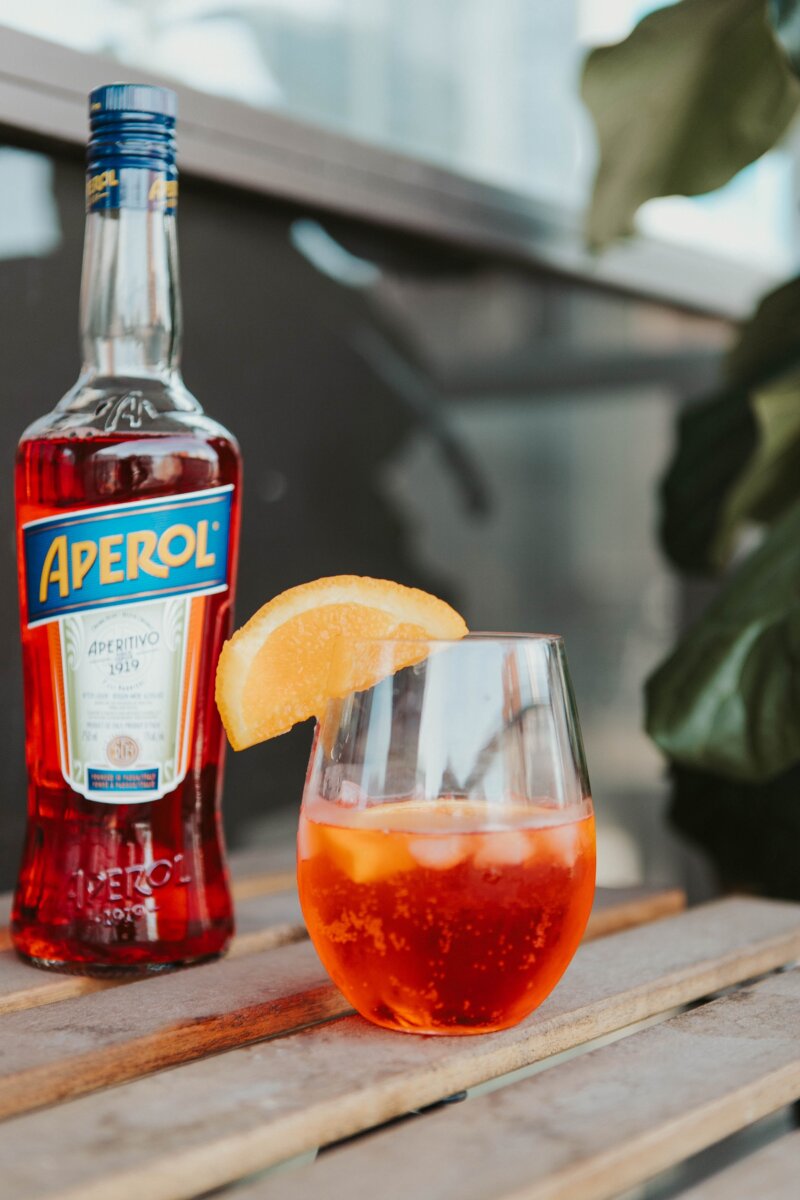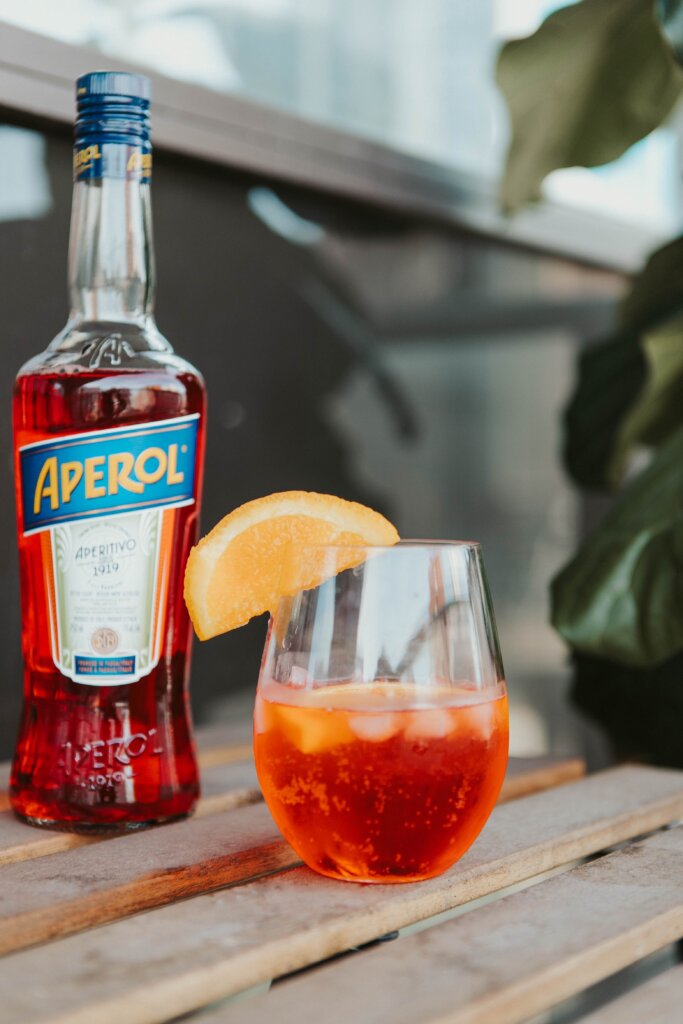 Terrazza Aperol: Via Ugo Foscolo 1
With a strategic terrace overlooking the Piazza del Duomo, this is an obvious place to indulge in an Aperol Spritz, but beware of the usual downsides that come with a great view: long line-ups, high prices and snippy service. NOTE: The Duomo 21 is nearby and offers a similar view, though the horrific reviews are too much for me to recommend it!
La Rinascente Terrace: Piazza del Duomo
If you feel like mingling with gargoyles and church spires, the 7th floor terrace of the luxe La Rinascente department store might be for you! If you're sipping cocktails in Milan anyway, why not do it with the picturesque backdrop of the Duomo?
Ceresio7: Via Ceresio, 7
Owned by the fashion house Dsquared², this rooftop hotspot is decked out with two pools, two lounges and a glittering view of Milan's modern Porta Nuova District skyline. As you can imagine, it's a pretty chic place.
Terrazza Triennale: Viale Alemagna Emilio, 6
Last but not least, this hidden gem is an airy restaurant/bar on the top floor of an art and design museum, offering swoonworthy park and skyline views (and a delicious lunch menu). More on this place later…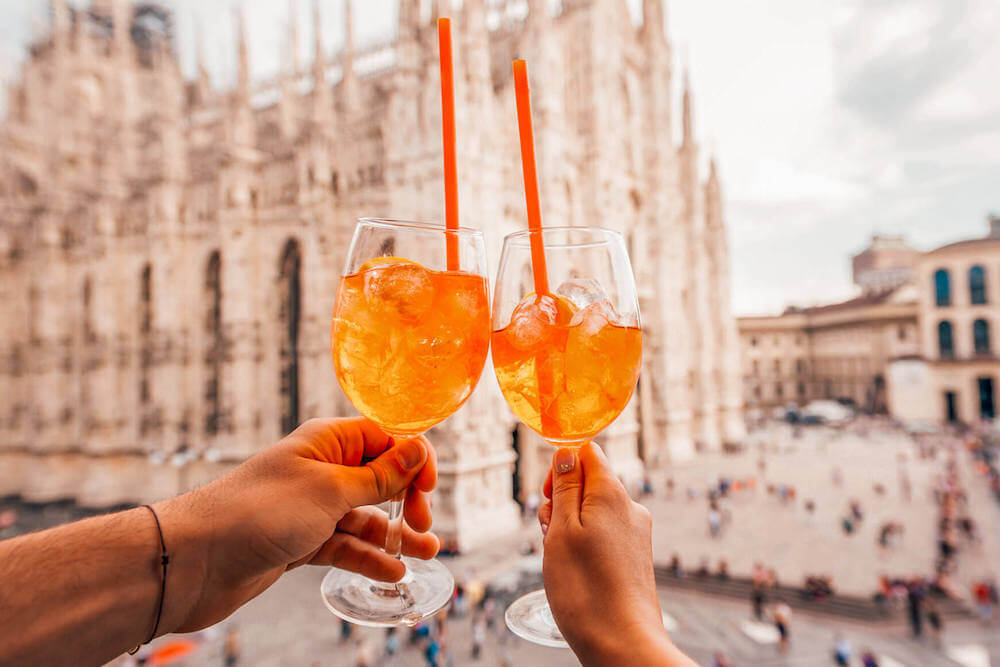 7. Savour a Risotto alla Milanese
While pizza and pasta are the most stereotypical foods linked to Italia, the cuisine of Lombardy has a creamier unsung hero: delicious risotto.
Photogenic it is not, but when in Milan, it's non-negotiable that you sample the famous Risotto alla Milanese, a bright yellow dish infused with saffron, parmesan, white wine and of course, rice.
This is Italian comfort food at its best, preferably enjoyed with a glass (or a bucket) of wine.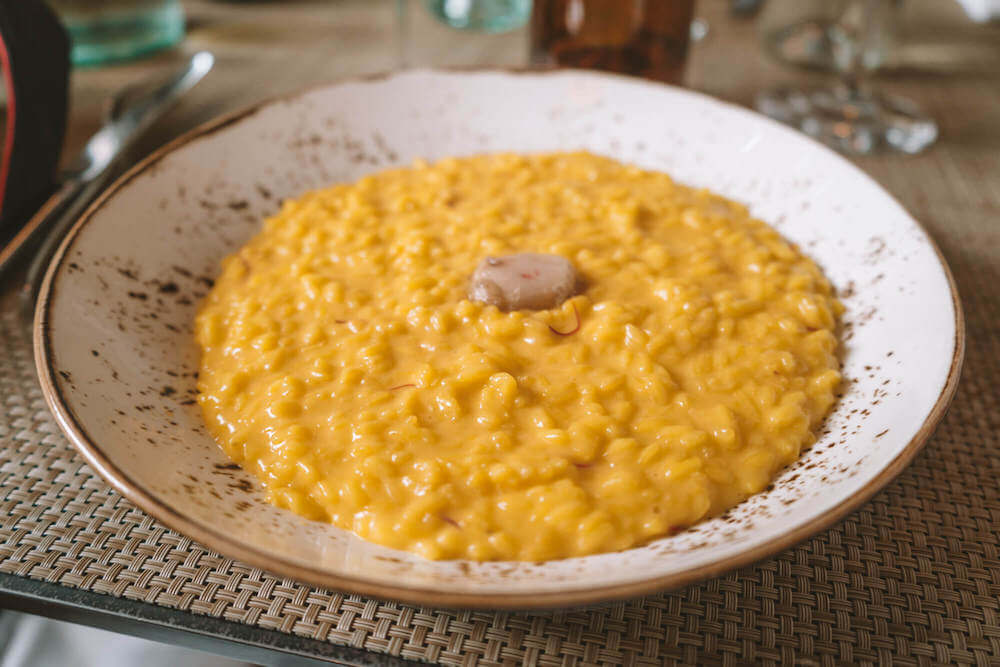 8. Nosh on some Osso Buco
Often found right next to risotto alla milanese is Osso Buco, another Milanese must-try.
Think a melt in your mouth veal shank, braised to perfection in veggies, wine and broth.
The name literally translates to "bone with a hole", which refers to the marrow-filled bone in the center of the shank…… this may not sound too appetizing, but your taste buds will be pleasantly surprised!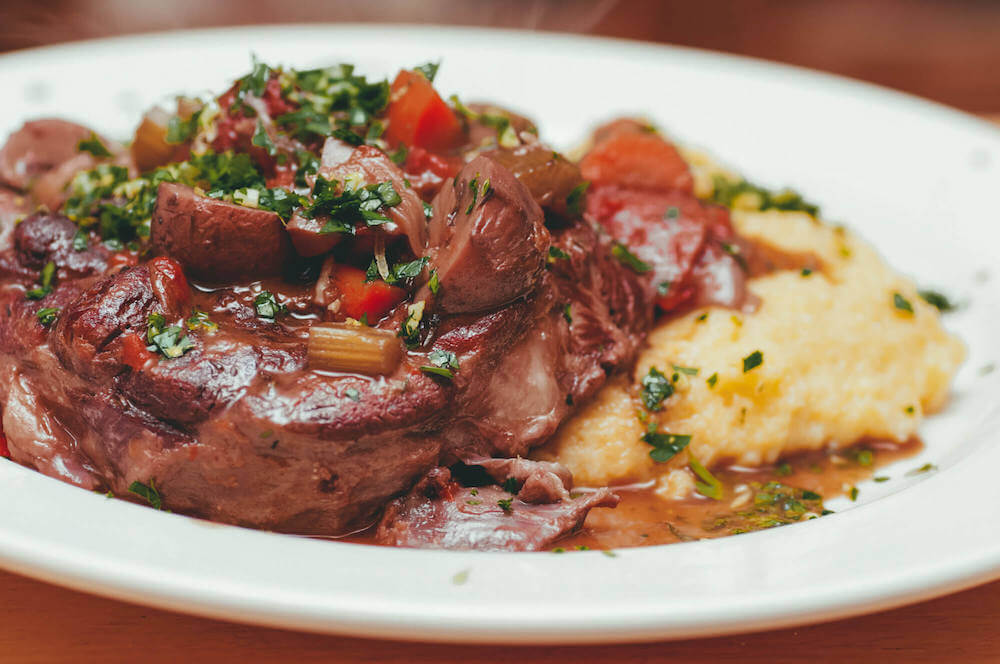 9. … Then faceplant into as many other Milanese specialties as you can
With risotto and osso buco in your belly, you've already conquered two of the most famous regional specialties that Milan has to offer.
Of course, there's always more to try. Here are some other dishes to conquer in between all of your Milan sightseeing.
Mondeghili: Deep fried meatballs with a soft paste-like filling made of (often leftover) beef, bread, sausage, mortadella and other delicious things. I called them my yummy Milanese nuggets
Cotoletta alla milanese: Veal cutlets dredged in eggs and breadcrumbs then deep-fried in butter, because calories do not count in Milan (unless it's Fashion Week)
Polenta: If you've never tried it, polenta is basically boiled cornmeal (imagine cornbread but mashed). It's not an appetizing description I promise it's nicer than it sounds! Usually served with some kind of stew or stewed meat
Panettone: An cylindrical cloud of sweet bread studded with raisins that is especially popular at Christmas time
Cassouela at Manna (?): Including it because it's traditional, but with a hefty disclaimer that I've never tried it and have heard it's a love/hate sort of dish. It's basically a pork and cabbage stew (using some of the 'cheapest' parts of the pig such as the ears, tail and nose.) Yup!
Want to eat as much as possible? Click here to book a Milan food tour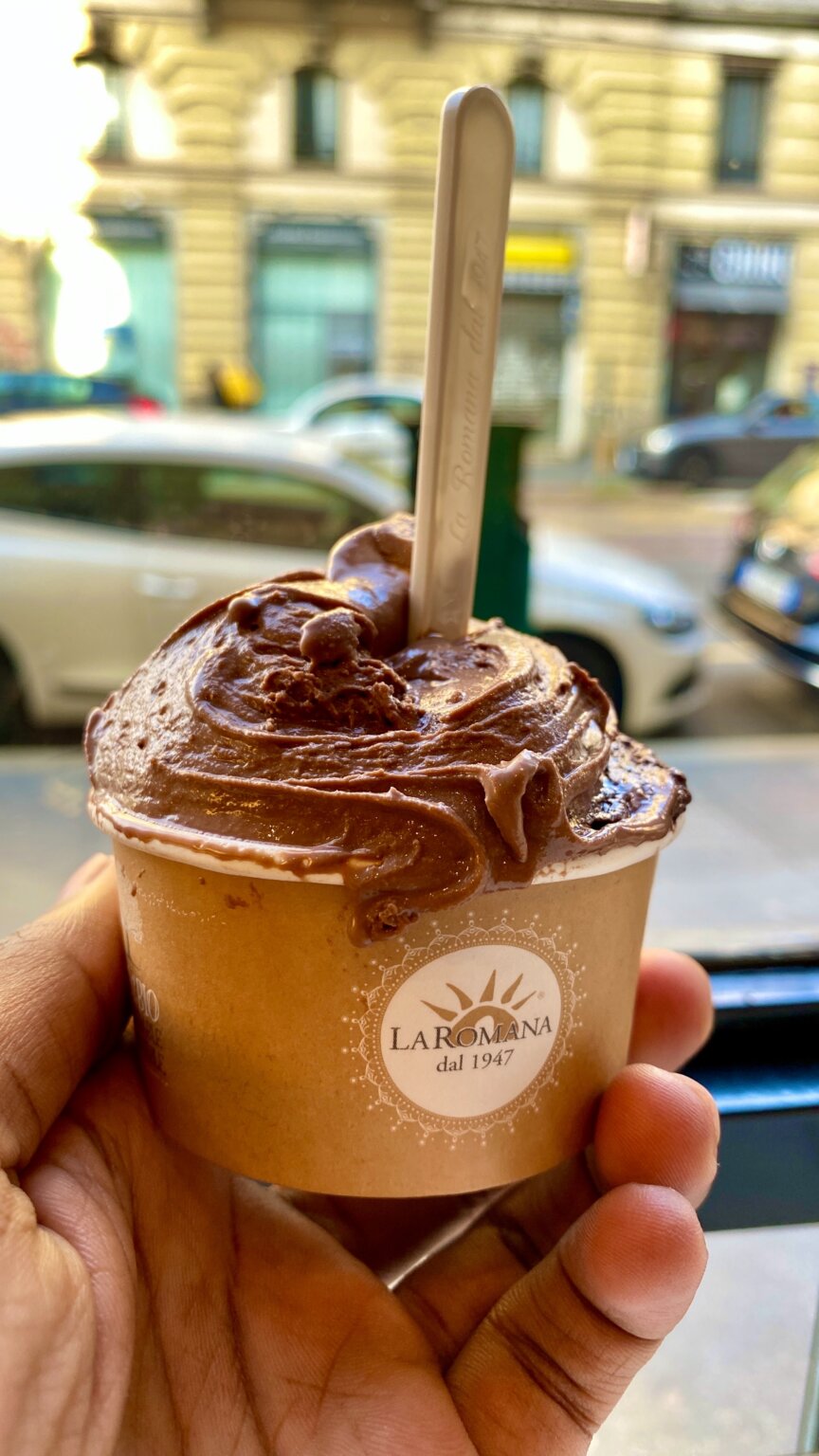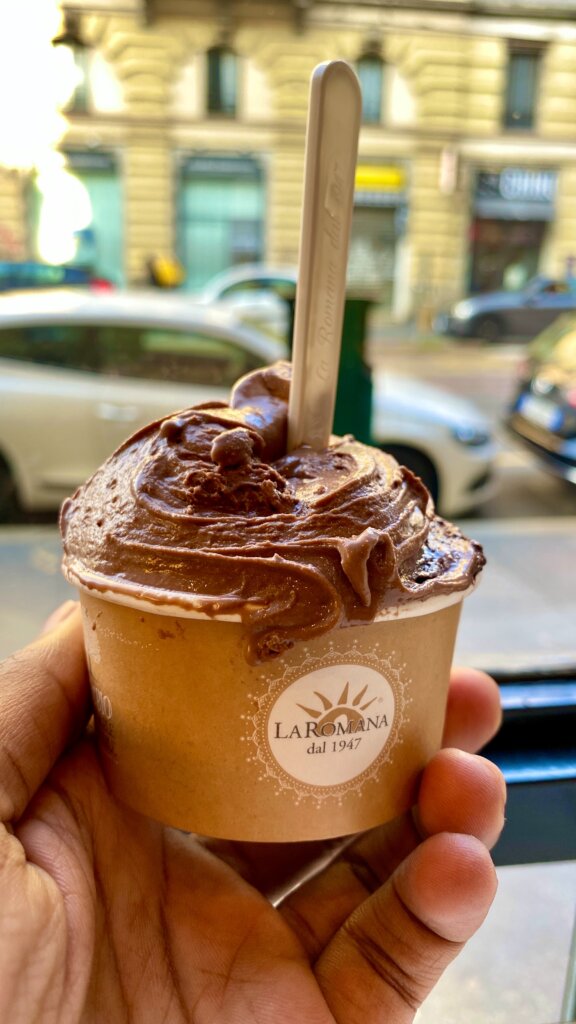 10. Enjoy lunch with a view at Terrazza Triennale
Address: Viale Alemagna Emilio, 6
If you're looking for a bougie way to spend your lunch hour, look no further than Terrazza Triennale, an overlooked gem with one of the best lunch views in Milan.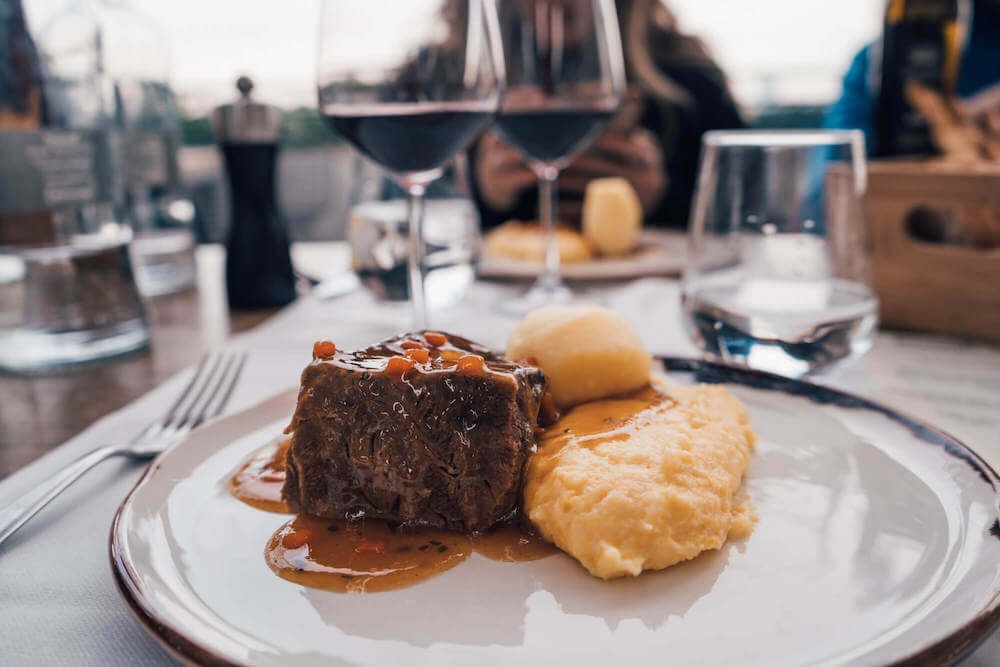 This bright, airy eatery is found on the rooftop of La Triennale di Milano, one of the city's most popular museums for art and design.
Not only is the food delicious, here you can also feast on amazing views of Parco Sempione and the glassy skyline of Milan's Porta Nuova District.
I had the beef carpaccio here (doused generously with shaved truffles) alongside their stewed beef with polenta. Both were delicious!
11. Get your caffeine hit with a shock-inducing espresso
Italian coffee is world famous.
And while often, to a foreigner's palette, the typical espresso (drunk in haste at the counter and not sat down) is a a bitter contrast to the coffees oft consumed in North America, I say don't knock it til you've tried it for yourself.
There's countless bars (Italian coffee shops) around the city where you can get your dose of caffè.
Where to find "the best" depends entirely on what you're looking for, whether that's a local vibe, a sleek trendy ambiance, selection of drinks, or maybe attractiveness of clientele?
Regardless, a few things to keep in mind: don't order a latte or you'll get an actual glass of milk and don't order a cappuccino after 11 (or post-meal) – your barista might die right in front of you.
If you're looking for extra tips, here is an excellent Milan guide on drinking coffee in the city like a local.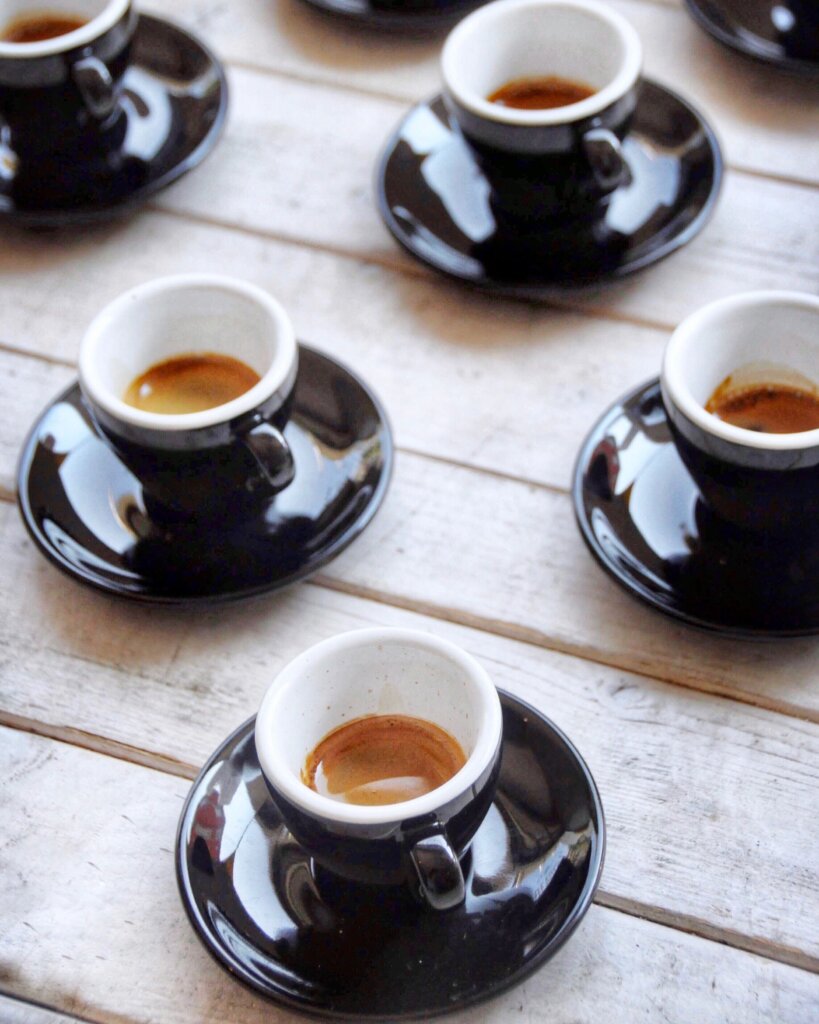 12. Stop by the prettiest Starbucks in the world
Address: Via Cordusio, 3
Ugh, I know, Starbucks? In ITALY? Allow me to explain…
For a very long time, Italy didn't have a Starbucks (for numerous cloudy reasons). After decades of resistance however, the first Italian Starbucks opened in Milan in Fall 2018, and this Milano Roastery is unlike any Starbucks in the world.
First off – it's located in a palatial former post-office, giving it the grandest facade for frappucino frolicking imaginable.
Plus, step inside its 25,000 square feet of coffee worship and you'll find a sleek bar, an in-house roastery, a wood-fire oven spitting out artisanal breads and pizzas, and of course, a cocktail bar… so, if even just for curiosity sake, come in to check it out!
NOTE: You need to get here early if you don't want to line up. I came around 8am – just walked right in! For one of the busiest Milan sights in the city, that's not bad at all.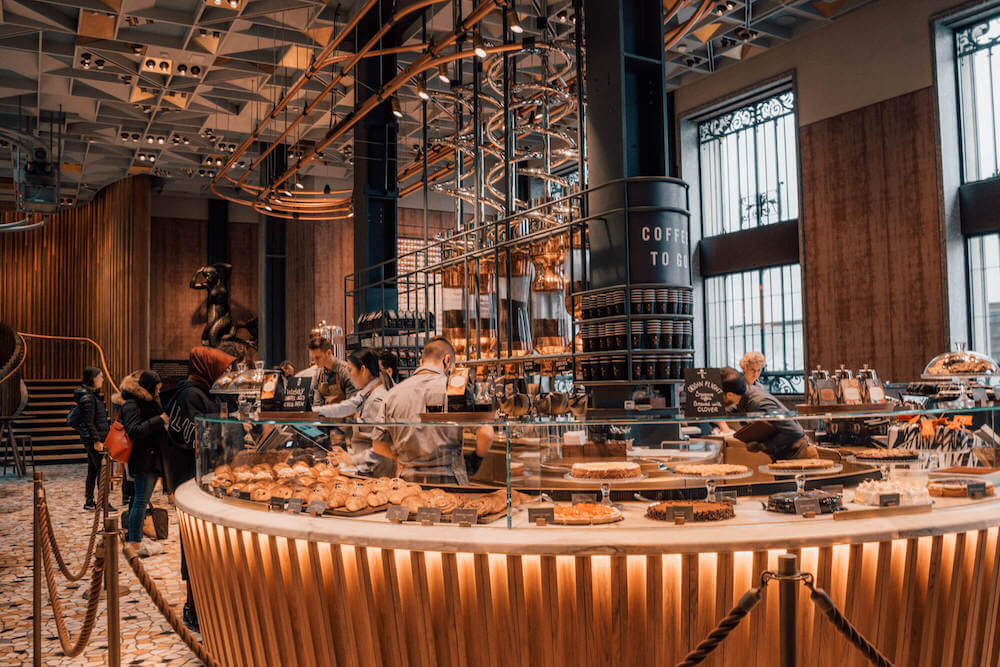 Things to do in Milan for Fashion and Design Lovers
With bellies full of carbs and cocktails, it's time to turn to the stylish side of Milan, the Milan that is, at its core, a paradise for fashion lovers. If you're interested in fashion (or like to pretend like me), here are a few must-dos to include on your Milan city trip.
13. (Window) shop your heart out in the Quadrilatero della moda
Milan's fashion district is, as you might predict, a luxurious stack of streets collectively known as the Quadrilatero della moda, named after the four main streets that line the district's perimeter: Via Montenapoleone, Via Manzoni, Via della Spiga and Corso Venezia.
Here, you'll find the world's biggest fashion houses represented through glamorous boutiques and showrooms, allowing you to hop from Versace to Armani, Balenciaga, Jimmy Choo, Gucci and Burberry in a matter of minutes. Sounds affordable, hey?
14. Visit "the best department store in the world"
Address: Piazza del Duomo
Milan's La Rinascente department store is a haven for big brand names, from Alexander McQueen to Zanellato.
Located conveniently on the Piazza del Duomo, this luxurious little shopping center has nabbed more than hearts and wallets – two years ago, it successfully bagged the title of "best department store in the world" at the Global Department Store Summit (which yes, is apparently a thing that exists).
Of course, you can't miss the rooftop terrace on the 7th floor, where you can sip a cocktail in true Milanese style, with a majestic backdrop of the Duomo's marble coated spires.
15. Stop by the hip and trendy 10 Corso Como
Address: Corso Como, 10
I should have known how cool 10 Corso Como would be, as we slipped into its secretive little courtyard and passed one of Italy's top fashion bloggers along the way (according to a local companion of ours).
Sure enough, this world-famous concept store is photogenic dream of design and lush greenery, offering up a tranquil oasis with its own boutique, restaurant, bookstore, art gallery and cocktail bar…
They even have a chic three suite hotel where you can crash for the night (for 340 euros, that is!)
Of course, if you don't have hundreds of euros to spend on a room, you're free to waltz in and explore other parts of the space free of charge.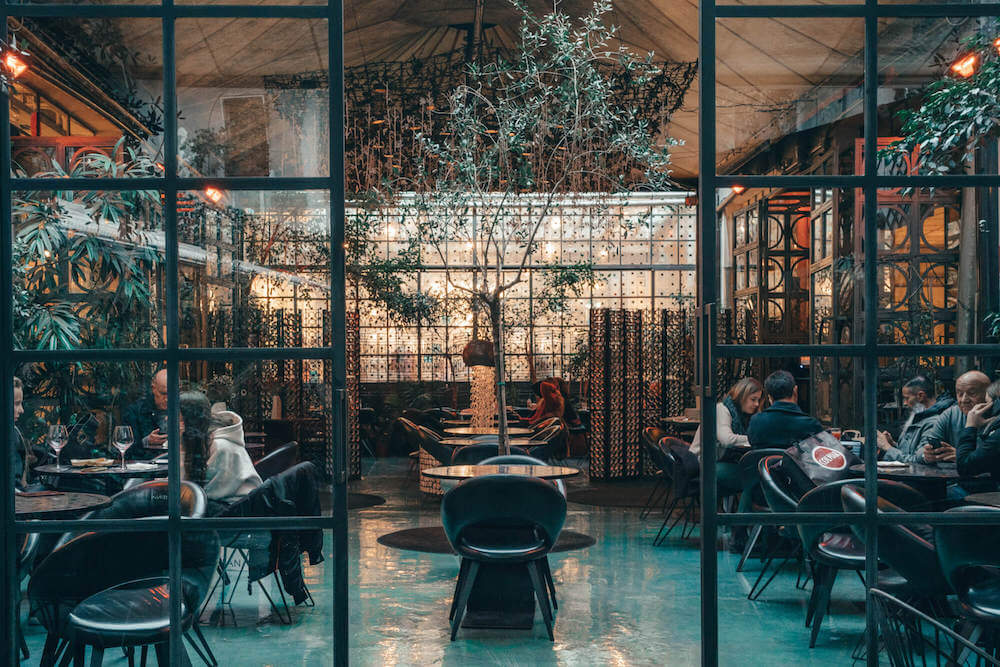 16. Enjoy a cocktail at Ceresio 7
Address: Via Ceresio, 7
If you're looking for pricey cocktails with a side of #fashion, throw on your chicest outfit and head to Ceresio 7, a rooftop restaurant and bar owned by the fashion house, Dsquared².
A preferred hangout for Milan's coolest kids (and of course, a hotspot during Fashion Week), this rooftop oasis has not just two pools and two lounges, it also has one of the best views of Milan's modern skyline.
17. Enjoy some pastries in a mega-fashionable cafe owned by Prada
Address: Galleria Vittorio Emanuele
Marchesi 1824 is a Milano institution that has been pushing carbs to the population since 1824, making it one of the oldest and most well-known pastry shops in the city.
Since 2014, it has been owned by Prada. Unsurprisingly then, this elegant, retro-chic cafe (an Instagrammer's dream, really), is a beloved break spot during Milan Fashion Week.
With slick marble floors, apple green decor and an unbeatable view over Galleria Vittorio Emanuele II, sit-down table service will cost you a pretty penny, but it'll probably be the most glamorous pastry break you've ever had.
18. Head to Palazzo Morando
Address: Via Sant'Andrea, 6
As a former palace turned museum (pretty standard practice because #Italy), the Palazzo Morando rotates between different exhibitions and of course, an excellent collection that pays tribute to Italian fashion over the years.
A Milan must see for fashion-lovers, and a happy (affordable) break from shopping your guts out.
19. Rummage through the Brera district
Last but not least, if it's more of an artsy, bohemian shopping experience you're after, look no further than the hip and lovely Brera District, one of the most beloved hang-out spots of Milanese locals.
Here, the glitzy brand names are replaced by small boutiques, dazzling jewelry shops, art galleries, vintage stores and all sorts of little unique finds that will send your heart aflutter.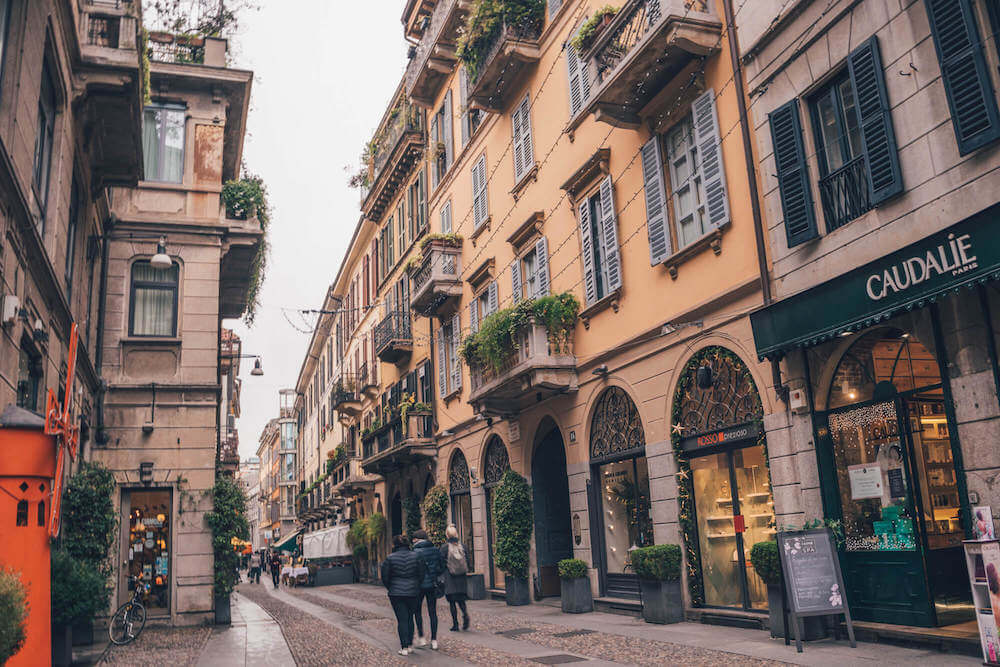 Fun Things to do in Milan for History & Culture Lovers
If it's culture and history you're after, I have some bad news: Milan might have too much to offer – far too much to fit into a single visit anyway. Regardless though, you can try 😉 Here's what to do in Milan if you're hunting for historical and cultural goodness.
20. Gawk at the Last Supper
Address: Piazza Santa Maria delle Grazie
Yes, THAT Last Supper by Leonardo da Vinci, possibly one of the most iconic works in the entire world.
Yes, you can actually go see it…
And YES, it's in Milan!
Housed in the Santa Maria delle Grazie, this masterpiece might be among the most exclusive and difficult to access Milan attractions.
Why? To preserve the piece, entry is only permitted to 30 people at a time, every 15 minutes.
This means reservations are of course mandatory, so be sure to stifle that spontaneity and get your tickets in advance! Click here for my full guide on how to get the best deal on Last Supper tickets, step by step.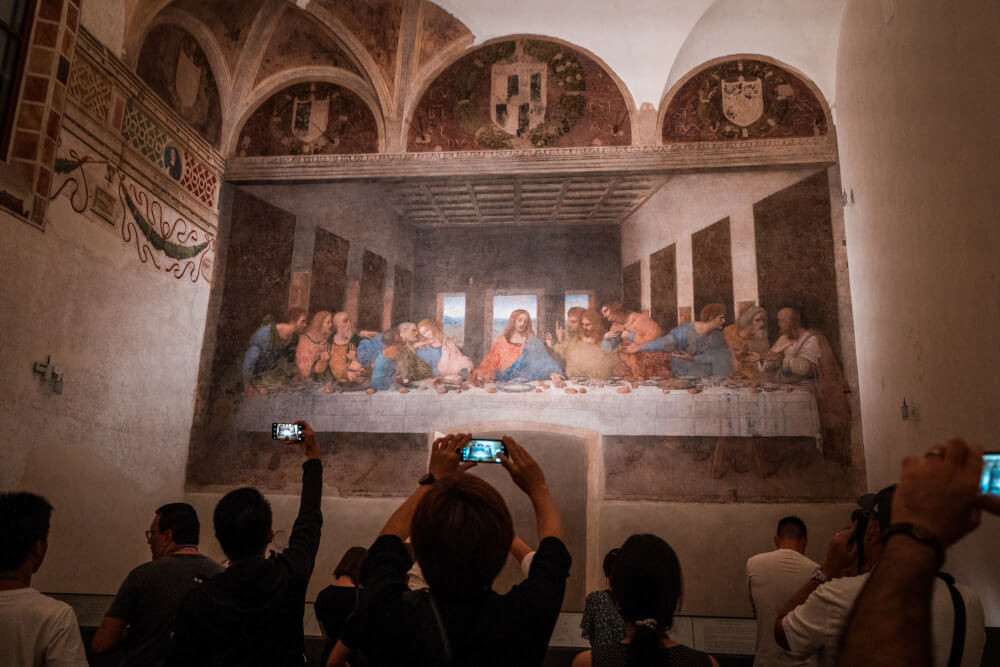 21. Step into the Biblioteca di Brera AKA the Braidense National Library (and the Pinacoteca di Brera too)
Address: Via Brera, 28
If you're a book-sniffer obsessed with grand libraries, chandeliers and you know, just beautiful spaces in general, you'll want to add the Biblioteca di Brera to your Milan itinerary.
Housed in the Palazzo di Brera, this public library is one of the largest in Italy, and an absolute stunner.
Of course, while you're here, the Pinacoteca di Brera is a must as well.
It houses hundreds of works from master painters and is often described as the best art museum in Italy you've never heard of.
Click here to get a skip-the-line ticket in advance for Pinacoteca di Brera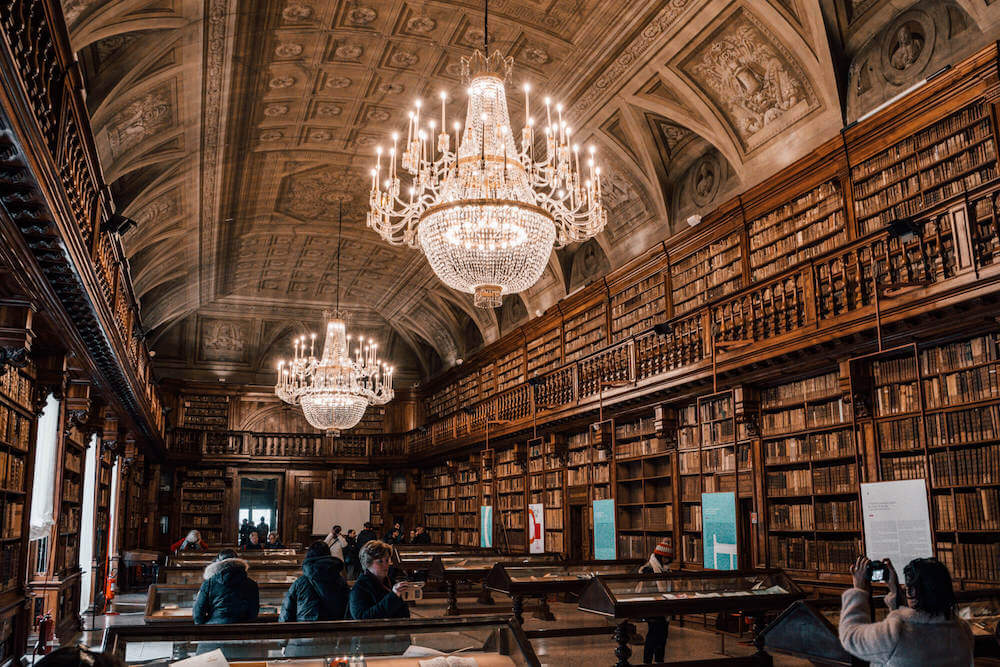 22. Stomp through Castello Sforzesco
Address: Piazza Castello
The Castello Sforzesco (AKA the Sforza Castle), is a beautiful moat-lined castle in the heart of Milan, and one of the top things to do in Milan according to every guidebook.
Built in the 15th century, this dashing landmark has worn countless hats over the years, acting as a defence fortress, private residence, military barracks, and now, home to various museums and exhibitions.
Even if you don't pay to visit the inside, the castle courtyards are a scenic treat to explore, and totally free.
That said, if you're looking for a tour, there are options for that too. Click here to check reviews and options.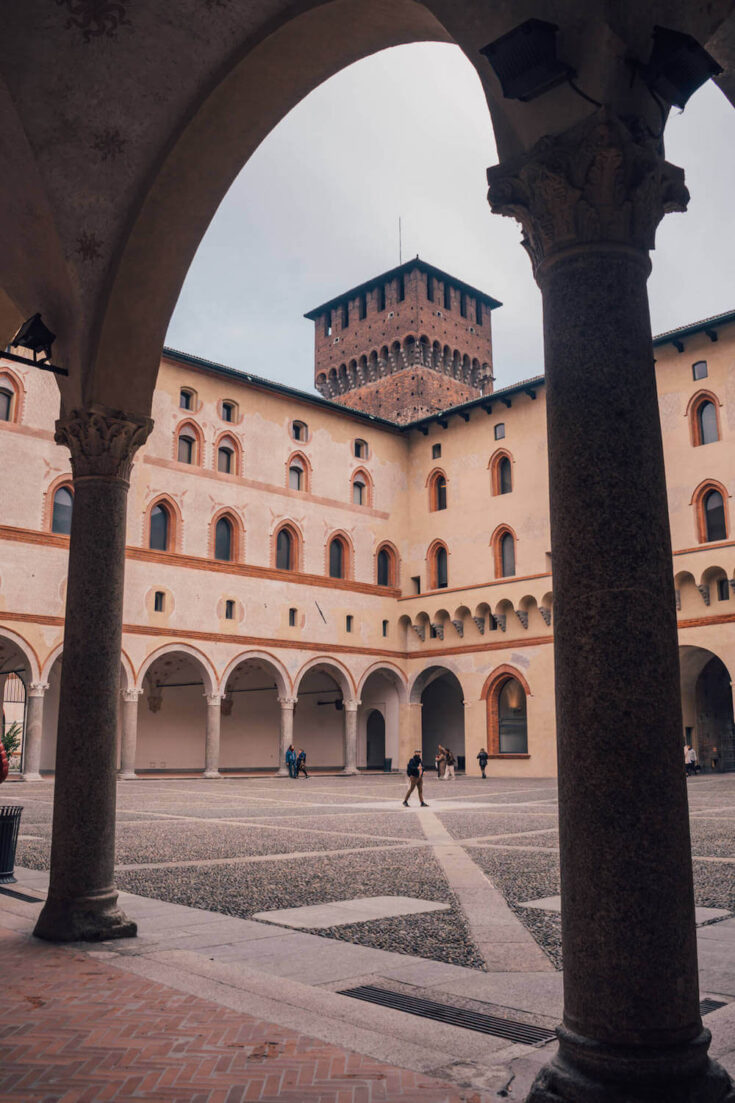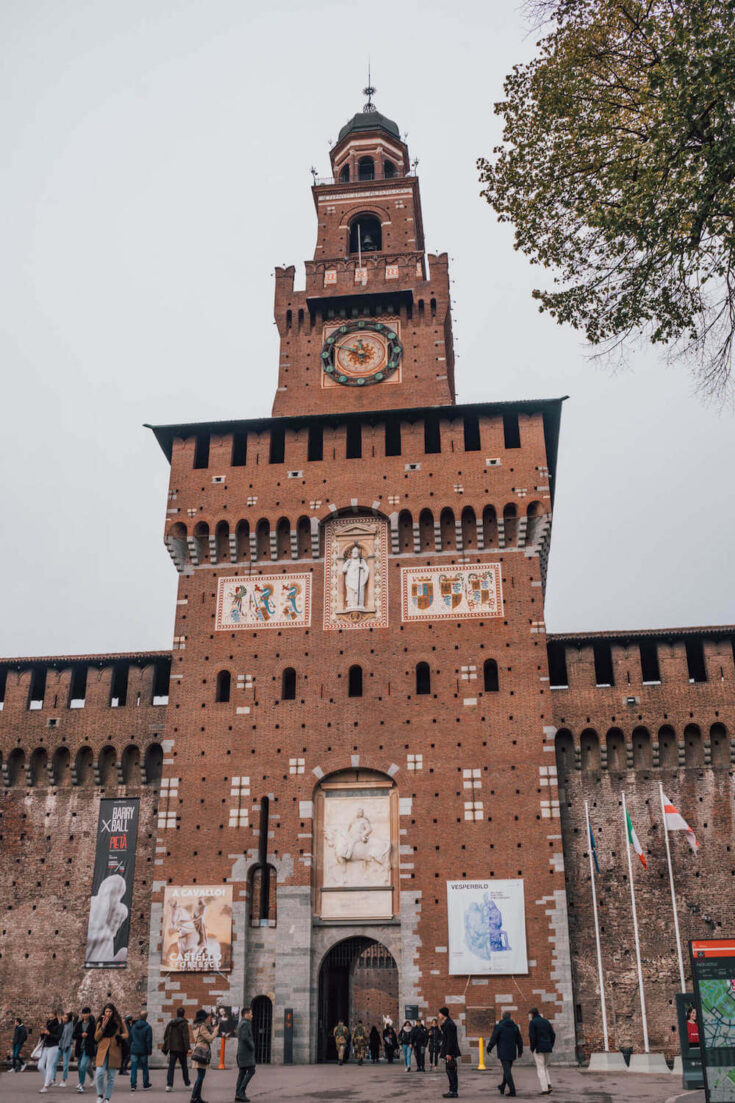 23. Enjoy a performance at La Scala (or take a tour of the theatre)
Address: Via Filodrammatici, 2
I need to confess something to you: once upon a time, I, Christina Guan, was a complete opera nerd.
No lie – in high school, I interned for the Vancouver Opera, and while other girls clamoured over One Direction and actual boy bands, I spent my days listening to Il Divo, a middle aged man band that always wore Armani suits.
10 year old me was a very strange human indeed.
That said, these formative years led to something very special: visiting La Scala felt like a bizarre little homecoming.
I could barely contain myself as I gaped at the original posters for iconic operas like La Boheme on the walls lining the staircase, and of course at all the opera memorabilia inside the theatre's little museum.
If you're an opera fan, this visit is a must! To save time, you can book a tour in advance online here.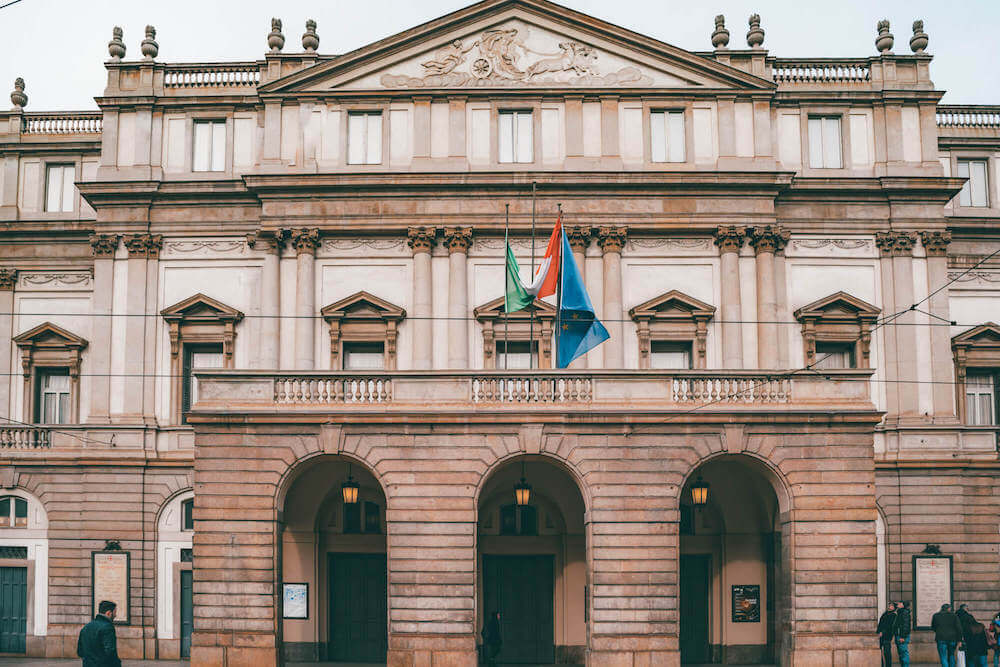 24. Stop by the Triennale Museum
Address: Viale Emilio Alemagna, 6
Tucked away amidst the lush greenery of Parco Sempione is Milan's top art and design museum, the Triennale di Milano.
This is where you'll find a (free) permanent collection devoted to modern Italian design, alongside several changing exhibitions and a gorgeous rooftop terrace.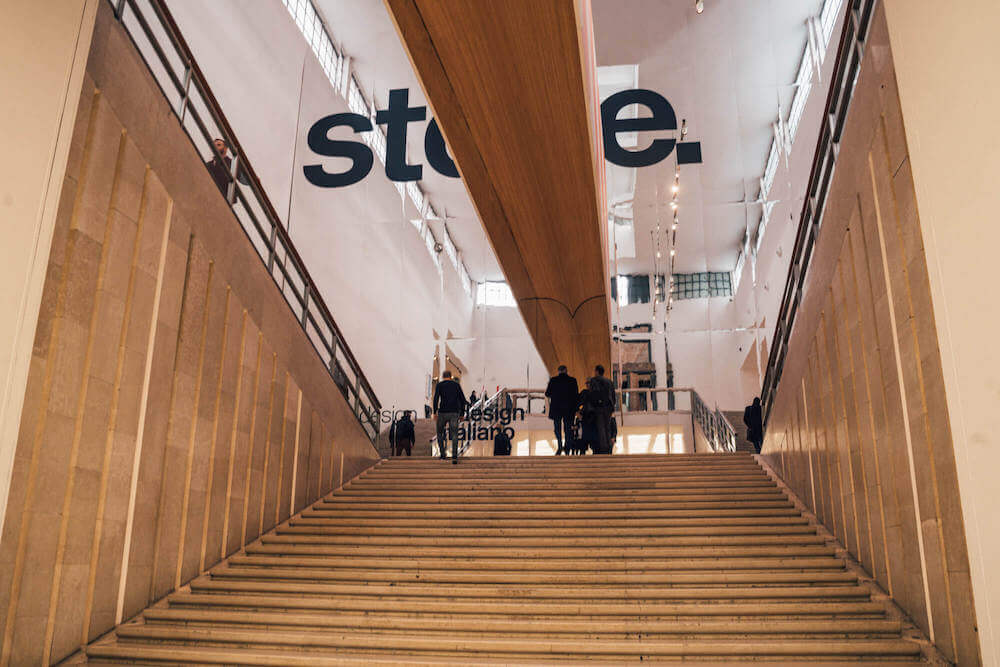 25. Absorb the coolness of Fondazione Prada & Bar Luce
Address: Largo Isarco, 2
Honestly speaking, the Fondazione Prada is a contemporary art gallery that couldn't be cooler if it tried.
Not only is it housed in a former gin distillery, it's owned by one of the most famous fashion houses in the world (Prada), with a bar (Bar Luce) designed by cult film darling, Wes Anderson.
Clearly, this contemporary art haven is a must for any culture hawk swooping through Milan.
26. Marvel at exhibits in Hangar Bicocca
Address: Via Chiese, 2
While a bit removed from the city center, the Hangar Bicocca (built in a former Pirelli Factory) is a favoured site for contemporary art exhibitions.
In fact, with 15,000 square meters of it, it's one of the largest exhibition spaces of its kind in Europe. Click here to learn more about their current exhibitions.
Things to do in Milan for Sport Enthusiasts
Of course, Milan has something to offer for sport enthusiasts as well. Here are some of the best things to do in Milan (and around) for sport lovers:
27. Watch a football match at San Siro Stadium (or take a tour)
Address: Piazzale Angelo Moratti
Milan's San Siro Stadium is the largest stadium in Italy and one of the largest in Europe.
Since it goes without saying, football is pretty much its own religion here, catching a game to soak in the live atmosphere is a must if you're into sports.
With a seating capacity of 80,000, you'll definitely be surrounded by new friends 😉
And if you aren't able to catch a game to soak up all the insanity in-person, you can also take a tour of the San Siro Museum, which includes access to typically restricted spaces like the changing rooms and of course, the tunnel that leads to the field!
Click here to secure your ticket in advance.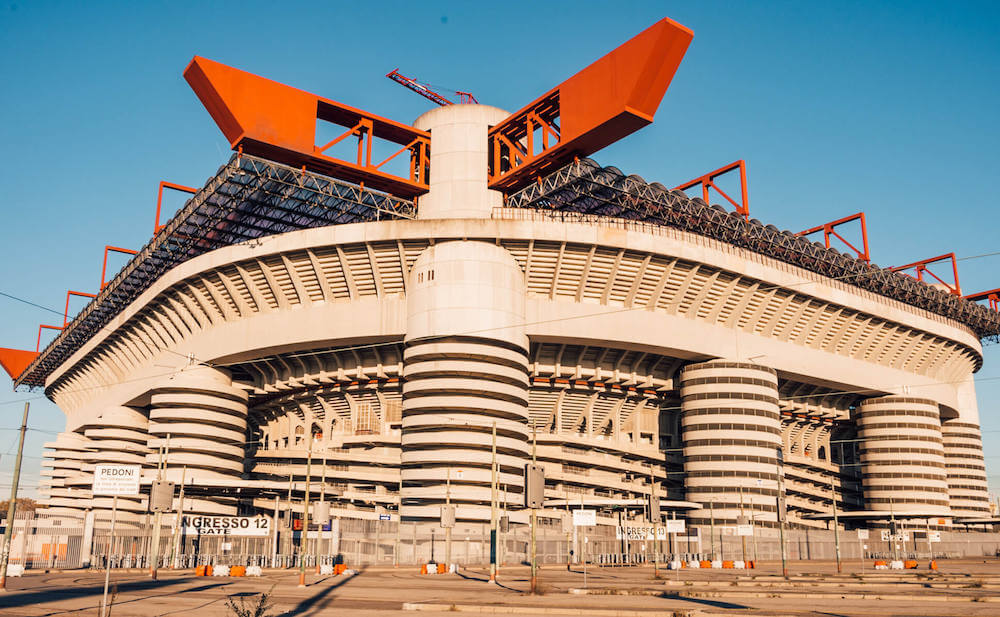 28. Explore the city by bike
There are many attractions in Milan sprawled out across the city, which means getting everywhere by foot alone is challenging.
That said, with 144km of bike lanes on offer, Milan is a beautiful city to be explored by bike (way better than being stuck in the underground anyway).
If you're looking to book a cycling tour of Milan's highlights, here's one with glowing reviews.
If you're more independent though, there's a few different bike sharing programs in town that you can take advantage of, so wheel yourself away and learn more about them here.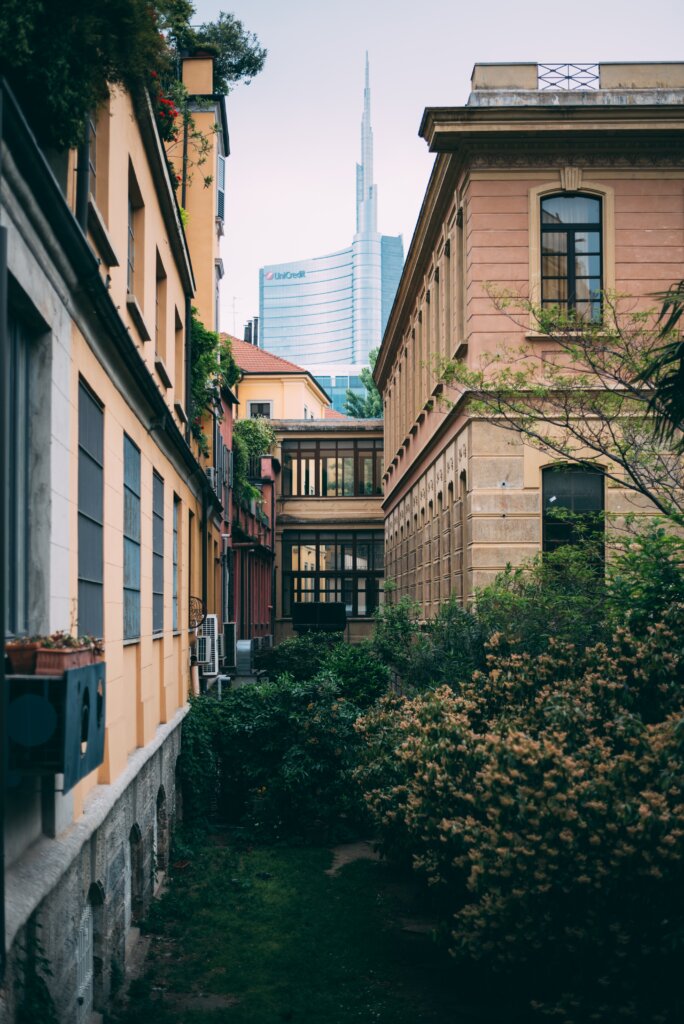 29. Head to the Ghisallo Cycling Museum
Address: Via Campolungo, 2
While not in Milan, the Ghisallo Cycling Museum in Magreglio is a must-see for cycling enthusiasts, with a breathtaking hill-top location overlooking Lake Como and an impressive collection of items donated from cyclists of all kinds, from hobbyists and sport associations to world-famous pros.
This bright and airy shrine to cycling pays tribute to the sport in all its contexts, from everyday life to competitive racing.
Why here? Well, the hill on which the museum is built has been the stage for countless important races throughout history, making it a pilgrimage spot for eager cyclists, many of whom come to see the painting of Madonna del Ghisallo, the patroness of cyclists, inside the hill's little church.
The museum's collection of bikes, some historic, some culturally significant and some quirky (like a bike made out of wine corks!) is sure to impress and a must-see if you're passionate about cycling.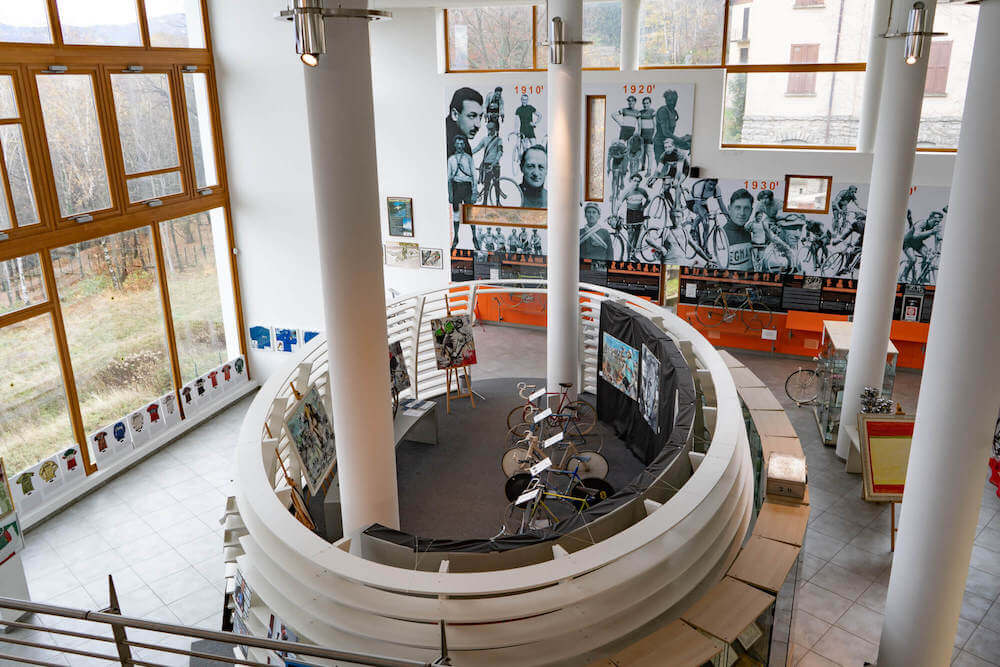 Things to do in Milan for Romantics
Ugh, Milano. Even the name itself sounds painfully romantic. It's no surprise then that the city is built with plenty of lovely activities to try for the romantics out there. Here are just a few ideas.
30. Go for a night time stroll in the Navigli District
The Navigli District is one of the best places to visit in Milan – hands down… and not just because of the food and drink!
Milan's lovely little Navigli District is filled with plenty of hidden pockets and courtyards that are easy to miss but oh so swoon-worthy when discovered.
Especially at night, with some dazzling lights in the air, it's hard not to feel the romance 😉 If you're looking for one of the best things to do in Milan at night, make sure you come here.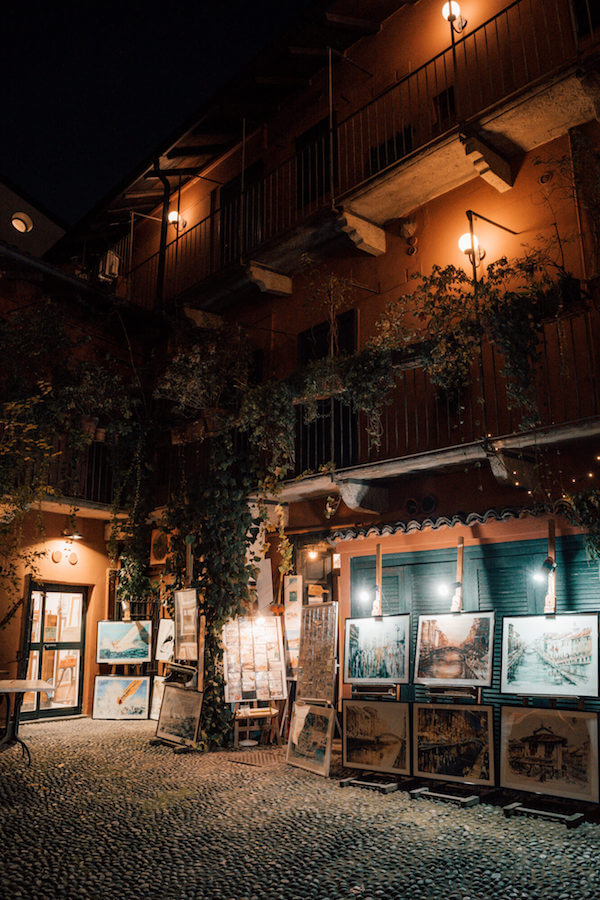 31. Enjoy dinner for two on a historic tram
Address: Piazza Castello
The mustard yellow trams of Milan (similar to the popular ones in Lisbon) are an iconic sight of Milan, and what makes for a more unique date night than having a romantic dinner for two on board one of these trams?
The ATMosfera offers this exact experience, but of course, reservations are required. Click here for more info.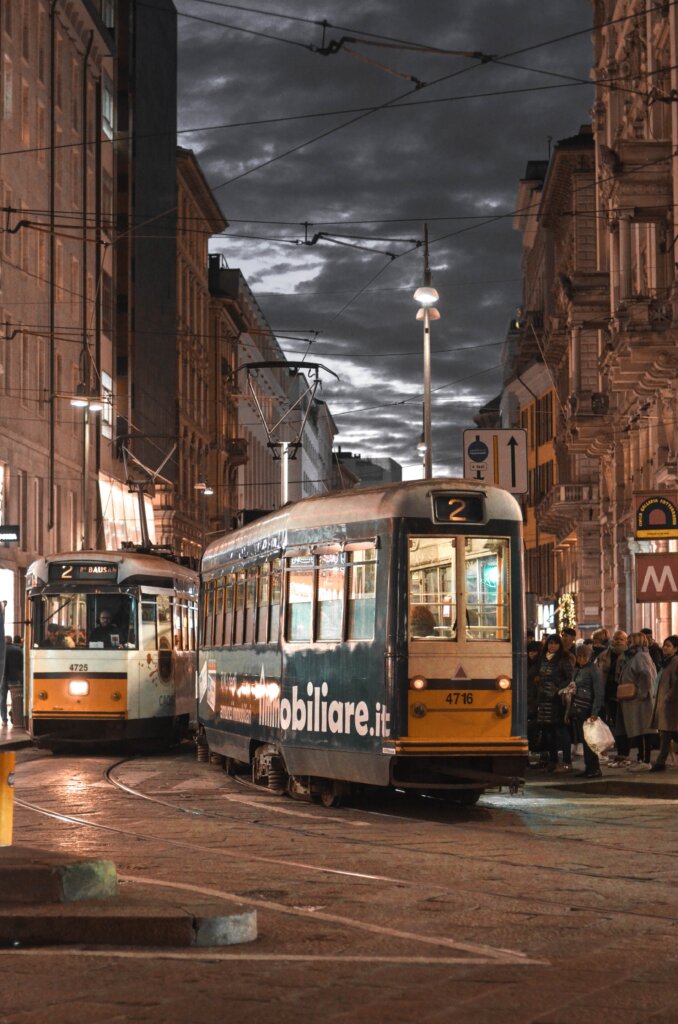 32. Unwind at QC Terme
Address: Piazzale Medaglie D'Oro, 2
A former tram depot might not sound like the most romantic place for a date, but this is the location of the swishy spa QC Terme, a wonderland of saunas, baths and pools.
Yes, there's even a sauna that's inside of a converted tram. Who knew Milan could be so cool?
Honestly, this sounds like the perfect place to get pampered to me. This awesome post shows you the place in more detail!
33. Escape to Lake Como
A short one hour drive away from Milan is the idyllic escape of Lake Como, the perfect romantic getaway whether for a day, a weekend orrrr… maybe a lifetime?
I mean hey, if it's good enough for George Clooney, it's good enough for me.
We had the pleasure of visiting Como and Bellagio for a night and let me tell you: it was everything I always dreamed it would be.
Colourful, picturesque villages perched against a deep blue lake, with stunning views at every turn, whether from atop the Brunate Funicular or from the water, on board a local boat that only set us back a few euros.
If you have some extra time to spare in Milan, a visit to Lake Como is a must!
Click here to look at options for a Milan to Lake Como day tour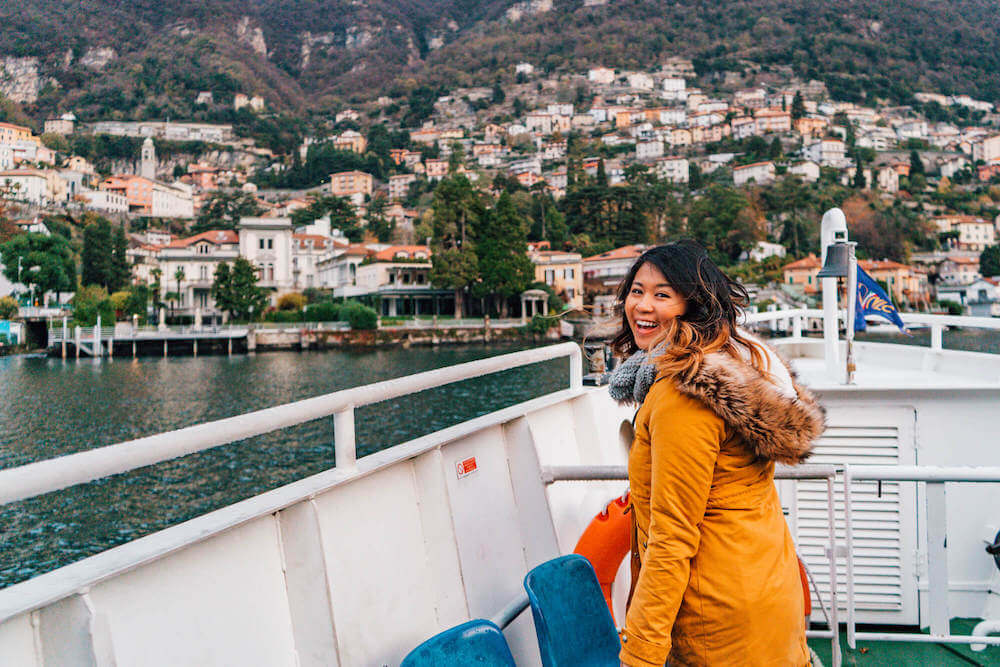 Fun, Quirky and Alternative Things to Do in Milan
Last but not least, while Milan sightseeing is more often than not restricted to the main Milan tourist attractions listed above, there's still a bucketload of cool and offbeat things to do in Milan that most tourists don't take advantage of.
Wondering what to see and do in Milan that's a bit more off the beaten path? Here are some that you should add to your list!
34. Stop by Milan CityLife
Milan's CityLife is a new modern neighbourhood dotted with skyscrapers, shopping, a giant park and my personal favourite, quirky modern art.
This is the largest car-free zone in Milan, with the whole area pedestrianized for your frolicking pleasure.
If you're looking for an offbeat attraction to visit in Milan, be sure to give this cool spot a try!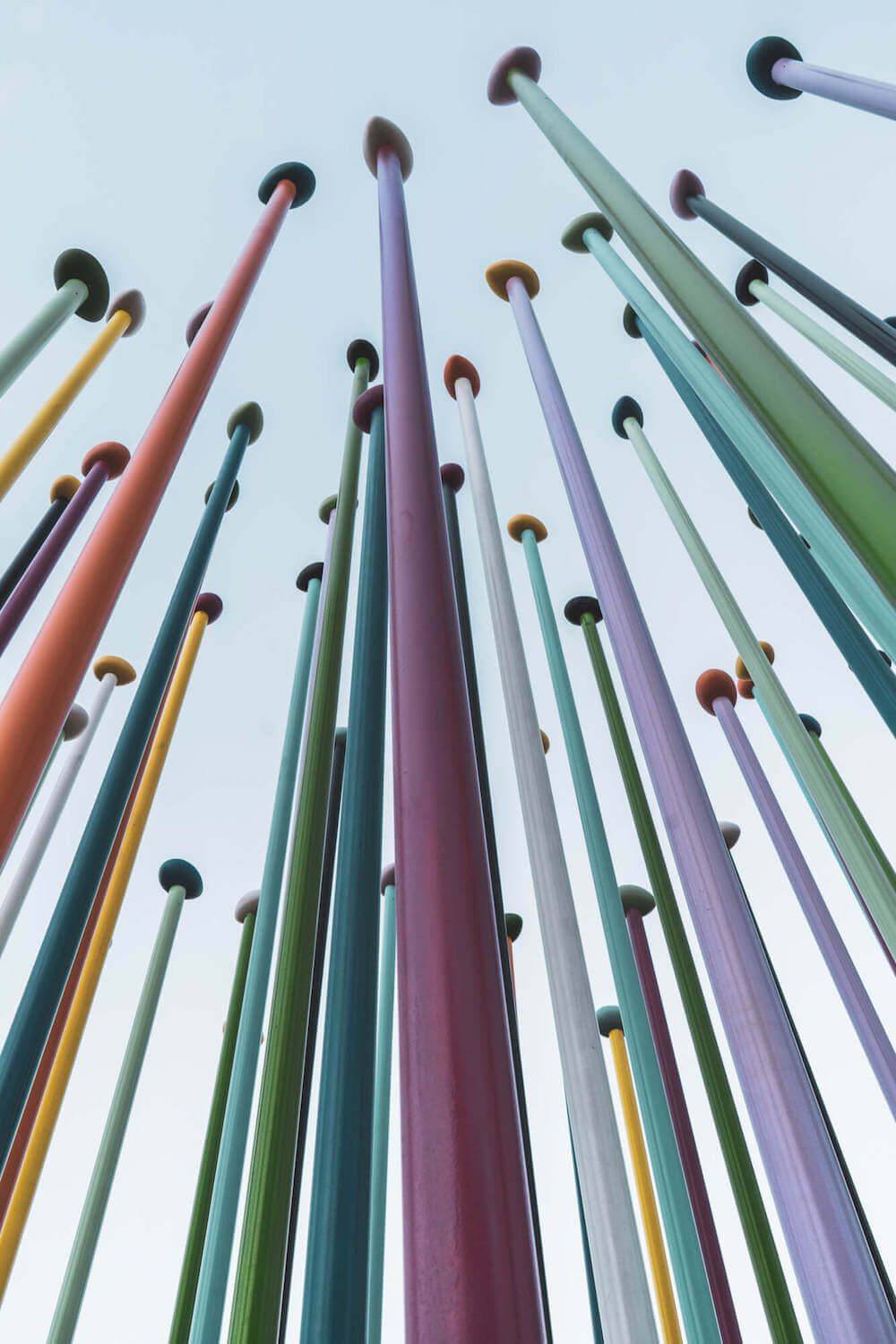 35. Spin on the bull's balls in Galleria Vittorio Emmanuele II
It's strange to me, even after three visits, that one of the most popular tourist activities in Milan has to do with the testicles of a bull… but hey, who am I to argue with the masses?
While gallivanting through Galleria Vittorio Emmanuele II, be sure to stop in the very center and look down to the bull mosaic on the ground.
As is evident from years of ballsy torment from eager tourists and locals alike, it is said that you should plant your heel in the bull's groin and then spin backwards three times…. you know, for good luck.
36. Seek out Milan's street art
I know that street art might not be the first thing that comes to mind when you think of Milan, BUT like I said before: Milano is full of surprises.
Some prominent areas for street art hunting include Isola, Leoncavallo and Porta Ticinese, but to get a really amazing and thorough overview, check out this article from The Crowded Planet.
RANDOM TIP: Like I observed in Bologna, often there will be painted works on top of shop shutters, so be sure to plan your street art hunt either on Sundays or in the evening when shops are closed so you can see them!
37. Visit a chapel made of bones
Address: Via Verziere, 2
If you're looking for a morbid and mildly creepy Milan attraction, look no further than San Bernardino alle Ossa, where an unassuming façade conceals an interesting secret: a side chapel decorated with human skulls and bones.
Legend has it that back in the 13th century, the cemetery next door ran out of space and so a room was built to hold extra bones.
The church was then built attached onto the room and here we are, writing about visiting it today. *shudder*
38. Tour a stunning cemetery
Address: Piazzale Cimitero Monumentale
While we're on a sort of dark attractions kick, be sure to stop by the Cimitero Monumentale, which is, yes, a cemetery, but one that's often described as Milan's coolest open air museum.
Massive tombs and monuments dominate this 250,000 metres squared space, including the tomb of the Campari family (yes, like the liqueur).
This tomb is perhaps the most notable in the entire cemetery – with life-sized statues arranged exactly like Leonardo da Vinci's 'Last Supper' painting… earning the tomb a fitting nickname of "The Last Aperitivo".
To make the most of your experience, you can even book a guided tour to ensure you don't miss anything! Click here to browse reviews and availability.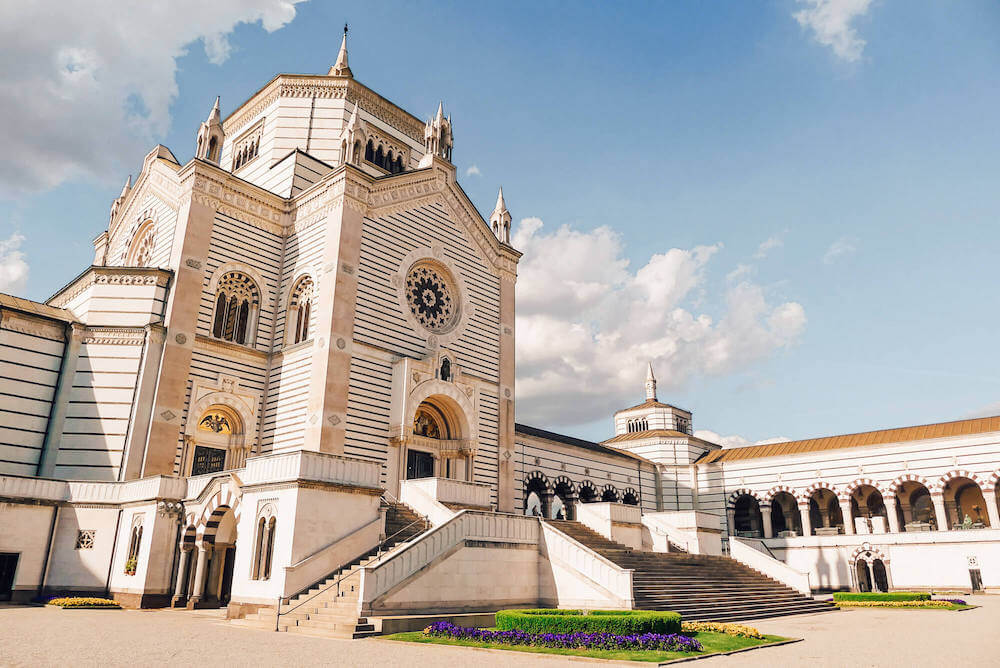 39. Check out a statue of a middle finger
Address: Piazza degli Affari
Provocative as it may be, you'll find an actual marble statue of a giant middle finger in the heart of Piazza Affari, home to Milan's Stock Exchange.
Originally installed in 2010 as a "temporary installation" of a few weeks, it still stands today 8 years later as a dramatic "eff you" to the bankers, CEOs and corporate cats who work in the area.
The official name of the statue is L.O.V.E. which stands for Libertà, Odio, Vendetta, Eternità (Freedom, Hate, Vengeance, Eternity).
If you're looking for stuff to do in Milan that's truly off the beaten path, this is a good bet.
40. Rummage through a flea market
Address: Ripa di Porta Ticinese
And finally, if the high-brow fashion side of Milan isn't for you, then head to the Saturday flea market at Sinigaglia Market, where you can dig through stall after stall of eclectic goodies, from handicrafts and vintage shoes to used books, plants and more.
See, Milan isn't JUST about luxe and fashion 😉
And so… did I miss any of your favourite things to do in Milan?
I hope you enjoyed this Milan travel guide! Let me know in the comments if I missed any of your favourite things to see in Milan – I'm always looking to add more to my list. Have an awesome trip!
BONUS: A THINGS TO DO IN MILAN MAP
For your convenience, here are all the spots mentioned above, plotted on a map! Hope you find it useful:
My Go-To Travel Favourites: