*FYI - this post may contain affiliate links, which means we earn a commission at no extra cost to you if you purchase from them. Also, as an Amazon Associate I earn from qualifying purchases. Check out our Privacy Policy and Disclosure. for more info.
When you visit Lisbon, there are a few very important things you should know.
First off – it is of utmost importance that your suitcase has space for one Christina. *waves* I'm only mildly kidding. (Please DM me on Instagram if I'm invited).
Second off – you are about to have the time of your life! Lisbon is now one of my favourite cities in Europe and if I could move there, I'd do so in a heartbeat.
My starry eyed dreams aside, if it's your first time making a visit to Lisbon, this post is for you.
During my recent trip, I made my fair share of mistakes that I think are important to consider… So, here they are – the top mistakes to avoid on your next Lisbon city break 😉
Take it as like a Lisbon guide on what not to do.
Save this post on Pinterest for later: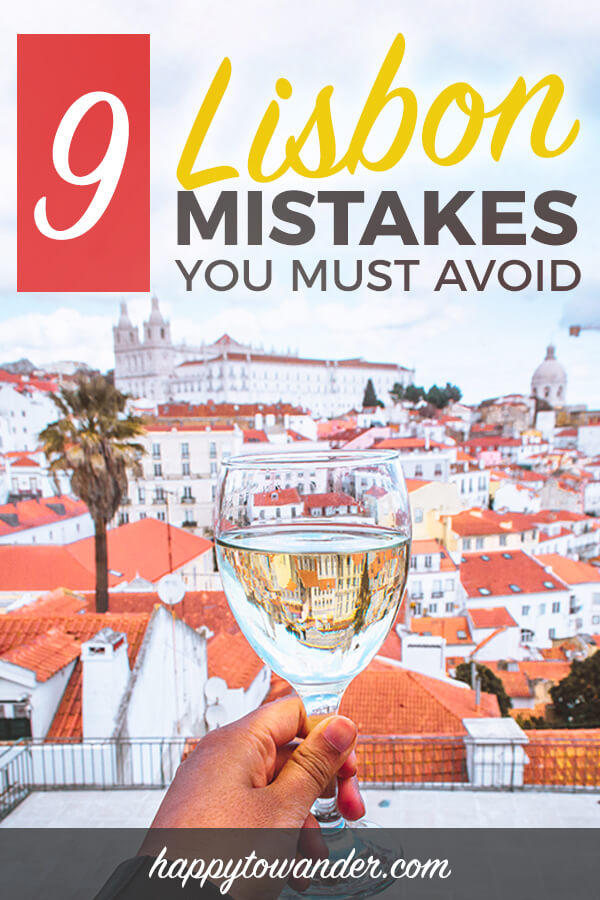 9 Mistakes to Avoid When You Visit Lisbon
When you travel to Lisbon, be mindful of the following…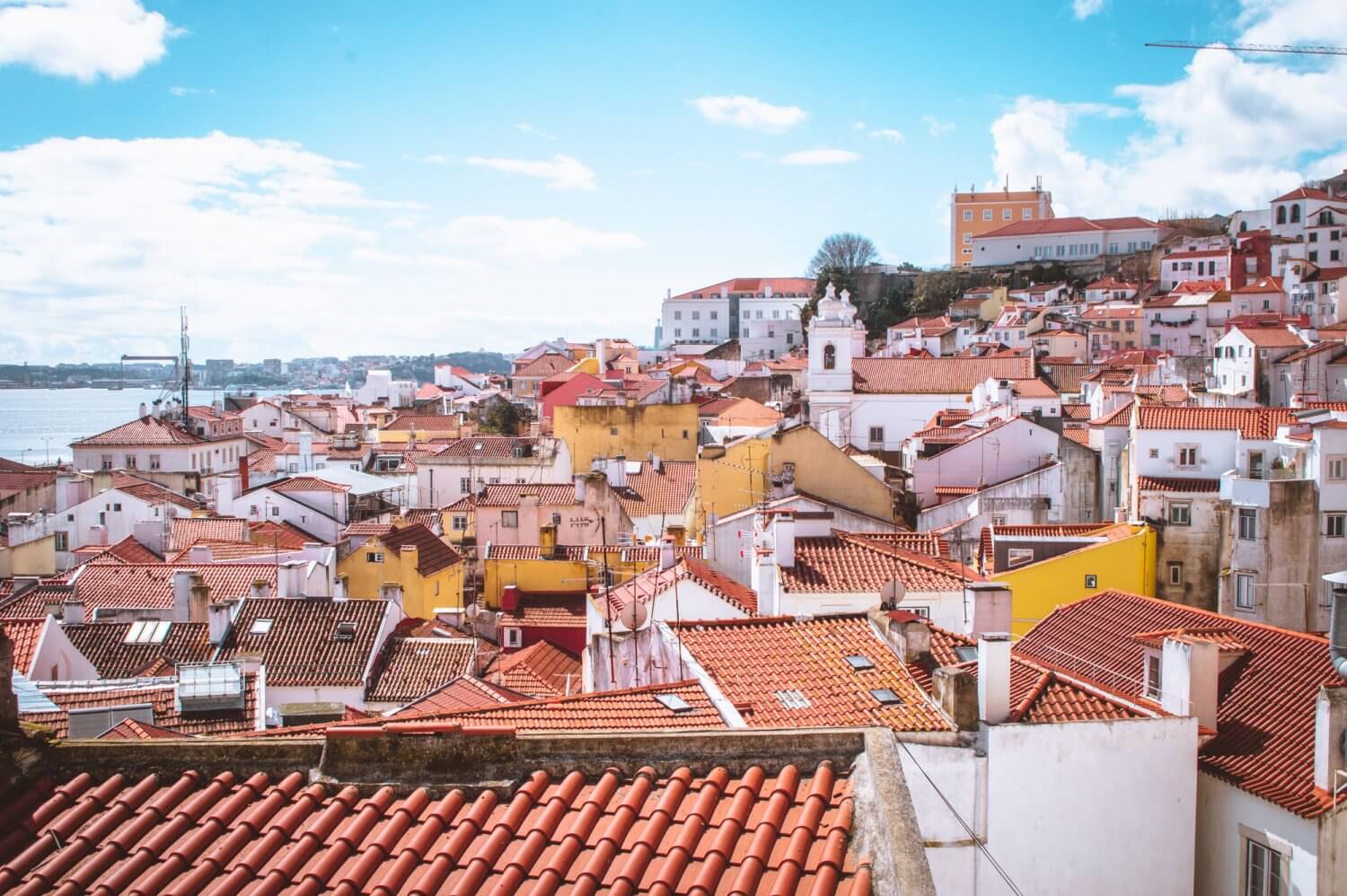 1. Letting your guard down re: pickpockets and petty theft
As a seasoned traveller, this is embarassing.
I include this item first because I… might have gotten pickpocketed on my first day….
*cries in shame*
Here's the story: I was in the very center of town when it started raining like crazy out of nowhere.
Looking for shelter, I ran with my friend to find cover, when there was a group of girls running behind me.
I guess I had let my guard down because while running right behind me, they took the opportunity to swipe my wallet right out of my bag.
I've heard of this happening a lot in Lisbon (like many big European cities), given the sheer amount of tourists they get and how many easy victims there are to steal from.
So, that's my first tip for you when you visit Lisbon: be super careful and mindful of your surroundings.
Brush up on how to avoid pickpockets. Buy an anti-theft bag. Maybe indulge in the ancient art of karate… whatever it takes!
2. Missing out on the history when you visit Lisbon
I know I'm often nerding out about places, but the history of Lisbon and Portugal are so important, and really help contextualize the beautiful city that you see today.
Not learning more about Lisbon's history would be a huge missed opportunity.
The easiest way to learn a bit about Lisbon's history?
I personally did a free 2.5 hour tour by Sandeman's and loved it. '
Without spoiling too much, did you know that one of the biggest earthquakes in recorded history happened right here in Lisbon? And that it happened on a holy day, which meant that everyone who went to church was pretty much wiped out by the falling church pieces?
And that one of the places that got damaged least was the Red Light District (literally filled with sinners) because of the stable foundation it was built on?
I mean, how wildly fascinating is that?
Some say that event marked the start of the modern day atheist movement.
Anyways, nerd time over. I'm sure my guide gave us a bit of a Hollywood rendition of the story, but what I'll say is this: seriously, do not travel to Lisbon without learning some more about its history. It's so, so interesting.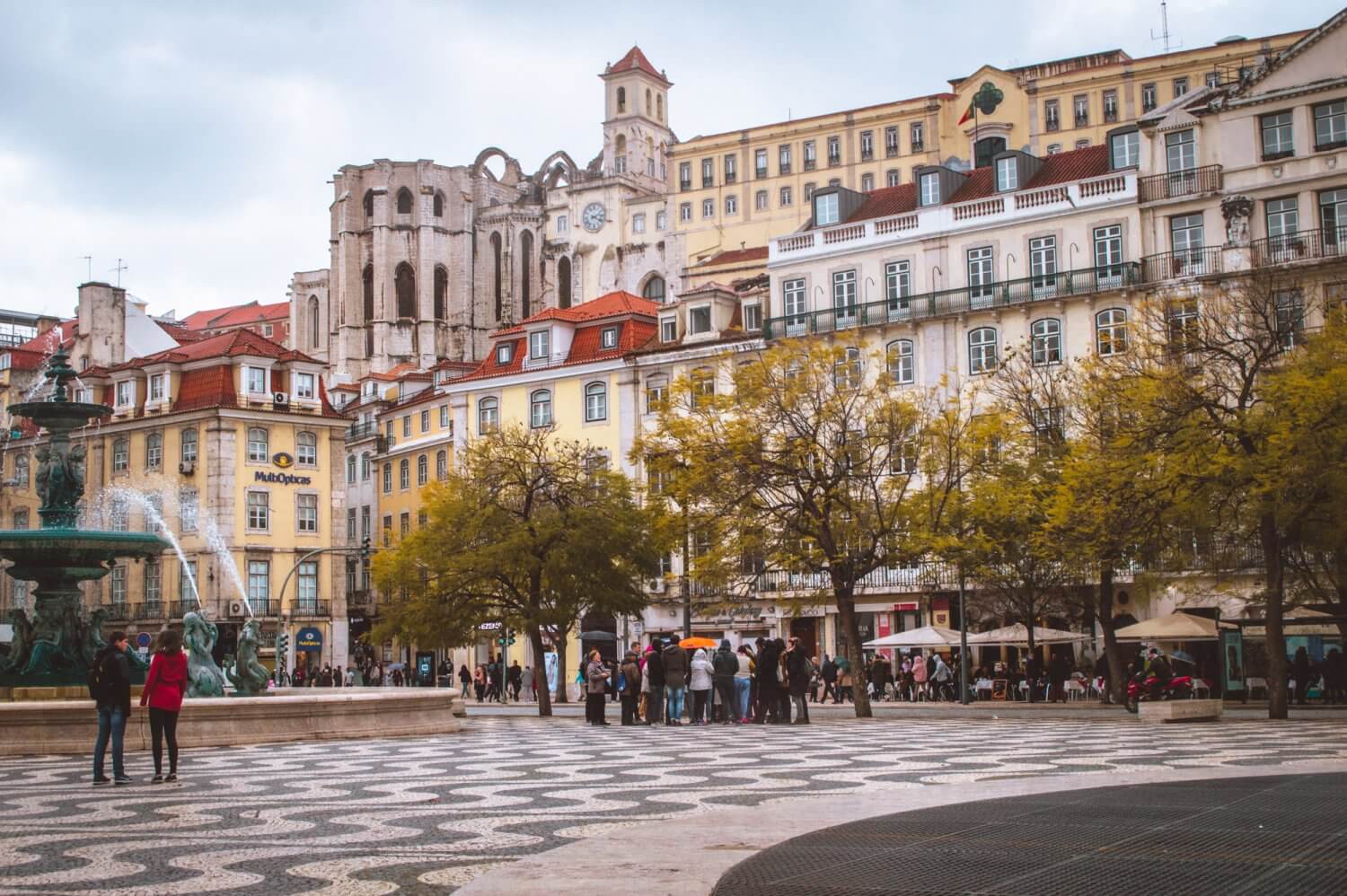 3. Not bringing proper shoes with grip
When you travel to Lisbon, I highly recommend walking as much as possible. The city is just so beautiful!
But yo, no joke, you need the right shoes.
Lisbon has hills for dayyyys.
Not just that, the city is cobblestoney, the streets are narrow and sometimes, walking is just a struggle (which it is for me on most days, but I digress).
Especially when it rained, I found myself slipping all over the place, so definitely pack a good pair of walking shoes that have solid grip.
What I'm saying is: leave the stilettos at home. If you're looking for comfy walking shoes, these sandals are my favourite (and have served me well all over Europe).
PS: After a long day of exploration, don't be surprised if it feels like your calves are gonna melt off. In Lisbon, every day is leg day.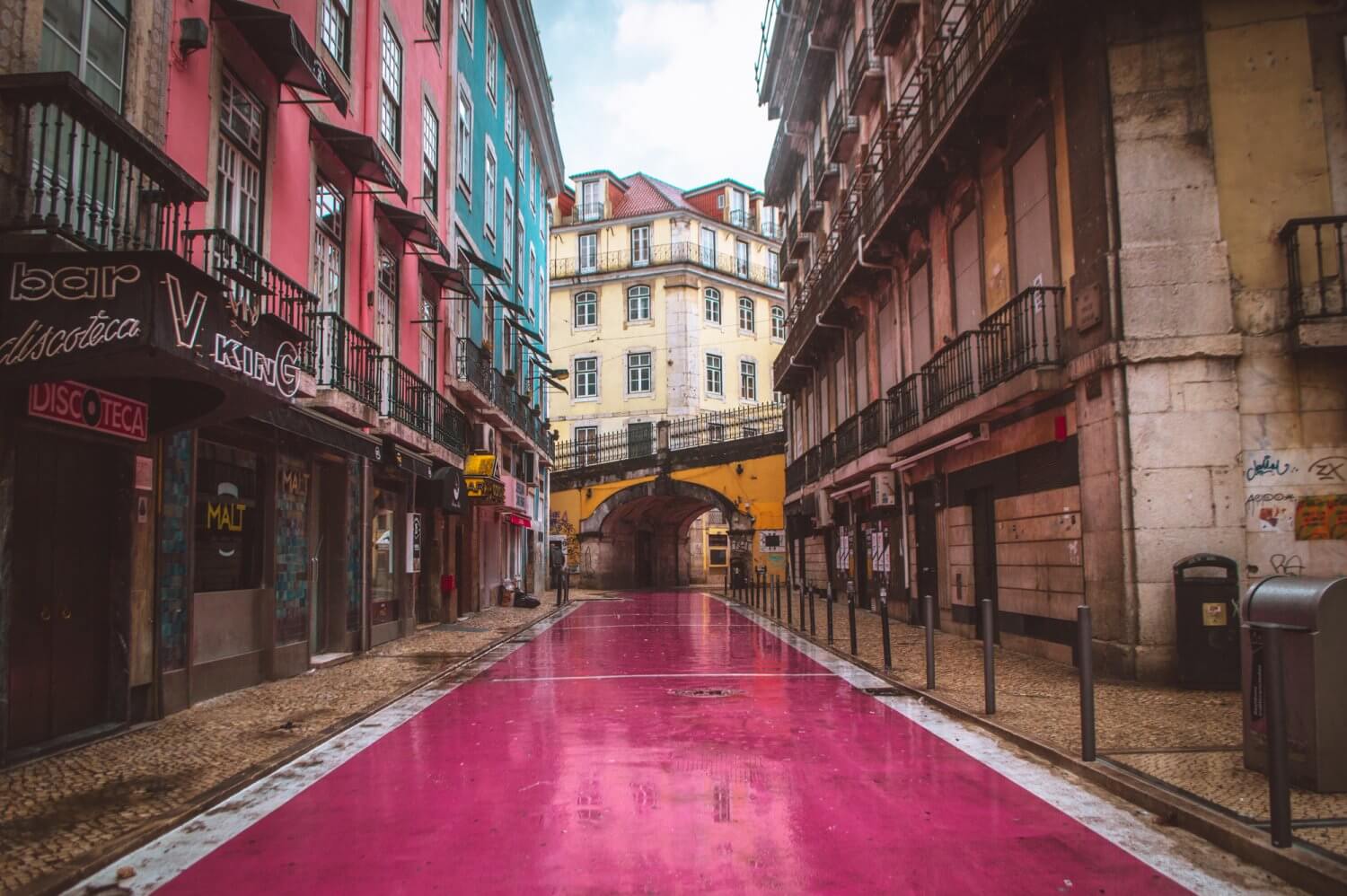 4. Getting sucked into a tourist trap restaurant
Lisbon tourism is booming, and like in any touristy city, there are plenty of vulture-like restauranteurs lurking around who are ready to swap your hard earned dollars with mediocre food and sadness.
Luckily, spotting tourist trap restaurants is easy… if you know all the red flags.
Here's how to spot a tourist trappy restaurant when you visit Lisbon:
Steer clear of restaurants with giant pictures of the food, boasting "TOURIST MENUS" or any place where there are aggressive guys trying to get you inside the restaurant. 99% of the time, these restaurants are overpriced and underwhelming.
Also take a peek inside, if it seems very clear that there are zero locals around, that's also a good sign that it's not a place offering amazing, authentic food.
I personally didn't go to any restaurants I adored in Lisbon (besides O Asiatico, which is more fusion/seafood than typical Portuguese).
If you're looking for recommendations though, here are some restaurants serving Portuguese food in the city center from a Lisbon local.
5. Not eating your weight in pastéis de nata
I'm sure you've already heard of the glories of Portugal's most beautiful dessert: the pastéis de nata.
If not, here's a quick rundown; pastéis de nata are baked treats filled with beautiful yellow custard wrapped in layers of flaky pastry.
It crisps and crackles in your mouth before hitting you with indulgent creamy sweetness, and is basically as close to a hug as your taste buds can get.
Some people just try them once on their Lisbon trip, you know, to "check it off the list".
This might sound a tad fanatical, but DON'T DO THAT. EAT AS MANY AS YOU CAN. TRY THEM AT DIFFERENT PLACES. STUFF YOUR POCKETS.
Because just doing it once ain't enough… trust me.
Now, where should you get these pasteis de nata?
Well, ask a local where the best ones are and odds are, some kind of heated argument will arise. Your best bet might just be to try them all 😉
The most famous "best of" include Manteigaria (my personal favourite) and Confeitaria de Belém (where they serve up the "original", known here as Pastéis de Belém, made with a top secret ancient recipe).
Of course, these come with their accompanying crowds. Just know one thing: it'll be very hard to find a bad pastel de nata – just don't wimp out and get a tiny miniature one – they're woefully unsatisfying.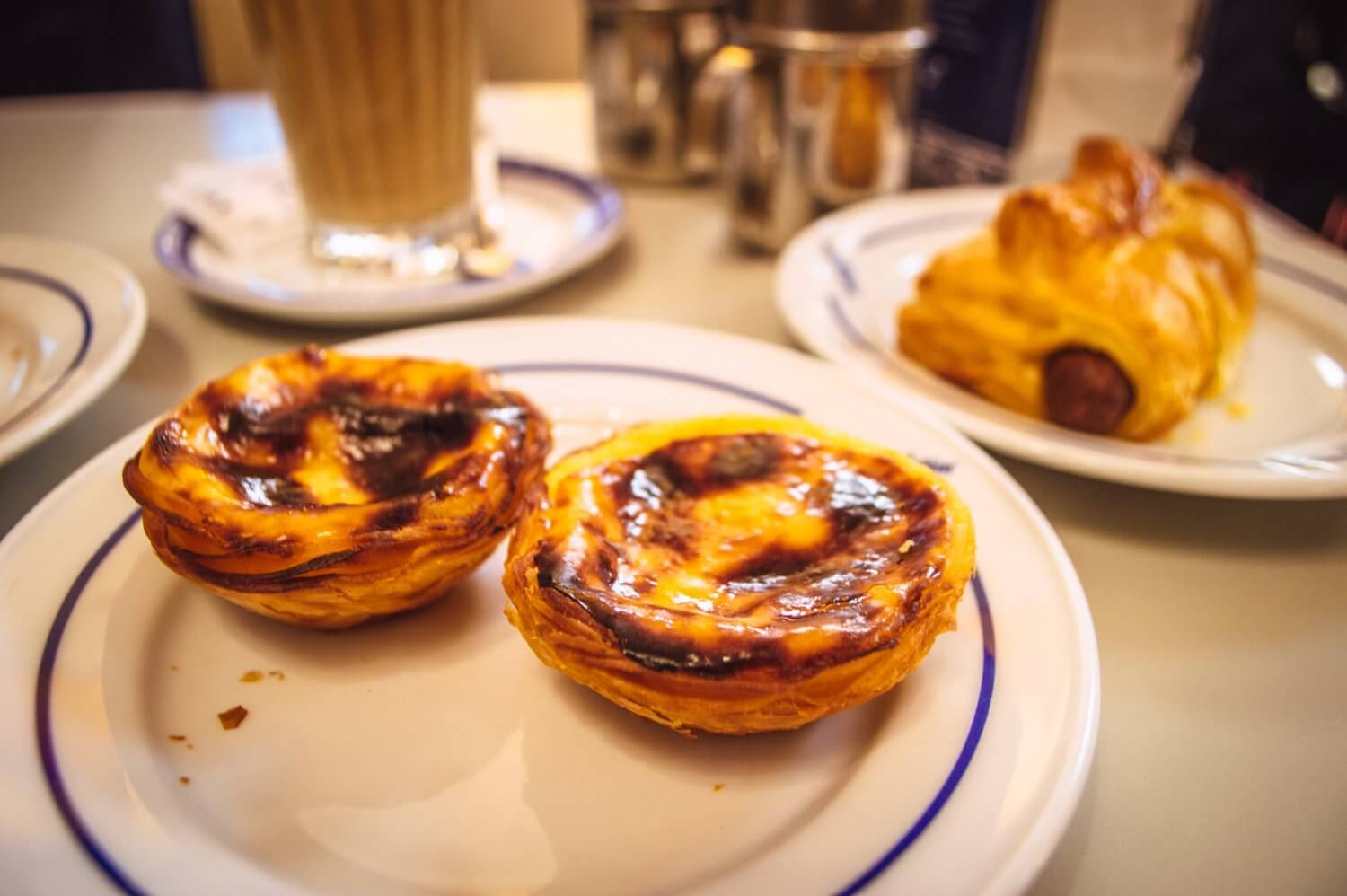 6. Going to only the best known miradouros
Do yourself a favour now: open Google Maps, type in "miradouro" and promptly star each one that comes up.
Miradouros are scattered all around the city, and designate stunning viewpoints where you can admire the city from above.
There are a lot of miradouros that are now well-known and frequented by tourist crowds, but I feel like you'd be doing the city a disservice by only going to the most famous ones.
With as many hills as Lisbon has, you can bet your pastel de nata baby that there are plenty of views to choose from.
When you visit Lisbon, I recommend finding random ones on Google Maps and checking them out.
For me, this was really good fun because you almost feel like you're discovering little secrets for yourself.
Whether or not that's true is a different story, but hey, it makes you feel just a little more "in the know" 😉
Wondering where to go in Lisbon for the best views? While maybe not the most off-the-beaten-path, here were a few of my favourite miradouros:
Miradouro de Santa Luzia: Close to the castle with a lovely garden and beautifully embellished with plenty of azulejo tiles.
Miradouro de Santa Catarina: While not offering the prettiest view in Lisbon, this miradouro is so lively and cool that I had to include it. Lots of young locals like to gather here for sunset and it is wonderfully atmospheric.
Miradouro de São Pedro de Alcântara: Not only is there a great view here, the tiling on the ground is gorgeous and there are picture-perfect fountains scattered around as well.
PS: Besides miradouros, there are also a lot of amazing rooftop bars offering great views with the sweet bonus of plentiful alcohols.
I recommend checking out PARK (which has an amazing rooftop bar that is perfect for sunset). It's a little tough to find at first because it's on top of a parking garage, so you need to enter the garage and take an elevator up.
Otherwise, enjoy a glass of wine over at Bar Terraco de Santa Luzia.  The food and service are a little meh, but you can't complain with a view like this: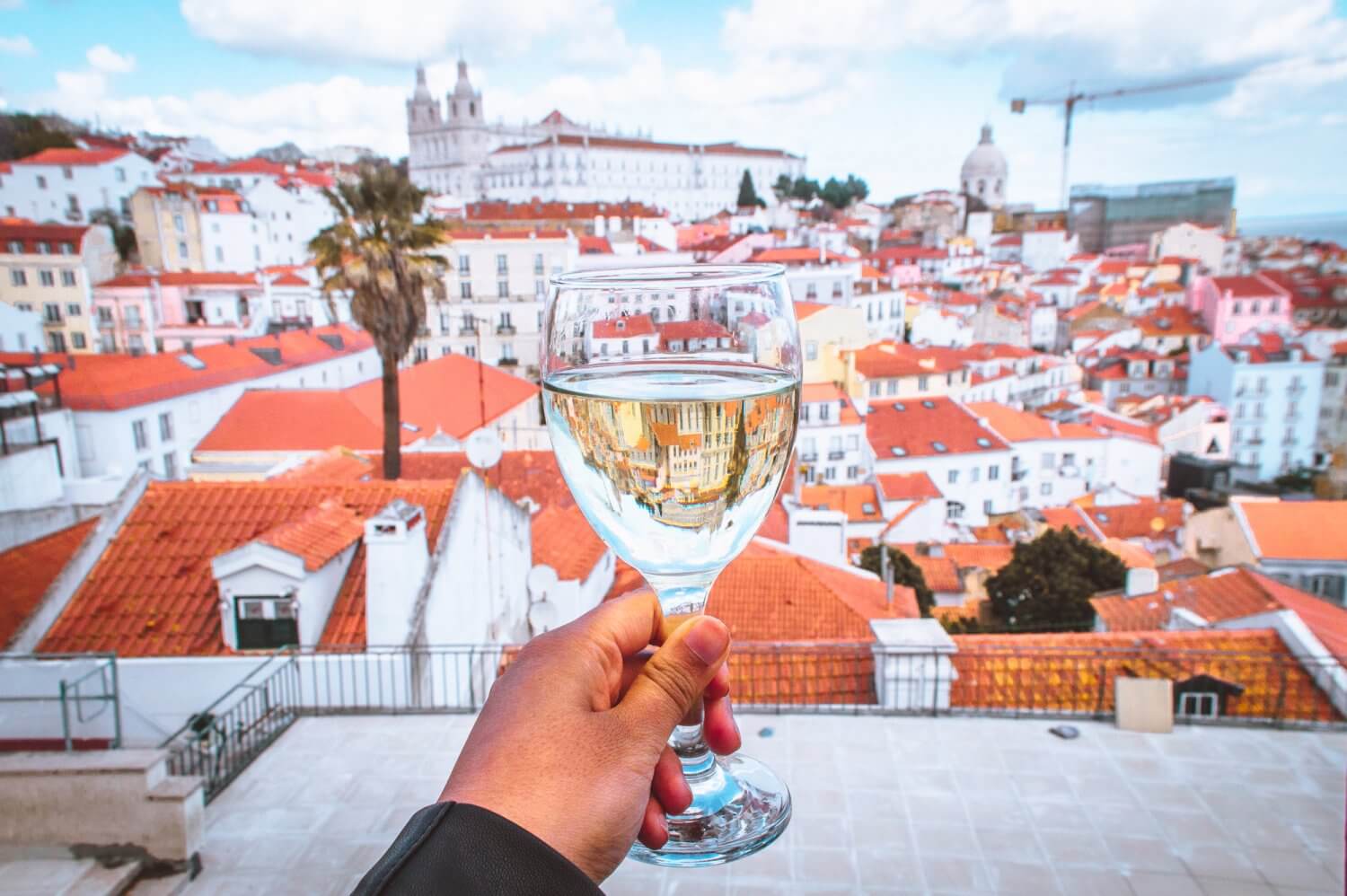 7. Waiting and paying for the Santa Justa elevator
Often hailed as one of the best things to do in Lisbon is the Santa Justa elevator. I'm not sure why, it just is.
The key selling point of the elevator is (I assume) not the actual ride in the elevator, but the viewpoint that comes at the end.
Guess what though? You can totally access this viewpoint without taking the elevator or paying for it.
Here's how you can see the view for free: the top deck of the Santa Justa elevator can be accessed by walking on the Largo do Carmo, walking to the right of the Carmo ruins and then going past the Bellalisa Elevador restaurant.
Yay! You've successfully avoided one of Lisbon's key tourist traps. Well done.
PS: If you hate tourist traps, check out this helpful article too all about avoiding Lisbon tourist traps.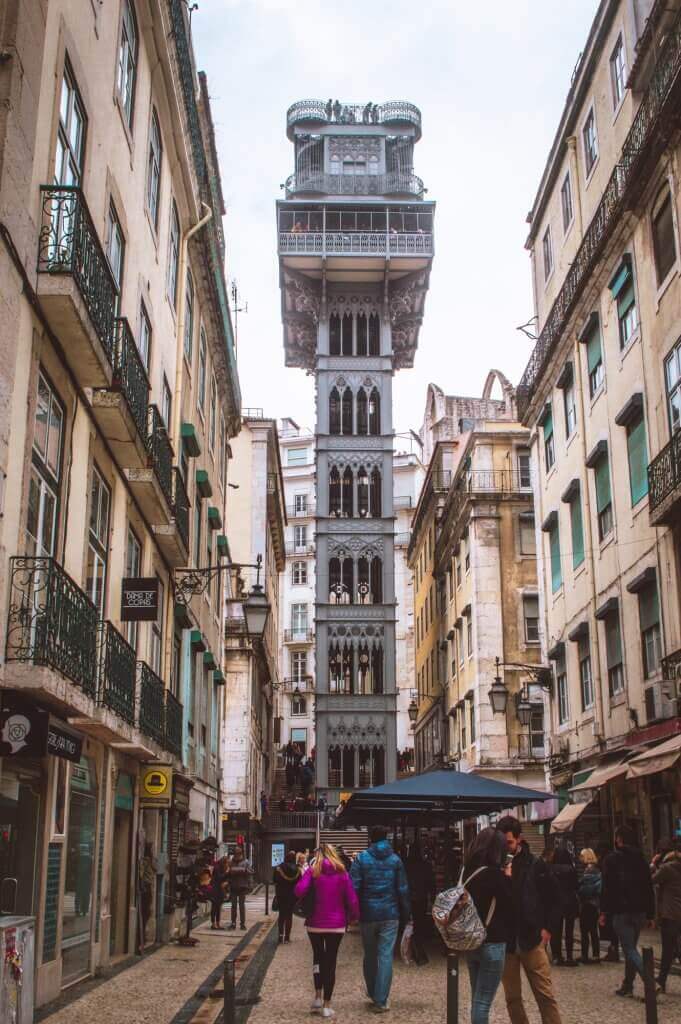 8. Hopping onto Tram 28
Alright, now let's chat about Lisbon's famous Tram 28.
Guys, I don't really get it.
Read any Lisbon travel guide and it will tell you that riding this cute yellow tram is a must-do when you visit Lisbon…
Honestly though? It's just a tram.
It's a regular tram that's part of the public transportation system, which means some locals actually rely on it to get places (which means you shouldn't be treating it like a sightseeing zoo, FYI).
Anyways, I personally think the tram is cutest from the outside.
It's lovely to photograph and sure you get a nice overview of Lisbon's best spots, but in my opinion, seeing everything from a dirty window in a stuffy tram isn't the best way to experience it. I much prefer walking.
Plus, be mindful that many pickpockets lurk on this tram now to take advantage of tourists. Whether or not you do it is up to you, I mean I'm sure it's nice, but there are better ways to experience the city in my opinion 😉
9. Forgetting about Uber when you visit Lisbon
Guess what? Lisbon has Uber and it's awesome!
I know that there's a lot of sketchy information floating around online about companies like Uber in Portugal, but it's actually not illegal at all and they're simply in the final stages now of tightening regulations for them.
If you need to get around, I highly recommend walking but some spots are simply too far (like Belém) to walk.
In these cases, get an Uber. It's so simple, convenient and crazy cheap too, especially if you're travelling with a few others.
I was only with one friend, but even for 2 people, splitting the cost of a ride to Belém was cheaper than public transport and took half the time.
… NOTE: Uber is especially handy after you've stuffed yourself with delicious pastéis de nata and can no longer walk yourself up hills.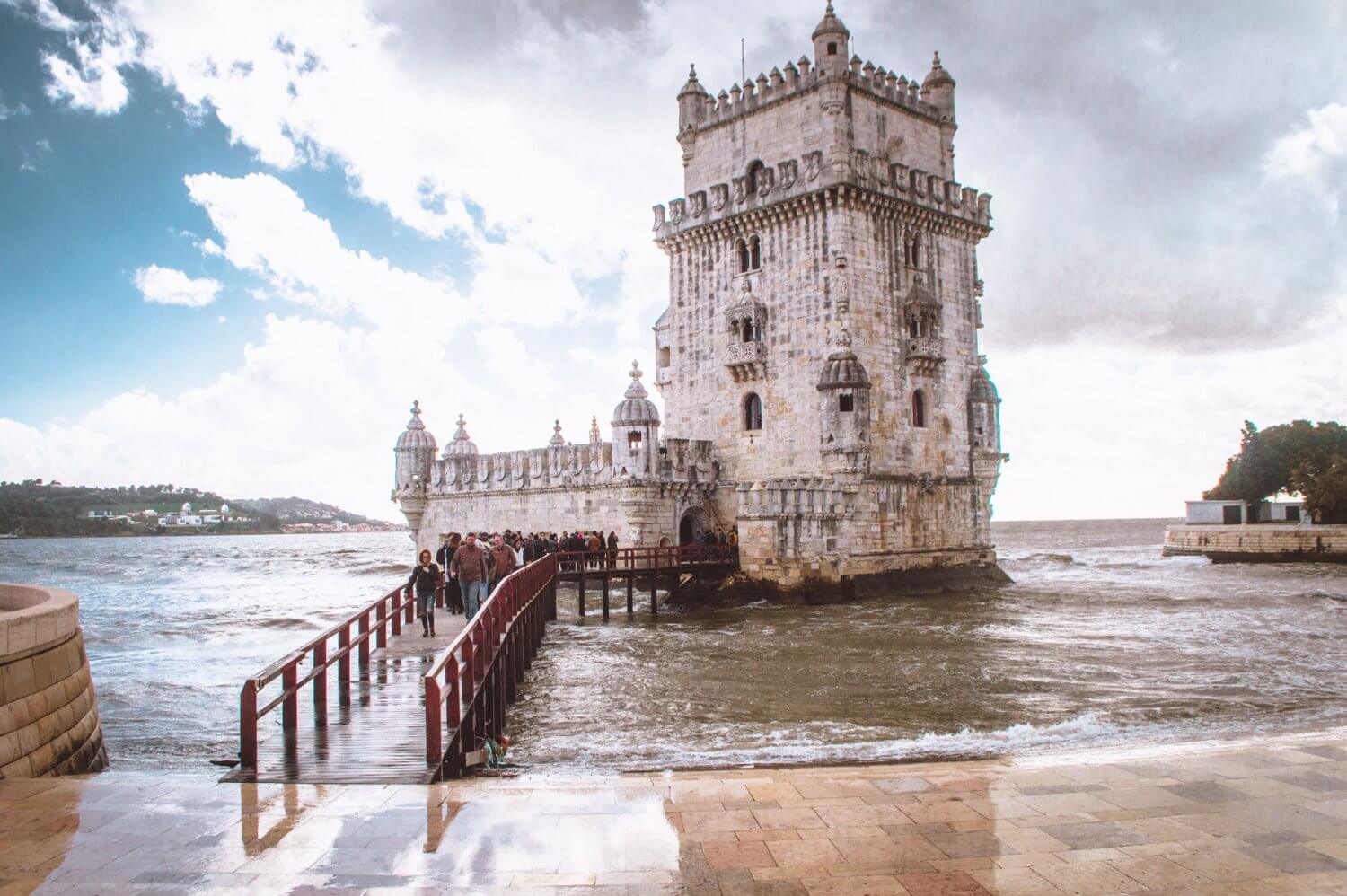 Local Tips and Recommendations
Last but not least, I'd like to present you with some awesome local blogs and websites that were a great help to me during my trip to Lisbon. If you are looking for additional resources, hidden gems or even just a locals' perspective on Lisbon, be sure to check out these sites:
Please, don't do this in Lisbon by Tripper.pt
LisbonLux – super thorough resource for tourists, but from a more "insider guide" angle
GoLisbon – good resource for events/local happenings to check out when you visit Lisbon
So, I hope this article will be a helpful resource for when you visit Lisbon! Let me know if you have any questions about Lisbon or any additional tips I should add 🙂
Save this post for later!
PS, if you're planning a trip to Lisbon, you might also like these posts:
The Ultimate Europe Packing List for Females: Summer Edition
The Ultimate Europe Packing List for Females: Winter Edition
---
Watch my most popular YouTube video this week:
---