*FYI - this post may contain affiliate links, which means we earn a commission at no extra cost to you if you purchase from them. Also, as an Amazon Associate I earn from qualifying purchases. Check out our Privacy Policy and Disclosure. for more info.
Cheers to MedSailors for inviting me as a guest on board their Croatia Voyager route! I was not paid to write this review, but wanted to share my honest experience with all of you so you can decide whether or not MedSailors is right for you. Enjoy!
10 shades tanner, I am officially home after the best two weeks ever in Croatia!
When MedSailors invited me back in January to join one of their sailboats this summer, there was no containing my very unattractive happy dance.
I've always believed that life has a way of working itself out, and this short MedSailors email felt like the stars had perfectly aligned to tie up a final loose end in my travel life.
You see, last summer, one of the most devastating moments of my 3 months abroad was when I missed a flight… and consequently a dream trip cruising through Croatia with the company I was working for.
At the time, I was photographing/blogging for a European river cruise company, and I was en route to Croatia, waiting for my airport taxi in Venice when I got one of the most mortifying phone calls I've taken to date.
"Hi, Christina this is the captain of your cruise in Croatia. You were supposed to be here yesterday. Where are you?"
I almost withered and died on the spot. In a panic, I flipped through my travel documents and realized that I had, in fact, missed my flight by a day.
Long story short, the company had changed my travel arrangements midway through the summer and I forgot to mark down the changes.
I had messed up. Badly. Aaand my boat was leaving without me.
And so it goes – one trip to Croatia gone with the wind. That said, this new opportunity provided a chance for redemption, and I was oh so ready.
Setting sail in Croatia with MedSailors
After months of obsessively pinning every Croatia photo I saw (and vainly doing crunches to look acceptable in a two-piece), I set sail at the end of July on MedSailor's Voyager route from Dubrovnik to Split.
Time on board would amount to a week, but I booked a few extra days in Dubrovnik and Split to make sure I'd have enough time to see everything.
Without any friends tagging along, this would be a trip done solo. While I'm no newbie to solo travel, being stuck on a boat with strangers for a week seemed a little different.
Shuffling up to the ACI Marina in Dubrovnik, I was a bundle of nerves.
What if my boat hated me? What if I got seasick? What if I got snatched up by some rare breed of Croatian shark?
Knowing my luck, this was all pretty possible…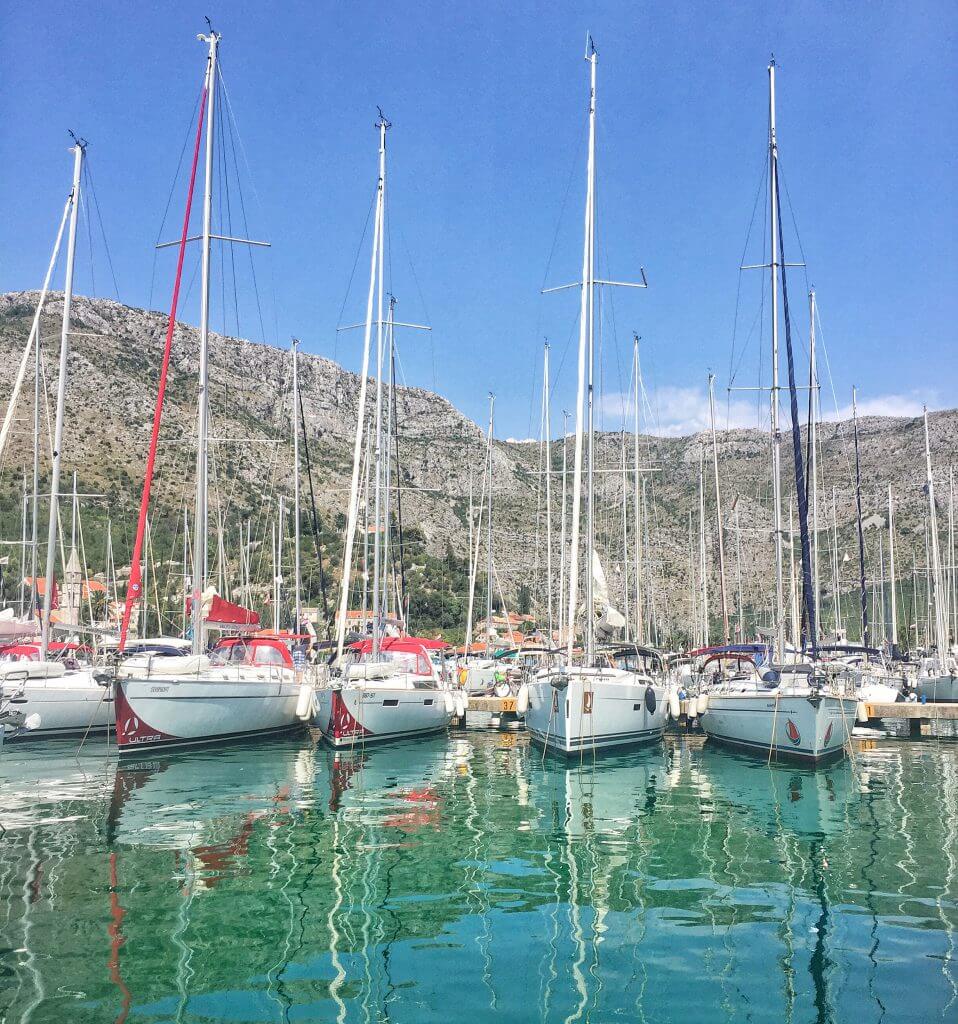 Walking towards the navy blue MedSailors flags, I was greeted with plenty of smiling faces. Check-in was a breeze, and was done in 30 seconds.
Okay, so far so good – still alive. No sharks.
Over the next 15 minutes or so, we waited as the rest of the guests arrived.
Boat by boat, the skippers came and fetched their little families for the week, while we were slowly introduced to our boatmates as they came.
I was introduced to two couples first, and so quickly resigned myself to the fate of 5th wheeling a romantic Croatian love cruise, awkwardly enjoying sunsets next to doting lovebirds.
Turns out I was wrong, as I was introduced to two more female solo travellers on my boat soon after. There we stood, the 7 of us, 2 couples and 3 girls, ready to sail the seas.
So what happened?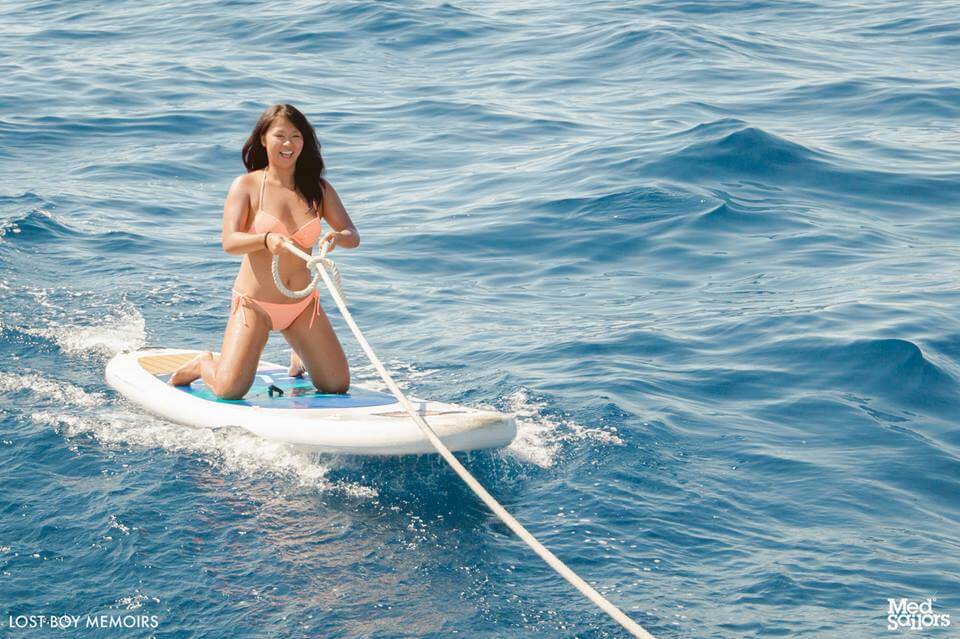 Genuinely, it was such a fantastic week!
In hindsight, I'm kind of happy I saved my first Croatia experience for this sailing trip because while it was rather different from my expectations, I ended up having an ahh-mazing time.
In the week that ensued, we hopped around paradise from island to island, dipping our toes in the clearest waters of the Adriatic, sampling some of the freshest seafood I've ever had, all the while braving daily adventures via paddleboard, swims and more.
For a little more insight into what it's like to sail with MedSailors in Croatia, here's a full breakdown and review.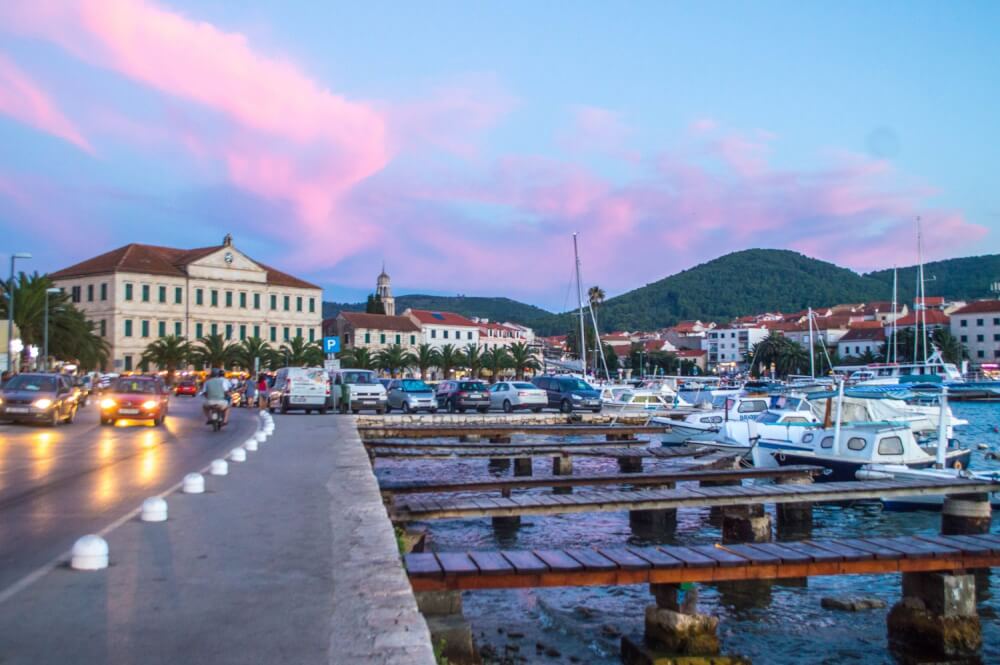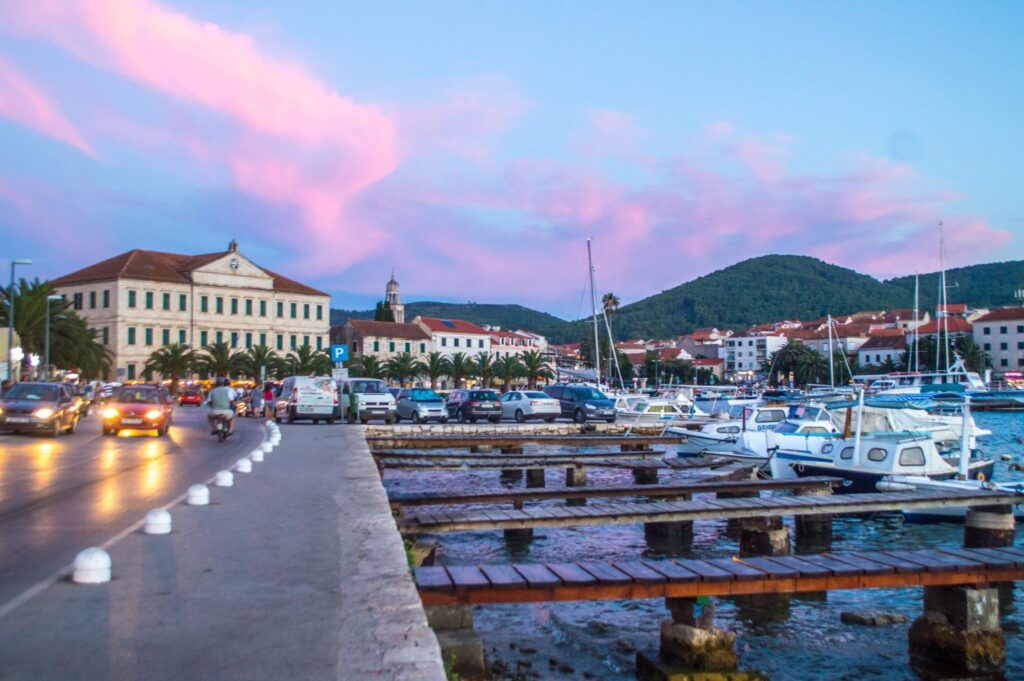 My MedSailors Itinerary
Our one week trip began in Dubrovnik and ended in Split (a very common combo for those spending a week in Europe).
Along the way, we visited a variety of islands, docking in a different one each night.
These included smaller ones that I had never heard of, like Sipan, Vela Luka and Stomorska and others more on the tourist path like Mljet, Korcula and party haven, Hvar.
While usually guests were given free reign to do what they wanted upon arrival, MedSailors did organize a few different activities throughout the week including a paddleboard race on the last day and of course, an introductory punch party (which involved pitchers and pitchers of potent punch and plenty of colourful floaties).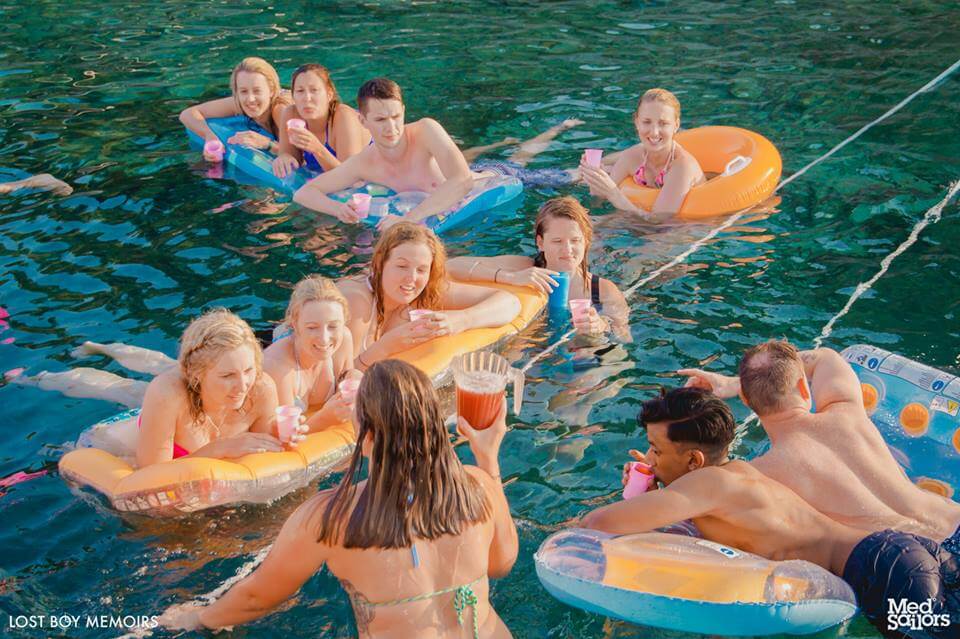 For me, the itinerary was a good mix of busy hotspots and sleepy towns.
Usually these were alternated in the schedule, which meant more hectic (read: boozy) nights would be followed by calmer stops the next day.
While all the stops were extremely charming, some of the smaller towns lacked activities besides swimming, tanning and enjoying some food/drink.
While I do love laying like a walrus in the sun (who doesn't?), sometimes I did wish there was more to do and see. Still, if relaxation is what you're after, then this would be perfect.
Note: MedSailors offers a variety of different itineraries, so take some time to compare them before selecting a trip.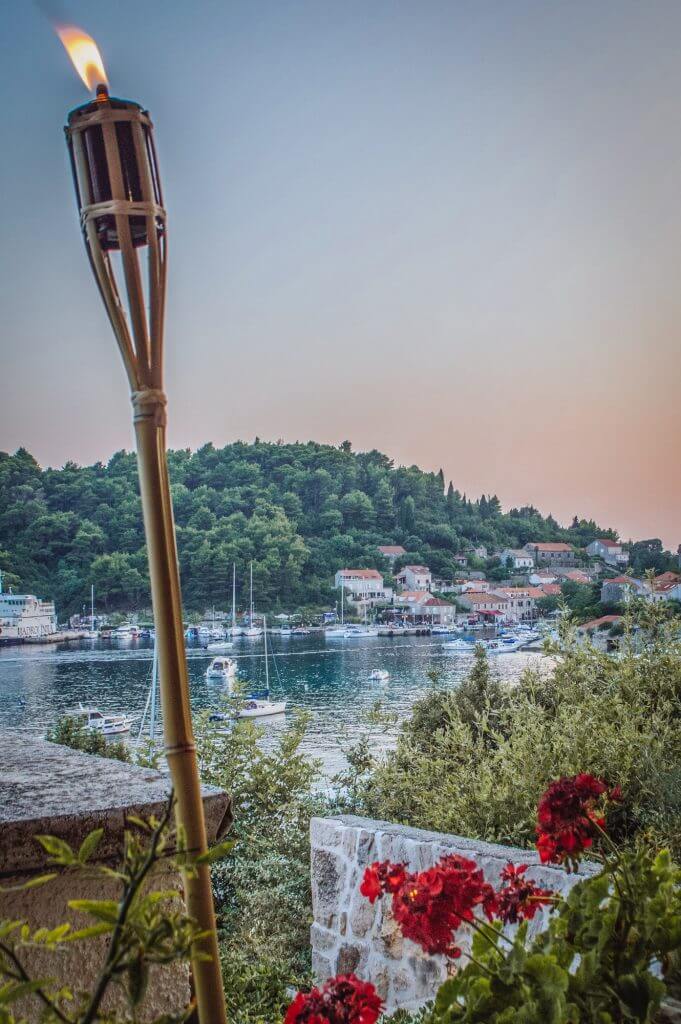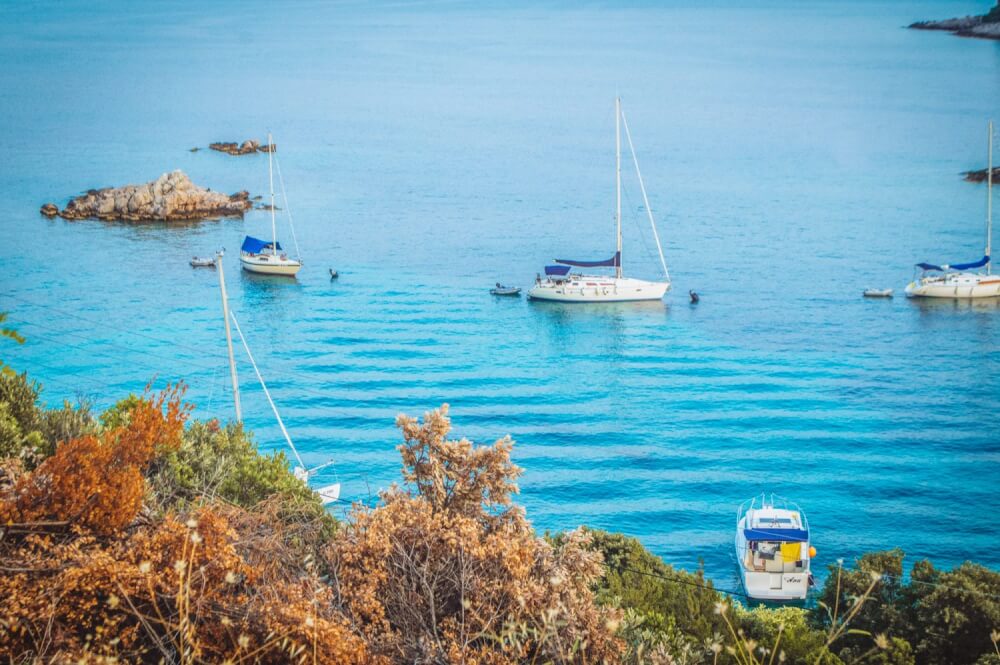 MedSailors Staff
In addition to the skippers, there's also a photographer who travels with you throughout the week and a guest manager who is available to answer all your questions.
Everyone was always so friendly, and I never had a bad experience with any staff!
That said, it's crucial to note that a lot of your trip experience will depend on your skipper, who is in charge of your breakfast/lunch and of course, navigating your boat.
Luckily, our boat hit the jackpot with our skipper Holly.
Not only was she an excellent cook with the voice of an angel, she was a hilarious firecracker who always kept morale high. It seemed clear that all the staff were genuinely invested in making sure everyone had a great time, which made all the difference.
In fact, the staff often went the extra mile to make guests feel special.
One particular night, the dreamy smell of chocolate ganache cake filled the air as Holly and another skipper prepared for a guest birthday.
Armed with an arsenal of balloons (and homemade cake, of course), they were more than happy to spoil one of the flotilla's birthday girls on her special day.
Similarly, on another night, a couple got engaged, an event made all the more swoonworthy with a private sunset sail coordinated by their skipper. Customer service to the max, am I right?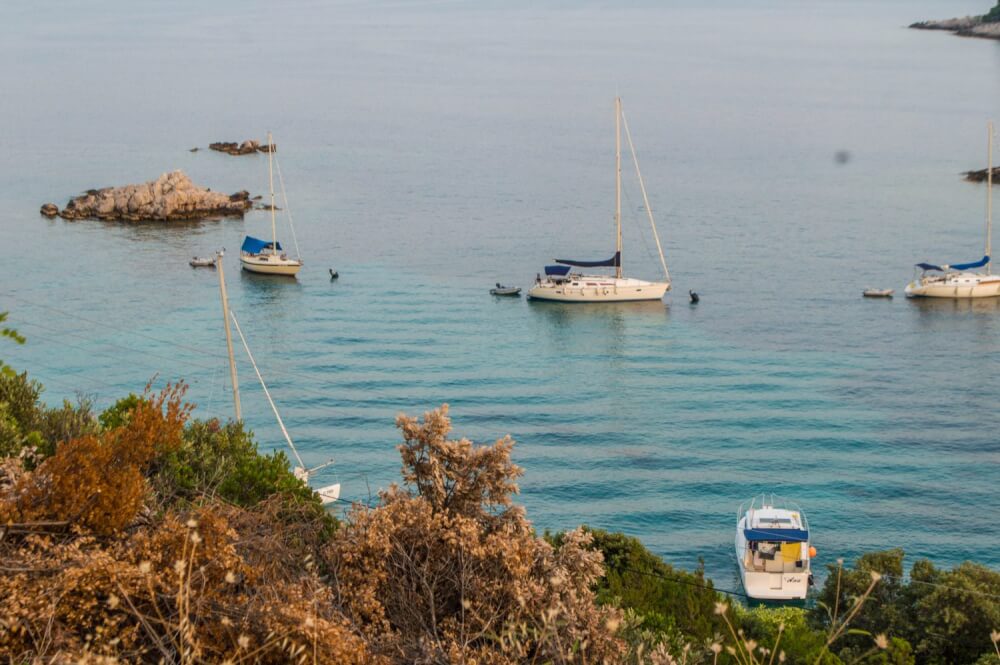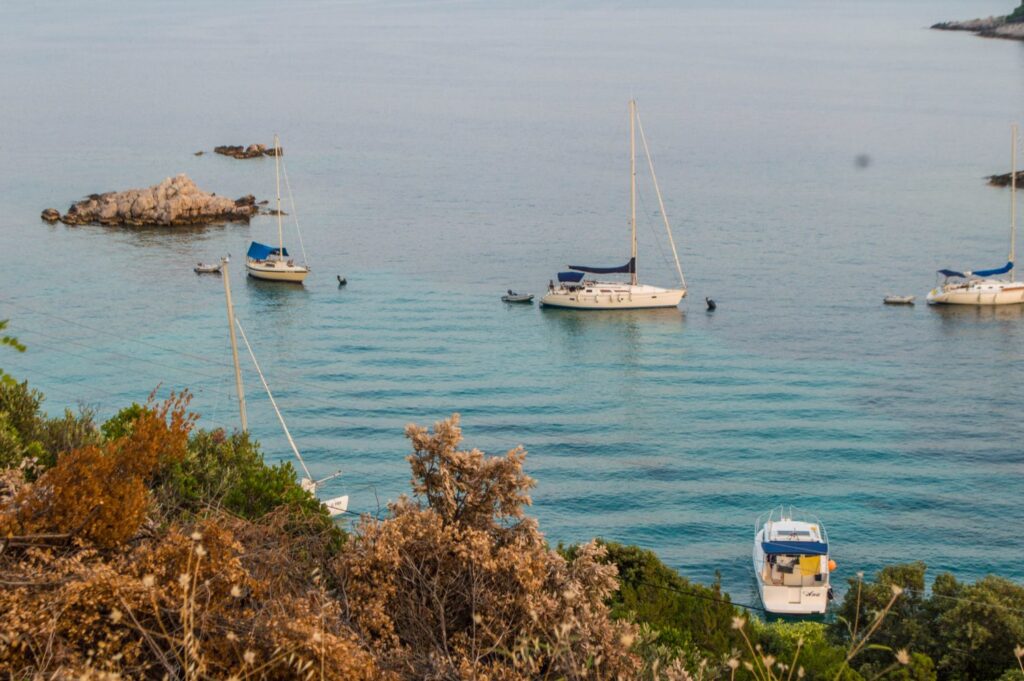 The crowd
This was the bit that surprised me.
While MedSailors does (according to their website) cater to a broad age range of 20-35 year olds, I was expecting to roll up on the marina to see hordes of party-hungry youngins' eager to get their drink on.
Scanning the 70+ guests though, this was clearly not the case. The age range was a bit more mature than the target demographic of say, Yacht Week or Sail Croatia and guests were mostly clustered in couples or friend groups.
This can be a plus or minus, depending on what kind of vacation you're looking for.
Being 22, I was definitely one the younger ones sailing that week, which was surprising, but as it turns out, wasn't a big deal because everyone on my boat was awesome (and could party even harder than me!).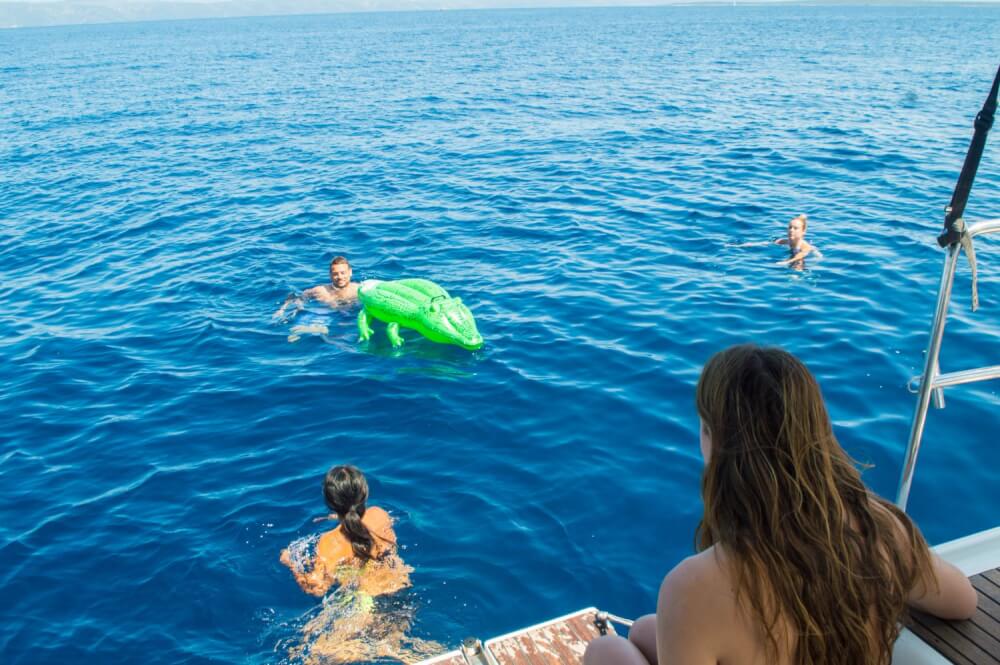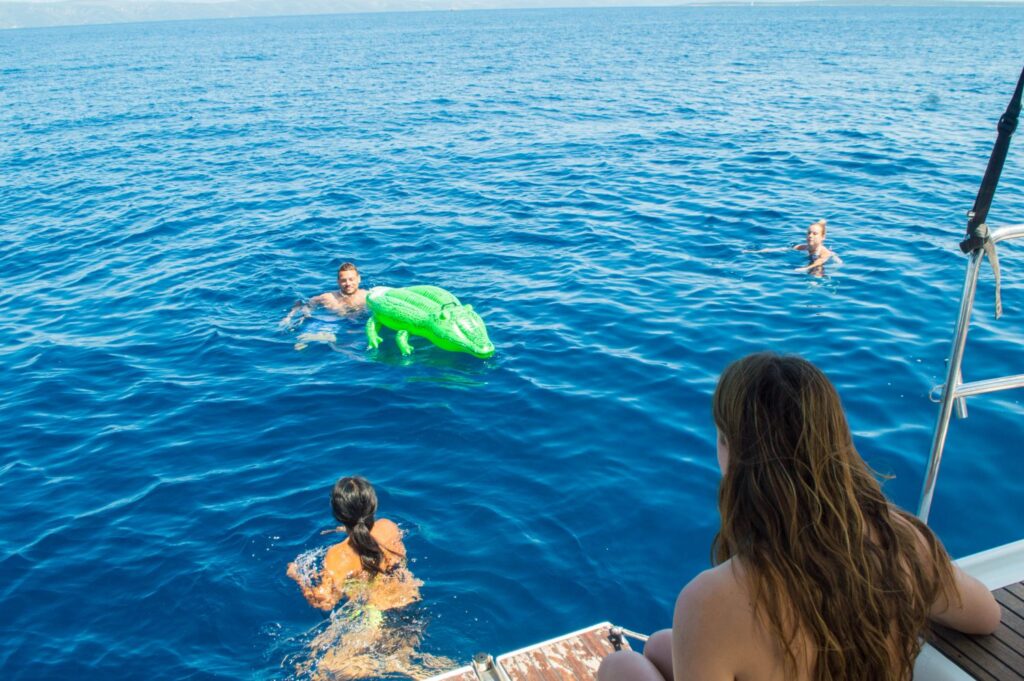 The vibe
Most of our days consisted of lazing around on the boat as we moved onwards to our next destination.
Our mornings would be spent on the water, which meant plenty of time to soak up the sun and unwind with a good book and summery tunes.
We'd occasionally stop for a quick swim as well, with more adventurous activities like paddleboard surfing when conditions permitted.
It was on this trip that I realized the full extent of my athletic uselessness.
Whether it was wiping out on a paddleboard, shakily biking around Mljet or even just slipping off our inflatable crocodile, I was horrible at it. Still, every day was a good one.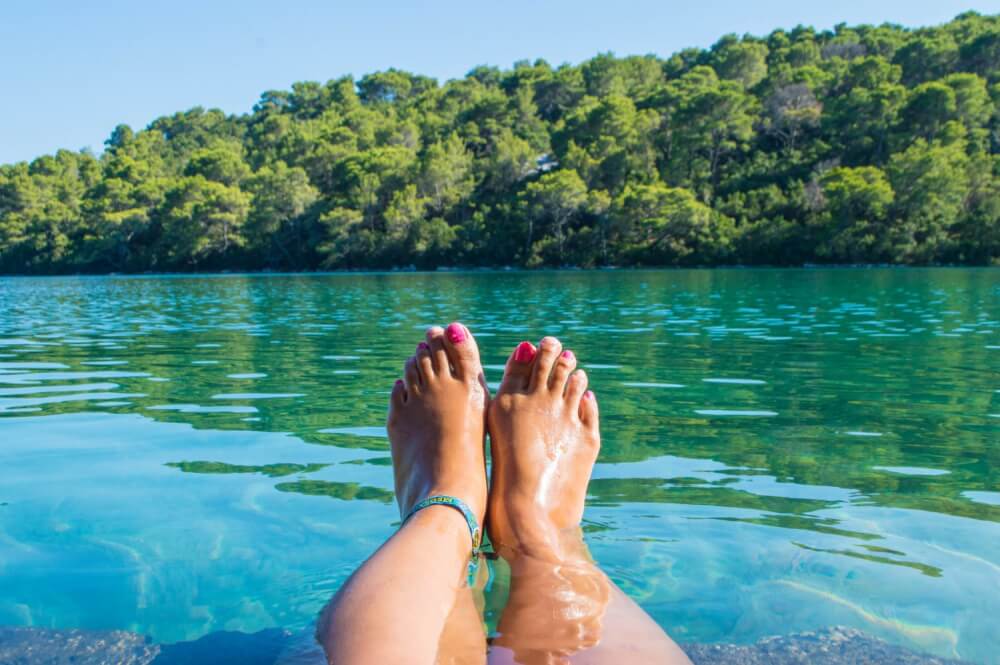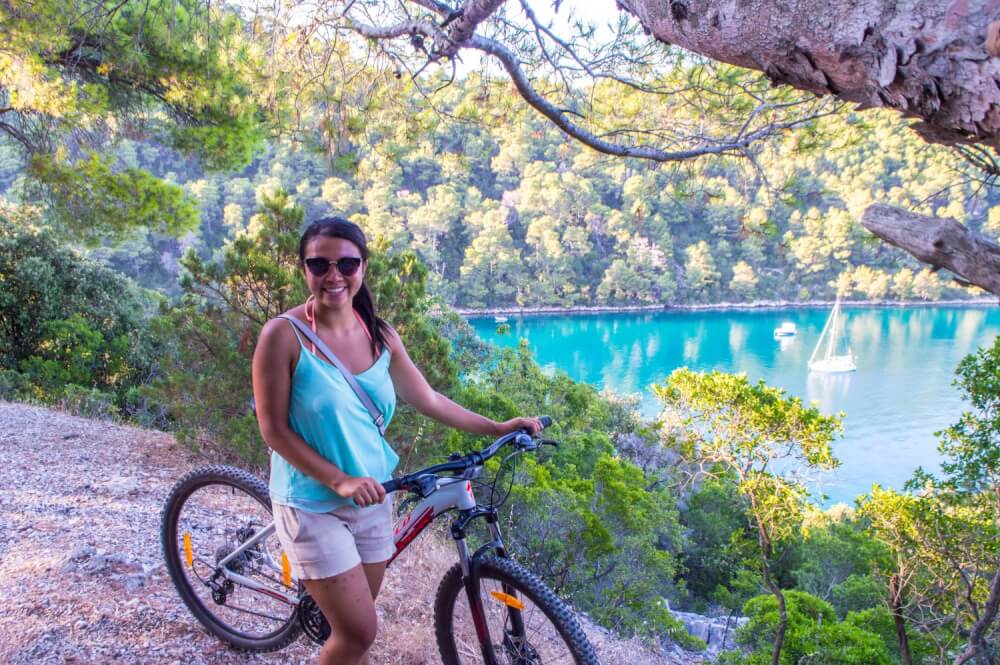 After docking, we would usually have some time to explore before dinner and after that, well… that's when we'd bust out the drinks.
Like I said, the guest demographics weren't exactly the party YOLOers I was expecting, but alcohol was nonetheless a quintessential part of our daily routine.
Even in towns where we didn't get electricity to charge our phones, there was at least a bar or two, which guests eagerly flocked to each night.
Still, those looking to get a good night's sleep aren't pressured to go out, or disturbed by any noise, since the skippers enforce a 'boat time is bed time' rule, and any alcoholic escapades take place far away from the boat!
That said, don't miss out on the parties. They're great fun, especially the costume night where my boat entered as a giant crocodile. True story: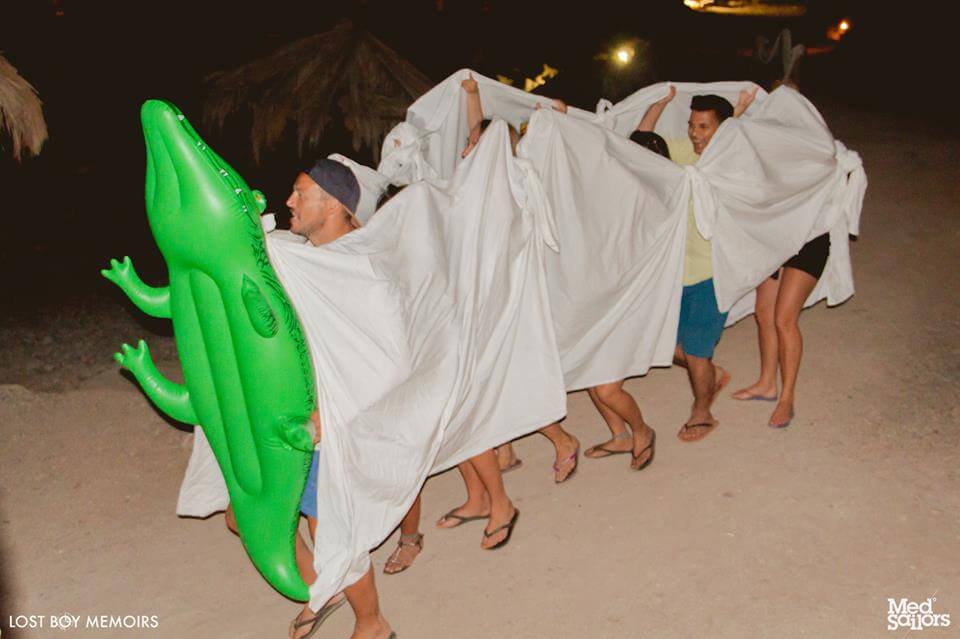 Socially, I didn't observe a whole lot of mixing and mingling between boats.
As previously mentioned, most boats consisted of couples and groups who already seemed pretty tight knit, which appeared to limit their desire to branch out.
There weren't too many organized occasions where boats interacted with one another, which would have been nice, but nonetheless, everyone I did meet was super lovely.
The Food with MedSailors
Included with the price you pay are breakfast and a light lunch, both prepared by your skipper.
I think our boat lucked out because Holly was an amazing cook, and despite the promise of a lighter lunch, we were never left hungry!
Breakfasts would consist usually of cereal, yogurt, bread and various spreads (with the occasional hot breakfast throughout the week as a treat), while lunch was something new everyday – sometimes a creamy blue cheese gnocchi with crusty bread and salad, other times a mouthwatering charcuterie plate with plenty of ham and cheese.
Every meal was delicious!
For dinner, we'd often eat with the rest of our boat at a local restaurant recommended by MedSailors.
Some nights would be free choice nights, whereas others (in the quieter islands especially) were pre-arranged, with MedSailors taking us somewhere (and us pre-ordering from the boat).
I genuinely never had a bad meal at any of these restaurants, which usually served some mix of seafood and Italian-influenced favourites like pizza and various pastas.
Price-wise, we paid about 20-25 euros per person (with drinks).
This was a bit more than I was expecting (especially because I was told Croatia was quite budget-friendly) but my treat yo'self mode quickly kicked in and I happily disregarded the higher price tag because the food was just so good.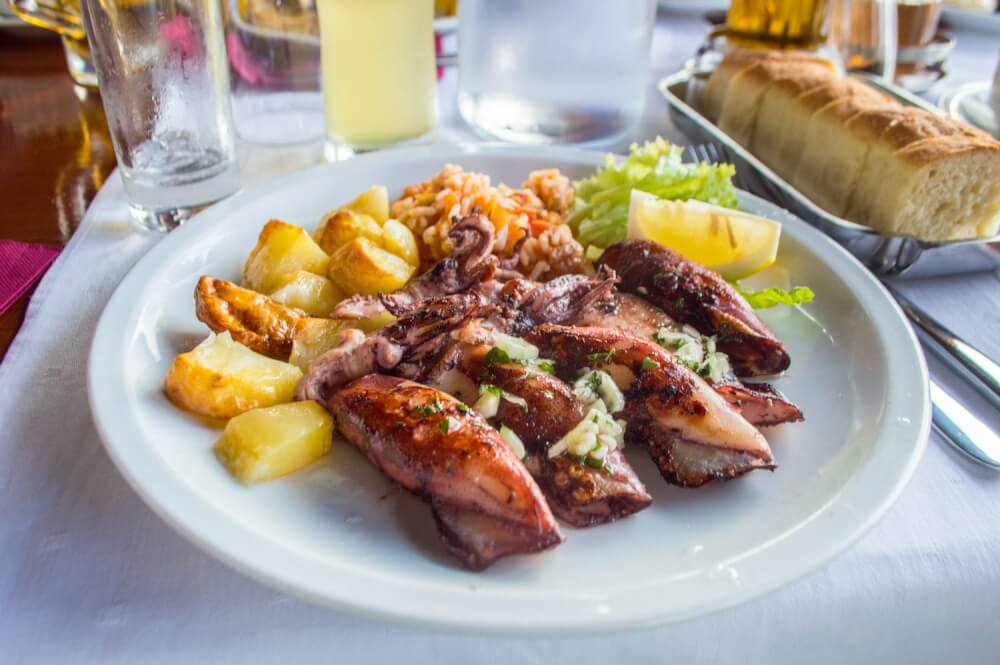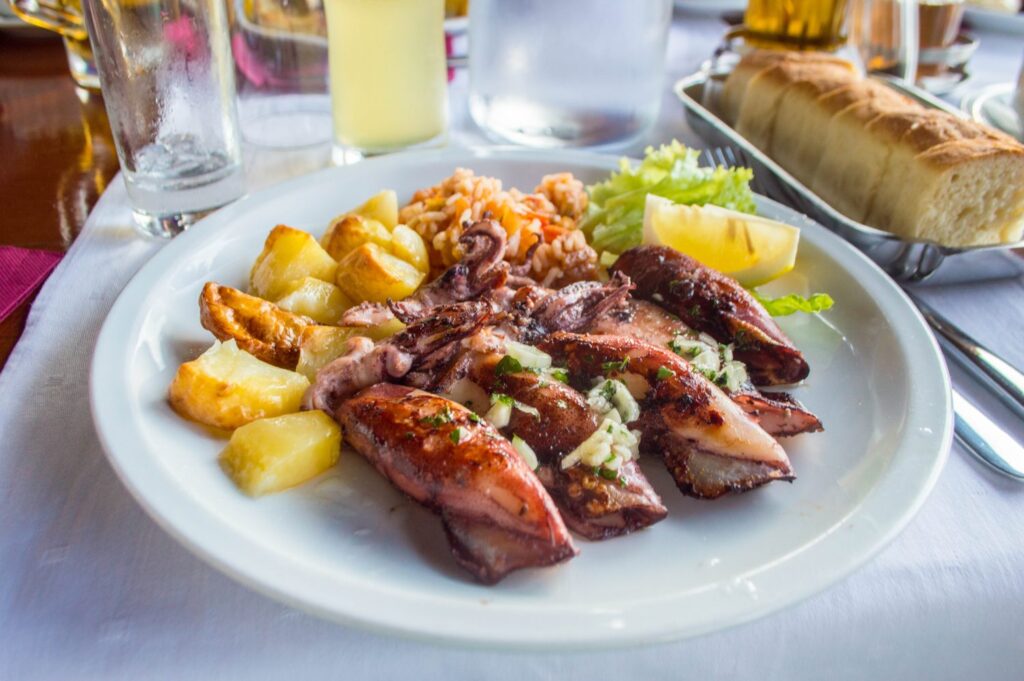 The Living Conditions on Board my MedSailors Yacht
My week was spent on board one of the Premier Plus yachts, which is said to be a bit bigger and newer.
I have to admit, my cabin (which my bunkmate and I lovingly referred to as our coffin) left a bit to be desired.
The room was so tiny that there wasn't even room for our two bags, and could get stuffy at night, despite the little fan and window.
Note: our boat only had one bunk room like this.
The other three rooms were double cabins that looked a lot comfier and significantly less claustrophobic, with a larger double bed and a bit more space to move around.
The boat itself can't be faulted though – ours had a killer sound system and there was always enough space for us to sit around on deck.
This is where we spent most of our time anyway!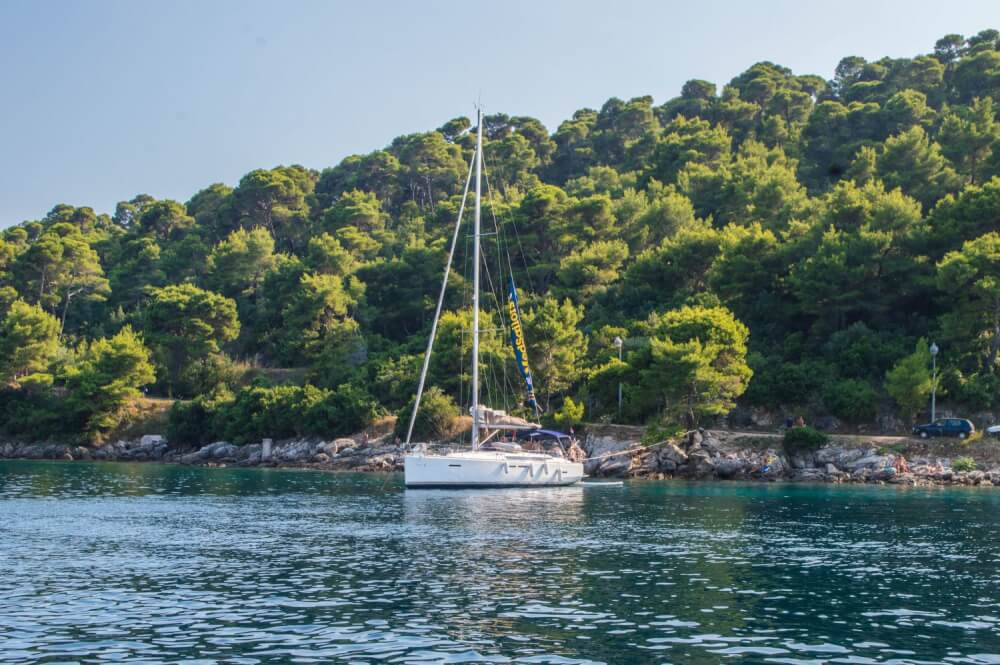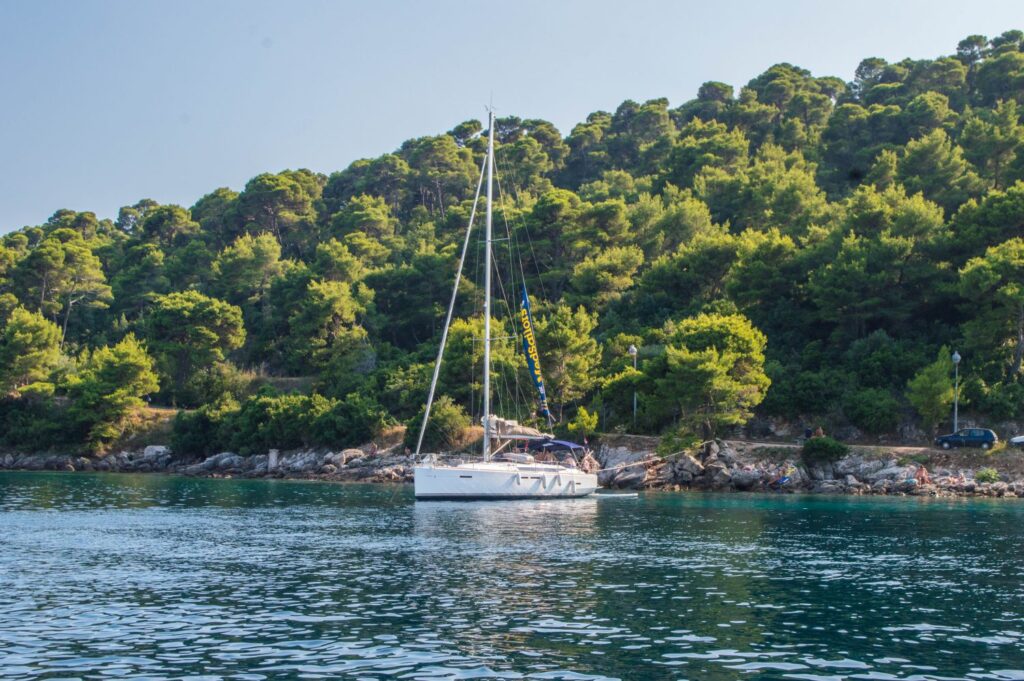 Extra perks?
Unlike some other sailing companies which bar you from bringing any beverages and snacks on board, MedSailors allows you to bring your own drinks and food!
This was a huge moneysaver, and lifesaver too.
One night, after a few drinks at the local bar, we were dismayed to discover that there were no late night food options to be found (no döners or McDonalds… whaaat?).
Just as starvation was about to destroy us, one of the couples on board busted out their stock pile of instant noodles and rice. Life made.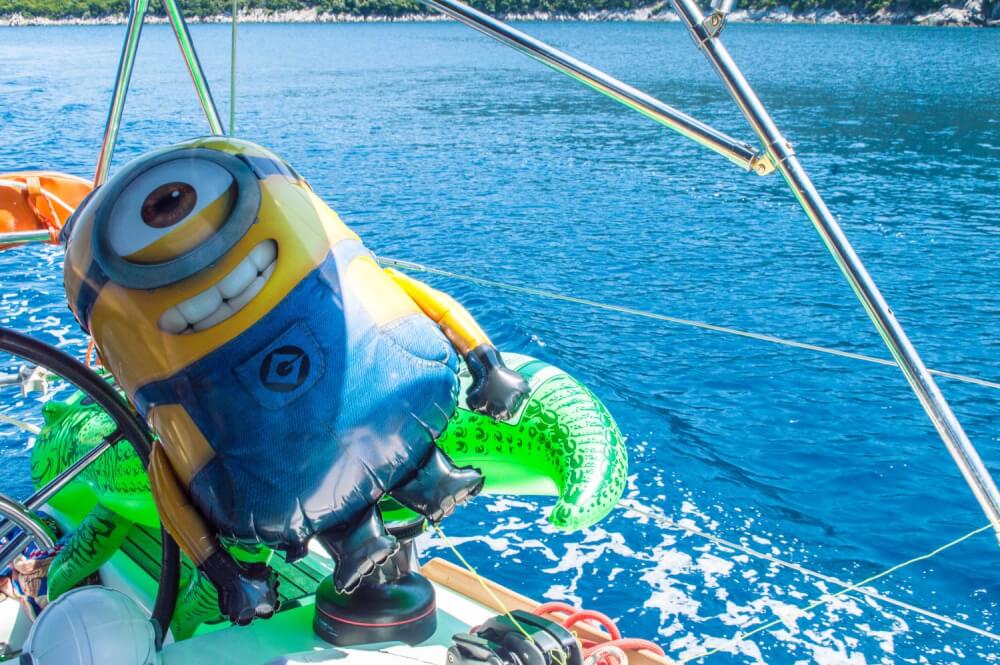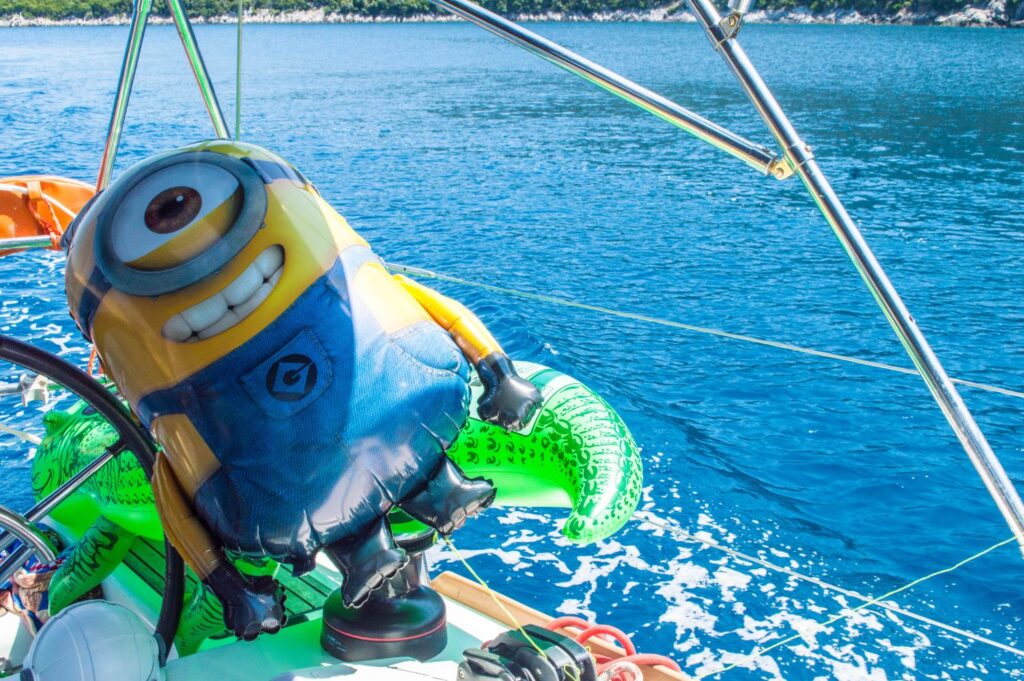 … but what about travelling solo with MedSailors?
As one of three solo female travellers on my boat, I had a great time.
Everyone was friendly and inclusive, and I never once felt left out.
Still, my mind did wander a few times to how good it would have been to have my boyfriend or a group of friends there with me.
For the most part, we didn't mingle much with other boats, largely because they were already split off onto their own little pods.
This made the environment feel less solo traveler friendly than say, a hostel.
Despite this, the week was still amazing, although I feel like this would be a trip best done with some friends or a significant other.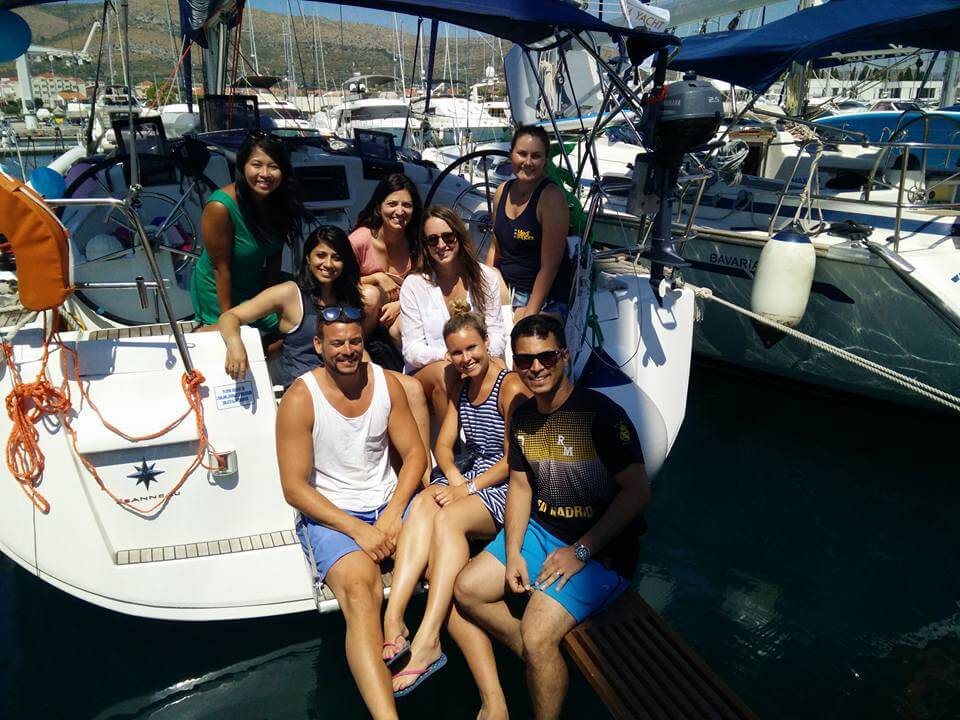 The Final Word
MedSailors is the perfect company to go with if you're looking for a relaxing and mellow alternative to a party-heavy booze cruise.
If, however, your main goal is to mingle with a lot of other young travellers and party intensely every night, then this might not be the ideal choice.
For me, the blend of relaxation and parties was a perfect way to spend the week, and I can say with confidence that MedSailors took great care of me!
I am so happy that I finally got to see Croatia, and in such an epic way. Sailing across this crazy country is an experience I can't recommend highly enough, and I know for sure this sailing trip won't be my last.
Maybe I'll even try doing some of the boat stuff next time?
Ha, who am I kidding. I'd be a disaster.
Until next time, guys. Safe travels!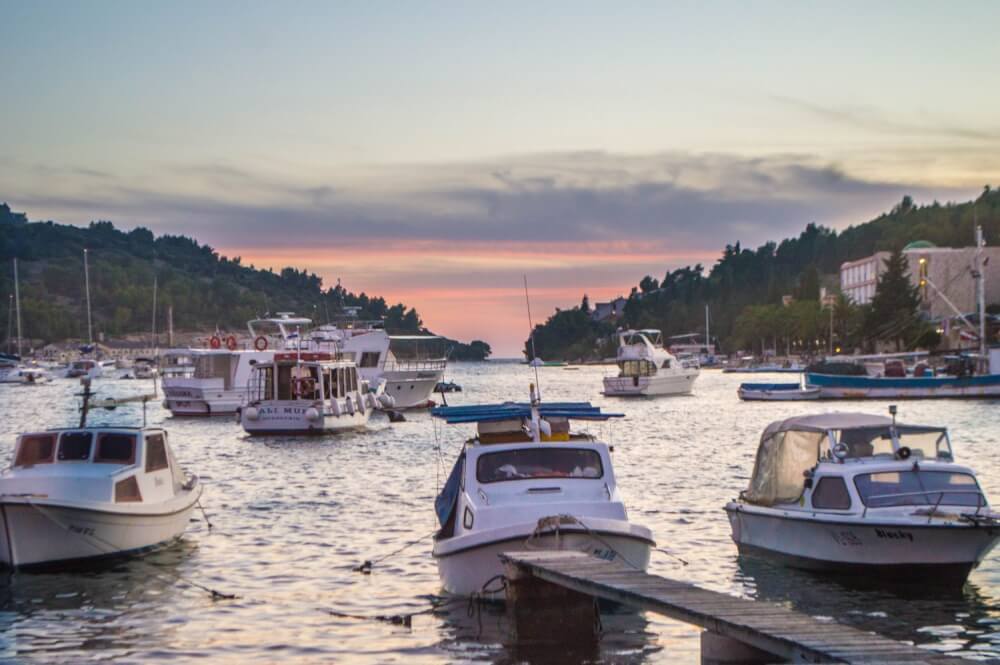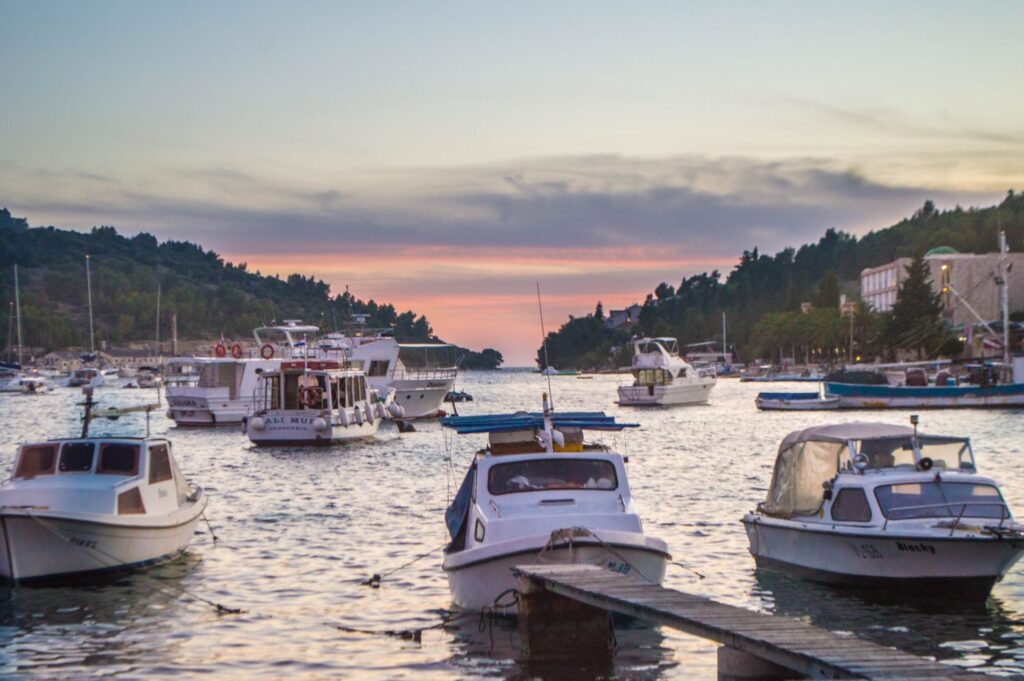 ---
Watch my most popular YouTube video this week:
---