*FYI - this post may contain affiliate links, which means we earn a commission at no extra cost to you if you purchase from them. Also, as an Amazon Associate I earn from qualifying purchases. Check out our Privacy Policy and Disclosure. for more info.
Whether you're looking for Oktoberfest puns because you're a total dork, or simply because you need funny Oktoberfest phrases to spice up your Instagram captions this year, I'm 100% sure you'll find what you're looking for in this list.
I've written extensively about Oktoberfest activities, food, recipes, drinks, party ideas, and more… but now is the time to unleash the nerdiest info of all: a treasure trove of funny Oktoberfest sayings that will have everyone laughing, rolling their eyes, or a fun combo of both.
Below, you'll find a lengthy list of truly cheesy, cringey, and funny Oktoberfest jokes, puns & caption ideas that you're welcome to steal for your next beer-wielding post on the gram.
I promise you, these aren't the wurst.
Save this post on Pinterest for later: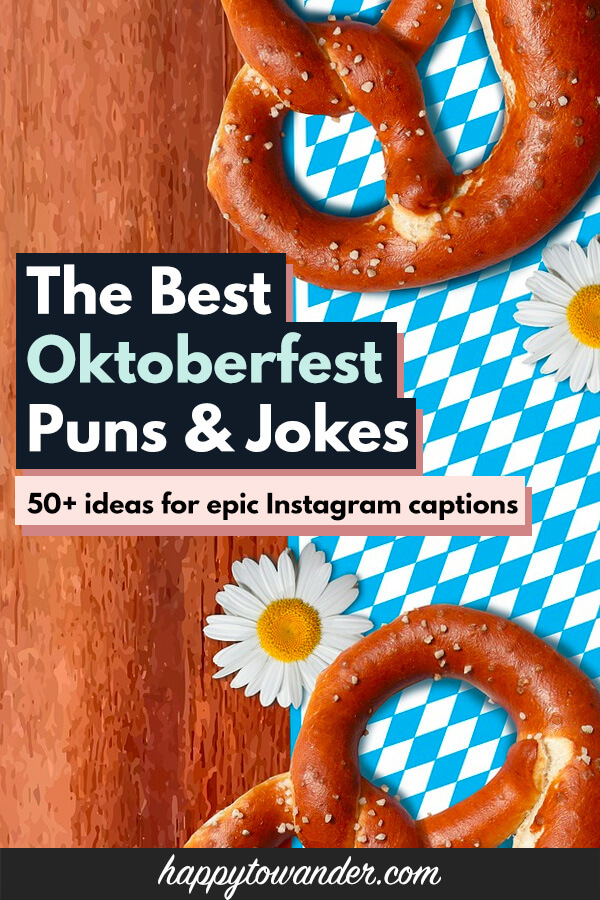 Wiesn-Related Oktoberfest Instagram Captions
In Munich, locals refer to Oktoberfest as the "Wiesn". So, if you want to add a bit of local flair to your Oktobefest wordplay or IG captions, consider tossing in some Wiesn references in there. Here are some examples of Wiesn puns to use for Oktoberfest Insta captions…
Tis the season to Wiesn!
I don't need a Wiesn to party!
Beer is the Wiesn I get up in the morning…
I would try to drink fewer beers, but honestly that's an unWiesnable request.
Beer-Related Oktoberfest Puns & Instagram Captions
Beer is the fuel that keeps any Oktoberfest running. Whether you're looking for the perfect caption to pair with a photo of you wielding beers or a photo of just beers posing prettily on their own, here are some caption ideas broken up into some beer-tiful categories.
Beery words like "brew", "beer', 'tap, 'keg', etc. are just begging to be punned. Luckily, they work perfectly for a variety of Oktoberfesty IG captions,. Here are some ideas!
Partying it up at brew-tiful Oktoberfest!
Feeling Brew-tiful today!
Hopped on my 2nd beer and started getting some déjà brew…
Having the most un-beer-lievable Oktoberfest!
I've got 99 problems but a beer ain't one…
At this point, you should just call me Brew-no Mars.
A balanced diet is a beer in each hand…
Having a Kegs-xcellent time at Oktoberfest.
It's a Pitcher-perfect day here at Oktoberfest!
Sorry, I'm at Oktoberfest right now… Alcohol you later.
They often say you should replace the word "problem" with opportunity, so I guess at Oktoberfest, you can really say I have a drinking opportunity.
Oktoberfest done and dusted… I'm a Slur-vivor!
Nobody comes beer-tween me and a good time.
Warning: Objects may be closer than they a-beer.
At Oktoberfest, it's pretty important to keep up abeer-ances.
So happy to see brew!
My name is ____ and I aBrew-ve of this message.
Just contri-brewting my part to Oktoberfest festivities…
Trying my best to be brew-dent at Oktoberfest.
Giving away free chugs at Oktoberfest.
At Oktoberfest, we don't believe in group hugs – we believe in group chugs.
Just enjoying the beer necessities.
Enjoying the sweet taste of li-beer-ation here at Oktoberfest!
Oktoberfest is the best time ever, beer none.
Drinking beer by the litre is indeed a heavy beer-den, but I'm coping okay.
Ornamental beer mugs are often known as "Steins" abroad, although you won't hear this word used much in the context of Oktoberfest. Instead, those drinking vessels are known as Maßkreug, or more commonly, Maß for short. Here are some fun Oktoberfest puns that play on both Stein and Maß just to cover all your bases.
Drinking so many beers, you could call me Albert Ein-Stein.
🎵 My thirstiness is killing me, and I… I must confess, I still beer-lieve. (Still beer-lieve!) When my hand's empty, I lose my mind… Give me a Stein, hit me baby one more time. 🎵
🎵 Just stop your crying, it's a Stein of the times… 🎵
The best part about Oktoberfest? Promoting cross-cultural underSteinding.
At this point, you can say I'm a drinking Maßter…
What do you think of my Maßterful drinking ability?
Having such an aMaßing time at Oktoberfest!
Drinking this many beers is no easy task, but alas someone Maß do it.
How do you like these jugs? 😏
"Prost" is "Cheers" in German, so that of course lends itself to plenty of wonderful Oktoberfesty puns and captions:
Meet the Prost-ess with the mostest. (Meet the Prost with the most).
First Instagram Prost of the Oktoberfest season!
Here's a photo of me as a consummate Prost-fessional.
Oktoberfest has absolutely moved me to cheers.
I got drunk aProstimately 5 beers ago.
Pretzel-Related Oktoberfest Puns & Instagram Captions
Giant doughey pretzels are a symbol synonymous with Oktoberfest. Looking for the perfect Instagram caption or pun to pair with a photo ft. tasty pretzels? Here are some ideas.
Are you im-Pretzed with this view?
Things are about to get a little twisty around here…
Feeling a little Knotty for Oktoberfest!
Don't get it Twisted – I love both pretzels and beer equally.
I'm totally Knots for Oktoberfest.
Oktoberfest is the best time ever – I'm Knot kidding.
Gluten Tag! Eating pretzels for breakfast, lunch and dinner today…
Sausage/Food Puns for your Oktoberfest Caption
There is loads of tasty Oktoberfest food to be enjoyed (besides pretzels!), which means even more opportunities for fun Oktoberfest jokes and puns. Here are some food-related Oktoberfest phrase ideas for you…
Oktoberfest definitely isn't the wurst.
Feeling a little Brat-ty today. #ImTheWurst
Been eating so much sausage & cheese that my clothes barely fit me anymore… You can say it's really the Wurst Käse scenario.
Beers and pretzels at 10am,… what's the Wurst that can happen?
Striking cool poses at Oktoberfest, or as I like to all it: Sauerkrautching.
Dirndl & Lederhosen Puns & Jokes
Dirndls (deern-dl) and lederhosen (lay-der-hose-in) are the traditional Bavarian outfits worn to Oktoberfest. They are also known as Tracht. If you happen to be rocking one of these, then you might want some funny Oktoberfest sayings to go along with your fire outfit photos. Here are some ideas!
Looking pretty aTracht-ive these days…
Lookin' like a dirndl in the headlights.
Feeling dirndl-icious today!
Posin' with the lederhosen.
Looking the part at Oktoberfest… So glad I Tracht down this outfit.
Law of aTracht-tion at work.
Do you have any more Oktoberfest puns to share?
Feel free to leave a comment! I'm always excited to hear more cringey wordplay!
---
Watch my most popular YouTube video this week:
---