*FYI - this post may contain affiliate links, which means we earn a commission at no extra cost to you if you purchase from them. Also, as an Amazon Associate I earn from qualifying purchases. Check out our Privacy Policy and Disclosure. for more info.
If you're attending Oktoberfest at any point your life, whether it's in Munich or closer to home, let's be honest: you wanna look the part.
And I know what you're wondering: do people actually wear dirndls and lederhosen to this thing?
The fun answer is yes, yes they do! Tourists and locals alike.
And while it's by no means mandatory to dress up (there will be many people in normal clothing as well), getting the opportunity to prance around in traditional Bavarian attire is part of what make Oktoberfest such a fun and unforgettable experience. (That and the endless opportunities for great puns, of course).
So, in this article, I'll be sharing a handy guide on Oktoberfest outfits for women. With it, I'm sure you'll be well on your way to sparkling beer queen status.
PS: If you're still confused about anything after reading this, feel free to leave me a comment below. I won't judge 😉
Save this post on Pinterest for later: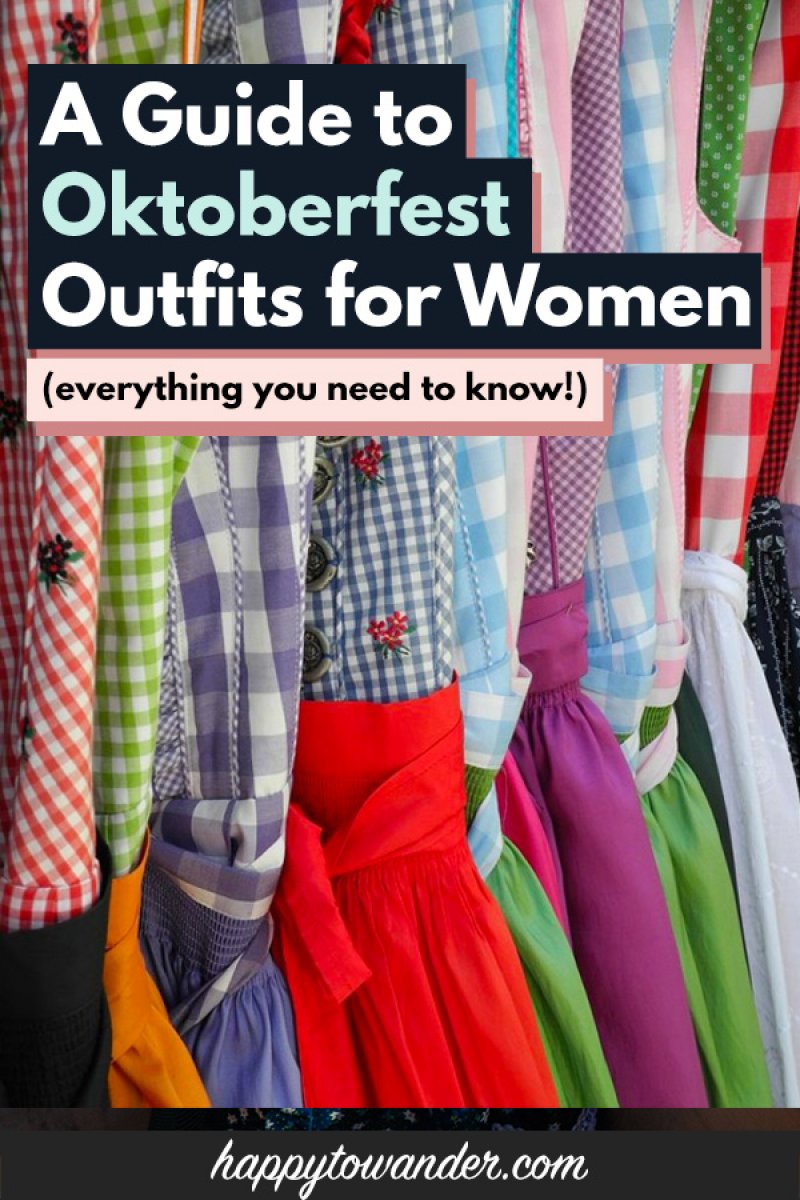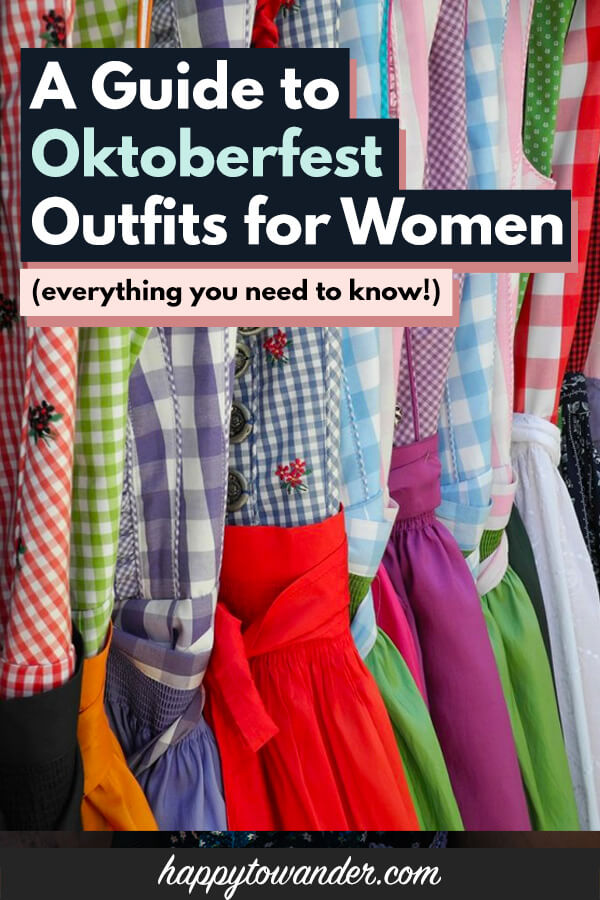 Oktoberfest Outfits for Women: The Basics
The classic Oktoberfest dress that you see in eeeevery Oktoberfest photo ever is called a dirndl.
It's composed of three parts: the blouse, the dress and the apron.
It's very easy to find these in sets, but if you're picky, you can also buy them separately and mix and match to create fun custom combinations.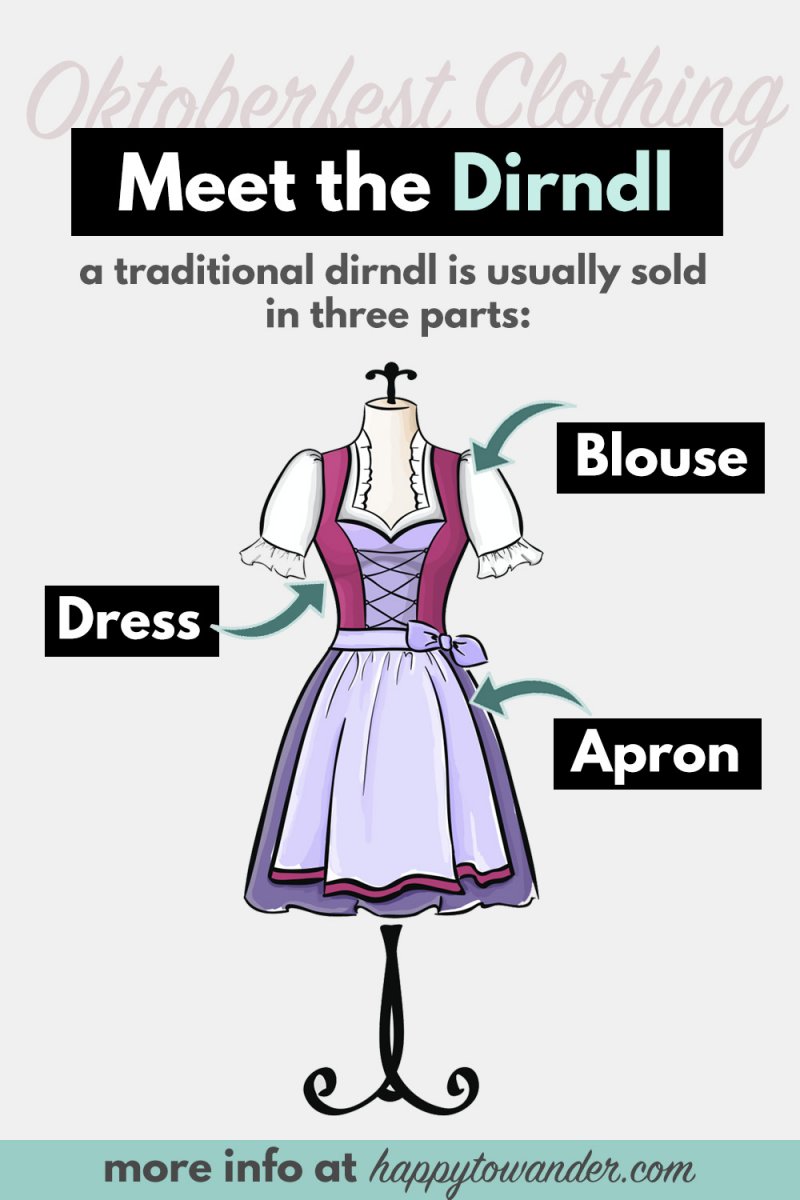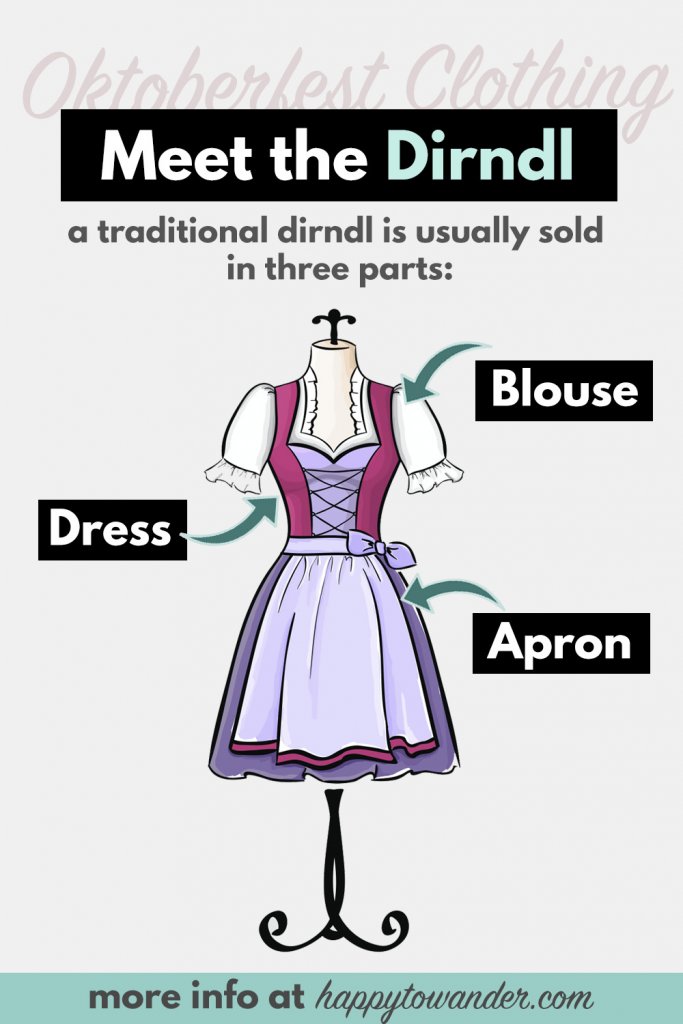 NOTE: While from a tourists' perspective, most dirndls look the same, remember that locals can spot a "cheap" dirndl from a mile away. I'm not sure whether or not you care about this, but if you'd rather not get judged by grumpy Bavarians, then it's worth it to spend a little extra on a quality one.
If you're buying a new dirndl, expect to pay at least 60 euros for something that's of 'passable' quality. You could likely find cheaper in touristy shops or at places like Munich's central train station, but the quality of these will very clearly reflect the lower price point.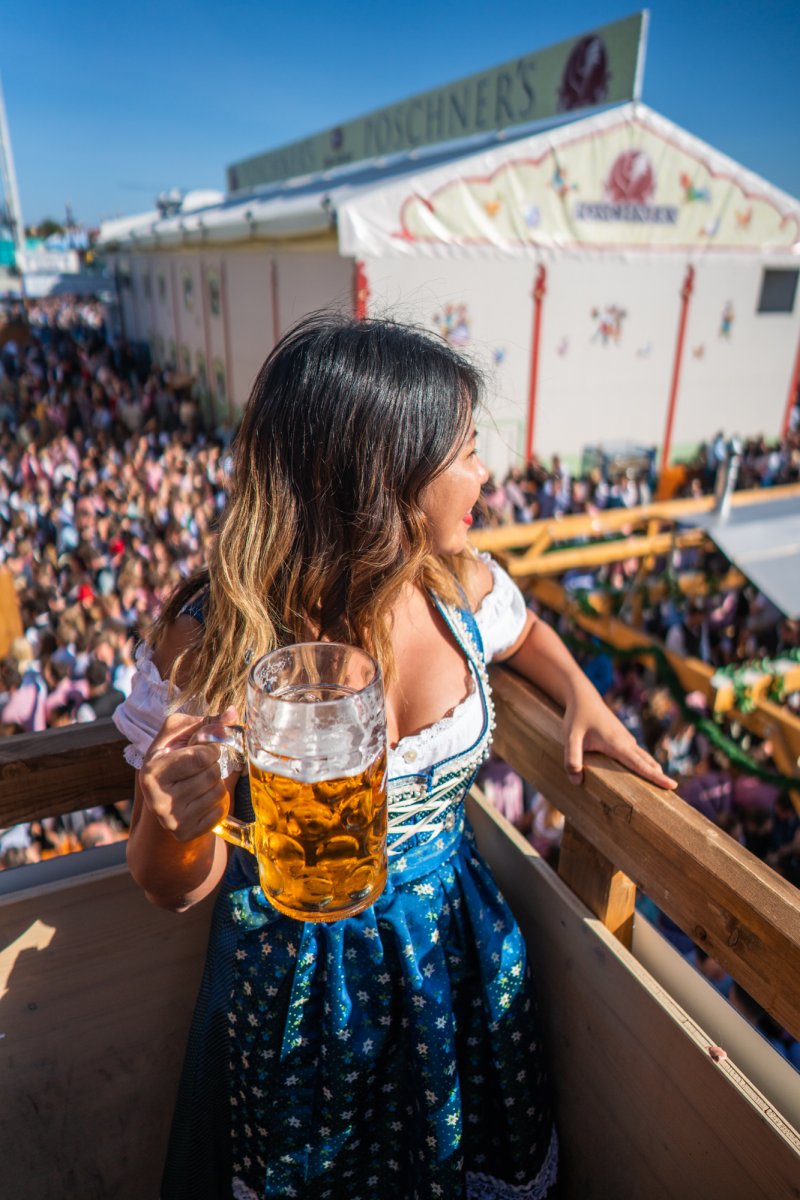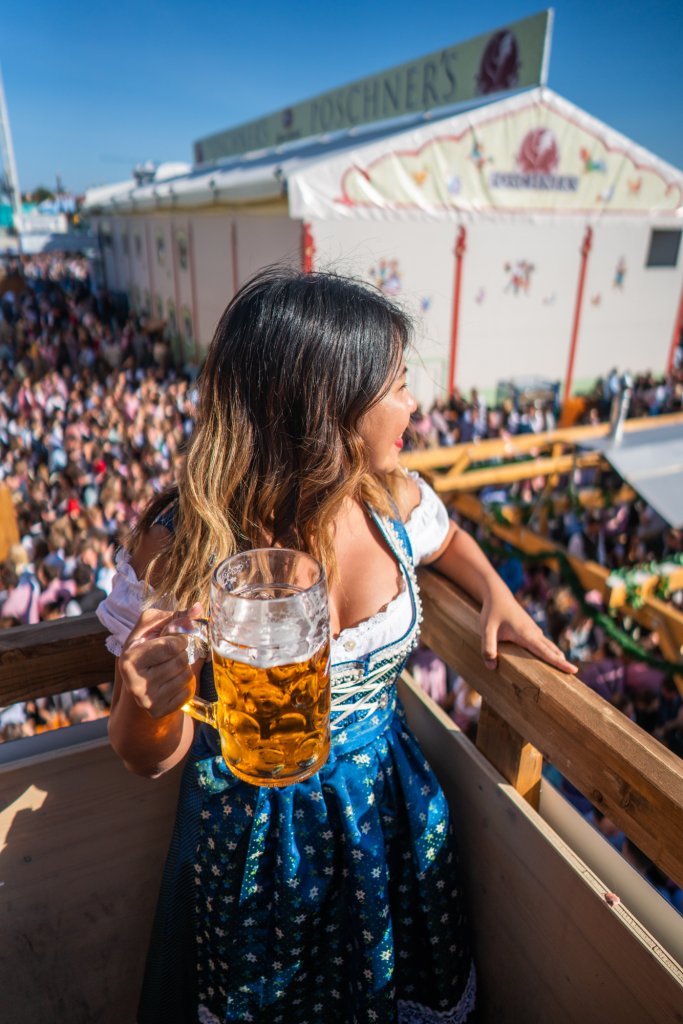 And these days, because… well, it's 2020, it's not totally uncommon for women to wear the classic Lederhosen either! Here's an example.
In fact, it's often called "Ladyhosen" and can look wonderfully badass, like so: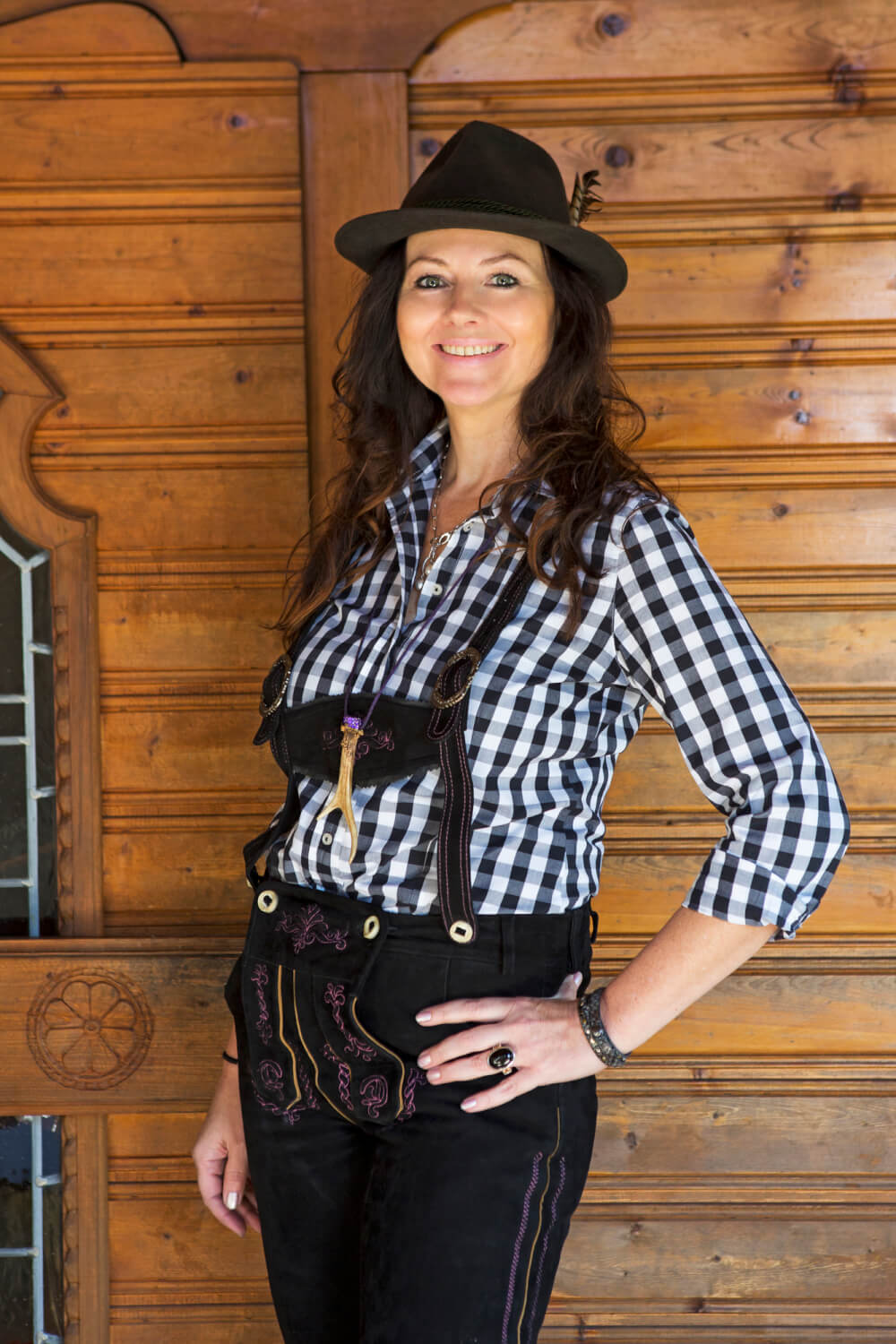 For the purpose of this article though, I'll be focusing on how to find the perfect dirndl because that's what I know best.
I still remember my first time in Munich as an exchange student… I had a year's worth of beer festivals ahead of me so I wanted to make sure I got the right dirndl that wouldn't make me a total laughing stock.
As it turned out, the process of getting one (and all the considerations) was way more complicated than I thought!
It's not as simple as just ordering an 'Oktoberfest costume' online – there are so many options and things to think about. Now, 5 dirndls later, I'm a bit of an addict, and am constantly window shopping for another. My personal favourite dirndl though comes from Rare Dirndl.
Anyways, hopefully the tips below will be able to help you out.
And who knows, maybe getting my own pair of ladyhosen is up next!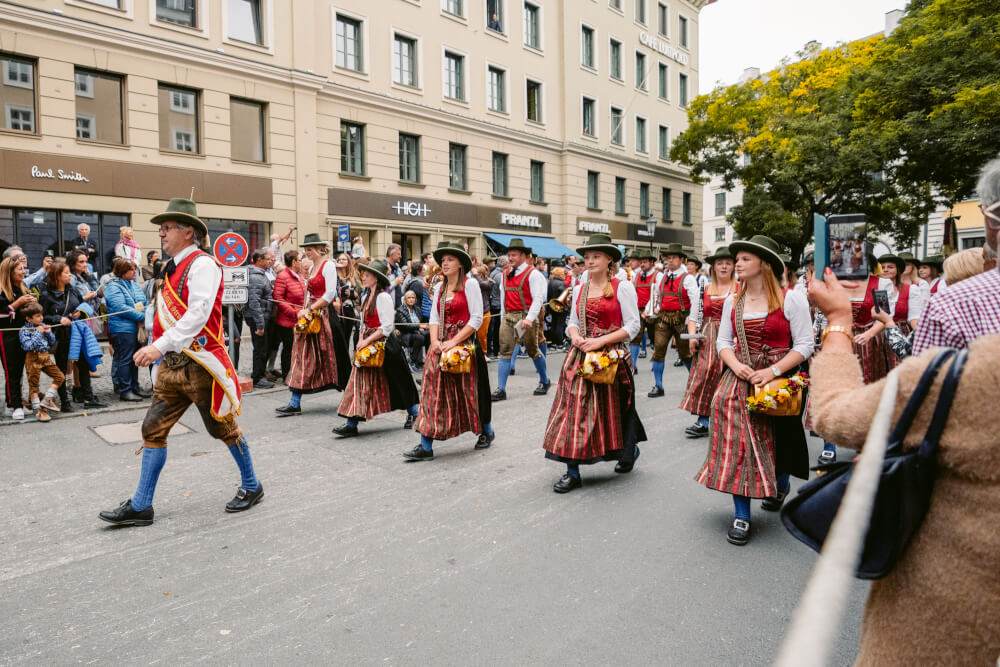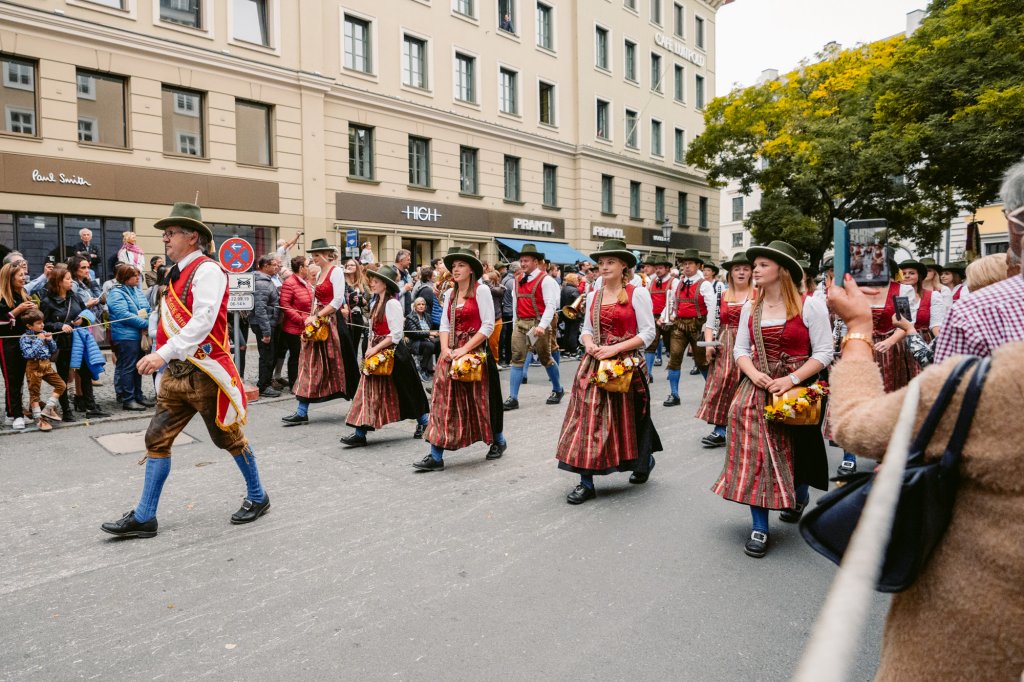 Components of the Classic Oktoberfest Outfit for Women: The Dirndl
Bit by bit, let's piece together THE perfect Oktoberfest outfit! I've outlined basic must-knows below, along with ideas on where to buy each piece online.
Side note: Dirndls these days come in all sorts of styles. If you're looking for a more modern Oktoberfest outfit, Rare Dirndl frequently has great sales and deals, with unique designs you won't find anywhere else. Click here to check her out!
1. A good bra
With an outfit that so clearly "shows off the goods", having the right bra is pretty important. Don't believe me? "Dirndl bras" (AKA balconette bras) are a real thing (here's one off Amazon).
You can even get a specialty dirndl push-up. This is serious business, so make sure you have a good bra to carry you (and your girls) through the beer-fuelled nights to come 😉
2. The Dirndl Blouse
With most dirndl styles, you will need a blouse to wear under your dress.
First off – Don't be alarmed by the small size of these blouses – they're not meant to cover your entire torso (that's what the bodice is for!)
White blouses are most common, but you'll sometimes see black ones as well.
The sheer variation in blouse types will blow your mind, from the sleeves to the neckline, etc. I recommend you always try your blouse on if possible (with your bodice) because the sizes fit differently depending on the cut. I'm a big fan of the off-shoulder hippie type look, but there are SO many different styles.
Here are a few common ones:
3. The Dirndl Dress
Dirndls are known as THE quintessential Oktoberfest dress, but most people don't know just how many varieties there are. Some will have a zippered front, others will have a lace-up, some will have a super conservative neckline, others will let the girls hang out…
Either way, your bodice should fit you like a glove. Don't worry – they flare out perfectly to conceal any food babies from enjoying tasty Oktoberfest food and drinks.
Practice sitting down with it to see if it wrinkles or puffs out strangely. Do a few dance moves in the change room, because why not? You want to make sure it's tight, but comfortable.
Most dirndls will have at least one pocket sewn into the skirt. Super convenient. Make sure yours has one because you'll need it for storing things like your phone!
In terms of length, traditional dirndls usually go past the knee, and are actually not as short and 'scandalous' as you see in most costume shops. Remember, the goal here is to buy an actual dirndl dress, not a dirndl costume.
Here are a few examples of bodice types/colours (click on them to check the latest price):
4. The Dirndl Apron
No dirndl outfit is complete without a great apron. Aprons are great for adding a pop of colour to your ensemble, so be sure to pick one that matches well with the colour of your dress.
EXTRA IMPORTANT: The side on which you tie your dirndl apron bow is meant to indicate your marital/relationship status. So keep the following in mind:
Bow on the Left: Single and ready to mingle
Bow on the Right: Taken/unavailable
Bow front and centre: Virgin
Bow back and centre: Widowed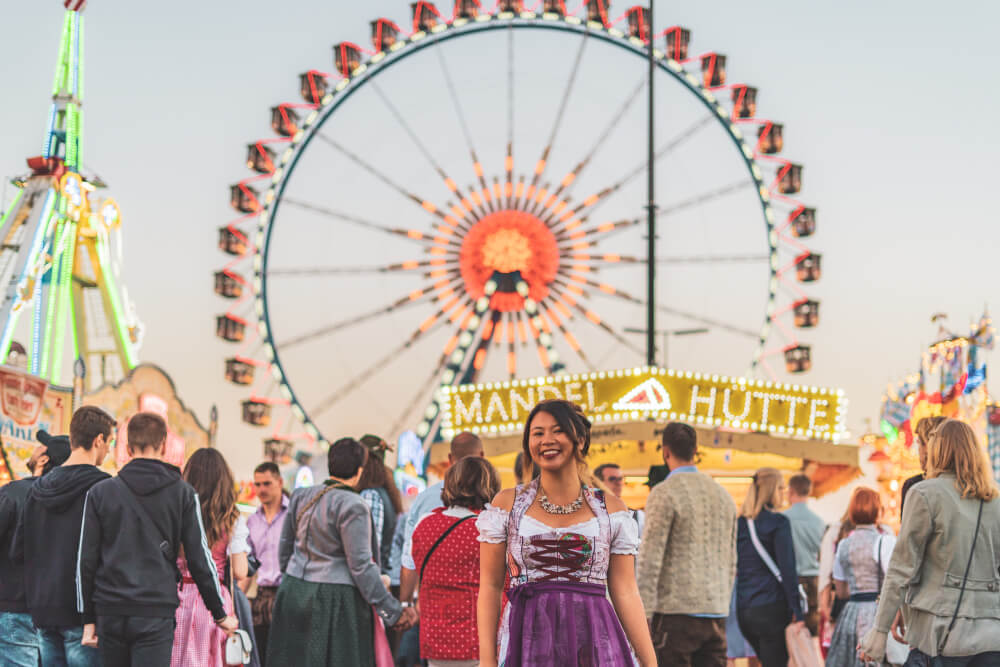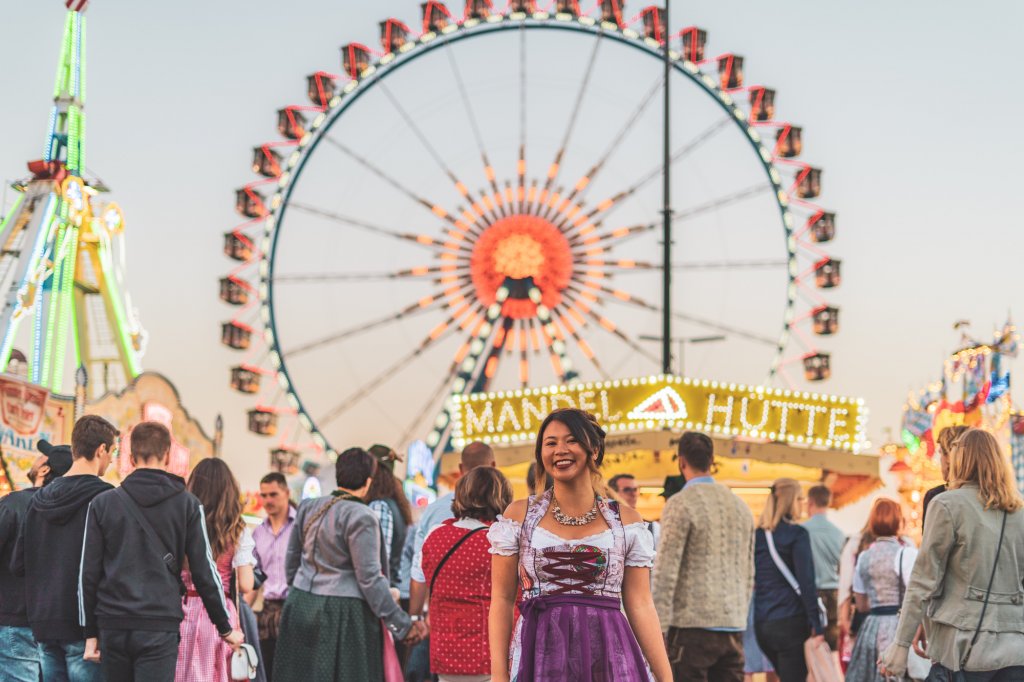 5. Comfy (but expendable) shoes
Comfortable shoes are a MUST if you want to enjoy your self at Oktoberfest…
Preferably something that you won't mind getting beer all over, because spillage is inevitable.
I would recommend close-toed as well because there's a lot of dancing involved at Oktoberfest, so you'll likely get stepped on once or twice.
Heels are not a good idea because you'll be doing a lot of dancing and prancing around the different activities at Oktoberfest. Plus, if the night goes well, you'll be partying on top of the benches in no time!
A friend of mine managed to fall off a bench (and then promptly crashed her head into another), which was not great… so pack good shoes, for both fun and safety reasons! Or else you might need to buy them for 20 euros at a vending machine: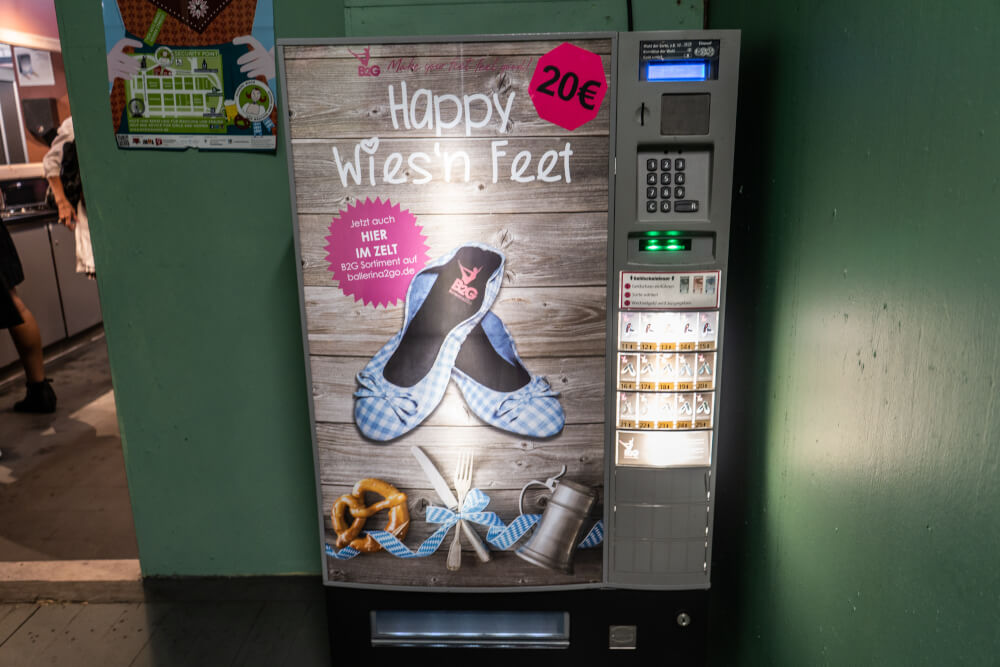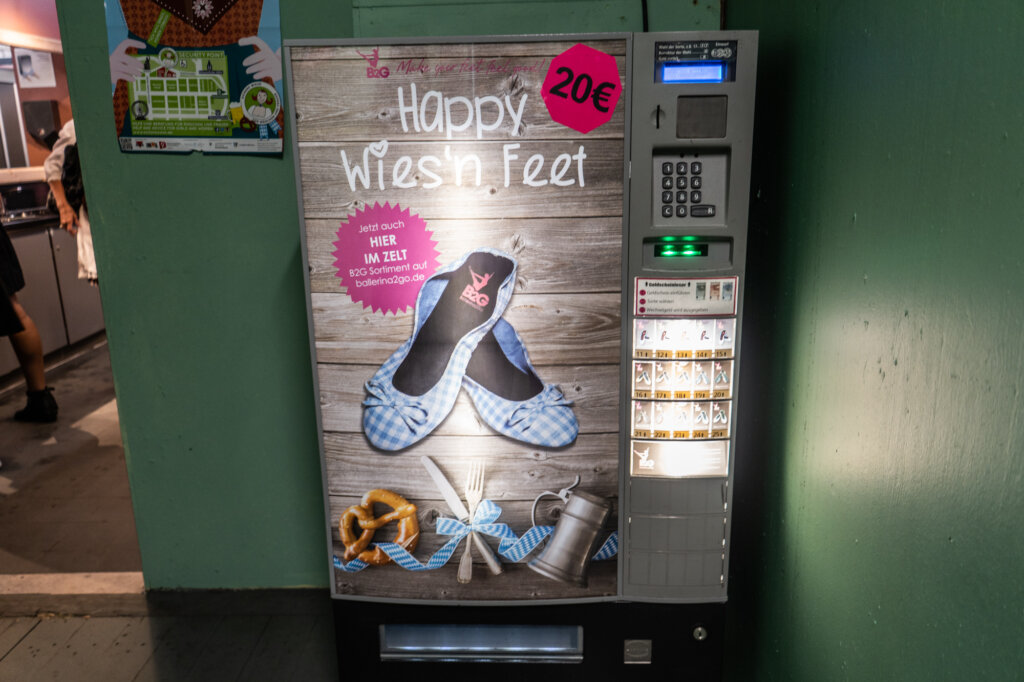 6. A small over-the-shoulder purse
Having a big bag is not a good idea at Oktoberfest. Odds are, you'll be sharing your table with some strangers and after a few drinks, will not be able to fully keep tabs on your big bag that's under the table.
Ideally, you should keep all your valuables in your pocket or in a small over-the-shoulder purse that you keep on you at all times.
PS: There are some really cute "Oktoberfest-themed" purses that you can look into (like ones that look like a pretzel). There's also really ridiculous ones like this beer shaped one.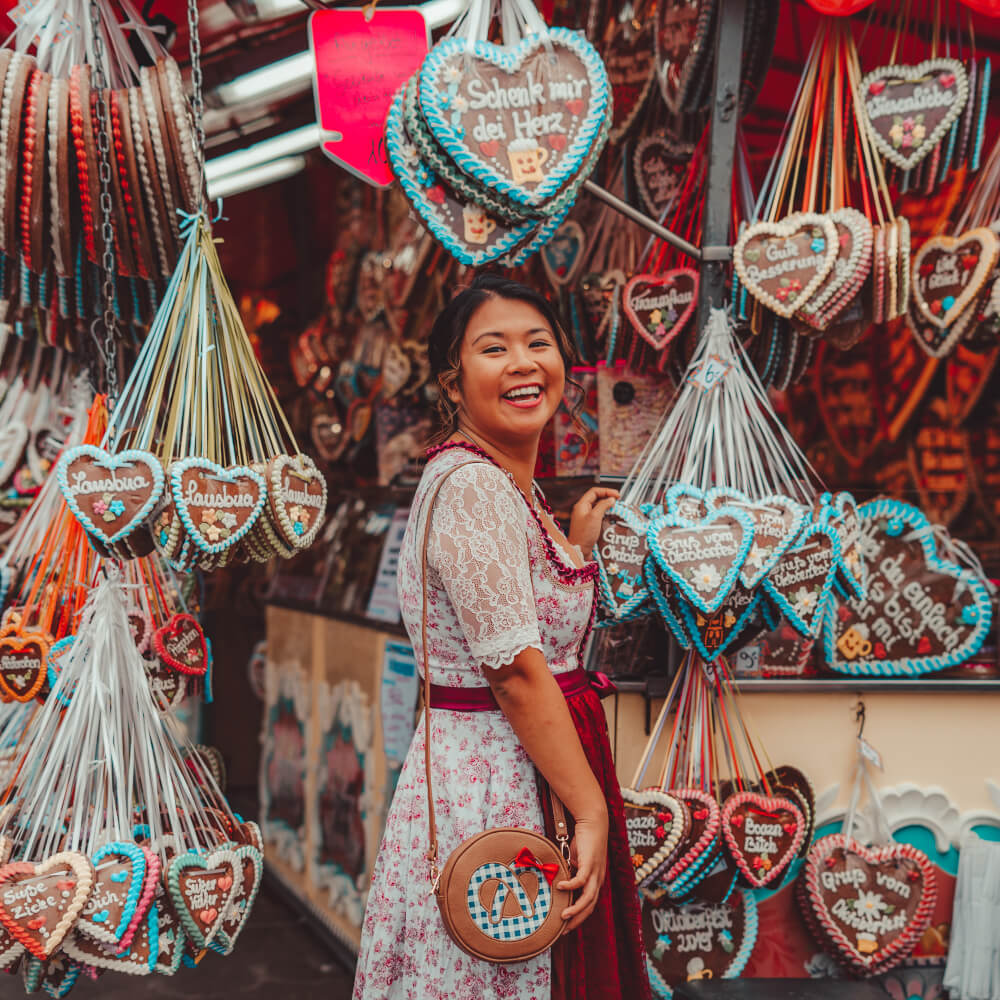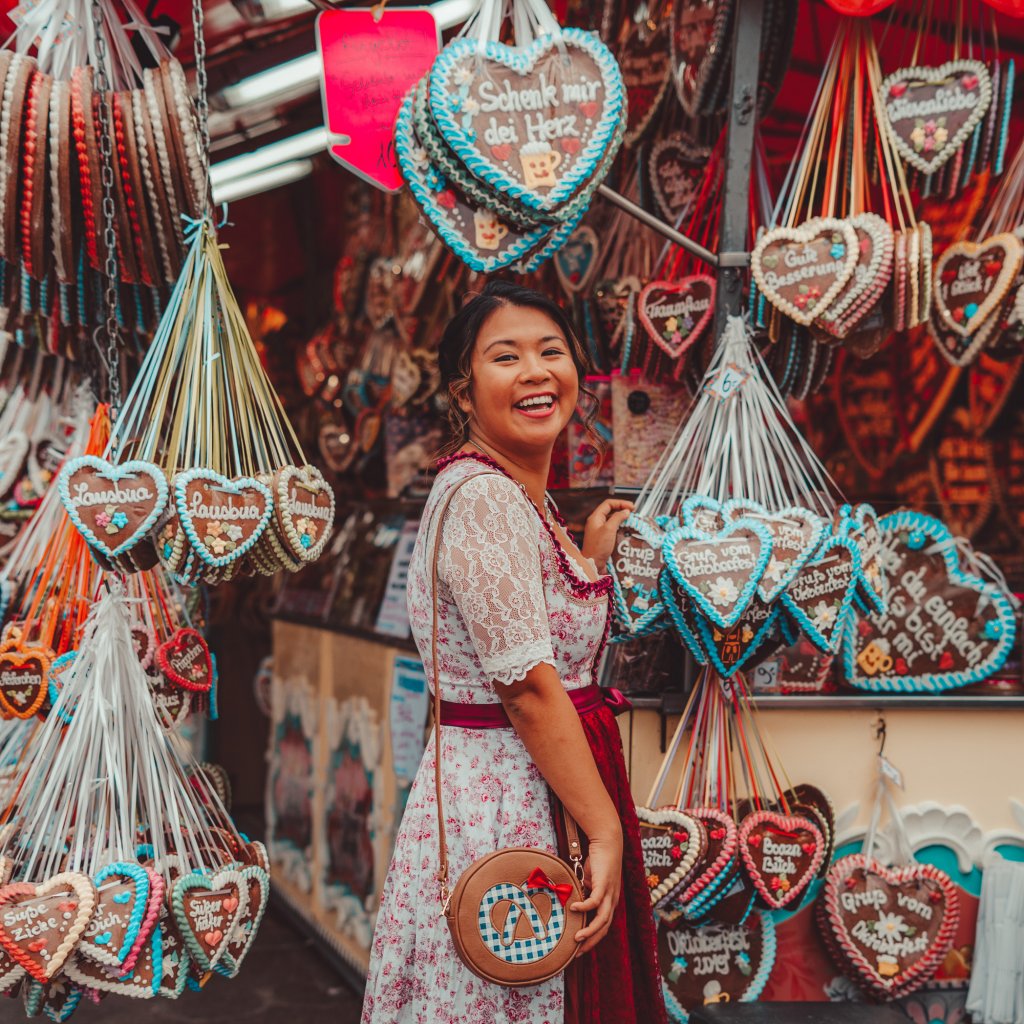 7. Accessories
Honestly, from what I've seen, most locals tend to keep accessories rather minimalist. After all, your dirndl should be the star of the show!
That said, if you want to jazz up your outfit with some fun touches, here are some ideas:
8. Braids
A lot of women will be wearing their hair in elaborately braided hairdos, which always looks really classy and beautiful.
If you aren't hopeless with hair like me, try to do something special with your locks. Your photos will thank you 😉 I got a cool braided do one year from a friend and I loved how elegant it looked!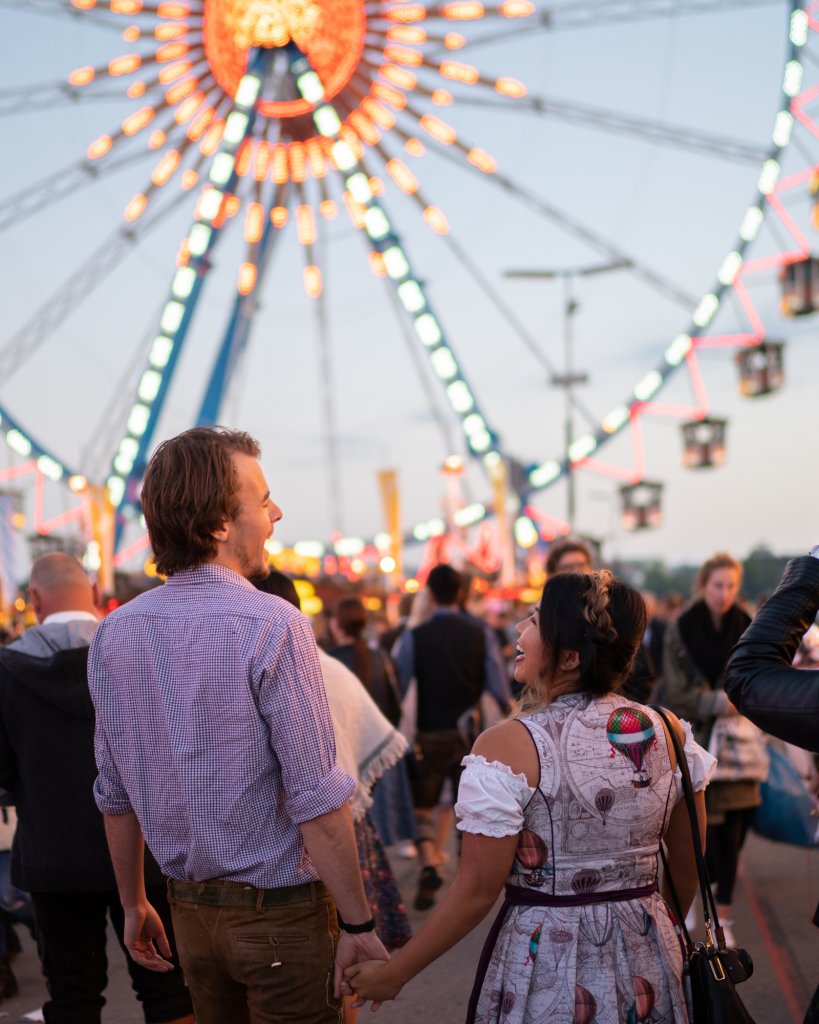 Where to Rent a Dirndl (in Munich)
The good news is, yes it's possible to rent a dirndl if you don't want to commit to purchasing one!
The bad news? It's not actually much cheaper.
Bavarian Outfitters allows you to reserve one for free (no payment until pickup), but dirndls are almost 50 euros a day.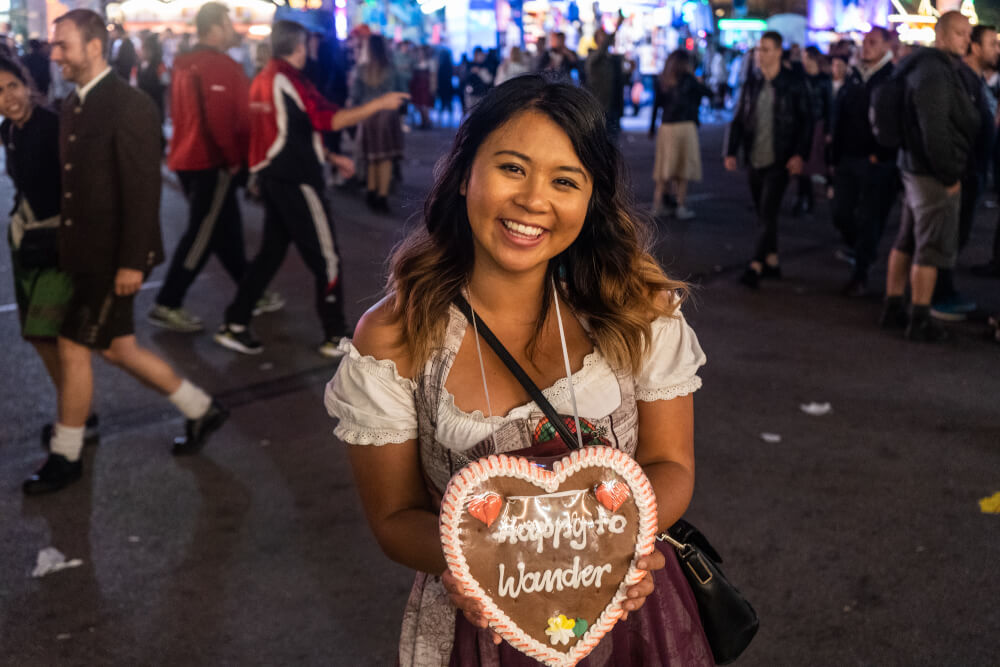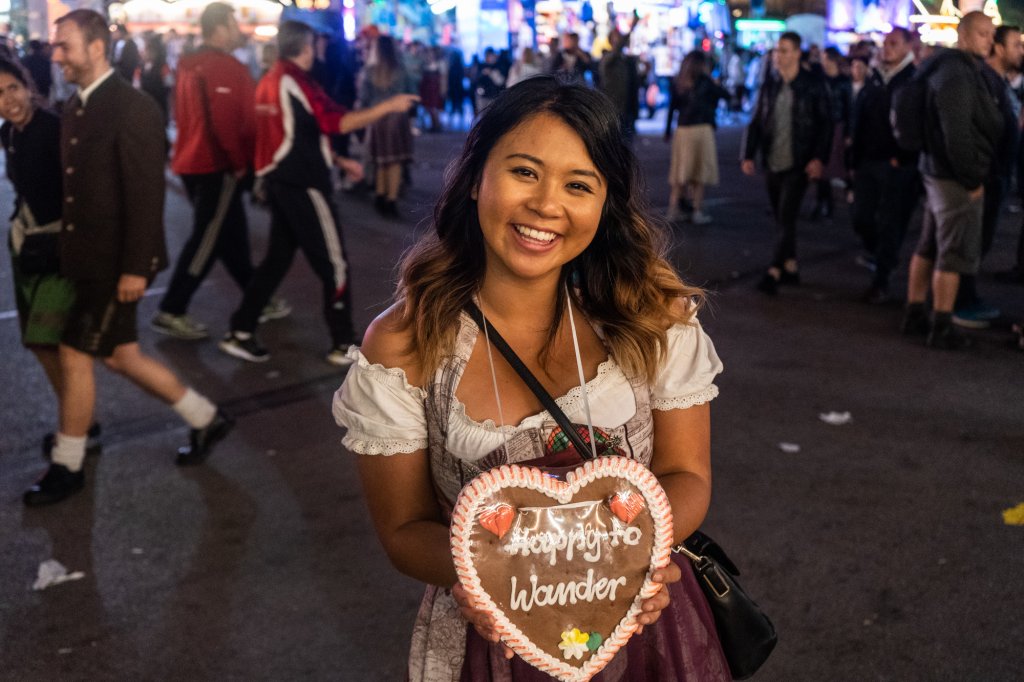 Where to buy Women's Oktoberfest Outfits Online
FYI: I would wait to buy your dirndl in person because it's important to try them on to gauge the fit. That said, if you need one in a pinch, here are some places to get them online.
Rare Dirndl: My new (favourite) dirndl ever comes from Rare Dirndl, run by badass designer, Erika Neumayer. Her dirndls are super cool, modern, different AND she offers free shipping & returns. Check out some of her amazing creations here.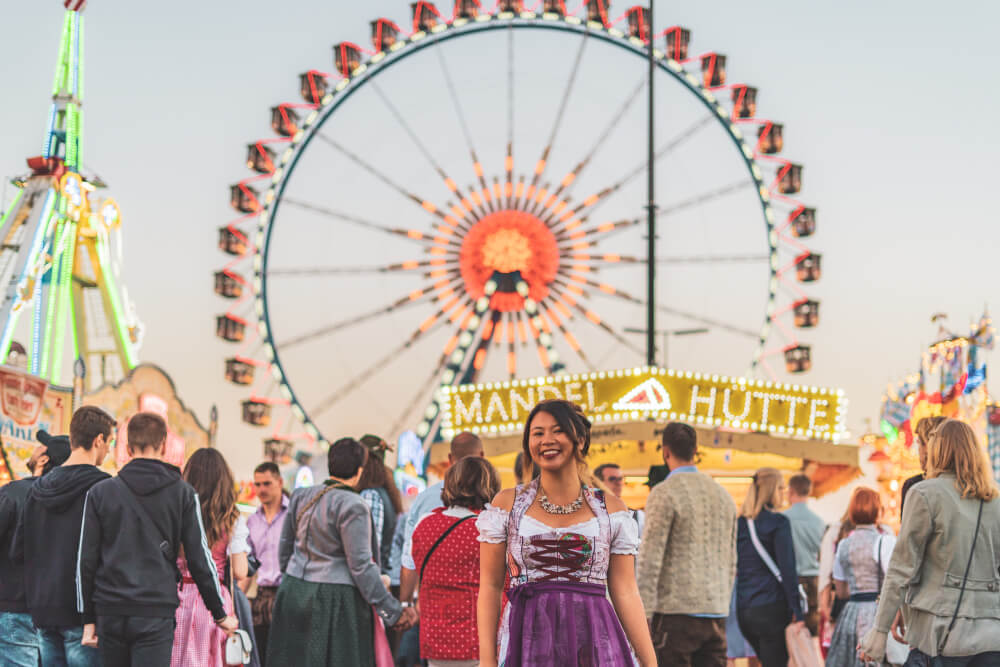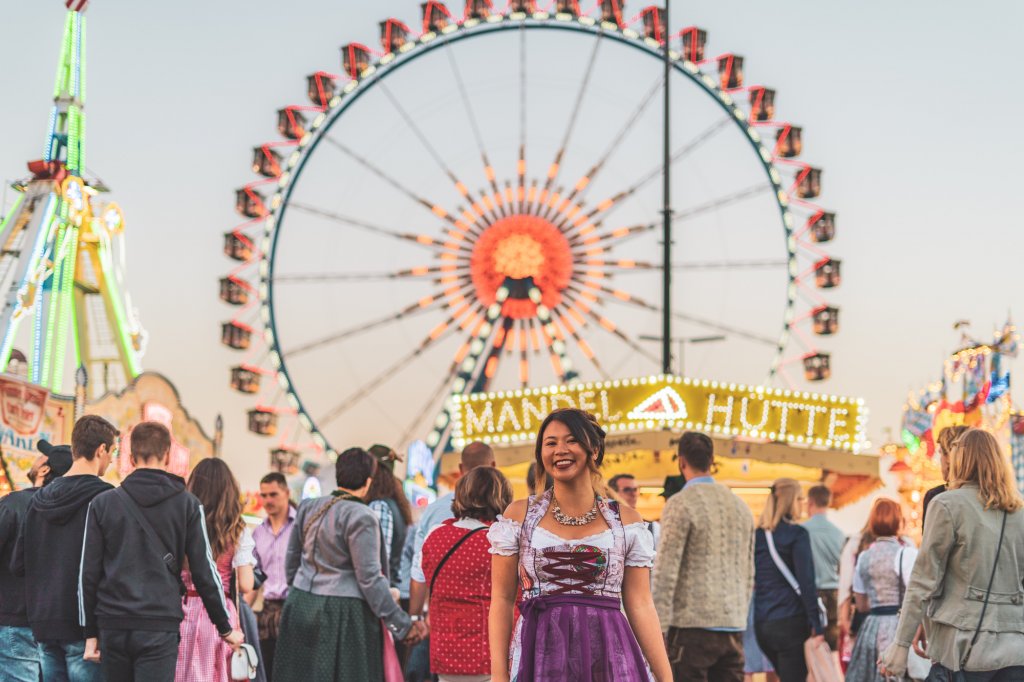 Amazon
: There are a lot of options on Amazon but be careful, many of them are the costumey/cheap. With Amazon, price is a pretty good indicator of quality, so I wouldn't go for anything that's less than $80.
PLEASE do NOT buy crap like this:
| Beer Wench "Costumes" | Cheap Costume Dirndls | Overly Short Dirndls | Apron Dirndls | Fabric Lederhosen Copies | Dirndl Shirts |
| --- | --- | --- | --- | --- | --- |
| | | | | | |
TrachtenShop.de: Really beautiful selection of dirndls in different styles/lengths. Fast shipping. Higher end though – dirndls are around $150+.
Where to buy Oktoberfest Outfits for Women on a Budget
Getting a nice dirndl doesn't necessarily need to break the bank. Here are some options for finding affordable dirndls in Munich (and check out my full guide to doing Oktoberfest on a budget for more):
Flea markets: Especially during the summer, Munich is full of awesome flea markets. There is a great one at Olympiapark on Fridays and Saturdays that sell a lot of great things (including dirndls) for cheap.
Second hand shops: Second hand shops in Munich will almost always have some dirndls available (and separate components too like the blouses and aprons). Often these will be brand new with the tags still on, but available at a steep discount. NOTE: Many of the second hand shops in Munich (e.g. ReSales) have special discounts for students on certain days or even on special holidays. I got a spring dirndl for 50% off on International Women's Day one year, which was such a steal.
Facebook groups: There are many groups on Facebook specifically meant for people in Munich buying/selling things like clothing, furniture, etc. Often you'll find some ladies who are getting rid of their dirndls for a relatively cheap price. You can see some of these groups here, here, and here.
eBay: In Germany, eBay works kind of like a Classifieds/Craigslist and there are often women selling dirndls on here. The catch is you usually have to go pick it up, which is a hassle but it's a great way to get a dirndl for cheap! Click here to scope out dirndls currently available.
C&A: this is a department store with several locations in Munich. It's a good middle ground place to get your first dirndl. The quality is okay and the prices are fairly affordable (relatively speaking).
Where to buy Gorgeous, Quality Oktoberfest Outfits for Women
If you plan on staying in Bavaria for a while, you can't go wrong with buying a really beautiful, high-quality dirndl. Unfortunately, these come at a steep price. I warn you though, dirndl envy is a very real thing and sooner or later you're going to want an upgrade!
So if you're wondering where to buy an authentic dirndl, here are some options:
Small town boutiques: If you head into little towns around Bavaria/Austria, you'll find some lovely little shops selling handmade dirndls. This is a great place to get a high quality one that you can guarantee other girls will not have.
Loden Frey: Ridiculously beautiful dirndls but at a very high price (the one I had my eye on was 800 euros!). Supposedly where many high class ladies get theirs 😉
Angermaier: Huge range of beautiful designer dirndls from 100 euros to a thousand! One of the most well-known names in Munich.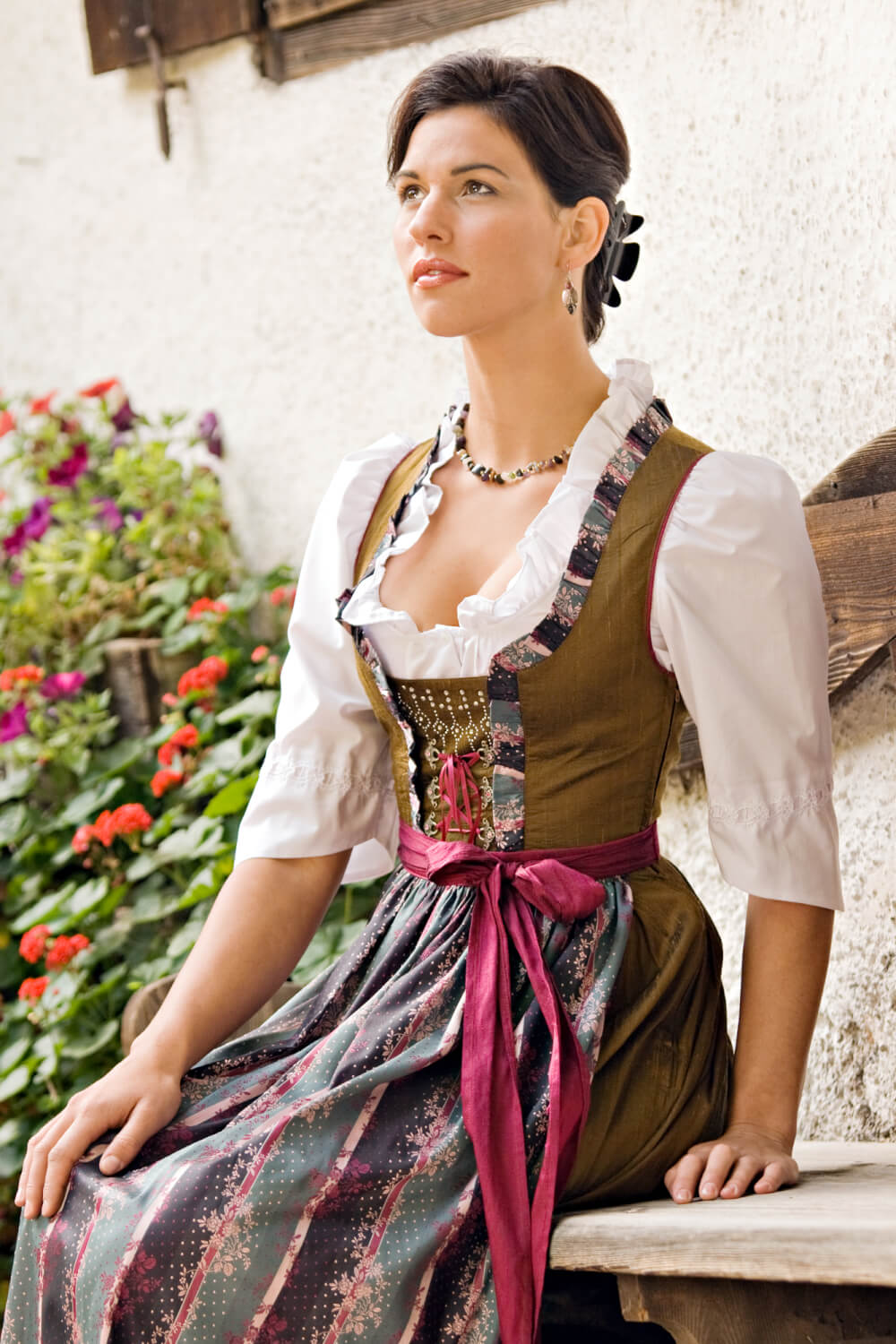 Any more questions about what to wear to Oktoberfest for women?
And there you have it – I hope you found this guide to Oktoberfest outfits for women helpful. Any questions left unanswered? Fire away in the comments! 🙂
---
Watch my most popular YouTube video this week:
---