*FYI - this post may contain affiliate links, which means we earn a commission at no extra cost to you if you purchase from them. Also, as an Amazon Associate I earn from qualifying purchases. Check out our Privacy Policy and Disclosure. for more info.
Looking for a list of fun things to do at Oktoberfest? I'm here to let you know that there are indeed many more activities at Oktoberfest than just getting belligerent.
I mean sure… that's most of it, but the reality is there are tons of cool things to do beyond getting tipsy and making poor decisions, from epic rides and games to tasty food and fun events most visitors don't know about.
So, to enjoy the full Oktoberfest experience, I've assembled this list of Oktoberfest activities that you should take advantage of.
PS: Since this article was most recently updated in 2020, I'll also be covering Oktoberfest activity ideas that you can do from home if you're planning your own Oktoberfest party!
… Enjoy!
Save this post on Pinterest for later: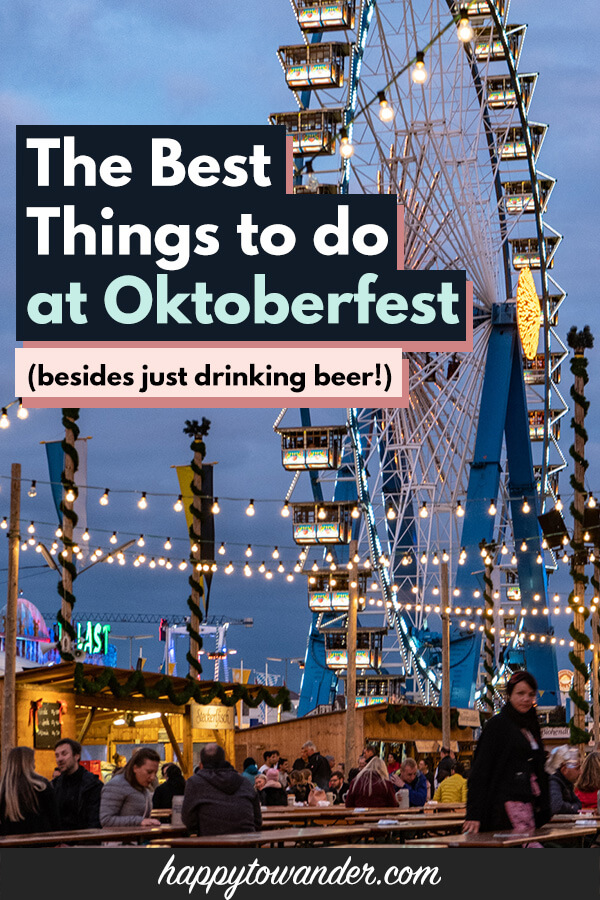 Looking for Oktoberfest activities to do at home?
All the suggestions below of course relate to things to do at Munich's Oktoberfest in-person, but if you're looking for a list of fun Oktoberfest things to at home, be sure to visit my full Oktoberfest party planning guide here for ideas.
From unique German drinking games to family-friendly Oktoberfest-themed party activities, that list has tons of ideas that I'm sure will fit the bill. Here is a quick example of some ideas though:
Gingerbread heart decorating
Flunkyball (a classic German drinking game)
Learning popular Oktoberfest dances
Hosting your own Oktoberfest awards
Kegelbahn (9 pin bowling that is super popular here)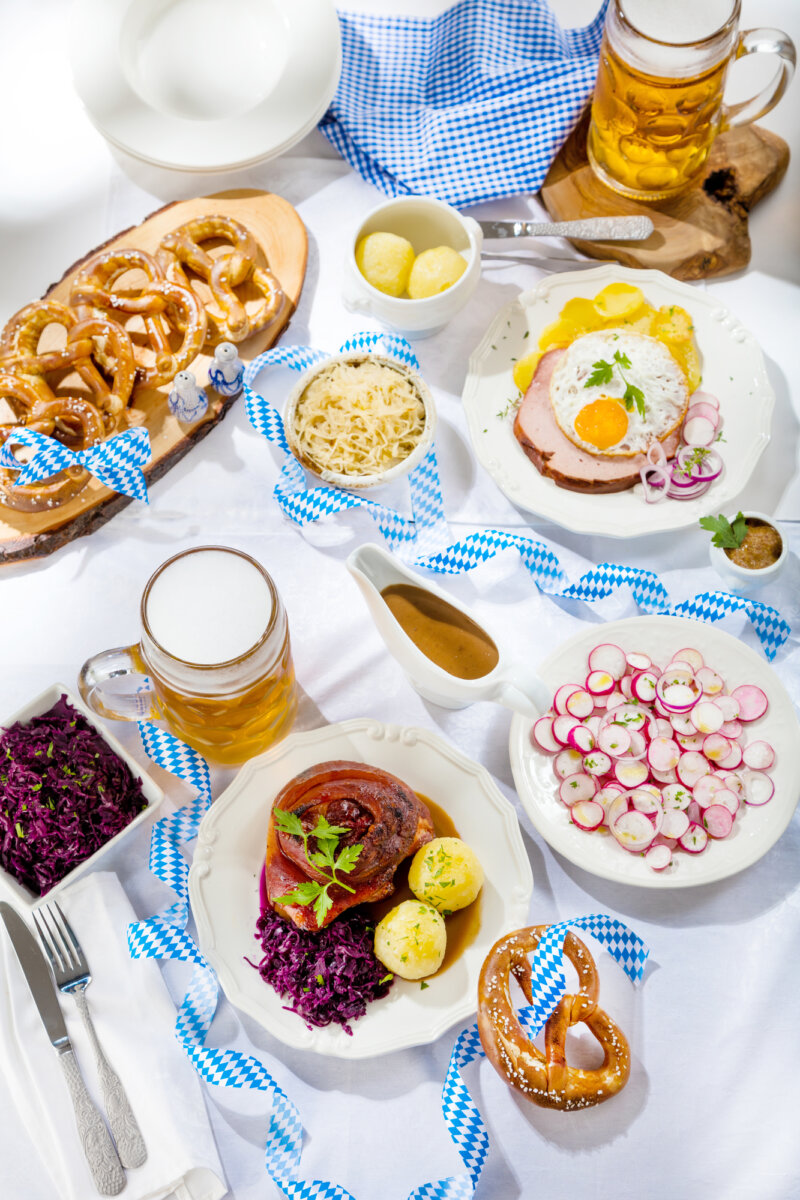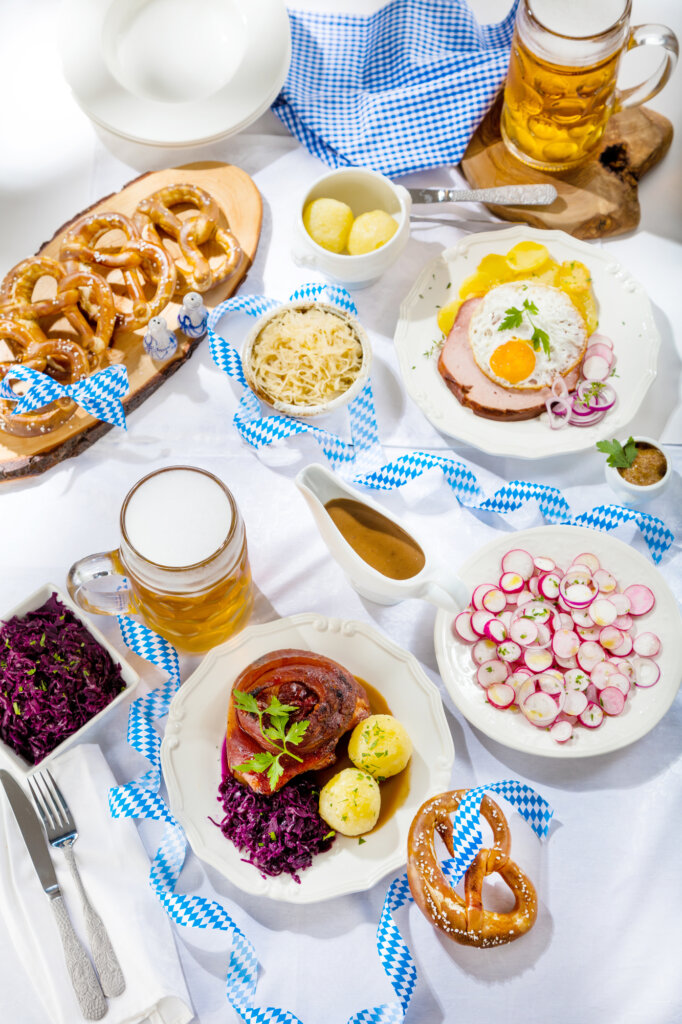 Things to do at Oktoberfest (in-Person)
Now, let's get to the good stuff. If you're lucky enough to be attending Oktoberfest in Munich, I'm sure you're already expecting to guzzle down plenty of beer. That's of course going to be the case, but what do you do at Oktoberfest besides that?
Here is some inspiration on what to do at Oktoberfest in Munich – don't make the mistake of just going for beers!
1. Attend the opening day parade
Granted, if you're lucky enough to be attending Oktoberfest on opening day, you'll most likely be up at the crack of dawn to fight for your own table.
If however you are interested in other options (or are lucky enough to have an evening reservation), the opening day parade of Oktoberfest is a lot of fun.
All the different tents have a procession that marches through the center of town, then over to the Oktoberfest grounds. This is a great opportunity to see some traditional outfits and revel in some cultural enrichment that doesn't involve 5L of beer in your stomach.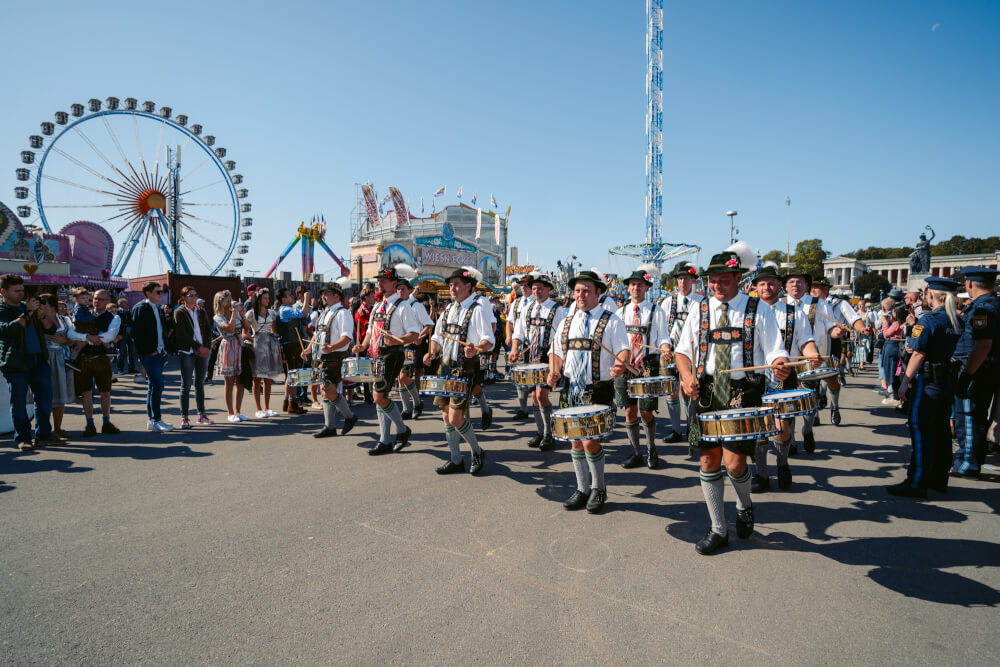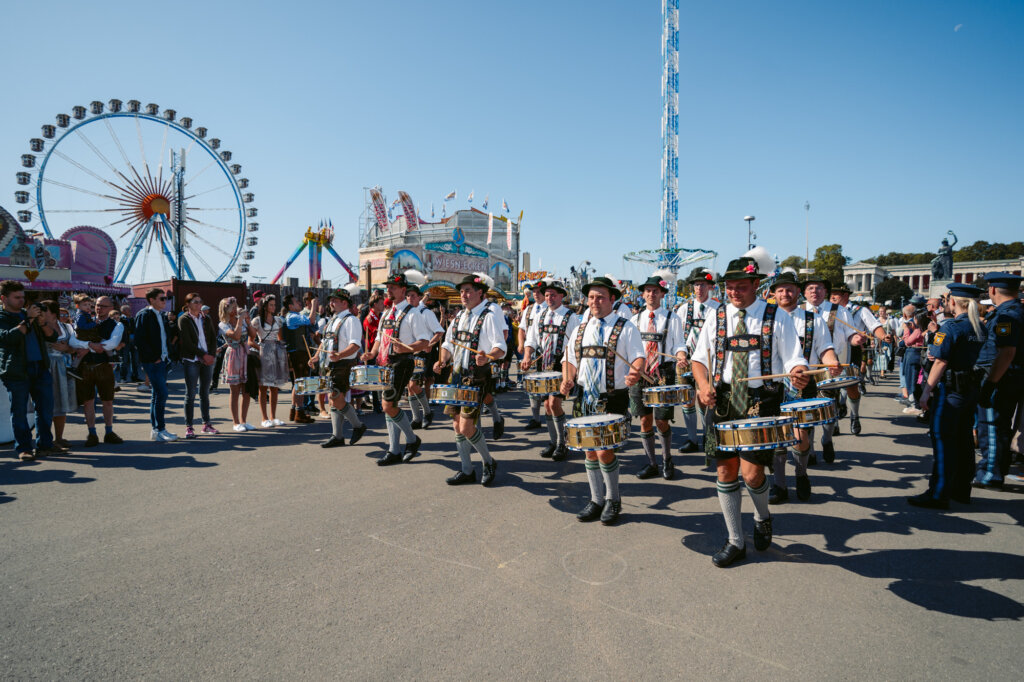 2. Attend the Traditional Costume and Hunters' Parade
Since 1950, the first Sunday of Oktoberfest has been saved for a very special event: the Traditional Costume and Hunters' Parade.
If you're as obsessed with Oktoberfest outfits as I am, you will love this event.
Basically, it's a parade with over 9,000 participants marching along in their traditional outfits, with dozens of groups representing different villages and clubs across Bavaria.
It's really fun to see all the different variations of Tracht out there, plus some villages are really, really over-the-top with their floats (looking at Füssen, which is home to Neuschwanstein Castle and brings a mini-version of the castle with them to the parade every year).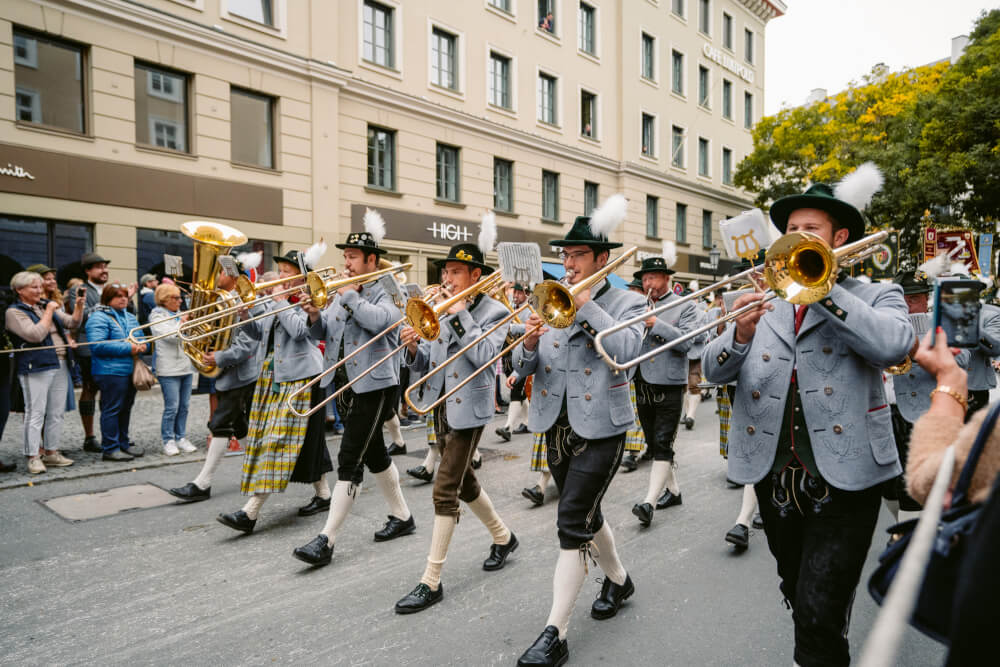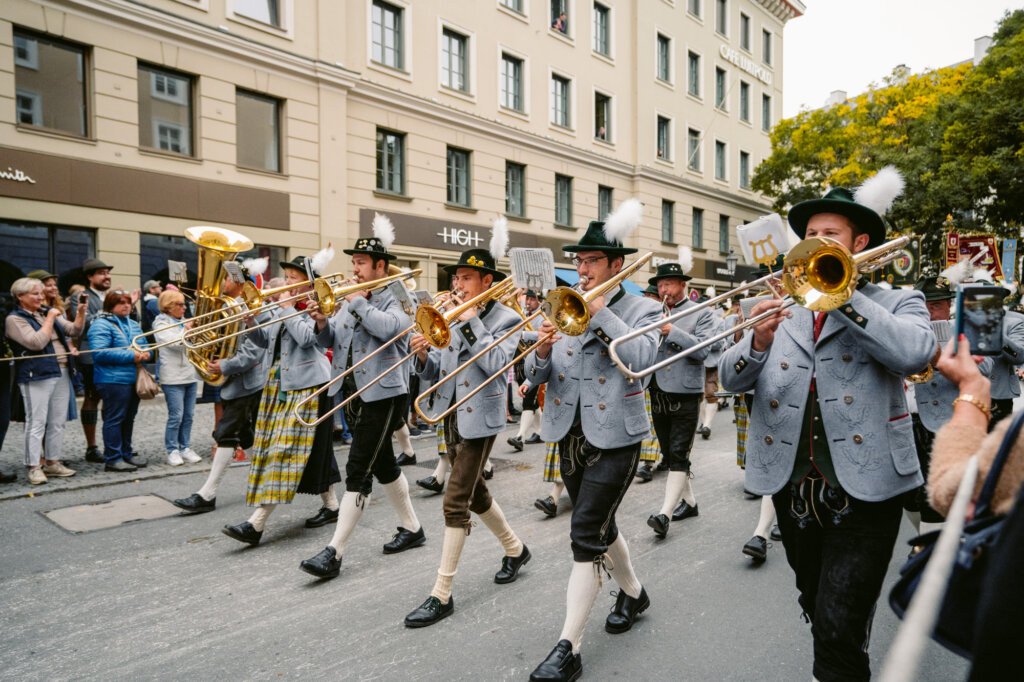 3. Check out the Wiesn landlords' concert
On the second Sunday of Oktoberfest, there's another awesome free event that takes place at the foot of the Lady Bavaria statue: the Wiesn Landlords' Concert.
Who are the Wiesn Landlords? Well, 'Wiesn' is the local name for Oktoberfest, and the so-called landlords are the families who manage the tents and run the food, drink, hospitality, etc. bit of it.
During this public concert, bands from all the tents play traditional music together and it's really cute! It's even usually the mayor who conducts. So wholesome!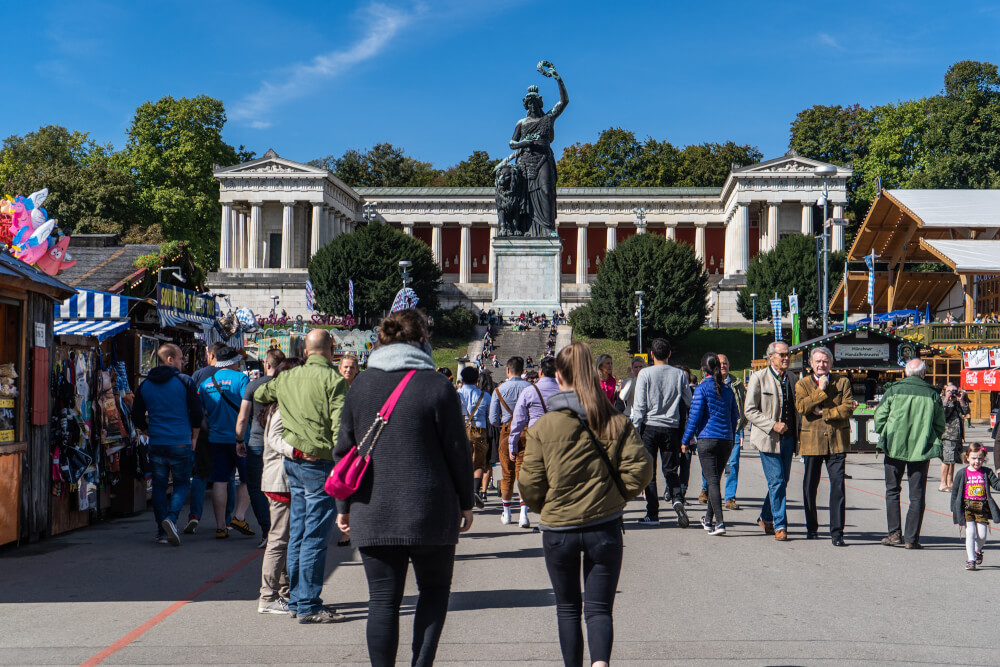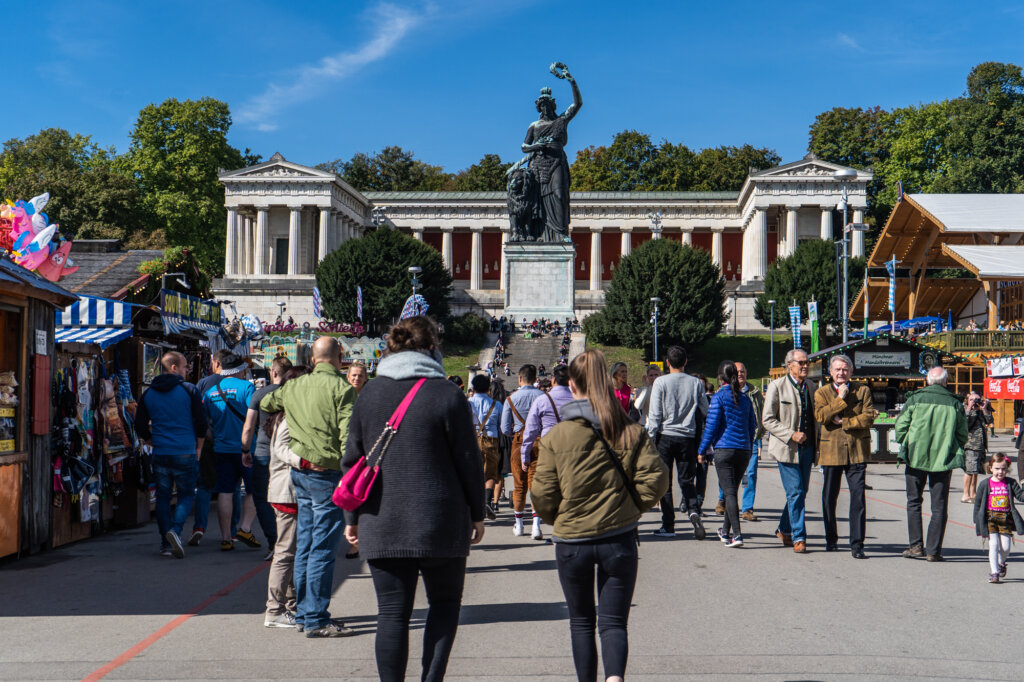 4. Explore all the huge (wildly different and unique) Oktoberfest beer tents
The cool thing about Oktoberfest is that every tent has a different atmosphere and "character". If you have a few days to spend at the festival, you should try to visit a few different ones just to check them out.
NOTE: On busy days i.e. evenings and weekends, it's definitely not advisable to leave your table and try to get a spot somewhere else. Odds are you won't get another table!
Click here for my list of all the big Oktoberfest tents (with photos!)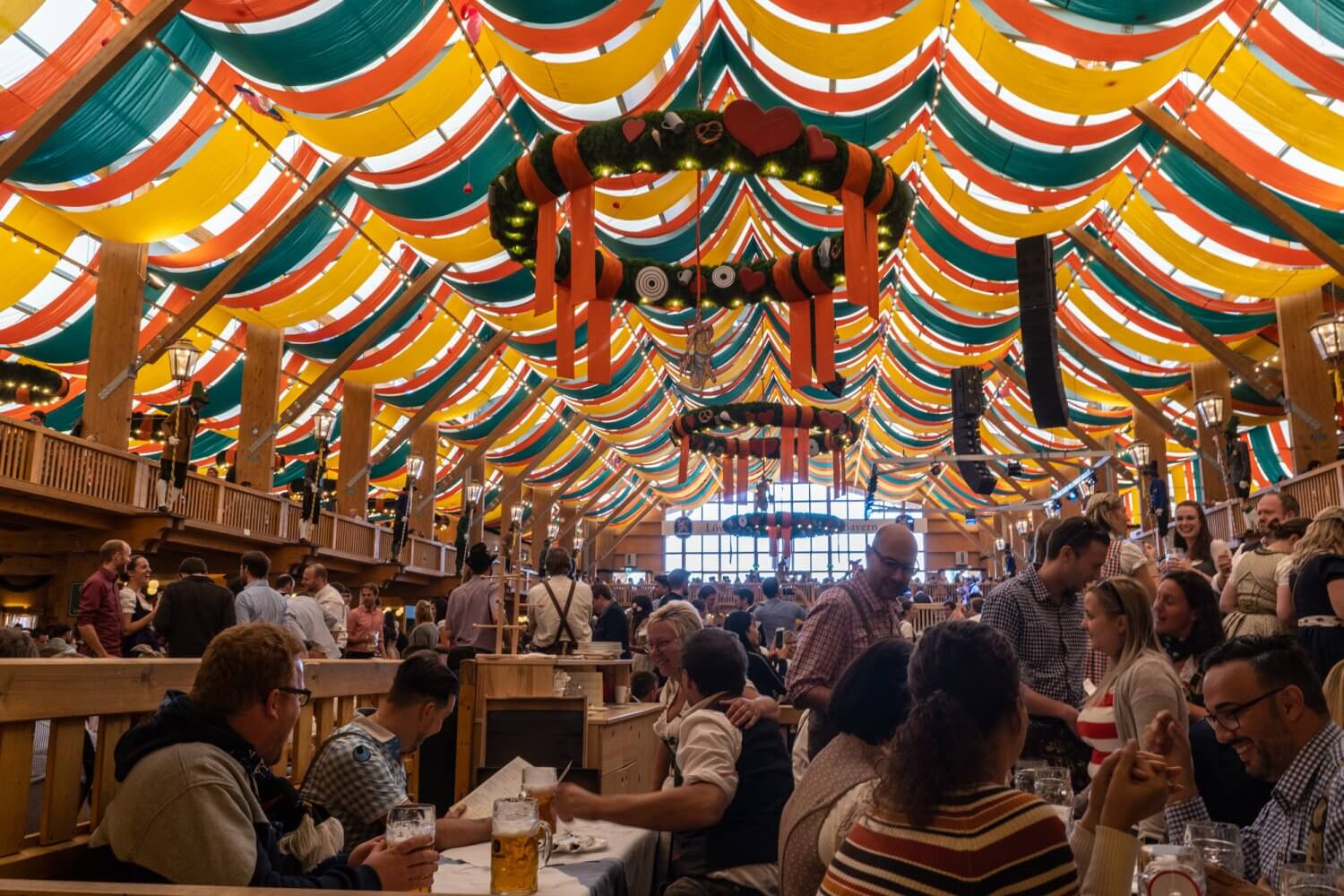 5.Visit some smaller Oktoberfest tents if you can (for a very different vibe)
While there are of course the huge Oktoberfest tents that you've no doubt seen photos of, it's little known to many visitors that there are in fact dozens more lurking on the premises!
Basically, most of the food stalls and booths that you see scattered around the grounds have little mini "tents" attached to them. Granted, the majority of them are reservation-only, and kind of a locals' secret where they go to hide from the massive crowds, but some of them are easy to visit (like the ones in the Oide Wiesn).
I highly recommend checking them out for a different experience! Like check out this dessert tent from iconic Munich confectionary, Rischart: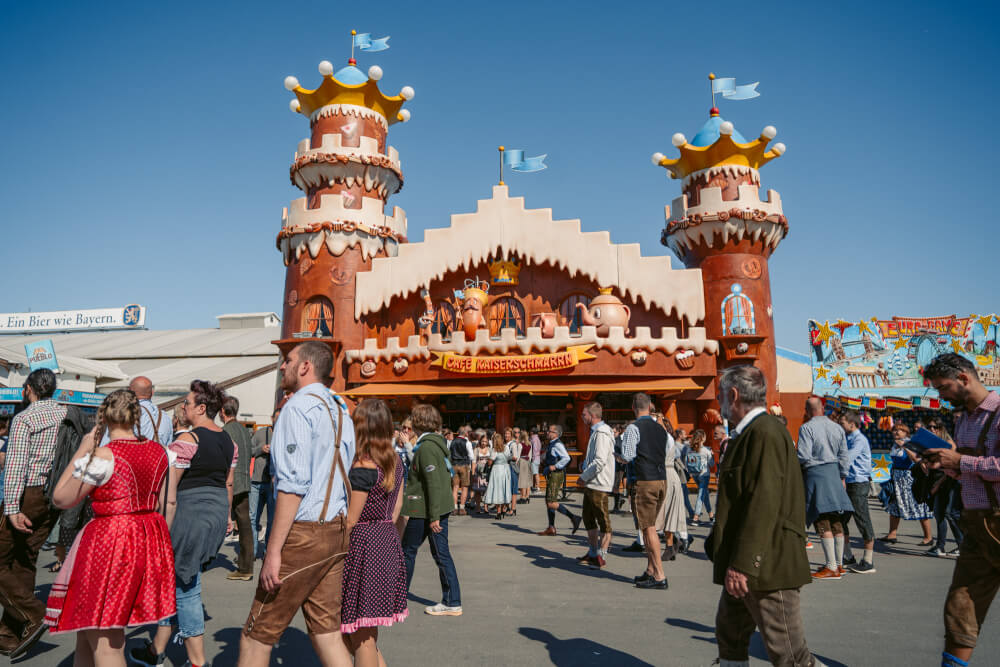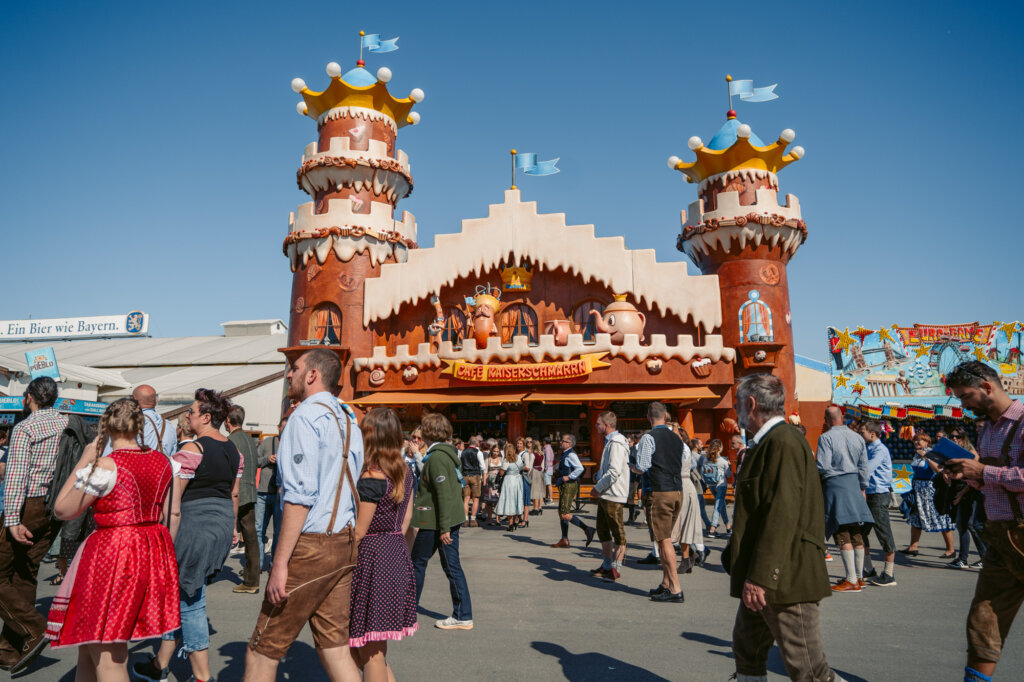 6. Gorge yourself on the delicious food
Stuffing my face is by far one of my favourite things to do at Oktoberfest.
The food isn't cheap, but it's plentiful and ridiculously satisfying. Check out this post for a list of epic Oktoberfest foods you can't miss.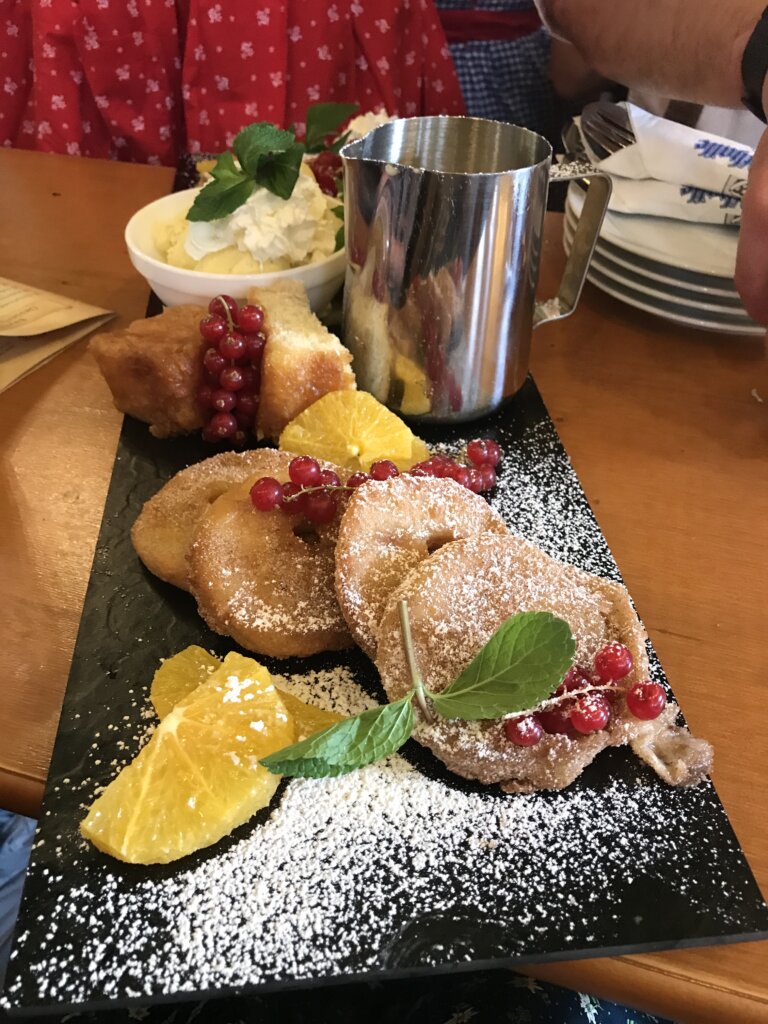 NOTE: For a cheaper alternative, be sure to peruse the stalls outside of the tents. These will often have "to-go" foods that are just as tasty as the food being served in tents, except way cheaper. I have a love affair with this Steaksemmel (steak sandwich) from a stall outside the Käfer tent every year.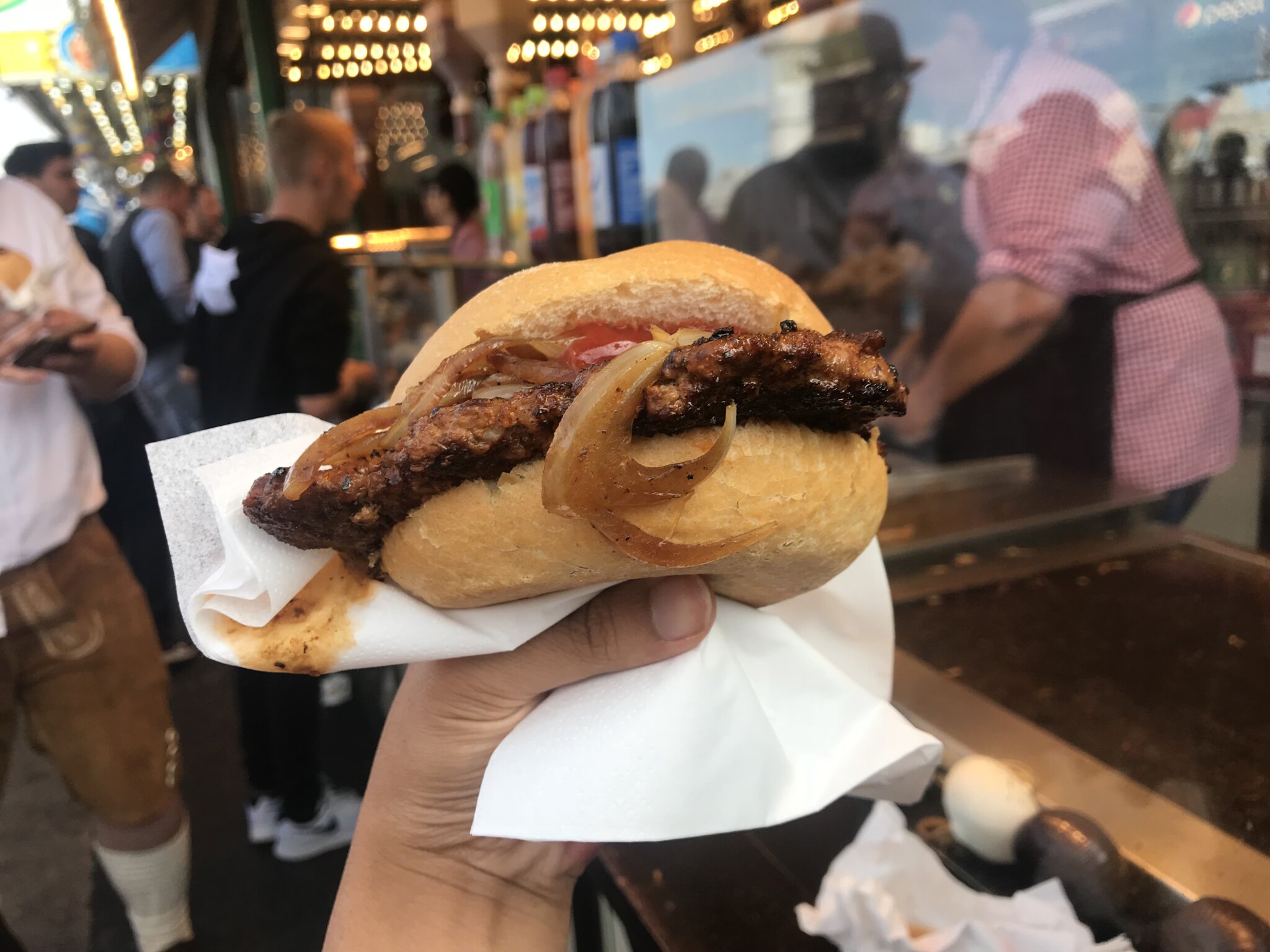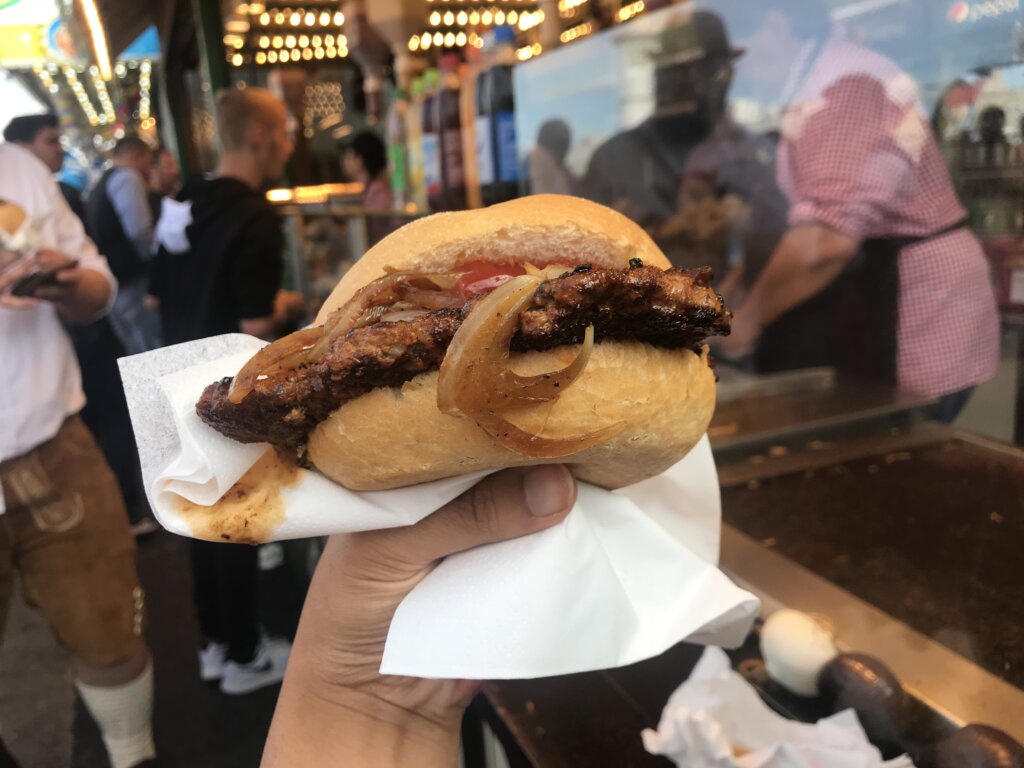 7. Drunkenly go on a ride you vowed to never go on
It's pretty incredible what a bit of liquid courage can do.
In addition to mindblowingly ornate tents, Oktoberfest is packed with cool rides, like the ridiculous Olympic Rings roller coaster that takes you on FIVE loops as you scream and yelp for dear life.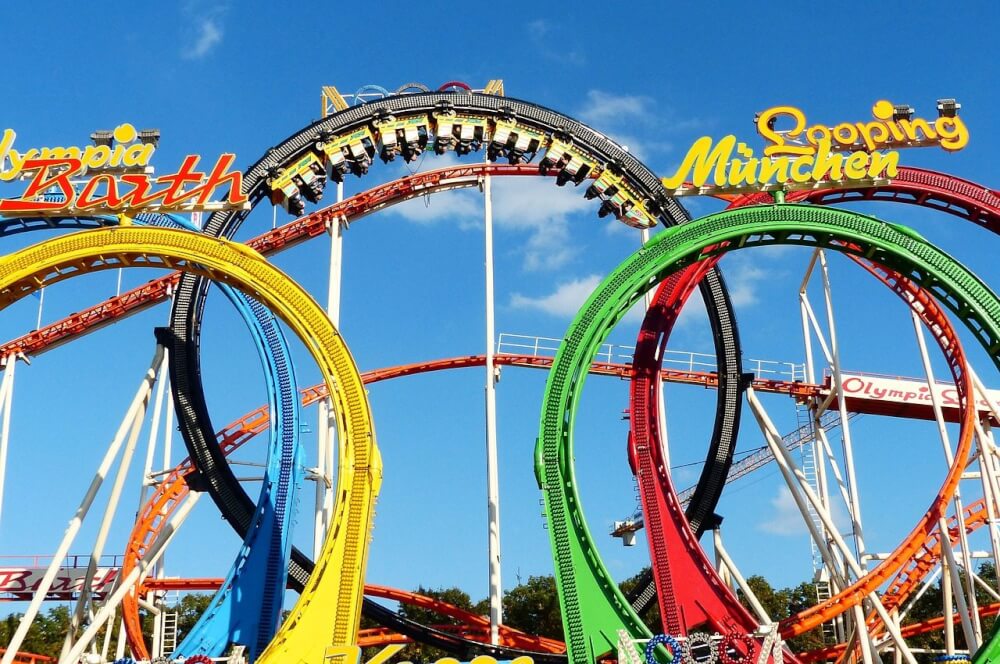 And I have to be honest with you: odds are, at some point during the festival, you will suddenly develop enough bravery to try one of these rides…
Shhh, just let it happen. It's all part of the experience. Even if it often costs an arm and a leg!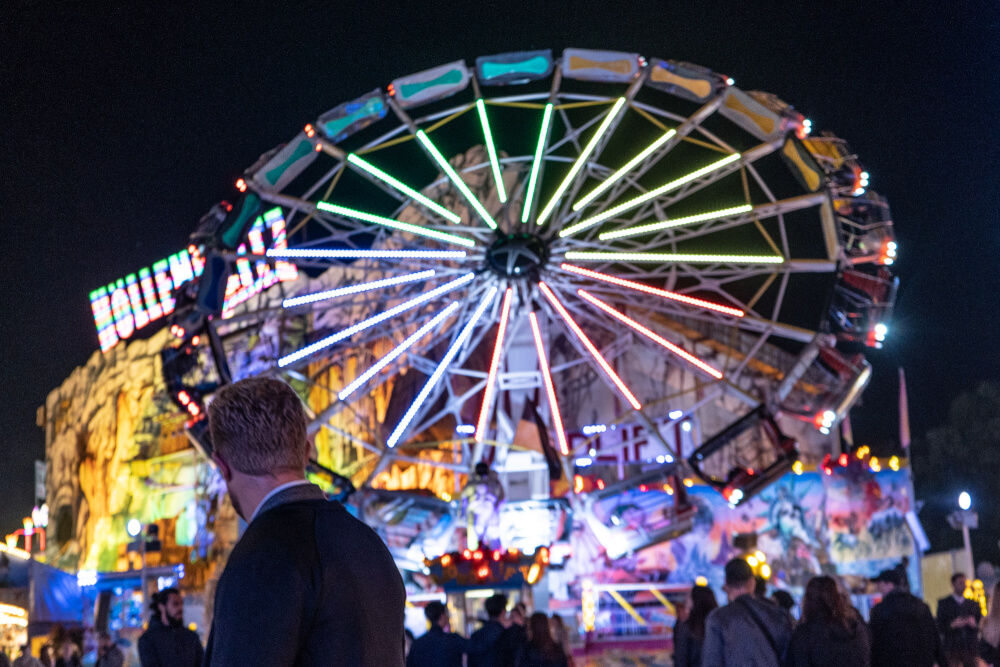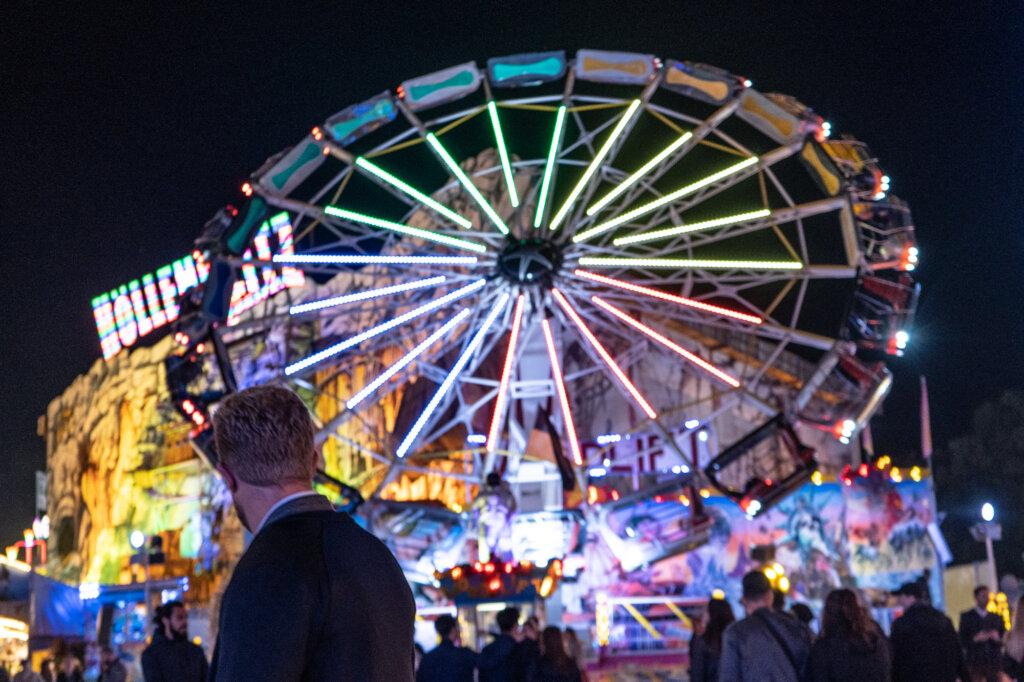 TIP: If you want to splash out on a thrill ride, the best value one (in my opinion) is the Bayern Tower. It's a giant swing ride that is truly terrifying if you're scared of heights, but the views are incredible.
Here's a photo that my boyfriend took of his hairy, hairy legs with it. NOTE: I was there too but I was not about to risk my phone 85m above ground!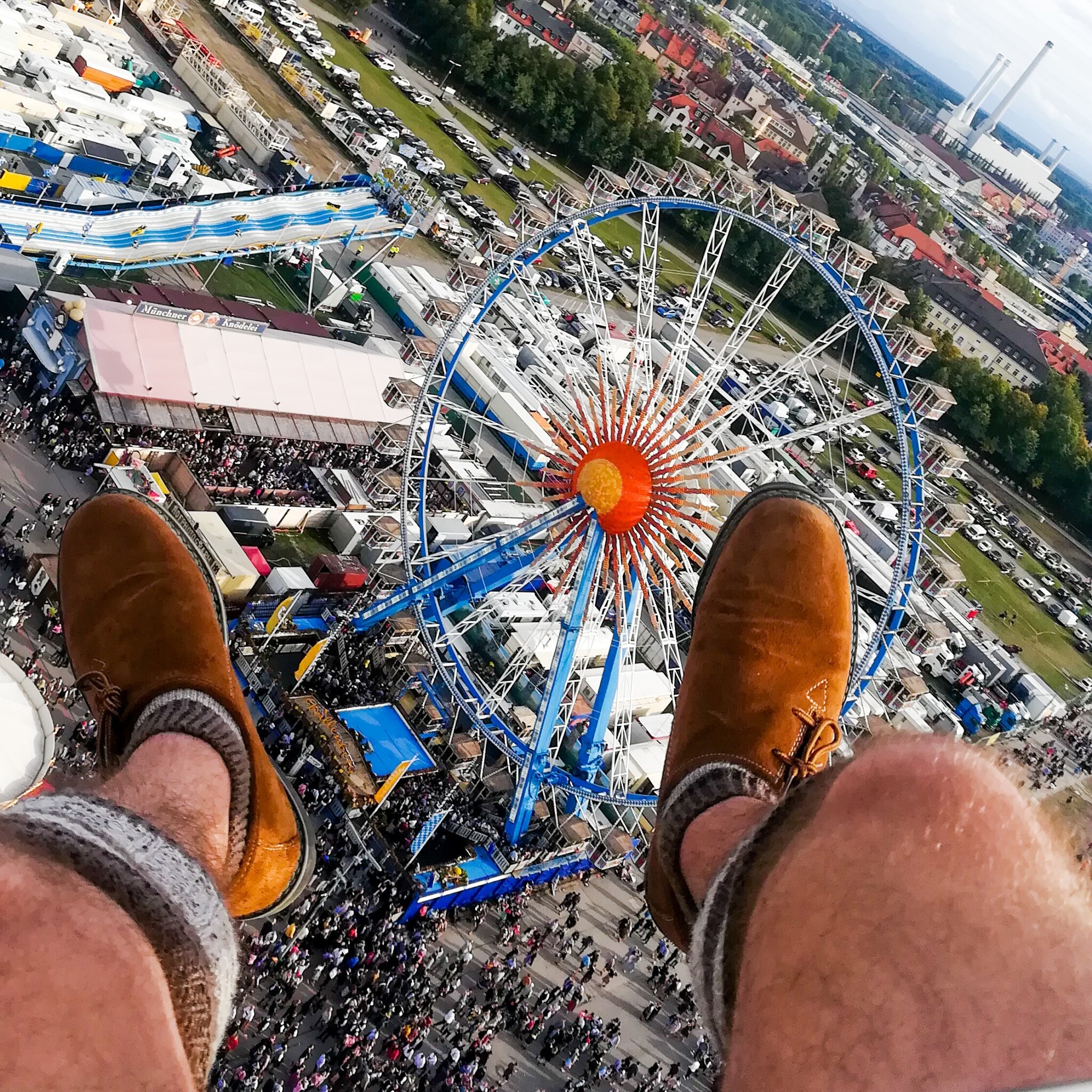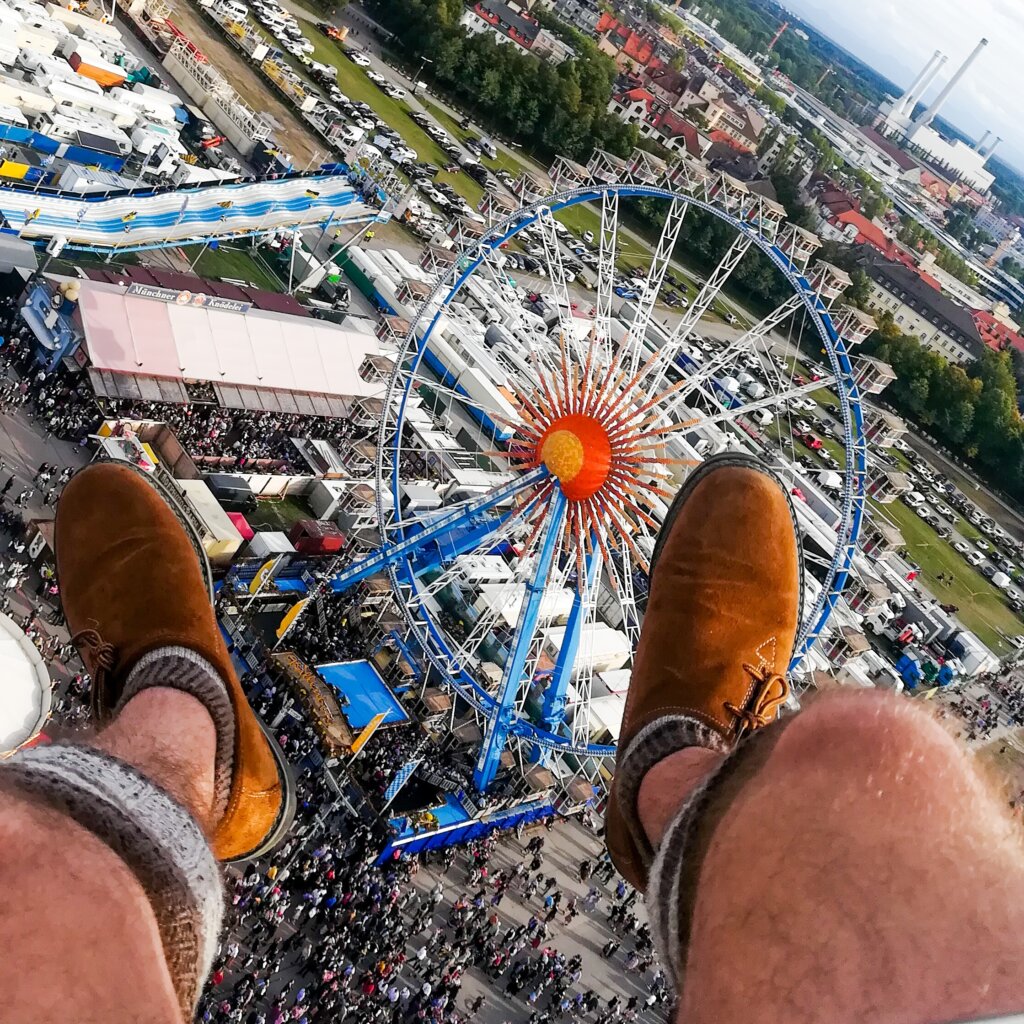 8. Watch people conquer the the silliest rides
For some free Oktoberfest entertainment, there are also some very popular rides/games that you can spectate. One in particular is the Toboggan, which is always hilarious to watch.
Basically, people pay to be zipped up 8m on a fast conveyor belt, after which they have to climb some stairs and slide back down. I know it sounds dumb, but it's honestly hilarious to watch because most of the people trying it are very, very drunk.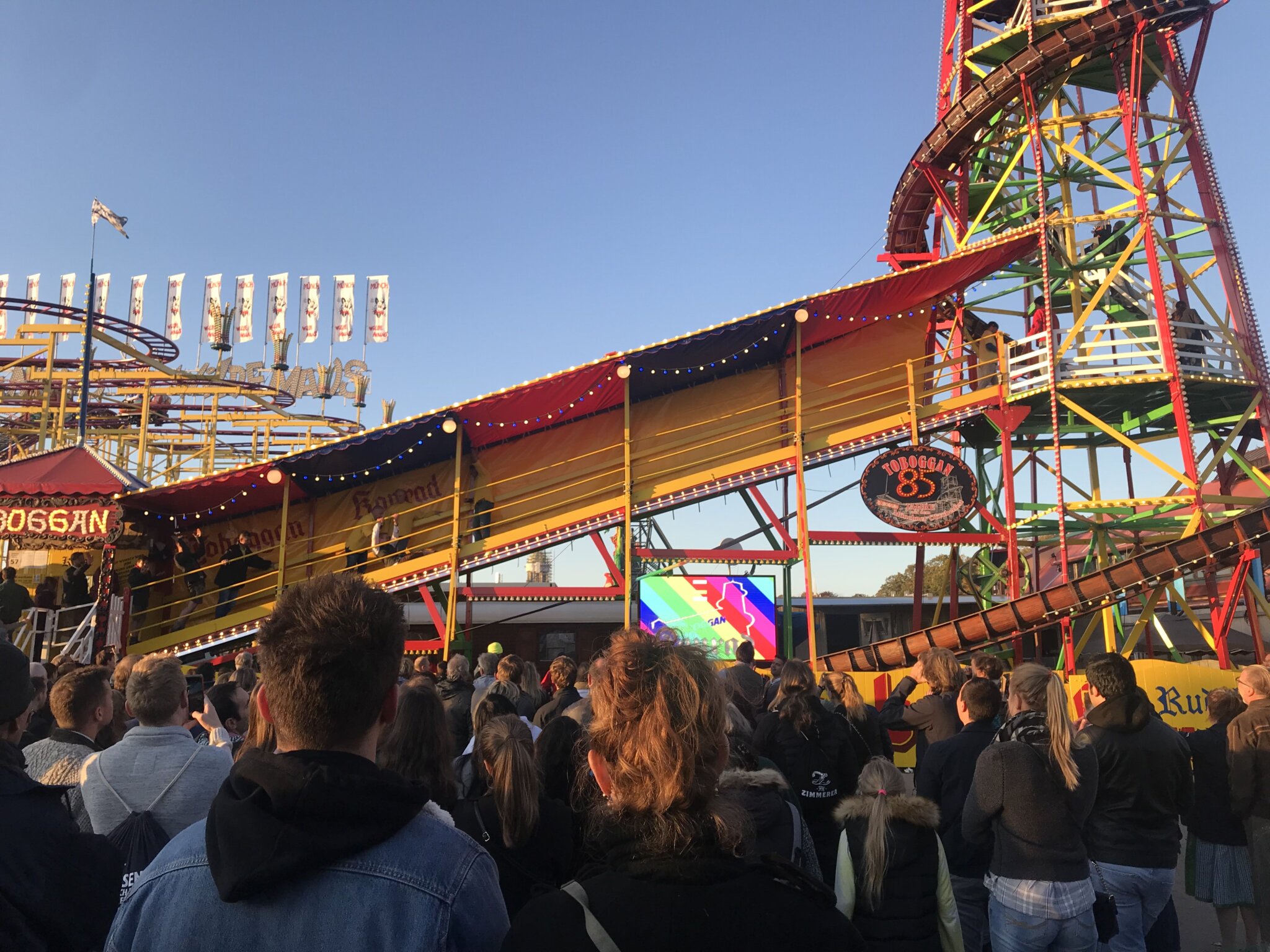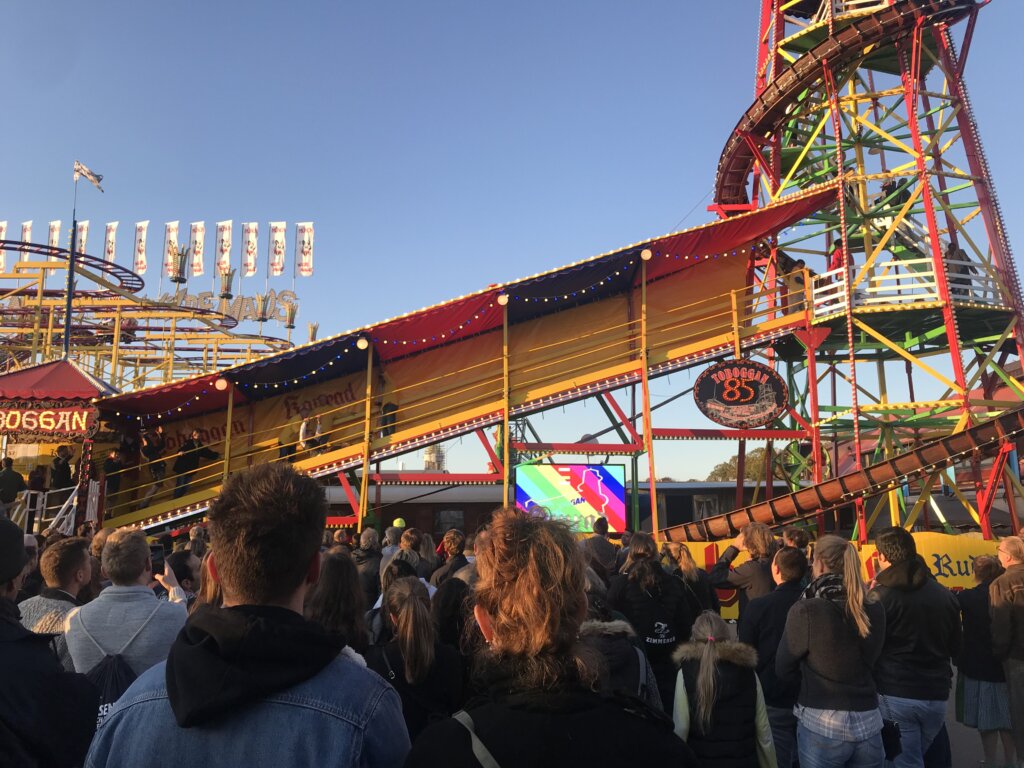 9. Hop on board the "Devil's Wheel" or just spectate for hours
This is probably my favourite Oktoberfest thing to do… the Teufelsrad (or Devil's Wheel).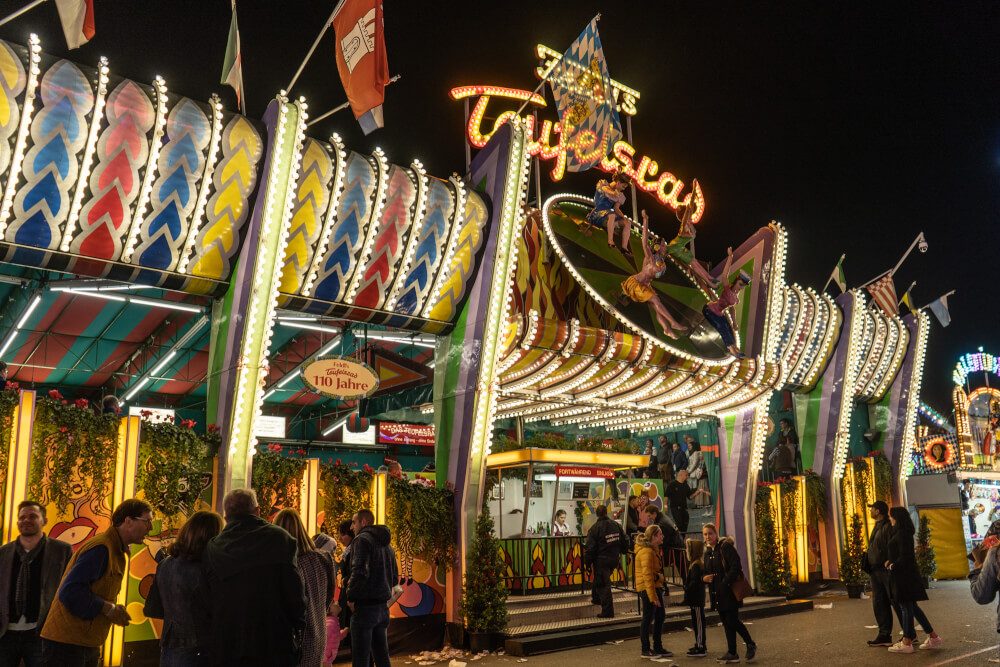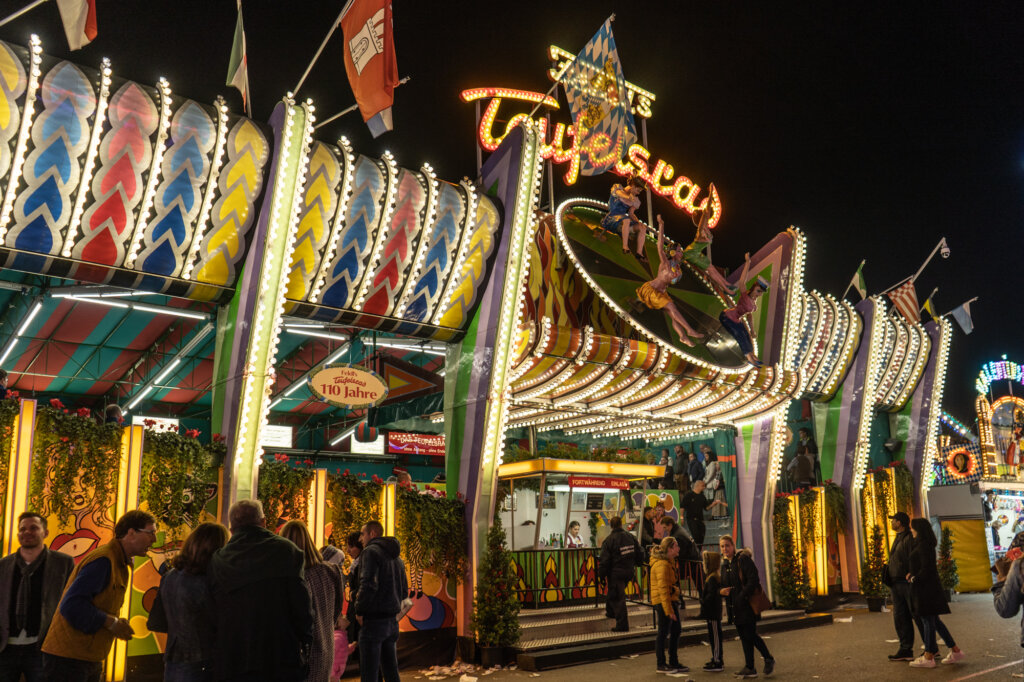 According to a proud plaque up front, this thing has been going for 110 years. You do have to pay a few euros to get in, but trust me: it's worth it!
The Devil's Wheel is basically this spinning wheel game where the last person standing is the winner… not that there's a prize or anything (besides bragging rights).
The concept is simple: every round, they call up different groups of people to come up to the wheel. For example "all men over 45, all couples, all girls under age 15, all people wearing blue", etc. Then, anyone who wants to participate flings themselves onto this wheel that begins to spin, and spins faster and faster until everyone's off.
Again, this sounds very dumb but it's hilarious to watch (and even more fun to participate in).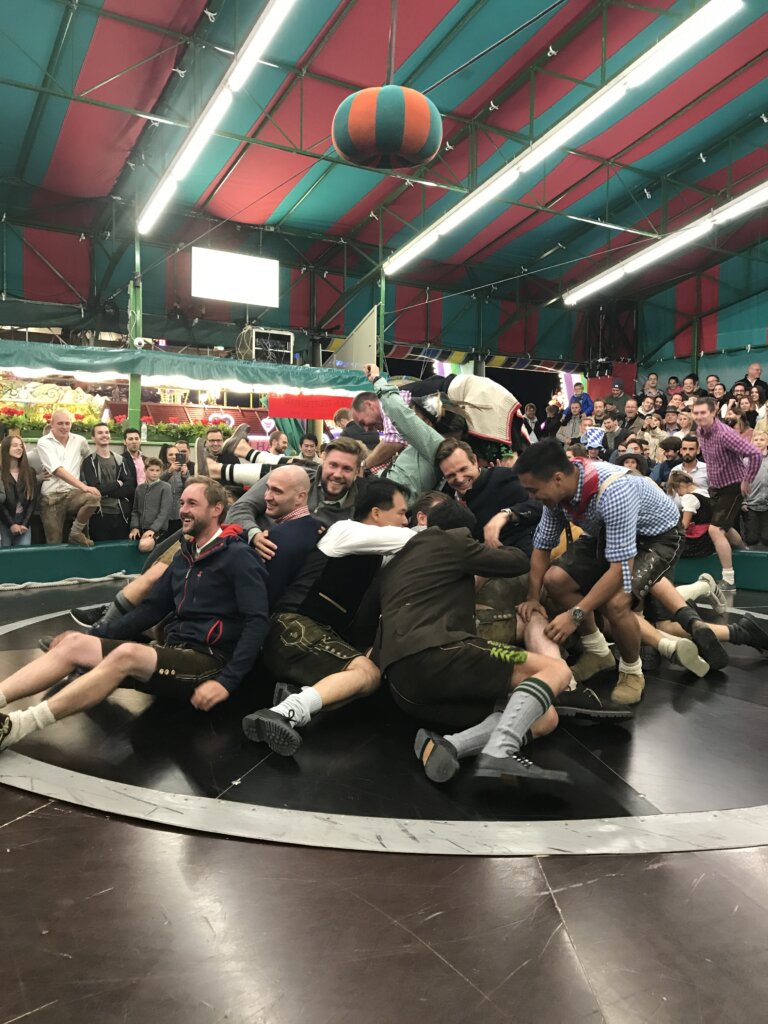 10. Spend absurd amounts of money playing games & trying to win toys
Looking for an Oktoberfest activity that's a bit more wholesome?
Well, besides amazing food and rides, Oktoberfest is also a haven for fairground games.
And I know what you're thinking: who would waste money trying to win a toy when you can spend it on food and beer?
The answer is: a drunk person. A drunk person would.
There are lots of fun games to play, and if you're lucky, you too may win this adorable cuddly alpaca: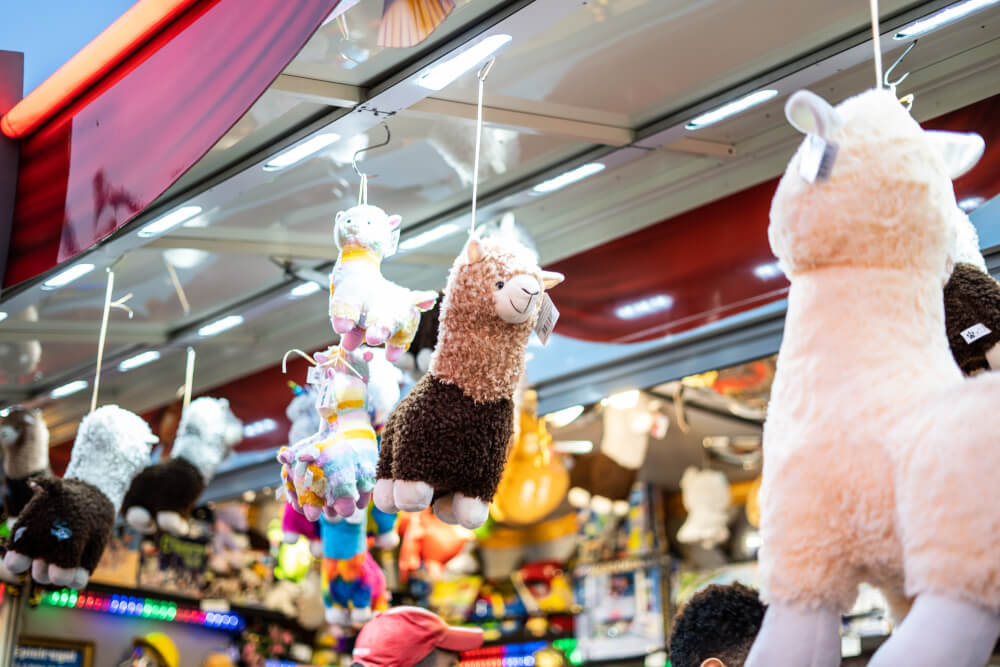 11. Splash out on spendey souvenirs
I'm sure you're sensing a theme here – it seems like most Oktoberfest activities revolve around getting inebriated and then making poor financial decisions.
But here's another one!
Yes, you can actually do a lot of shopping at Oktoberfest. Scattered all around the Oktoberfest grounds, you'll find loads of souvenir stalls selling everything from Oktoberfest T-shirts and souvenir mugs to fun hats and plushies of all kinds.
While these souvenirs are admittedly usually very overpriced, I feel like souvenirs tend to be anyway, so if you want a fun keepsake from your Oktoberfest experience, be sure to have a snoop around.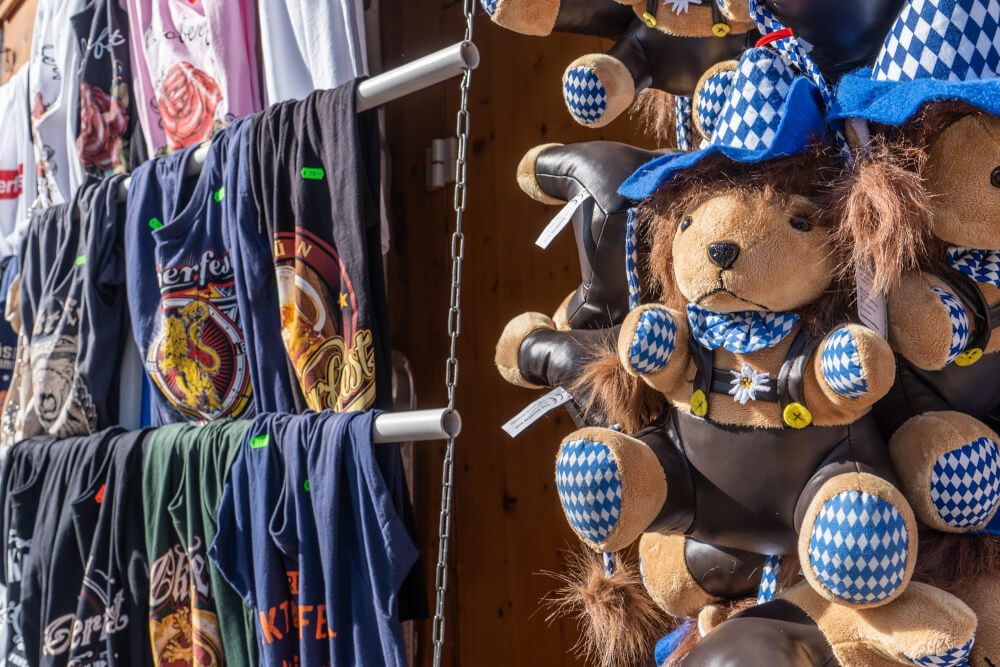 Oh, and to give you an idea of the selection, here's me posing with a 450 euro tiger toy: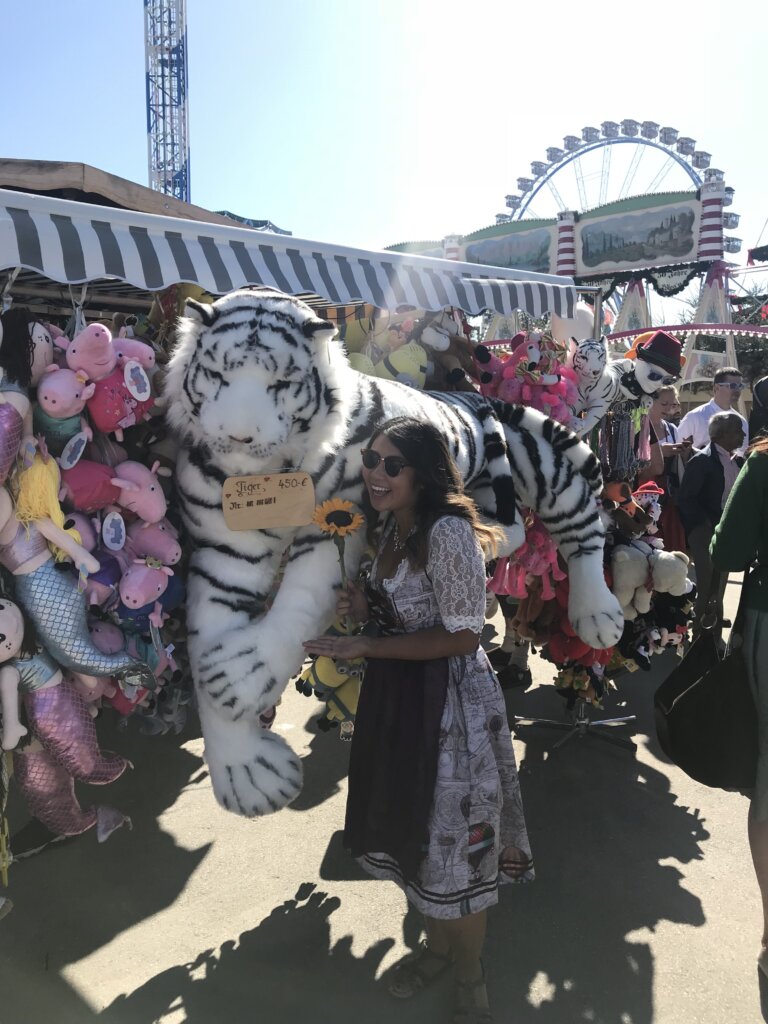 12. Get a custom Oktoberfest gingerbread heart
Speaking of souvenirs though, my top recommendation would be to get a customized Oktoberfest gingerbread heart. These bad boys are not really meant for eating (honestly they are SO gross), but they do last forever as a decorative piece!
To my knowledge, there's only one confectionary stall at Oktoberfest that does these custom ones within a few hours: Martl's Herzlmalerei.
Here's me with my branded cookie! Excuse my haggard expression (this was a last-day of Oktoberfest kinda splurge):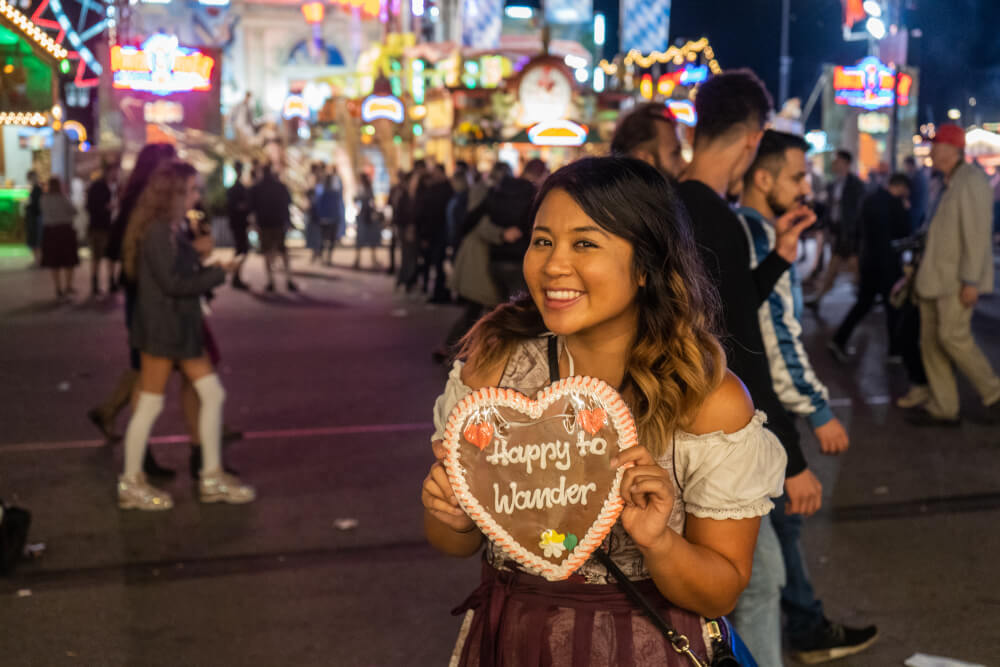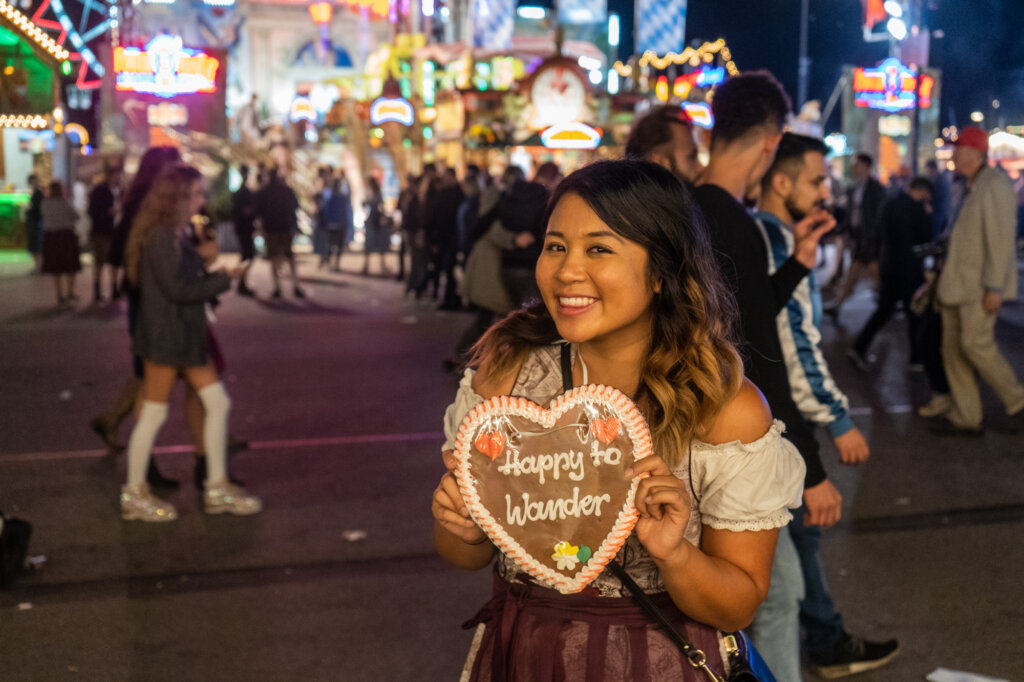 13. Dance on a bench while belting out some classics
Alright, now back to some of the drunky Oktoberfest activities.
One of the best things to do at Oktoberfest by far is hopping on a bench and dancing it out with friends and strangers alike. Honestly, the classic 'Oktoberfest band' is one of my favourite parts about the festival.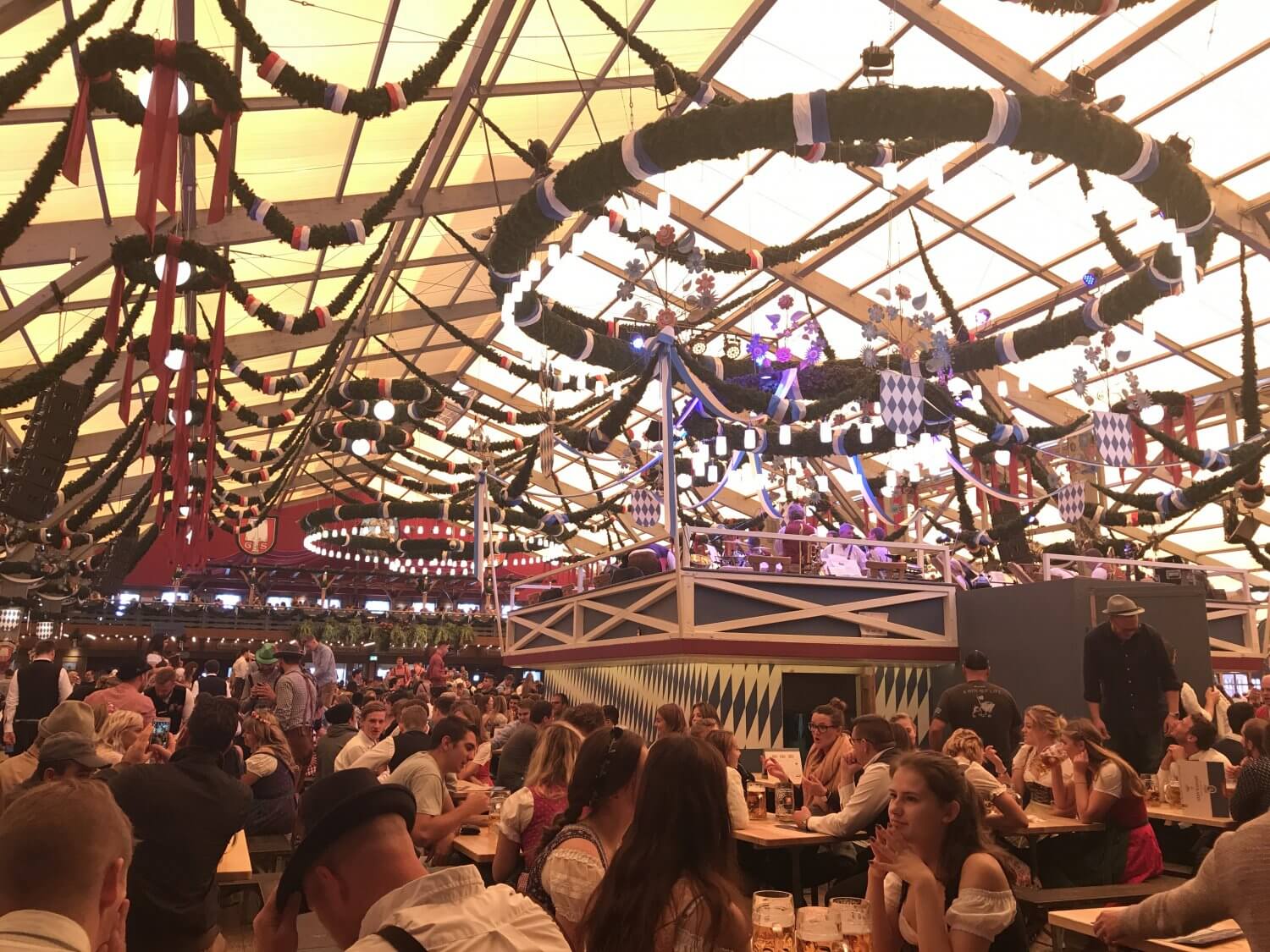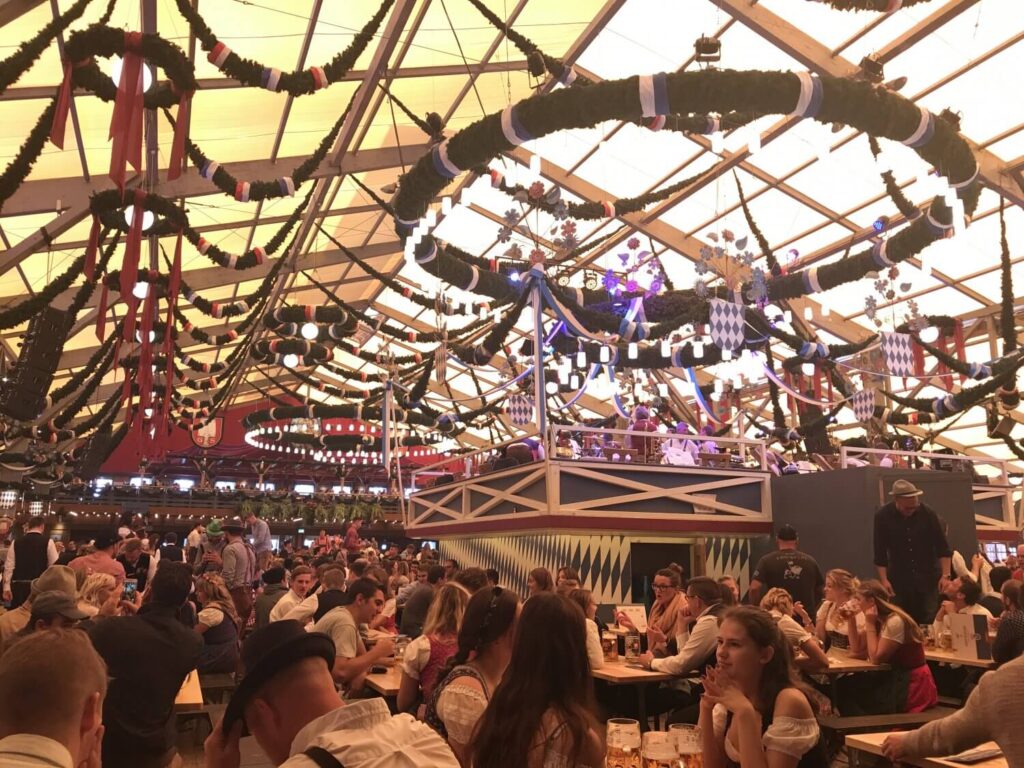 Throughout the day, they'll be playing plenty of fun traditional music, and then as the night wears on, (depending on the tent) some classic hit songs will make their way into the mix, and it is so ridiculously fun to let loose and dance on benches while singing along.
Don't worry – everyone will be doing this, so go wild!
… Don't get on the actual table though. That's frowned upon!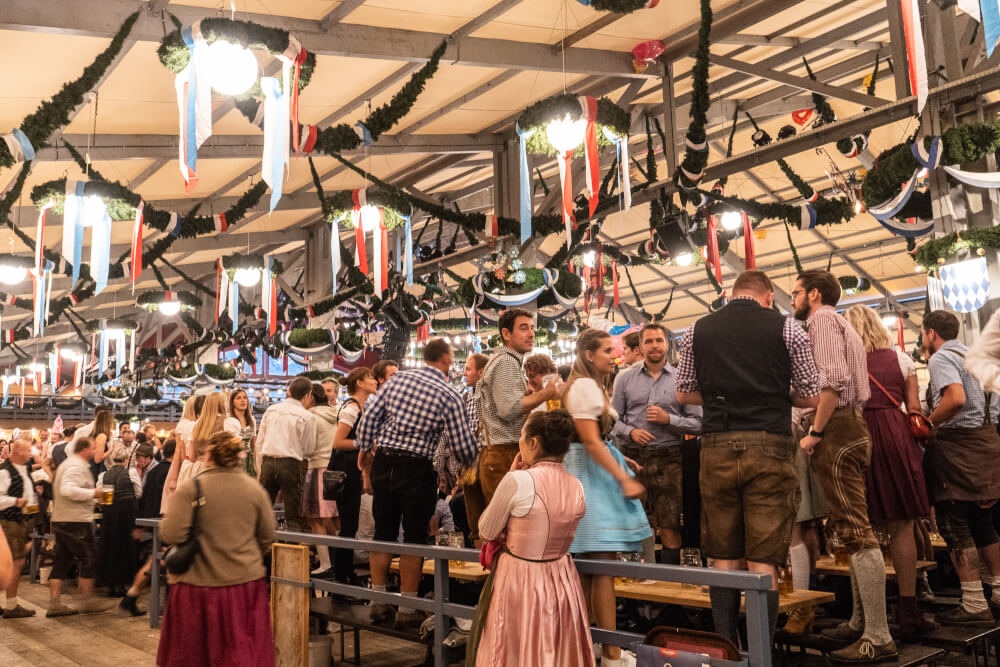 PS bring good shoes or else you'll be forced to buy special Oktoberfest flats from their shoe vending machine (yes, really):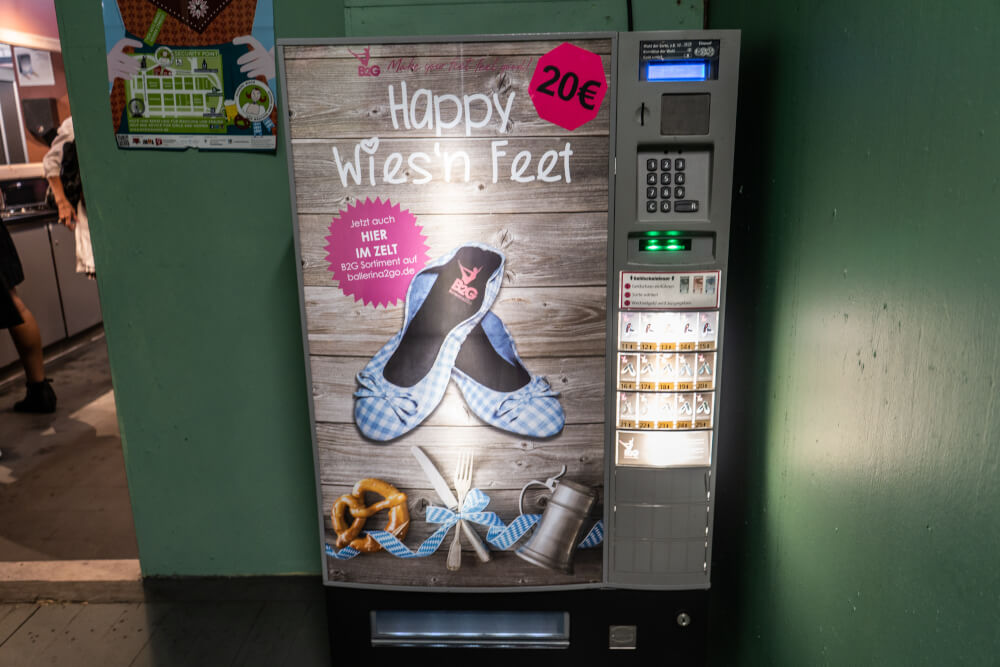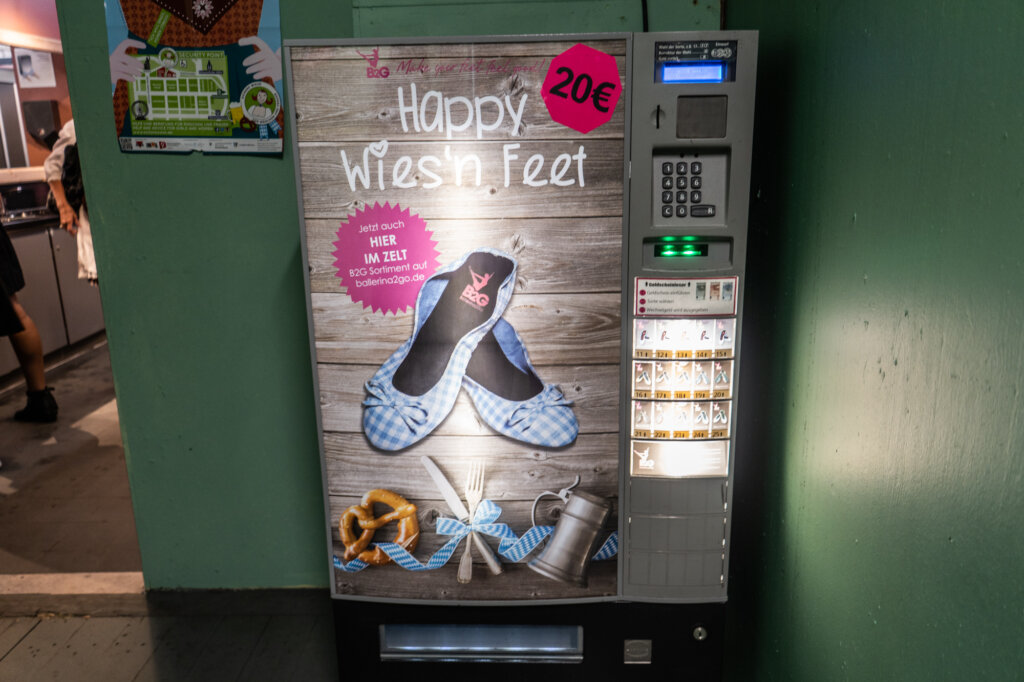 14. Avoid 'Pass Out Hill' or head straight there if you enjoy devious people watching
The infamous Pass Out Hill (also known as the Hill of Shame) is an Oktoberfest institution, but it's not for the faint of heart (or sober people, really).
Most locals will avoid it like the plague, as it really is a sad sight… a green hill behind the tents soaked in beer, vomit, urine and whatever else, all with passed out festival go-ers who deemed it a good place to nap.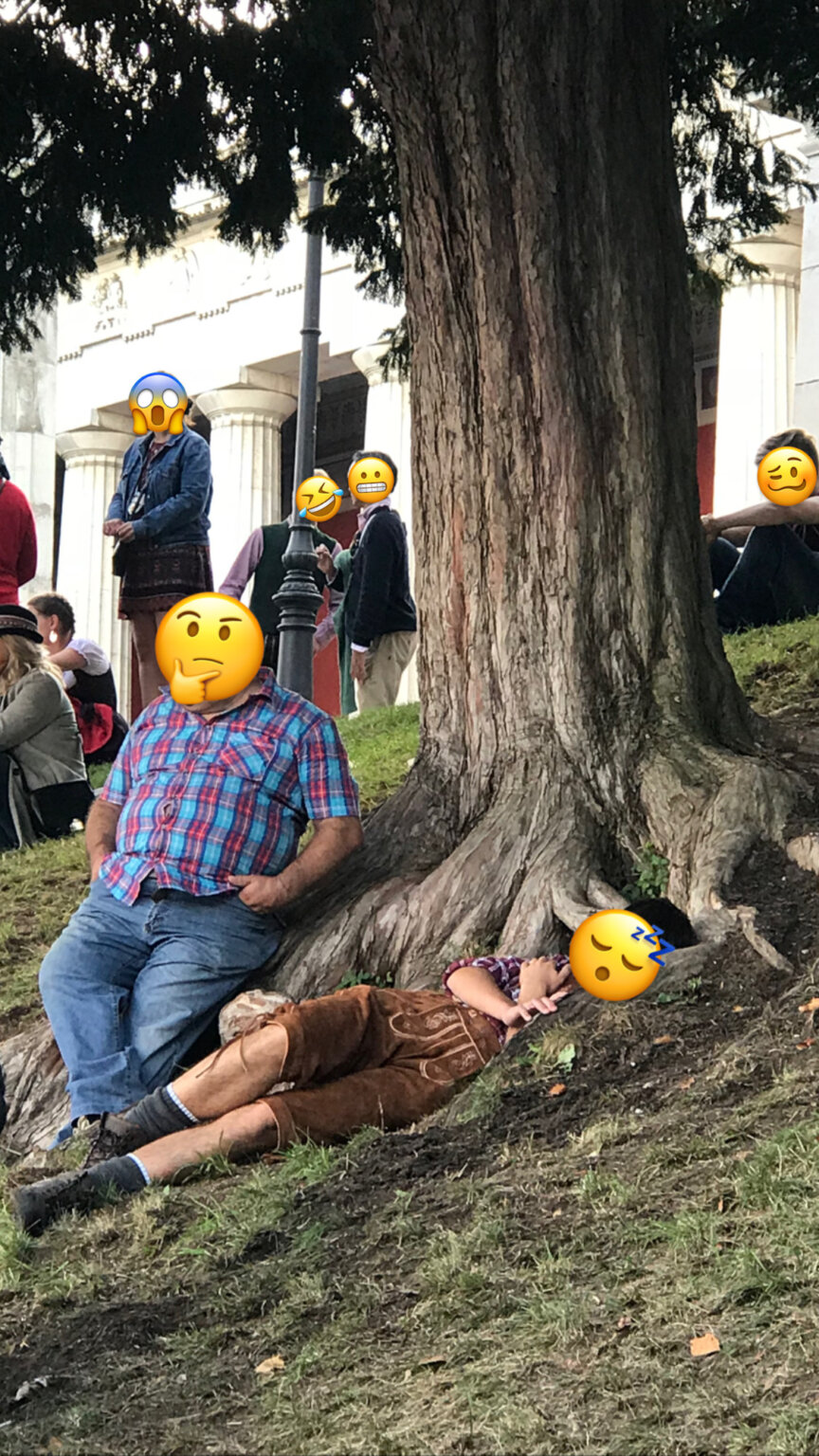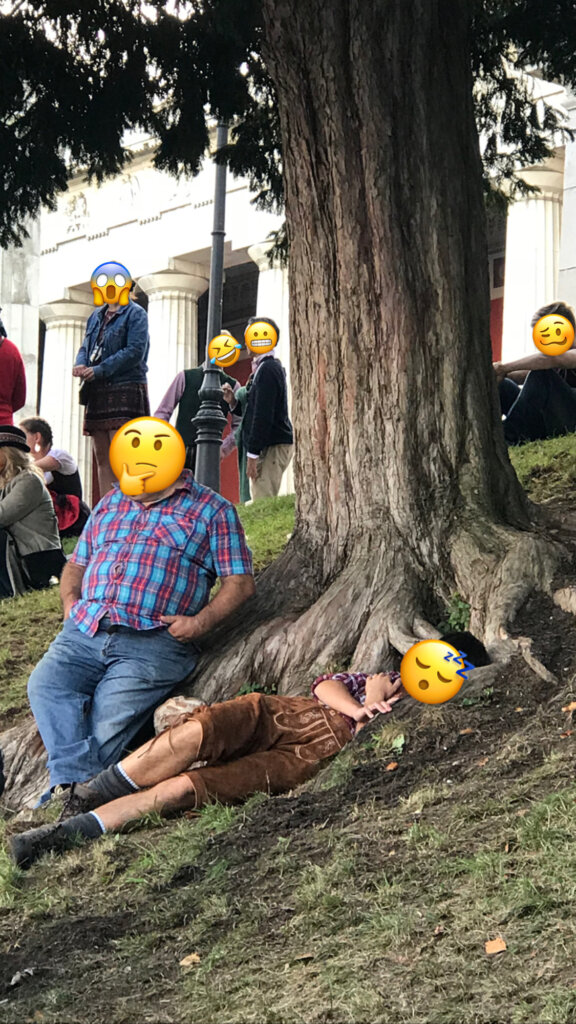 It's perhaps a thing to see, but definitely avoid coming here yourself as a drunkard… lest you end up as a meme somewhere on the Internet.
A somewhat "nicer" place for a sit-down is the grassy hill by the other side of the Bavaria Statue stairs. It's still crowded and there will be nappers but it's definitely not as bad (from what I've seen in the past!)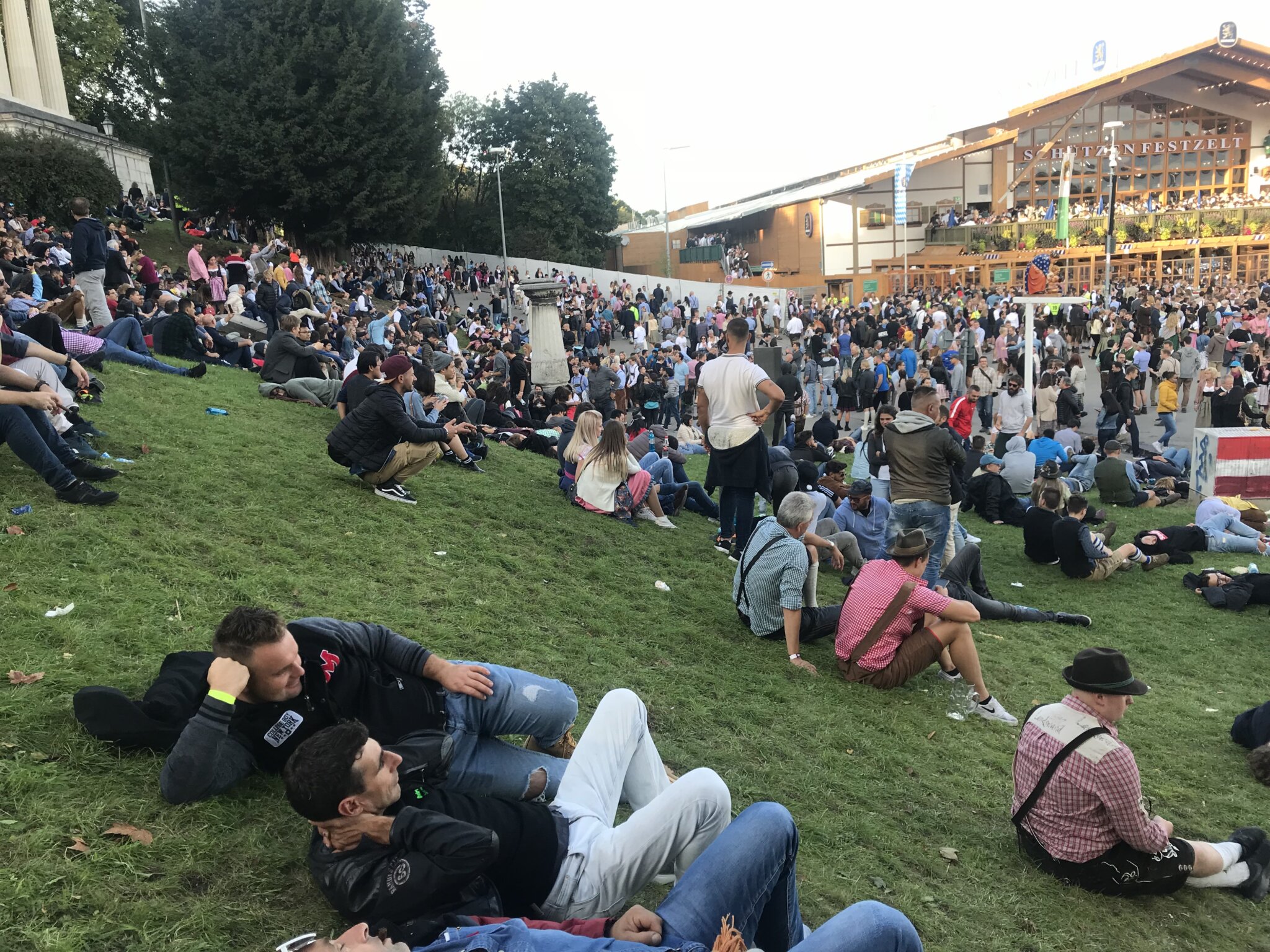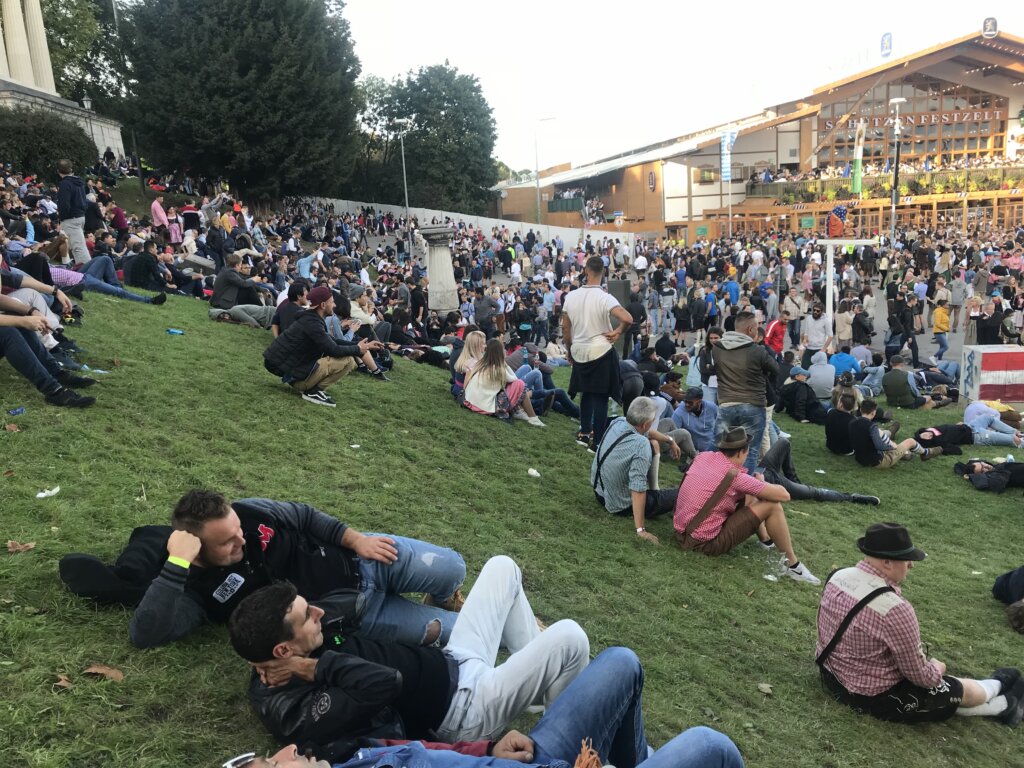 15. Meet new friends from around the world
Let's be real: personal space is not a thing at Oktoberfest. Odds are you'll be sharing tables and rubbing elbows with people from all walks of life.
From the red-faced Bavarian man who has been coming for 40+ years, to the giggly Frat Boys here on a Euro-bender, the event is filled with new people to meet.
Beer is a wonderful unifier, so don't hesitate to strike up some conversations while at Oktoberfest. After all, that's all part of the fun.
One of my personal favourite memories is meeting a group of Japanese exchange students who asked me what kind of drugs these were: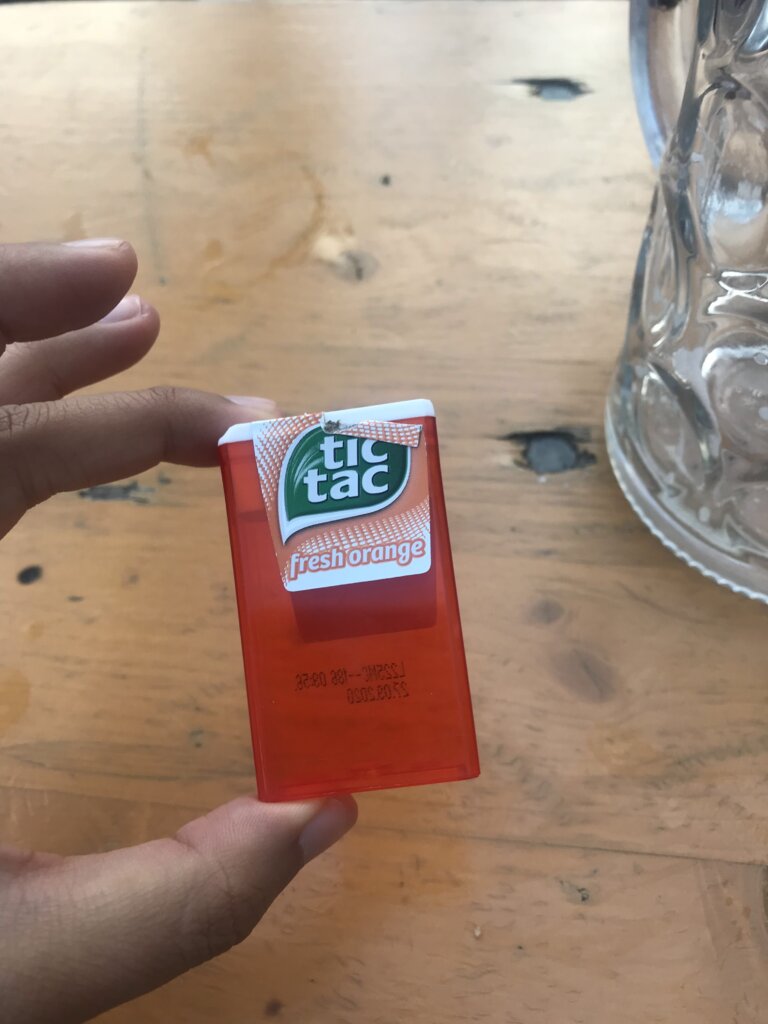 16. Attend the Oktoberfest closing ceremony
While usually most people are far too hungover on the last day of Oktoberfest to witness 60+ guns shooting into the air, this might be a fun Oktoberfest activity for those who can tolerate the loud bangs, and who want to see a unique cultural event!
On the last day of Oktoberfest festivities, 60+ shooters in traditional grab gather once again at the Lady Bavaria statue at noon to fire a gun salute (using powder instead of bullets) to signal the end of the festival… although don't worry – the drinking continues for hours after that.
While I've never had a chance to see this event in-person (read: too hungover to tolerate 60+ loud noises), I've heard it's quite cool to see, and there's even a brass band playing music too!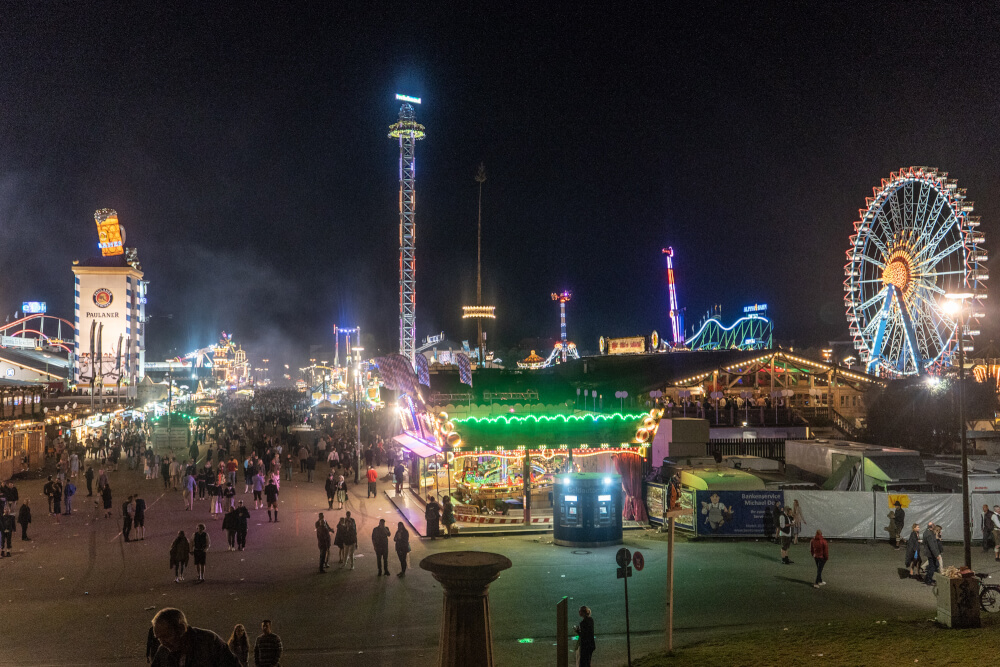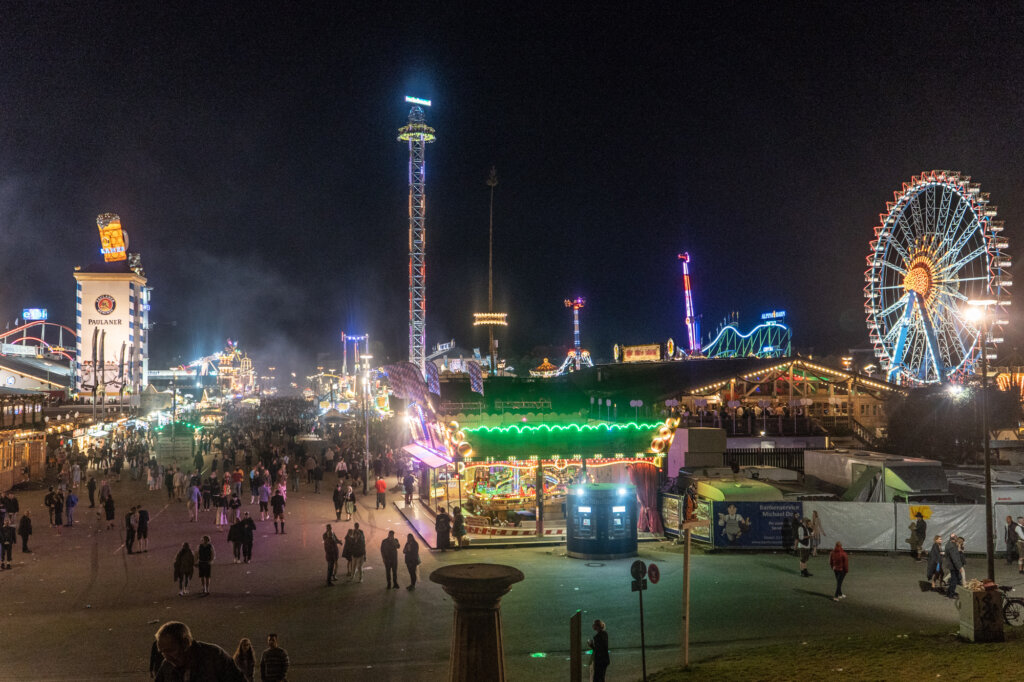 Any more ideas for fun Oktoberfest activities?
So in terms of Oktoberfest things to do, I hope you see there is plenty to choose from! Did I miss any of your favourites though? Or do you have any more Oktoberfest activity-related questions? Feel free to chime in below in the comments section!
---
Watch my most popular YouTube video this week:
---