*FYI - this post may contain affiliate links, which means we earn a commission at no extra cost to you if you purchase from them. Also, as an Amazon Associate I earn from qualifying purchases. Check out our Privacy Policy and Disclosure. for more info.
Boasting the world's oldest rail system, the state of UK train travel is one of the most contentious topics in the country, perhaps even more so than whether you put jam or cream first on your scone.
There are those who consider it a national disgrace with overinflated prices and far too many disruptions, opting to drive instead. And there are those who adore trains so much they make a hobby of going out to look and wave at them as they pass by.
If you're coming to the UK as a tourist, there's no doubt trains are one of the best ways to get around, with over 2500 stations nationwide. I've personally used trains as my go-to mode of transport in the UK for the past decade, and while it's far from flawless and often quite confusing, it's still a great way to get around.
So, this post will walk you through step by step how to navigate the train system in the UK, from getting the best deal on tickets and how to navigate train stations, all the way to making the most of your journey and what to do after your disembark.
… YES, this guide is thorough, but I hope it'll help first timers like you take trains in the UK with confidence and ease.
A Brief Introduction to the UK Rail System
Let's start with some basics on taking the train in the UK, which involves over 2500 stations and 15,874km of track!
Rail Providers in the UK
When people talk trains in England, Scotland, and Wales, usually you'll hear the term National Rail, but what's important to note is that the National Rail is an umbrella term mainly used for branding and consistency, when in reality it encompasses 20+ train companies, including ScotRail and Transport for Wales.
In Northern Ireland, the rail services are run by a separate company known as Translink that is entirely independent from National Rail.
For the purpose of this post, I'll be focusing on National Rail specifically, as that's what I have the most experience in, so if you're looking for Northern Ireland train tips, then I would recommend heading to the official Translink website to learn more.
Within many cities, you'll also find companies offering Metro and Tram services that are run independently of National Rail, and therefore have their own ticketing system, like the London Tube for instance which is run by Transport for London (TfL). This is why in most cases, you can't use your train tickets for local travel.
Lastly, there are several privately owned companies that offer heritage & "experience" trains that are NOT part of the National Rail network. These trains are usually more for the purpose of sightseeing or tourism rather than getting from Point A to Point B.
As the tickets and routes for these trains vary from company to company, I won't be focusing on them today either. The best resource would simply be that specific train company's official website!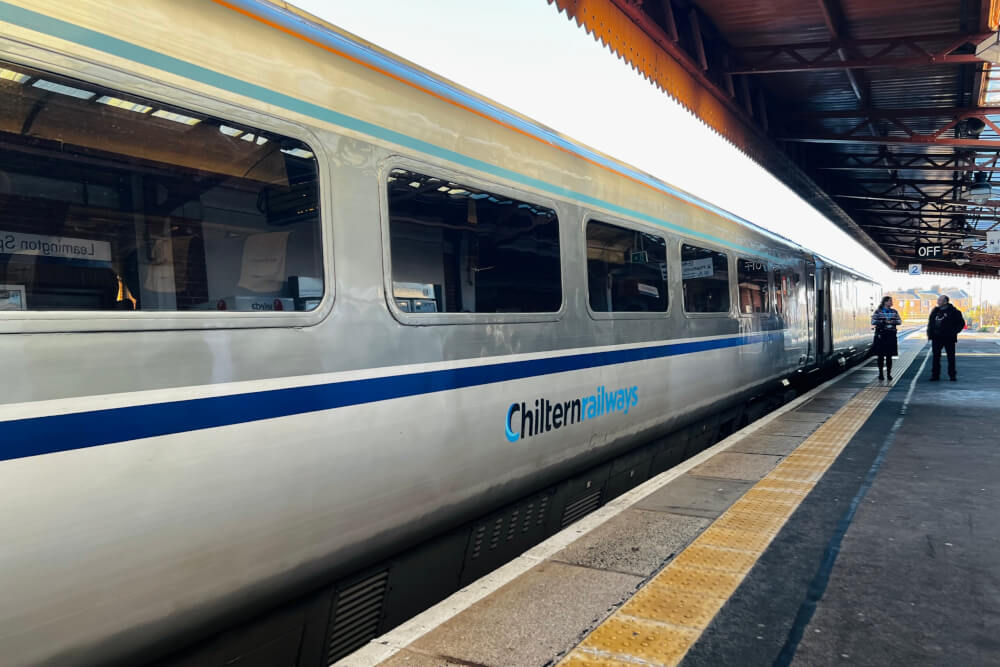 Now, let's discuss…
Types of Trains in the UK
Generally speaking, we can classify UK trains under a few broad categories.
Firstly, there are Intercity Trains, high-speed, long-distance services that connect major cities and regions in the UK in a comfortable and fast manner. They are operated by companies like Avanti West Coast, LNER, and CrossCountry, and will usually be more expensive as they have more amenities and on-board services.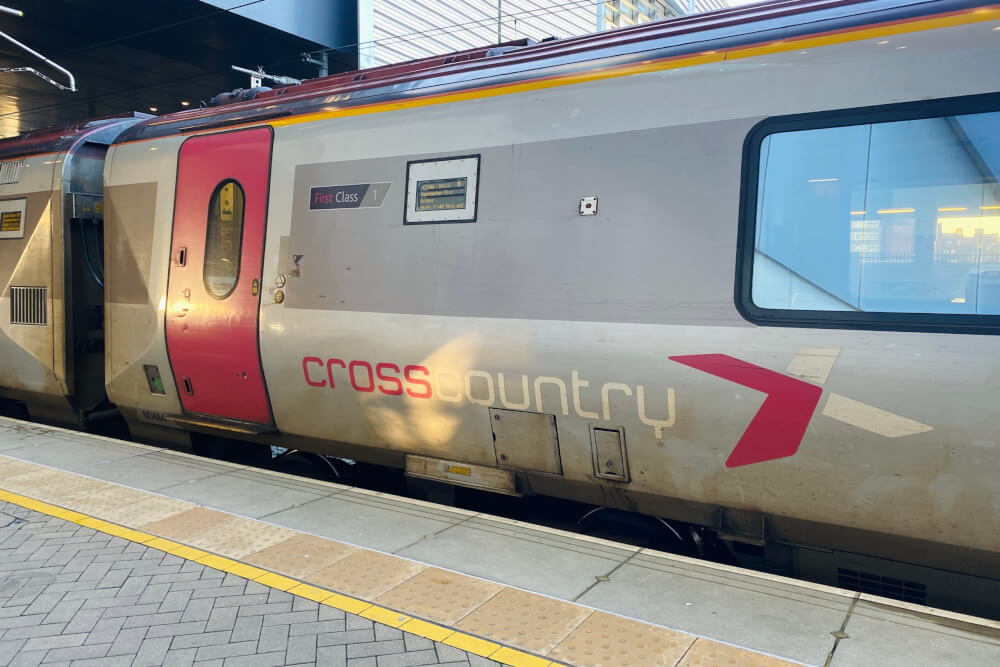 There are also Regional Trains, slower, shorter-distance services that connect smaller towns and cities within a specific region. Their routes are typically designed to serve local commuters and travelers making shorter journeys, so these will typically have fewer amenities than Intercity trains. Examples of companies offering this service include Northern Rail or South Western Railway trains.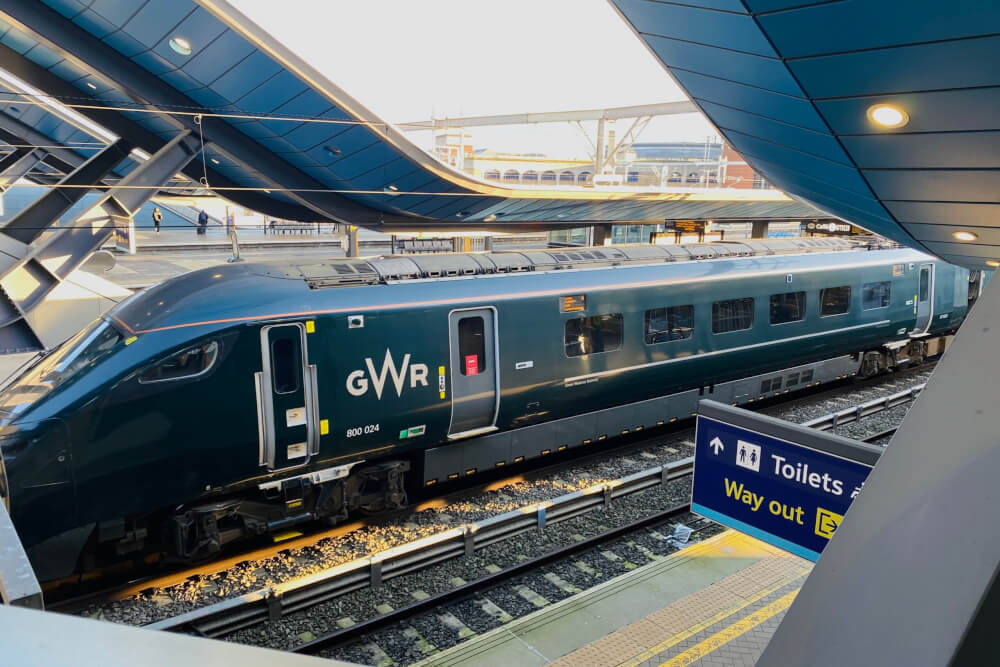 In larger Metropolitan areas, there may be Local Trains as well that service a smaller region, like the London Overground that covers greater London and its suburbs, or Mersey Rail which connects Liverpool to smaller towns close by.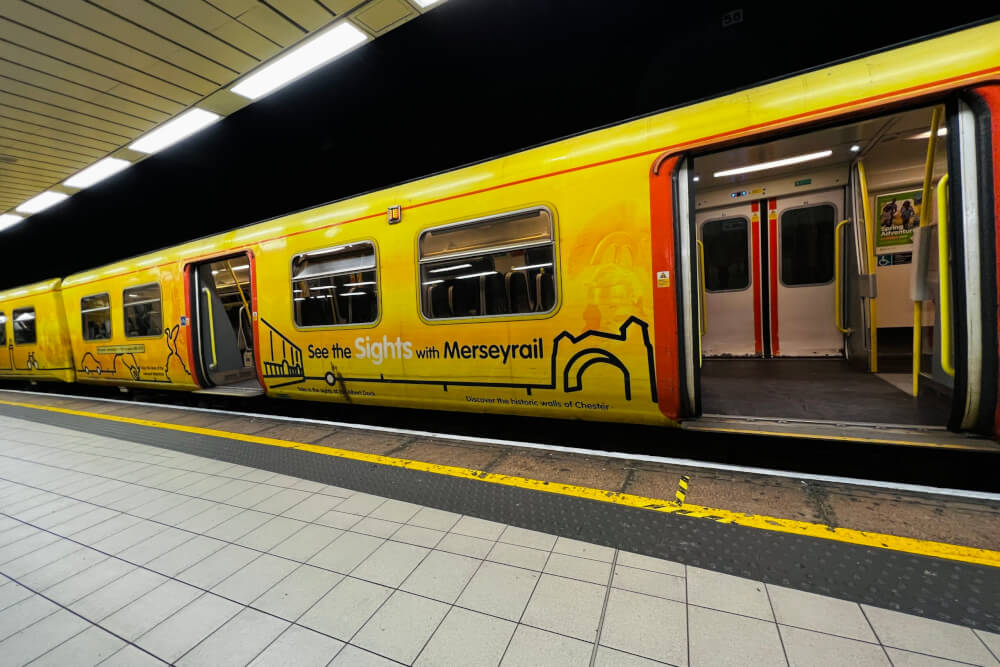 For select routes, there are also Sleeper Trains. These services allow passengers to travel overnight and wake up in a different city or region. For example, the Caledonian Sleeper offers overnight journeys between London and Scotland.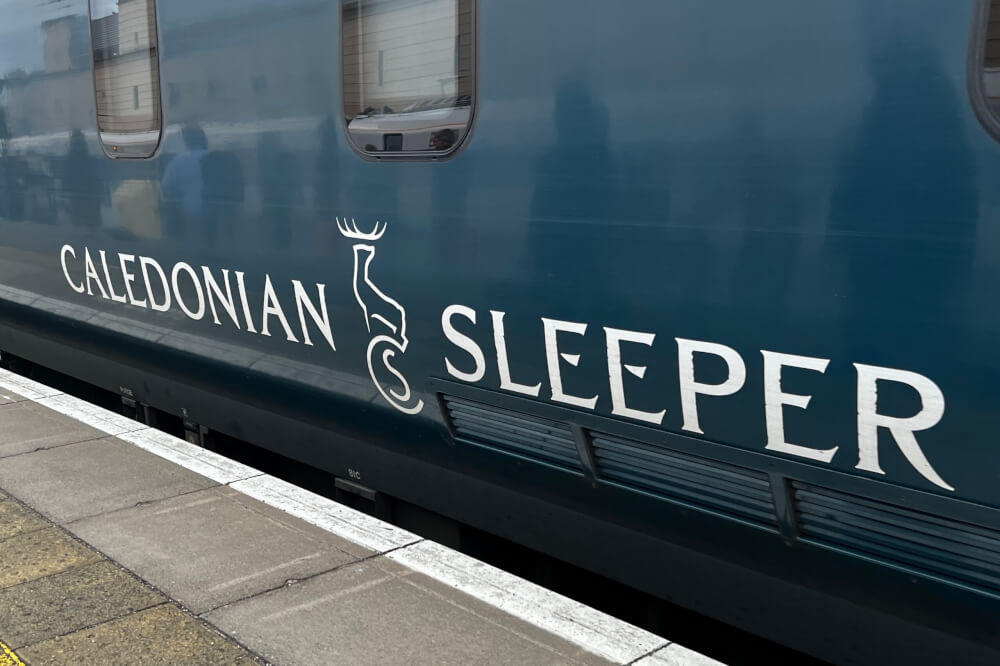 Lastly as I mentioned before, there are the many privately owned heritage & "experience" trains meant for sightseeing and tourism. Some examples include the Jacobite Steam Train in Scotland, AKA the real life Hogwarts Express or the also magical Swanage Railway.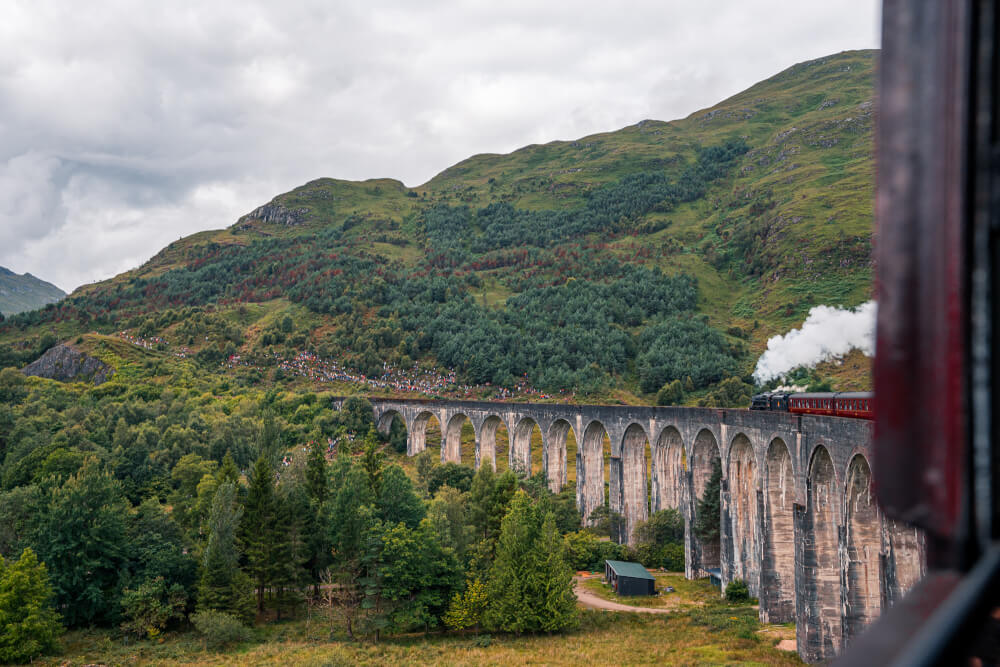 Now, with the basics covered, let's go through step by step how to plan a train trip in the UK.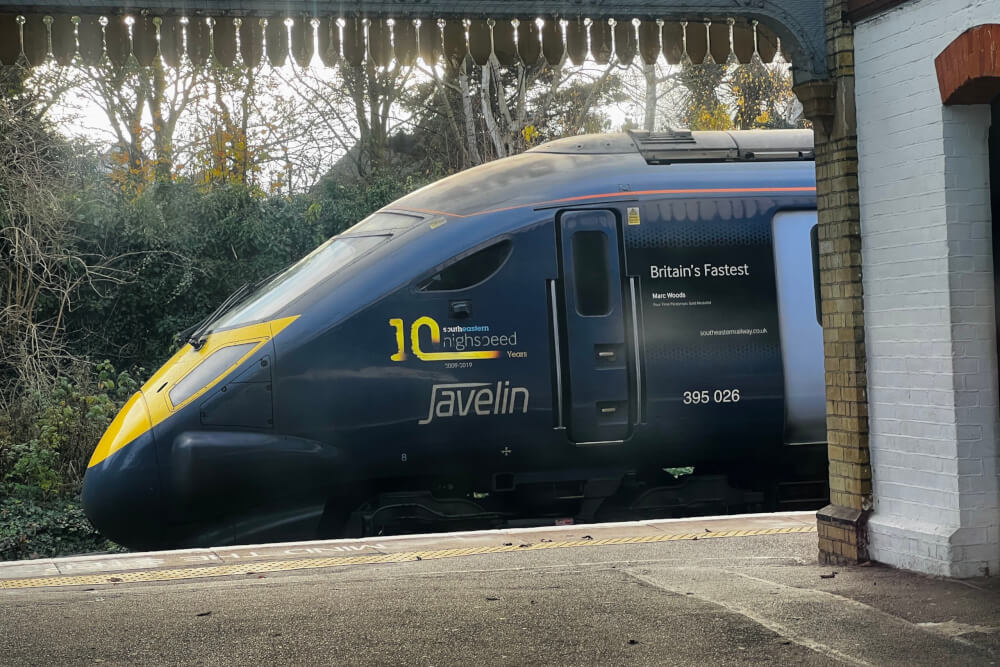 Step One: Decide if Train Travel in the UK is Right for You
First – let's talk alternatives to train travel in the UK.
I quite enjoy train travel in the UK, but it's far from flawless, and there are other ways of getting around that may be better suited to your specific trip and priorities.
Overall, I think taking the train in the UK is great if you're looking for comfort and (depending on the route) scenery.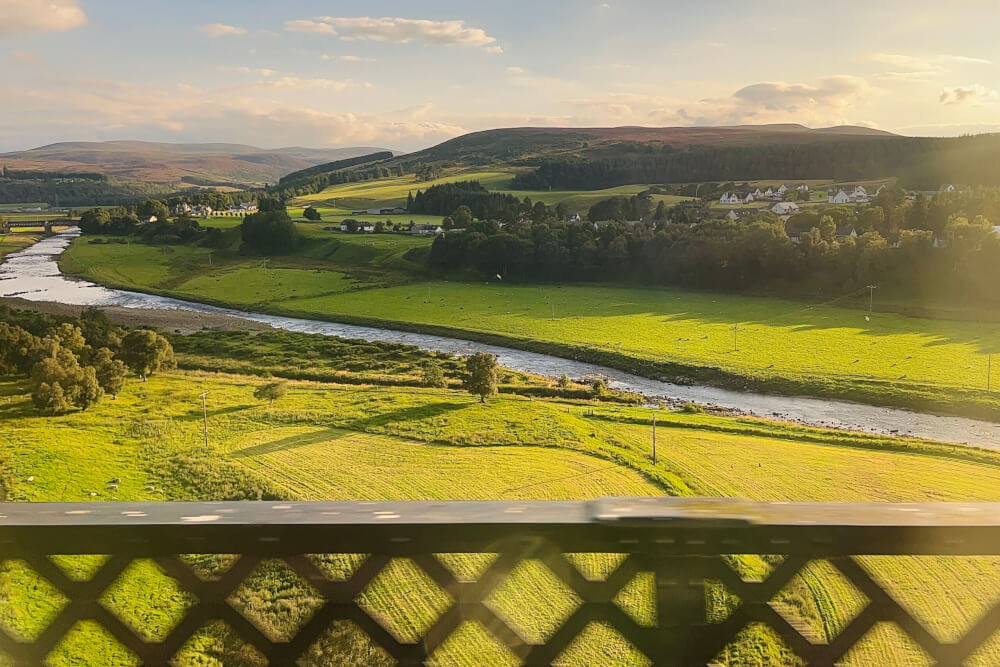 The downside is however it can be really expensive, especially if you don't book in advance. It's also not super convenient if you're travelling with more than one large suitcase per person as hoisting big bags up and around trains isn't the most fun… and there can often be delays and cancellations.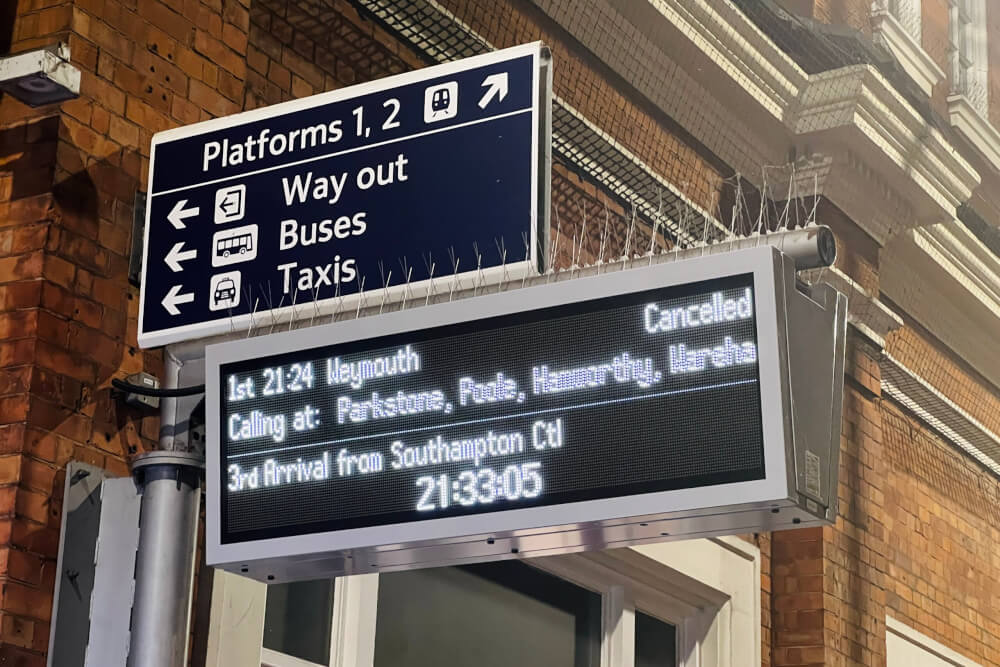 A more budget-friendly alternative may be taking buses like National Express or Megabus, booking a ride share on services like BlaBlaCar or sometimes even flights if you're booking with budget airlines like Ryanair, easyJet and Wizz Air.
Or, if your priority is freedom and getting off the beaten path, it may be worthwhile to rent a car. The UK is relatively small and well connected with highways (called motorways here), so driving between cities doesn't actually take too long, with the journey between London and Manchester only taking about 4 hours for instance.
Overall, if you're torn and want to compare all your options at a glance, Omio is a great app that shows you planes, trains, and flights from Point A to Point B. From there, you can gauge whether train travel suits your needs.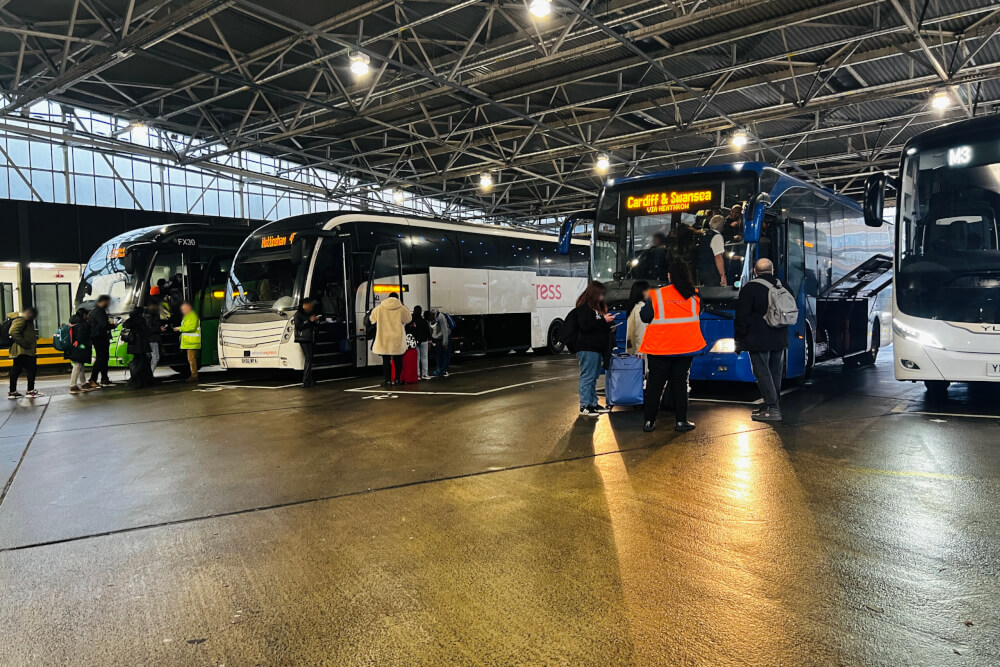 If/when you've decided you do indeed want to take the train, then we move onto…
Step Two: Buy Your UK Train Tickets
Train tickets in the UK can be purchased online in advance, or in-person at the station from a machine or sometimes from a ticketing window run by a (gasp) actual human.
It's important to note however that the UK train system rewards you for booking in advance by making a special category of "Advance Tickets" MUCH cheaper than booking on the day of.
So in any case, I'd advise booking tickets in advance online to minimize stress and secure the best possible deal, either directly through the National Rail website or through a third party website.
NOTE: Some rail providers do not yet provide mobile tickets, which means that buying in advance requires you getting the ticket printed at the station anyway. In these cases, make sure you allow for extra time so you can do that.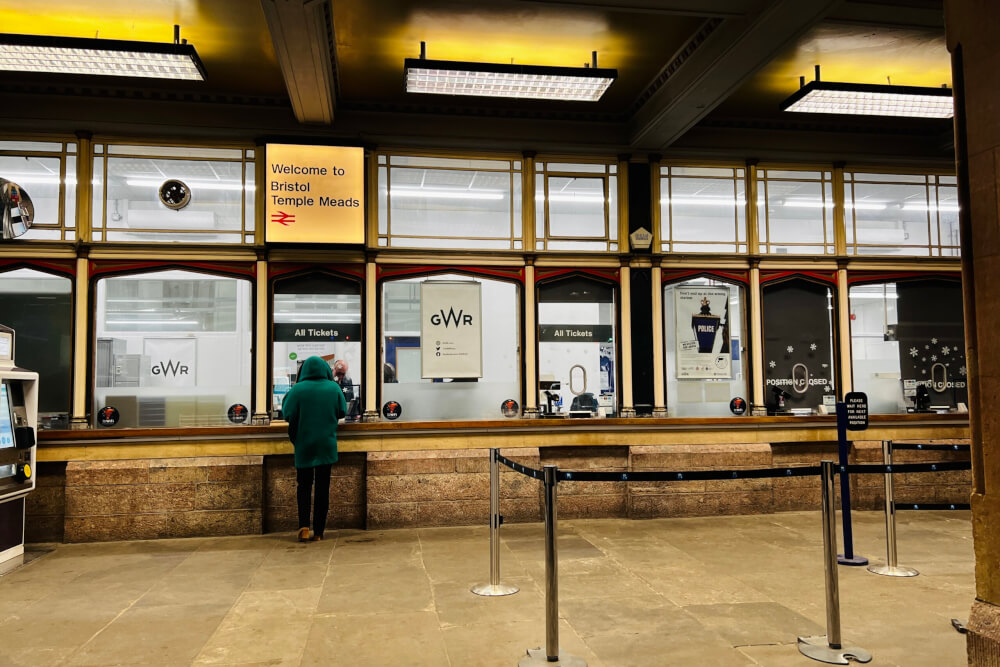 Booking direct with National Rail or your specific train company will pretty much always be the cheapest option as they don't charge extra booking fees, but if you're planning a big trip with lots of trains or buses in other countries across multiple companies, then a 3rd party like Omio or Trainline might be worth the small booking fee to keep all your tickets in one place.
I'm a huge fan of Trainline in the UK because their interface is super simple and there's a lot of perks like automatically finding cheap split tickets, easy refund/compensation requests, etc. You can also request a ticket alert to find out when tickets go on sale for your specific journey through Trainline here.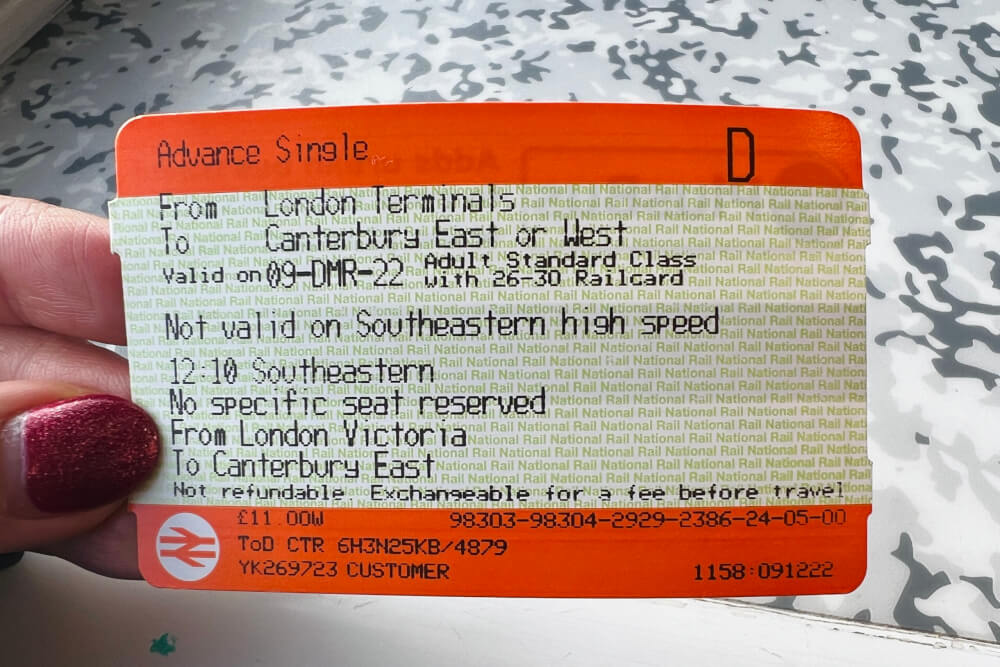 Now, there are a lot of considerations to be made when you go to buy train tickets in the UK. I'll outline them all now.
First off…
RailCard vs No RailCard
If you are visiting the UK for a longer time, or perhaps plan to use a LOT of public transport in that time, then consider getting a RailCard.
These passes cost you a fixed amount per year but then give you a 1/3 discount on all future rail travel… including the Tube if you link it with your Oyster Card!
There is almost always some kind of discount code that you'll find which gives you the rail card for something silly like £20. Depending on how many train journeys you are taking, you could probably make those savings back in just a few trips… if not just one!
At the moment, the options for railcards are…
So let's move onto our next consideration which is…
Standard Tickets vs. Rail Passes
If you are only booking a few train journeys during your time in the UK, the best option is most likely to just buy tickets for the journeys you're taking.
Generally, the best way to get a deal is just booking early enough to nab an Advance ticket.
Other potential discounts include…
Age-based discounts: Kids under 5 ride free for instance, and children from 5-15 get 50% off
Group discounts: Groups of 3-9 adults can get 1/3 off off-peak fares through Group Save
If you can't book in advance though, a potential cost saver could be a rail pass of some kind.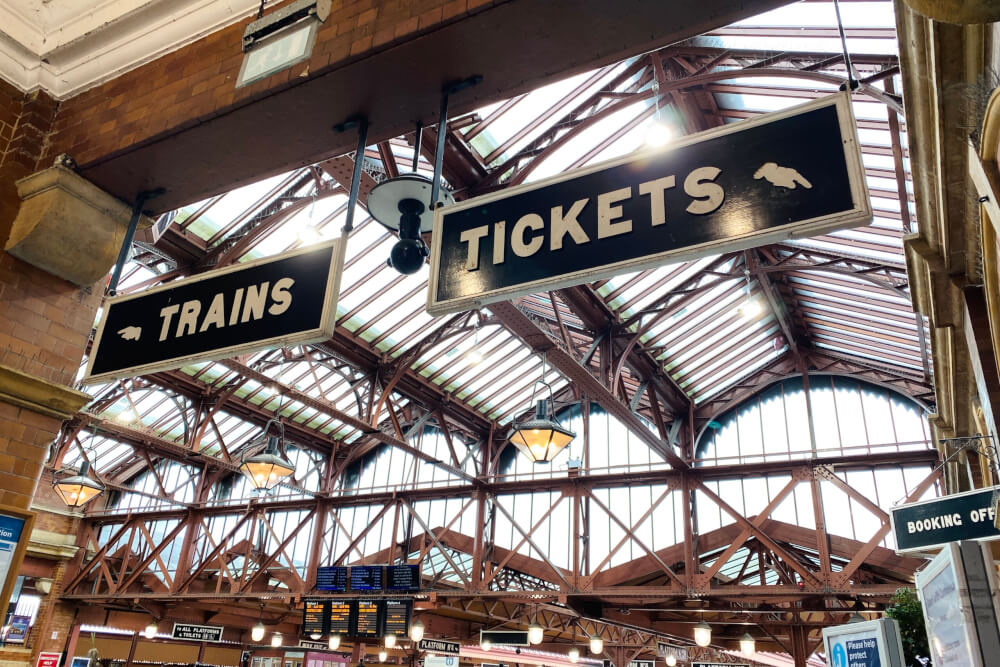 If you are a tourist (i.e. you don't live in the UK), you plan on doing frequent trips, particularly day trips, and you need some room for spontaneity and prefer to not book everything in advance, then there are two options.
For travel in a smaller area, some regions offer 'Ranger and Rover Tickets' that give you unlimited travel within a set area and time period. You can browse a full list of those here.
As a tourist however (i.e. someone who isn't a UK resident), you can also buy a BritRail Pass.
These passes allow you to pay a set rate for a number of travel days, on which you can take as many trains as you want. I've used these in the past and found them to be amazing value if you need spontaneity.
If you are travelling to other countries in Europe, it may be worth getting a Eurail Pass, also known as an Interrail Pass when you're a resident of Europe.
Used properly, these passes can save you a lot of money, but only in certain situations so for more information on that, be sure to read my full Eurail review.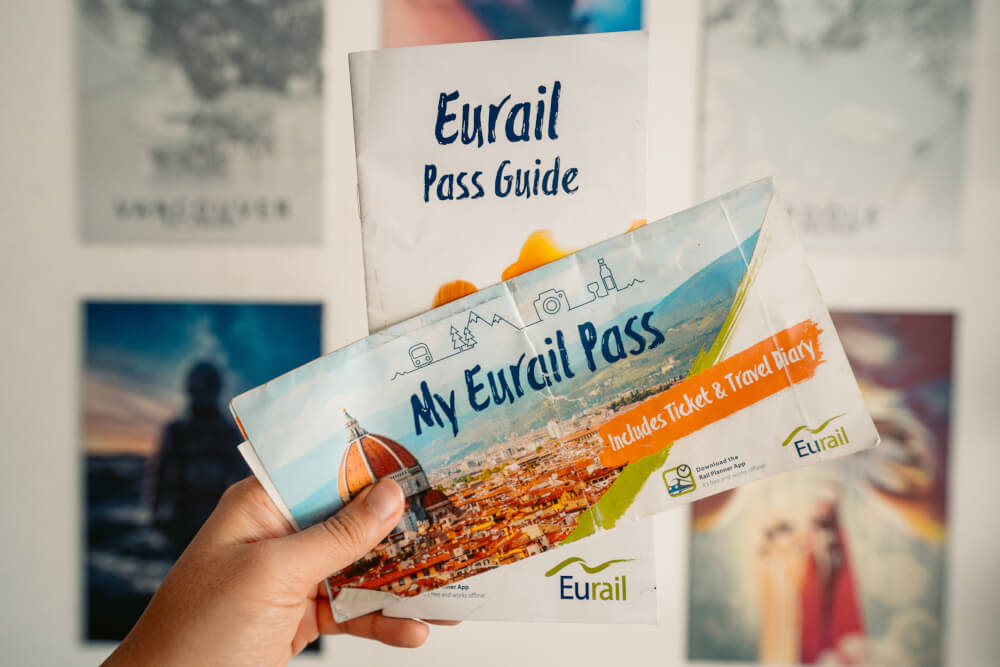 BONUS TIP: If you are travelling between the same destinations frequently, it may be worth looking into a Season Ticket, which gives you unlimited travel between two places.
If you choose to buy just standard tickets and not a rail pass, then another consideration is…
Anytime vs Off-Peak vs Advance
When you go to buy National Rail tickets, there are generally three types of tickets you can buy with differing flexibility (and therefore cost).
Anytime Tickets offer the most flexibility. With them, you can travel on any train, any time, on the chosen route, without restrictions. As such, they are the most expensive, but are ideal for those who need a flexible schedule.
Advance Tickets are often the most budget-friendly option. True to their name, you must book them in advance, especially because there is a limited number of them so booking in advance is essential. With Advance tickets, you are tied a specific train and departure time. NOTE: All Advance tickets are sold as single tickets.
Off-Peak Tickets are slightly more flexible than Advance Tickets and cheaper than Anytime tickets. They restrict you to travel during 'off-peak' (i.e. less busy) periods, generally weekends, public holidays, and mid-morning, mid-afternoon and later evening on weekdays. There are sometimes even cheaper Super Off-Peak Tickets for more limited time windows.
So, which of these ticket types should you go for?
If you need optimal flexibility and don't mind paying extra, get an Anytime Ticket
If you need some flexibility, but can travel in off-peak periods, get an Off-Peak Ticket
If you want the cheapest possible ticket, can plan well in advance, and don't mind being restricted to a certain train/time, get an Advance Ticket
As for how to find these different ticket types, by default, both the National Rail website and 3rd parties like Trainline should try to show you the cheapest option first, so if an Advance Ticket is available, that's the one that they'll show you.
If you'd prefer the flexibility of an Off-Peak or Anytime Ticket, then you can click "Other Tickets" to show the other options. This is what that looks like on the National Rail website for instance: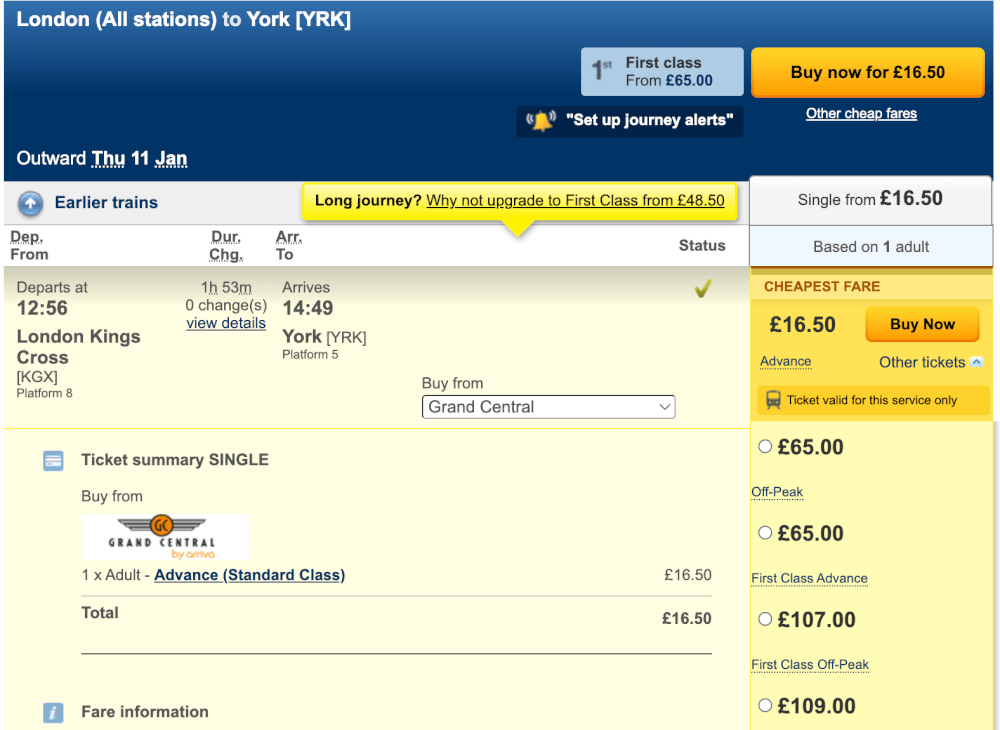 And on Trainline, you can click "Compare all available ticket types" at the bottom of your search results to show a very cool table that compares your different options: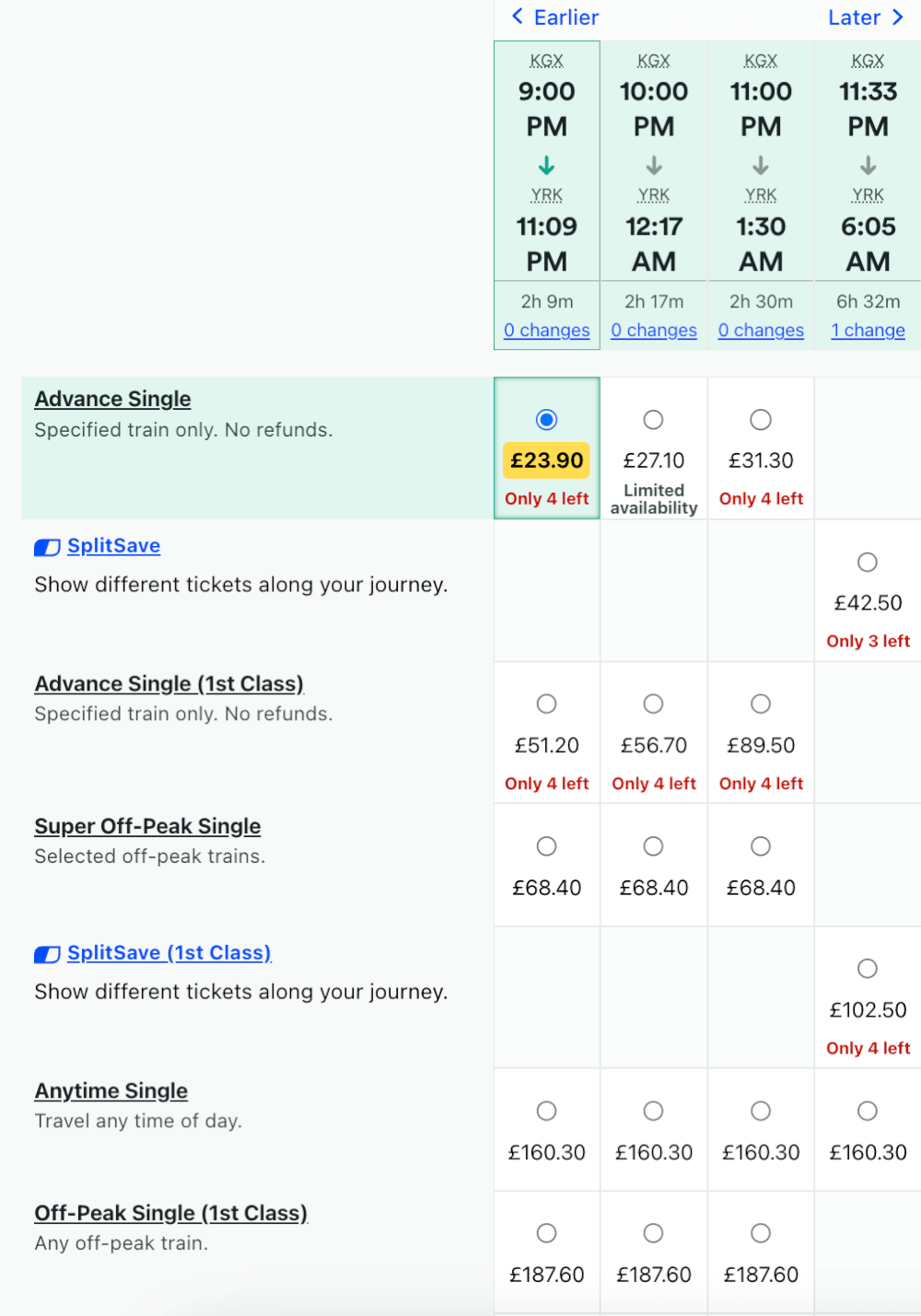 NOTE: Advance tickets generally go on sale 12 weeks before travel, with Anytime & Off-Peak tickets sometimes going on sale a little earlier… SO beware that you're not trying to plan too far in advance, because then you might only see the pricier anytime & off-peak tickets as the advance tickets are not yet available.
In any case, besides being cheaper, I'm a huge fan of travelling off-peak periods just because the trains are less busy, so you're more likely to find space to sit/store your bags.
The last thing you want to do is get stuck in a commuter rush, especially if you have the luxury of choice, so travel at off-peak times whenever possible.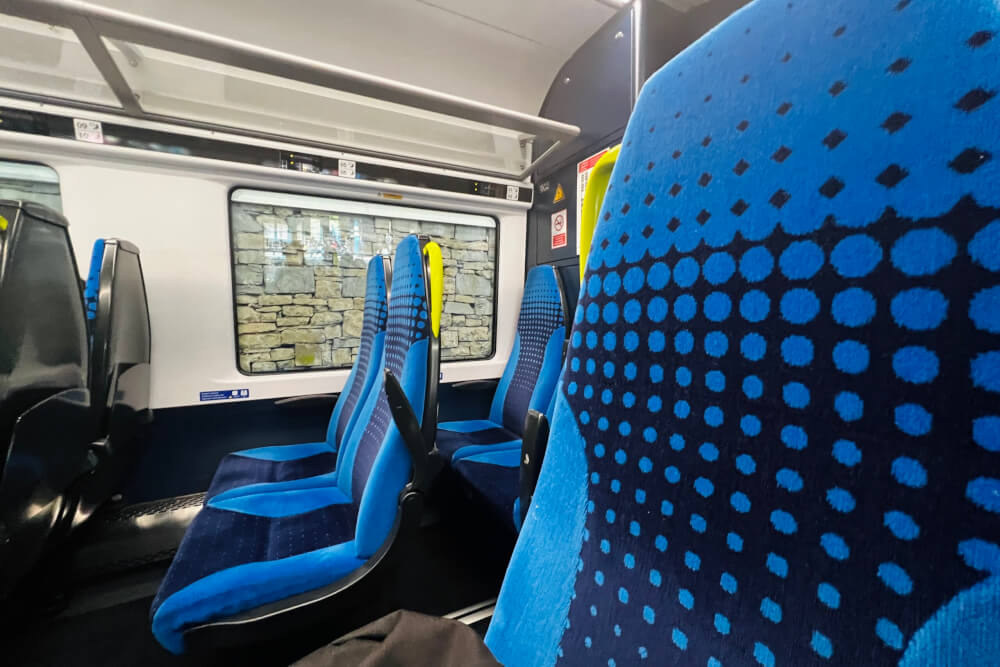 Single vs. Return
Alright now the next consideration is whether you're buying a single or Return.
Advance Tickets are only ever available in Singles.
However, Off-Peak and Anytime Tickets can often be cheaper if you commit to a roundtrip fare. Annoyingly though, this will depend on your exact route/trains, which is why I like using Trainline to compare options.
If cost is a big factor for you, definitely compare different options because sometimes a roundtrip off-peak can work out cheaper than two Advance Singles.
For instance, one time I got confused and bought two singles for my day trip to Stratford Upon Avon and ended up paying 50% more for a ticket that was LESS flexible than the one I got. So much regret!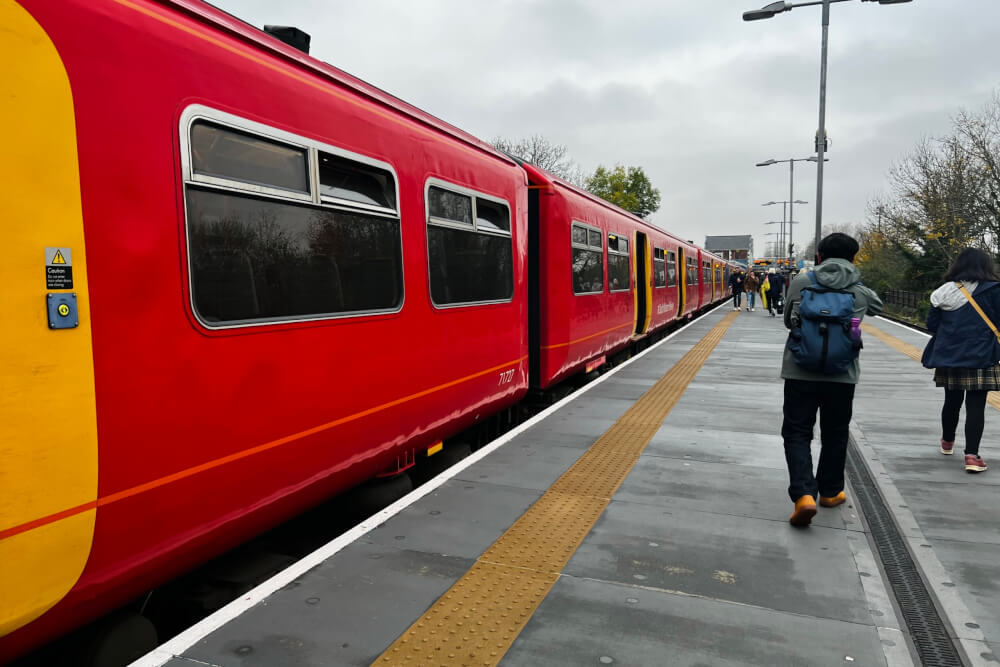 Split Tickets vs Regular Tickets
Further adding to the confusion is the fact that sometimes, it's cheaper to buy two split tickets for one journey rather than a single one. This doesn't change your journey at all – you basically just have separate tickets for one ride, so depending on when the inspector comes around, you have to show them a different ticket. This can be an easy way to save a bit of money.
Split tickets are part of the reason why I like using Trainline. They find these split ticket deals for me automatically and I can buy both at once, so it's no different to buying a normal ticket – just a bit cheaper!
NOTE: When choosing your journey, always prioritize direct connections or routes that make fewer stops. These will usually cost more, but trust me, it's worth every penny! Transfers are simple enough when trains run on time, but as soon as you're hit with a delay, that can disrupt your entire journey and make things 100x more stressful.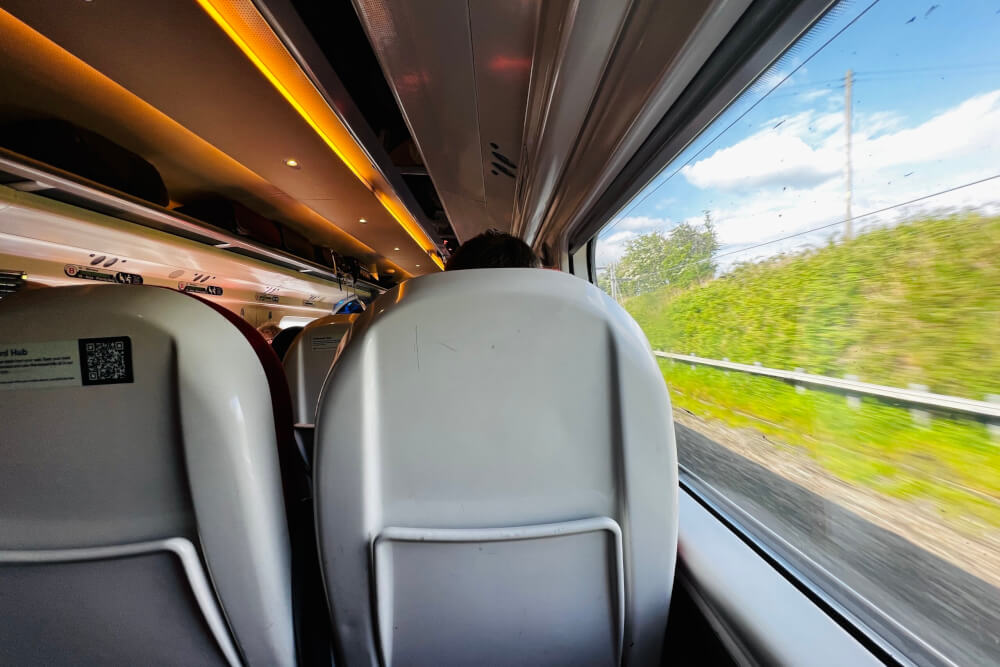 1st vs 2nd class on UK Trains
Is splurging on 1st class worth it on UK trains? Honestly, this depends on your journey length and the type of train you're hopping on.
With regional and shorter distance trains, the difference between 1st and 2nd class in the UK is fairly minimal, and (in my opinion) not worth the extra cost, unless your company is paying, or you really want to guarantee yourself a seat in a quieter area with a bit more leg room.
With longer distance Intercity trains however, 1st class often comes with additional perks like complimentary food and drink, along with roomier and comfier seats that may be worth it for a long journey.
So, to decide whether or not 1st class is worth it, be sure to research if there are any good 1st class perks on your particular train.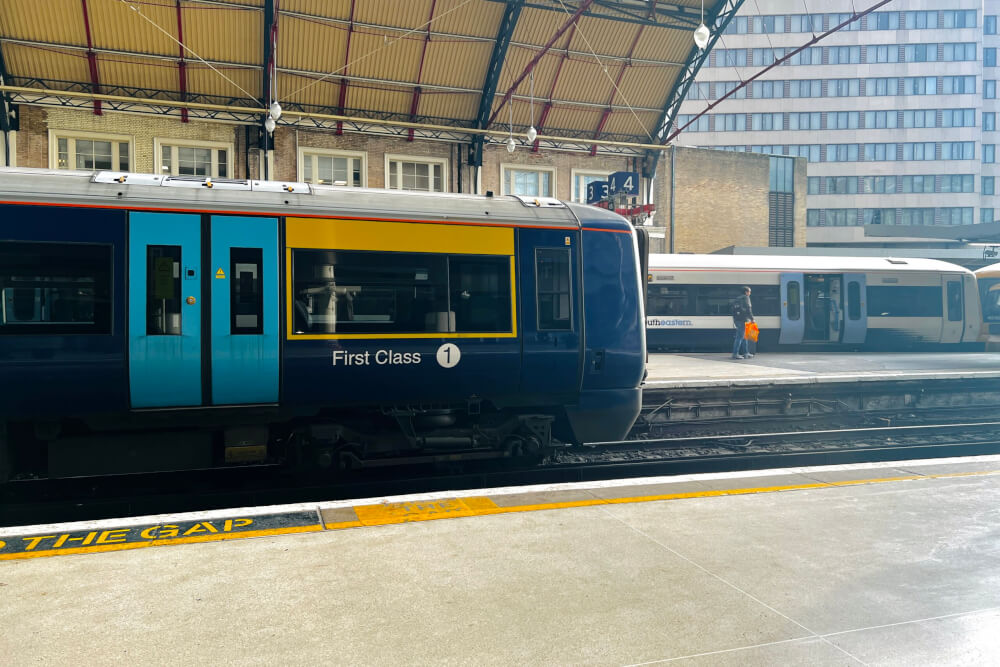 The next consideration is…
Reserved vs. Unreserved seats
In the UK, reserved seats tend to only be mandatory for longer distance journeys. In these cases, the obligation to make a reservation will be clear when you buy your ticket.
If given a choice, some considerations for which reserved seat to book might be…
Seat position: Window is more ideal for wistfully staring out at the world, aisle gives you a bit more leg room/freedom
Direction of travel: Some seats may be facing backwards so if that bothers you, plan accordingly. Beware however that sometimes trains reverse directions on a route.
Quiet zones: These are special carriages where you're not meant to play music/use your phone at a loud volume or have loud conversations. Perfect if you want some peace for your journey!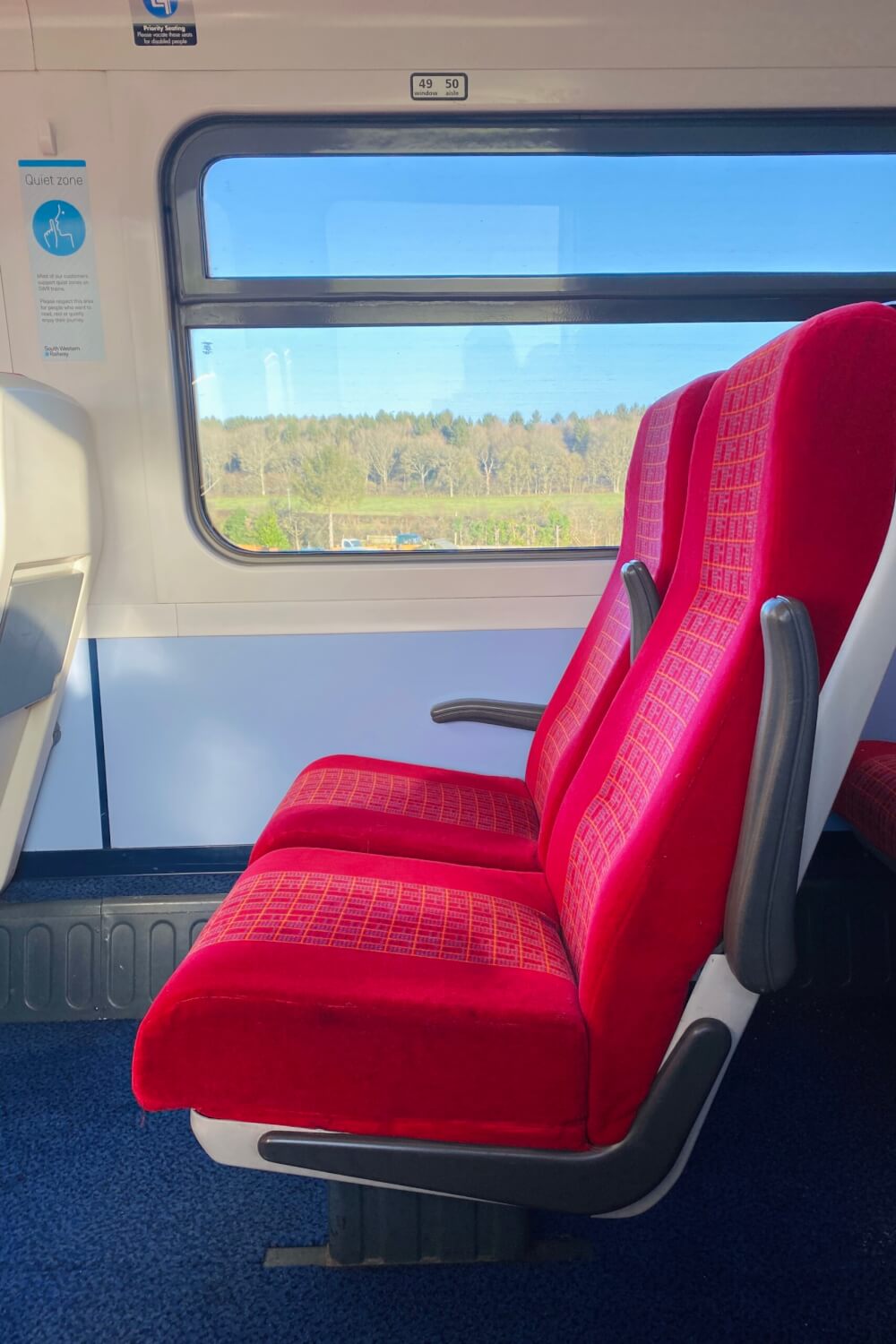 Alright with your tickets booked it's time to move onto the day of your journey, with…
Step Three: Get Snacks
On the day of your journey, I highly recommend you get some food and drink to bring with you on the train (especially for longer trips). This is completely allowed on UK trains, and you can even BYOB.
While there are some refreshment options on board with long distance trains, they tend to be fairly limited and pricey, so getting your own gives you more control. On most shorter distance trains, there are no options for buying food or drink on board at all.
So, at the very least, I'd get some water or something to drink. There's often great options even at the train station itself, including many chains that offer the almighty Meal Deal.
As I mention in my England travel tips & Scotland travel tips articles, Meal Deals are a UK staple that consists of getting a main course, snack and drink for less than £5. Great for a budget-friendly to-go meal.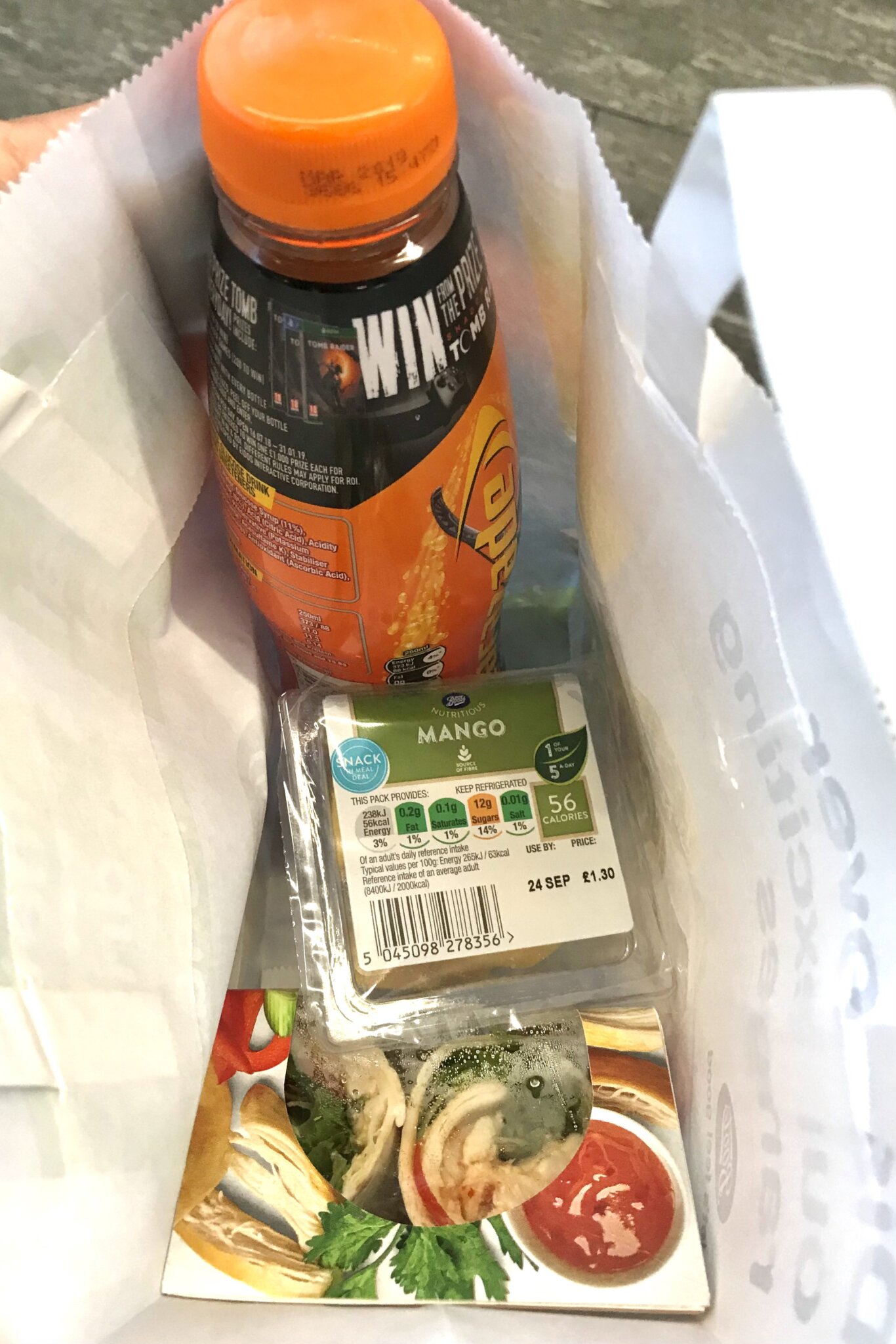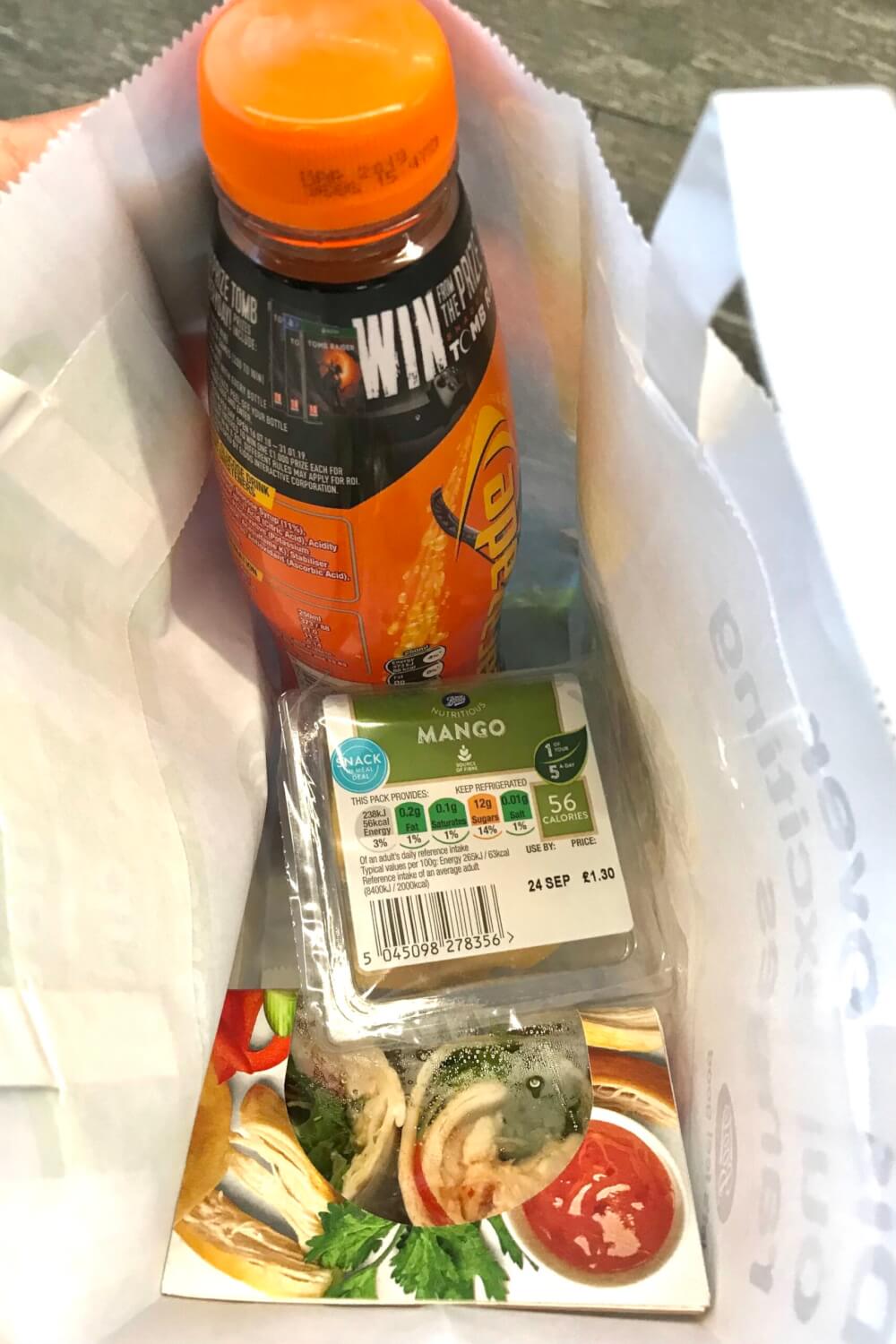 Now let's move onto…
Step Four: Arrive at the Station
Train stations in England vary a LOT in terms of size and design. You'll have everything from tiny stops in the countryside with only one platform to massive, grand, stations with champagne bars, shops, and public pianos.
If you're anxious about the station you're travelling to/from, there's a handy tool provided by National Rail that allows you to view station plans and amenities here.
There are some overarching themes and considerations though.
First, when you get to the station's main concourse, your priority is finding out which platform your train is on. Sometimes, these platforms aren't announced until the train arrives, which can create a bit of a tense/stressful environment where everyone is just staring up at the board, waiting to see the platform number come up.
NOTE: Sometimes apps like Trainline will tell you before the board even changes, which gives you an extra advantage in the Hunger Games of boarding.
But in any case, if your platform hasn't been announced yet, the key is to hang tight and be ready when the number does come up.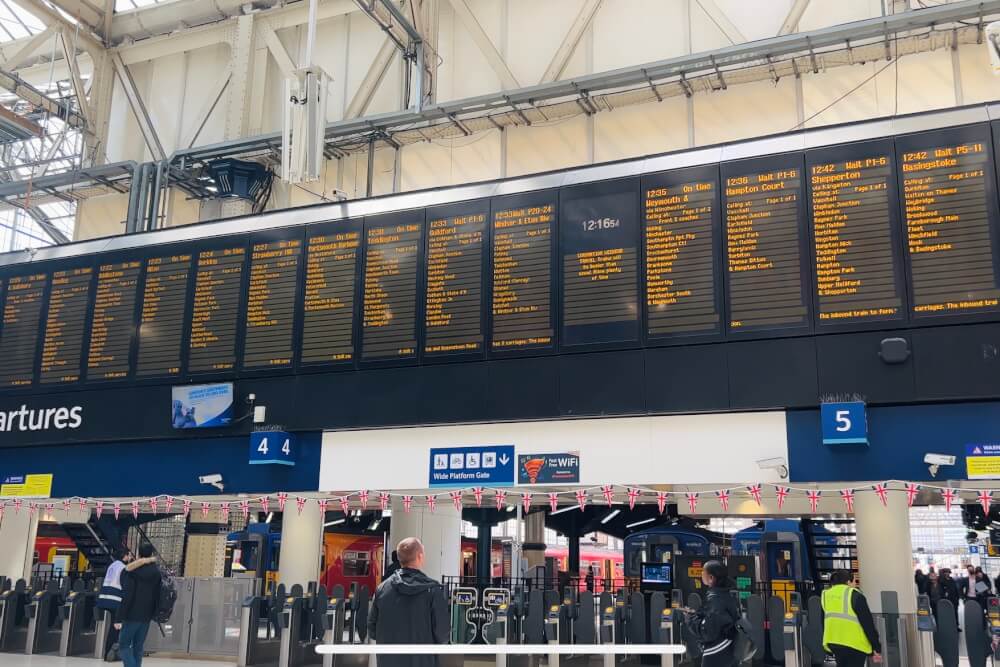 Remember, when looking at the board, trains will not necessarily say your destination, but rather the final destination of the train, so if you don't see the name of where YOU'RE travelling to, don't panic.
Look for the time and train number, and (when available) the list of stops to see if your destination is listed, then figure it out from there.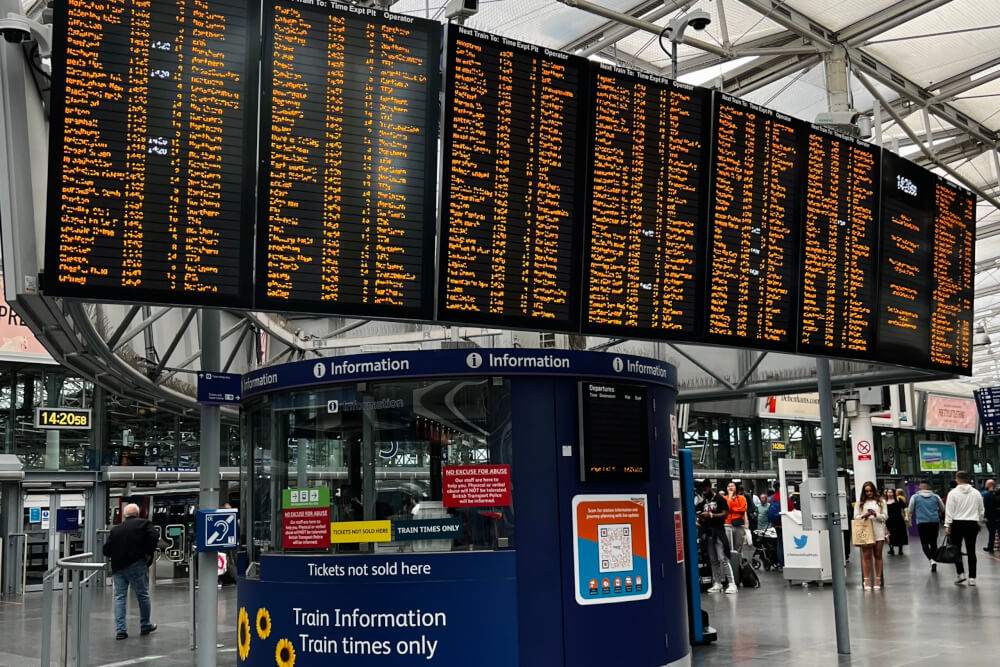 Next, it's time to…
Step Five: Get to the Platform
Platform numbers will generally be very well marked so just look up for signs before making your way.
Be sure to have your ticket handy, as many stations will have fare gates where you'll need to scan your ticket to get on the platform (or get a staff member to let you through manually).
Now where do you put/scan your ticket? This can sometimes be unnecessarily confusing, and depends on whether you have a digital or physical ticket.
For physical paper tickets, look for a slot to insert it, like this: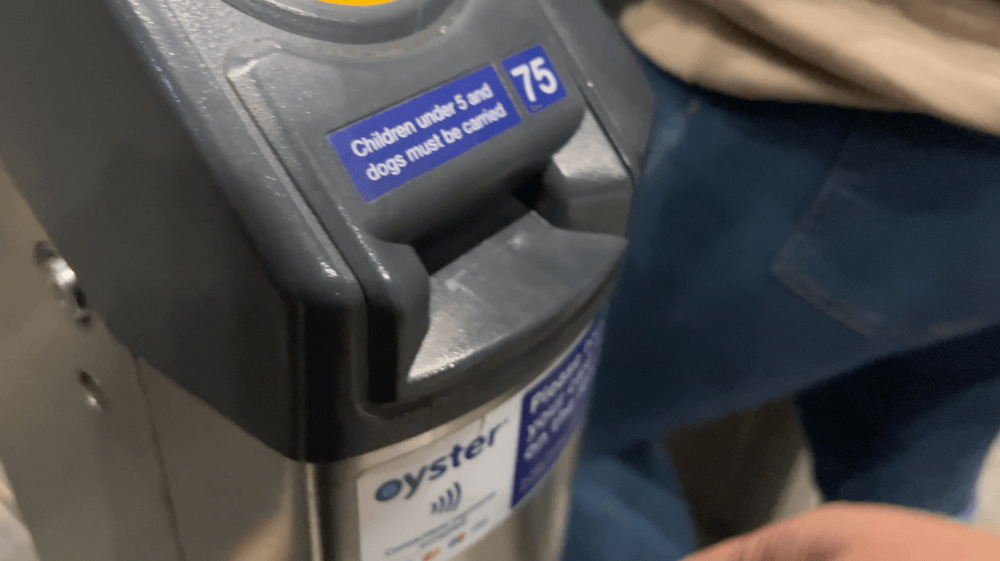 For digital tickets, look for a fare gate that has a special digital scanner for barcodes. Beware that not all fare gates have them, and some might only have a contactless pad for cards or slots for paper tickets.
Here's a confusing example from London, where there's three potential places to tap/scan depending on what kind of ticket you have: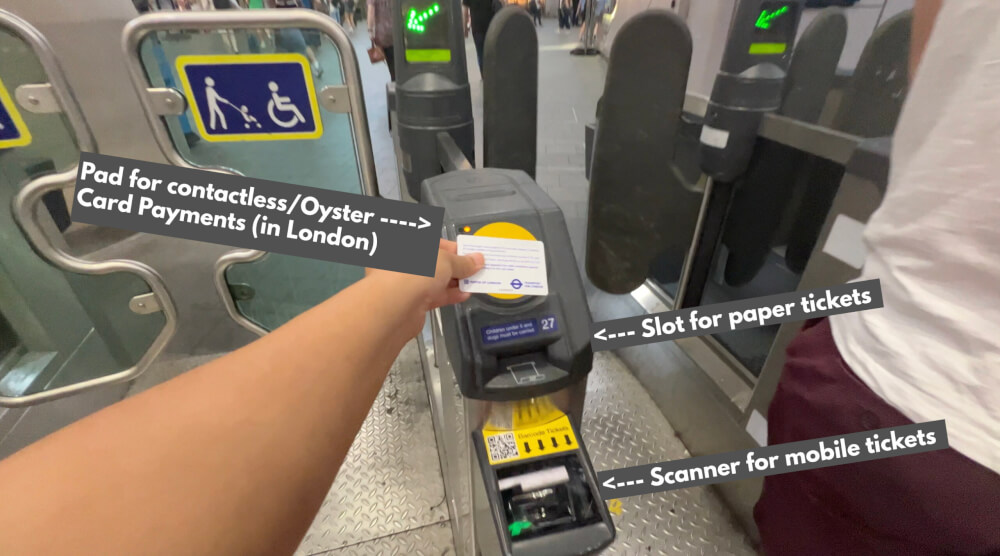 When you get onto your platform, double check it's correct by confirming either on a platform screen or on the side of the train that you're in the right place before proceeding to find your carriage.
Be sure to look on the board for any special notes (i.e. you should sit in the first 5 coaches if you are getting off at x stop).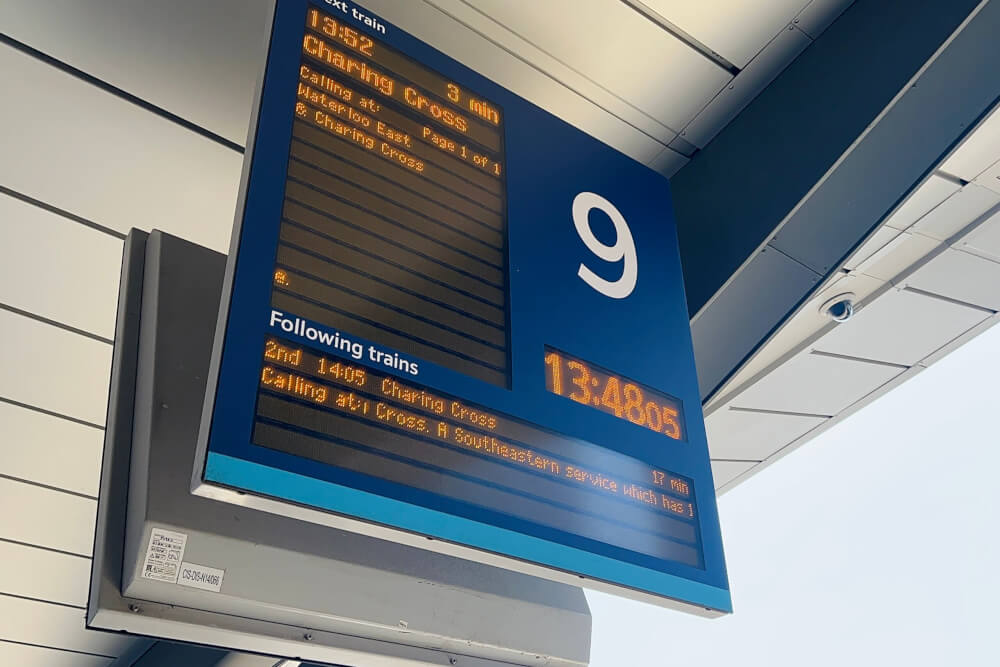 Next up, it's time to…
Step Six: Find Your Carriage
If you have a reserved seat, then you'll need to take some extra steps to make sure you get to the correct carriage once the train arrives.
Some UK trains can be very long, so if you have a seat reservation, make sure you're standing in the right part of the platform to get onto your carriage.
With reserved seats, a handy thing to look out for is some kind of platform/carriage plan that tells you which part of the platform to stand on depending on your carriage number. Some companies like Avanti West Coast even make these plans available online here.
When in doubt though, you can always ask a staff member.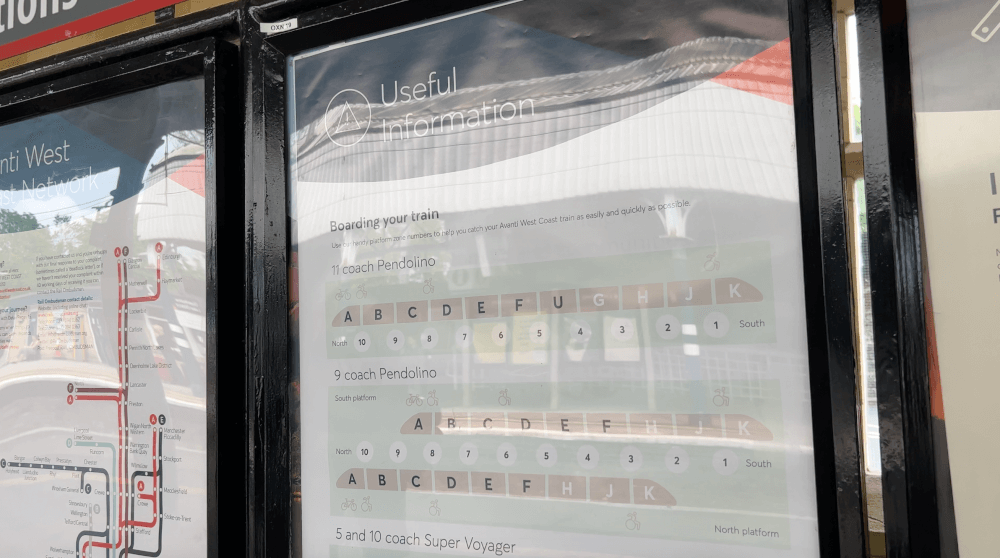 If you do not have an assigned seat, then you simply need to board a carriage in the right class, then pick a free seat.
When picking a carriage to board, pay special attention to…
The class number of the carriage (you may only board the class you've booked for)
Whether they are special carriages meant for a certain purpose e.g quiet zone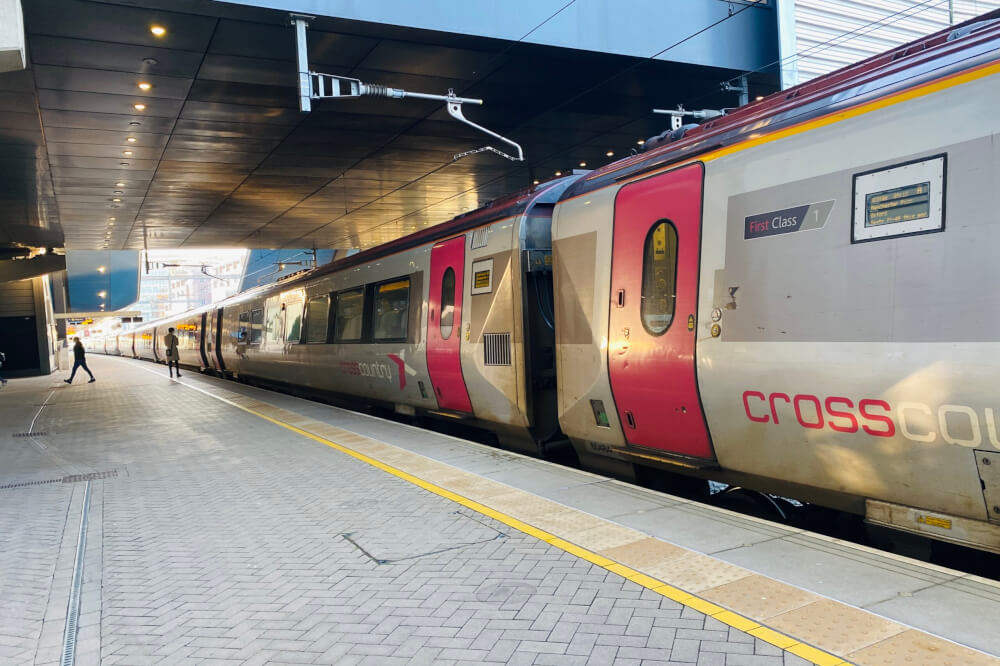 If you don't have a reserved seat, then usually I find the farther you walk, the emptier the carriages will be.
Once you find or choose your carriage, then it's time to hop on board.
If the door isn't opening then look for a button like this <> and press it. This goes for the train doors as well as carriage doors.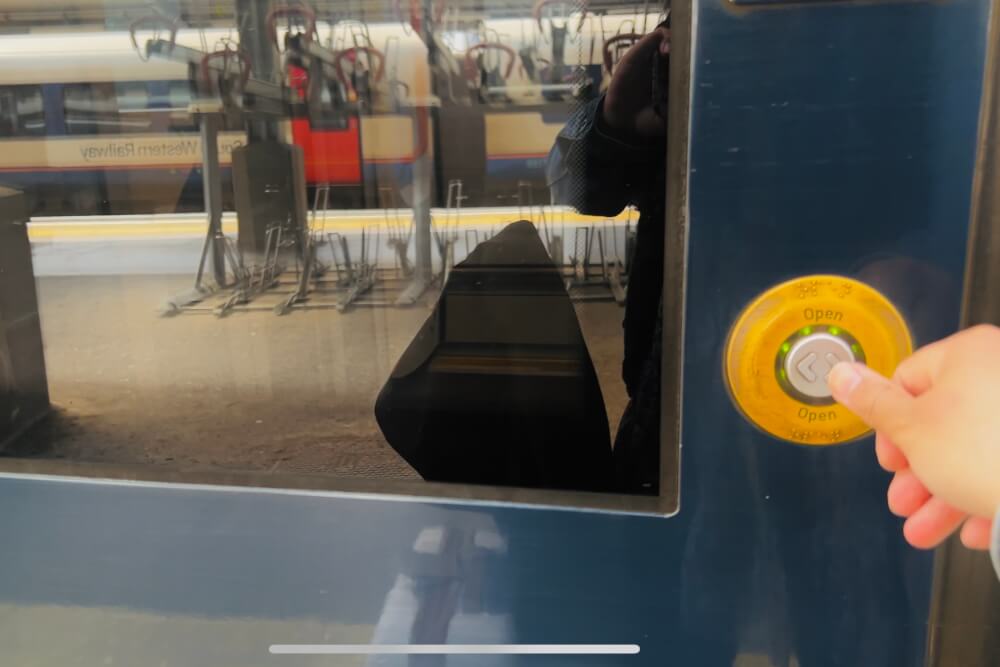 Now it's time for…
Step Seven: Find Your Seat
First off, if your seat is assigned, try to make sure you go in through the correct door closest to your seat.
Long distance trains will usually write the seat numbers on the corresponding door, like so: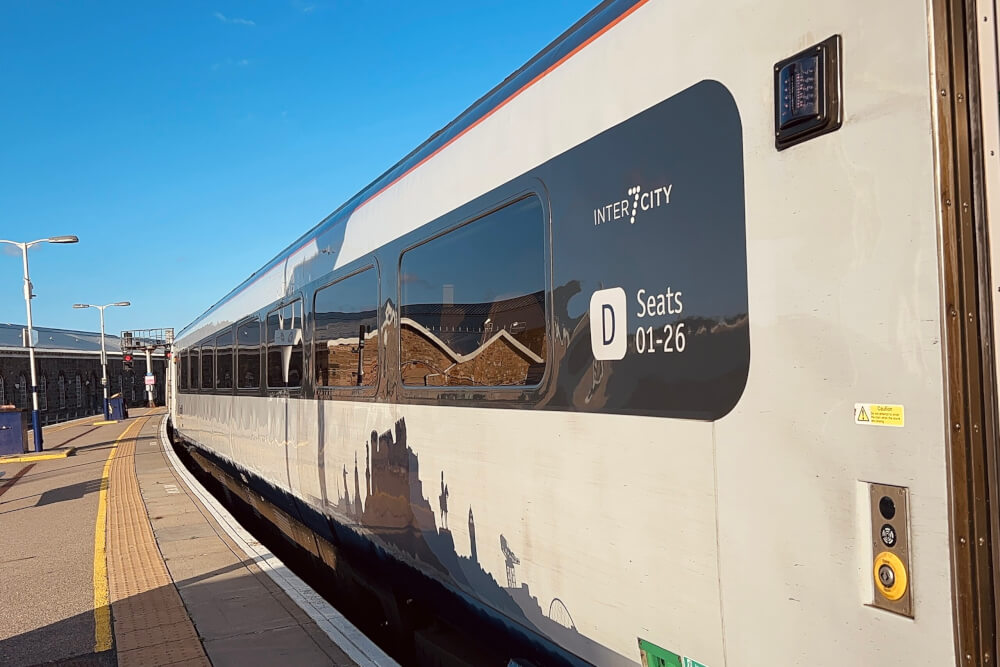 If you have large bags, keep an eye out for large luggage racks when you enter. These will usually be found on the ends of the carriages.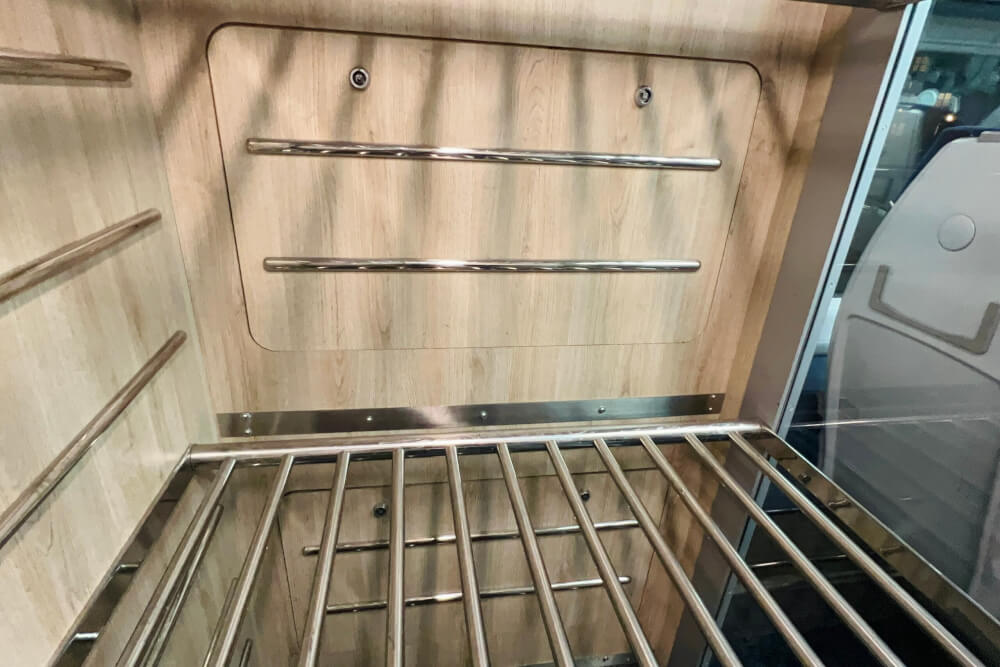 With smaller bags/suitcases, there is usually space above your seat for it, or sometimes under and between seats, as marked.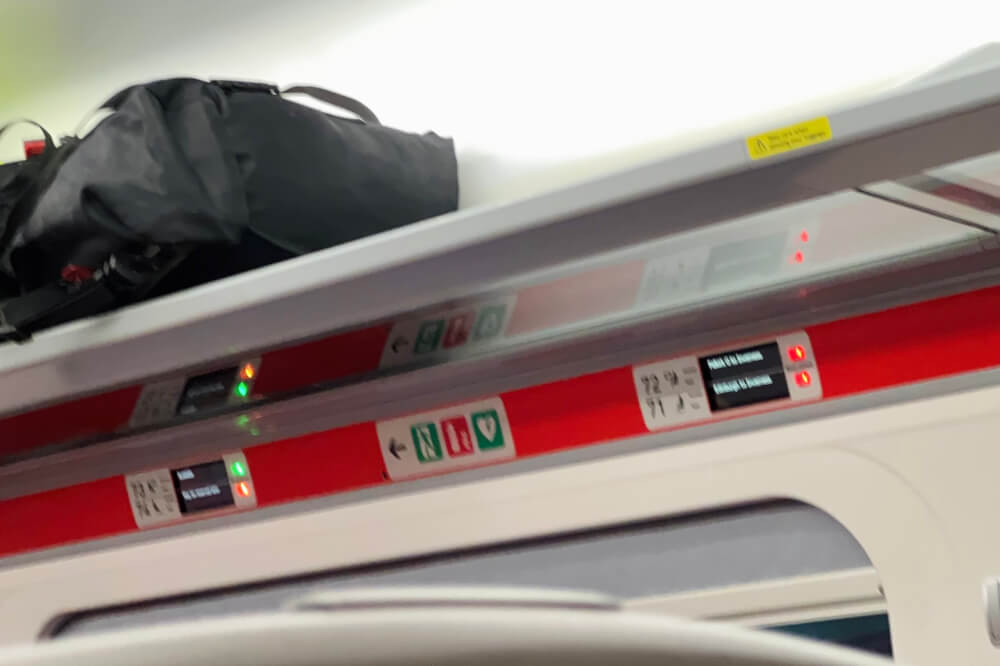 If you don't have a reservation, before sitting down, make sure your seat isn't reserved and make sure you're not taking up a priority space if the train is looking full.
Train reservations in the UK can either be marked on electronic screens or (in more old school cases) paper slips attached to the seat.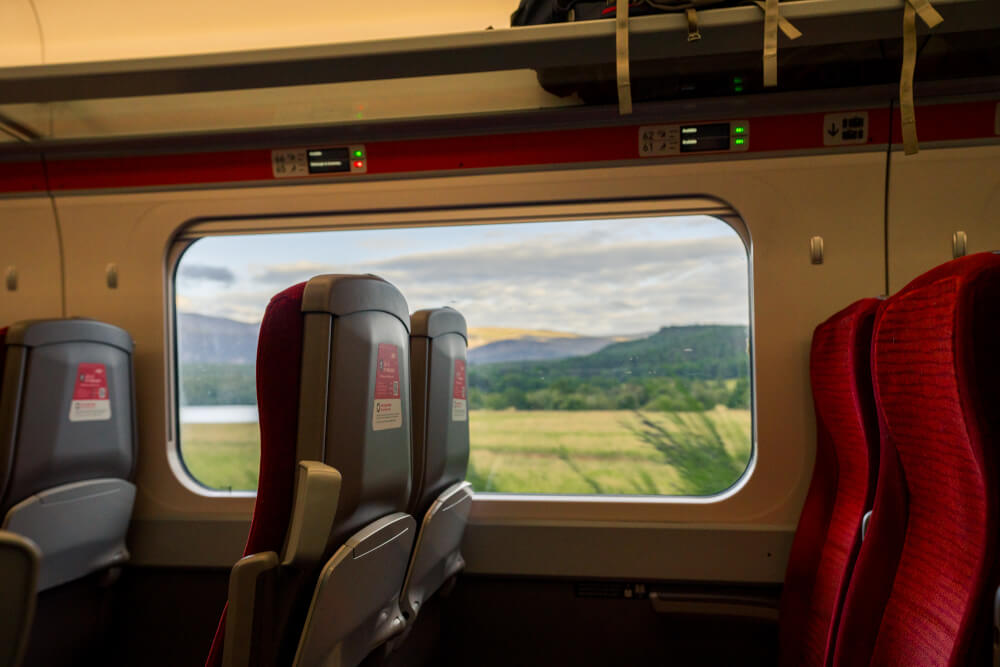 In any case, make sure to read the routes that the seats are reserved for.
The red lights may seem ominous but sometimes the seats are only reserved for a partial journey OR sometimes they are even just leftover reservations from the last journey, and the train just hasn't changed them over yet.
So, if the stated reservation doesn't overlap with your journey, it should be fair game!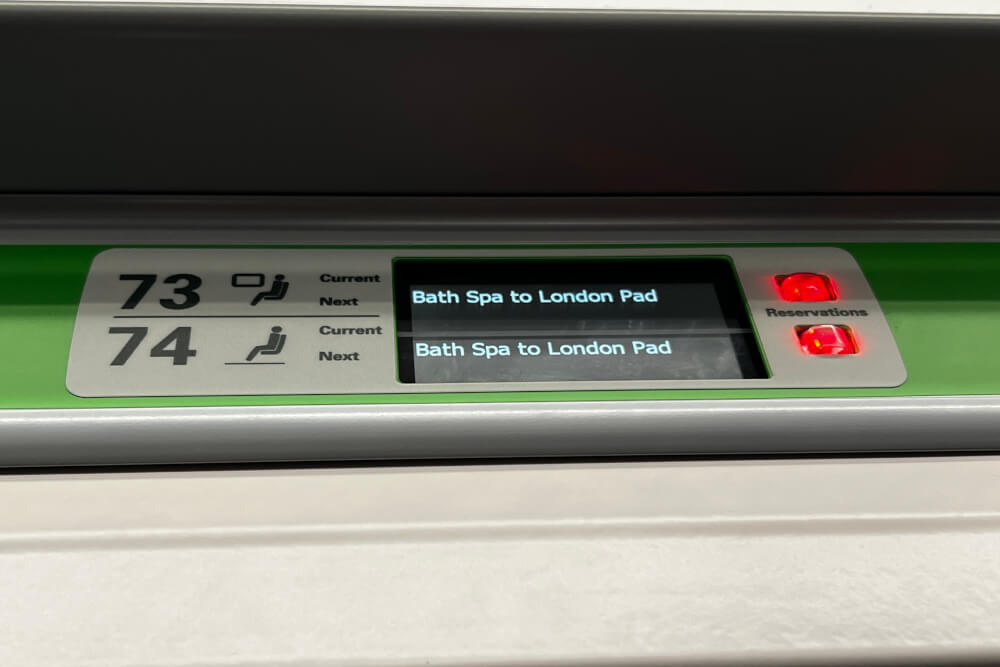 Now finally, onto…
Step Eight: Get Comfortable and Enjoy the Journey!
Once you're all settled, you're now in a good place to enjoy some of the hidden features and amenities of your train.
Okay, I say "hidden", but what I mean is they're easy to miss, especially if it's your first time on board a UK train.
So, be on the look out for…
Coat hooks: These can be found on the wall next to your seat – sometimes they may need to be pulled out. You can leave coats, scarves, etc. on those.
Storage space: Usually there is some space above your seat for you to store small bags or coats.
Plugs: Most trains will have an area to charge electronics. Sometimes they are clearly visible on the wall, other times they are hidden between two seats.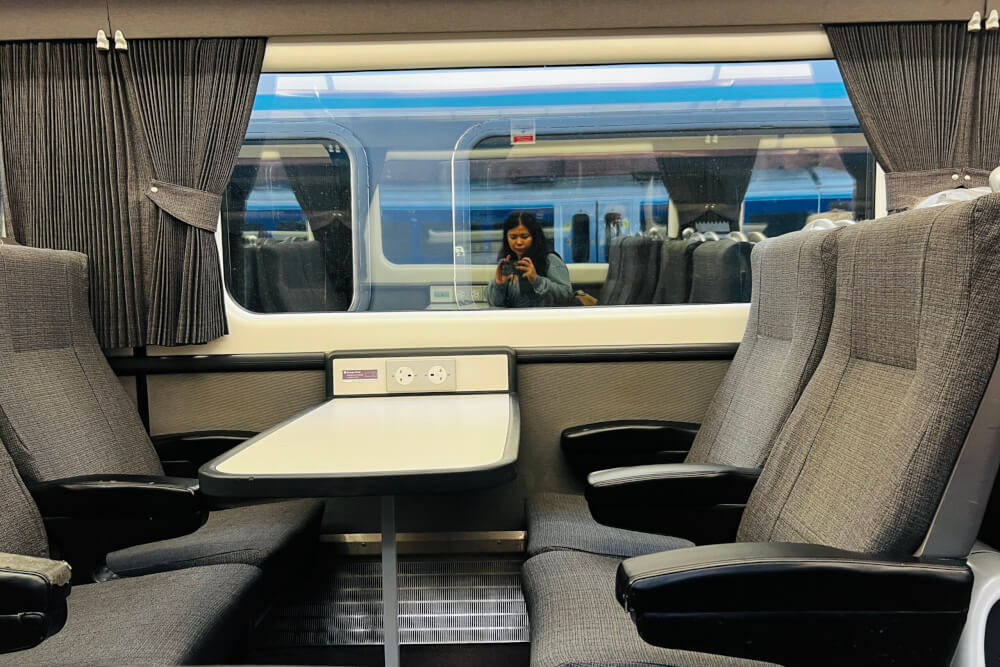 WiFi: Most trains will have WiFi available although quality is questionable depending on where you are.
Bathrooms: And of course, don't forget to look for the on-board bathrooms (which are free). They're typically found at the ends of carriages.
Now, as you get comfy, keep your ticket, RailCard, and ID handy in case controllers come on board. Depending on the route, you may not always get checked by a controller, but it's good to be prepared just in case.
And then, just sit back and enjoy the journey!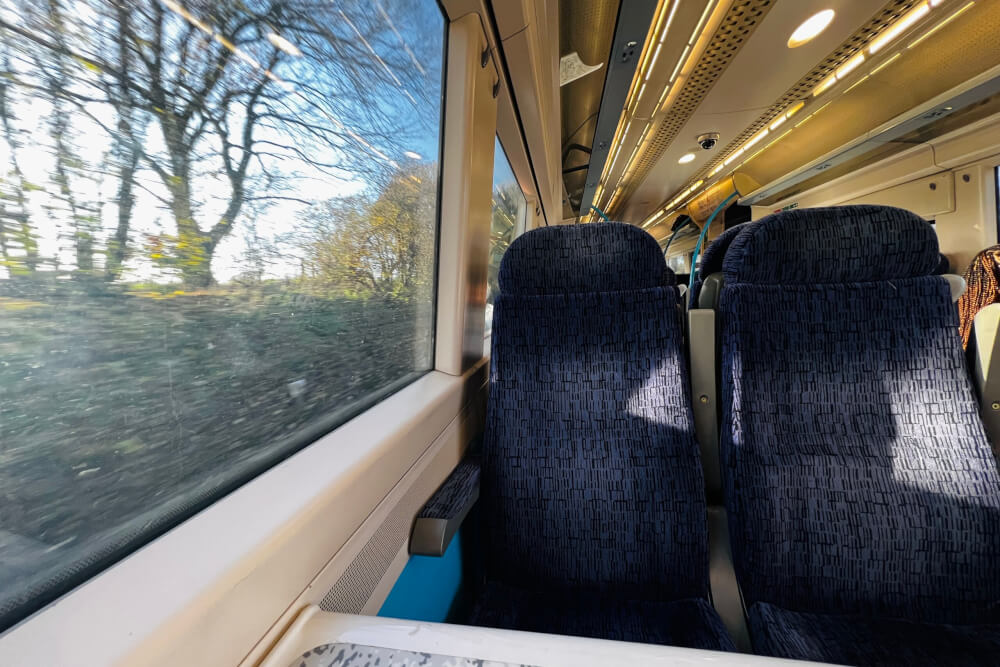 Now after your journey is complete, it's onto…
Step Nine: Disembark
If you are not getting off at the end destination, then start prepping for disembarkation about 10 min before your arrival time. This gives you plenty of time to gather your belongings and bags in a rational, non-crazed manner.
I like to keep an eye on my location via Google Maps so I have a rough idea of how far I am from my stop.
NOTE: The term "alight here" is often used on UK trains. It basically means, "get off here" and is often used in the context of "alight here for x connection, or x place".
Make sure you memorize the name of the stop you're meant to get off at because most major UK cities have multiple train stations and it gets a little confusing once you're in the city.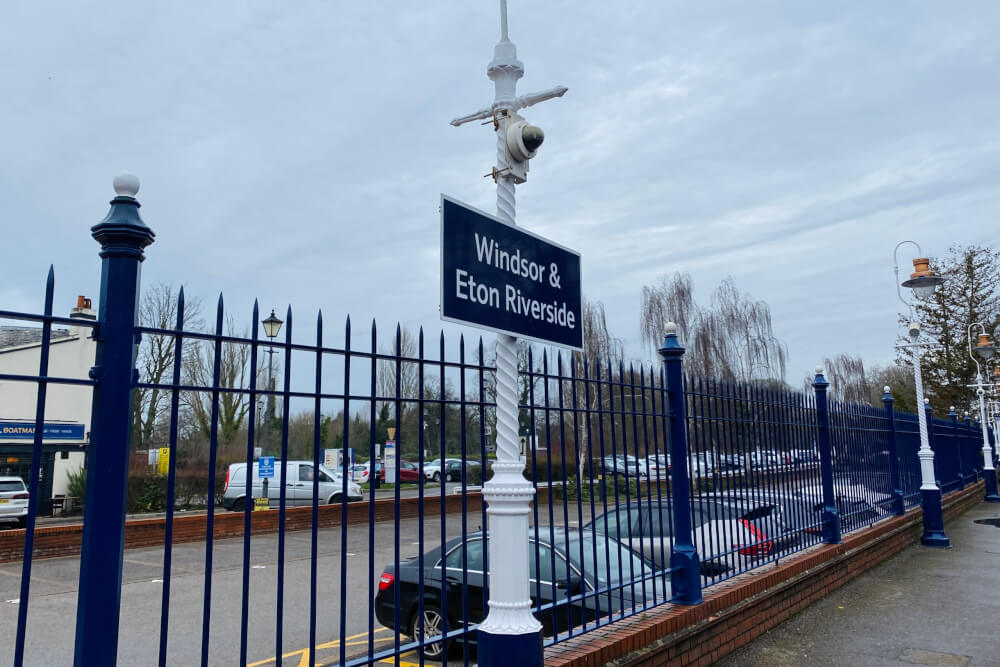 Upon arrival, if the door isn't opening then again look for a button with the <> open symbol.
Once the doors are open, be careful getting off the train as there's often a gap/step.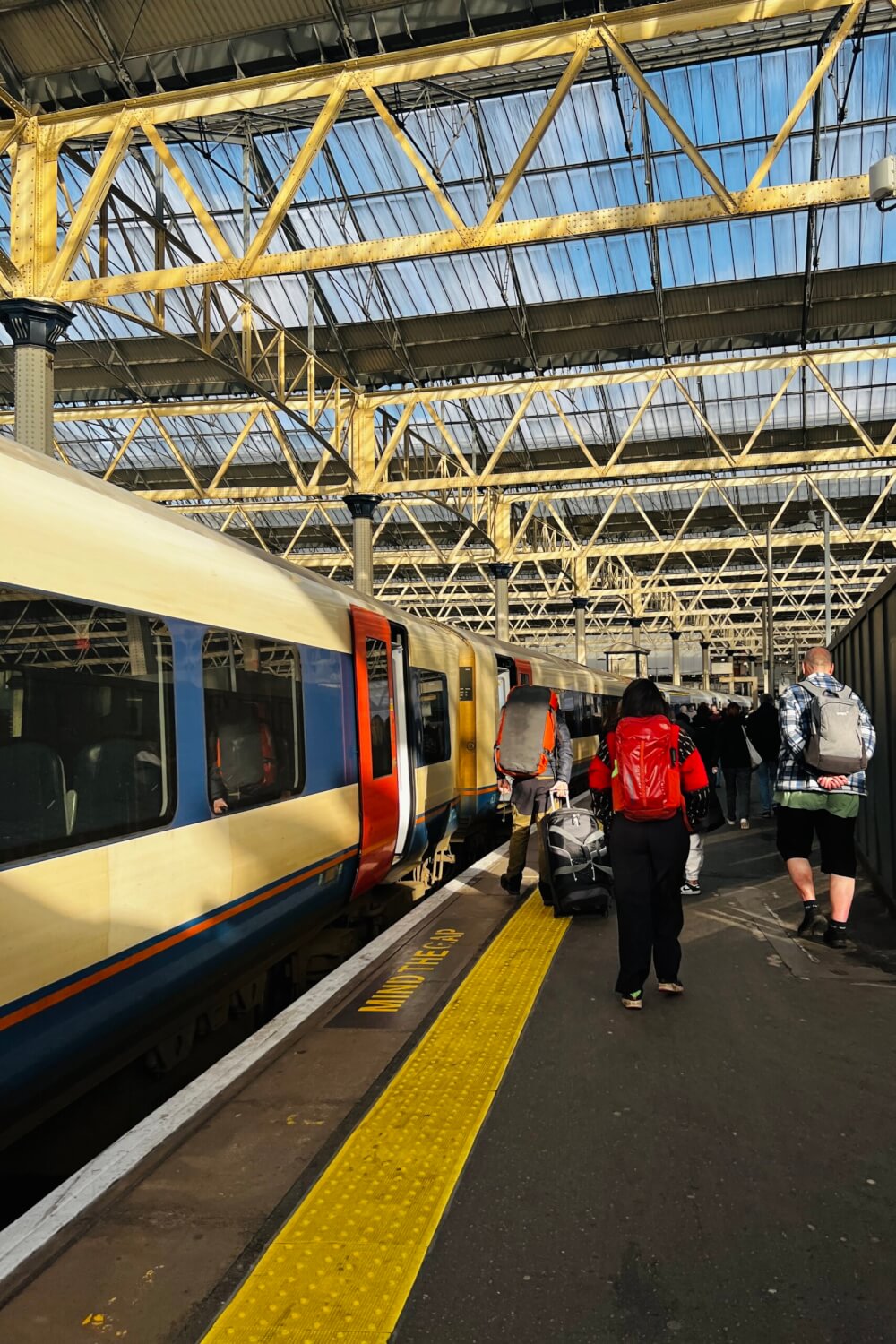 To navigate your way off the platform and onwards to wherever you need to go, keep an eye out for signs that will point you in the right direction.
If you are transferring onto another train, look around for big signs pointing to different platform numbers. If it's a tight connection (10 min or less) you may want to speed walk or run, depending on how big the station is.
NOTE: Remember, you're on a train platform, so to reach other platforms you'll sometimes need to either go via a tunnel underground or a bridge above ground. Keep an eye out for stairs/an elevator so you're not panicking to find ways to reach your next platform.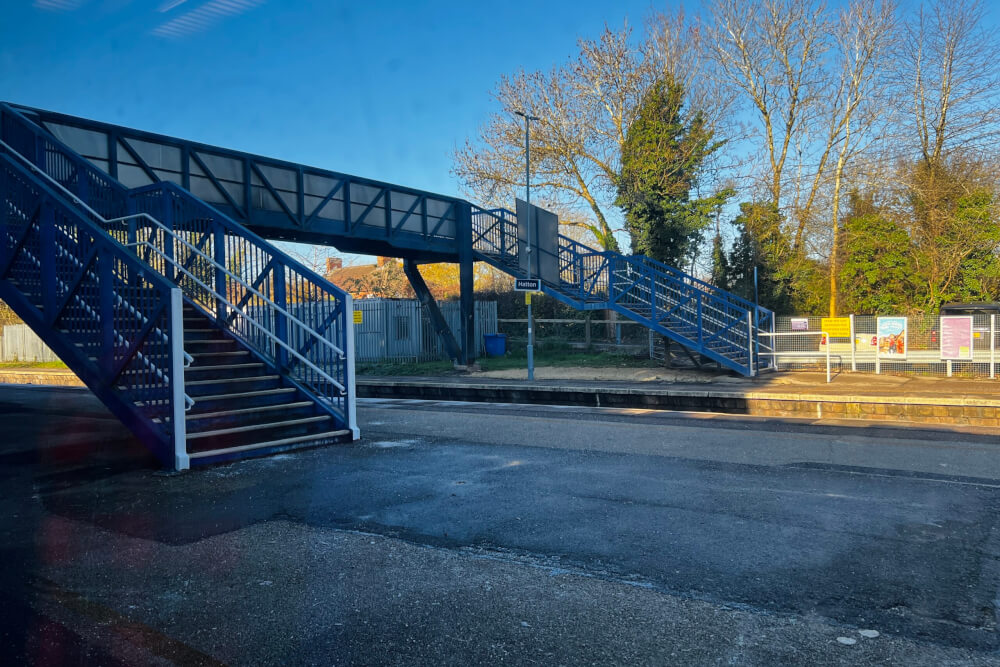 If this is your final destination, then beware that you might need to take your ticket out again for scanning at the fare gates. If you have any trouble, then you can also get a staff member to let you through manually (assuming your ticket is valid, and it's simply a tech issue rather than an awkward 'fare evasion' issue, of course).
As you complete the journey to your final destination, remember that your train ticket is usually only valid for that specific train you boarded, so you won't be able to use it for onward travel on the local public transport network, so you may need to purchase an additional ticket to get to your hotel.
Lastly, take note that in the UK, with many companies if the train is more than 15 minutes delayed (which they often can be), you are entitled to compensation.
This is through a program called 'Delay Repay' that is handled by each individual train company, so Google "your train company + delay compensation" to find the step by step details.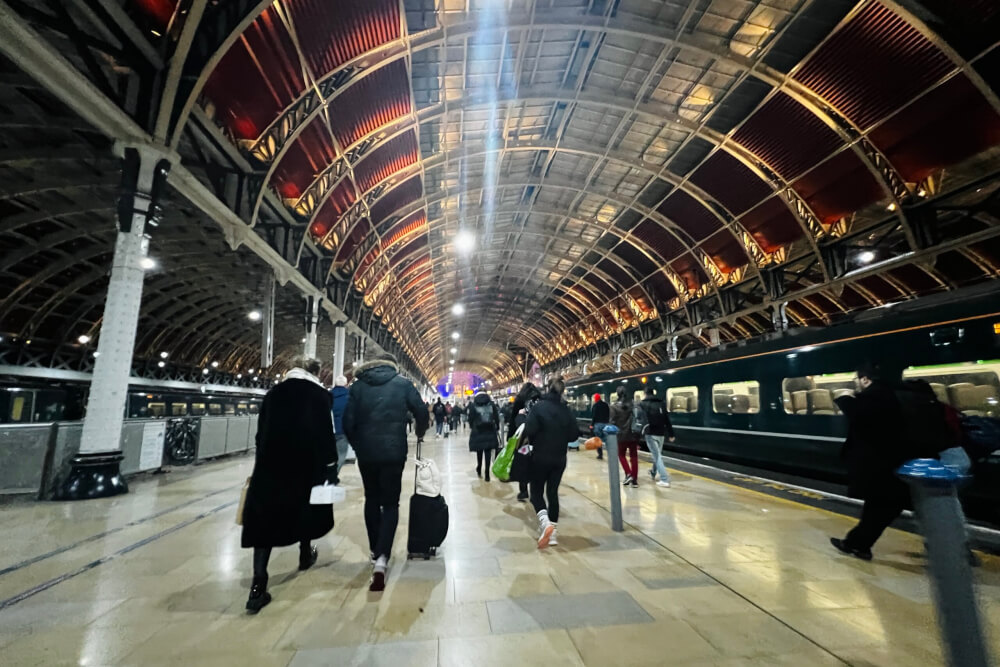 I Hope This Step by Step Guide on Taking Trains in the UK was Helpful!
Let me know in the comments if you have any more questions.
My Go-To Travel Favourites: