If you're an overwhelmed traveler currently planning some train travel around Europe, odds are you've come across Trainline. And, if you're a natural skeptic like me, you've probably also wondered if Trainline is a scam.
Well, in spite of the many angry Trainline reviews online (which make for great reading material, if you're ever bored), I can confirm that no, Trainline is not a scam. It's just not always the best option for everyone.
So, if you're tired of navigating the labyrinth of train schedules, untangling the web of multiple booking platforms, and deciphering cryptic ticket details, read on. I've been using Trainline for years, during which time I've learned when exactly it's worth it and when it isn't.
… The details of which I'll be spilling in this detailed Trainline review!! I hope you find it helpful, and that it gets you on the right…….. track. 😉
What is Trainline?
In short: Trainline is a platform designed to simplify the train travel experience, available both through their website and through their dedicated Trainline app.
Serving as a one-stop-shop for booking train (and some bus) tickets, Trainline allows users to plan and manage their journeys through a single app, with a user-friendly interface that enables travelers to compare prices, explore various routes, and secure tickets with ease… instead of trawling through individual operators' websites.
With coverage across multiple countries, the platform's features include real-time updates, mobile ticket options, and the ability to seamlessly organize and access bookings in one place. Its main selling point is the way it streamlines the booking process, making it a great choice for travelers who don't mind paying a little extra (via service fees) for a more convenient experience.
That said, Trainline is NOT a train operator itself. All the trains are run by their respective companies – Trainline just shows you the options and sells/stores your tickets, which often incurs a small service charge. So, keep in mind that you will not be boarding any train that says "Trainline"!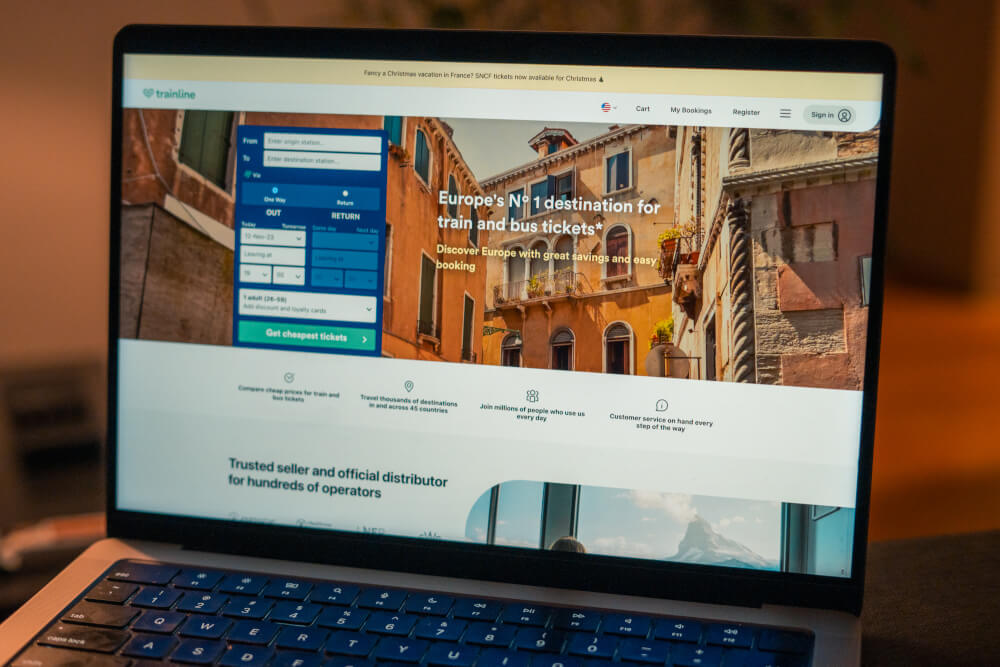 My Quick Trainline Review
Is your preferred mode of entertainment not listening to a blogger rant about train apps? Well sorry, you're probably on the wrong website for that, but I'll grant you a short summarized Trainline review anyway, with a more in-depth review of Trainline's features below.
In sum: Trainline is not a scam. It does what it claims to, and it does it well… when everything goes according to plan. As with all third party apps though, what Trainline can lack is hands-on customer support when things go wrong. This is where 90% of the furious reviews come from, the other 10% being gripes from people who are angry at the train service itself, and don't understand that Trainline doesn't actually make the trains go choo choo.
But anyways, I will say: at this point I've booked dozens of journeys on Trainline, and not once have I had an issue with my tickets. You get them delivered immediately, and (when available) you can load tickets on your phone in an instant.
The great thing is you can keep tickets from across transport operators in one place, which is ideal if you have a longer trip with lots of journeys booked, and I find their interface much easier to use than many individual operators' (especially ones in countries where English isn't the main language). They also have lots of search filters/capabilities that make life a lot easier.
Of course, there's a price for this convenience: often booking with Trainline incurs a small booking fee, and again, if things go wrong, it sounds like their customer support is pretty awful.
In any case, I do think Trainline is great for preliminary searching, even if you do end up booking directly with the operator itself for ease of mind.
So, to summarize…
Who Trainline is For: Travellers who don't mind paying a little extra for the convenience of a simple user interface/keeping all your tickets in one place. Most ideal if you're planning a big trip with lots of journeys across multiple transport operators, with plans that are unlikely to change.
Who Trainline is NOT For: Travellers seeking the lowest price (and don't mind putting time/effort across booking platforms to get it) OR travelers who prioritize customer service and may need some flexibility in their plans. Booking directly may also be easier if you're not booking a lot of journeys across various modes of transport.
The Best Features of Trainline
Why should you book with Trainline over its competitors? Here are some of Trainline's pros:
One-Stop Destination for Rail (and Bus) Travel
At the time of writing, Trainline sells tickets for over 250 train and bus operators in 45 countries. This means you can quickly search up routes and tickets for all these companies in one place… saving a lot of time and scavenging, especially for countries which have a lot of separate providers.
This perk is of course more useful for some travelers than others. If you're planning for just a few journeys in one country, you'd probably be fine to book directly with the transport operator, since you know which ones you'll be using for the whole trip (e.g. Deustche Bahn in Germany).
If however you're planning to take trains in multiple countries, being able to search and buy all the tickets in one app can save a lot of time and headache, especially when you're forced to navigate sites in a language you don't understand.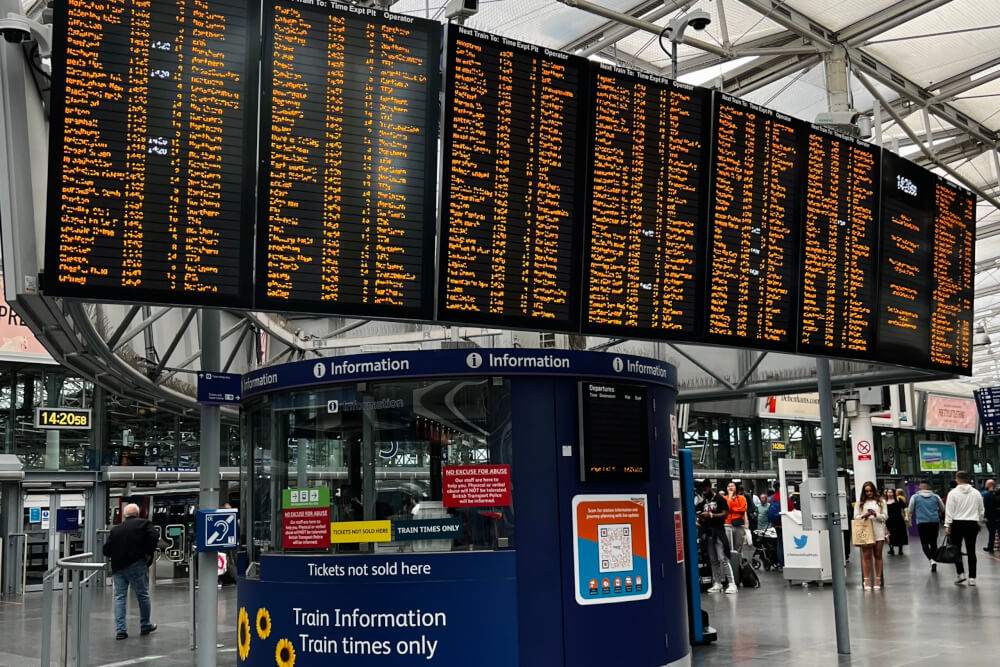 User-Friendly Interface
One of Trainline's standout features is its user-friendly interface. Navigating the website or mobile app is an (intuitive) breeze, even for the non-techy among us.
With a few simple clicks or taps, you can quickly search for routes, check train schedules, and book your tickets. The same cannot be said for many transport operators' individual websites/apps, which can be a true nightmare to navigate depending on who you're dealing with.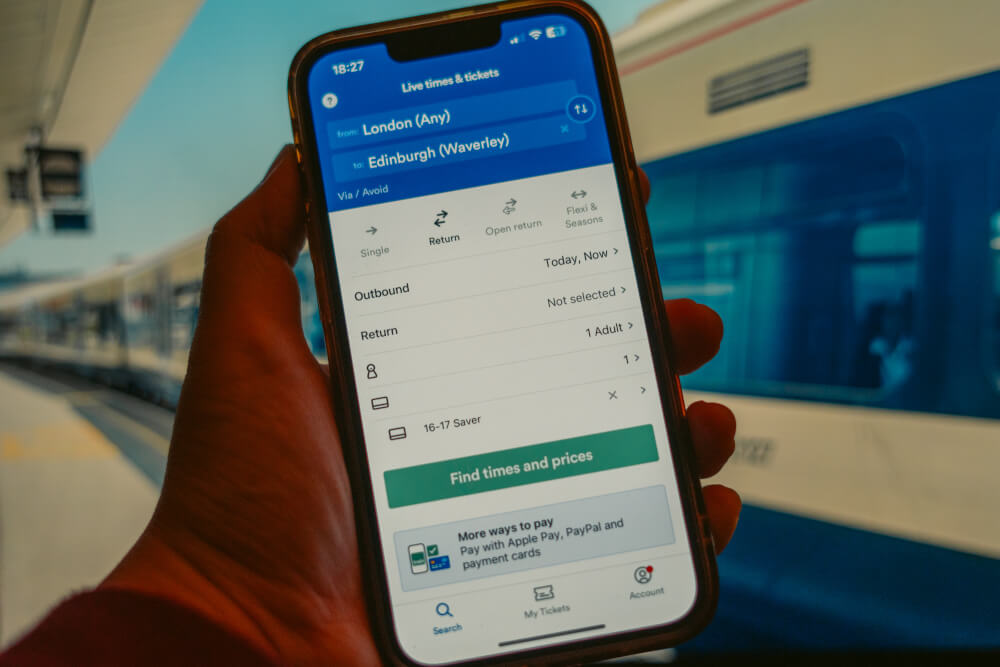 Saved Payment Details and Info
Another great feature of Trainline is once you make an account, you have all your details saved, so you never have to enter them again.
In contrast, booking individually with transport operators will mean needing to enter your name, details, and payment information every time… or (in some awful cases) forcibly making an account for a company you plan to use for just one trip.
So, it can save a lot of time to have everything saved and ready to go… but really, this perk is only noteworthy if you're planning to book a lot of tickets.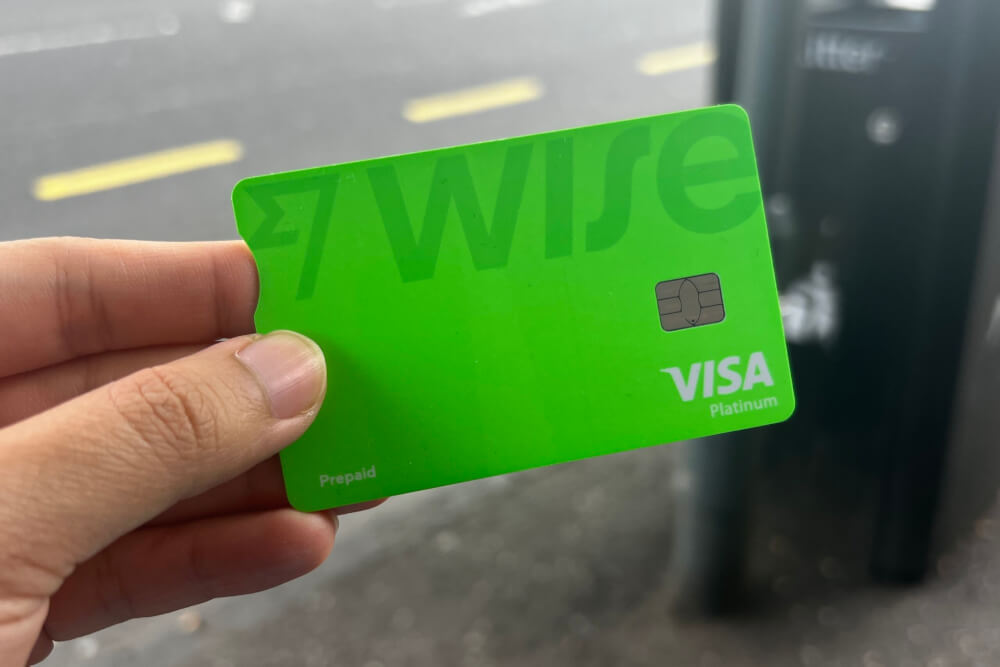 Clear Search Features
Trainline's search platform is great at showing you everything you need to know at a glance – from departure times and prices to the number of connections and whether mobile/bicycle tickets are available.
In some cases, they even show you possible discounts like 'Split Ticket' deals in the UK, which is great. I do wish it had better search filters/sorting capabilities, as right now the only option is to sort based on departure time, but I don't find that's too much of a dealbreaker.
On the plus side, on the day of your journey, you can also access information like live tracking and platform details/updates. I've even had it before that a train was cancelled, and in the email alerting me to this fact, Trainline also included an easy button to request a refund, making the whole thing fairly seamless.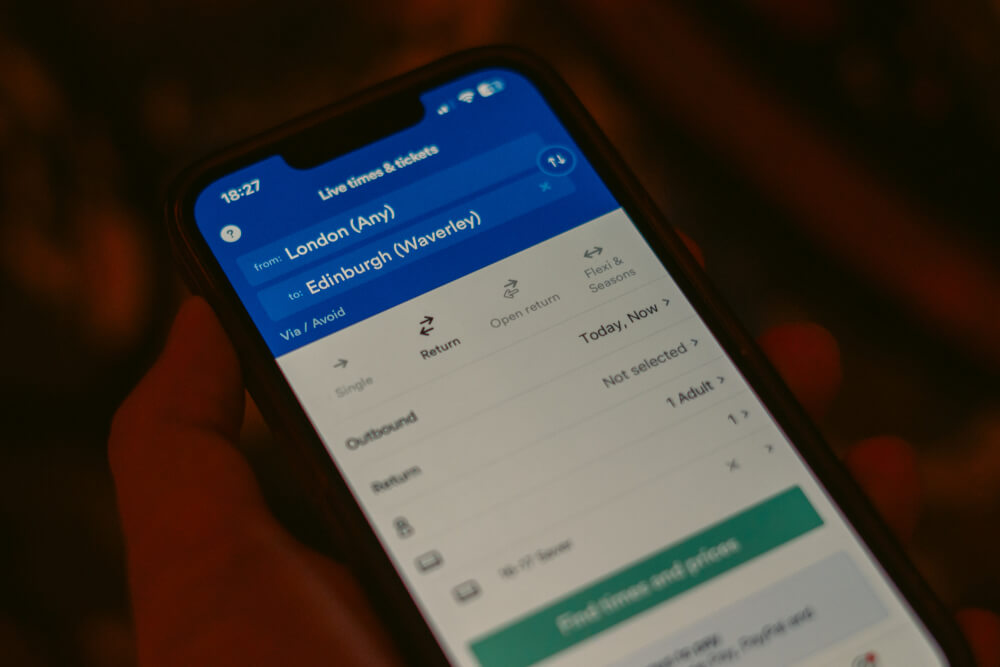 Price Transparency
While it does charge a booking fee in many cases, I personally think Trainline is fairly transparent about their fees.
When you search for tickets, the platform provides a clear breakdown of costs, including booking fees so it never feels like they're trying to pull a fast one on you. Sure, it's cheaper to book direct, but I see the fee as a fair price for the ease it brings.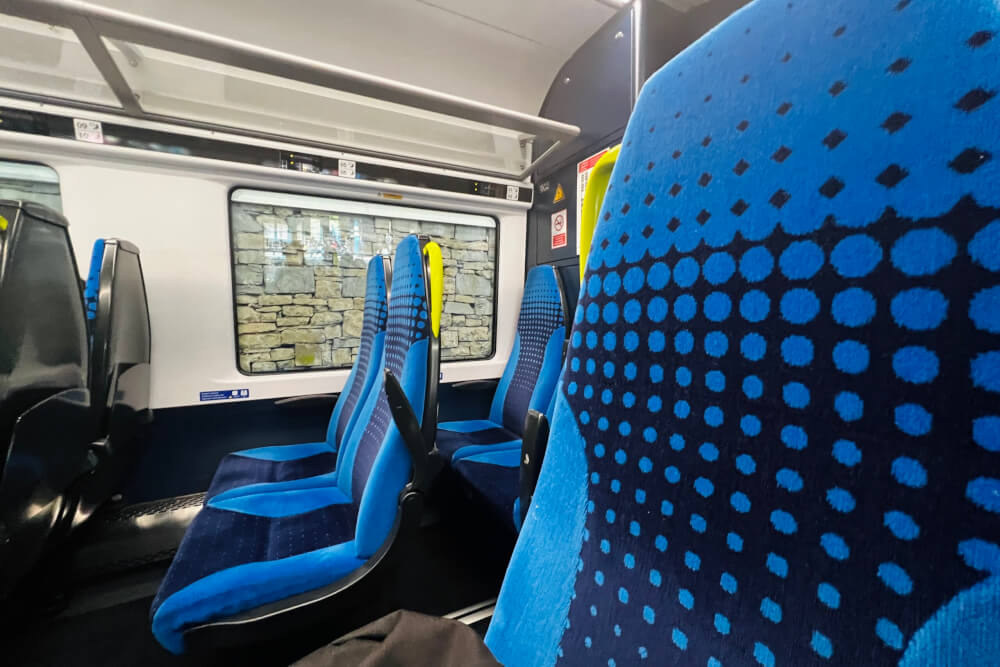 (Mobile) Tickets in One Place
I'm a huge believer in booking ahead and using mobile tickets vs paper ones whenever possible, and Trainline makes doing this super easy. In contrast to having all your tickets spread across various apps/emails, you can keep all your tickets in one app, which is super helpful for organization purposes. You can even export tickets directly to your Apple Wallet, if you prefer to keep tickets in there.
And, even in cases where mobile tickets aren't available, Trainline still stores all the information you need to print an in-person ticket once the time comes, so the information remains in one place… and continues to do so even after the journeys have finished. Since I travel a lot for work, I love how Trainline keeps all your previous bookings easily accessible, and you can get an Expense Receipt with a single tap.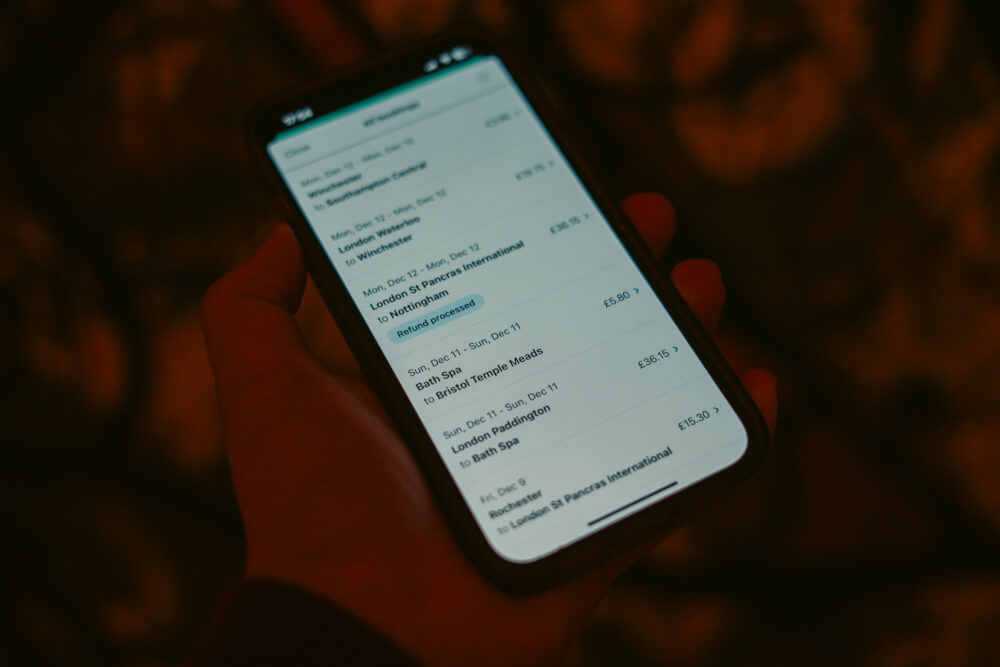 Railcards Available in-App
Lastly, one of the best functions of Trainline in the UK is it keeps your Railcard in the app as well, so if you have one (which you should, because it can save you a lot of money), when you show your ticket to controllers, there's also a button on the screen to show your Railcard easily, so you don't need to awkwardly dig around for it in your other apps.
Alerts and Push Notifications
In many cases, Trainline also keeps you in the loop with real-time alerts and notifications once your trip is coming up or underway. You'll receive updates on your journey, including platform changes and delays.
These features are a lifesaver, especially when you're navigating busy train stations or unfamiliar routes.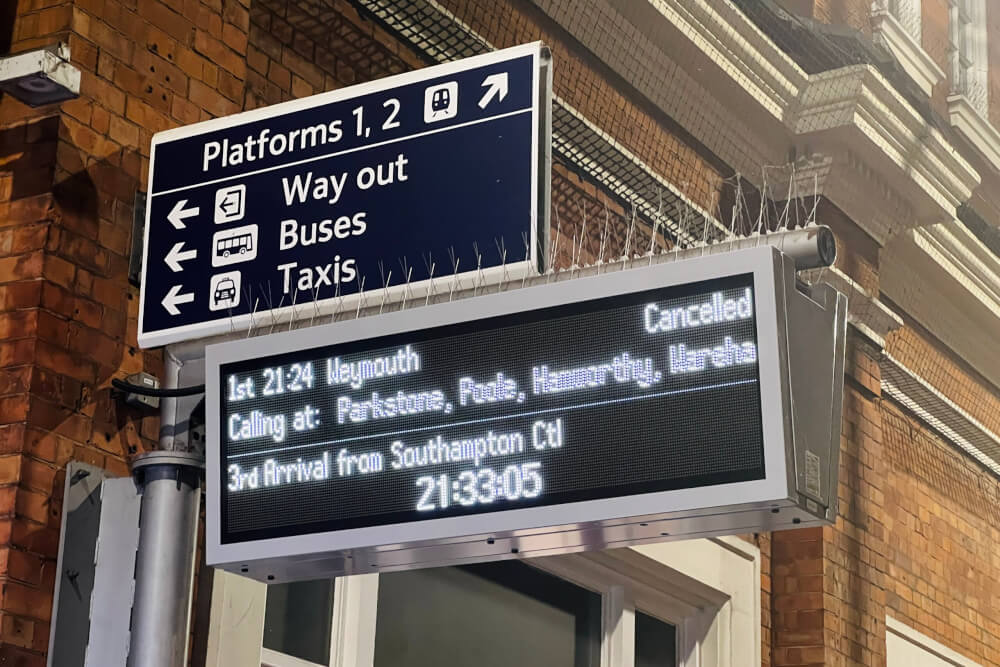 Cons of Booking with Trainline
Okay, I have to admit, it's not perfect… so why should you avoid Trainline? What are some of the downsides of using Trainline to book travel? Here are some of the main cons:
Booking Fees
While Trainline is transparent about its pricing, it's essential to note that booking fees may apply.
Honestly speaking, a direct booking will almost always be cheaper, so if you're cost-conscious, it's worth booking direct to secure a better deal.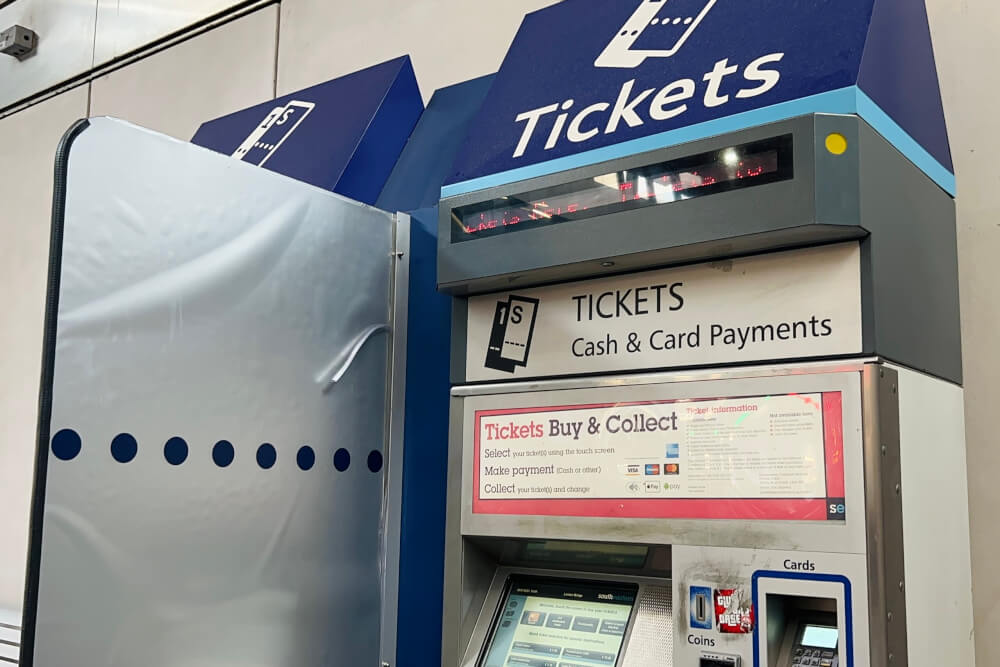 Limited Coverage in Some Regions
While Trainline offers a vast network that includes 40+ countries, there may be gaps in coverage in some regions since they don't have partnerships with every possible transport operator.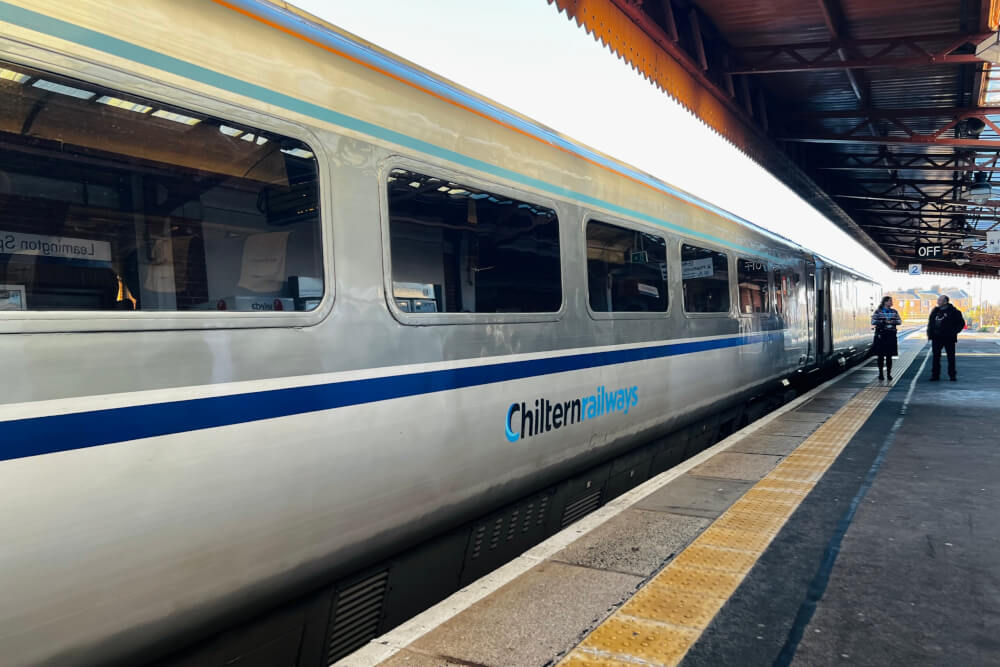 Lack of Customer Support if Things Go Wrong
Google 'Trainline reviews' and most of the negative ones hone in on one thing: customer service… or lackthereof.
Reviews online tend to skew negative, since angry people are more likely to leave a review than people who had an uneventful and normal trip as planned.
That said, I did notice that some negative reviews mentioned being issued incorrect tickets through the app which were then not valid for the journey they wanted. I've personally not had this happen to me, and part of me wonders if some user error was involved, but it's still something to keep in mind.
Based on reviews, it also sounds like they outsource a lot of their customer support.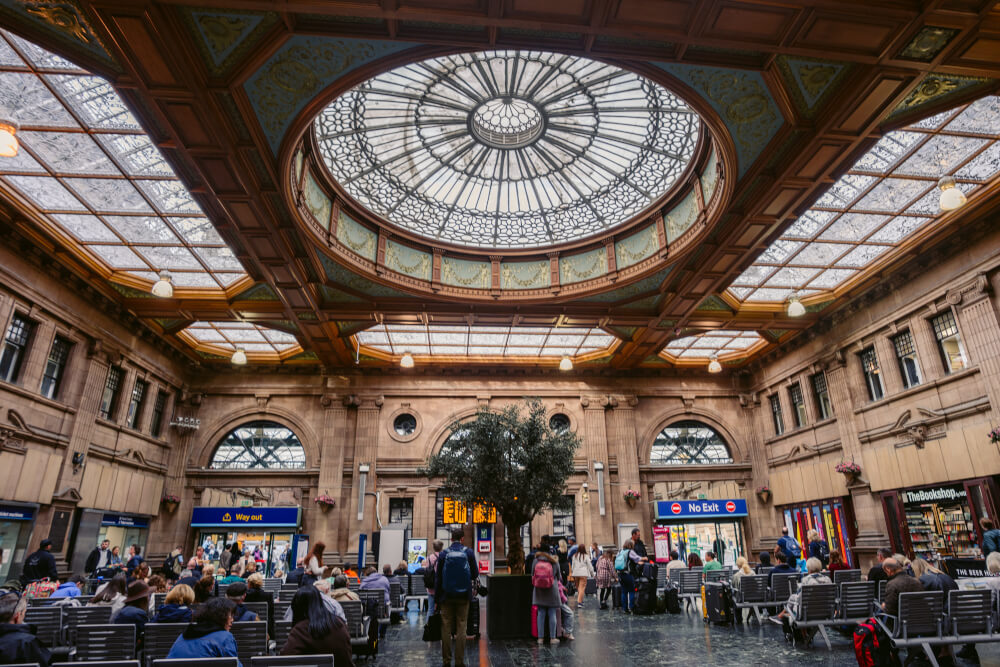 Refund Policy
When it comes to people who aggressively believe Trainline is a scam, most of the bad reviews center around their inability to get a refund.
And yes – getting refunds via Trainline can often be a messy and annoying process, with the admin fee sometimes wiping out your refund entirely.
BUT its important to note that Trainline is bound to the refund policies of their operators, so many of the reviews complaining about a lack of refund (or high admin fees for refunds) are actually just mad at the operator/service in general, and not Trainline specifically.
To my knowledge, Trainline doesn't charge more for refunds than transport operators would (at least in the UK where most of my experience has been with them) but if you have had an experience that proves they do, please let me know in the comments!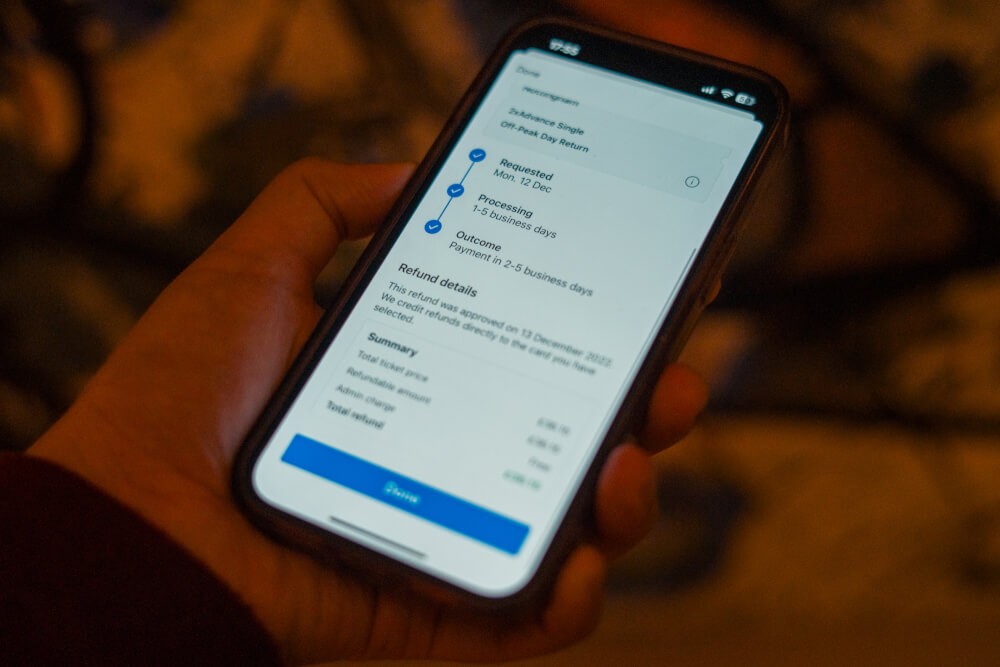 Where booking direct might help you with customer service though is when you require in-person assistance. I've found that most rail operators and their employees dislike Trainline (since they would of course prefer you book directly with them). And since train station employees are usually trained to deal with tickets/emails/etc. from the operators themselves rather than Trainline, they might not try very hard to understand your issue if you present them with an app/interface that's different to what they're used to.
"Oh, I can't help – that's through Trainline" is something you might expect to hear if a staff member isn't feeling particularly helpful, whereas (based on reviews at least) it sounds like they might be more amenable to your cause if you've booked directly.
In any case, there are alternatives to Trainline worth considering, and I'll discuss them now!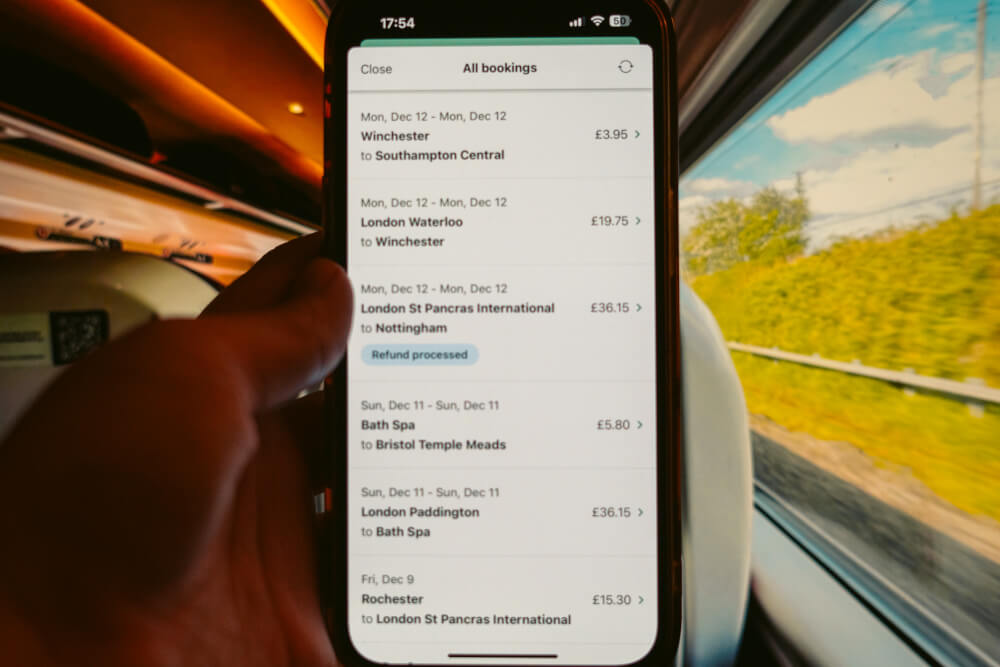 Trainline Alternatives
Alright! Before I wrap up this Trainline review, I want to address some alternatives to Trainline depending on your priorities. Of course, Trainline is often a great choice, but it's not ideal in every circumstance, so here are some other options:
Direct Booking with Transport Operators
If you want the best price and customer service, book with the train/bus operator directly.
This means going to the website of the company running your desired transport (e.g. South Western Railway) and buying your ticket from their website.
I would recommend doing this especially if you're not booking too many tickets, or you're booking with the same operator throughout your trip (as is common when taking trains in Germany, for instance).
A key benefit of Trainline is it allows you to keep all your tickets (across operators) in one place, so if you don't plan to travel with many operators, this perk is lost on you, and is therefore not worth the extra service fee/potential customer service hassle.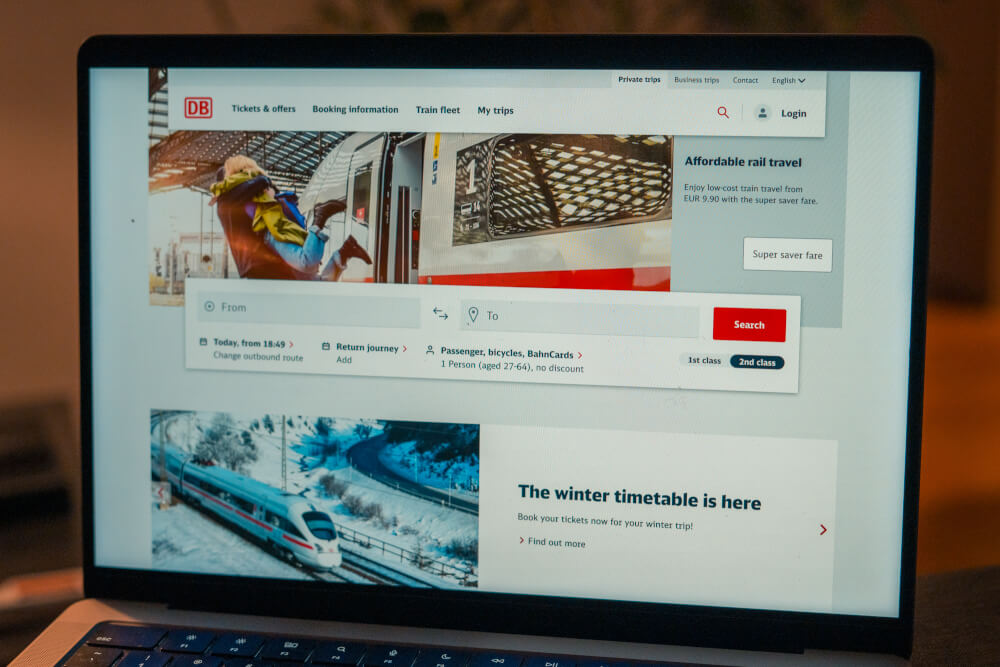 Omio
If you need to compare flights or ferries in addition to trains and buses, then the app you need is Omio.
Its perks (and negatives) are very similar to Trainline – easy interface, great search functions, and ideal for browsing options at a glance… with the bonus that it includes additional modes of transport.
Honestly, for me, whether I go for Omio or Trainline depends on the destination. I find Trainline is better in countries like the UK for instance where I can keep my RailCard in their app, and they have unique features like finding split tickets (a quirk of the UK train system that can help you save money). I generally use Omio for most other Europe travel if I have a lot of cross-border trips, since I often mix and match modes of transport.
It's worth noting that Omio also operates outside of Europe – specifically the US and Canada.
Need more guidance? I go more into detail in this Trainline vs. Omio blog post.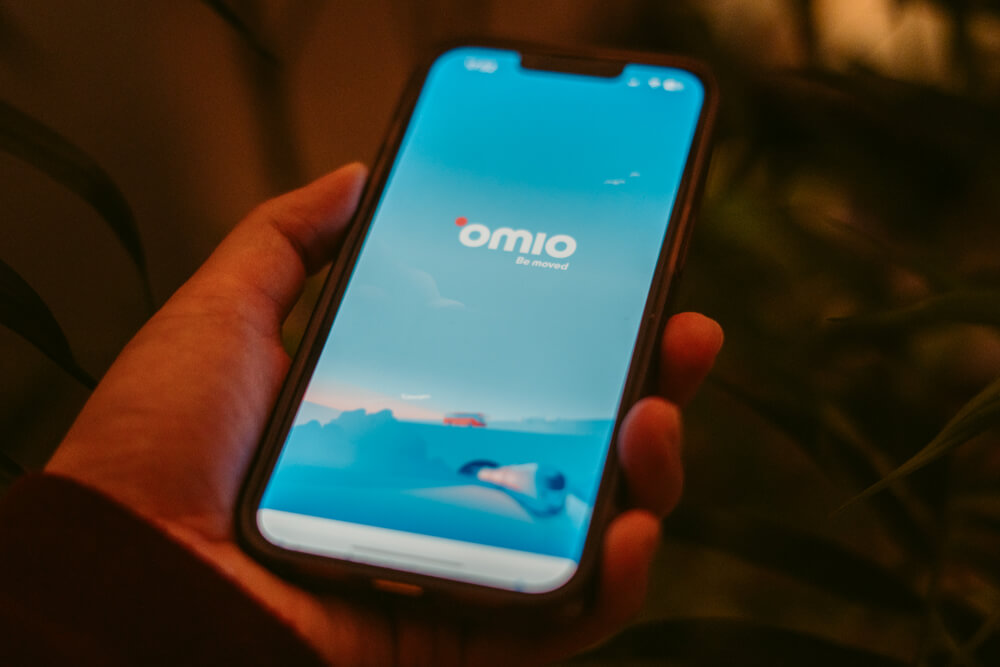 RailEurope
RailEurope is a European train travel institution that has been for almost 100 years (since 1930).
Despite their age and wisdom, I far prefer Trainline's user interface and search functions. There's not much that RailEurope offers that Trainline doesn't, and both take fees so I think Trainline is the better choice.
Unique perks of RailEurope include a carbon calculator that tells you how much carbon you save by taking your mode of transport and they also include rail passes in their search. These perks aren't really that game-changing for me though – you're usually better off buying rail passes direct to save on fees, and while it's nice to know how much carbon you've saved, it's not a big enough feature that would convince me to switch.
Of course, if any RailEurope fans are reading this, I'd love to know more about why you think it's a better alternative.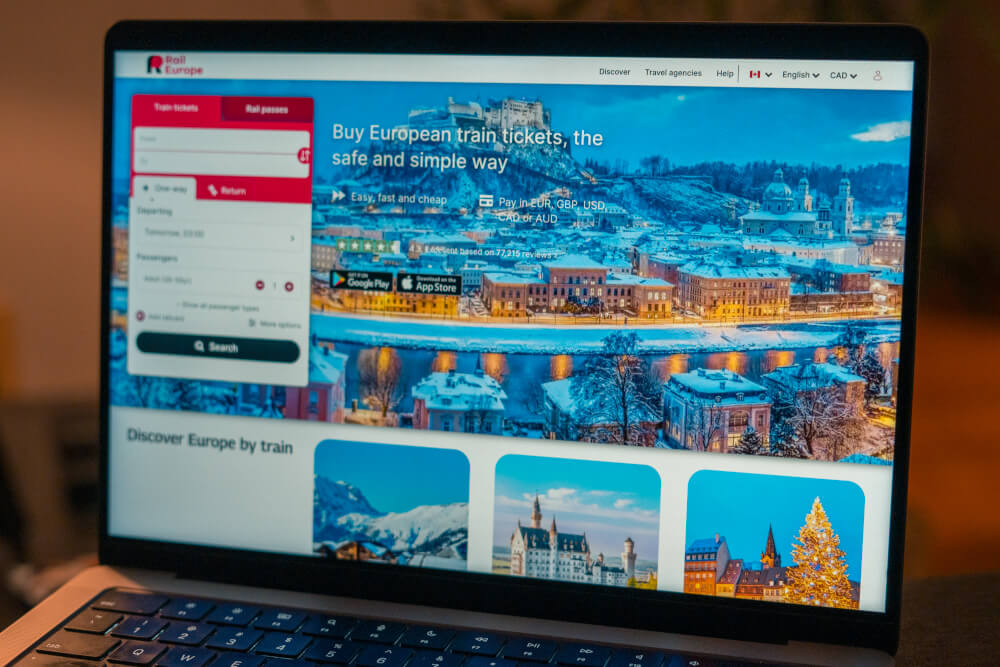 Conclusion: Trainline is Great for Searching & Booking with Ease, but You Do Pay for It
Overall, I think Trainline is a great platform for searching trains and buses in a simple way. It can save a LOT of time especially in the research phase of your trip, and as a frequent traveller, I like the convenience of storing all my tickets in one place.
While there are a lot of negative Trainline reviews floating out there, my personal experience with them over the years has always been positive, and I think many reviews are angry more at the train operators/strikes themselves rather than Trainline, but hey – I'l leave the final call up to you!
All that said, if your main goal is to get the cheapest ticket possible, and it's important to you that you have quick customer service in case things go wrong, then I'd recommend booking your final ticket directly through the transport operator itself… and maybe using Trainline's search capabilities to do your research beforehand.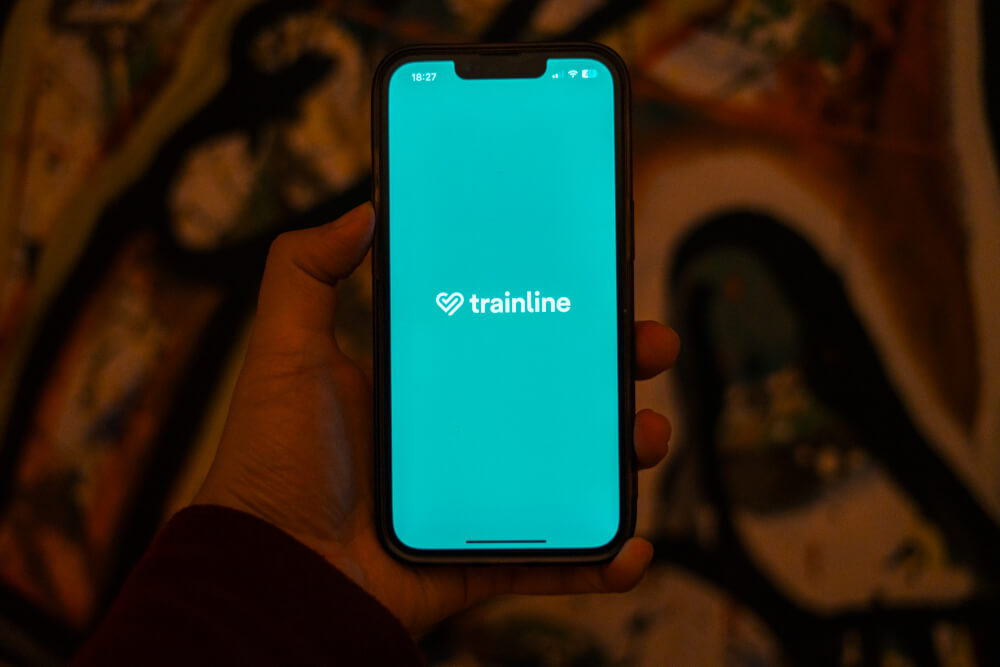 I Hope You Enjoyed this Trainline Review!
Feel free to share your experiences with Trainline below to get a discussion going. Safe and happy travels!