Oktoberfest girls, where you at?!
If you're planning on attending the epic party that is Munich's Oktoberfest, I need to tell you right now: I hope you're prepared to have the best time of your life.
Attending Oktoberfest for the 1st time two years ago was one of the highlights of my exchange year, and I'm now lucky enough to call Munich home! Having attended a lot of beer festivals since that first time, I've picked up my fair share of random tips/tricks that every girl must know before attending Oktoberfest. SO, if you want to make sure you're prepared for this gongshow of a festival, here is your ultimate Oktoberfest Girls' Survival Guide.
---
Bring a small purse. Pack light!
Do NOT bring a backpack – big ones are not allowed and the less belongings to watch over, the better. I wouldn't bring more than a little purse that holds your phone and some cash (FYI, cards are as good as useless at Oktoberfest. Make sure you have cash on you!)
---
When wearing a dirndl, be careful of where you tie your bow.
Who knows how much people actually pay attention to this, but it helps to know – the side on which you tie your dirndl bow is meant to correspond with your relationship status. I know, crazy right? Keep the following tying methods in mind:
Bow on the Left: Single and ready to mingle
Bow on the Right: Taken/unavailable
Bow front and centre: Virgin
Bow back and centre: Widowed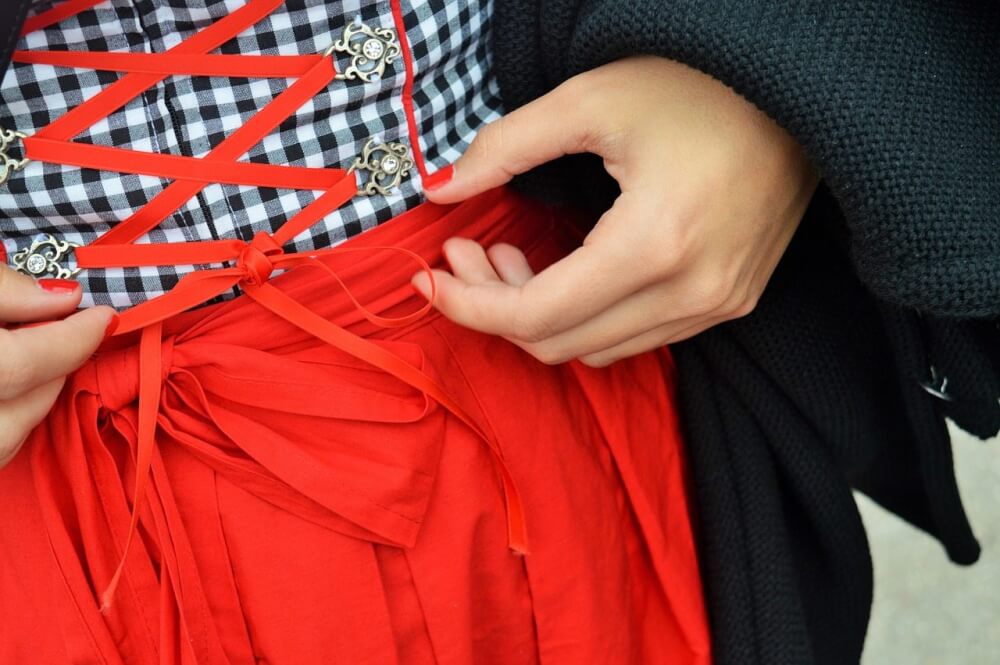 ---
Comfortable shoes are a must!
You might be thinking: well, I wanna look cute, and I'll be sitting all day, so why not wear nice shoes?
Tons of reasons – gross floors and dancing on benches being a few!
Your shoes will inevitably get stepped on, get beer spilled all over them, etc. The floors can also get slippery, so something with grip is necessary.
PS: you will do a lot more walking than you think. The festival site is really big, and walking from tent to tent/food stall to food stall does take some time. You'll want to be comfortable (and not fall of the bench when belting out the lyrics to 'Angels').
---
Have your address written down somewhere or saved on your phone.
Being in a new city is disorienting already, but add a few litres of beer to the mix and you have some serious confusing trouble. Make sure you have your address on you (best if it's a paper copy in case your phone dies/gets stolen) so that you are able to get home safely no matter what.
---
Bring some tights with you in your purse.
It gets pretty cold at night, so if you plan on leaving after the sun goes down, it doesn't hurt to have a pair of extra tights in your purse to layer on while you commute home.
---
Plan your bathroom breaks.
When thousands of people consume beer by the litre, it's inevitable that the bathrooms will get busy, especially in the ladies room. Be prepared to wait sometimes 10-20 minutes in line before you get to go! BONUS TIP: Remember to have some change to tip the lovely women who clean the washrooms. They are the real MVPs.
---
Keep an eye on your drink.
This is simply precautionary as Oktoberfest tends to be a very friendly and welcoming place where everyone is just there to have a good time. That said, your beer will be out in the open, and will look similar to everyone else's. Especially when the night gets going and everyone is standing/dancing on benches, there could be opportunities for things to be slipped into your drink. Just be wary of this!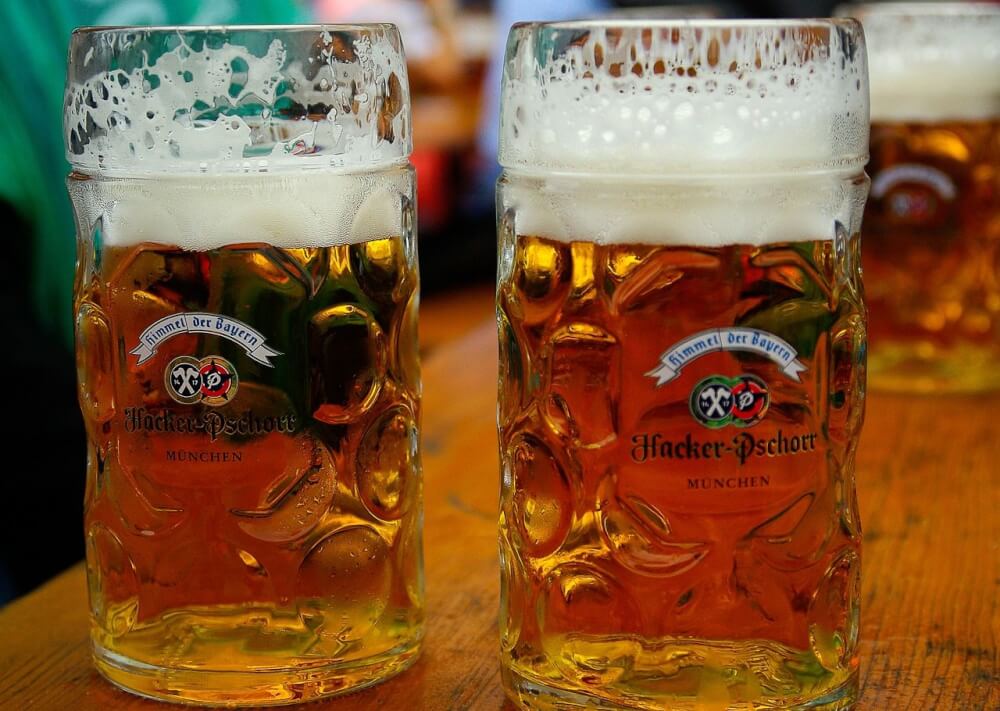 ---
Radlers will be your best friend.
If you're a lightweight (like me, hi!) but don't want to leave the party at like 2pm, you can pace yourself by ordering radlers instead of full-on beers. Radlers are yummy mix of fizzy lemonade/beer, which means they're not nearly as alcoholic, but taste great and will ensure that you don't get drunk off your face too quickly.
---
If travelling with friends, have a designated meet-up spot.
Odds are, at some point your friends and you will get separated. Whether it's a wrong turn at the bathroom or if someone runs off with new friends they met while wandering around. In these cases, it helps to have a designated meeting point in case of separation. The tents are noisy and phone calls will not be heard, plus texting is hard to coordinate between many people when you can't physically see the places you need to go. Having a preset meeting location is a must.
And there you have it, Oktoberfest girls… I hope you're ready to have one of the most epic experiences of your life! Any questions? Fire away in the comments.
---