*FYI - this post may contain affiliate links, which means we earn a commission at no extra cost to you if you purchase from them. Also, as an Amazon Associate I earn from qualifying purchases. Check out our Privacy Policy and Disclosure. for more info.
2021 UPDATE: The post below was originally written in 2014, and updated extensively after a second visit in 2020. As of now, the Québec Winter Carnival 2021 is still scheduled to take place, but with significant modifications so please be sure to thoroughly research before making any plans. The information below is based on previous years and is presented for your reference only.
To innocent onlookers, Canada often takes on this magical aura of a snowy wonderland, where maple scented streets are filled with children shuffling around in neon-coloured onesies… where parents lovingly look on and sip hot double doubles, all while secretly checking hockey scores on their phones.
And while often, I dispute such stereotypes with the fury of a hockey-crazed moose, I know there is a time and place where all Canadian stereotypes go to thrive, and it's called the Québec Winter Carnival.
Save this post on Pinterest for later: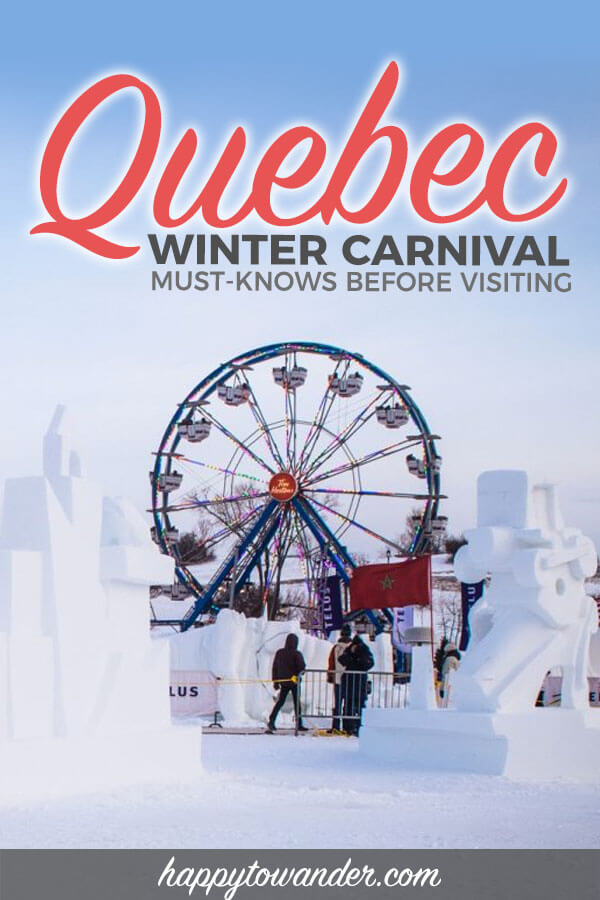 I'm talking maple syrup flowing like champagne, canoe races in icy rivers, freezing snow baths, entire castles made of ice, and of course: a permanently smiling snowman ambassador known as Bonhomme (which translates to "Good Man").
Growing up attending a French school on the west coast of Canada (as far as possible from the actual festival site), every January of mine for 10 years was highlighted by the start day of Carnival. I'd put on my fluffiest coat, head outside my school and wait anxiously for Bonhomme to arrive on a bright red firetruck.
… So okay, so maybe my school took some artistic liberty in adapting the traditions, but it was a big deal to me, okay?
Fast forward 10 years later, I was finally able to make my Carnival dreams come true, visiting the actual festivities in January 2014… and again in February 2020! (Yup, super recently, so you know this guide is up to date!)
So, armed with the most recent info (and some glitzy throwback pics), here is a guide to experiencing the oh so famous Québec Winter Carnival, or if you wanna get Frenchy – the Carnaval de Québec.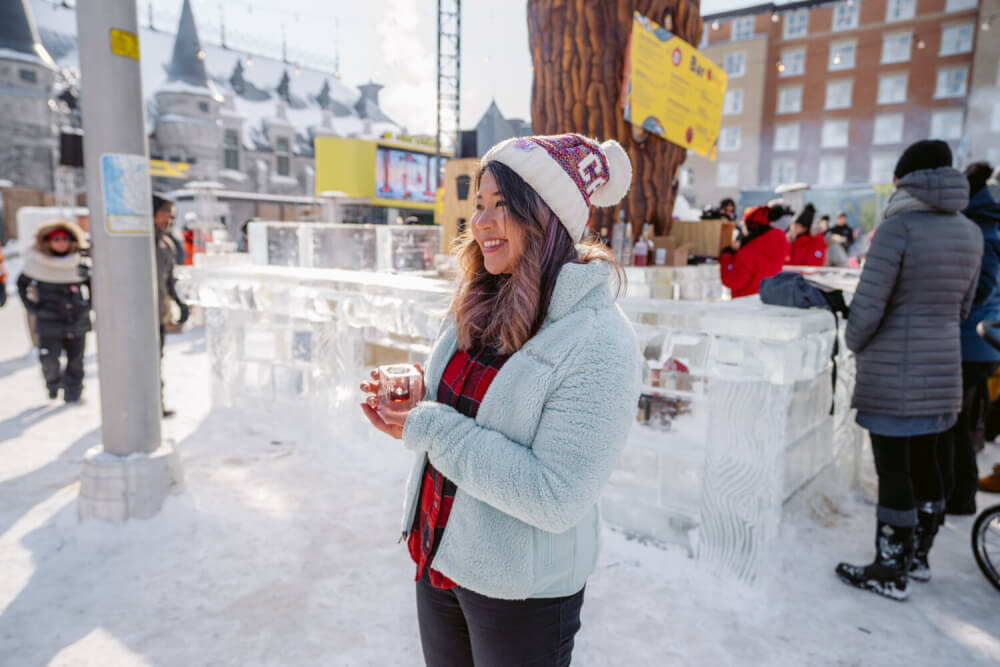 PS: Watch my Quebec Winter Carnival video guide here:
Where to Stay During the Québec Winter Carnival
First – if you haven't done so already, I highly recommend you book yourself some accommodation for Carnaval ASAP. This is a very popular time to be in the city, so hotel prices will go up accordingly. Here are some recommendations:
AirBNB: For our visit this year, we booked this very affordable Airbnb less than 15 minutes walk from the main festivities. If you've never used Airbnb before, you're in luck! Click here to get $40 off your first booking.
The Hilton Québec: This is where I stayed during my first visit and it was perfect – a super central location within walking distance to all points of interest and festival sites, plus excellent views. Because we booked early, we snagged a great deal too so I definitely would recommend staying here. They were closed all of 2020 for major refurbishments but they seem to be reopened now! Click here to check prices and availability.

The Québec Winter Carnival: A Brief History
Widely recognized as one of the world's largest winter festivals, the Québec Winter Carnival, or Carnaval de Québec, is an annual tradition that brings thousands of visitors together for French Canadian festivities.
The first Québec Winter Carnival was held in 1894. How did it all start?
Well, supposedly, the festivities were inspired by the harsh winters of the area, with residents turning to creating fun celebrations to "warm their hearts during the cold season".
Held on and off for several years, the modern iteration of Carnival began in 1955 (alongside the introduction of Bonhomme!) It has since become one of the biggest events of the year in French Canada.
So, you see, Carnival is a pretty big deal.
When I had the chance to visit Québec during my university Reading Break, my childhood self was shaking in her parka. Sure, I'm overly excitable on the worst of days (I blame it on the maple syrup running through my veins), but this was next-level.
Keep in mind, every Carnival period of my childhood (from Kindergarten to the end of high school) was spent playing Francophone games, belting out Québecois folk songs and doing folk dances where I had to touch the hands of actual human boys (a groundbreaking development).
I had been training for half my life to see this event!
My first shocker… just a PSA for you all: Bonhomme talks. He has a voice. Pictured below was the exact moment I realized this guy had a human voice. Growing up, Bonhomme never spoke (probably because they never wanted to give away who was in the suit). Suffice to say, I was shooketh.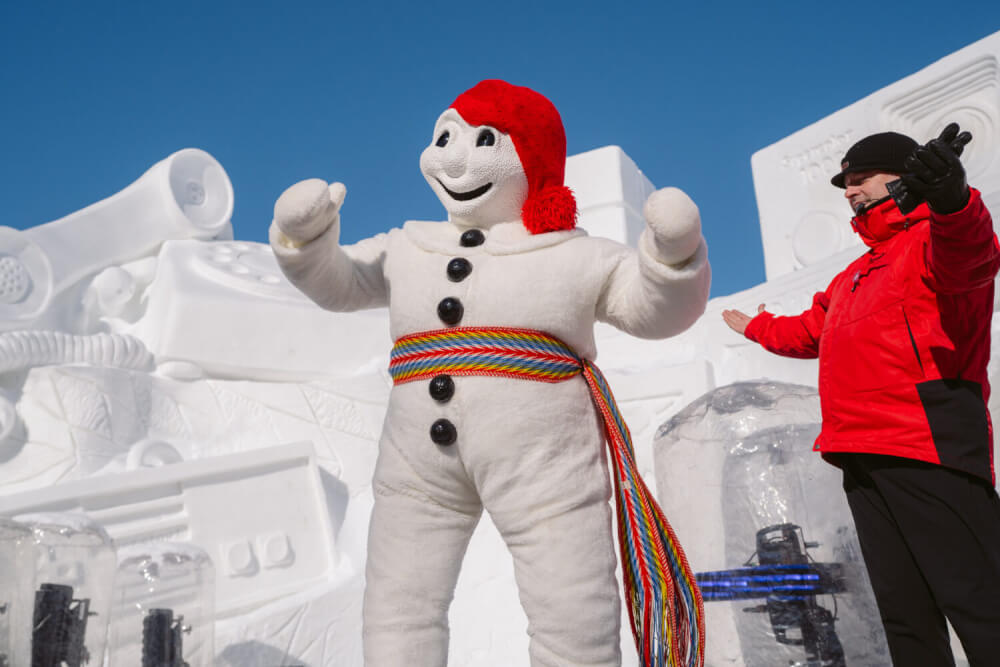 What are the dates for the Québec Winter Carnival in 2021?
This year's Québec Winter Carnival is scheduled to take place from February 5 to 14, 2021.
The organizers have insisted as recently as late January (article here) that the event will still take place in 2021 with a new format and virtual program designed to comply with current restrictions.
As of now, the plan is to only have decorative elements outdoors, and a full program available virtually. Any activities that could create crowds/line-ups (e.g. the parade, the Ice Palace, etc.) are therefore cancelled. Instead, the city will be covered with over a hundred ice/snow sculptures, and there will be many activities and performances available virtually.
Click here to learn more about the planned 2021 program.
Where is the Québec Winter Carnival celebrated?
Carnaval is a festival with various activities and events sprawled out across Québec City (click here for a list of must-dos!). Usually, the majority of activities are clustered in the main Festival site near Old Québec, but there are also separate events like balls, brunches and more that occur in various locations around town.
During the festival period, the entire city is also decked out in pretty lights and ice sculptures, so there's plenty of beauty to drool over.
For 2021 however, the festival's planned layout looks a lot different than in previous years, with decentralized festivities to enable social distancing.
Click here for the 2021 program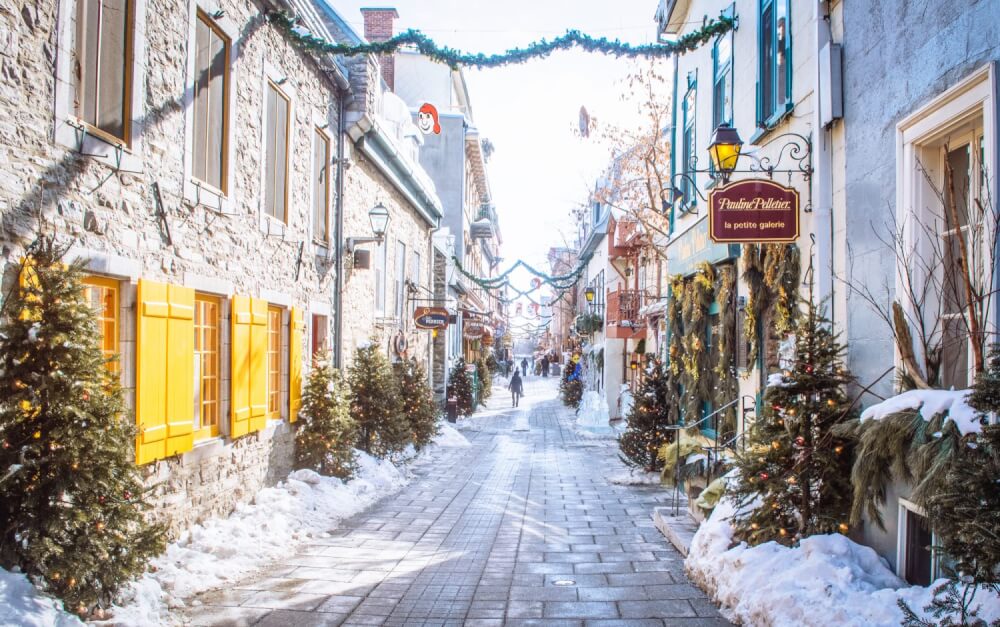 How much does it cost to attend the Québec Winter Carnival?
Usually, to enter the festival site, you have to purchase an effigy ($20), which is a cute lil (but very mandatory) trinket that you wear as proof that you paid the admission fee.
The good news is, buying the effigy once gets you access to the festival site for the entire two weeks, plus it's usually some kinda cute thing with Bonhomme involved, sooo… best souvenir ever. Fact: I still have my effigy on this bright red parka of mine, even 4 years later and I intend to keep my new 2020 one on my zipper too until the end of days.
If the 2021 Québec Winter Carnival proceeds as planned however, the festival will be free!!
PRO TIP: For 2020, I splurged on the Carnaval Passport which is only $45 and includes your effigy, an awesome Carnaval toque, a maple taffy, a Ponce de Carnaval drink, a hot chocolate/coffee, plus vouchers for a free hot dog, coffee, soda, grand-and-go meal, and pastry from Couche-Tard, as well as other coupons I didn't even get to use at all! This is a PHENOMENAL deal and I highly recommend getting it because it can save you a ton of money.
You can purchase the effigy/passport in-person or online on the official website. There are even helpful volunteers selling them around the site too, in addition to the official ticket booths.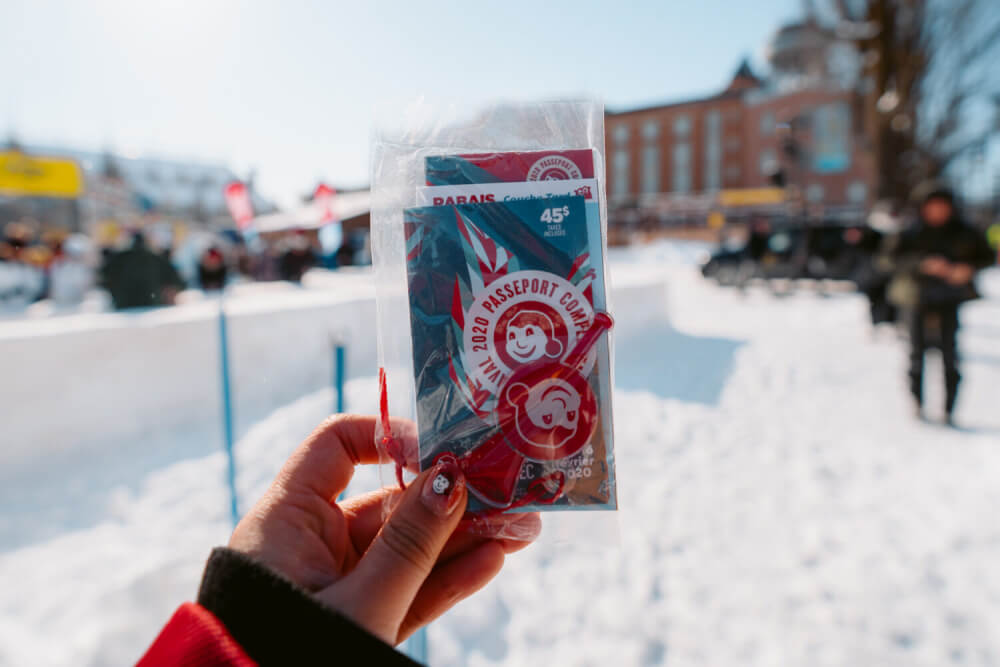 Québec Winter Carnival Map & Festival Sites
While usually, all the festival sites for Carnaval are reasonably close together and within walking distance, the plan for 2021 looks quite different, with snow sculptures scattered all around the city. Click here to learn more.
For your reference, below I will show you the different Carnaval sites that have been used in the past, with photos from last year.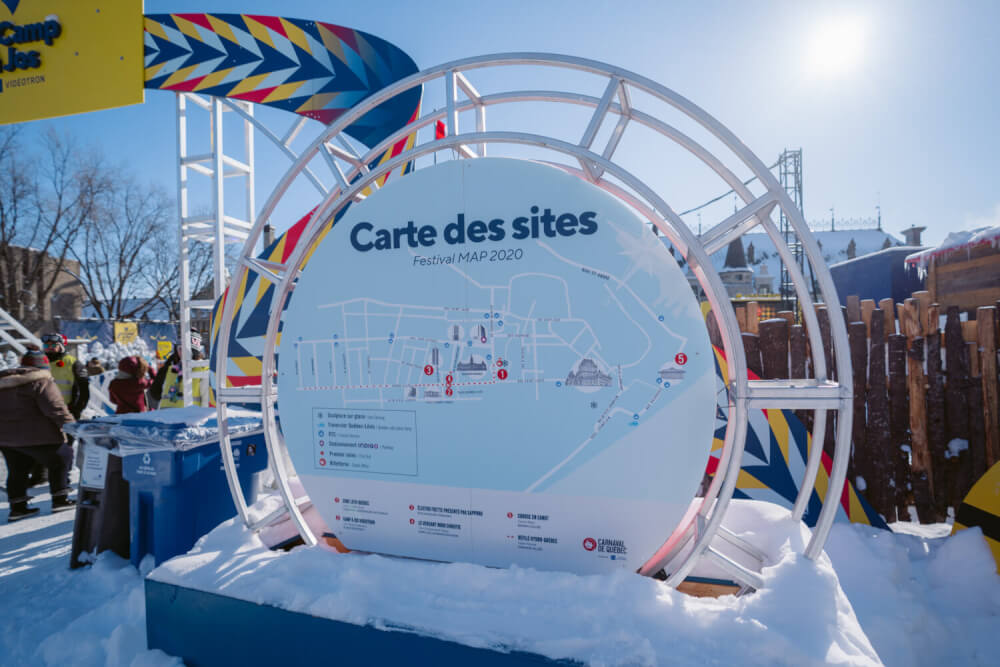 1. Zone Loto-Québec
Location: Place de l'Assemblée-Nationale
This is the huge area across from the Parliament building where you'll find Bonhomme's Ice Palace, Bonhomme meet and greets, the PIXEL experience, the ice slide, the Labyrinth game, the SAQ Bistro, SAQ Ice Bar, beavertails, and the Pepsi Ice Bar. This is downhill from the other two sites, and just above the walls of Old Québec.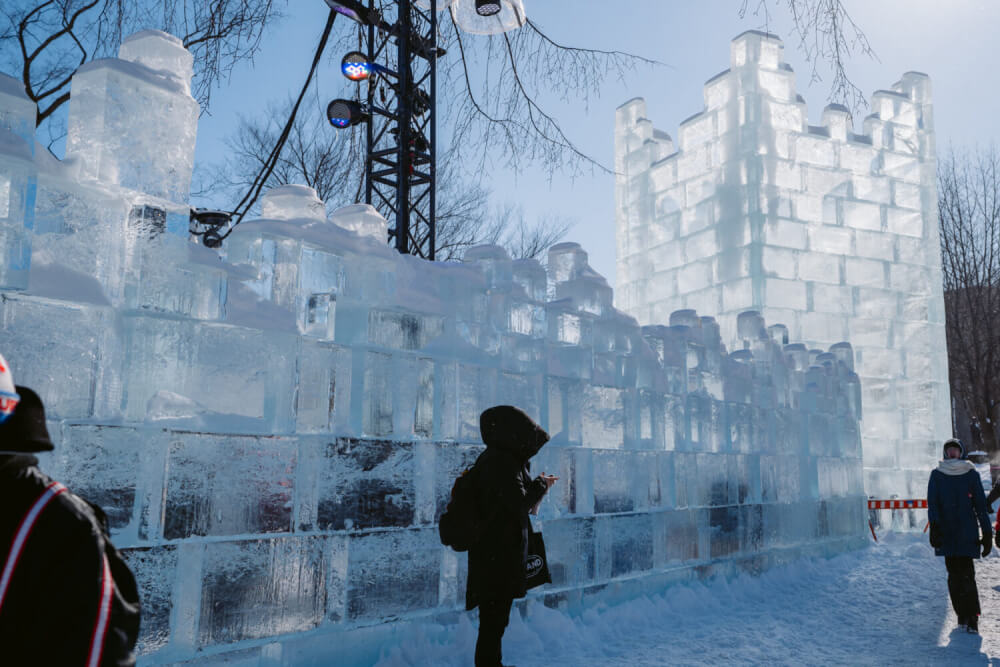 2. Camp à Jos Videotron (AKA Jo's Camp)
Location: Place George V
Jo's Camp is where you'll find many of the best known activities and entertainment of the entire Carnaval program, including axe throwing, Goon's League Hockey, and the Sugar Shack and Hockey-themed mini golf just outside.
You'll also find a wonderfully decorated ice bar here, along with the warm and cozy Chalet Unibroue where hot drinks and fondue baguettes await! This is also the site of many Carnaval performances, including the shiver-inducing ice wrestling.

3. Versant Nord Christie (AKA Christie North Slope)
Location: Parc de la Francophonie
Located directly across from Jo's Camp, the Christie North Slope is where you'll find the festival's tube slide attractions (including one more shallow slide for the little ones), along with some food and chill-out areas with two food trucks this year, one from Premium Plus selling soup and one from Christie selling deep fried Oreos and smores!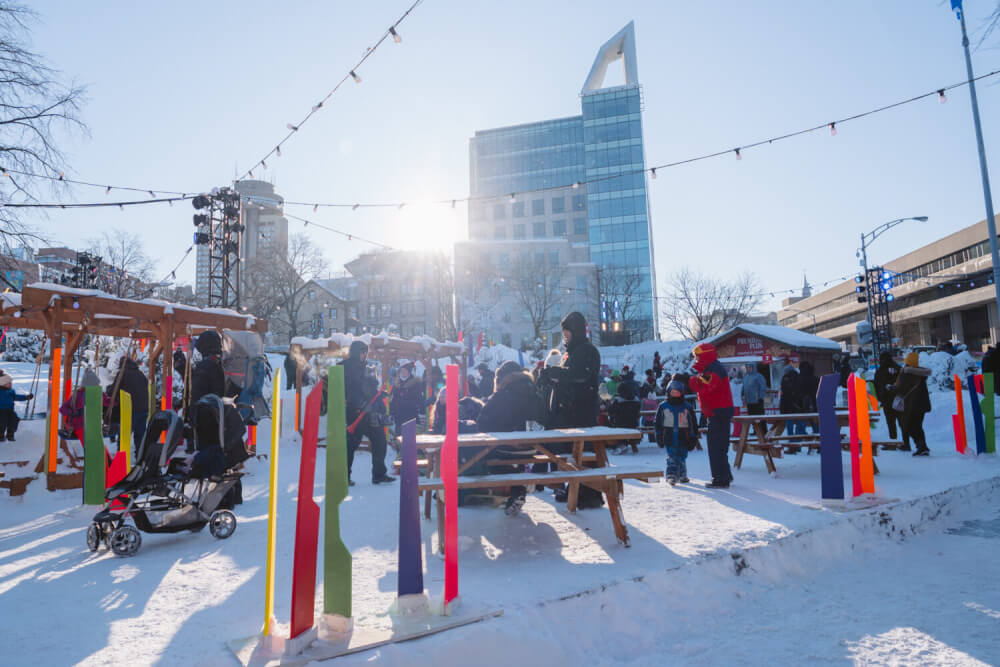 What to do the Carnaval de Québec
Click here for a full list of 21 must-do Carnaval activities
With axe throwing and ice canoes involved, the better question might be "what isn't there to do".
I can't lie to you, I drooled a little bit while reading the events/program list for 2020. Maybe it's me feeling homesick, maybe I just wish I could go back, but mmgh guys – there's SO much to do this year. So many absurdly wonderful Canadian things! The first of these is to eat, so click here for my full food and drink guide for Carnaval.
To ensure you are getting the the most up-to-date information on what is being offered this year, you can view a full program and schedule on the main website, or click here to see a more comprehensive list of 21 activities.
To give you a taste of what has been offered in previous years, here are some highlights from my visits in 2014 and 2020:
1. Meet Bonhomme himself
While roaming the site, keep your eyes peeled for festival ambassador Bonhomme, a walking, talking snowman known for his trademark grin, sash and toque. Interestingly, I learned that there's only one Bonhomme throughout the whole festival, which means spotting him can be rare. If you're keen on getting a photo with him at some point, consult the festival schedule to see where he'll be throughout the day. He does several meet and greets at his palace, and is usually present for big Carnaval events like the ice canoe races and parade.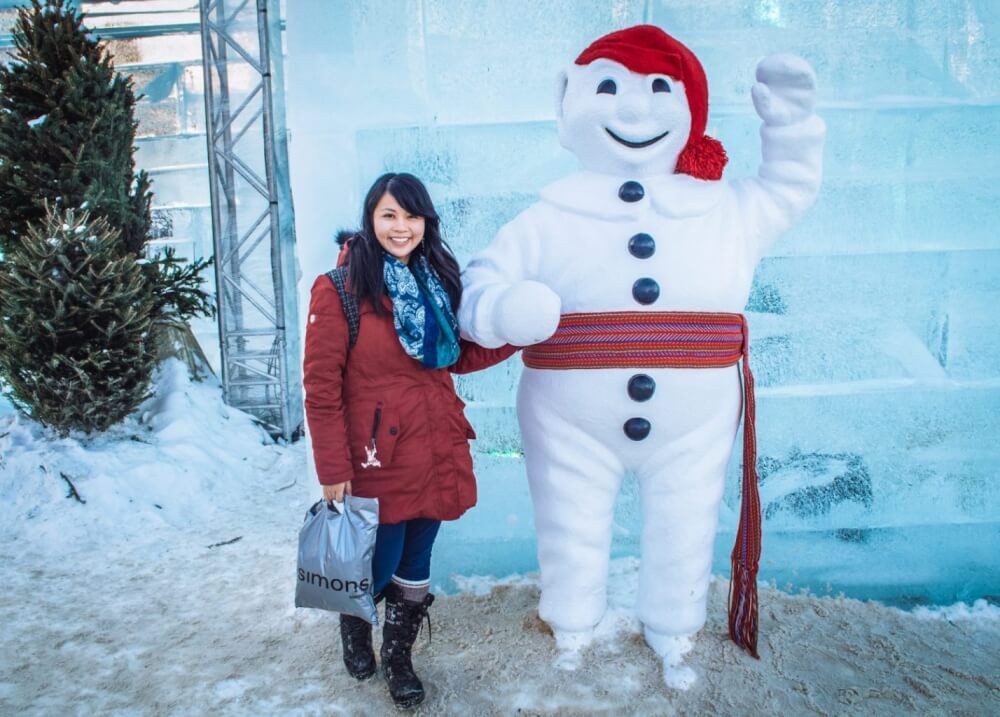 2. Visit Bonhomme's Ice Palace and the Zone Loto-Québec
*** CANCELLED IN 2021 ***
Obviously Bonhomme is a snowman who lives in style.
So, naturally, visiting his icy palace is a must! Located right across from the parliament building in the Zone Loto-Québec, this icy wonderland filled with an impressive ice/snow palace offers plenty of activities, including as fun ice slide, some ice bars, a competitive tilt maze game, and my personal favourite, PIXEL – a new immersive experience for 2020 that plunges you into a nostalgic walkthrough experience of various 80s and 90s video games!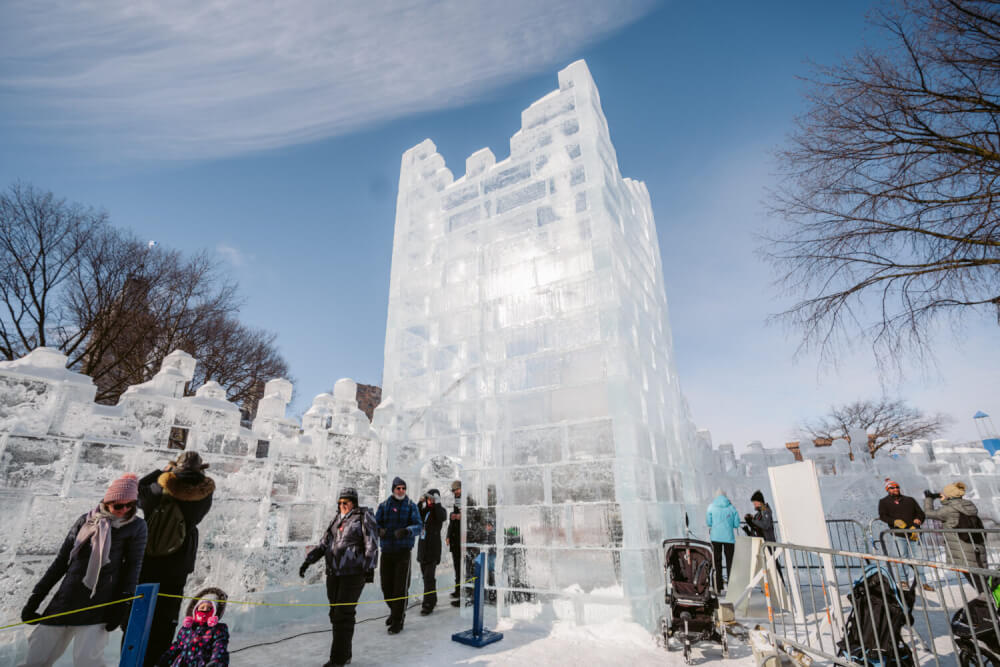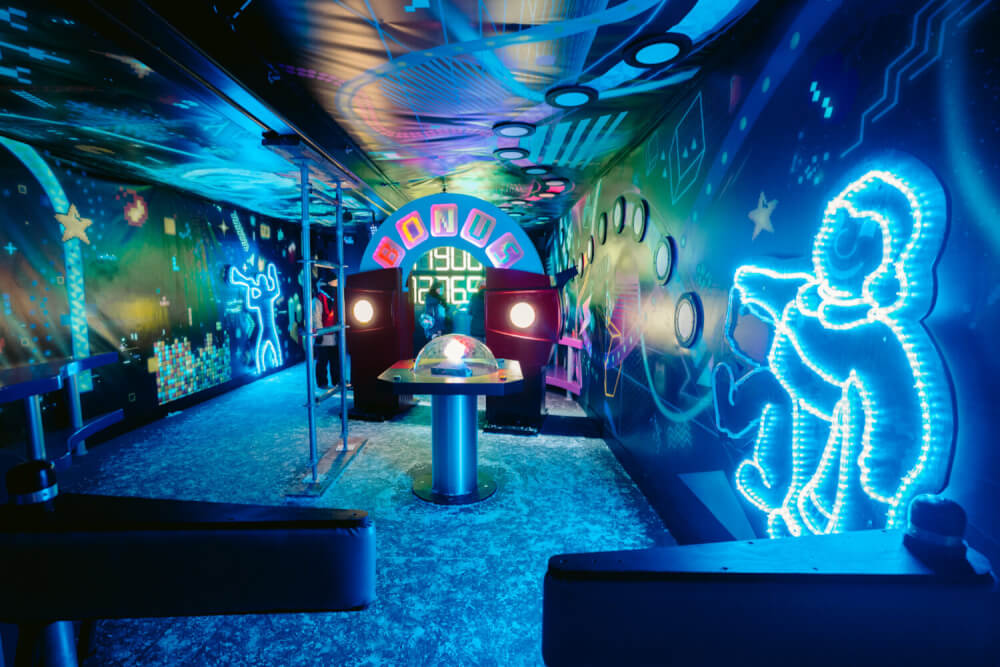 3. Enjoy some delicious maple taffy
Your true Canadian experience isn't complete without a sweet taste of maple taffy, tire d'erable.
People always think I'm joking when I tell them this, but no, I'm for real… Canadians actually eat boiled maple sap poured on snow. We call it maple taffy, and it's actually a really cool experience because when it touches the snow, the sap instantly becomes a delicious soft candy that you can pick up with a popsicle stick or fork. Irresistible.
You can get your delicious maple taffy from the Godin Family Sugar Shack just in front of Jo's Camp in Place George V. If you want a full list of other food experiences at Carnaval, click here!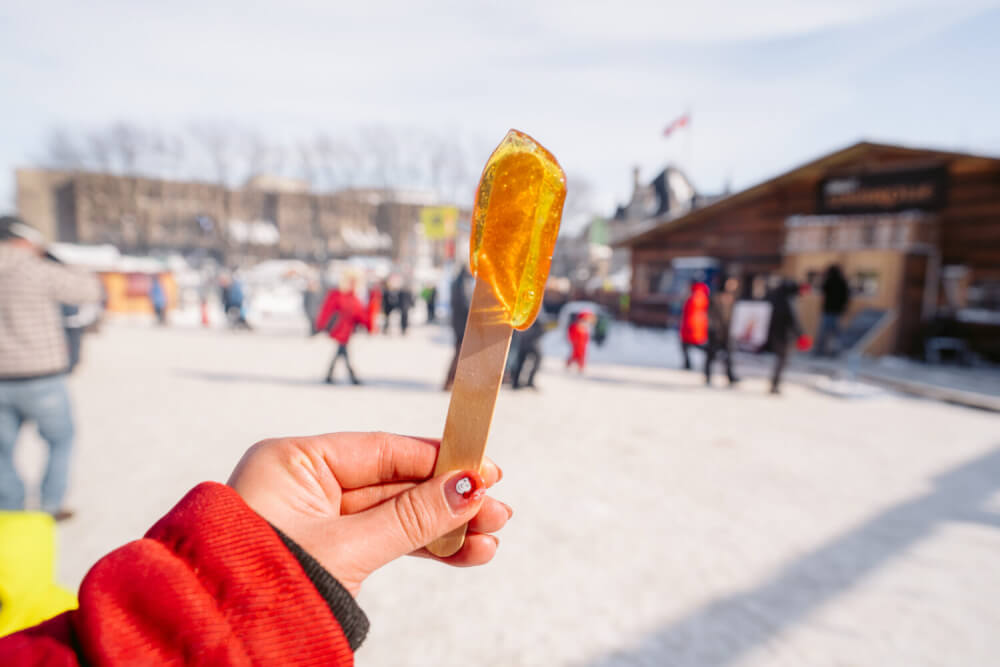 4. Catch the ice canoe races
*** CANCELLED IN 2021 ***
One of the most iconic events of the entire Carnival period, and probably one of the most Canadian things ever. Apparently this is a tradition that has taken place since Carnaval's first edition, and involves a lot of super strong athletes racing through a river studded with giant chunks of ice. It's a little Titanic for my liking, but nonetheless one of the must-see events of the festival!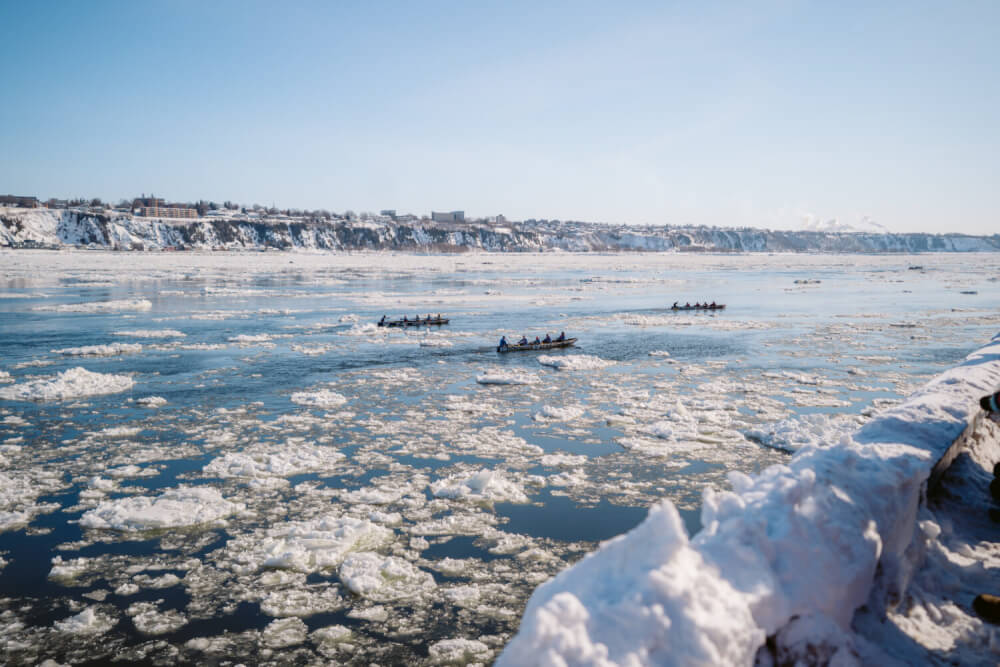 5. Admire the incredible ice sculptures
In past years, seeing the mammouth snow sculptures of the International Snow Sculpture Contest was always a huge Carnaval highlight. This year, they seem to be placing the emphasis on ice sculptures instead, with 30 ice sculptures crafted by Sculptures Lepire, themed with "popular animals" AKA beloved cartoon characters like Ratatouille, Babar, and Paddington Bear! You can find them scattered all around Old Québec, particularly in the adorable little neighbourhood of Petit Champlain.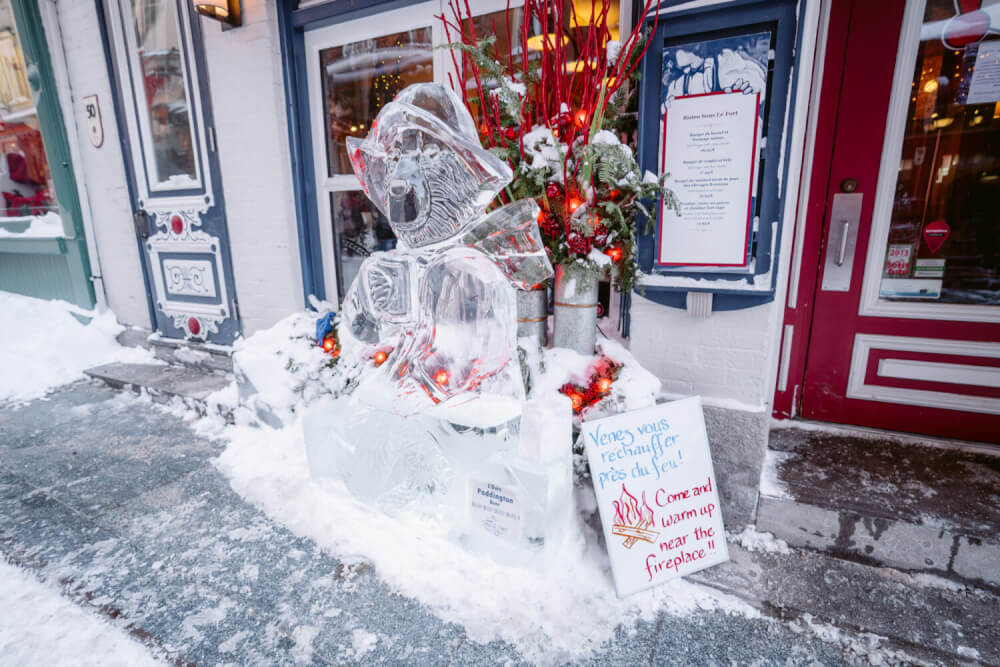 6. Scope out a night parade on Grande Allée
****CANCELLED FOR 2021****
While I didn't get to see the parade on my first visit in 2014, I got to see it this year and it completely blew my expectations out of the water!
Long story short, for 2020, they reprised the renewed version of the parade which debuted the previous year, with five scenes featuring different artistic disciplines with moving performances ft. circus/media arts, a rock show and even some pyrotechnics thrown in for good measure.
It was pretty epic, and Bonhomme even makes a grand appearance 😉 I would recommend bundling up really warm because the pacing of the parade is a bit awkward, and there is some wait time for it to begin/between floats, but we arrived 20 minutes before 7pm and lined up close to the start of the parade and there was plenty of standing room!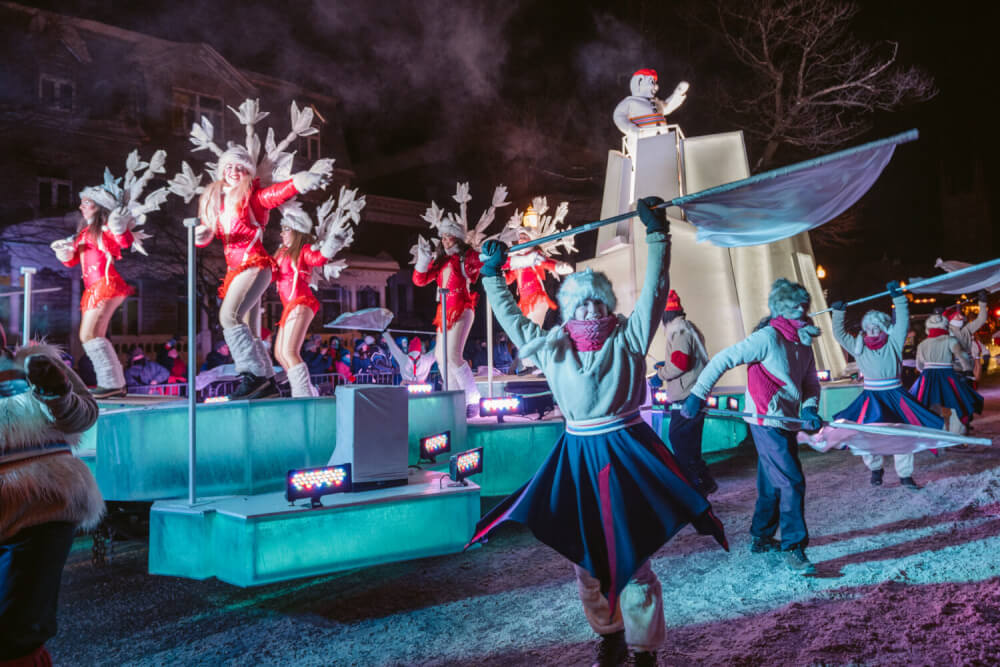 ---
7. Get your swimmers on and take a snow bath
*** CANCELLED IN 2021 ***
That's right, during one special day during Carnaval, Canada's boldest and most insane will brave the freezing temperatures to take snow baths in their swimsuits at the annual St-Hubert Snow Bath. Don't worry, a mandatory warm-up is included…. and so is an eyeful of many half-naked people, if that sweetens the deal…
NOTE: You need to register for this event beforehand and be 18+. Click here for more info.
8. Attend a snow rave
*** CANCELLED IN 2021 ***
When attending Carnaval, it only makes sense that you carve out some time to party it up Canadian style, at an outdoor rave that's free for all Quebec Winter Carnival Effigy owners!
For 2020, eager partyers could brave the cold at two main events: The Pepsi Hip Hop Evening on Friday, February 7 and the Sapporo Electro Frette on Friday, February 14. It is unlikely that there will be any similar events in 2021 however (for obvious reasons).
9. Drink up at an ice bar
*** CANCELLED IN 2021 ***
Drinking out of literal cups of ice is one of the quintessentially Carnaval experiences you can't miss! Plus, it's an excellent way to stay warm.
During my latest visit, there were two main ice bars on site at the Quebec Winter Carnival, including the Bar le Coureur des bois at le Camp à Jo and the SAQ Ice Bar in the Zone Loto-Québec.
Be sure to give the classic Caribou drink a try (imagine a delicious Canadian mulled wine clone), or perhaps a Bonhomme Cosmo, made up of a vodka shot and red Bonhomme syrup.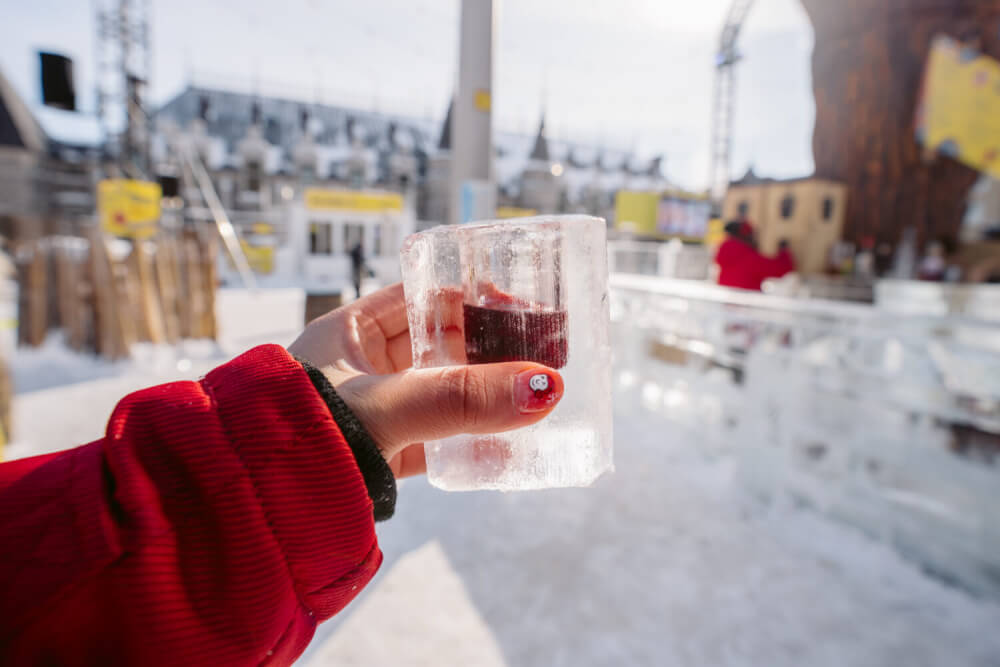 10. Enjoy some impossibly Canadian festivities
*** CANCELLED IN 2021 ***
Axe throwing, tubing, ice slides, tobogganing, basically a laundry list of all the Canadian things you assume we don't actually do…..
Guys, you can do them at Carnival.
One of the funniest things I saw in the roundup was a winter wrestling match where they literally have grown men in (pretty much) speedos pretend-fighting in the icy frigid winter. It was incredible. Canada, what even are you?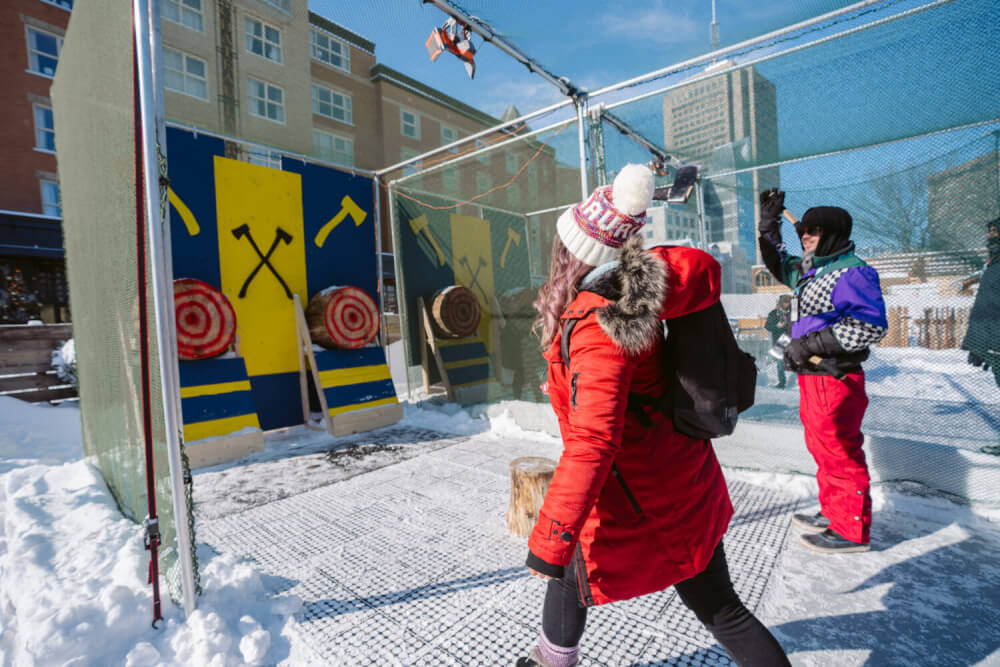 Final Tips for Your Quebec Carnaval Visit
Lastly, here are my final pro tips to help you make the most of your Quebec Winter Carnival trip!
Remember, these tips were written after a visit last year, so they may not be 100% relevant for any 2021 festivities given the many changes they are making. I'll leave my tips below for your reference though.
For the best deal, get the Carnaval Passport
*** NOTE: ALL CARNAVAL ACTIVITIES ARE FREE IN 2021 ***
I can't stress enough what an amazing deal the Carnaval Passport is!
For only $25 more than the regular effigy, you get your hands on an effigy plus a wide range of additional stuff that (if you're like me) you would've bought anyway, including an adorable and warm Carnaval toque, a maple taffy, a ponce du Carnaval (and its accompanying souvenir mug), a hot chocolate or coffee, plus a coupon set including freebies from Couche Tard (free coffee, pastry, hot dog, sod and to-go meal) and discounts for a lot of other places.
If you want excellent value for money, pay the extra for the Carnaval Passport – you won't regret it.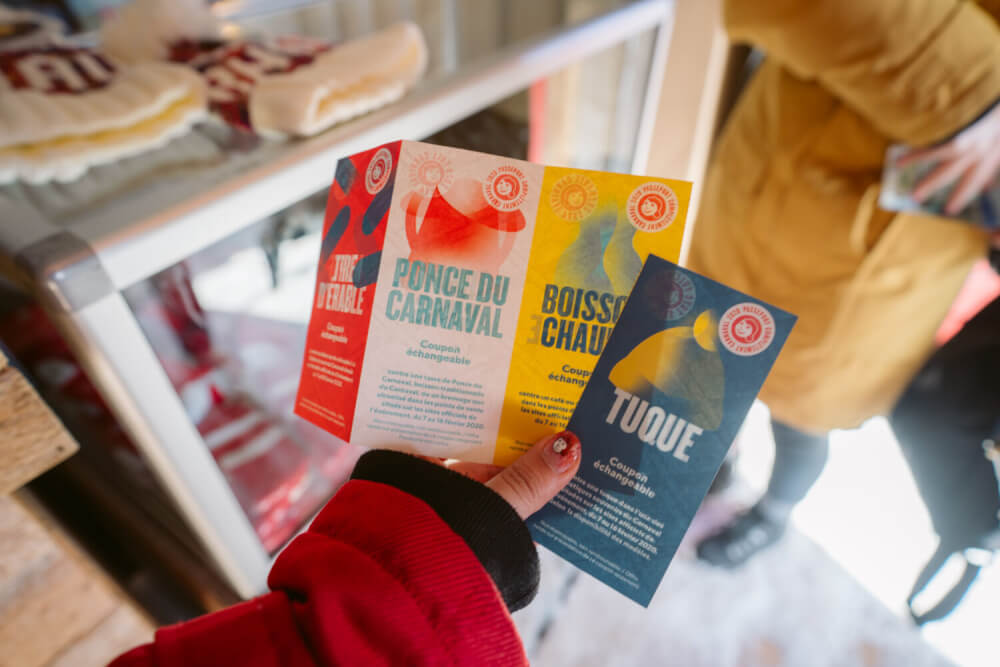 Display your effigy somewhere clearly visible
*** NOTE: ALL CARNAVAL ACTIVITIES ARE FREE IN 2021 ***
Of all the things to carry around during your Quebec Winter Carnival trip, none is more important than your effigy! This is your entry ticket to every Carnaval attraction so make sure to tie it clearly on a visible zipper so that you a) don't lose it and b) the security staff can quickly confirm that you're able to enter.
Schedule a loose game plan
While the festival sites are all close together, there are certain events that only take place at set times, so if there is a particular performance or activity you really want to see, it's important you plan your day around it!
We for instance really wanted to get photos with Bonhomme and watch the ice wrestling, so we marked these down on a schedule and planned our days around these must-dos. Trust me, Carnaval can be a bit overwhelming with all the choices so this is the best way to plan your trip and ensure you don't miss any of your must-dos while maximizing your time.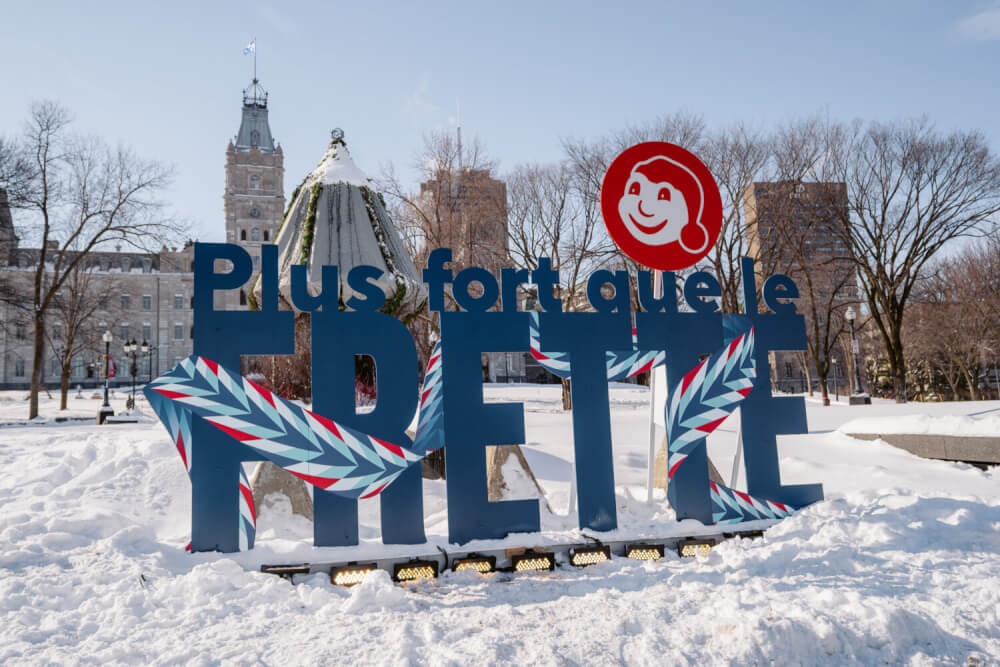 Pack wet wipes and hand sanitizer
One common theme among the various must-eats at Carnaval are their undeniable stickiness. What do you do with yourself after you've smothered your hands in maple syrup and Nutella?
That's a good question… no amount of napkins will get this stickiness off your fingers so be sure to have some hand sanitizer or wet wipes in your bag to clean up properly.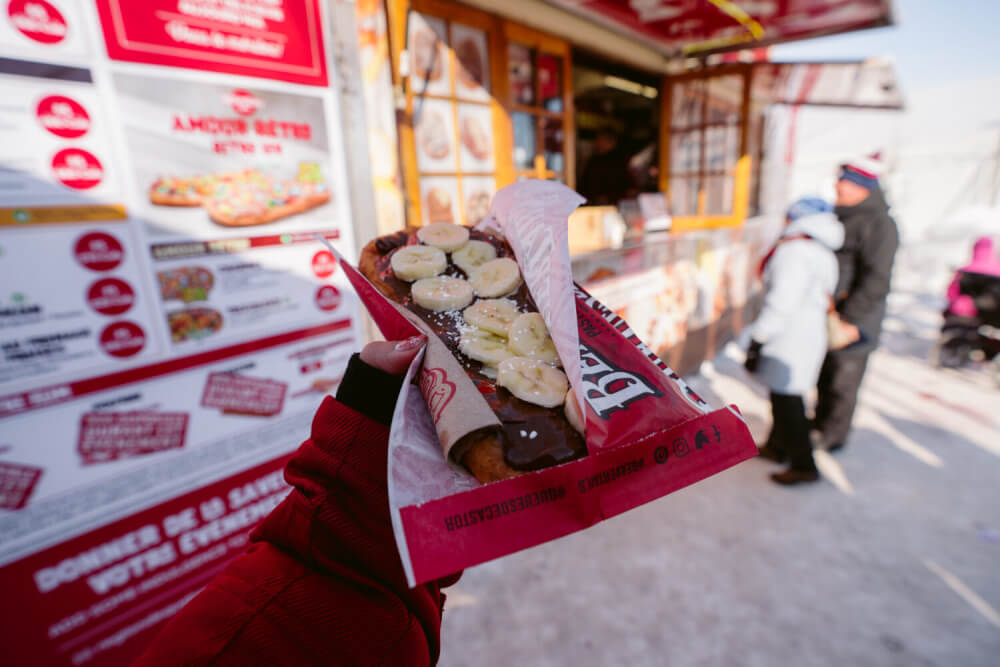 Get some ~ special beverages ~ to keep yourself warm (even during the day)
Our second day at the Carnaval, we went all in on the ice bar offerings, slamming down a Bonhomme cosmo, a Caribou and a Ponce du Carnaval in quick succession. Do you know who WASN'T cold? This girl!
I know day drinking feels like a weird thing to do at what seems like a truly wholesome family event but wow what a difference it makes. Of course, don't go overboard, but a bit of Caribou can really warm you up nicely.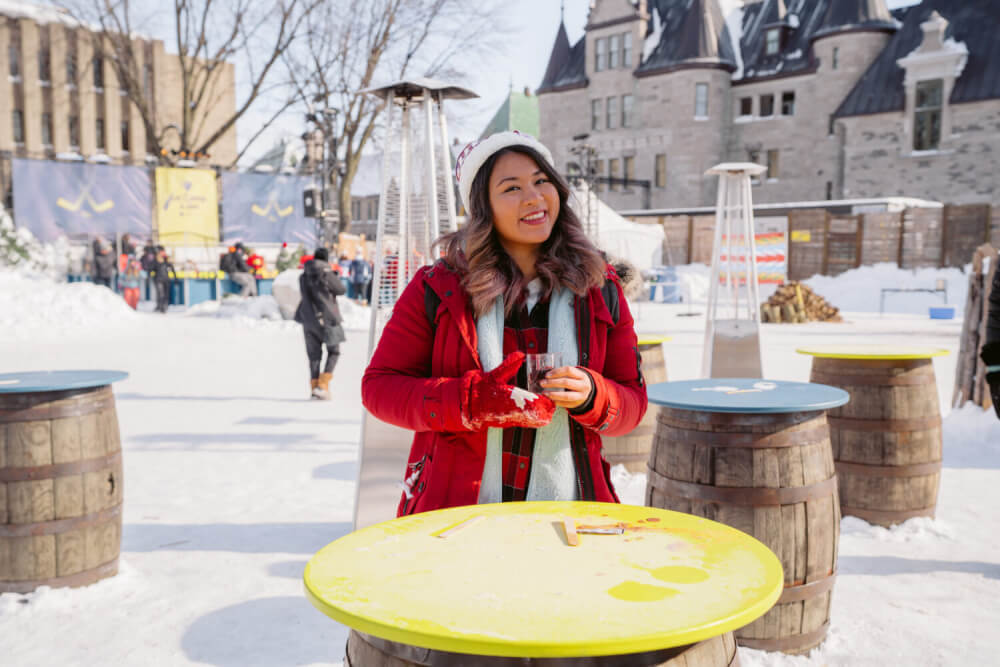 Have a bathroom game plan
Okay, now for some very gross but important and practical info that I must pass down to you…… relieving yourself at Carnaval is NOT a pretty endeavour. Essentially all the public bathrooms on site consist of porta poddies which, as I'm sure you can imagine, isn't the most pleasant experience.
Mix in the winter wonders of frozen liquids and many of these porta poddies are… well, covered in frozen pee! There. I said it. I'm sorry.
It's certainly not fun, so be sure to strategize and make time for bathroom spots in the day in restaurants, cafes, and even department stores. Simon's downtown for example has a public washroom, as does the swanky Chateau Frontenac if you enter at the Starbucks entrance and follow the signs.
Get there early for must-do attractions
*** NOTE: MOST ATTRACTIONS ARE CANCELLED IN 2021 ***
There are some activities at the Quebec Winter Carnival that attract more crowds than others. In my experience, this included the tube sliding, Labyrinth experience and the Bonhomme palace ice slide.
Getting there at opening time is key to making sure you wait the minimum amount possible! Alternatively, if possible for you, avoiding weekends is probably best.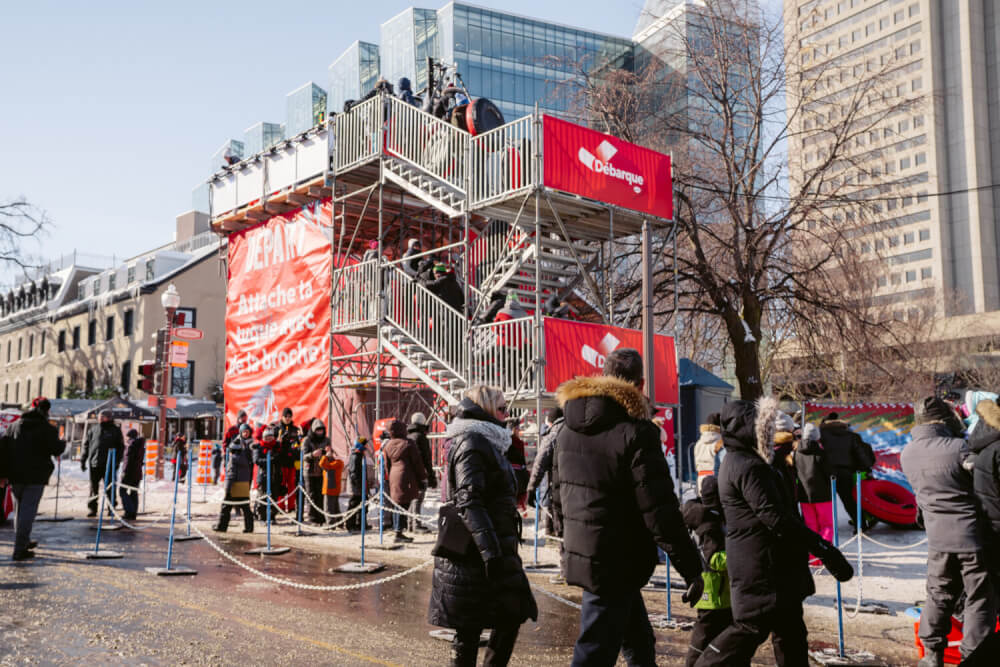 For the parade, walk closer down to the front
*** NOTE: THE PARADE IS CANCELLED FOR 2021 ***
The weekend parade along Grande Allée is hands down one of the nicest things to do during the Québec Winter Carnival.
If you want to snag a prime spot without waiting a long time in the cold, I would recommend heading closer to the start of the parade route. We got here 20 minutes before 7pm and there were still a lot of spots, even after the parade start time of 7pm.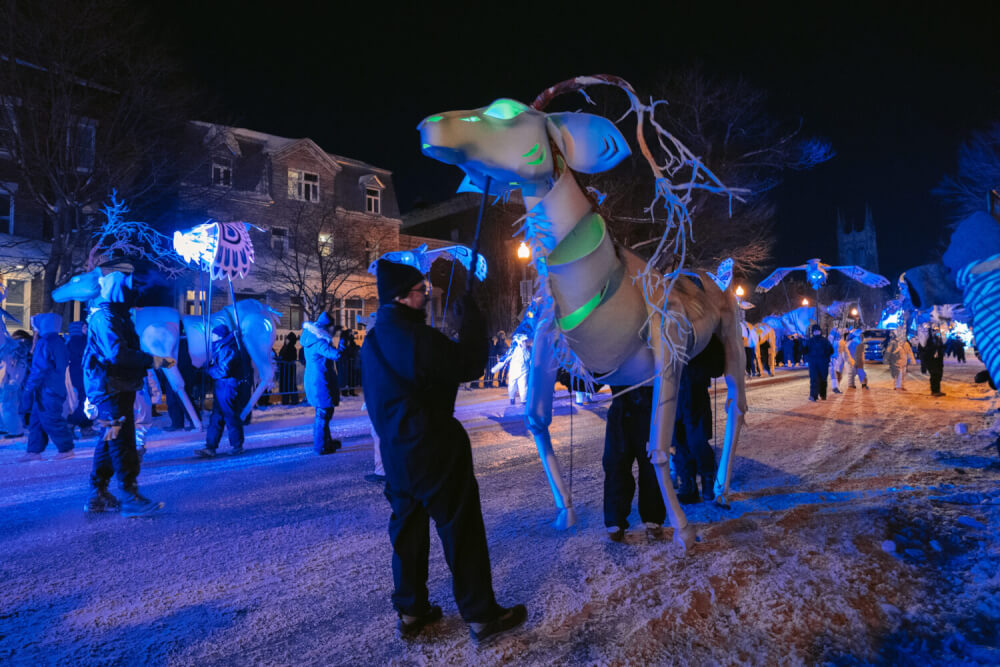 Any more questions about the Quebec Winter Carnival?
I hope you enjoyed this guide to Quebec's Carnaval celebrations! Feel free to ask if you have any questions 🙂