*FYI - this post may contain affiliate links, which means we earn a commission at no extra cost to you if you purchase from them. Also, as an Amazon Associate I earn from qualifying purchases. Check out our Privacy Policy and Disclosure. for more info.
If there's anything I love more than travel, it's Christmas.
Honestly, I must have been an elf in my former life, or at least one of those moody reindeer from Rudolph's song… because once the holidays hit, my body is 90% candy cane.
So it probably won't surprise you that I enjoy going all-out when it comes to dressing up my tree. Over the years, I've done Star Wars (see a pic here), superheroes (tutorial here), Game of Thrones (photos here) and this year, in honour of 2020 being the year of staying put, my tree is ironically all about travel!
In this post, I'm going to show you how I made my dream travel-themed tree for next-to-nothing, how I repurposed a lot of my travel mementos into ornaments, and of course lots of other ideas if you're looking to create something similar.
Can you hear the excitement in my voice? I am JITTERY SO EXCITED! (and hyped up on hot chocolate). Let's go!
Save this post for later on Pinterest: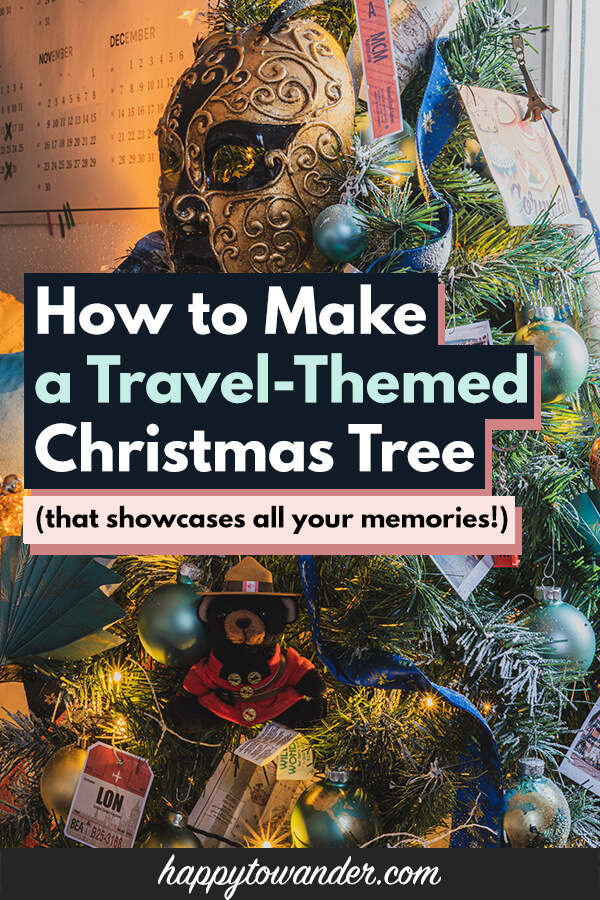 A Look at My Travel Themed Christmas Tree
As nice as it is to have an aesthetically pleasing tree, I think the best Christmas trees are the ones that are an eclectic modge podge of personal memories, favouring sentimentality over aesthetics.
So, with that chaotic vision in mind, I decided to turn all my favourite memories into ornaments with the help of 3 coffees, a pinch of craftiness and Michael Bublé on repeat.
I haven't travelled much this year, so looking at my tree now low-key makes me want to sob, BUT (tears aside), it also fills me with so much joy because it's plastered in wonderful memories.
From my favourite Instagram photos and postcards from places I love, to unique mementos collected on some of my most amazing trips, this tree is nostalgia at its finest. Colour coordinated, wanderlusty nostalgia.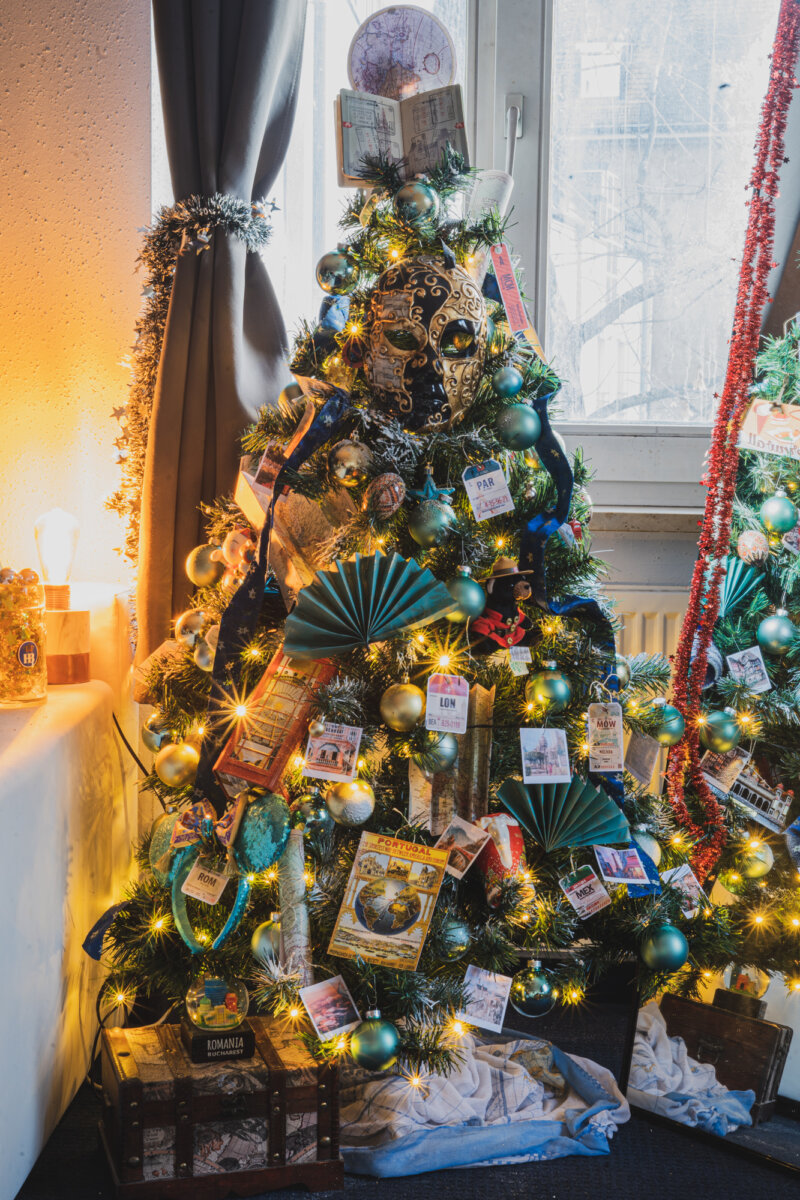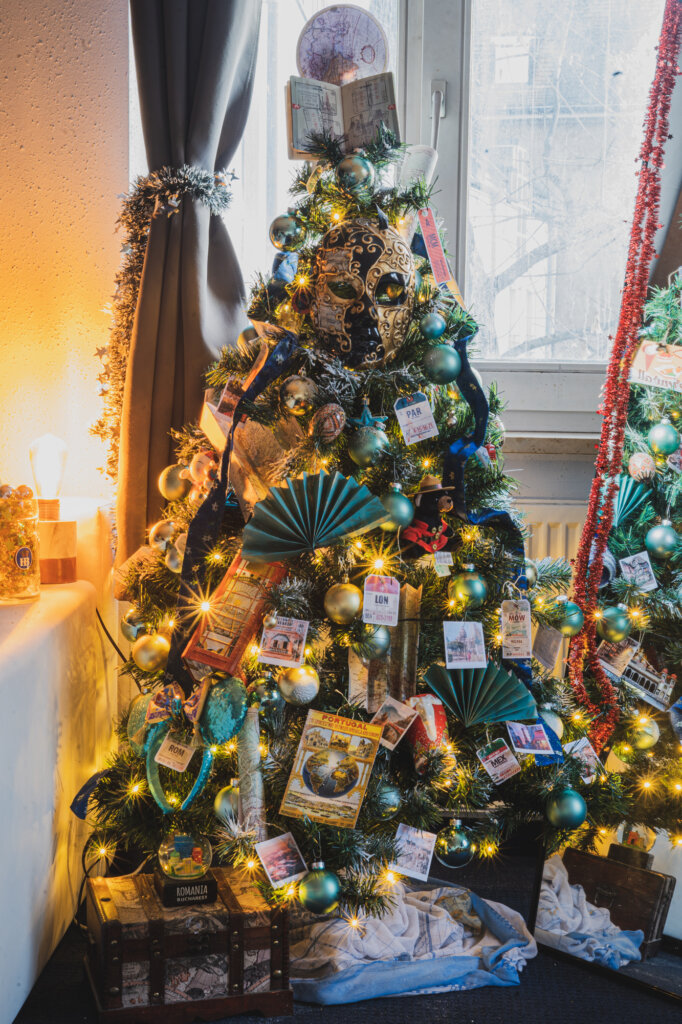 Overall, I went for an old school vintage travel vibe, with polaroid photos and old timey maps that literally have "Unknowne Lands" marked down as a location. To fit this aesthetic, I picked turquoise and gold baubles, some of which I hand painted to look like globes.
… Don't look too closely though because let's just say my geography is poor and none of them are accurate. in the least.
I also found a way to turn some of my most cherished mementos into ornaments, like my glühwein mug collection assembled through years of hoarding, the handmade mask my boyfriend bought in Burano on our first trip together, and of course the adorable Lucky Cat my mom bought me as a good luck present when I came to Munich.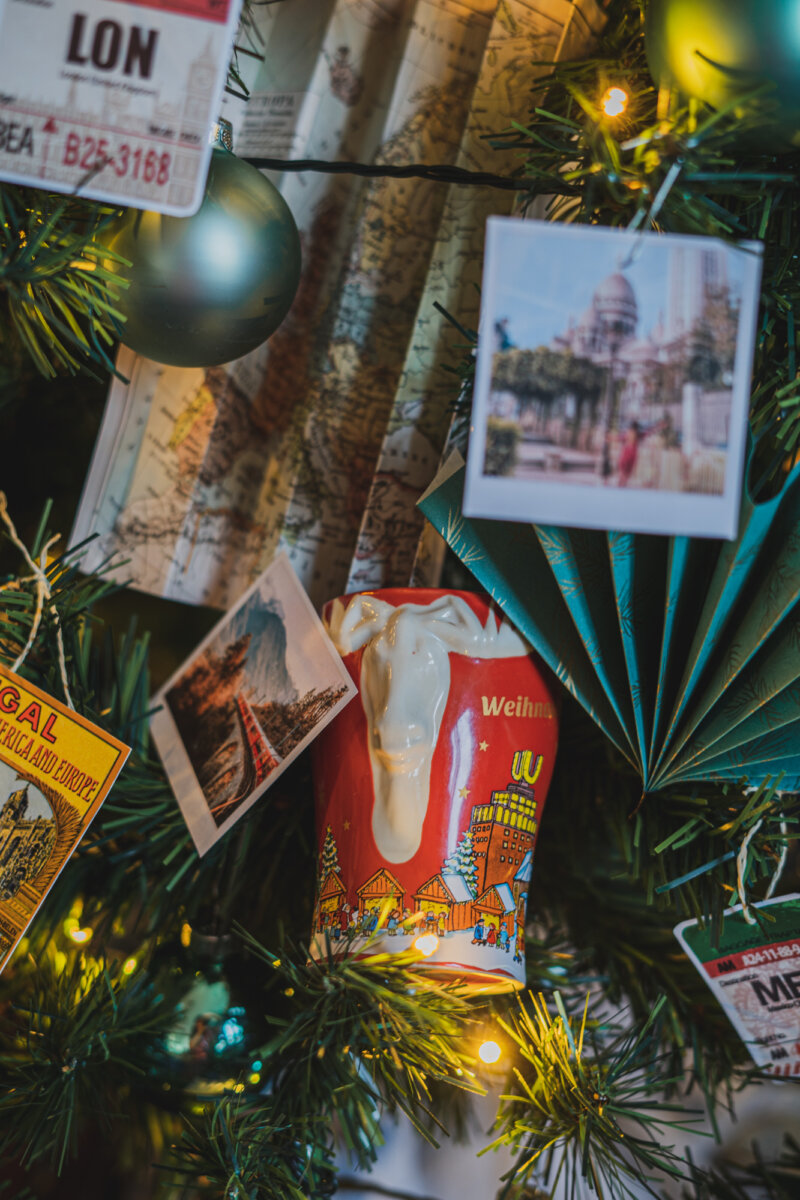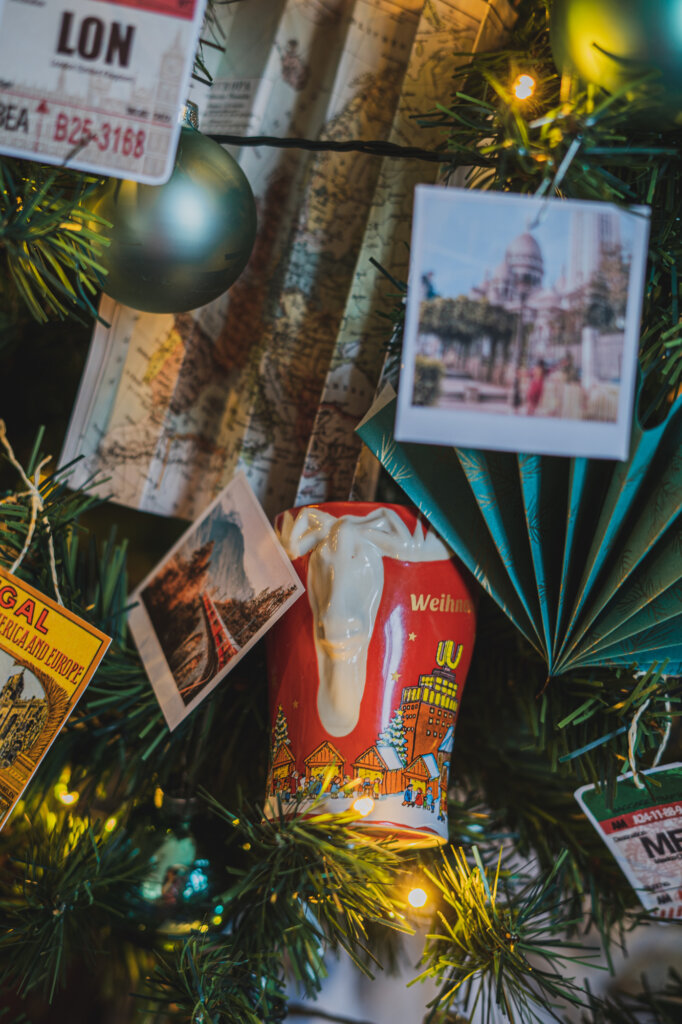 Honestly, I'm still undecided on whether the Venetian mask is classy and cultured or just no holds barred terrifying, but I'll wait until it scares me in the middle of the night to decide.
The point is: if your travel themed tree doesn't turn you into a weepy, sentimental mess, you probably have some more work to do.
Below, you'll find some ideas to help you out with your mission!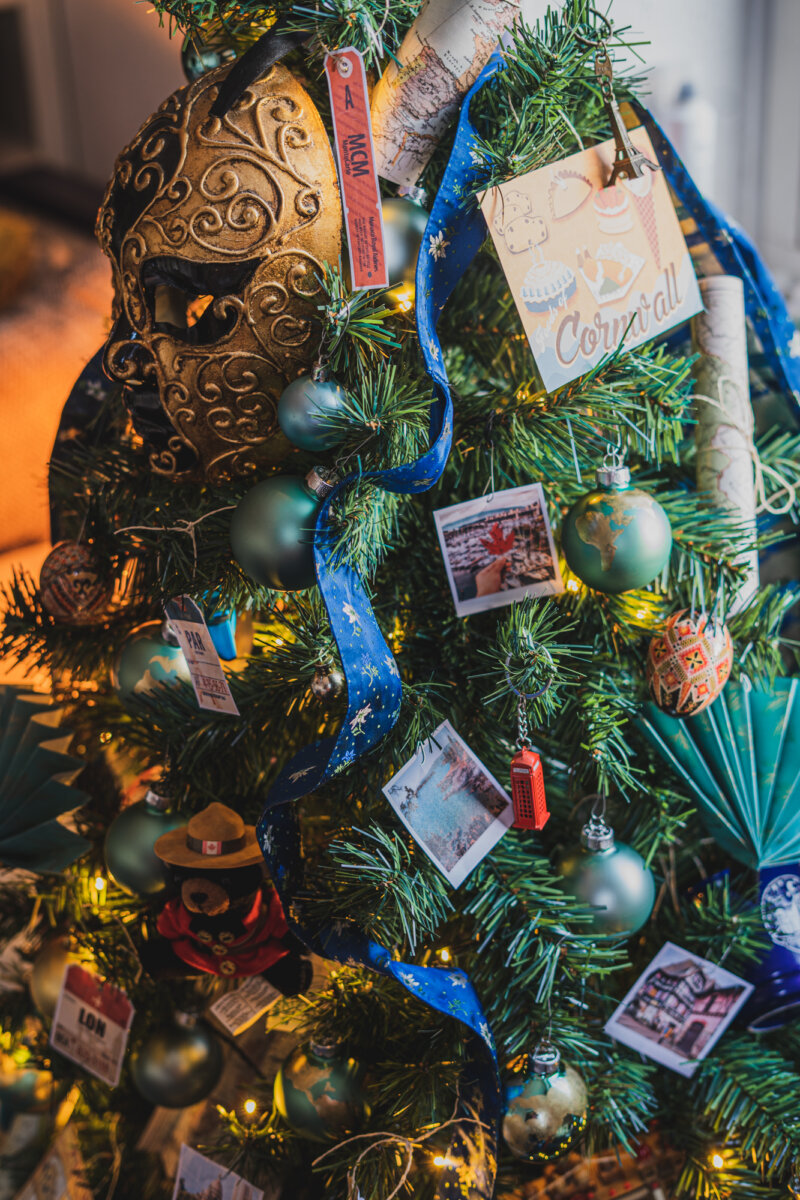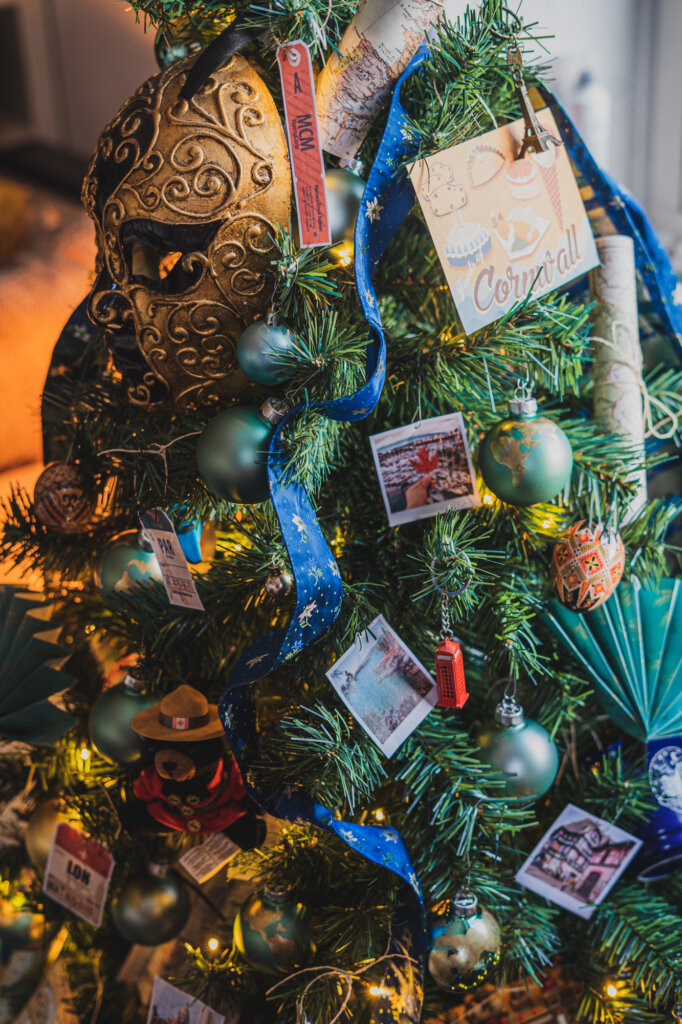 Ideas for your Own Travel Christmas Tree
Alright, you've seen mine, now let me walk you through how you can recreate a similar look for your own tree this year, with DIY ideas and also some places online you can buy gorgeous travel ornaments.
1. Travel-themed baubles – the perfect travel ornaments
It's not a travel Christmas tree without pretty baubles, and there are tons of great ideas that you can run with!
As I mentioned above, I personally bought a small tin of metallic gold paint (like this) and painted a map pattern on some turquoise baubles myself.
If you want to buy something longer lasting (or want to spare yourself the work), HolidayEveryDayArt has some gorgeous globe-inspired ones made with gold leaf here.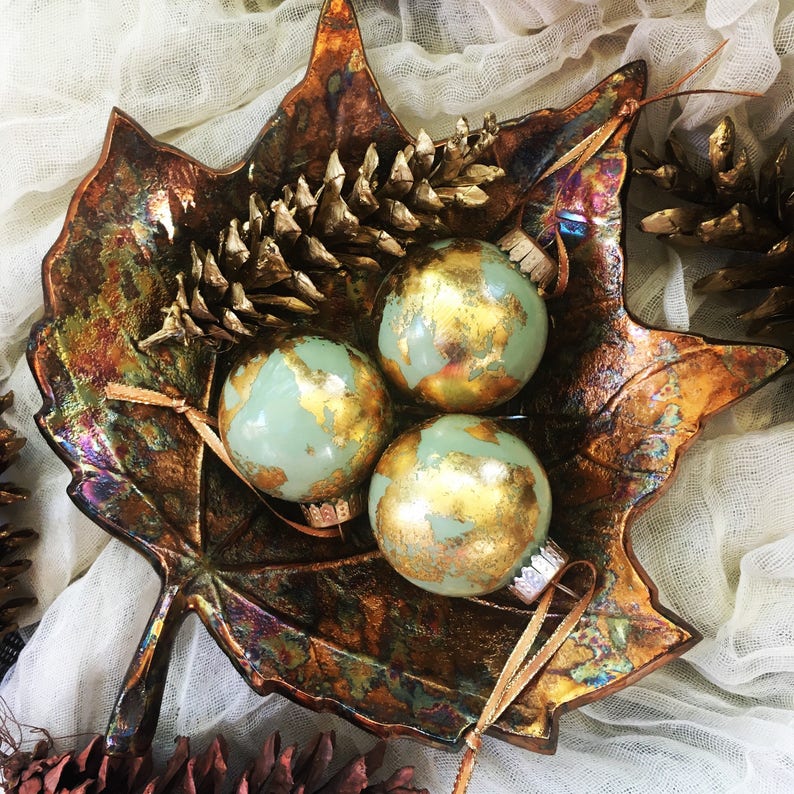 You can also buy these beautiful hand lettered globe baubles from The Lonely Heart Co that you can get personalized!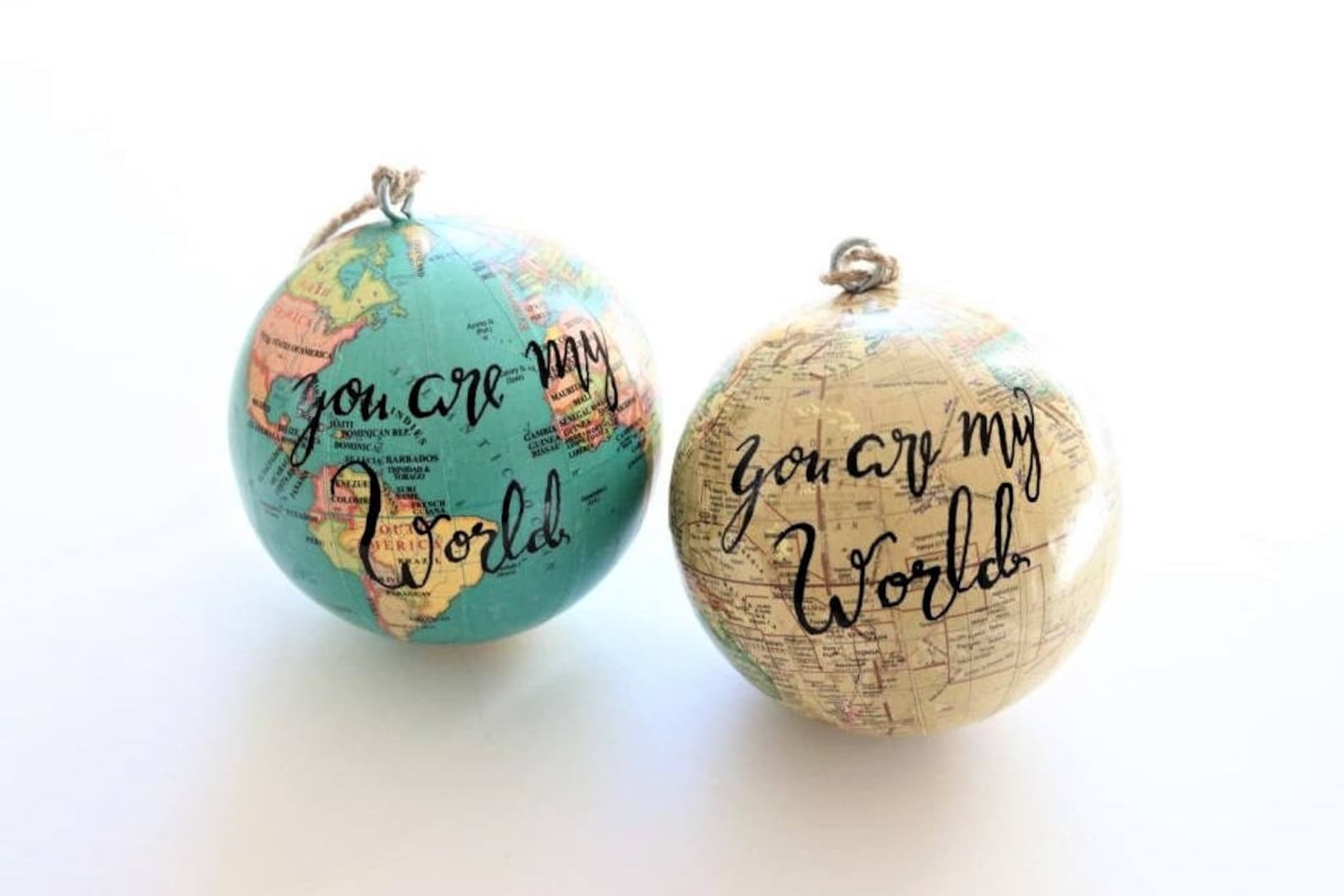 2. Map print ornaments
Another very simple DIY idea for your travel themed tree is to get some pretty map prints and then go wild with paper crafts.
If you have a good printer with loads of colour ink, you can very cheaply print out some vintage maps from free stock photo sites and then use them for crafting. This is what I did!
I used this map and the "Europa" map from here which you can download for free. They were so versatile and I ended up using them in a few different super easy ways, like rolling them into scrolls and tying them with twine, and simply doing an accordion fold and perching them in the branches to fill out empty gaps.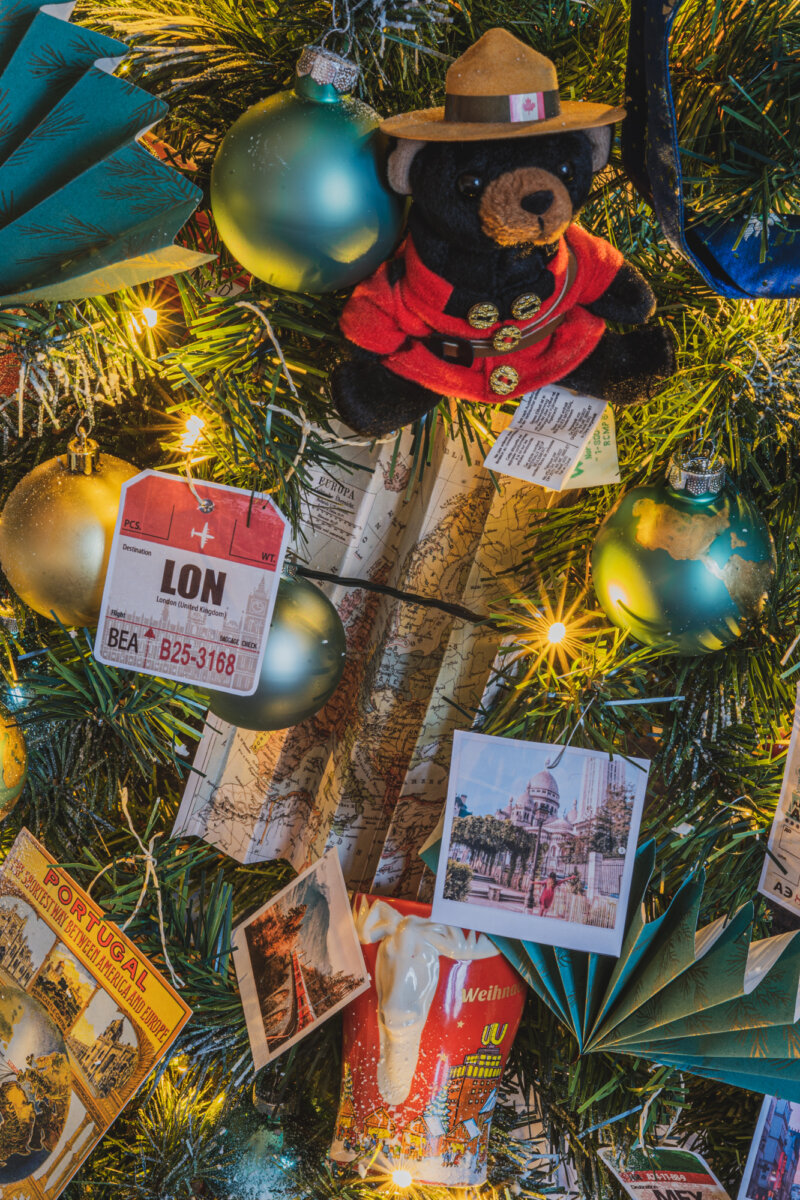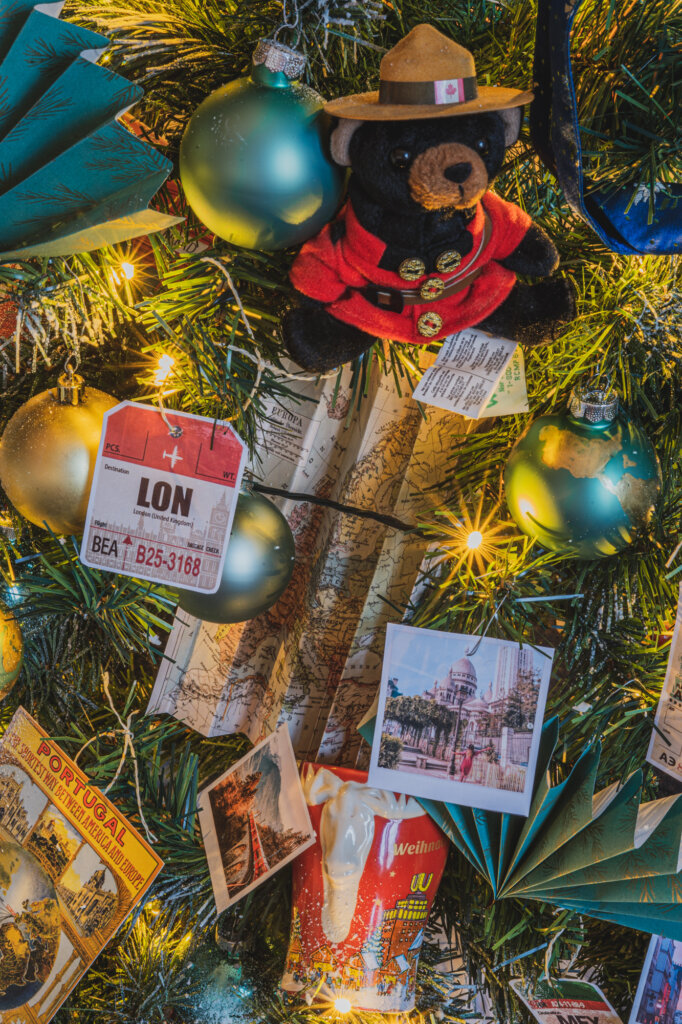 I also picked up some really pretty turquoise/gold wrapping paper that I folded into some colourful fans to fill out the tree. This pack has some similar ones to what I used, but there are lots of options out there like this pretty vintage map wrapping paper pack.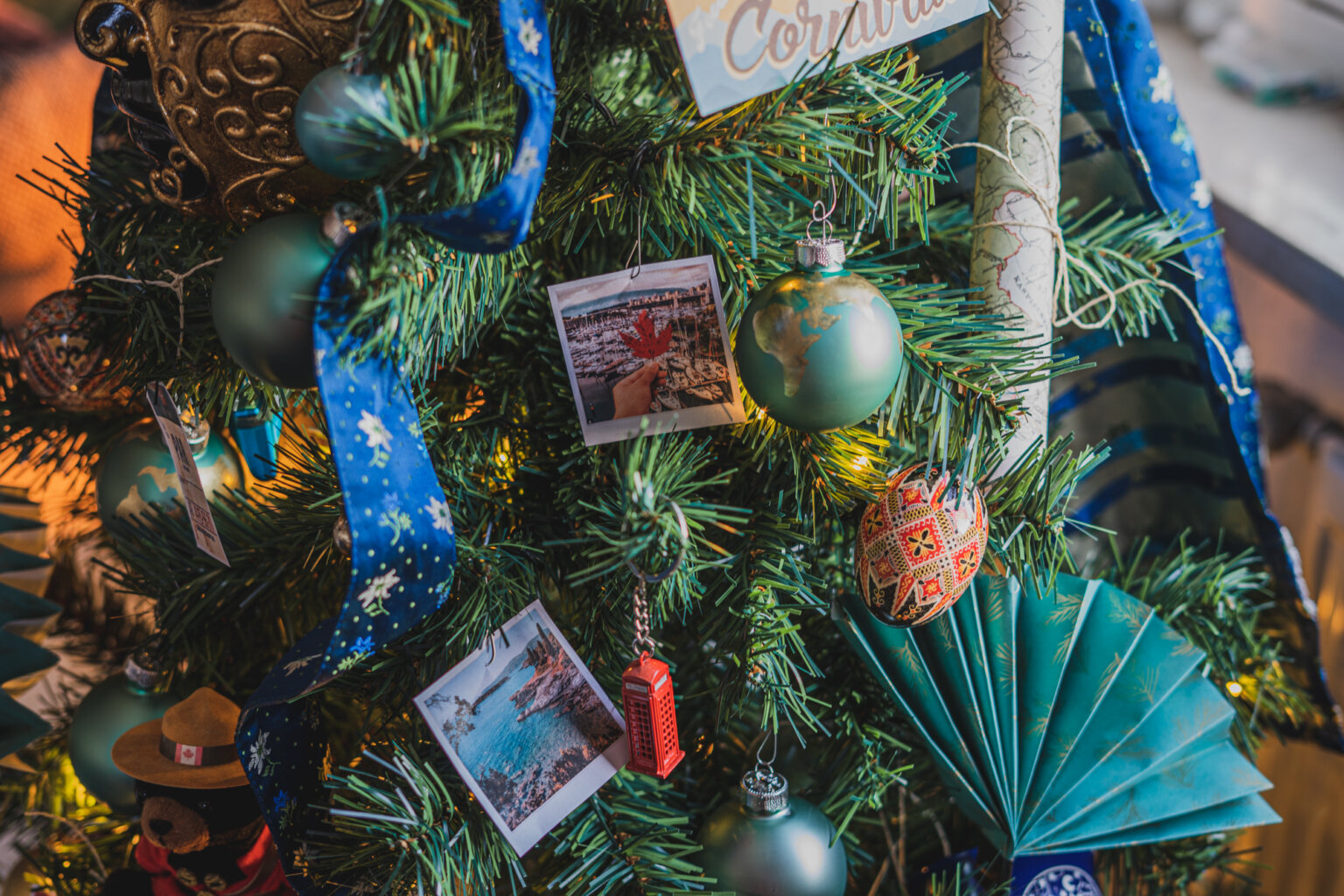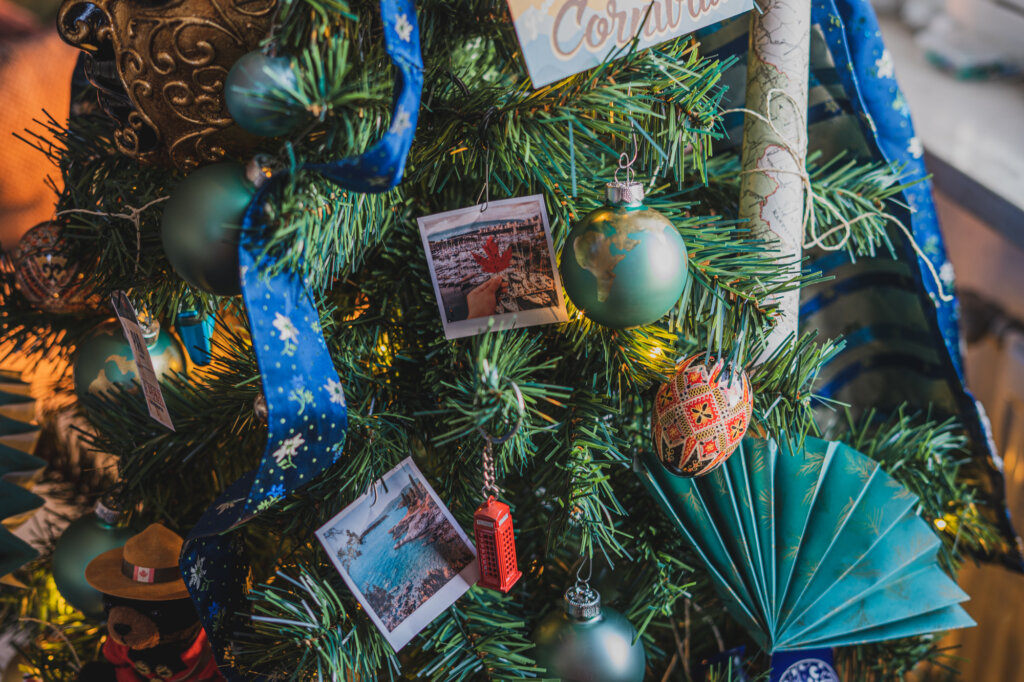 3. Personal, unique trinkets
If you're anything like me, you probably have a drawer full of random travel trinkets, or bigger items that are on display around the house. Well, no time like the present to give these bad boys a new lease at life.
Using a bit of ribbon and hot glue (or some Sticky tack for a less permanent solution), you can turn pretty much any trinket into an ornament. Now I finally have a use for those 10 Eiffel Tower keychains I got pressured into buying 😉
For my travel themed Christmas tree, I basically ransacked my apartment to find anything remotely travel related and then turned them into ornaments with the help of some twine like this, some cheap ornament hooks like this, and sticky tac like this.
Personally, I think the twine looks more ~ Christmassy ~, but for more any trinkets that can't easily be tied up, some sticky tac and a hook works just as well.
With the help of those simple tools, I managed to make ornaments out of mugs, tiny beer glasses, stuffed animals, a poker chip from Vegas and more. In my opinion, the more eclectic the better – this is your tree representing your travel memories after all!
Here are some ideas of travel-themed things that make excellent ornaments:
Travel keychains
Travel magnets
Old boarding passes, tickets, etc.
Figurines
Mugs (e.g. European Xmas market mugs)
Small stuffed animals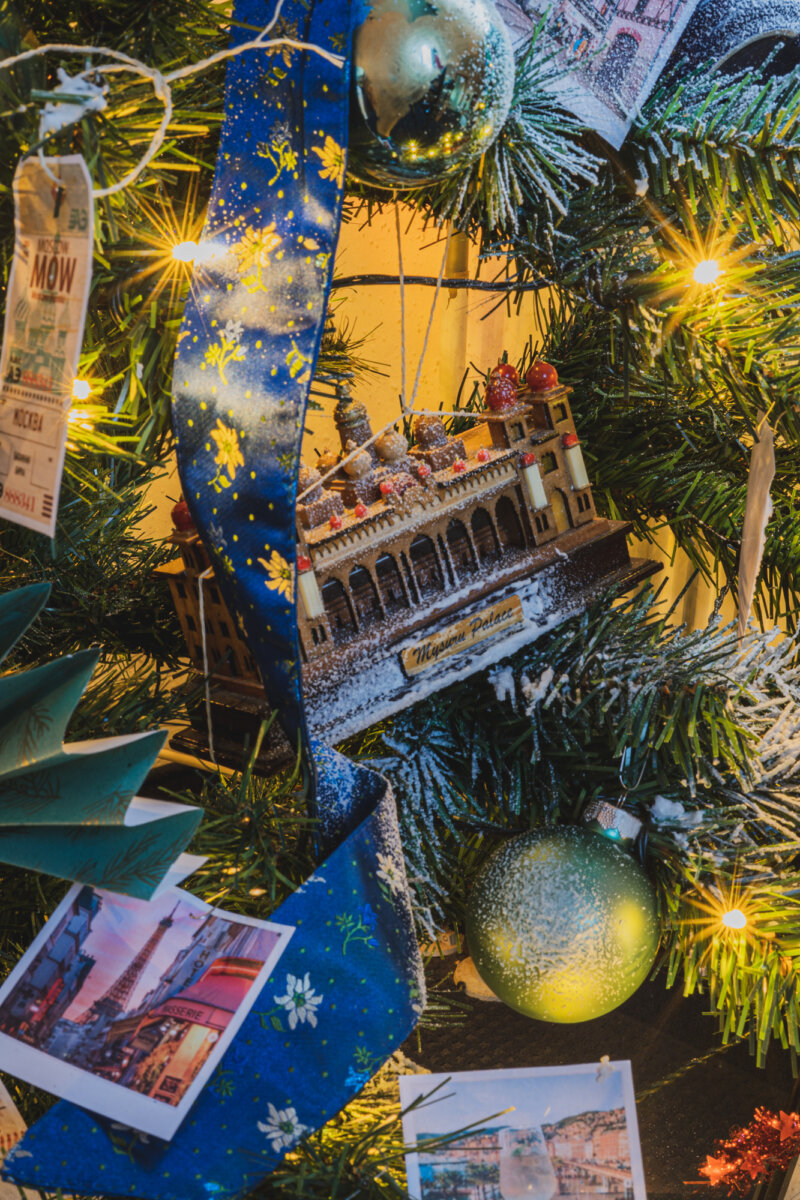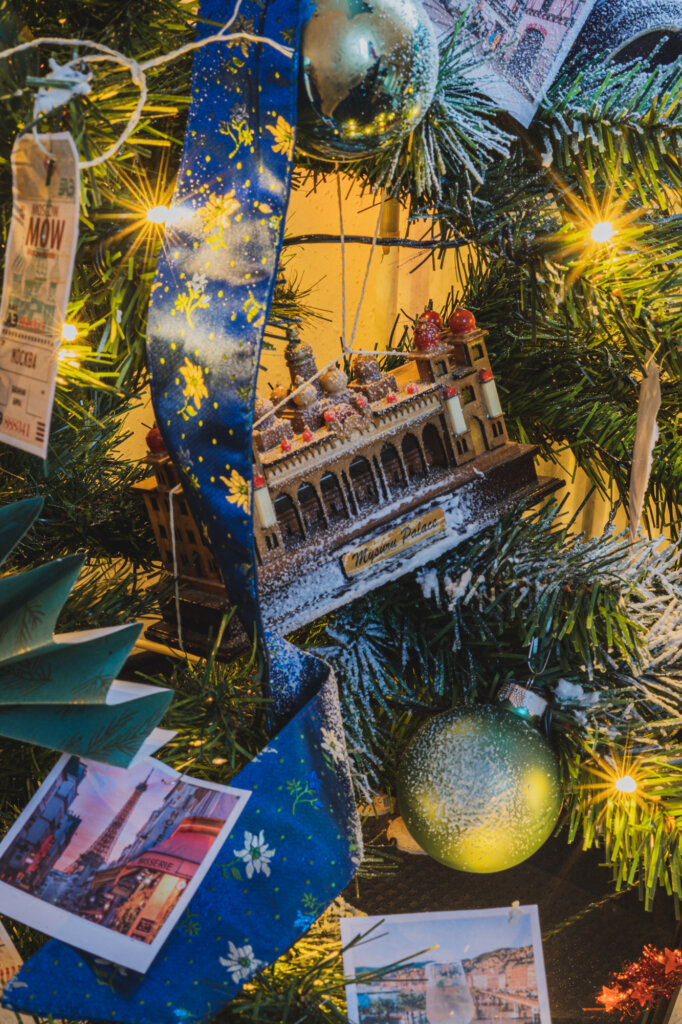 For a longer lasting solution that you can get use out of for years to come, there are also a lot of beautiful travel-themed ornaments you can buy online.
Here are some ideas:
This personalizable suitcase ornament
This custom map airplane ornament
This super cute family airplane ornament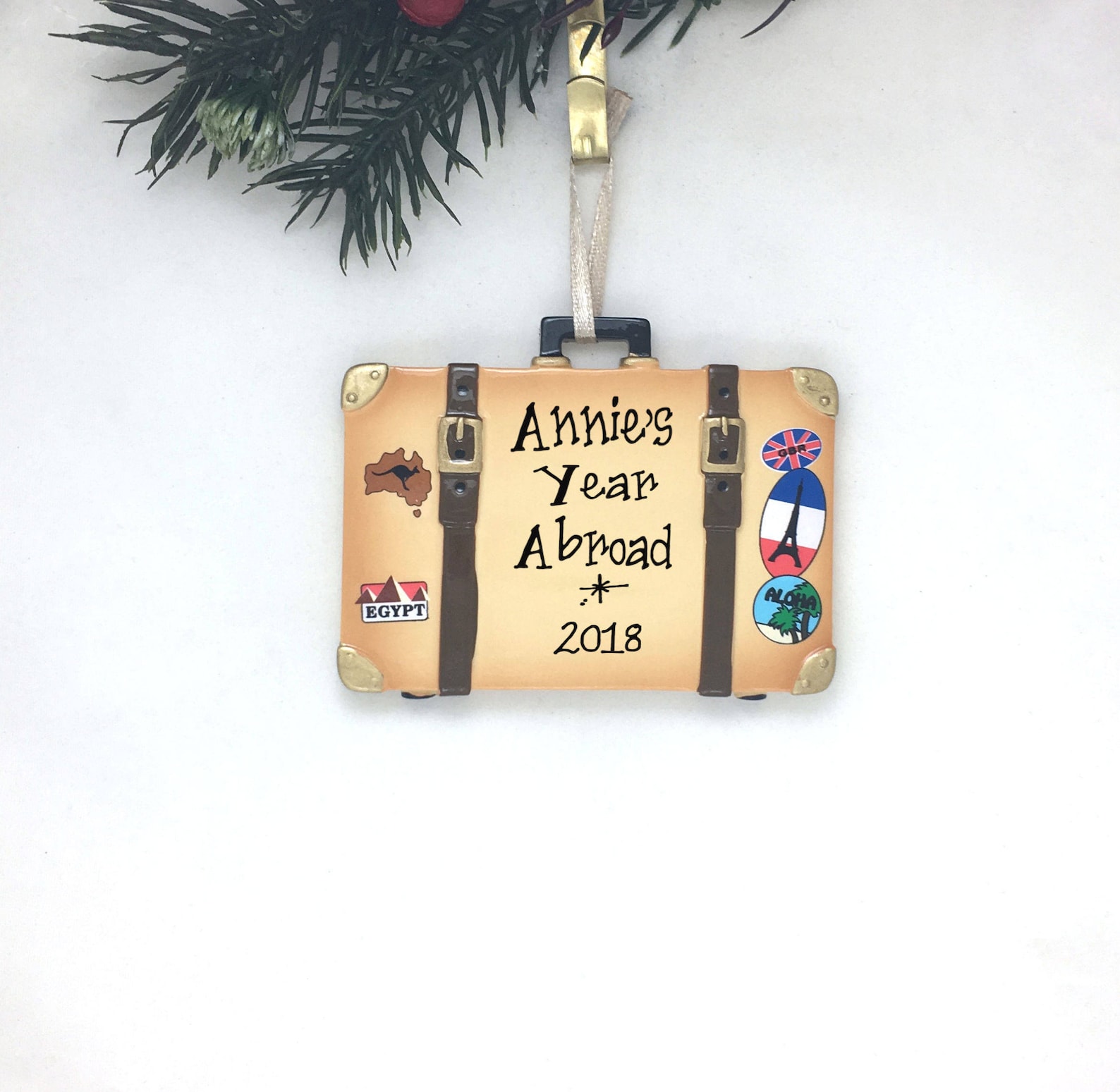 4. Photos and postcards
These add the ultimate personal touch to your travel Christmas tree, so make sure to include plenty!
I did it the ultimate cheapo way and just printed out some of my favourite photos from Instagram, cut them out like polaroids (with the white borders) and then just stuck a metal ornament hook through them to make them into hangable ornaments.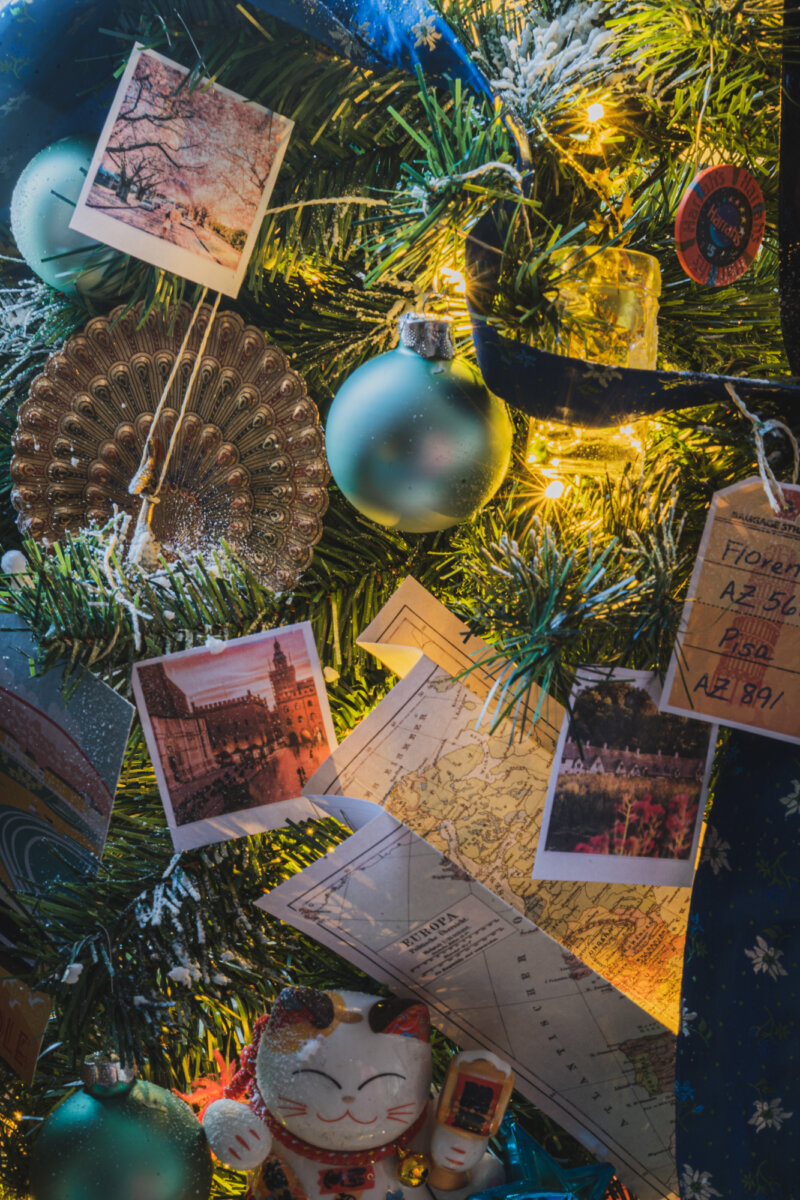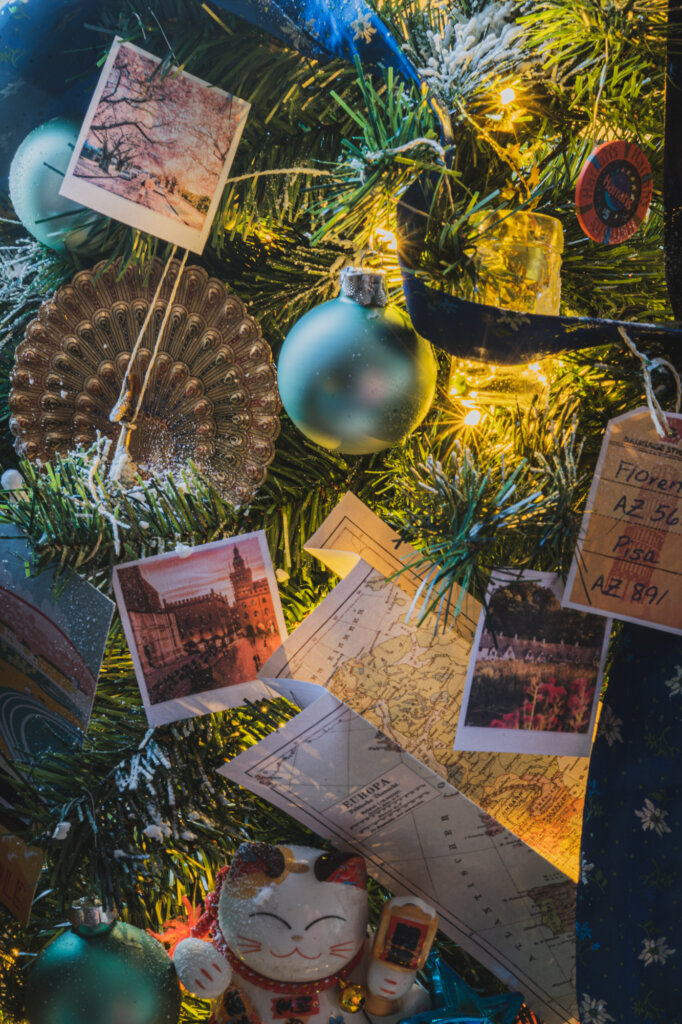 Another idea is to go the extra magical mile and get some mini-clothespins to clip them onto twinkling lights.
If your tree already has lights, then all you need are some small clothespins like these.
If not, they make fairy lights with photo clips like these that you can easily buy. Imagine how magical!
5. Luggage Tags and Other Travelly Motifs
I'd highly recommend (in addition to ornaments), getting some simple paper decorations that you can use to fill the gaps of your tree.
I used luggage tags for this, and it turned out just how I imagined!
While you can of course use luggage tags of your own, or even old baggage claim tags if you save those, I simply bought a stock graphic of vintage luggage tags (this one from DepositPhotos), printed a bunch and just cut them out and strung them up on twine.
The end result was so cute!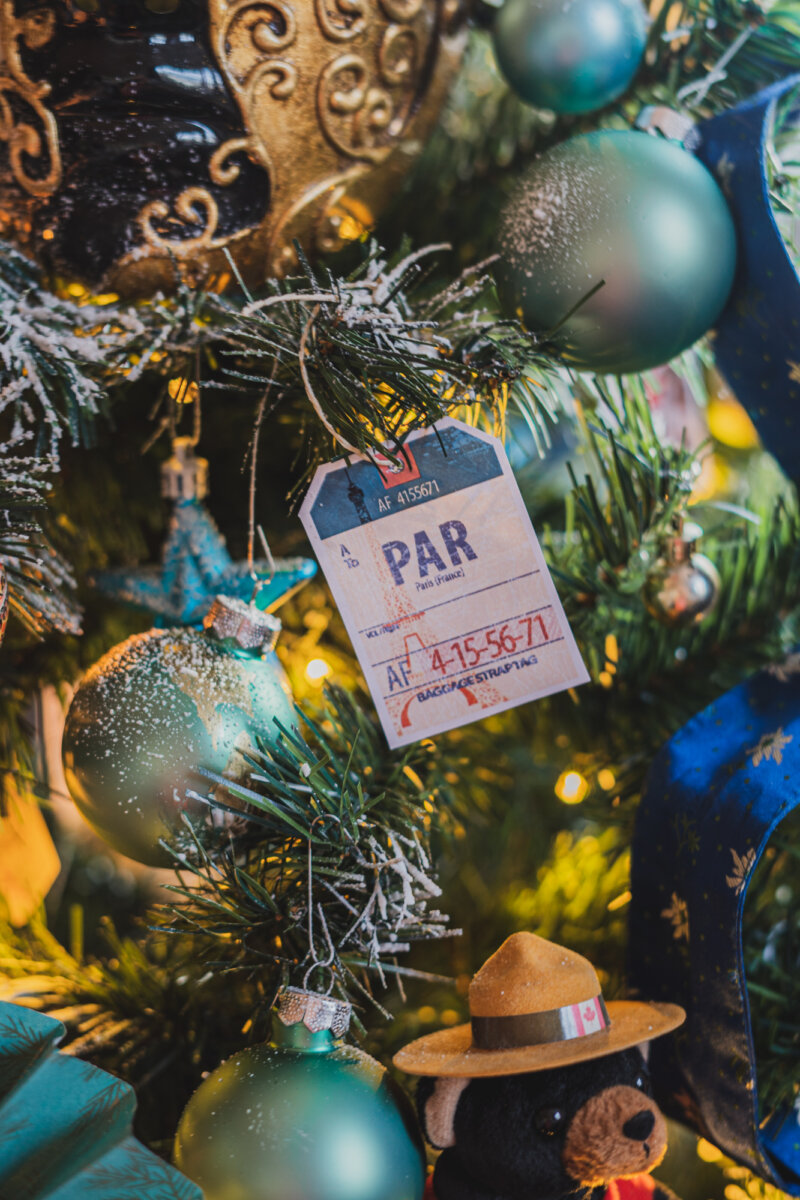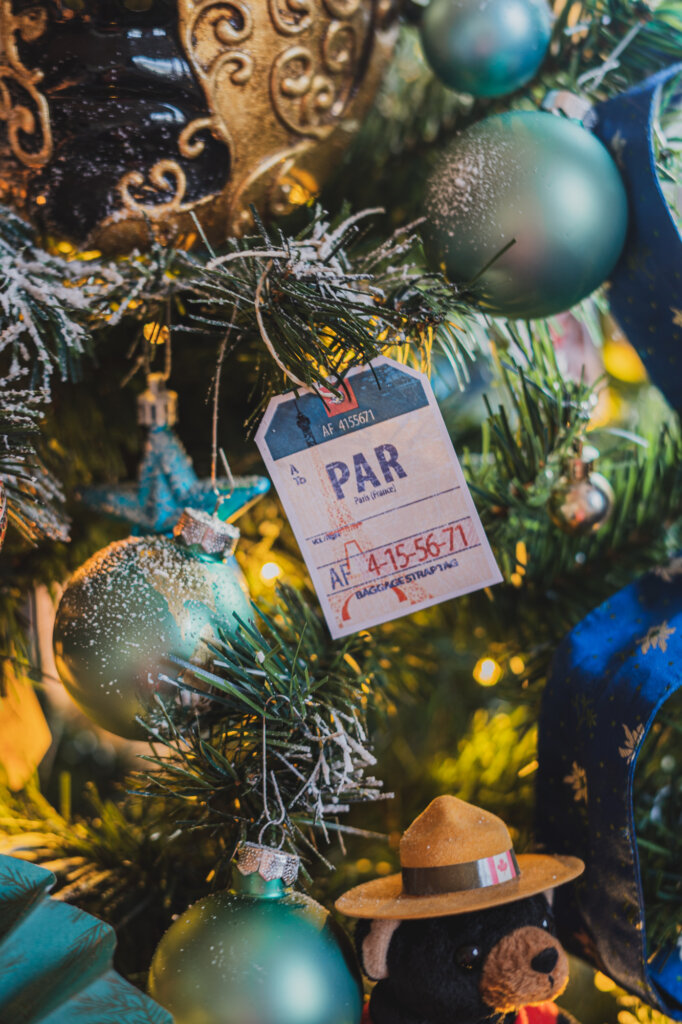 You can also look through free stock photo sites like PixaBay to see what cute travel-themed graphics you can print out and turn into ornaments.
I for instance really wanted hot air balloons, but completely forgot to print them until it was too late. Here are some fun ones you can print for free.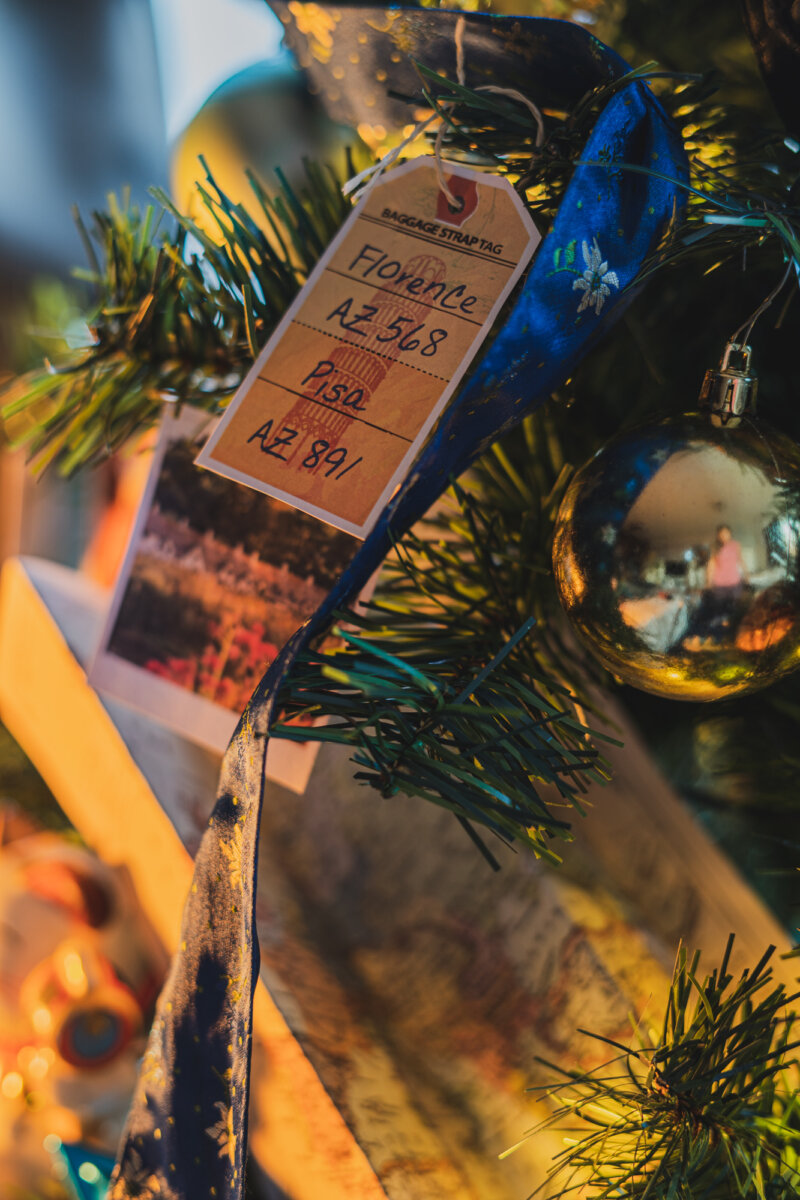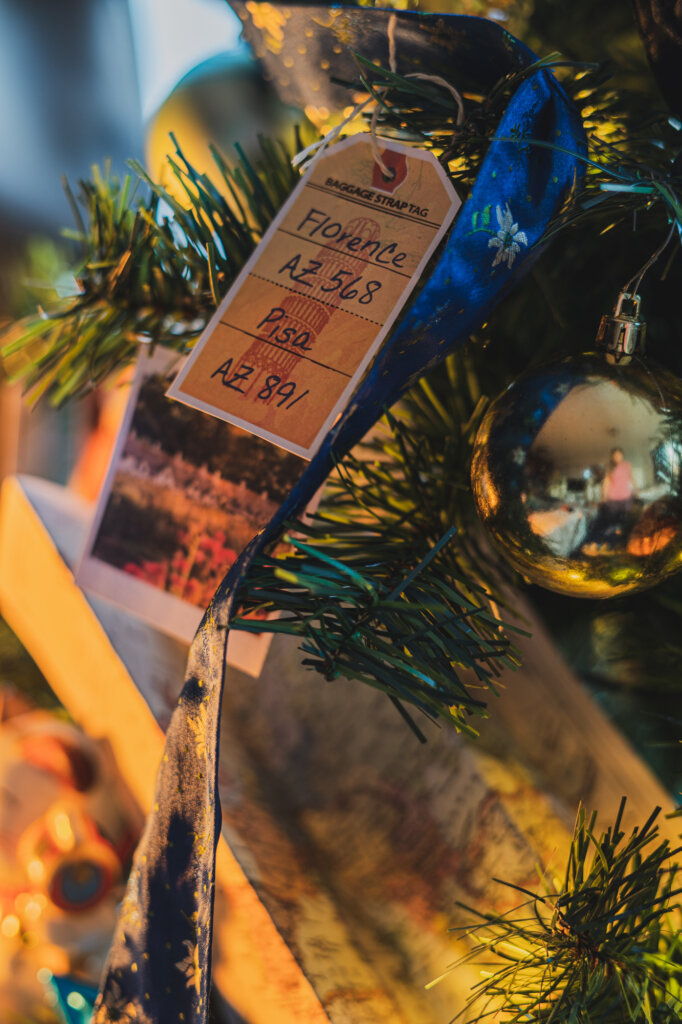 6. A travel-themed tree topper
Last but not least, your travel Christmas tree needs a suitable crown.
My tree topper was an easy no brainer. I actually had an old passport lying around (the first one I had when I really started travelling), so I decided to slyly convert it into the final touch for my tree.
Luckily, the Canadian passport office stamps holes in old passports when you get a new one, so I had an easy thing to tie string onto! I simply opened it up to the center fold, strung some string through the holes and tied it to the top of the tree.
To give it a little extra oomph, I cut out a vintage map from this free stock photo and stuck it on top. I'm so happy with how it turned out!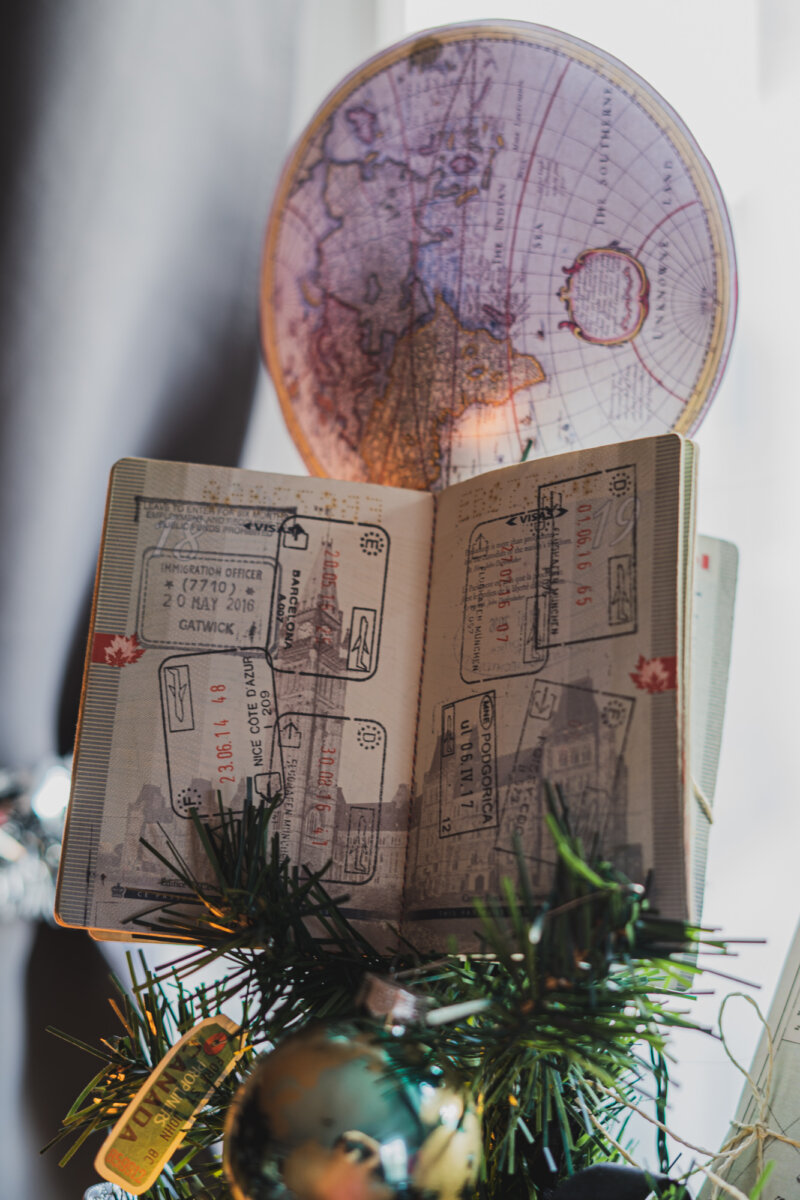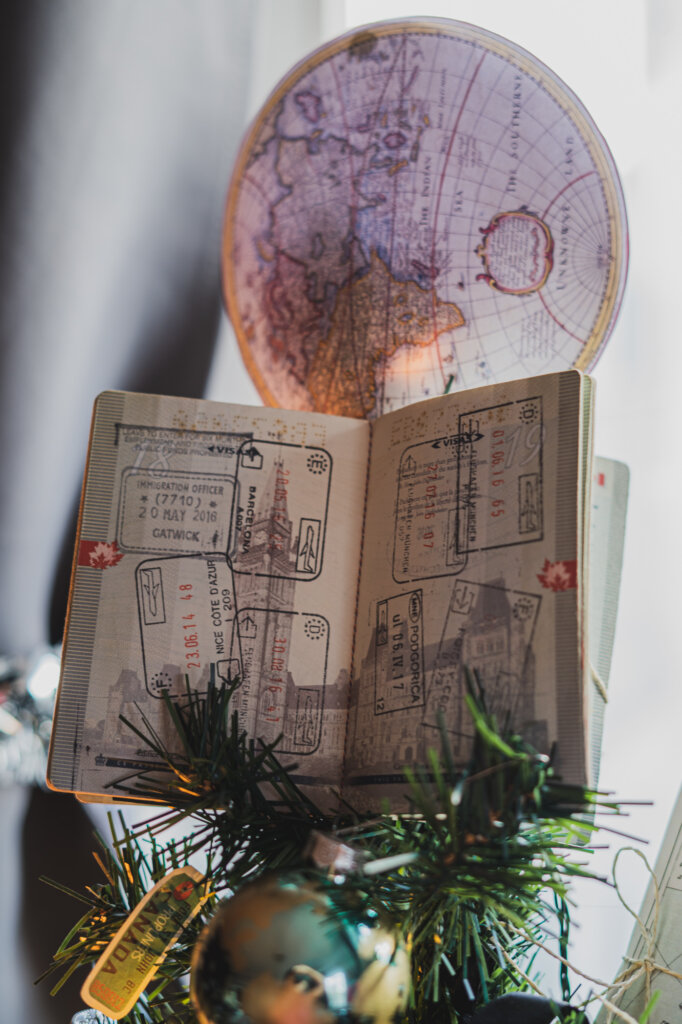 You can also buy a cool globe tree topper like this one.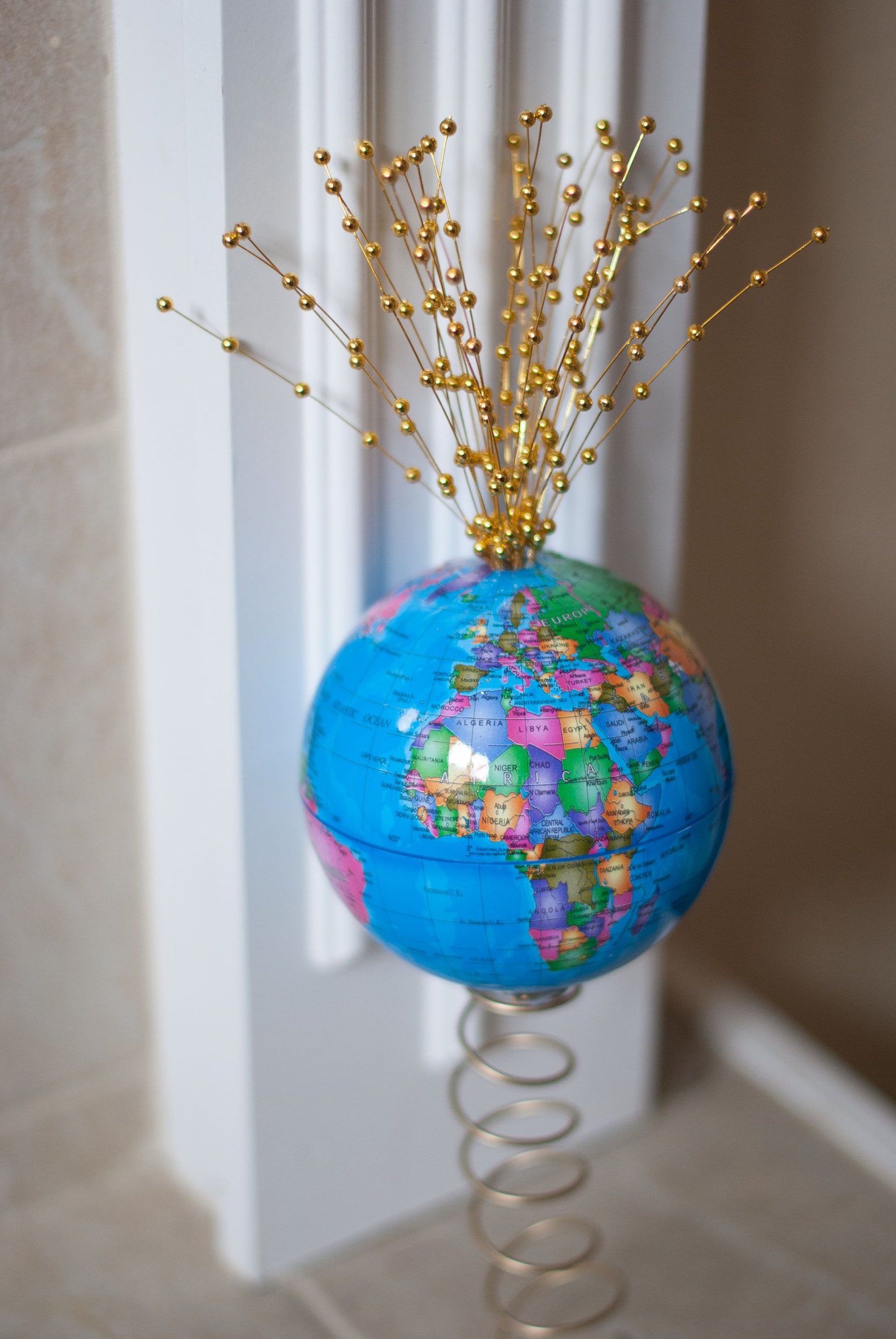 So, are you ready to make your own travel-themed tree?
I assume that none of you are still here (since you've all probably gone full-lumberjack and are hunting down the perfect tree as we speak), but hey, if you're still around, let me know which of these ideas is your favourite, or if you happen to make your own travel themed tree this year, please share some photos of your creation below. Happy Holidays!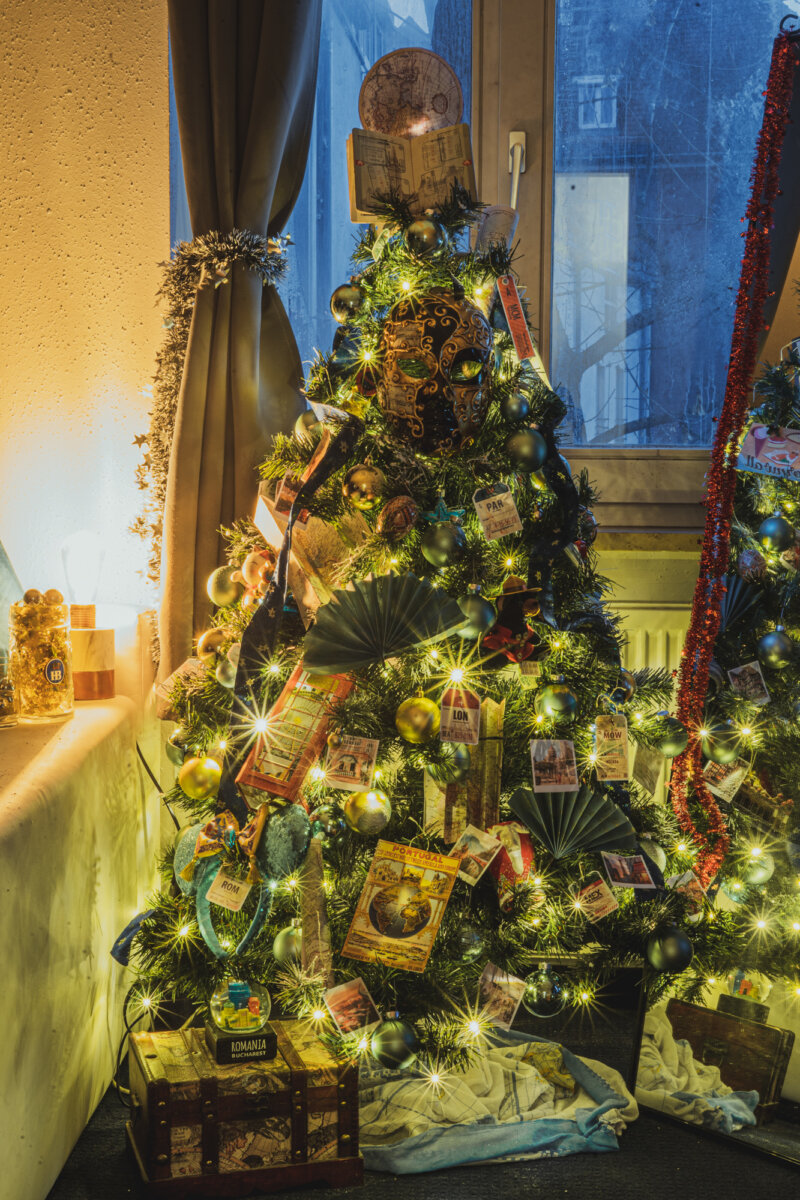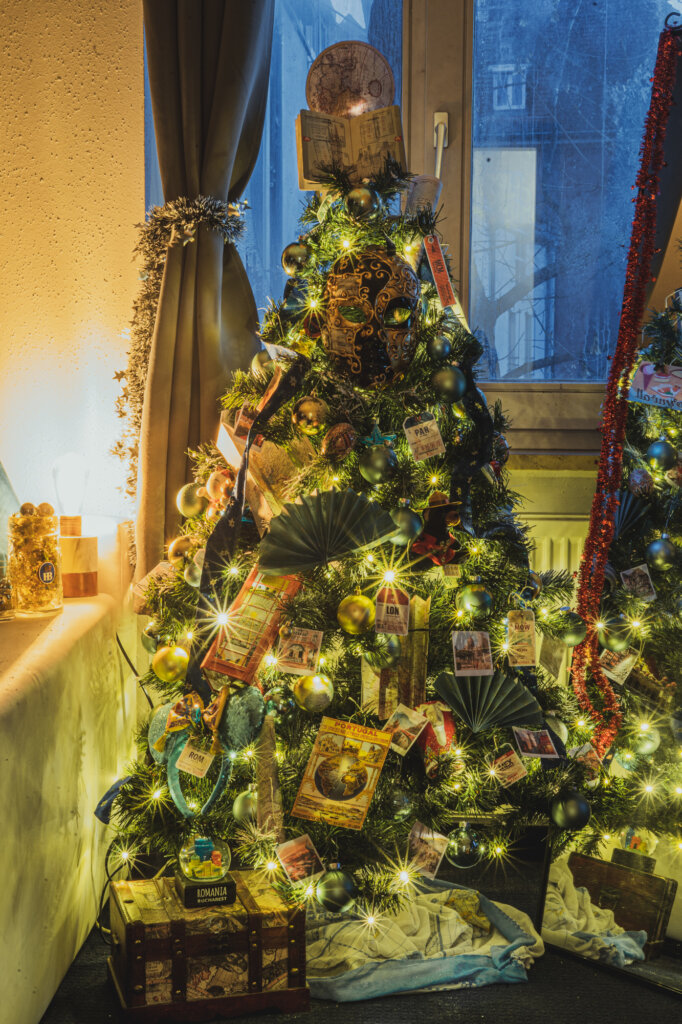 My Go-To Travel Favourites: