*FYI - this post may contain affiliate links, which means we earn a commission at no extra cost to you if you purchase from them. Also, as an Amazon Associate I earn from qualifying purchases. Check out our Privacy Policy and Disclosure. for more info.
In a city famous for weed, prostitutes, canals, art, tulips and bicycles, it should come as no surprise that there's plenty of interesting facts about Amsterdam that will blow most visitor's minds.
Did you know for instance that there are special poets in the city who are sent to funerals where no loved ones are around to attend? Or that bikes are such a big deal, they literally have a separate mayor…. for BIKES?
Well, I hope you're ready to fill your brain with absurd but wonderful factoids that you'll be bringing up for years to come.
Read on for a roundup of the most interesting, weird and delightful fun facts about Amsterdam I've been able to dig up from the deepest depths of the Internet. Trust me, you're in for a wild ride.
And don't miss my full roundup of fun things to do in Amsterdam!
1. Amsterdam has the highest concentration of museums per square metre of any city in the world!
Amsterdam isn't the biggest capital city in the world by any means, but the amount of culture it manages to pack into its city limits is both impressive and frightening.
There are no less than 75 museums in Amsterdam, covering a range of topics from marijuana and prostitution to the more famous museums like the Rijksmuseum or Anne Frank House.
So, it goes without saying – if you enjoy a bit of art and history, Amsterdam will have you frothing at the mouth.
PS: If you're visiting, I highly recommend getting an I amsterdam card – it'll save you SO much money.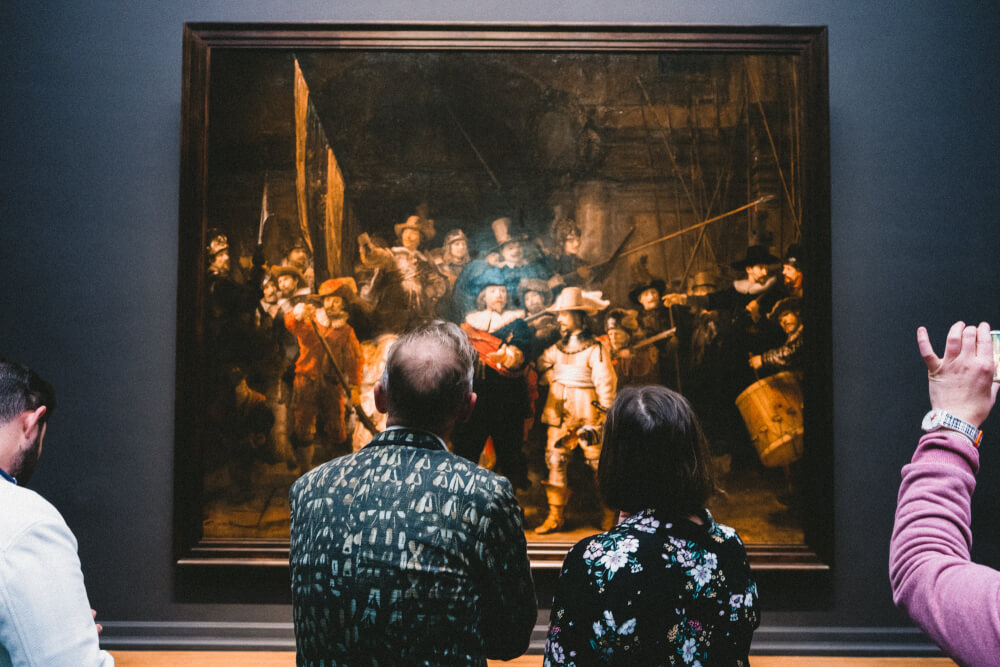 2. Amsterdam is even home to the world's first airport museum
If you're failing to find inspiration among overpriced water bottles and napping backpackers at Schiphol Airport, don't worry – this beautiful airport happens to have its own little branch of the Rijksmuseum… right between lounges 2 and 3.
Dating back to 2002, this is indeed the first museum in the world to be opened in an airport, ideal for those who want to enjoy some Dutch Masters for free, 24/7.
Bonus Amsterdam Fun Fact: According to Arch Daily, the Holland Boulevard section of the airport that houses the museum was inspired by the Dutch polder landscape.
3. There's a cherry blossom festival every year in Amsterdam
If you thought you needed to go to Japan to see beautiful cherry blossoms in spring, then guess again!
Alongside Bonn's famous cherry blossoms, Amsterdam is considered one of the top places in Europe for viewing these gorgeous pink blooms, with its own cherry blossom park (part of the Amsterdamse Bos, see next section) which is home to 400 cherry blossom trees.
The trees were donated by the Japan Women's Club and every single tree has a name; 200 have Dutch names while the other 200 have Japanese names.
Each year a cherry blossom festival is held here when the trees start to bloom (obviously dates vary though) which is very fun to attend. Think Japanese food stalls, taiko drumming and other cultural performances. Even if you don't get to attend the festival, you can always visit the Kersenbloesempark for a picnic under the pink flowers.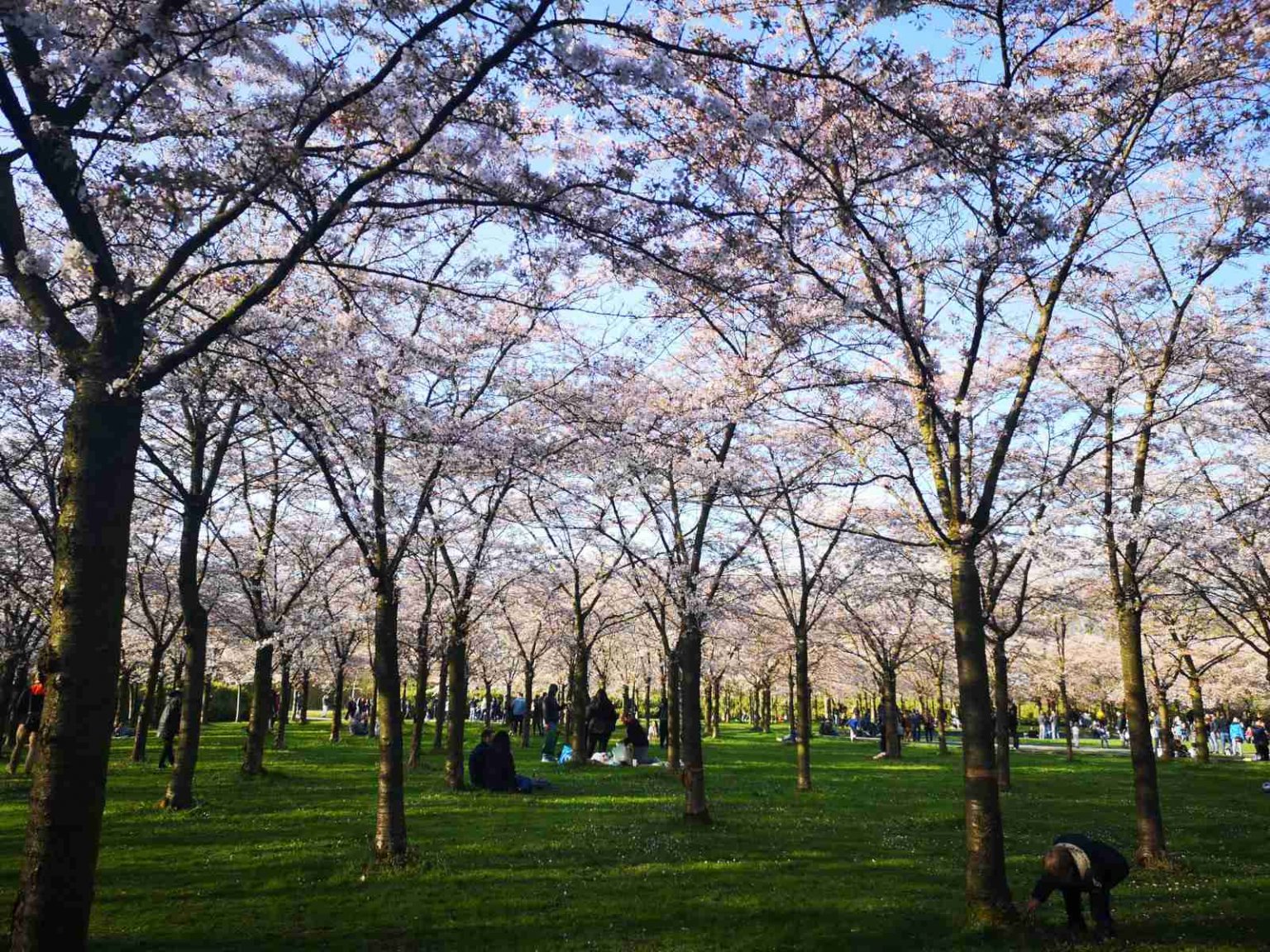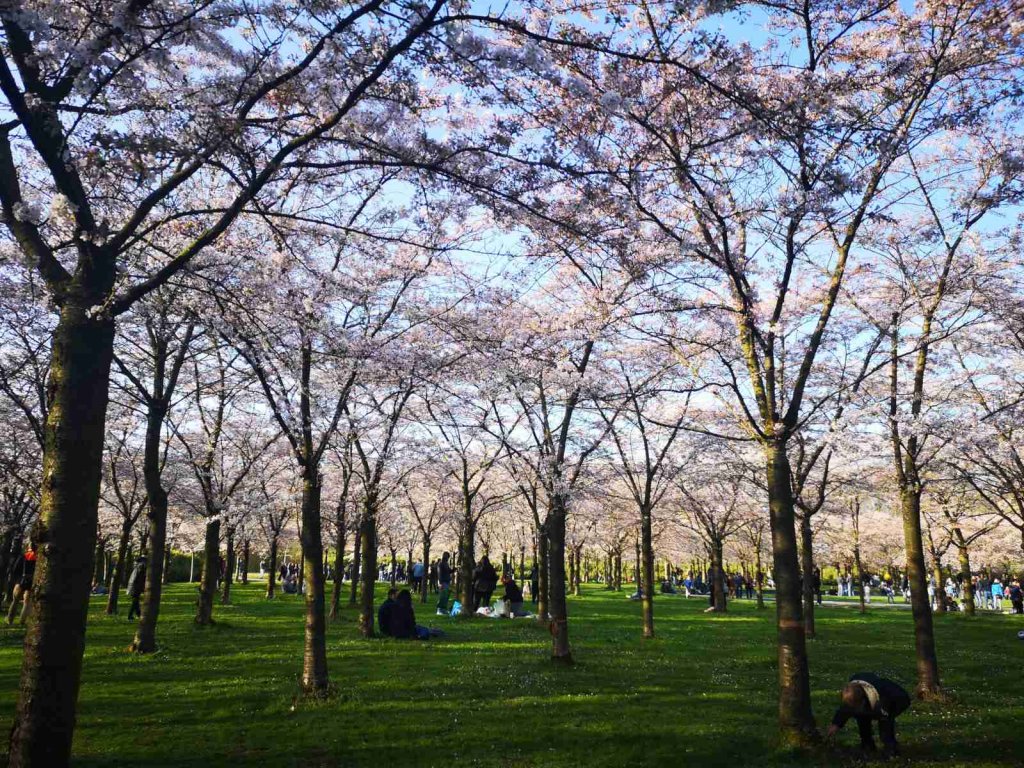 4. Amsterdam also has a park bigger than New York's Central Park… where you can see Highland Cows!
The Kersenbloesempark we mentioned above is part of the massive Amsterdamse Bos (which translates to Amsterdam Forest), a landscape park that is packed with things to do and see, including (of all things) Highland Cows!
The Highland Cows were placed in the park to keep some of the vegetation down without needing to mow. You can actually get right up close to the cows with no fences between you (don't worry, they were more scared of us) if you head to the Schinkelbos section of the park.
Amsterdamse Bos covers 2,500 acres, that's about three times as large as Central Park in New York, and often hosts concerts, theatre or other gatherings.
As well as the cherry blossom park and Schinkelbos with the cows there's also a rowing course, several swimming areas, a goat-farm, open-air theatre and even a naturist (nudist) zone!
Here's a bumper guide to Amsterdamse Bos from Netherlands local Kristy, after visiting many times. Check it out for more info!
5. There are hidden mini canal houses to find
If you're looking for quirkier gems, there are a few special little 'secrets' to find while exploring Amsterdam's streets, including a row of mini-houses crammed between two normal-sized canal houses in the Jordaan.
According to Atlas Obscura, the miniature houses were placed there as a funny way to explain why the street numbers go from 54 to 70 on either side.
The real explanation, that there used to be a courtyard leading to the missing houses which was removed and the houses merged, is not nearly as fun as going to get a photo with the teeny houses!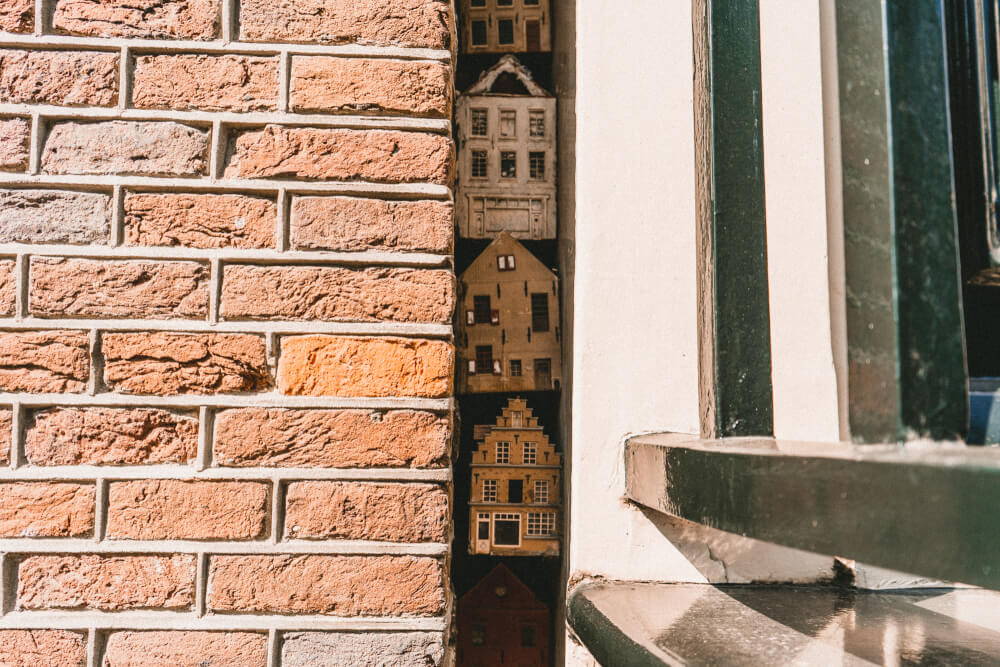 6. They test the air-raid sirens once a month
This one isn't specific to Amsterdam, but as most visitors to the Netherlands head there, it's likely this is where you'll be if you ever experience it.
On the first Monday of every month (unless it coincides with a national or religious holiday or Remembrance Day) at noon, the Dutch test the air raid sirens. It's a very weird experience the first time you hear them and have no idea what is happening, perhaps looking fearfully at the sky for jets.
But there's nothing to be alarmed about, unless the test goes for longer than 90 seconds, or happens on any other day…
According to this news article, the system originated during World War II to warn of incoming air raids, but nowadays the sirens might be used to signal any emergency like fire, flood or an industrial accident.
If you hear it on a day that isn't the first Monday of the month, then return home or to your hotel and wait for instructions.
7. There are more bikes than people in Amsterdam
Another thing you might notice as soon as you arrive in Amsterdam – there are bikes… everywhere. Little wonder why Amsterdam is often called the bicycle capital of the world.
For a first-time visitor, it can be quite intimidating trying to figure out where it's safe to walk and where you will have alarmingly attractive locals on bikes yelling at you to get out of the way…
And the likelihood of this is high!
After all, there are more bikes than people in the Netherlands (and Amsterdam) according to The Guardian, and the Dutch are also masters of cycling infrastructure. Which means yes, they get pretty impatient with clueless tourists stumbling onto their bike lanes.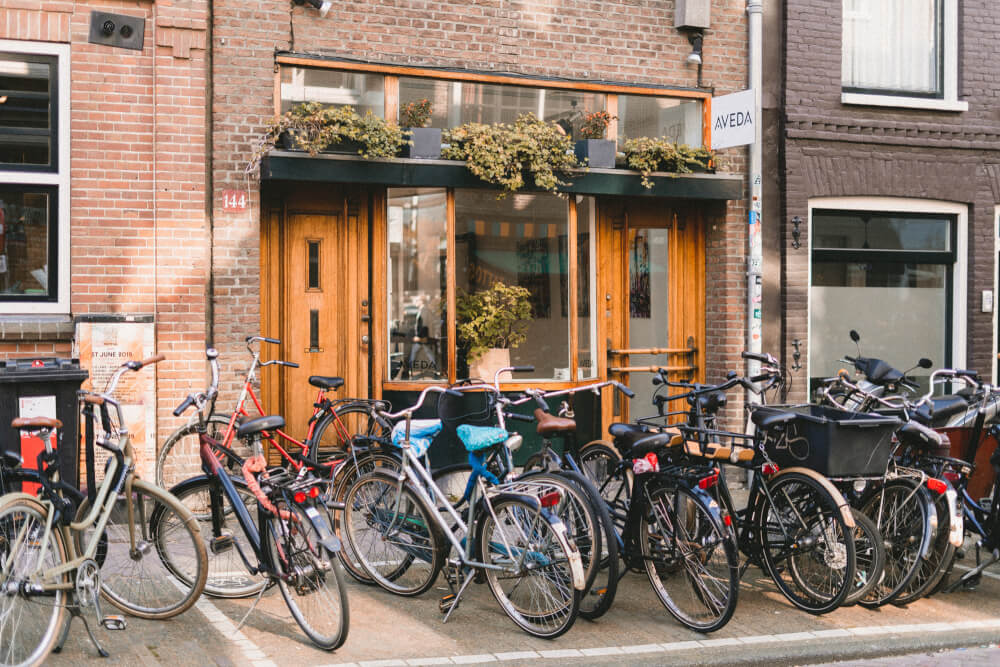 8. Yes, some of the canal houses are off-kilter…
There are a couple of reasons why so many buildings in Amsterdam look crooked… and no, it's not for cute Instagram photos.
The real reason is partly because the land underneath Amsterdam is soft, so many of the canal houses have sunk over the years, causing them to lean sideways (like the famous Dancing Houses).
Also, the swampy ground that Amsterdam is built on requires stilts underneath the buildings. In the past, these stilts were not of the best quality and have also been a factor in some Dutch canal houses starting to sink or lean.
All the canal houses in Amsterdam also lean forward a little bit, if you look up you will often see hooks at the top of the houses. This is a deliberate thing though, the canal houses lean forward so that when winching things to the higher floors, there wouldn't be any objects smashing into the building!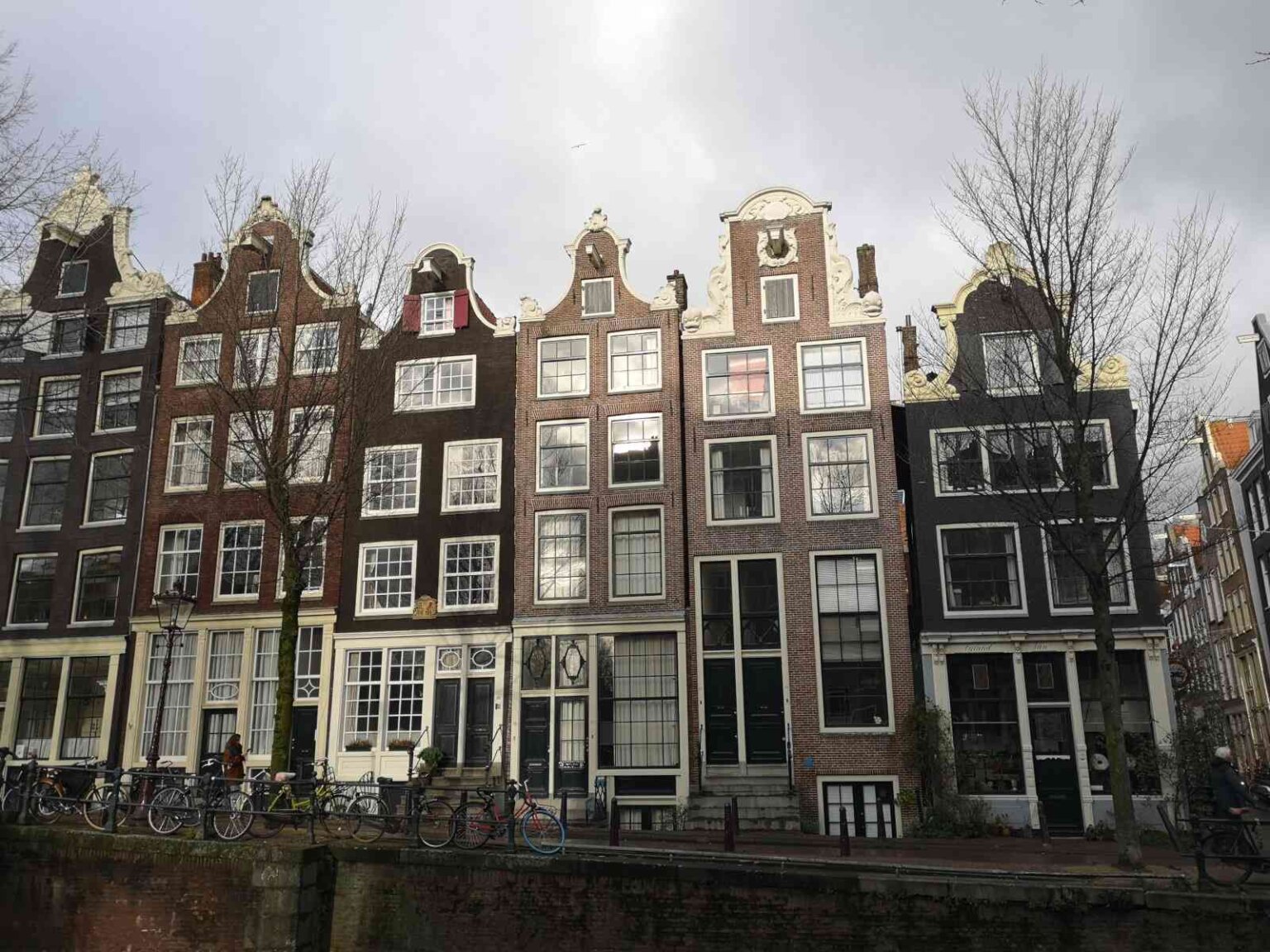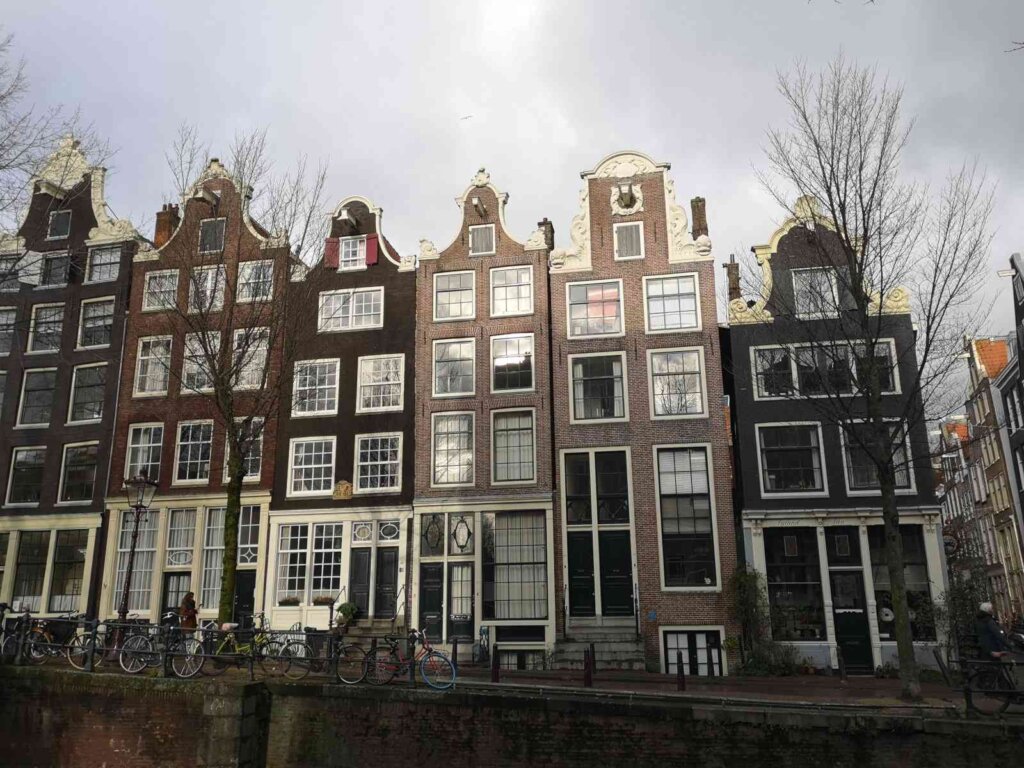 9. Amsterdam has more canals (and bridges) than Venice!
There's a reason why Amsterdam is often called "The Venice of the North".
As noted by Lonely Planet, the city is home to 165 canals which cover more than a hundred kilometres and are spanned by 1,753 bridges. Venice, on the other hand, is home to 150 canals and only a measly 400 bridges!
… So take that, Venezia.
Just be careful if you're visiting Amsterdam though, as most of the time there aren't any fences on the sides of the canals so it's quite easy to stumble into them after one too many beers. While that sounds refreshing, perhaps a trip on one of Amsterdam's top canal cruises is a more sanitary bet.
Take heart though, you're more likely to lose your bike in the canal than fall in yourself, as Culture Trip notes, more than 10,000 bikes end up at the bottom of the waterways each year!
PS: If you want a REALLY amazing canally destination in the Netherlands, don't miss Giethoorn. It's a one of a kind village where there no roads – just canals!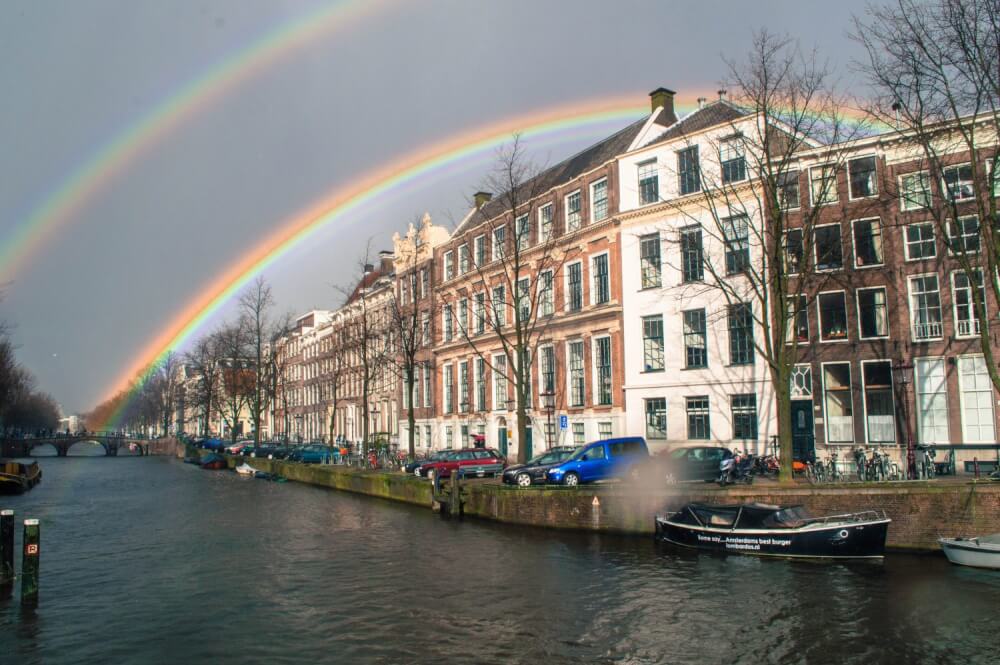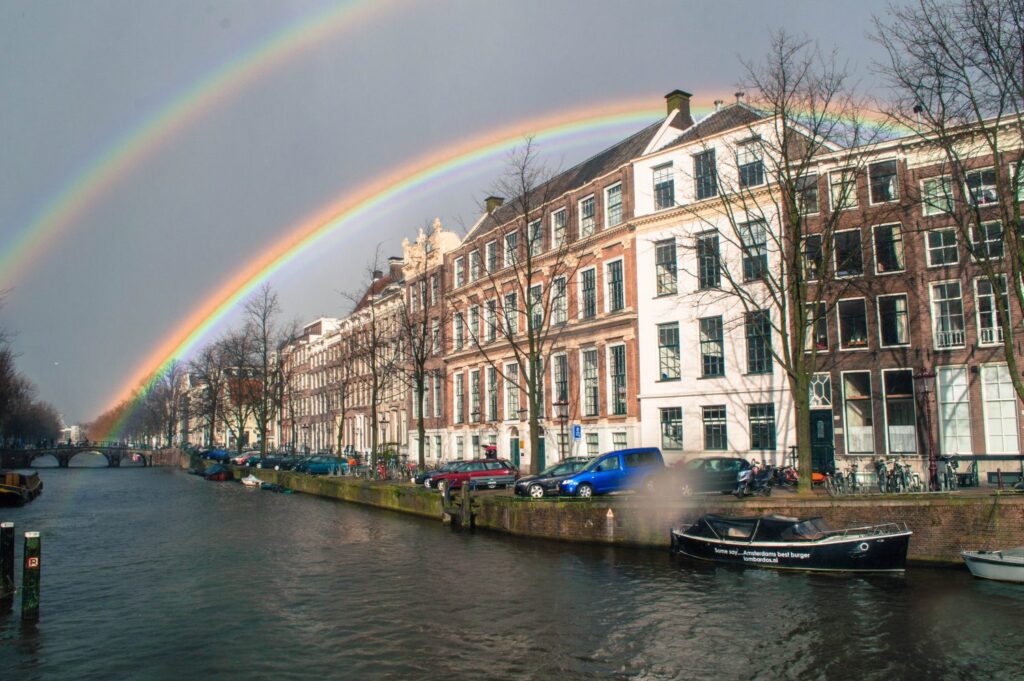 10. There are more than 2,500 houseboats floating on the canals
Cute and quirky houseboats are another ubiquitous sight on Amsterdam's canals, with more than 2,500 spread out through the city.
Amsterdam's houseboats were originally a way to deal with the housing shortage after World War II, as reported on the Dutch tourism website, and while some of them are restored sailing ships, plenty are more modern.
There's a houseboat museum as well if you want a sneak peek at what the houseboats look like inside, or you could even stay overnight on one by looking for unique stays in Amsterdam on Airbnb.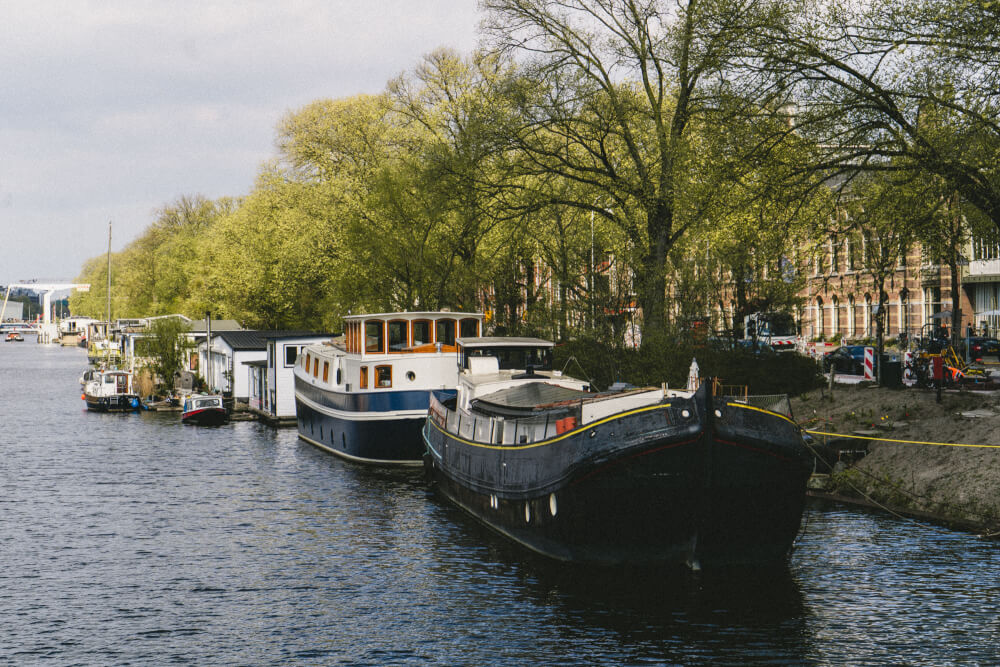 11. Amsterdam is home to the only floating cat shelter in the world!
As well as all those houseboats, there's even one that has been converted into a floating cat shelter.
De Poezenboot (which literally translates to 'the catboat') is home to around 50 cats looking for homes and 14 permanent residents.
Unsurprisingly, De Poezenboot has become quite popular with feline-loving visitors to the city, although you can only visit at certain times and do need to book ahead.
Originally founded by cat-lover Henriette van Weelde in 1968, the shelter began on dry land but expanded onto the boat when van Weelde ran out of room in her house. It's free to visit but making a donation or buying some cat-themed souvenirs is a good way to support this not-for-profit sanctuary.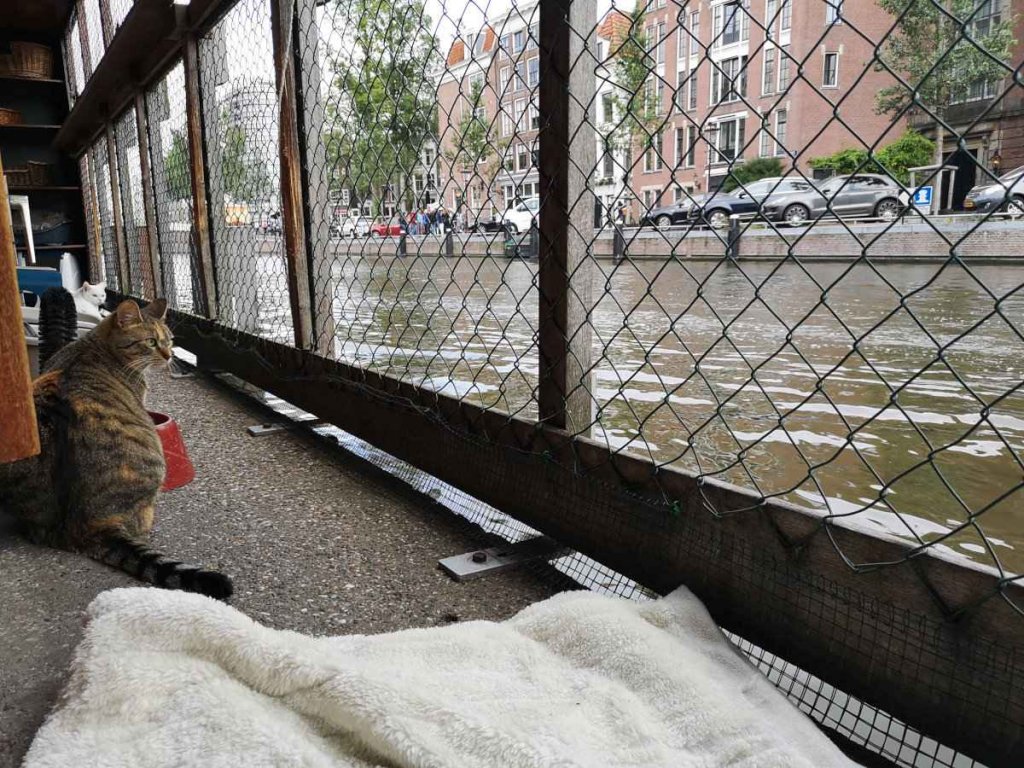 13. Amsterdam also has the world's only floating flower market
Tulips are synonymous with Amsterdam and the Netherlands, so come spring you can see them all over the place. In addition to admiring the many free tulip fields in the Dutch countryside, you can also shop for flowers or bulbs at the only floating flower market in the world!
Amsterdam's bloemenmarkt is located on the Singel canal, within the historic belt of canals, and has been around since 1862.
Before you get too excited though, the shops are set up in fixed barges, so you barely notice that you're floating while browsing the wares, but can get a good view from behind like in the photo below.
PS: If you're into tulips, be sure to look into visiting Keukenhof as a day trip from Amsterdam (if you're visiting in the Spring). You can check out my full Keukenhof guide or Keukenhof tickets guide for more info.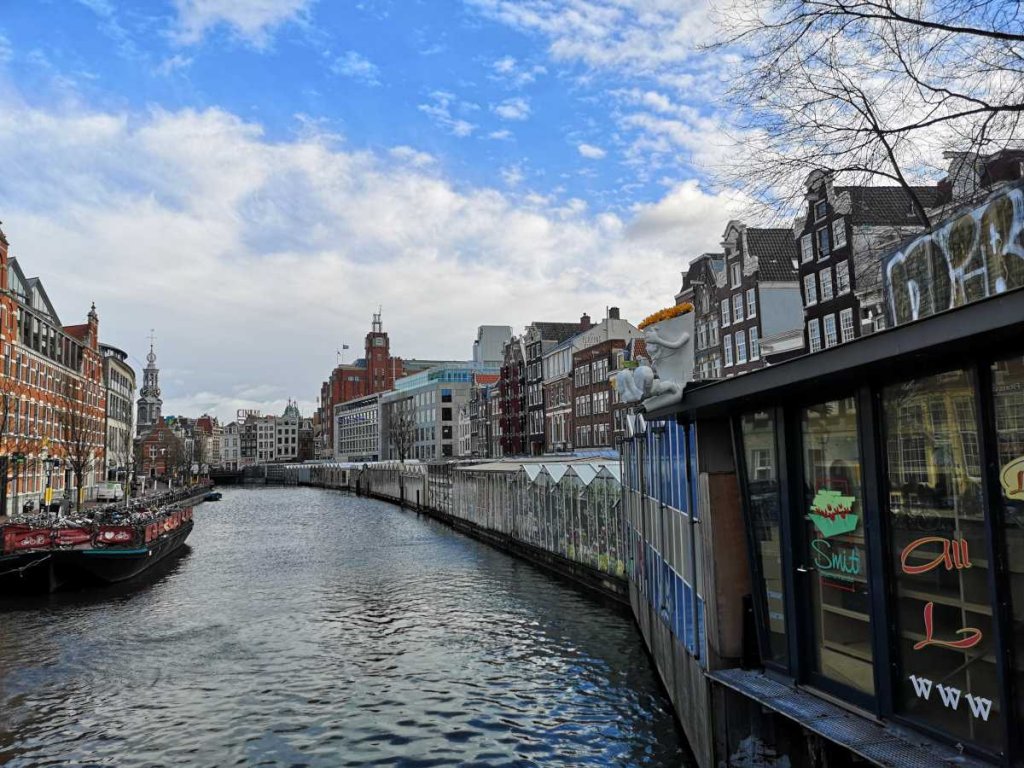 14. Contrary to what you might think, weed is not actually legal in Amsterdam
However, you can still try it without getting into trouble!
Dutch laws on cannabis are kinda weird and complicated.
While it's technically illegal, weed is decriminalised and tolerated if you follow some rules. So if you do decide to partake, only do so within a coffee shop, which are allowed to sell five grams per customer per day.
Dutch coffee shops also have other rules they have to follow if they want to stay in business, including not selling to anyone under 18 or allowing them into the shop… so it's not exactly a free for all.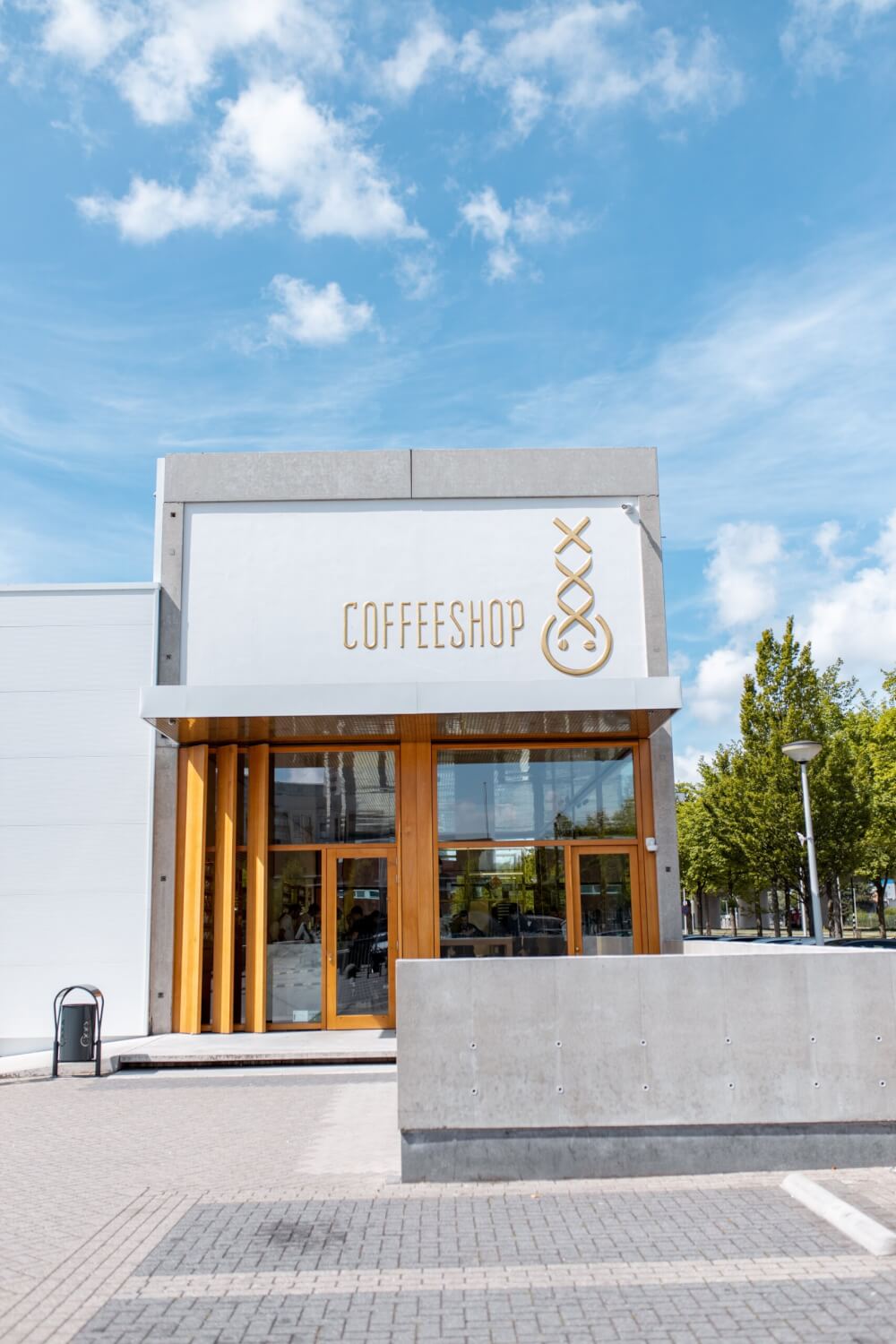 15. But prostitution IS legal
While marijuana is illegal but generally allowed, prostitution is fully legal in the Netherlands.
Prostitution has been legal in Amsterdam since 1811, according to the Iamsterdam website, meaning sex workers are required to have a license and pay taxes.
While tours of Amsterdam's Red Light District have been stopped as of 2020, it's still possible to wander the streets and see the world-famous ladies standing in red-lit windows.
Don't take photos or ogle them like an idiot though, this is their actual job.
Visiting the Red Light Secrets museum (which we mentioned at the beginning of this post) is a must-do if you want to know more about the history and details of Amsterdam's most infamous neighbourhood.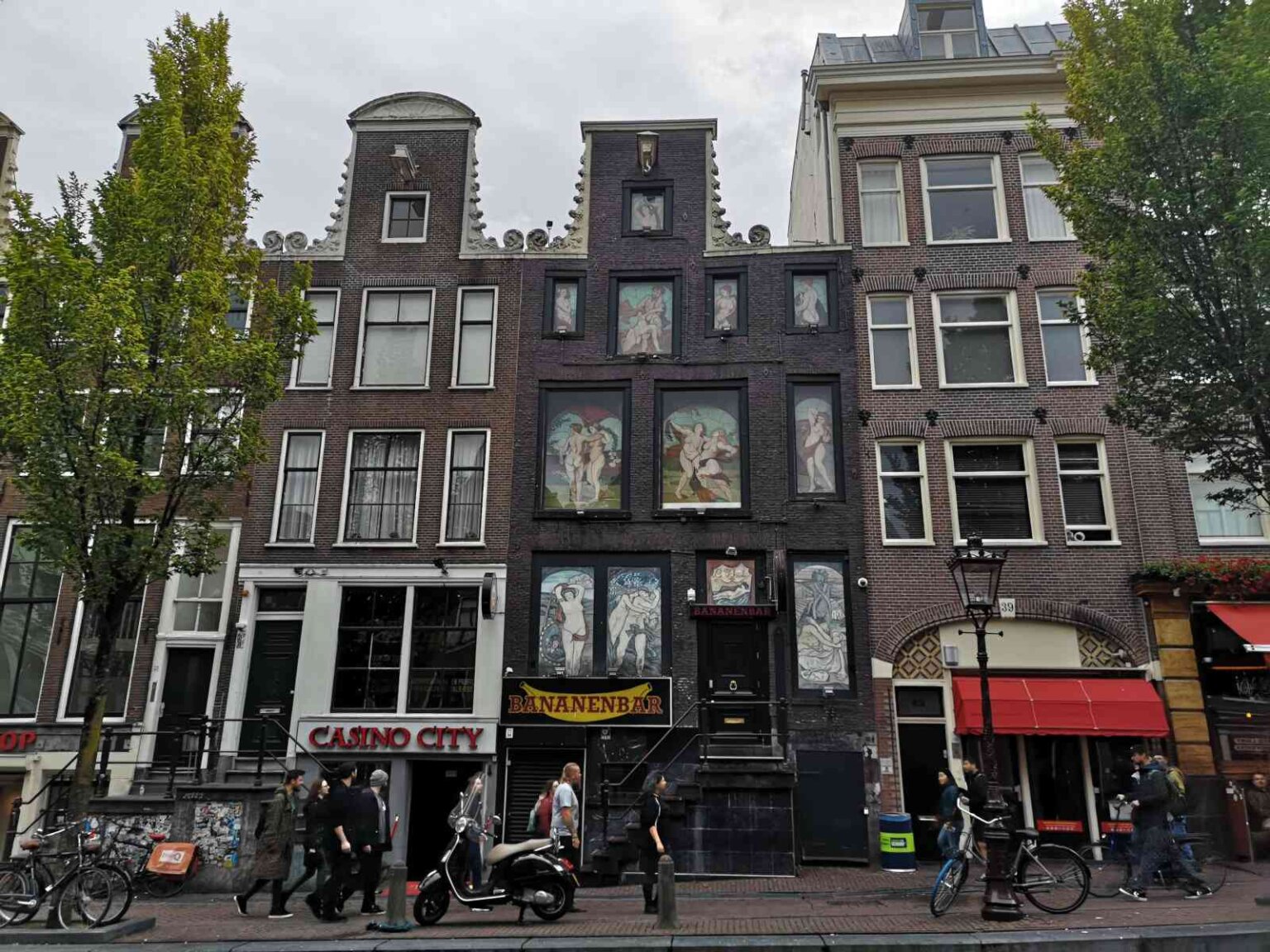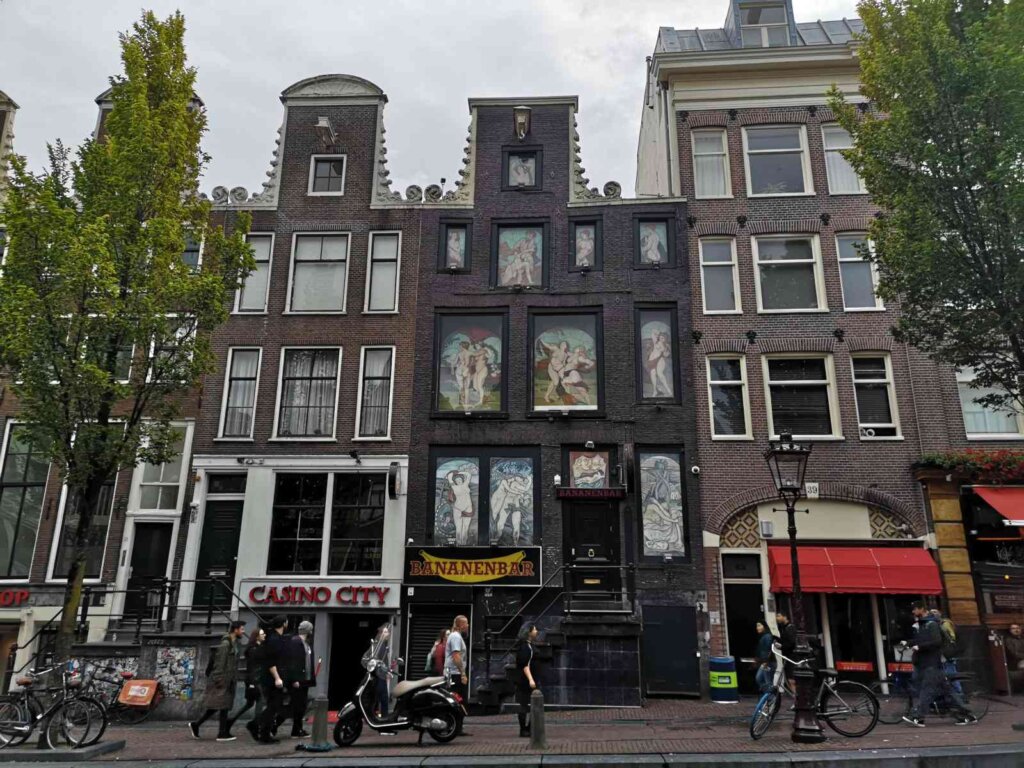 16. Coffee shops and cafés are VERY different in Amsterdam
Let it be known – when in Amsterdam, if you want some coffee, go to a cafe. If you want to smoke marijuana, then go to a coffee shop.
Confusing, I know.
Adding further onto this layered confusion cake, there are also 'brown cafés' or brown bars, which are more like cozy traditional pubs for enjoying a drink or two. Going to one is a must when you visit Amsterdam!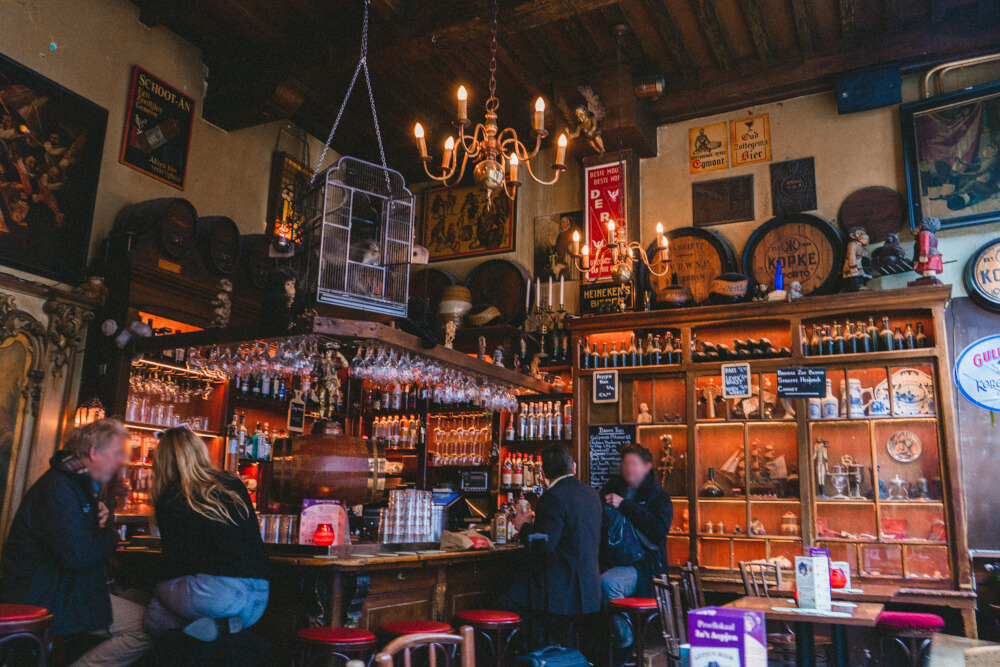 17. There's a brewery inside a windmill too
Well, kind of.
While the Heineken Experience is pretty famous and popular with beer-loving tourists in Amsterdam, you should also check out Brouwerij 't IJ, which is next door to Amsterdam's largest wooden windmill.
While the brewery and the windmill (called De Gooyer) are two separate entities, they look like they're together, and if you're sitting on the outdoor terrace having a beer then you'll also be able to enjoy a view of the windmill while you relax.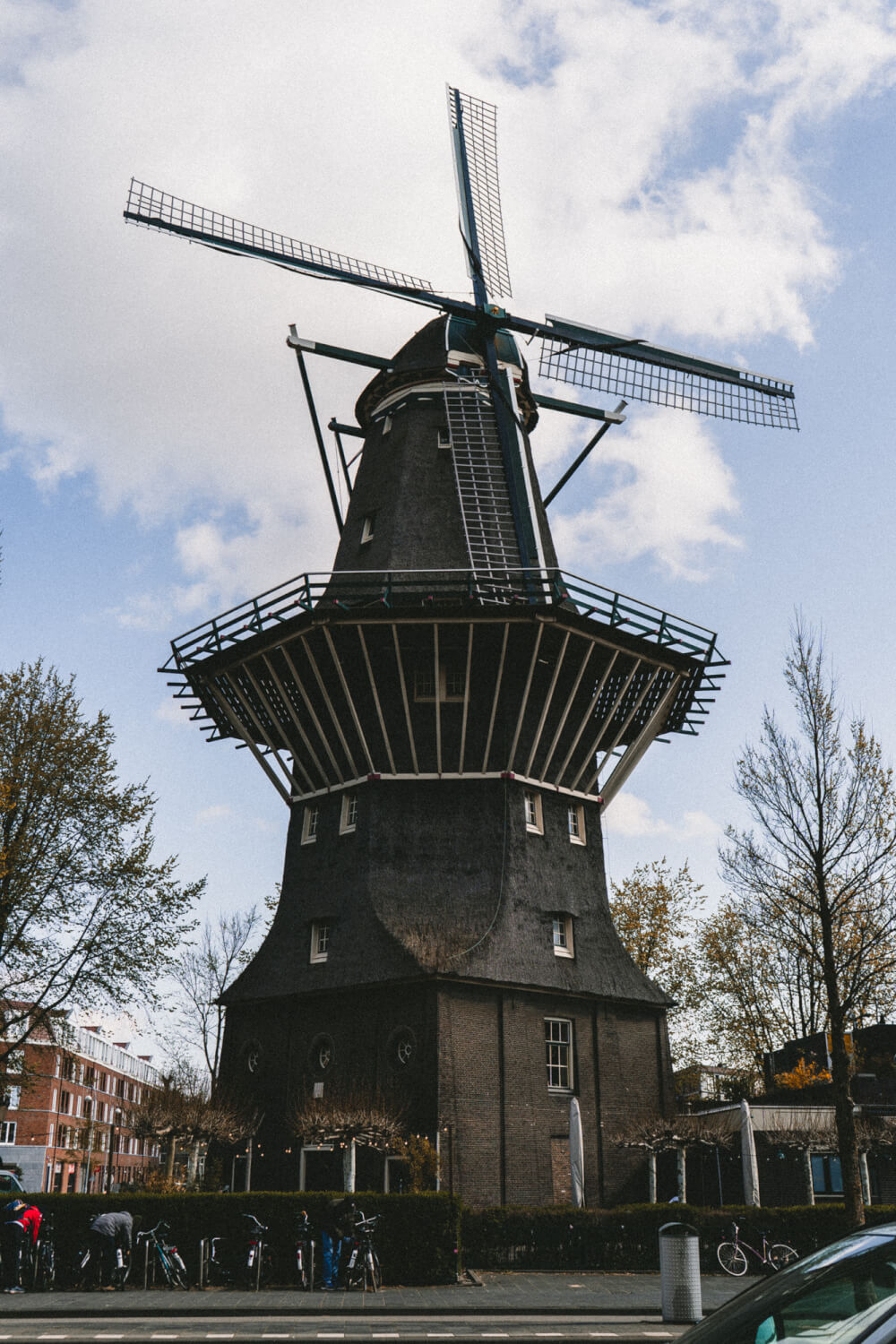 18. The XXX sign isn't symbolising naughtiness…
Amsterdam's coat of arms features three white crosses on a black strip with a red background.
When it's looking extra-fancy and official, there's also an Imperial Crown of Austria on top and two golden lions on each side (as you can see below) but it's more often seen as simply the crosses.
You might notice these crosses as you wander the city and think it's something to do with all the X-rated fun to be had, but plot twist: it doesn't.
The truth is a lot less exciting – the three crosses are actually St. Andrew's crosses, representing the martyr St. Andrew who was crucified on one of these crosses in the first century AD.
St. Andrew was a fisherman and since Amsterdam was originally a fishing village, they took his cross as one of the city's main symbols.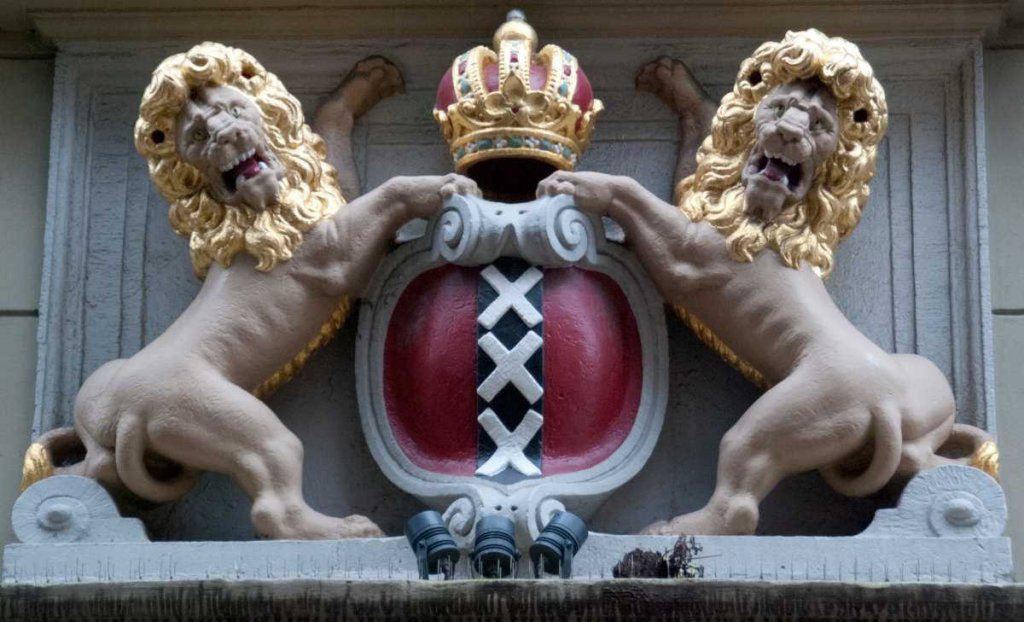 19. Amsterdam is home to the world's first condom shop
Fittingly located in Amsterdam's Red Light District, the Condomerie is a shop like no other, offering a range of condoms from your standard Durex to Ferrari-shaped novelties that (we hope) are just for decoration.
Of course, there's more to this shop than just whimsical rubbers. Originally established in 1987 to fight taboos around condom sales and safe sex, this Amsterdam institution has been a sex-positive force to be reckoned with for over three decades.
Of course, if you can't make it to visit in person, they also have an online shop you can order from!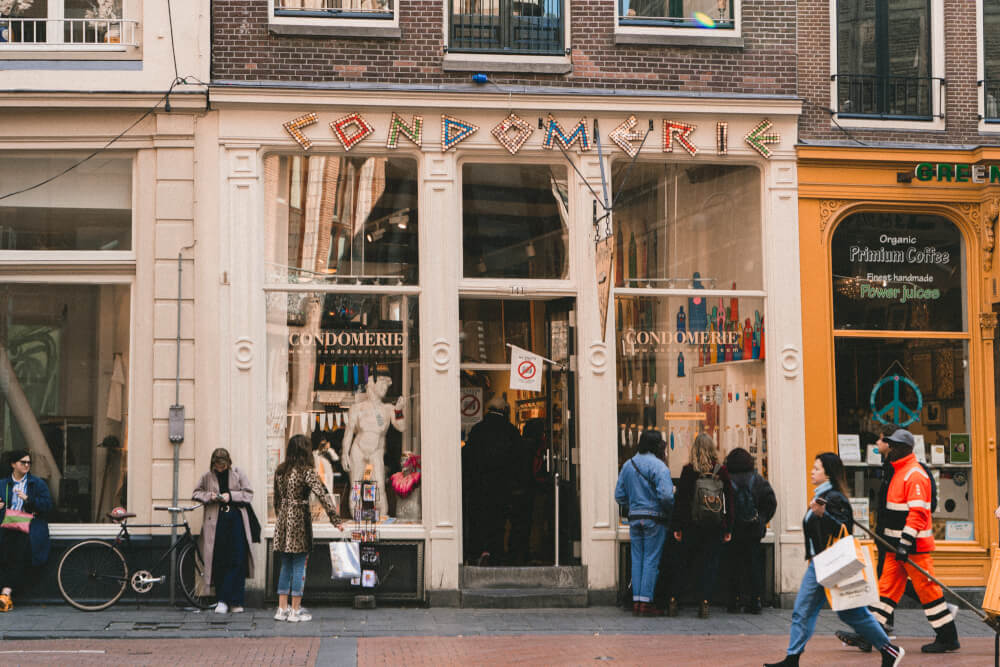 20. Amsterdam was the first city in the world to host a gay marriage
Along with all the other firsts we've mentioned so far, Amsterdam also led the charge when it comes to gay marriage rights, being the location of the first legal gay marriage in the world.
According to Iamsterdam, The Netherlands fully legalised same-sex marriage in 2001 and four couples were the first to be married on the 1st April in Amsterdam's city hall.
Amsterdam is incredibly welcoming to gay travellers, hosting an epic gay pride each year on the canals (the only floating gay pride in the world!), while also having a "Homomonument" dedicated to the LGBTQ people who died during World War II and a pink visitor centre for gay tourist information.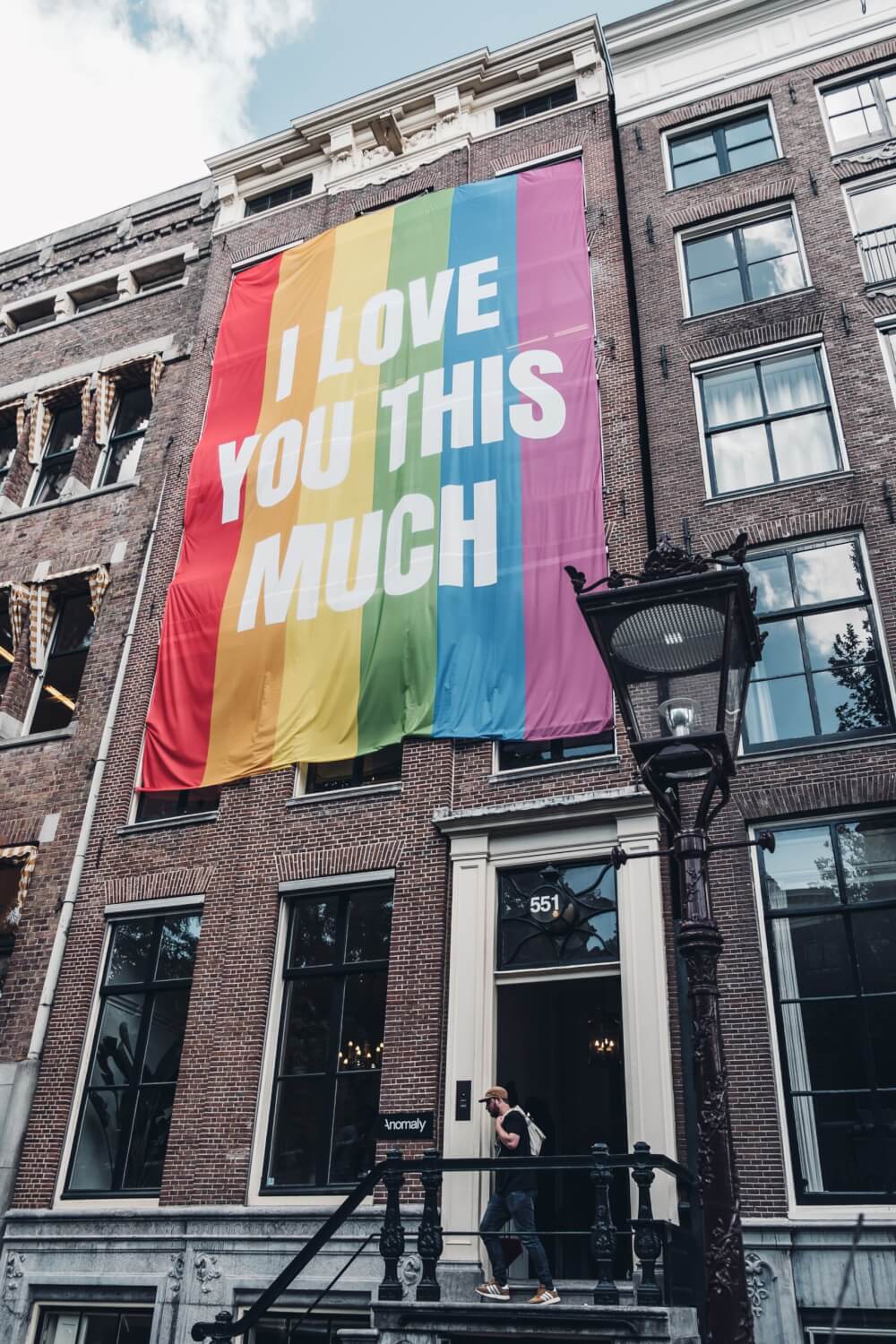 21. There's even a hidden church
Amsterdam wasn't always so tolerant though, there was once a time during the 17th century when Catholics were persecuted and had to hide their beliefs.
An example of this can be seen by visiting the Ons' Lieve Heer op Solder (Our Lord in the Attic) church which was hidden in the attic of a typical Dutch house in the heart of the city.
As recorded on Atlas Obscura, Jan Hartmann converted the attic of his home into a tiny, but still beautiful, church in 1663. The church became a museum in 1888 (making it the second-oldest museum in the city) which is well worth a visit to climb the spiral staircase behind a fake door and see the beautiful decorations. You can even attend a service in the attic!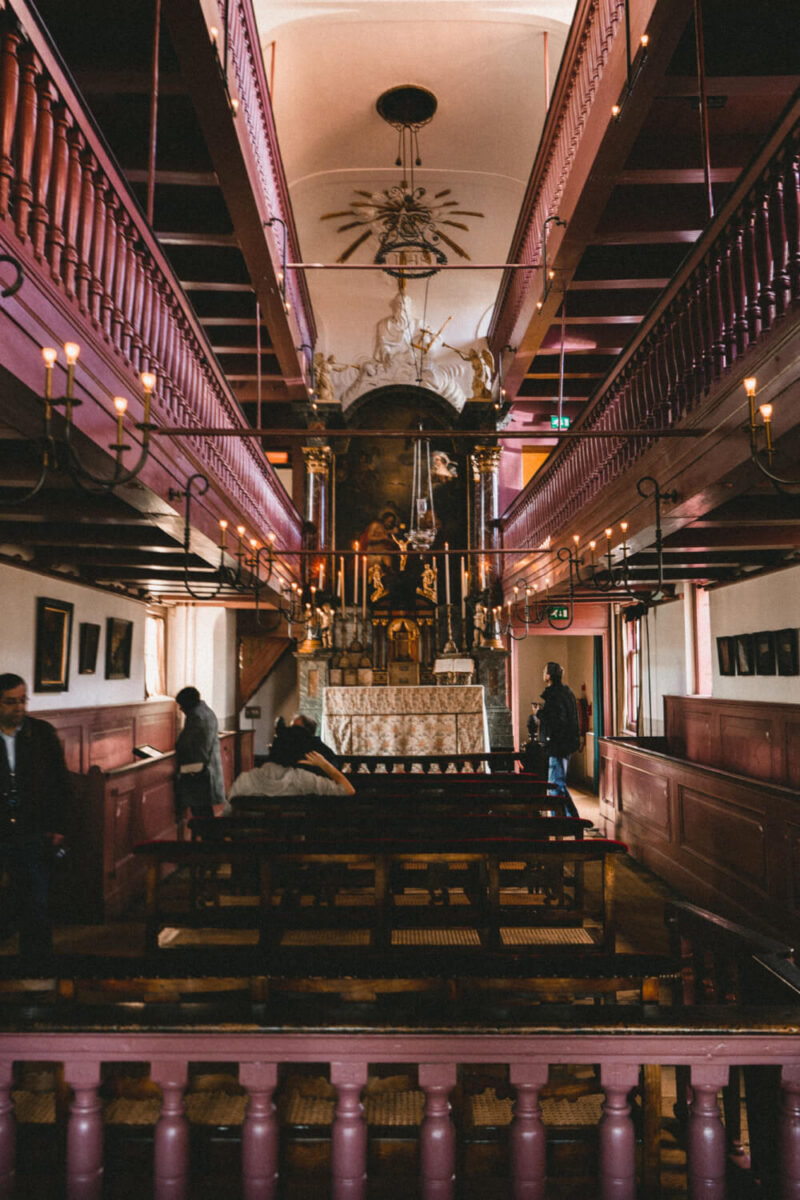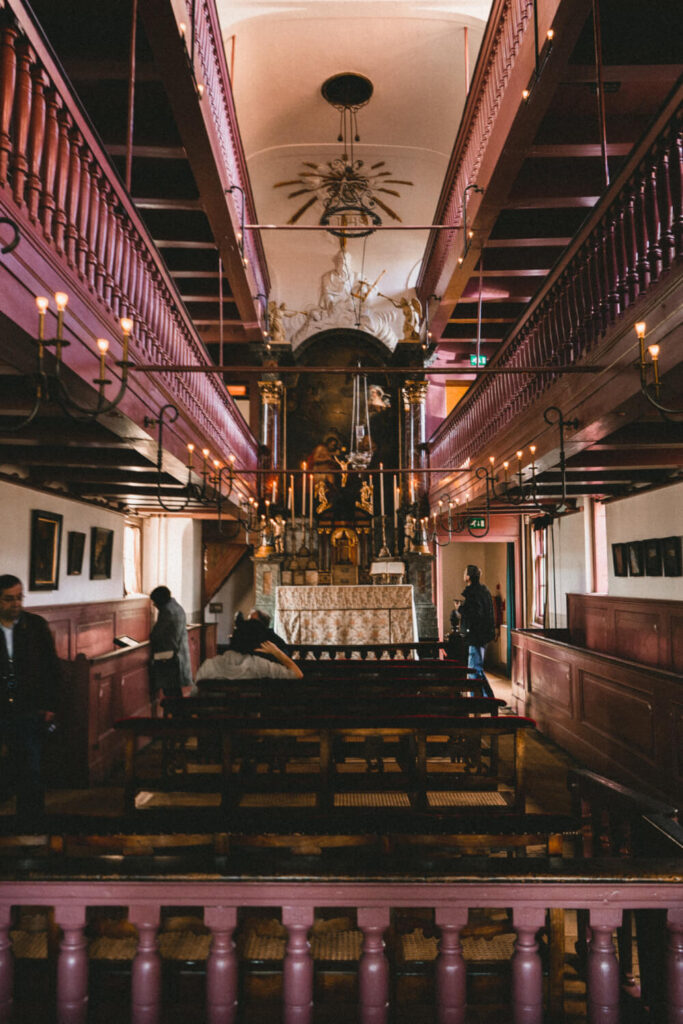 22. There's hot food vending machines all over Amsterdam
This is by far one of the top Amsterdam food experiences you need on your list.
Scattered all around the city are the most magical inventions ever: heated food cubbies filled with all manner of tasty fried treats, waiting for you to free them with your hard earned euro coins.
Burgers, croquettes, fries, and more on demand? Oof – Amsterdam, you really know how to live.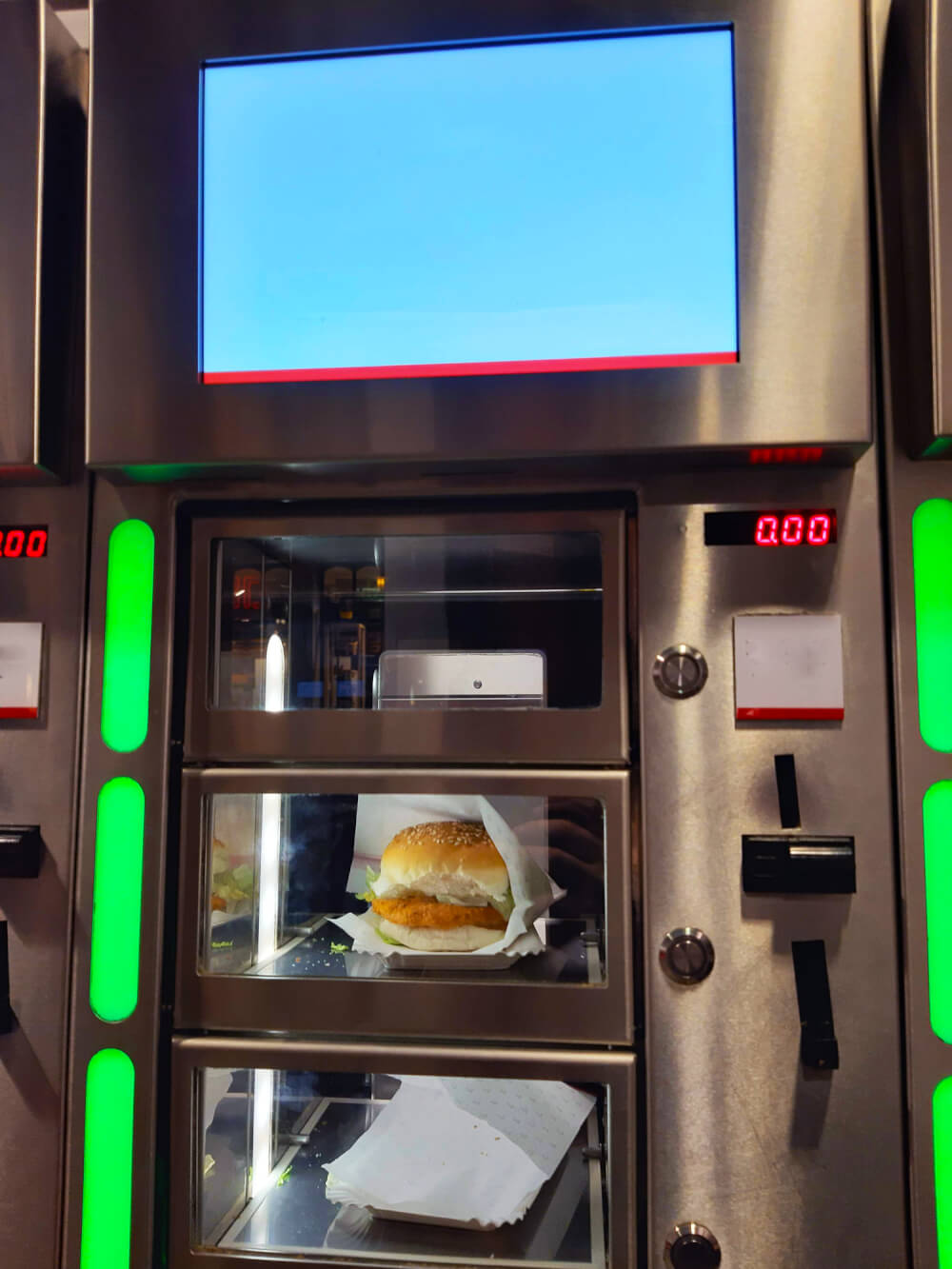 Did I miss any of your favourite fun facts about Amsterdam?
Let me know in the comments! I'd love to add more to the list.
My Go-To Travel Favourites: