*FYI - this post may contain affiliate links, which means we earn a commission at no extra cost to you if you purchase from them. Also, as an Amazon Associate I earn from qualifying purchases. Check out our Privacy Policy and Disclosure. for more info.
Visiting Keukenhof as a day trip from Amsterdam? No problem! This guide will show you step by step how to go from Amsterdam to Keukenhof stress-free.
If you're one of the approximate 1.4 million visitors who plan to frolic to the Keukenhof Gardens this year, then let me peer into my crystal ball and guess that you're probably going to visit Keukenhof from Amsterdam?
Did I nail it or did I nail it?
Well my friend, if that's the case, then you've come to the right rambly blog post.
Having recently visited Keukenhof myself, I realized that a day trip here from Amsterdam isn't as straightforward as you might assume, with plenty of dizzying options and possibilities to keep you on your toes.
So, to help you out, here's my Amsterdam to Keukenhof day trip guide, featuring everything you need to know about the trip, from how to get there, how to snag the best deal on Keukenhof tickets, and of course, practical tips for making the most out of your day!
Keukenhof is definitely one of the most amazing European Spring destinations, so I hope this guide will help you make the most of your trip.
First: Why Visit Keukenhof from Amsterdam?
There's a reason the Amsterdam to Keukenhof day trip is so popular – these gardens are known as some of the most stunning in the world, and you can easily reach them from Amsterdam in about an hour.
Imagine going from the crooked gingerbread canal houses of Amsterdam, all the way to the sprawling 7 million+ flowers of Keukenhof in less time than it takes a pizza to deliver!
All these factors combined make Keukenhof a logical day trip to do from Amsterdam… if you don't mind crowds that is 😉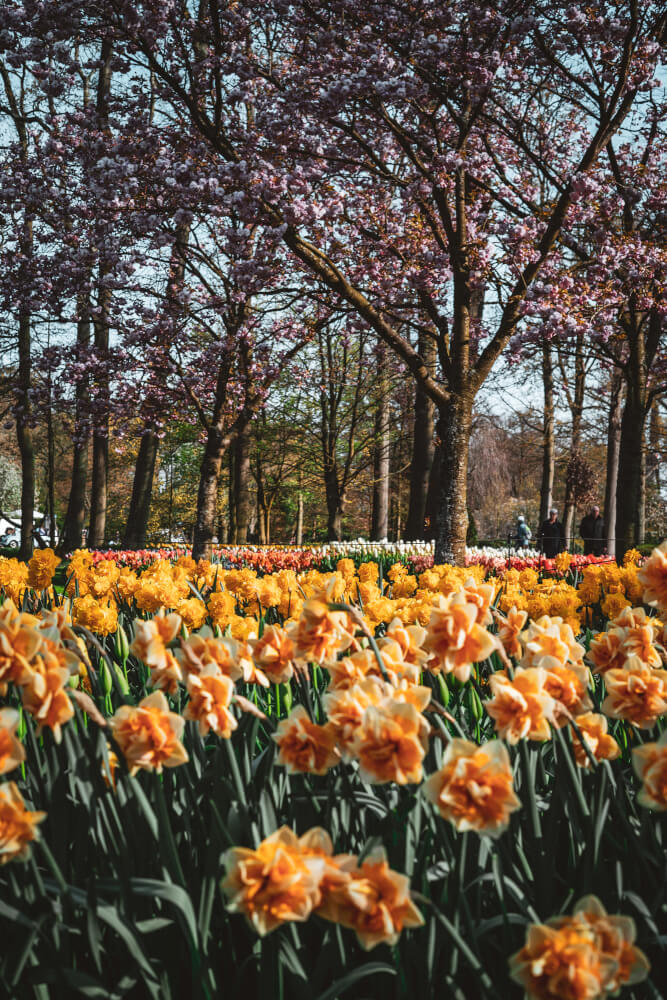 Basic Info You Must Know for Keukenhof 2021
Before you plan your Keukenhof day trip from Amsterdam, here are some important must knows…
Keukenhof 2021 Dates
Part of what makes Keukenhof such an enticing day trip is simply its exclusivity – it's only open for 8 short weeks every year!
In 2021, the Keukenhof Gardens were scheduled to open from March 20 – May 9. Unfortunately, according to the site, the official opening has been delayed and it is not yet known when Keukenhof will open for the 2021 season.
The event was closed last year for reasons I'm sure you know, but this year they do plan to go on, albeit later.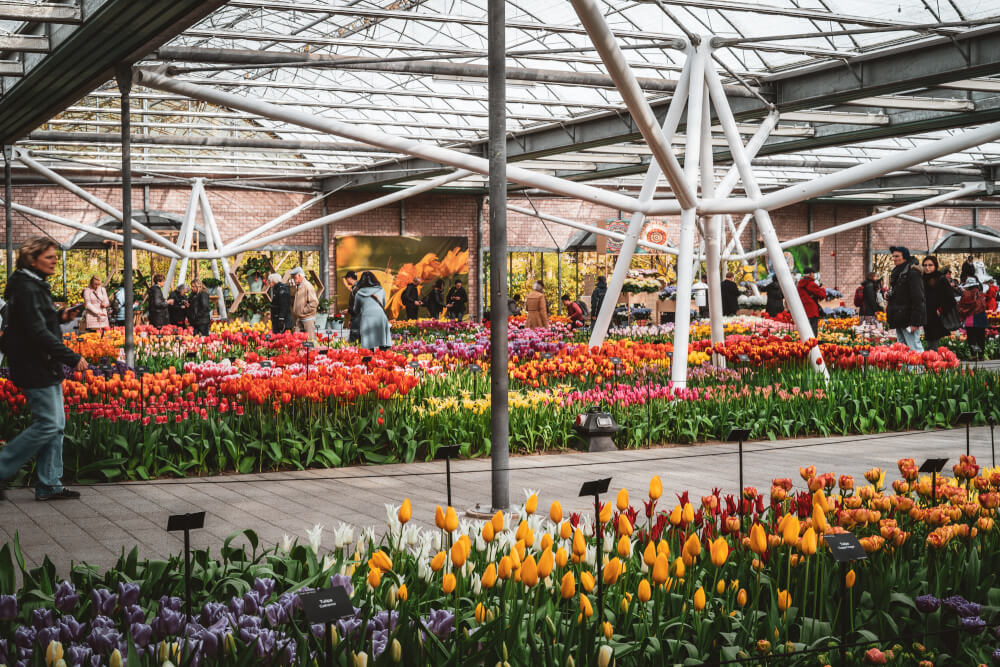 Keukenhof Opening Hours
Keukenhof is open daily from 8am – 7:30pm, including during Easter, Kingsday and Liberation Day.
NOTE: The last time slot available is from 6pm – 7pm.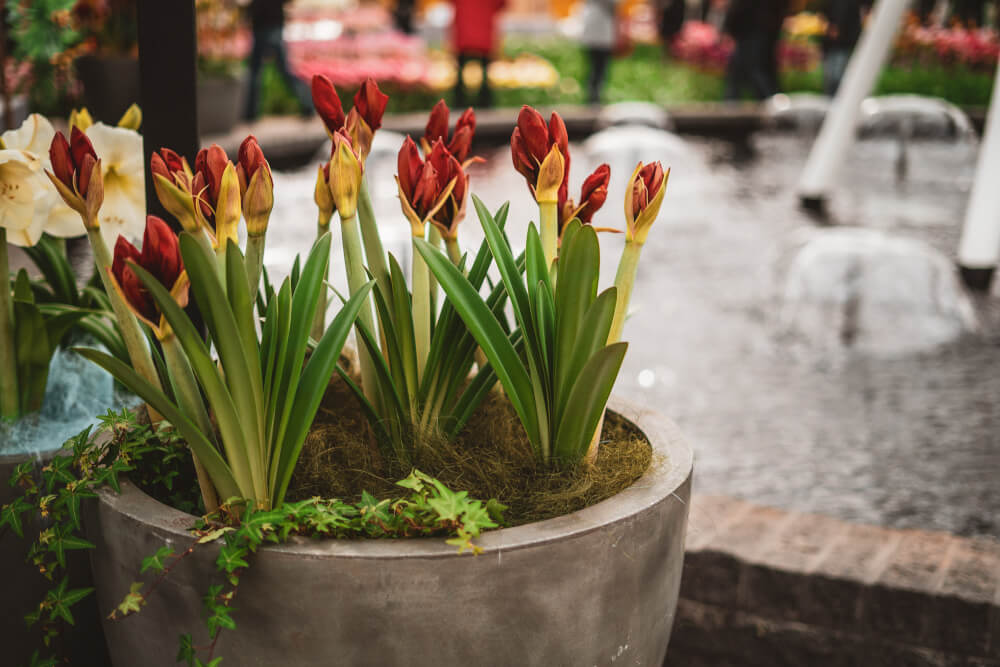 Keukenhof 2021 Tickets
To make the most of your Keukenhof experience, I highly advise you get your tickets in advance – in fact, in 2021 this seems to be the only way.
There are a lot of different kinds of offers you can take advantage of to secure the best deal and it's a bit confusing so if you need help deciding what's best for you, I recommend you check out my full Keukenhof tickets guide here.
Otherwise, here's a quick summary of the different ticket types and where to get them:
NOTE: Below, I talk a lot about "Combi-Tickets" which are offered through the official Keukenhof website. Unfortunately, details are not yet available for 2021 Combi-tickets, but the Keukenhof website does say that more information for 2021 will be released soon. Bear this in mind, as the prices below might be slightly different from what they end up offering.
Combitickets: Combitickets bundle your transport TO/FROM Keukenhof and your entry ticket to the gardens, which = savings! The two types of Combi-tickets are bus + entry, and train + bus + entry. Which one you get depends on where you're coming from, and what modes of transport you use to get to Keukenhof. I'll explain these more in detail later.
All-inclusive tours: Many tour operators offer day tours that include your Keukenhof ticket. Sometimes, these tours can even be cheaper than attempting to do the entire trip independently! For example, here's one for 34 euros, which is 2 euros less than the Train + Bus + Entry ticket from Amsterdam. The downside? Less freedom (and suffocating alongside a bus full of your fellow tourists).
Attraction bundles: Lastly, attraction bundles allow you to purchase tickets for Keukenhof and other main Holland attractions at the same time for a discounted rate. For example, you could book the following:
Keukenhof, Zaanse Schans & A'dam Lookout Combo Day Tour: This combo tour includes Keukenhof, the windmill village of Zaanse Schans and also the A'dam Lookout for 78 euros. Click here to check reviews and availability.
Keukenhof + Sightseeing Windmill Cruise: This combo tour includes Keukenhof and a scenic cruise to see windmills for 53 euros. Click here to check reviews and availability.
Volendam/Marken, Zaanse Schans & Keukenhof with Canal Cruise: This combo tour includes Keukenhof, a tour of Zaanse Schans Windmill village, tours of the fishing villages of Volendam and Marken, a cheese factory visit AND even a free 1 hour canal cruise to use during your stay… all for less than 100 euros! Click here to check reviews and availability.
Keukenhof + Rijksmuseum Bundle: This bundle includes admission/transport to Keukenhof, as well as the Rijksmuseum (Amsterdam's answer to the Louvre!) for 55 euros. Click here to check reviews and availability.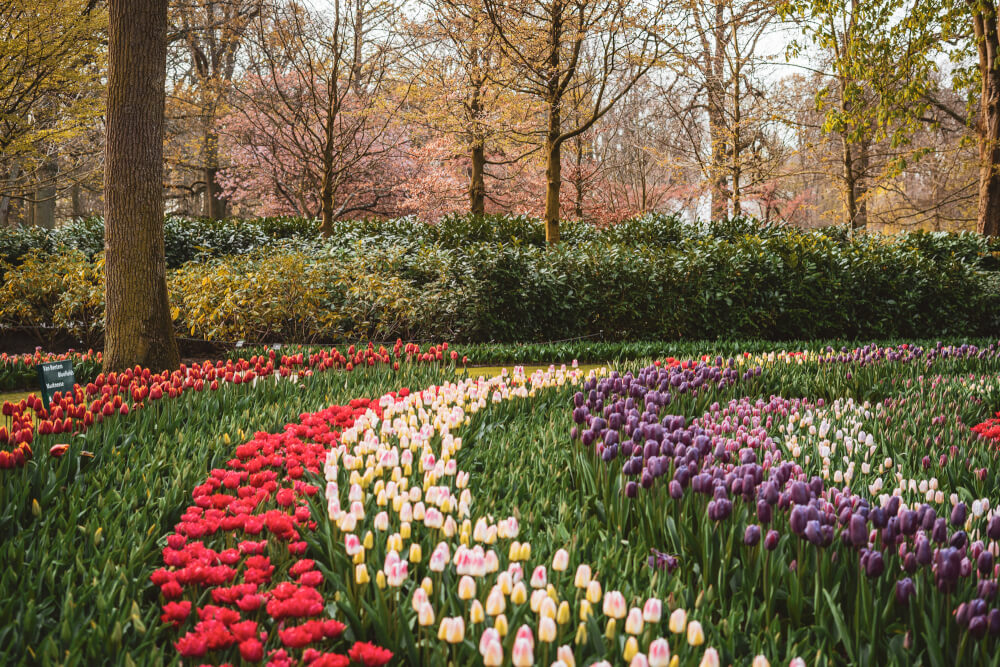 Keukenhof 2021 Theme
Every year, Keukenhof has a different theme which you'll see throughout its various beautiful displays!
The theme for Keukenhof 2020 was A World of Colours, which means plenty of global cultures/countries represented. The theme for 2021 is not yet known!
Here are some photos from 2019's theme, Flower Power, complete with peace signs, pop culture nods and all sorts of wonderful 70s goodness: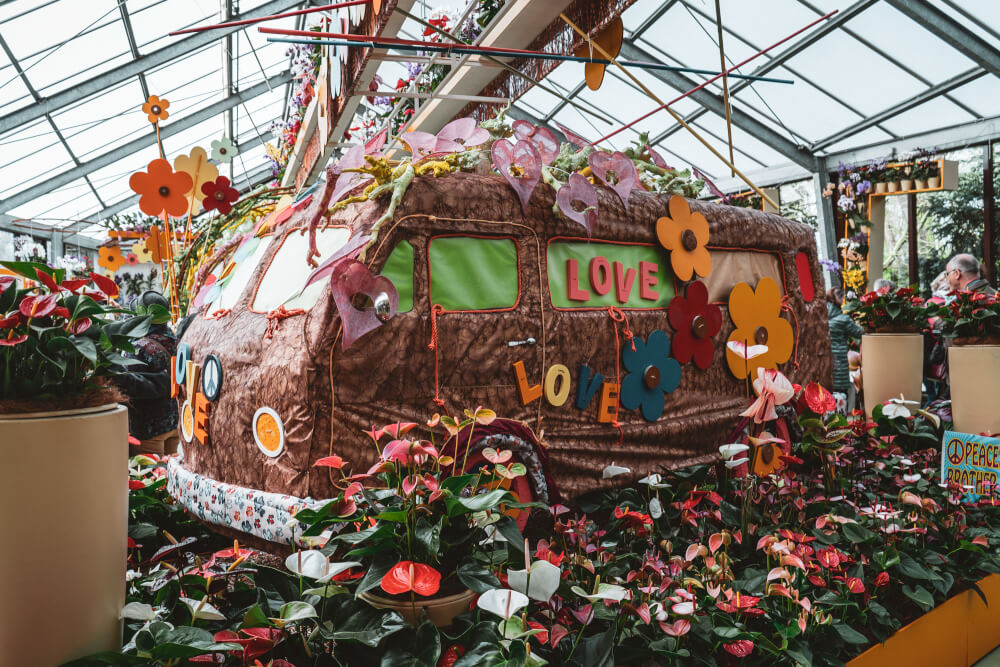 How to Get from Amsterdam to Keukenhof Gardens
As I mentioned in the intro, there are a lot of different options for getting to Keukenhof from Amsterdam.
Which option is best depends on what you value, whether that's convenience, price, or flexibility. Here's a rundown of each option for you:
OPTION A (Most Convenient!): Book an Amsterdam to Keukenhof Gardens Tour
Cost: Starts at 39 euros per person
If you're worried about finding a tour that gets you from Amsterdam to Keukenhof, you can breathe. There are genuinely dozens of tour companies that provide this package, so you have tons of options.
The best part? Tours are both convenient, AND quite cheap, so if you want to visit Keukenhof without stressing about lugging your own butt around public transport, then this is a great choice.
This option will get you from central Amsterdam to Keukenhof directly in less than an hour.
Is it worth it to pay for an Amsterdam to Keukenhof tour rather than just do it yourself? I think the answer is yes.

Honestly, it's only 2 euros more than paying for a combi-ticket from Amsterdam, which would require one transfer and um, having to handle directions yourself, so if you don't mind paying a tiny bit extra for a direct connection, this is the option I would pick.
OPTION B: Get from Amsterdam to Keukenhof Gardens with public transportation (via Schipol)
Cost: 36 euros (when purchased online) for a train + Keukenhof Express + Keukenhof entry Combi-ticket
So, as a reminder, unless you book a tour like in the option above, there actually aren't any direct connections from central Amsterdam to Keukenhof.
This means you will need to make the journey in two steps.
The best ticket to buy for this journey (which includes your Keukenhof entry) is the Train + Bus + Entry Combiticket. After you get this ticket, to get to Keukenhof from Amsterdam, here's what you need to do:
STEP ONE: Go from central Amsterdam to Schipol Airport. There are frequent trains that do this trip and it takes less than 20 minutes. Use 9292 to plan your journey for free.
STEP TWO: Take the Keukenhof Express (Bus 858) from Schipol Airport's bus station, which is located in front of the airport. The earliest departures are around 8am daily (7:59am on weekends and holidays – I know, it's weird), with multiple departures per hour.
STEP THREE: Rejoice! You've made it to Keukenhof.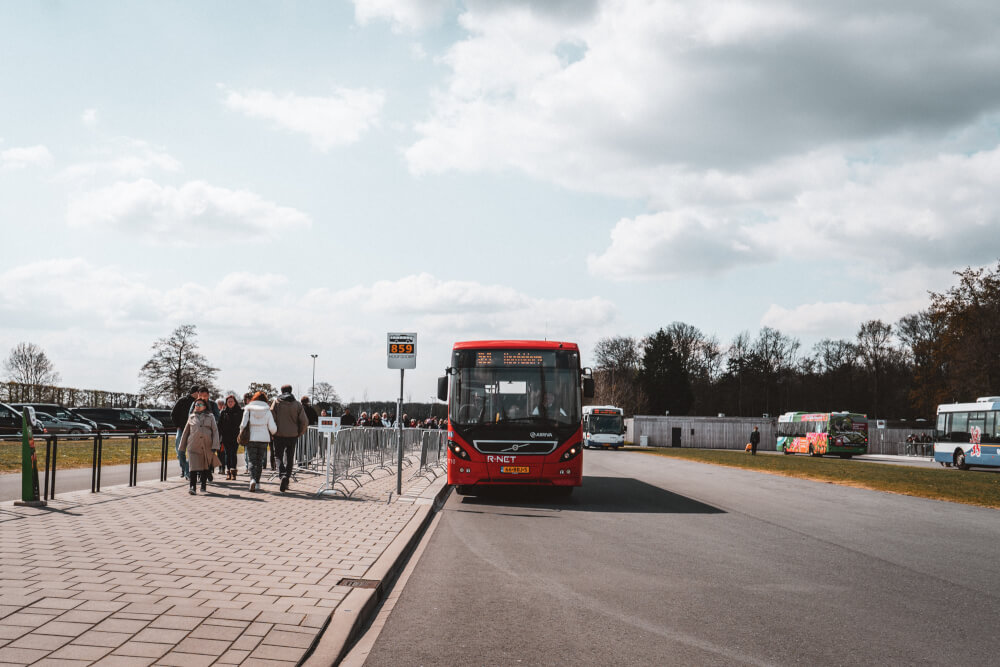 OPTION C (Cheapest!): Get from Amsterdam to Keukenhof Gardens with public transportation (via Hoofddorp)
Cost: 30 euros (when purchased online) for a bus + Keukenhof Express + Keukenhof entry Combi-ticket
If you want to save a bit of cash, the cheapest option from Amsterdam to Keukenhof is actually with a connection via Hoofddorp instead of Schipol. If this is the option you want to pursue, then here's what you do:
STEP ONE: Take the 397 bus from central Amsterdam to Hoofddorp. Use 9292 to plan your journey for free.
STEP TWO: Take the Keukenhof Express (Bus 859) from Hoofddorp. Click here for more info on times.
STEP THREE: Happy dance! You've just done the cheapest possible route from Amsterdam to Keukenhof. Woo.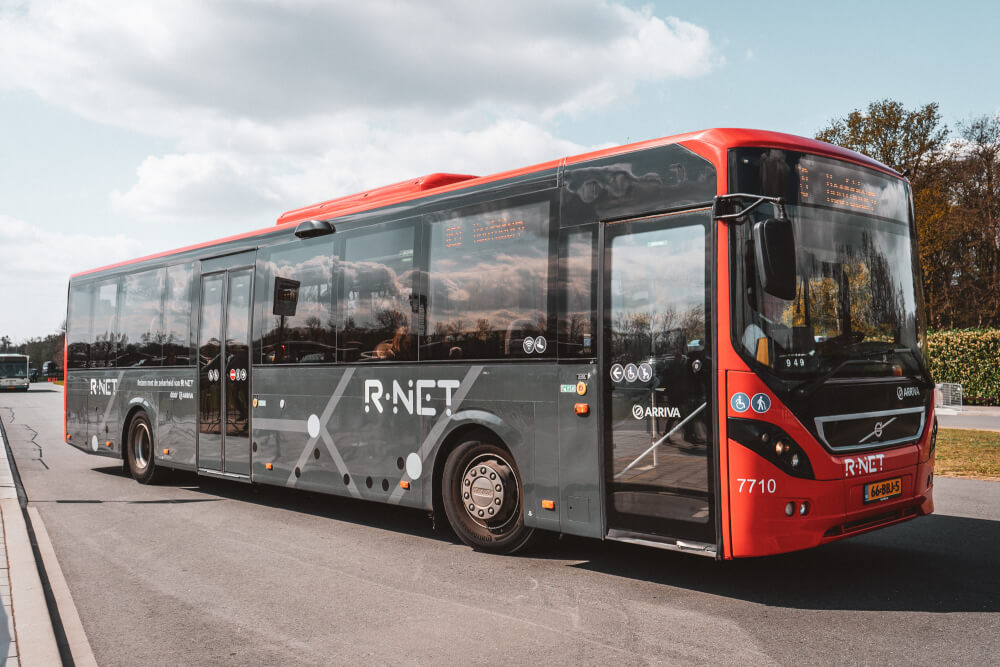 OPTION D (Most Flexible!): Drive to Keukenhof from Amsterdam
Cost: Parking is available for 6 euros
Last but not least, if you want to get to Keukenhof for your day trip before everyone else, then driving is probably your best bet to avoid crowds.
And don't worry about getting lost – Keukenhof is ideally situated between Amsterdam and the Hague, so you can easily get to it using Google Maps. There's also plenty of parking at Keukenhof available for 6 euros per vehicle.
How to Get from Amsterdam Schipol Airport to Keukenhof
Another option if you're getting from Amsterdam to Keukenhof is going straight from the airport. If this is the case, you can actually take a direct bus straight from the airport to Keukenhof.
Cost: 25 euros (when purchased online) for a Keukenhof Express + Keukenhof entry Combi-ticket
The journey from Schipol Airport to Keukenhof is an easy one – there's the direct Keukenhof Express bus (858) which gets you to Keukenhof's main entrance in around 30 minutes, depending on traffic. If you're going directly from Schipol to Keukenhof, you should probably get a 25 euro Combi-ticket which covers your roundtrip busfare and your skip-the-line entry to Keukenhof.
Things to do at Keukenhof During Your Day Trip
While Keukenhof is huge, doing it as a day trip will give you more than enough time to fully appreciate the gardens in all their glory.
Here are a few of the things that you need to make sure you don't miss during your Amsterdam to Keukenhof trip!
1. Go pavilion hopping
One of the highlights of visiting Keukenhof is exploring the many covered pavilions they have scattered around the park.
Be sure to grab yourself a park map at the start of your visit to ensure you don't miss any!
These pavilions often have their own themes/specialties, with some even running shows throughout the day.
You can read my full Keukenhof guide here for a more detailed breakdown of pavilions and what they have to offer.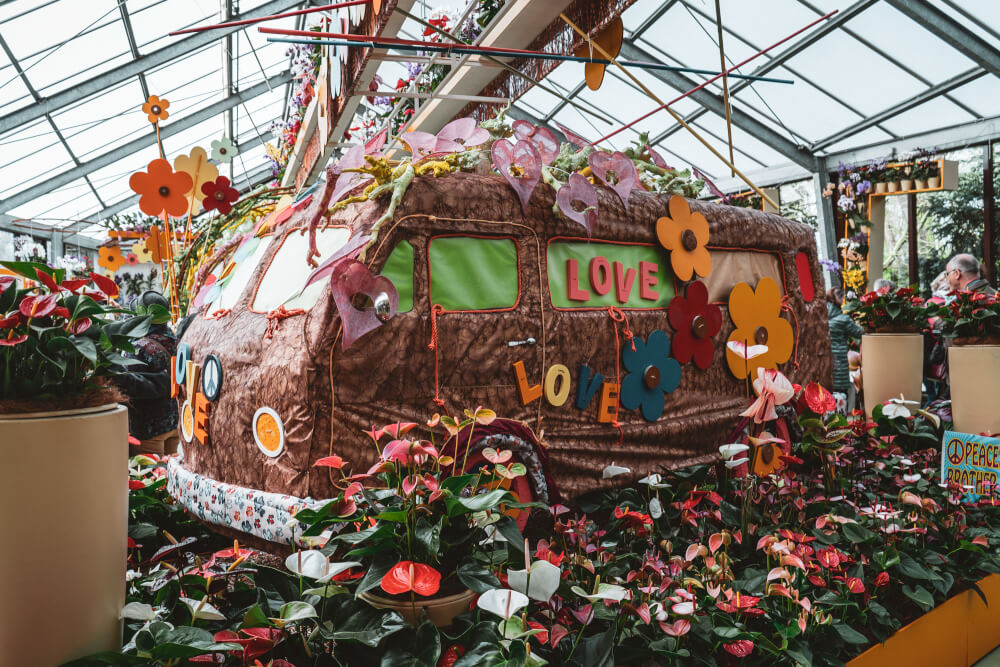 2. Marvel at the many outdoor gardens
Of course, the main reason you'll have done this Keukenhof day trip is to see all the lovely outdoor gardens!
Besides the manicured displays, they also have a few inspiration gardens set up (with more realistic gardening ideas for your own home), so don't miss those!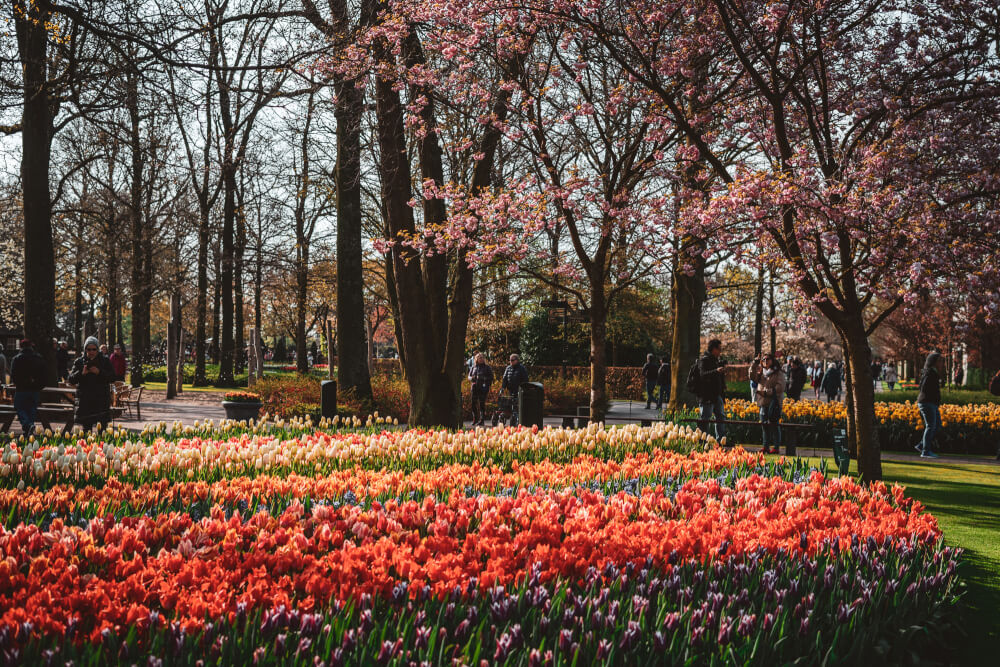 3. Take advantage of all the hilarious Keukenhof photo opps
One of the most wonderful things about visiting Keukenhof (in my opinion) is that everybody there is shamelessly taking a million photos per second, so nobody is there to judge if you want to indulge your inner tourist and go wildly snap-happy as well.
Keukenhof makes this easy with a variety of 'made for Instagram' photo opportunities that can be found all throughout the park.
My personal favourite for 2019 was a giant flowery wedding dress that you could pretend to wear!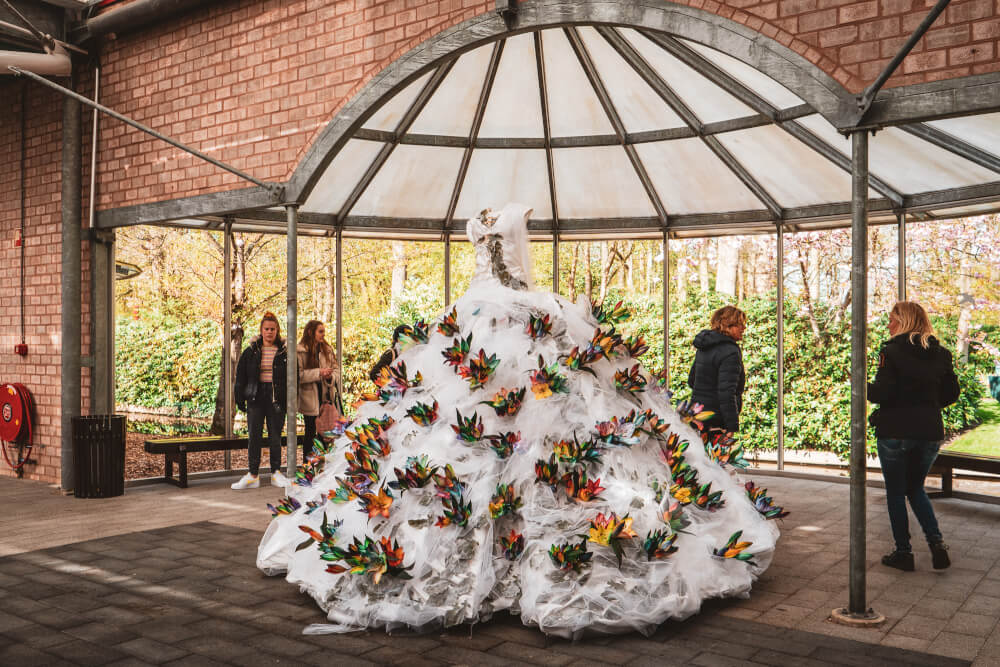 6 Final Tips for Your Amsterdam to Keukenhof Day Trip
Alright, before I send you off on your merry way, here are some final tips to help ensure that your trip is as magical as you've always dreamed.
1. Make sure to buy your Keukenhof tickets in advance
I realize I'm starting to sound like a broken record, but remember: Keukenhof gets busy!
If you've made it through all 2000 words of this blog post and still think you should walk up and get a ticket on the spot, then let me quickly shake you like a maraca and point you towards the many online tickets you can get right now in advance.
Click here to get your instantly downloadable skip-the-line tickets
I got my ticket online the night before on GetYourGuide and used my mobile voucher to walk straight in. This allowed me to smugly bypass a lot of other people while walking in, and not only did it save me time, it gave me a nice little ego boost too.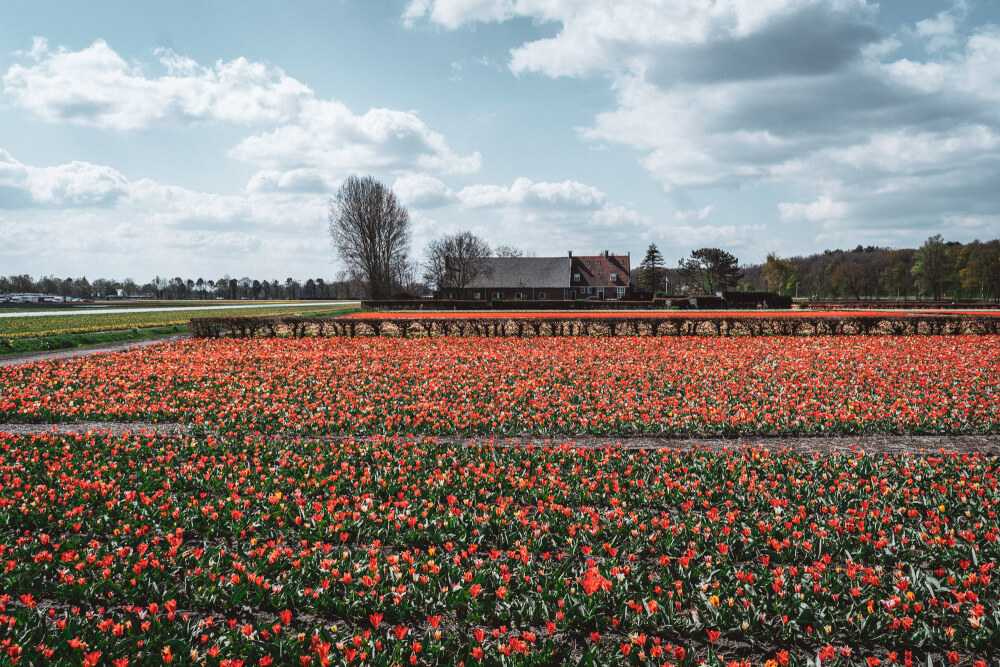 2. Make sure you arrive for your designated time slot
My old advice used to be to get to Keukenhof early! During my visit, by the time noon came along, the crowds were so intense that I wanted to just hide in a corner and cry.
BUT, times have changed and now Keukenhof requires timed tickets. Based on the website FAQ, it seems they are very strict on arriving within the designated time slot, so make sure you get there when your ticket says to.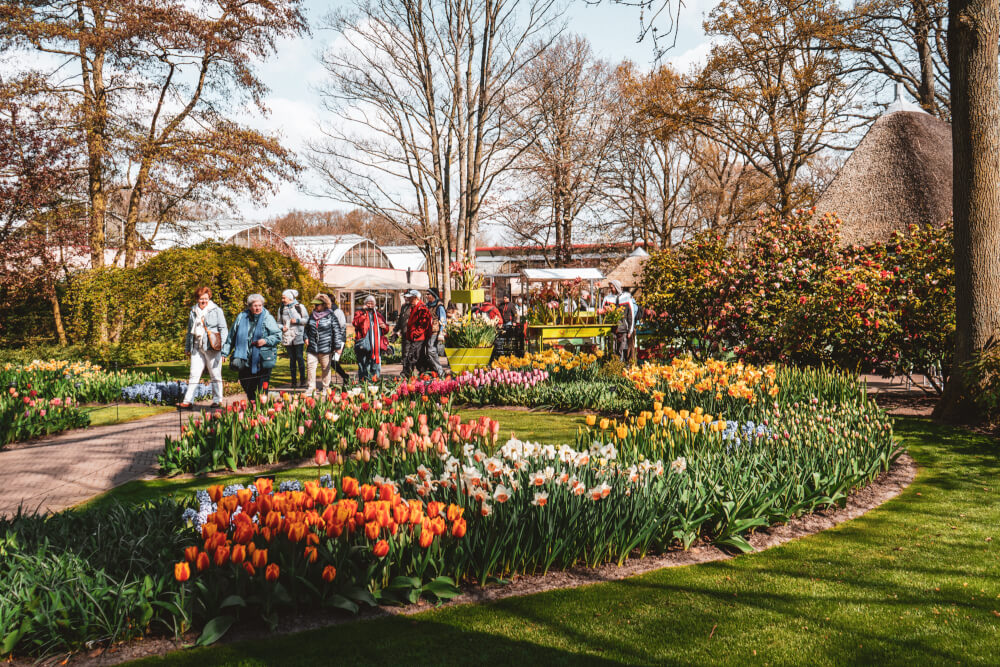 3. Avoid weekends, holidays and special events when visiting Keukenhof
For the sake of your sanity, I implore you to also avoid weekends, holidays and special events as much as possible when planning your Keukenhof day trip.
Not only will these be the busiest times to visit and the park itself will be swarming with humans and selfie sticks, your commute will also include the bonus of thousands of new friends.
Unless you enjoy being stuck on a train with a stranger breathing into your ear, then avoid these dates at all cost!
NOTE: With the new timed ticket system, it's possible that crowds will be way more in control since there's a visitor cap in place, but I still recommend booking for off peak times to increase your chances of fewer crowds.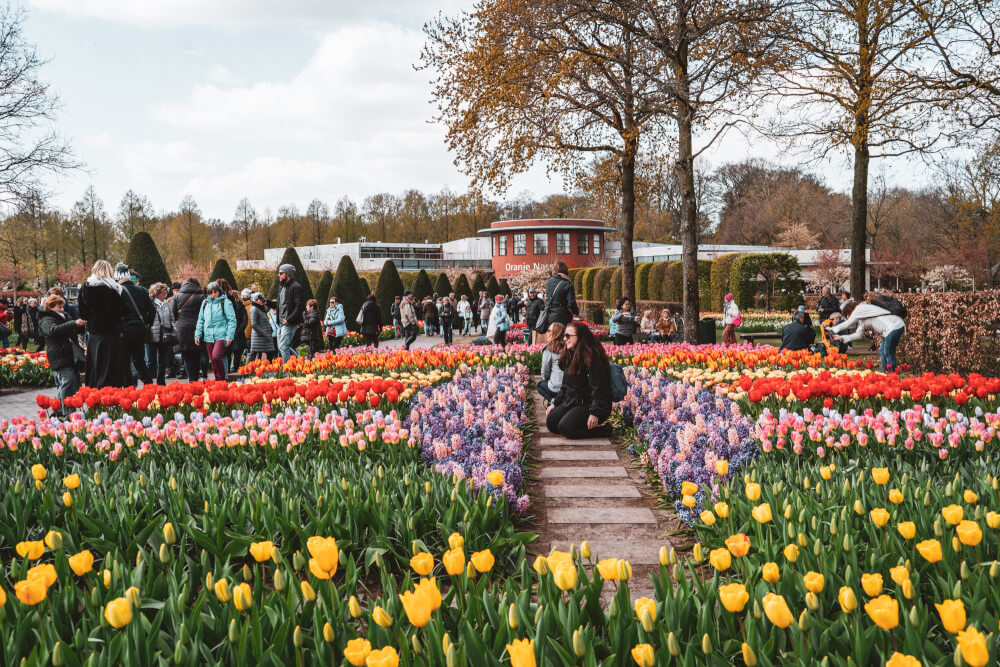 4. Decide if you want to visit the gardens, the tulip fields or both
One of the most common mistakes that visitors make is they assume Keukenhof consists of those sprawling colourful tulip fields you see photos of, when this couldn't be farther from the case.
Keukenhof itself is simply manicured gardens/pavilions, and while it may be located near those fields, the way you visit them is completely different.
So, to help plan your trip, decide first whether it's the fields you want to see, the gardens you want to see, or both… then plan accordingly.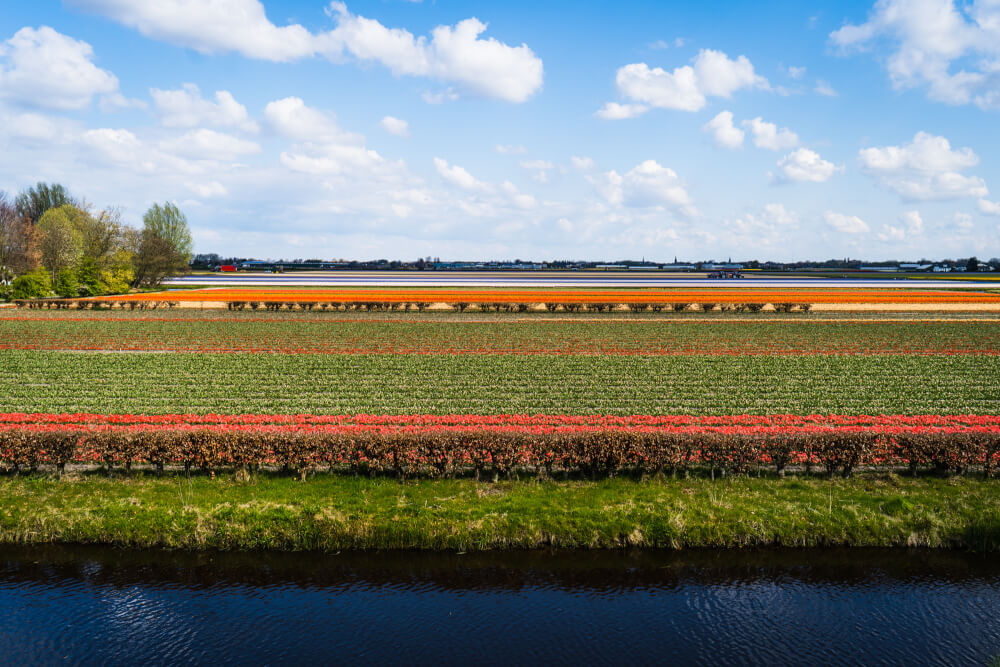 5. Have a plan for all the places you want to see
Keukenhof is huge, and honestly, as a first-timer, I found it really overwhelming!
I had no idea that the park had so many different pavilions, and while I stared at my map for approximately 10 million years, I still ended up missing a few things.
This is why I'd recommend getting acquainted with the park before you visit.
You can check out my full Keukenhof guide here for a virtual walkthrough of the different spaces, along with a rundown of the best photo opps in the park.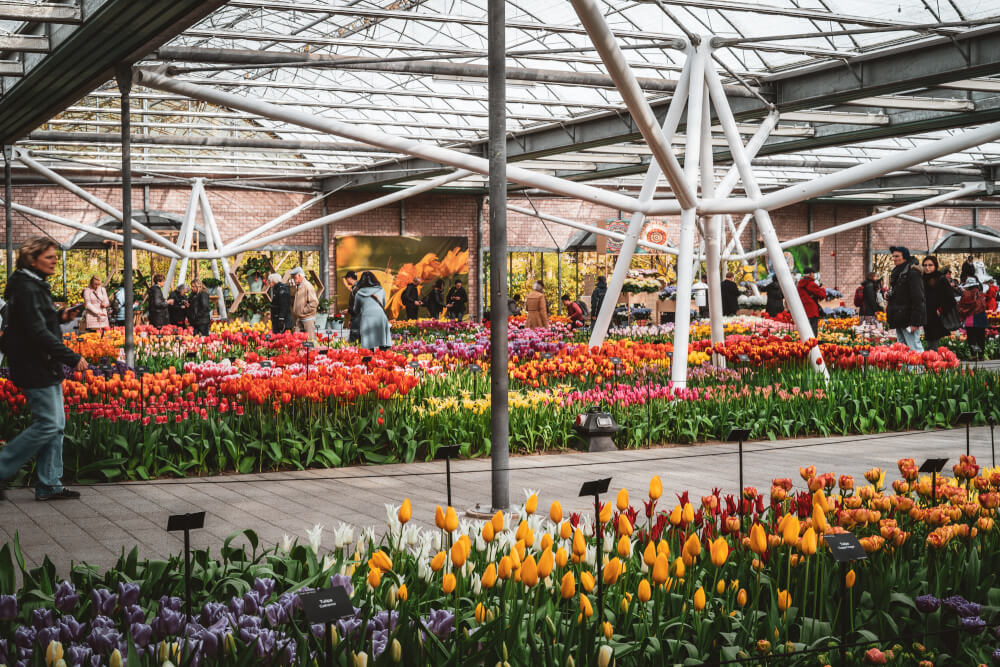 6. Bring some snacks and water
Last but not least, doing Keukenhof as a day trip is already expensive as it is, so to keep costs down, I would recommend smuggling your own snacks and water into the park.
I say smuggle, but it's totally allowed and encouraged, so go ahead and bring that tub of Nutella 😉
While there are a variety of concession stands scattered around Keukenhof, as you might expect, prices aren't exactly affordable.
When a burger, fries and beer costs you 17.50 euros, I'd say chucking a sandwich into your bag is a nice idea.
Any more questions about doing the day trip from Amsterdam to Keukenhof?
I hope you enjoyed this detailed Keukenhof day trip guide! Let me know in the comments below if you have any more questions! Have an awesome trip.