*FYI - this post may contain affiliate links, which means we earn a commission at no extra cost to you if you purchase from them. Also, as an Amazon Associate I earn from qualifying purchases. Check out our Privacy Policy and Disclosure. for more info.
Having just returned from a glorious day at the Keukenhof Gardens in Lisse, I've done a truly embarrassing amount of research on Keukenhof tickets and alllll the ways to save money on them.
After all, this famous Dutch attraction is far from cheap, and any pennies saved can go directly into the whole "Stroopwafels and Poffertjes fund", you feel me?
The thing about getting tickets for Keukenhof though is it's deceptively complicated. I mean… Combitickets? Skip the line tickets? Packaged tours? Which exactly is going to get me the best deal?
The annoying answer is, as with anything in life, "it depends".
So, to help clear things up, I've put together this Keukenhof tickets guide to ensure that you get the best deal possible on your visit!
I've spent enough time agonizing over the different options so you don't have to, so read on for an easy, straightforward guide on how to save some Stroopwafel money during your Keukenhof visit.
Types of Keukenhof Tickets You Can Buy
Here is a quick breakdown of the various Keukenhof tickets that are available for you to buy online:
Regular Entry Tickets:
In 2022, Keukenhof has introduced timed tickets that are only valid at the date/time that they're purchased for. This should help with crowd control and ensuring they don't exceed the maximum visitor cap that has been established for safety and hygiene reasons.
For my visit in 2019, I bought this one for 18 euros and walked straight in.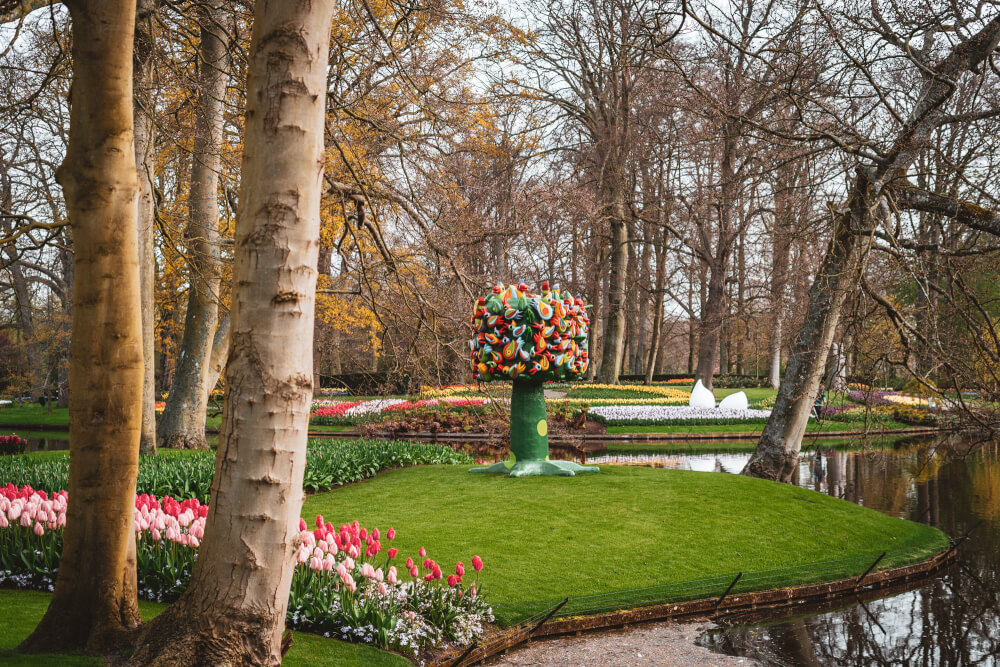 Combitickets:
Combitickets are special tickets offered by Keukenhof that combine your transport TO/FROM Keukenhof and your entry ticket to the gardens for some nice savings.
In essence though, for the past few yeas, there have been two types of Combi-tickets: bus + entry, and train + bus + entry.
Which one you get depends on where you're coming from, and what modes of transport you use to get to Keukenhof.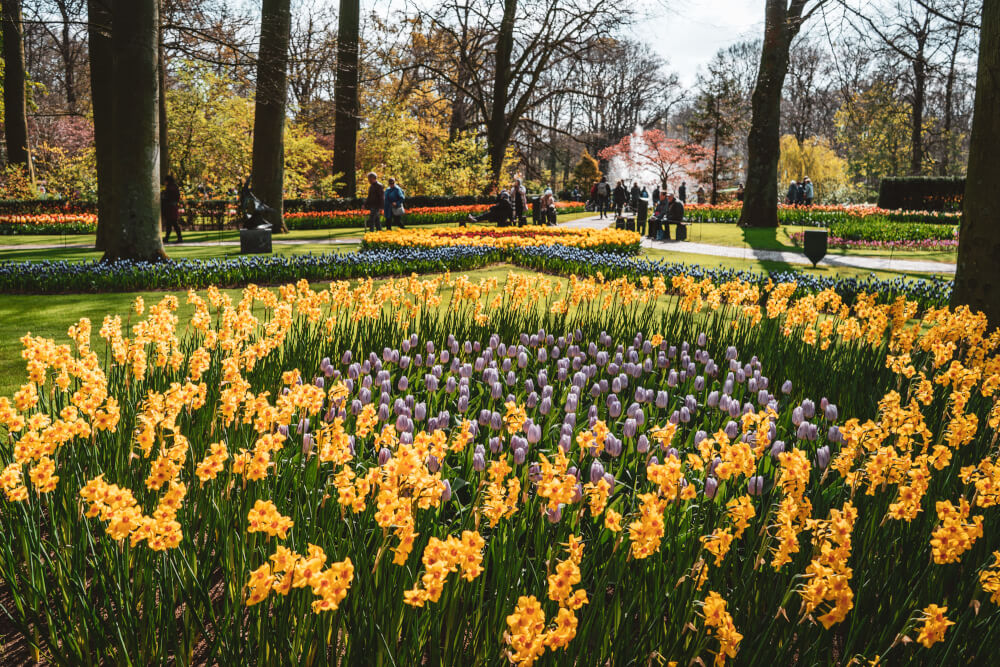 All-inclusive tours:
If you want the least stressful option, there are approximately ten million tour operators that offer day trip packages to Keukenhof that include an entry ticket and transportation 😉
Surprisingly, this can actually be cheaper than doing it all yourself!
Here was one for 34 euros in 2019 for example, which was 2 euros less than the Train + Bus + Entry ticket from Amsterdam.
The downside is of course that you don't have complete freedom over your trip and you do get stuck on a bus full of fellow tourists.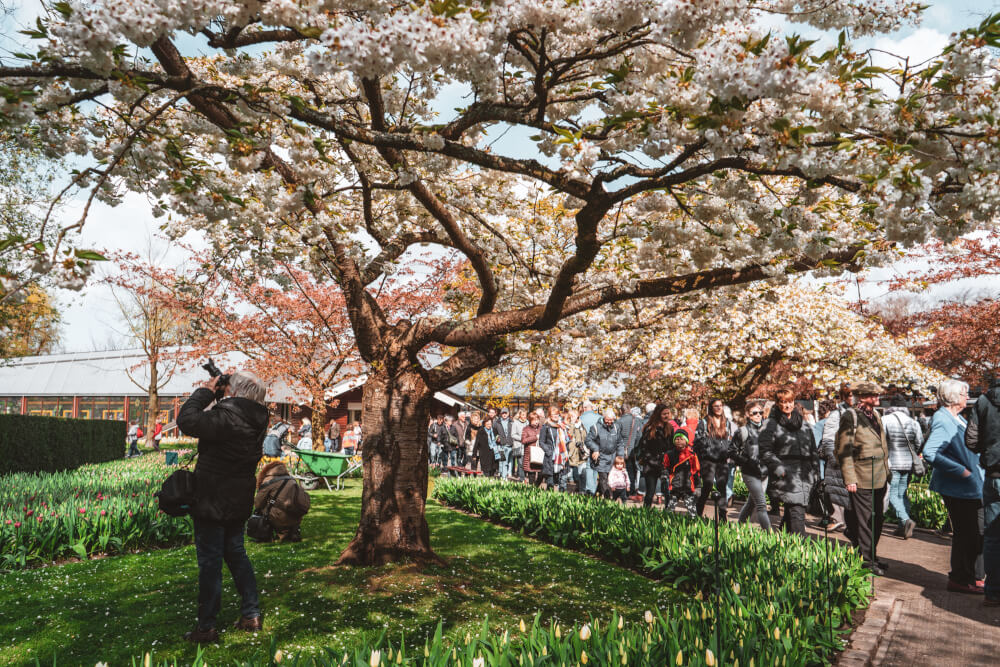 Attraction bundles:
Lastly, if you intend to visit other main attractions in Amsterdam and the Netherlands, there are several bundle tickets you can buy that give you a discount. More on this below!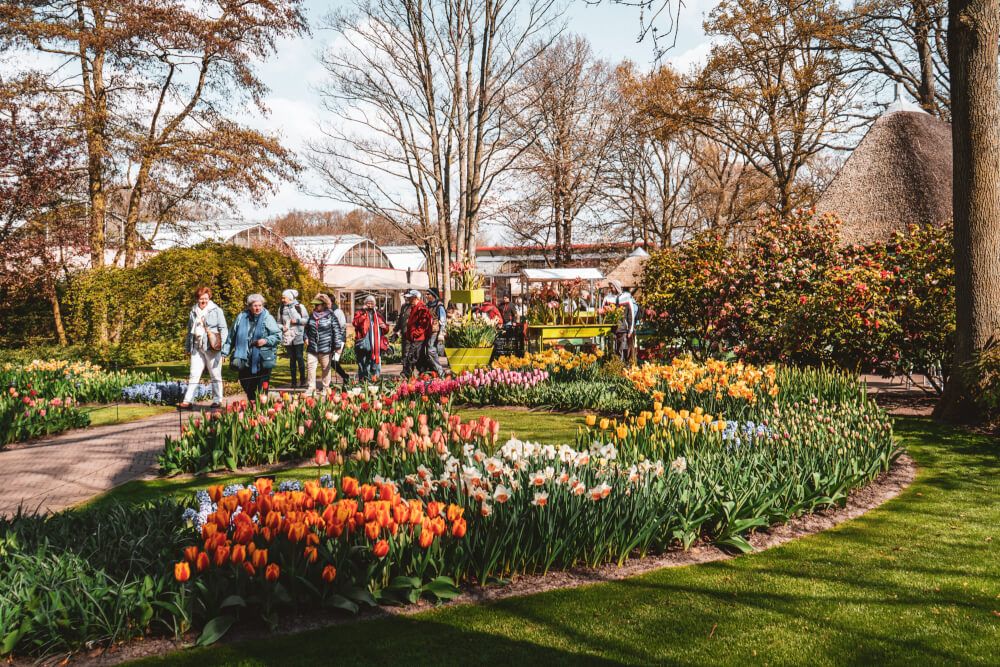 Considerations to Make When Booking Your Keukenhof Tickets
So, which of the tickets above should you buy?
Here are some questions to ask yourself in order to determine the best Keukenhof tickets for you.
A quick note on the Keukenhof Express: The Keukenhof Express is actually a very confusing little thing (in my opinion) because it's not just one bus, it's multiple routes that run from different start points to Keukenhof directly. So, in reality, there isn't one single "Keukenhof Express", there are multiple that are labelled with different numbers. They are 852 (from Europaplein Metro Station), 854 (from Leiden), 858 (from Schipol Airport), 859 (from Hoofddorp).
1. Where will you be visiting Keukenhof from?
Your departure point will be the main determinant in which Keukenhof tickets you should buy.
If you stay in Lisse (which I definitely recommend – it's a lovely bite-sized town with dirt cheap sushi!), then you should buy a skip-the-line ticket in advance to ensure you don't get stuck in any line-ups. Click here to get one that comes with a downloadable voucher that you can present directly at the gate.
If you are coming from Amsterdam on a day trip, honestly, the least stressful option is to book an Amsterdam to Keukenhof tour starting at 34 euros here, which was actually cheaper than the Train + Bus + Entry combiticket when I researched in 2019, with the bonus perk of course that you don't need to worry about navigating or transferring.
That said, if budget is your #1 priority, the cheapest option would be to buy the Combiticket Bus + Entry which is 30 euros.
With this, you can catch Bus 397 from central Amsterdam to Hoofddorp and get on the Keukenhof Express 859.
You can also take the Metro to Europaplein (about 8 minutes from Amsterdam Centraal) then catch the Keukenhof Express 852, but this is slightly pricier because the Metro ticket isn't included in your Combiticket.
And finally, before you completely drown in options, you can also purchase the Combiticket Train + Bus + Entry which is 36 euros in 2nd class, although again, this is more expensive than the tour I linked to above.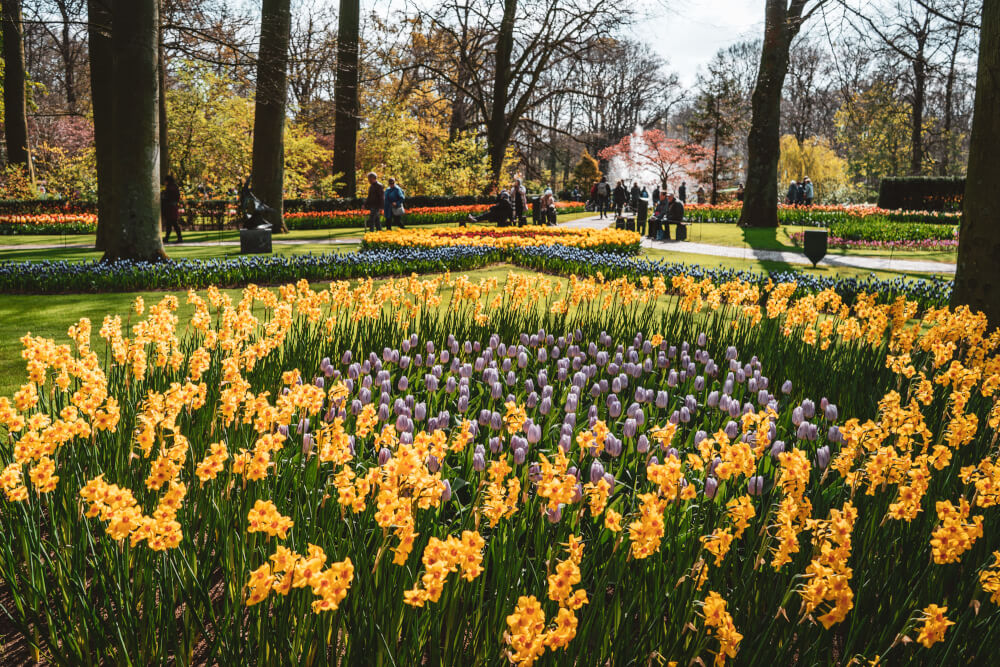 If you are coming from Hoofddorp, Schipol Airport, Leiden or Haarlem, then you can simply hop on one of the Keukenhof Express buses (or the 50 bus at Haarlem) and use a Combiticket Bus + Entry for savings.
If you are coming from anywhere else, you basically need to find a way to either Hoofddorp, Schipol Airport, Leiden or Haarlem, and then catch the bus from there.
The Combiticket Train + Bus + Entry will cover you for this entire roundtrip journey for only 36 euros in 2nd class. 9292 is a great free website for planning journeys within the Netherlands, so you can use that to plan your journey to any of these points.
2. When do you want to arrive at Keukenhof?
As I mentioned in my full Keukenhof guide, timing is one of the most important factors when it comes to whether or not your Keukenhof visit will be as magical as you always dreamed.
If you plan to arrive via Keukenhof Express buses, the timetables are all coordinated so you pretty much depart around Keukenhof's opening time.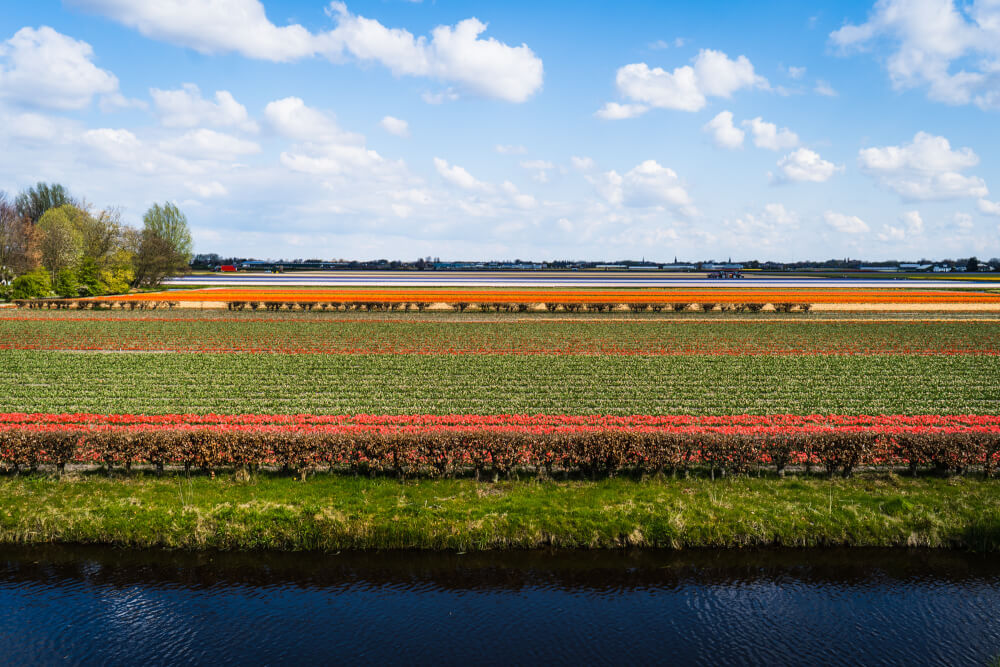 This means you'll arrive about 30 minutes after doors open. This is actually when I got there during my visit and I found it to be reasonably empty up until 11ish.
If you want to get there as soon as the gates open, your only choice really is to either stay in Lisse like I did and walk over, or rent a car. In both these cases then, getting a regular Skip the Line ticket makes the most sense.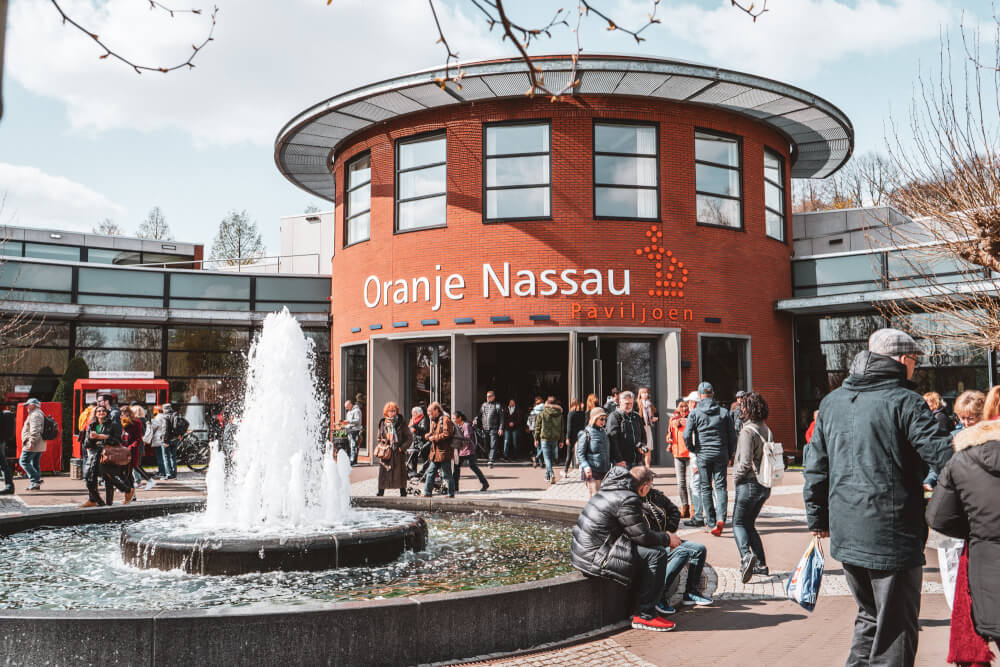 3. Do you intend to do any other major attractions in Amsterdam and Holland during your trip?
Another thing to consider is getting a bundle ticket of some kind if you plan to visit other attractions in the area. This could mean huge savings across the board.
Here are a few common combo tickets that you can buy when you visit Keukenhof:
These savings passes start at 45 euros and basically give you access to a number of veeeery popular attractions around Holland including Keukenhof.
There are different size passes (small, which covers 2 attractions, medium, which covers 4 attractions, and large, which covers 6 attractions) and all come with a free canal cruise and guidebook).
Depending on what attractions you intend to do while in Holland, this might be a great deal to take advantage of. Click here to check prices and reviews!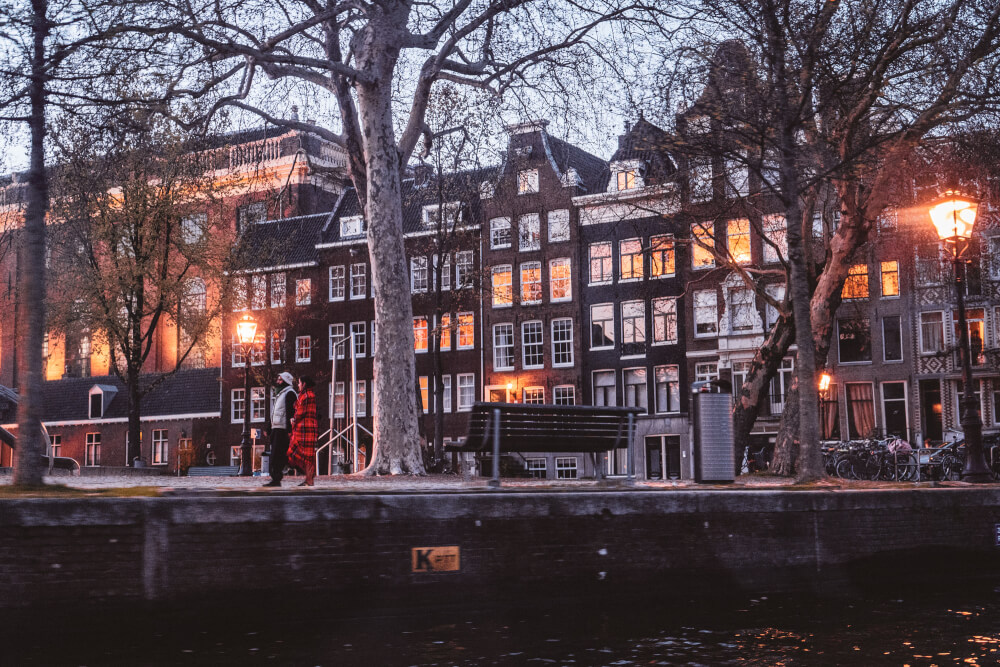 Keukenhof, Zaanse Schans & A'dam Lookout Combo Day Tour:
If you're looking for a packed day full of Dutchy goodness, this combo tour brings you to Keukenhof, the windmill village of Zaanse Schans and also the A'dam Lookout for only only 78 euros. Click here to check reviews and availability.
Keukenhof + Sightseeing Windmill Cruise:
If you'd like to bundle your visit to Keukenhof with a little scenic cruise to see windmills, this bundle is only 53 euros. Click here to check reviews and availability.
Volendam/Marken, Zaanse Schans & Keukenhof with Canal Cruise:
For just under 100 euros, you can enjoy this full day whirlwind tour of Holland, with a visit to Keukenhof, a tour of Zaanse Schans Windmill village, tours of the fishing villages of Volendam and Marken, a cheese factory visit AND even a free 1 hour canal cruise to use during your stay.
This is definitely a jam-packed bundle, but good value for money if you have a short amount of time in Holland! Click here to check reviews and availability.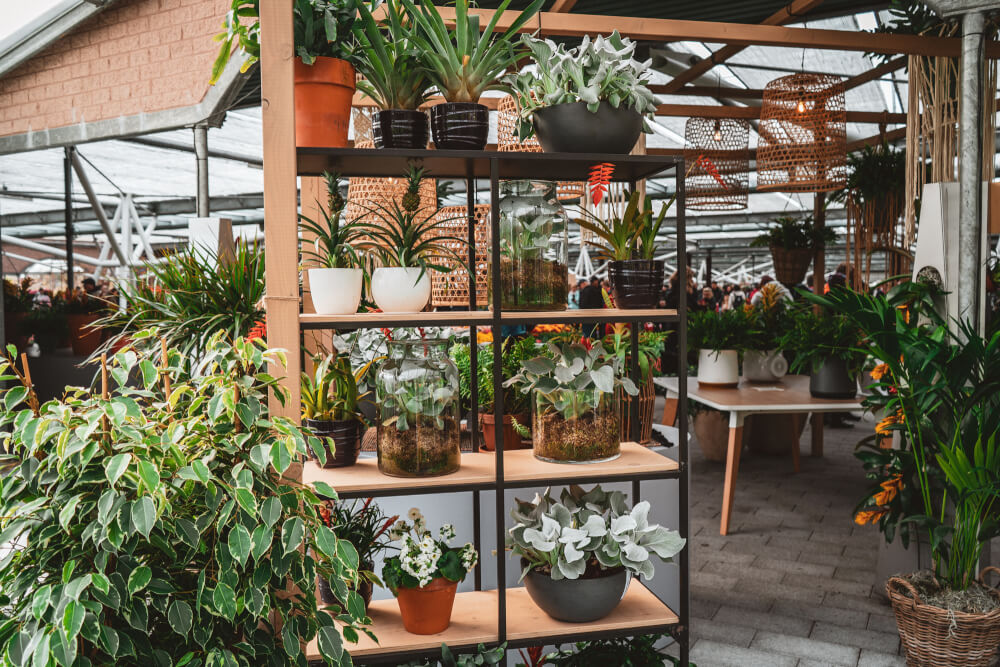 Keukenhof + Rijksmuseum Bundle:
If at some point during your trip, you want to visit the Rijksmuseum (Amsterdam's answer to the Louvre!), then you can purchase this bundle which gets you entry to both and transportation to Keukenhof for 55 euros. Click here to check reviews and availability.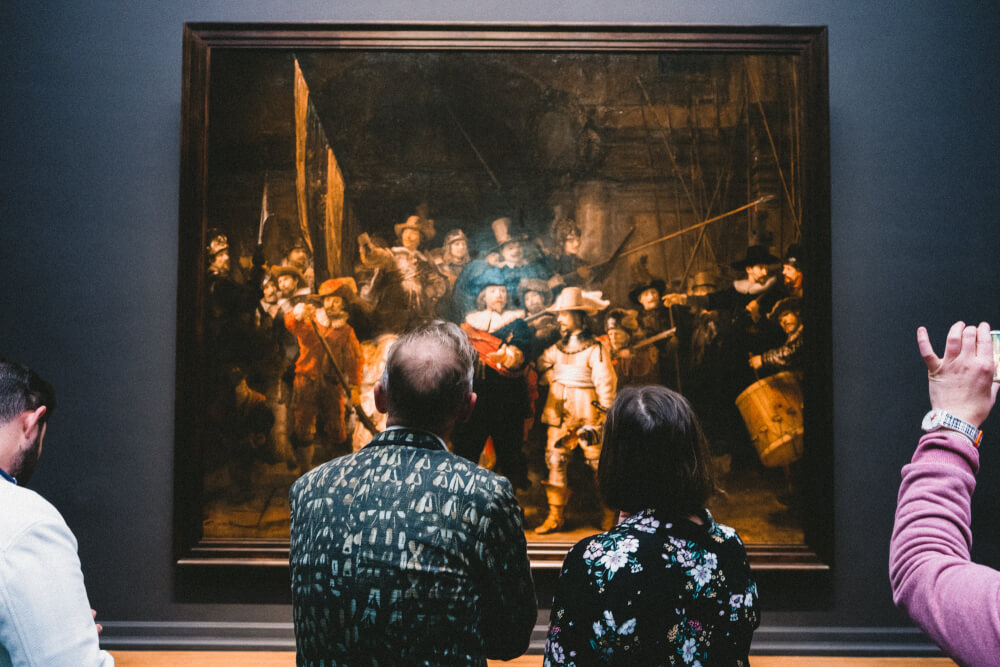 4. Is your top priority cost or convenience?
Last but not least, what's your main priority?
Usually for travel, it boils down to a trade-off between cost and convenience.
Cost-wise, it's mostly cheapest to just do the trip yourself and buy either a bundle ticket of some kind or a Combiticket.
BUT you do have to navigate everything by yourself and risk getting stuck in long line-ups for public transportation (I've heard that the line-ups for the Keukenhof Express during weekends can be atrocious).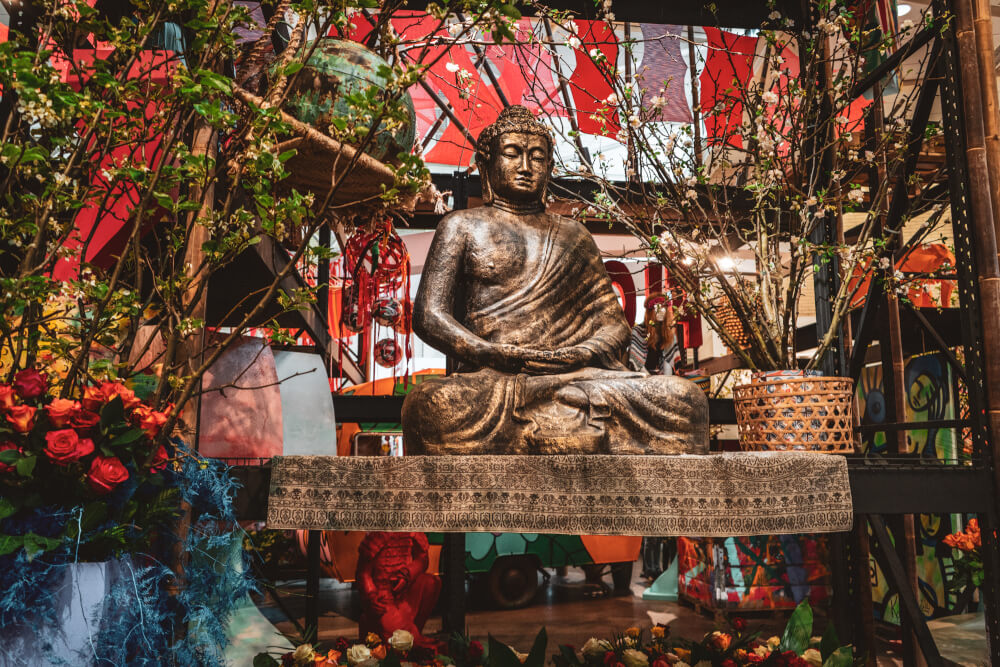 On the other hand, booking one of the many Keukenhof tours available out there might be a better option if convenience is your top priority.
Honestly, tours like this one can actually be cheaper than Combitickets, or only slightly pricier by a few euros, so if you're a big group, or a family, or just prefer the ease of mind of guaranteeing yourself a seat/spot, then I would just book a tour.
NOTE: This means you're guaranteed to arrive with a whole horde of other tourists, but I found that crowds thinned out considerably once you walked deeper into the garden.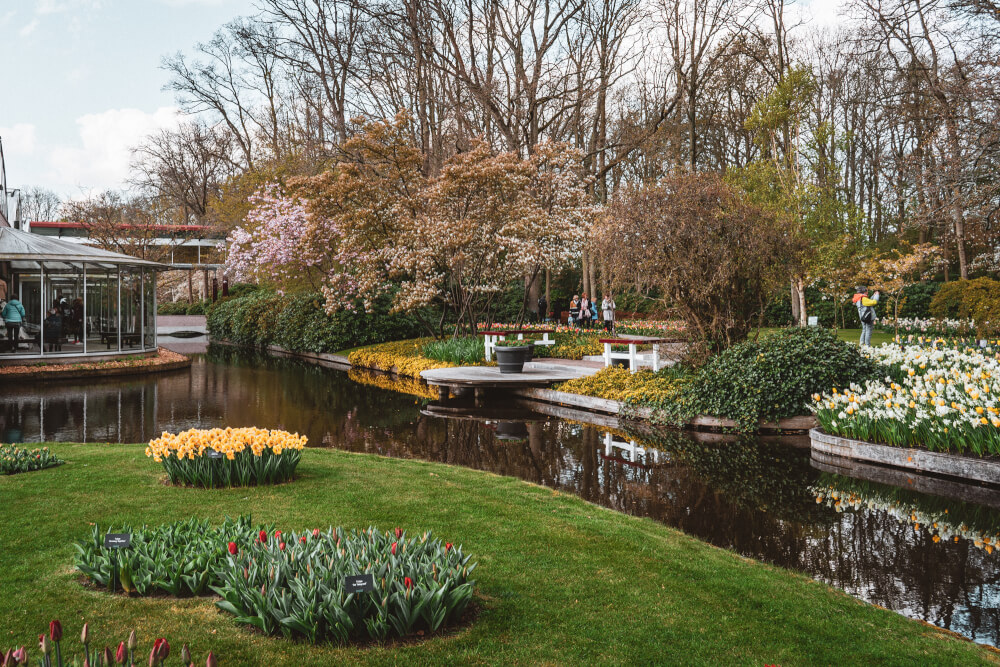 Keukenhof Gardens Tickets FAQ
Alright, I think I've answered most of the main questions you might have about Keukenhof tickets, but juuuust in case, here are some final frequently asked questions (in case you skimmed above or wanted to skip my overly verbose explanations).
Can you buy Keukenhof tickets online?
Yes! You can easily buy all the tickets mentioned above online.
Click here to buy your regular entry ticket in advance.
Click here to book an Amsterdam to Keukenhof day tour (starting at 34 euros)
Click here to shop for Keukenhof attraction bundles.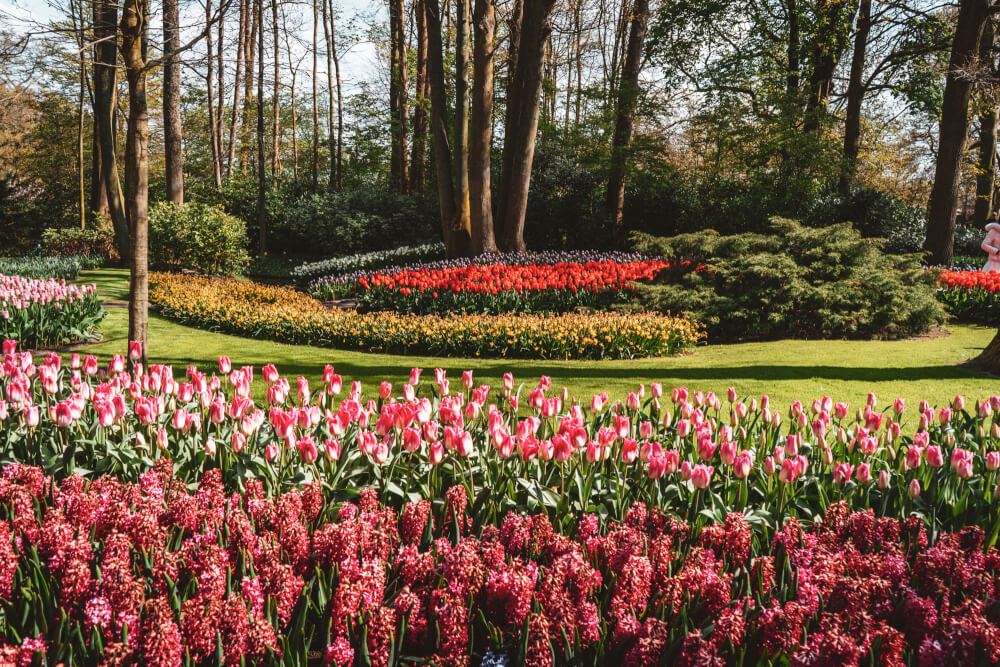 Which Keukenhof bus should I take?
As I mentioned earlier, the term Keukenhof Express is a little bit confusing because there are multiple. The bus you should take depends on where you are coming from.
For Keukenhof Express trains, you have the 852 (from Europaplein Metro Station), 854 (from Leiden), 858 (from Schipol Airport), 859 (from Hoofddorp).
You could also catch the 50 bus from Haarlem and the 90 bus from Katwijk, Noordwijk, Noordwijkerhout.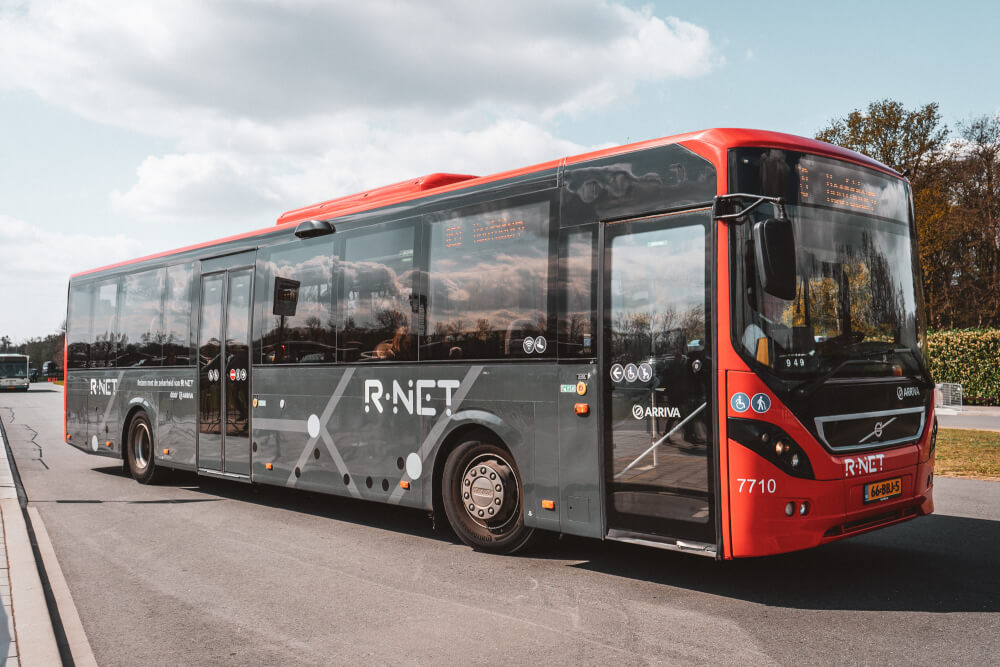 Which Keukenhof tours are the best?
To be honest, most Keukenhof tours offer an identical service: transfers to/from Keukenhof along with your ticket.
Unless you are booking something unique or special, there won't be a huge difference in terms of what you get. If you're looking for a reliable option, here is a 5 star rated one that starts at only 34 euros.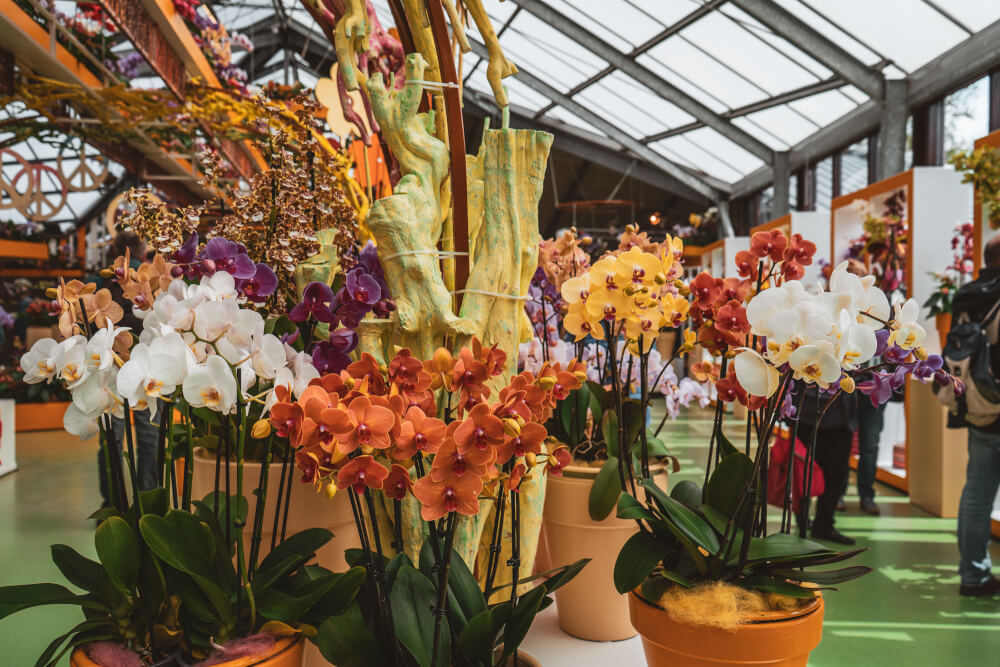 How far in advance should I buy tickets to Keukenhof?
I'd definitely recommend getting your Keukenhof tickets before you arrive as you should secure your timeslot if you are 100% set on going.
However, there aren't any substantial discounts for booking really far in advance, so there's no pressure to book months earlier than your travel date.
Even this tour from Amsterdam has availability for tomorrow!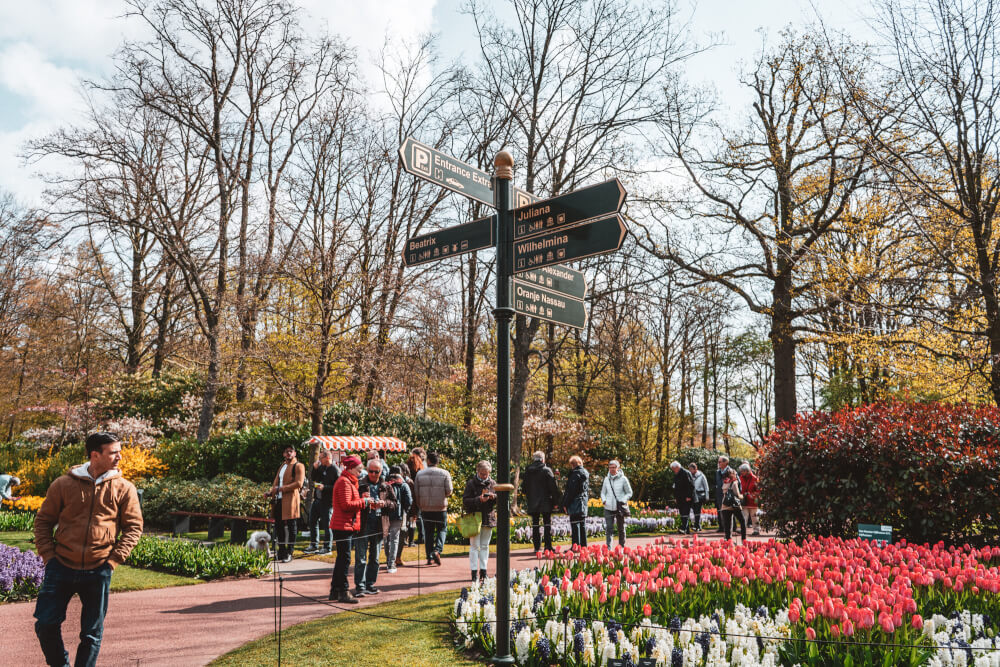 Any more questions about Keukenhof tickets?
I hope you found this guide helpful! If you have any more questions about buying tickets for Keukenhof, let me know in the comments and I can try to help you out! Safe travels, and have fun frolicking amongst the flowers!
---
Watch my most popular YouTube video this week:
---