*FYI - this post may contain affiliate links, which means we earn a commission at no extra cost to you if you purchase from them. Also, as an Amazon Associate I earn from qualifying purchases. Check out our Privacy Policy and Disclosure. for more info.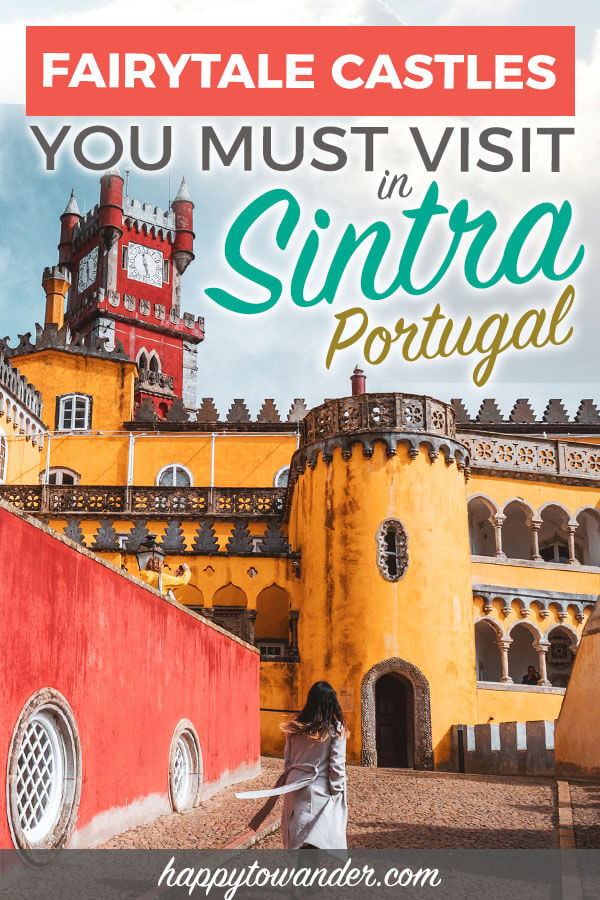 From colourful mist-shrouded palaces to estates studded with secret tunnels, there's no shortage of Sintra castles and palaces to explore. Below you'll find my top picks!
The colourful town of Sintra, Portugal may only be 30km from Lisbon, but trust me when I say it's a world away from the bustling pace of Portugal's vibrant capital.
Imagine picturesque stacks of mansions, regal estates and mountain-top castles, all wedged into the green serenity of a rolling hills, dewey forests and the glimmering blue of the Atlantic…
Yes, Sintra does have a magic quality to it… even when it's hailing nickel-sized death pebbles (true story) and raining like the weather gods got dumped at prom.
BUT, while the weather I experienced at Sintra was a fail of dramatic proportions, the clouds did strategically part for a few hours at a time, allowing me to live out my most indulgent fairytale fantasies in a land once dubbed by Lord Byron as a "glorious Eden".
Of course, if you're here, you probably already know that one of the best things to do in Sintra is frolicking about and enjoying the multitude of incredible castles in the area.
So, here are a few Sintra castles you need to see for yourself.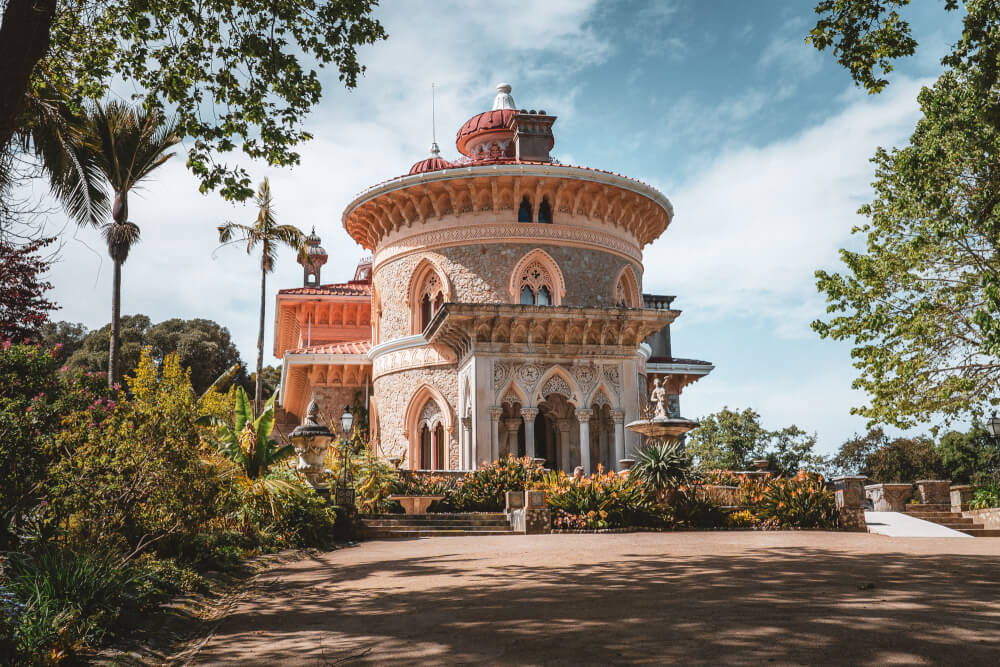 Must-Knows Before Your Sintra Castle Crawl
A few tips for you based on my recent experience…
Combi-tickets will save you a bit of money
If you plan to visit multiple castles during your time in Sintra, then it might be worth your while to get a Combi-ticket, which allows you to bundle up several attractions for a slight percentage discount, depending on how many you buy.
So let's say you want to visit two of these Sintra castles/palaces, then you'd get a 5% discount, and your discount grows by 1% the more attractions you add on.
The downside of this option is you have to decide beforehand which attractions you want to see. This might be fine if you're a logical, non-ridiculous adult, but I personally wayyyy overestimated the amount of time I had and ended up also buying a ticket for the Convento dos Capuchos which I didn't end up using, thus negating all my savings…
You can waltz into the main Tourist Office in the Sintra Historic centre to buy your combi-tickets.
This is where I got mine, but I'm fairly certain you can also get them at the ticket offices of any castle. I tried to get a similar discount online but the official Sintra website was so clunky, I gave up.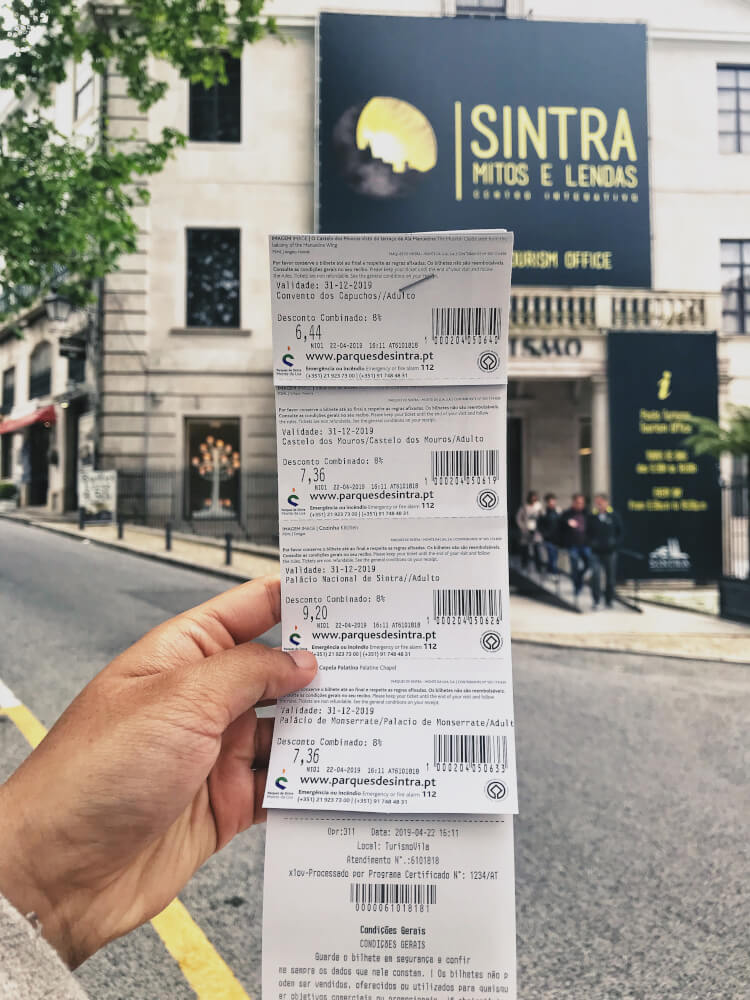 Get tickets in advance
If you don't decide to get a Combi-ticket, I would at the very least buy your tickets online in advance so you can skip the ticket line when you arrive.
While the official Sintra website brags about a 5% discount if you purchase online from them, I found their website absolutely horrible to use (super slow, confusing navigation, and I've read quite a few forums online where people complained about foreign cards getting rejected).
SO, if you want to get tickets online in two seconds in a totally stress-free way, I recommend checking out GetYourGuide. They make the booking process so easy and you can just show the ticket on your phone:
These castles are bigger than you think
Next up, you should know that these castles and estates are massive.
Many of the articles I read suggested it was possible to do all of them in a single day trip from Lisbon.
Let me assure you, if you want to do these spots properly and not just pop in for a quick photo or two, hitting all five in a day will probably kill you (or at least your legs and sanity).
Instead, take your time. I did the five estates below stretched over 3 days (granted, we went at a veeery leisurely pace) and I felt that was perfect.
Most of these castles have incredible gardens that take time to meander through, and if you try to rush through them all, you'll be missing out on much of the charm that makes Sintra such a wonderful place.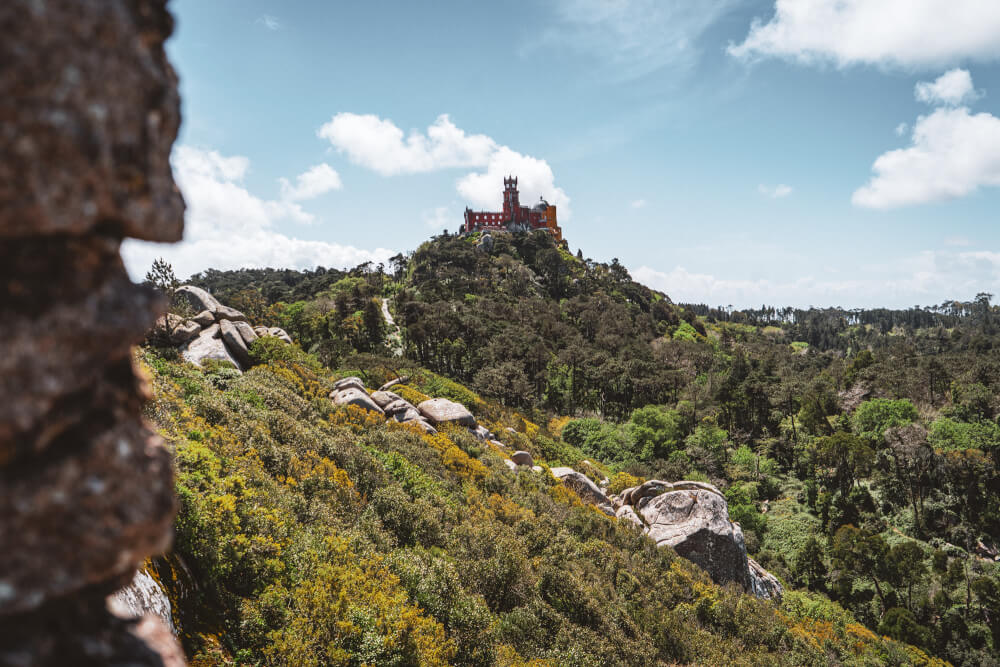 Sintra WILL be crowded. It just will be
Sintra is a popular place. There will be many, many crowds.
One of the upsides of my terrible weather is that it (likely) deterred hundreds of day trippers from coming out. I luckily didn't experience much over-crowding during my visit for this reason, but I've been told hotspots like Pena Palace get crrrrrrrazy during peak season and peak hours (summer + afternoon).
SO, keep this in mind.
Sintra is beautiful but you'll need to share it, and for those who hate crowds (like me!), this might make the visit a bit of a disappointment.
I have a few tips for avoiding crowds below, but if you want to have the best possible experience, be sure to time your visits for opening time and closing time to get the least of the crowds.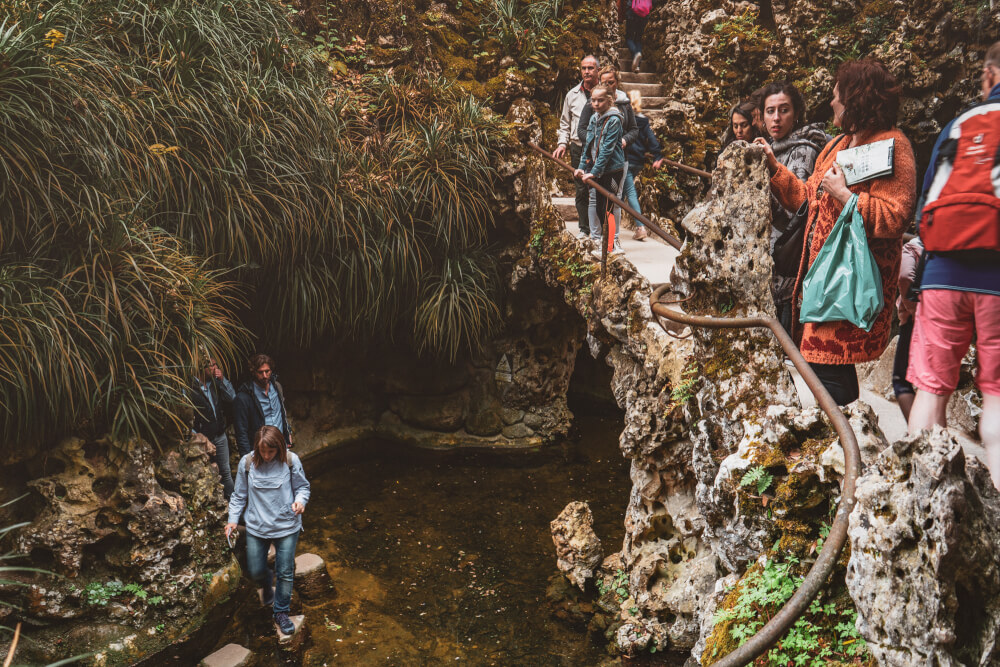 Anyways, getting off my soapbox now. Here are my top picks for Sintra castles you should definitely make time to visit!
5 Unmissable Sintra Castles and Palaces for Your Trip
If you're headed to Portugal sometime soon, make room for the following epic Sintra castles:
1. Pena Palace, AKA Palácio da Pena
This Ronald McDonald-coloured palace is probably the most instantly recognizable of Sintra's castles, and between its mountain-top location, impossible vibrance, and awe-inspiring details,
I'd say it's a non-negotiable stop for your Sintra castle crawl.
Besides the palace itself, the estate boasts a lush green park of over 200 hectares, with plenty of trails and beautiful sights to keep you busy.
Click here to get your skip the line tickets for Pena Palace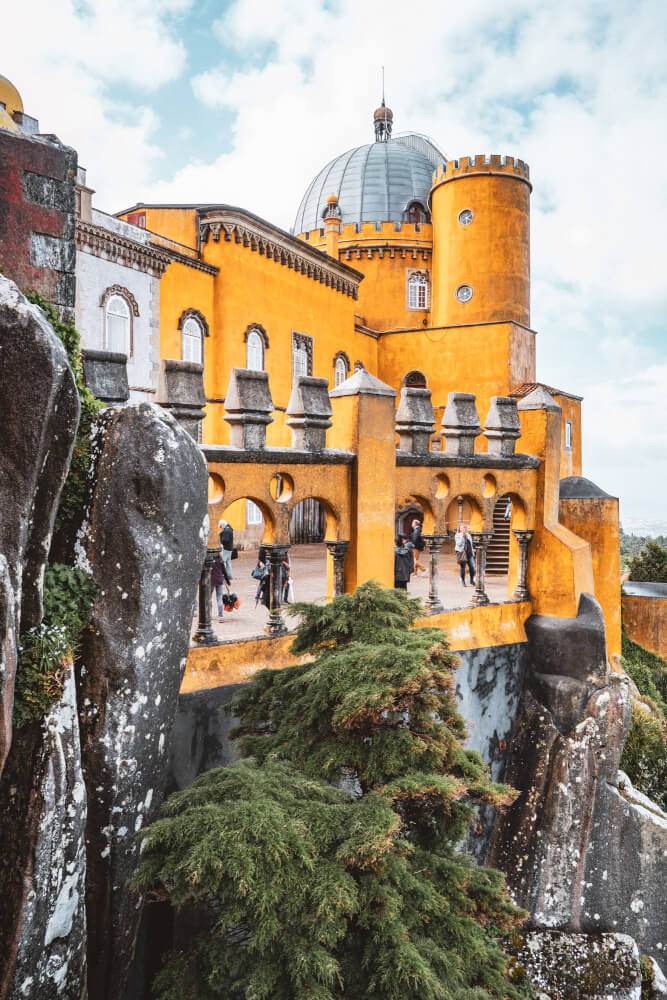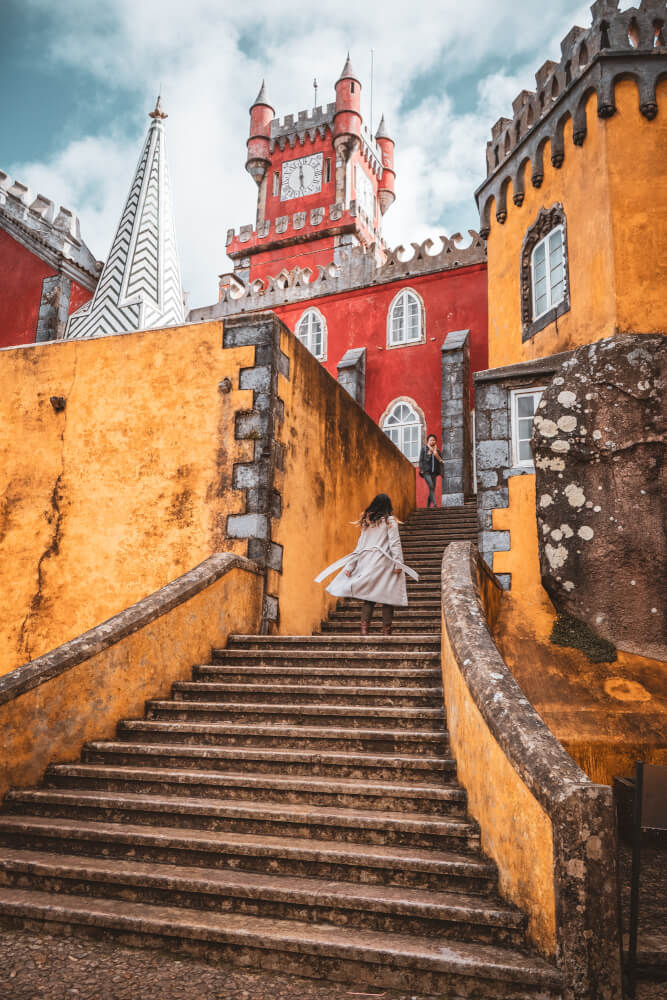 Pena Palace History:
Once upon a time, over 500 years ago, a chapel was built on the site we now know as Pena Palace.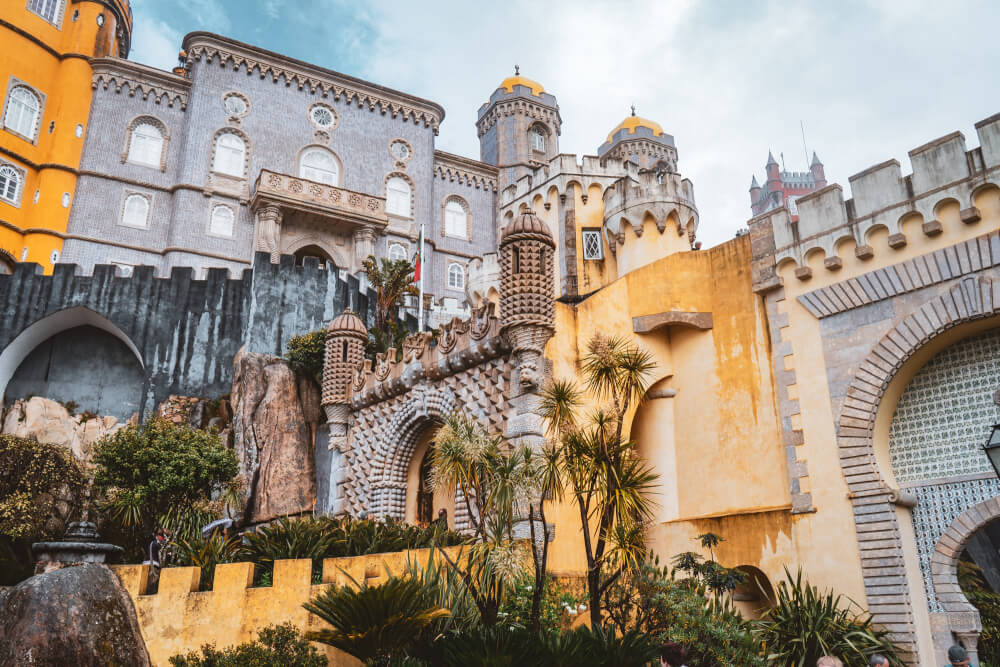 For centuries it stood as a site of pilgrimage and meditation, taking on expansion as a monastery while surviving countless trials, including brutal lightning storms and the (then) most powerful earthquake of all time.
Fast forward to the 19th century, Ferdinand II acquired the grounds and various other nearby estates to create a swishy new summer palace for the Portuguese royal family.
He hired a German architect to bring his whimsical vision to life, creating the colourful Pena Palace we know today, with all its ecclectic mish mash of architectural styles.
Don't you think it looks a bit like a bunch of castles smooshed together?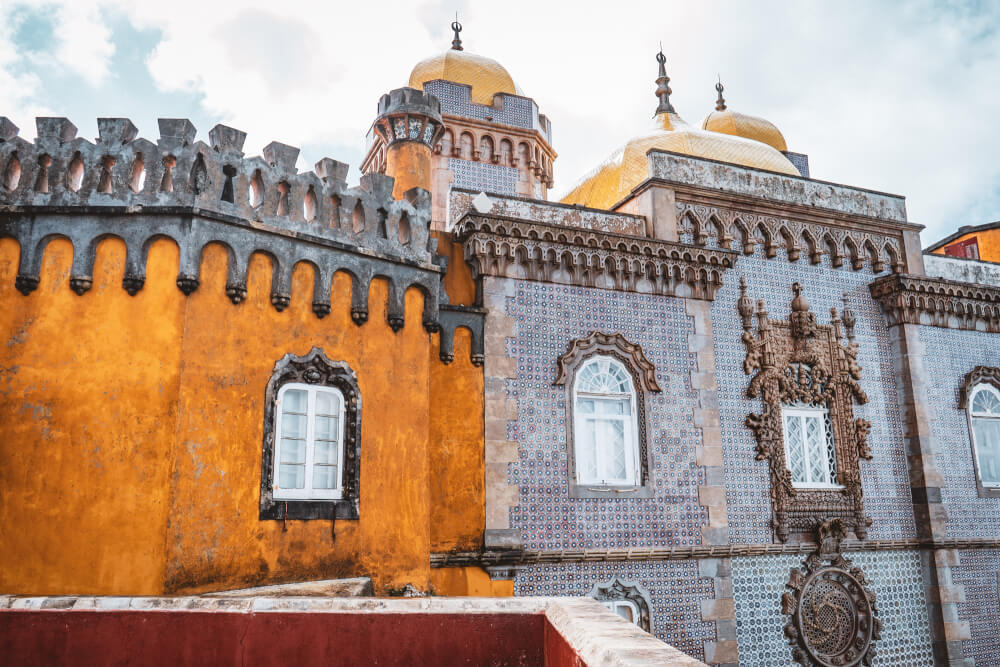 2. Castle of the Moors AKA Castelo dos Mouros
With sweeping views over all of Sintra's top landmarks, the Castle of the Moors is a medieval castle with a history spanning over 1000 years.
It makes sense then that the castle is mostly ruins… albeit scenic ruins that reminded me a great deal of the Great Wall of China.
Walking along the rocky walls of this castle (along with its endless views) was one of the highlights of my Sintra trip, and with it being so painfully close to Pena Palace, it makes sense to do both together.
Click here to get your skip the line tickets for the Moorish Castle (Castle of the Moors)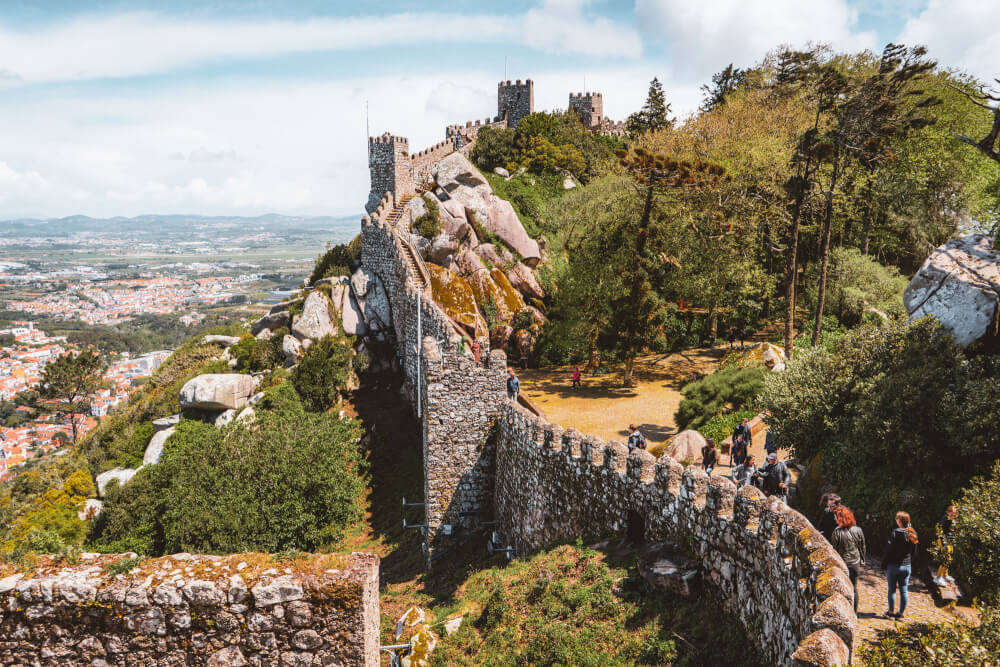 Castle of the Moors History:
Once upon a time, these majestic ruins were an important strategic stronghold, with eagle eye views over the entire region.
Over the centuries, the castle has switched hands countless times, starting from the Muslim Moors who built it in the 8th/9th century, then to Christian forces during the 12th century, and onwards to a small Jewish community in the 15th century and (allegedly) at some point, there was even a cameo appearance from the Vikings.
Now, frumpy tourists like you and I can trample these grounds just as thousands have done so before us.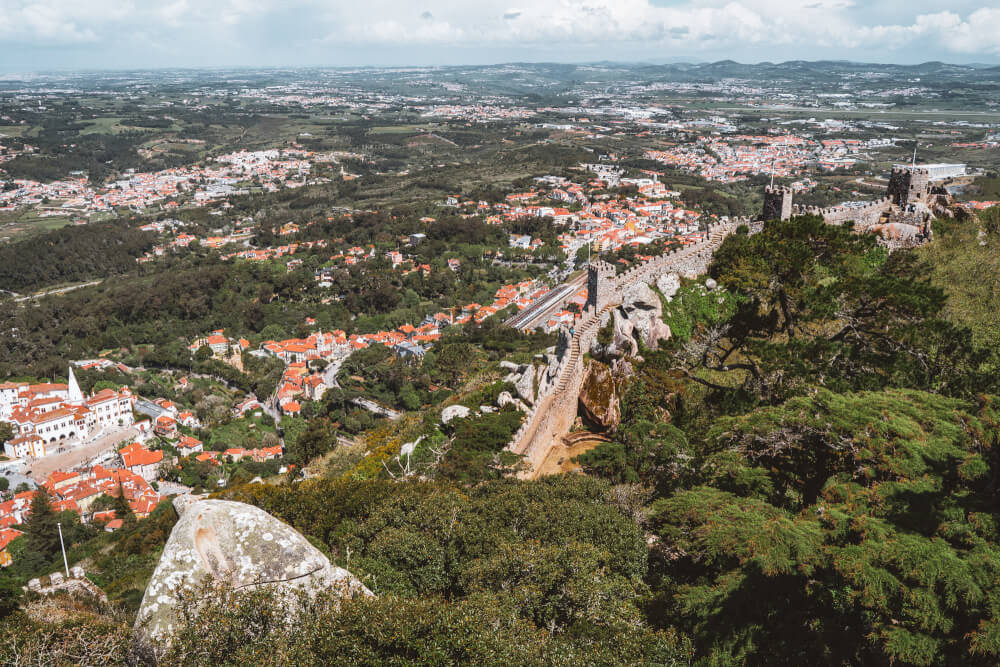 3. Quinta da Regaleira
If you want to swap the fairytale vibes for Gothic mystery, head straight to the Quinta da Regaleira, a magnificent Sintra estate beautified by a (probable) secret-society serving millionaire.
While there's an impressive five-floor palace on-site, the real highlight here is the estate's gardens, filled with miniature lakes, secretive grottos, stone towers, lush floral arrangements and of course, the eerie Initiation Well.
This well sinks 9 floors underground (supposedly an ode to Dante's 9 circles of hell), before bringing you to a secret tunnel that runs under the estate.
It's no wonder this well is rumoured to have been used for secretive rituals back in the day.
… Yes, it's a little creepy, but in the best possible way.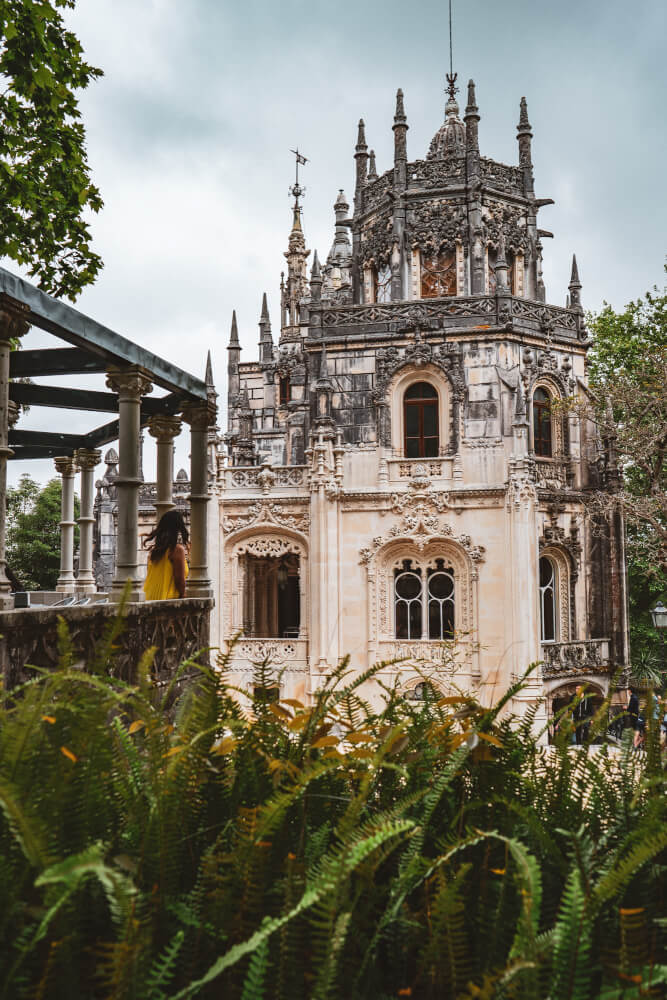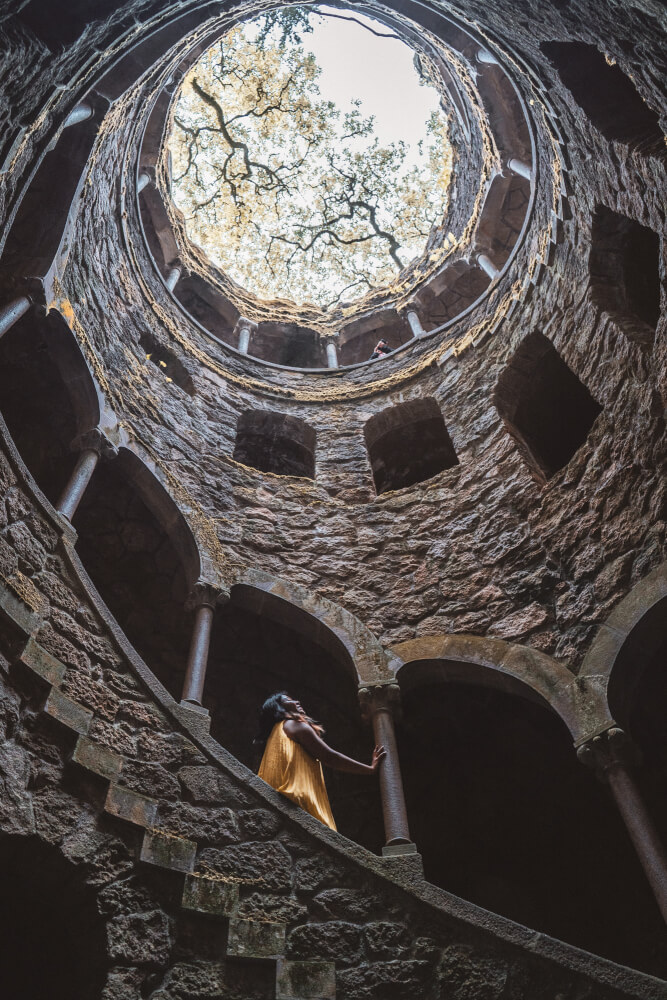 Quinta da Regaleira History:
Once upon a time, the estate known as Quinta da Regaleira was owned by a wealthy family of merchants (aptly named the Barons of Regaleira)… but we don't care too much about them 😉
That's because the most famous figure linked to this estate is a fella known as "Monteiro the Millionaire", an odd and eccentric man who acquired the grounds in 1892, soon linking up with architect Luigi Manini to transform the estate into what it is today – a mystical wonderland of grottoes, waterfalls, tunnels and parks.
Monteiro was a quirky guy – he loved books, insects and was a probable Freemason.
He therefore wanted the estate to reflect his eccentric taste, which explains why the entire place is dripping in symbolism and detailed nods to his varied interests and beliefs.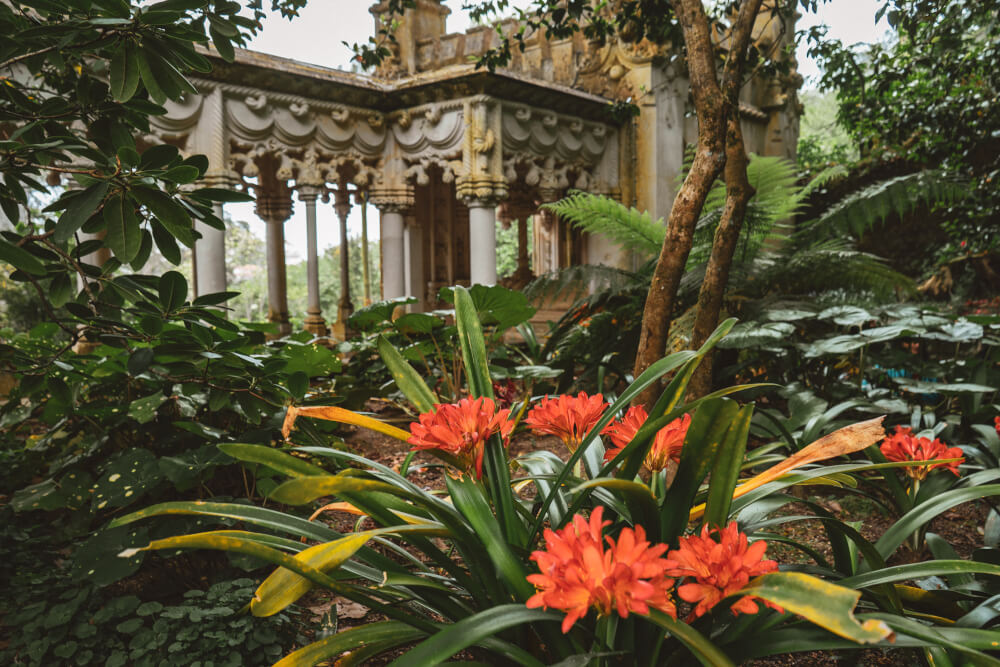 4. Monserrate Palace, AKA Palácio da Monserrate
An oft overlooked attraction in Sintra is the beautiful Monserrate Palace and Park, one of my favourite spots thanks to its (relative) serenity and its stunning centerpiece of a villa!
While it's a bit farther from the historical center than other Sintra castles and palaces, getting here was only a short 7 euro Uber ride, which made the detour more than worth it in my eyes.
Besides the elegant palace situated at the heart of the estate (which seamlessly blends Moorish, Indian and Gothic design elements), the real star here is the illustrious garden, beautifully laid out with plants and flowers from around the world.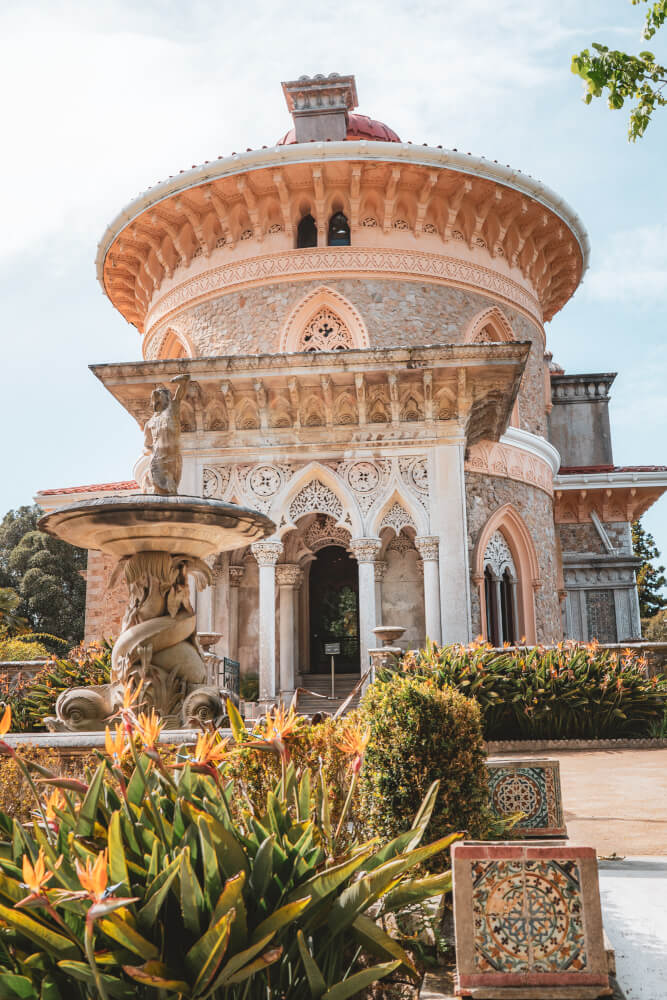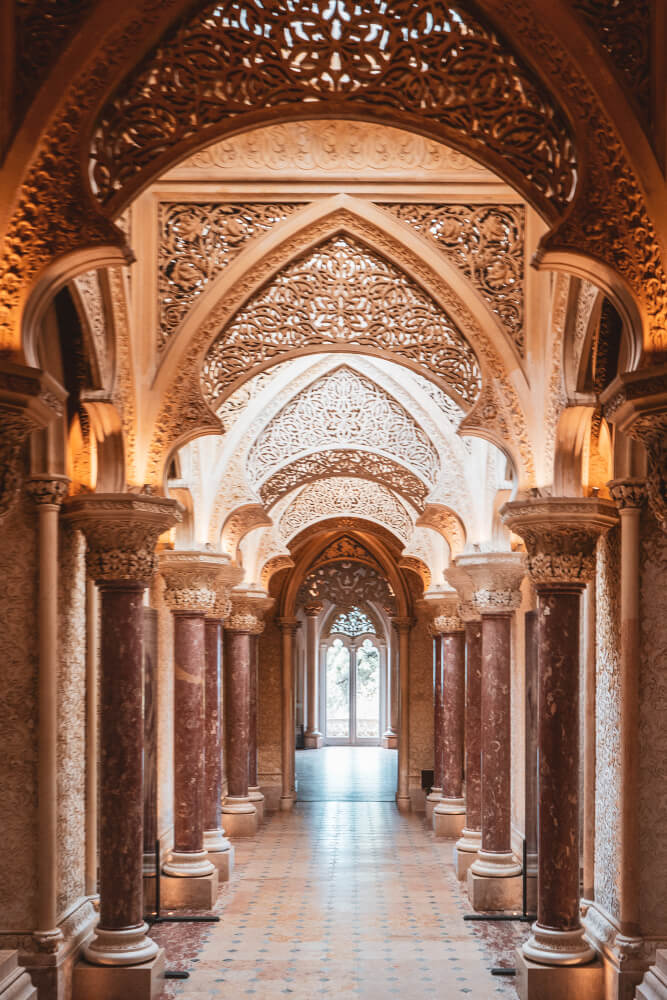 Monserrate Palace History:
A peculiar thing about Monserrate Palace is that its history is very…. English.
Once upon a time, the estate belonged to a wealthy English merchant named Gerard de Visme.
He built the first house on the property, but the current palace and park owe their glitzy looks to Francis Cook (another wealthy English merchant) who took over in 1856 and tackled some serious Extreme Makeover: Monserrate Edition, completely transforming the estate to what it looks like today.
Decades before that though, Monserrate had already been put on the map, by none other than OG travel influencer (and uh, poet) Lord Byron, who wrote about Monserrate in one of his poems.
After that was published, all bets were off – people from around the world (and especially England) began visiting Sintra to see the beauty of this palace for themselves.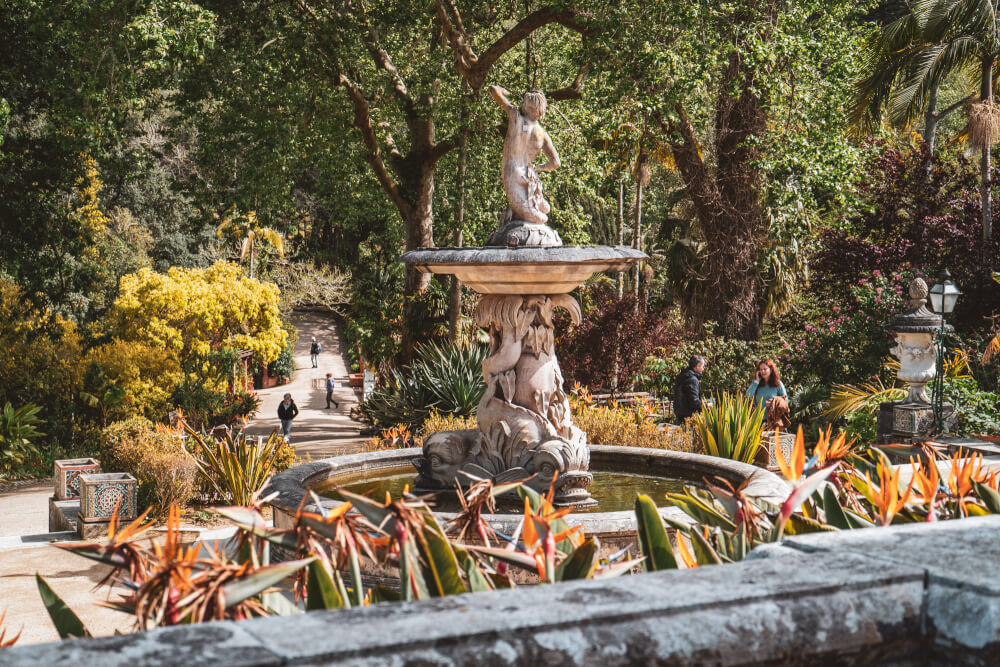 5. Sintra National Palace
The Sintra National Palace, located in the very heart of Sintra's historic centre (and with its distinctive chimneys which look like inverted snowcones) is….. I'll be honest, not my favourite of all the castles and palaces that Sintra has to offer.
Nonetheless, it IS known as the best preserved medieval residence in Portugal, and it has a few truly stunning rooms in addition to being the best option in Sintra for a rainy day (as the attraction is mainly indoors).
Compared to some of the other truly unique and spectacular castles in Sintra, this one kind of pales in comparison, but as a palace that has hosted centuries of Portuguese royalty, it does have some interesting stories to tell.
The palace's redeeming room for me? The Sala dos Brasões – it's absolutely spectacular.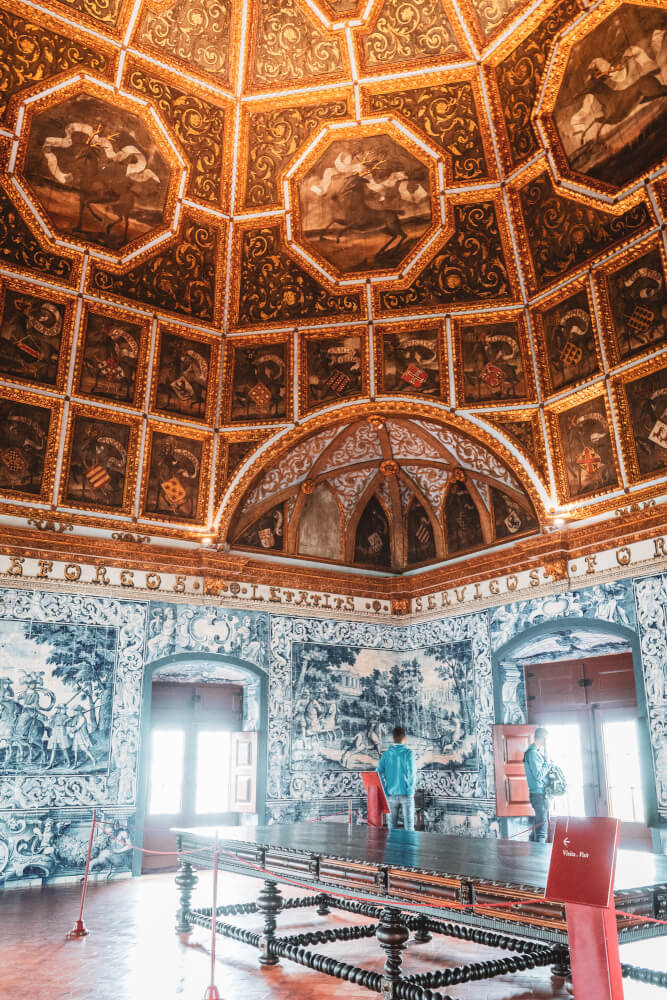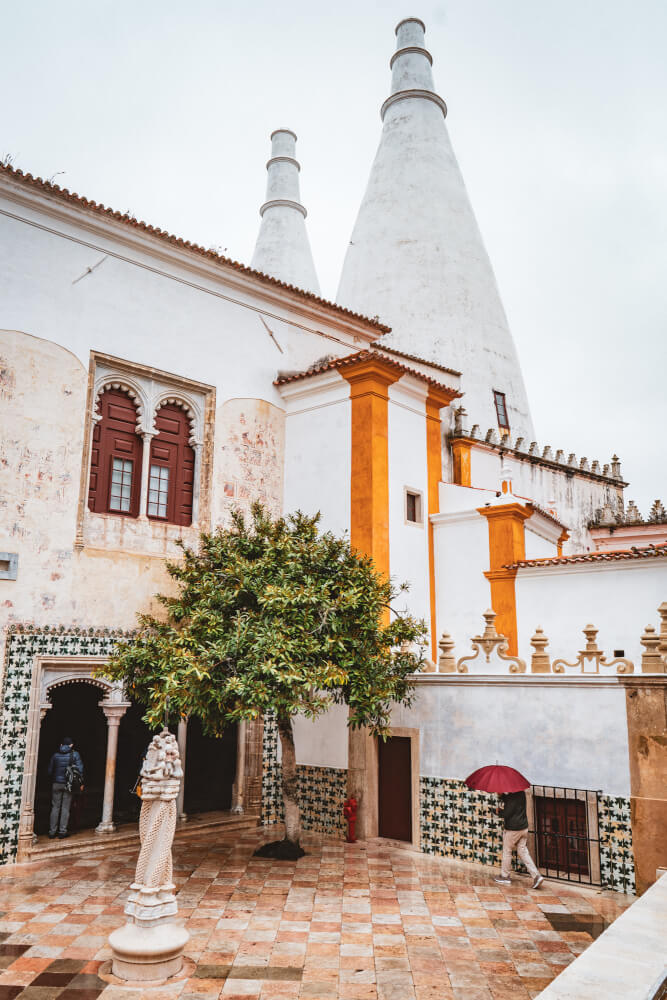 Sintra National Palace History:
Once upon a time, the Moorish rulers of Sintra lived on the grounds of what we now know as the Sintra National Palace.
Believe it or not, back in the 8th century, this castle was one of only two in Sintra at the time, along with the hill-top Castle of the Moors that we talked about earlier.
While nothing remains from this early iteration of the castle, this marked the beginning of the Sintra National Palace's star-studded inhabitants list, whic included countless notable members of the Portuguese royal family from the 15th-19th century.
But you want to hear a real Game of Thrones-y story?
One of the rooms you can see in Sintra National Palace is the "bedchamber/prison" of King Afonso VI, who was imprisoned here for years until his death in 1683.
Long story short, a childhood illness left half his body paralyzed at age three, along with a mental instability that would haunt him throughout his life.
He inherited the throne at age 13, but his brother would later conspire against him to declare him unfit for the throne and (successfully) take power from him.
And, get this: Afonso's wife even GOT THEIR MARRIAGE ANNULLED SO SHE COULD MARRY HIS BROTHER.
I can't. It's just too much drama.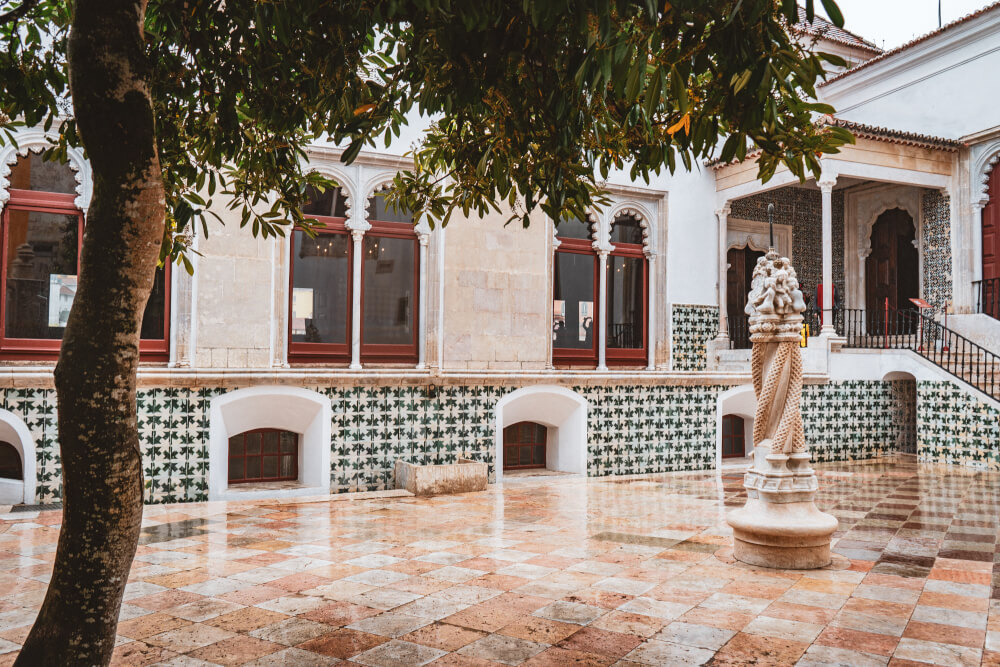 Other Sintra Castles, Palaces and Hotspots You Can Visit
Long before it became a magnet for photo-hungry tourists, Sintra enjoyed a stint as the preferred getaway of Portugal's richest and most elite, hence the truly absurd amount of ritzy mansions and estates scattered throughout the city.
The Sintra castles and palaces mentioned above are by far the most popular (and for good reason).
That said, there are still a lot of other beautiful places to visit in Sintra that are lesser known and therefore ideal for escaping the masses 😉
Full disclosure, these are Sintra attractions I haven't personally seen myself, but here they are for your reference:
6. The Chalet and Garden of the Countess of Edla
Included in your Pena Palace entrance ticket is access to the secluded Chalet and Garden of the Countess of Edla, a romantic retreat built to the west of Pena Palace, intended as a serene escape for King Ferdinand II and his second wife…. on the grounds of their already very swanky palace. Rich people, amirite?
This eclectic little chalet (modelled after the "in" alpine chalets of that era) is known for its ornamental cork details and warm yellow colour.
7. Cabo da Roca
In the words of my highly aggravated Uber driver, "coming to Sintra and not seeing Cabo da Roca is like going to Paris and not seeing the Tour Eiffel!!!!!!"
Cabo da Roca is known as the westernmost point of mainland Europe, a cool fact if you're into securing some hysterically mild bragging rights such as "Yeah that's right, I HAVE been really far west…"
Besides that though, the star here is the stunning view you get of the Atlantic Ocean.
It may not be super easy to squeeze into your itinerary as it's a far distance from the historic center and the other castles, but you can actually book some tours from Lisbon that include it in the package!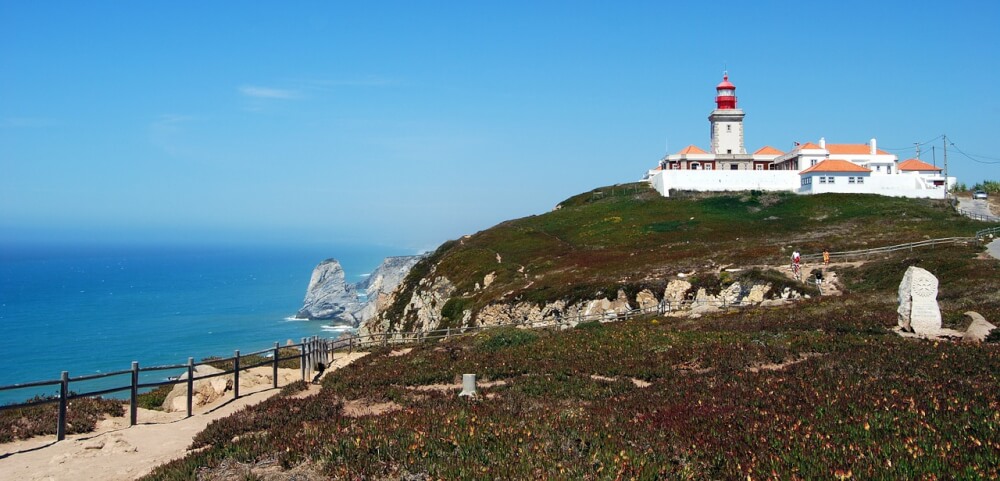 8. The National Palace of Queluz
While Sintra is best known for its ecclectic and unique Romanticist castles, it 's important to note that the tastes and persuasions of the royal court began to shift significantly in the 18th/19th century, leaning more towards styles commonly seen in palaces around Europe, like baroque, neoclassical and rococco.
The National Palace and Gardens of Queluz (located close to Sintra) reflect this change in taste, which is why it looks so much less like the unique Sintra castles mentioned above, and more like a royal palace you might see in Germany or France.
This is the reason I decided to skip it.
While it looks like a beautiful (and certainly less touristy) spot to visit, I've seen a fair share of palaces around Germany that look similar.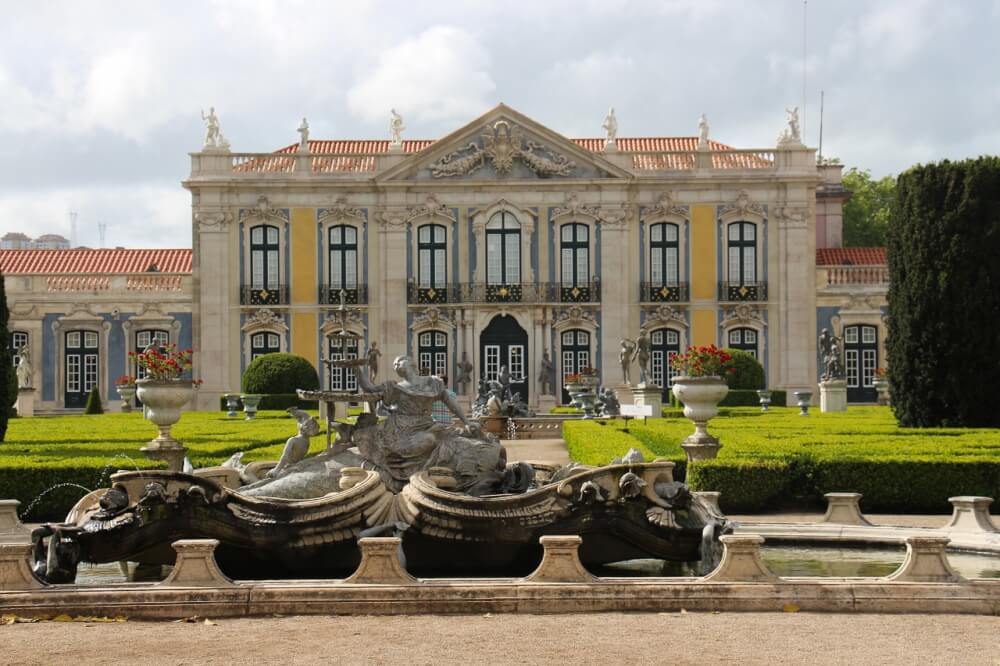 9. Villa Sassetti
If you plan to hike from Sintra's historical centre up to Pena Palace and the Castle of the Moors, then it might be worth your while to take the trail that passes Villa Sassetti.
This footpath only opened in 2015, and according to a lot of reviews online, it's the most scenic path for the (sweaty and arduous) hike up.
Through some restoration, the villa itself is now a picture-perfect spot to snap a few photos, but it's the gardens (designed actually by the same architect who did the Quinta da Regaleira!) that make this stop a worthwhile one if you plan to hike up to Pena or the Castle of the Moors.
10. Peninha Sanctuary
If it's a truly offbeat adventure you're looking for in Sintra, consider heading to the Peninha Sanctuary, a remote clifftop sanctuary that is only accessible by car or hiking.
Far removed from the bustle of Sintra's more touristy spots, this sanctuary is free to visit, with surprising links to other famous Sintra properties.
The mustard yellow colour for instance is reminiscent of the famous Pena Palace, and the palace here was actually commissioned by none other than Monteiro the Millionaire himself (yes, the strange fella who owned the Quinta da Regaleira).
NOTE: Neither the palace or chapel are open for public visit, so you'd mostly be coming here to explore the terrace and the views…. although based on the photos I saw, the views here are indeed spectacular!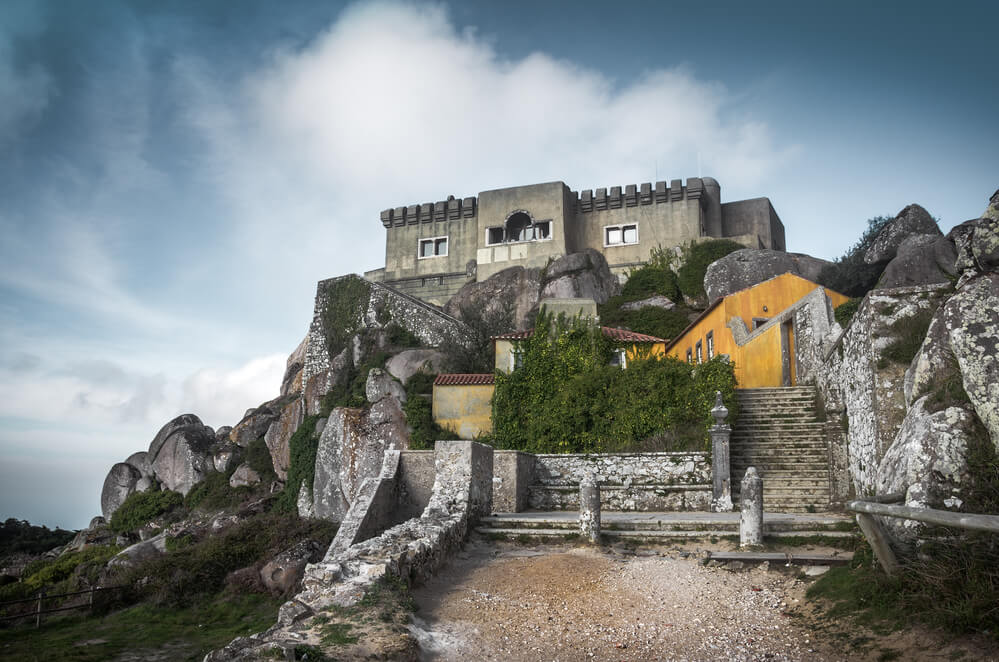 11. Tivoli Palácio de Seteais
This 18th century neoclassical palace is now fully functional today as one of the most luxurious hotels in Sintra! If you're craving a taste of that Sintra royal life, you might consider booking a room here.
Otherwise, it IS open to the public for visit, even if you're not staying here yourself. Is it worth going out of your way to see?
I probably wouldn't, but you can scope out more photos of the hotel here to make the choice for yourself.
12. Convent of the Capuchos
Last but not least, we have the historical Convent of the Capuchos, whose history traces back to the 16th century.
Far removed from the grandeur of Sintra's other hotspots, this convent is known best for its minimalist layout and seamless harmony with the nature that it's built into.
Based on photos, it does look incredibly beautiful and at the very least, much quieter than other places in Sintra……… which is why I bought a ticket here that I never end up using.
Why? Let me warn you now: it's not really close to anything else.
I thought I would catch a cheap Uber but since I was on my own for this one, it would have set me back 20 euros roundtrip.
There are also no easy public transportation options for getting here, so unless you plan to split the cost with a few people, or you want to hike, then I'd give this one a miss.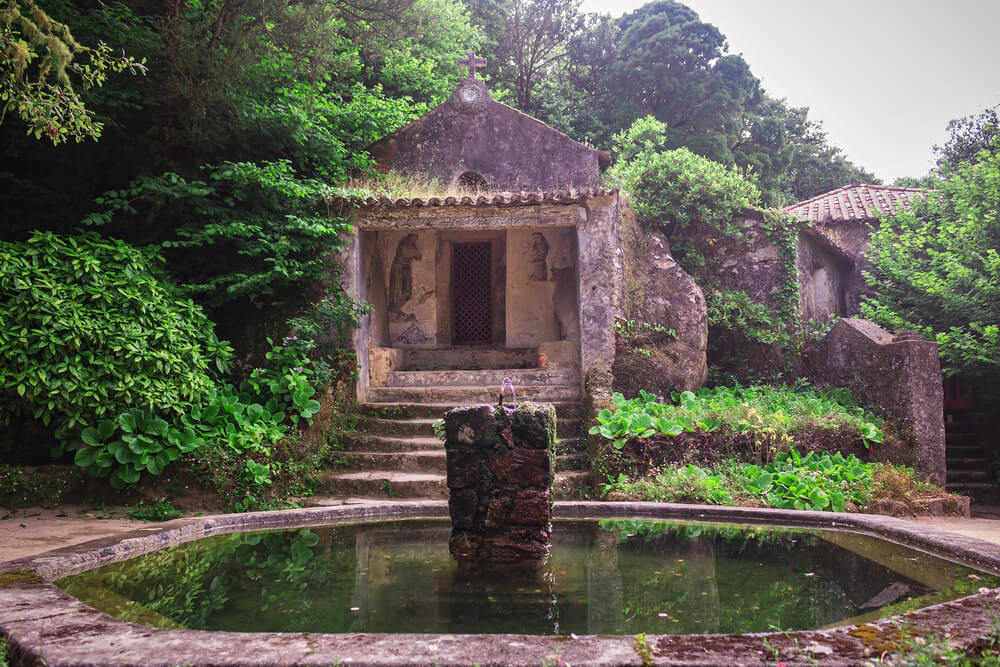 Final Tips for Visiting These Sintra Castles…
Alright, now that your mind is spinning with inspiration, here are some final practical tips if you choose to come see these Sintra castles and palaces for yourself.
Aspire to either be an early bird…. or a very late bird
Sintra is an enchanting place, which of course comes with a less enchanting consequence: bucketloads of fellow tourists!
A terrifying amount of visitors flock to Sintra every day as a side trip from Lisbon, which means by noon, many of the castles mentioned above are swarming with tourists.
Not only does this mean a crowded visit, you'll also be forced to wait in line-ups to enter some of the castles.
So, to avoid this mess, I would advise you pick your #1 priority castle and visit it as soon as it opens OR slide in at the last entry.
A little known secret is that most of these castles have a final entry time that's an hour before the property actually closes, and by then the crowds will have thinned out significantly.
I lurked around the Quinta da Regaleira until closing time and this is how I managed to capture a photo at the famous Initiation Well without a single person in it!
Going early is of course always a good bet too.
I visited Pena Palace about 30 minutes after opening time, and while it was already starting to get busy, it was nothing compared to some of the horror stories I've read of people waiting 2+ hours to even enter the palace! Aim to get there when doors open and you'll be golden.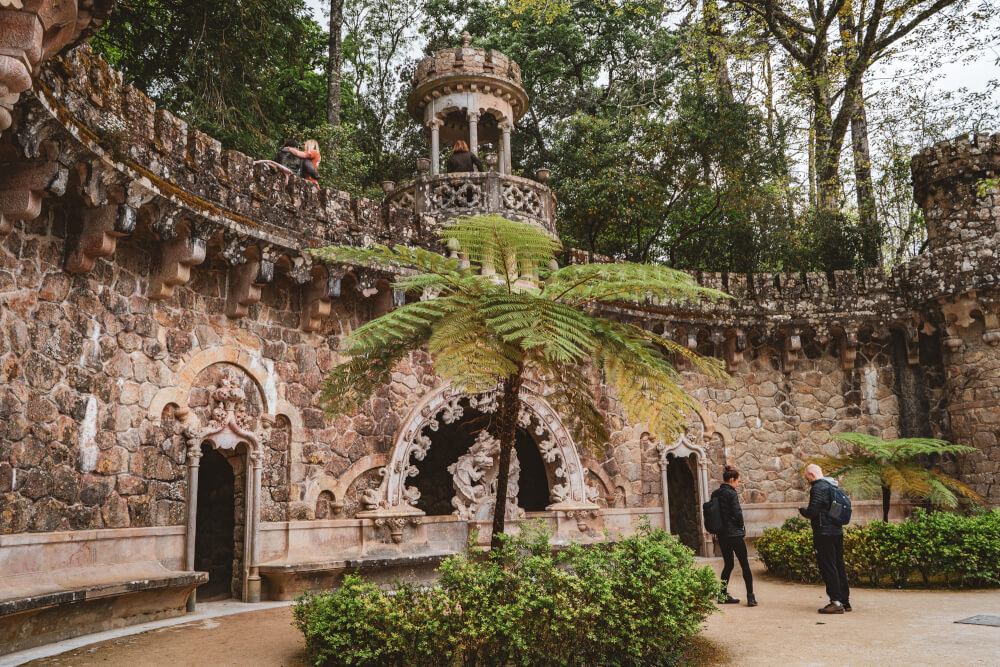 Strap on your comfiest shoes
If there's one thing that I was not prepared for during my little Sintra jaunt, it was the sheer vastness of these castles and their estates.
Let me tell you, Portuguese nobility probably had super toned legs.
With the exception of the Sintra National Palace, all the spots listed above involve some uphill climbs, and in the case of the Moorish Castle and Quinta da Regaleira, you'll be traversing some steps and passageways that are very rocky, uneven, and dark.
Mix this in with the endless cobbles of Sintra's historical centre and you've got a recipe for broken ankles 😉
Ditch the flip flops and wear good walking shoes – you'll thank me later.
Bring WATER
Once again, visiting Sintra's castles is more than just a fun little sightseeing tour – it's a sweaty exercise class in the wild.
So, be sure to bring some water with you.
There will usually be a cafe selling water on-site at these different estates, but at 2 euros plus per bottle, you're better off bringing your own (which is better for Mother Earth anyway)
Don't forget about Uber
The most common way that tourists get around Sintra is either the 434/435 buses or hopping on one of those enticing tuk tuks.
But guys, don't forget – Uber in Portugal is REALLY cheap. And convenient!
Because we were travelling as a group of three, it was pretty much always the cheapest option to split an Uber.
Whereas we were quoted a 5 euro flat rate per person to ride a tuk tuk (which is criminal if you ask me!), we easily caught an Uber up to Pena Palace from the historical center for about 7 euros, which evened out to being half the price.
If you're not travelling in a group, the bus could be cheaper, but in peak season you'll be crammed onto the bus with a lot of other tourists/day trippers, so you might waste some time in line.
In my opinion, catching Ubers is probably the easiest, cheapest option, although the tuk tuks do look like a lot of fun 😉
For the most magical experience, stay at least one night
Okay last but not least, I know that Sintra is a popular day trip from Lisbon, but I would plead and beg and generally just shout at you to stay a night or two if possible.
The magic of this place (is sadly) easily tarnished when you're fighting selfie sticks and day trippers all day, but in the early mornings and evenings when the day trip crowds have waned, that's when you get to appreciate Sintra for the magical fairytale place it is.
After all, I've never heard anybody say that they spent too much time in Sintra.
Almost across the board, most people wished they had more time to properly explore all the magical little castles and gems scattered across the city, so if time allows, book a few nights here! I stayed for two, but could have easily done three or four.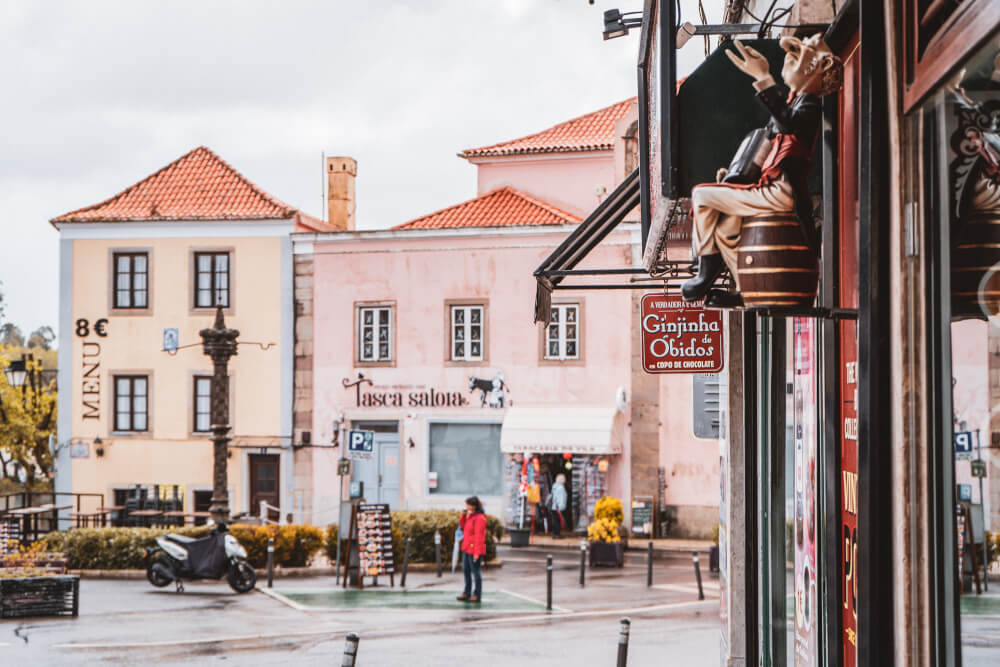 Sintra Castles & Palaces Master List: Opening Hours and Admission Prices
One of my biggest struggles when planning my Sintra itinerary was finding a centralized place with all the prices and opening hours of each palace/castle.
So, I decided to go full nerd and make one for myself. I hope you find this helpful:
Sintra Attraction
Opening Hours
Adult Ticket (18-64)
Youth Ticket (6-17)
Senior Ticket (>65)
Family Ticket (2 Adults + 2 Youths)
Pena Palace + Park
Palace: 9:30am - 7pm [Last ticket sold at 6:15pm, last entry at 6:30pm]

Park: 9:30am - 8pm [Last ticket sold and last entry at 7pm]
14€
12.50€
12.50€
49€
Pena Park ONLY [No Palace]
9:30am - 8 pm [Last entry and last ticket sold at 7pm]
7.50€
6.50€
6.50€
26€
Castle of the Moors
9:30am - 8pm [Last entry at 7pm)
8€
6.50€
6.50€
26€
Sintra National Palace
9:30am - 7pm [Last entry at 6:30pm]
10€
8.50€
8.50€
33€
Quinta da Regaleira
April 1 - Sept 30: 9:30am - 8pm [Last entry at 7pm)

Oct 1 - Mar 31 - 9:30am - 6pm [Last Entry at 5pm)
8€
5€
5€
22€
Monserrate Palace
Palace: 9:30am - 7pm [Last ticket sold at 6:15pm, last entry at 6:30pm]

Park: 9:30am - 8pm [Last ticket sold and last entry at 7pm]
8€
6.50€
6.50€
26€
Convent of the Capuchos
9:30am - 8pm [Last ticket sold and last entry at 7pm]
7€
5.50€
5.50€
22€
Queluz Palace
9am - 7pm [Last entry at 6pm]
10€
8.50€
8.50€
33€
Any more questions about the magical Sintra castles and palaces from this post?
Feel free to ask away in the comments, and have a magical trip!
My Go-To Travel Favourites: