*FYI - this post may contain affiliate links, which means we earn a commission at no extra cost to you if you purchase from them. Also, as an Amazon Associate I earn from qualifying purchases. Check out our Privacy Policy and Disclosure. for more info.
I'll be real: Nuremberg is a place that's easy to fall for.
This world-famous city, located in the north of Bavaria, is every bit the fairytale dream so often linked to Deutschland: candy cane half-timbered facades, an epic castle on a hill, dangerously munchable gingerbread, and a glittering Christmas market to boot.
But as with most amazing cities, the true magic of Nuremberg comes from its dynamic layers. Lurking beneath those photogenic facades is a dark past intertwined with war, genocide, and centuries of tumultuous history.
It is precisely this duality that makes Nuremberg one of the most fascinating cities to visit in Germany, and one that you can keep visiting again and again.
So, what is there to do in Nuremberg? It turns out, plenty of things. Below you'll find a roundup of my favourite things to do in Nuremberg, after several repeat visits, from the touristy musts to more alternative, off-beat activities. Enjoy!
Save this post on Pinterest for later: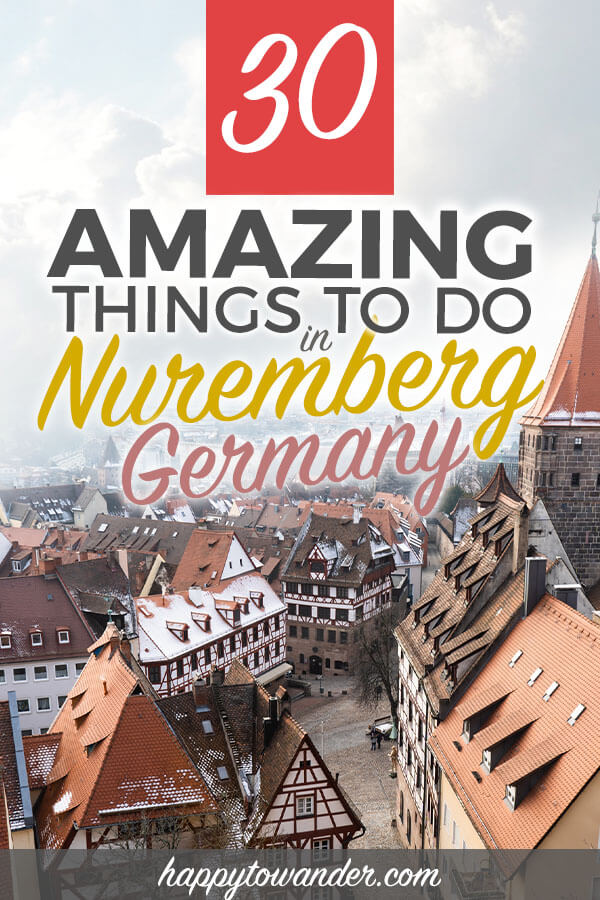 The Top 10 (Touristy but Worthwhile) Things to do in Nuremberg
Let's start with the classics. Nuremberg is home to some world famous attractions, so we'll begin with a list of my favourite touristy, but still worthwhile, Nuremberg things to do.
1. Tour around the majestic Nuremberg Castle
With centuries of experience under its belt, there's no doubt that Nuremberg Castle has led one tumultuous life. From flaunting imperial hotspot status during the Holy Roman Empire to surviving severe bombings during WWII, it's no wonder the restoration process here took decades.
All that hard work paid off though, because today, Nuremberg Castle is a landmark that is synonymous with the city, offering some of the best views in town, alongside a fascinating history that can be traced firsthand with a visit.
And, despite its status as the most popular tourist attraction in Nuremberg, there's still a secret way to enjoy Nuremberg Castle without a thick mass of crowds…
Just pay to go inside!
I'm not joking: you'd be surprised to see how many visitors choose not to pay the castle's entry fee, opting only to stay outside for photos and leaving shortly after.
This makes experiencing the castle's interior, plus its museum, a nice way to escape from the crowds for a little while.
PS: Its stables are now home to a hostel, so you can actually sleep here if you so wish!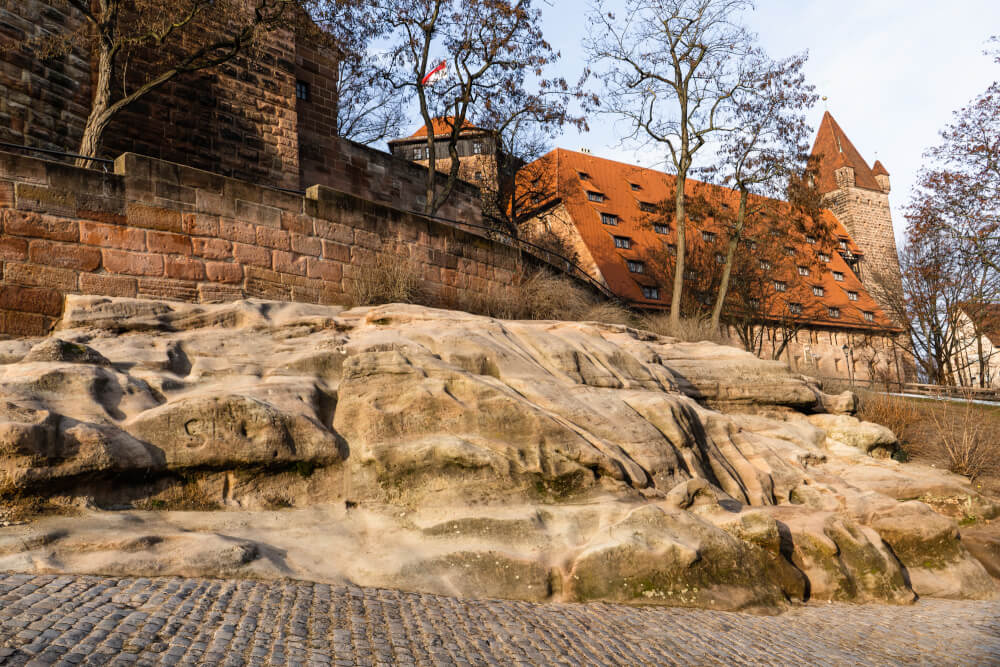 2. Stroll down Weißgerbergasse
What's Nuremberg without a splash of fairytale charm? If it's classic storybook houses you're after, be sure to mark Weißgerbergasse down on your map.
This street is full of colourful half-timbered artisan houses, built in the booming days of leather making when many artisans in Nuremberg became increasingly swanky and rich.
While unfortunately, wealthy leathermakers may be tough to find these days, Weißgerbergasse is now filled with cute cafes, boutiques and little workshops to peruse, a worthy consolation prize 😉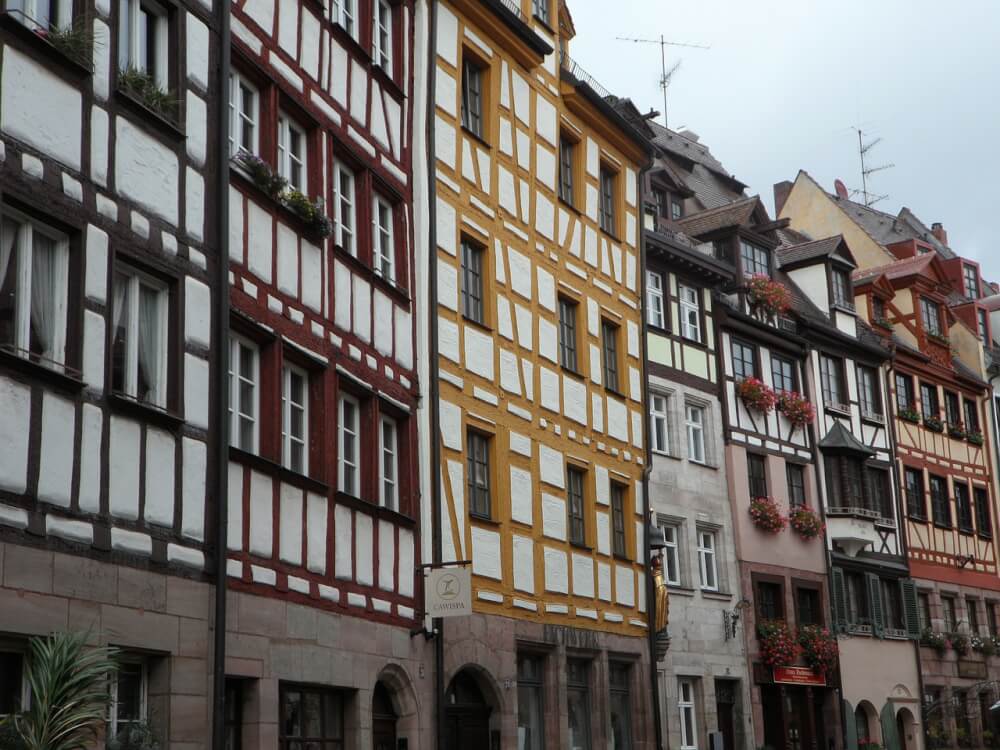 3. Explore the handsome Handwerkerhof
For bonus fairytale points, head over to the Handwerkerhof, an adorable cobbled courtyard nestled along Nuremberg's old town walls, filled with half-timbered houses and all the charm of an actual medieval village.
Despite its aged, old timey appearance, I have to let you in on a little secret: this cutesy courtyard was actually established in the 1970s to pay tribute to the golden age of craftsmanship in Nuremberg….
But, while it's not nearly as old as it looks, today travelers can stop by for fun demos and to shop for handcrafted products just like in the good old days. Sure, it's a little touristy, but it's nonetheless absolutely adorable!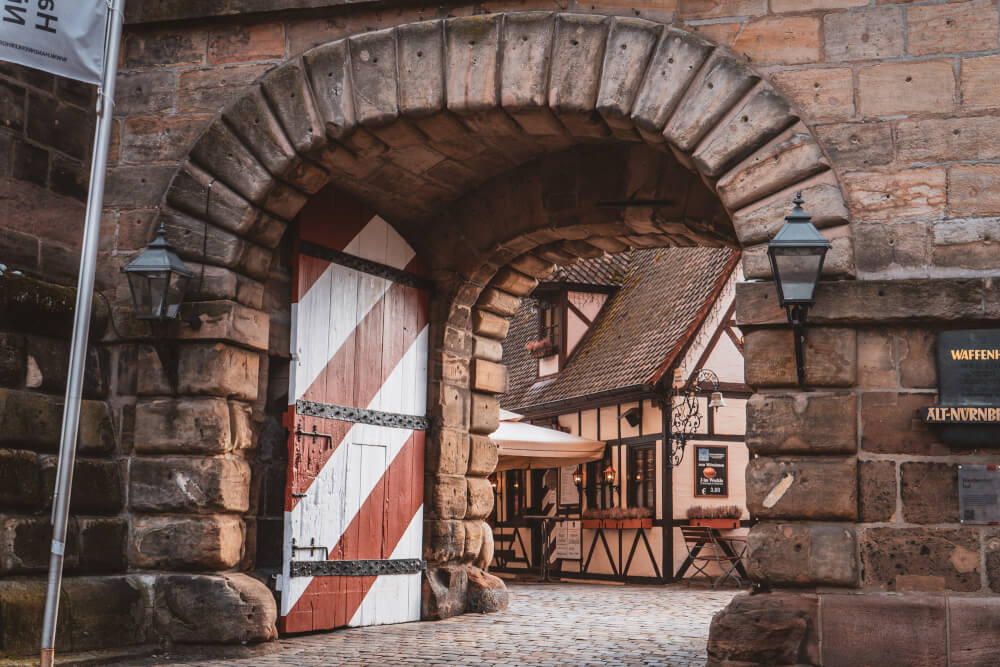 4. Enjoy the best view you can get in Nuremberg
As far as must dos go, I don't feel like a visit to Nuremberg would be complete without seeing it from above, so allow me to aggressively suggest Nuremberg Castle to you one more time.
*clears throat*
GO TO NUREMBERG CASTLE. Really, do it… even if it's just briefly to snag this view. It is completely worth the climb, and if the weather is in your favour, the gardens may even be open for you to explore free of charge as well.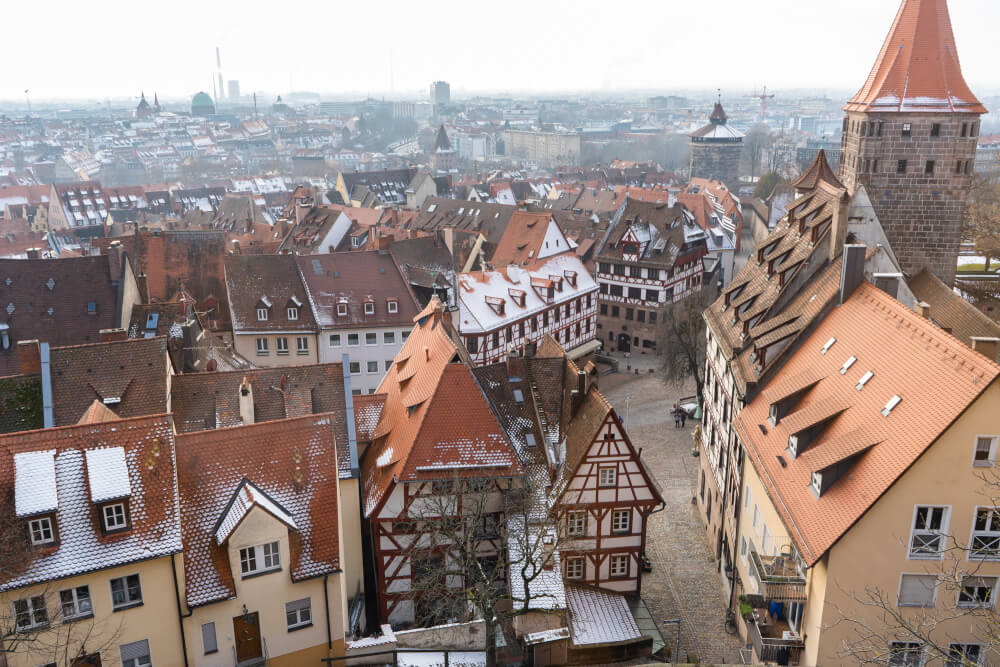 5. Visit the Hauptmarkt and the Frauenkirche
Another two gorgeous icons of Nuremberg can be found in the city's Hauptmarkt: the Frauenkirche church (which dates back to the middle of the 14th century) and the stunning gilded fountain that supposedly has magical powers to grant wishes if you turn a mystical ring.
Scared you won't be able to find said mystical ring? Don't worry – there is always a line-up here to turn it.
While I'm dubious about the fountain's actual magic powers, it's nonetheless a beautiful sight to add to your Nuremberg itinerary.
PS: Rumour has it locals turn the dark iron ring on the other side as THEIR lucky charm – the first is just a tourist trap.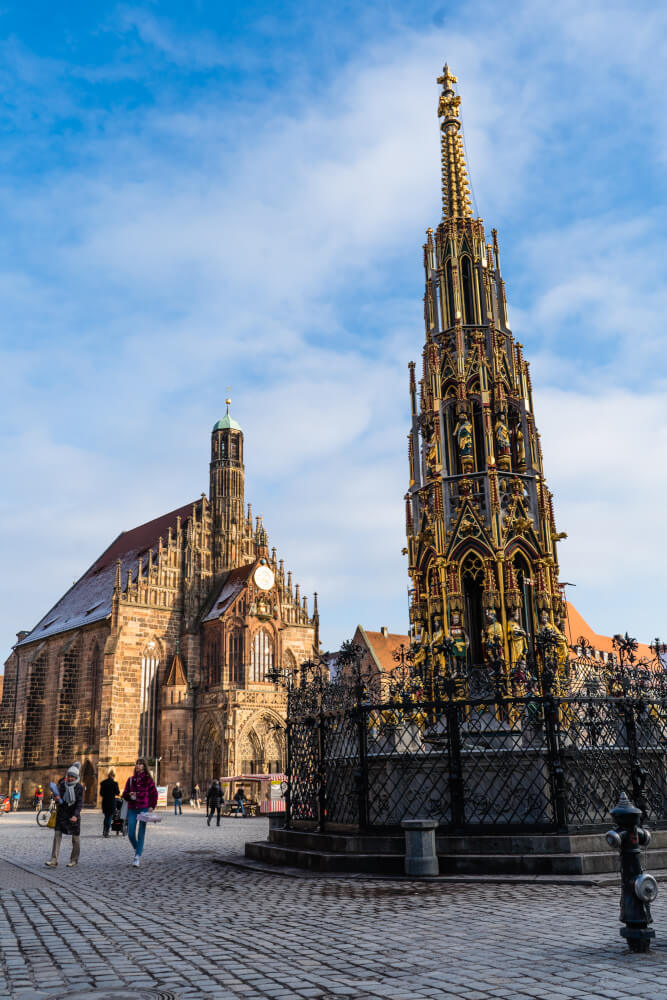 6. Enjoy the cozy vibes of Tiergärtnerplatz
If it's a cozy and adorable square you're after, make sure you stop by the postcardy red and white houses of Tiergärtnerplatz, one of the most charming places in Nuremberg, home to a few cute bars, cafes and of course, the famous Albrecht Dürer Museum.
When the weather cooperates, make sure to carve out some extra time in this square to sip on a hot chocolate (or beer!). The atmosphere here is the best.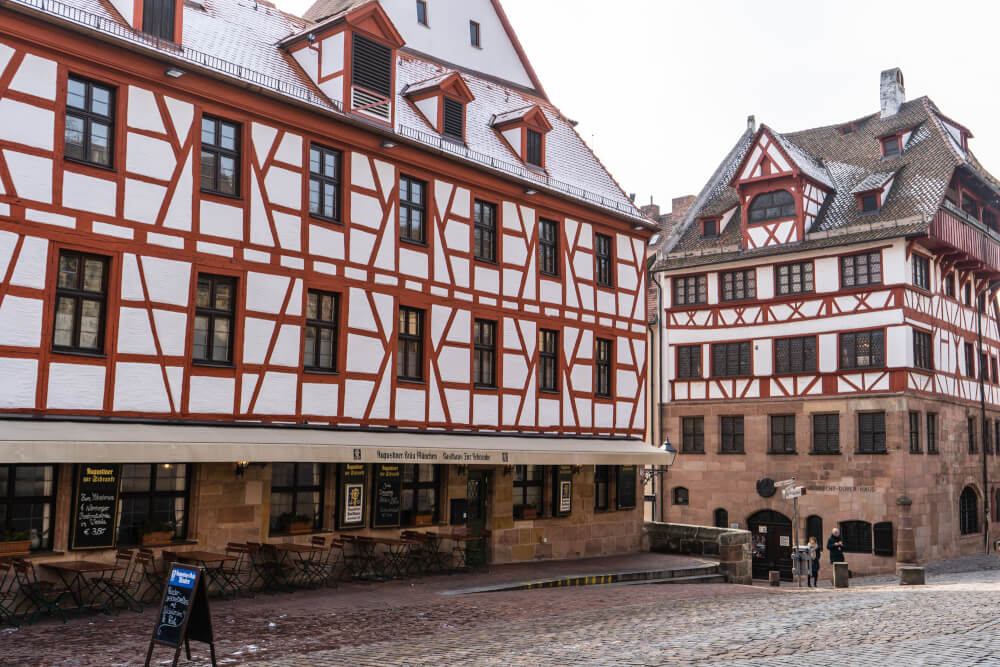 7. Drool over St Lorenz Church
Another must-visit church in Nuremberg is the St Lorenz Church, whose imposing facade you'll definitely encounter as you bumble your way around town.
The focal point of this church facade? A stunning rose window, perfectly framed by two 80m towers… but don't forget to explore the beautiful interior too.
With 12,000 pipes, the pipe organ inside St Lorenz is actually one of the largest in the world.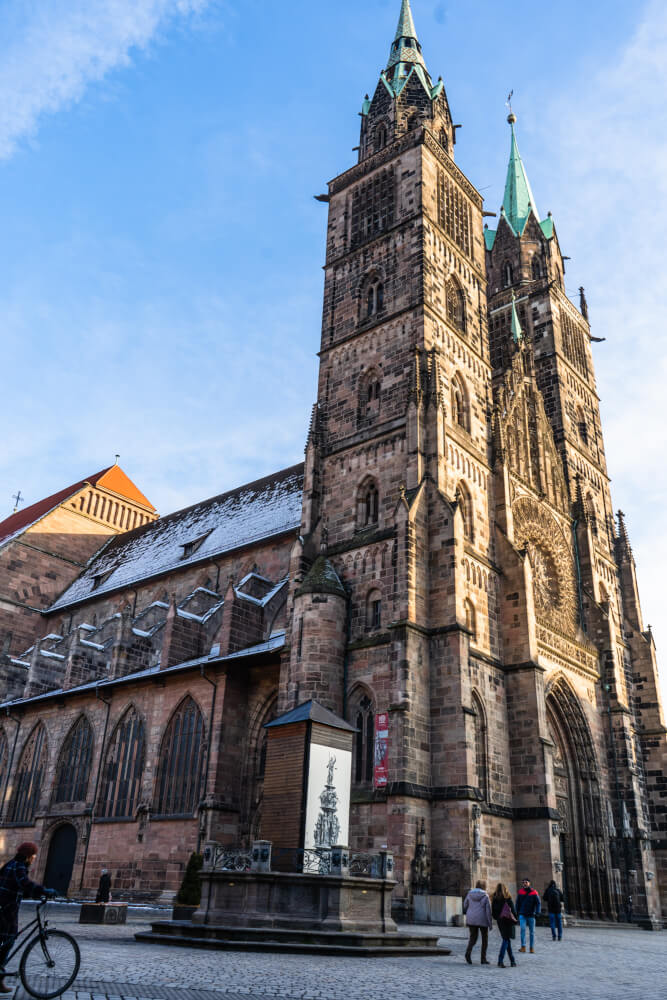 8. Visit the Nuremberg Dockumentation Center
One of the standout highlights from my first trip to Nuremberg was a visit the to the city's Dokumentation Center, which houses a permanent exhibition that describes in eye-opening detail the atrocities that happened in Nuremberg and Germany during the Nazi regime.
Housed in the (unfinished) Congress Hall of former Nazi party rallies, this museum offers harrowing insight into one of the darkest chapters of Nuremberg's history. A must-visit for historical context and education.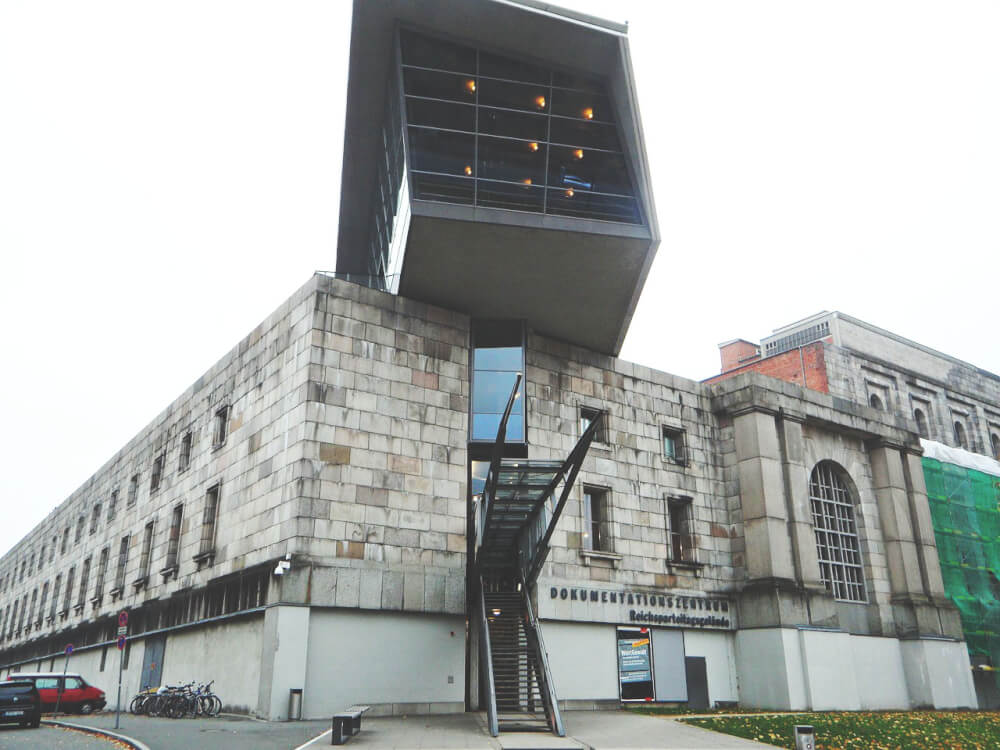 9. Stop by the Nuremberg Palace of Justice
Built in the early 20th century, the Nuremberg Palace of Justice is known best as the site of the Nuremberg Trials, the trials during which Nazi war criminals were prosecuted after WWII.
Today, the complex remains in use to house offices and active court facilities.
Inside, you'll find Courtroom 600, the very courtroom where the Nuremberg Trials were held, along with a memorial dedicated to the trials, and a Memorium Nuremberg Trails exhibition which explains in detail the history of the trial and those who participated.
10. Visit a unique museum
Besides usual museums dedicated to art and history, Nuremberg has a handful of incredible unique museums too that are worth checking out. Here are a few:
Bavarian Railway Museum: Because Nuremberg was actually the home of the first ever German railway (known as the Bavarian Ludwigsbahn), it should come as no surprise that there's a museum dedicated to railways in the city. At this museum, you can marvel at a variety of unique trains and exhibits, including parts of the royal train belonging to King Ludwig II. Click here for more info.
Toy museum: Nuremberg has been renowned for toy-making since the Medieval times, which is why its toy museum is actually one of the best known in the world. Click here for more info.
Cultural Things to do in Nuremberg
If you're looking for some cultural activities in Nuremberg, there are plenty of of options for you. Here are a few cultural highlights:
11. Visit the modern and beautiful Neues Museum
If you're looking for a modern art space in contrast to Nuremberg's storybook aesthetic, head over to the Neues Museum, which houses thousands of art works from around the world in a gorgeous, airy contemporary 2-story exhibition space.
With various rotating exhibitions taking place annually and a lively program of events throughout the year, this is the go-to spot in Nuremberg for contemporary art and design.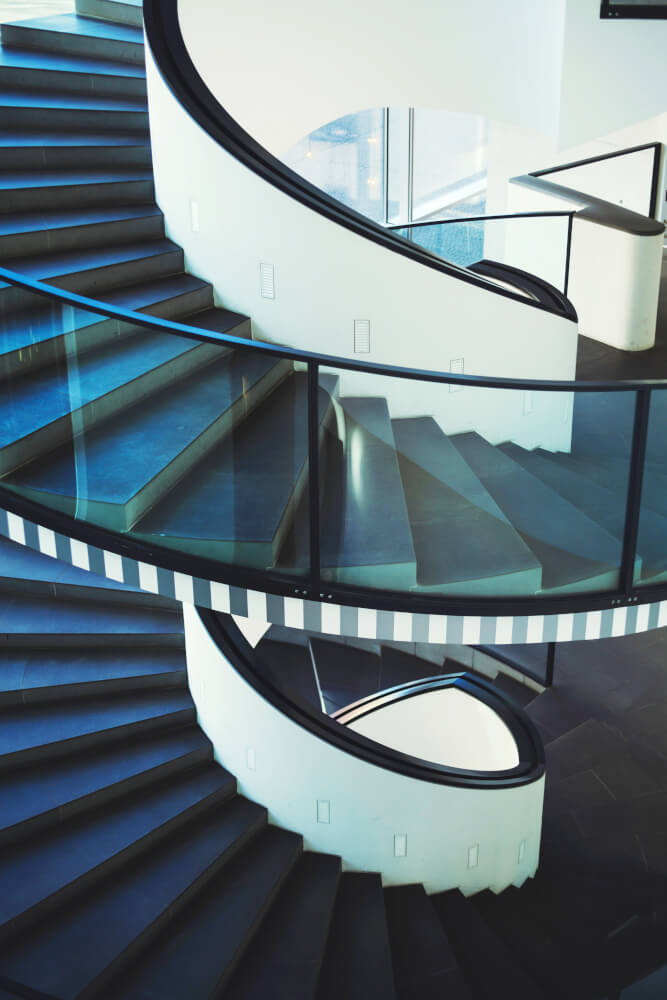 12. Marvel at the oldest globe in the world
Travel lovers, I'm sure this will intrigue you: did you know that Nuremberg is actually home to the oldest globe in the world?
The Erdapfel (which literally translates to "Earth apple") is a terrestrial globe that is recognized as the oldest scale model of Earth, dating back to the late 15th century, although the Americas are notably absent.
Despite a variety of imperfections, this globe is highly valued by historians today because of the succinct way it summarized all that was known about earth at the time. You can see it for yourself at the Germanisches Nationalmuseum.
13. Visit Albrecht Dürer's house
International visitors may have never heard the name Albrecht Durer, but he's a mega-household name in Germany, and largely regarded as the country's most famous artist.
Located in a picturesque half-timbered house in Nuremberg's Tiergärtnerplatz a space where Dürer himself once lived and worked for two decades in the 16th century.
As the only remaining 15th century artist house in this part of Europe, it holds a tremendous historical significance, which is why it's considered one of the top things to do in Nuremberg today.
At the house, you can view Dürer's works, and see the inside of a house left over from the golden age of Nuremberg.
Foodie Things to do in Nuremberg
When in Nuremberg, one of the best things you can do is eat. Franconia (to me) is a foodie's paradise, with plenty of delicious regional treats that you simply have to try. Here are a few suggestions.
14. Snack on a 'Drei im Weggla'
One of the most beloved snacks from Nuremberg that you'll find all over Germany are Nuremberg sausages, little finger sized sausages typically eaten in threes.
The most common way of consuming them is a "Drei im Weggla" (three in a bun), with three of these tidy sausages smooshed into a roll – so good!
You can find these at stalls all over town, but Zum Guldenen Stern is well-known as a historic place to try them out.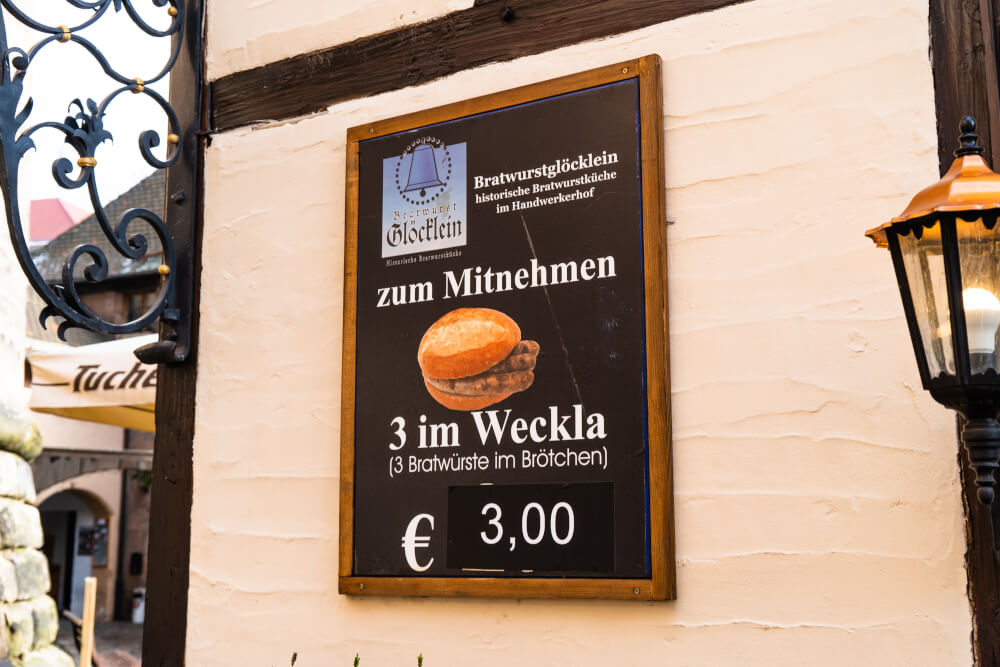 15. Try Schäufele
For those looking for something a bit heartier, you can try Schäufele, a south German dish made with pork shoulder meat – bone and rind still in tact.
Commonly served with gravy, potato dumplings and sauerkraut, this is Franconian comfort food at its finest.
16. Munch on some lebkuchen
Lebkuchen is a type of German gingerbread commonly wolfed down during the Christmas market season, and Nuremberg is one of THE places to try it because it's largely acknowledged that lebkuchen was actually invented by monks here in Franconia all the way back in the 13th century.
It's so prestigious here that Nürnberger Lebkuchen is protected, and MUST produced within the city's boundaries or it's not considered legit.
One of the most special types of Lebkuchen produced in Nuremberg is known as "Elisenlebkuchen", and must have at least 25% nuts and less than 10% wheat flour.
These fine ingredients give the cookie a unique nutty flavour, and completely unlike North American gingerbread. A must-try!
17. Nom on some röstkloß
This simple comforting dish is one of my favourites, and it's vegetarian-friendly too. You can find röstkloß at most typical Franconian restaurants, and if you see it, do yourself a favour and order a giant plate.
This delicious delicacy consists of potato dumplings chopped up and fried with eggs, often jazzed up with some mushrooms, side salad or other veggies. It is SO GOOD.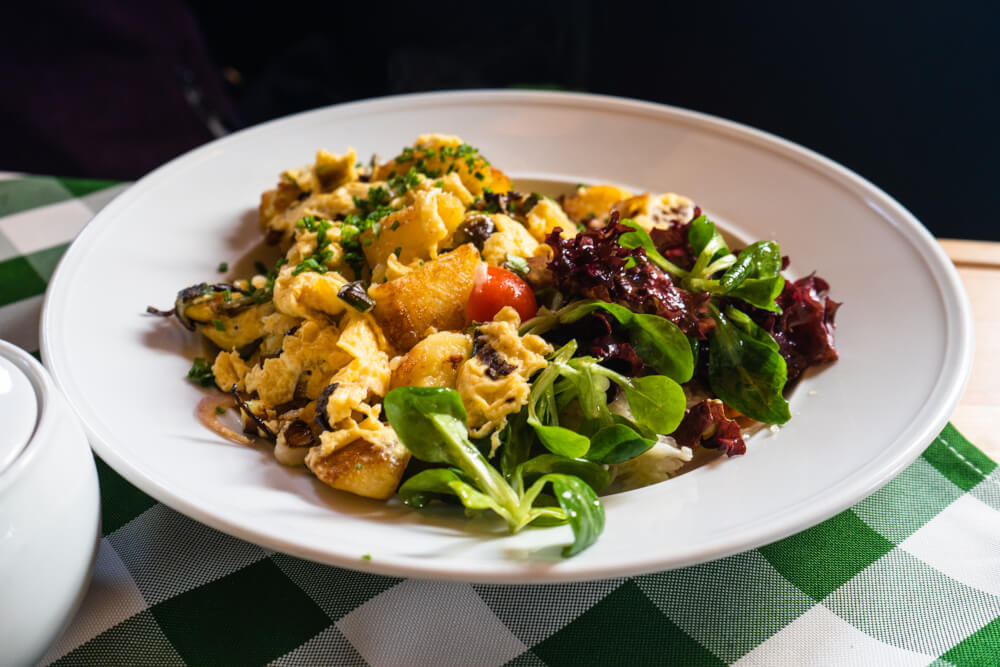 18. Take a cooking class
One of the best ways to immerse yourself in a new culture is to taste it and learn how to take it home with you! Nuremberg is no exception to this rule, and one of the best things you can do here is taking a unique cooking class.
You can for instance book this cooking class next to Nuremberg Castle where you learn to make sausages! With lunch included, it;'s less than 30 euros making it a great deal. Click here for reviews and availability.
You can also book this gingerbread making class for less than 20 euros. Click here for reviews and availability.
Quirky and Offbeat Things to do in Nuremberg
Of course, Nuremberg isn't just about the usual must-sees. One of the most interesting things about the city is the way that it's continually evolving, growing, and dare I say – becoming vaguely hipster?? Here are some of the better quirky/offbeat things that you can do in Nuremberg.
19. Explore the trendy GoHo district
Just outside of Nuremberg's city centre, you'll find the Gostenhof district, abbreviated hipsterily as GoHo. This incredibly hip district feels worlds away from historic storybook Nuremberg, with vintage shops, cute boutiques and endless cafes and unique eateries perfect for those looking to go off the beaten path in Nuremberg.

For a full list of shops round GoHo, click here.
20. Visit an a-meow-zing vegan cat cafe
Yes, you read that right… a vegan cat cafe… in Nuremberg!
Or actually, we should call it a cat temple to be precise. Yup, the Katzentempel in Nuremberg has officially claimed status as the first cat cafe in Germany, and is a haven for cat lovers who want to graze on plant-based food and drinks while cuddling with shelter cats from Munich.
Sounds pretty purr-fect no?
21. Discover the underground beer tunnels
Lurking below ground in Nuremberg is yet another fun surprise: beer tunnels!
Yup, one upon a time, a cellar system was used around Nuremberg to store beer, and today, this maze of rock-cut cellars continues to exist, and is open to those curious enough to explore them.
Download the Rock-Cut Cellar Flyer here
22. Say hi to a scary rabbit statue
This thing seriously gives me the creeps.
Lurking in one of Nuremberg's most scenic squares is a worrying little sculpture, Der Hase (The Hare) by Jürgen Goertz. Cast in bronze, this demonic, rabid looking rabbit just sits there with no explanation or plaque, spooking every visitor that crosses its path.
Nonetheless, it's kind of endearing. Inspired by Albrecht Dürer's painting Der Feldhase (the Rabbit), this thing is worth a quick peek while exploring town.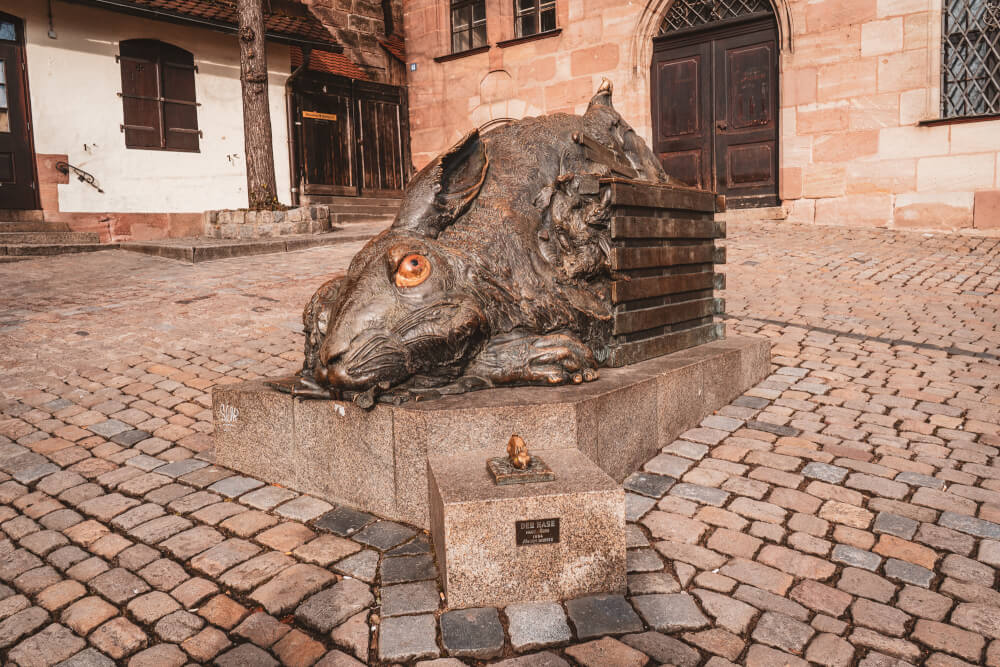 23. Relax at the Wöhrder Lake/Park
When thinking of things to do in Nuremberg, one's mind doesn't usually drift to green spaces, but nonetheless if you're looking for a place to relax and unwind in the middle of the city, head over the Wöhrder Lake and Park, where you can rent a boat, laze out on the grass or do as the locals do: nurse a cold beer while soaking in the sunshine.
24. See the "marriage merry-go-round"
If you want to see a thoroughly pessimistic outlook on marriage, head over to the most controversial fountain Nuremberg, the Ehekarussell (AKA the Marriage-Merry-Go-Round) which was created in the 80s to depict the different phases of married life.
The figures get old, fat, and…. die.
Like I said, not really the most optimistic statue, but a unique and fun contrast to the picture perfect city.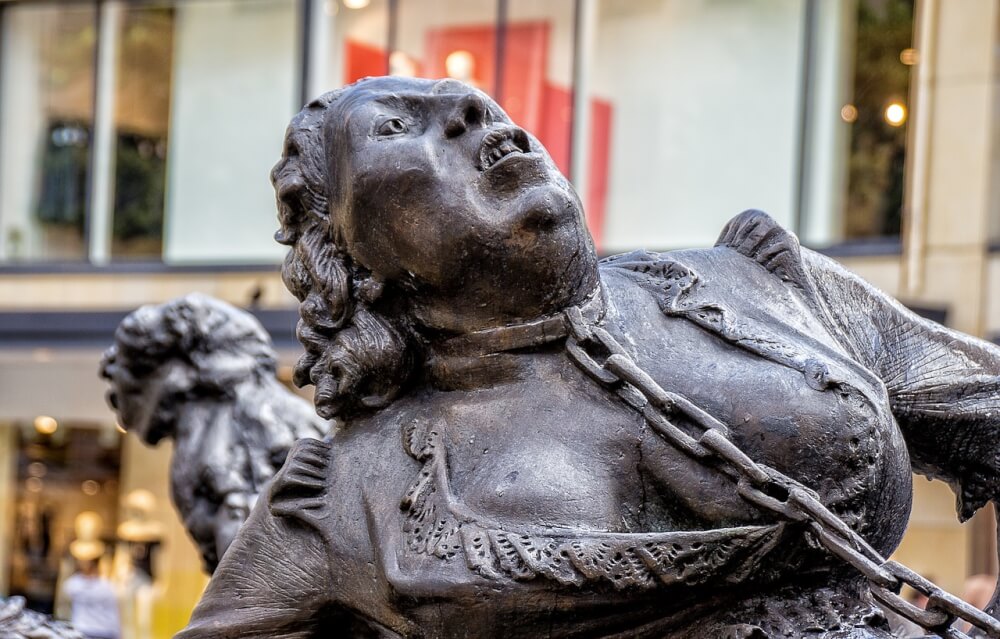 Special Events and Seasonal Things to do in Nuremberg
Last but not least, Nuremberg plays host to a variety of fun events throughout the year. If you're lucky enough to be in town for one of the following, be sure to take advantage.
25. Visit the Nuremberg Christmas Market
The Nuremberg Christmas Market is one of the most famous Christmas markets in Germany, and while I would say it has gotten significantly busier and (overly touristy) through the years, stopping by is a must when visiting in late December/early November.
Click here to read my full guide to the Nuremberg Christmas Market.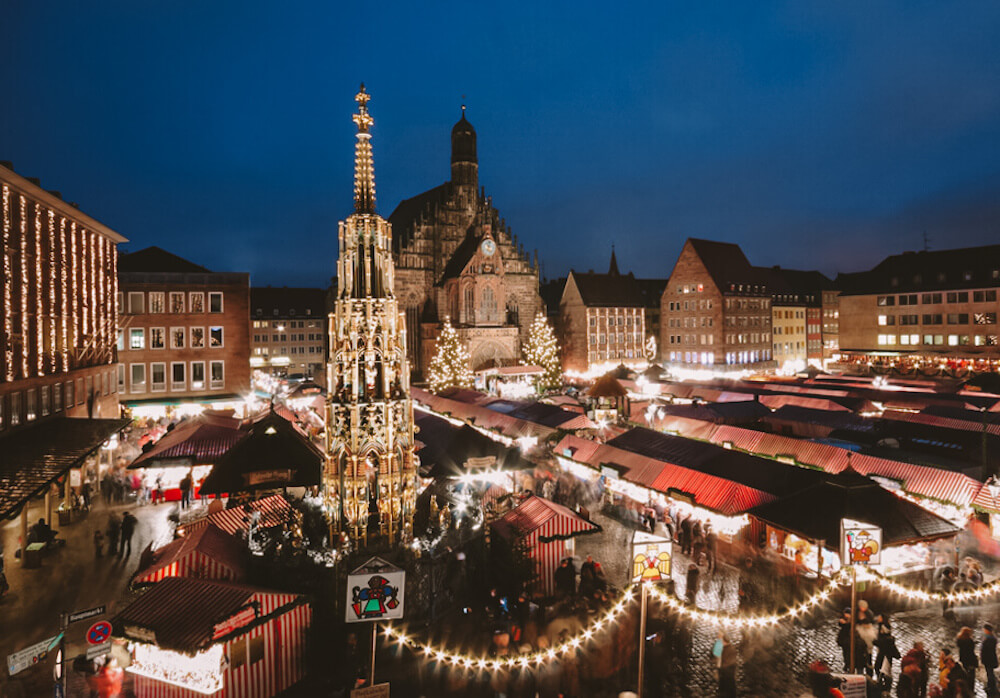 26. Drink from the largest Feuerzangenbowle in the world
Tied into the Nuremberg Christmas Market festivities is a giant Feuerzangenbowle, the largest in the world. For those of you who aren't familiar with the glories of Feuerzangenbowle, it's a wonderful boozy drink served during Christmas time that involves mulled wine, caramelized sugar and rum set on FIRE.
Oh it's so good, and in the name of record-breaking booze, it has to be sampled in Nuremberg, right?
27. Attend the Franconian Beer Festival
A beer festival in a castle moat? Germany, you can do no wrong.
If you happen to be in Nuremberg in June, be sure to stop by the Franconian Beer Festival, a celebration of beer from local breweries pouring up 100+ types of yummy beer.
Combined with live music, and delicious local food, this is one activity in Nuremberg you don't want to miss.
28. Party at the Bardentreffen Nürnberg
During Bavarian summer holidays, Nuremberg becomes a musical haven with an open air music festival that takes over the city.
Known as the Bardentreffen, celebrating here is a summer tradition in Nuremberg you won't want to miss.
29. Enjoy a beach in the middle of the city at Schütt Island
While Nuremberg is a landlocked city, that doesn't stop it from having a great beach to enjoy during the summer. In fact, the Schütt island is a river island in the middle of the Pegnitz.
During the summer, you'll find 4000 square meters of white sand here, over 1000 beach chairs, palm trees, family pool area, grill events, live music and more.
30. Attend a Nürnberger Volksfeste
Last but not least, if you want a taste of Oktoberfest at Nuremberg, be sure to keep an eye out for the Nuremberg Volksfest.
Imagine beer tents, fun fair rides and tons of games that are the same as what you would find at Oktoberfest. Click here for more info.
Did I miss any of your favourite things to do in Nuremberg?
I hope you enjoyed this guide on the best things to do in Nuremberg, Germany. Let me know in the comments below if I've missed any of your favourite Nuremberg activities! I'd love to take down some notes for my next visit.
---
Watch my most popular YouTube video this week:
---