*FYI - this post may contain affiliate links, which means we earn a commission at no extra cost to you if you purchase from them. Also, as an Amazon Associate I earn from qualifying purchases. Check out our Privacy Policy and Disclosure. for more info.
If you haven't heard of Glass of Thrones in Belfast yet, then you are definitely missing out on one of the coolest Game of Thrones-related attractions in Northern Ireland.
SO, let me quickly fix that for you and add yet another 'must-do' to your nerdy bucket list (which hopefully features a Game of Thrones Christmas tree like mine?)
As I've obnoxiously paraded around on Instagram over the past week, I recently returned from a DIY Game of Thrones mega-tour in Northern Ireland.
Locations were visited, exhibitions were pillaged, direwolves were snuggled, Winterfell banquets were had, and tears were shed. You can read about all the cool experiences I enjoyed here.
… BUT amongst all the best known attractions I pillaged, one of the coolest surprises for me was the Glass of Thrones trail in Belfast, which showcases some of the most beautiful Game of Thrones stained glass work in the world.
This post is going to tell you all about what it is and how you can visit.
Save this post on Pinterest for later: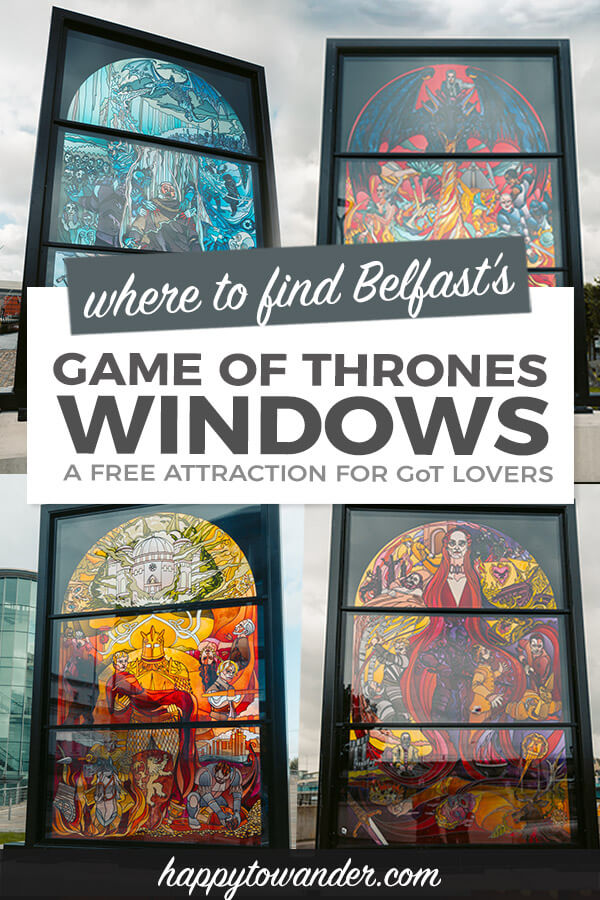 So – What is Glass of Thrones?
Unveiled earlier this year as part of (many) promotional events to celebrate Game of Thrones Season 8, Glass of Thrones is an exciting new attraction that features six gorgeous stained glass windows scattered around Belfast depicting iconic scenes/moments from Game of Thrones.
Each window is themed according to a different house or GoT icon, so imagine a window dedicated to the Starks, a window dedicated to the Lannisters, a White Walker window, and more.
These windows aren't just awesome because they're Game of Thrones themed… they are genuinely gorgeous works of stained glass art that add a wonderfully dramatic pop of colour to Belfast. And, in my honest opinion, they're not getting nearly as much love as they deserve!
I only spotted a handful of people stopping to look at them during my explorations, so let me set the record straight: if you're a GoT fan in Belfast, you need to make sure you stop by these works of art!
They're free, crammed with easter eggs, and organized strategically to take you on a gorgeous little Belfast walk. What more could you want?
So, here is a little guide on all six windows that you can find around Belfast (with photos for those of us who can't see them yet in person!).
You can visit these in any order you want, but they actually flow in a very smooth sightseeing trail so I'd recommend doing this route altogether in the order suggested.
Because I started from the Game of Thrones Exhibition though, I actually did the windows in reverse order (from Window #6 to Window #1). All that said, since the Glass of Thrones doesn't follow any chronological flow, it doesn't matter which end you start at.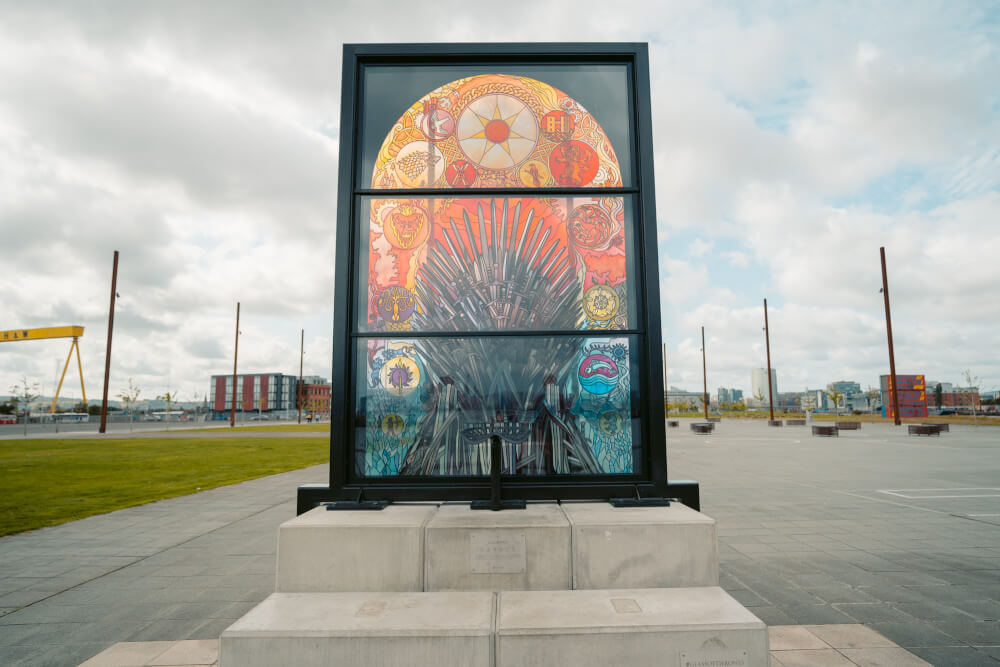 Glass of Thrones Stained Glass Windows Map
Before we get started, here is a map courtesy of the official Visit Belfast website. I used this to guide my visit and it was perfect – super easy to follow. I'd recommend saving it and then opening it up on your Google Maps app.
Glass of Thrones Window #1: The House Stark Window
*** NOTE: According to the official Glass of Thrones website, this window has been temporarily removed (as of early 2020). Apologies for the inconvenience, but below you'll find some photos to show what the window looks like!
This Game of Thrones Window Location: Belfast City Hall
The first Glass of Thrones window can be found across the street from Belfast City Hall, with a gorgeous tribute to House Stark and all things Winterfell.
At the very center is our boy Jon Snow during Battle of the Bastards, wielding Longclaw with some murdery oomph.
I have to admit, at first glance I thought it was Arya because the two look kind of similar in stained glass, but no, it's Jon.
Arya does appear right next to him though, as she's about to go stabby stab on villainous Littlefinger, with a minimalist House of Black and White depicted right behind her.
This window is really awesome because of ALL the impressive details crammed into it. It may be one of the most detailed ones on the entire route.
Throughout the window, you'll see a LOT of Stark-centric symbolism, including a direwolf, the Three Eyed Raven, the weeping Weirwood tree, the Stark house sigil, and (less subtly) Ned about to lose his head. Other key Stark scenes shown include the Red Wedding, Sansa's ultimate revenge on Ramsay, and the fight between the Hound and Brienne (over Arya).
… You might be staring at this one for a while.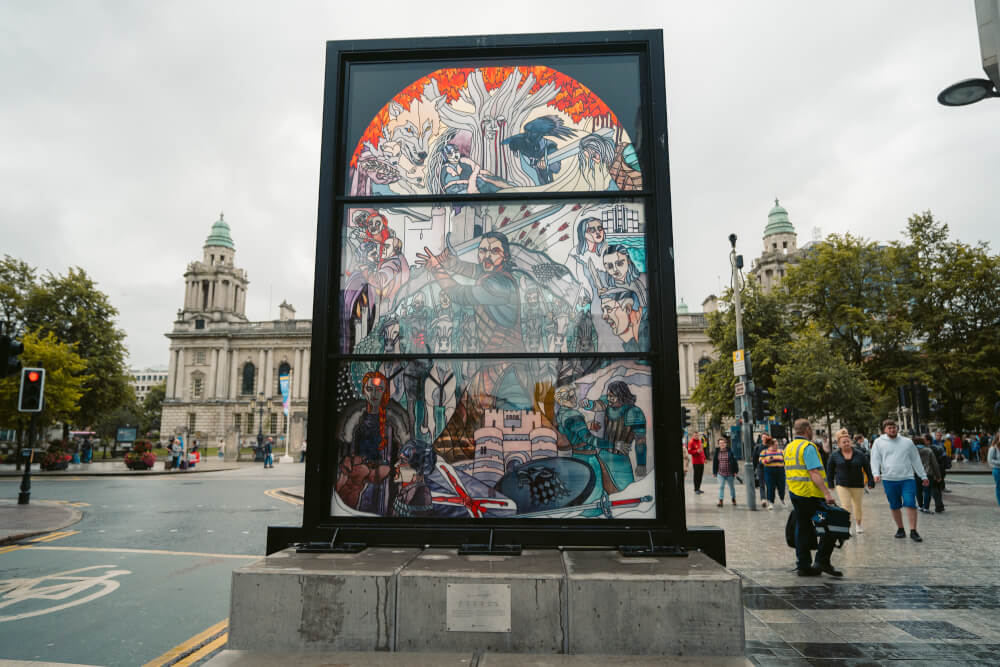 Glass of Thrones Window #2: The House Lannister Window
Where to Find This Game of Thrones Stained Glass in Belfast: Waterfront Hall
After some careful consideration, I've decided this is my favourite Game of Thrones window!
Located at the Waterfront Hall, it depicts iconic moments for House Lannister.
At the top is the murderous (but very pretty!!) wildfire explosion at the Sept of Baelor, one of Cersei's crowning achievements.
In the middle is Cersei immediately post-Walk of Shame, when Qyburn reveals Mountain 2.0 who scoops her into his huge zombie arms, sandwiched between two great scenes: Tyrion's murder of Tywin and Shae, and Jamie rescuing Brienne from her horrible bear fight.
At the bottom of the window, we also see Jamie charging towards Daenerys on horseback during the Battle of the Goldroad (still quite a ridiculous move in my opinion, but whatever), as well as the horrific conclusion of the Viper vs. Mountain showdown. Still not over this death. Team Oberyn 5ever!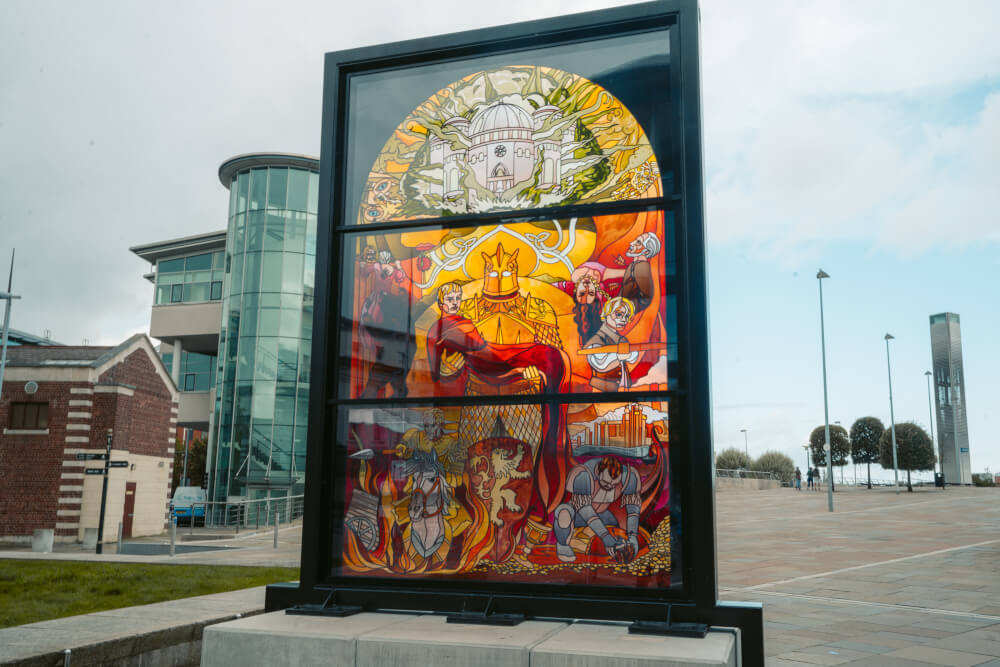 Glass of Thrones Window #3: The House Baratheon Window
This GoT Window Location: Lagan Weir Footbridge
While technically this next Game of Thrones window is known as the Baratheon Window, it's actually Melisandre who takes up the prime real estate in this piece, with her flowing red locks dominating the the frame.
Of course, this is probably a lot more aesthetically pleasing than a giant dying King Robert or dying King Joffrey, although both of those are represented in this window as well!
It took a moment for me to notice, but right in the middle of the window, you'll actually see Melisandre's Shadow-Stannis baby in purple, killing poor Renly, probably one of the first truly "WTF" moments in the series, at least for me.
Now pay attention, because this window has a LOT crammed into it!
It's definitely worth taking a long look to catch all the different little scenes that are represented.
Among them include the in-cave trial by combat between the Hound and Beric (where Gendry and Arya can be seen watching), Brienne getting revenge for her main bae Renly by killing Stannis, Gendry killing a Gold Cloak with his war hammer, and my personal favourite: Ser Davos just rowin' a boat – no murder necessary.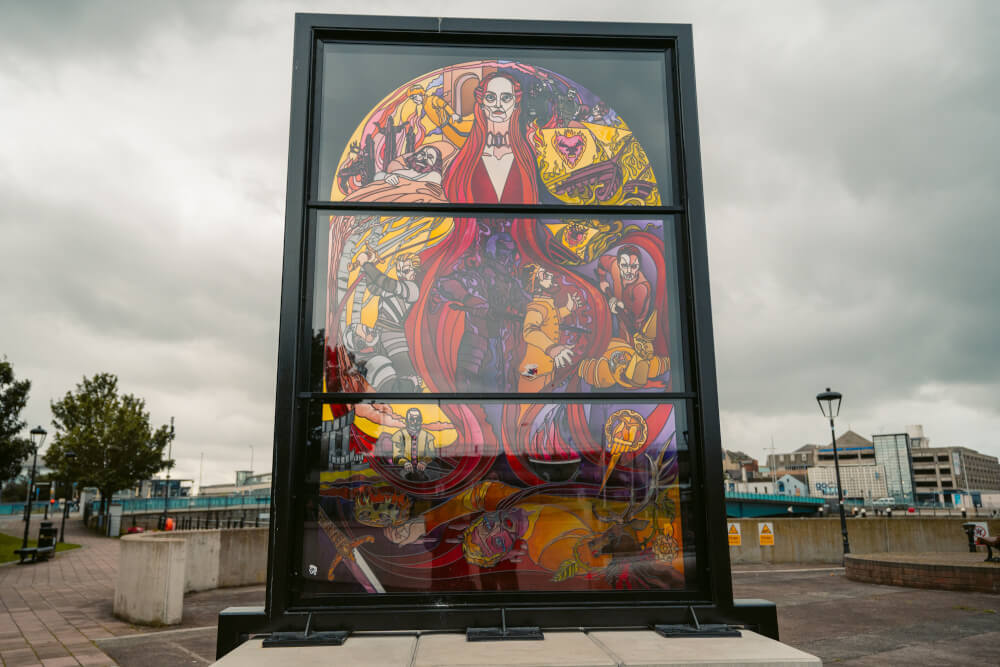 Glass of Thrones Window #4: The House Targaryen Window
Location of this Game of Thrones Window: Odyssey Point
The next gorgeous window is a colourful tribute to iconic moments for Daenerys and House Targaryen.
At the top, you see Daenerys riding Drogon as he spews a beautiful twister of fire that runs all the way down to the bottom of the window, where it meets one of Cersei's new dragon-killing super-crossbows/ballistas.
In between, you'll find all sorts of great details/odes to Daenerys' storyline (which filmed extensively around Morocco and Malta, by the way!), including the moment she emerged from the flames with her new baby dragons, the epic battle between Barristan Selmy/Greyworm and the Sons of the Harpy, and of course, the "crowning" of her brother Viserys with that sweet liquid gold.
The three little dragon eggs in the corner are naturally a very cute touch.
Last but not least, a little more hidden are the fighting pits of Meereen – see if you can spot them and Drogon rescuing Dany too!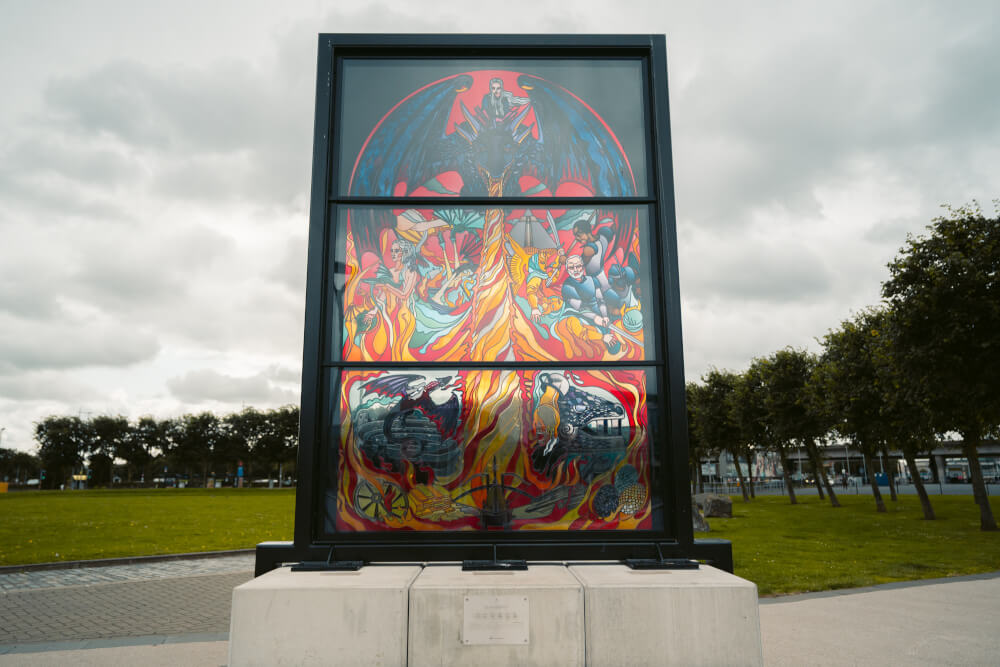 Glass of Thrones Window #5: The White Walker Window
Location of this Belfast GoT Window: SS Nomadic
Next up, we have the White Walker Window, which (sorry) is definitely the coolest.
With Hodor as the focal point "holding the door" (sob) as the Wights claw him to death, the Night King destroying the Wall on board his zombie ice dragon at the top, and various other iconic scenes from North of the Wall, this window is one of my favourites!
See if you can spot Jon killing a Wight, the creation story of the Night King, the Wight resurrection at Hardhome, and Jon, Jorah, the Hound, Beric Dondarrion and Tormund in the middle of the ice lake. All of them feature seamlessly in this window.
NOTE: If your caffeine cravings start to kick in around this point of your Glass of Thrones journey, be sure to pop into Paper Cup Coffee, a cast and crew favourite which is largely considered to be the source of THE infamous Daenerys coffee cup from Season 8, not Starbucks. Their shop can be found just steps away from this window.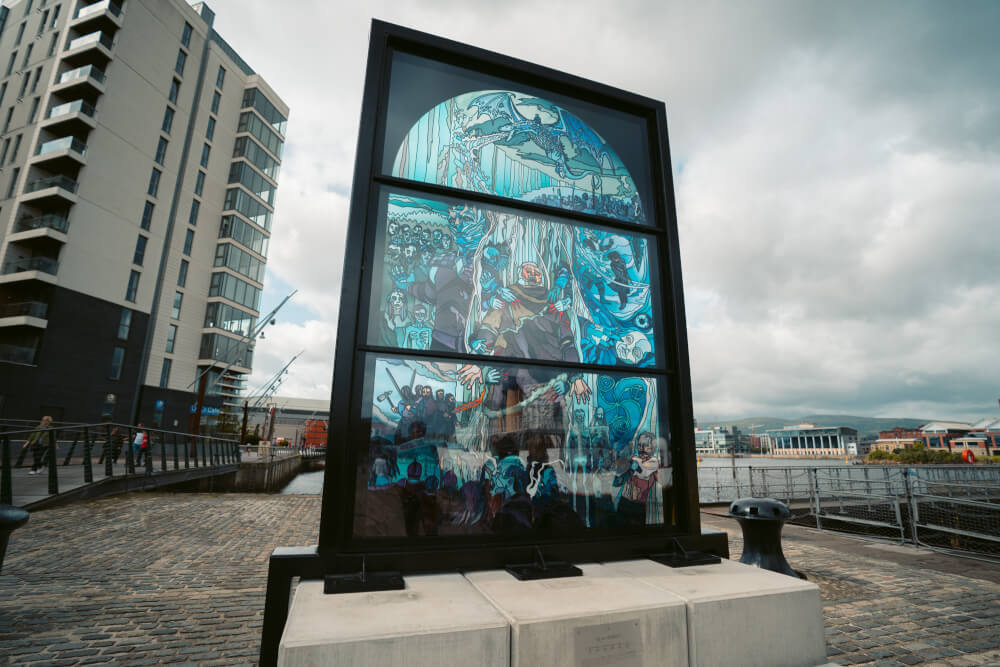 Glass of Thrones Window #6: The Iron Throne Window
Location of this Glass of Thrones Window: The Titanic Slipways
The final Game of Thrones themed stained glass window you can find in Belfast is the Iron Throne Window, located between the Belfast Titanic Experience and Titanic Studios, where much of the series was shot.
The focal point of this window is of course the Iron Throne itself, but it's surrounded by important house sigils too, with Stark and Lannister being the biggest.
My favourite part? The colours! It's a little on the nose, but the window's background is divided into two parts: fiery orange up top and icy blue on the bottom… a Song of Ice and Fire.
Pay extra attention to the top panel as well, which pays homage to the iconic opening sequence, with a sun in the center and little cogs/gears sprinkled around the house sigils.
Last but not least, this window is also special because it actually has a little seat that's attached to it, so you can be a total dork and sit on your stained glass Iron Throne, while overlooking the actual Titanic Studios.
… And my friends, if you think I'd pass up a corny photo opp like this, let me ask you, "why do you think I came all this way?"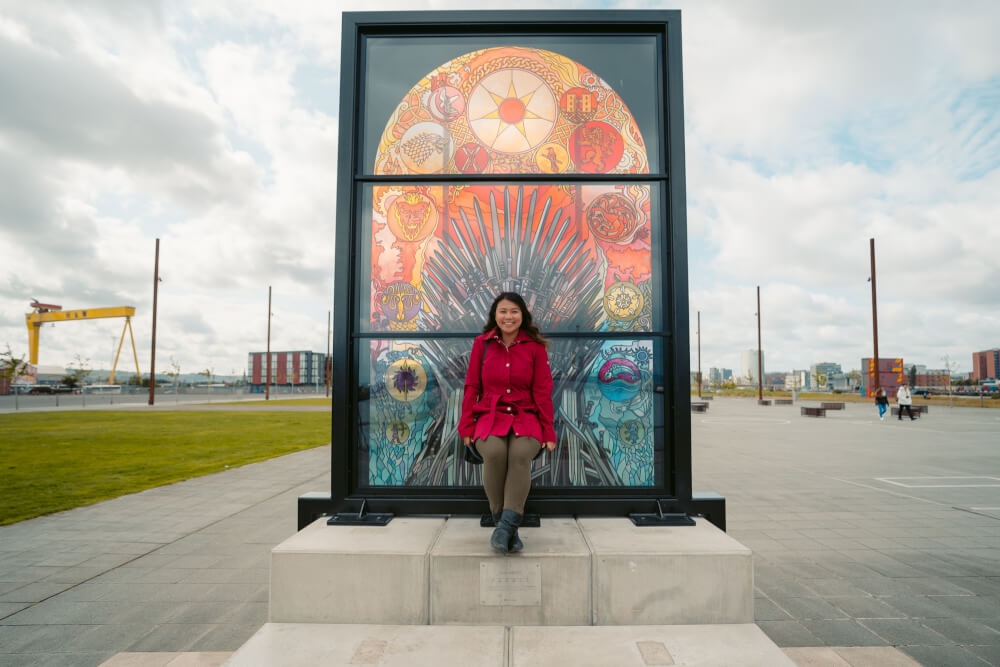 Which of these Game of Thrones stained glass windows is your favourite?
Let me know in the comments! I hope you enjoyed this guide to Belfast's Glass of Thrones – some of the prettiest windows in Belfast. Have an amazing trip!
---
Watch my most popular YouTube video this week:
---