*FYI - this post may contain affiliate links, which means we earn a commission at no extra cost to you if you purchase from them. Also, as an Amazon Associate I earn from qualifying purchases. Check out our Privacy Policy and Disclosure. for more info.
Ho, ho, Hodor – Merry Christmas!
WARNING: The following post will make zero sense to you if you don't watch Game of Thrones. There will also be spoilers from Season 1, soooo consider yourself warned.
Anyways, I wanted to take a quick break from our regular travel programming to bring you a glimpse into my nerdy everyday life. Not that I do a great job at hiding it, but when I'm not gallivanting around the world as a travel blogger, I live my days as a ridiculous geek, giggling to myself about puns that would make anybody cringe.
That said, ever since showing you guys my Game of Thrones Christmas decor on Instagram stories earlier this week, I got a few requests for more photos, and who am I to hide my nerdy colours? This Christmas, I decided to decorate my apartment according to a Game of Thrones theme. At first I was just going to do a tree, but then the ideas kept Jon Snow-balling, soooo… here we are. Or more accurately, here I am, tapping away at my laptop while surrounded by a million paper cutouts of Kit Harrington.
I mean, life could be worse.
Anyways, if you're a Game of Thrones fan, I think you'll enjoy this post… And if not, welllllllll… I won't take it personally if you back away slowly and never look at me the same way ever again.
NOTE: This was all done on a shoestring budget – nothing fancy! I didn't realize until afterwards that Amazon sells all sorts of epic Game of Thrones Christmas stuff like stockings, Christmas sweaters and ornaments. Good to know for next year!
Anyways, onwards…
---
My Game of Thrones Christmas Tree
Because of time constraints, I decided to keep things simple ornament-wise. I found these gorgeously designed sigils from Ram de Guzman on Behance, and printed them off to stick on my baubles. After that, I printed out some dragon eggs, a "Christmas is coming" sign thanks to this Game of Thrones font generator and we were in business.
And in addition to Daenerys shouting "WHERE ARE MY PRESENTS?!" in the background, I needed to ensure that my tree had its star… so I went for the hero we lost too soon: Ned Star-k….'s head. #RIP
With some tinsel and lights, things were starting to look Sansa-tional. Arya with me?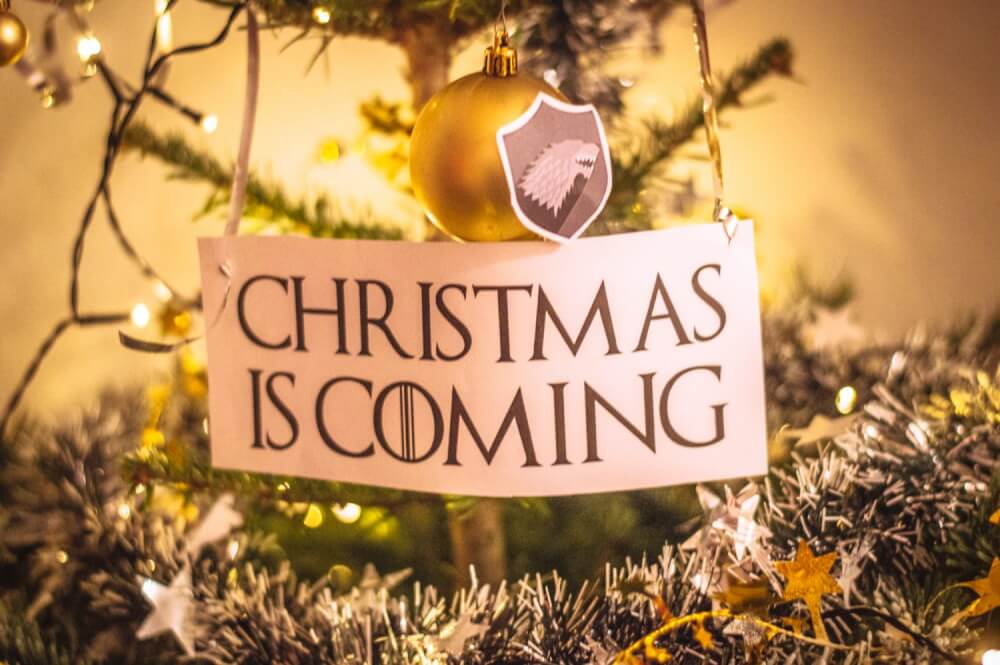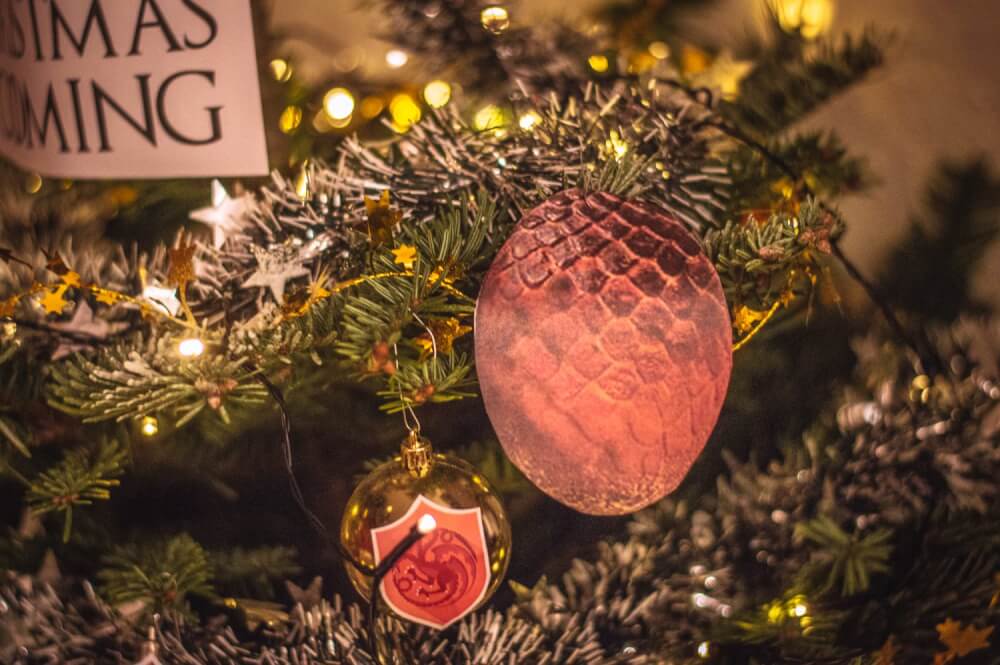 PS: Etsy has loads of cool Game of Thrones ornaments. Click here to browse
---
---
Game of Thrones Snowflakes
Then, I found these brilliant printable snowflake templates from Krystal Higgins and promptly squealed like a kid. These sigil-inspired designs are SO cool and easy to cut for yourself. I obviously printed each one and dutifully cut along the lines and belting out my own awesome version of the GoT theme song. I can only imagine how cool my neighbours think I am.
Maybe next year I'll install some GoT stained glass windows like the ones they have as part of "Glass of Thrones" in Belfast!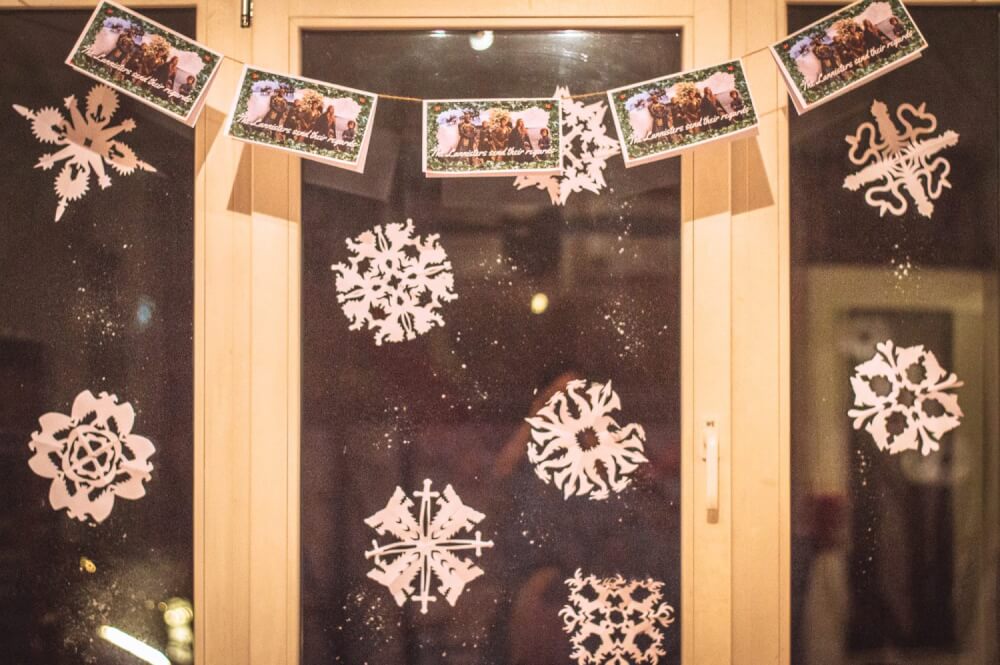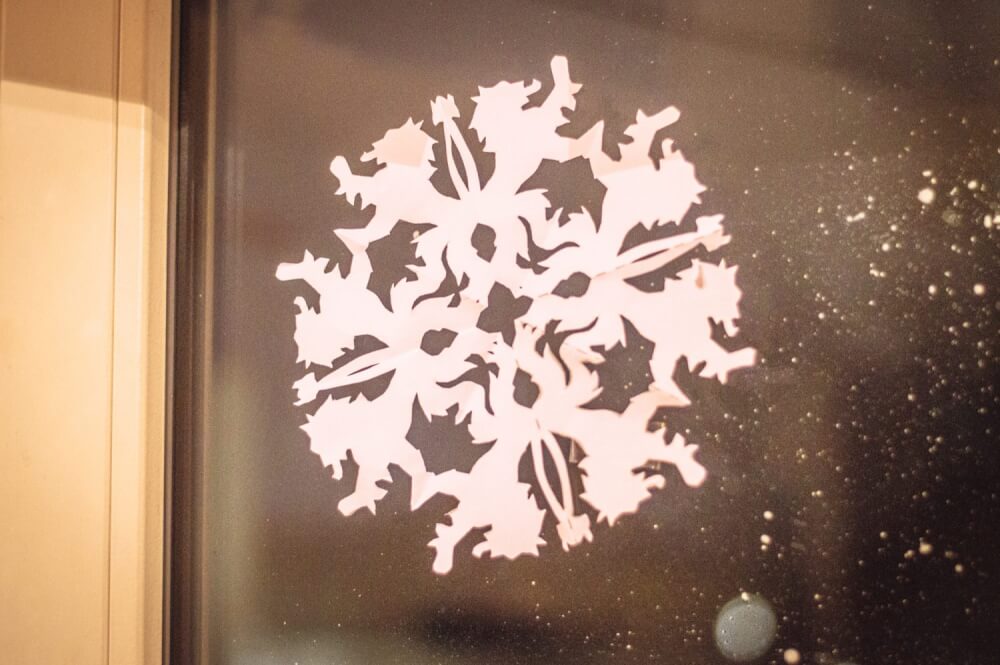 ---
---
Plenty of Punny Wordplay
In addition to the awesome designs above, naturally, I decked the walls with Jon Snow-flakes: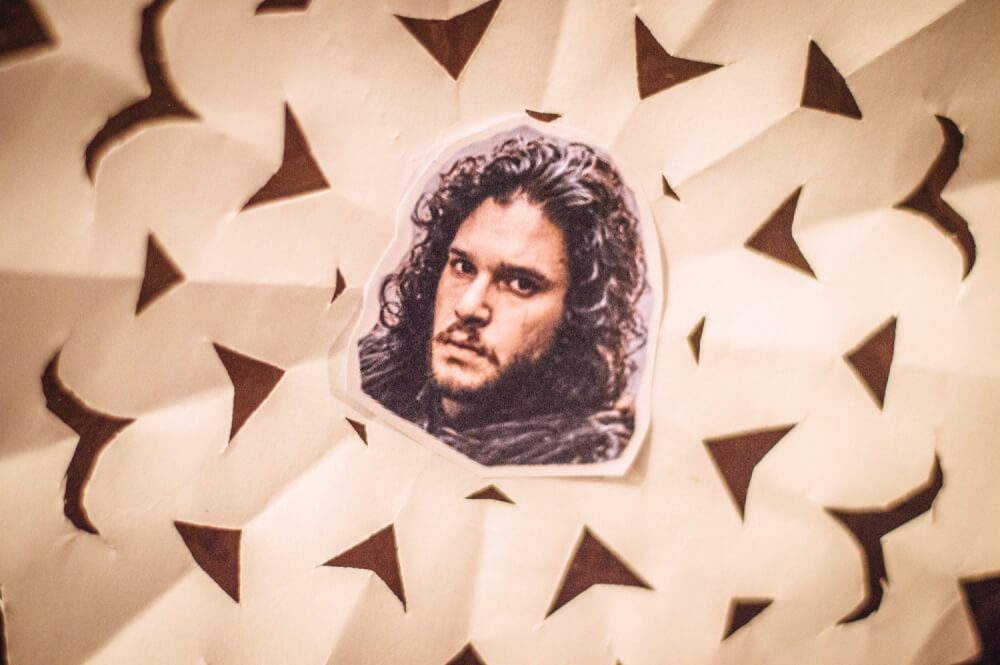 And made myself a festive Christmas Reek-th.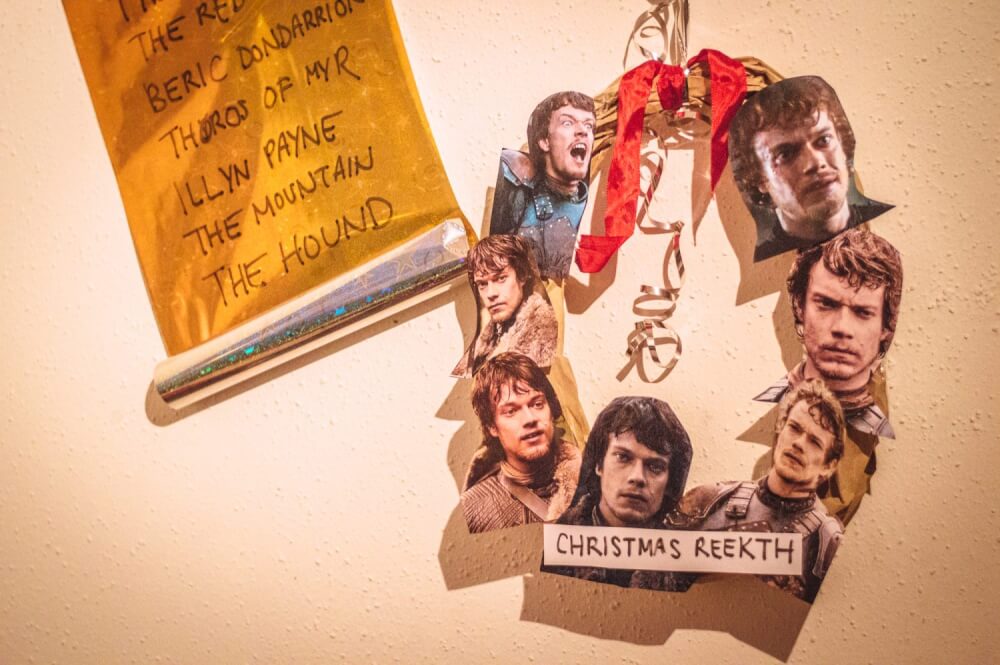 … and made sure to "Let it Snow" and bring "Greyjoy to the World" while I was at it.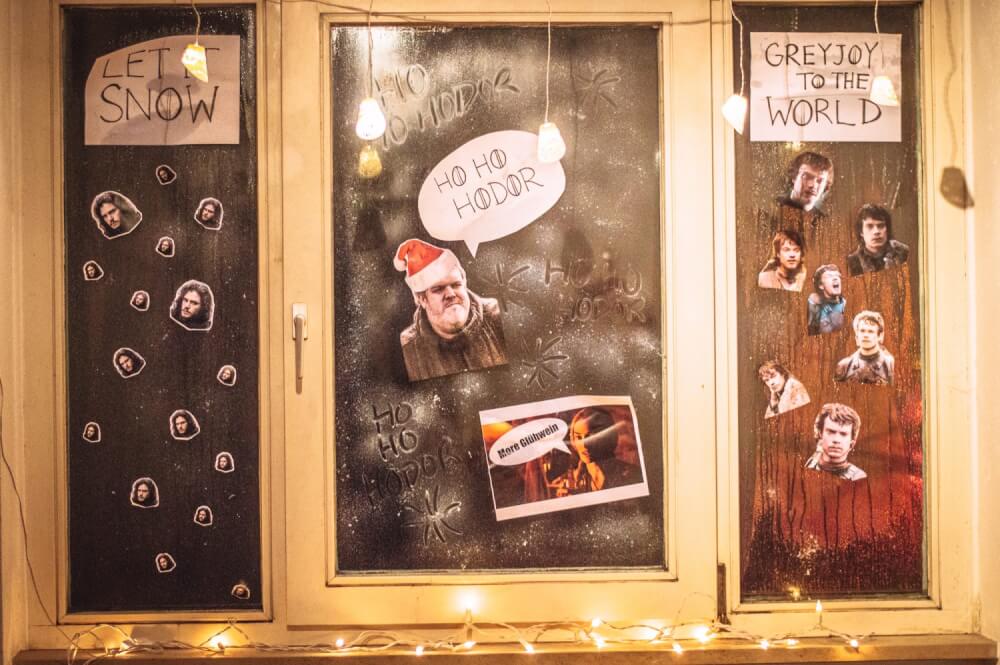 … and of course, a special mention for our most Santa Claus-shaped character: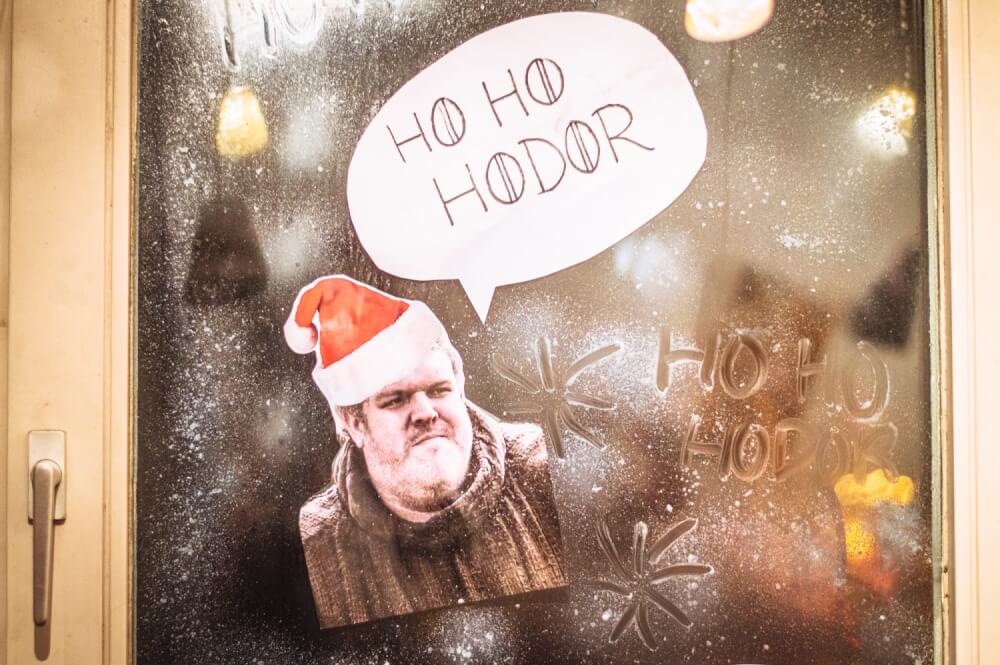 Most regrettably, I forgot to get a photo of Sophie Turner printed for my Sansa Claus pun. Maybe next year.
---
---
Lastly, I put some holiday twists on classic GoT
I started off with the obvious must-do:
And then I put a festive spin on this sad, sad line. I mean honestly, if I missed out on the chance to make Christmas cards that said "The Lannisters send their regards", I would have never forgiven myself. I did try to crowbar "The Rains of Castamere" into reindeer somehow… but I mean, Reindeers of Castamere? The Rains of Castadeer? Neither quite fit the bill, sadly.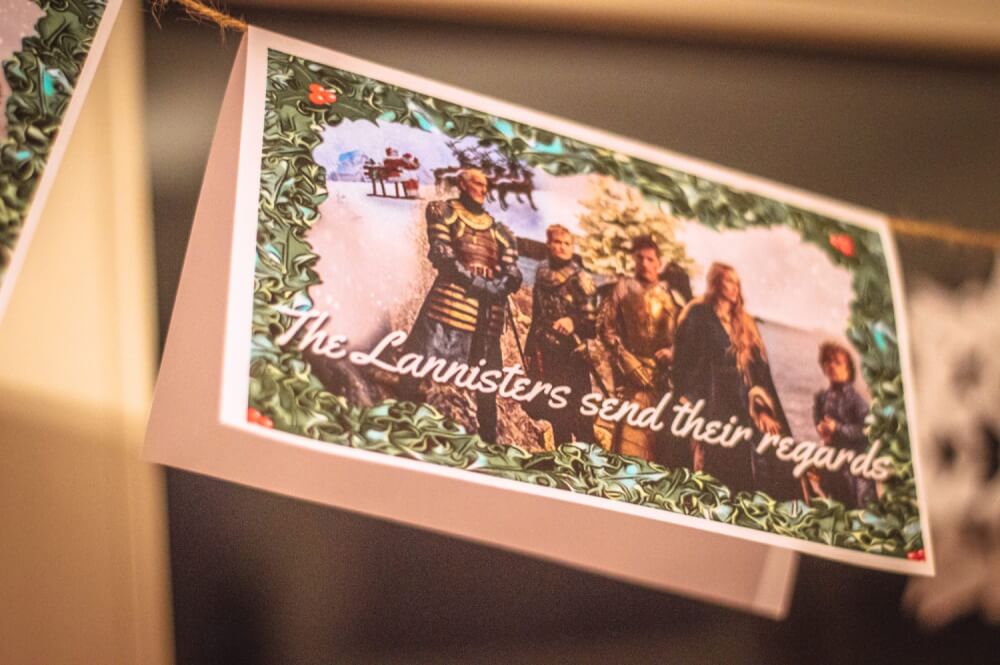 But I found an easy way for Arya's list to make an appearance… so at least there's that!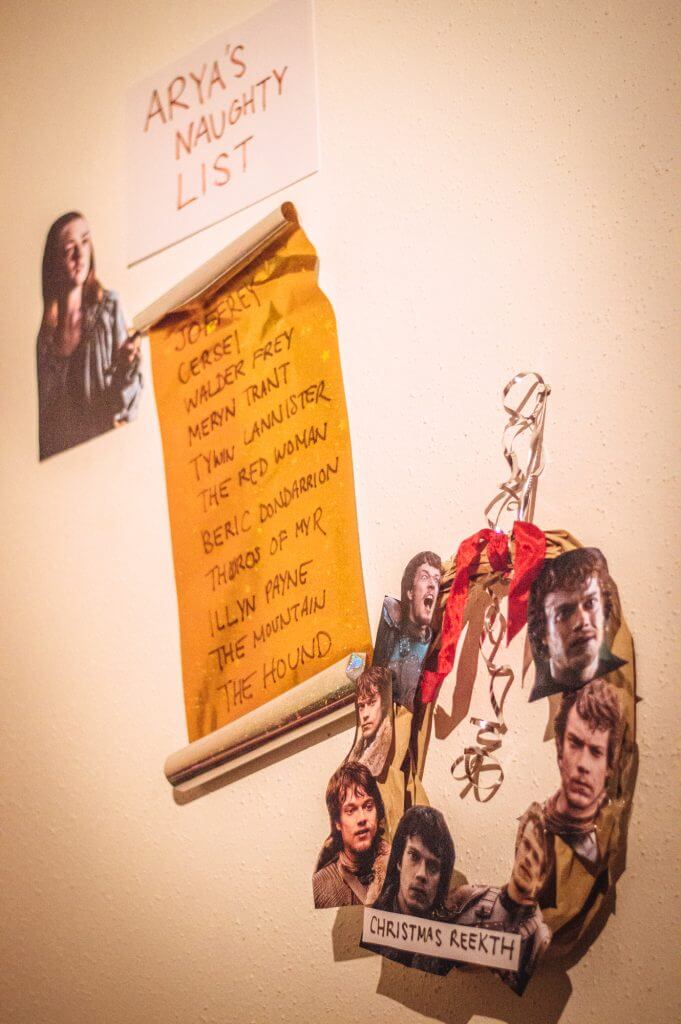 And I of course decided to give Cersei's iconic "more wine" quote a Bran new holiday makeover too.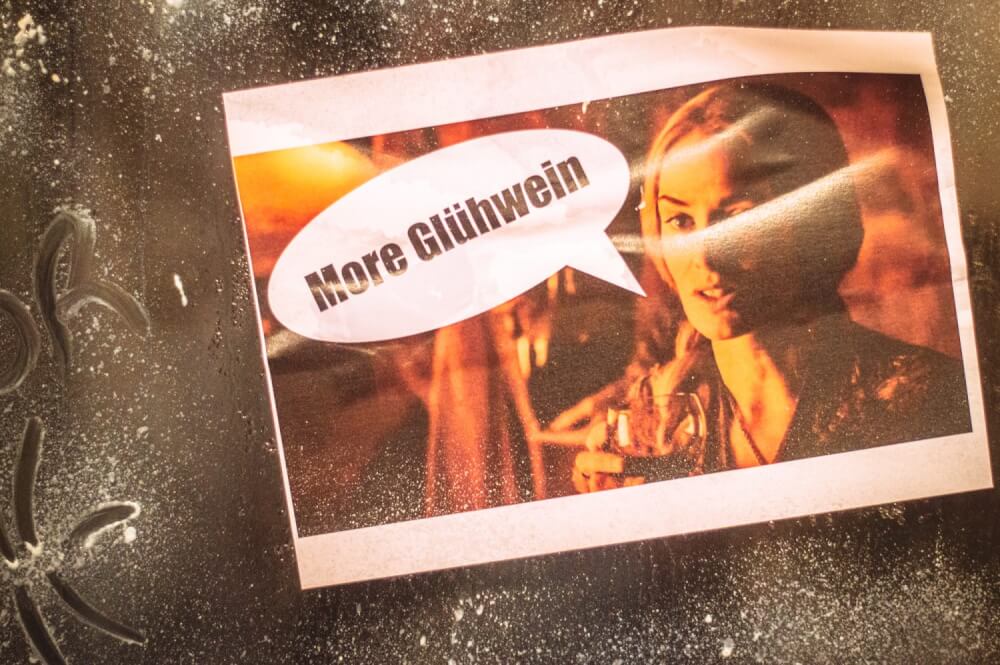 … PS did you notice that horrible Bran pun? You're not laughing? Come on, don't Robb me of my joy.
---
---
And SO, congratulations on surviving that festive cringe-fest! I hope you enjoyed that little roundup of my Game of Thrones Christmas decor! Let me know in the comments if you have any puns I missed out on 😉
Have an amazing Christmas, everyone!