*FYI - this post may contain affiliate links, which means we earn a commission at no extra cost to you if you purchase from them. Also, as an Amazon Associate I earn from qualifying purchases. Check out our Privacy Policy and Disclosure. for more info.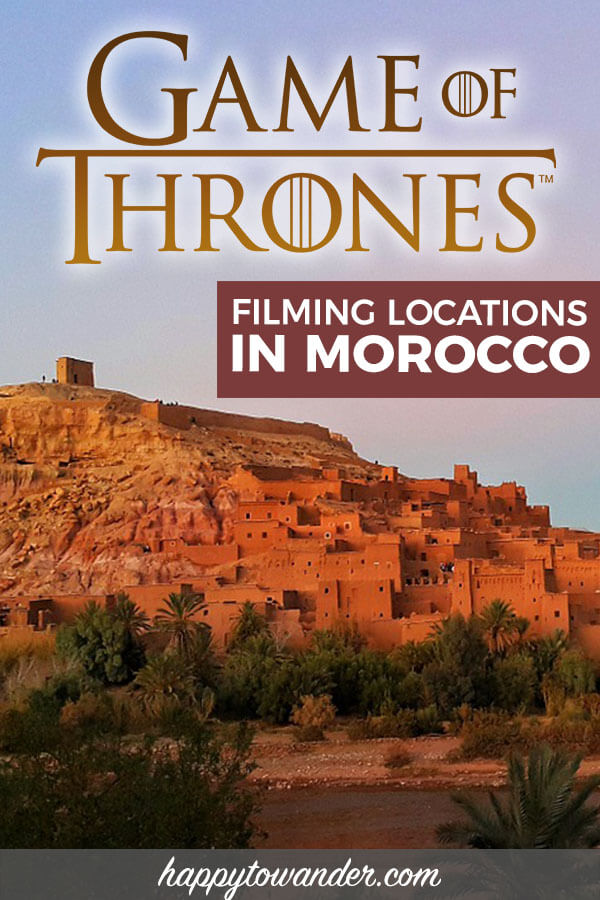 Hoping to follow in the footsteps of Game of Thrones in Morocco? This guide has you covered! From filming dates and history to locations and fun facts, this article will tell you everything you need to know about the link between Morocco and *cue theme song* Game of Thrones.
While Northern Ireland is by far the best-known filming location for fantasy-dragon-boob phenomenon Game of Thrones, today I want to take you over to Northern Africa, specifically Morocco, where some of the series' most epic scenes were actually filmed!
That's right my friends, "Christina's GoT withdrawal" continues this week with an article and overall nerdgasm about the link between Game of Thrones and Morocco (one of my favourite travel destinations). I've previously rounded up all the Game of Thrones filming locations in Malta, stalked all the best Game of Thrones stained glass windows in Belfast, and even set up a GoT Christmas Tree once…
But today, let's talk about Morocco. Season 3 was the "Morocco season" of Game of Thrones, because it was during this season that we saw Morocco act as the backdrop for many of Daenerys' most epic slave-freeing exploits around Slaver's Bay. Having been to many of these locations myself, I can easily see why they were chosen to portray the distant (and beautiful) lands of Essos.
The best part is of course that many of these filming locations can be visited in real life, and look pretty much identical to how they appear in the series.
So, if you're interested in chasing the top Game of Thrones locations around Morocco, this guide is for you. Grab your goblet of wine and let's go.
---
---
A Brief History of Game of Thrones in Morocco
I need to start with a quick history lesson because the link between Morocco and Game of Thrones actually goes further back than just season 3.
So, let me ask: have you ever heard of Game of Thrones' original lost pilot?
If not, I'm about to rock your world.
Long story short, before TV shows get picked up by networks, they need to create something called a "pilot", which is basically a standalone 1st episode that is used to prove to TV networks that the show is worth producing. Well, did you know that Game of Thrones was almost never picked up for TV because the original pilot was so truly terrible, it was once described simply as a "MASSIVE PROBLEM"?
Luckily for us, it was re-shot, re-written, picked up by HBO, and the rest is of course, history.
What many people don't know though is that many pieces of this "lost pilot" were filmed in Morocco!
So that's really where the story of Game of Thrones/Morocco begins.
Unfortunately, when it came time to do re-shoots, all the pilot's Morocco scenes were moved to Malta, so Morocco didn't really feature in Game of Thrones until Season 3. At this point though, we got to see many Moroccan locations stand in for the distant cities in Essos around Slaver's Bay, including Astapor and Yunkai. According to this casting call for extras, filming for the third season around Morocco took place in Fall 2012.
But anyways, where exactly did Game of Thrones film in Morocco during these pilot episodes? Well, according to this entry from George R.R. Martin's Livejournal (yes, seriously, he kept a Livejournal!!), parts of the Kingdom of Heaven set at Atlas Studios were redressed and repainted to become the mansion of Illyrio Mopatis, AKA where Daenerys and Khal Drogo meet for the first time. You can click here for some fun photos of George R.R Martin being a total tourist on set.
And, thanks to GRRM's detailed blogs, we also know that Morocco is where they filmed the wedding between Daenerys and Khal Drogo for the pilot. Again though, these scenes were scrapped since they recasted Daenerys, and so the new location of the wedding became Malta (specifically near the now-collapsed Azure Window) instead.
Anyways, enough with the backstory… let's do the actual locations!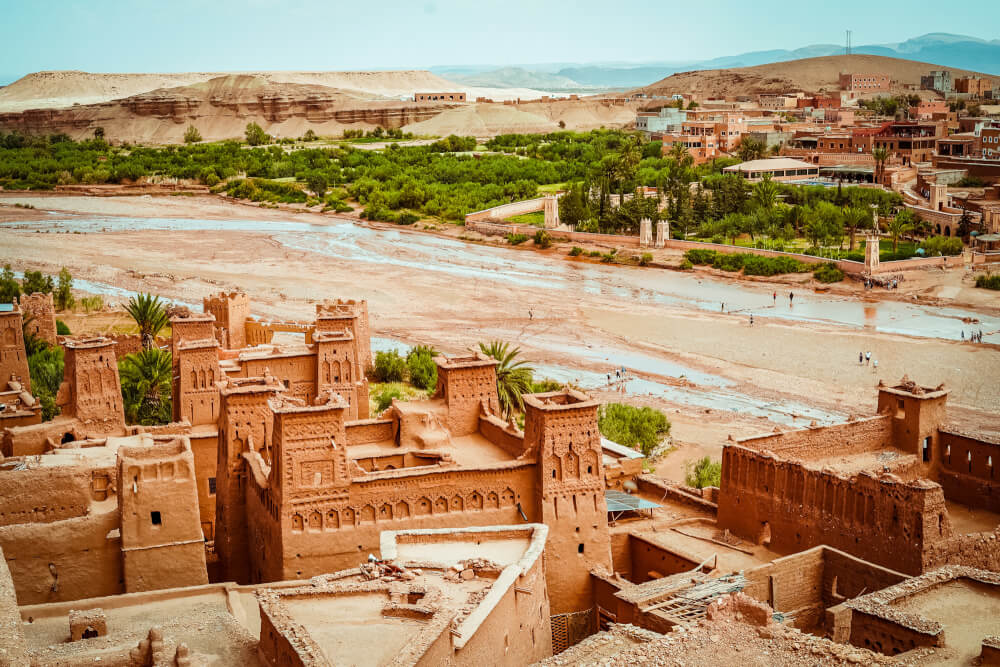 ---
---
All of the Game of Thrones Filming Locations in Morocco
From Astapor to Yunkai, if you're planning your own little Game of Thrones tour around Morocco, here are the locations you need to add to your itinerary!
Essaouira
The beautiful coastal city of Essaouira stood in for Astapor during Season 3.
The most frequently-seen parts of Essaouira in Game of Thrones are definitely the different city walls and fortifications. This exact spot on Google Maps along the Skala de la Ville for example will bring you through the arch that Daenerys walks through when she first enters Astapor and sees the Unsullied (and Missandei!) for the first time. Other key Astapor scenes also film around these city walls and the little side streets nearby, and I'm sure you'll get some instant Astapor vibes as soon as you start walking around.
What other parts of Essaouira can be seen in Game of Thrones?
Well, the little harbour pictured below can be seen in Season 3 Episode 1, when Daenerys and Jorah are walking through Astapor and Daenerys almost gets assassinated by that creepy little Warlock girl before they meet Barristan Selmy.
PS: For some fun behind the scenes Game of Thrones action, you can click here to see some fun photos taken during filming by an Essaouira local.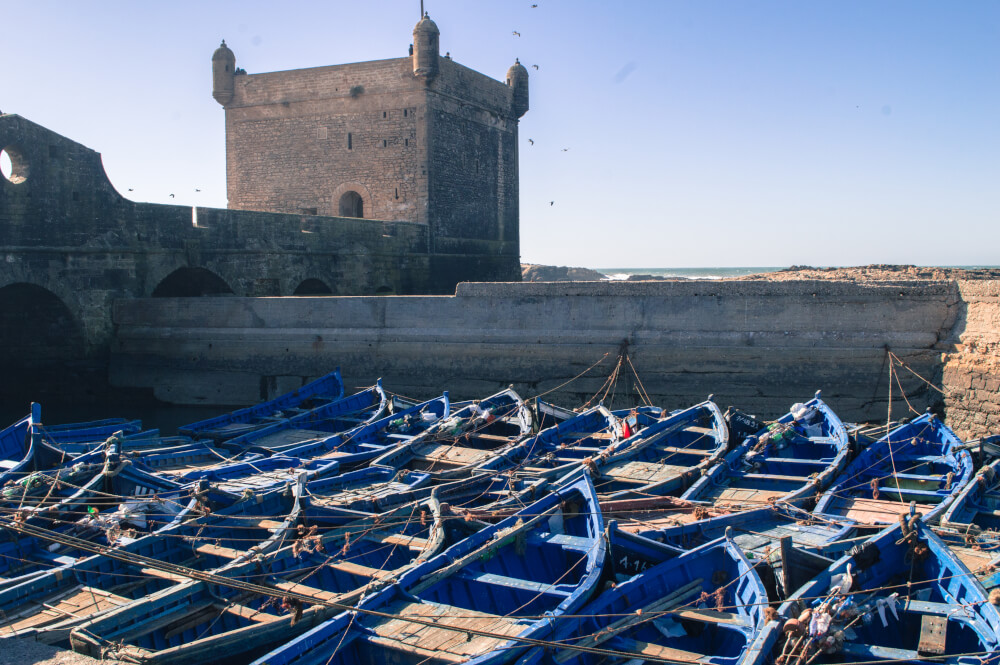 ---
---
Atlas Studios in Ouarzazate
The Atlas Studios are a massive sprawling collection of film sets scattered around the desert, located just a few kilometers away from Ouarzazate. A lot of notable productions have filmed here over the years, including the Mummy, Gladiator and Kingdom of Heaven. Of course, many sets remain even after filming is wrapped, and are simply redressed and repurposed for new productions. Game of Thrones is one such production.
The most iconic Game of Thrones scene to film here is the one in Season 3, Episode 4, when Daenerys unleashes the fury of her dragons for the first time and basically frees Astapor, slashing a bunch of slave owners in the process. Very, very badass.
---
---
Tazentoute
While not frequently recognized as a Game of Thrones filming location, according to this entry from the official HBO Making of Game of Thrones blog, just outside of Tazentoute is where they filmed the scenes from Season 3 when we see Daenerys in her swishy tent negotiating the terms of surrender for Yunkai.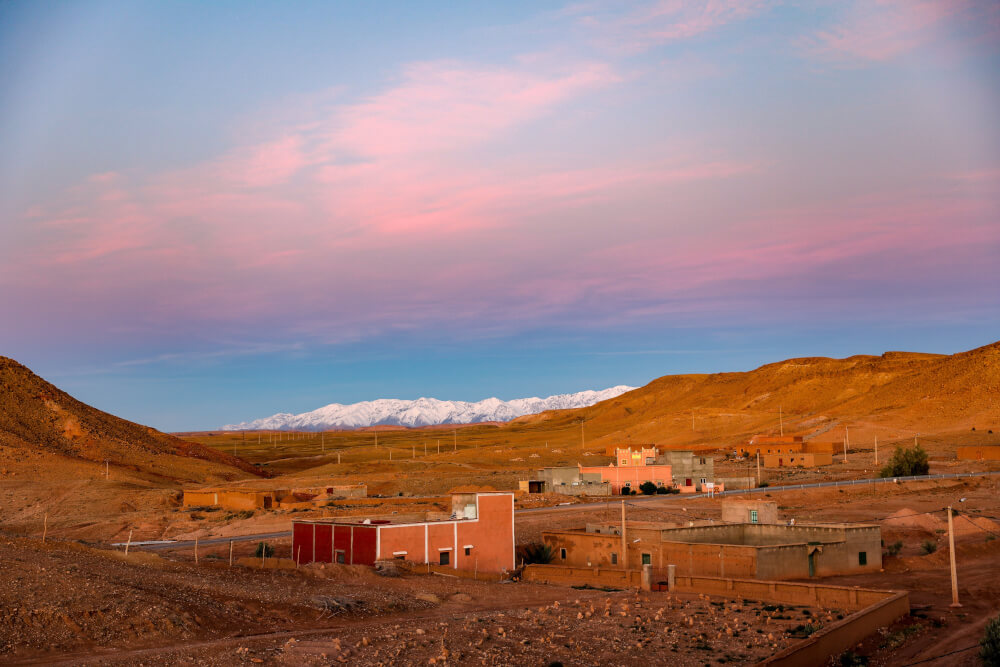 ---
---
Ait Benhaddou
Last but not least, we have the beautiful fortified clay village of Ait Benhaddou, which stands in for Yunkai in Season 3.
There were quite a few instances when we saw the iconic streets and facades of Ait Benhaddou in Game of Thrones: namely during the Battle of Yunkai when Daario, Greyorm and Jorah take the city for Daenerys, some Yunkai camp scenes, and of course, how can we forget: Daenerys' epic "MHYYYSA MHYYYSA" post-slavery crowd surfing moment at the very end of Season 3, Episode 10.
NOTE: The gates that the slaves emerge from was constructed for the scene though and don't exist in real life.
You can see a fun set photo in this post here.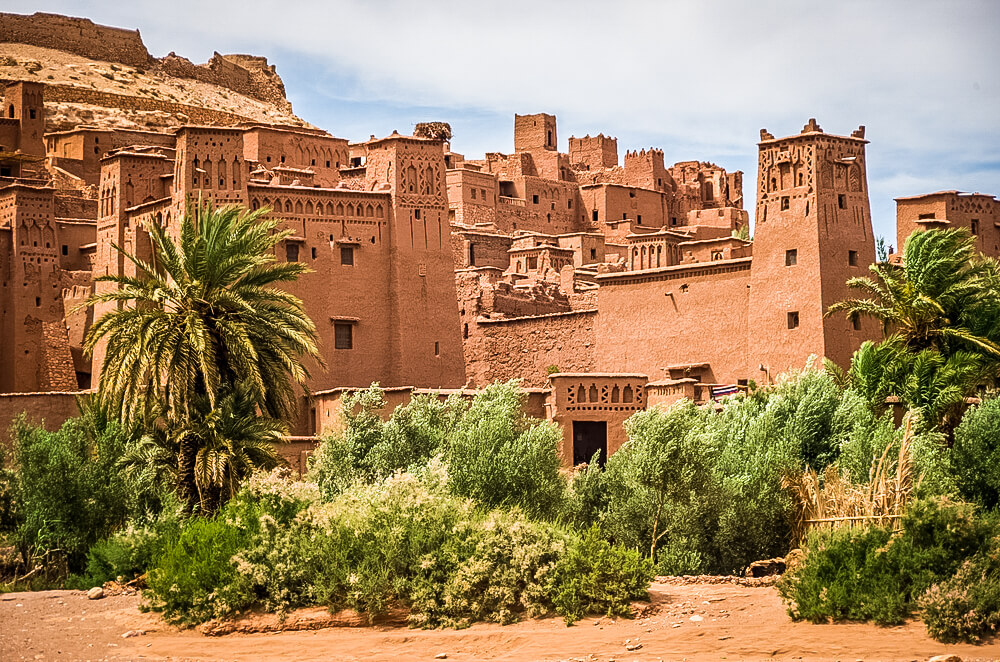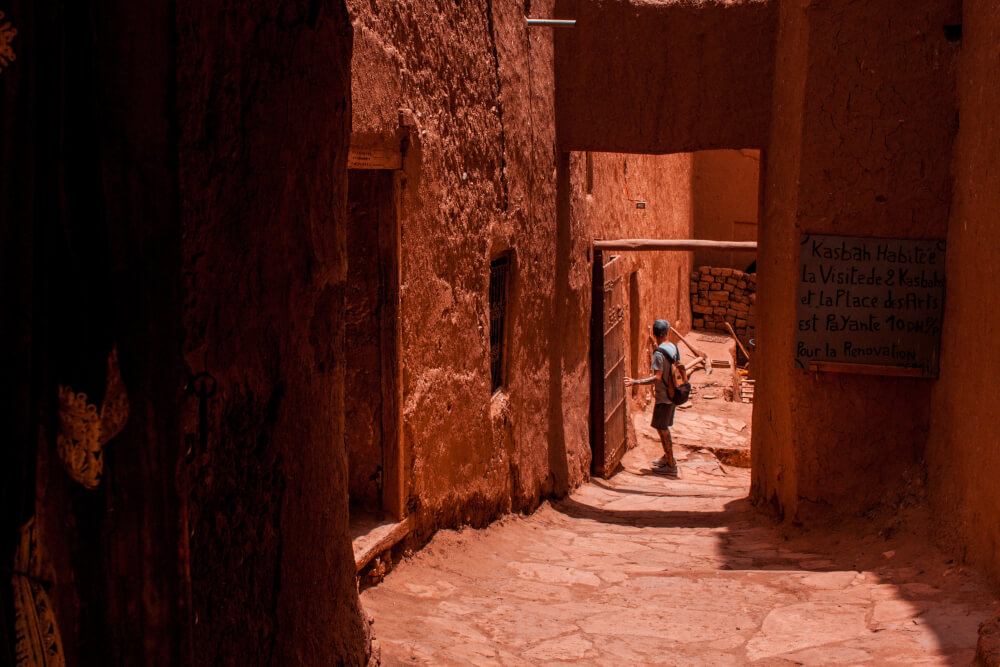 ---
---
Noteworthy Game of Thrones Scenes That Were Filmed in Morocco
Alright, so, now that you have the locations, why don't we take a walk down memory lane and revisit some of the most iconic Game of Thrones scenes that shot around Morocco? I'm sure these little clips will help jog your memory…
Daenerys arrives in Astapor and meets the Unsullied for the first time
Season 3, Episode 1 "Valar Dohaeris"
As I'm sure you know by now, Essaouira is the real-life stand in for Astapor. During the start of the third season, we see Daenerys arrive in Astapor, where she takes a walk along the city walls before seeing the Unsullied and Missandei for the first time. This area she walks through are the ramparts of Essaouira, specifically around the Skala de Ville.
---
---
Creepy warlock girl attempts to kill Daenerys
Season 3, Episode 1 "Valar Dohaeris"
I still remember this scene freaking me out so much the first time I saw it. Anyways, the Essaouira harbour is very visible in this scene where we see that very scary little warlock try to kill Daenerys, before Barristan Selmy of course steps in and saves the day.
Daenerys strolls down the Walk of Punishment and decides to trade a dragon for the Unsullied
Season 3, Episode 3 "Walk of Punishment"
The Walk of Punishment is (in real life) the ramparts of Essaouira. I love that it's here that Dany devises her genius and badass plan to trade a dragon for the Unsullied, or pretend to anyway…. ; )
---
---
Daenerys frees the slaves of Astapor and scorches Kraznys, AKA Jerkface McJerkface
Season 3, Episode 4 "And Now His Watch is Ended"
Admit it, this is one of the most satisfying moments in the entire series. I mean… Dracarys! Ahhhh. Well, an epic scene needs an equally epic setting, so it makes sense that this scene was shot on the Jerusalem set from Kingdom of Heaven at Atlas Studios.
---
---
Daenerys arrives at Yunkai and begins negotiations
Season 3, Episode 7 "The Bear and the Maiden Fair"
The scenes of Daenerys arriving at Yunkai, then meeting the not-so-nice Yunkai representative for negotiations are the ones that supposedly filmed just outside of Tazentoute.
---
---
Daenerys meets the Second Sons
Season 3, Episode 7 "Second Sons"
Just outside of Ait Benhaddou is where the first meeting between Daenerys and the Second Sons takes place… also where we meet Daario for the first time!
---
---
Jorah and Daario infilitrate Yunkai and take the city
Season 3, Episode 9 "The Rains of Castamere"
Again, Ait Benhaddou is used as the backdrop of this bloody but successful battle, which results in Daenerys taking over Yunkai (and eventually freeing all the slaves).
---
---
The slaves of Yunkai are freed and Daenerys has her big Mhysa moment
Season 3, Episode 10 "Mhysa"
Alternate title: "Daenerys goes crowdsurfing".
Just kidding – this is by far one of the most powerful moments of Season 3, and was filmed just outside Ait Benhaddou, although the gates through which the slaves emerge was specially constructed for filming.
---
---
Fun Facts About Filming Game of Thrones in Morocco
Alright, last but not least, I want to share some of my favourite random fun facts I uncovered about Game of Thrones filming in Morocco. After wasting endless hours sleuthing through the internet, reading old production diaries/blog posts, I've got quite a few. Enjoy!
George R.R. Martin once filmed a Game of Thrones cameo in Morocco that got cut
So back to this whole 'lost Game of Thrones' pilot episode thing, according to Syfy, George R.R. Martin actually appeared in that! He played the role of a Pentoshi nobleman and was a wedding guest of Khal Drogo and Daenerys'. Sadly, since they ended up recasting Daenerys and refilming the wedding in Malta, George's cameo never got any airtime.
---
---
The original pilot's wrap party was held at the Ouarzazate Cinema Museum, complete with belly dancers
As recapped in this blog post, George R.R. Martin had the time of his life at the wrap party for the original pilot, which took place at the Ouarzazate Cinema Museum, then the swanky luxury hotel Berbère Palace when they were kicked out by the museum. You can click here to see some fun photos of the party, including Jason Momoa (AKA Khal Drogo) double fisting beers.
---
---
They needed to make multiple copies of Daenerys' dresses because of the hot Moroccan sun
Ah, Dany's iconic blue dress she is seen wearing during Season 3. According to the official HBO Making of Game of Thrones blog here, the costume department actually had to make multiple copies of that dress because the sun kept fading the intense blue. I actually got to see this dress in real life during the Game of Thrones Touring Exhibition, and can confirm it's pretty glamorous in real life too.
---
---
The shoot in Essaouira involved 200 crew and 300 extras
According to this behind the scenes video, filming in Essaouira took place predominantly around the Essaouira fort and had hundreds of hands on deck, including 300 extras!
PS: You should definitely check out the video if you get a chance, you get to see the Unsullied rehearsing in their street clothes.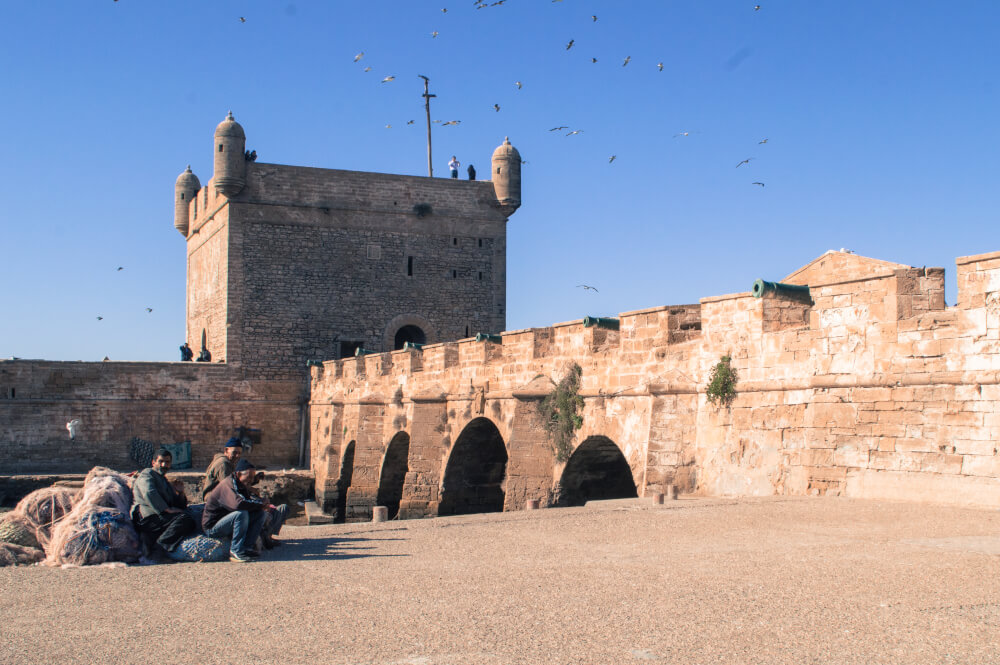 ---
---
Filming took place at the largest film studio in the world
As previously mentioned, the Game of Thrones crew made use of several sets at the Atlas Film Studios near Ouarzazate during filming in season three, but did you know these studios are actually recognized as the largest in the world? Pretty crazy!
---
---
Casting for extras was surprisingly chill?
And last but not least, I want to leave you with this extremely relaxed casting call for extras in Essaouira. Can you imagine walking around town and just seeing "oh, wow, a chance to be on Game of Thrones!"
I would not have kept my cool.
Filming for 'Game of Thrones' in Essaouira, Morocco. pic.twitter.com/1b0yuEqP

— Riad Remmy,Essaouira (@RiadRemmy) September 8, 2012
---
---
Any more questions about Game of Thrones in Morocco?
I hope you enjoyed that detailed guide to Game of Thrones filming locations in Morocco! Have an amazing trip, and let me know in the comments if you have any more questions!
---
---
---
Watch my most popular YouTube video this week:
---