*FYI - this post may contain affiliate links, which means we earn a commission at no extra cost to you if you purchase from them. Also, as an Amazon Associate I earn from qualifying purchases. Check out our Privacy Policy and Disclosure. for more info.
I recently returned from an epic week-long trip stalking all things Game of Thrones in Northern Ireland, and the experience has left me a bit of a mess.
As I sit here cuddling my mini-direwolf (fetched from Castle Ward, AKA Winterfell itself), I keep staring at my watery mug of coffee, wondering why it's not instead a goblet of mead.
But alas, life goes on, and while the withdrawal is real, I'll be channelling my angst into something productive: sharing with you ALL the wonderful Game of Thrones experiences you can enjoy in Northern Ireland.
Save this post on Pinterest for later: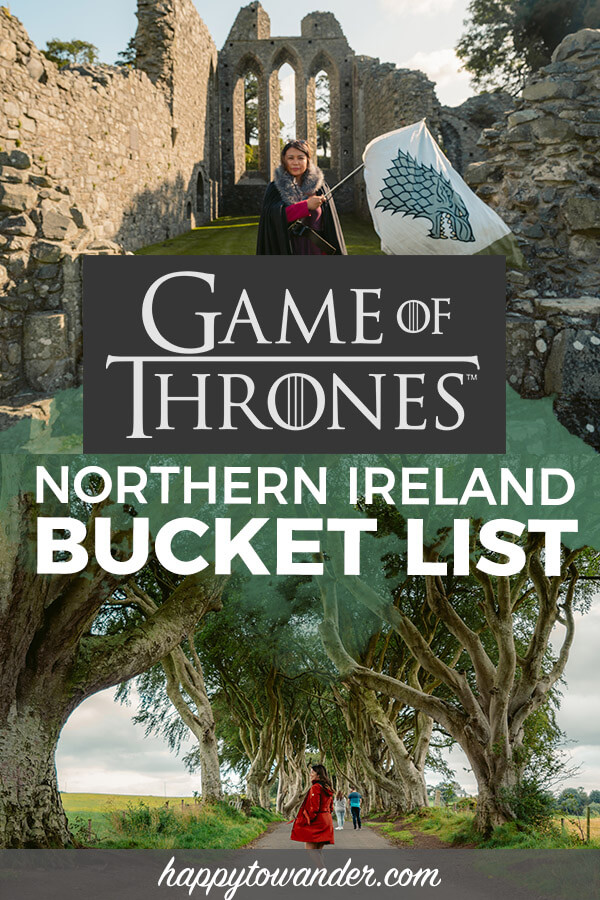 This is the truth: if you are a huge Game of Thrones fan, visiting Northern Ireland will have you drooling, sobbing and wetting your pants with delight, and if you play your cards right, perhaps all three at the same time.
Having galloped and frolicked my way across the country in search of the best Game of Thrones experiences (click here to see my experience on IG Stories!), I'm going to share them with you now below. Brace yourselves – this post is dark and full of spoilers… Unhinged fanaticism is coming!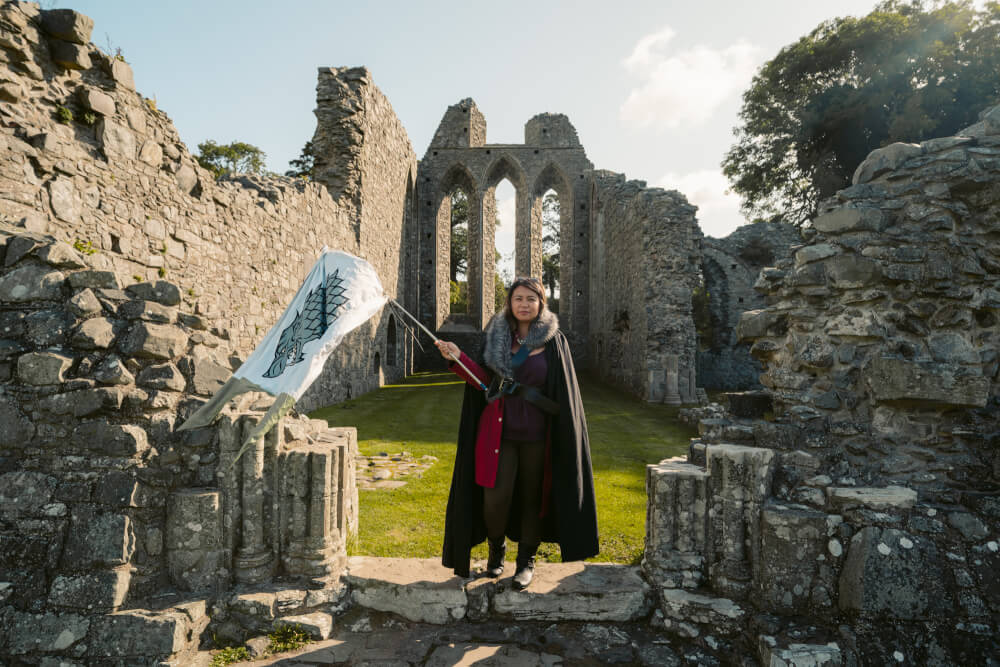 Must-Do Game of Thrones Experiences in Northern Ireland
Let's start with THE ultimate GoT bucket list items. Here are my top Thrones-inspired experiences in Northern Ireland.
1. Meet the freakin' real life direwolves
Putting this as #1 because cute floofs are involved. Fight me.
By far, my favourite Game of Thrones activity throughout my trip was this filming locations tour I booked from Belfast with GoT Direwolves.
It was a small tour (maybe 15 of us total), so it was way more intimate and less "herd-like" than the giant bus tours we kept awkwardly running into at every stop.
Not only was our guide Molly an actual extra who worked on the GoT set (a lady of the court in the Red Keep, a white walker during the Night King's death scene, and terrified maiden of the zombie crypt), the tours are literally run by a family of Direwolf's humans.
Yup, Summer and Greywind's humans run this tour, and if that's not enough for you, then clearly you are not a hardcore enough fan to handle this post.
The cherry on top? In addition to visiting several prominent filming locations, you get to meet Summer and Greywind (AKA Thor and Odin in real life), as well as their incredible family.
I don't want to give too much of the magic away, but this could be the most Thronesy family…. ever?
All of them have have acted as extras on the show, two of them have gone on to production roles in camerawork and casting, and they literally carved that boat that Jon hops on in Hardhome.
To learn more, you'll have to book the tour yourself, but trust me when I say it is 100% worth every penny. Click here to check reviews and availability.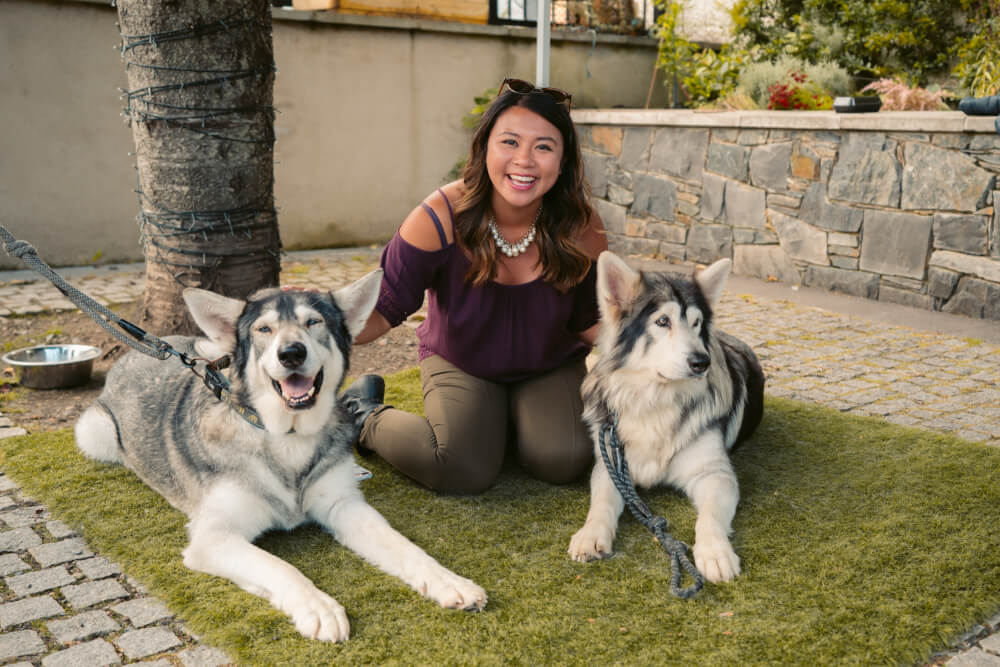 2. Grab a Game of Thrones door passport and DIY your own Northern Ireland pub crawl
There's no shortage of cozy pubs to enjoy in Northern Ireland, but luckily for you, there are ten special ones scattered across the country with a wonderful surprise for Game of Thrones fans: gorgeously carved doors that each represent an episode of season 6.
A little backstory: back in 2016, Storm Gertrude blew down a few trees in the famous Dark Hedges (known to fans as the Game of Thrones Kingsroad).
With the wood from these trees, they created ten gorgeous doors that now belong to ten different pubs near GoT filming locations across Northern Ireland. *wipes away tear* Kinda beautiful right?
For extra dork points, you can even pick up a Game of Thrones door passport that you get stamped at each location.
To view all the locations easily on the go, you can download the official Game of Thrones locations app!
I only got to visit a few of the doors, but what I found as well was that each place fully embraced the GoT theme, which is how I ended up sipping Guinness on the Iron Throne.
Hold the (beautifully and ornately carved) door!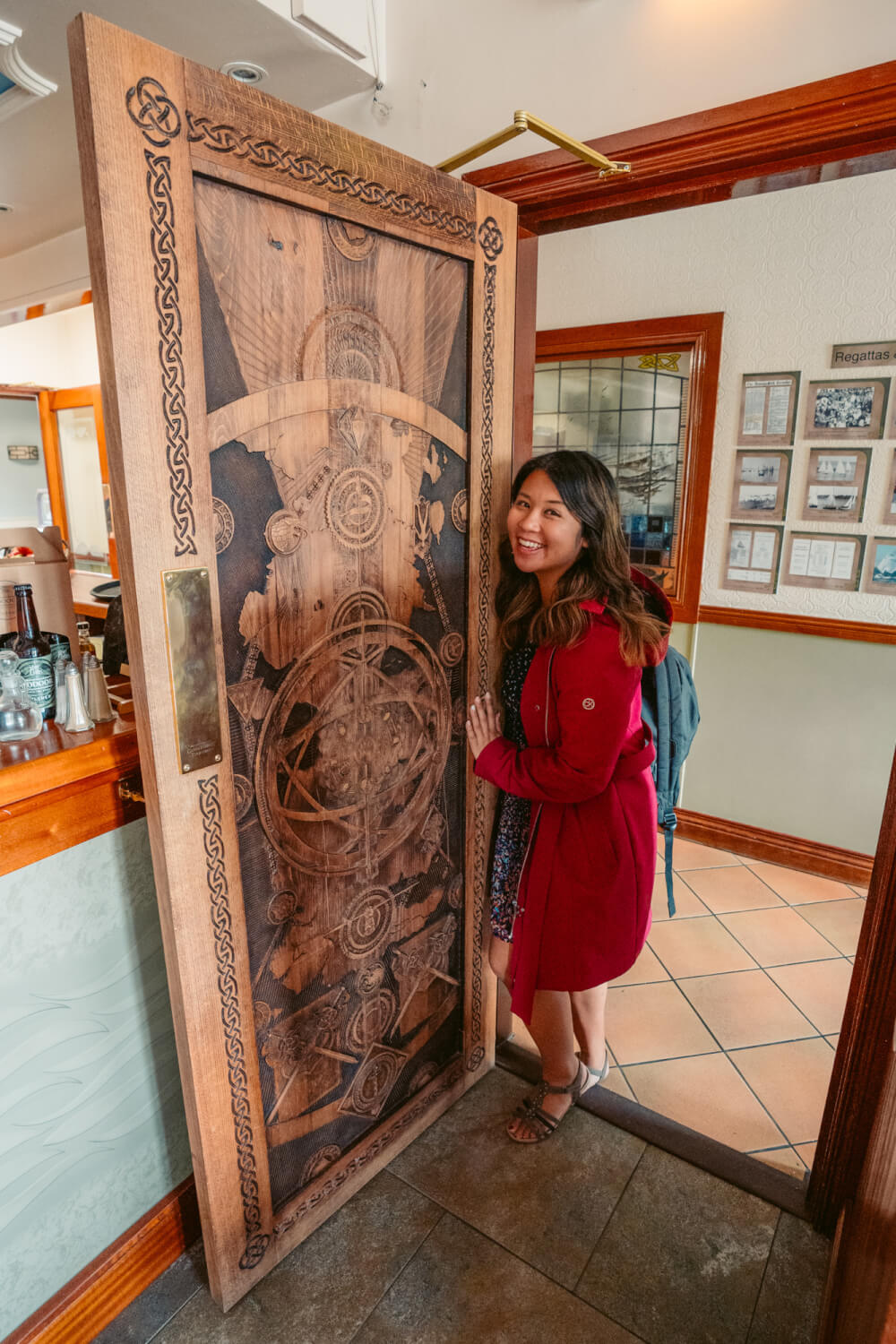 3. Sleep and dine like a real Stark, with a Winterfell Banquet and Breakfast
Speaking of doors, the 1st door on the Game of Thrones door trail is the Cuan, AKA the #1 place to stay the night if you're a real Game of Thrones fan.
By far, one of my favourite Game of Thrones experiences in Northern Ireland was spending the night at the Cuan, where we booked a Winterfell Banquet and Breakfast package.
This included an overnight stay at the inn, a big GoT-inspired banquet dinner, and a Winterfell breakfast the next morning.
All meals naturally came with cloaks and on-table swords, along with menus crafted from actual excerpts of the books!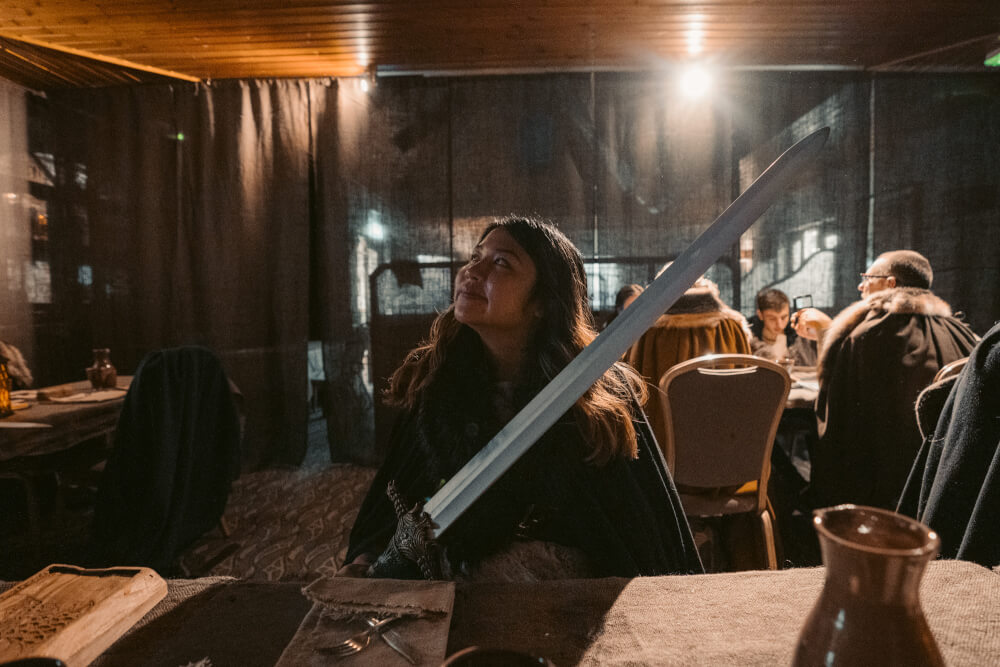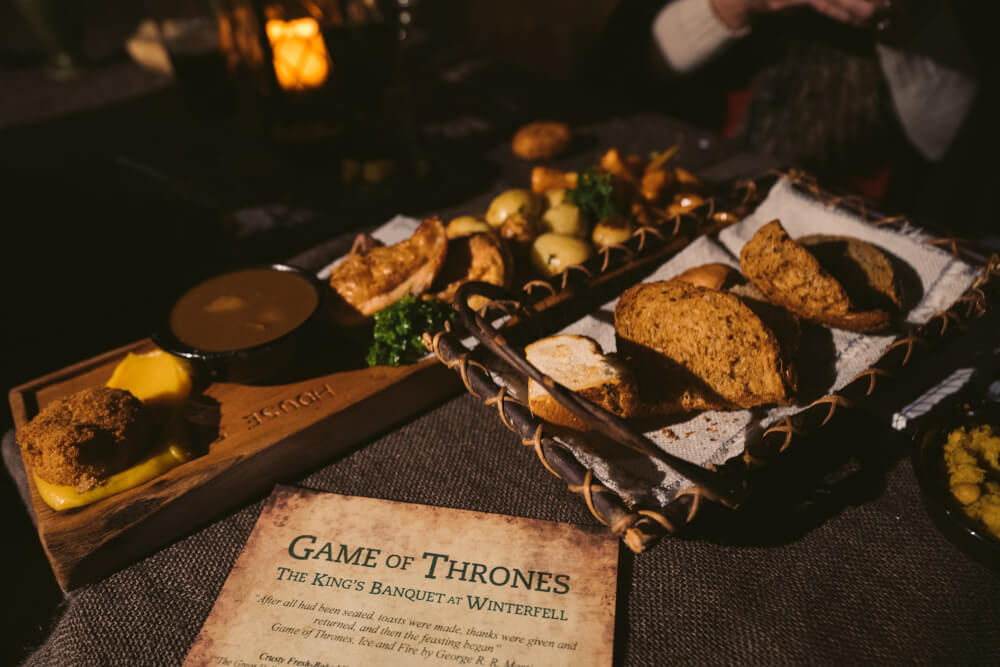 For bonus creep points, the rooms you stay in are actually rooms that the cast have stayed in!
In Season 1, the Cuan is where most the principle actors stayed while filming at nearby Castle Ward, so if you want to fulfill that lifelong dream of being in Kit Harrington's bed, this is probably the closest you'll get.
We ended up in Catelyn Stark's room!
Oh oh oh, and the best part? The staff couldn't have been nicer.
Instead of a "ugh, another throng of Thronies" attitude, they told us everything about their inn's connection to Game of Thrones with adorable enthusiasm.
I'd highly recommend the Cuan not just for the clear explosion of Game of Thrones hysteria, but for a healthy smattering of warm Irish hospitality. Click here to check reviews and availability.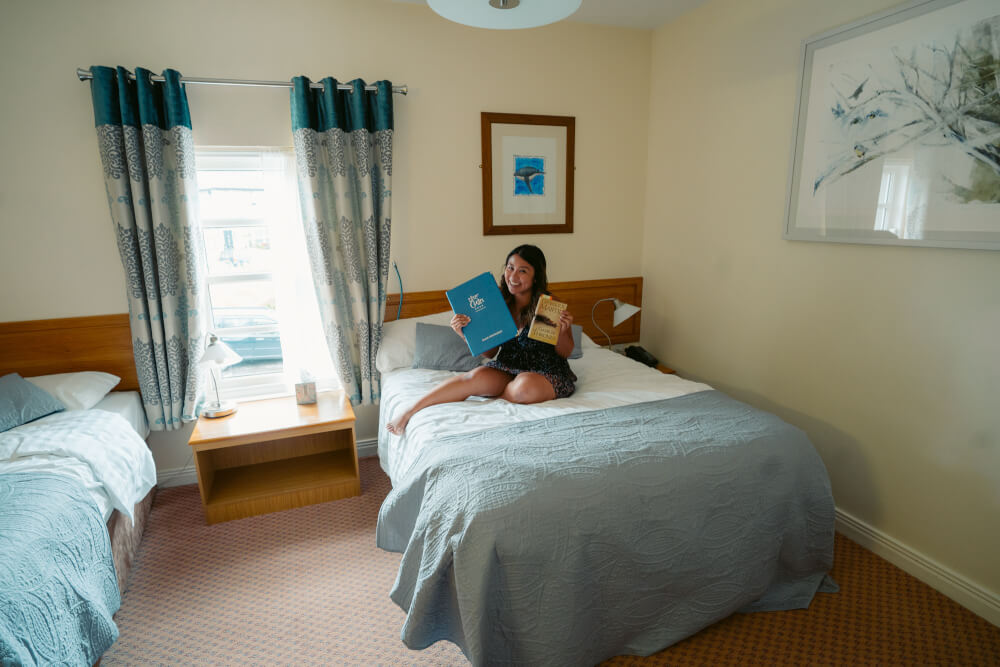 4. DIY your own Game of Thrones city break in Belfast
Belfast was used extensively for filming Game of Thrones, but sadly all the Belfast scenes were shot in-studio, rather than out on the streets.
If you've ever been to Belfast, you'll know this is likely for the best, as we can't have a random Tim Horton's wrecking the ambiance of Westeros, now can we?
But while you'll have trouble finding actual Game of Thrones filming locations in Belfast, there are still plenty of things to do in this very cool city for fans.
From an epic trail of GoT-themed stained glass windows and one of the aforementioned wooden doors, to real-life hang out spots of the cast, including the cafe from Dany's infamous Season 8 coffee cup, Belfast is a must-do for any Game of Thrones fan.
If you get the timing right, you may even be able to catch the GoT Exhibition when it's in town.
Want more? Read my full guide on all the Game of Thronesiest things to do in Belfast.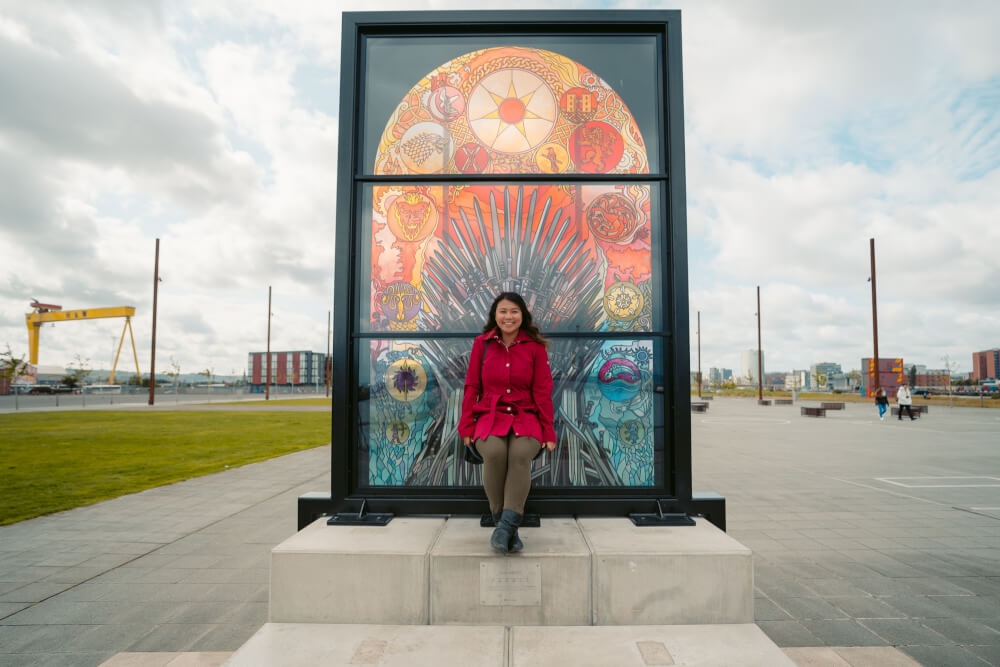 5. Visit epic Game of Thrones filming locations in real life
I think I speak for many fans around the world when I say that I had no idea how stunning Northern Ireland was until Game of Thrones.
While a lot of the series shot in-studio, much of it made use of real life landscapes as well, with now 26 different locations that are open to the public.
Having rewatched the entire series prior to my trip, with meticulous note-taking and an eagle eye for locations, I made it my mission to see as many filming spots as possible during my Northern Ireland trip!
The truth is, some locations are well worth your time, while others are a little "ehhh" and wouldn't really be that fun to see on your own.
For some of these spots, I really recommend booking a Game of Thrones locations tour like this one I did so that you get behind the scenes info and fun facts to supplement the visit.
All that said, I'm going to quickly recommend some tours before launching into a lengthy tirade about which Game of Thrones filming locations are worth visiting, and which ones aren't.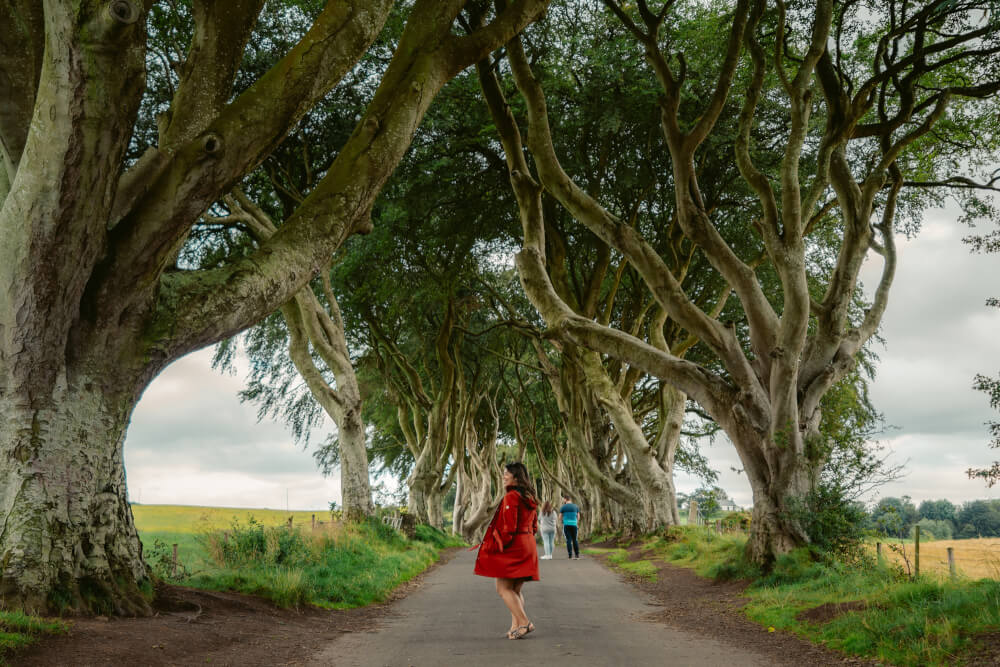 Game of Thrones Tours I Recommend
Game of Thrones tours in Northern Ireland these days are a dime a dozen, which is understandable considering what a huge impact the show has had on the region's tourism figures.
If you're having a tough time deciding which Game of Thrones tours to book, I'll quickly chime in with my personal recommendation and advice.
As I mentioned above, I booked my tour with GOT Direwolves, and loved it!
These tours are run by the direwolf dog actors' family, all of which have worked on the show as extras and in camerawork/casting.
All the guides have also worked as extras, so they have tons of fun behind the scenes stories to tell, AND of course, I must mention, their tour groups are much smaller (like 1/3 the size) of the giant coach tours, which makes the experience feel much more intimate and less herd-like.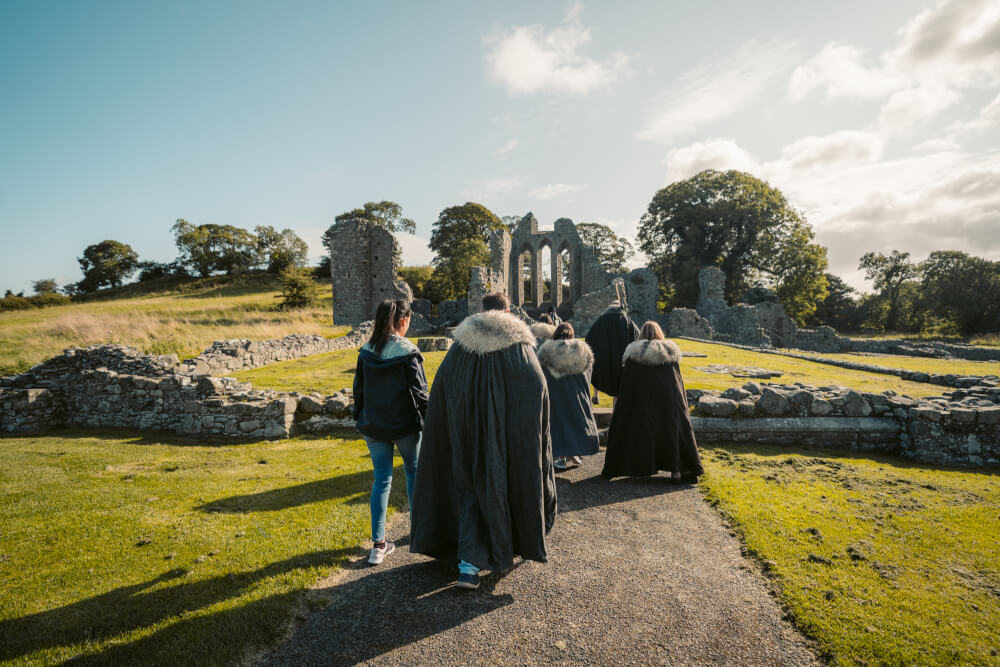 They have two itineraries leaving from Belfast, the Direwolf Tour (which I did) and the Dragon Tour, which hits up spots along the Northern Coast.
I can totally vouch for the quality of this company, so if I were to pick one Game of Thrones tour to do, it would be one of theirs.
Honestly, if you want a cool Game of Thrones experience, booking a tour makes a lot more sense than just visiting the individual locations yourselves.
I did this for a few spots, and without a guide explaining the behind the scenes and showcasing the movie magic, many spots were quite lackluster.
Going with a good tour guide makes all the difference, and takes your experience from "ok I am walking alone in a forest" to "OMG this is where the Starks found the direwolves in Season 1!!!"
… That's my opinion anyway!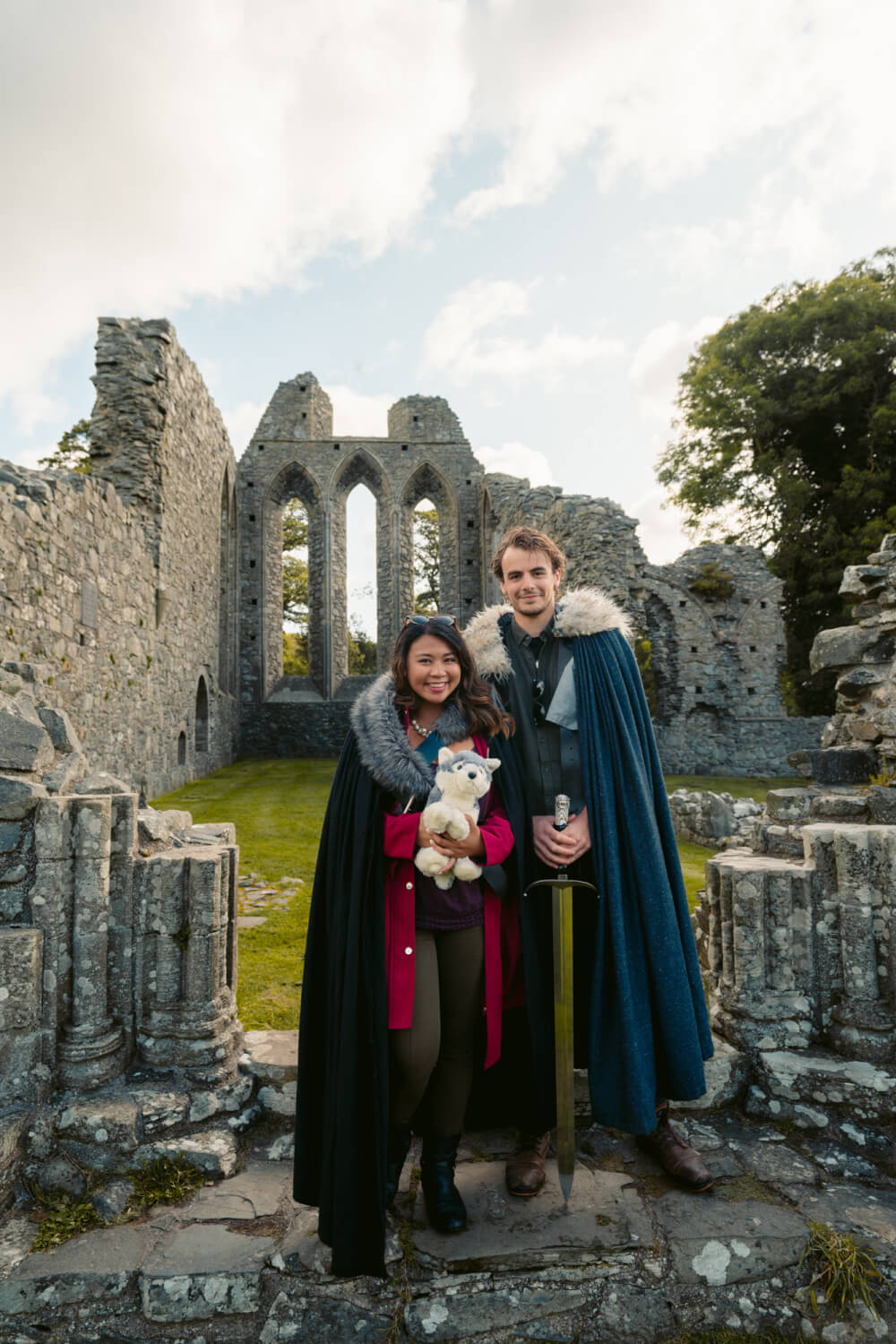 And while I didn't do any other Game of Thrones tours while in Northern Ireland, I did cross paths with several throughout my trip since we all visit the same locations.
I would strongly advise against booking the giant coach tours that bring 60 people around at the same time.
For me at least, getting to chat with our guide was one of the highlights, and individual attention is virtually impossible in giant groups like that.
I also noticed this one group that was made to wear their Stark cloaks the ENTIRE TIME, and by the end of the day, they were sweating and dying, which was sort of funny in a schadenfreude kinda way.
Long story short: I'd highly recommend the GOT Direwolves tour if you're planning to visit different Game of Thrones locations in Northern Ireland. Click here to check reviews and availability.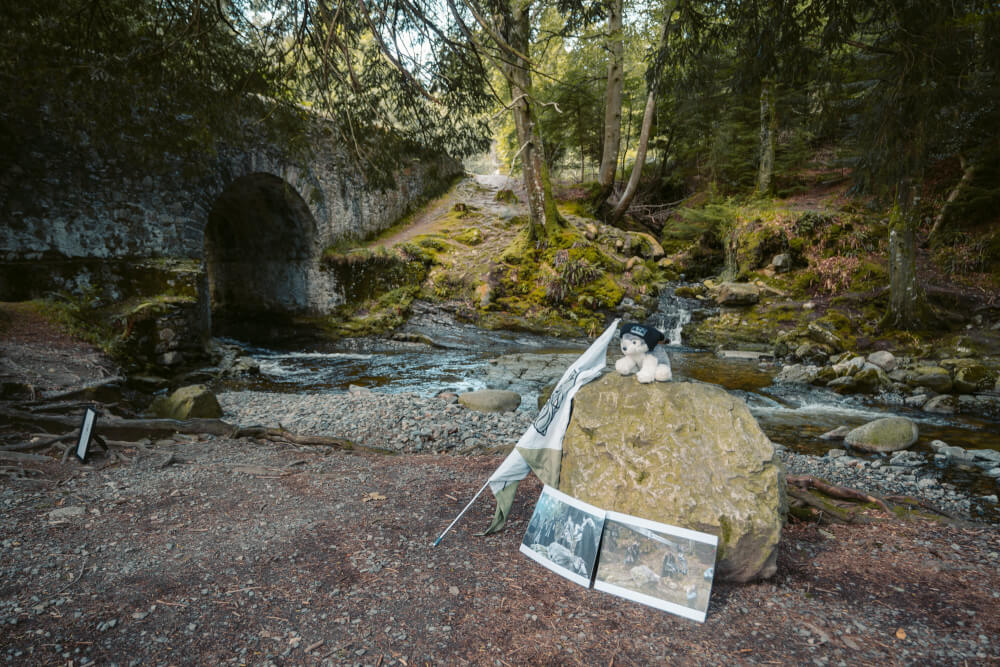 Where is there to go, you ask? Well naturally I have a list…
Top 10 Game of Thrones Locations in Northern Ireland (That You Can Visit!)
Throughout a decade of filming, you can expect that the crew stopped by many, many filming locations over the years across Northern Ireland. Needless to say, some are more worth visiting than others, and many are not even open to the public.
So, I'm going to start with the bests Game of Thrones locations that I personally visited and can vouch for. I'll also list below other publicly accessible locations, and for the ultra-nosy filming spots that are private but nonetheless interesting.
NOTE: These are ranked for me in order of "coolness". You can see below for a full map of GoT locations in Northern Ireland so you're better able to plan your visit!
1. The Dark Hedges
There is no image more quintessentially "Game of Thrones" than the famous Dark Hedges, a pretty impressive feat considering their appearance in the series was so brief!
Nonetheless, the Dark Hedges (AKA the Game of Thrones Kingsroad) is a beautiful spot well worth visiting, and a kind of surreal experience for any Thronie.
Yes, this tree tunnel really is as magical as all the photos look… if you're able to dodge the crowds that is.
Of all the Game of Thrones locations I visited in Northern Ireland, this was the busiest, so try to time your visit early in the morning or later in the day to avoid bus tours.
That said, patience is key!
We arrived in the middle of the afternoon, and while there were loads of people around, eventually there was a small gap in bus tours (who only stop for about 20 minutes) and we got to enjoy it for a bit with some peace and quiet.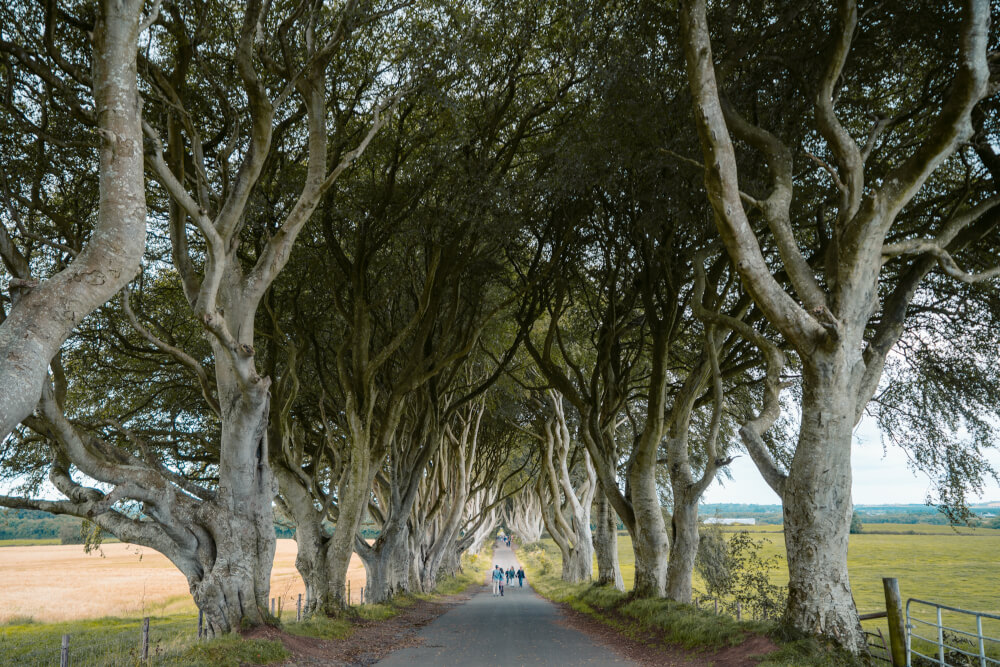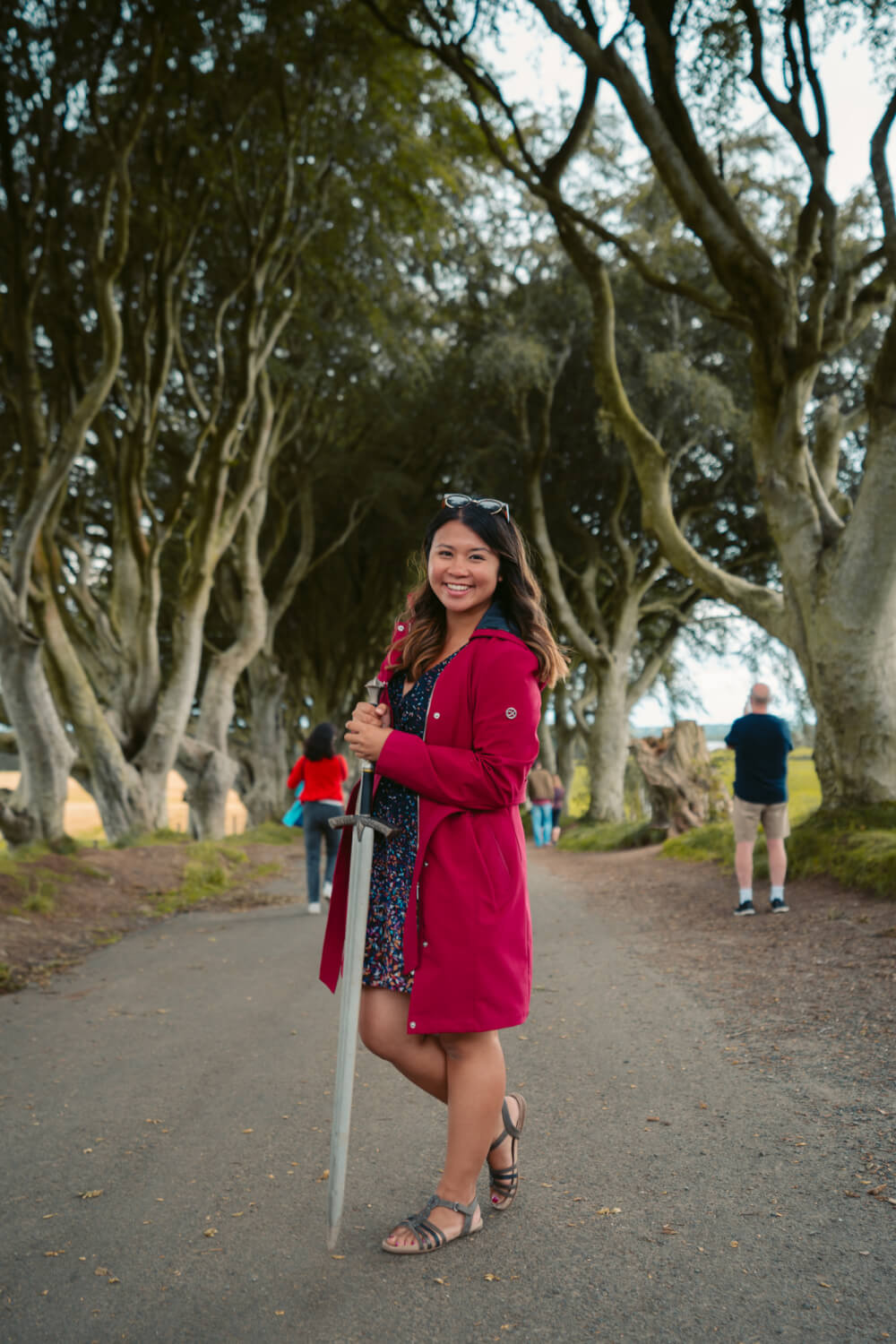 If your memory needs refreshing, this is the Kingsroad that we see at the very end of Season 2 Episode 1 "The North Remembers", when we've just watched that scary bastard murder spree and glimpse where Gendry is now, along with Arya.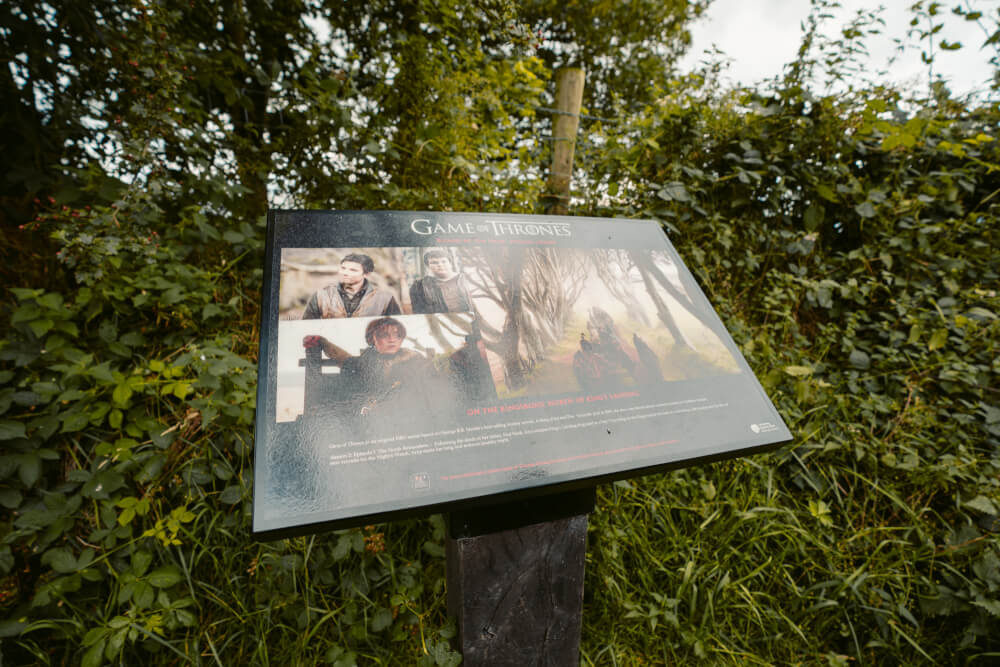 2. Ballintoy
Both Ballintoy Harbour and Ballintoy Beach have been featured heavily on Game of Thrones, mainly serving as the backdrop for the Iron Islands.
Found along the Northern Coast of the country, it is within close range to many of Northern Ireland's other top sights, which is why I'd definitely suggest adding it to your Game of Thrones itinerary!
I mean, of all the filming locations around Northern Ireland, this is probably one of the ones we see most (whether we realize it or not).
Ballintoy Harbour is where we see Theon return to his home after so many years in Season 2, Episode 2 "The Night Lands"…… you know, when nobody could care less that he's back.
We see the whole Iron Islands squad here later in Episode 5, when Theon is proudly looking upon the seas to begin his journey with the Sea Bitch, but can't get any respect from his new crew.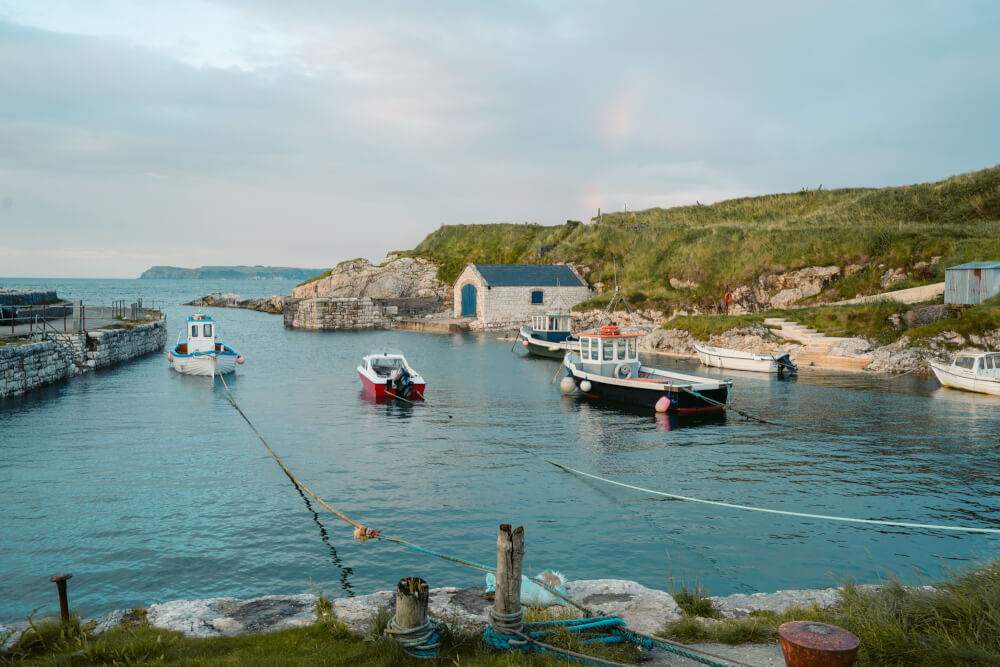 Ballintoy Beach was also used for many big scenes, including:
Theon pledging allegiance to the Drowned God, the funeral of Balon Greyjoy in Season 6, Episode 2 "The Red Woman"
A few different scenes with Melisandre, like when she leaves despite Stannis begging her to stay (Season 3, Episode 3 "Walk of Punishment") and when she comes back with Gendry in tow for his blood and uh, other things (Season 3, Episode 5 "Kissed by Fire").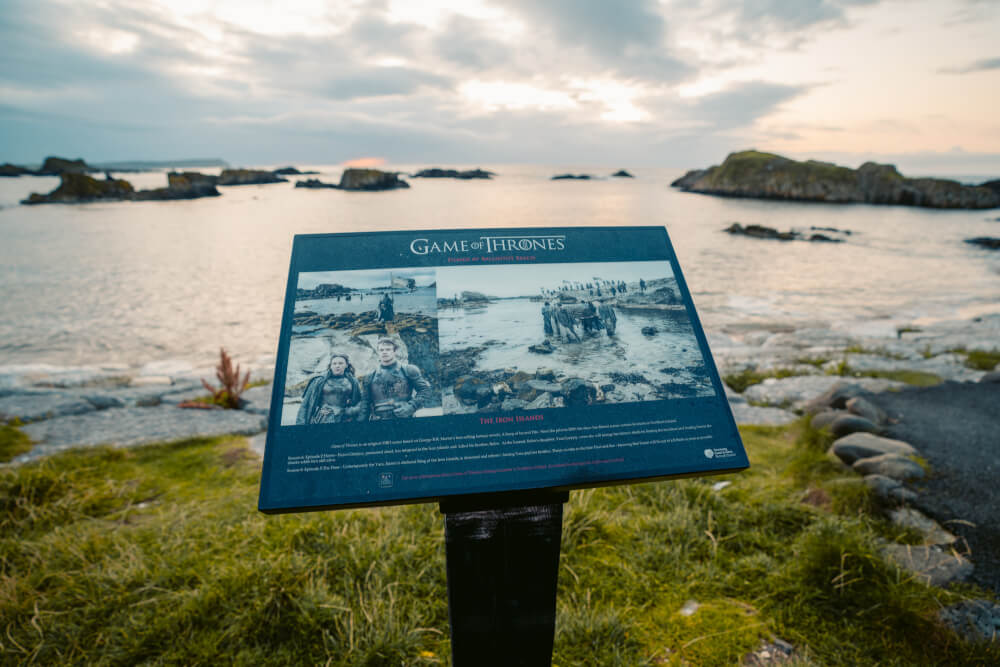 Ballintoy is also used in the last season, like in Episode 4 "the Last of the Starks". After Euron has taken down a dragon and sunk all of Dany's ships, we see the survivors washing up on shore here on the beach, when Greyjoy is all like "MISSSSANNNDEIII" and runs back into the water to find her.
This, as we know, does not end well.
Last but not least of course, this is where Varys greets Jon in Season 8, Episode 5 "The Bells", when he's trying to talk Jon into taking his claim as heir to the Iron Throne….. but it doesn't matter right because Jon "doesn't want et".
It's Daenerys that gets the last laugh though because it's on this beach that Varys gets crisped to death.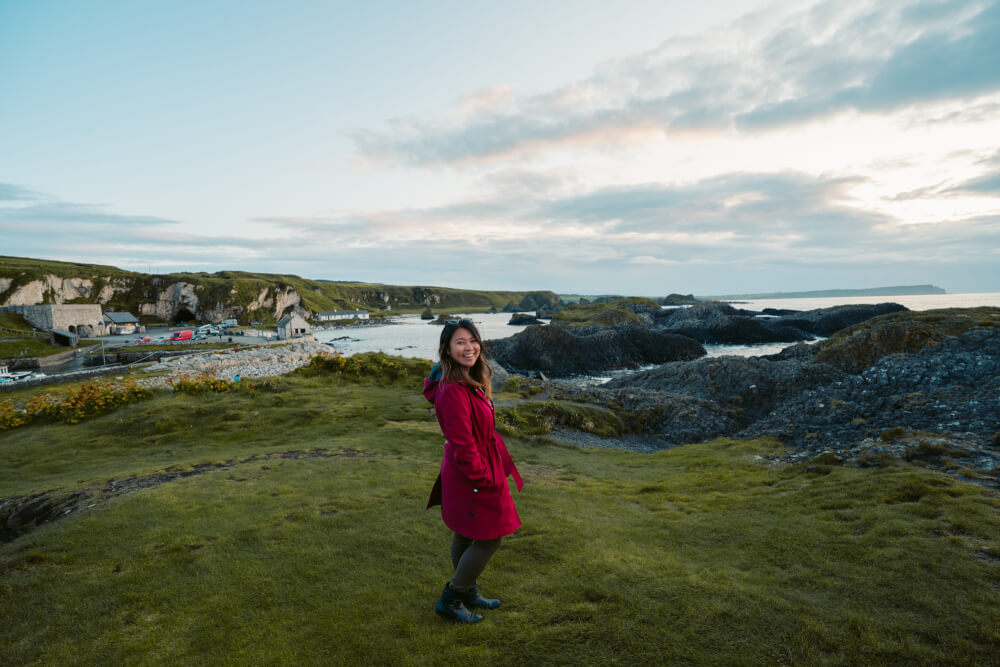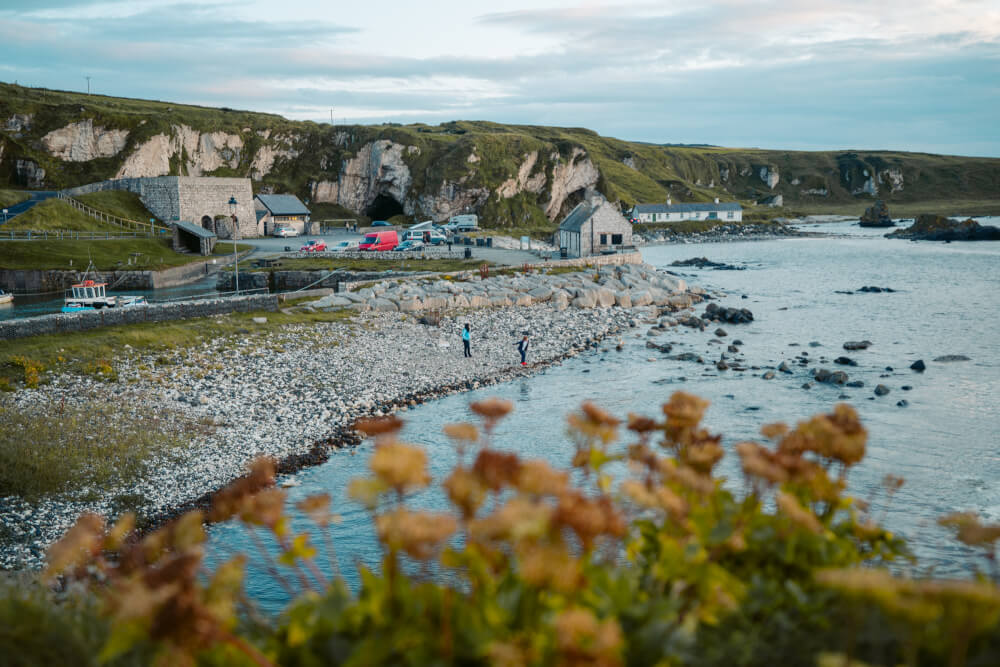 3. Dunluce Castle
While Dunluce Castle is often said to be Pyke, the seat of House Greyjoy, I haven't been able to find any official source that confirms this.
Regardless, Dunluce Castle is one of the most famous castles in Northern Ireland, and with its dramatic seaside setting, it's well worth a visit.
It's easy to draw parallels between Pyke and Dunluce Castle – both are stoney and imposing structures perched on cliffs, both broodily staring out to the sea.
While a lot of CGI must have been used if Dunluce actually was used for Pyke (the two don't actually look that similar if you compare them side by side), I would still say it's Game of Thronesy location you should add to your itinerary, especially given its proximity to other filming spots.
To refresh your memory, we see Pyke for the first time in Season 2 Episode 2.
You know, as Yara and Theon gallop in after his grand return home, and Theon gets all grossly gropey before he realizes Yara is his sister.
Yup, that scene. Watch it back let me know if you think this was filmed at Dunluce Castle!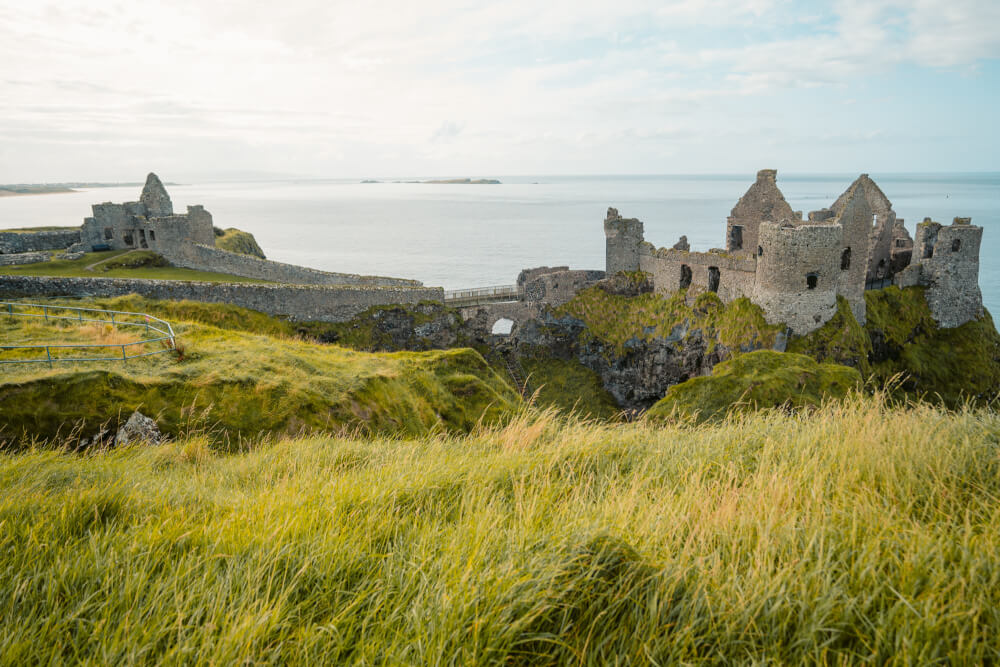 PS: The nearby Carrick a Rede Rope Bridge is NOT an actual Game of Thrones location although it does bear a little resemblance to the rope bridge that Balon Greyjoy is assassinated on in Season 6, Episode 2, by his emo pirate brother.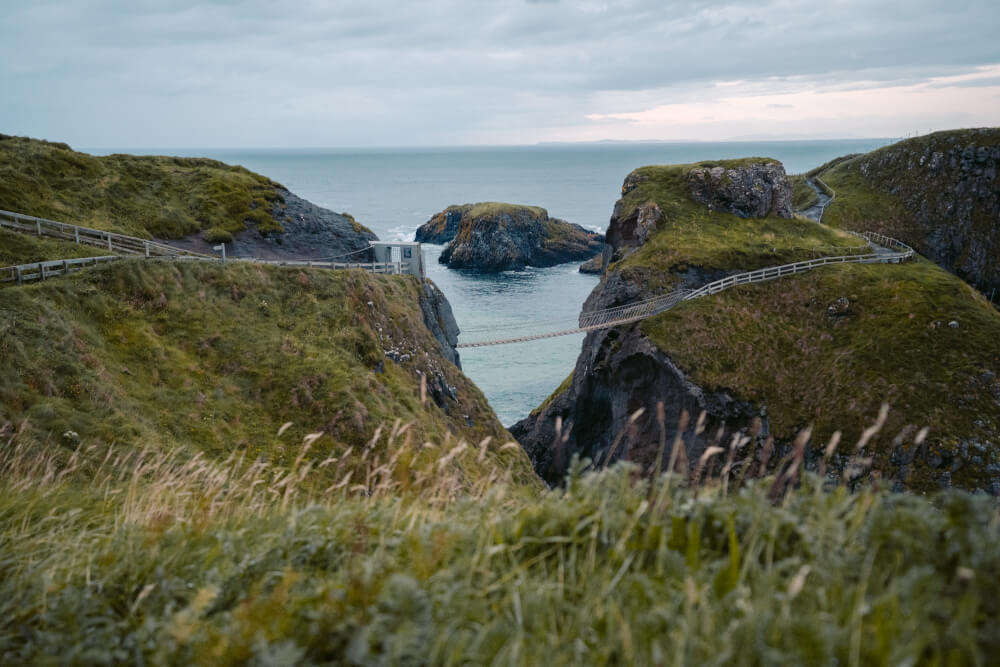 4. Cushendun Caves
The Cushendun Caves are a must-visit Game of Thrones location for two reasons.
Firstly, these are the caves where Melisandre gives birth to that terrifying shadow monster in Season 2 Episode 4 "Garden of Bones" while our gallant Onion Knight just stands there and watches.
Second, this is the location of Season 8's (admittedly lackluster) Dane Bowl, AKA the battle between Jamie and Euron in Season 8 Episode 5 "The Bells".
Side note: we call it Dane Bowl because both actors are Danish!
In fact, you can walk to the exact part where they filmed this, and it looks identical to the show (unlike some other locations which are clearly enhanced by CGI).
Besides being a cool GoT location though, these caves are a cool natural wonder to explore, especially since you can actually walk into them.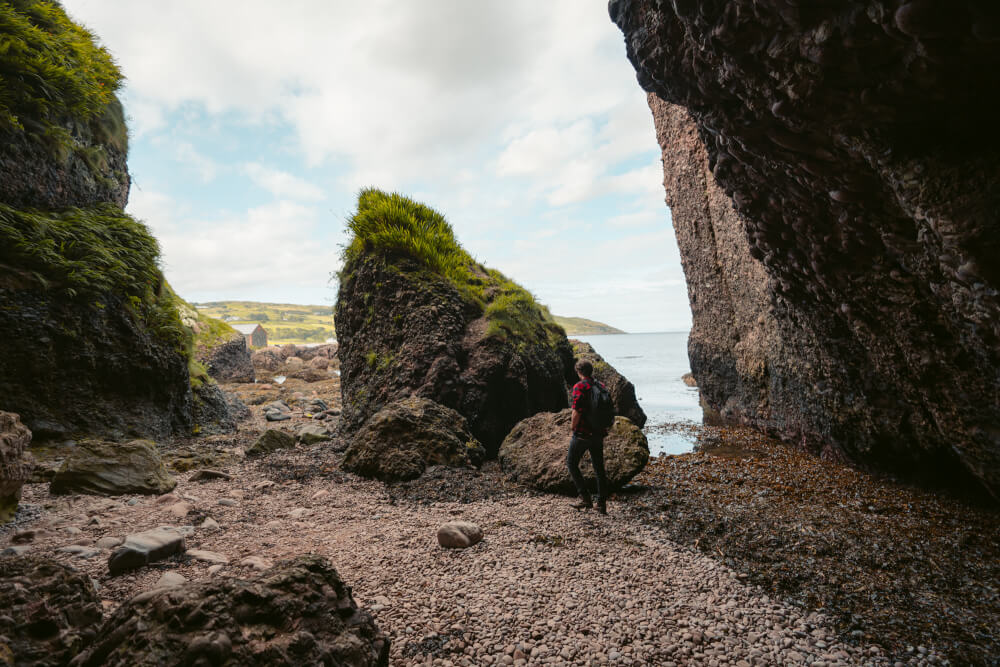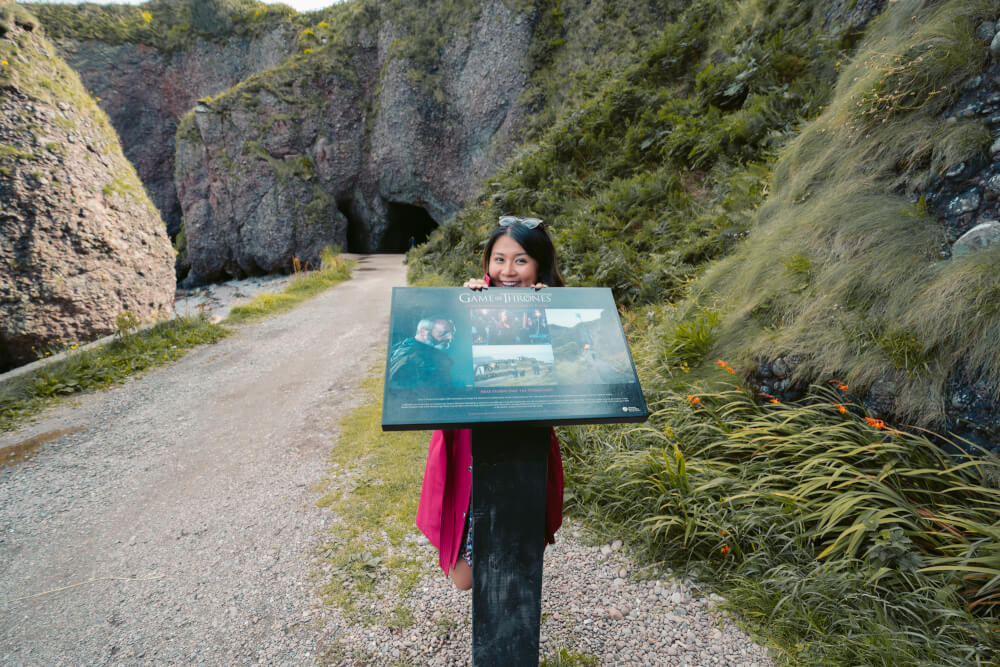 5. Portstewart Strand
Did you know that Northern Ireland has some stunning beaches?
I didn't, until I followed my Game of Thrones location list all the way to Portstewart Strand, AKA the Dornish Coast. I was mindblown to find soft sand dunes and clear blue water. Thaaaaank you, old gods and the new!
While most filming for Dorne took place in Spain, it is here at Portstewart Strand that we see the Dornish Coast, like in Season 5 Episode 4 "Sons of the Harpy", when Jamie and Bronn arrive to save Myrcella, and Bronn saves Jamie from that snake, saying how that would have been a shit way to die… just before they run into the cool Dornish guys on the horses.
We later see Ellaria and the Sandsnakes lurking about here when they decide to go to war.
PS: If you want a nice place to grab a drink, Harry's Shack is right on the beach and has great views!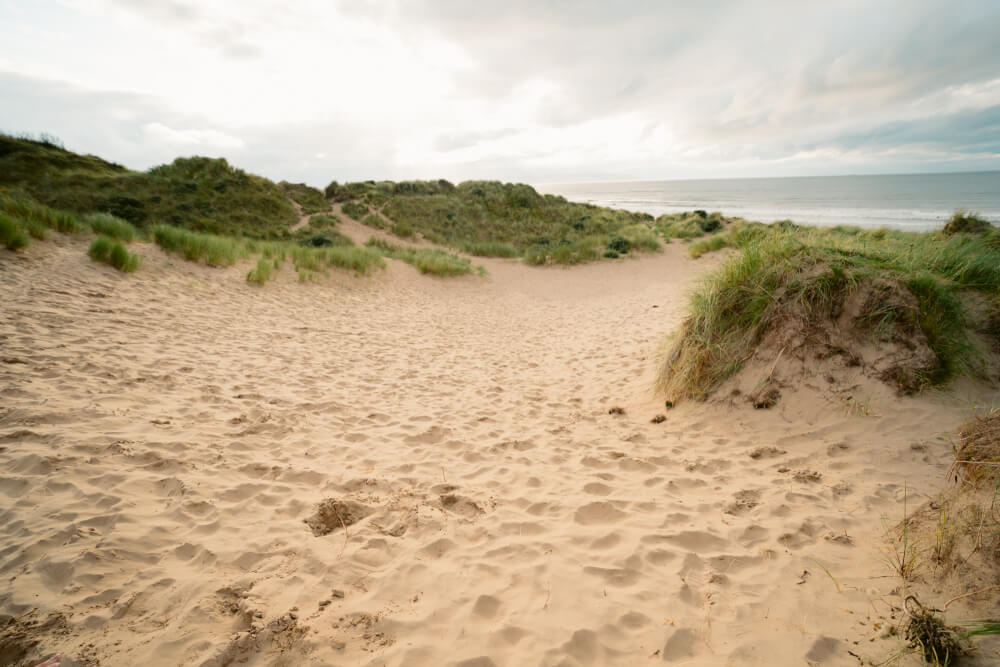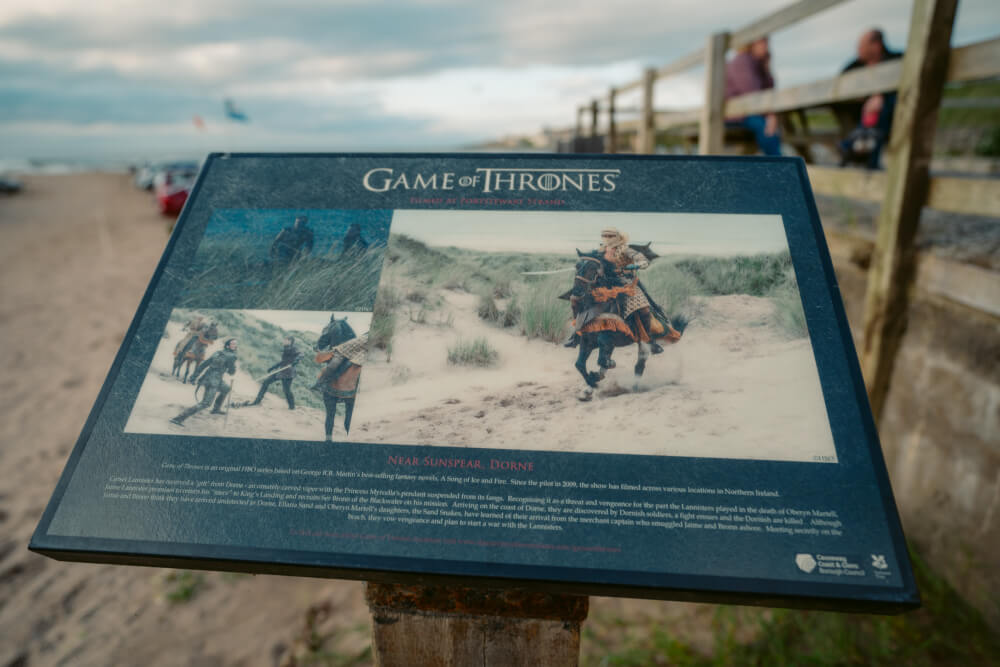 6. Inch Abbey
Inch Abbey is significant for two reasons.
Firstly, it is where we see Robb get declared "King of the North!!" and second, of course, it is where we see Catelyn and Robb when they learn of Ned's unfortunate fate.
Both these scenes are from the last episode of Season 1 "Fire and Blood".
I really enjoyed visiting this Game of Thrones location because (with the help of some screenshots), it's easy to see where they filmed.
I especially liked it because it was the first stop of our Game of Thrones locations tour from Belfast, and we were given some cloaks, swords and banners to use as photo props.
I mean… could it get any more epic? I'd highly recommend coming here (and the next few spots) with a tour, because it really helps to see the movie magic that went behind transforming these locations into sets!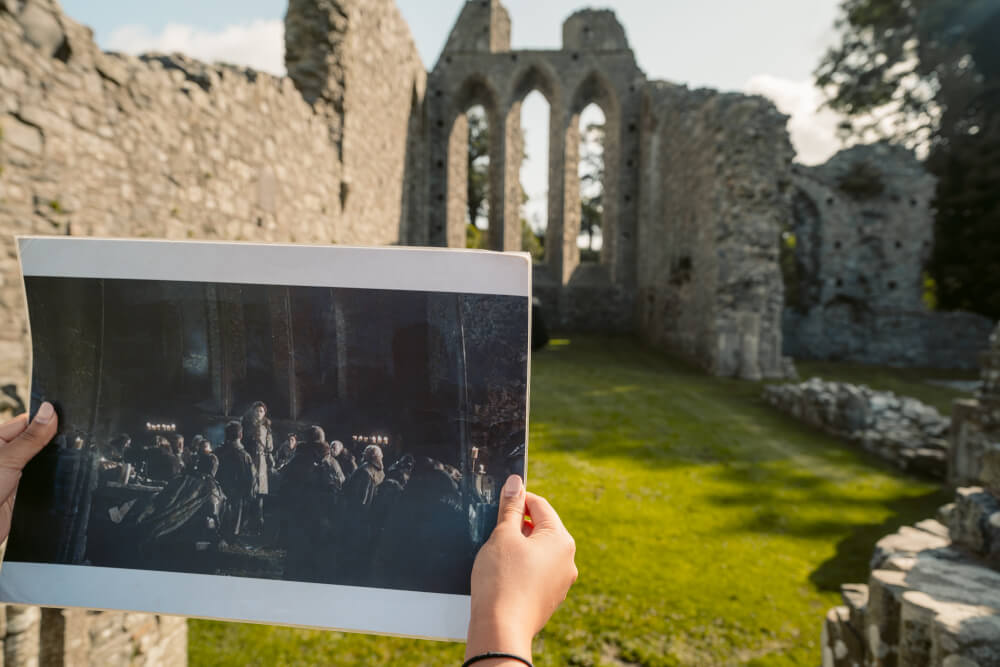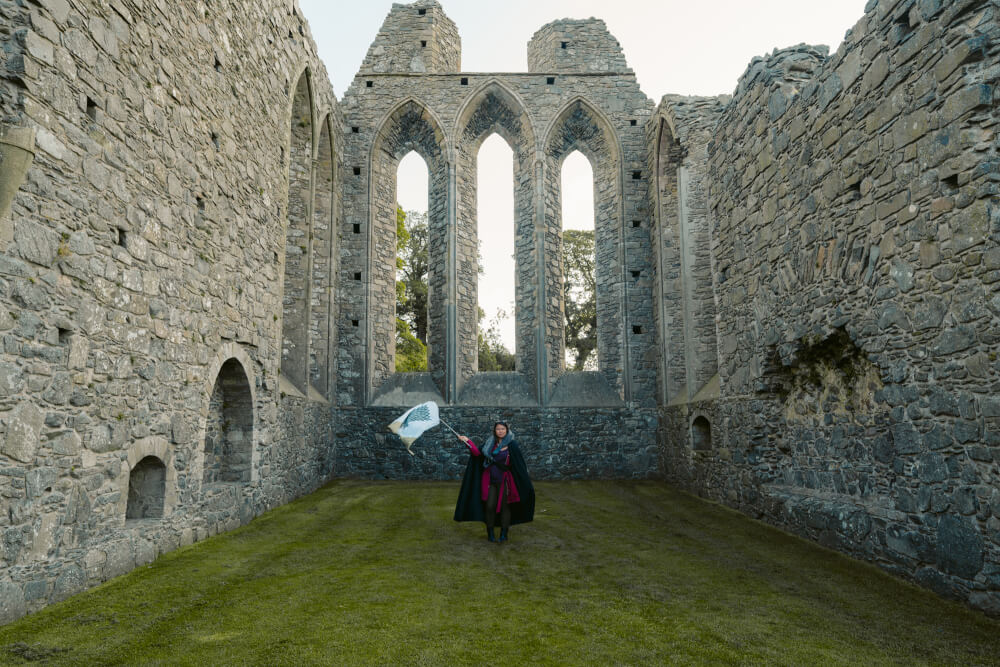 7. Tollymore Forest Park
Dedicated Thronies will be thrilled to know that several significant Game of Thrones scenes filmed in Tollymore Forest Park, a beautiful little park in County Down.
In fact, the VERY first scene of the entire franchise filmed here, requiring plenty of fake snow to depict life beyond the wall in the Haunted Forest, where the Whitewalkers have killed of wildlings and then kill a bunch of members of the Night's Watch for good measure.
It's all very creepy and yes, that was filmed in Tollymore Forest Park. In fact, if you go with a guide like I did (which I highly recommend), you'll even spot the hole where that little wildling girl was nailed to the tree.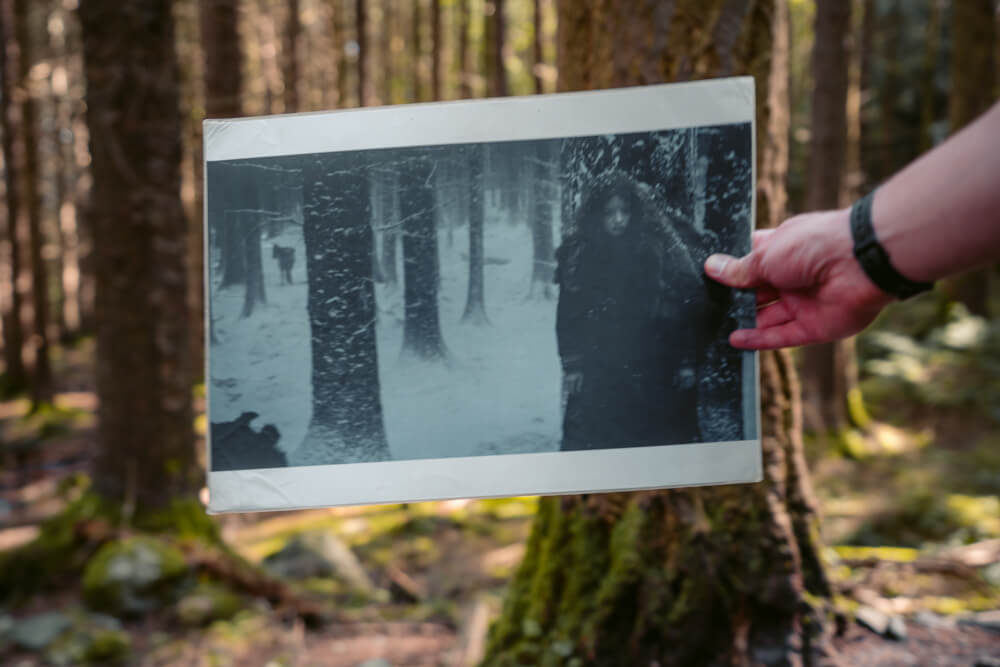 On a sweeter, more lighthearted note, this is also the forest in which the Starks discover the direwolf pups and successfully convince Papa Stark to keep them!
Side note: If you want to see something fascinating, check out this Flickr set with set photos from this filming day.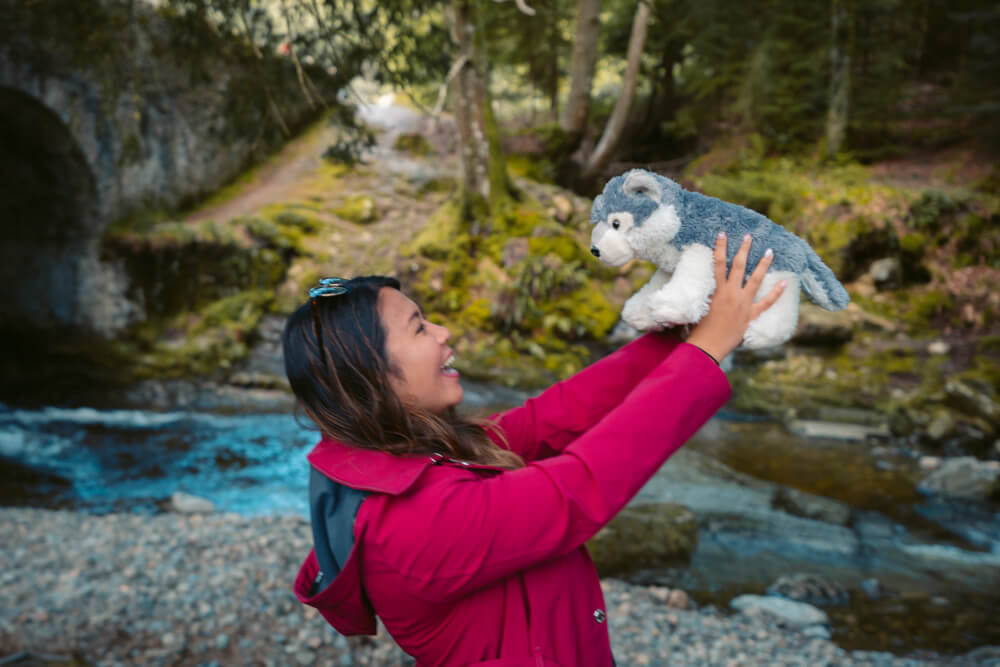 Last but not least, Tollymore is used again later in Season 3, during that epic hillside chase where Theon is running away from his captors when he is "rescued" by Ramsay.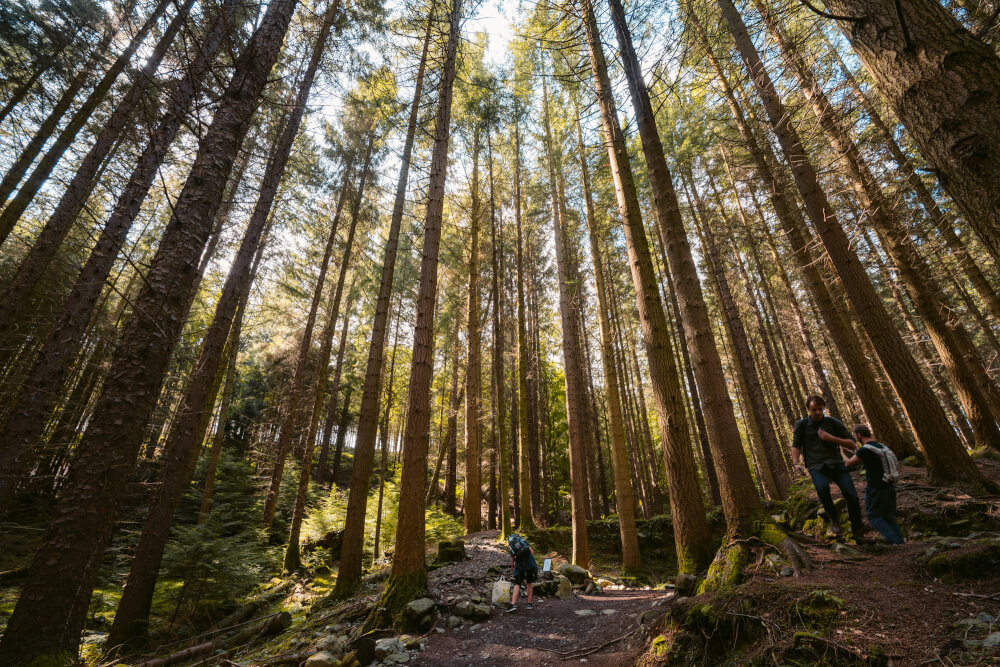 8. Audley's Castle Grounds
All around Audley's Castle is where you'll find several filming locations from Game of Thrones. In fact, Audley's Castle itself is one of the towers from 'The Twins'!
From Ned and Robert reliving the good old days in Season 1, to Bronn and Tyrion bantering about what Bronn wants ("Gold? Women? Gold Women?), these grounds were used extensively throughout the show.
Most notably, Audley's Castle grounds were used for Robb's camp, the Lannister camp, the Twins, and other miscellaneous scenes like Brienne and Jamie coming across the women who were burnt and hung by Stark soldiers (Season 2, Episode 10 "Valar Marghulis).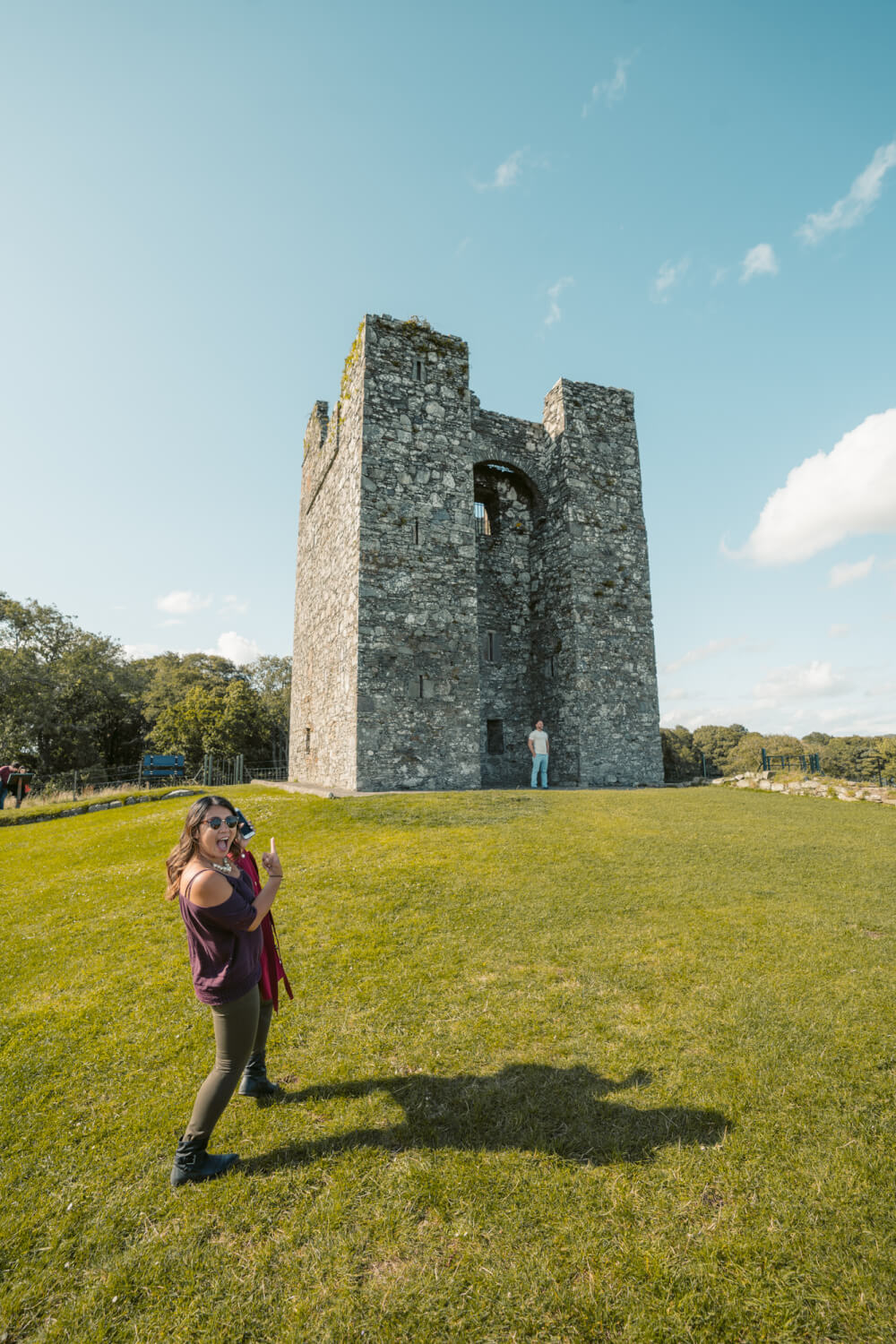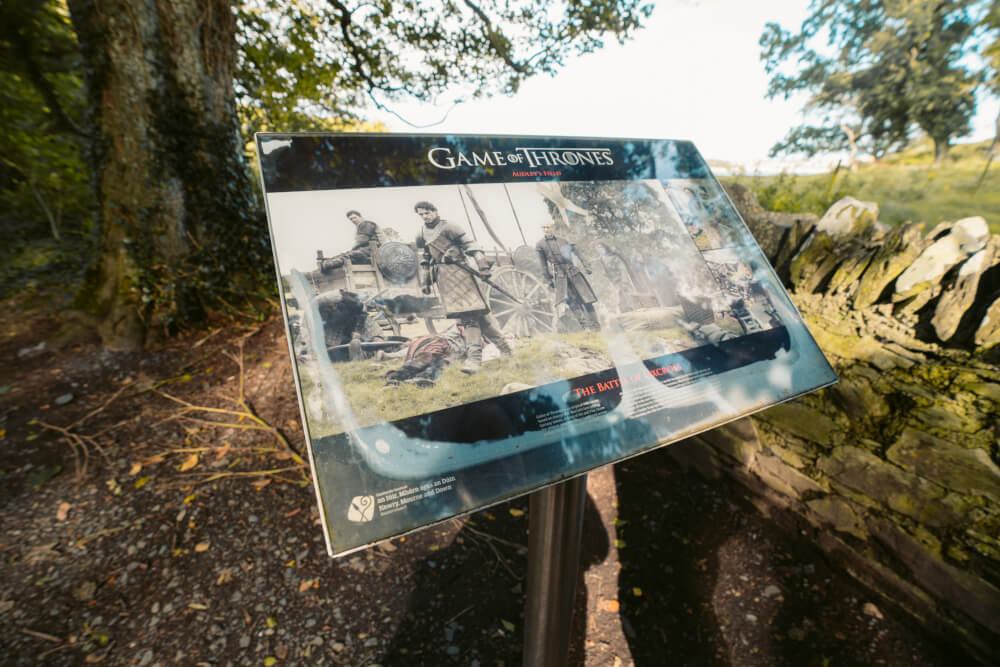 It's a beautiful place for a walk, and very close to another famous Game of Thrones location……
9. Castle Ward
I'll be honest: Castle Ward is not my favourite Game of Thrones location.
BUT, I will concede that a  lot of it has to do with my high expectations.
Most GoT filming guides online will tell you that "CASTLE WARD IS REAL LIFE WINTERFELL".
This may be true, but the actual show only filmed there in the 1st season, during those scenes when Robert and co. arrive to Winterfell.
Even then, a lot of CGI was involved, to the point where none of the members of my tour even realized we were in Winterfell until the guide said so (they all assumed it was just a bathroom break!)
The truth is, most of Winterfell as we know it was a specially constructed set on Moneyglass Estate, so don't come to Castle Ward expecting it to be instantly recognizable as Winterfell, because in my personal opinion, it's not.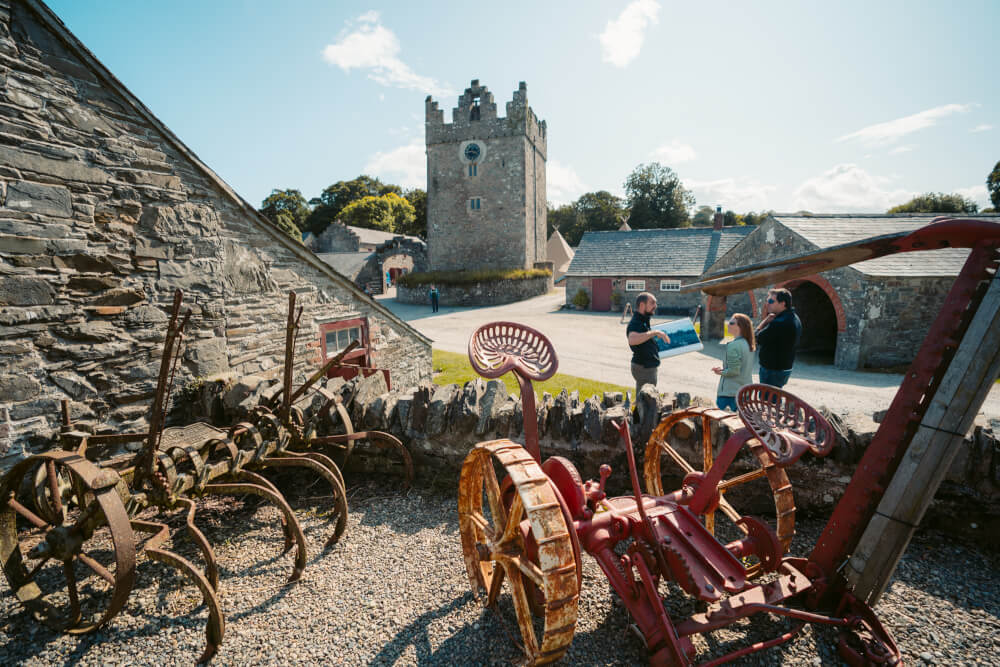 Regardless of its Game of Thrones connection though, Castle Ward is a cool National Trust property, with beautiful grounds and interesting displays, alongside a solid Game of Thrones themed gift shop.
To be fair, they also offer an array of GoT-themed experiences like archery and axe throwing, so that might help set the mood a little more 😉
As a fan, I think you would still enjoy a visit here, especially given its proximity to other GoT activities/locations, but know that it will look a lot different to the image of Winterfell you have in your head.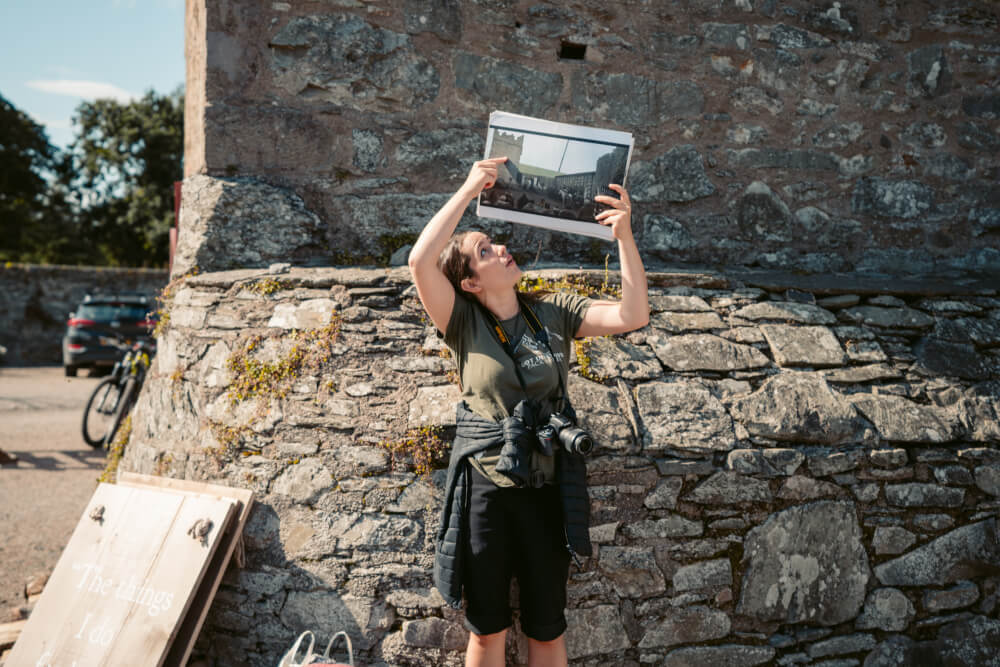 10. Pollnagollum Cave
If you're hunting for the Brotherhood Without Banners, head over to Pollnagollum Cave to find their headquarters.
We first see it in Season 3, Episode 4 "And Now His Watch is Ended", and that distinctive waterfall entrance can be reached with the Pollnagollum Cave Walk.
It was pouring rain during our visit, so we sadly didn't manage the walk, but for what it's worth, it looks very cool.
And if you want to get inside, the Marble Arch Caves (the network of caves Pollnagollum is part of) offer tours that include a boat ride.
Do note however that you won't be visiting the exact Brotherhood Without Banners Cave.
That's because according this interview with Game of Thrones writer and editor Brian Cogman, the cave set was actually constructed in Belfast, and was the same as the Ygritte Jon Snow sex cave except redressed.
Regardless though, the cave tour looks pretty cool. I would book tickets in advance though. We drove all the way here in the pouring rain only to hear tours were sold out for the next few hours! Click here for more info.
11. Quoile Pondage Nature Reserve
Last but not least, we have the Quoile Pondage Nature Reserve.
Honestly, I wouldn't go out of your way to visit this Game of Thrones location unless you want a nice little nature walk.
The Quoile Pondage Nature Reserve will be easily recognizable to Game of Thrones fans as the funeral site of Hoster Tully, seen in Season 3 Episode 3 "Walk of Punishment" when we see Robb and Catelyn in attendance, while Edmure Tully struggles to set the funeral boat on fire with his arrow. Awkward stuff.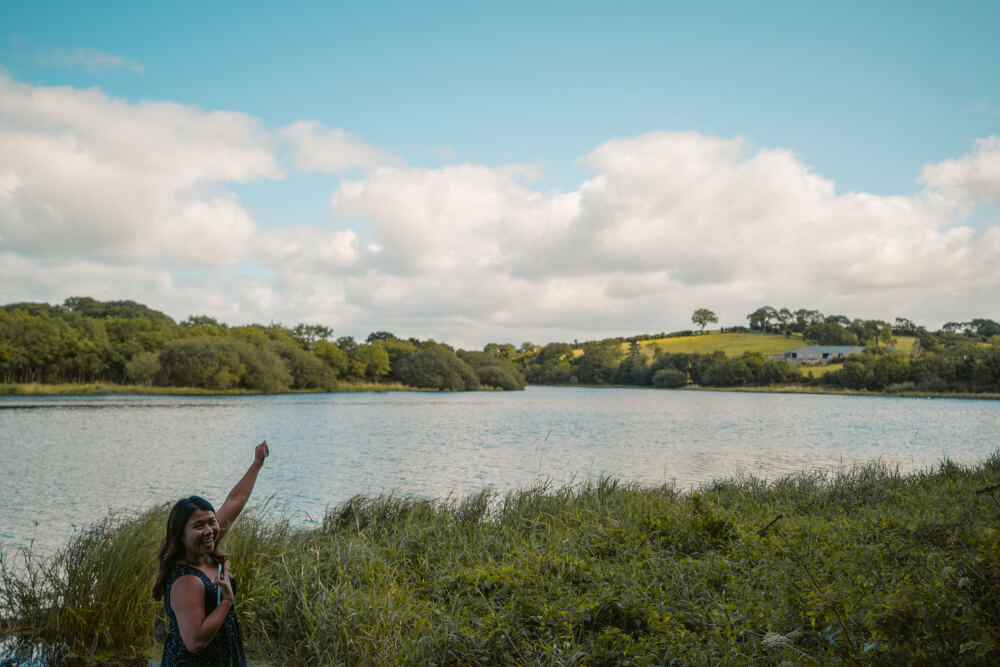 NOTE: To find the exact point where this was filmed (including the wooden jetty they built which has since remained), search up "Quoile River GOT Location" on Google Maps. Don't struggle for half an hour wandering aimlessly like me.
Other Game of Thrones Locations in Northern Ireland to Visit
In this list, I'll share other key Game of Thrones locations that you can visit yourself in Northern Ireland.
I put these in a separate category just because they are mainly landscapes and ones that I didn't have a chance to visit during my trip, so I'm not able to judge their 'visit-worthiness'.
If you have been to any of these though, let me know in the comments what you thought!!
Downhill Beach
Downhill Beach is where we meet Melisandre for the first time, and yes, where we get to hear those iconic words "for the night is dark and full of terrors" for the first time too. In Season 2 Episode 1 "The North Remembers", this is where Melisandre is burning statues of the seven gods, AKA false gods (in her eyes anyway).
You can click here for a really cool set of behind the scenes photos from this scene.
Larrybane Chalk Quarry
Located close to the Carrick a Rede Rope Bridge, this is the stunning location where we see Stannis and Renly's Barathion's war camp in Season 2 Episode 3 "What is Dead May Never Die".
But MORE IMPORTANTLY it is where we meet two of the most badass babes in Game of Thrones history: both Brienne of Tarth (who gets made King's Guard in this scene after totally owning Ser Loris in combat) and of course, Margery Tyrell.
On a less fun note, in Season 2 Episode 5 "The Ghost of Harrenhal", this is where Renly gets brutally and randomly murdered by the scary shadow thing, and Brienne delivers her Oscar-winning wails of grief…. while Catelyn just stands there like the shocked emoji.
In the same episode, this landscape is seen when Davos is trying to warn Stannis all like "that woman who birthed a literal shadow demon is probably bad news"… which of course falls on deaf ears.
Fair Head
While the majority of Game of Thrones' Dragonstone scenery was shot in Spain, it is actually the scenic cliffs of Fair Head that stand in the Dragonstone cliffs, first seen in Season 7 Episode 3 when Melisandre is broodily watching Jon Snow arrive from above instead of greeting him, and Varys coyly calls her out on it.
This is where she unveils her plans to return to Volantis, but reveals that that she must die in Westeros…… just like Varys. Dun dun dun.
We return here in this episode later when Tyrion has come up there to brood and sees Jon already brooding better than him… and on a less broody note, in Season 7 Episode 5 "Eastwatch", this is where we see Jon pet a dragon for the first time, kind of similar to my reaction when I get to pet a puppy… as Daenerys looks on, just before Lord of the Friendzone returns and reveals he was cured of his Greyscale.
A final Fair Head scene was in Season 7, Episode 6 "Beyond the Wall" when Daenerys rides off on her dragon to go rescue the freezing boys up north of the Wall, despite Tyrion begging her not to go.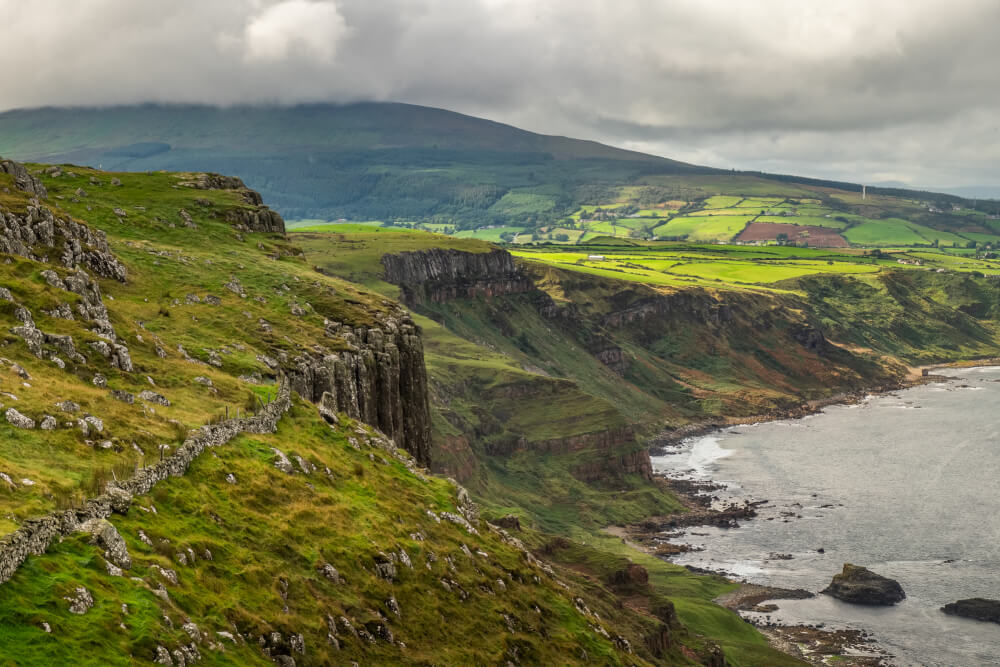 Murlough Bay
The scenic shores of Murlough Bay have been featured a few times on the show, most notably during the nice brotherly reunion between Renly and Stannis Baratheon, where Renly meets Melisandre for the first time in Season 2 Episode 4 "Garden of Bones".
This is the scene where they awkwardly chat about who has claim to the throne and Stannis gives Renly the night to reconsider his stance. We all know how this ends of course…
Later in Season 3, Episode 1 "Valar Dohaeris", this is where we see Ser Davos get rescued.
And finally, around the bay as well is where they shot the scenes with Tyrion and Jorah in Season 5, Episode 6 "Unbowed, Unbent, Unbroken" getting confronted by slave masters who want to sell Tyrion's joystick for magical powers, but are convinced to let Jorah fight in the fighting pits of Meereen instead.
Jorah comes back here in Season 5 Episode 8 "Hardhome" when he goes back to his owner and says he wants to fight again for Daenerys.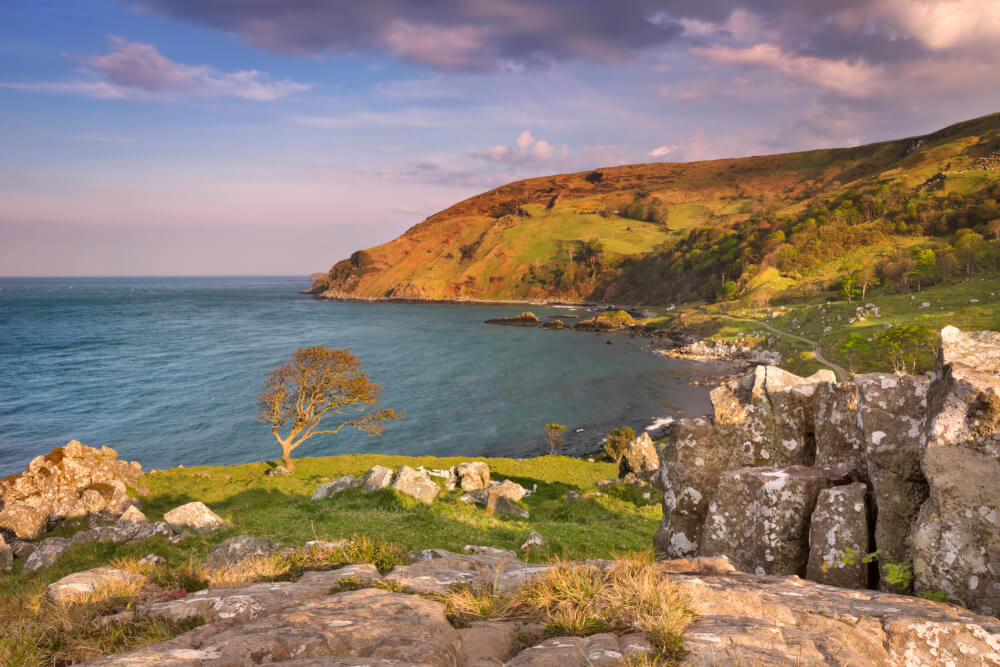 Shillanavoghy Valley
While most of Daenerys's early scenes filmed in warmer climates like Malta and Morocco, the beautiful Shillanavoghy Valley does stand in for the Dothraki Grasslands in Season 1.
Which scene in particular? Well, check out the start of Season 1, Episode 2 "The Night Lands" when you see Dany and the Dothrakis riding on their horses and setting up camp.
Quintin Bay
This is such a small scene but I love it. If you want to stroll hand in hand with your betrothed as Bronn does in Season 5 Episode 2 "The House of Black and White", then head on over to Quintin Bay.
We see Bronn here in that episode walking along the water with his bride-to-be who is rambling about their wedding plans, coming in with the hot wisdom like "then there's food…… food is important".
That's when they see "Jamie Fookin Lannister" and the rest is history.
Cairncastle
If you want to find the gorgeous landscapes behind the now meme-famous Ned Stark execution scene from Episode 1 of the series, then head over to beautiful Cairncastle, home to landscapes so stunning they were featured several times throughout the series.
For instance, we return here in Season 5, Episode 3 "High Sparrow" when Littlefinger and Sansa are overlooking "shabby" Moat Cailin and Littlefinger tries to talk Sansa into returning to Winterfell and marrying Ramsay.
Leitrim Lodge
Located near Hilltown in County Down, Leitrim Lodge was used for scenes north of Winterfell in Season 3, specifically in Season 3 Episode 2 "Dark Wings, Dark Words" where Bran meets Jojen and Meera for the first time.
It looks like a gorgeous landscape for sure, part of an AONB (Area of Outstanding Natural Beauty) that may soon become the first national park in Northern Ireland.
Sandy Brae
Details are scarce on how to actually visit Sandy Brae in Kilkeel, so I wouldn't go out of my way to visit this Game of Thrones location, BUT if you're curious, Season 1 scenes for Vaes Dothrak were apparently shot here. In fact, one of the Mourne Mountains is clearly visible in the background.
We see it in Season 1, Episode 4, when Daenerys is riding with Jorah to Vaes Dothrak and we learn about Jorah's ex-wife, you know, the one who is "in another place with another man" (and pretty much never mentioned again).
NOTE: The Vaes Dothrak set relocated to Spain in Season 7.
Randalstown Forest
We see this forest appear several times throughout the series, notably the first time when Theon is seen chased in the woods in Season 3, Episode 3 "Walk of Punishment" (and subsequently captured). 
We see this forest again at the very end of the series, when Jon is back up North with his BFF Tormund and we see them riding off in the forest.
Of course, most importantly, this is the scene after Ghost has gotten the damn pat he deserved.
This is literally the final few frames of the show…. back where it all began, really, so kind of a cool spot to visit for that heavy significance. On the other hand, know that it really is just a forest, so maybe it shouldn't be your highest priority.
Binevenagh Cliffs
Ahh, the Binevenagh Cliffs, AKA Drogon's favourite nap spot.
To refresh your memory, these cliffs are featured on the show during Season 5 Episode 10 "Mother's Mercy", when we see Daenerys trying to get Drogon to bring them home but he's being a classic rebellion teen dragon, low-key taking a nap…. T
his is of course shortly before Daenerys leaves to look for food and is surrounded by that giant Dothraki horse mob circle.
We come back here in the first episode of Season 6,"The Red Woman" when we see Jorah and Daario (two dudes who frankly have nothing in common besides the woman they love) on horseback searching for Daenerys, and Jorah finds the ring she left behind on the ground.
Toome Canal
Who can forget that horrifying scene with Tyrion and Jorah sailing through Volantis?
… You know, when they get absolutely mobbed by stone men?
According to Discover Northern Ireland, Toome Canal is the location where this all takes place. While most of the cooler parts of the scene were of course CGI, the canal itself is indeed a Game of Thrones location in Northern Ireland that you can visit.
PS, fun fact: apparently the stone men makeup took 4+ hours to apply. Here's a fun behind the scenes video about how they brought this particular scene to life:
Lough Neagh
After that very scary stone men attack, remember how we see that Jorah and Tyrion have washed up on shore?
Well that shore is along Lough Neagh!
A bit of a bummer place really, because this is where Jorah walks off and discovers that he has been touched by one of the stone men and gotten grey scale.
We see this lake again in the next episode, when they have a little heart to heart about how messed up Tyrion's situation is…. and Tyrion kind of just drops the bomb on Jorah that his father is dead. Yikes.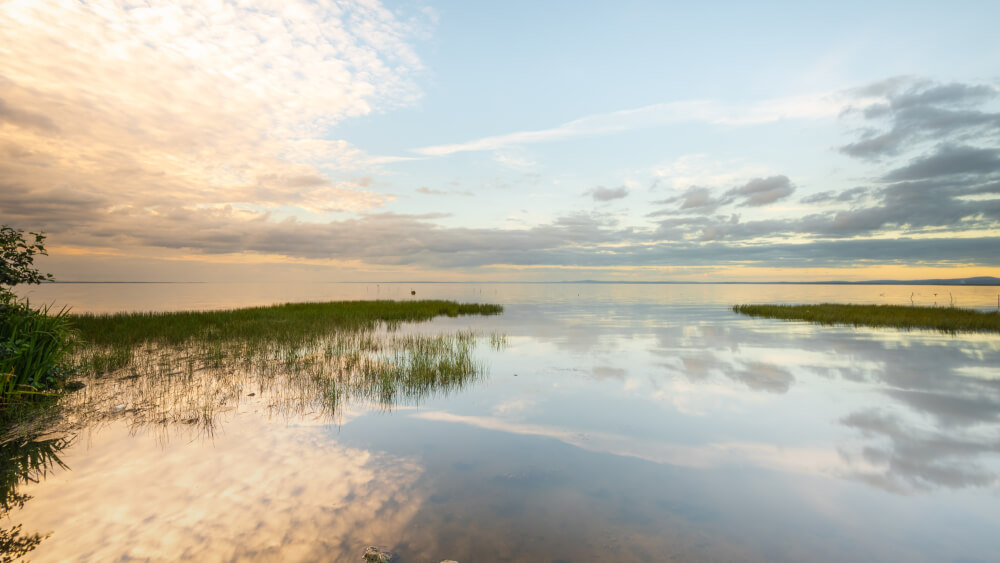 Galboly
Or a you'll know from Game of Thrones, Runestone! Galboly is spotted a handful of times throughout the series, notably in scenes with breast milk enthusiast, Robin Arryn.
In Season 5, Episode 1 "The Wars to Come", we see Lord Breastmilk here failing to be good at swordfighting. Then later in Season 6 Episode 4 "Book of the Stranger", Baelish comes back with a name day falcon gift for Robin.
NOTE: According to the official Game of Thrones app, there is no vehicular access to Galboly and you can only get there with a steep and uneven hike.
Carnlough Harbour
This is a very very short scene, and a great example of movie magic.
In Season 6, Episode 7 "The Broken Man", we see Arya get stabbed mercilessly by the Waig. This stabbing is shot in Girona, Spain, where they shot most of the Braavos scenes…
Then when Arya emerges from the water, she claws her way out onto the steps, which is actually Carnlough Harbour. Click here to see some paparazzi sneak shots from filming.
Sallagh Braes
Some land off of Sallagh Road near Larne was used as Brother Ray's Camp, where we see the RETURN OF THE HOUND in Season 6, Episode 7 "the Broken Man"!!!!
This was one of the most epic moments of Season 6 for me, and if you want to see this beautiful landscape where they were building their giant house thing and where we hear all about how he was rescued, know that it was here.
Corbet
According to multiple fan reports and photos, up by a river in Corbet is where they built the set for Riverrun (which formerly filmed outside of Gosford Castle back in Season 3).
While unfortunately, this castle is mostly the work of CGI and isn't one you can visit in real life, it's still a beautiful area with lovely landscapes if you fancy a quick stop during your Game of Thrones road trip.
We of course see this set for the first time in season 6, Episode 7 "the Broken Man", when Jamie and Bronn arrive at Riverrun. We see it again when Brienne and Pod arrive in Season 6, Episode 8 "No One" and we get that fun little reunion between Pod and Bronn.
We can assume this river is probably the one that Brienne and Pod row away on later that episode. You know, when Jamie watches her leave and it's all very heartwrenching and sad and just *blows nose* heartbreaking.
*Rowallane Gardens
Okay last but not least… according to a few different sources, the Rowallane Gardens stood in for the Godswood of Winterfell in Season 1, which is why I made a point to go all the way there and roam around aimlessly, searching for the Godswood.
Sadly, Rowallane Gardens being the Godswood is kind of a half-truth.
They DID film many Godswood scenes at a private estate in Saintfield very close to the gardens, and once upon a time, part of this estate might have been accessible via the gardens, but according to a staff member, there is no longer any access to the Godswood filming site via Rowallane Gardens.
That said, it's a beautiful garden, and a very pretty spot to explore and roam around in. I would pay it a visit regardless of GoT, if you want a nice peaceful break with gorgeous dog spotting 😉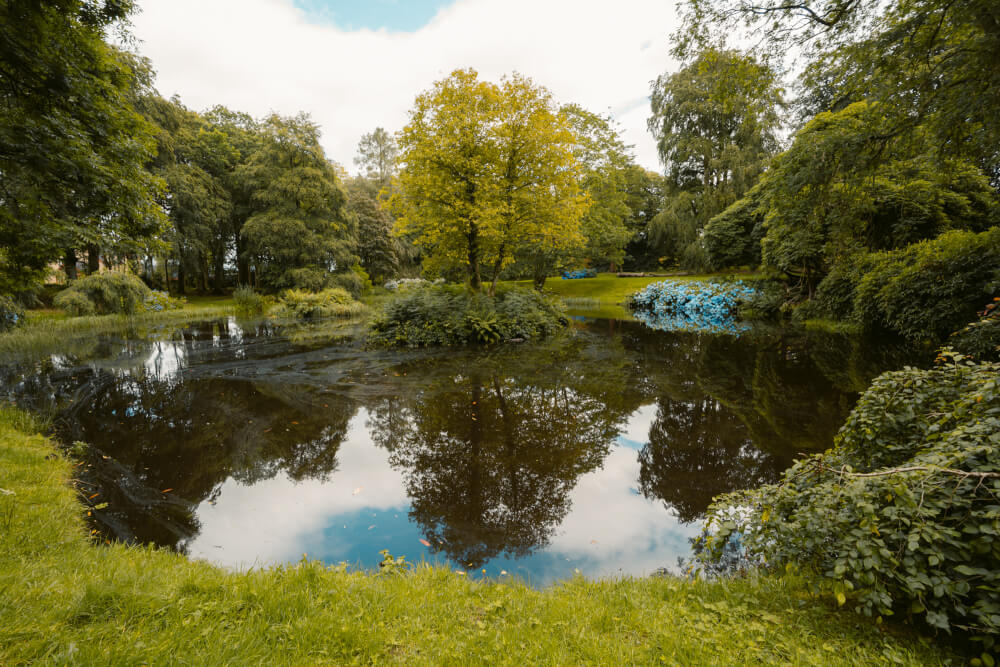 Finally – the Game of Thrones Locations in Northern Ireland That Aren't Open to the Public
Okay, this last section is really just for you especially die-hard fans… the filming locations in Northern Ireland that you might want to know for curiosity sake, mainly because none of these sites are open to the general public. Enjoy!
Linen Mill Studios
… yet, anyway!
Many scenes for Game of Thrones were shot at the Linen Mill Studios in Banbridge, and (this is not a drill), a real studio tour is in the works, aiming for an opening date of Spring 2020. Stay tuned for more info and details!
Titantic Studios
While a Studio Tour is in the works for Linen Mill Studios in Banbridge, the Titantic Studios in Belfast (which was used extensively all throughout the series) remains closed to the public.
Don't worry though, it's located very close to one of the main attractions in Belfast, the Titanic Belfast Experience, so you can go there and stare wistfully at the studios from afar.
You might even see some other productions filming. I saw a giant blue screen set up for instance, and my imagination is running wild at the possibilities.
There are two of the Game of Thrones stained glass windows located close to here as well.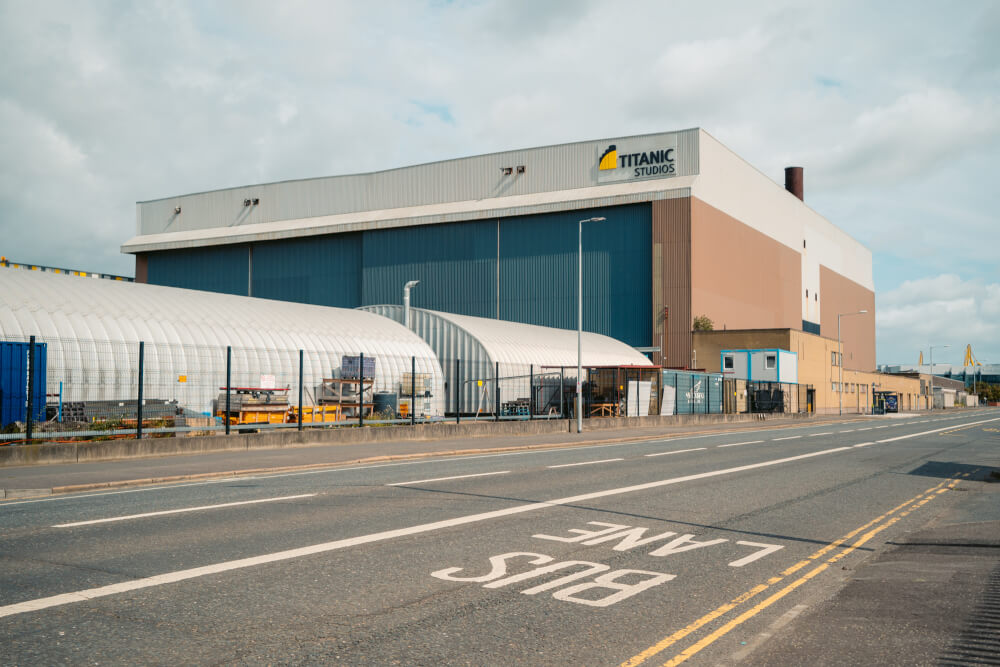 NOTE: All that said, if you want to be extra creepy, as of August 2019, the sets specially built for King's Landing in Season 8 are still standing in a lot very close to the Titanic Studios!
I discovered this somewhat accidentally while waltzing over to the Game of Thrones Exhibition, and thought the set pieces looked awfully familiar… So, if you park at the TEC Belfast, just behind the parking lot is where you'll find the big lot that was used to construct the massive King's Landing set for Season 8.
Yup, you can spot the big King's Landing wall/gate where Missandei gets beheaded very clearly, and if you walk up to the barricade, there's a gap in the corner where you can spy through and see the Dubrovnik-doppleganger they constructed to burn for Dany's lil breakdown episode.
Saintfield
A private estate near Saintfield was apparently used throughout the series for various scenes, including the stunning Godswood at Winterfell.
According to fan reports from locals on this site, the estate is supposedly located off the road between Saintfield and Carryduff, but remember, it's private property so don't try to access it. You won't see much besides fields anyway.
According to our tour guide, the owner of the property was paid a cool half million for every time they rented out his space. Can. you. imagine?!
Some significant scenes that shot here include Ramsay and Sansa's wedding in Season 5 Episode 6, which is all mildly magical until you know, that very traumatic marital rape scene.
Battle of the Bastards also filmed here for a month according to this article. A $10 million scene involving 70 live horses, 500 extras and 600 crew. What do you think – worth it?
Redhall Estate
If you're hoping to grab some chicken, ale and Hot Pie's hot pies at the inn seen throughout the series, unfortunately that's a private estate that doesn't have public visiting hours… It IS available for weddings though if you're feeling especially desperate.
This is where they filmed all those "Inn at the Crossroads" scenes, including where Catelyn finds and captures Tyrion in Season 1, where Arya and co are brought by the Brotherhood Without Banners in Season 3, where Brienne and Pod the Rod meet Hot Pie in Season 4, and of course, in Season 7, when we have that sweet reunion with Arya and Hot Pie.
Magheramamorne Quarry
If you want to see "the Wall" and Castle Black, I'm sorry to report that it was all a big set constructed at Magheramamorne Quarry, which is also where they also filmed the Battle of Blackwater Bay in Season 2 Episode 9 "Blackwater", although with a massive set constructed to look like Dubrovnik and with plenty of green screens and CGI.
Of course, this quarry was a GoT favourite over the years. Naturally, it was the setting for the Battle of Castle Black in Season 4, Episode 9 "the Watchers on the Wall", but also served as backdrop to the amazing scene in Season 6, Episode 3 "Oathbreaker" when Brienne, Sansa and Pod ride into Castle Black and Jon/Sansa have their emotional reunion.
More importantly though this is where Tormund lays eyes on Brienne for the first time. Yes, I still ship that.
The quarry is also used for some Bran-centric scenes in Season 6, like in Season 6 Episode 2 "Home", when he has just seen his vision of his dad and Hodor in the past, and moody Meera is kinda done with him (as we all are at this point!).
And also of course that iconic moment before the "HOLD THE DOOR" moment in Season 6 Episode 5 "The Door", when Meera goes outside the cave to see all the White Walkers standing there ready to attack. These scenes were all shot at the quarry, among others.
Shane's Castle
Shane's Castle may only be open to the public during certain events, but this is an important Game of Thrones location I nonetheless needed to include.
Over the years, its grounds and dungeons have been used extensively in the series, particularly for any scenes involving dark underground spots like the Winterfell Crypt, the Dragonstone Dungeons and the lair of the High Sparrow under the Sept.
One of the estate's bridges in particular (Deerpark Bridge) is seen in the series, like at the very start of Season 1, Episode 5 "The Wolf and the Lion", when Ned is walking across as ominous music plays (with a CGI castle in the distance of course).
Moreover, this spot is where we get to witness some of that classic Jamie/Brienne chemistry for the first time in Season 2, Episode 8 "Prince of Winterfell", when Jamie has been released by Catelyn and Brienne is bringing him back to King's Landing.
We can see the Deerpark Bridge really clearly when Brienne is watching some horses go over the bridge while trying to conceal Jamie.
Further down this river on another bridge is where in Season 3, Episode 2 "Dark Wings, Dark Words", Brienne and Jamie have their epic fight before running into the Bolton men who take them.
Lastly, in terms of exterior shots, this is also where they filmed the Tourney of the Hand in Season 1, episode 4 "Cripples, Bastards and Broken Things".
Clandeboye Estate
If you're looking for the real life version of Craster's Keep, first of all: what's wrong with you? And second of all, sorry to say – it has all burnt down.
Yup, that's right – in Season 4, Episode 5, when you see Craster's Keep burnt to the ground, that is literally them burning the entire set, so it sadly no longer exists.
BUT for those who are curious, the set was built on Clandeboye Estate. So, if you're looking for the real life camp of creepy father-husband Craster, famed daughter-wife hoarder, then this would be it.
Moneyglass Estate
Many Game of Thrones fans flock to Castle Ward in search of Winterfell, but having been there myself, I feel like the Winterfell vibes are very much absent at Castle Ward given the significant CGI that was used to transform the space.
The REAL Winterfell was actually (from Season 2 onwards) a specially constructed set at Moneyglass Estate, which (as far as I know) is not open to the public for visits.
Moneyglass Estate and its surrounding areas have been used a lot throughout the show, mostly as Winterfell, but we also see it in Season 2, Episode 2 "The Night Lands" when Arya interacts with the three guys in the cage (AKA Jaqen H'ghar and co) for the first time and the King's Guard comes by lookin for Gendry.
Banbridge
The Harrenhal set was supposedly constructed somewhere near the Linen Mill Studios in Banbridge. We see this area in Season 2 Episode 4 "Garden of Bones", when Arya, Gendry, and Hot Pie are taken to the ruined castle of Harrenhal.
Gosford Castle
It made headlines for going on sale a few years back, but unfortunately Gosford Castle still appears to be closed to the public.
This is a shame too, because it's genuinely a very beautiful and fairytale-esque castle!
What scenes have filmed here? Well, Gosford Castle was the filming site for Littlefinger's Brothel in Season 3, as confirmed by the official Making of Game of Thrones blog.
So, you remember when Pod gets his grand reward for saving Tyrion's life in Season 3 Episode 3? And he was so "skilled" that the ladies wouldn't even take his money? Yup, that was here.
And of course, later in Season 3, Episode 5 "Kissed by Fire" Gosford Castle gets a makeover with some Tully flags and takes on a new identity as Riverrun, as confirmed by these reports from Winter is Coming. Specifically, this is where Robb executes Richard Karstark.
Gosford Forest Park
Nearby Gosford Castle, you'll find the Gosford Forest Park.
This is where (in a dream), we saw Bran chase the Three Eyed Raven and see Jojen Reed for the first time in Season 3 Episode 2 "Dark Wings, Dark Words".
Ballyscullion Park
According to this Facebook status from the official Ballyscullion Park page, this park is where they shot the scenes where Arya, Gendry and Hot Pie run into the Brotherhood Without Banners for the first time, specifically at the park's ruins.
While it's not generally open to the public, apparently you can get married here now!
Crossgar
In Season 6, Episode 1 "The Red Woman", a forest in Crossgar was covered in snow for a little makeover as Winterfell (click here for some behind the scenes photos!), specifically the forest that Theon and Sansa run through, across that icy river, to escape from Winterfell and Ramsay's hounds.
They do track them down, but luckily badass Brienne is on hand to save the day.
This forest is seen again the next episode, Season 6 Episode 2 "Home".
Wolf Hill Quarry
This is where they built the chilly set with the ice lake beyond the wall in Season 7, Episode 6 "Beyond the Wall" when they are in the middle of the lake surrounding by that terrifying ring of Whitewalkers (you know, those scenes interspersed with poor Gendry going out for a jog).  Click here for behind the scenes set photos! 
I hope you enjoyed this lengthy guide to Game of Thrones in Northern Ireland!
Let me know in the comments if you have any questions, and I hope you have a wonderful trip.
---
Watch my most popular YouTube video this week:
---