*FYI - this post may contain affiliate links, which means we earn a commission at no extra cost to you if you purchase from them. Also, as an Amazon Associate I earn from qualifying purchases. Check out our Privacy Policy and Disclosure. for more info.
I have made it no secret at all that when it comes to being a rabid Game of Thrones fangirl, I will stop at nothing to fuel my horrifying fanaticism.
I mean… look at me. I'm the girl that has jetted across Europe and Africa for filming locations, cuddled the direwolves themselves, and once, even enjoyed brief Reddit-fame from my Game of Thrones Christmas set-up.
So, when I found myself in Belfast on the last leg of my Northern Ireland trip, drooling over props and costumes at the Game of Thrones Touring Exhibition was Priority #1… along with tracking down amazing Game of Thrones stained glass windows.
Save this post on Pinterest for later: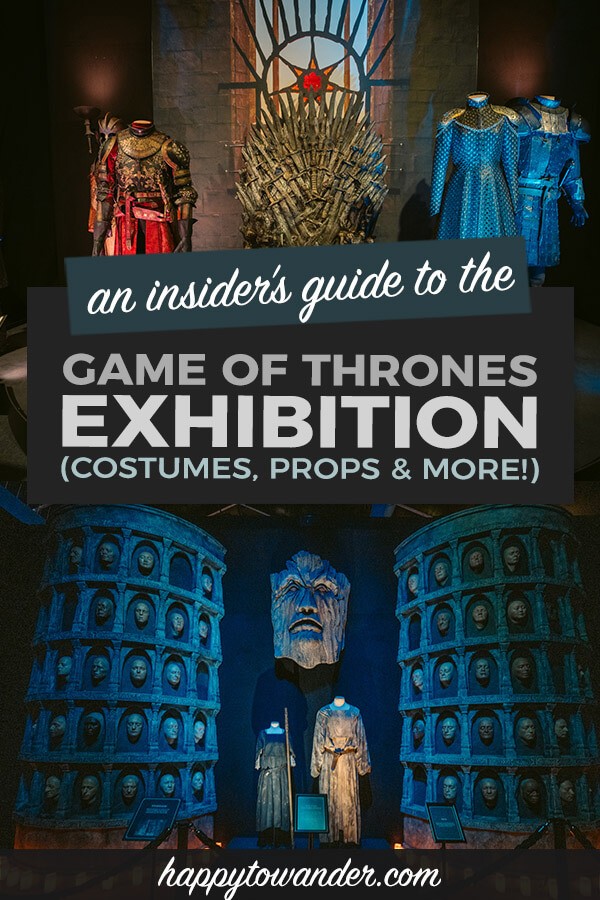 I actually went to this Exhibition five years ago when it travelled to my hometown of Vancouver.
Of course, lots of has changed since then, but the nerdy heart palpitations remained consistent.
Here's everything you need to know (and a virtual walkthrough!) of the Game of Thrones Exhibition in Belfast, including basic info about tickets, an honest review of whether or not it's worth it, and of course, plenty of photos so you know what to expect.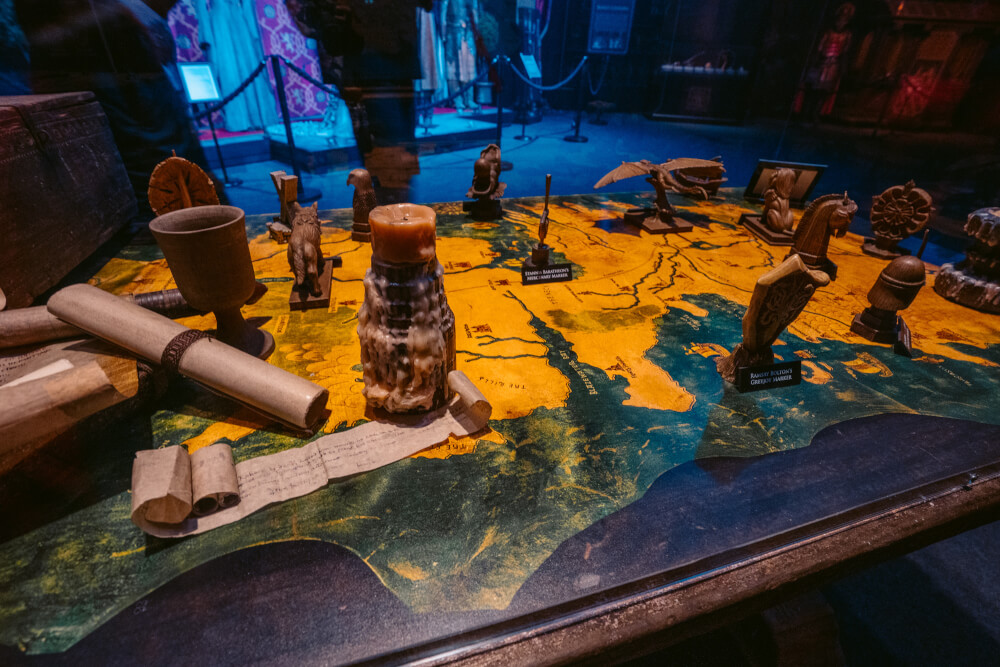 Game of Thrones Touring Exhibition: Basic Info
The Game of Thrones Touring Exhibition is a showcase of iconic props, costumes and set pieces collected over a decade of filming the show.
Over the years, it has travelled across the world, setting up shop for a few months at a time in each location, delighting fans along the way.
At the moment, the Exhibition is temporarily closed, but I hope this post gives you a good idea of what it's like!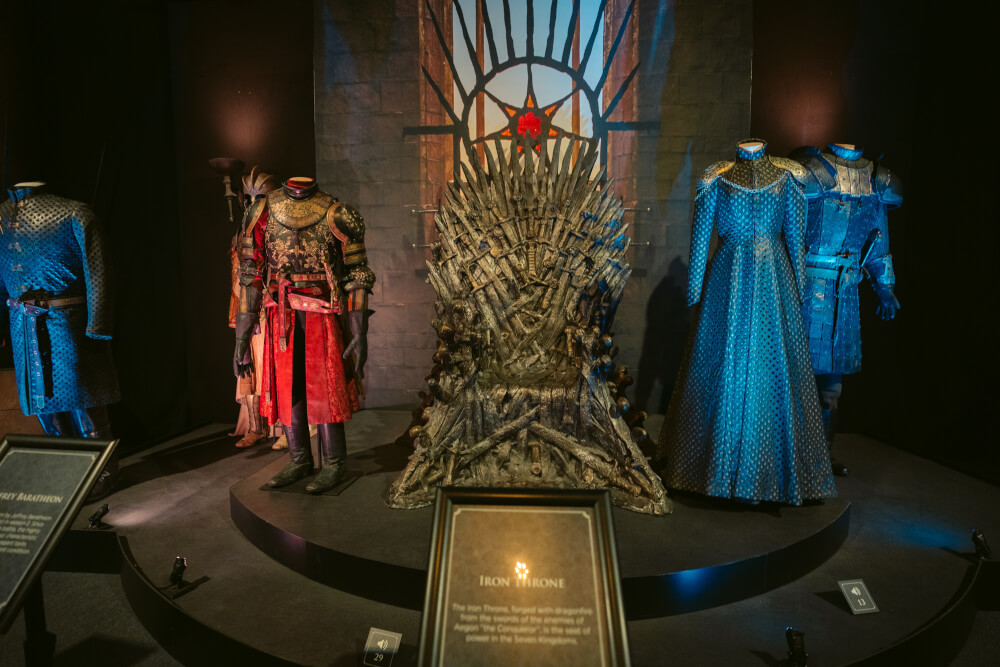 Is the Game of Thrones Touring Exhibition Worth It?
Despite the high price tag, I would say the GoT Exhibition is 100% worth it if you're a big fan.
I admit, having done this after multiple days of location scouting and even meeting direwolves, I wasn't as excited about everything as I probably would have been had I seen the Exhibition first, but still, getting to see my favourite costumes and props was more than worth the high price tag for me.
What I didn't like though were the paid photo opps scattered throughout the Exhibition.
Having already paid £17.50 each to get in, getting asked another £10 for a professional photo feels pretty icky.
Apart from the first green screen photo opp at the beginning though, none of the pro photos are mandatory, so you can just skip them if you wish.
This is especially true for the Iron Throne, because there's a professional set-up (£10 a piece!!) with props and everything at the exit, but if you turn the corner and walk a little further, there's a completely free one where you can just take your own photos.
SO, long story short, yes I think the Game of Thrones Touring Exhibition is worth it, but only if you're a massive fan of the show.
Since the Exhibition is temporary, I wouldn't say the displays felt particularly 'wow-worthy', mostly just dark curtains separating different areas in a convention center (which is basically what it is), but overall still a fun experience if you love the show.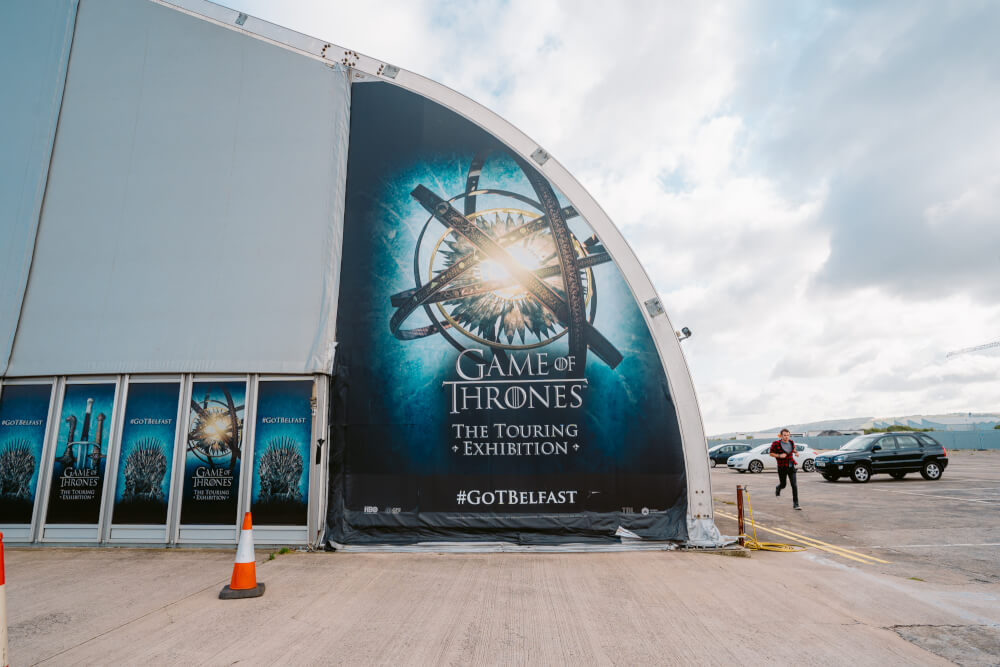 Game of Thrones Exhibition Overview (Spoilers Abound!!)
Alright, if you're curious about what the GoT Exhibition actually looks like, I luckily took a million photos. If you don't mind spoilers, here is a walkthrough of the Exhibition.
GoT Exhibition Belfast Location & Entrance
The Game of Thrones Touring Exhibition in Belfast set up shop at the TEC Belfast, directly across from the Titanic Studios where much of the series filmed.
The GoT hysteria began right as we parked the car, because directly adjacent to the Exhibition parking lot was the entire King's Landing set from Season 8 (adequately scorched).
I recognized the gates right away and freaked out. It's just standing there in an empty lot, and you can see quite a bit if you peep through some cracks in the fencing! You can check what I saw in my Instagram Stories here.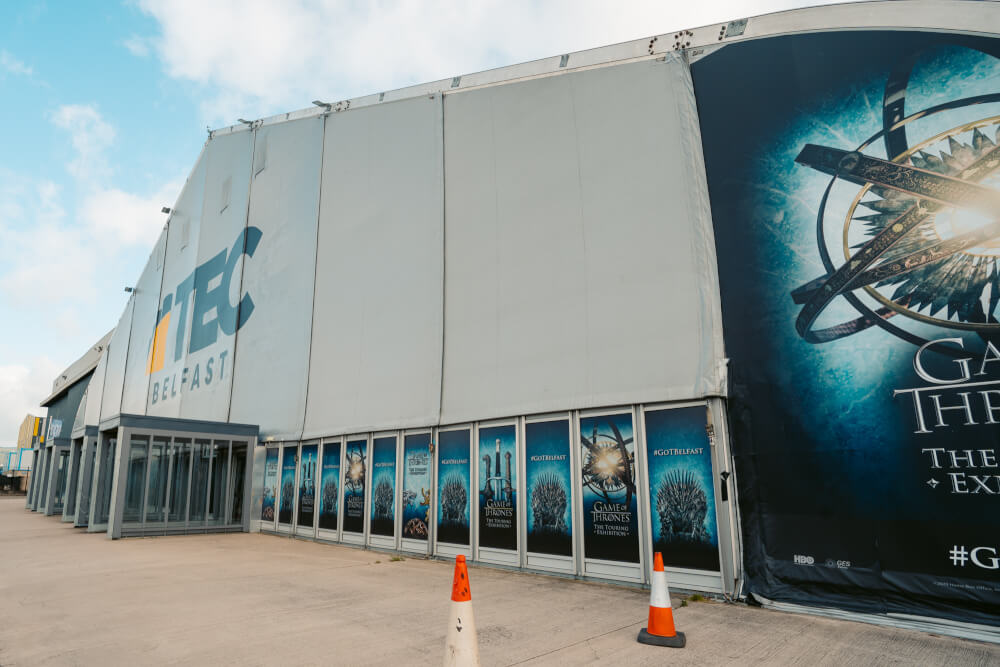 Ticket Collection/Lobby
Once inside, we grabbed tickets from a little booth in the corner, again regularly £17.50 per person, but we got £2 off thanks to a coupon from the GoT tour we had done earlier.
Buzzing like bees, we were just about ready to throttle through the wall when we were told that this entrance area was THE only place in the entire Exhibition with toilets, so we took care of that business before moving on.
A slight buzzkill, but alas, a necessary one.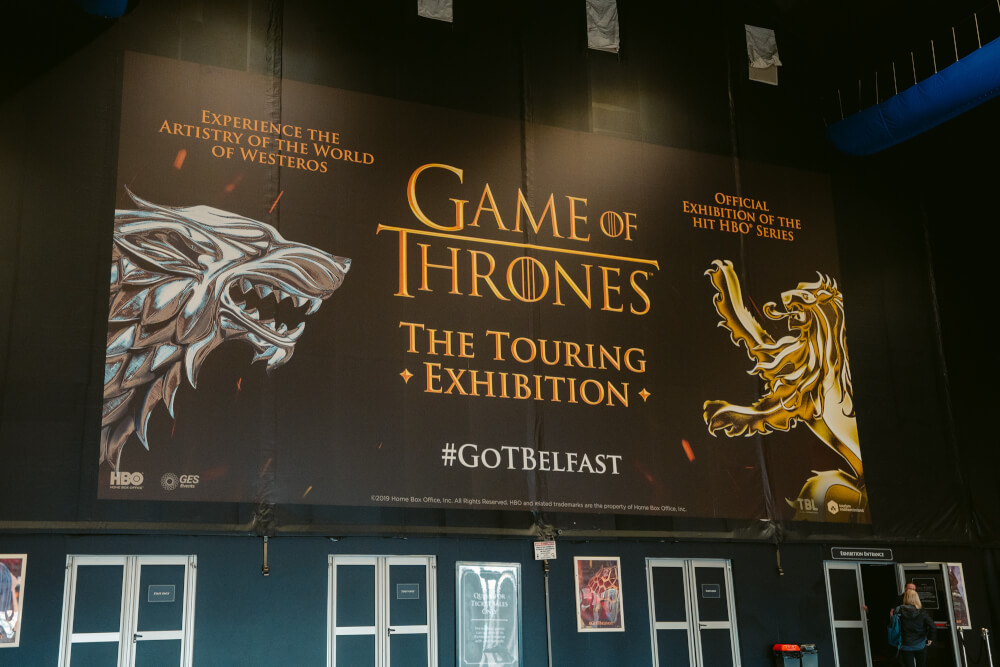 On a more glamorous note, there was also a red carpet set up where you could take shameless photos.
In the biggest plot twist of the century, I somehow neglected to take a photo here, and I'm sure you are all besides yourself with shock.

Waiting Room/Forced Green Screen Photo Opp
After getting our tickets scanned, we walked into a little waiting room where a big green screen was set up. Ah yes, the mandatory green screen photo – a classic staple of any overpriced attraction!
We were told we'd be meeting Drogon via green screen for this opp, so the photographer positioned us in place with expert efficiency before giving us a one snap chance to pet an invisible dragon.
In a flash, we were given a little photo card for later, and moved into a little queue.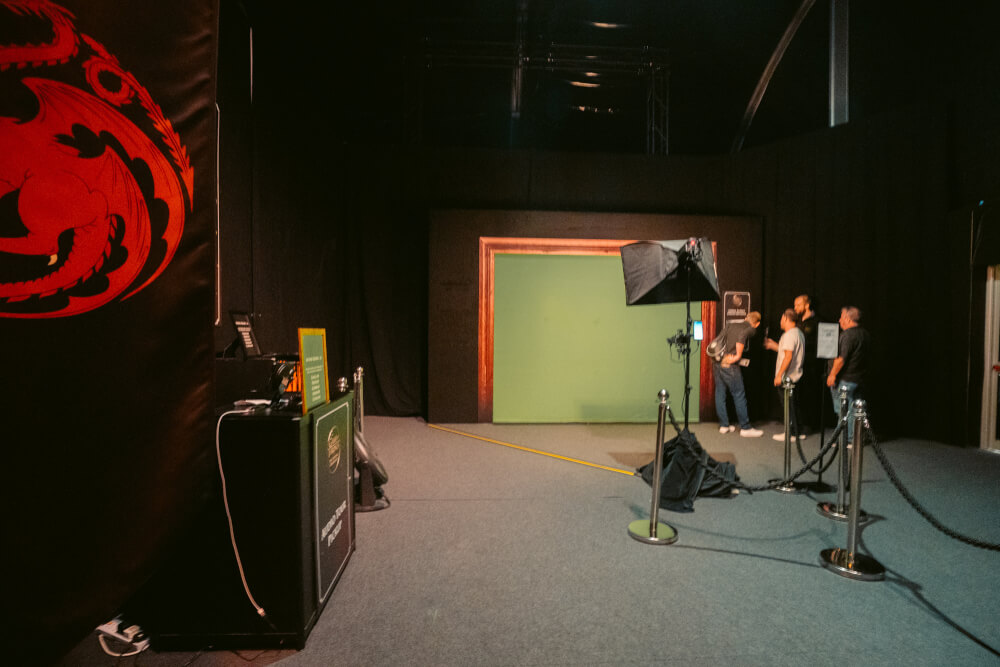 Here, we met Cersei's stand-in (no joke, it feels like everybody in Belfast has worked on the show in some capacity!) who asked us to wait for a bit before letting us into the next room.
Hype-Up Film & Walk of Shame
When we got to enter the next room, we were shown a little promo/hype-up video that summarized the most epic moments from the show.
Pretty good to get you in the mood for some unhinged geek-outs.
The best was when the staff member (again, Cersei's stand-in!) asked if anyone had NOT seen the show.
Meekly, one woman in our group put her hand up, which condemned her to a mini Walk of Shame, bell included.
Literally, we marched in a line, shouting "SHAME" at this poor stranger as Cersei's stand-in bellowed "Shame. Shame. Shame. Watch the show! Shame. Shame. Shame."
It was kind of weird, but I can't imagine how much weirder it must have been for that poor woman that has never seen a single episode.
But anyways, this Walk of Shame promptly led us into the first room of the Exhibition.
The King's Landing Room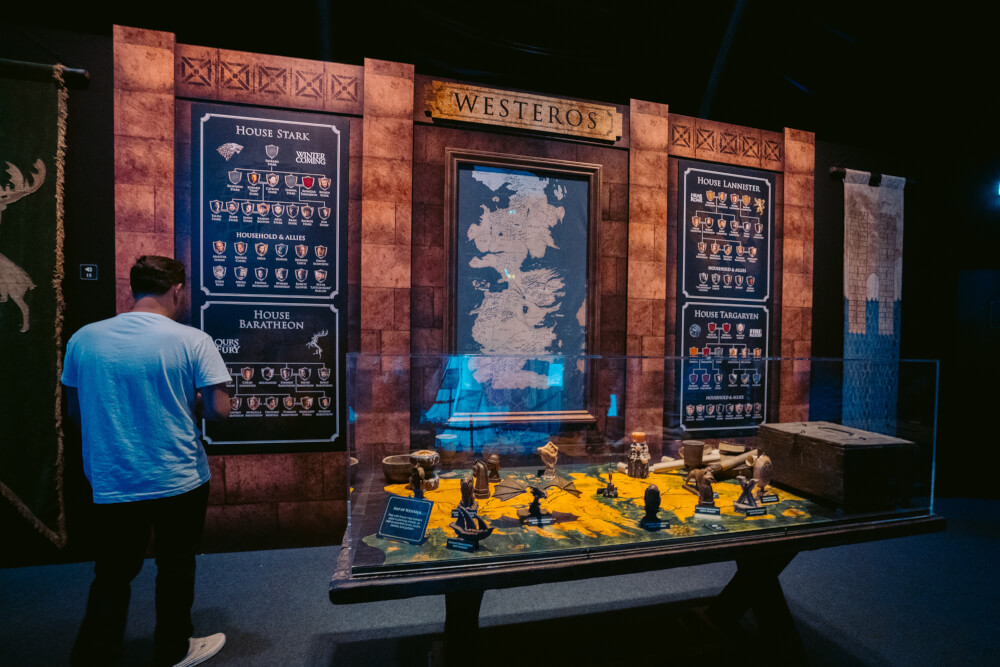 The first room was a bit of a mish mash of everything, with costumes and props representing the most important houses in Westeros.
To start, there was a very cool wall that showed the different houses, their family trees, and their allies, acting as a backdrop to a war map with the different house markers (as seen whenever they were plotting battle plans).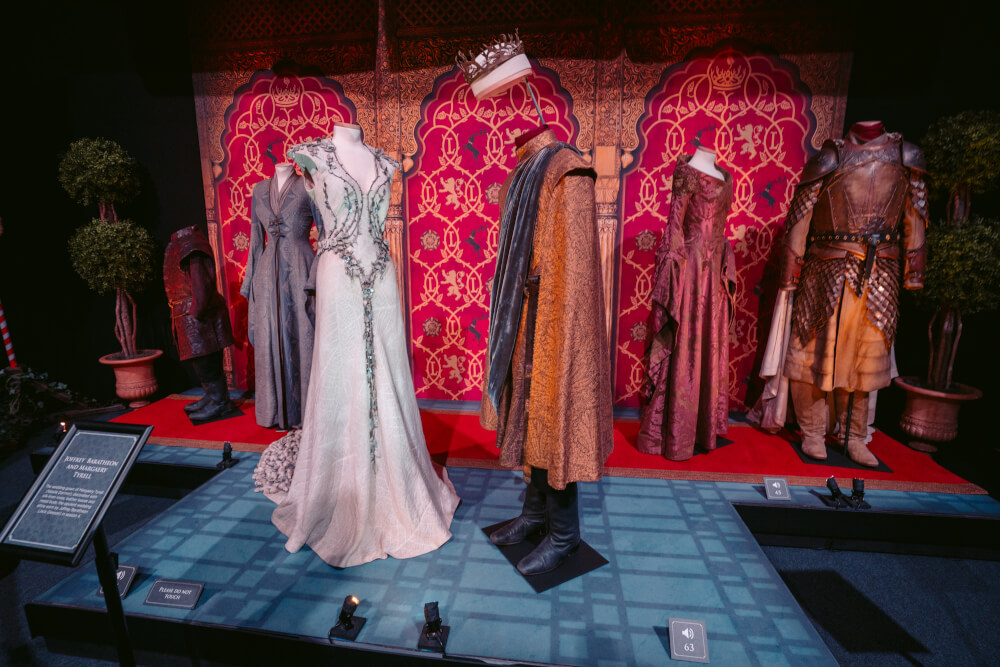 Then the parade of fabulous costumes began!
Some iconic ones included Margery and Joffrey's marriage get-ups, although seeing the tiny-ness of Margery's waistline has really damaged my confidence for a lifetime….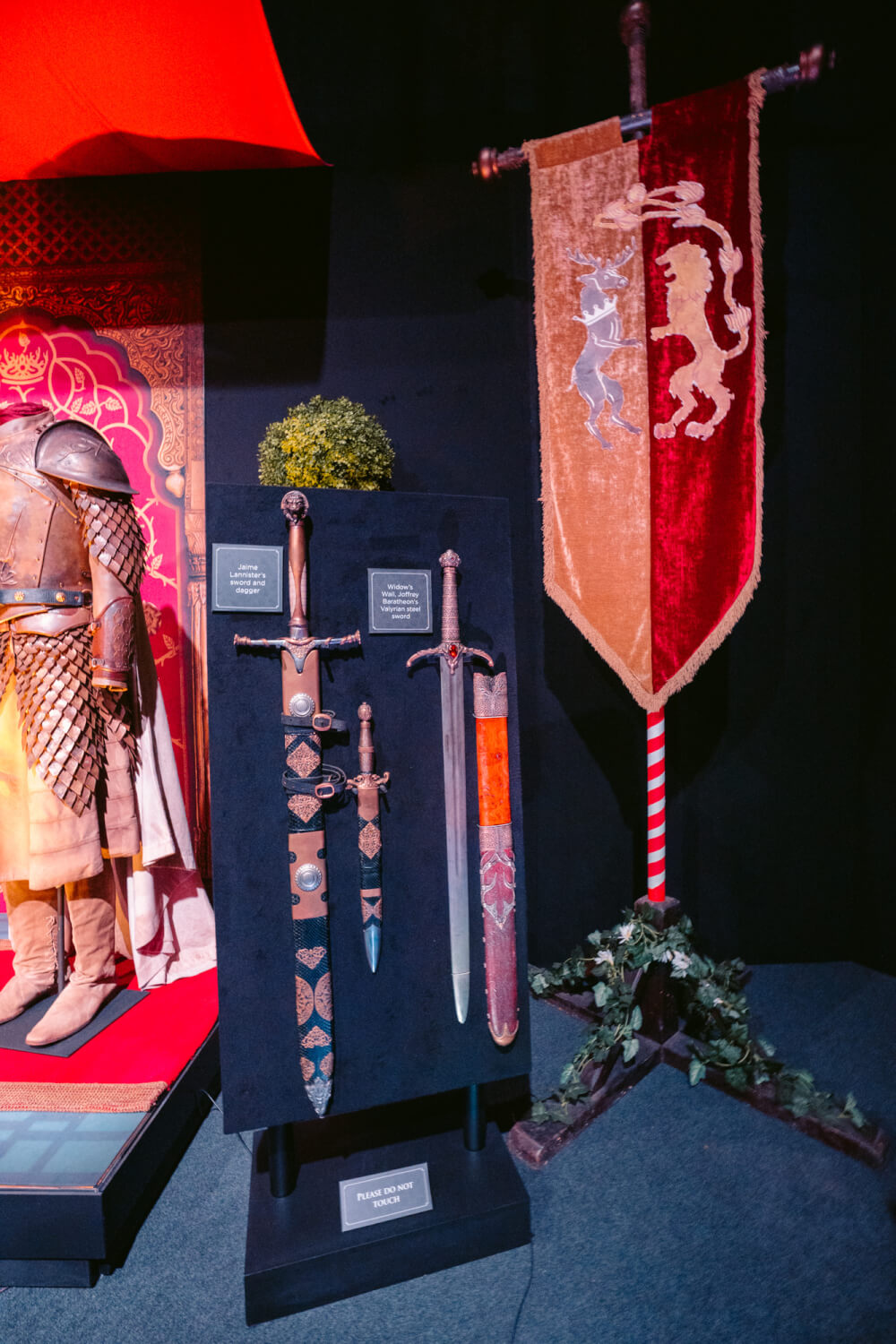 We also get a look at Widow's Wail (eyeroll) and some of Jamie's weapons, along with important props like the Hand of the King pin, Jamie's golden hand, Joffrey's crown, and the carriage we see Joffrey cruise around King's Landing in.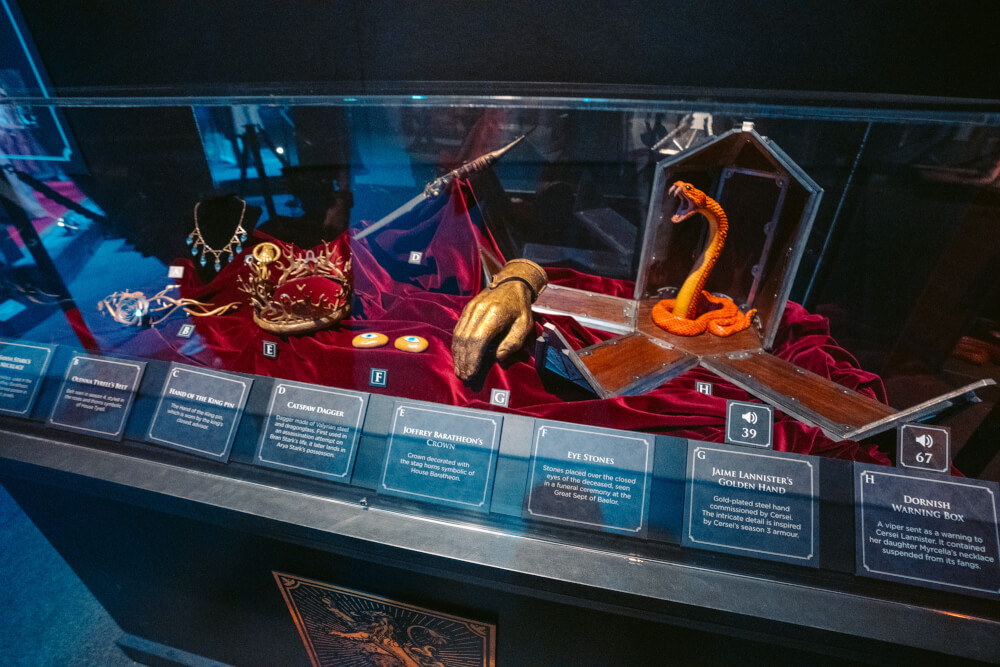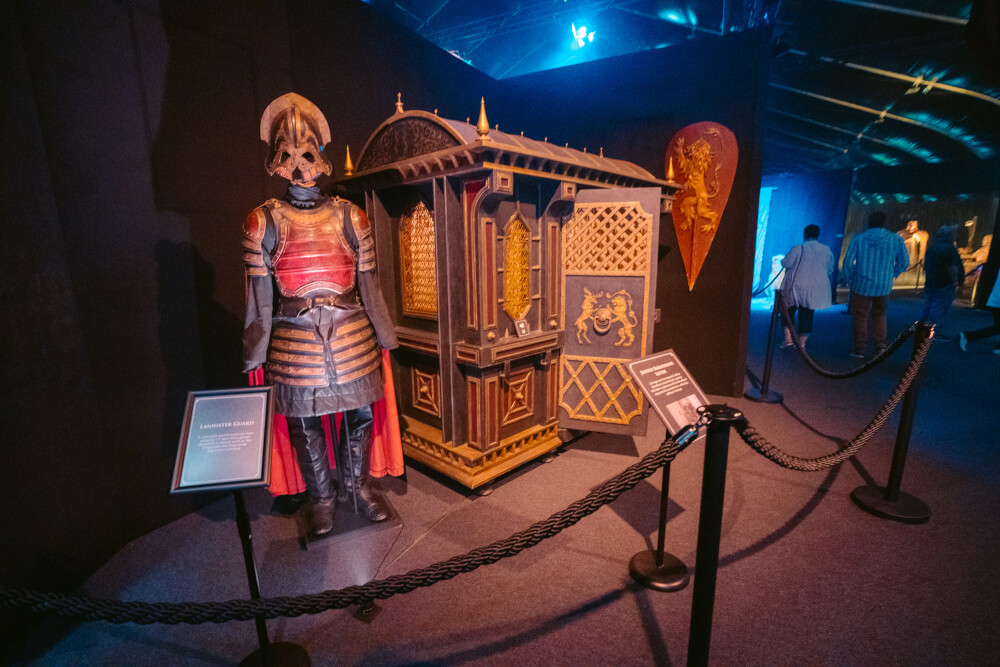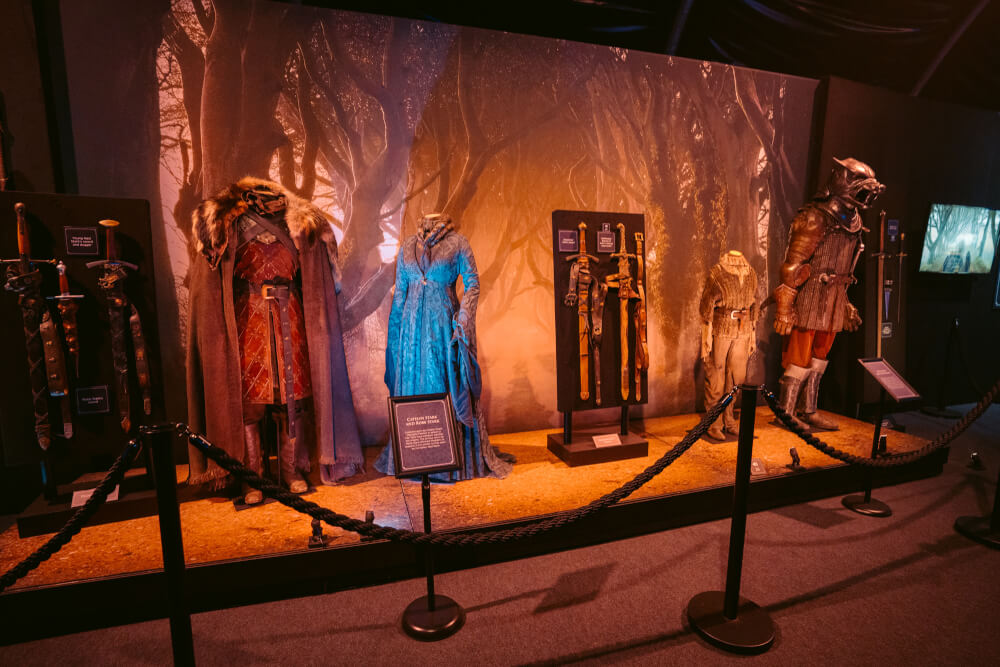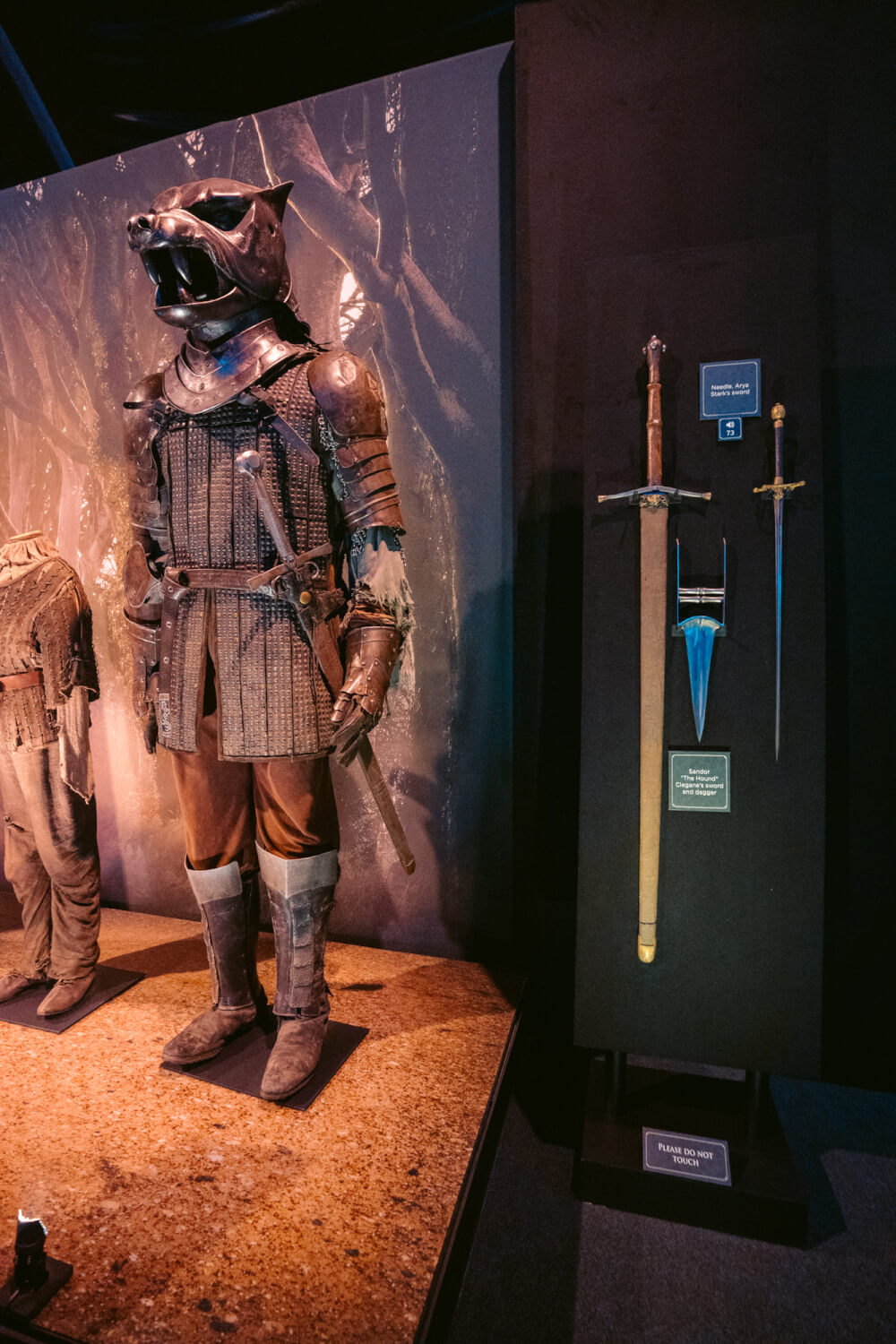 We then move over to a Stark-ier display, with costumes from Catelyn and Ned, along with little Arya and the Hound. The size difference of these two was too much for me to handle: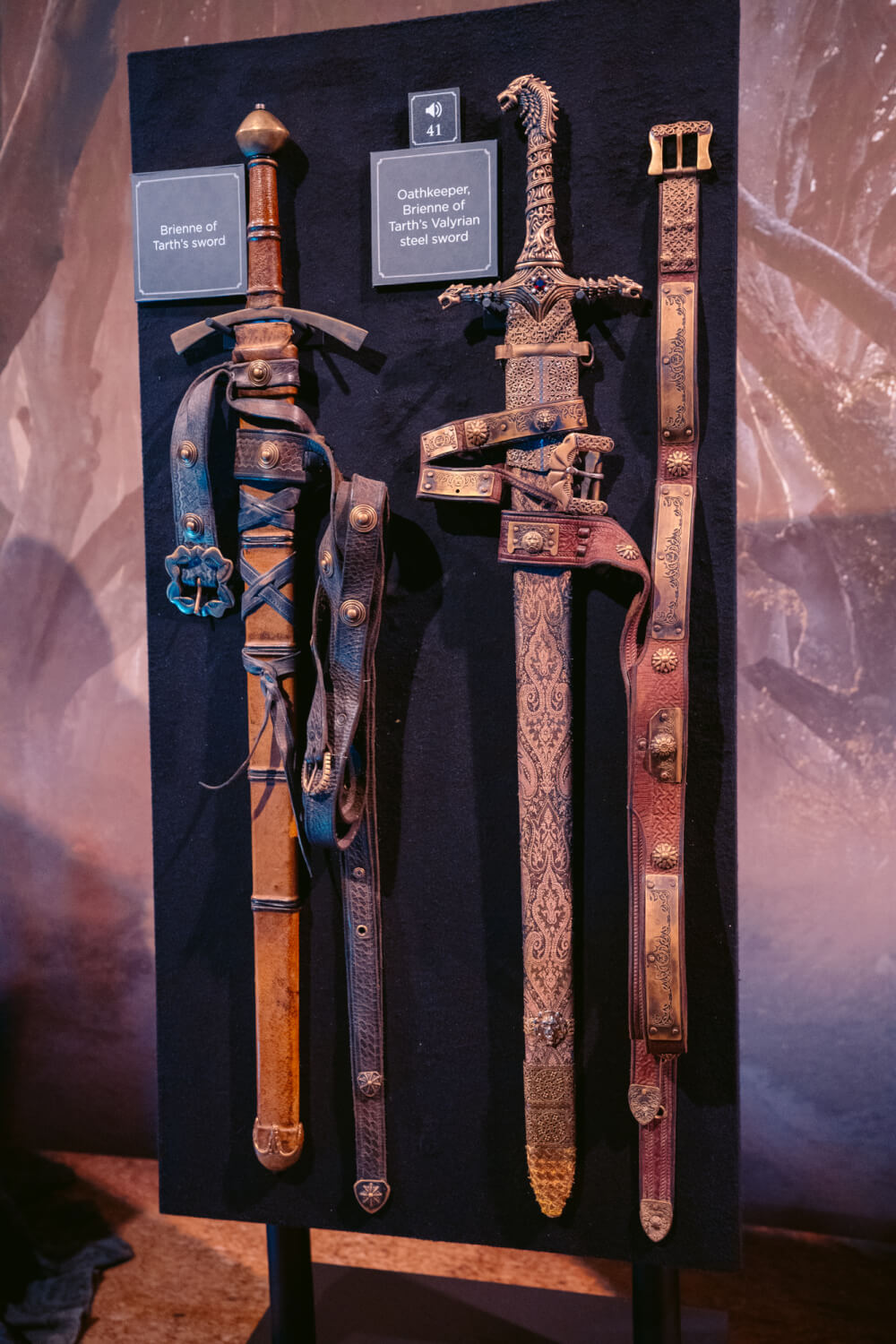 Brienne's swords are also on display here!
The Winterfell Crypt
Next, onto the crypt…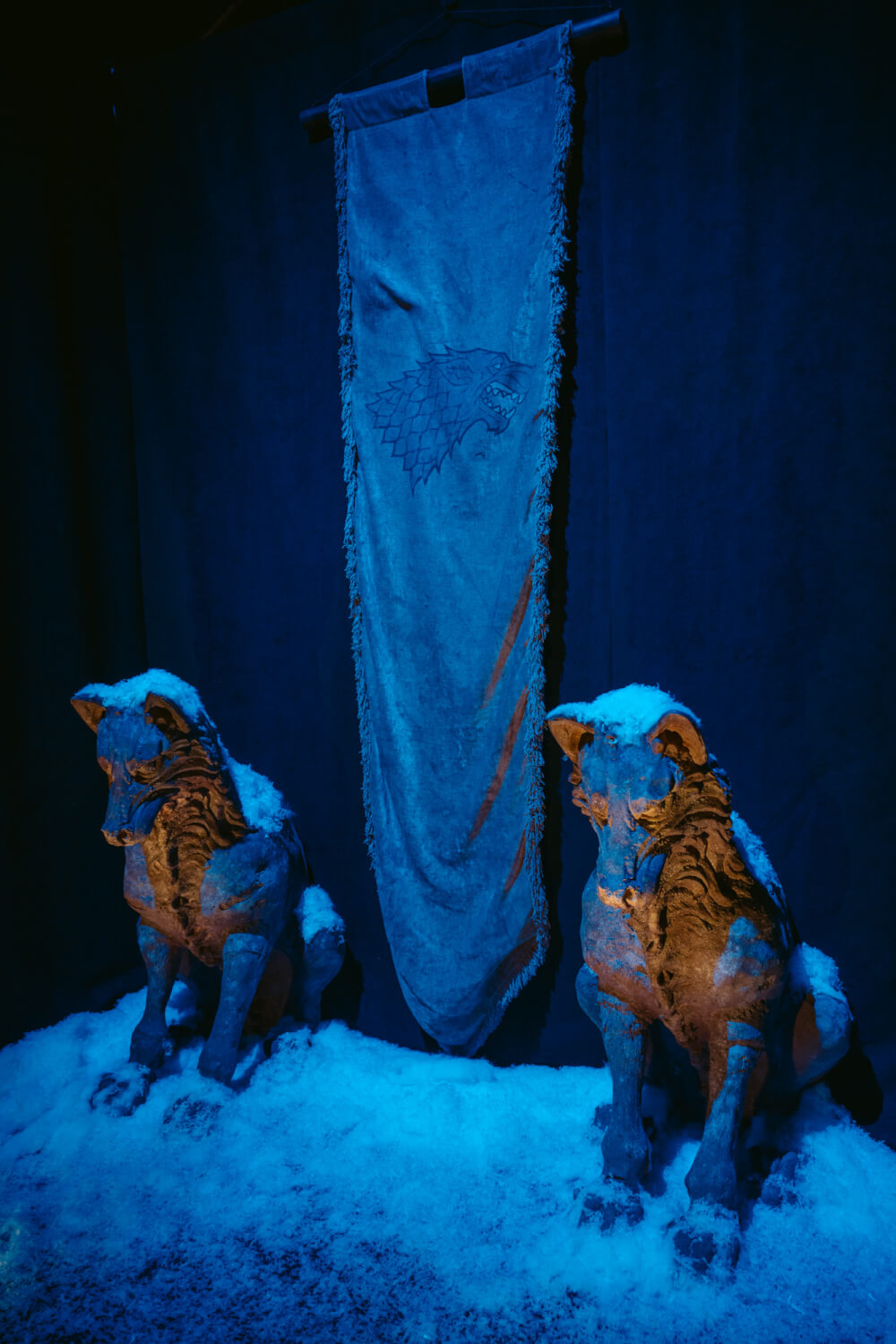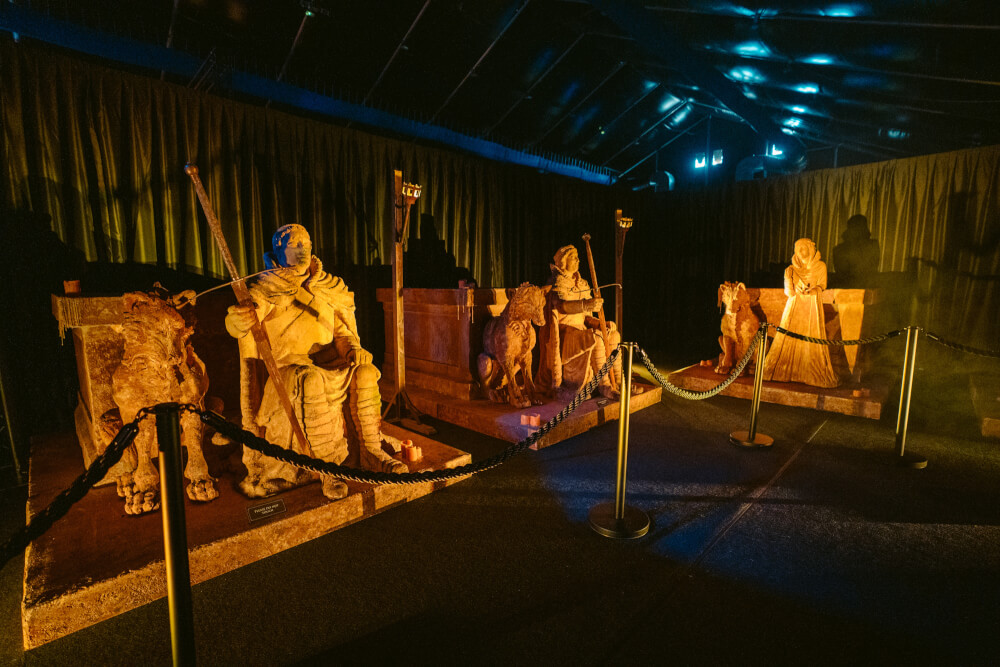 This little area had a lot of the stone statues and tombs that are seen in the Wintefell crypt throughout the series. Luckily, no resurrected zombie wights were involved.

The Hall of "Other Houses"
This little room had tiny pavilions representing some of the other prominent houses from Game of Thrones, with costumes and flags from each.
For House Arryn, they had these costumes from Sansa and Littlefinger (I guess nobody would have cared if they had costumes from Lord of Breastmilk and his mom):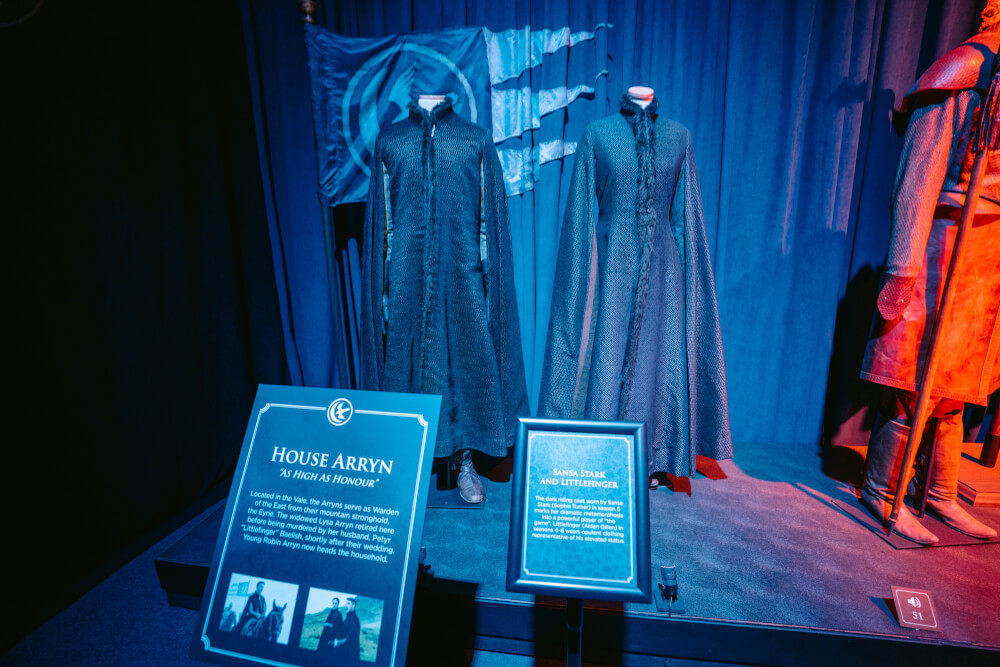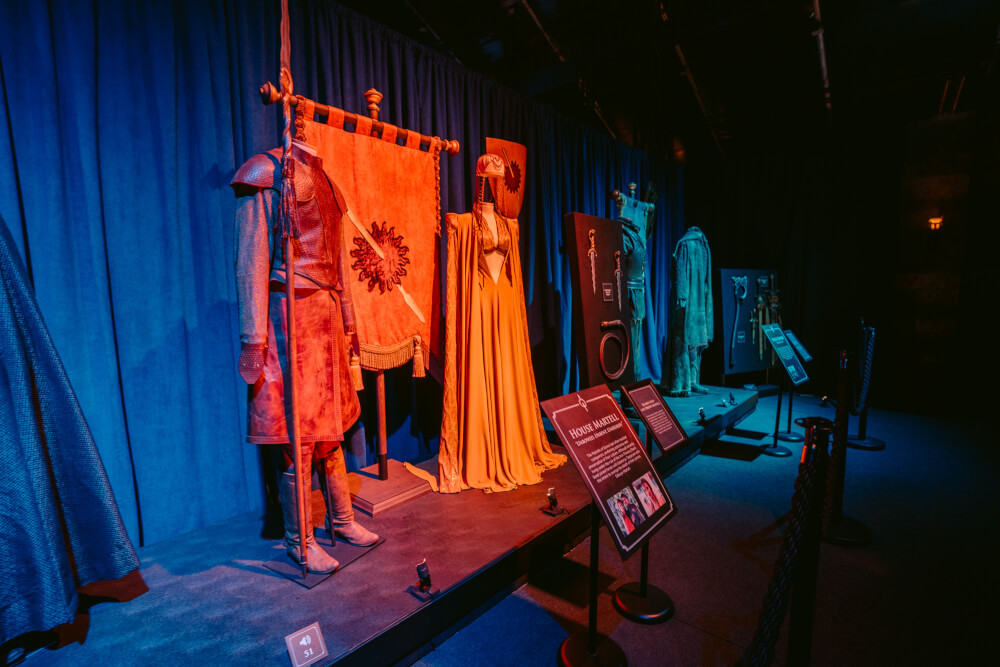 There were also some luxe outfits all the way from Dorne! They didn't have Oberyn's iconic yellow get-up on display, but they did have Ellaria's swishy badass gown, and Oberyn's armour:
Along with some cool Sand Snake weapons: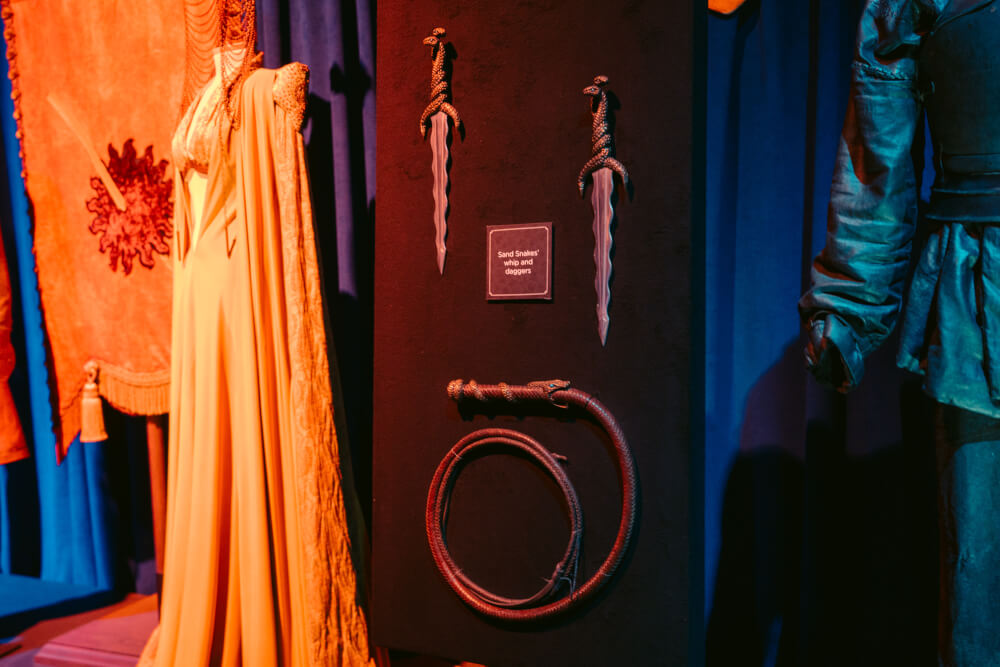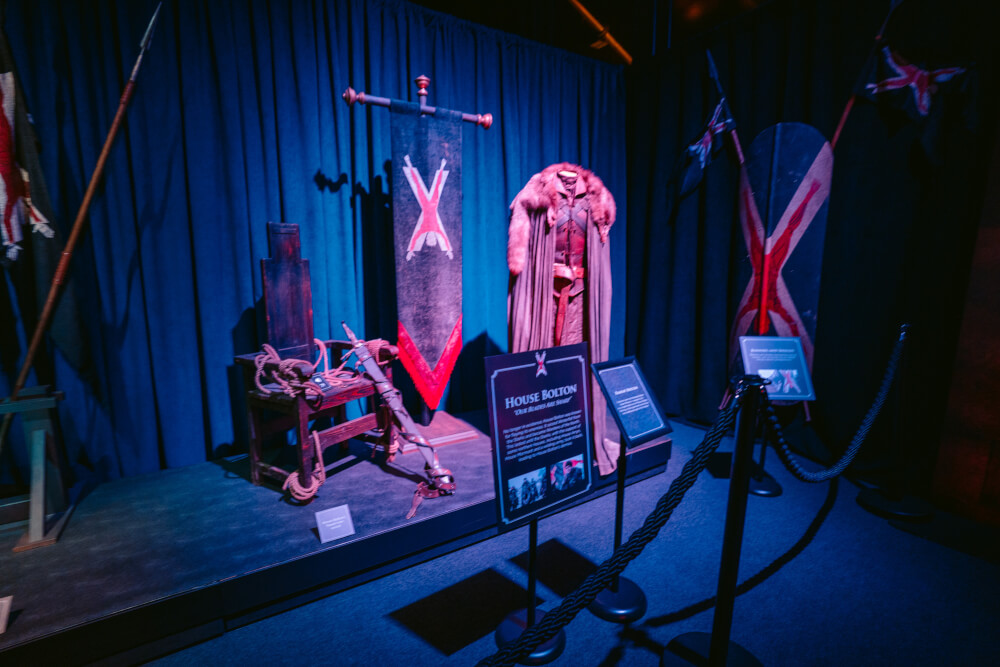 And if you thought you'd get through this post without seeing a flayed man, then you haven't been paying attention. Here were some props and costumes from our favourite villainous house, House Bolton (although the sign very satisfyingly explained how this House no longer exists).
We also had some Baratheon goodies on display, with costumes from Stannis and Melisandre, along with Renly's gorgeous crown (always my fave!) and Melisandre's magical choker.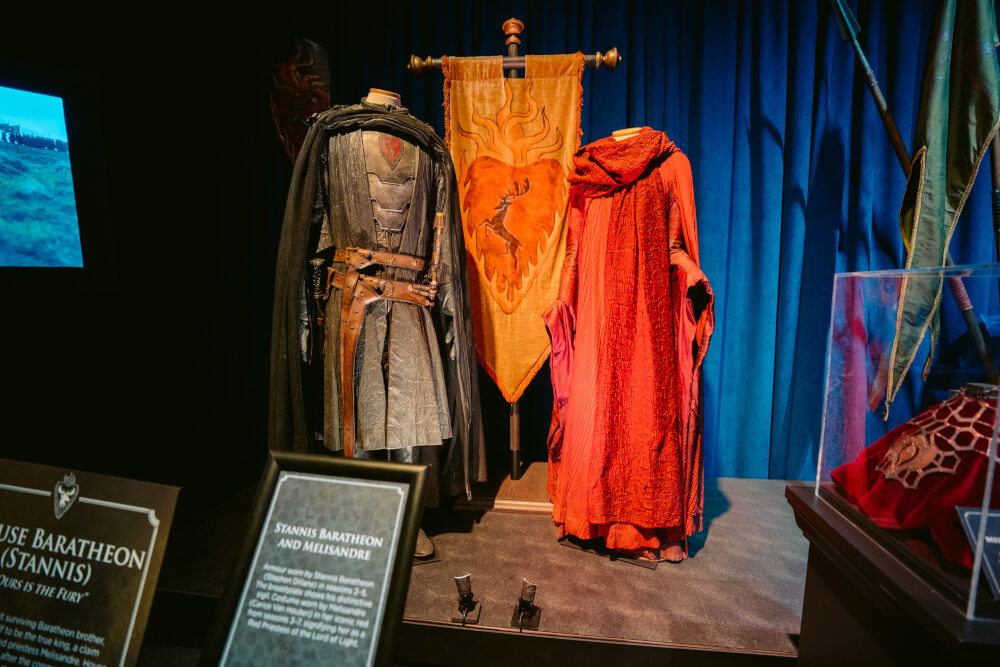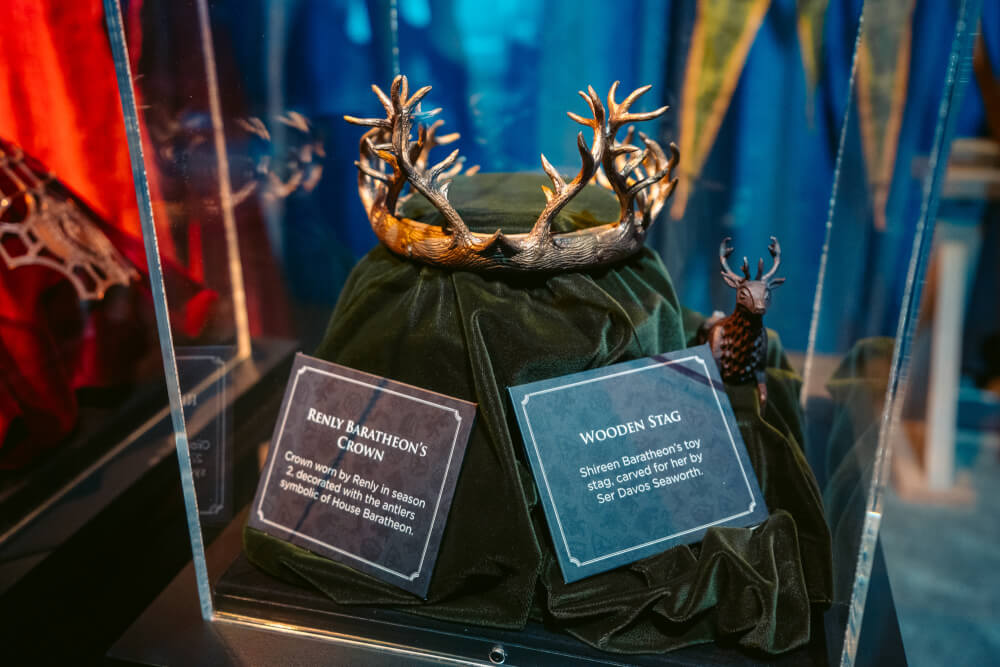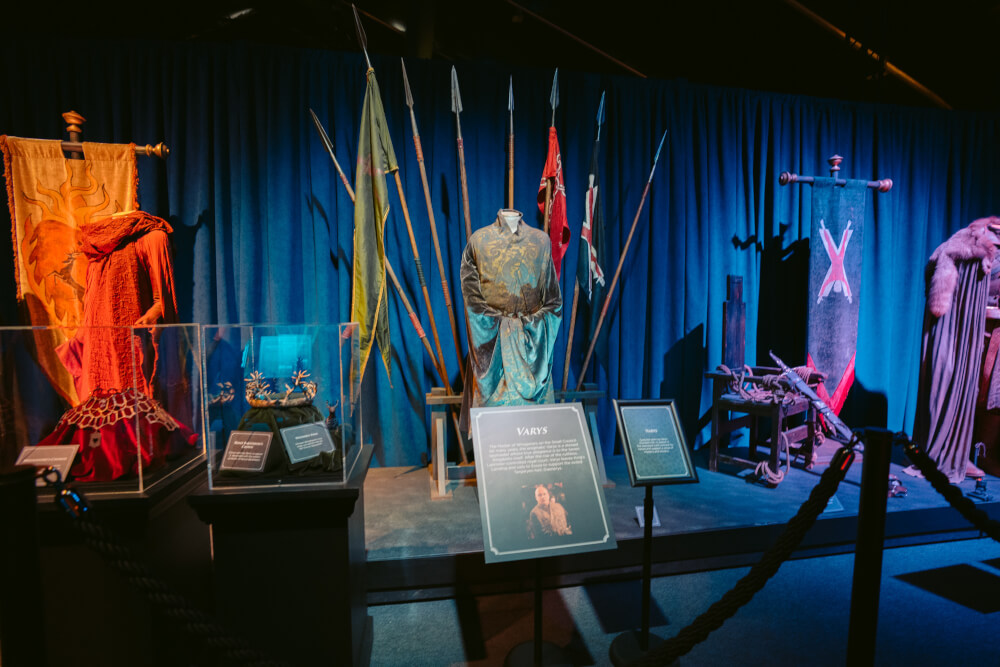 We also had a fun little Varys pavilion. Look at that swishy robe! I was surprised to see he's not all that large in real life, although I need to share a very fun fact with you.
According to the tour guide who did our Game of Thrones direwolf tour, Varys used to keep a novel inside his giant sleeves and just read in-between takes… which weirdly fits, doesn't it?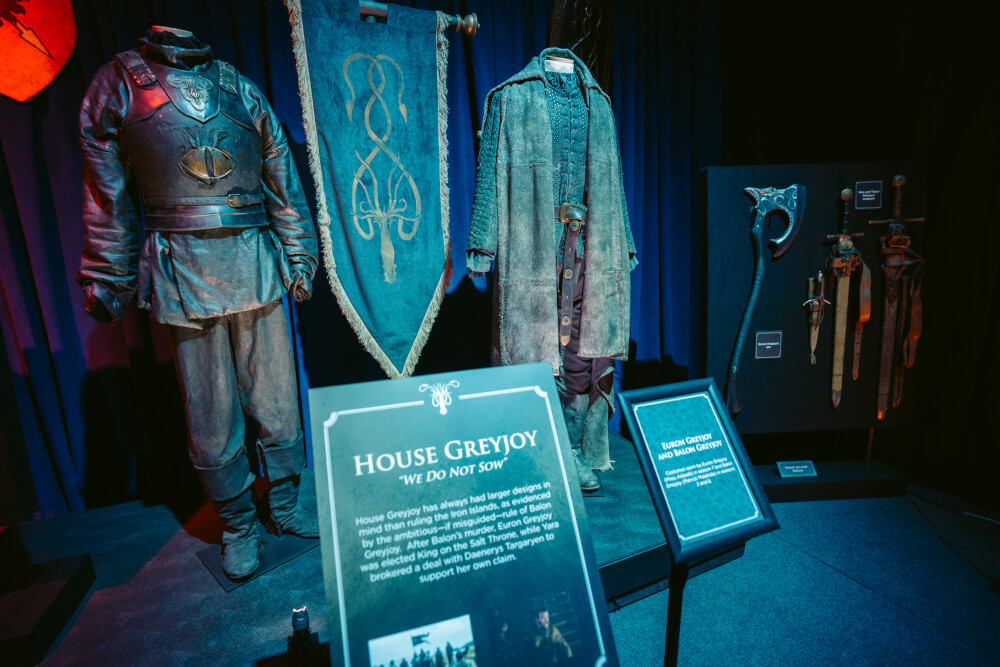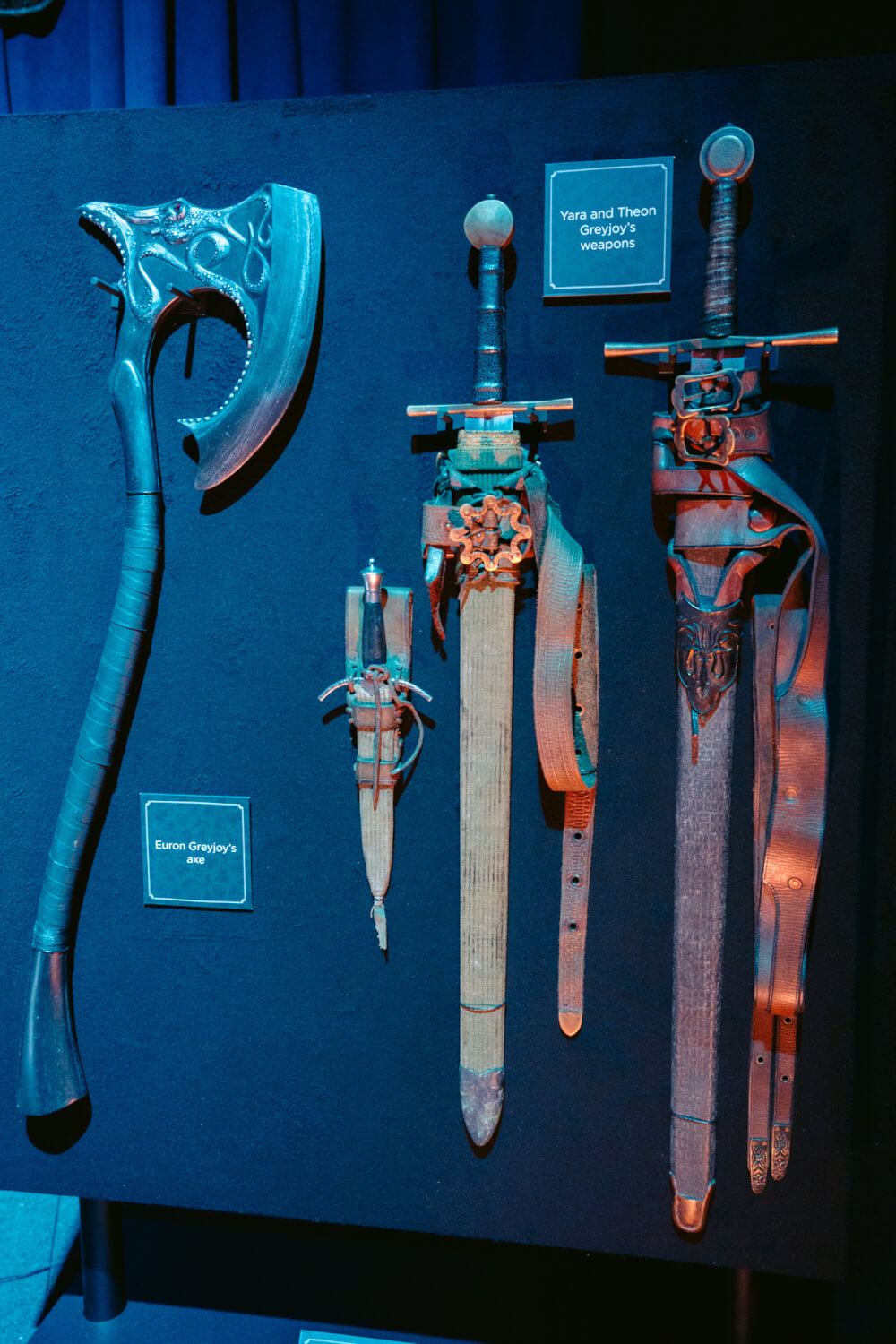 Last but not least, there were some costumes and props from House Greyjoy, with outfits from Euron and Balon, along with weapons from Euron, Yara and Theon
The Dragon Skull Graveyard
Next, you walk into a spooky little dark room full of dragon skulls!
There were so many of them! I was fully expecting one fo them to randomly light up and spew fake fire at me, but luckily this did not happen.
… Otherwise I'd have sued.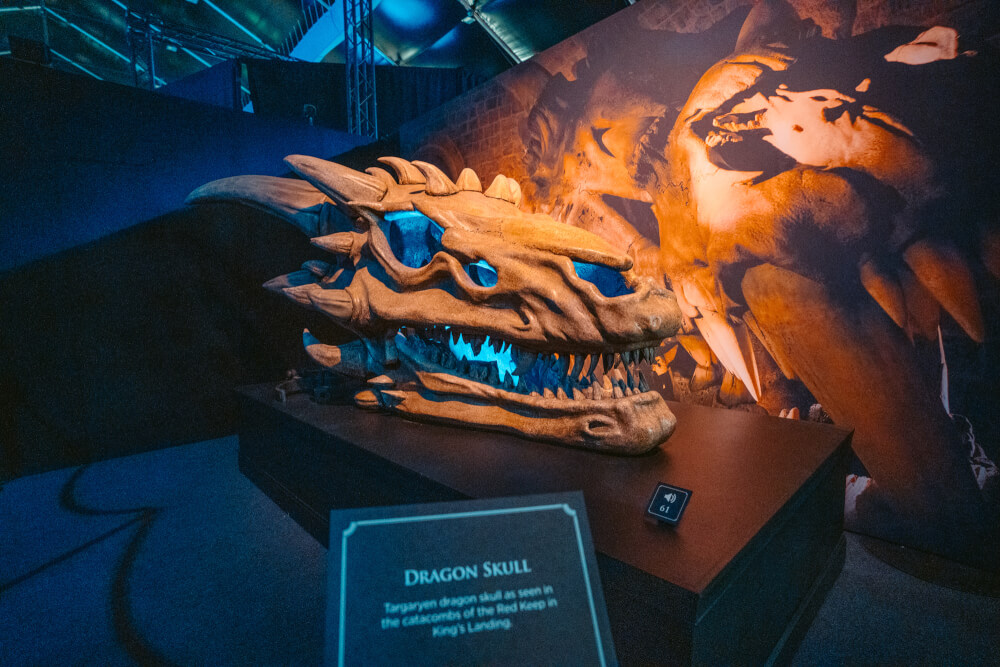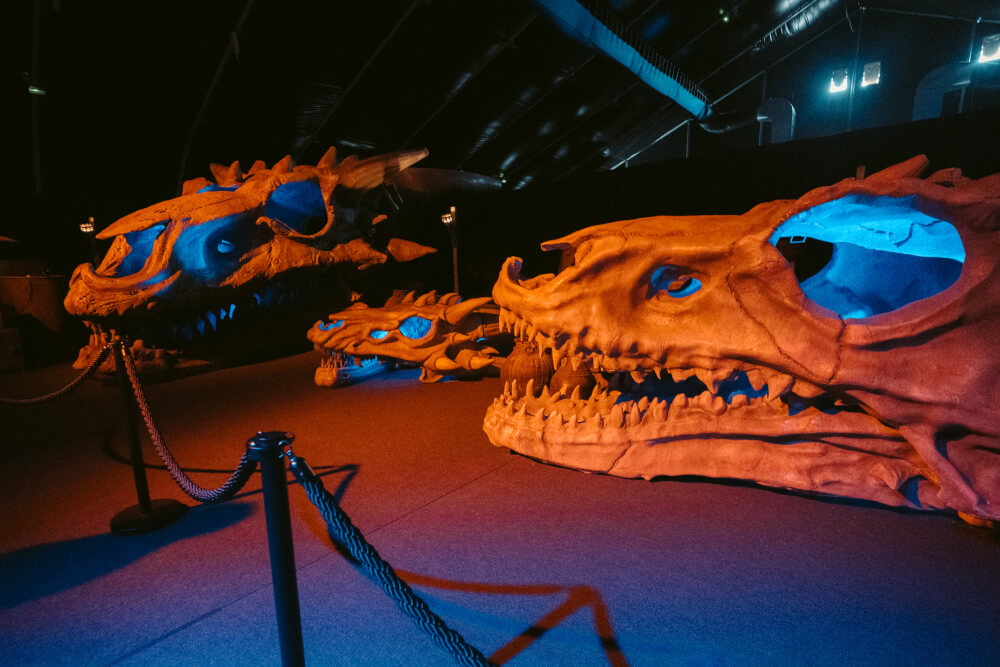 NOTE: This was supposedly an exclusive addition for the Belfast Exhibition, but there was an entire room dedicated to various dragon skull props which was very, very cool.

The Targaryen Zone
The graveyard made a pretty logical segway into the next room, dedicated to the Targaryens.
And this room was one of my favourites, mainly because I mean… Dany had the most fabulous costumes, amirite?
The focal point of this Exhibition room was a big display featuring two iconic outfits from Daenerys and Missandei, surrounded by Unsullied. We also see special weapon props in a case, like Khal Drogo's arakh.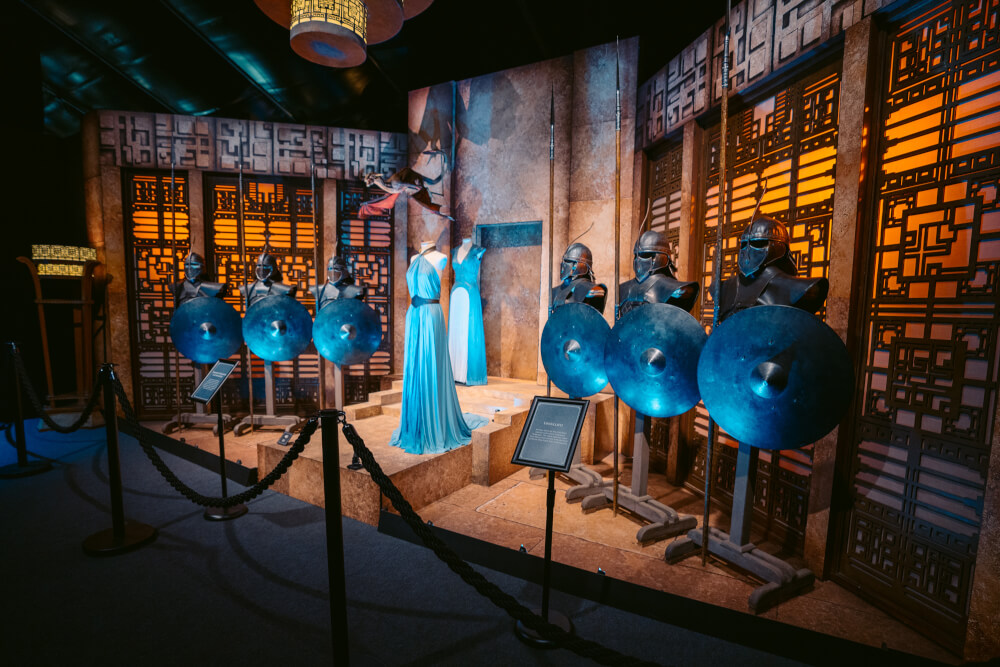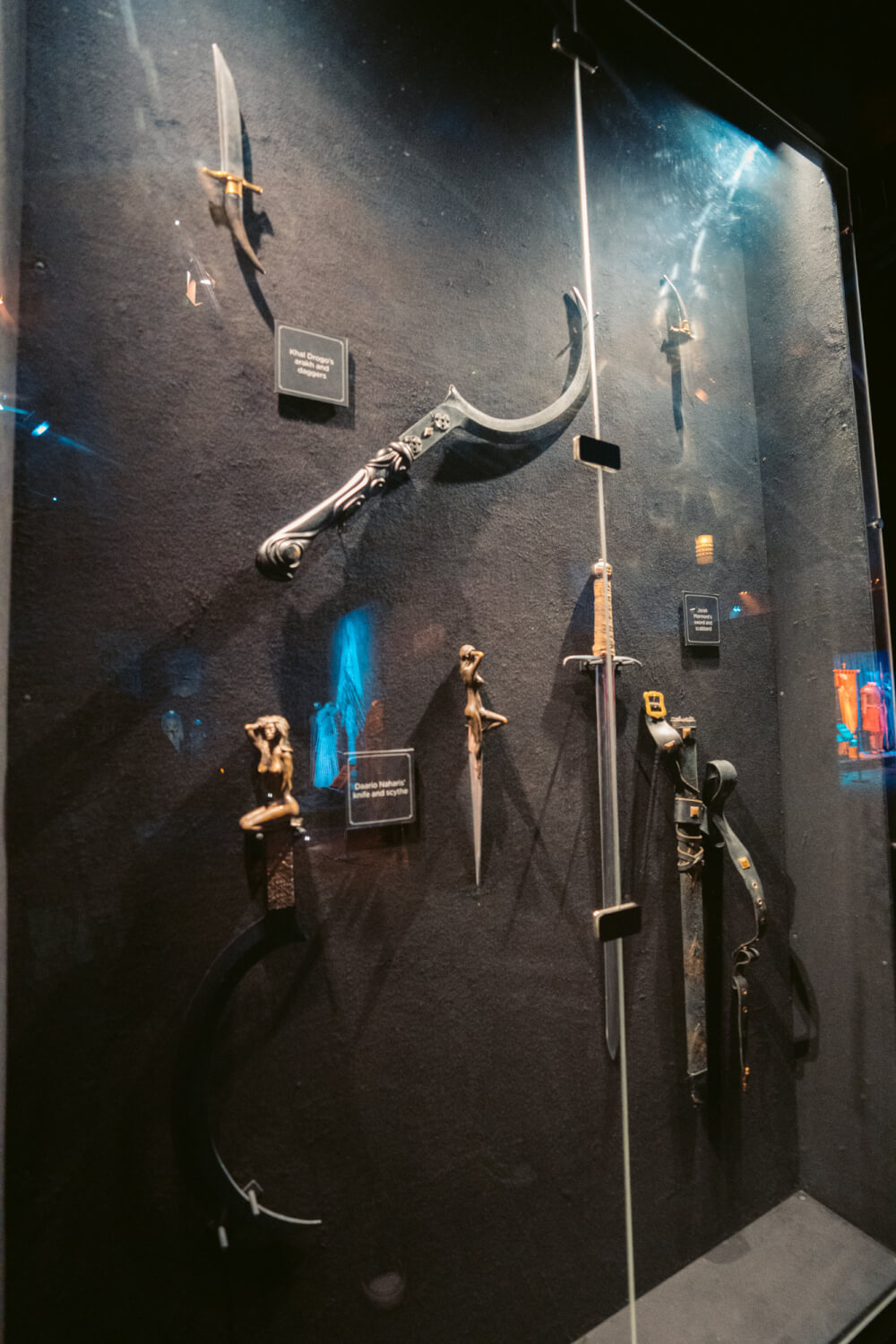 Also on display is a classic Daario dreamboat outfit: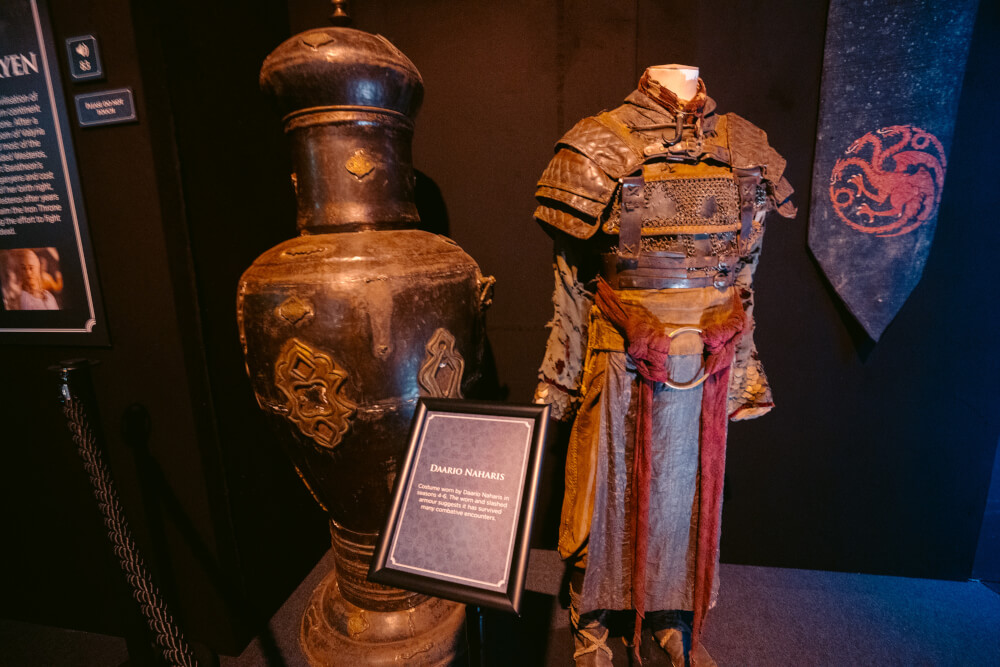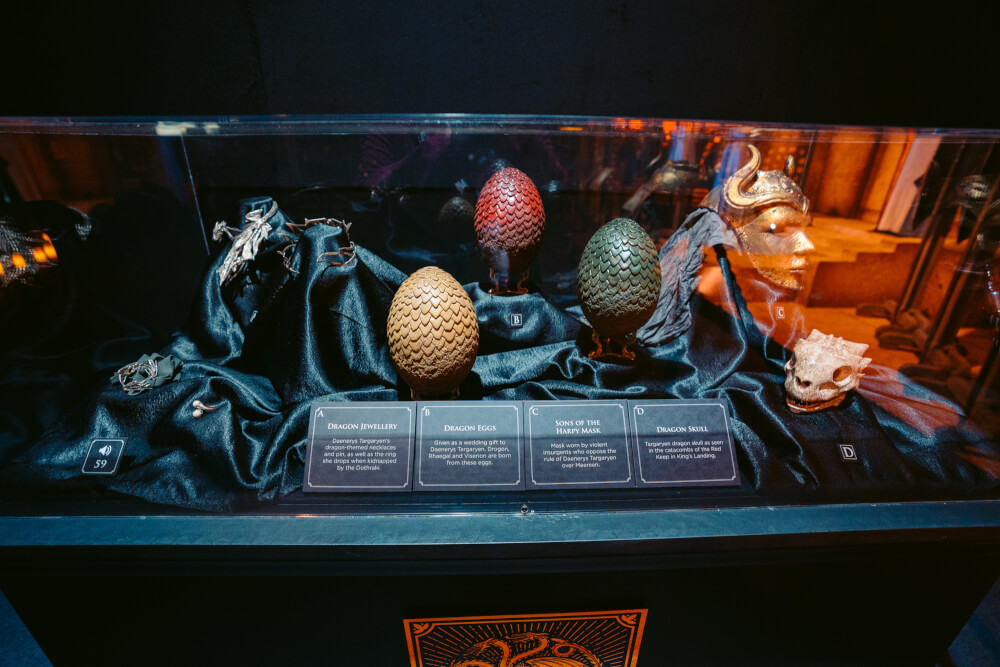 And very important Targaryen-storyline props including THE dragon eggs, a Sons of the Harpy mask and some of Dany's gorgeous jewelry. FYI, they do sell similar pieces in the gift shop for a hefty price. I thought I might treat myself to a badass silver dragon choker…. before seeing the pricetag of over £3000. I mean thanks, but I think I'd rather enjoy the privilege of like, eating food for the next year instead.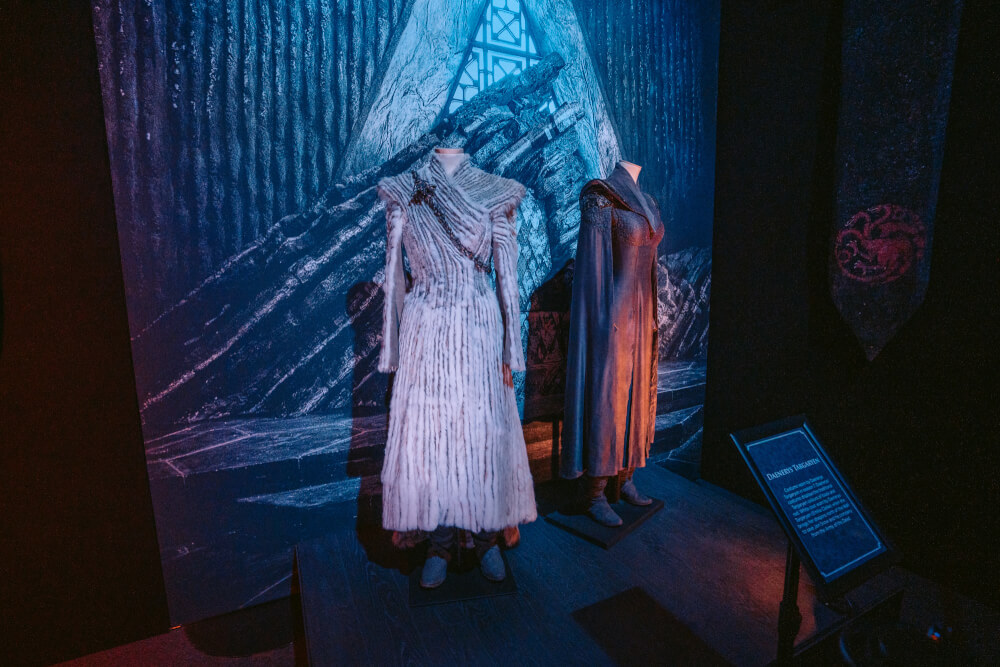 We also see Daenerys' wonderful fluffy winter get-up, which we see in the last two seasons:
The Hall of Faces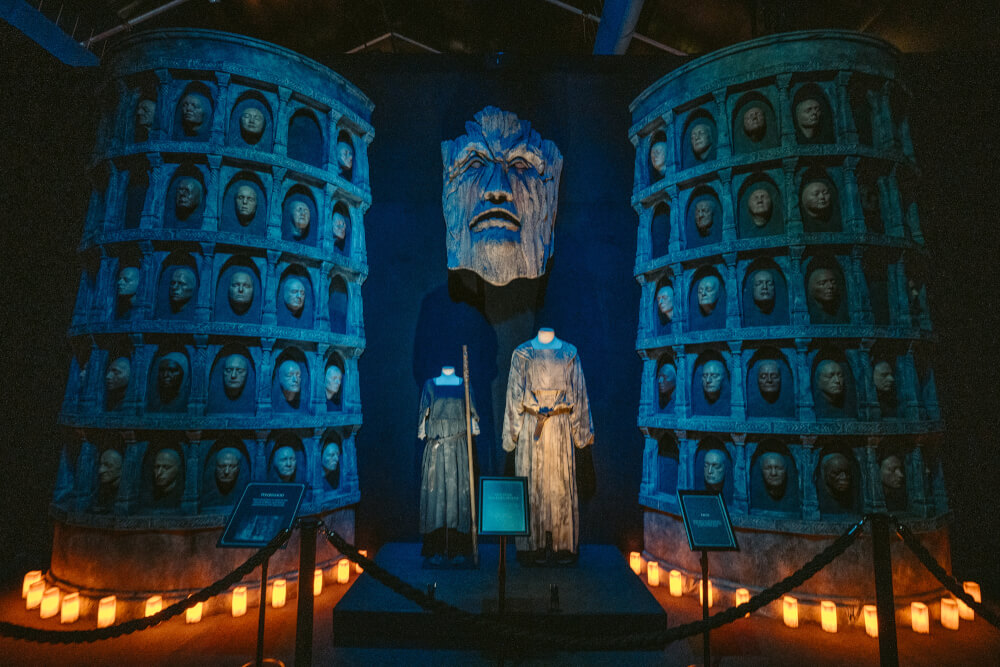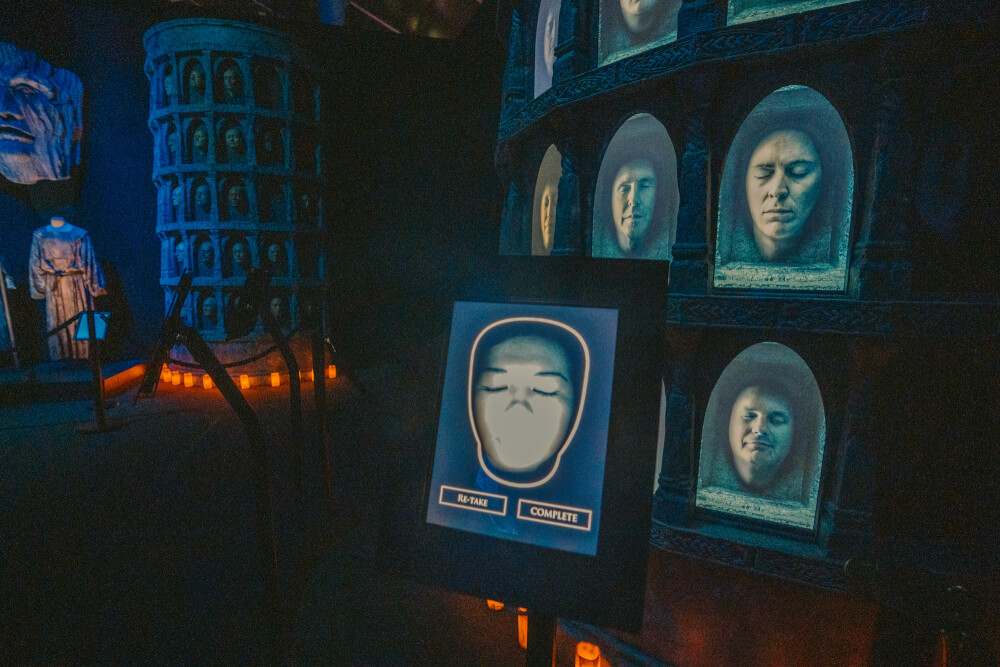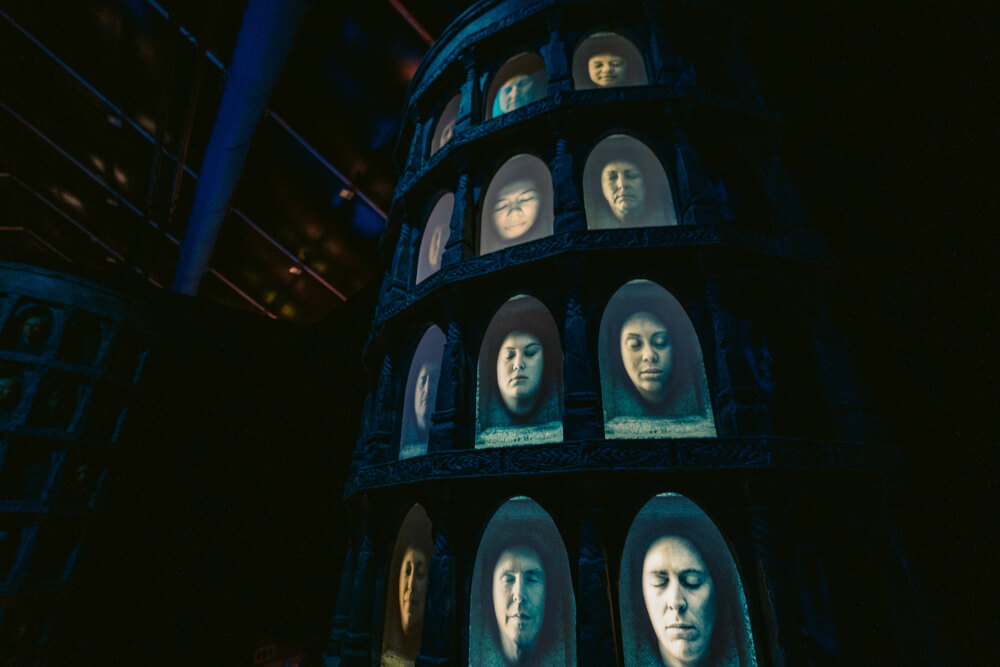 The next room is the coolest interactive display in the Exhibition by far.
You walk straight into the Hall of Faces, and get to add your face to it too! In this room, you see some costumes from Braavos (heyyyy Jaqen H'ghar), a Weirwood tree face, and interactive screens where you can snap selfie and watch yourself get magically added to the Hall of Faces.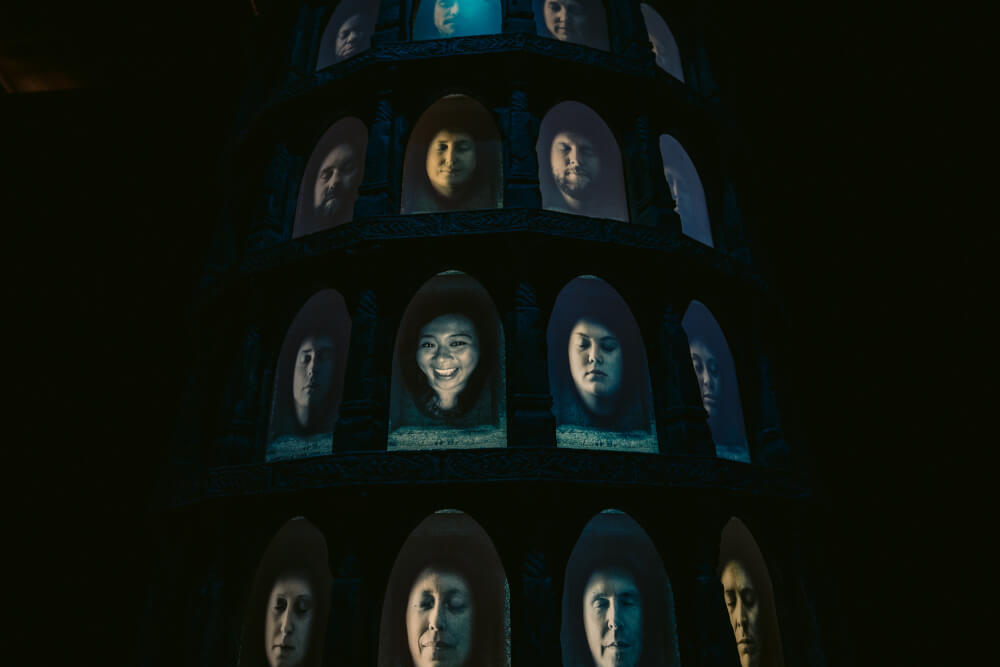 The second time, a girl had to smile for the camera:

The Wall & Beyond
Then the costumes get furrier!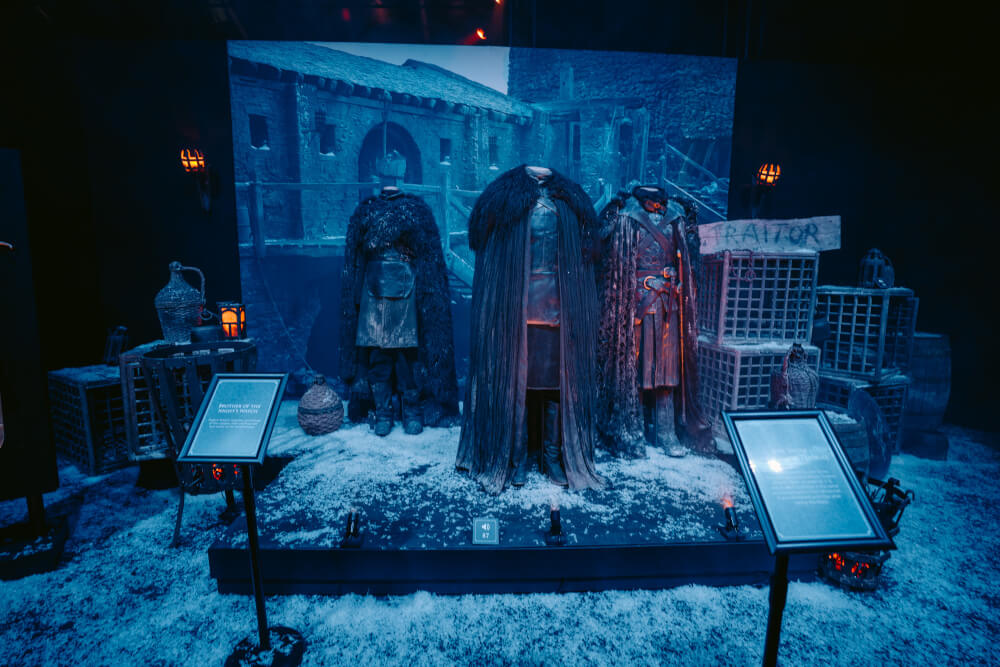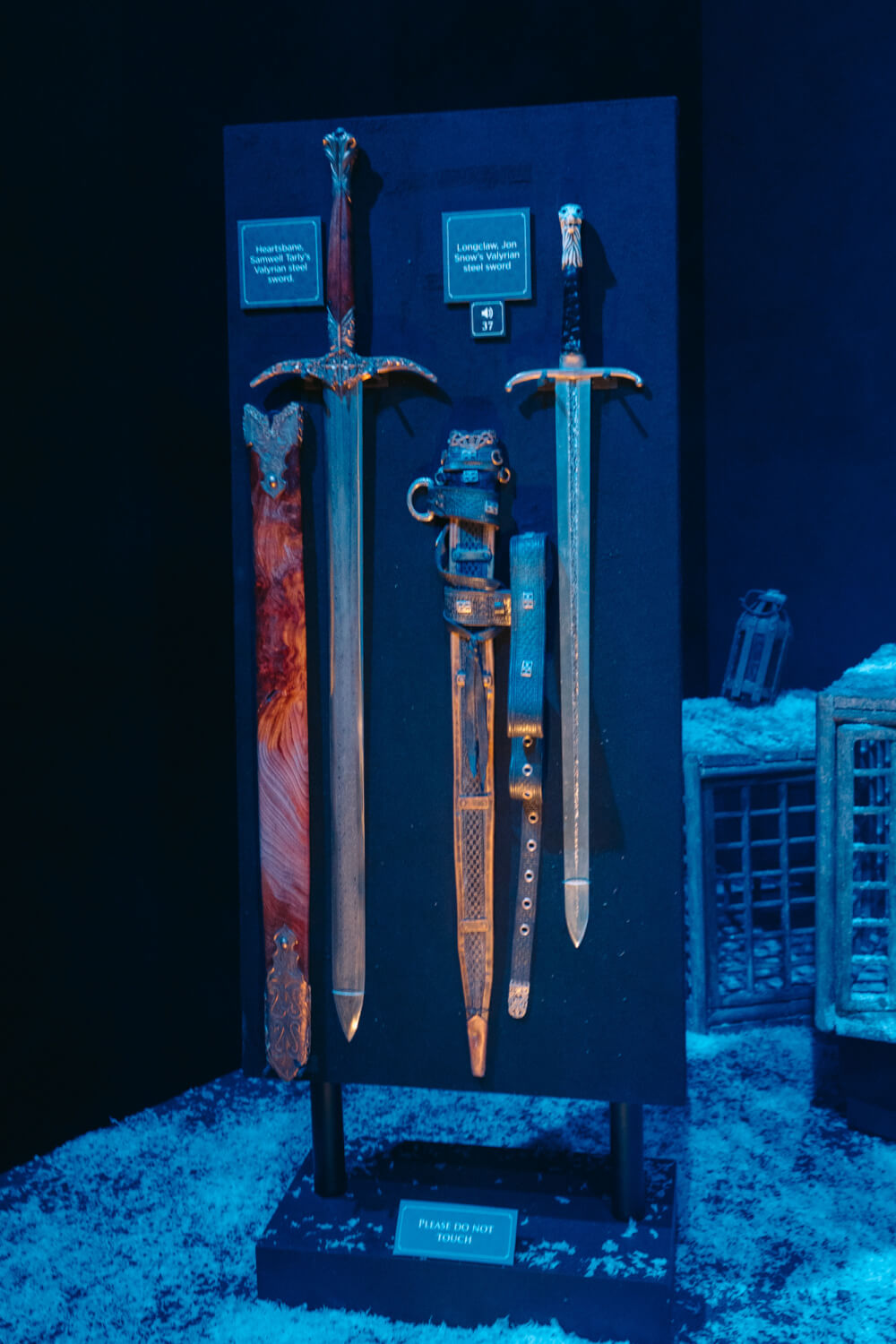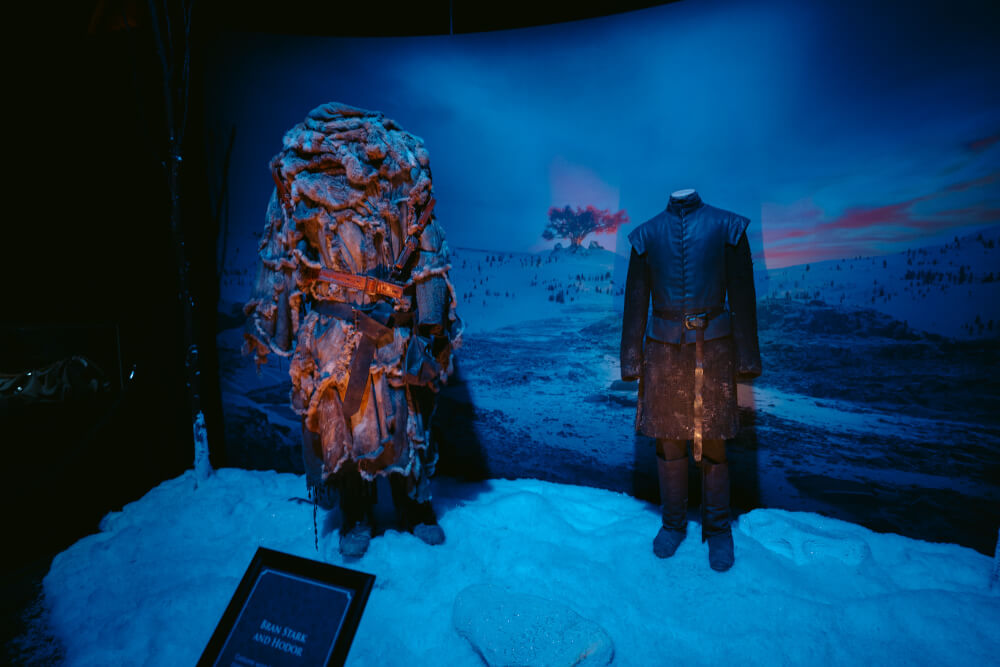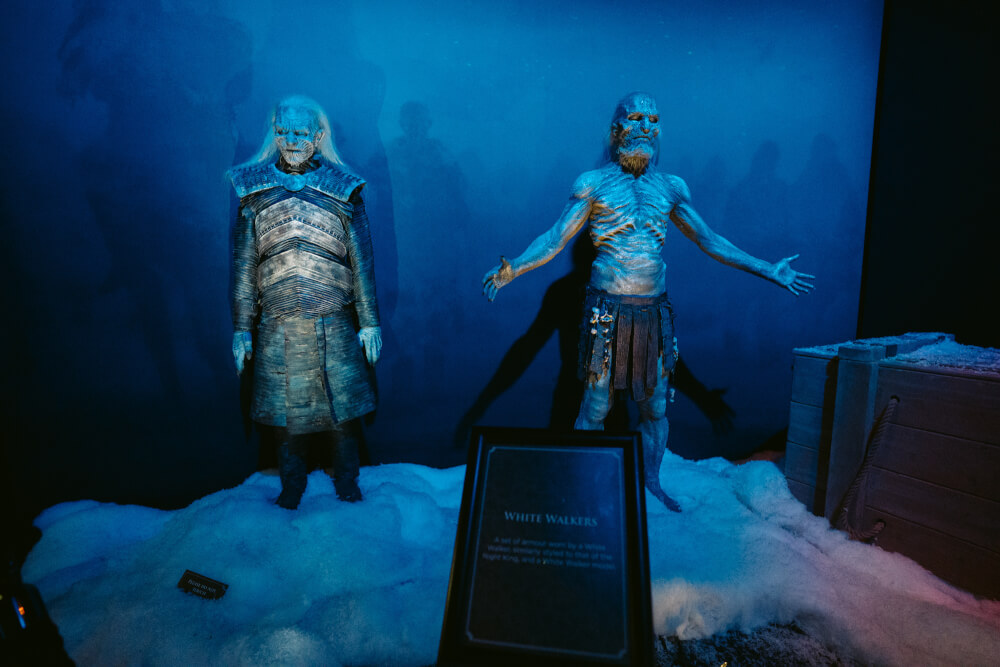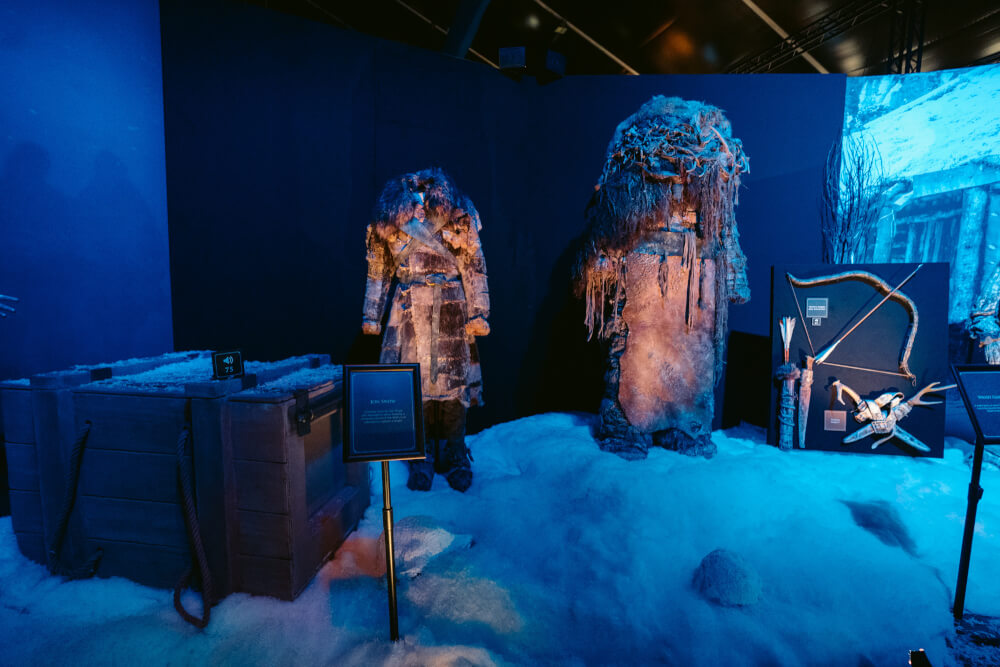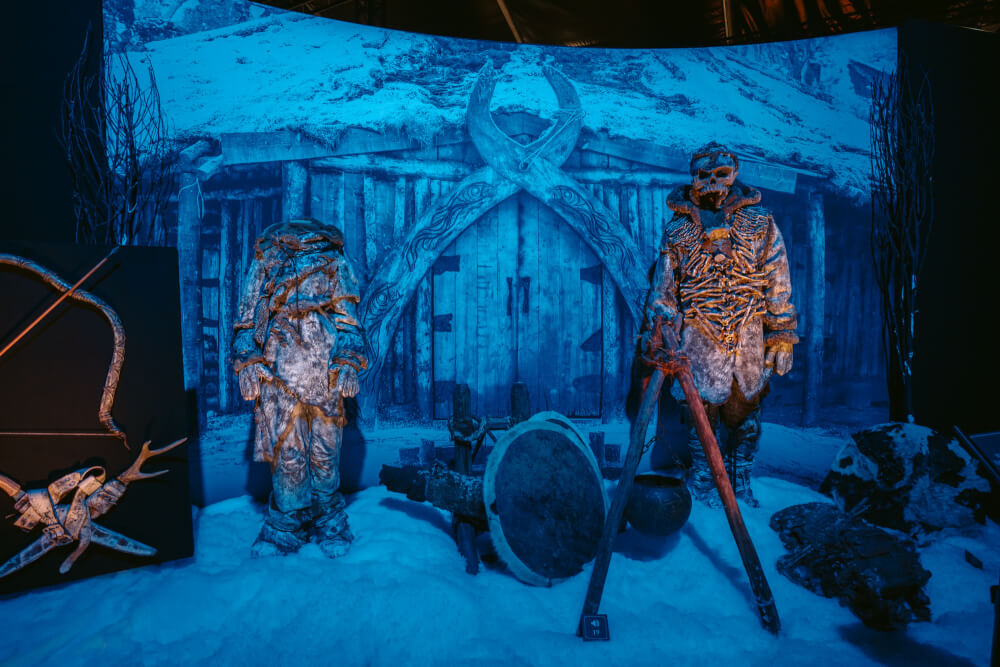 The next room takes you to the Wall (and beyond) with warm cloaks and important props like the pre-stabbing "TRAITOR" sign.
We also get to see Valyrian beauties Heartsbane and Longclaw, along with a biiiig Hodor outfit and some real life White Walkers and wildlings.
This room was especially fun for its photo opps – one where you can yield Longclaw for yourself, and another where mirrors allow you to get a shot of you seemingly falling down the Wall!
The Throne Room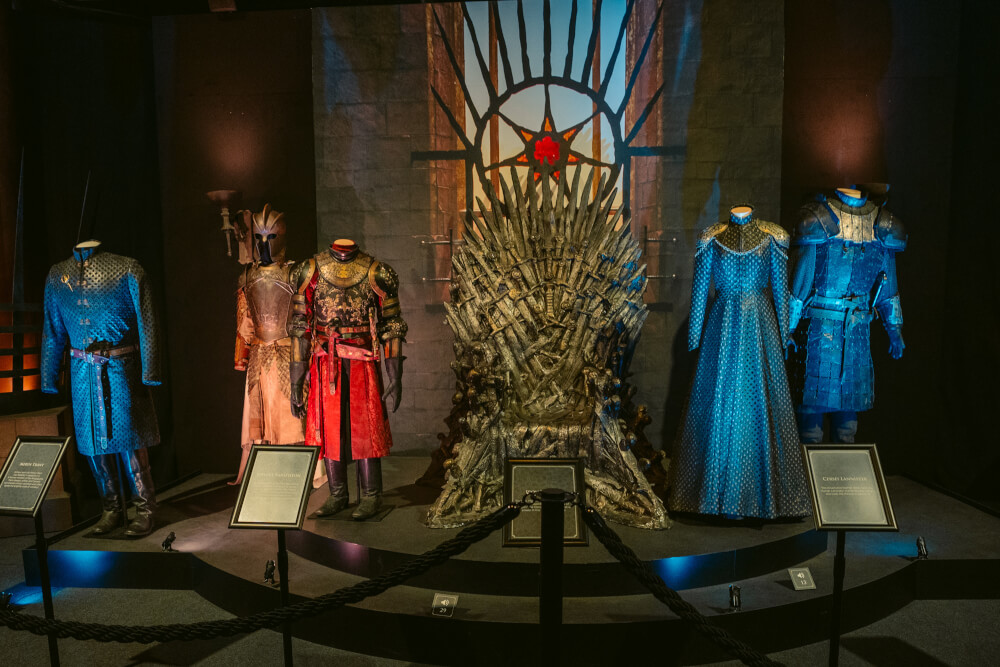 Last but not least, there's the final room before the gift shop, with a replica Iron Throne (no sadly it's not the real thing), surrounded by awesome costumes including Cersei's coronation dress.
Gift Shop, Photo Collection and TWO Iron Thrones!
The last part of the Exhibition (as you might predict) is the gift shop, which was honestly pretty meh in my opinion, followed by a photo collection point and an Iron Throne photo opp.
This professional photo (which includes props) costs £10, which is a tad steep for what it is, but don't worry, follow signs to the Exit and there's a second equally good throne, just minus the professional photographer.
Here, you can get all the throne-top photos you want for free!
NOTE: Since there's usually a build-up of people lining up at this point, it really is a snap and run affair, so I'd recommend having your poses ready, like I did 😉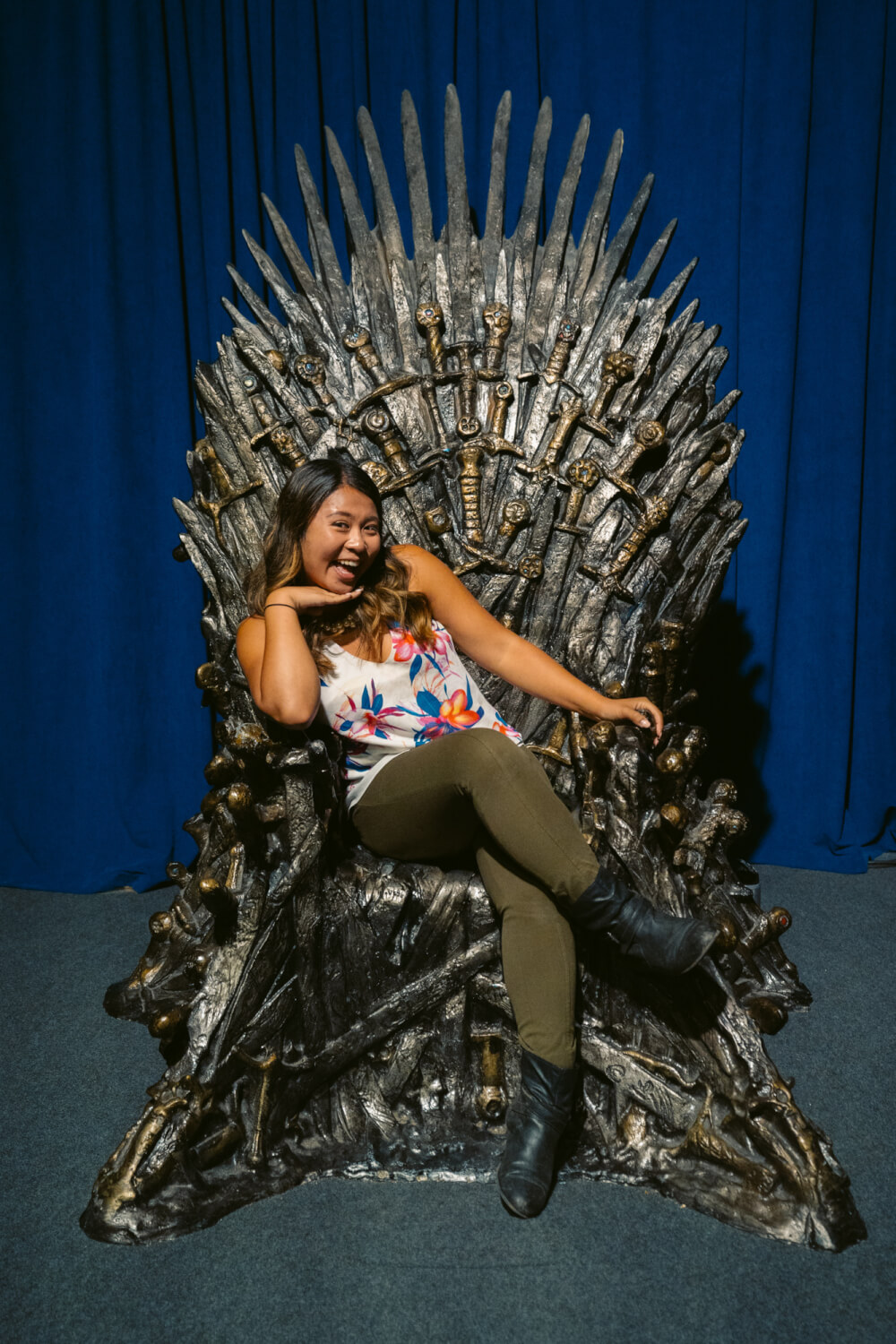 I hope you enjoyed this guide to the Game of Thrones Touring Exhibition!
Let me know in the comments if you have any questions.
---
Watch my most popular YouTube video this week:
---