*FYI - this post may contain affiliate links, which means we earn a commission at no extra cost to you if you purchase from them. Also, as an Amazon Associate I earn from qualifying purchases. Check out our Privacy Policy and Disclosure. for more info.
If you're on the hunt for all things Game of Thrones in Belfast, then I'm happy to report that much of the nerdy legwork has already been completed…
For I, Christina of House Guan, first of my name, mother of dad jokes, rightful queen of detailed research, and maker of lists, has recently returned from Belfast with a thoroughly nerdy agenda: do ALL the GoT things, and live to tell the tale.
And I took this mission seriously.
Leading up to my trip, I binged the entire series, meticulously researched every filming location, acquired a full-on treasure trove of fun facts, and in the process have made myself completely intolerable to be around.
Save this post on Pinterest for later: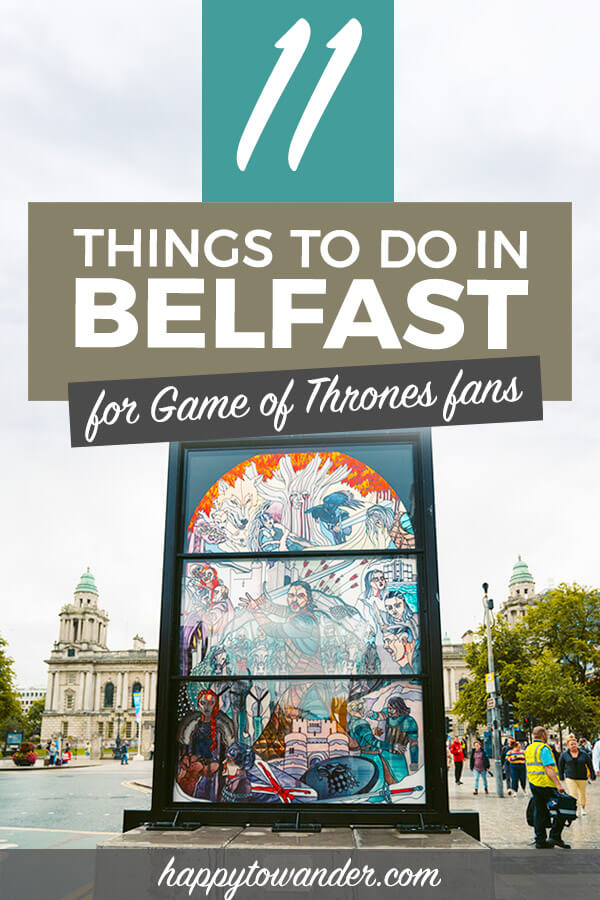 But my social circle's loss is your gain! I ended up having the best Game of Thrones themed trip ever (you can watch the IG Stories Highlight here), and now I'd like to help you do the same.
This post will walk you through ALL the best Game of Thrones things to do in Belfast, so that you can satisfy every nerdy whim during your visit.
From Game of Thrones tours leaving from Belfast to actual GoT-themed activities in Belfast itself, here is a little Belfast bucket list that will make any superfan wail with joy.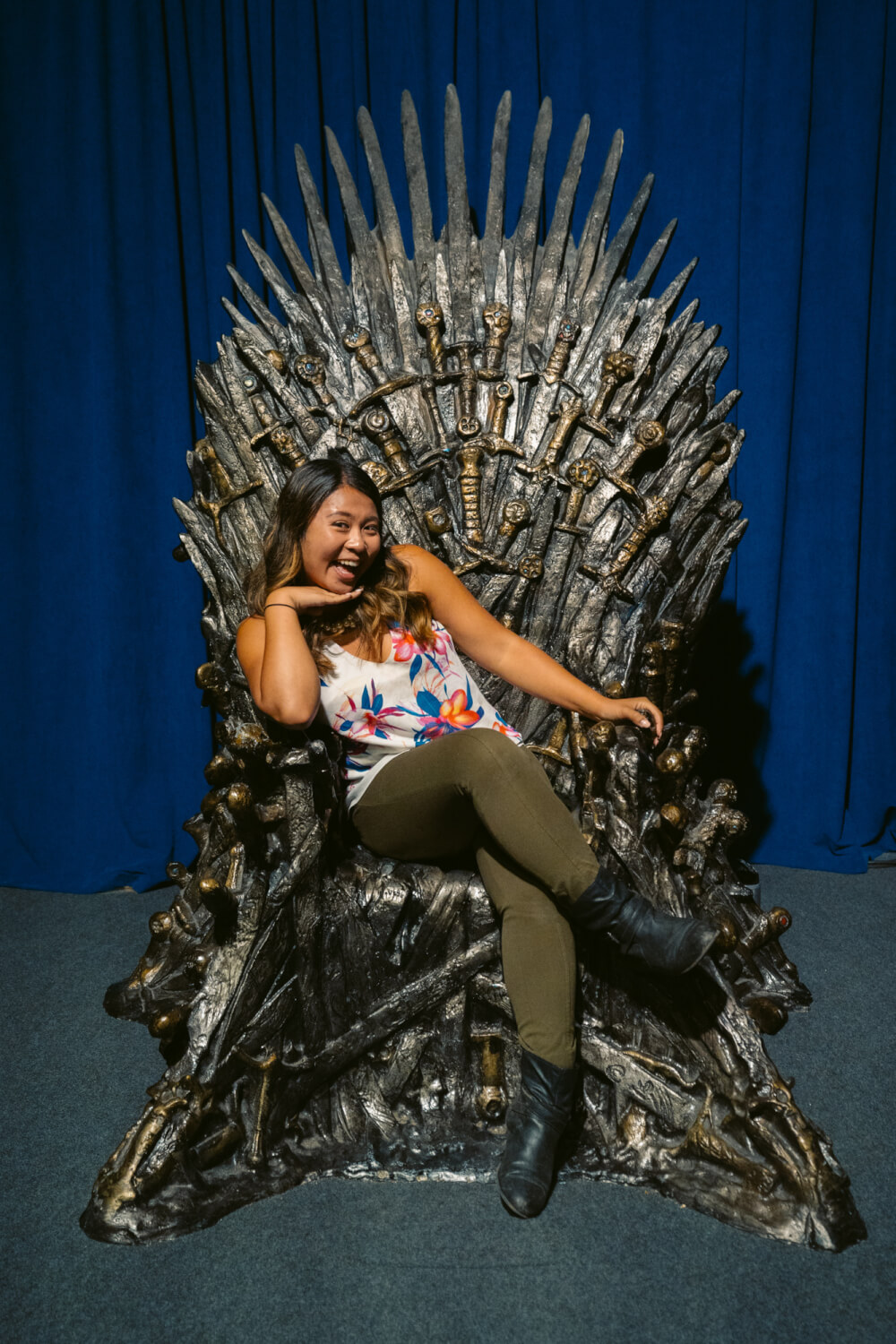 11 Game of Thrones Themed Things to do in Belfast Itself
While most location chasing will happen outside of Belfast, luckily there is plenty to do in the city itself for Game of Thrones lovers as well. Here are some cool Game of Thrones activities to try in Belfast while you're in town.
1. Follow the 'Glass of Thrones' trail with Game of Thrones stained glass windows
Recently unveiled this year in honour of Season 8, Belfast's 'Glass of Thrones' trail takes you all around the city, following six beautiful stained glass windows that were created to honour the show's best moments.
To me, this is the #1 Game of Thrones activity in Belfast itself, because not only are the windows gorgeous to look at, they're filled with plenty of cool details and easter eggs…
Best of all, they're free and are arranged along a scenic route that takes you around Belfast's most popular hotspots.
I'd definitely recommend carving out a few hours to follow this trail and indulge in some wonderfully shameless photo opps.
Click here for my full post about Belfast's Glass of Thrones.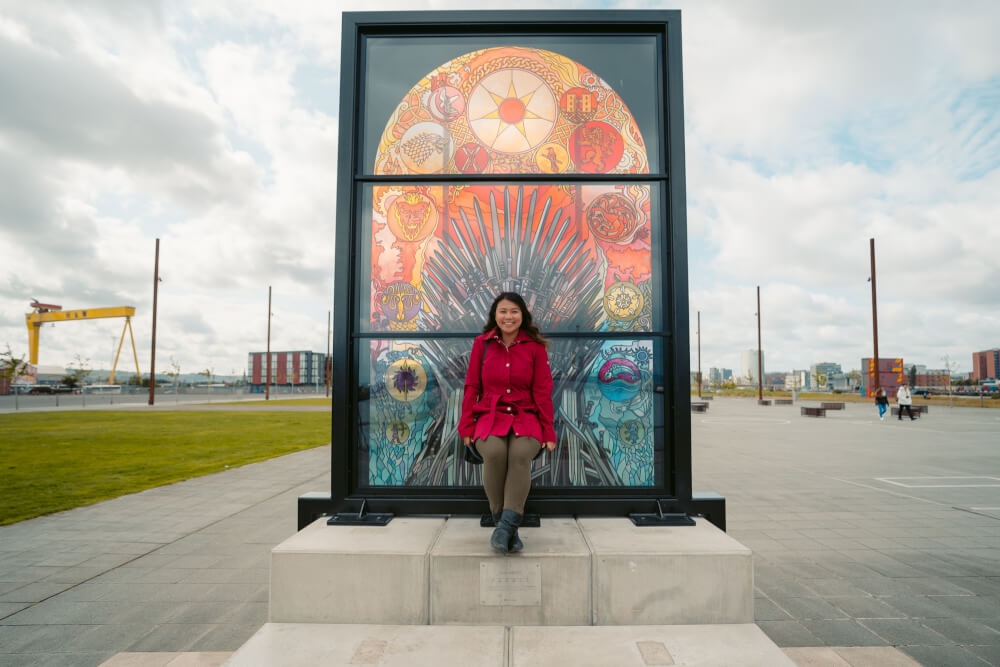 2. Find the special Game of Thrones door in Belfast
Remember that "Journey of Doors" thing I talked about earlier?
Well, luckily for those of you travelling to Belfast, one of those famed GoT carved doors is located right in the heart of the city, at The Dark Horse in Belfast's Cathedral Quarter.
Be sure to stop in for a pint or two amidst your sightseeing to see this beauty close-up.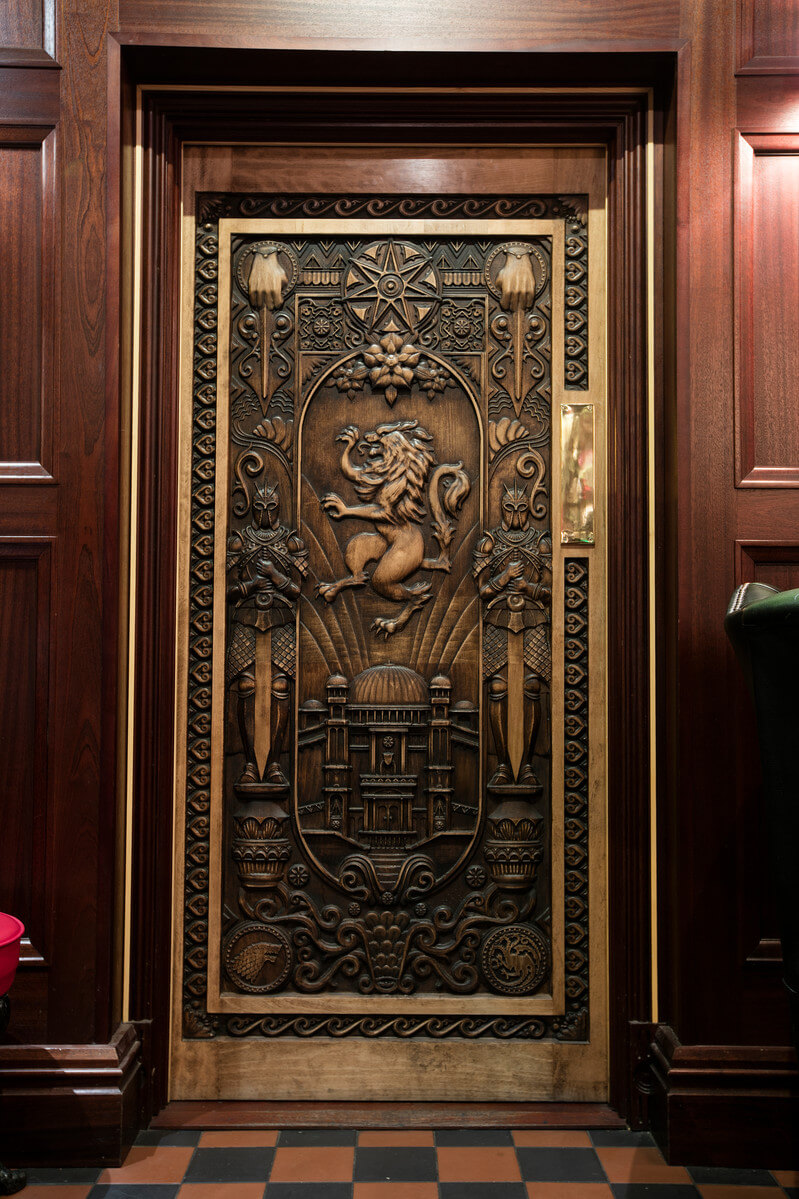 3. Experience a Game of Thrones Escape Room
If getting locked in a room sounds like your idea of a good time, then I'm happy to report that Belfast now has a Game of Thrones themed escape room, meaning you can get your fill of thrills and nerdiness altogether in one fell swoop.
The concept of an escape room (if you've never done one) is simple: you get locked inside a room as a group and have one hour to solve puzzles and clues that will help you escape.
Appropriately titled "GoT to Escape", this Escape Room company offers 3 Game of Thrones themed escape games, along with a mystery one, which sounds extremely dark and full of terrors.
Having done many escape rooms in the past (and loving them), this is definitely one experience I'd love to try the next time I'm in Belfast, and while I didn't get to try it this time around, the consistent 5 star reviews on Tripadvisor seem to have tons of praise.
Side note: if you hear the Rains of Castamere at any point though, I'd politely recommend getting the heck out of there.
4. Score Game of Thrones merchandise for dirt cheap prices
I need to level with you (and your wallet)… Game of Thrones gifts and souvenirs from official places like the Castle Ward gift shop or the Exhibition can be Mountain-level eye-gougingly expensive, with limited choices to boot, especially if you want cute, wearable GoT apparel.
Don't worry though, there's other (better) places to indulge your nerdiness!
One lesser known place to shop for GoT merchandise in Belfast is actually Primark, a chain retail outlet in the UK that offers licensed goodies for a fraction of the cost.
If you want to get some cool Game of Thrones themed apparel/home goods without spending your life savings, this would be a great place to shop around.
5. Visit the Game of Thrones Exhibition
[Currently temporarily closed]
I was lucky enough to catch the Game of Thrones touring exhibition in Belfast during my visit, and while it's not going to be in town much longer, this is a must for die-hard fans because you get to see SO many iconic props and costumes up close.
Honestly, the whole thing is an exercise in "huh, this actor is smaller than I thought!"
From Daenerys' dragon eggs to Jamie's golden hand, the props you get to see are drool-worthy, and while it's a very pricey attraction, it really can't be missed if you're a big fan of the show.
See more photos from the Game of Thrones Touring Exhibition!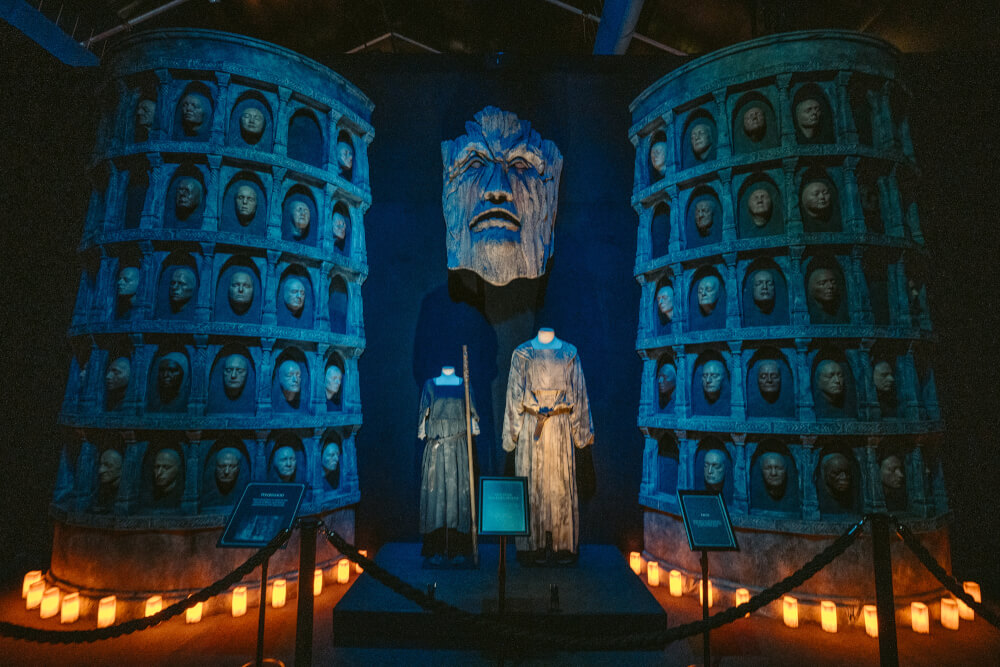 6. See the Game of Thrones Tapestry at the Ulster Museum [Temporarily unavailable]
Inspired by the epic 11th century Bayeux Tapestry, the Game of Thrones team recently outdid themselves again with the now completed Game of Thrones tapestry, a 90m long hand-woven tapestry that tells the story of every single episode from the entire series.
Woah, right?
While this beauty was on display in Belfast's Ulster Museum for a long time, it has very recently relocated to Bayeux to be displayed alongside its inspiration.
I wasn't able to catch it in-person, but I've seen the virtual version (click here to see it) and it is SO impressive.
I'd definitely have a Google during your trip to see if the tapestry has magically returned, because it would be a must-see in real life.
7. Go shopping at a Game of Thrones approved jeweller
For a bit of a fancier souvenir, then why not stop by a jeweller that worked on Game of Thrones?
From Cersei's crown to Margaery's wedding tiara, Steensons is a Northern Irish jeweller with a shop in Belfast famed for gorgeous pieces and of course, for designing some of the most iconic pieces seen on the show. Click here for a full list of GoT pieces they created.
FYI, they even have their own Game of Thrones collection now with some beautiful pendants, pins and cufflinks. Click here to browse.
8. Enjoy a coffee from Daenerys' favourite coffee place
Ahhh the infamous coffee cup from Season 8. While this legendary cuppa has since been digitally removed from the show, we OG fans will remember the moment that we saw Daenerys chilling with a take-out coffee while everyone feasted their Battle of Winterfell victory.
And while Starbucks was credited with this embarrassing gaffe (racking up billions of exposure dollars in the process!), according to multiple sources, the actual shop to blame is Paper Cup Coffee, an independent cafe located near Titantic Studios, where the show filmed for a decade.
Because of its proximity and tasty treats, they became and cast and crew favourite over the years, making it the perfect spot to stop for a coffee break during your Game of Thrones themed city break.
PRO TIP: According to this article, Emilia Clarke herself really enjoyed their bagels, so if you want to dine like a Khaleesi without eating a bloody horse heart, then grab yourself one of their doughy bagels to try, along with your Khaleesi Khoffee.
9. Grab a bite at Sansa and Arya's favourite Irish restaurant
It's no secret that Maisie Williams and Sophie Turner became best friends throughout the decade that they filmed Game of Thrones in Belfast.
Well, if you're looking for some traditional Irish grub that is cast-approved, then head over to Made in Belfast, a restaurant that Maisie has praised for having such good food, that it became a bit of a ritual for her and her on-screen sister to eat there every year during filming.
10. Enjoy a drink at a cast-approved pub
And if you'd rather grab a drink than a bite, well….
There's certainly no shortage of places to chug a few in Belfast, and given that filming took place here for over a decade, there's likely dozens of cast favourites when it comes to watering holes.
One well known one (thanks to the photo below) is Kelly's Cellars, one of the oldest traditional Irish pubs in the city.
SO, if you want to indulge your inner GoT fanatic and find a cozy place to "drink/know things", then head over to Kelly's Cellars and try to nab this corner table, where Daenerys, Greyworm, Tyrion and Jon Snow all shared a drink at one point:
11. Party at a club where the resident DJ used to be….. Hodor
Hold the door- what??
Yup, that's right – before Kristian Nairn took on the role of Hodor, he was actually the resident DJ at Belfast gay club, Kremlin.
He continues to DJ today, even doing shows called 'Rave of Thrones', although the likelihood of you running into him at Kremlin is slim.
Honestly, I wouldn't put this at the top of your priority list as a fan, but it's still pretty fun to think of Hodor as a DJ. I've known this for like, 5 years and I still laugh every time I remember it.
5 Game of Thrones Tours and Day Trips from Belfast You Can't Miss
If you're a real Thronie, the truth is, most of the best Game of Thrones activities in Northern Ireland are actually outside of Belfast.
While a lot of in-studio filming took place in Belfast, the studios aren't open to the public (yet!!), so to find actual filming locations you can liberally sob at while rolling around taking photos, you need to tread a little further afield.
Don't worry though, there are lots of great Game of Thrones things to do when you use Belfast as a base.
Here are a few to put on your bucket list.
1. Meet the real-life direwolves through a Game of Thrones tour from Belfast
These days, there are plenty of Game of Thrones tour options leaving from Belfast, but I would 100% recommend this tour I took with GOT Direwolves.
If you are a Game of Thrones superfan, this is THE tour to do.
Not only do you get to meet the real dog actors who portrayed the direwolves Summer and Greywind in the series, the entire business is actually run by their humans!
During the tour, you are brought to a variety of iconic filming locations in a small group setting (our group was maybe about 15) with a guide who has worked on the show and is therefore a wonderful source of insider information.
I can't stress enough how helpful it was to have a guide with us for many of the locations, especially since without any context or clips, you're basically just lurking alone in a forest.
The highlight was of course getting to meet the direwolves themselves (who are every bit as fluffy and wonderful as you would imagine), along with their family, who are all SO nice and just about the Thronesiest family you'll ever meet.
All of them have featured as extras on the show in many prominent scenes, and have also worked in camerawork/casting.
The stories they have to tell are great – but no spoilers from me! You'll have to book the tour 😉
These are the two different routes that they offer:
The Direwolf Tour: This is the one I did, and you visit a variety of locations south of Belfast including Inch Abbey (where Robb was declared King of the North), Tollymore Forest (where the Starks discover the direwolf pups), Castle Ward (setting for Winterfell in Season 1) and Audley's Castle/Field, which stood in for a lot of different locations in the early seasons.
The Dragon Tour: This tour covers iconic GoT filming locations like the Dark Hedges (the Kingsroad), and spots along the Northern Coast used to depict the Iron Islands, the Stormlands and Dragonstone. I did not do this tour with them but visited the locations independently and they are definitely gorgeous! I would note though that the Direwolf meet and greet is not part of this tour, but if you wanted a solid company to visit the Northern locations with, I can vouch for the quality of their guides!
NOTE: I would really recommend this tour over some of the other big bus tours that are offered from Belfast, mainly because the small group size makes it way more intimate and fun.
We ran into some of the big bus tours throughout the day and in groups of 60+ people, it seemed like they were being dragged around and not having nearly as much fun as us. Plus, this particular tour is family-run and you get to meet direwolves.
Really, it's a no-brainer. Click here to check reviews and availability.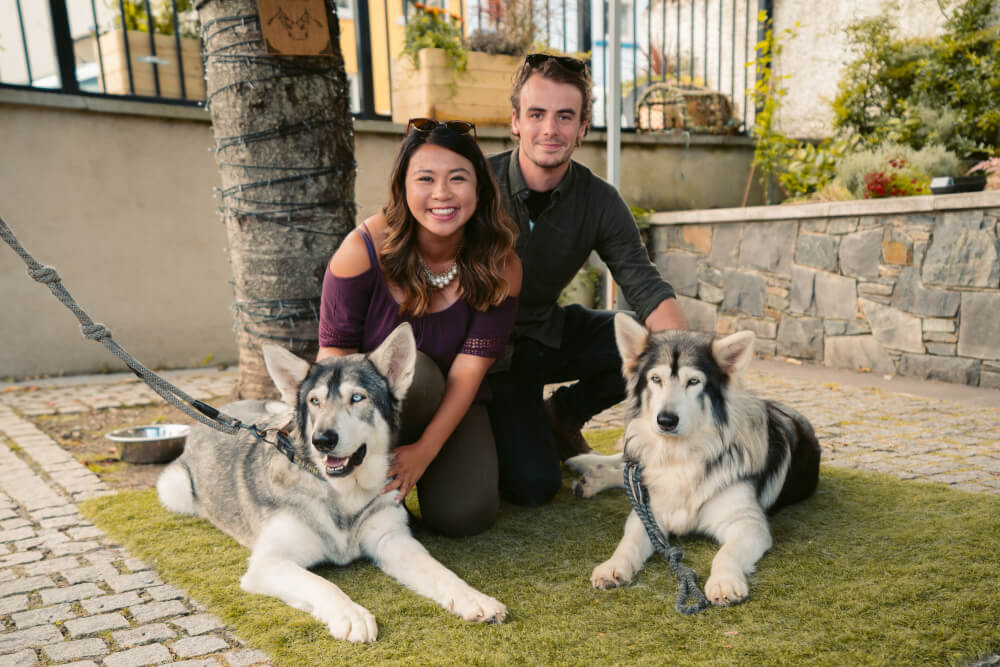 2. Take a side trip to the Kingsroad, AKA the Dark Hedges
Despite its mega-brief appearance in Game of Thrones, Northern Ireland's Dark Hedges have become an image synonymous with the series itself… making it one of the most popular day trip stops from Belfast for any Game of Thrones fan.
At first I was wary of visiting the Dark Hedges, mainly because I had been warned of how busy it got.
And yes, while the entire road is FLOODED with tourists during peak hours, the experience was nonetheless Grade A magical, and getting to walk down the Kingsroad still remains one of my favourite GoT memories from my trip.
The key here is patience! I noticed that bus tours would drop off dozens of people at a time, but only stay for around 20 minutes.
If you stick around, you'll easily find a window of time when the crowds have dissipated.
Otherwise, you can try to visit very early in the morning or later in the afternoon, but I've heard from friends that there are still loads of people around during those times too.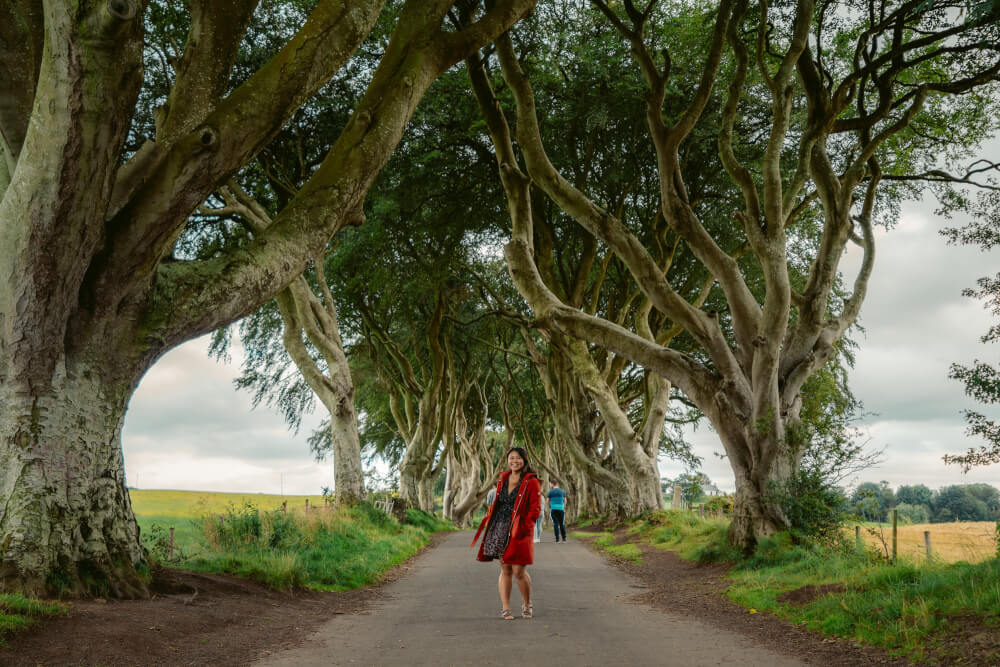 3. Tour the Northern Antrim Coast
Fancy a trip to the Iron Islands, Dragonstone and Stormlands all in one?
Belfast is a great base if you plan to explore the Northern Antrim Coast, home to several Game of Thrones filming locations that stood in for the Iron Islands and a variety of other important spots in GoT history.
Besides that, this stretch of coastline is beautiful in its own right, with or without nerdy affiliations, so I'd highly recommend taking a day trip to explore the coast if you have time!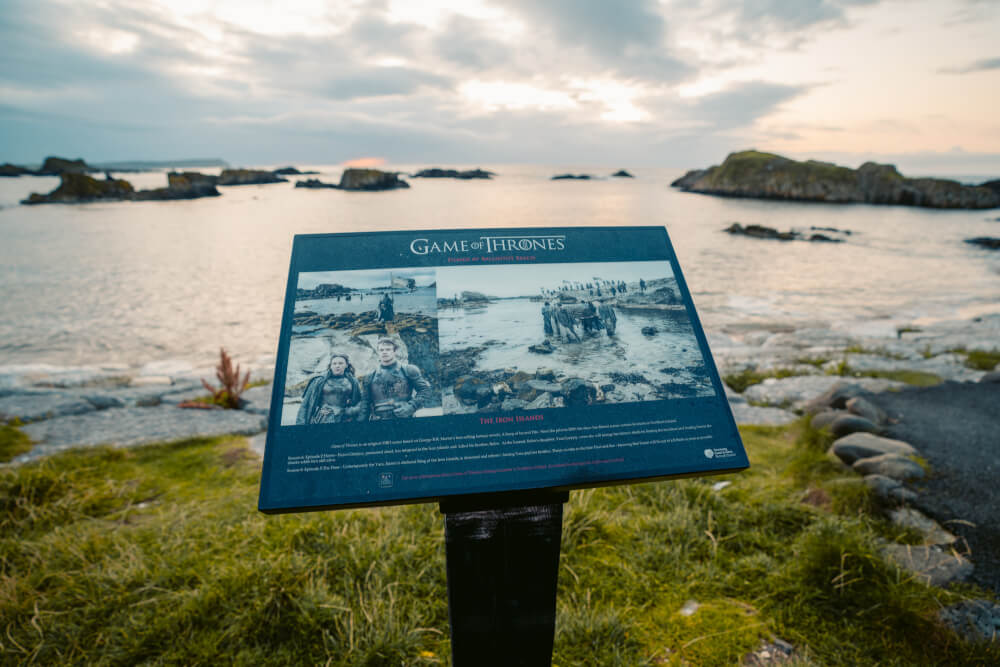 And while it's not a Game of Thrones filming location, the Giant's Causeway can be found here as well, and given that it's one of the most stunning natural wonders in Europe, I'd make sure to add it to the list!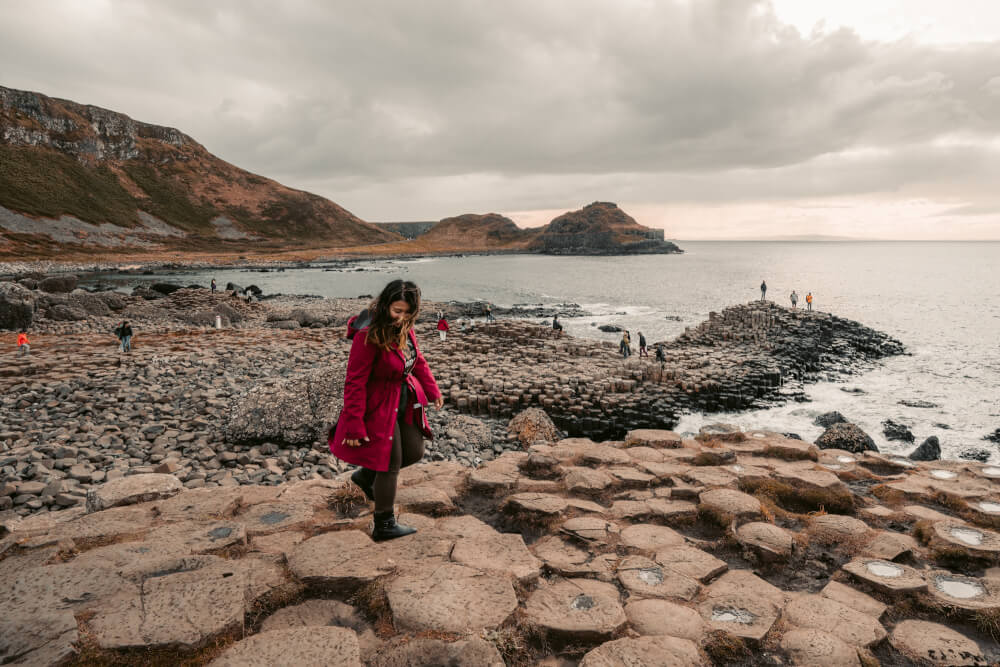 4. Go searching for the special Game of Thrones doors
Here's a little GoT trivia for you!
Did you know that back in 2016, when Storm Gertrude knocked over two birch trees at the beloved Dark Hedges in Northern Ireland, they sought to make some lemonade out of lemons by turning the wood into gorgeously carved doors paying tribute to Game of Thrones?!
Well, that's exactly what they did, and the completed doors were sent off to ten different pubs around Northern Ireland.
According to one of the pub staff we chatted with, the pubs had to write letters explaining why they deserved to get a door!
Well, these days, there is an actual "Journey of Doors" that take you around to the ten lucky door recipients, and even a special passport that you can get stamped at every location.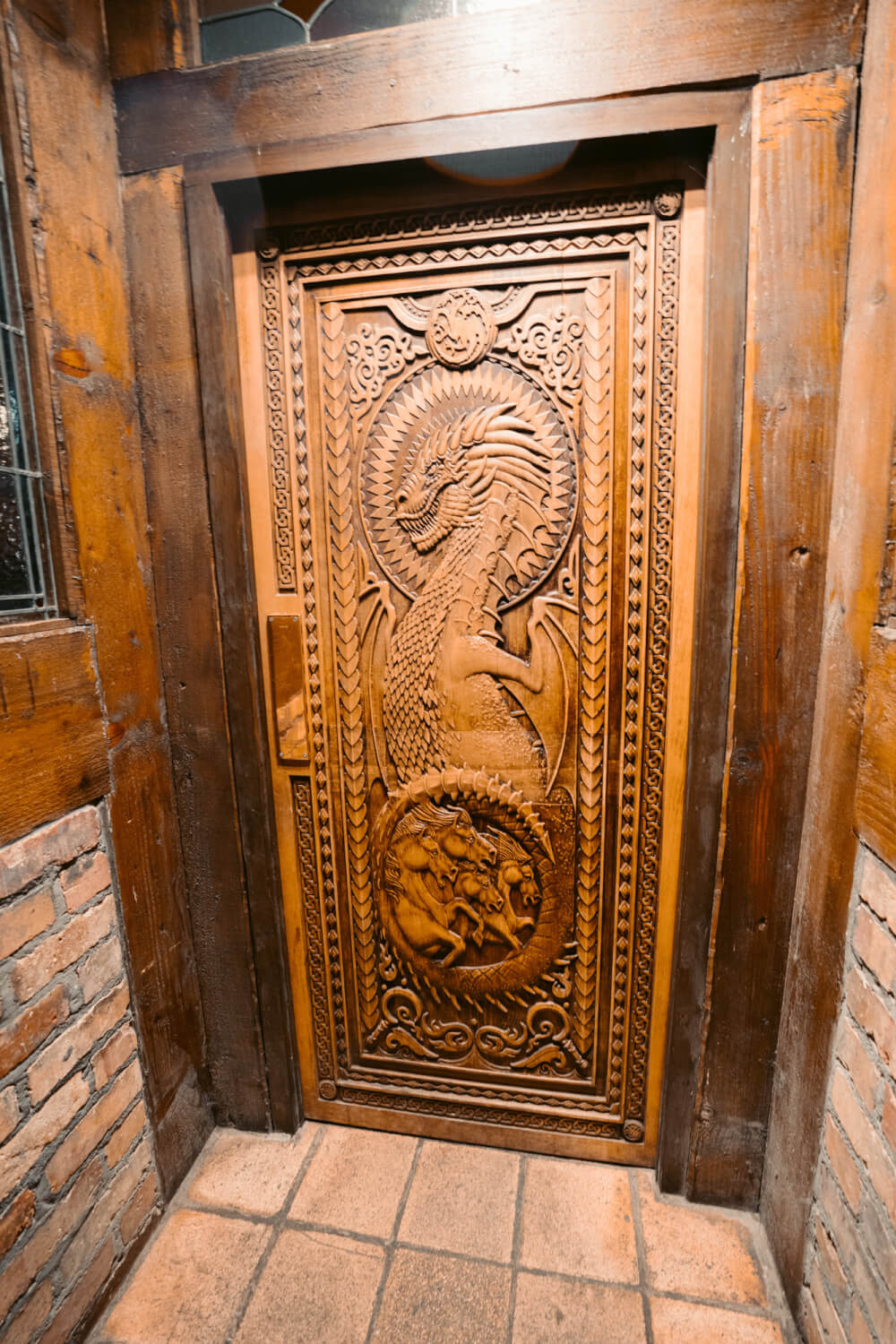 One of the best things about these pubs is that most of them have fully embraced the Game of Thrones theme.
I only visited two out of ten, but one had an Iron Throne room where I could sip Guinness in my rightful place, and the other had a full-on Winterfell banquet offering that I booked, along with "Hodoor" beer.
On that note, another thing you must add to your Game of Thrones bucket list is…
5. Enjoy a stay fit for cast members at the Cuan
While not in Belfast itself, I cannot rave about this experience enough. If you have time in your itinerary to stay a little ways' from Belfast for one night, make sure you book a Winterfell Banquet and Breakfast at the Cuan.
This is a cozy inn where principal actors stayed during Season 1 (including Ned, Catelyn, Jon, King Robert, and more) when they filmed scenes for Winterfell at nearby Castle Ward.
These days, you can book a special GoT package that includes one of the actor's rooms (we stayed in Catelyn's!), along with a DELICIOUS banquet and breakfast package where all the dishes are made according to excerpts from the actual books.
Plus, you get fun things like cloaks to wear, on-table swords and um, direwolf-shaped butter. I fail to see how life could get better than that.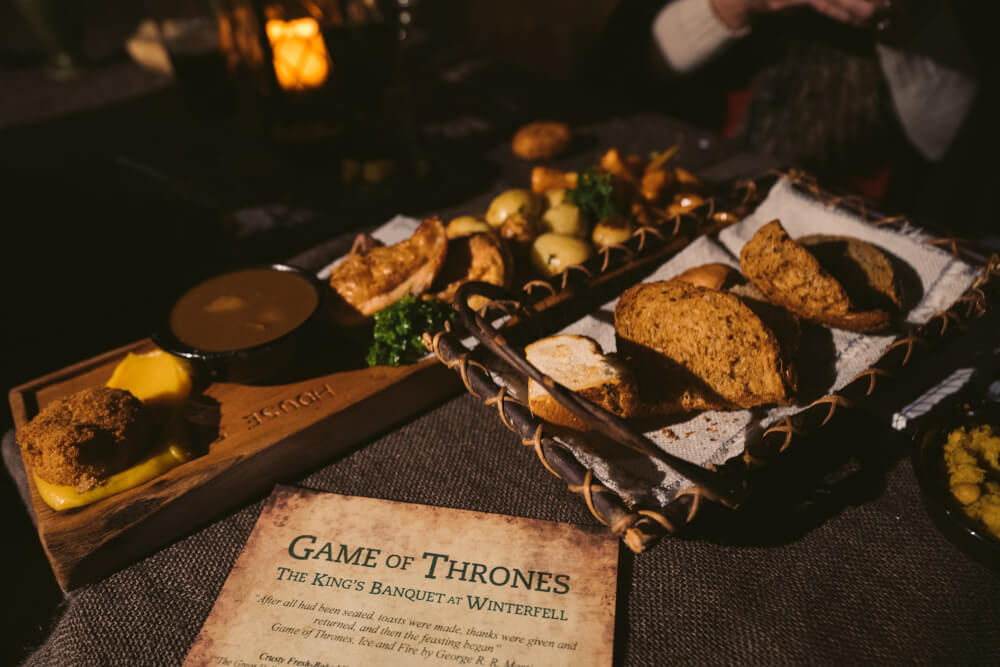 Looking for other Game of Thrones things to do in Northern Ireland?
Click here to read my full guide on GoT bucket list experiences in Northern Ireland, which includes a full list of filming locations! I hope you enjoyed this massive guide to all things Game of Thrones in Belfast. Have the most epic, nerdy trip ever!
---
Watch my most popular YouTube video this week:
---