Growing up in Vancouver, I always worshipped LA as an ultimate bucket list destination, a likely consequence of all my late night TV/movie binges instead of… you know, playing outside like a normal 10 year old.
So when I finally got the chance to visit LA for myself, you can bet my fangirl heart just about exploded.
From chasing all the best Los Angeles views and fun facts to inhaling all its Instagrammable eats, I was a truly unstoppable sightseeing machine.
Since that first trip, I've been back several times, attending live tapings for Conan, James Corden, stopping by Hollywood Walk of Fame ceremonies, and doing other hopelessly touristy things.
So, you can say I've done all the leg work… and today, I'm sharing with you the top Los Angeles views you definitely need to add to your itinerary, whether you're visiting for a winter escape, epic girls' trip or a summer solo adventure.
A Map of These Los Angeles Views & Must-Sees
For your convenience, here is a map featuring the best LA views mentioned below:
PS: For more California fun, be sure to check out my roundup of California fun facts.
LA Views from a Helicopter
We'll start with a total splurge before jumping into all the amazing free viewpoints in LA that you can enjoy.
If you're looking for some seriously unforgettable views in LA (maybe for a honeymoon, proposal or bucket list trip), then you 100% need to look into booking a helicopter ride.
There are tons of options out there, some of which are more affordable than you think!
This tour for example is less than $150, and includes views of Beverly Hills and Hollywood.
If you really want to splash out though, you can look into this much longer 30 min helicopter tour by night, which includes Downtown LA – a perfect opportunity to get views over the LA skyline at night.
Griffith Observatory
Whether you're looking for the perfect views of the LA skyline by night or by day the Griffith Observatory is an absolute must-visit view when you're in LA.
Located in Griffith Park, this observatory showcases various science and space-related displays, while offering sweeping views of the city.
Best of all, both parking and admission to the Observatory are free! During the day, you can even get a solid view of the famous Hollywood sign.
PS: Needless to say, the Griffith Observatory is also one of the best views in LA at night:
The Getty Center
The Getty Center is an LA institution well-known for its expansive collection of art, photographs and sculptures.
The real draw for me though was its panoramic views over LA – hands down some of the best views you can find in Los Angeles.
From its perch high above the city, the Getty offers views of downtown Los Angeles and on a clear day, you can even spot the Pacific Ocean and Catalina Island looming in the distance.
Visiting on a weekday morning, I had this gorgeous view all to myself!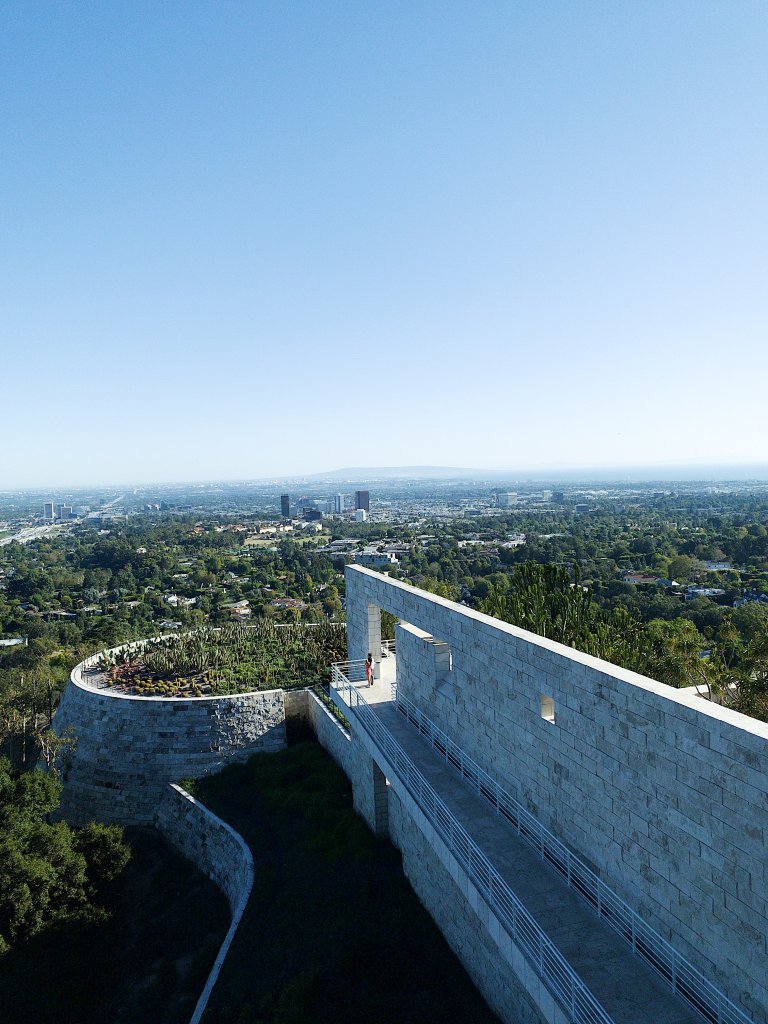 Of course, the Getty's views are not the only spectacular thing about it… in fact, in addition to its displays inside, it also has beautiful gardens throughout which line the property's exterior.
Because of LA's warm climate, the gardens are gorgeous year round (even in the winter) and are definitely a nice, tranquil escape during a busy trip full of sightseeing.
From the Hollywood Sign
For a truly special experience/view in LA, I'd highly recommend hiking up to the Hollywood sign.
Yes, this is a (relatively easy) hike that you can do, with perfect photo opps awaiting you at the end.
And sure, while there are plenty of other opportunities to get a photo WITH the Hollywood sign, the view from up above is SO worth it (and one of my favourite things I did in LA on my most recent trip).
There are several ways to hike up to the sign. Sadly, the route I used is no longer open, but click here for an easy guide to follow.
And if this is an experience you'd prefer to do with a group/guide, then you can book a cheap guided hiking tour here.
Runyon Canyon Park
This may be one of the most popular (and therefore crowded) viewpoints in LA, but for good reason.
Runyon Canyon Park offers tons of glorious hiking trails and vantage points along the way… it's definitely one of the best views in LA if you're also looking to squeeze in a workout,.
The sunset from Venice Beach
While not an LA skyline view, I think that Venice Beach offers some of the best views in LA if you're looking for gorgeous, golden, beachy sunset vibes.
LA has countless beaches that sprawl across the Californian coast, offering large sandy vistas with picture-perfect palm trees swaying in the wind.
No visit to LA would be complete without witnessing a sunset at one of these beaches.
On my first day, I watched the sunset from Santa Monica/Venice Beach and it was gorgeous!
Although I'm not sure why, it seems like in LA, the sun somehow glows brighter, looks bigger and sets more spectacularly.
The Santa Monica Pier
The Ferris Wheel at Santa Monica Pier is an iconic landmark of LA and is one of the most important must sees in California!
And sure, while it's a great visit during the day… At night, with the smell of funnel cake in the air, the flashing lights of nearby rides and the music of street performers, the pier becomes even more magical, offering some of the best LA views you can find.
Of course, it's gorgeous here at sunset too:
Elysian Park
For another one of the best free views in Los Angeles, look no further than Elysian Park, where sweeping views of the city and the mountains await.
And yes, because it's LA, there's even Instagrammable photo opps like swings.
OUE Skyspace
For a paid viewpoint in Downtown LA, OUE Skyspace is a must (with its ultra-Instagrammable slide too).
After all, this is the tallest open-air observation deck in the entire state, so amazing 360 views are guaranteed. Click here to learn more about tickets.
Hollywood Boulevard
I'm hesitant to put this as a "must-see LA view", but this area is so quintessentially LA that it seems strange to not include it.
While it's not a view of the LA skyline or surrounding mountains, Hollywood Boulevard is home to the Hollywood Walk of Fame and other main LA sights like the Mann's Chinese Theatre.
Is it totally touristy? Yes. Will there be hundreds of other camera-wielding tourists and tacky souvenir shops? Absolutely… but I still loved the opportunity to see all these sights I'd only ever seen before on TV and movie screens.
The choice is yours to make, but I couldn't resist a visit here. While it's really just a street for photo opps, I'm glad I went.. though once is probably enough!
Universal Studios
Another nice LA view to keep in mind is the one at Universal Studios.
While it's not worth it to go out of your way just for the view, visiting this park is one of the best fun things to do in LA, so I'd recommend a visit for sure, even if just for a day.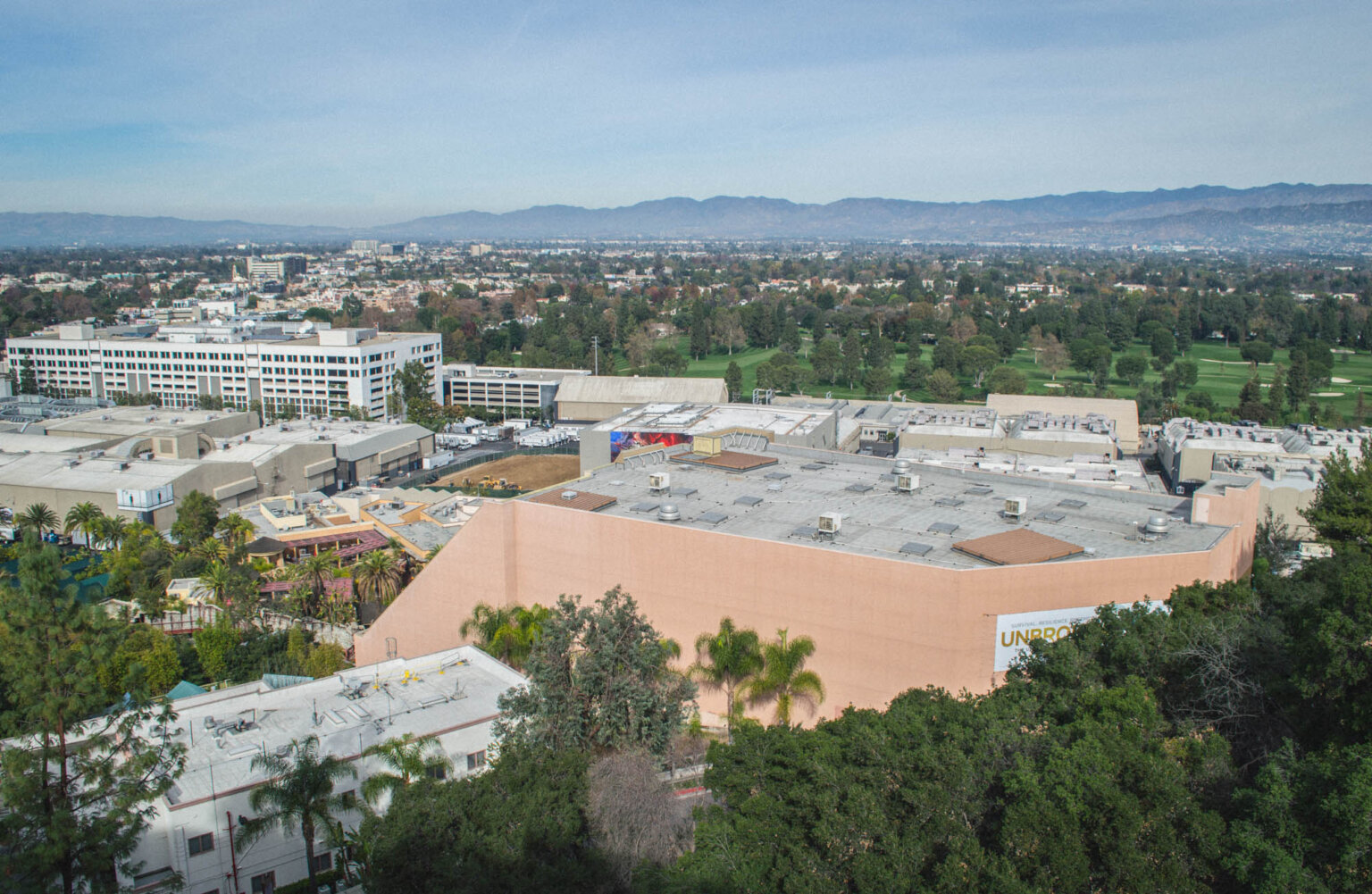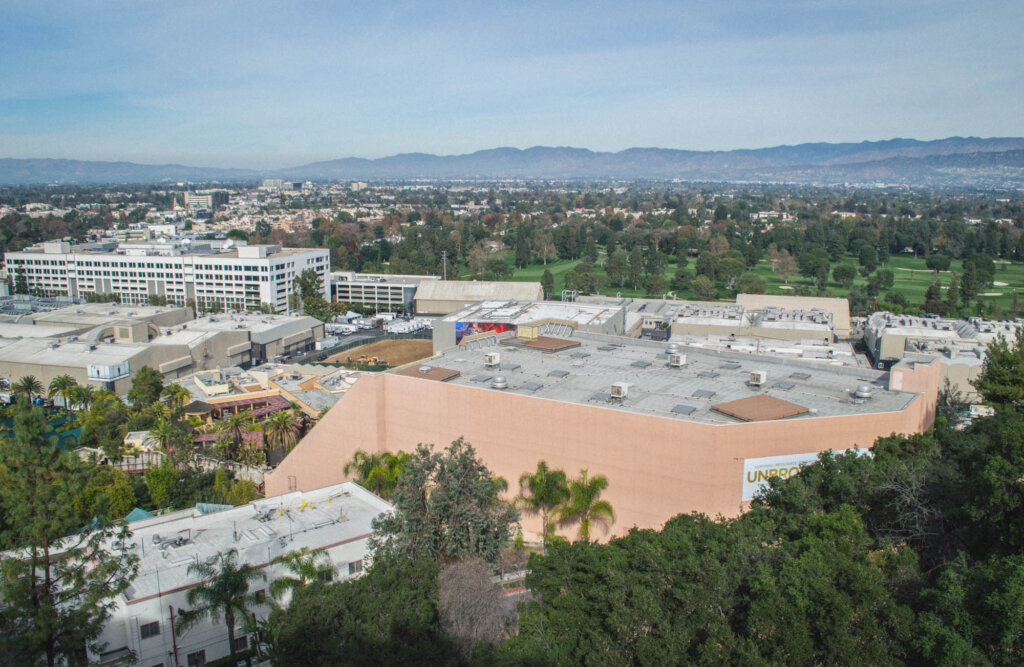 Restaurants/Bars with Los Angeles Views
Last but not least, it's worth noting that some of the best views in LA can also be enjoyed while sipping a cocktail or munching on a tasty meal.
Here are some LA bars and restaurants known for their splendid views (of the LA skyline, and otherwise):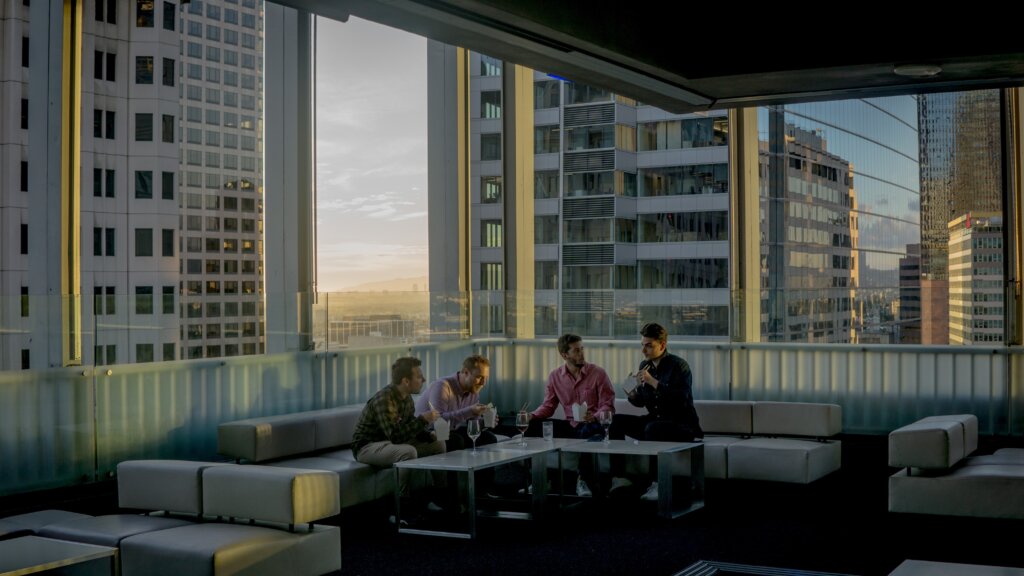 Did I miss any of your favourite LA views?
Because it was a short trip, I definitely feel like I was only able to hit up the 'mainstream' hotspots and attractions.
Maybe next time, I'll get the chance to visit places that are more off-the-beaten-path. Let me know in the comments if I've missed any of your favourite spots!