If you're plotting a winter vacation around the US this year, I have some good news and some bad news…
Okay, it's mainly good news. You're spoiled for choice. The bad news is you need to confront every millennial's worst nightmare and make an actual decision.
From warm winter vacations in the USA to frosty Narnia-esque winter wonderlands, there's plenty of options to contemplate as you'll see in this list of American winter vacation ideas.
And because my personal US travel experiences are limited to the cringiest of the cringe (think Cheesecake Factory hopping and stalking the cast of the Lord of the Rings), I've enlisted the help of some true USA travel experts who are here today to dish out on the best winter vacations in the US!
So, below, you'll find recommendations for the best places to visit in winter in the USA, from top travel bloggers who have made it their business to know this sort of thing.
Time to plan the perfect USA winter getaway!
PS: If you love Christmas markets, be sure to research Christmas market opening dates in the US in advance. Many markets are only on for select dates throughout the season, so avoid disappointment by researching early.
1. San Francisco, California
by Kristel & Gabriel Glasier | Chef Travel Guide
Located in Northern California, this 7×7-square mile city is famously known for its iconic Golden Gate Bridge, historic cable cars, colorful Victorian houses, diverse cultures and world-class cuisine.
San Francisco receives millions of tourists each year but visiting this vibrant city in the winter means fewer crowds and more affordable hotel rates with plenty of things to do and explore.
The city by the bay offers a lot of bustling activities in the winter. Whether you go whale watching, see the barking sea lions on Pier 39, marvel at world-renowned holiday performances and impressive light displays, or experience a festive Chinese New Year parade, there's clearly no shortage of things to do.
The holidays are celebrated in the city with giant Christmas trees, two-story gingerbread houses, a lighted boat parade and even a Santa-themed pub crawl.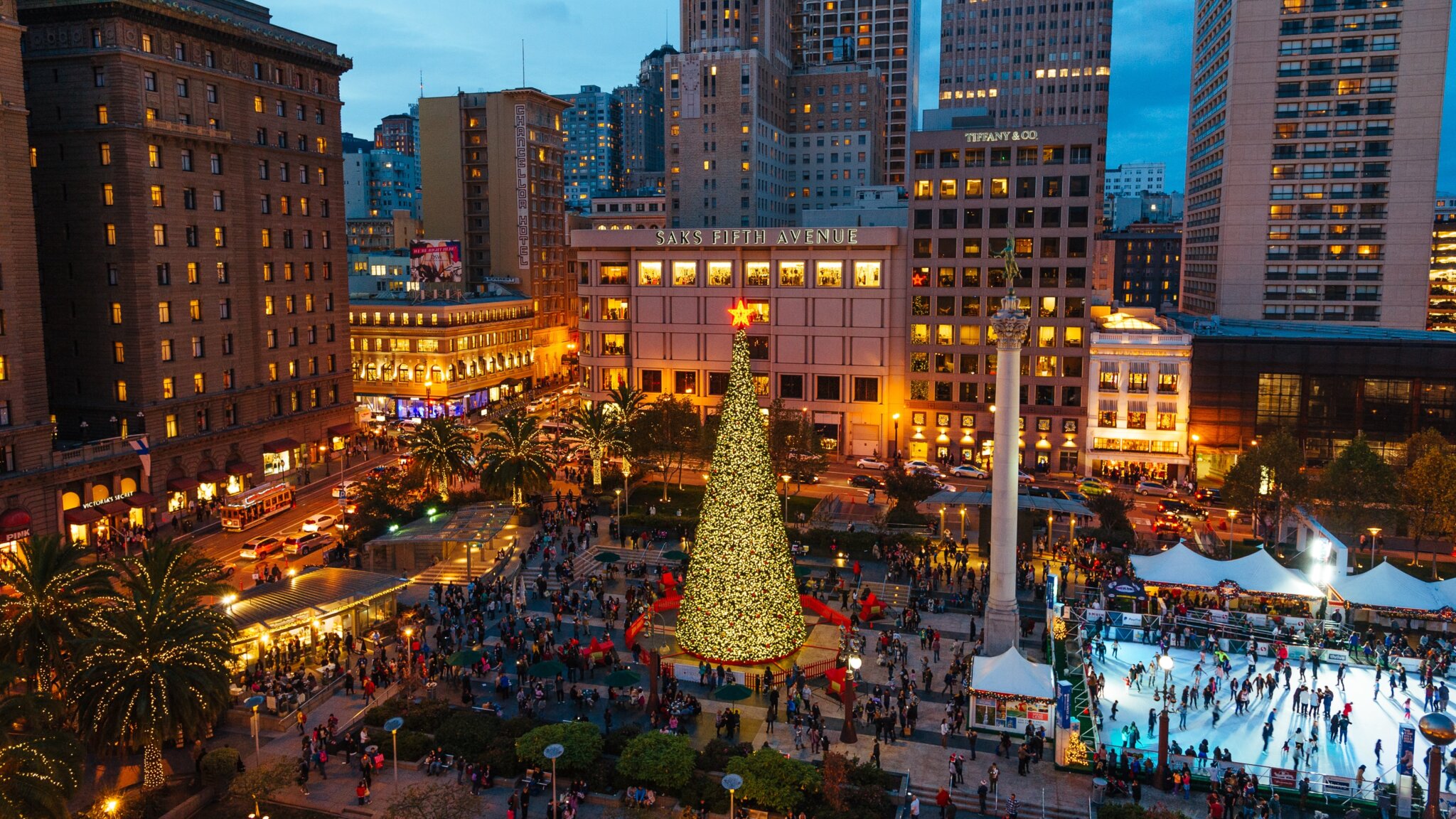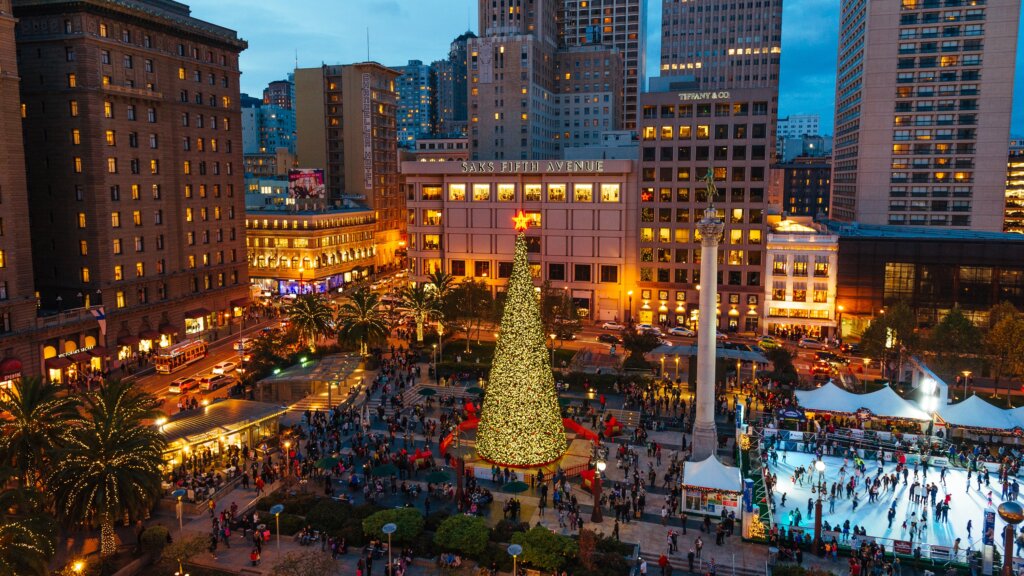 Another event to check out is the Illuminate SF Festival of Light which brightens the city until New Year's day where over 30 dramatic light art installations fill the neighborhoods.
Known for its culture of culinary excellence, San Francisco has beckoned food lovers for decades.
The diversity of cuisine available is impressive ranging from authentic Thai street food to world-class dim sum and fresh Peruvian ceviche.
Visiting the city in the winter is also great for wine enthusiasts to experience an incredible amount of varietals from different wine producers in one place. The San Francisco Chronicle wine competition and Uncorked Wine Festival are notable events to consider.
With average temperatures resting in the high 50s, San Francisco has a unique micro-climate where temperatures can vary from one block to the next.
It could be cold and foggy one minute then suddenly turn clear and sunny the next. So make sure to pack layers to stay warm as well as a comfortable pair of walking shoes in order to enjoy this beautiful city in the winter.
Curious about California? Read this California fun facts post for more.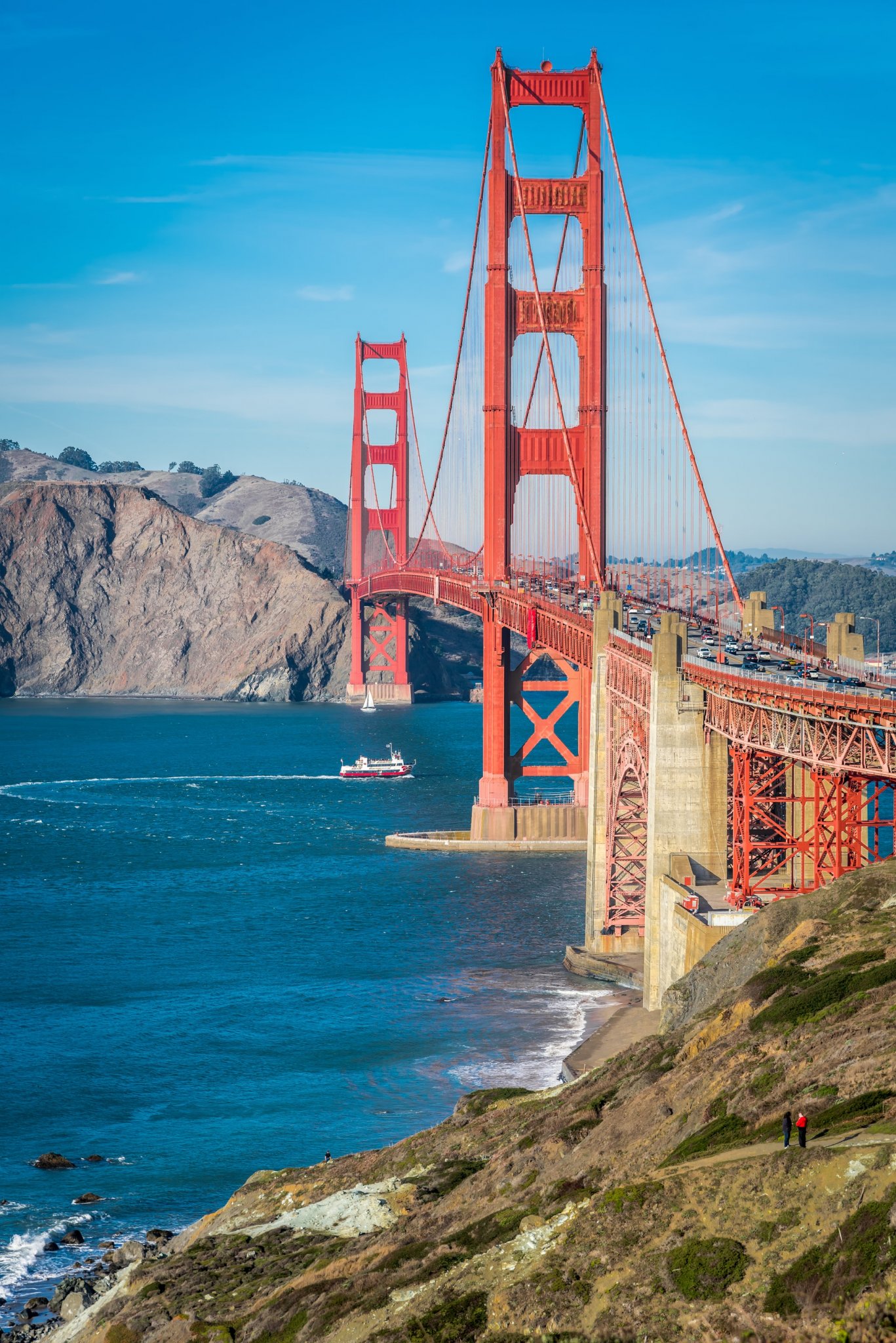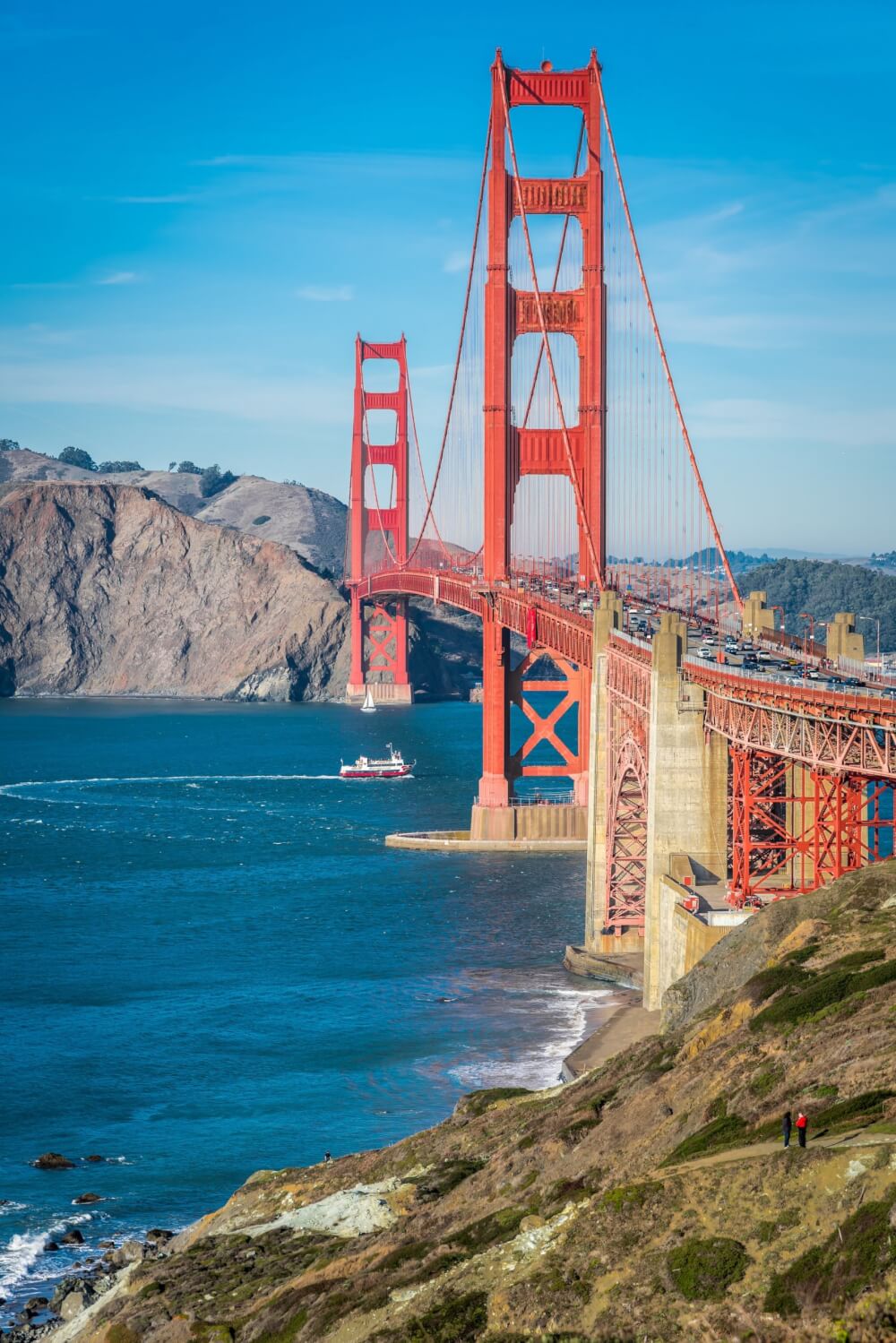 2. Telluride, Colorado
by Daria | The Discovery Nut
Telluride is one of the best winter destinations in the United States for many reasons. A former silver mining town in Colorado's Southwest corner, it boasts a unique Old West vibe and a great outdoor scene with incredible trails for mountain biking, hiking in summer and uncrowded ski slopes in winter.
Its central street, Colorado Avenue, boasts buildings from the late 19th to early 20th century that had been constructed during the mining boom of Telluride. Since the 1970s, the town has been revamped as a ski resort thanks to the efforts of Joseph Zoline.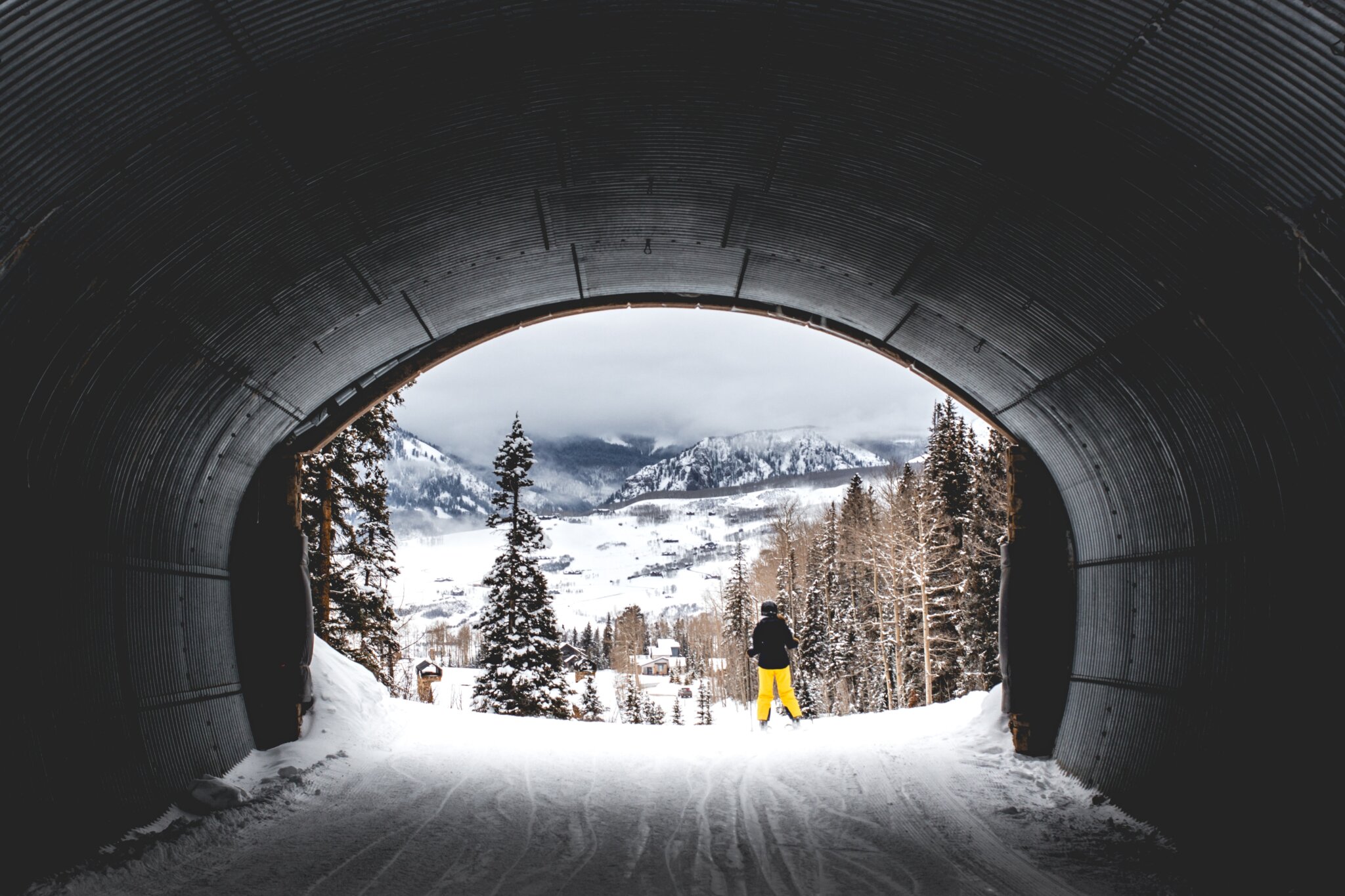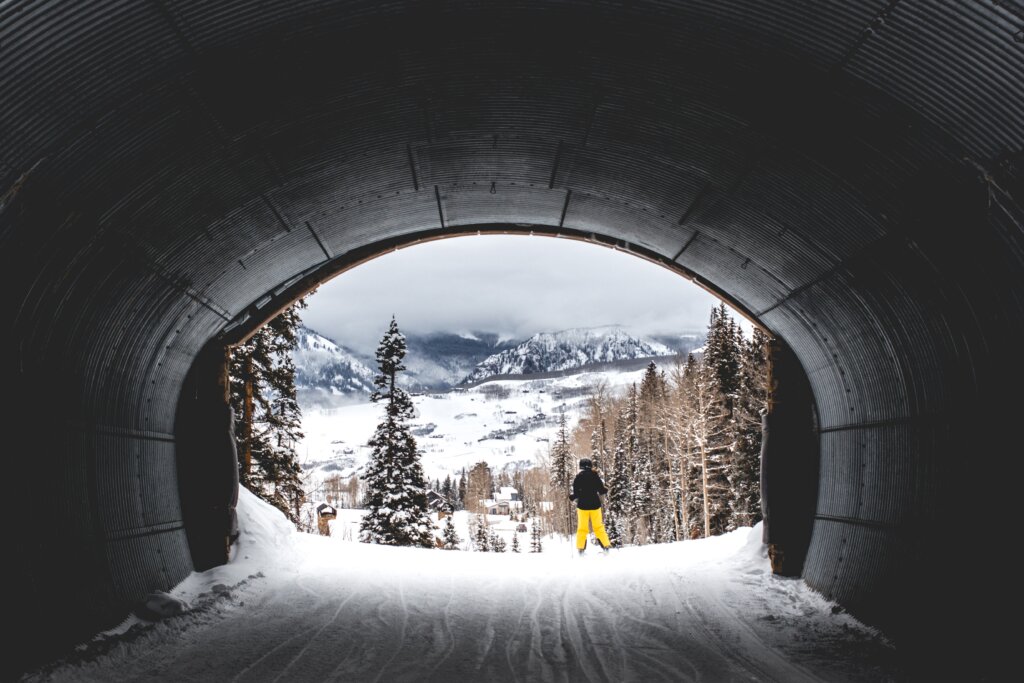 What makes Telluride a great place to visit is its remote location – this town is located in the San Juan Mountains and requires over 5 hours of driving from the nearest major airport in Denver.
However, you can fly into Montrose or Grand Junction on Colorado's Western slope, if you want a shorter commute. The location of Telluride makes it more exclusive than other popular ski resorts such as Vail, Eagle or Breckenridge that can be easily accessed via Interstate-70 in Colorado.
Located in the box canyon, Telluride has no more than 2,500 residents and has been spared from mass development. Things are kept uniquely local here which made this small town so popular among people who have come to enjoy all things Telluride.
To explore even more of this beautiful state, consider taking a Southwest Colorado road trip.
Insider tip: The gondola to Mountain Village is free! Take it even if you are not going to hit the slopes.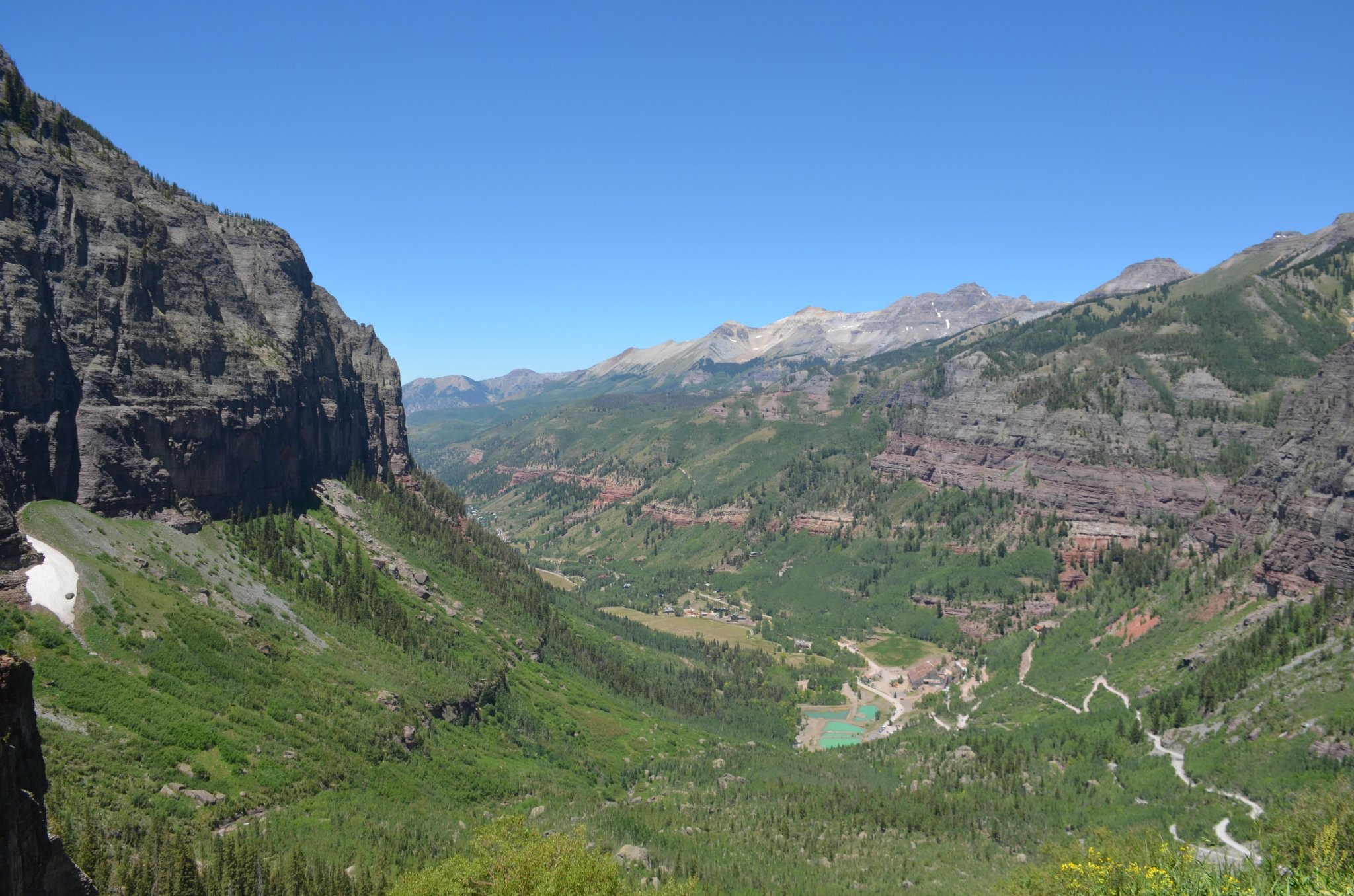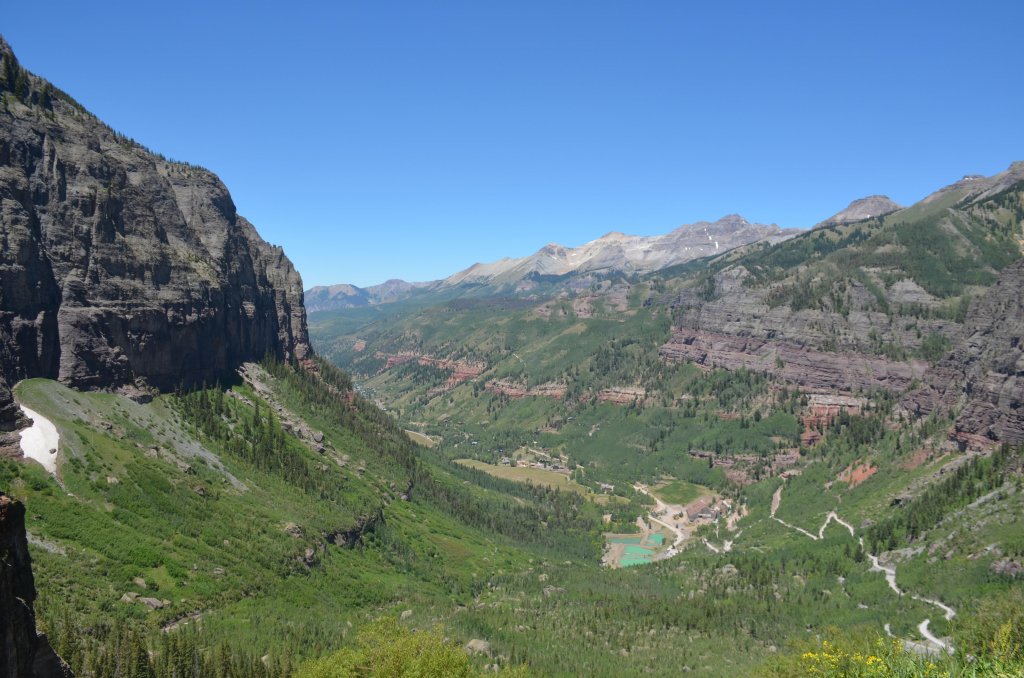 3. Napa Valley, California
by Theresa | Fueled By Wanderlust
Napa Valley is a classy and cozy destination for a winter getaway. Known for being the location of many world class wineries, the comfortable winter weather in Napa Valley is perfect for sipping a cabernet on a heated patio.
Winter in Napa Valley is mild compared to other parts of the USA. While you aren't likely to see snow on the ground, you probably won't be wearing shorts or tank tops either. It is possible that it could be chilly and rainy, but it could also be sunny and warm enough that a jacket wouldn't be required. As long as it's dry, the weather is very lovely for taking any outdoor winery tours or doing a patio tasting.
Winter is also low-season in Napa Valley, which means you can visit some of the most famous wineries with next to no crowds. This makes for a more individualized and enjoyable tasting experience. Many wineries require reservations, but with less competition, chances are you'll be able to visit whichever wineries you want with very little notice.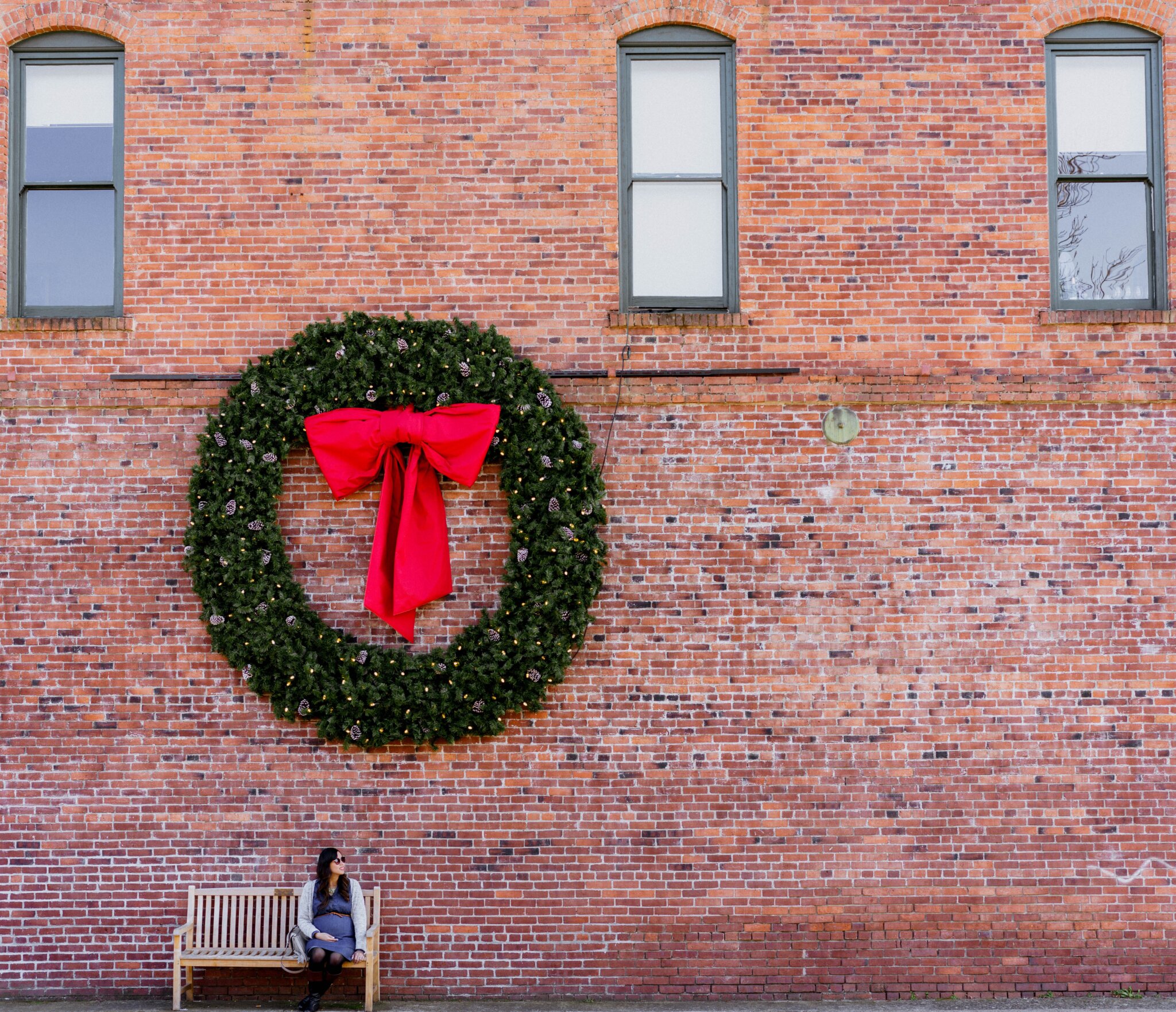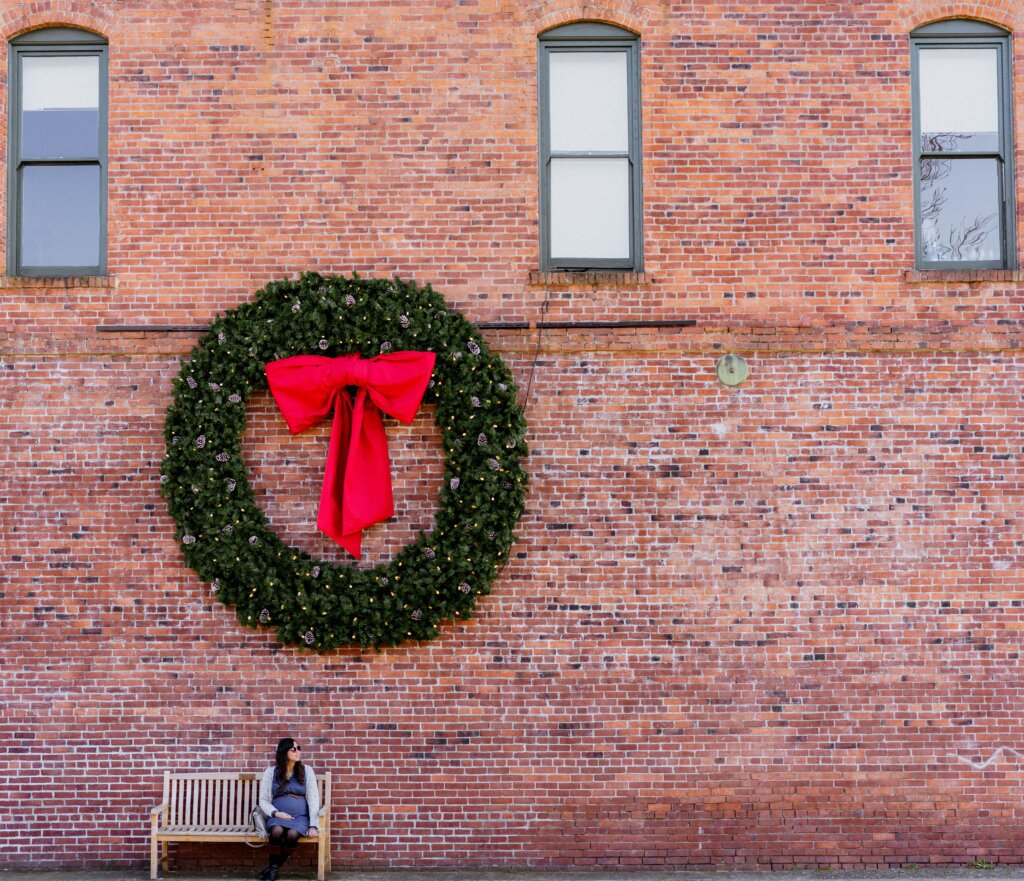 One hidden gem you must add to your Napa Valley itinerary is Robert Biale Vineyards. With views of the grape vines from their patio that also offer the occasional rainbow, a tasting here of their delicious red wine is a must.
Fun fact – many of the wineries will offer wine variations from grapes grown on the "valley floor" versus those grown on Howell Mountain. Be sure to do a tasting that lets you experience both, as you will notice a minerality difference!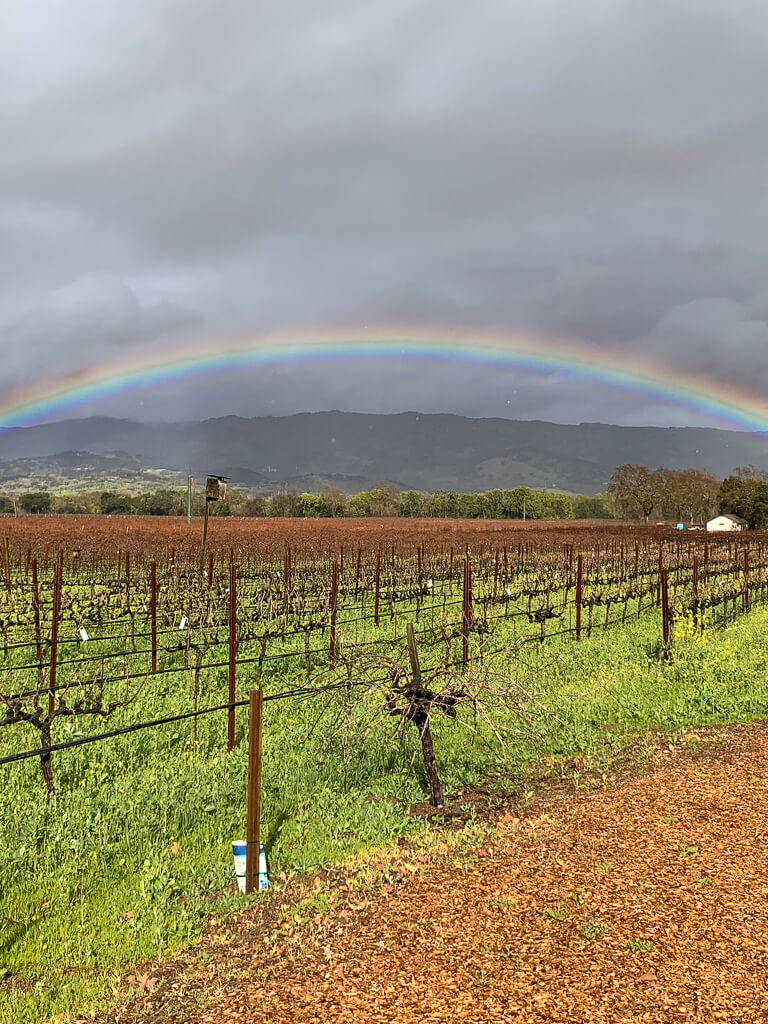 4. Bend, Oregon
By Erika | Erika's Travels
Bend is Oregon's premier outdoor playground. Home to lakes, rivers, mountains, desert and unusual volcanic landscapes, it is a year-round dream for nature lovers and photographers.
In summer, Bend is a magnet for hikers, rock climbers, mountain bikers and water sports enthusiasts. Between November and April, it is the gateway to some of Oregon's best skiing at Mount Bachelor. 
Unlike western Oregon, Bend sits east of the Cascade Mountains, where sunshine is in abundance. Even in winter, the town's clear blue skies often reveal an incredible blanket of stars.
For lovers of winter sports, Bend is an absolute dream. The area is a haven for downhill skiers and snowboarders. In addition, it contains ice skating rinks, sledding hills, and miles upon miles trails suitable for Nordic skiing and snowshoeing.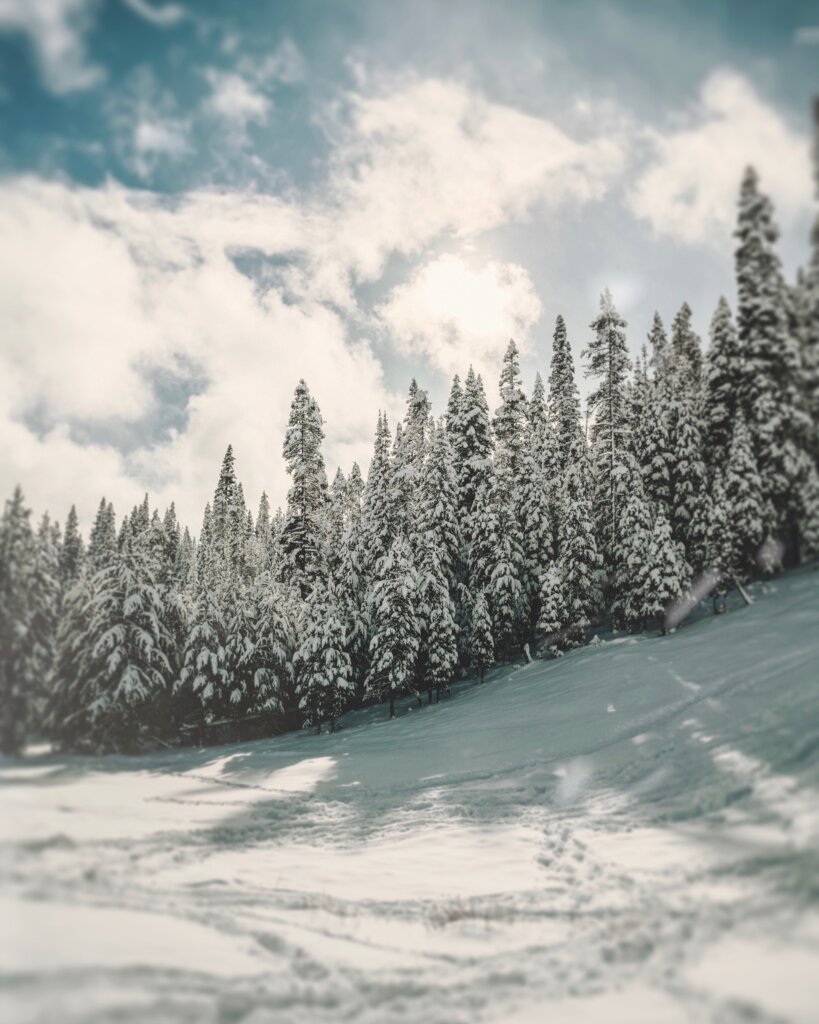 Though snow sports reign supreme during winters in Bend, many of the area's hiking trails are still snow-free and accessible. To witness the best of the city's scenery in winter, you can stroll through ancient Juniper forests in the Oregon Badlands Wilderness, follow the Deschutes River Trail through downtown, or meander below the soaring cliffs of nearby Smith Rock State Park.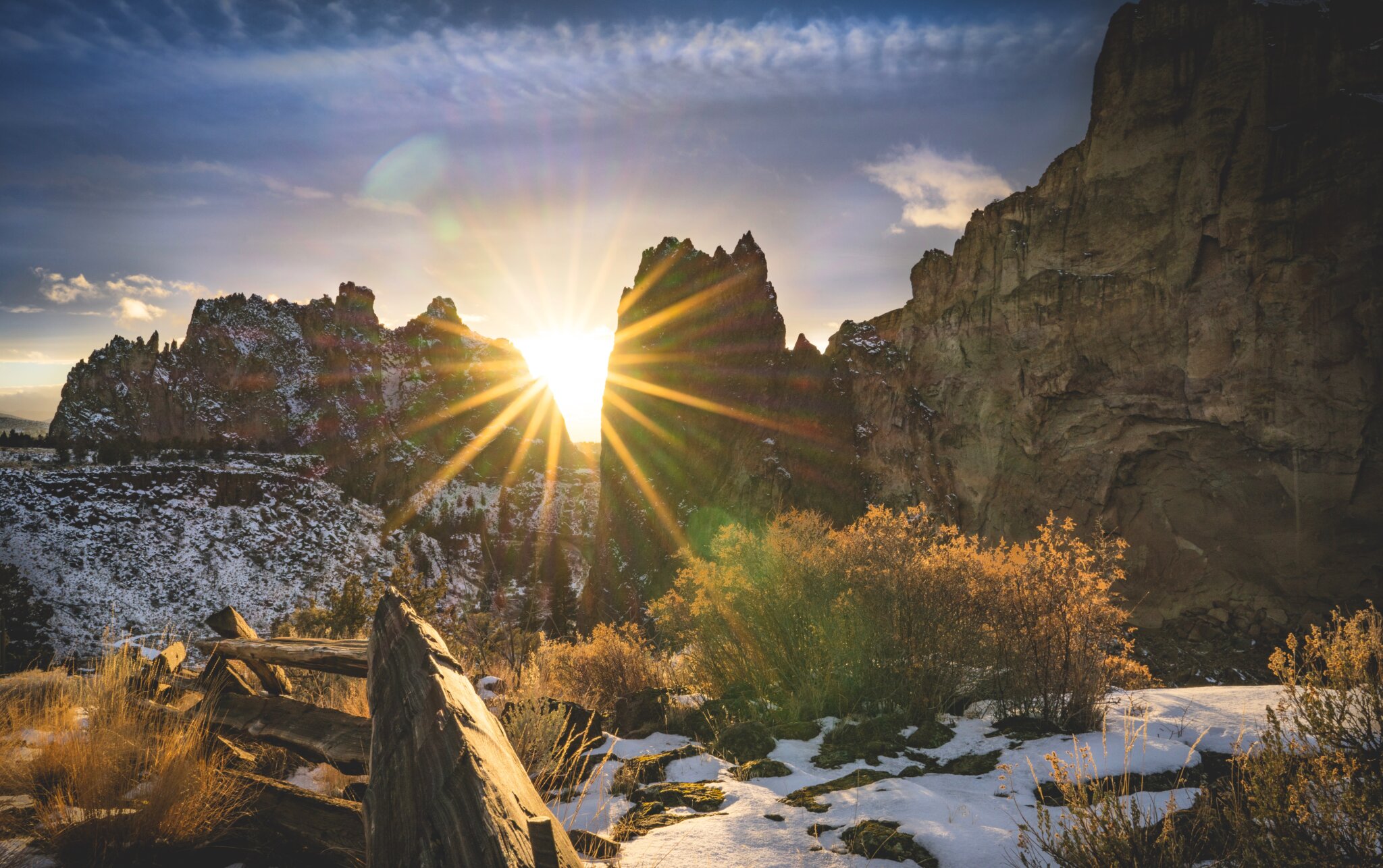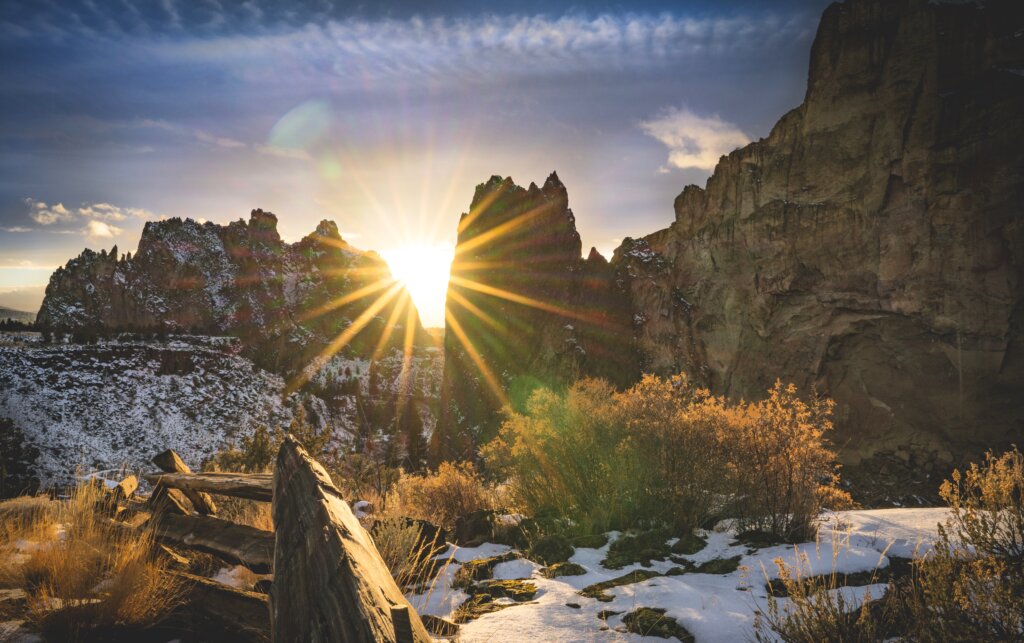 If you're looking to warm up after a morning in the snow, you can visit the heated pool at McMenamin's Old St Francis School, or head out of town for a soak in one of Central Oregon's many fantastic hot springs.
After a fun-filled day of adventuring outdoors, head to Bend's quaint downtown for a delicious pint of beer at one of the town's many microbreweries.
Bend has over 30 independent breweries—among the most per capita of any city in the United States. The city even has its very own Ale Trail, which is a perfect indoor alternative when it is simply too cold to enjoy the outdoors.
Looking for more ideas? There are so many things to do in Central Oregon!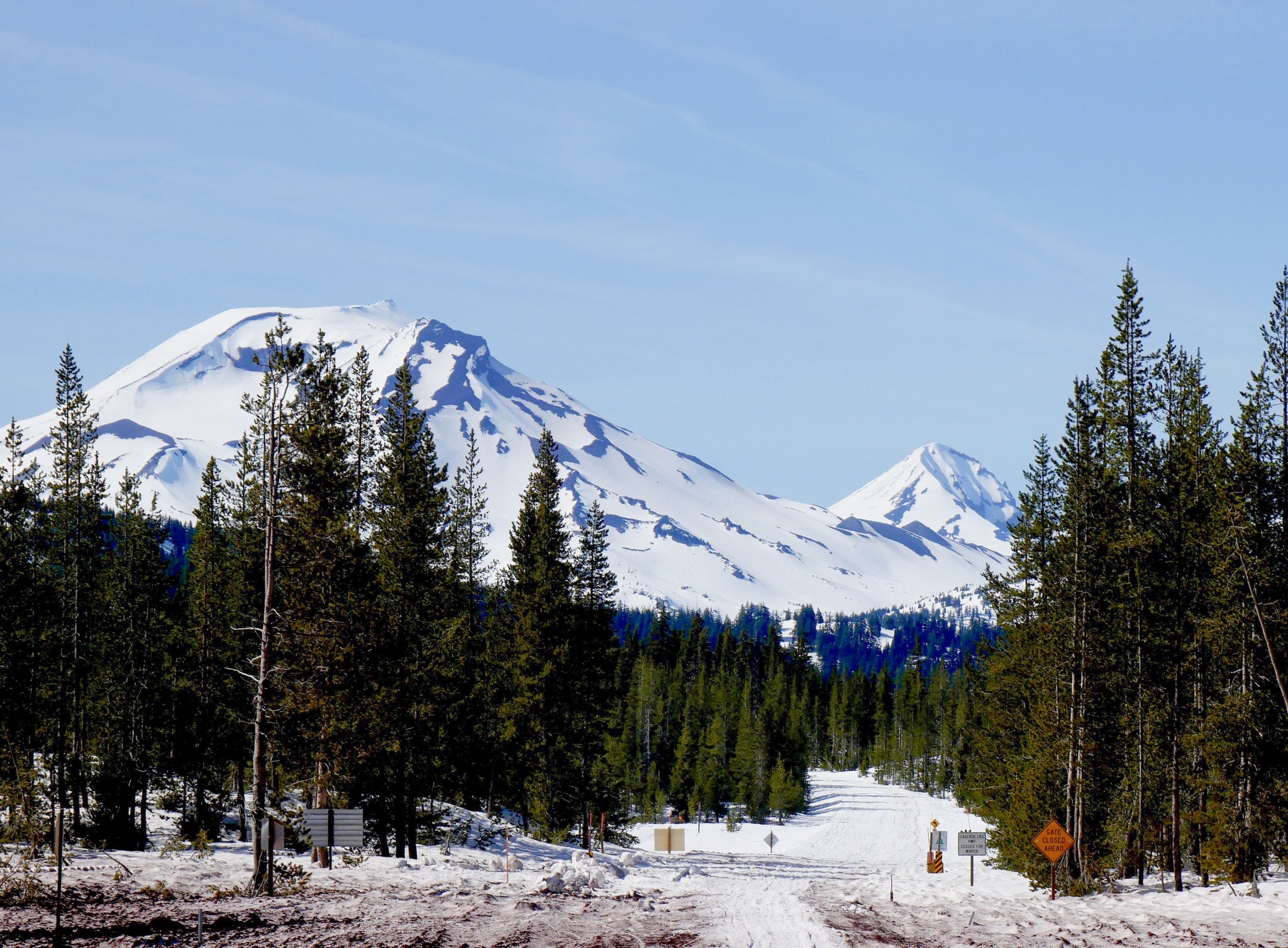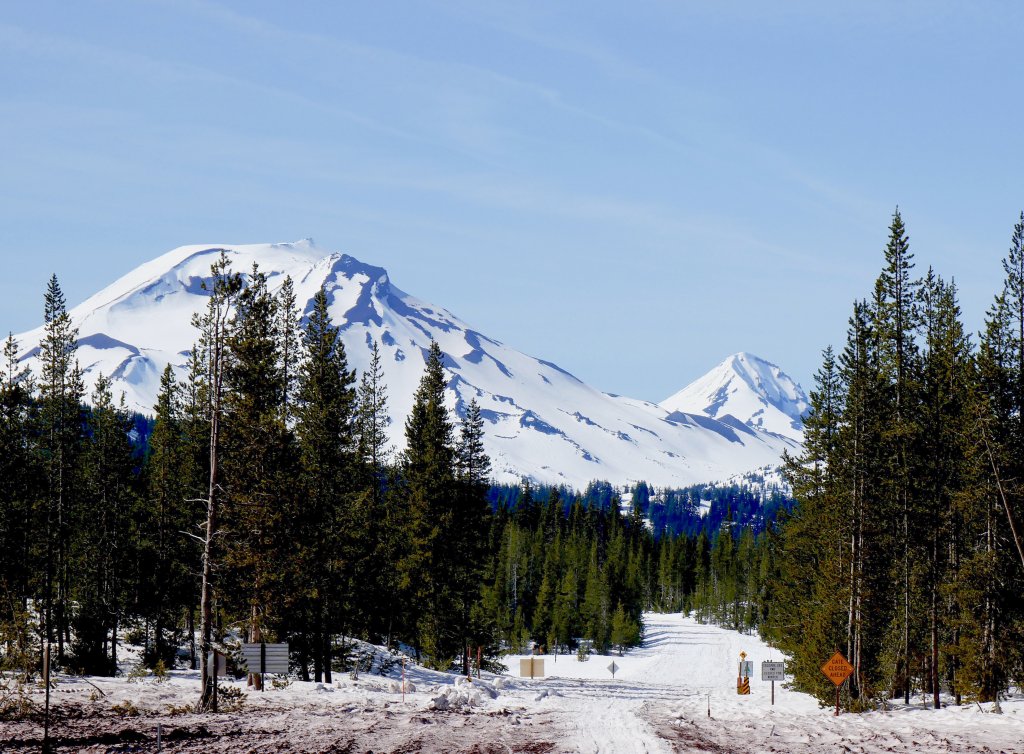 5. Mammoth Lakes, California
By Dayna Brockbank | Happily Ever Travels
Mammoth Lakes is the perfect winter destination for those looking for snow-capped mountains, vast frozen lakes, and some of the best skiing in the USA! Imagine cozying up in a cabin, defrosting in front of a fire with some hot chocolate in hand and you're picturing this incredible winter destination in California.
Mammoth Lakes is most famous for the Mammoth Mountain ski resort which has California's highest chairlift-serviced peak. It is known for having one of the longest ski seasons in the US that sometimes lasts all the way into July or August!
However, if skiing and snowboarding aren't for you, there's still plenty to do in the area! Bundle up in warm clothes and find a hill for sledding or hop in the car and search for the best frozen lakes at sunset.
One of the best local secrets in Mammoth Lakes is an adorably quaint used bookstore in the town center called Booky Joint. You can spend hours searching through the genres to find the perfect book to curl up on the couch to read while the snow falls outside.
Whether you're searching for a cozy winter getaway or a ton of adventurous fun in the snow, Mammoth Lakes is the perfect US destination in the winter!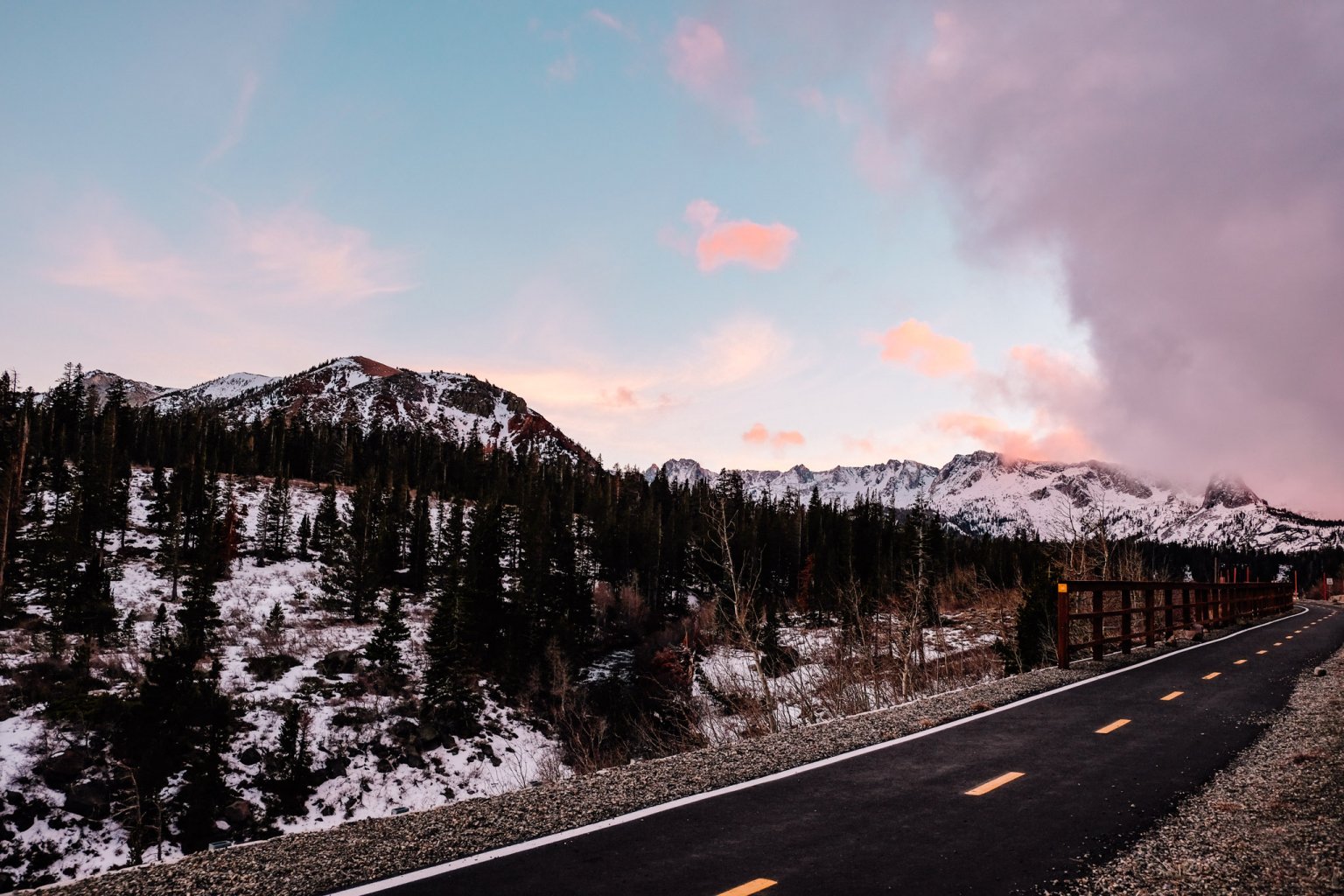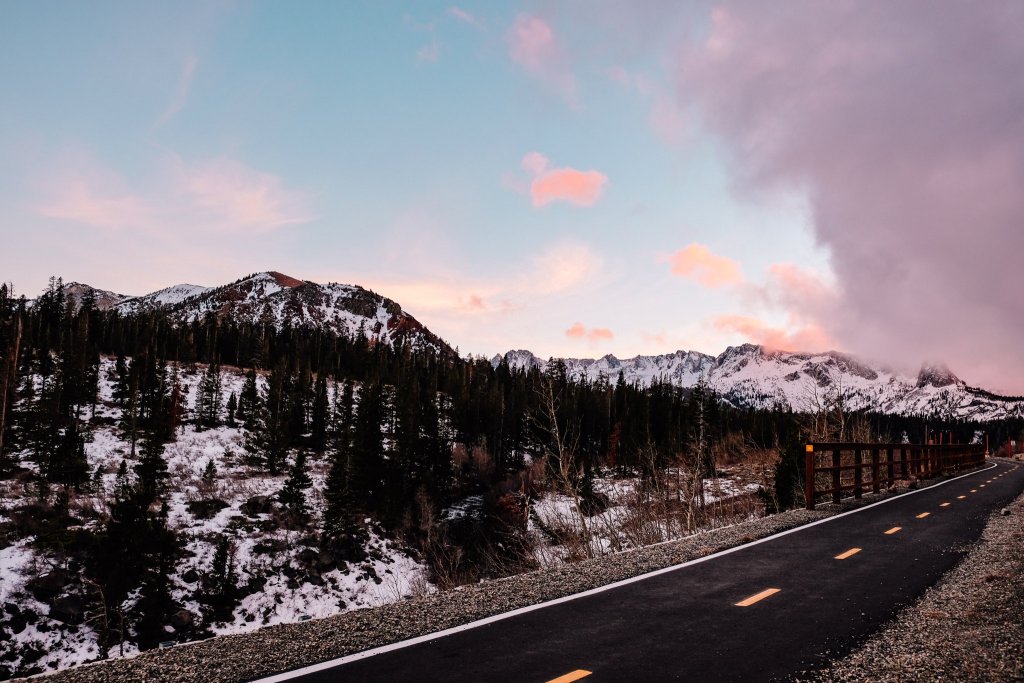 6. Philadelphia, Pennsylvania
by Derek & Mike | Robe Trotting
Philadelphia, Pennsylvania is one of America's biggest and most exciting cities to visit. The destination shines all year, but there are a lot of things to do in Philadelphia that make it a perfect winter destination.
Philly is known as the birthplace of America and a city full of history. Independence Hall is a warm place to visit and escape the cold to see where the Declaration of Independence and American Constitution were signed. Best of all, free tours are conducted hourly and there are other must-see sites within a block like the Liberty Bell and American Constitution Center.
You can also find an exhibit at the site of America's first Presidential Mansion. Many people don't realize that Philadelphia was the capital of the nation as Washington DC was being prepared as the seat of government. George Washington lived just steps from the Liberty Bell and there's a fascinating exhibit of that period in American history.
Christmas in Philadelphia is an exciting season in the city. There are holiday trees all over and the best ones to visit are the trees in LOVE Park and City Hall. Both are surrounded by Christmas Markets with vendors, food stands and entertainers on the weekends.
Outdoor ice skating is available at Dilworth Plaza next to City Hall and at Penn's Landing on the Delaware River waterfront. Both are perfect places to skate with great city views and offer tents for drinks and refreshments after your skate.
If you have time, there are some perfect winter day trips from Philadelphia. You can reach ski slopes in the Pocono Mountains in under two hours. The botanical gardens of Longwood Gardens also present a seasonal holiday display of lights, decorations and floral masterpieces.
There's so much waiting in Philadelphia for anyone making it their winter getaway destination!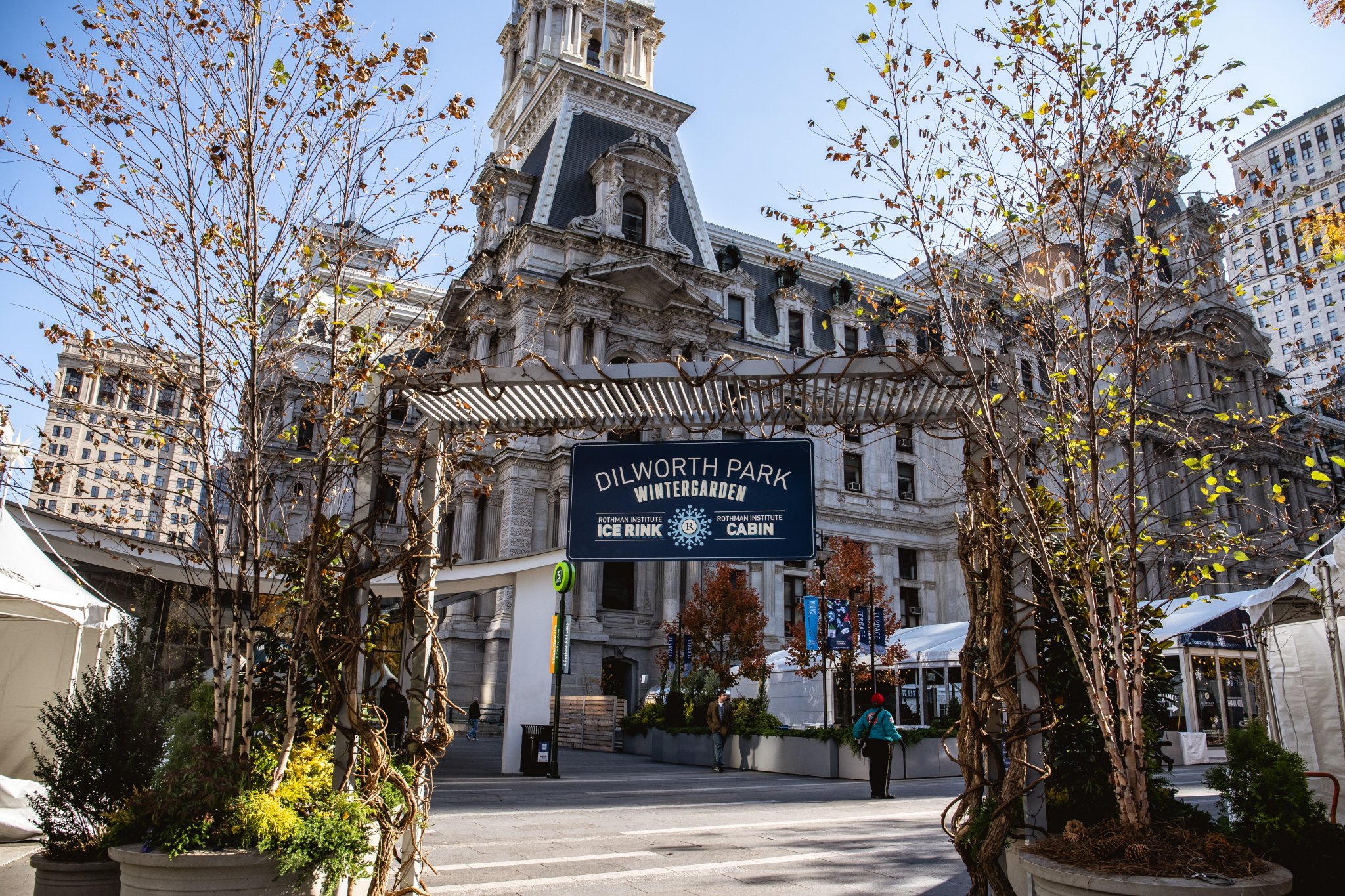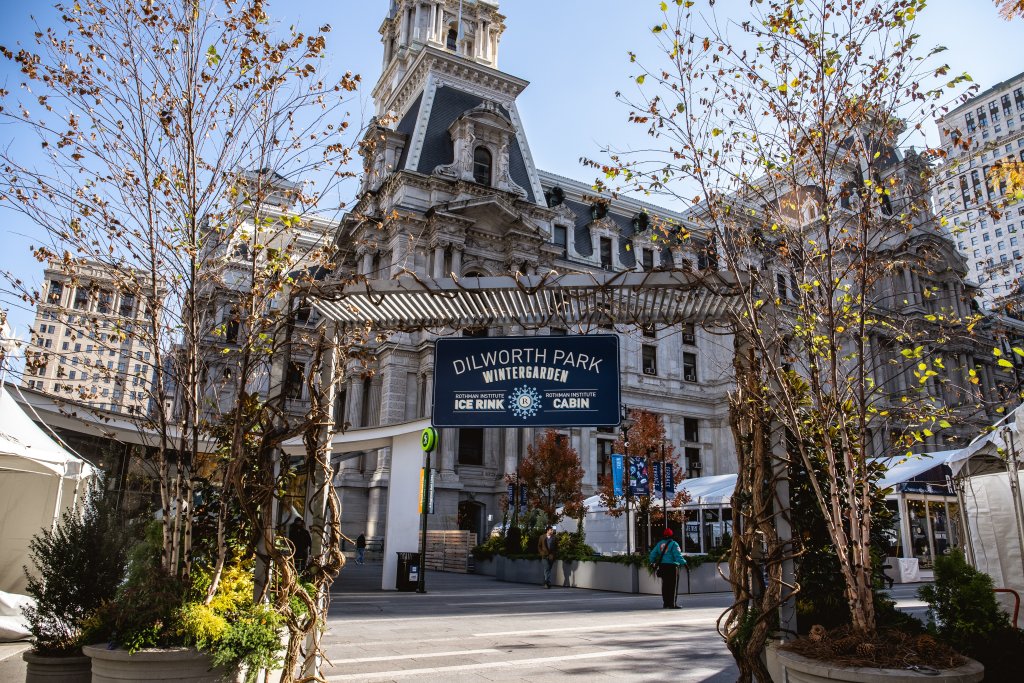 7. Key West, Florida
by Pauline | BeeLoved City
If you wish to escape the cold and enjoy some time in a warm winter destination, Key West will be perfect for you!
Part of the beautiful Florida Keys, Key West is one of the most unique places to visit in the world.
The most popular place to visit is Duval Street. You will find all the bars, restaurants and shops there. It's a very lively street, perfect for grabbing a drink and listening to live music. In the evening, make sure to head to Mallory Square for the sunset celebration. The views are fantastic and the atmosphere is very festive!
Of course, no trip to Key West would be complete without taking a photo with the Southernmost Point Buoy. As the name hints, it's the southernmost point in the continental USA!
If you are up for a day trip, book a tour (or hop on the ferry) to Dry Tortugas National Park. This beautiful hidden gem in Florida features amazing snorkelling spots. Fort Jefferson also used to be a prison during the civil war. If you are into history, you will love this day trip.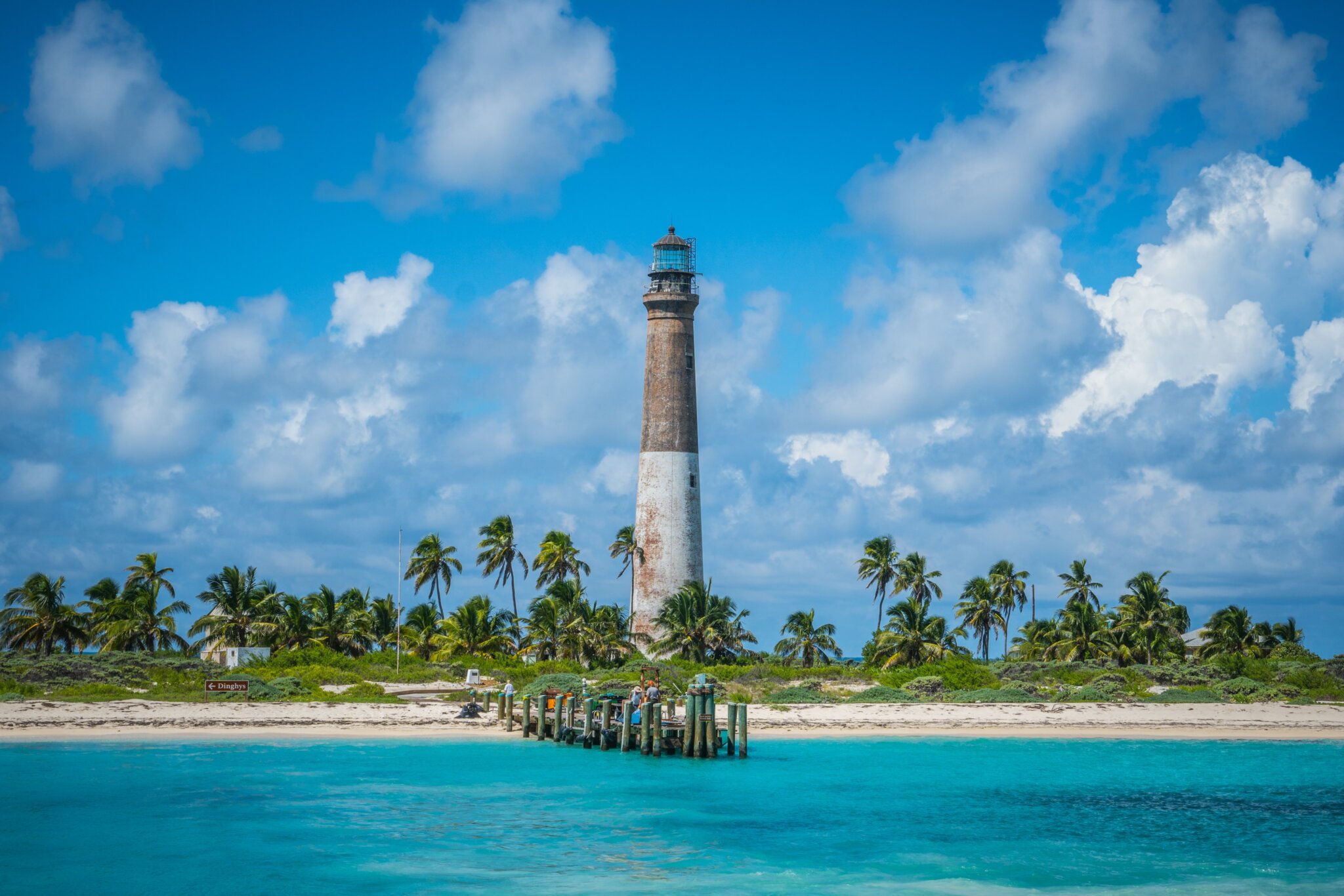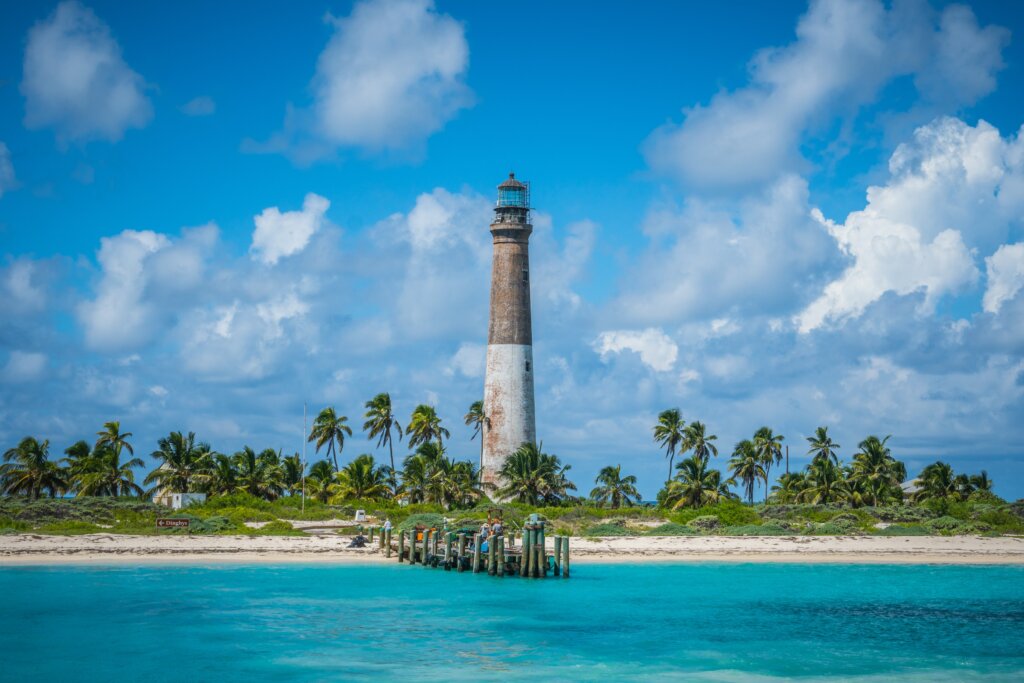 Key West is also a great place to go on a ghost tour! There are many legends and stories about Key West and some of them are quite spooky.
Finally, you can visit the incredible museums! Key West used to be Ernest Hemingway's home. If you'd like to see the famous journalist's home, you can do so in old town Key West.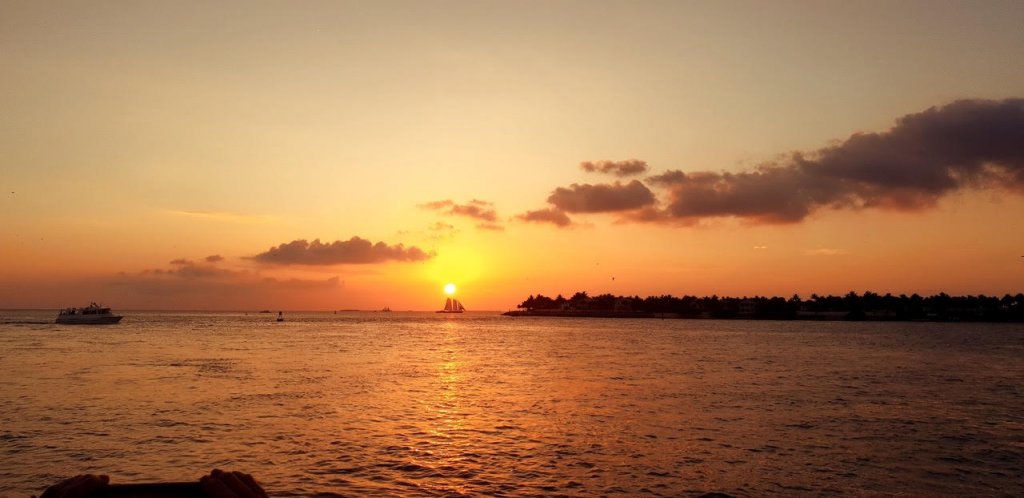 8. Marquette, Michigan
by Emily Hines | Em's on the Road
Tucked away on the coast of Lake Superior is the quaint college town of Marquette, Michigan.
Averaging around 150 inches of snow each year, it is a true winter wonderland and known as one of the snowiest cities east of the Rocky Mountains.
With miles of trails for snow biking, snowmobiling, and cross country skiing, outdoor enthusiasts travel to Marquette all winter long for adventure in the Northwoods.
If you're looking for something even more exhilarating, try ice climbing on some of the beautiful sandstone cliffs at Pictured Rocks National Lakeshore.
You don't have to be a thrill-seeker to enjoy a winter vacation in Marquette.
Bring a pair of snowshoes for a gorgeous hike around the Presque Isle Park designed by Central Park's Frederick Law Olmstead. Go for a spin downtown at the city's ice skating rink before warming with a beer by a fire at one of Marquette's local breweries.
For a truly unique Upper Peninsula experience plan a long weekend in February to see the start of the UP 200 dog sledding race. Hundreds of people flood downtown Marquette to see the racers and dogs kick off the big race on a snow-covered street downtown.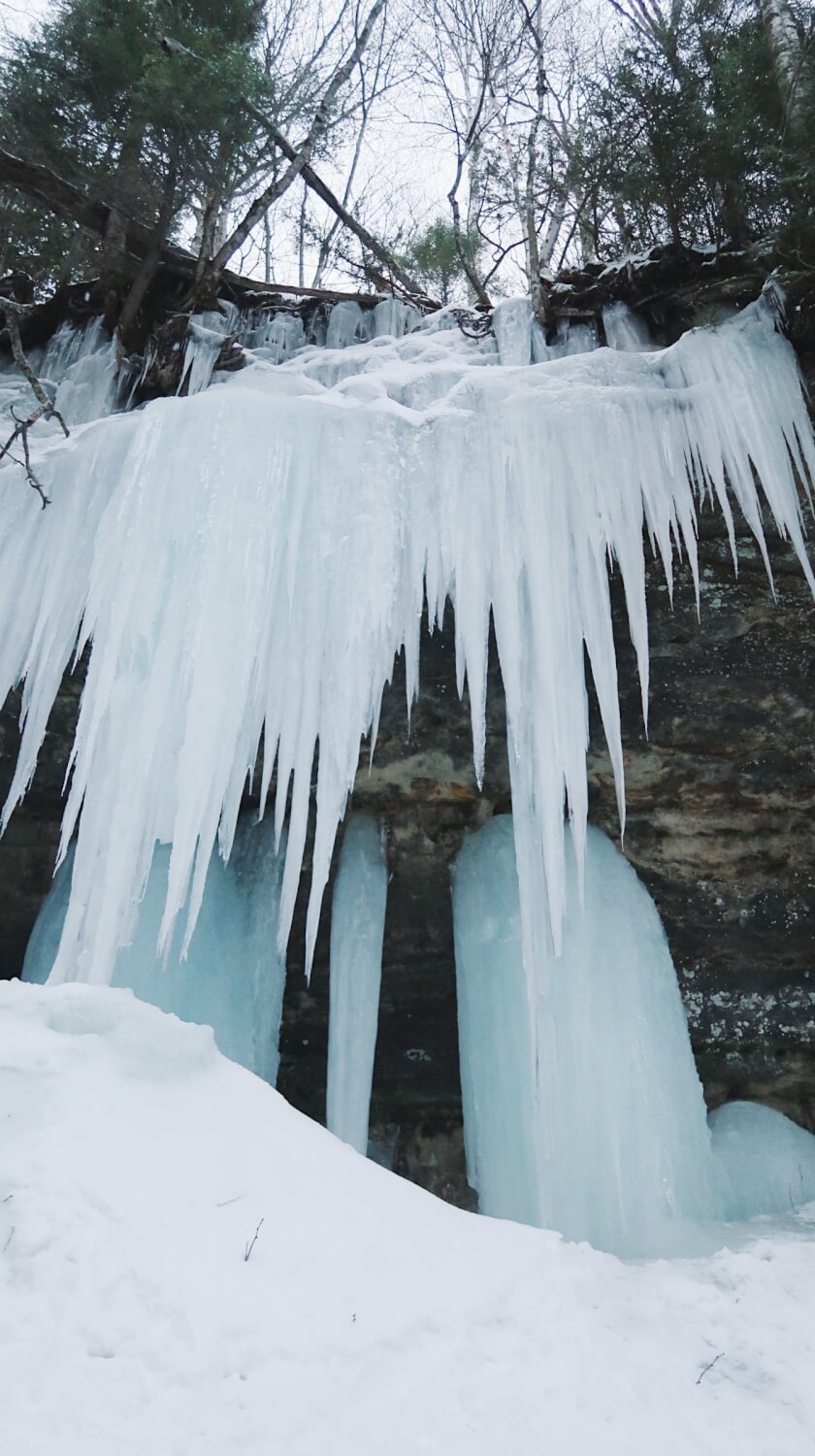 9. Fairbanks, Alaska
by Kay | The Awkward Traveller
With a population of just over 30,000 in the city proper, Fairbanks, Alaska is the second largest city in the state. It is also one of the best winter destinations in the USA.
If you're dreaming of a white winter season, soft snow blankets this entire town, and at the start of the Winter Solstice, the entire city transforms into a wonderland with street lamps and storefronts decorated in tinsel, garland, and fairy lights.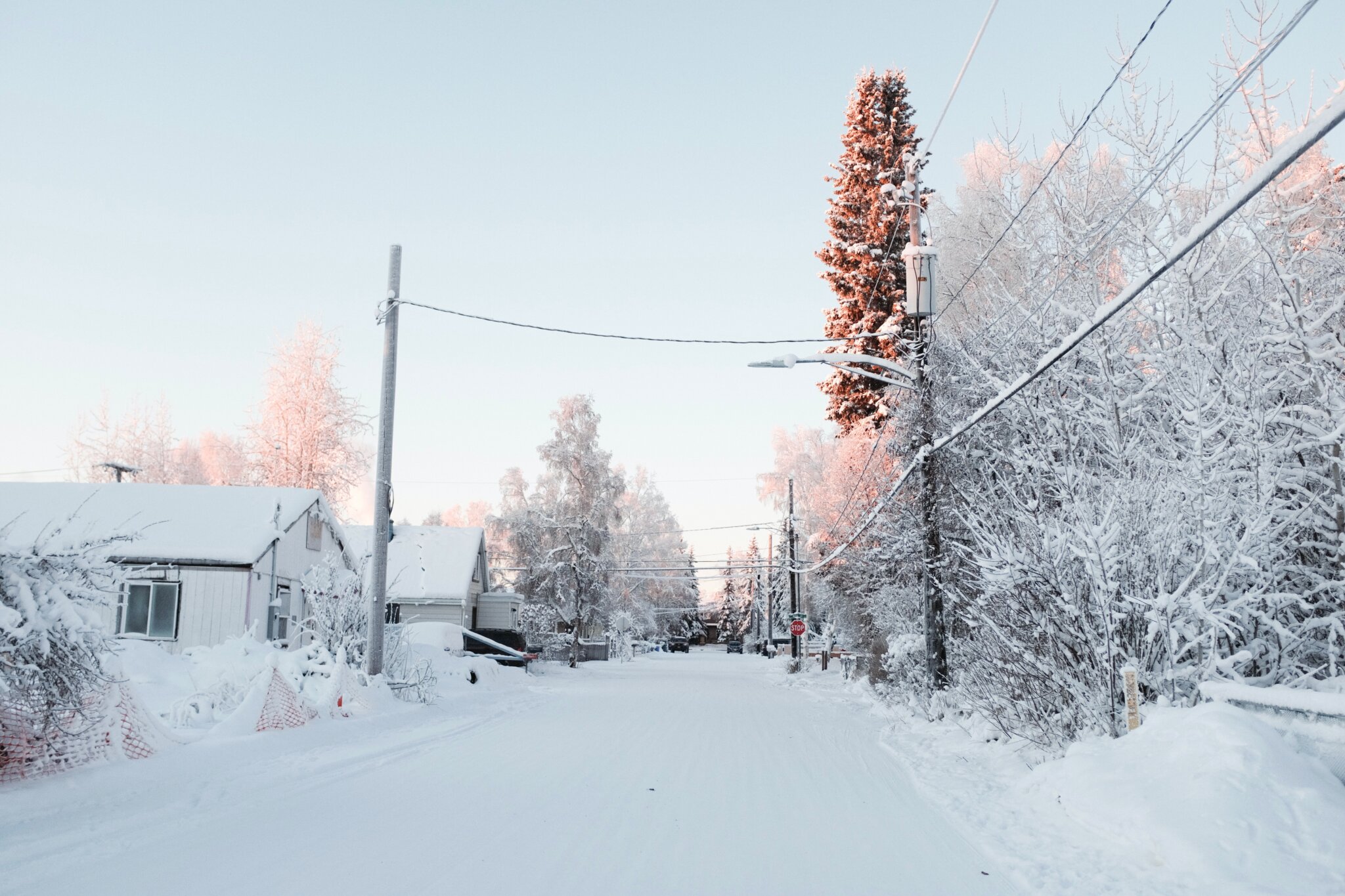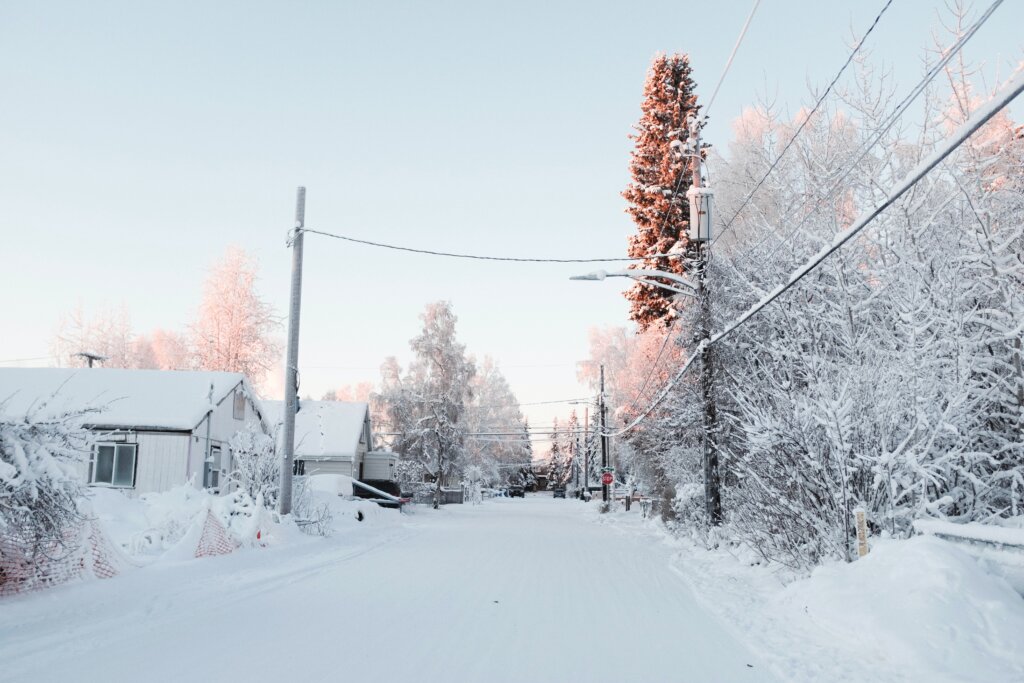 Fairbanks is known for its winter activities, but the most popular things to do in Fairbanks in winter revolve around dog sledding, reindeer ranches, hot springs, and chasing the Northern Lights. Fairbanks is also close to the town of North Pole, home to Santa's Workshop – a giant Christmas gift shop. During December, local volunteers dress up as Santa for visits and to answer Christmas wish lists from kids.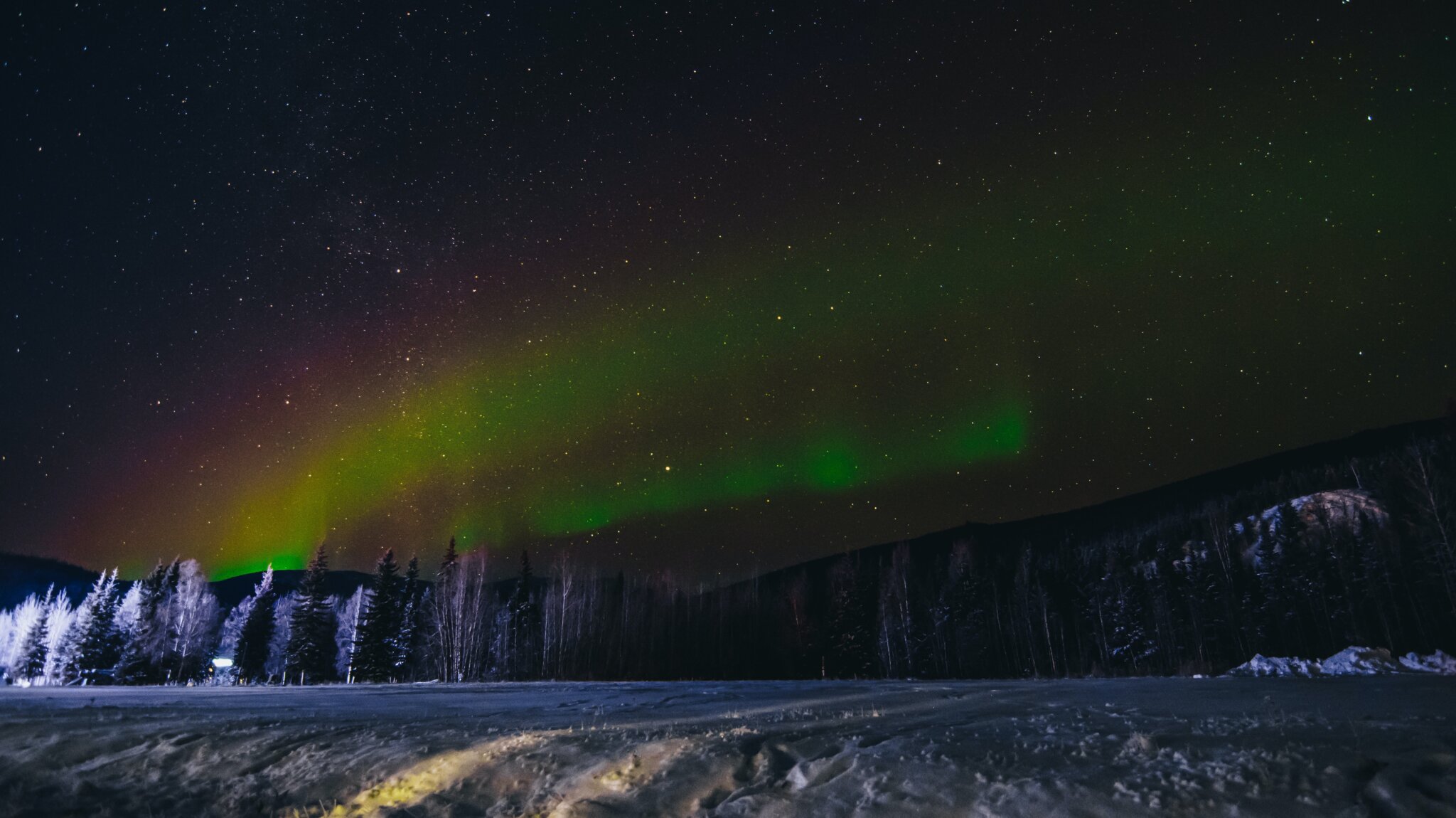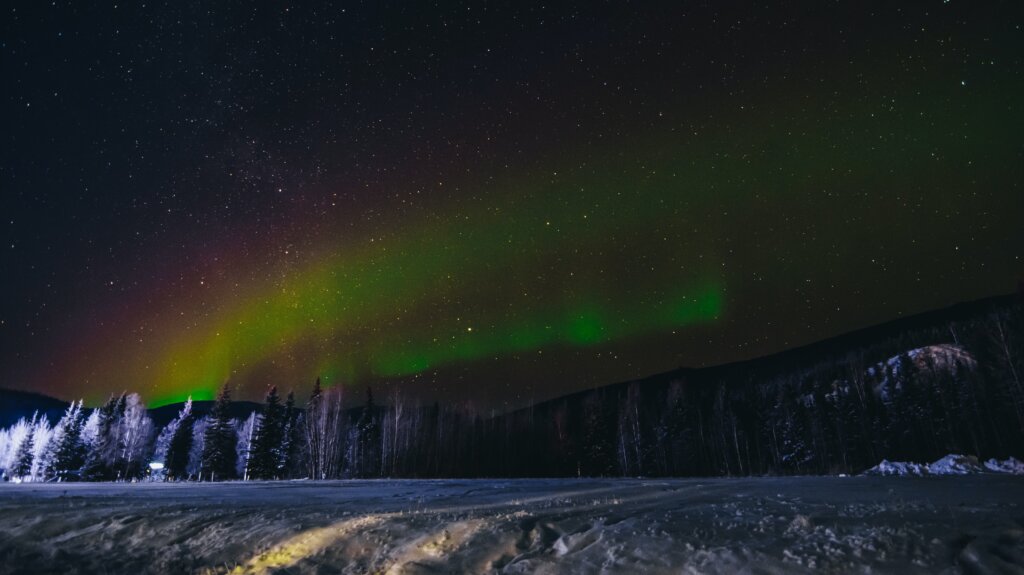 If you really want to make the most out of your trip, be sure to visit Fairbanks during one of it's many winter festivals or events. If you don't mind skipping the holiday season, the beginning of March crosses three different big events: the World Ice Sculpting Championships, the Festival of Native Arts, and Alaska's famed Iditarod (technically not usually in Fairbanks, but it is the buzz of the city all month long).
Visiting during a festival or event will give you the opportunity to see a more cultural and artistic side of Fairbanks, and leave a deeper and more unique understanding of the city.
10. Wisconsin
by Lindsay Puls | Have Clothes, Will Travel
Visiting Wisconsin in winter may not be at the top of many traveler's lists, but it should be. While this Midwest state does boast some of the country's coldest winter temperatures, Wisconsinites have embraced the frigid climate and created many fun and unique winter activities to enjoy.
The must-do winter activity in Wisconsin, of course, is attending a Green Bay Packers' game. This professional American football team plays its games in an outdoor stadium, Lambeau Field. It's been nicknamed "The Frozen Tundra," and for good reason!
It's not uncommon for temperatures to dip well below freezing and to be covered in a fresh blanket of snow while in this stadium. (The coldest game ever played here is known as the "Ice Bowl" and the temperature was -13 degrees Fahrenheit when the Packers took on the Dallas Cowboys.)
Enjoying some of the state's natural beauty in winter is an incredible experience as well. The Apostle Island's Ice Caves are in Bayfield, Wisconsin and a must-see.
They are caves along Lake Superior where the waves splash against the rock and begin to freeze to the sandstone cliff.
They are typically accessible in late January to late February, as Lake Superior needs to be frozen solid to walk to these stunning caves. (There are also TONS of cool and unique Airbnb's in this area – such as treehouses and yurts!)
One of the state's most popular tourist destinations in summer, Door County, is also a fantastic winter escape with far fewer tourists.
Some of the best things to do in Door County in winter are ice fishing, snowshoeing, snowmobiling, ice skating, visiting wineries and taking a winter wine tour and sleigh ride, shopping at quaint family-owned shops, visiting the area's art galleries and then warming up at night with an old fashioned and fish fry at a local supper club.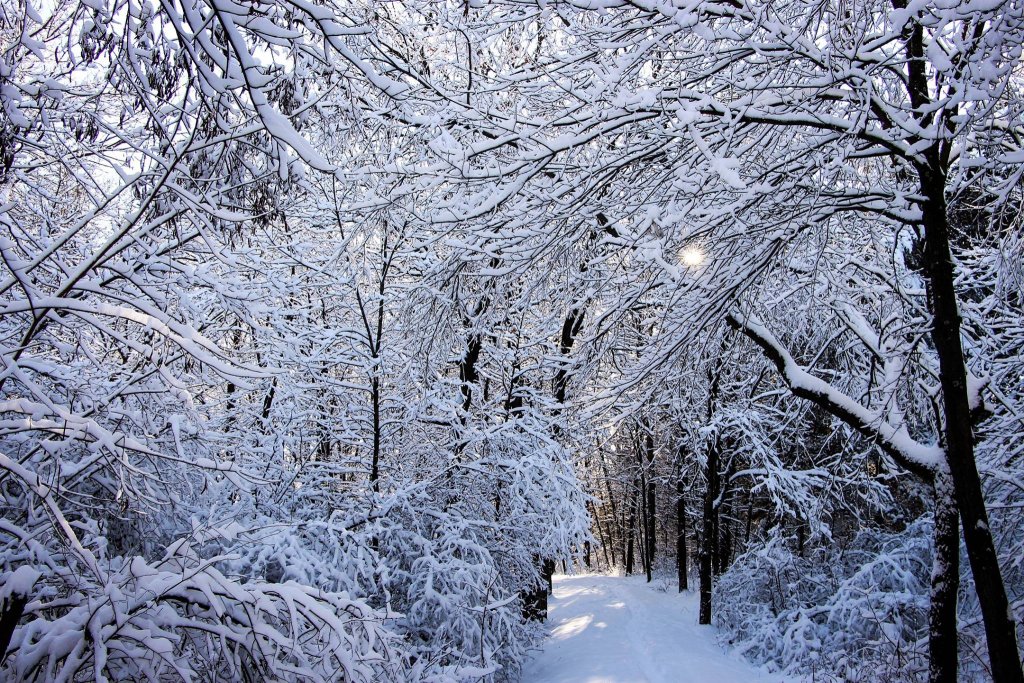 11. Duluth, Minnesota
by Alexandra Schmidt | The Mindful Mermaid
Also known as the "Zenith City of the Unsalted Sea", Duluth rests on the shores of Lake Superior in Northern Minnesota. It was originally settled by the indigenous Dakota and Ojibwa peoples, and later became a bustling port town with more millionaires per capita than any other city in the world!
Today Duluth is most known as a popular summer destination on the coast of the largest freshwater lake in the world (by surface area). However, there are plenty of things to do in Duluth in winter as well. The variety of indoor and outdoor activities make it one of the most underrated winter destinations in the USA.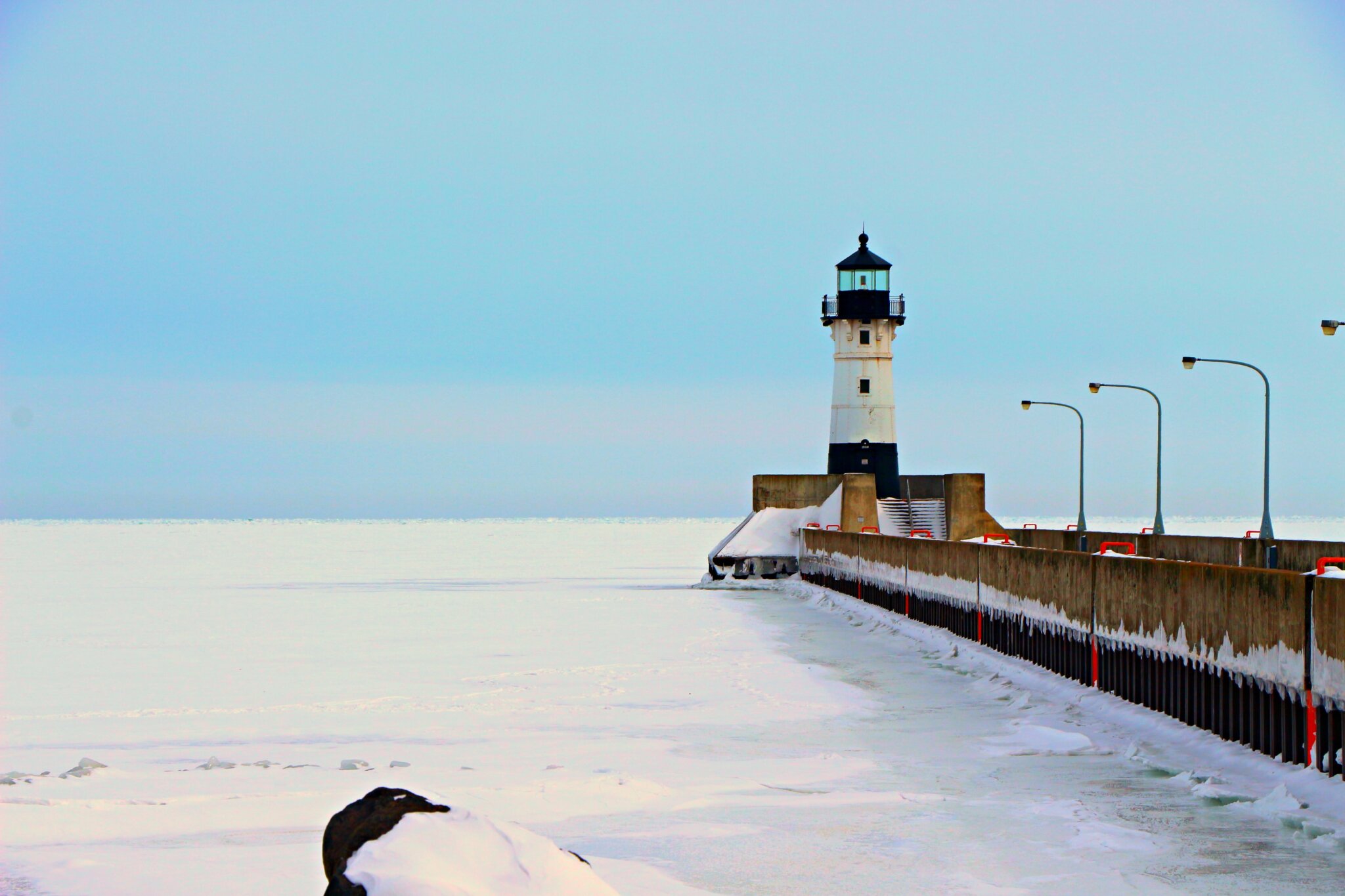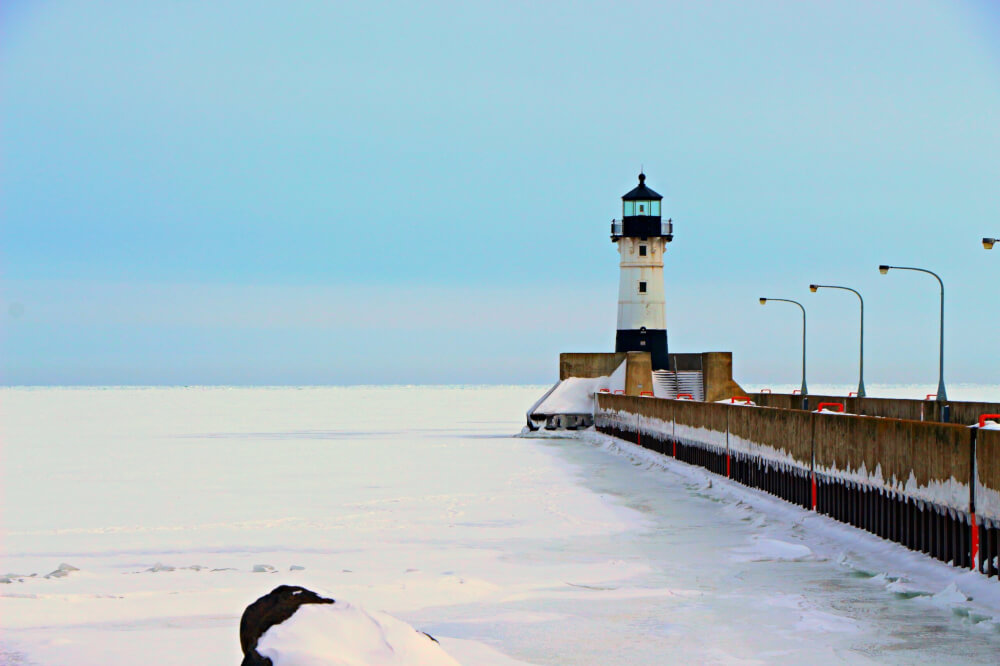 Every winter Duluth hosts the Bentleyville "Tour of Lights", the largest, free Christmas light festival in the country. The festival illuminates the Bayfront Park, where guests can walk through the light display while drinking hot cocoa or hot wine. You'll want to dress warm for this, but it's an awesome activity to do with kids, or even for a romantic date night.
If you're into skiing or snowboarding, you definitely will want to head to Spirit Mountain in Duluth. As most of Minnesota is flat, Spirit is without a doubt the best place to hit the slopes in the state. You can also go snow-mobiling or snow tubing in this area as well.
If you'd like to stay inside during the winter, you could easily spend a weekend checking out the restaurants in Duluth. One of my favorite indoor activities is the Zeitgeist, an upscale American diner attached to a boutique movie theatre screening indie films. If you're looking for a unique place to grab a drink, check out the Rathskeller speak-easy cocktail bar, located in the former Duluth City Hall building.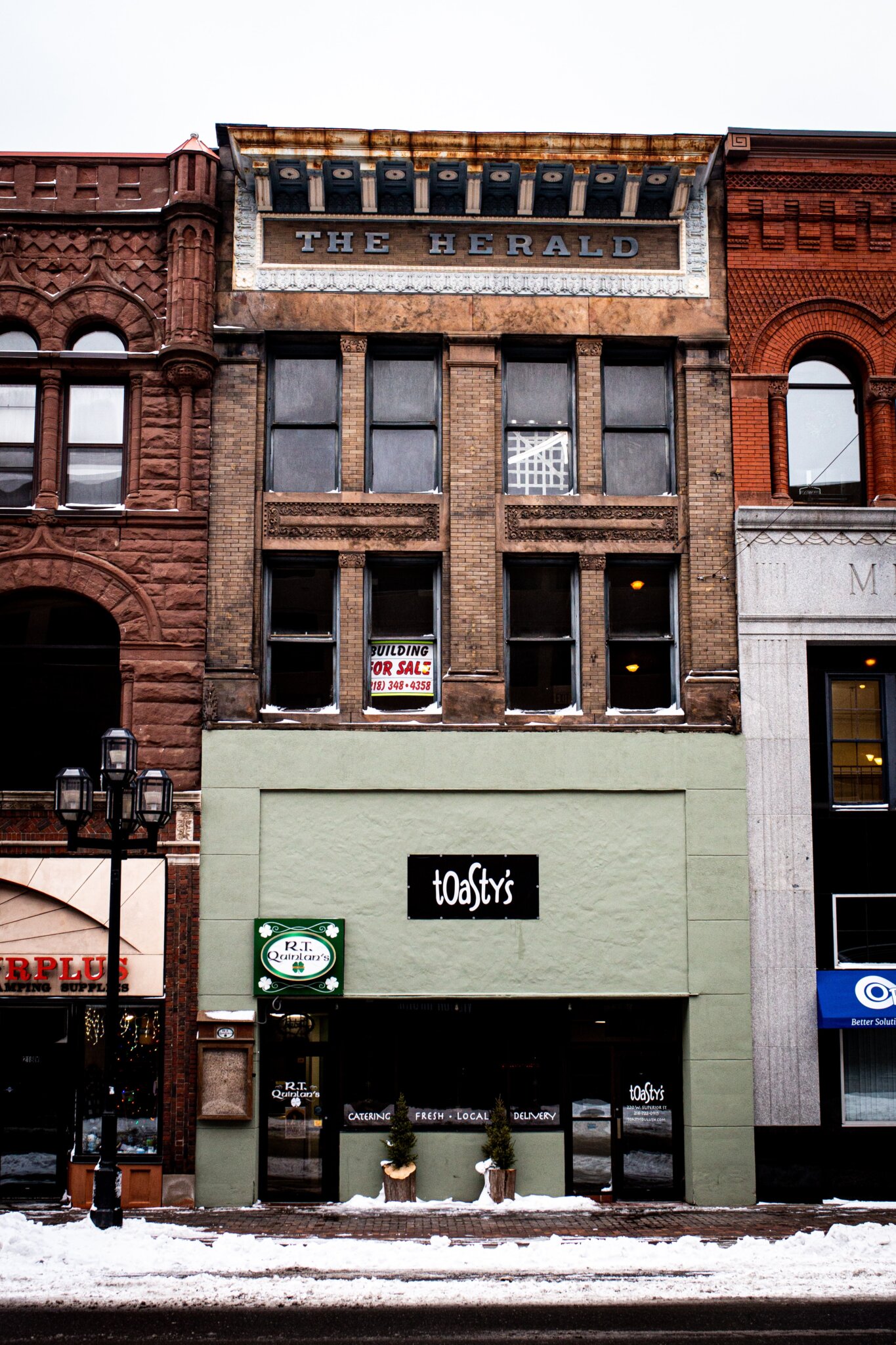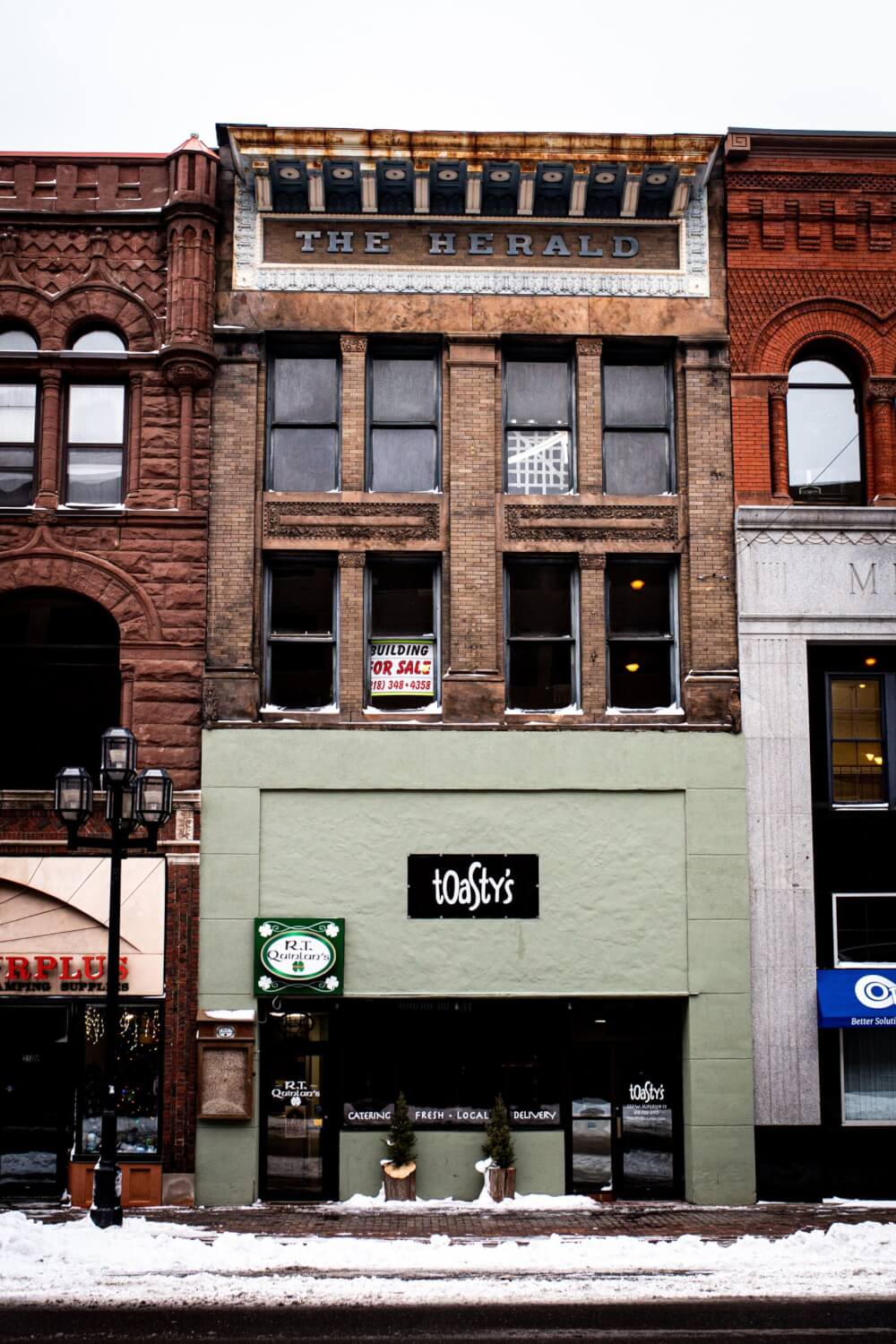 12. Denver, Colorado
by Sarah Fay | Travels of Sarah Fay
This winter why not head to Denver, Colorado for a weekend getaway. Close to the mountains if you feel like going skiing but also offering plenty of other things to do in the winter, Denver is the perfect winter destination.
As you arrive from the airport to Union Station you will be greeted by a historic train station decorated for the holidays to get you in the spirit. Union Station is amazing in itself for restaurants, coffee, and is the perfect spot to relax after your journey to Denver.
Want to get outdoors in the Mile High City? Head to the Skyline Park to go ice skating. The best part is access to the ice-skating rink is free if you have your own skates. Otherwise, rent ice skates for $9 USD for adults and $7 USD for 12 and under.
There are so many things to do in the winter in Denver, from exploring the food markets like Denver Central Food Market to seeing cultural museums like the Denver Art Museum. Also, if you are able, take a tour of the Denver Capital – they do offer those for free!
Finally, you won't want to miss the huge 110-foot tree made of lights in the center of Denver during the month of December. If you are ever in Denver on a layover there are many things you can do in a short time, and it is easy to get into the city center by train.
Fun fact about Denver: Denver Airport is the third-largest in the world spanning 35,000 acres and there are many conspiracy theories as to why it is so large!
13. Joshua Tree, California
by Ben Holbrook | DriftwoodJournals
Many of the most beautiful places on Earth are simply too hot during summer to enjoy. California's Joshua Tree National Park, which hovers around 99°F / 37°C for most of the year, is one of those places. But the milder months of winter, from December through to March, are absolutely ideal for exploring this beautifully bizarre desertscape.
With some 794,000 acres to explore, incorporating two deserts (Colorado and Mojave), 'JT' is an adventure lover's paradise – and the stuff of dreams for geologists and nature lovers.
Climb the 'Chasm of Doom', created by a jumble of hulking boulders jammed into a tunnel-like canyon, or keep it a bit more chill with a gentle hike along the fascinating Indian Cove Trail, which hints at the many Native American tribes that once called these lands home.
The iconic yucca trees cast the most fascinating shadows throughout the day and all seem to have their own unique sense of self and character. They were named by Mormon settlers, who saw the branches reaching up towards the heavens and thought of the biblical prophet Joshua, who was said to point the way to the Promised Land.
Temperatures can drop a little low at night time to camp out during the winter, but there are plenty of hotels to stay at nearby. Check into one of the many classic Californian hotels in Palm Springs, most of which have some kind of link to rockstar royalty – Joshua Tree is after all something of an oasis for LA-based artists in need of privacy and solitude. Book a room at The Monkey Tree Hotel, where JFK and Marilyn Monroe famously spent a night together.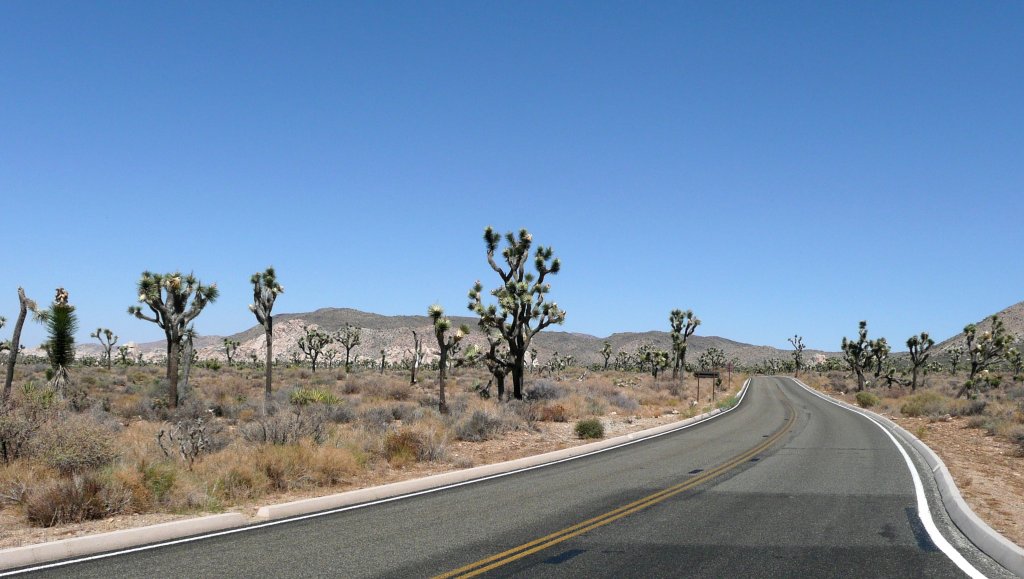 14. Rocky Mountain National Park
by Jenny | Campsite Vibes
Rocky Mountain National Park is a perfect trip for winter lovers. The entire park transforms into a winter wonderland!
Make sure to dress appropriately for your winter adventures. Leave the tennis shoes at home and opt-in for insulated winter boots that will keep your feet warm and dry. If you're going hiking, wear microspikes or snowshoes to add some traction to every step. It will help keep you from slipping around on ice or slippery snow. Or if you don't want to hike or snowshoe, you can go back country or cross country skiing.
Part of the park is closed during the winter months, but there are still many hikes to do. One of the prettiest winter hikes is to Nymph, Dream and Emerald Lake. The trail is 3.8 miles round trip.
It starts from Bear Lake and continues to the first lake, Nymph Lake. From there, keep going to Dream Lake as it opens up views of the peaks above and the frozen lake. If it's not too windy, you can continue on to Emerald Lake which is also worth the views.
Even in the winter months, you might see wildlife activity in the park. Elk and bighorn sheep are common. Make sure to keep a safe distance from wildlife!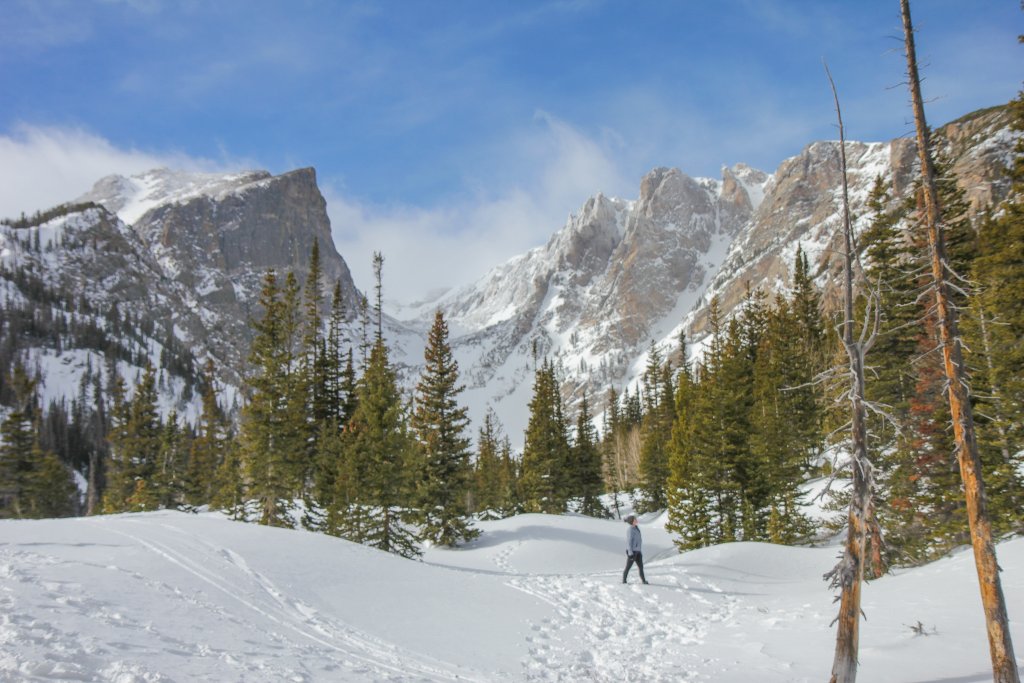 15. Mt Baker, Washington
by Hannah | That Adventurer
Mt Baker in the northern Cascade Mountain range of Washington State is the perfect USA winter getaway if you like snowy adventures!
Mt Baker Ski Resort is one of the few remaining family-run ski resorts in the entire country. It has everything from beginner-friendly green runs to some off-piste skiing for more advanced skiers.
One of the best things is that there are rarely any lines for the lifts and the slopes are quiet since most people end up traveling to one of the bigger resorts. Prices are also much lower than those at nearby Whistler or other larger resorts. If that wasn't enough, Mt Baker typically gets the biggest snowfall of any ski resort in the lower 48!
If skiing isn't your thing, rent some snowshoes from The Glacier Ski Shop in the small town of Glacier before heading up the mountain. While there are many snowshoe routes to pick, the Artist Point snowshoe trail is the most rewarding.
On a clear day, you'll get views of Mt Baker and Mt Shuksan and it quickly becomes clear why the area is called Artist Point! The trail is 6.3km (4 miles) long and easy enough to follow as it's well marked, just make sure to take plenty of layers as the weather changes quickly.
After some outdoor adventure, head back down the mountain to Glacier and grab dinner at Chair 9: their pizza is huge and delicious! And, while there's no accommodation at the ski area itself, there are plenty of beautiful cabins with hot tubs around Glacier to rent out on Airbnb.
Fun Fact: Mt Baker is actually an active volcano! Don't worry too much though, it hasn't erupted lava in over 6,700 years! Learn more in this Washington fun facts post.
16. Leavenworth, Washington
Katie Diederichs | Two Wandering Soles
If you can't make it to Europe for Christmas Markets this winter, you can at least pretend you're there! The Bavarian-themed town of Leavenworth is just a bit more than a 2-hour drive from Seattle, but it feels a world away from the hustle of the Pacific Northwest's biggest metropolis. You can read this fun Seattle facts post for more.
As the snow starts to fall and the Christmas lights twinkle, Leavenworth begins to look like the scene out of a snow globe. Yes, really! There is a picture-perfect gazebo in the center of town where musicians dressed in traditional German garb gather to play carols, and beside it is a small sledding hill for the little ones.
During the month of December, visitors flock from near and far to see Leavenworth's famed Christmas lighting ceremonies that take place on the weekends.
If you can't visit in December (or just want to avoid the crowds), don't worry because the downtown businesses keep their Christmas lights lit through the winter months, well after Christmas.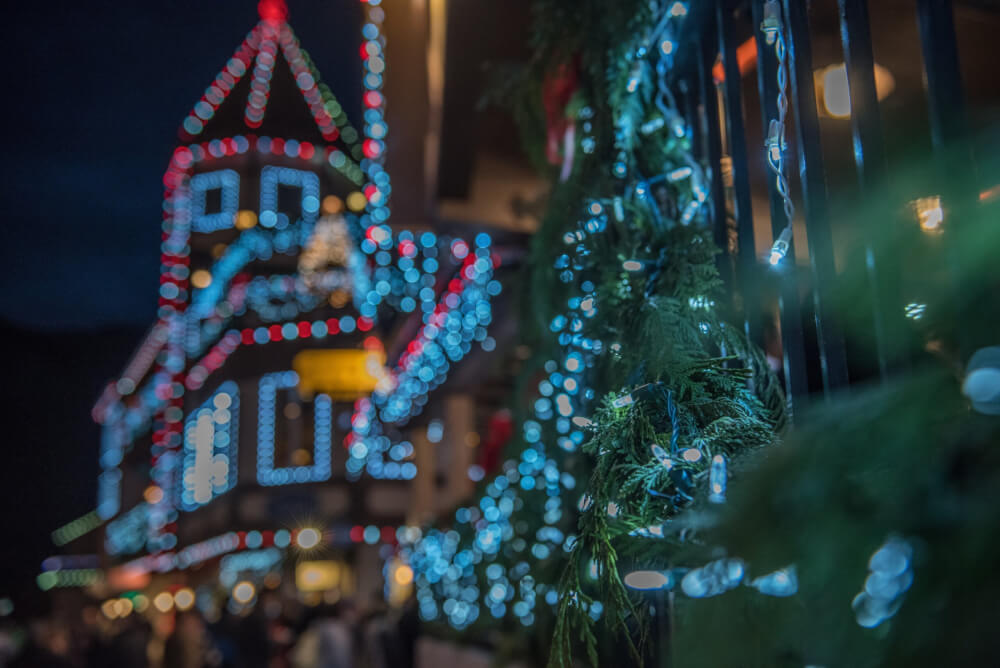 Fun fact: While Leavenworth is known for its Bavarian-inspired facades today, it wasn't always that way. In an attempt to revive this former logging town in the 1960s, the city decided a German theme would be a good way to draw tourists to the area. And they were right! Today, much of Leavenworth's economy revolves around the tourism industry.
There are many things to do in Leavenworth, but for a little adventure, rent a pair of snowshoes and explore some nearby trails. Or to kick it up a notch, head to nearby Stevens Pass for a day on the ski slopes. When you need to warm up, head to a brewery for a local beer, a hot pretzel, and a German bratwurst. If you're lucky, you can enjoy your meal with live music in the background.
While there are plenty of nice guesthouses in and around the Leavenworth area, try choosing one with a hot tub. It is a magical place to have a hot soak as the snowflakes fall all around you!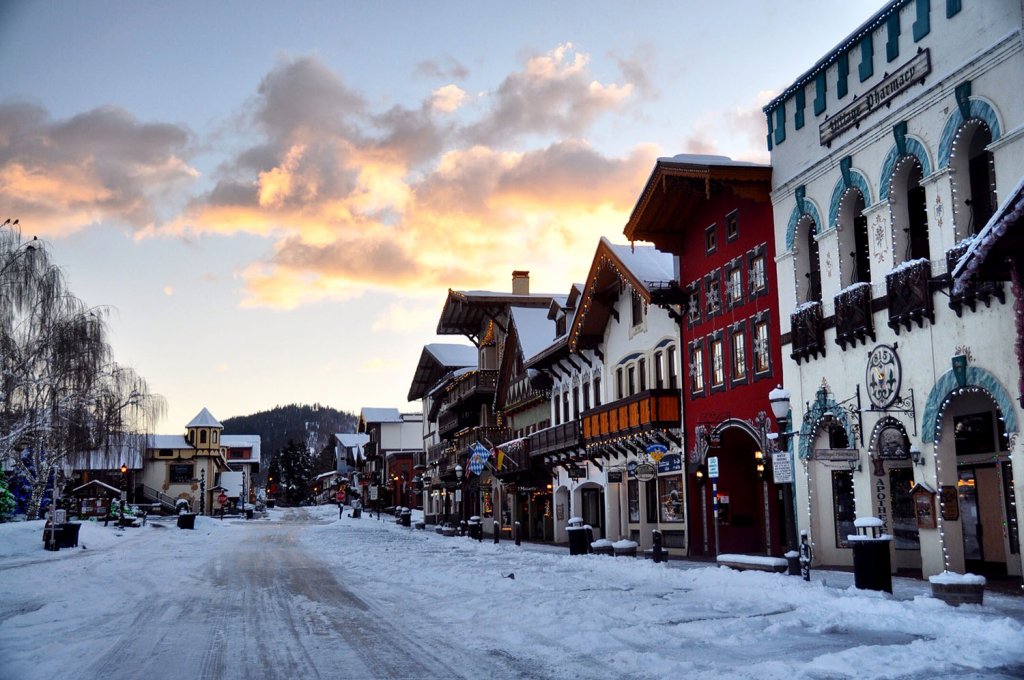 17. New York, New York
by Kelly Duhigg | Girl with the Passport
If you're looking for one of the best winter destinations in the USA, then look no further than New York City – a vibrant and cosmopolitan metropolis that comes alive with winter wonder and holiday cheer as soon as the temperature drops and the snow begins to fall.
Throughout the winter, special events pop up that make this a fun and exciting destination for locals and tourists alike. Start your winter visit to NYC with a trip to Rockefeller Center, where you can see the enchanting Rockefeller Center Christmas tree.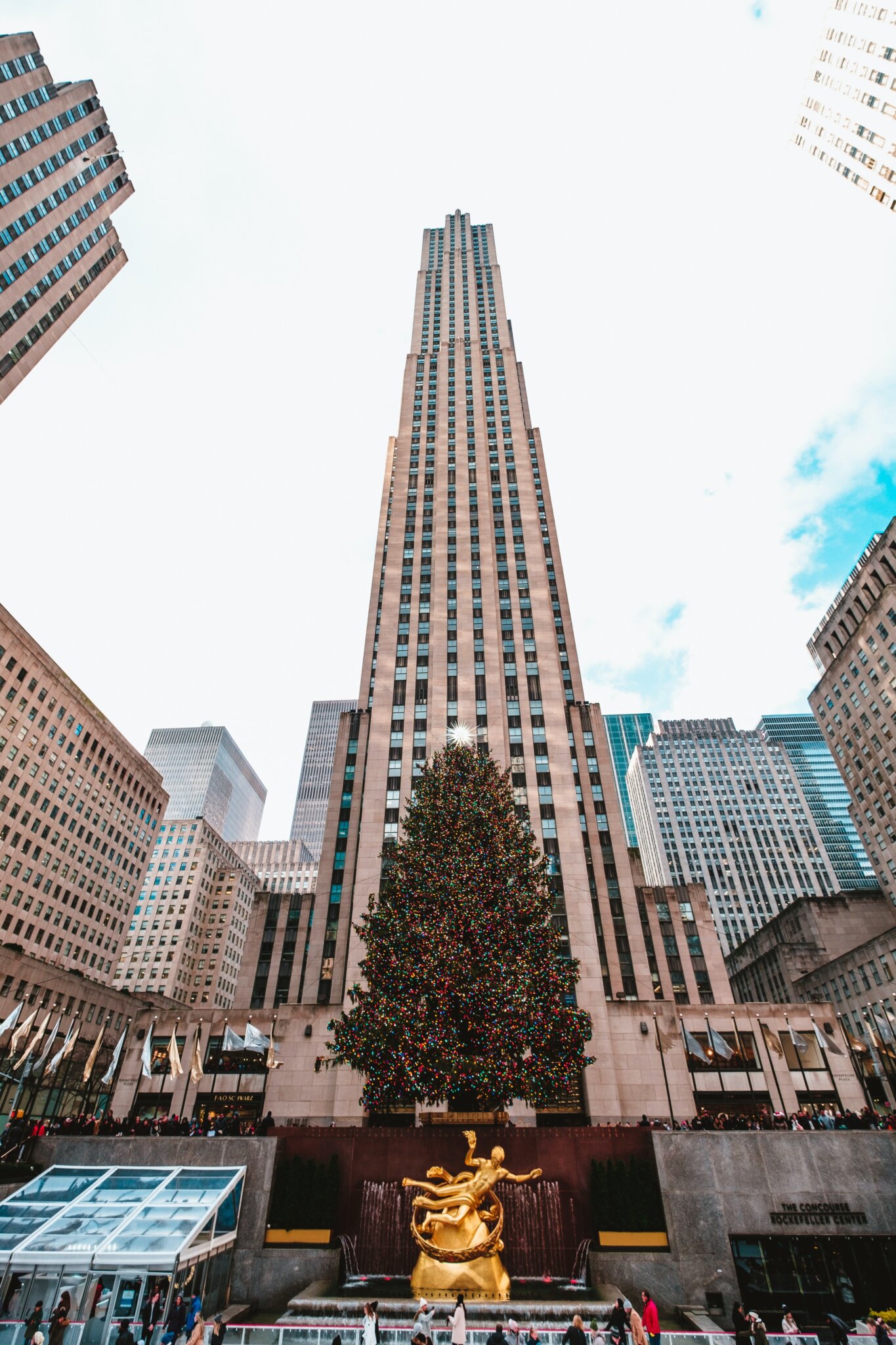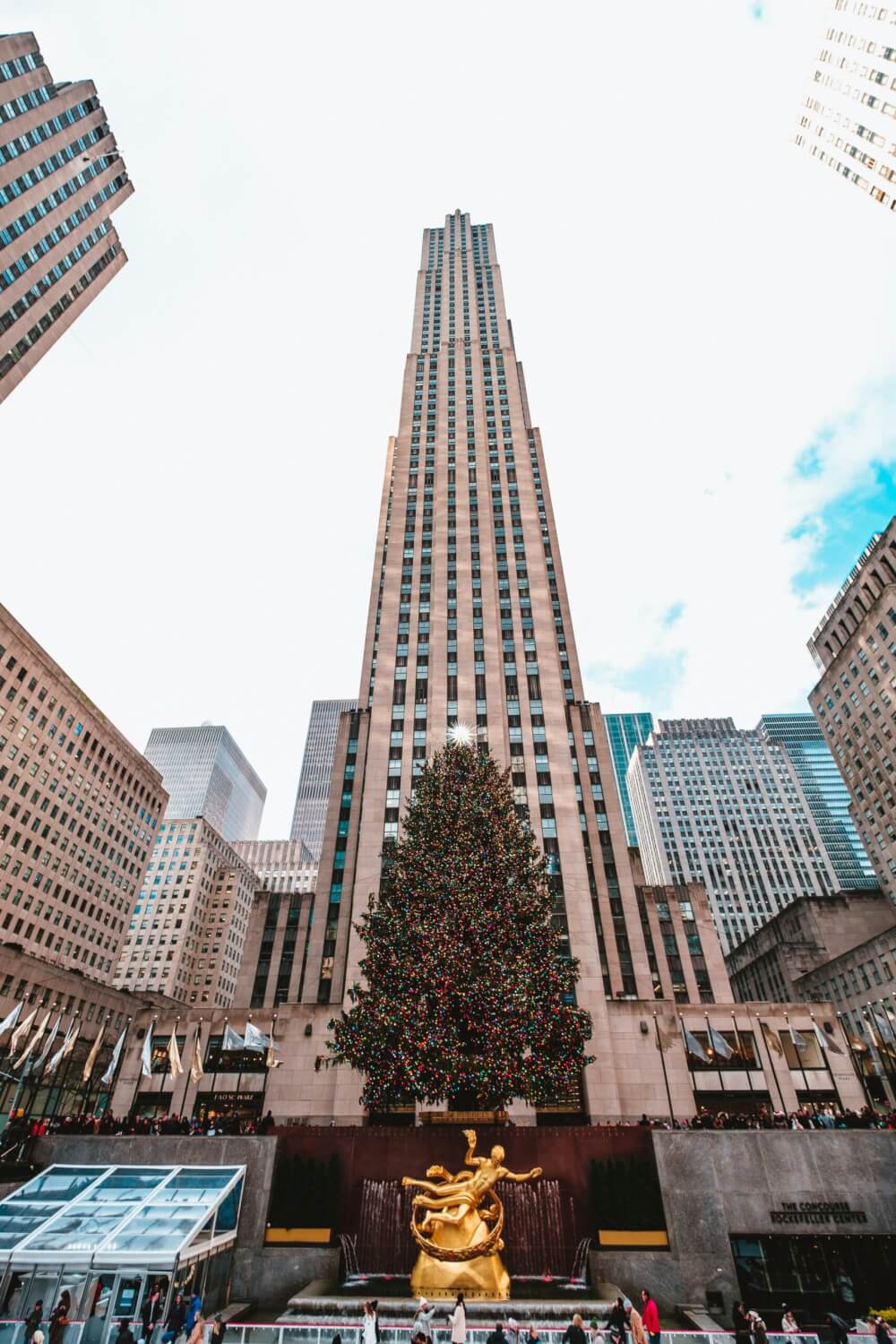 While you're there, you can also see the world-famous Rockettes kick up their heels at the annual Radio City Christmas Spectacular, which held inside the one and only Radio City Music Hall.
Whatever you do, don't go ice skating in Rockefeller Center since it is insanely crowded and ridiculously expensive. Instead, visit one of the many other outdoor ice rinks that pop up throughout the city, like the Standard Rink on the High-line or the Sky Rink at Chelsea Piers.
Next, visit St. Patrick's Cathedral and marvel at the beautiful holiday-inspired lights and window displays that you'll find at Saks Fifth Avenue.
If you have the cash to spare, you can also see the Nutcracker Ballet at Lincoln Center or do a bit of shopping (and eating) at some of the Christmas markets at Grand Central Terminal, Bryant Park, and Columbus Circle.
Pining over New York? Check out this New York fun facts post for more.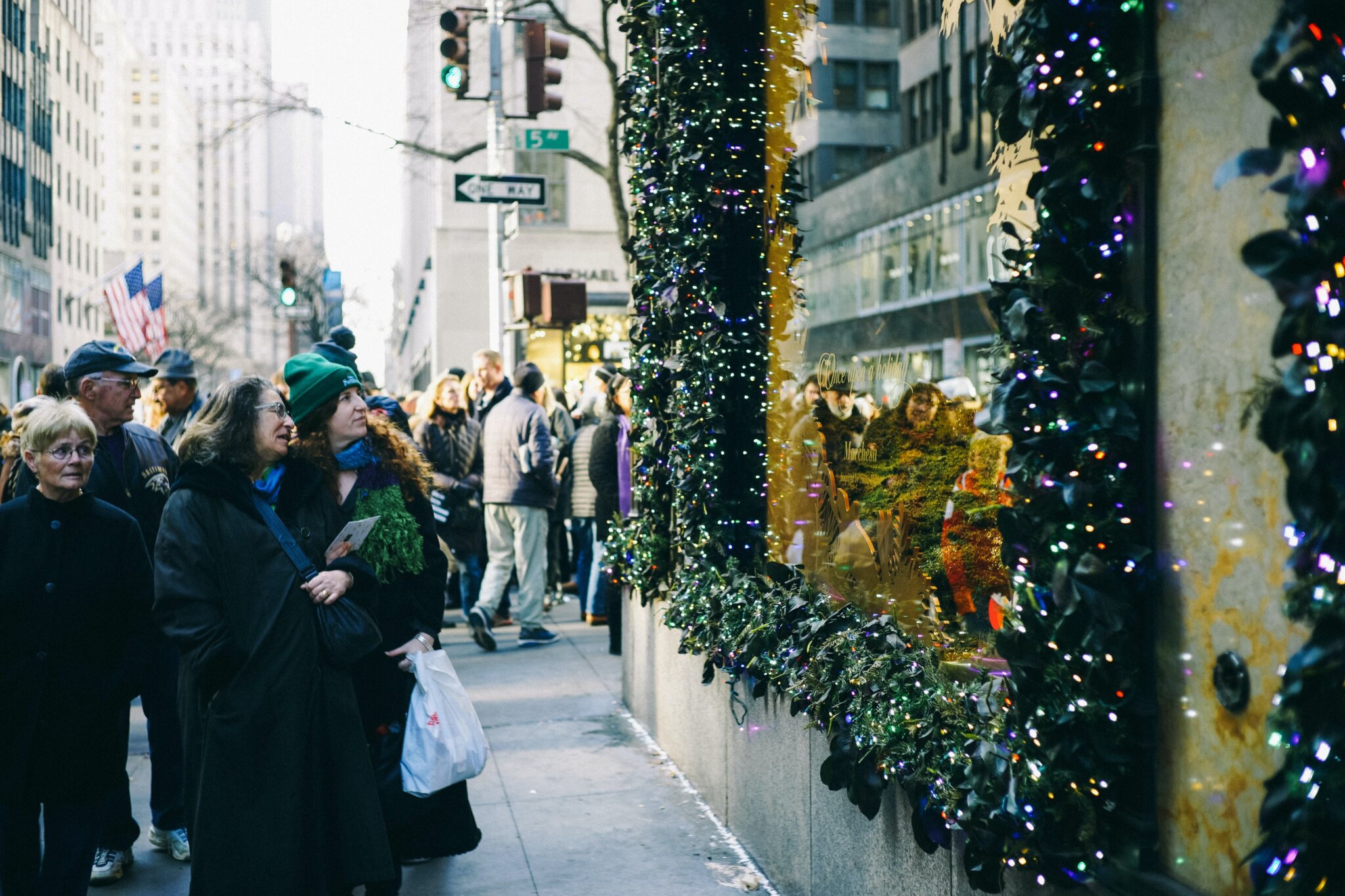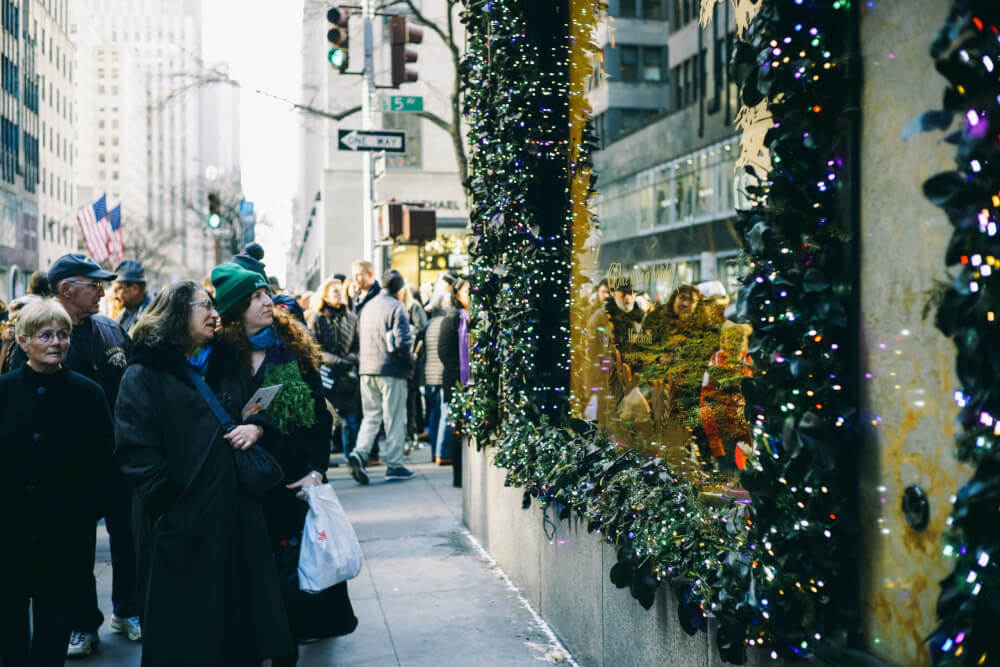 However, no winter trip to the Big Apple would ever be complete without marveling at the Christmas lights in Dyker Heights or visiting Rolf's, a German restaurant that is known not for their food but for their out of this world Christmas decor. Just imagine vibrant Christmas baubles hanging from every surface of the restaurant and you'll get a sense of just how stunning this place really is.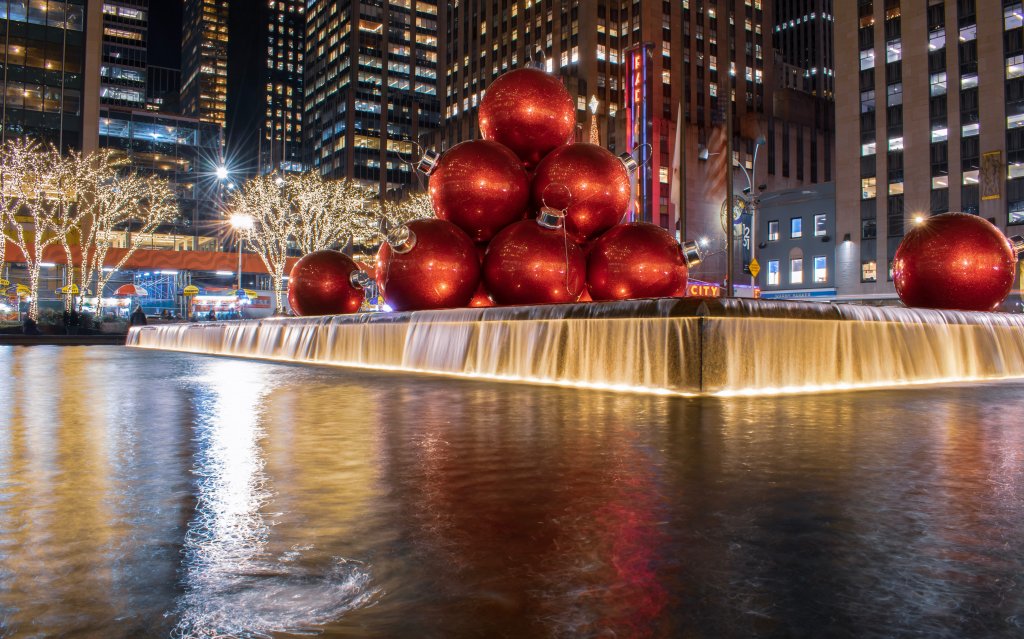 18. Hawaii
by Michael & Nicole | Affordable Family Travel
Hawaii is known for its beautiful beaches and lush landscapes, with great weather year-round making it a great winter destination – especially for avoiding summer crowds.
Hawaii is full of diversity amongst its islands, which is why it is so hard to find a consensus on which island is the best one to visit.
Maui has wonderful luxury resorts, the Road to Hana for hiking and exceptional views, and the best sunrise on Haleakalā. Oahu has the famous Waikiki Beach, Pearl Harbor, North Shore beaches known for their waves and much more.
Families love to stay at Disney's Aulani Resort on Oahu, with a fun pool complex including lazy river and several slides, calm cove beach, kids club, family activities and Disney Characters. Kauai is known as the Green Island because of its lush greenery and wonderful waterfall hikes. It also boasts the Grand Canyon of the South Pacific, Waimea Canyon State Park.
Hawaii, also known as The Big Island, is the largest Hawaiian island. The Big Island offers beautiful resorts as well as Volcanoes National Park where you can hike and visit fascinating areas covered in black lava rock. The park includes two active volcanoes, Kilauea and Mauna Loa, the Earth's largest volcano.
The village of Kona on the other side of the island is a cute town to stroll through. Stop at the Kona Brewery and taste a sampler or spend the evening on a Manta Ray snorkel excursion.
There are also many smaller islands of Hawaii that offer seclusion and gorgeous beaches. Hawaii has much to offer for every type of traveler! Learn more in this Hawaii fun facts post.
19. Fort Lauderdale, Florida
by Stefan & Sebastien | The Nomadic Boys
One favorite winter destination in the USA is Fort Lauderdale in South Florida. Head to what has become known as the "Venice of America" in the winter months to soak up plenty of sunshine and beach time.
Fort Lauderdale is growing a lot in popularity. For years it was overshadowed by its giant sassy neighbour, Miami (just 24 miles south) but slowly it's becoming the Queen of Florida – quite literally. The gay scene of Fort Lauderdale has mushroomed so much over the past few decades that it has made the city one of the top LGBTQ destinations in the world!
Going to Fort Lauderdale during the winter months is ideal because of the warm weather. December to March is quite warm in Fort Lauderdale (between the high 50s and mid-80s) and is outside of hurricane season, making it perfect beach weather.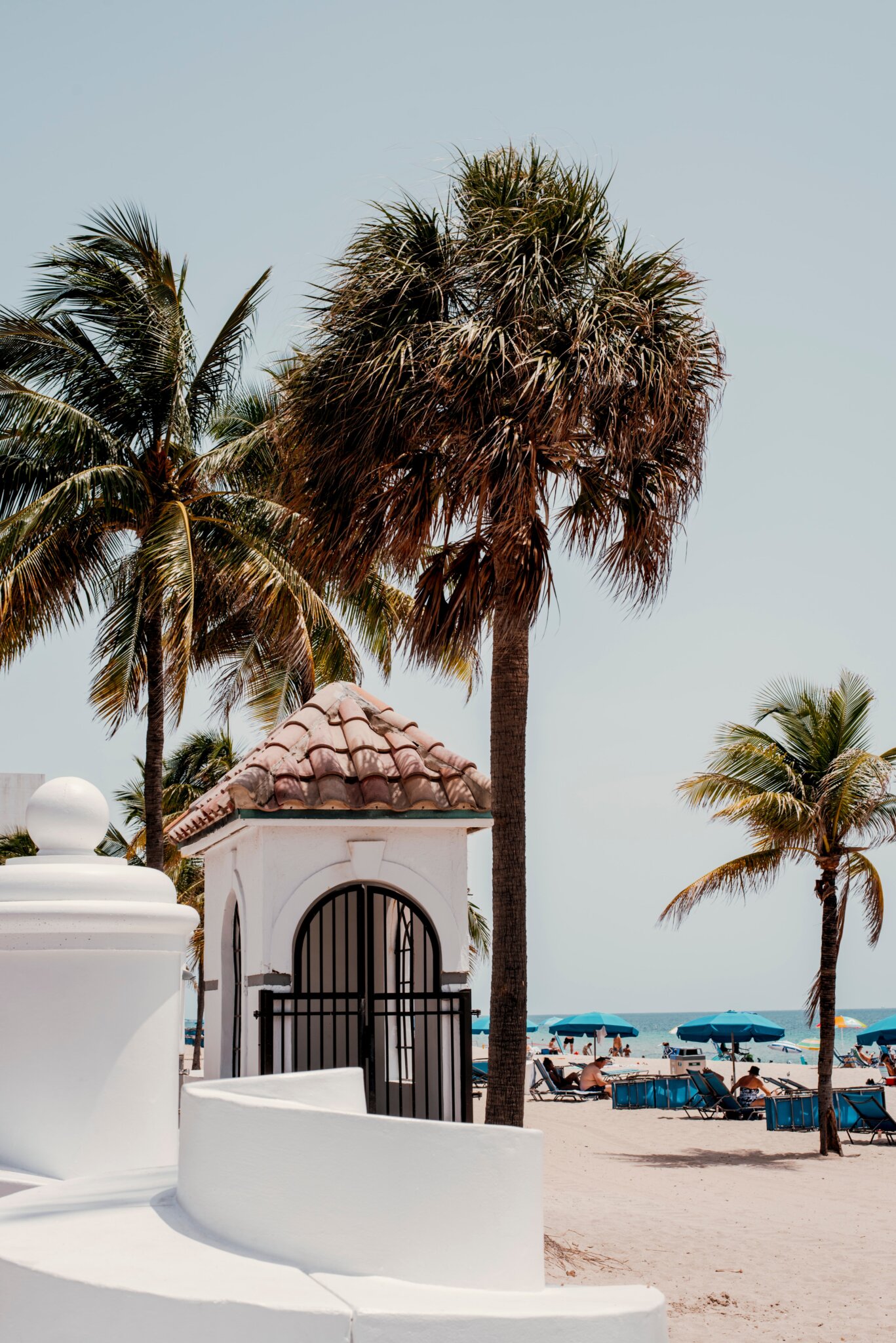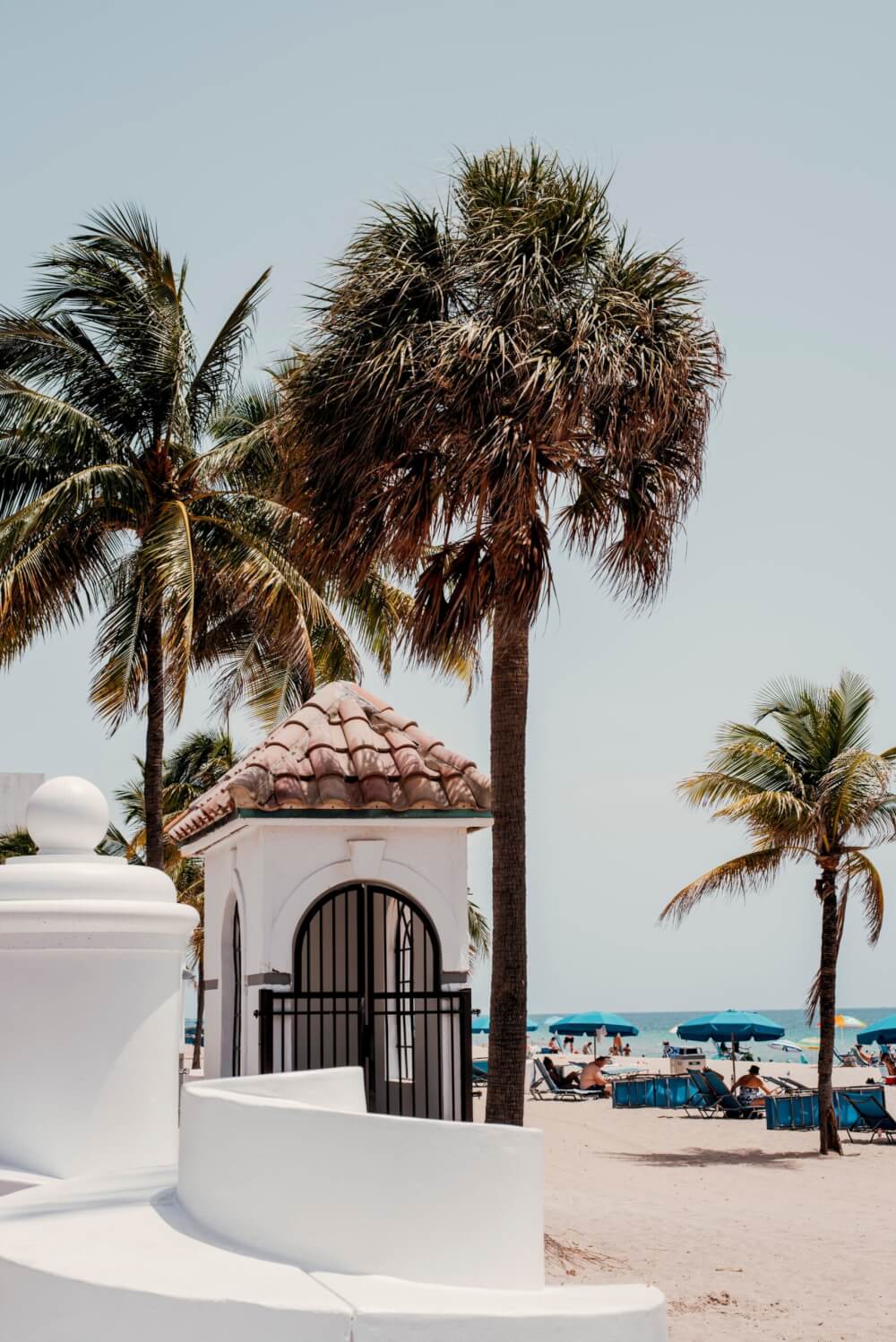 One special insider tip is to check out the super cool Bohemian Eucalyptus Gardens. It's located down an unassuming street with some pretty impressive street art and lots of cafes. A favorite is "Voo La Voo" which makes the tastiest crepes we've tried in all of North America.
One fun fact about Fort Lauderdale is that it is nicknamed the "Venice of America" thanks to the many winding ribbons of waterways running through the city. In fact, a total of 300 miles of inland waterways run through the entire Greater Fort Lauderdale.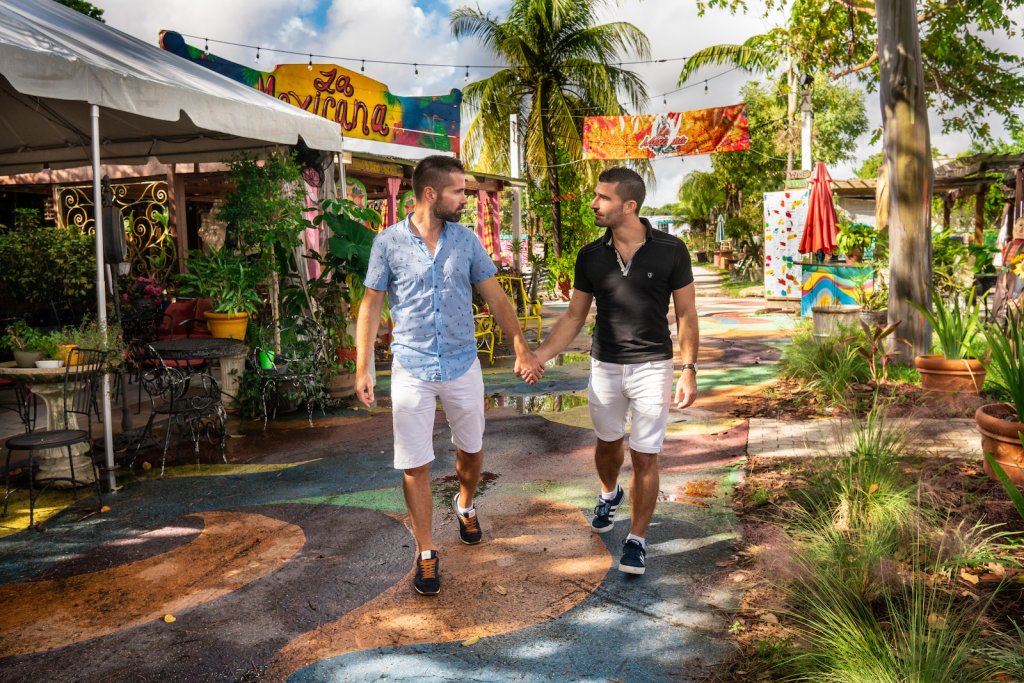 20. New Orleans, Louisiana
John Paul | The Hangry Backpacker
New Orleans, Louisiana is known around the world as a great place to go for a fun time, especially for Mardi Gras. Equally noteworthy, and the reason many tourists continue returning to the city, New Orleans is famous for its unique, flavorful and world-class cuisine.
While many places in the United States are bundled up during the cold of winter, the people of New Orleans rarely need more than a light jacket. Winter in New Orleans is actually a great time to visit compared to the oppressively hot days in summer.
In the event that it does get a little cold in New Orleans, it's perfectly acceptable to walk the streets with an adult beverage to help fight off the winter chills. Just don't try to take your hurricane on the street car – that is forbidden.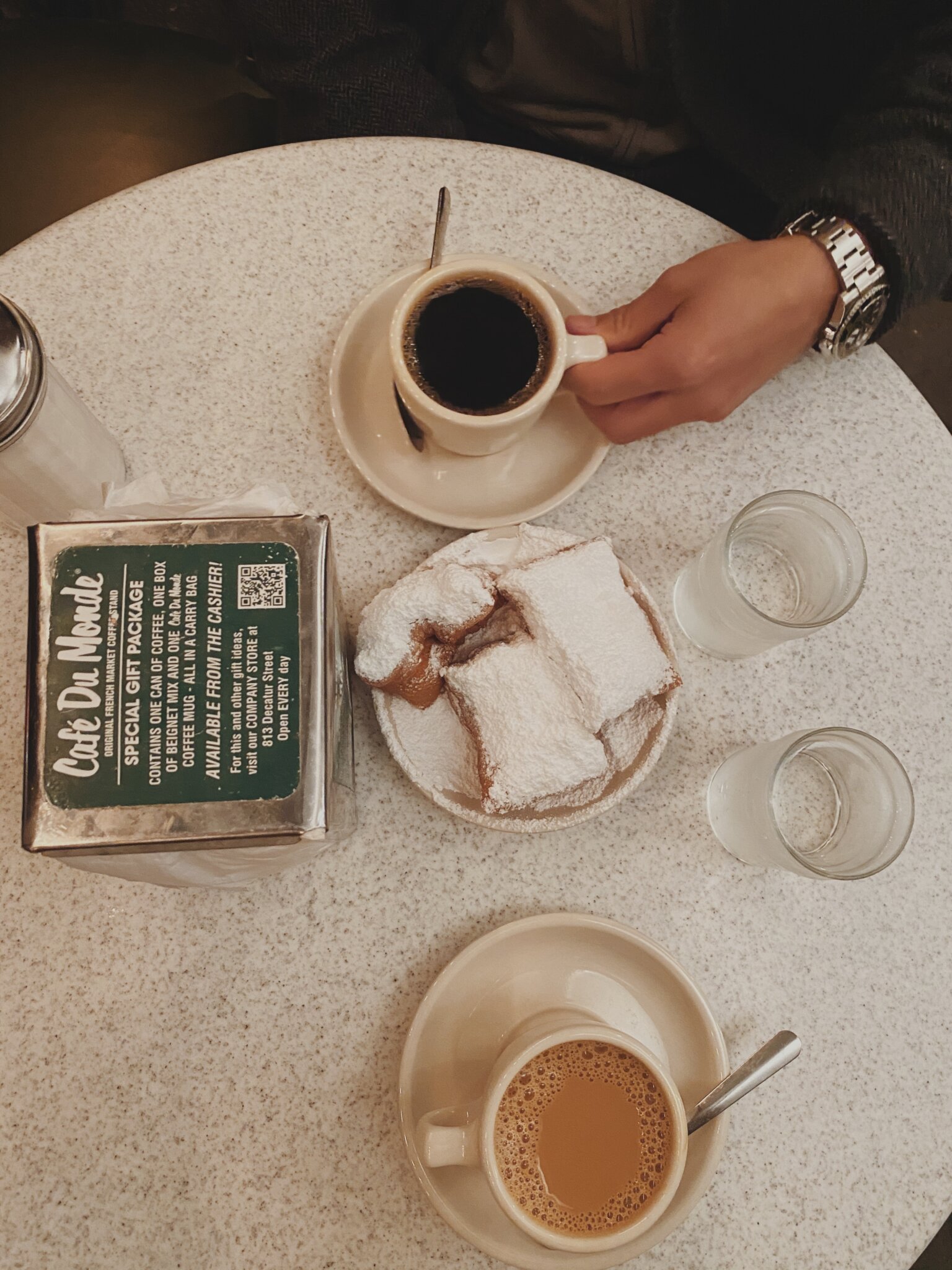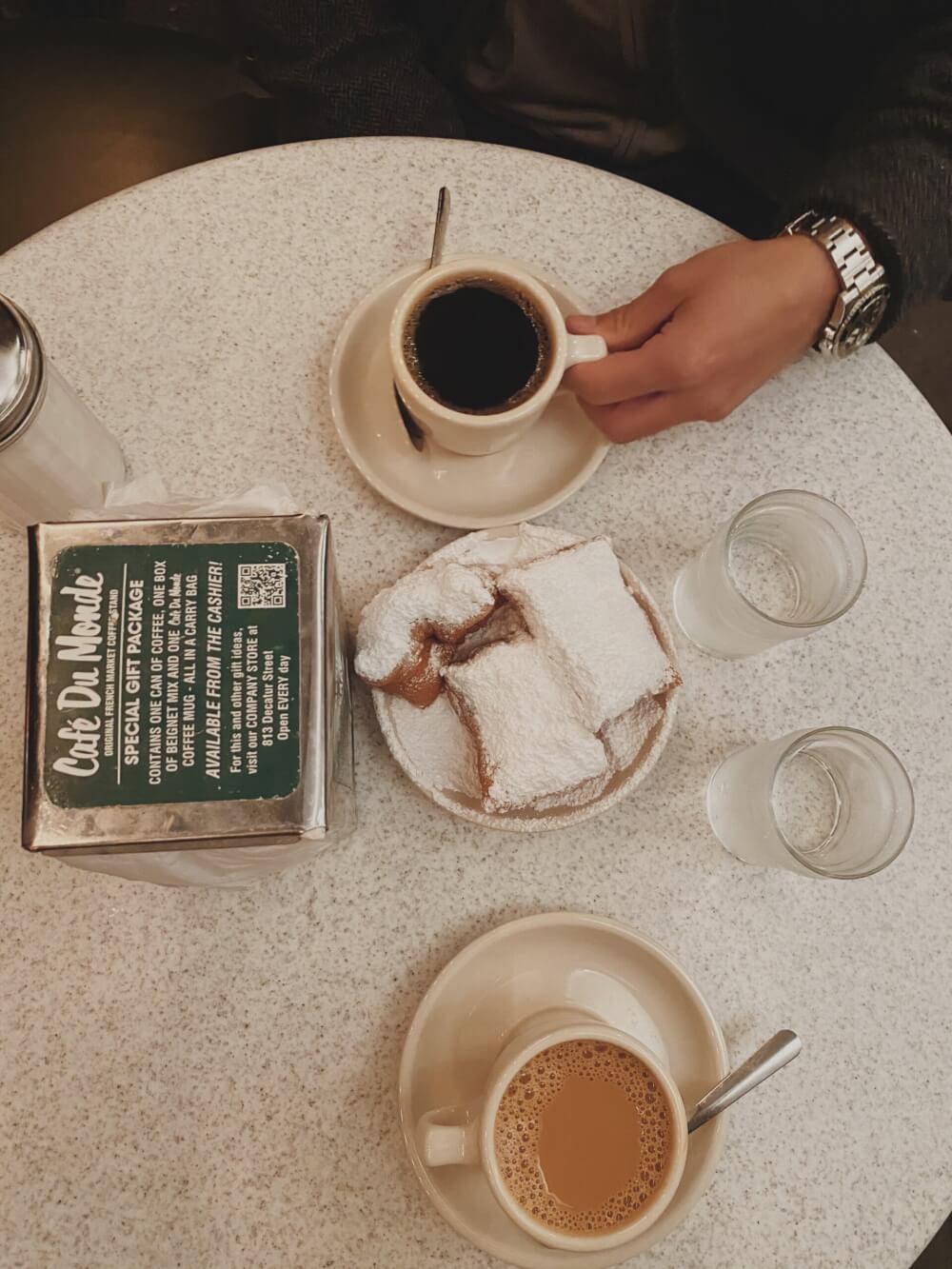 New Orleans is full of history and vibrant local culture. For travelers who want to get off the French Quarter tourist trail, venture over to Frenchmen Street. This is a unique area with lots of bars and an eclectic clientele.
Farther from the French Quarter, spend an afternoon uptown, strolling past the shops and restaurants on Magazine Street. After that, head over to St. Charles Avenue to admire the historic mansions from the comfort of a streetcar. Uptown New Orleans is one of the coolest, most beautiful neighborhoods in the USA.
Whether you're in NOLA for a taste of some of best food in the United States, to listen to some great live music, or just there to have some fun, winter is an excellent time to visit.
21. Death Valley National Park
by Monica | This Rare Earth
Death Valley National Park sits roughly 215 miles and 3.5 hours outside of Los Angeles, CA on the eastern edge of the state. Covering over 5,000 square miles of land, there is a lot to see in Death Valley! It is the largest National Park within the contiguous United States and spans numerous different landscapes.
The park is filled with everything from rugged mountains to white sand dunes, deep canyons and a dry desert. Death Valley sits in the northern Mojave Desert – the same desert covering much of Joshua Tree National Park – and borders the Great Basin Desert.
Because of its location, it shouldn't be a surprise that it is the hottest and driest of all national parks, as well as one of the hottest spots in the world. During the summer months, temperatures often reach 120 degrees, making any outdoor activity miserable. However, in winter months, the weather is much more agreeable and allows for hiking and sightseeing in comfort. November through February is the perfect time to plan your trip.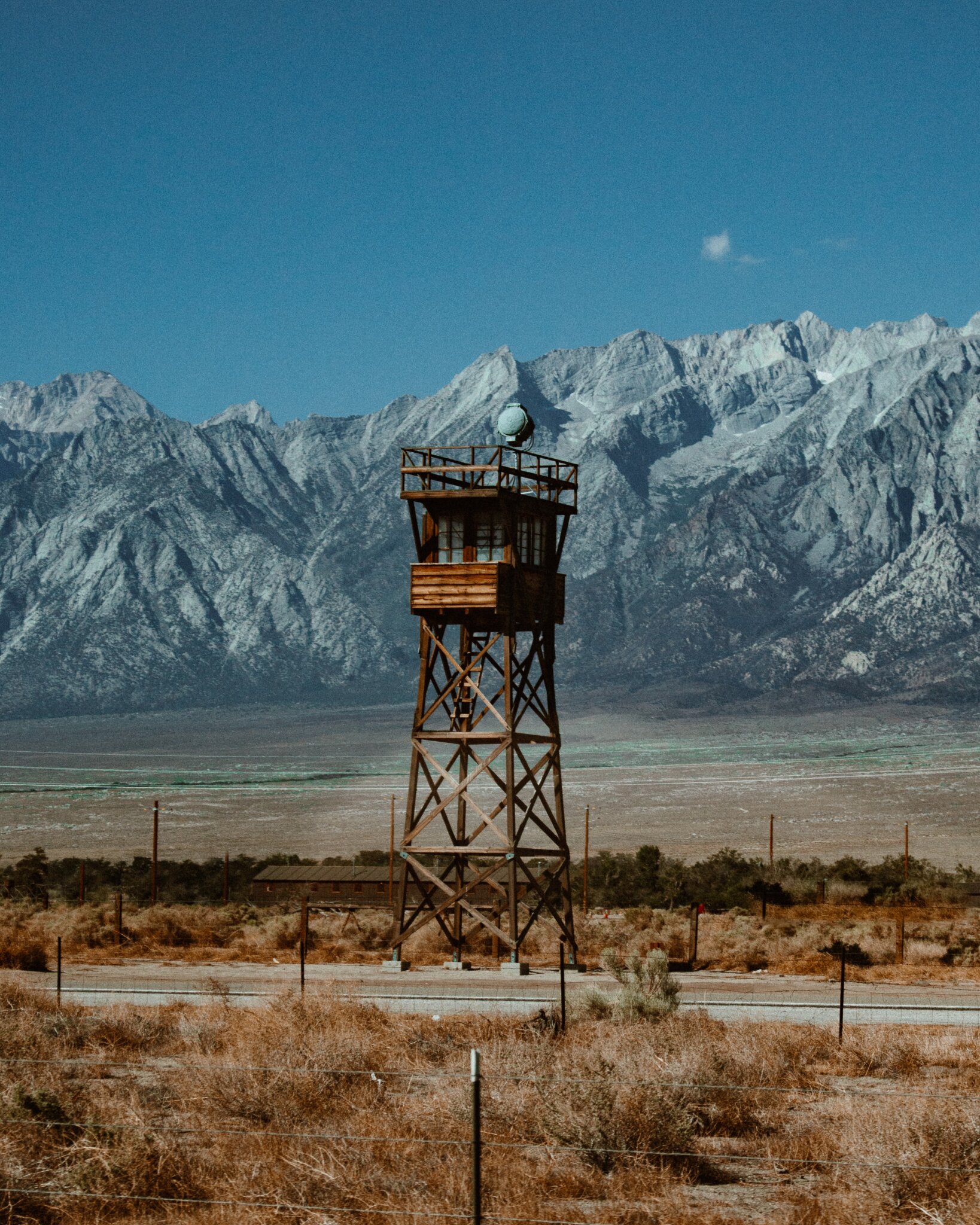 With over 30 hiking trails inside of Death Valley National Park to choose from, this is a great place to spend a weekend or more. The famous Badwater Basin sits at 282 feet below sea level, making it the lowest point in all of North America. The Artist's Palette hills showcase colorful peaks that occur naturally.
The Mesquite Flat Sand Dunes transport you to faraway lands as you hike over the tall sand dunes. Zabriskie Point is also mesmerizing, and the most perfect spot to spend a sunset. It's hard to believe that all of these very different natural formations are inside of one park!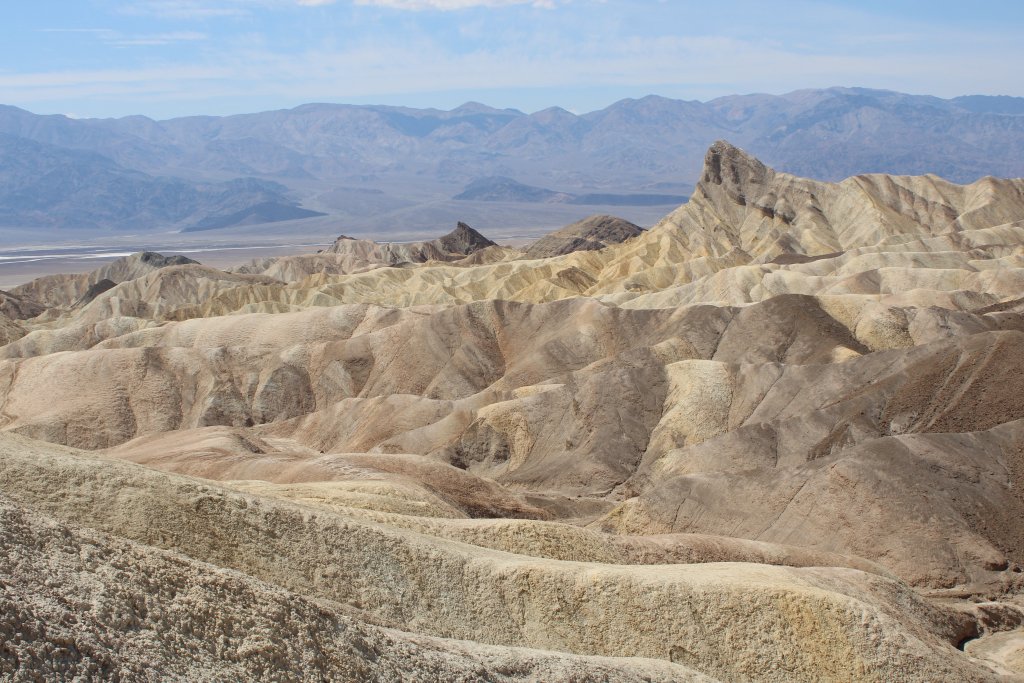 22. Lake Tahoe, California
by Kris | Nomad By Trade
Lake Tahoe is one of the ultimate ski destinations in the United States, and with numerous resorts to choose from, great towns dotting its shores, and spectacular views, you can't help but fall in love with it. The most popular winter activity here is skiing, and there are plenty of world class slopes on all sides of the lake.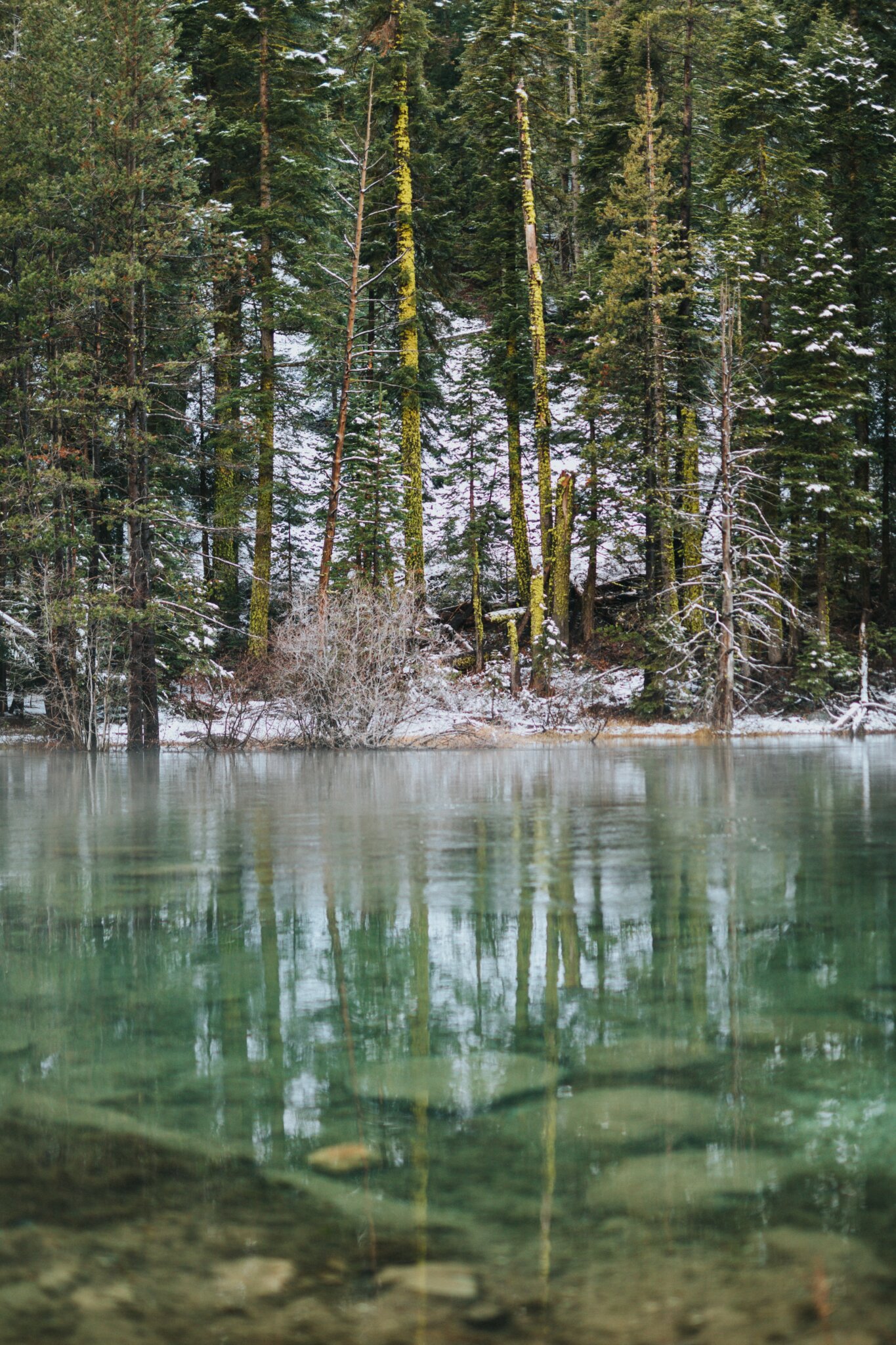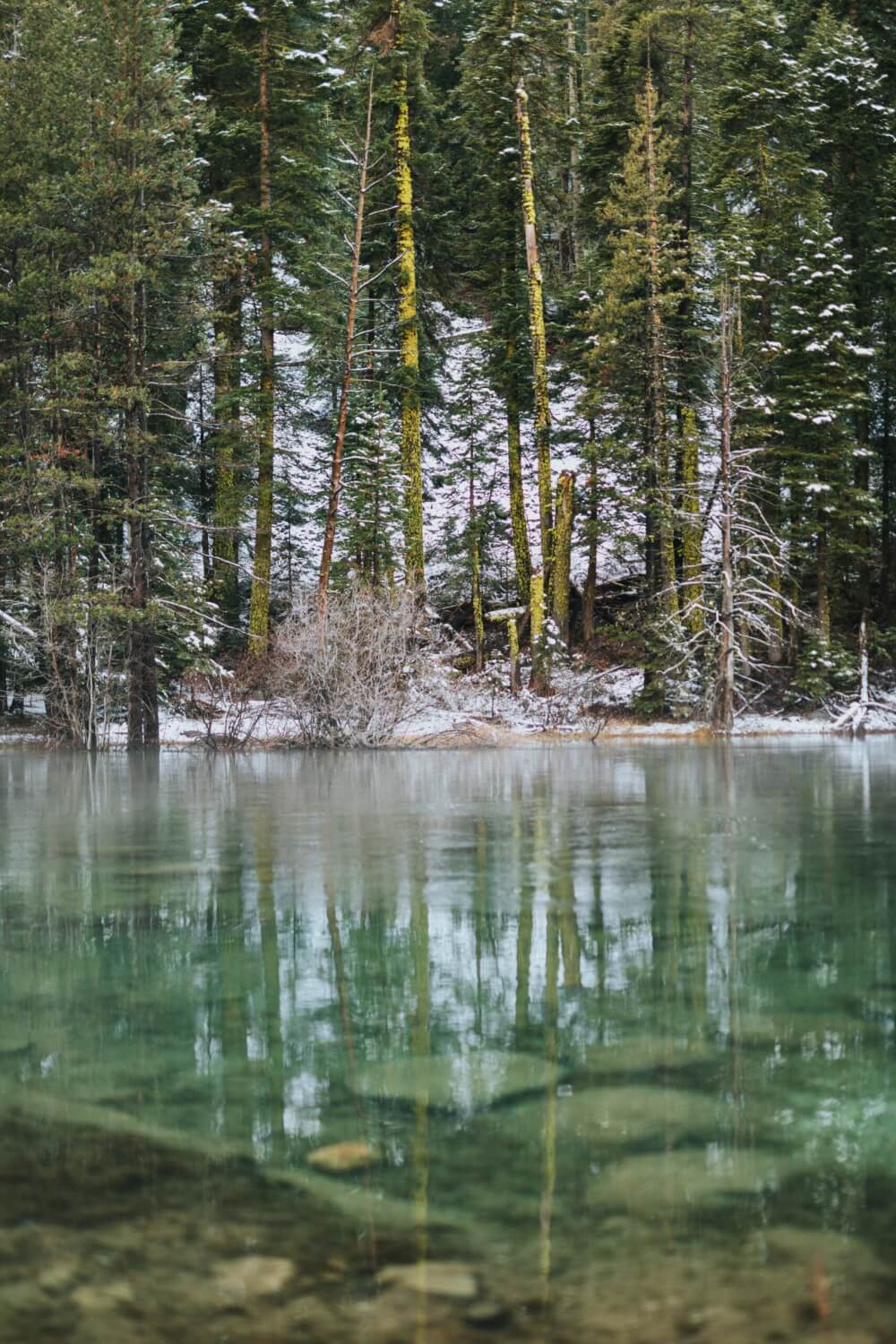 One of the resorts – the soon-to-be-renamed Squaw Valley – even hosted the 1960 Olympic games and you can ski some of the same slopes the competitors used – or if you're not quite as athletic as them, you can opt to pay a visit to the Olympic museum atop one of the lifts. There are also opportunities for tubing, cross-country skiing, and snowshoeing.
If you fly into the Reno airport (the closest commercial airport to Lake Tahoe), several resorts in the area will give you a free lift ticket for that day when you present your boarding pass. Be sure to take advantage of this!
If hitting the slopes isn't your thing, you'll still find plenty to keep you busy. Though there are frequent road closures due to snow and ice, on clear days a scenic drive around the lake will take your breath away. One favorite spot is Sand Harbor State Park on the Nevada side. Here, you'll be amazed at the clarity of the water and maybe even see snow-covered boulders peeking out of the water.
In the evening, you can find cozy restaurants and bars filled with visitors swapping stories after a long day on the slopes. There are many great dining options and breweries in the small towns dotting the lakeshore.
Fun fact: Because of its immense depth, Lake Tahoe is the 6th largest US lake by volume (after the 5 Great Lakes), though it only ranks as #31 in surface area.
23. Woodstock, Vermont
Amy | New England With Love
Woodstock, Vermont is an incredible destination at any time of year, but when traveling in the winter, it is especially magical. First of all, Vermont is a place that is nearly guaranteed to be snowy.
This area of New England has a long and cold winter and snow is a regular part of the program from late November through late March (and sometimes even in April, unfortunately).
Because of this, the mountainous state of Vermont is excellent for skiing, snowboarding, and other outdoor winter activities. But there's so much more to enjoy during this season.
Vermont has tremendous New England charm and quaintness. And Woodstock, VT often called one of the prettiest towns in America, is a place where this is extra apparent.
A Currier-and-Ives style village, Woodstock has the look of a picture postcard, and when the streets are laden with snow, it's like such art has come to life.
With covered bridges, antique stores, old homes, traditional Vermont food and drink, and winding rivers tucked among rolling mountains, Woodstock is a winter paradise.
At Christmas, don't miss the Wassail Weekend, where Woodstock becomes a Victorian Christmas world, complete with horse-drawn sleighs, breakfast with Santa, and more.
Looking for a hidden gem? Consider staying at a working farm like this one.
24. Washington, D.C.
by Nicole Sunderland | Bucket List Lists
One of the best winter destinations in the USA is Washington, D.C. While Washington, D.C. is a top winter bucket list destination for many, it's truly amazing year round. In the winter the city sees less visitors and school tours so it isn't as packed.
You can take advantage of the holiday festivities and the regular touristy items like visiting the Smithsonian Museums, Zoo, Monuments, Memorials, the National Mall, Michelin Star dining, and outstanding plays and performances throughout the city.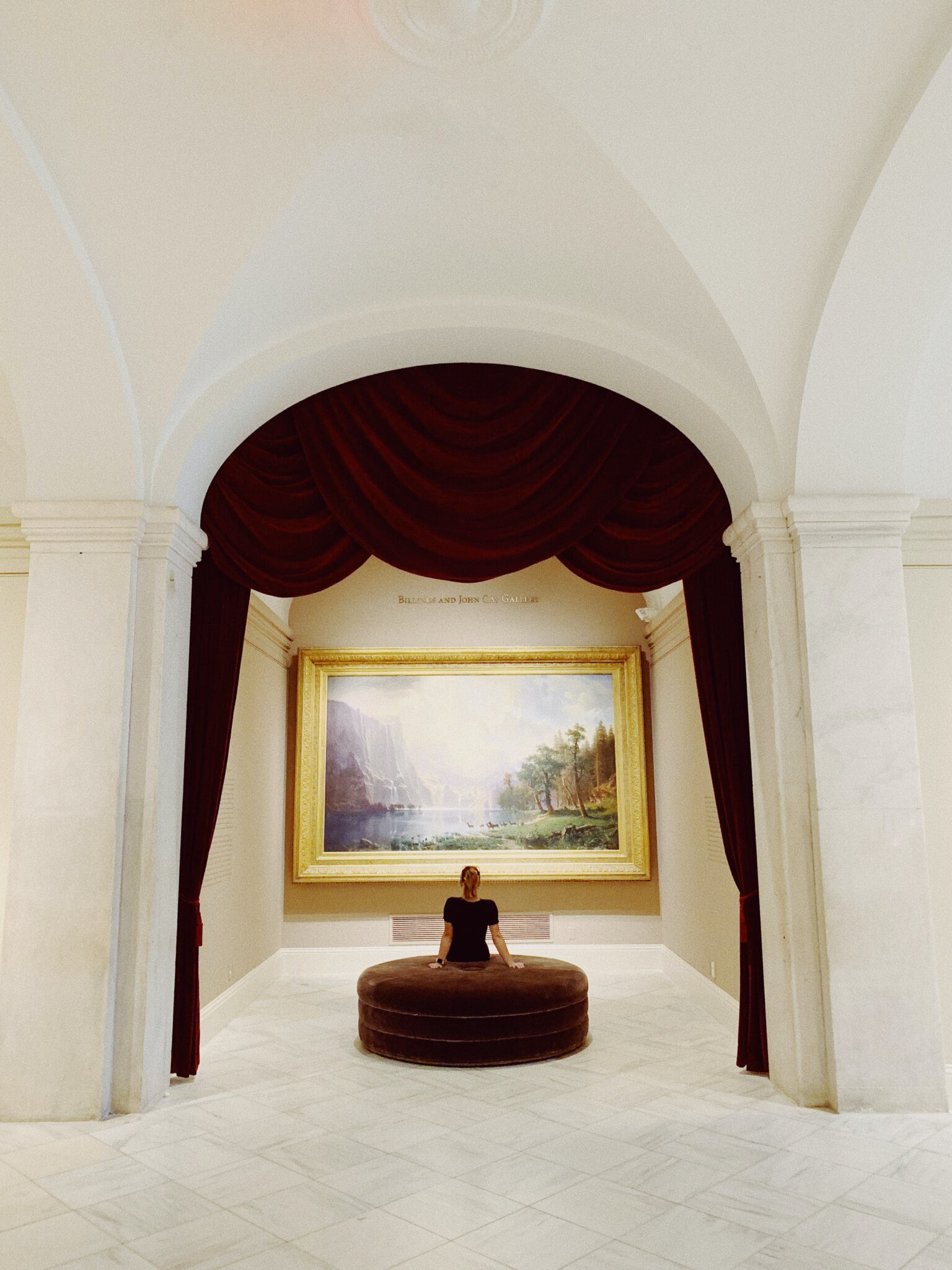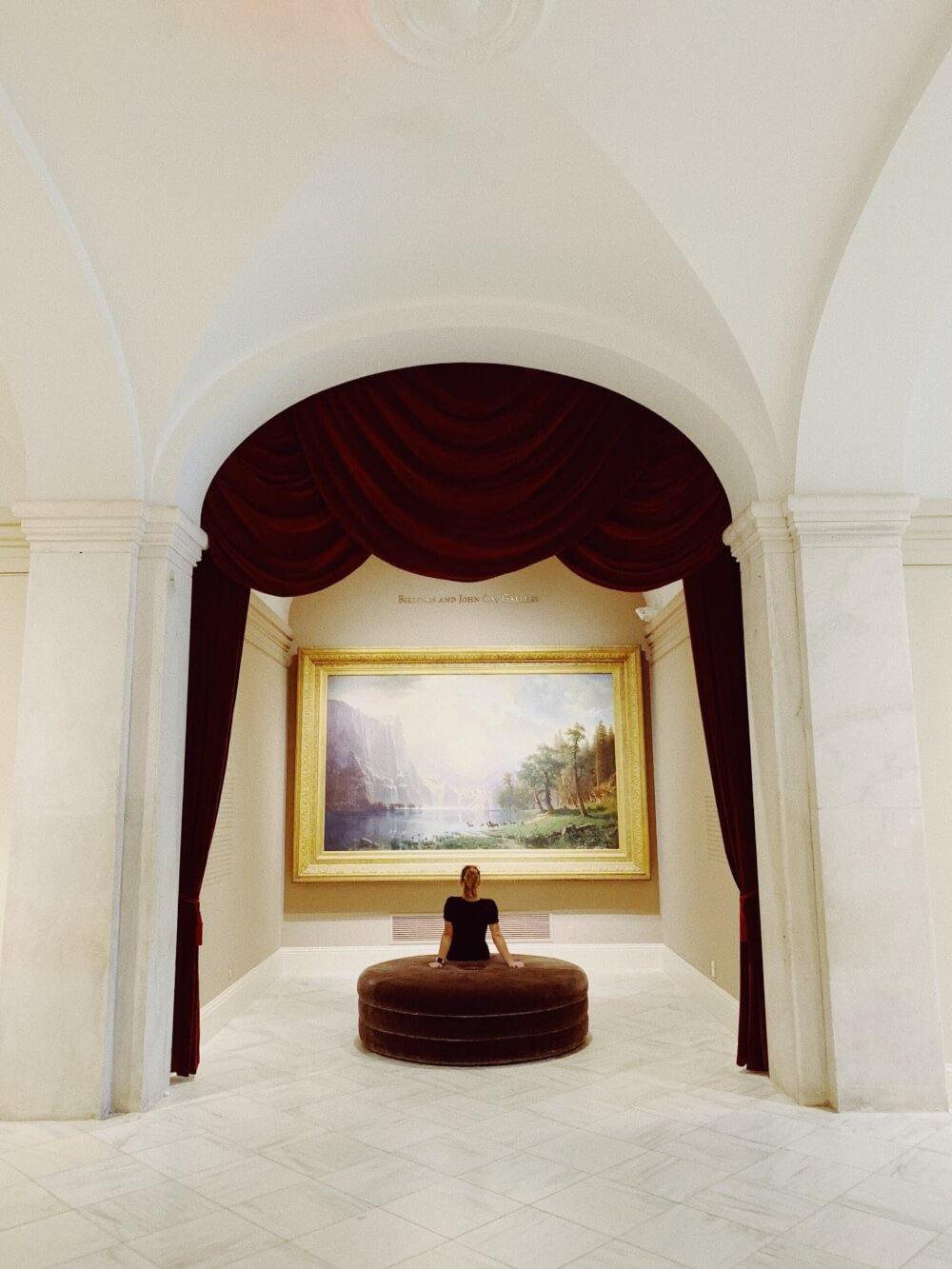 One of the main draws for tourism during Christmas in the annual National Christmas Tree lighting. Located on The Ellipse, next to the White House, this massive evergreen tree lights up the entire area. This annual tradition gets locals and visitors alike outside to celebrate the holiday.
Some of the other popular things to do in Washington, D.C. during Christmas are: the Christmas Market, exploring the light maze at Enchant, walking through the Zoolights at the National Zoo, GLOW – the art exhibition spanning across the area of Georgetown that you can walk through, and the candlelit tour that takes place at Mount Vernon.
One hidden gem about the city that a lot of outsiders don't know is that there are several pop up bars that are decked out for the holiday throughout the season. You won't know until you come, but do a little research to see who is hosting.
Fun fact about Washington, D.C. – George Washington is the only former President to never live in the White House!
25. Sedona, Arizona
by Jenifer | The Evolista
Sedona, Arizona is known for its incredible red rock scenery and interesting topography that will leave you awestruck. Especially if you like hiking, Sedona is one of the best winter destinations in the USA. The weather hovers in the 60s during the day which makes it comfortable to explore until your heart's content. 
The other equally big draw to Sedona is the healing culture. You'll find energy healers, healing massages, and the famous Sedona Vortex.
The vortex is thought to be energy emanating from the whole city of Sedona but there are specific locations where the vortex energy is thought to be the strongest. Whether you believe in an energy vortex or not, most people feel great during their time in Sedona.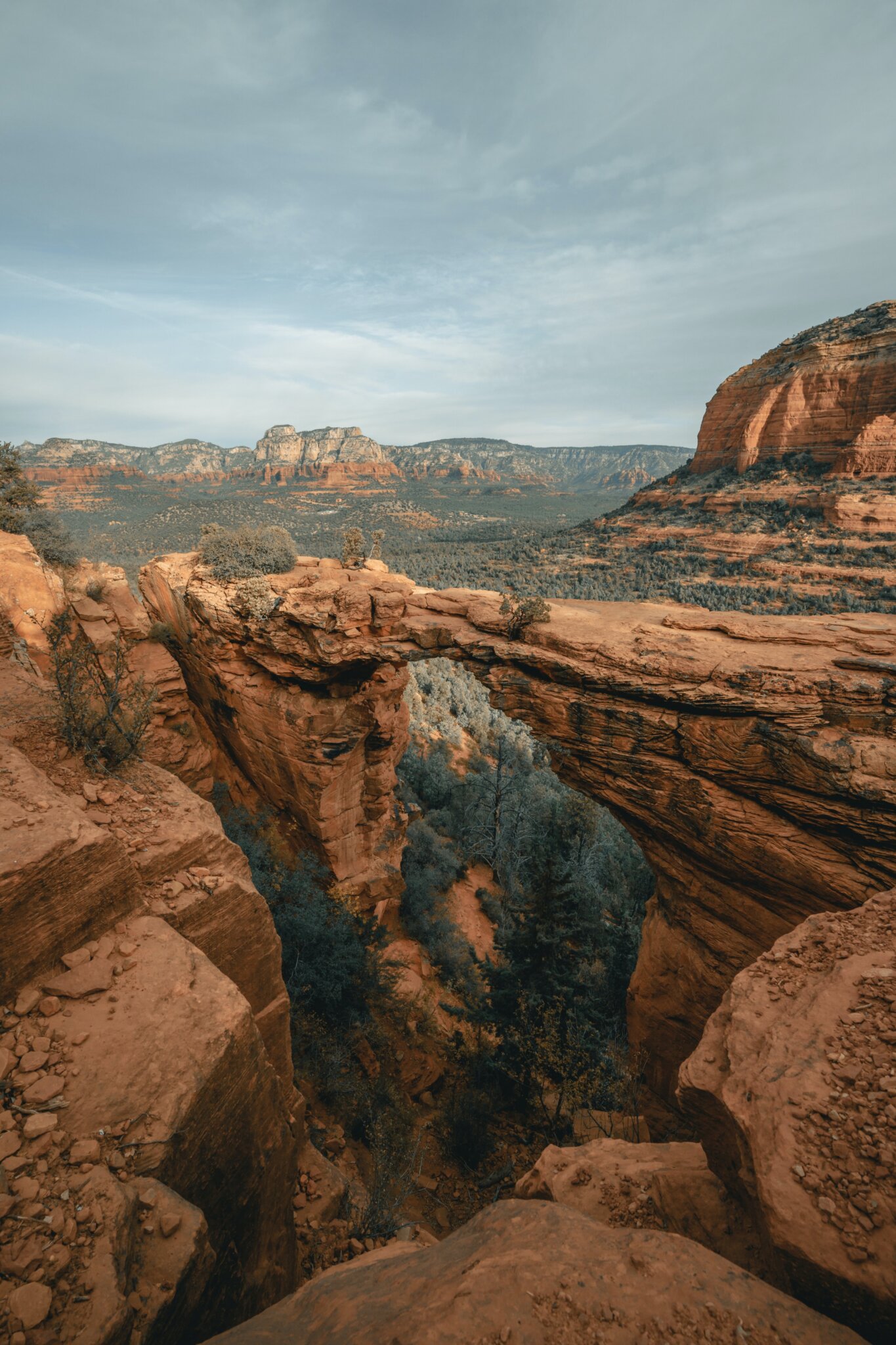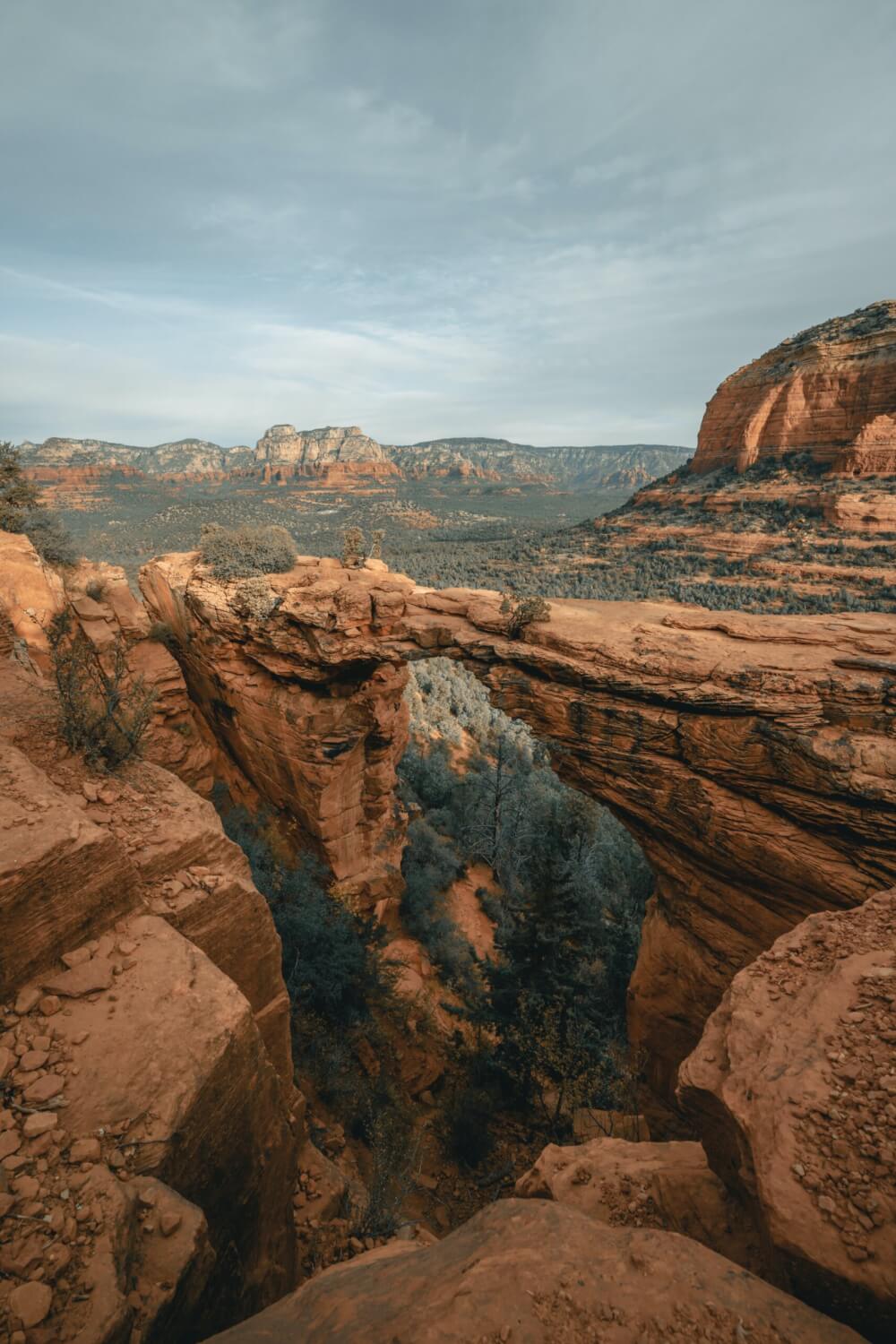 Sedona is filled with hidden gems but you absolutely have to see one of it's most popular attractions, Devil's Bridge. It's a 4.2 mile out and back hike with the most incredible payoff. You can walk across the natural bridge that looks precarious, but is actually a wide path that doesn't feel scary at all.
Fun fact about Sedona: their McDonald's is the only one in the world with green arches. Not that you'll be eating at McDonald's with all of the delicious restaurants available in the area! Check out my Arizona fun facts post for more.
The biggest mistake you can make in planning your trip to Sedona is not allowing enough time. With its close proximity to the Grand Canyon, many people simply do a day trip, but then wish they stayed for a whole weekend. Be sure you plan accordingly!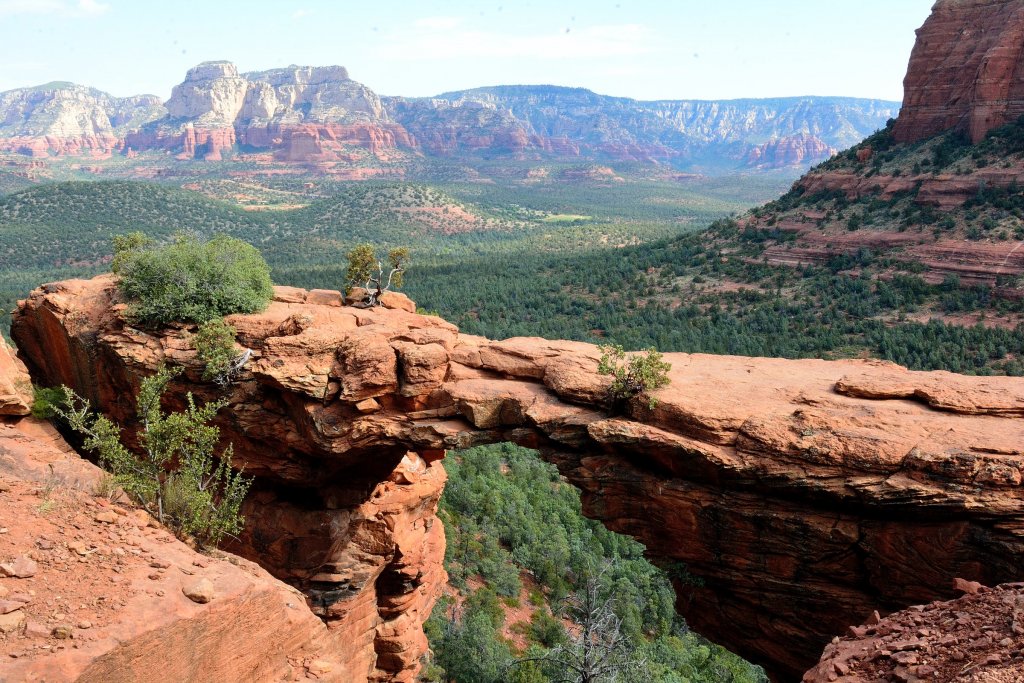 Did We Miss Any of Your Favourite US Winter Destinations?
Let me know in the comments which American winter vacation spots you'd add to the list.