*FYI - this post may contain affiliate links, which means we earn a commission at no extra cost to you if you purchase from them. Also, as an Amazon Associate I earn from qualifying purchases. Check out our Privacy Policy and Disclosure. for more info.
It's not everyday that you can get up close and personal with your favourite celebrities.
… Unless you're in Los Angeles. In which case, play your cards right and you definitely can.
Just as Texas is known for its gut-busting Texan cuisine, LA is known for its status as home to the rich and famous. And while you won't usually bump into random celebs while doing all the touristy musts, sometimes the stars do align and you'll get to meet your favourites.
And, no doubt, one of the highlights of my recent Los Angeles trip was when I played the role of 'crazed fangirl' in a production of "Peter Jackson gets his Hollywood Walk of Fame Star".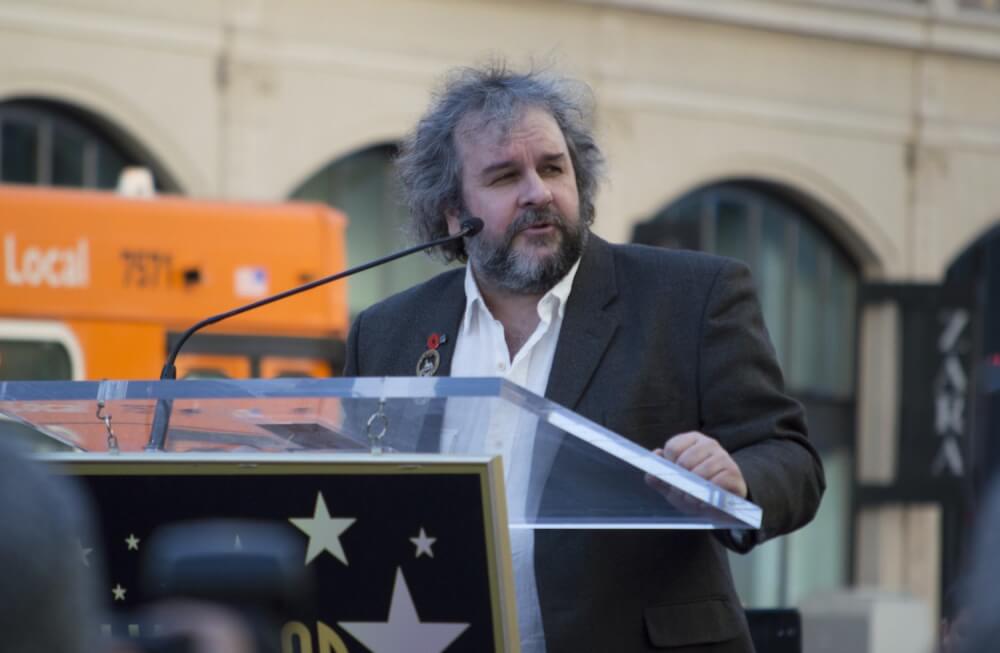 This role required a lot of preparation… you know, planning my day around it, figuring out the proper time to arrive, etc. etc. Celebrity-spotting in Hollywood is not always a guaranteed occurrence, but this is one of the few opportunities where it's a sure thing. I wasn't going to blow it! While researching though, I didn't find a lot of helpful resources, so here's where I step in.
Today I'm going to give you a guide on visiting a Walk of Fame ceremony of your own, and remember – it's totally free!
Save this post on Pinterest for later: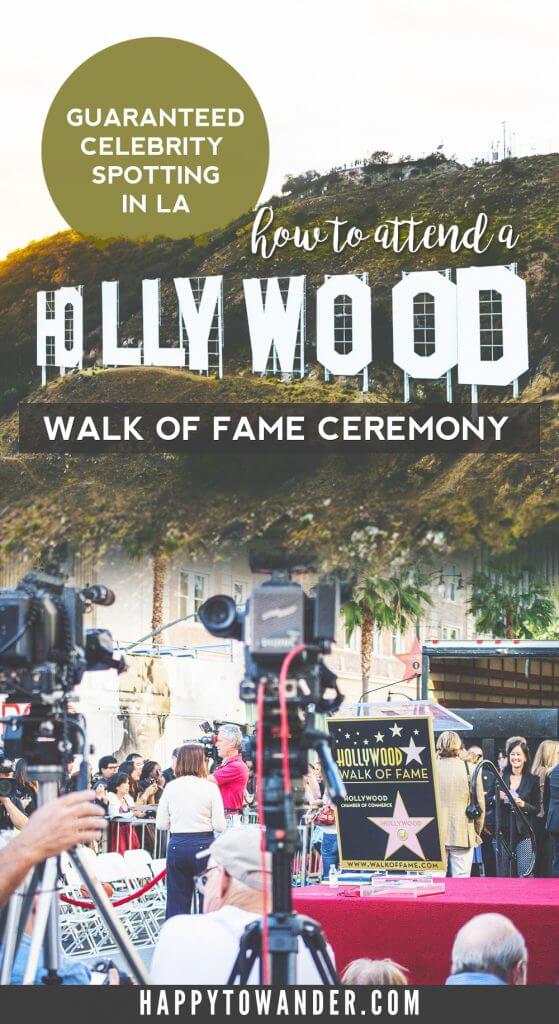 Hollywood Walk of Fame Ceremonies: A Brief Summary
Here's what you probably already know about the Hollywood Walk of Fame: This LA icon spans across Hollywood Boulevard and Vine St., and is a globally-recognized landmark that features over 2,500 sidewalk-embedded stars made of terazzo and brass. From singers, to actors and even fictional characters, the Walk of Fame pays tribute to outstanding achievement in the entertainment industry.
But here's what might be news to you: Every year, the Walk of Fame welcomes new honourees and each is given an official ceremony during which their star is unveiled…. and these ceremonies are totally FREE and open to the public!
So, are you hoping to have a starstruck moment of your own?
Read on. Below, I'll detail important information for attending a Hollywood Walk of Fame Ceremony, like where to find out about upcoming ceremonies, what time to arrive, and what to expect on the big day!
How to Find Out About Upcoming Walk of Fame Ceremonies 
Notice of all upcoming ceremonies are posted on the Walk of Fame website.
If you're visiting LA and curious to see if anyone is being honoured while you're there, check back frequently as announcements can be made with as little as a few days' notice.
When to Arrive to a Hollywood Walk of Fame Ceremony
All Walk of Fame ceremonies start at 11:30am, and end by 12:15pm (unless otherwise stated). So… when should you arrive? Well, this depends entirely on the honouree. If it's someone with a large fanbase, then you should expect to arrive far in advance of 11:30am.
For example, online sources said that for Peter Jackson's ceremony, fans should aim for an 8am arrival. As luck had it, I got held up in awful LA traffic that day, so I ended up arriving closer to 9. By then, a sizeable lineup had already formed (over 100 people), so if you are committed to the idea of getting a good viewing spot, arrive early!
To get a better idea of when to arrive for your ceremony of choice, try tweeting Ana Martinez, the Walk of Fame producer (@wofstargirl).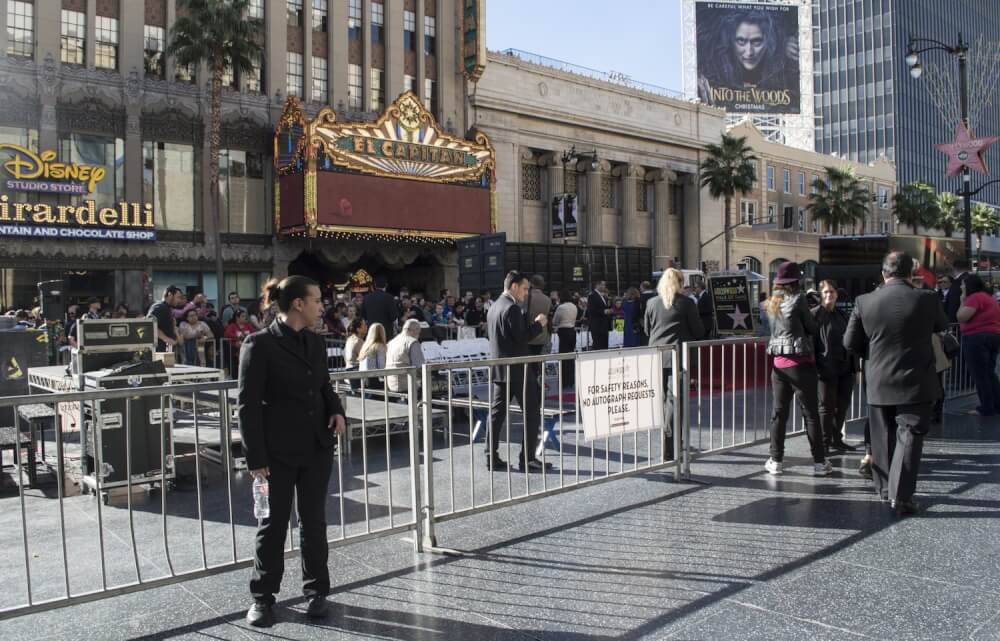 What Happens on the Day-Of a Hollywood Walk of Fame Ceremony: my Experience
The Walk of Fame website tells you specifically where each star ceremony takes place. The Walk of Fame spans over 15 blocks, so don't forget to do this crucial bit of research before you head out. Conveniently, Peter Jackson's star was in front of Dolby Theatre. When you arrive, the security guards will be able to show you where the lineup begins.
At around 10am, security guards will start to hand out wristbands. These wristbands are your golden ticket into the ceremony's fan area, which is a special area on the side that is fenced off from the public. Without a wristband, you're left to fend for yourself and find a viewing spot on the sidewalk.
Now here's my story: as I mentioned, brutal LA traffic caused us to arrive much later than we had planned. The hundred or so people in front of us in line made me very nervous, but I remained hopeful. When the security guards came with their first round of wristbands, the wristband distribution got cut off just 5 people ahead of me. They said they would be back though, so I didn't worry much.
As time went on, they began to bring batches of lucky wristband wearers into the fenced fan area. They told us that they would be back, and would hand out more wristbands if there was space. Again, I remained hopeful.
When we got to the front of the line, I was thinking "sweet! we're next! we're almost in!". Unfortunately, my inner monologue of celebration was premature. With a forced sympathetic tone, the security guard came back and told us that there was no more space, that they wouldn't be giving out any more wristbands and that we should go fend for our spot on the sidewalk.
….. Disappointed, but still competitive, we ran towards the viewing area.
There, we grabbed a nice spot just a metre away from the fence. We had an awesome view of the podium… a better view, in fact, than some of the wristband-wearers who were stuck near the back of their viewing area.
TIP: If you are trying to find a good standing spot on the sidewalk, be sure to get a spot away from the 'Press Platform'. In the ceremony set-up, you will notice that there are black platforms directly across from the podium. This spot is where all the press will set up about 20 minutes prior to the ceremony's start. To ensure that your view isn't blocked off by cameras (like mine), stand away from that black platform.
The celebrity guests began to arrive around 11:15, just shortly before the start of the ceremony. At this point, the fans were going crazy trying to snap blurry photos and get a better look at their favourite celebrity. Promptly at 11:30, the ceremony began.
For real, when the honouree gets up on stage, any sense of order dissipates. The crowd rushes forward, all raising their cameras in a chaotic mess of eagerness. If you're standing on the sidewalk, be prepared for security guards to sternly tell you to move back. Also, be prepared for random awful people to push/shove/'budge' their way into a better viewing spot. It's pretty frustrating, but it happens, so stand your ground!
The ceremony goes by quickly – a few speeches by important people, typically one speech done by a celebrity friend (Andy Serkis in my case) and then by the honouree themself. After that, photos are taken with all the celebrity guests, and just like that, by 12:15pm, the crowd slowly thins out and the chaos on Hollywood Blvd returns to its regular level.
All in all, it was a cool experience and I definitely got my share of celebrity spotting done for the day. Would I do it again? Well, to be honest, waiting 2+ hours for a glimpse at someone famous was probably not the best use of my time. Again, the experience might have been different if a) the honouree was someone with less intense fans than Peter Jackson and b) traffic hadn't screwed up my chances at a wristband, but oh well! I'm still glad I went to check it out… It was a memorable experience for sure!
---
Watch my most popular YouTube video this week:
---