*FYI - this post may contain affiliate links, which means we earn a commission at no extra cost to you if you purchase from them. Also, as an Amazon Associate I earn from qualifying purchases. Check out our Privacy Policy and Disclosure. for more info.
Looking for the inside scoop on how to get tickets to Conan in LA, and what to expect during the taping process? This guide will tell you everything you need to know!
TV show tapings are the best thing ever.
And hands down, the best one I've ever been to was Conan in Los Angeles.
Now it's likely no surprise to you all by now that I'm an absolute pop culture junkie… I've waited hours to watch Peter Jackson get his Hollywood Walk of Fame Star and I've literally cried at a Harry Potter studio tour in London… so it's not really a stretch that I would love TV show tapings either. Not only are they free, but they're absolutely unforgettable and a guaranteed way to see your favourite celebrities up close (yes, even dreamboats like Chris Evans).
So duh, as a die hard Conan O' Brien fan, it was a no brainer that I would secure a ticket to his show.
Attending a TV show taping is one of those must-try activities that you should do in LA. I've attended tapings before (Jimmy Fallon, Stephen Colbert and Anderson Cooper in New York), but my Conan experience was by far the most pleasant and well-organized. This post will tell you all you need to know about the Conan taping experience, from getting tickets to the flow of the actual filming day. Enjoy!
PS: I recently went to a taping of the Late Late Show with James Corden in LA as well. Click here to read more about that process and how to get tickets!
---
1. Getting Tickets to Conan
Tickets to Conan can easily be booked on the show's website. A booking calendar powered by iota showcases filming dates up to a few weeks in advance, and indicates ticket availability (i.e. Available or Sold Out). If your desired date is available, simply click on it to book. You can reserve up to 4 tickets, and must make an account with iota to complete your booking.
If you are keen on securing your tickets, be sure to check back on the website often to see whether or not tickets for your desired dates have been released. Tickets are released in batches (usually several weeks released at a time). Shows for my dates opened up on a Monday morning.
When dates say 'available', there are two possibilities: 1) If you book early enough, your tickets will be 100% secured at the time of your reservation. 2) You will receive an email saying that your request has been added to the waitlist queue, meaning they'll notify you in a few weeks if there's space for you.
NOTE: They don't announce the guests for each show until the Thursday prior. I would recommend booking as soon as possible regardless, because by the time you know who's on your show, it might be too late. For my episode, I had Evangeline Lilly from Lost and the Hobbit, as well as comedian Pete Holmes and musical guest, Jackson Browne.

---
2. Day-of: Getting to the studio
Conan films at Stage 15 of the Warner Bros studio in Burbank. As noted on your ticket, they provide free parking at Gate 8 after 11am. When you get to the lot, just mention that you're there for Conan and the parking attendant will hand you a parking pass for the day (with in and out privileges included).
---
3. Day-of: Checking in
After you've parked, head to the entrance side of the parking lot. Here, you will see security guards, a metal detector and a waiting area with benches. After security checks your bags, you get to sit down in the waiting area. For us, they began checking people in around 12:45pm.
After they've checked you in, they will hand you three things: 1) Tickets for the show, 2) a group number and 3) wristbands. Your group number will hold your spot in the line, which means that you are free to explore the area, grab lunch and then come back by 3.
How early should you get there to check in? Although the ticket says 2:30pm, you should definitely aim to be there earlier as they overbook all shows! Where you sit in the studio is also dependent on how early you get there. We arrived at about 12:30pm, were sorted into Group 29 and ended up sitting in the 4th row, which is not bad at all. NOTE: The first two rows' views are often obstructed by cameras.
---
4. Day-of: The Taping
Be back at the waiting area by 3pm. Again, your group number holds your spot in line, so it doesn't really matter if you get back back super early.


The waiting area is quite nice, with ample seating room, vending machines and washrooms. For those of you who want to show off your fan spirit, there's even a table selling Conan merchandise, but you could probably get them on Amazon for cheaper.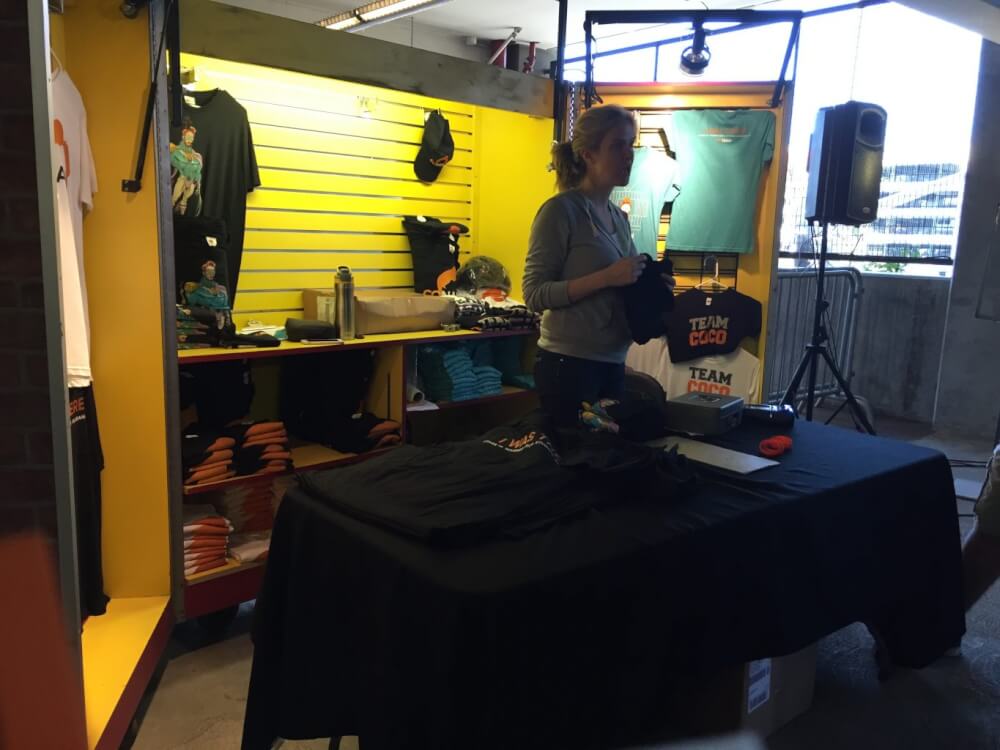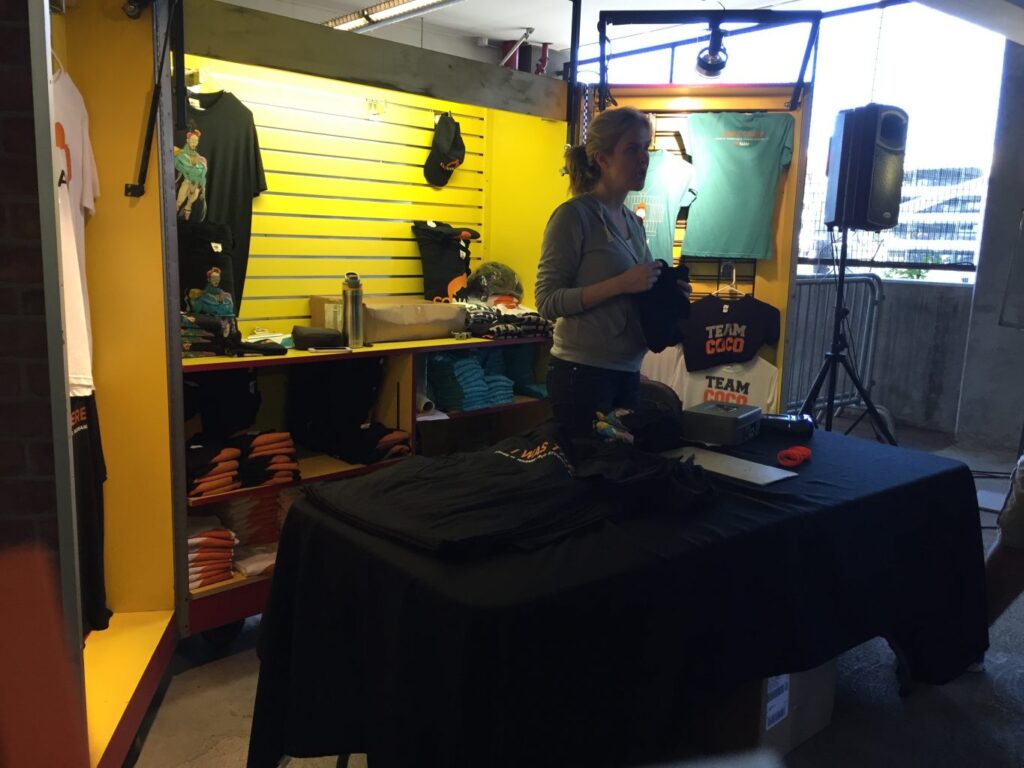 At around 3pm, they start lining people up according to group number, and then send groups off to Conan's soundstage. First, they bring you several blocks to a second (shaded) waiting area, where you wait for 20-30 minutes until the crew says they're ready for the audience. At this point, you will walk through WB Studios, passing by various trailers, soundstages, etc. which is very cool!
The first thing you'll see upon entering Conan's studio is a giant Conan bobblehead. It's hilarious, and you'll want to take photos, but the watchful eye of security will make sure you don't! You'll then go up some stairs which bring you into the studio and ta-da… it's the set you're so used to seeing on TV!!!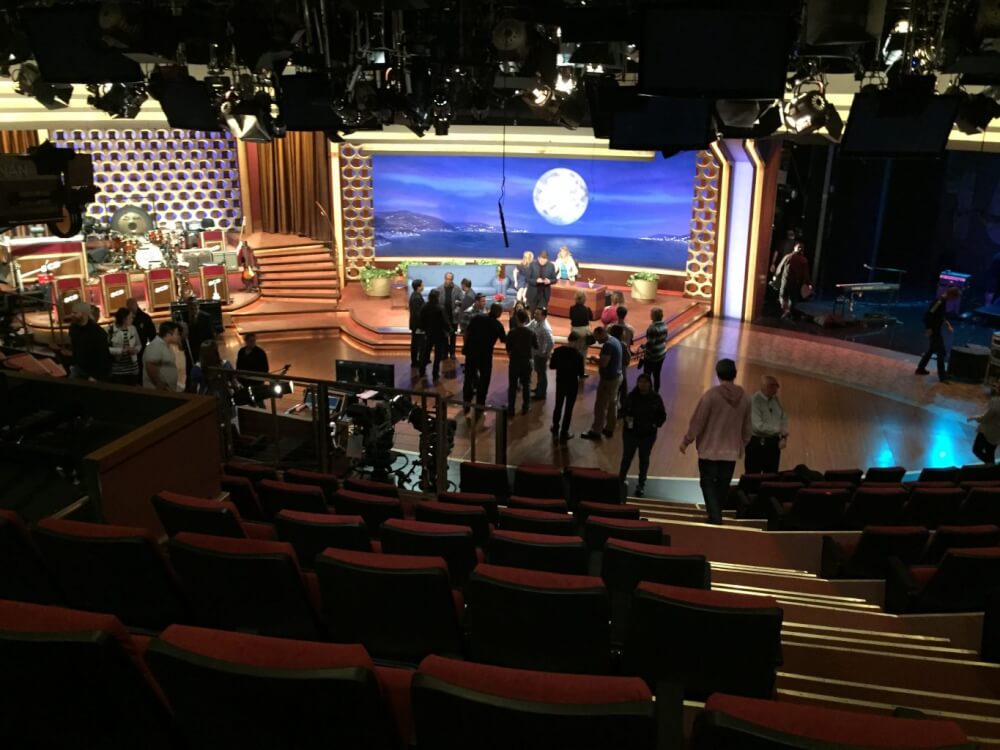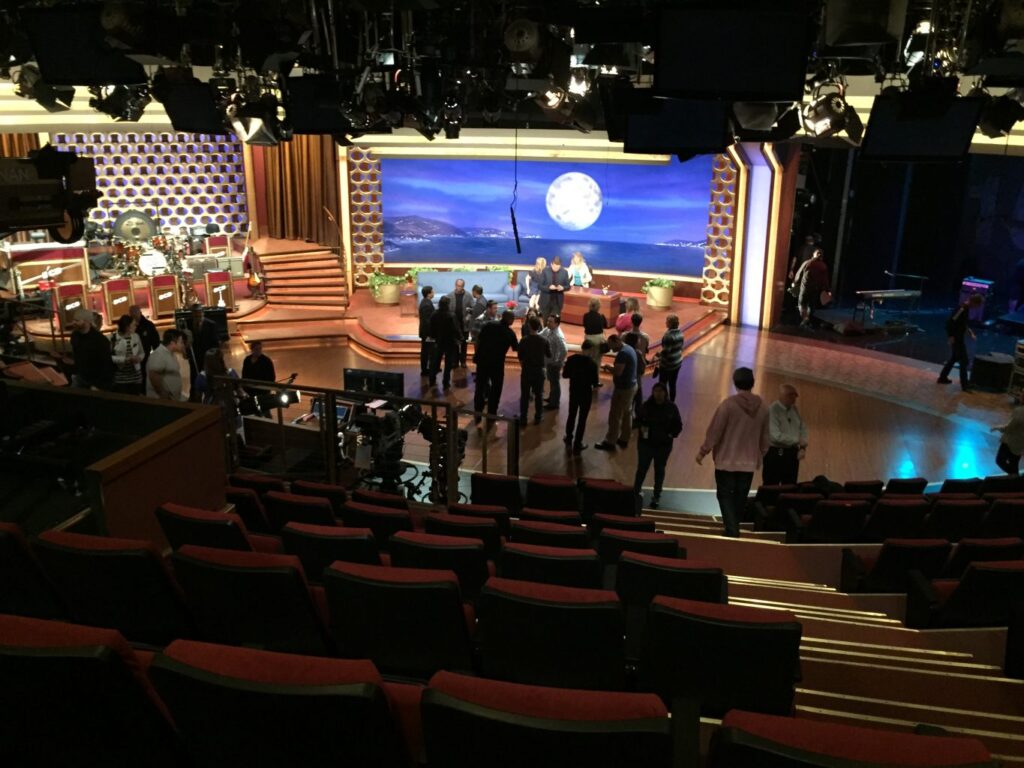 Conan staff will then fill you into rows based on how many are in your party. Not that you have much say in the matter, but try to go for an aisle seat on the right side of the studio.
This is where Conan will generally go after the show is done to give out high fives or even better, autographs! One lucky guy during my taping snagged an autograph while Conan performed his "end of the show" song, so if you're an avid autograph collector, don't forget a Sharpie and something to sign.
Everything will go by very quickly after that. Jimmy Pardo, the warm-up comedian, will come out and get you ready to laugh!
Beware, his style of comedy likes to pick on members of the audience, so don't speak up unless you're ready for him to rag on you.
After a hilarious 15 minutes or so, he will then introduce Jimmy Vivino and the Basic Cable Band, who come out and entertain the audience with a few awesome songs.
Many of them will come into the audience as they play. As a huge fan of LaBamba (who used to be featured in a lot of segments), I was thrilled when he came right by my seat and sang for a bit. Starstruck!
After a few songs, they'll cue the Conan theme song and the show will progress just as you see on TV. Conan comes out to do his monologue, then brings out his guests, etc…
The taping will go by super quickly, so be sure to soak in the experience while you can!
For us, the actual taping began around 4:30, and we were out by 5:45. It did take a bit longer as we had to record an extra musical segment for Conan's website, and Jackson Browne mixed up his verses once so we had to do it again.
Overall, the Conan filming experience is super pleasant and stress-free.
Unlike other show tapings where you're made to stand/wait for hours and generally treated like an animal, the Conan crew knows how to treat you right! There's water coolers, washrooms, and I even read on Tripadvisor that they sometime give out popsicles.
Props, Team Coco! Be sure to give this experience a try the next time you're in LA – it's really a lot of fun.
Have you ever been to a taping? What was your experience like? Let me know in the comments!