*FYI - this post may contain affiliate links, which means we earn a commission at no extra cost to you if you purchase from them. Also, as an Amazon Associate I earn from qualifying purchases. Check out our Privacy Policy and Disclosure. for more info.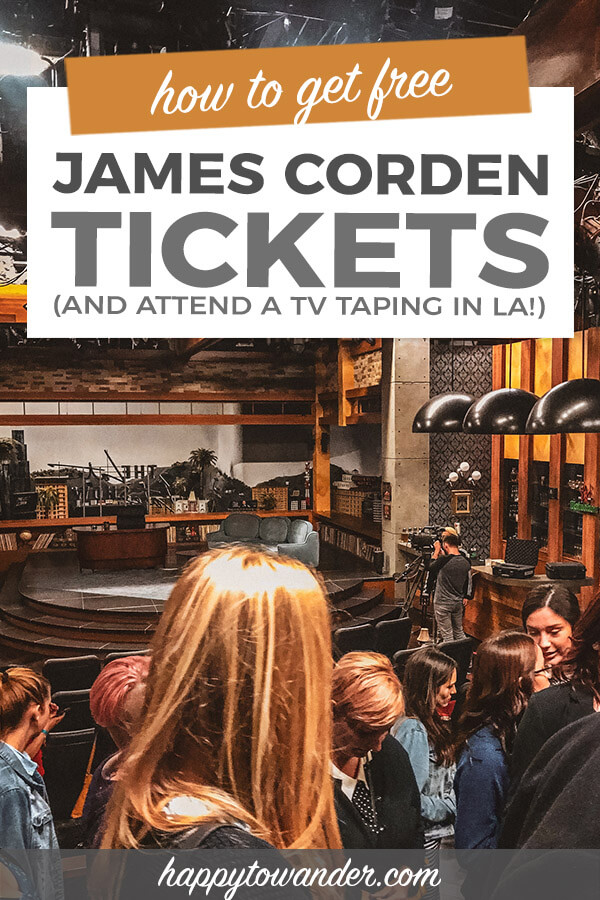 Call me a rabid fangirl, but on my most recent trip to LA, one of my top priorities (besides Cheesecake Factory) was scoring myself some James Corden tickets to see the Late Late Show.
If you're new around here, I LOVE TV tapings. Any trip I take to LA or New York inevitably involves me bumbling around some kind of TV set. Over the past few years, I've seen Conan, Colbert, ended up ON STAGE at Jimmy Fallon, and was even gifted a free Dyson fan once at Anderson Cooper's (short-lived) daytime talk show.
So what did I think of the Late Late Show with James Corden? Tickets were, for what it's worth, free and surprisingly easy to secure, but to be honest, the experience overall was rather disappointing, and I don't think I'd do it again.
A quick glance over Late Late Show reviews online and you'll hear the same criticisms: lack of organization, long wait times, too much fake enthusiasm, and preferential treatment for "pretty people". I mean, it is LA after all, so yes, these complaints are (in my experience) totally valid.
But hey, if you go in with the right expectations, the experience of attending a TV taping really is cool and unique, and worth doing once! I much preferred the process at Conan, BUT if you want to learn how to get some free James Corden tickets for yourself, or want some tips and guidance on how the taping process goes, then I've written up this handy guide based on my experience.
… Oh, and I casually met Anne Hathaway's parents at this taping too, so I guess it was all worth it in the end. Honourary Hathaway over here. * waves *
---
---
Scoring James Corden Tickets: The Basics
Tickets to James Corden are, as with most TV tapings, free! They're distributed through 1iota, and are usually released about a month before the filming date.
All you need to do is put in a request and 1iota handles the rest – you either get tickets or waitlisted, and when tickets become available, you're sent an email where you can confirm and print your tickets. It's all really straightforward.
NOTE: Ticket requests max out at four per person.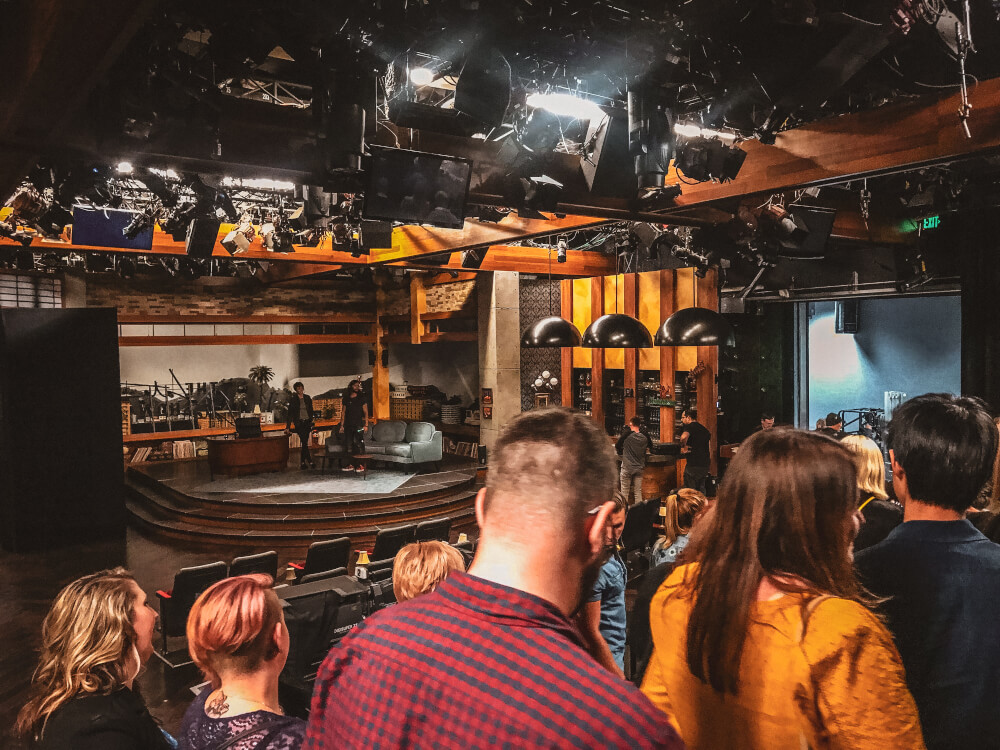 ---
---
How to Get James Corden Tickets: Step by Step
If you're hoping to score some Late Late Show with James Corden tickets for your next LA trip, I have great news: it's really not tough at all. It just takes a bit of patience, persistence, and good planning. Here's how to do it:
STEP ONE: Head over to the official Late Late Show with James Corden tickets site, which is powered by 1iota. Click here to access it.
STEP TWO: Flick through the available dates and see if your preferred dates are open yet. Dates which are sold out won't be clickable (they'll be greyed out) but open dates with tickets still available will allow you to click that date and press "Request Tickets"
STEP THREE: You need to make an account for 1iota. It's annoying, I know, but relatively painless.
STEP FOUR: Enter how many tickets you want, along with a short blurb about "why you love James Corden". I just put carpool karaoke.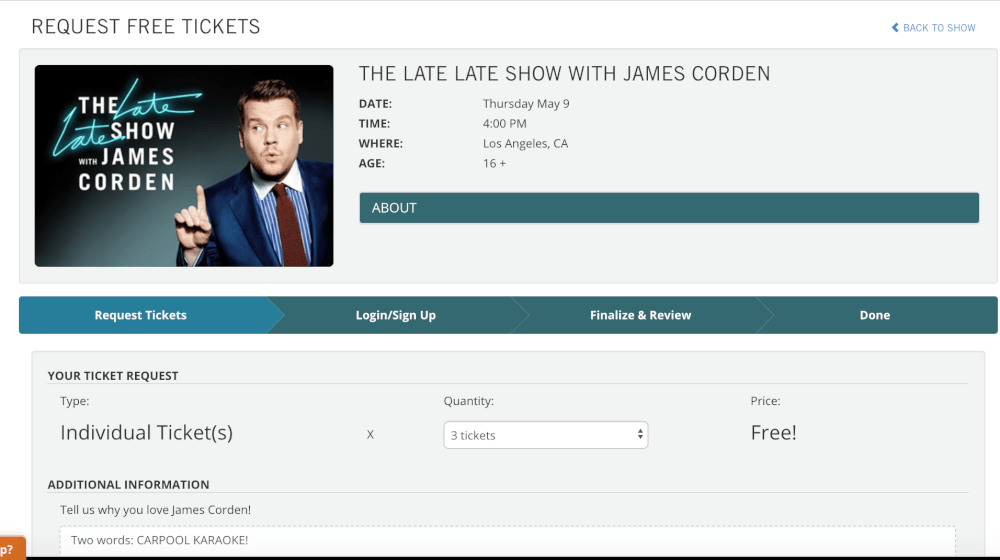 STEP FIVE: See if you've been waitlisted. I was, and was taken off the waitlist a few weeks later. I'm not sure if it's possible to immediately get tickets or whether they wait until closer to the show to allocate James Corden Show Tickets, but either way, you'll be taken to a confirmation screen that looks like this: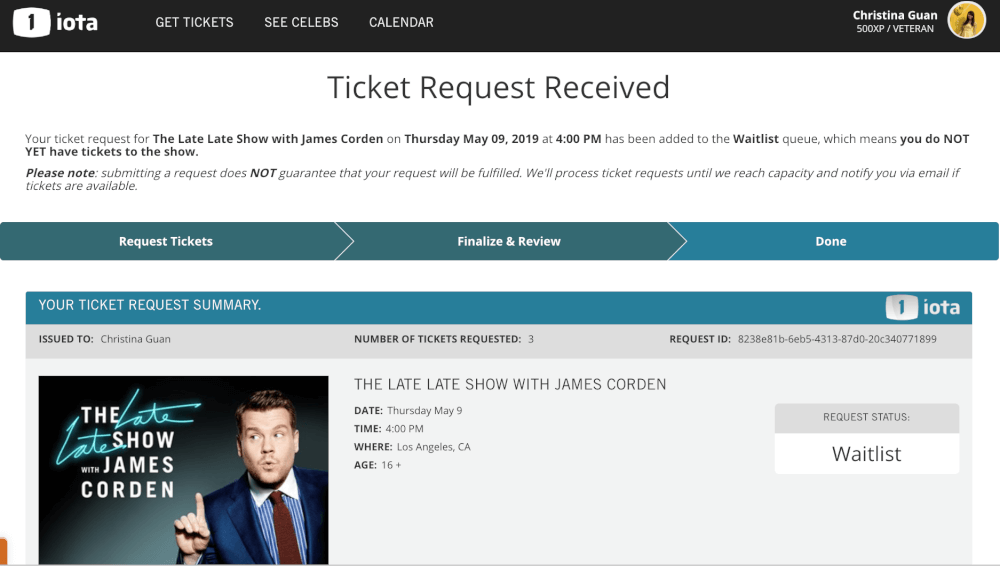 STEP SIX: Hang tight and keep an eye on your email for more ticket/taping news from 1iota! Like I said, I was taken off the waitlist about 2 weeks before the taping.
---
---
My Late Late Show with James Corden Taping Experience
On my recent LA trip, I went to a taping of the Late Late Show with James Corden on May 9, 2019. The guests that day were Anne Hathaway and Rebel Wilson! I've been to LA quite a few times now and have done most of the typical touristy things, so I didn't mind dedicating (what ended up being) an entire day to attending a taping.
If it's your first time in LA though, or if you only have a short amount of time in the city, I wouldn't really recommend this experience unless you are dying to see James Corden in person. The experience overall is pretty disorganized, there's a lot of waiting, and I didn't feel the payoff was all that worth it in the end.
BUT, here's a thorough recap of my experience so you know what to expect, and so you can decide for yourself whether or not you should go!
1. Getting my James Corden Tickets
I stalked the 1iota tickets page for weeks in advance, and on April 4 (1 month before the taping), I checked and they were finally open. I applied for tickets right away, but was put on the waitlist. On April 26, I received a new email letting me know that I had been rescued from the peasantry of the waitlist and had confirmed Priority tickets!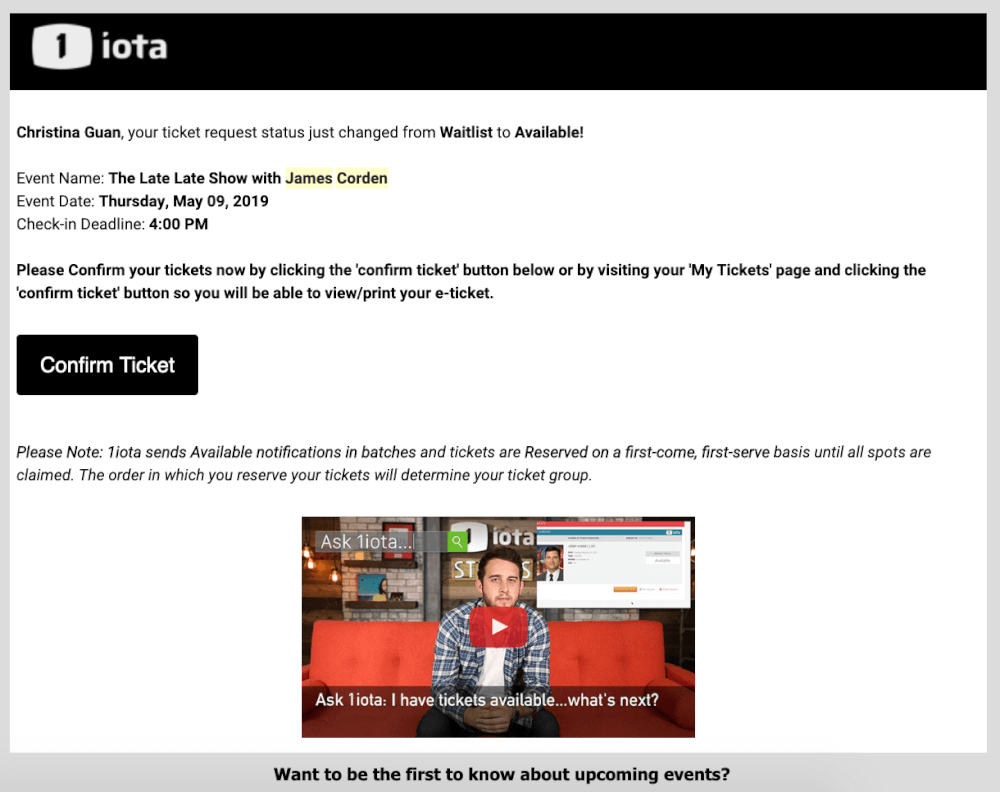 ---
---
2. The Day-Of the Taping
On the day-of the taping, I had a new email from 1iota informing me that the taping had been moved forward by 30 minutes.
Yikes.
Not a huge deal because I left a lot of buffer time in my day, but I was kind of put off by how last minute the change was. The new schedule said that Priority Check-in began at 2:30pm and would close at 3:00pm.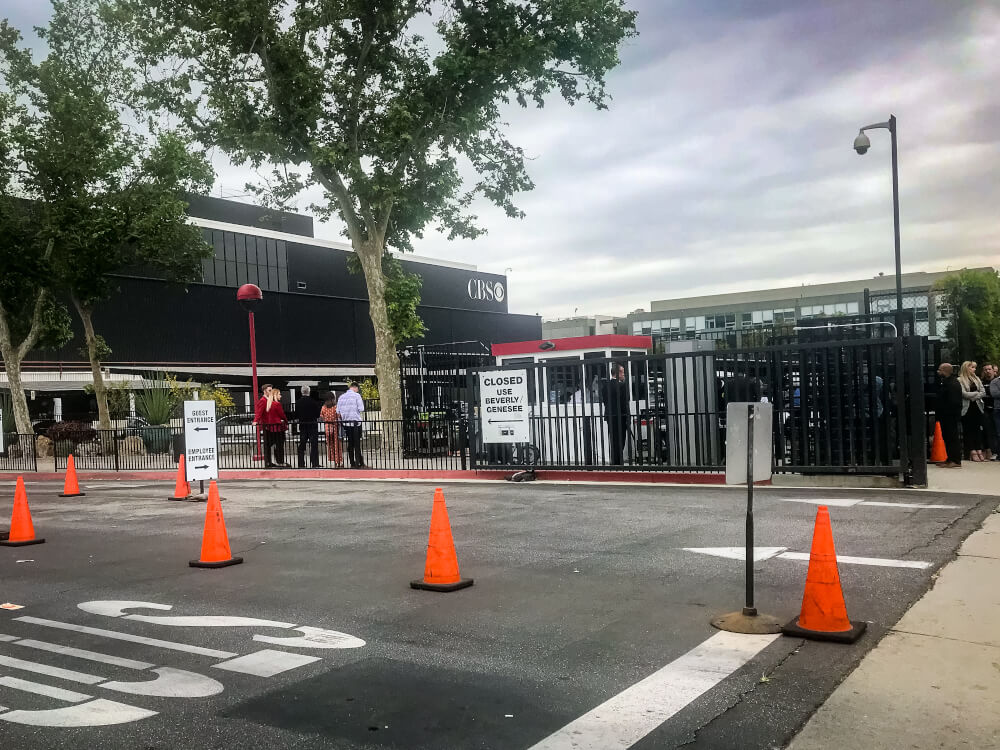 ---
---
3. Checking in (with Priority Tickets)
So, my friends and I (Lia from Practical Wanderlust, and Sally from Passport and Plates) parked up at the Grove and strolled over non-chalantly, obnoxiously large iced coffees in hand. We arrived at 2:40pm, just ten minutes after check-in opened, and the line-up was already SO long, it was halfway down the block.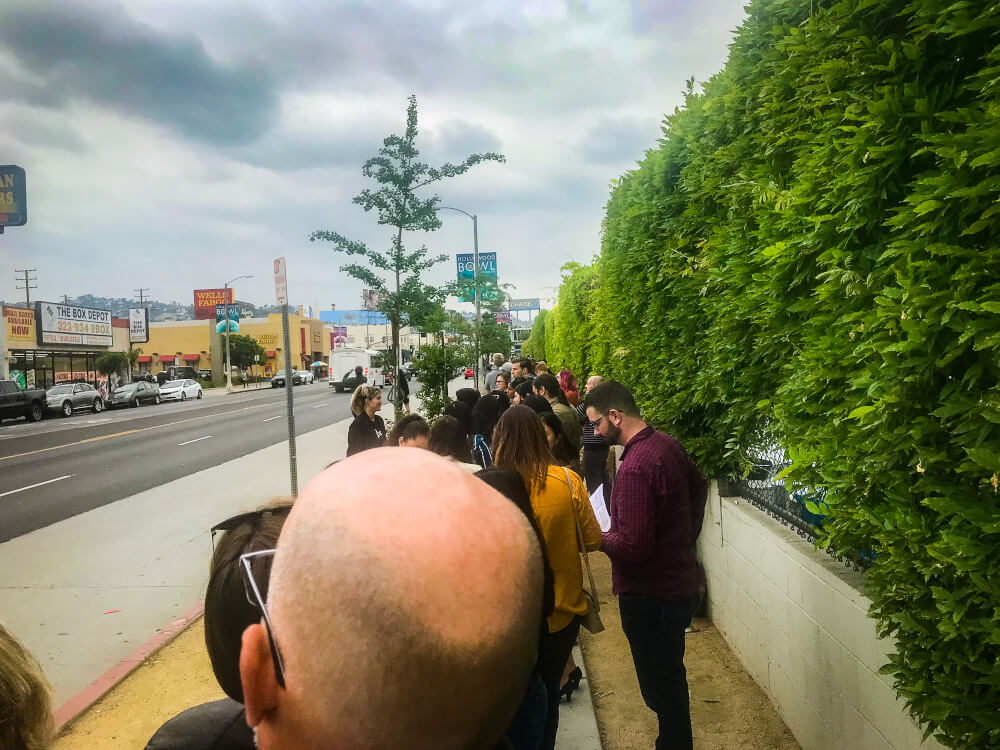 We noticed that there were two line-ups, one for Priority and one for General (and maybe Stand-by). Seeing how long that line was though, I'm convinced most of the tickets they issue are actually Priority, but anyways, we weren't too phased by the big line, since we assumed Priority tickets meant guaranteed entry. Side note: we did get in, but they apparently do overbook the show so even priority tickets don't actually guarantee entry…. in other words, get there early!
Anyways, soon enough there were some friendly staff members who came down with clipboards to check our IDs and see our tickets.
While we waited, there was also a clipboard circulating with a release form, which we had to sign and give back, basically allowing them to film us and include us in the show. Standard stuff.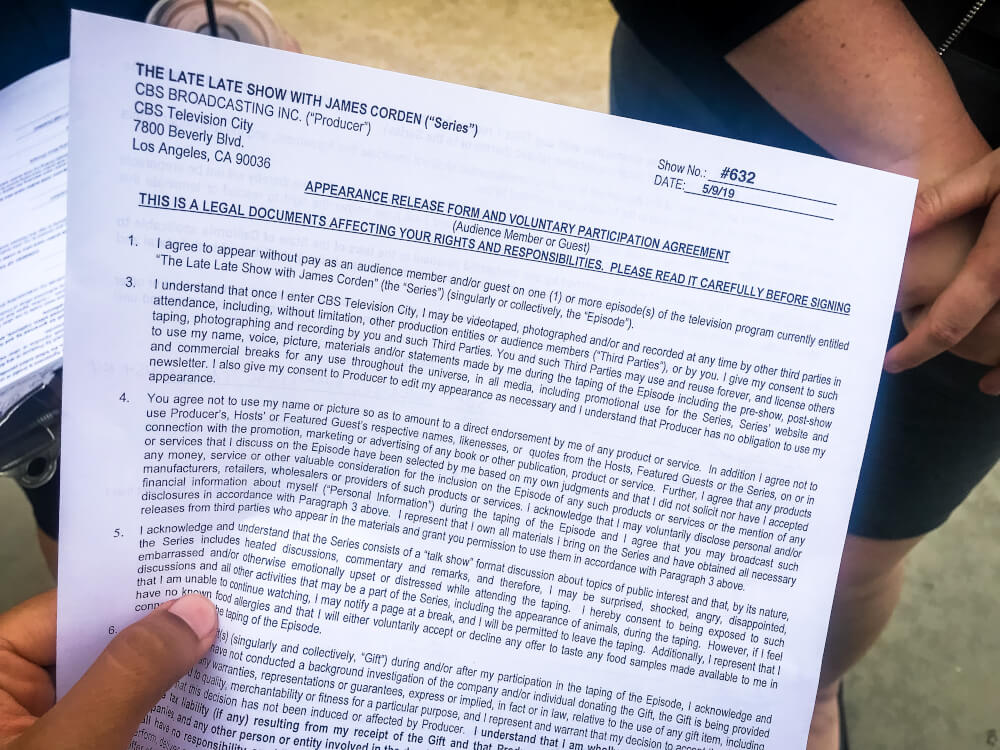 ---
---
4. Entering the waiting area
After maybe 15-20 minutes, the line started moving and they began letting people into the secondary waiting area (as in, we were moved away from the sidewalk and into an undercover but still outdoor area by the studio).
They checked our bags, checked IDs again, and we went through a metal detector.
After passing security, we were given wristbands. Now, the colour of your wristband is where things get interesting. There's a lot of gossip in James Corden taping reviews that say that the colour of your wristband kind of dictates your worth and where you get to sit. We got turquoise ones.
As we walked into the seating area, which just had wooden benches and was otherwise extremely bare, I started looking around, trying to see what colour other people had. Most people appeared to have turquoise ones too, so I didn't think much of it.
UNTIL… I went to the bathroom….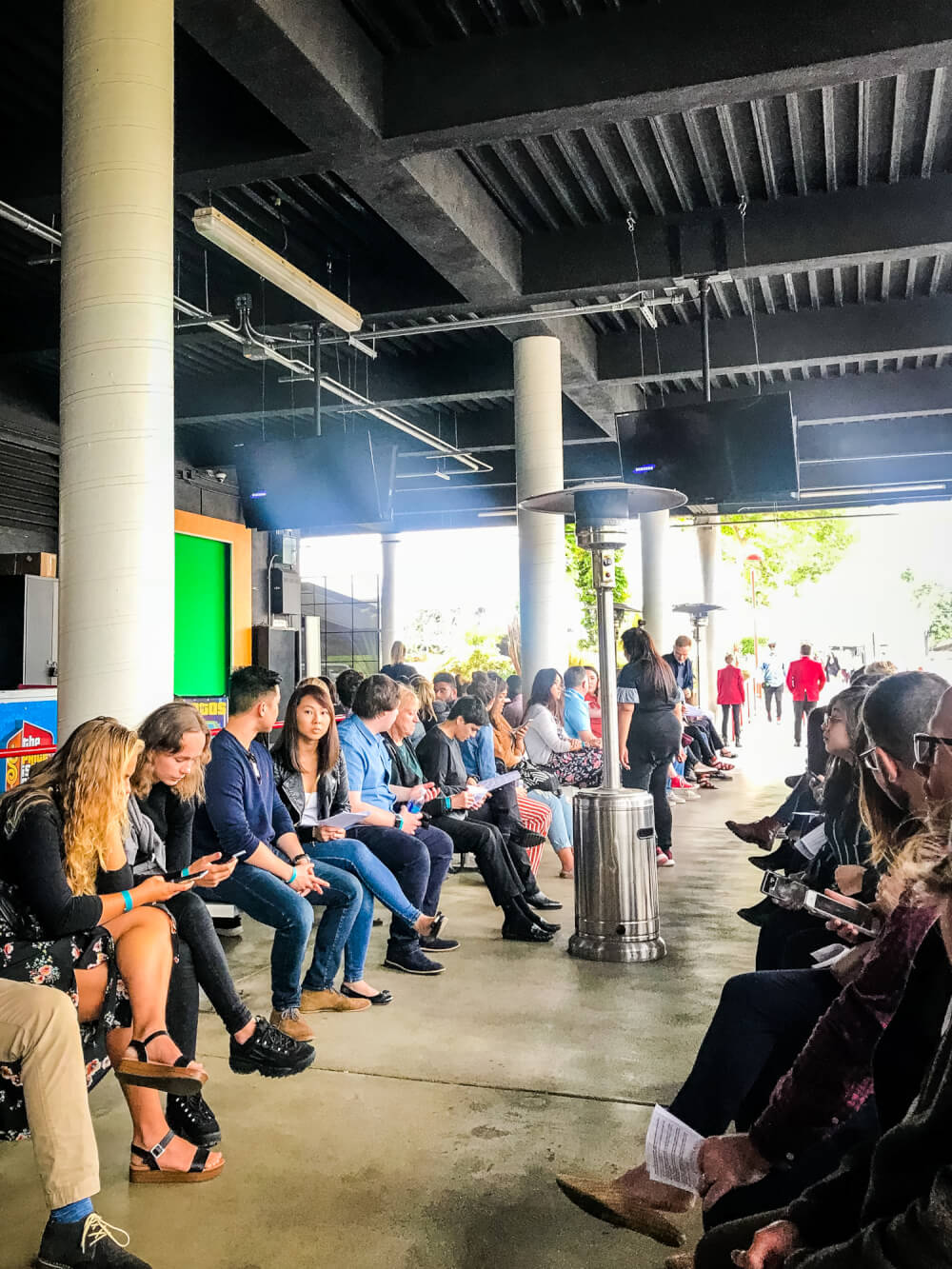 There, I ran into a group of very pretty girls, some of which had a gold wristband on top of their turquoise ones, or in some cases, black ones.
Ah, the mythical black wristbands. So they do exist. 
I'm not sure how these special coloured wristbands are distributed, but looks are certainly a factor. I didn't take it too hard since we were pretty far back in line anyway, but I know for a fact that one guy in the General (or maybe Stand-by) line behind me got a black wristband and ended up behind the bar during the taping. I recognized him because he was dressed like a cult leader (black turtleneck, bleach blonde hair, scary tall).
BUT ANYWAYS, we were seated in this waiting area mostly based on the order that we walked in (in line). The waiting area is fairly minimalist. There's a tiny CBS gift shop shilling overpriced merch, some bathrooms, and a little kiosk to buy food. Otherwise, not much by way of comfort or entertainment.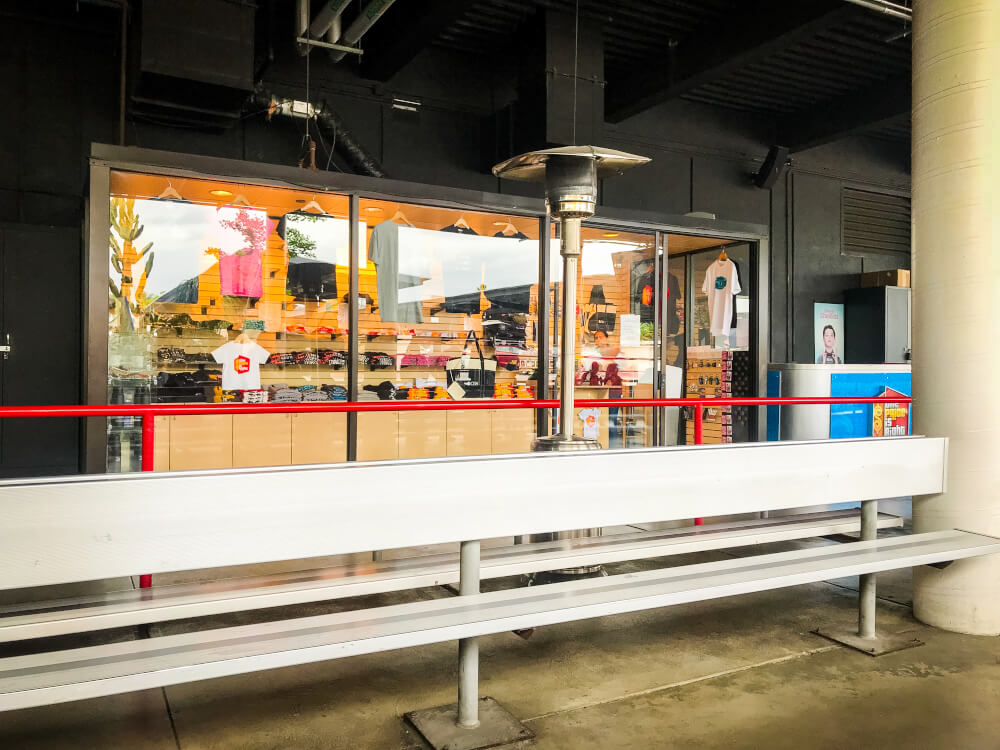 ---
---
5. Waiting, waiting, waiting…….
I didn't keep track of how long we waited, but I feel like I aged a few years in that line.
They informed us that they would be filming a few different segments today, including an additional sketch, and would be letting us in soon to film that bit first. Shortly before they started wrangling people into the studio, they made us watch a set of cringey videos about how to be a good audience member. Basically, just smile and laugh a lot, and don't be a douchecanoe.
Then, they began leading people in by groups. Slowly the waiting area started emptying out, but my row of benches was still left behind. Fair enough, we were the last to enter the waiting area…..
But then we kept waiting.
And waiting.
For what felt like 30 minutes after all the other people had been let in, we were still sitting there, with no communication from staff. All of us nervously glanced around, kind of half-wondering if we were even going to make it in, or if maybe they were filming that first sketch segment without us. Regardless of the reasoning, it did make us feel a bit like trash. Like, a little update would've been nice.
But after a lifetime of waiting, we were summoned.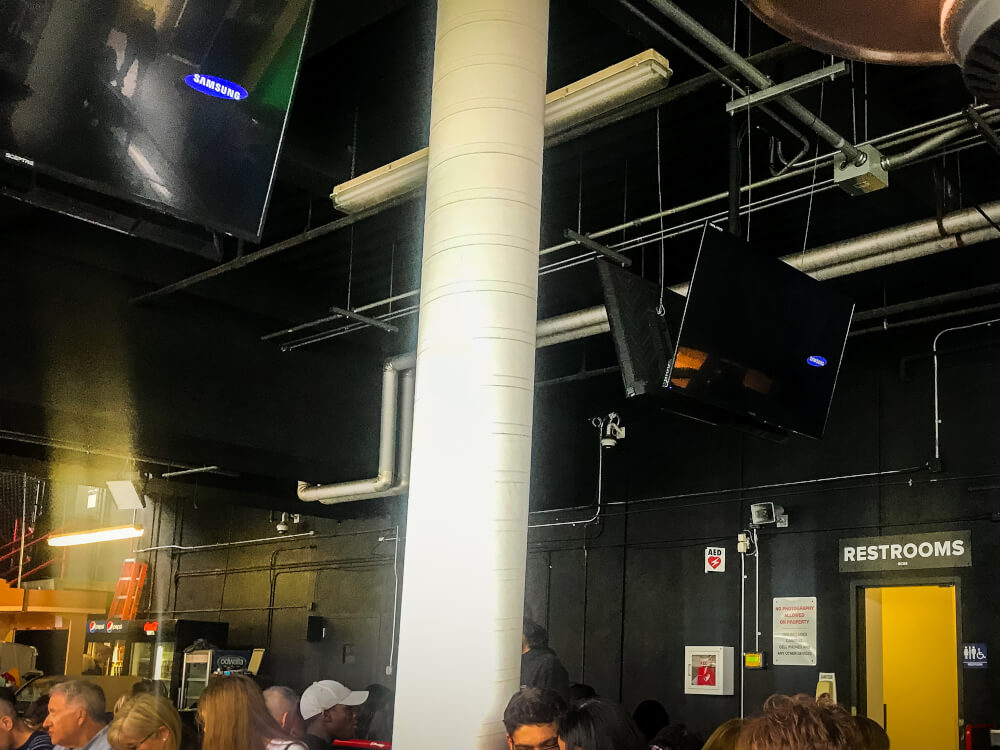 ---
---
6. Entering the studio
The Late Late Show Studio is actually up a few flights of stairs, so we were led down a little walkway, up some stairs, then were standing in an office/hallway area just outside of the actual studio.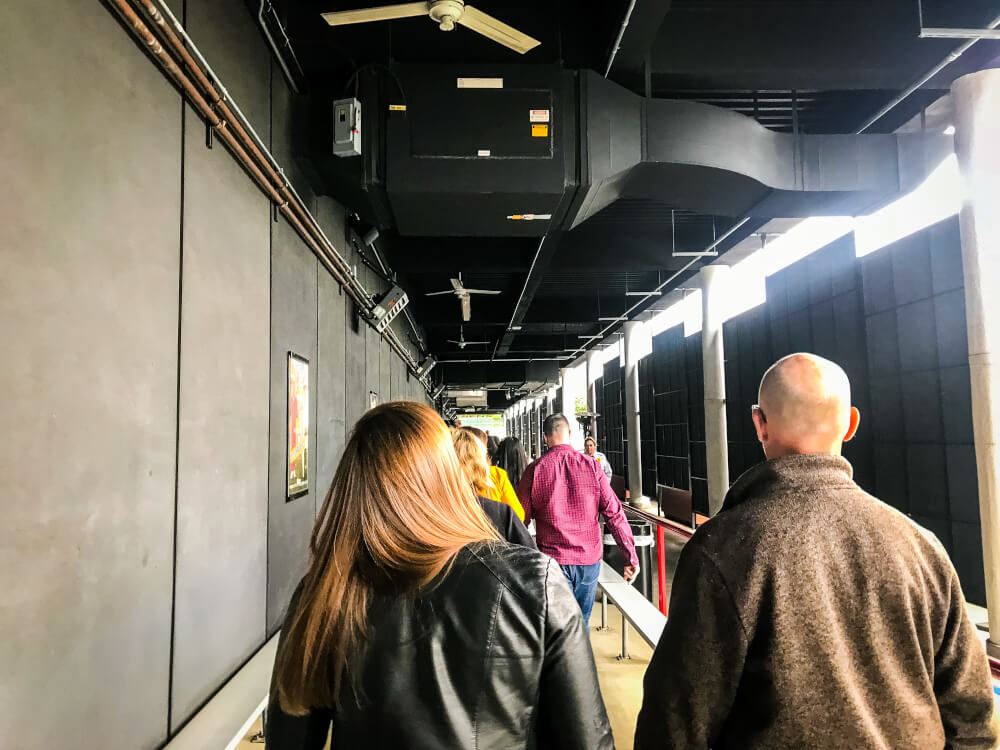 This part is kind of cool because you just see all the staff members walking around. I was super nosy and fascinated by everything here. Like "oooh is that a water cooler? FASCINATING".
And then, after a bit of waiting, they walked us up some final stairs and into the studio! The walls were decorated with photobooth pictures from previous guests. Pretty neat. Here's a hilariously blurry photo I tried to sneak on my way out: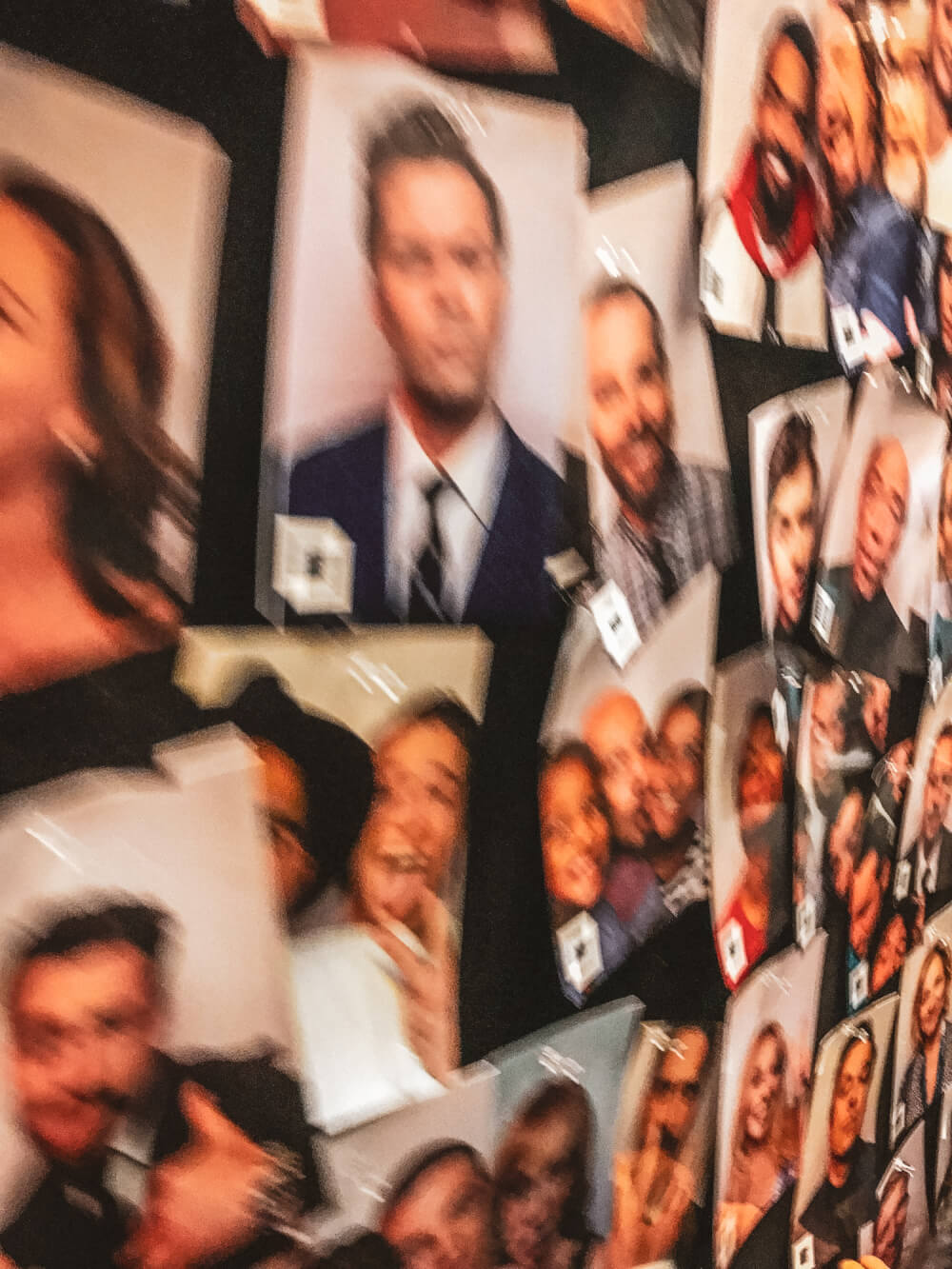 ---
---
7. The actual taping
When we walked in, the majority of seats were already filled, and there was a small section to the left that I assume was being kept for us peasants in the final group. The view was still fine though, so I didn't mind.
They sat us according to the number of people in our party, but shuffled us around a few times with zero explanation, just "can you please move into this seat please (… so nobody needs to see your wacko mug on camera)"
We soon learned that filming hadn't even started yet, not even for that additional sketch, so I have NO idea why we were made to wait a million years outside.
Anyways, soon enough, a warm-up guy came out and so began the "overenthusiastic crowd member" indoctrination process. I get that we're on TV, so we are (in essence) props, but the amount of loud laughter they commanded from us felt super weird and staged.
And after some more waiting, filming began.
We started off with filming a birthday themed sketch ft. Anne Hathaway and Rebel Wilson. You can actually watch it here:
One interesting thing about the James Corden taping process is that it's incredibly disjointed. While at Conan for instance, he basically did the entire show start to finish, making it very similar to watching on TV, here they kept stopping, re-shooting certain lines, etc.
It was interesting to see, but definitely broke up the flow of the sketch so it wasn't really THAT funny to witness during filming. I had to fake laugh a lot.
After that wrapped up, the crew very quickly and magically dismantled the set from the sketch and they started shuffling audience members around. Most notably, the "specials" with the golden/black wristbands were taken off to the side, as they rolled out the nice comfy chairs you see on TV.
With the new set-up, filming rolled on, James did his monologue and most of it unfolded as it normally does on TV. The exception is though that they filmed a bunch of very random additional scenes as well. I feel like they took advantage of having a captive audience because in addition to the Wilson/Hathaway sketch and the regular show, they also filmed (I'm not joking) a special birthday message to a fan, and ALL the intros/outros for his Primetime highlights special.
… This meant that we didn't leave until almost 8pm.
…….. If you recall, we arrived just after 2:30pm.
Guys, that's a pretty long time to be at a TV taping!
They even said at the end "that was our longest taping ever" and I'm not entirely sure they were joking.
But anyways, it was a long, but overall a fun experience.
As most of the online reviews will tell you, James' interaction with the crowd is very minimal, but because our taping was SOOOO long, I think he took pity on us because he did actually welcome audience questions during a few of the filming breaks, which is way more interaction than most people claim to have received.
Some reviews mention that James seems kind of cold and standoffish when the cameras are off. I don't think this is necessarily the case – I think he's just concentrated on his work and "in the zone". If he's in the middle of filming, I wouldn't expect him to be out in the audience hugging people and signing autographs anyway! That said, he seemed genuinely apologetic towards us that filming was taking so long.
Oh, and last but not least, here's a fun little photo I have from my experience, taken by warm-up guy Jesse Shapiro! He actually runs through the crowd and gets photos of each section, then uploads them on his Facebook page. It's a little weird, but I guess nice that we at least got some evidence we were even there:
---
---
Final Tips for Attending the Late Late Show with James Corden
So, before you attend the Late Late Show taping for yourself, here are a few final tips to keep in mind:
Get your expectations in check
The reason I didn't feel too disappointed by my James Corden taping experience was because I had read plenty of reviews on both Tripadvisor and Yelp beforehand… the majority of which are rather negative. Because of this, I braced myself for the disappointment, the disorganization, the waiting and the inevitable "being judged based on one's appearance". Even with all this in mind, I still left feeling a bit like I'd been treated like cattle/trash…. trattle, if you will. BUT it was a neat experience, and I love watching the magic of TV kind of unfold before me… that said, having been to Conan, Jimmy Fallon, and Colbert and even Anderson Cooper's (long defunct) daytime talk show, this TV taping experience was by far my least favourite.
---
---
Check your email often for updates
The DAY OF the taping, I got an email from 1ota saying they needed to move the filming time up 30 minutes. This was fine for me because my day was fairly flexible but I can imagine it probably was a bit of a pain for people with tight schedules/had planned their trip itinerary around this.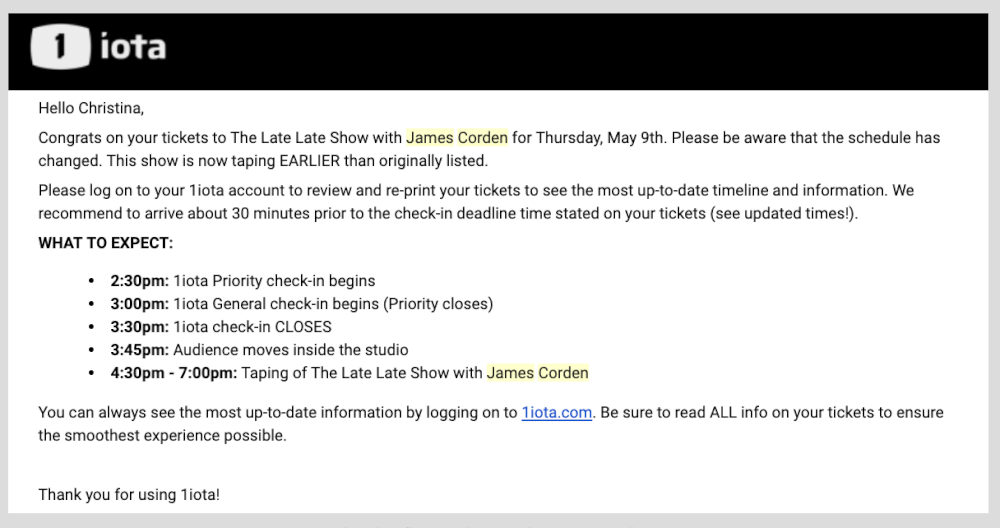 So, that's why my next tip is to…
---
---
Clear your entire day for this – don't make plans before or after
While the Late Late Show taping itself only lasts for a few hours, when you factor in the long (uncertain) wait times, the fact that they might randomly push the time up with a few hours' warning, or the taping can literally last five hours (like in my case), you reaaaaally shouldn't try to make any other plans with your day, especially important ones like flights or expensive dinner reservations. Just don't.
---
---
Don't forget your ID
Having your ID is really important – something with your photo/birthday, and the more official the better (e.g. driver's license or passport). I feel like they checked mine at least three times, and I'm quite certain they won't let you in without proper ID, so make sure you have it.
---
---
Doll up and try to look "good" – not necessarily business casual
So the dress code written in your emails and ticket will tell you to dress "business casual" but I can tell you without a doubt that 90% of the people who were seated in the more favourable seats were not dressed business casual.
Instead, they looked "good".
I know that's very subjective, but the best analogy I can make is most of the people sat up front were dressed like you walked into a cool rooftop bar in New York City. There were girls in striped jumpsuits, a guys with dark jeans and a black turtle neck (legitimately this guy looked like a cult leader and I could not stop staring), and other cute, cocktail-y outfits. I would definitely not describe the overall dress code to be business casual.
---
---
Bring a sweater or dress warmly
If you get cold easily, you should know that they BLAST the air con in the studio. Like, it is frigid in there. The reason is because the lights are really hot so they need to make sure the guests and James don't get weirdly greasy and oily throughout filming, but as an audience member, you'll be really cold.
Random fact that you probably don't care about: I was noting how chilly it was to my friend next to me, and the woman in front of me turned around to explain why it was so cold. An hour later into filming, I found out that woman was ANNE HATHAWAY'S MOM. Anne Hathaway's mom schooled me on studio lighting!!! Isn't that wild? I thought so at least.
---
---
James Corden Tickets + Taping Frequently Asked Questions
Okay, if you're anything like me, you probably have a million questions about the James Corden tickets and taping process.
When will I know if I have confirmed James Corden tickets?
I'm sure the timeline for ticket confirmations will vary, but for me personally, I put in my request on April 4, 2019 (about 1 month before the show which was on May 9), at which point I was placed on a Waitlist. On April 26 (2 weeks before the show), I got an email letting me know that my request status had been changed from Waitlist to Available, and I was able to immediately confirm my tickets on 1iota.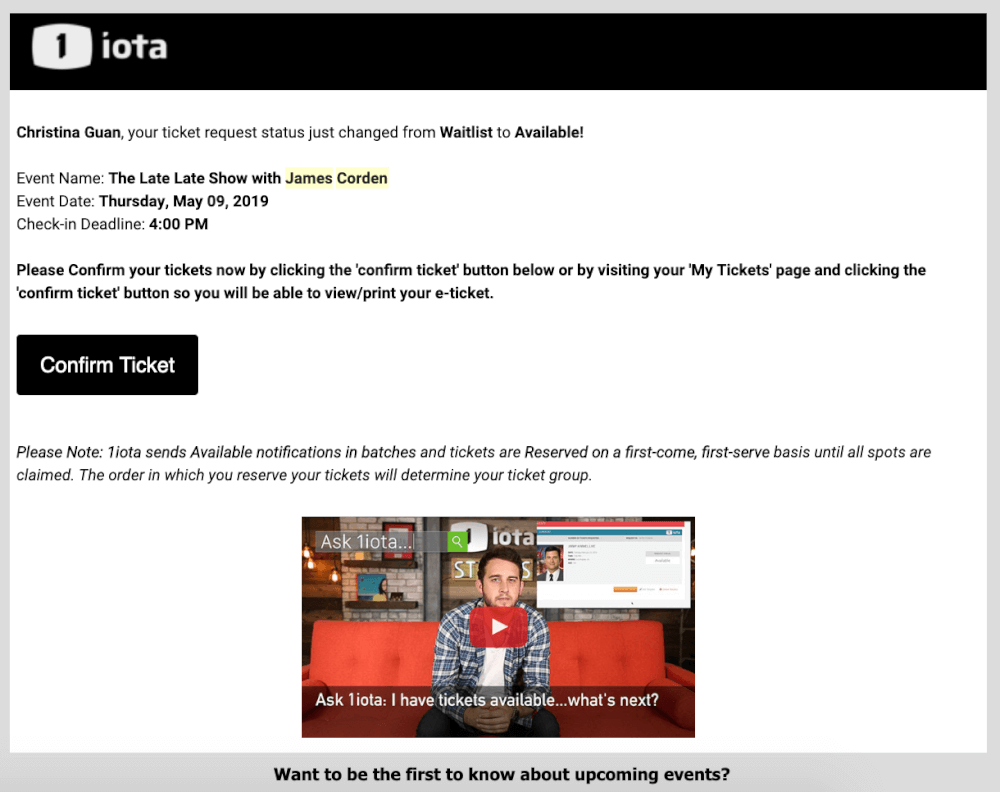 ---
---
How will I know who the guests are for my taping?
Usually guests for the Late Late Show are announced the week before filming. This unfortunately means you won't really have any time to "wait and see" who the guests are before you request tickets, but if you're curious like me and just want to know in advance, the best place to check is (weirdly) this Wikipedia article! Somehow the fans are SO "on it" that they update the guests table as soon as it's announced. This is how I was able to figure out who was on my show.
---
---
What should I wear to James Corden to maximize my chances of getting a good seat?
Once again, look GOOD. Dress up nice, put on some make-up, basically just be camera-ready. While the dress code says business casual, I'd say the people who end up making it to the front comfy seats look more like they've dressed for a nice rooftop bar (think "cute" outfits, what would you wear if you were on the prowl and looking to maybe get hit on?) I know that's an odd description, but remember they want nice looking people to be on camera, so to get the best seats, you needa look… nice.
All that said, I think that looking good is only part of the equation honestly, contrary to other reports I've read, I do feel like people who were closer to the front of the line were placed in more preferable seats.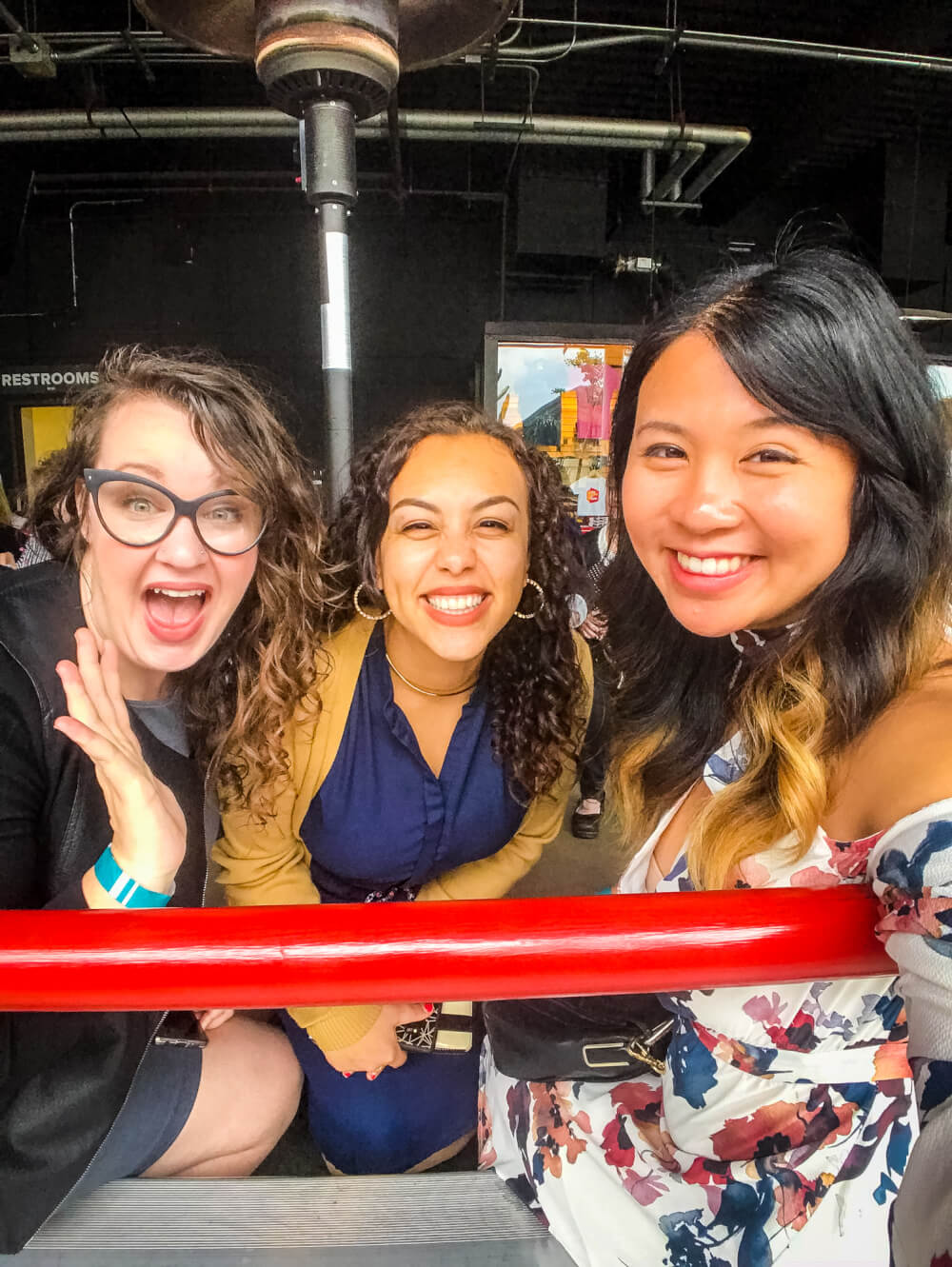 ---
---
Is there parking near the James Corden taping?
There isn't any parking available for taping attendees at the actual CBS Studios, and not much street parking closeby either, BUT the Grove is a 10ish minute walk away from the studio and there's tons of parking there. It's pricey, but safe and convenient. That's where we parked when we attended our taping.
---
---
Any more questions about getting James Corden tickets or the Late Late Show experience?
Let me know in the comments below and I'll try to get back to you ASAP! I hope you have a great time at the show, and safe travels! 🙂
---
Watch my most popular YouTube video this week:
---