*FYI - this post may contain affiliate links, which means we earn a commission at no extra cost to you if you purchase from them. Also, as an Amazon Associate I earn from qualifying purchases. Check out our Privacy Policy and Disclosure. for more info.
Curious about the connection between Harry Potter and Lacock? This guide spills the every flavour beans on the history between the two, the various Harry Potter locations you can visit in Lacock, and other useful tips/fun facts!
When it comes to the most adorable villages in England, there's one hotspot that frequently makes the rounds on every top ten list: I'm talking of course about Lacock (prounced Lay-cock), a quaint, homey village in Wiltshire, with a bite-sized townscape dotted with centuries-old timber-clad houses and stone cottages.
In this postcard-perfect Cotswold village, you'll find an untainted historical heritage kept alive by the National Trust, who owns the village (almost) in its entirety. As such, modern giveaways like satellite dishes and power lines are joyfully absent, making it a magnet for film crews hunting for authentic historical backdrops…
Of all the films that have passed through Lacock over the years, perhaps none is better known than Harry Potter, which filmed on location here for three of eight films in the franchise, bolstering tourism along the way, and making Lacock a site of pilgrimage for many die hard Potterheads around the world.
Me included!
So, what is the link between Lacock and Harry Potter, and where exactly did they film? This guide will tell you everything you need to know (and probably a bit more… what can I say, I'm an oversharer).
Anyways, enjoy!
Save this post on Pinterest for later: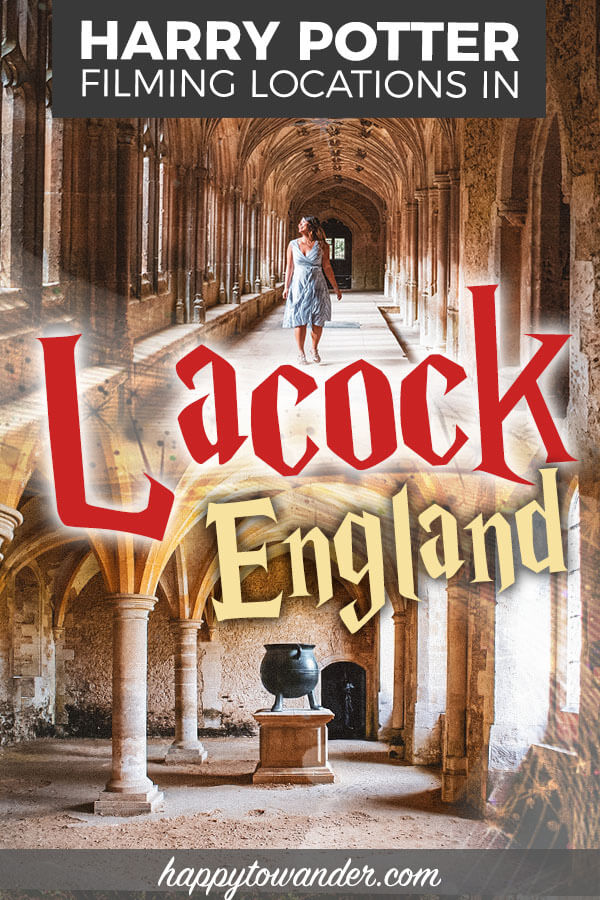 PS: Be sure to check out my comprehensive list of Harry Potter filming locations you can visit in real life for more!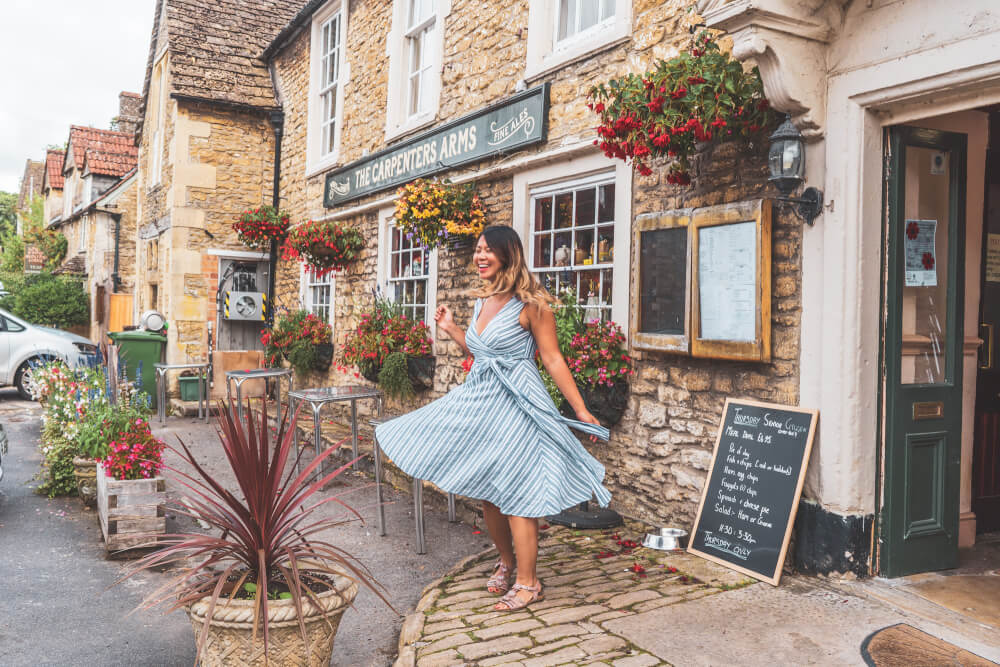 ---
---
Where is Lacock, England?
Lacock is a lovely little village in Wiltshire, England, about 2.5 hours west of London.
Its quaint 'trapped in time' feel has been made possible by protection via the National Trust, an organization whose mission is to preserve and protect historical places in England, Wales and Northern Ireland. In fact, some consider Lacock to be among the best preserved villages in the entire country, which has unsurprisingly made it a favourite among those in the TV and film industry. Over the years, Lacock has transformed into the backdrop of countless productions including the 1995 BBC production of Pride and Prejudice, Downtown Abbey and of course, several films in the Harry Potter franchise, including most recently the new Fantastic Beasts film.
A quick whirl and wander through its streets and you'll soon understand the charm of this place, with lush flower boxes overflowing with colourful blooms, honesty boxes selling vegetables and goodies in front of homes, and of course, slanted stone cottages and timbered houses ripped straight from a storybook dream.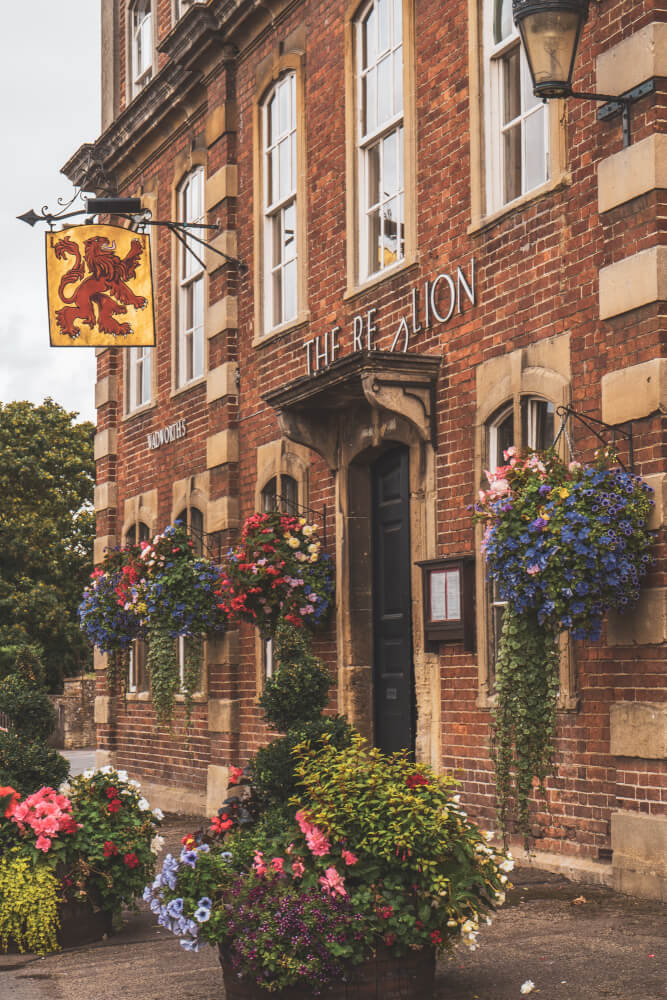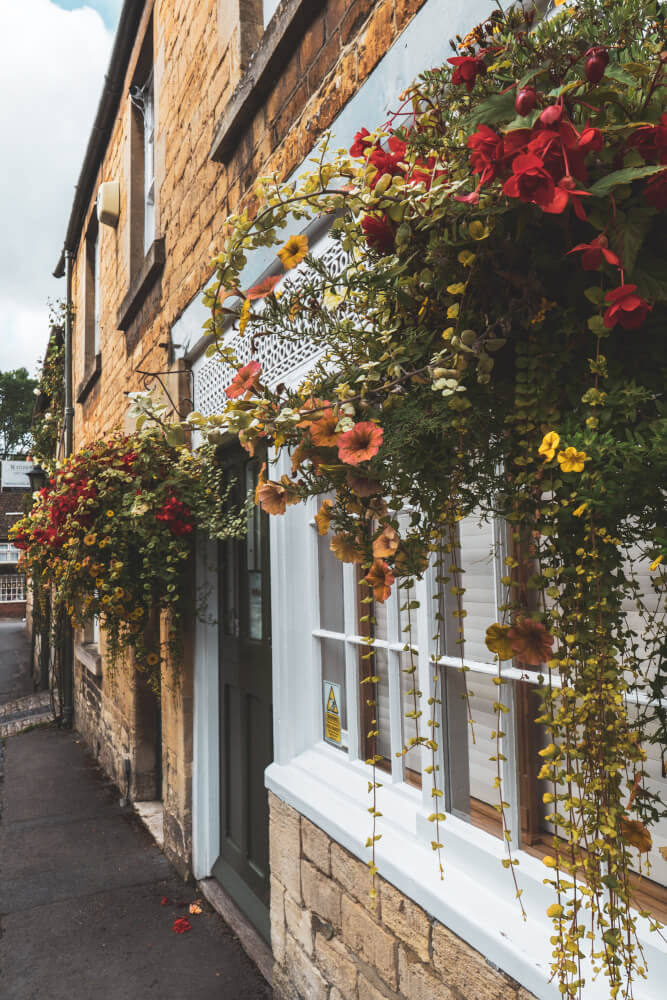 ---
---
So, What's the History of Lacock & Harry Potter?
According to the Wiltshire Times, the link between Lacock and Harry Potter dates back to May 2000, when negotiations first began between location expert Sarah Eastel (who represents bodies like the National Trust) and Warner Bros execs.
Together, they discussed different location possibilities for the first Harry Potter film, Harry Potter and the Philosopher's Stone, knowing the project would require a grand setting for the cinematic debut of the franchise. These early meetings in May were soon followed up with more meetings involving village residents and Lacock Abbey staff. I can only assume these chats went swimmingly, as the crew moved into Lacock to film in February 2001.
The production for Philosopher's Stone was well-known for being a highly secretive and high-security operation, since studio executives wanted to keep details of the film as hush hush as possible. The production was quite large though, involving entire streets being closed off, and at one point, three giant marquees erected on the abbey grounds, with over 350 cast/crew on the premises.
The cast and crew returned to film Chamber of Secrets about a year later. Filming took place for about a month in February 2002, making it the largest production that the little village had seen to date. They even booked out the local Red Lion Pub for an entire four weeks and invited a few students from the local school to audition as extras! Five were ultimately selected, and apparently they got to miss a week of school for it, which is about as close to my childhood dream as I can handle right now.
After a few years' hiatus, the crew returned once again for about four days to film scenes for Harry Potter and the Half Blood Prince in October 2007. This of course was not without its barriers. According to the Wiltshire Times, despite the tourism boost given by the first two films, filming had to be approved by village vote after a meeting with HP producers and 40+ local villagers. In the end, only one grumpy villager voted 'no', so the filming plans were approved. To compensate Lacock for filming, Warner Bros handed over a £30,000 compensation fee, along with £200 per resident to apologize for the inconvenience.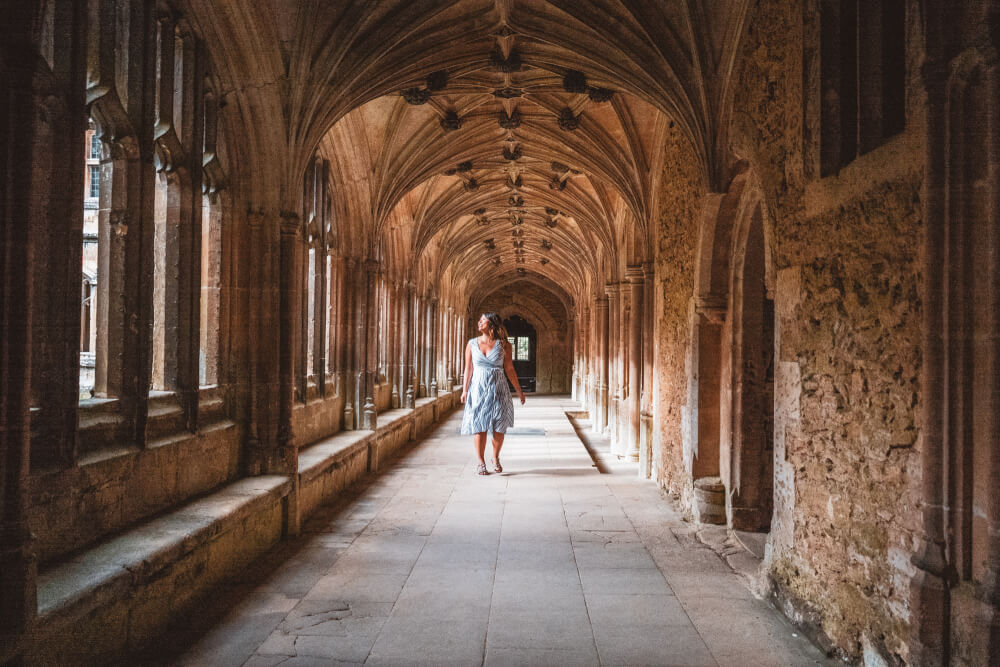 ---
---
Harry Potter Locations in Lacock
Lacock is a tiny village that's easily explored on foot. Luckily, all the Harry Potter points of interest in Lacock are within easy walking distance of each other, and you could do them all in one day as I did. You can even download this cute little map here that details Lacock's most famous filming locations from various films/period dramas over the years.
So, if you're hoping to follow the magical trail of Harry Potter in Lacock, here's where you need to go:
1. The Lacock Abbey Cloister
AKA Hogwarts' Corridors
The first stop in your magical Harry Potter tour of Lacock needs to be Lacock Abbey.
Lacock Abbey is a beautiful property with a long history dating back to the 13th century. Its origins may have been as a nunnery/abbey, but it became converted into a Tudor family home in the 16th century, and remained so until 1944, when the Talbot family gave the estate to the National Trust. Some actually regard Lacock Abbey as the birthplace of modern photography, given that it was here that William Henry Fox Talbot pioneered the idea of using photographic negatives to produce multiple prints on paper. So, yes, lots more going on here than just Harry Potter.
But hey, with this much history under its belt, it makes sense that Lacock Abbey's scenic cloisters would be chosen to portray Hogwarts in the very first Harry Potter film.
This is where they filmed several scenes showcasing Hogwarts' corridors, including the scene in Harry Potter and the Philosopher's Stone when McGonagall drags Harry over to meet Oliver Wood cuz she's so impressed with his broom techniques and wants him to join the Quidditch team ASAP, and the scene when Harry is meandering the hallways in his invisibility cloak and narrowly escapes being "seen" by Snape as he's harassing the heck out of Professor Quirrell.
In Chamber of Secrets as well, the Lacock Abbey cloister makes an appearance as Hogwarts' corridors, most notably night-time scenes like when Harry and Ron finally crack the mystery of the Basilisk (just before realizing Ginny has been taken).
Lastly, a CGI-enhanced version of Lacock Abbey also features in Order of the Phoenix according to multiple sources, although they probably didn't film any additional footage on location (not with the main actors anyway).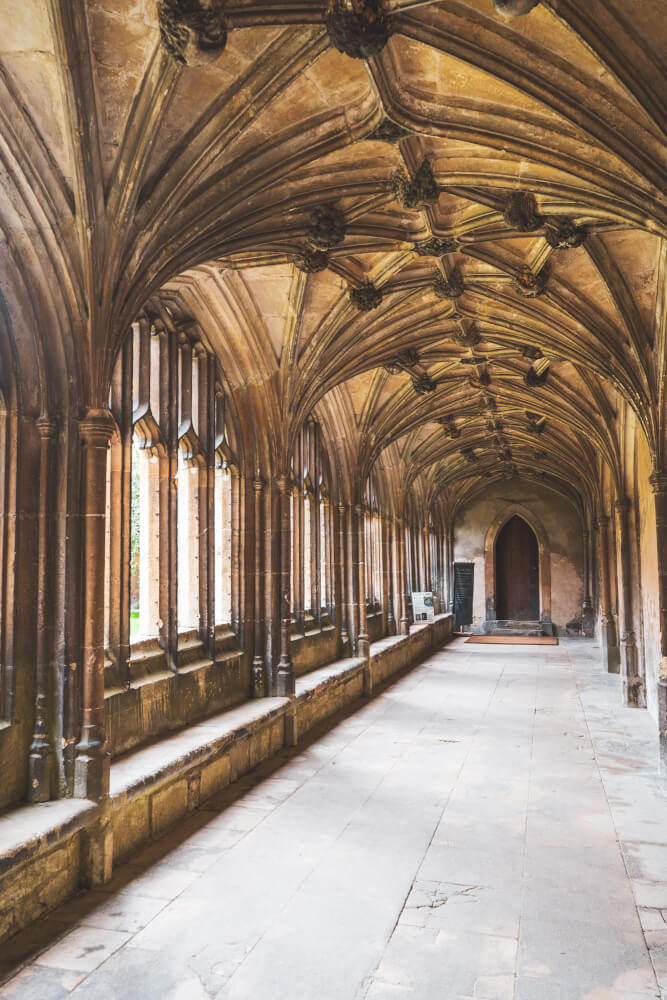 ---
---
2. The Lacock Abbey Warming Room
AKA Professor Quirrell's Defense Against the Dark Arts Classroom
Okay, so Professor Quirrell is definitely not our favourite person, but if you're interested in seeing his classroom, you can do so at the Warming Room of Lacock Abbey! Back in the 13th century, this was once the only room in the Abbey where a fire could be kept for warmth, a rule that of course needed to be relaxed over time as the abbey was having trouble with monk/nun retention (no joke).
Yes, there's even a cauldron, made of bell metal!
This was the room used to film Defense Against the Dark Arts classroom scenes in Harry Potter and the Philosopher's Stone, which was the only film in which they filmed this classroom on location. In subsequent Harry Potter films, all the DADA (heh) classes were filmed on a specially designed set that changed dressing/decor based on the personalities and characters of the different professors.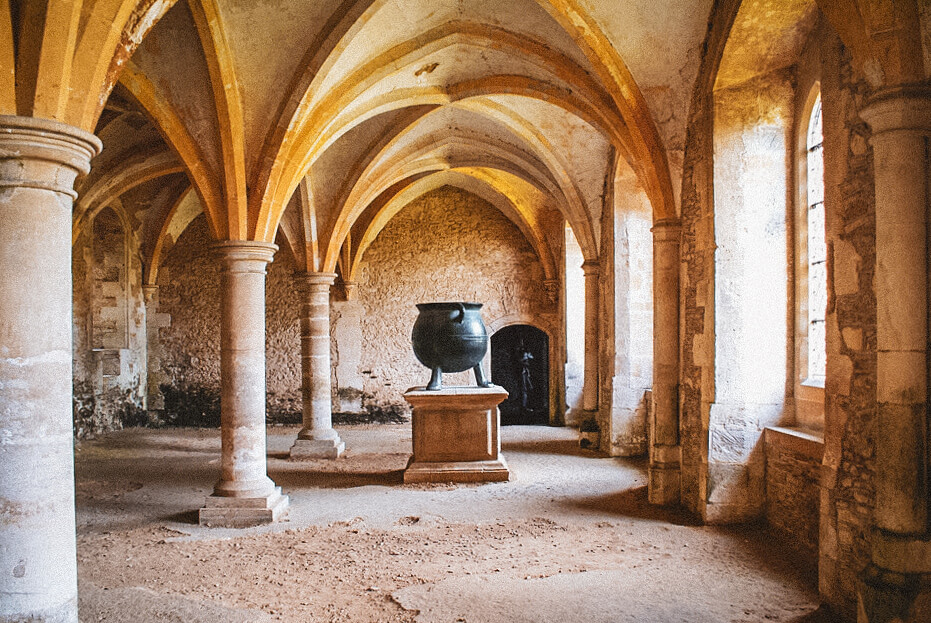 ---
---
3. The Lacock Abbey Sacristy
AKA Snape's Potions Classroom
Fans of Snape will be excited to know that Snape's Potions Classroom from Harry Potter and the Philosopher's Stone was filmed at Lacock Abbey, specifically in the Sacristy, where back in the day, vessels for church services were stored.
NOTE: This classroom will look dramatically different in real life vs. in the movies. The Sacristy at Lacock Abbey is actually not as underground or dungeony as the Potions Classroom is meant to be, hence they decided to cover windows up to a certain point to create the illusion that it was partially below ground. This means the real life location looks much less threatening than in the films.
DOUBLE NOTE: This set was later recreated in the studios at Leavesden.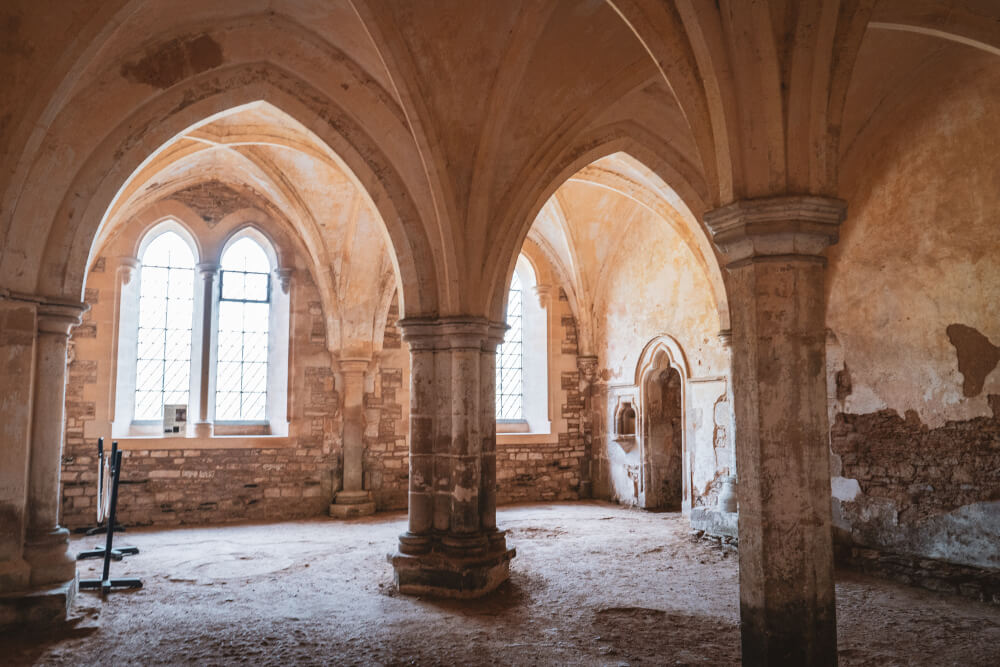 ---
---
4. The Lacock Abbey Chapter House
AKA where Harry discovers the Mirror of Erised and also the Hogwarts Study Hall
Hoping to stumble upon the Mirror of Erised at some point during your Lacock explorations? Well, you can try your luck at The Chapter House of Lacock Abbey, a former area for meetings which was used in Harry Potter and the Philosopher's Stone as the room in which Harry discovers the Mirror of Erised for the first time.
You might remember this spot from Chamber of Secrets as well – it's the study hall where Harry leaves and eavesdrops on some of his fellow students speculating about whether or not he was the heir of Slytherin. Like, he was standing RIGHT. THERE. Pretty awkward stuff.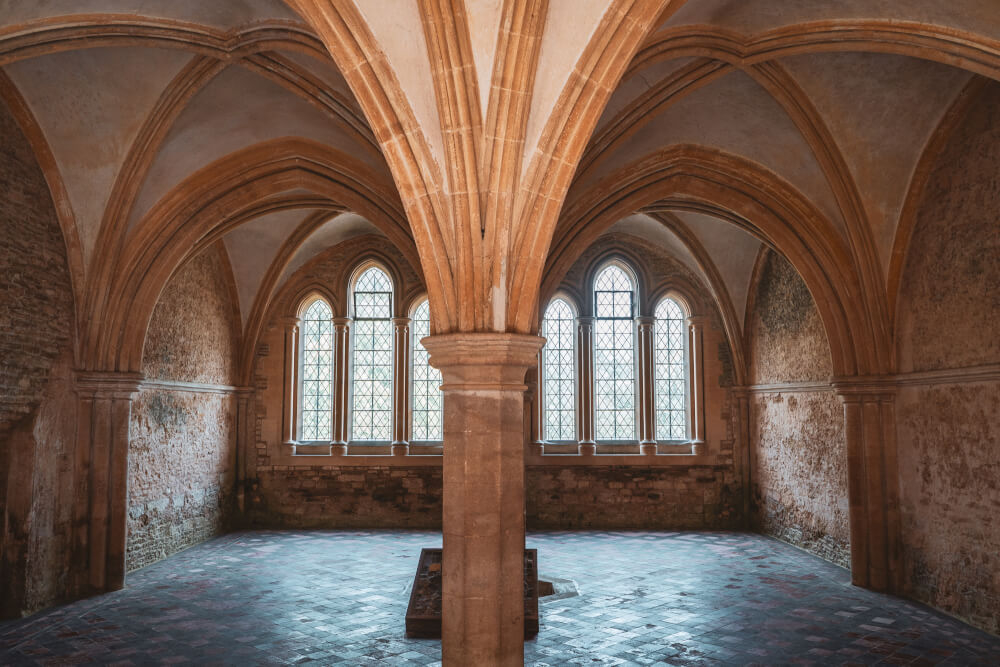 ---
---
5. Harry Potter's Parents House in Lacock
The house glimpsed briefly during the flashback scene in Philosopher's Stone when Hagrid is explaining to Harry how his parents were killed can be found in Lacock! Truthfully, I think the owners are tired of fans coming up to it, as the house was largely obscured by tall green hedges and an aggressive sign saying "PRIVATE PROPERTY", but nonetheless, this is a Harry Potter location in Lacock that you can take a peek at for yourself! Just be discrete and not overly obnoxious please 🙂
6. Horace Slughorn's Hideaway in Budleigh Babberton
At the start of Harry Potter and the Half-Blood Prince, Dumbledore steals Harry away from his date with a flirty waitress and whisks him away to find Horace Slughorn in his hideout of Budleigh Babberton.
Well, guess what? The town of Budleigh Babberton is actually Lacock, and along Cantax Hill, around the corner from Lacock Bakery is where you'll find the house used to film Slughorn's little hideaway. Yes, the one where they filmed this magical scene of Dumbledore putting the ruined house back together (one of my favourites!)
---
---
7. Church Street
AKA Budleigh Babberton
After Dumbledore successfully convinces Slughorn to come back to Hogwarts, he and Harry stroll down Lacock's quaint little Church Street, which was slightly modified with fresh paint and additions during the filming of Half-Blood Prince. The part where Dumbledore and Harry apparate out is specifically the intersection of Church St and West St (or Cantax Hill).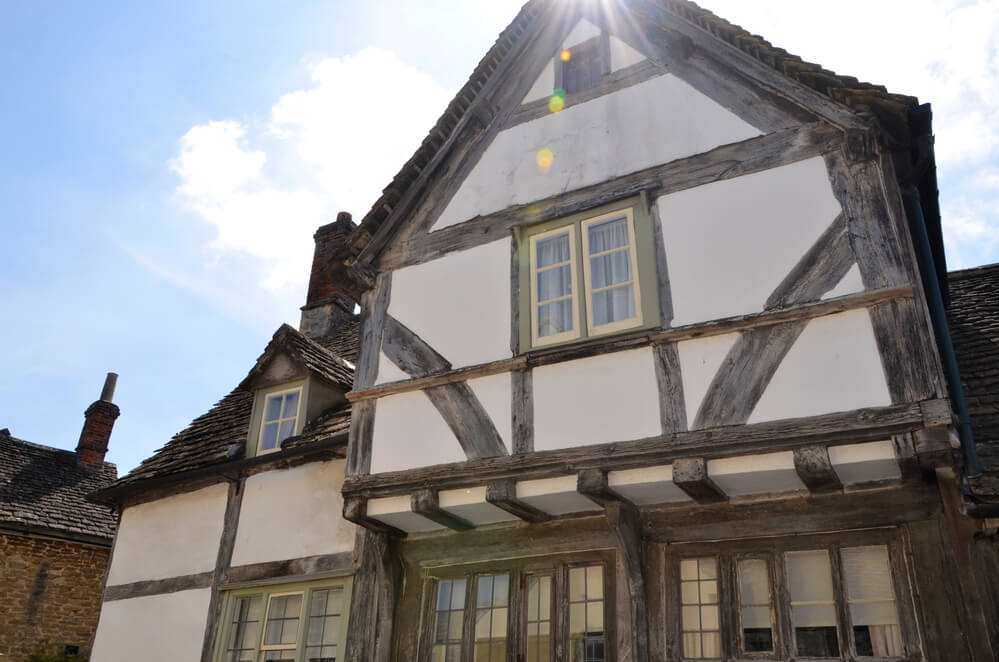 ---
---
8. Watlings Gift Shop
Last but not least, while it's not a Harry Potter filming location, Watlings Gift Shop is one business that has smartly capitalized on the Lacock/Harry Potter connection, and it's well worth a stop! You'll quickly spot it because it has a fun Platform 9 3/4 sign out front, and a lot of Harry Potter themed souvenirs and goodies inside.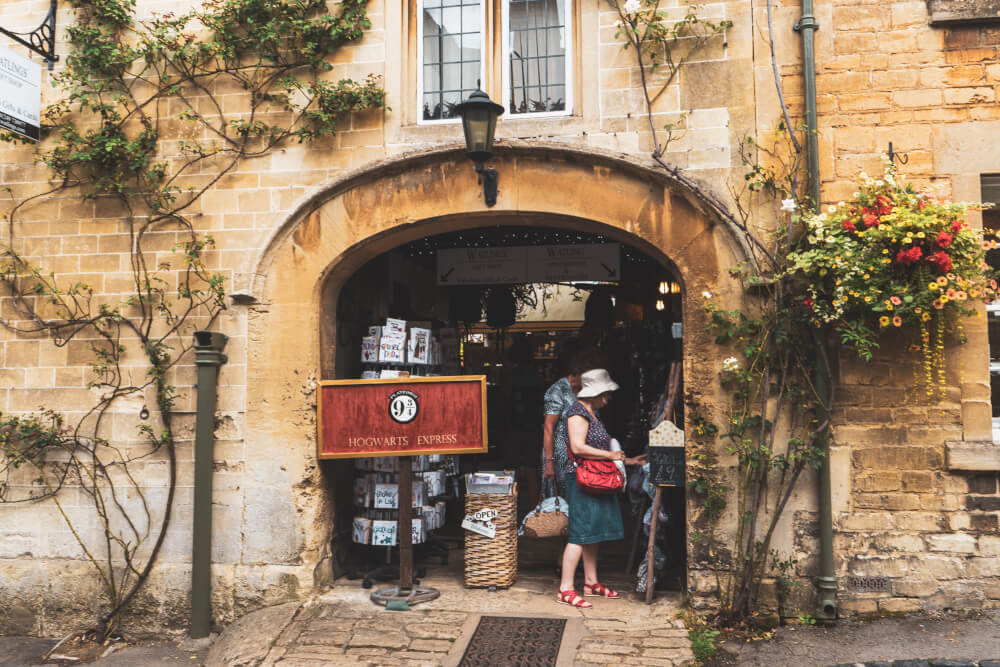 ---
---
Any other questions about Lacock and Harry Potter?
I hope you enjoyed that guide to Harry Potter locations and history in Lacock! Let me know if I missed any of your favourite locations, or if you have any other questions.
---
Watch my most popular YouTube video this week:
---